September 29, 2022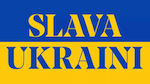 If you have a friend, family member, or neighbor who would like to subscribe to this FREE weekly newsletter they should simply email jellison@san.rr.com with "subscribe" as the subject.
THE WEEK'S BEST QUOTES. . .
Claiming you have money you do not have does not amount to the art of the deal. It's the art of the steal. — New York AG Letitia James said at a press conference.
https://twitter.com/tribelaw/status/1572720294900506625
The New York lawsuit raises a legitimate question:  how did our American political system allow someone who had for so long committed such offenses, if he is guilty, to be elected President in 2016?
https://twitter.com/BeschlossDC/status/1572624078602915840
it was very troubling to see migrants being used as political pawns. We have to remember these are human beings, they're people. — Jared Kushner.
https://www.tampabay.com/news/florida-politics/2022/09/22/jared-kushner-very-troubling-see-migrants-used-pawns/
Donald Trump posted a video to Truth Social last night with overt QAnon memes, including references to military tribunals, pedophiles and Satanists.
https://twitter.com/willsommer/status/1573297065492455424
 We have a former president of the United States who went on national television last night and said 'I declassified the documents thinking about it.' Imagine all I could have accomplished if I only knew that I didn't actually have to do it. I just had to think about it – this is a credible candidate for 2024. There is a sector of our party, which cannot find themselves genetically unable to not defend Donald Trump… This is a disaster. It's bad for the country. —Former New Jersey Gov. Chris Christie (R)
https://nypost.com/2022/09/23/chris-christie-mocks-disaster-donald-trump-at-biz-conference/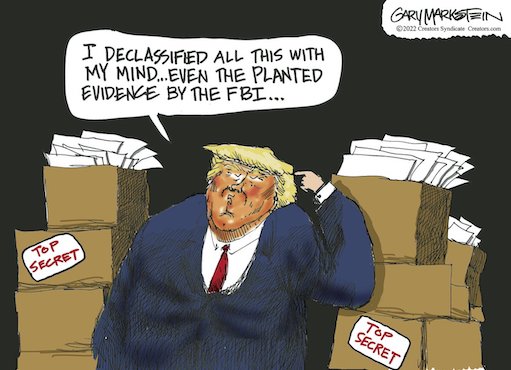 New fundraising email from the National Republican Senatorial Committee asks supporters where they want Republican governors to "ship" migrants next.
https://twitter.com/SollenbergerRC/status/1573267085001891841
A fake brochure promising eight months cash assistance, food, job training/placement, help with housing + more was given to migrants who were lured by Gov. Ron DeSantis into boarding a flight to Martha's Vineyard. A copy of the brochure is at
https://popular.info/p/the-smoking-gun-in-marthas-vineyard
"If he (Trump) is the nominee, I won't be a Republican." Rep. Liz Cheney (R-WY)
https://www.cnn.com/2022/09/24/politics/liz-cheney-republican-party-donald-trump-2024/index.html
In Miami we know all too well why Venezuelans come to our nation fleeing oppression and seeking freedom. Today, at the start of Hispanic Heritage Month, we should be celebrating the many contributions of immigrants who built our community–not using them to score political points.  -- Daniella Levine Cava, Mayor of Miami-Dade County. https://twitter.com/MayorDaniella/status/1570513151711645698

The governor's attitude does not surprise us, but the cruelty, inhumanity and lack of empathy with Venezuelan brothers and sisters, immigrants who are arriving in this country, fleeing in terror from a cruel and criminal dictatorship… never ceases to impact us. Governor DeSantis fills his mouth talking about communism, talking about socialism, talking about authoritarianism, and he treats us like we're trash. We will not forget it. — Ade Ferro, the director of the Venezuelan American Caucus. https://www.miamiherald.com/news/politics-government/article265836906.html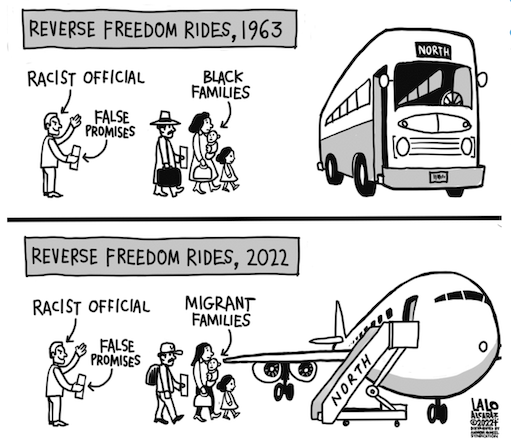 "You know why Lindsey kisses my ass? So I'll endorse his friends." — Donald Trump, quoted in an excerpt of Maggie Haberman's The Confidence Man, on Sen. Lindsey Graham (R-SC).
https://www.theatlantic.com/ideas/archive/2022/09/donald-trump-maggie-haberman-mar-a-lago/671510/
Rep. Marcy Kaptur (D-OH) has a 
new ad
featuring a Republican voter who says he can't support GOP challenger J.R. Majewski (R) because of his extreme views.
"The question I get asked more than any other question: 'If you had to do it again, would you have done it?' The answer is, yeah, I think so. Because here's the way I look at it. I have so many rich friends and nobody knows who they are." — Donald Trump saying that the "rich friends" he acquired from his presidency made it all worth it to him, according to Maggie Haberman's upcoming book.
https://www.huffpost.com/entry/trump-reflects-presidency-rich-friends_n_63309af8e4b01804e08f14f0
"I didn't usually have the television on. I'd have it on if there was something. I then later turned it on and I saw what was happening. I had heard that afterward and actually on the late side. I was having meetings. I was also with Mark Meadows and others. I was not watching television."  — Donald Trump denying knowing at the time the January 6 attack on the US Capitol started.
https://www.theguardian.com/us-news/2022/sep/25/donald-trump-january-6-attack-book-maggie-haberman
I suspect the most serious threats to Trump's future, political or otherwise, are Big Macs and KFC buckets. — Bret Stephens about investigators closing in on Donald Trump.
https://www.nytimes.com/2022/09/26/opinion/trump-biden-desantis-abbott.html
"The judiciary has to make it clear: It is not patriotism, it is not standing up for America to stand up for one man — who knows full well that he lost — instead of the Constitution he was trying to subvert. Some prominent figures in the Republican Party are cagily predicting or even outright calling for violence in the streets if one of the multiple investigations doesn't go his way." — U.S. District Court Judge Amy Berman Jackson delivering a blistering rebuke of Republican Party leaders for what she said was a cynical attempt to stoke false claims of election fraud of the kind that fueled the Jan. 6 attack on the Capitol.
https://www.politico.com/news/2022/09/27/oath-keeper-trial-trump-jan-6-00059091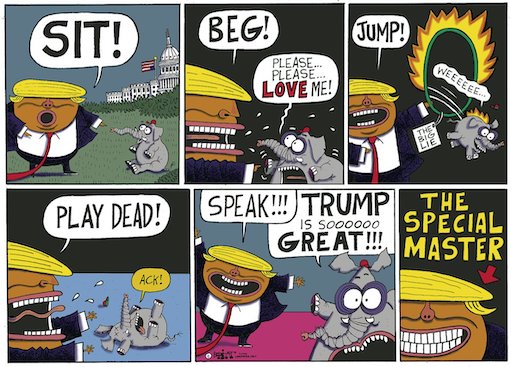 "F**k the voting, let's get right to the violence. Shoot to kill. See an antifa? Shoot to kill. F**k 'em. Done with this bulls**t." — Roger Stone, a longtime ally of Donald Trump, tellin a documentary crew a day before the 2020 election that he was ready for violence.
https://www.huffpost.com/entry/roger-stone-shoot-to-kill_n_63329011e4b04cf8f35ac500 
(NOTE: Stone was sentenced to 40 months in prison in 2020 for multiple felonies, including witness tampering, lying to Congress and obstruction, but was pardoned by Trump in December 2020.)
"Look, back before we had all the crazies here, just some crazies. You know, every vote we took, we had to somehow defund Obamacare… That's going to look like child's play in terms of what Marjorie Taylor Greene is going to demand of Kevin McCarthy. They're going to demand an impeachment vote on President Biden every week. They're going to demand things like, you know, let's make abortion illegal in all circumstances." — Rep. Adam Kinzinger (R-IL), on what will happen if Republicans take control of the House.
https://www.cnn.com/audio/podcasts/axe-files/episodes/a8ef6f4a-2ea1-4650-bd2f-af11002ab2e0
VIDEOS
Trump endorsed congressional candidate JR Majewski today says that the reason why there is no record of him serving in combat in Afghanistan in his service record is because it is "classified." https://twitter.com/RonFilipkowski/status/1573365018808451072

You have these rows of young men with their arms raised." — Hillary Clinton comparing Trump rally to how Nazis were drawn to Hitler. https://twitter.com/MikeSington/status/1573456221440339968

It is a sad day in America. We are turning into a 3rd world country. She should be herself investigated and brought in front of the State Bar for her conduct!  — Kimberly Guilfoyle on the NY AG's suit against Trump.
https://twitter.com/RonFilipkowski/status/1572739558156148736

In the space of about 10 seconds, Donald Trump told Fox News that he had both completed the border wall and would have completed it if he had just a few more weeks in office. https://twitter.com/atrupar/status/1572756446760284160
LITIGATION TRACKER
Pending Criminal and Civil Cases Against Donald Trump
. 
https://www.justsecurity.org/75032/litigation-tracker-pending-criminal-and-civil-cases-against-donald-trump/
---
IN THIS ISSUE
IN THE NEWS
OPINION
Andy Borowitz: Melania Wishes She Could Get Divorced Just by Thinking About It
In a candid interview guaranteed to make headlines, Melania Trump revealed that she wished she could get a divorce "just by thinking about it."

While stressing that she had no plans to divorce her husband, Mrs. Trump said that doing so would require "a lot more than having the idea in my head."

"I think to get a divorce one would need lawyers, courts, those types of things," she said. "To say you can undo something like a marriage just by thinking about it is some kind of crazy talk."

At the conclusion of the interview, Mrs. Trump emphasized, once again, that she was happy in her marriage to Donald Trump. "I live in a beautiful home with all the nuclear codes a woman could want," she said.
https://www.newyorker.com/humor/borowitz-report/
Inside the Completely Legal G.O.P. Plot to Destroy American Democracy (video)
For the past two years, Americans have been overwhelmed by a deluge of headlines suggesting democracy in the United States is under threat: Voter suppression. A shortage of drop boxes. Election deniers seeking key state offices. It can be difficult to gauge what stories suggest a truly terrifying threat to democracy, and which are simply disheartening or even petty. This Opinion Video film aims to unpack one of the most dire threats to democracy, which includes a sophisticated plot to control not only who can vote, but which votes get counted.
https://www.nytimes.com/2022/09/21/opinion/republicans-democracy-elections-bannon.html
Activists Flood Election Offices With Challenges
Activists driven by false theories about election fraud are working to toss out tens of thousands of voter registrations and ballots in battleground states, part of a loosely coordinated campaign that is sowing distrust and threatening further turmoil as election officials prepare for the November midterms.
Groups in Georgia have challenged at least 65,000 voter registrations across eight counties, claiming to have evidence that voters' addresses were incorrect. In Michigan, an activist group tried to challenge 22,000 ballots from voters who had requested absentee ballots for the state's August primary. And in Texas, residents sent in 116 affidavits challenging the eligibility of more than 6,000 voters in Harris County, which is home to Houston and is the state's largest county. https://www.nytimes.com/2022/09/28/us/politics/election-activists-voter-challenges.html
Millions Believe Force Justified to Reinstate Trump
More than 18 months after the rioting at the U.S. Capitol by a pro-Trump mob, an estimated 13 million U.S. adults, or 5% of the adult population, agree that force would be justified to restore former President Donald Trump to the White House and an estimated 15 million Americans believe force would be justified to prevent Trump from being prosecuted, should he be indicted for mishandling classified documents, according to a new study from the University of Chicago. https://d3qi0qp55mx5f5.cloudfront.net/cpost/i/docs/CPOST-NORC_Support_for_Political_Violence_Survey_0922_Topline.pdf
The Polls Still Do Not Show A GOP Bounce Back
Ever since the election model was launched in late June, it has moved entirely in one direction: toward Democrats. Pretty much every week, they've either gained ground in our forecast or held steady.
This week has been more in the 'held steady' category. In the Deluxe version of our model, Democrats' chances of keeping the Senate are 71 percent, while their chances of holding the House are 31 percent. Neither number has meaningfully changed from a week ago.
It was looking like a good summer for Republicans until the Supreme Court overturned Roe v. Wade, gas prices fell for 99 straight days, and the Democratic Congress passed much of Biden's agenda.
https://fivethirtyeight.com/features/the-polls-still-do-not-show-a-gop-bounce-back/
The saga of DeSantis' migrant flights gets uglier
Earlier this week, we speculated that the saga of Florida Gov. Ron DeSantis' migrant flights was bound to look uglier with time.
And so it goes.
In a
class-action lawsuit
filed Tuesday in federal court in Massachusetts, the immigrant aid group Alianza Americas put meat on the bare bones of what's been known about the DeSantis-sponsored flights of nearly 50 migrants to the island of Martha's Vineyard, Mass.
As the class-action lawsuit states, this is about abusing destitute, stranded and immensely vulnerable individuals and families who have sought succor in the United States and have followed all the rules to obtain it. Instead, they're waylaid by agents of reckless and malignant politicians who defraud them and place them in situations where their legal and social problems are only magnified.
DeSantis is only one of the Republican governors engaging in this practice, albeit the one who appears to be best at grabbing the attention of a heedless press. Texas Gov. Greg Abbott and Arizona Gov. Doug Ducey have been at this for longer; they just lack DeSantis' peculiar verve. People who defraud innocents of their money often face prison time when they're caught.
In these cases, the victims are being deprived of much more, and by perpetrators who brag about their activities rather than hide them.
https://www.latimes.com/business/story/2022-09-21/desantis-migrant-flights-gets-uglier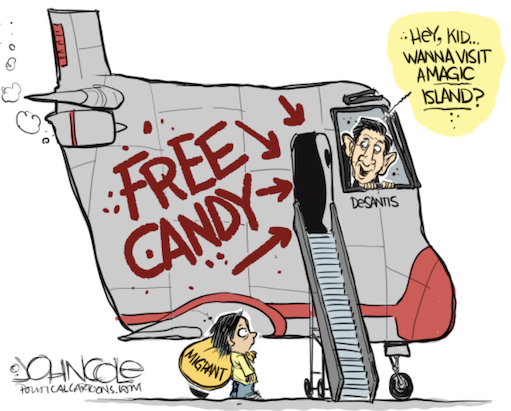 Trump's Legal Woes Mount Without Protection of Presidency
Stark repudiation by federal judges he appointed. Far-reaching fraud allegations by New York's attorney general. It's been a week of widening legal troubles for Donald Trump, laying bare the challenges piling up as the former president operates without the protections afforded by the White House.
The bravado that served him well in the political arena is less handy in a legal realm dominated by verifiable evidence, where judges this week have looked askance at his claims and where a fraud investigation that took root when Trump was still president burst into public view in an allegation-filled 222-page state lawsuit.
https://apnews.com/article/donald-trump-biden-cabinet-mar-a-lago-government-and-politics-98011436aab2271f464294cc47e58c27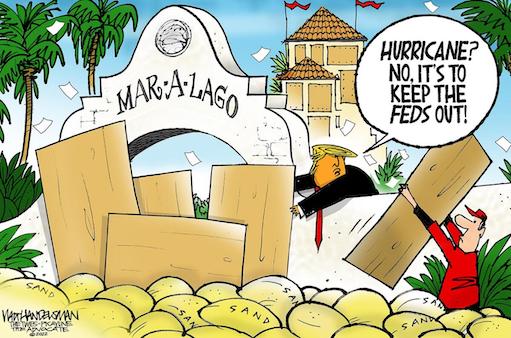 Capitol Rioter Who Dressed as Hitler Sentenced to 4 Years
Timothy Hale-Cusanelli, an ex-Army reservist and US Capitol rioter who said January 6 was exhilarating and felt like civil war was sentenced to four years behind bars.
https://www.cnn.com/2022/09/22/politics/timothy-hale-cusanelli-stephen-ayres-capitol-riot/index.html
More pregnant minors who were raped denied Ohio abortions
At least two more minors made pregnant by sexual assault were forced to leave Ohio to avoid having their rapists' babies, Ohio Capital Journal reports.
The affidavits show that a Columbus 10-year-old was not the only child or teen rape victim forced to leave the state. They also describe more than two dozen other instances in which the abortion law put women under extreme duress.
https://ohiocapitaljournal.com/2022/09/22/affidavits-more-pregnant-minors-who-were-raped-denied-ohio-abortions/
'Art of the steal': Trump accused of vast fraud in NY suit
Former President Donald Trump padded his net worth by billions of dollars and habitually misled banks and others about the value of prized assets like golf courses, hotels and his Mar-a-Lago estate, New York's attorney general said Wednesday in a lawsuit that seeks to permanently disrupt the Republican's ability to do business in the state.
The
lawsuit, filed in state court in Manhattan
, is the culmination of the Democrat's three-year civil investigation into Trump and the Trump Organization. Trump's three eldest children, Donald Jr., Ivanka and Eric Trump, were also named as defendants, along with two longtime company executives.
In its 222 pages the suit struck at the core of what made Trump famous, taking a blacklight to the image of wealth and opulence he's embraced throughout his career — first as a real estate developer, then as a reality TV host on The Apprentice and later as president.
It details dozens of instances of alleged fraud, many involving claims made on annual financial statements that Trump would give to banks, business associates and financial magazines as proof of his riches as he sought loans and deals.
https://apnews.com/article/donald-trump-sued-new-york-letitia-james-ec6b3b91b6c8594495ada7d0a2b80a2f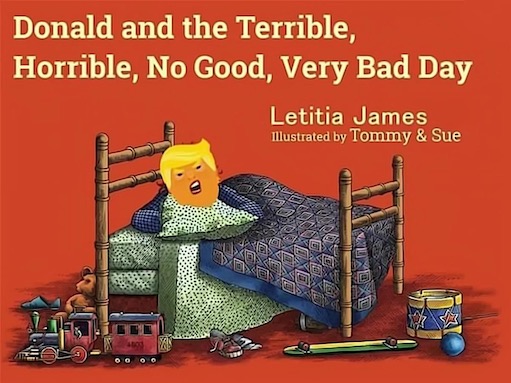 Pollsters fear they're blowing it again in 2022
Pollsters know they have a problem. But they aren't sure they've fixed it in time for the November election.

Since Donald Trump's unexpected 2016 victory, pre-election polls have consistently understated support for Republican candidates, compared to the votes ultimately cast.

Once again, polls over the past two months are showing Democrats running stronger than once expected in a number of critical midterm races. It's left some wondering whether the rosy results are setting the stage for another potential polling failure that dashes Democratic hopes of retaining control of Congress— and vindicates the GOP's assertion that the polls are unfairly biased against them. https://www.politico.com/news/2022/09/26/pollsters-fear-elections-2024-00058506
Arizona GOP secretary of state nominee stands by election conspiracy theories in debate
Arizona secretary of state candidate Mark Finchem (R) doubled down on the conspiracy theories that he has espoused about the 2020 presidential election in a debate against Adrian Fontes (D), asserting that the votes in several key Arizona counties should have been set aside even though there was no evidence of widespread voter fraud in the 2020 contest.
https://www.cnn.com/2022/09/22/politics/arizona-secretary-of-state-debate-finchem-fontes/index.html
House Republicans' agenda gamble
House Republicans will roll out their four-part midterm agenda Friday with the blessing of a surprising group — Democrats, who see plenty there to campaign against Axios reports.
After the
agenda language was accidentally released
ahead of the rollout, Dems seized on the GOP's pledge to 'protect the lives of unborn children and their mothers,' as well as sections taking aim at Democrats' much-heralded drug pricing law and proposing ballot access restrictions.
https://www.axios.com/2022/09/23/house-republicans-agenda-gamble
Senate Republicans block bill to require disclosure of 'dark money' donors
Spending in election cycles by corporations and the ultrawealthy through so-called dark money groups has skyrocketed since the 2010 Supreme Court decision Citizens United v. FEC, which allowed incorporated entities and labor unions to spend unlimited amounts of money to promote or attack candidates.
https://www.washingtonpost.com/politics/2022/09/22/senate-republicans-campaign-finance/
Trump donors think they're giving to save America, but they're paying Trump's legal bills
When one is under federal investigation for serious crimes like potential espionage, the usual legal advice is to be silent. Lawyers tend to get nervous when clients talk publicly about their cases, fearful that they will inadvertently provide evidence prosecutors can use against their clients in court. But after the FBI raid on Mar-a-Lago in August, Donald Trump has not shut up. He rants on Truth Social about the FBI, portraying himself as the victim of an unwarranted, unjust, and illegal Raid, even though there appears little doubt that he was in possession of classified documents he appears to have stolen from the government. He gives lengthy and often ad-libbed speeches, ostensibly in support of Republicans running for office, in which he complains about his alleged victimization at the hands of the FBI.
https://www.salon.com/2022/09/21/donors-think-theyre-giving-to-save-america-but-theyre-paying-legal-bills/
Abortion on the Ballot in Five States
Voters in California, Michigan and Vermont have proposed constitutional amendments on the ballot next month that aim to protect abortion access.
Kentucky and Montana voters will face questions on further restricting abortion rights and conferring legal rights on fetuses.
https://politicalwire.com/2022/09/22/abortion-on-the-ballot-in-five-states/
Trump's secret court fight to stop grand jury from getting information from his inner circle
Donald Trump's attorneys are fighting a secret court battle to block a federal grand jury from gathering information from an expanding circle of close Trump aides about his efforts to overturn the 2020 election.
The high-stakes legal dispute – which included the appearance of three attorneys representing Trump at the Washington, DC, federal courthouse on Thursday afternoon – is the most aggressive step taken by the former President to assert executive and attorney-client privileges in order to prevent some witnesses from sharing information in the criminal investigation events surrounding January 6, 2021.
The court fight over privilege, which has not been previously reported and is under seal, is a turning point for Trump's post-presidency legal woes.
https://www.cnn.com/2022/09/23/politics/trump-grand-jury-court-fight/
Man Files Lawsuit on Behalf of Aborted Embryo
An Arizona woman's ex-husband created an estate for an aborted embryo and filed a lawsuit on behalf of the embryo against the doctors and clinic who provided the abortion.
https://www.rollingstone.com/politics/politics-features/abortion-arizona-personhood-roe-wade-1234598516/
In Case You've Lost Track
Trump faces at least eight ongoing criminal and civil proceedings, increasing the prospect of becoming the first former U.S. president to face indictment after leaving office.
https://www.washingtonpost.com/national-security/2022/09/22/trump-legal-danger-investigations/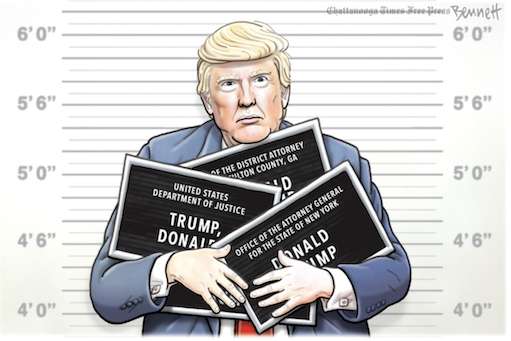 House GOP eyes repeal of Dems' drug pricing law
Some key House Republicans are calling for the repeal of Democrats' newly-passed drug pricing measure if the GOP flips control of one or both chambers of Congress next year.
Democrats view the drug pricing measure in the Inflation Reduction Act as a clear political winner and are essentially daring Republicans to say they want to repeal it.
https://www.axios.com/2022/09/23/gop-drug-price-repeal-target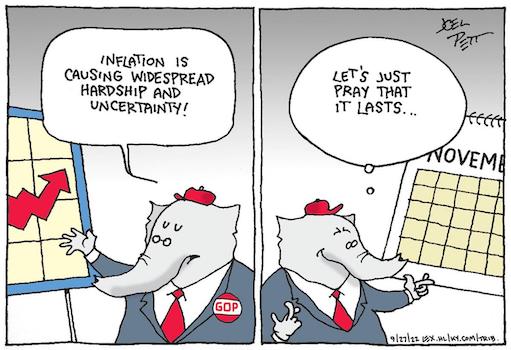 Activist charged in Jan. 6 attack is among Herschel Walker's campaign 'captains'
Georgia U.S. Senate hopeful Herschel Walker's (R) campaign recently listed a woman who was arrested in March on charges of participating in the Jan. 6, 2021 attack on the U.S. Capitol as one of his 'county captains.' https://www.ajc.com/politics/politics-blog/activist-charged-in-jan-6-attack-is-among-herschel-walkers-campaign-captains/4CJACDUZ5JADFPFTPQL6FDMNIM/
Texas Attorney General Ken Paxton fled his home to avoid being served with subpoena
Texas Attorney General Ken Paxton (R) fled his home in a truck driven by his wife, state Sen. Angela Paxton (R), to avoid being served a subpoena Monday, according to an affidavit filed in federal court. https://www.texastribune.org/2022/09/26/texas-attorney-general-ken-paxton-subpoena-abortion-lawsuit/
POLLS ...
A new Deseret News/Hinckley Institute of Politics survey finds 36% of Utahns would vote for Sen. Mike Lee (R) and 34% for Evan McMullin (I) if the election were held today. Another 16% don't know who they would vote for, while 13% would mark the ballot, which includes two third-party candidates, for someone else. https://www.deseret.com/utah/2022/9/22/23351744/mike-lee-evan-mcmullin-poll-results-senate-election-utah

A new Emerson College poll in Maine finds Gov. Janet Mills (D) with a 12-point lead in her re-election campaign against former Gov. Paul LePage (R), 53% to 41%. https://emersoncollegepolling.com/maine-poll-mills-leads-lepage-by-12-majority-of-voters-concerned-over-lobsters-on-unsustainable-seafood-red-list/

Just 1/3 of Americans — including half of Republicans and one in six Democrats — say it's OK for state officials to fly or bus migrants to other states, a sign the push by Republican Southern governors to ship foreigners north could backfire with some voters, according to a Reuters/Ipsos poll. https://www.reuters.com/world/us/just-13-americans-back-republican-migrant-flights-reutersipsos-2022-09-23/

Colorado: Democratic Sen. MICHAEL BENNET leads JOE O'DEA 46% to 36%, per Emerson/The Hill. And Democratic Gov. JARED POLIS has a 53% to 36% advantage over HEIDI GANAHL https://www.politico.com/newsletters/playbook-pm/2022/09/22/squad-cant-quite-take-down-house-dems-policing-plans-00058369.

Michigan: Democratic Gov. GRETCHEN WHITMER is extending her lead over TUDOR DIXON to a 55%-39% rout, per the Detroit Free Press/EPIC-MRA. https://www.politico.com/newsletters/playbook-pm/2022/09/22/squad-cant-quite-take-down-house-dems-policing-plans-00058369

Alaska: Forget ranked-choice: Democratic Rep. MARY PELTOLA is hitting 50% in the first round of voting, per Dittman Research. https://www.politico.com/newsletters/playbook-pm/2022/09/22/squad-cant-quite-take-down-house-dems-policing-plans-00058369

A new Dittman Research poll finds Mary Peltola (D), who defeated Sarah Palin (R) in a special House election, is on track to do it again with 50% support in the first round of ranked-choice voting. https://twitter.com/jazmineulloa/status/1572984595020226566

A new Crosscut.Elway poll in Washington finds Sen. Patty Murray (D) leading challenger Tiffany Smiley (R), 50% to 37%. https://crosscut.com/sites/default/files/files/crosscut-elway-poll-sept-2022.pdf

A new Marquette Law School national survey finds that 33% of adults say they do not believe Donald Trump had top secret and other classified material at his Mar-a-Lago estate this summer, while 67% believe he did have such documents.However, 61% of Republicans say he did not have such secret documents, while 39% say he did. https://law.marquette.edu/poll/2022/09/22/new-marquette-law-school-national-survey-finds-a-third-of-the-public-and-three-fifths-of-republicans-dont-believe-trump-had-secret-documents-at-mar-a-lago-bidens-approval-rating-ris/
A new AARP poll in Arizona finds Sen. Mark Kelly (D) is leading opponent Blake Masters (R) in the race for U.S. Senate, 50% to 42%. https://www.usatoday.com/story/news/politics/2022/09/23/mark-kelly-blake-masters-arizona-senate/8093940001/
THE DAILY GRILL
Jim Marchant (R), who is running for Secretary of State in Nevada, has called to end mail voting by falsely claiming the voting method is rife with fraud.



VERSUS



Public voting records reviewed by CNN show Jim Marchant voted by mail multiple times, including while living in one state and voting in another. https://www.cnn.com/2022/09/23/politics/kfile-nevada-secretary-of-state-nominee-jim-marchant-mail-voting/index.html



It was the American Revolution that caused people to question slavery. No one had questioned it before we decided as Americans that we are endowed by our creator with unalienable rights. — Governor DeSantis. https://twitter.com/RonFilipkowski/status/1573088502409043970
VERSUS



The offensively stupid claim that America's war against Britain was premised on freedom and justice for all has been refuted by historians for years. https://www.msnbc.com/the-reidout/reidout-blog/desantis-slavery-american-revolution-florida-schools-rcna49157 
"Not only am I committed to the 60 vote threshold, I have an incredibly unpopular view, I actually think we should restore the 60-vote threshold for the areas in which it has been eliminated already." — Sen. Kyrsten Sinema (D-AZ), on the Senate filibuster. https://twitter.com/cspan/status/1574412484210999296
VERSUS



"I've only known Kyrsten for four years, but she is, in my view — and I've told her this — the most effective first-term senator I've seen in my time in the Senate. She is, today, what we have too few of in the Democratic Party: a genuine moderate, and a dealmaker." — Senate Minority Leader Mitch McConnell (R-KY) praising Sen. Kyrsten Sinema (D-AZ). https://www.businessinsider.com/mitch-mcconnell-kyrsten-sinema-most-effective-praise-bipartisanship-filibuster-2022-9
Bernstein: How Trump and Hannity Are Hurting the Republican Party
Trump had a bad day on Wednesday, with New York State filing suit against him for inflating the value of his properties and a federal appellate court ruling against him in his battle with the federal government over his possession of classified documents. So what did the former president do? He went on Sean Hannity's prime-time show on Fox News to complain. He had a completely bizarre diatribe about, among other things, how he could declassify things while president just by thinking it (uh, no) and his even goofier theory that the FBI may have been looking for Hillary Clinton's emails at Mar-a-Lago.

What Fox News gets out of all this is clear: viewers. What Trump gets out of it is also clear: the attention he craves, which also helps him remain the most prominent Republican in the nation — which helps his chances of winning the Republican presidential nomination in 2024 if he wants it.

What the Republican Party gets out of this is … well, nothing good. https://www.bloomberg.com/opinion/articles/2022-09-23/how-trump-and-hannity-are-hurting-the-republican-party
Sarah Posner: The Christian nationalist boot camp pushing anti-trans laws across America
In April, Robin Lundstrum, a Republican lawmaker in the Arkansas House of Representatives, traveled to Missouri to testify in support of a bill that would ban doctors from providing or referring transgender and gender non-conforming minors for gender-affirming health care. Citing the Women's Liberation Front, a radical feminist group that opposes trans rights, Lundstrum suggested that trans kids think they are trans just because they are not fitting in with their peers.

The Missouri bill was modeled on the Arkansas Save Adolescents from Experimentation Act, or SAFE Act — Lundstrum's signature achievement, which helped make her a minor celebrity on the Christian right. Last year, Lundstrum shepherded the bill to passage in just six weeks, including an override of a veto by the state's Republican governor, Asa Hutchinson. (A temporary federal court injunction has prevented the SAFE Act from going into effect.) Nineteen other states have taken up similar bills aimed at banning gender-affirming care.

As a high-profile evangelist for these laws, Lundstrum has been part of a growing cohort of right-wing lawmakers and Christian nationalist groups that are working to pass some of the most extreme anti-LGBTQ and anti-abortion measures in the nation. These bills are often based on false claims that gender-affirming care is a ghoulish medical experiment that causes lifelong harm to kids, when in fact doctors and professional medical organizations have established that such treatment is vital to supporting the health and well-being of trans kids. https://www.insider.com/christian-nationalist-trans-statesmen-academy-alabama-ohio-missouri-laws-2022-8
Mark Leibovich:  The Tipping Point of Stupid
Donald Trump has a knack for making his most committed apologists look like complete imbeciles—even if they are not complete imbeciles, though many of them are. This has been true for several years. But in recent weeks, Trump's trickle-down idiocy has become a significant midterm-election issue for Republicans, and a drag on some of the party's most vulnerable Senate candidates.

If you're a candidate seeking a GOP nomination, Trump's blessing can be a political wonder drug.

But it comes with debilitating side effects. These go beyond the standard debasements that Trump inflicts on his dependents (for instance, Trump boasting at a Youngstown, Ohio, rally on Saturday that J. D. Vance, who is running for Senate there, was in love with him and kissing my ass, he wants my support so much). Assuming an acceptable Trumpian posture requires a determined self-lobotomy. In most states, it's nearly impossible to pass yourself off as an election-denying January 6 truther and still be taken seriously by a majority of voters. Yet many candidates who clearly know better are doing exactly this.

You might be a media-slick, Ivy-bred brainiac like Vance or Dr. Mehmet Oz, and even admit backstage that you don't really believe the asininity you're spouting. As a general rule, though, discerning swing voters tend not to differentiate between fools and those who just play them on TV.

Stupid seems to be contagious and can be easily caught.  https://www.theatlantic.com/ideas/archive/2022/09/trump-apologists-republican-candidates-midterm-elections/671501/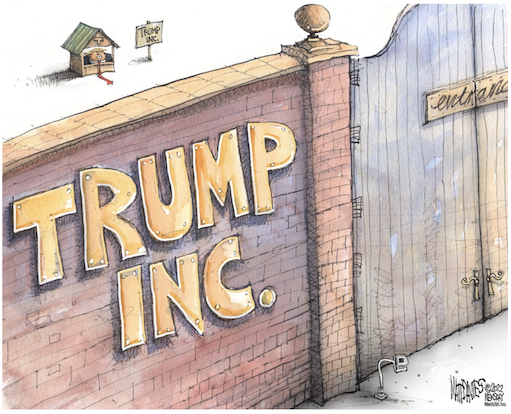 Charlie Sykes: The Art of the Steal
For too long, powerful, wealthy people in this country have operated as if the rules do not apply to them. Donald Trump stands out as among the most egregious examples of this misconduct. —New York Attorney General Letitia James.

Well, yes. Getting away with stuff is pretty much his brand. And while James repeatedly stressed that there are not two sets of laws for people in this country, and that no one is above the law, for decades Donald Trump has been living proof that this is objectively not true.

As Bloomberg's Tim O'Brien noted, Trump has spent most of his 76 years inflating his wealth, achievements and abilities, but James's civil lawsuit, more than 280 pages long, is the first time his carnivalesque business practices have exposed him to existential legal consequences.

And that's worth thinking about for a moment.

While some of the specific details of Trump's frauds laid out in the 222-page NY civil suit are, indeed dazzling, they are not even remotely surprising to anyone who has followed Trump's career of serial flim-flams.

Both his business and his political career sit on a throne of lies — fudged financials, inflated values, tax scams, and assorted frauds. In fact, the New York AG declared, the very foundation of his purported net worth is rooted in incredible fraud and illegality.

And that was before Trump's sordid one-term presidency and his disgraced exile — his obstruction of justice, election lies, and attempts to block the peaceful transfer of power. There has been so much mendacity, former prosecutor Barbara McQuade quipped yesterday, that Trump's misconduct is a distraction from his misconduct. https://morningshots.thebulwark.com/p/the-art-of-the-steal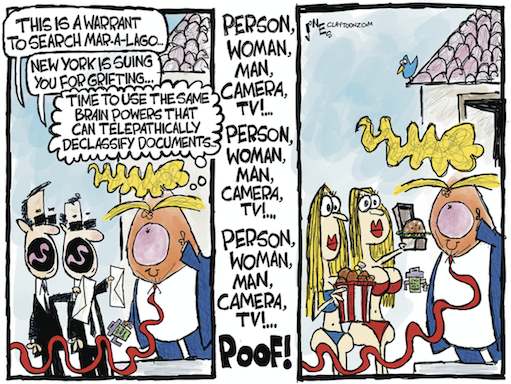 Brian Karem: It's a scary time in America — but know this: Donald Trump is finished
God bless his pointed, dyed and empty head, he's still hard at it. A few days earlier, Trump held a rally in Youngstown, Ohio, before his faithful QAnon followers in a half-empty arena. They raised a one-finger salute to him at such an angle that for many it invited comparison to the Nazi salute. To me it looked more like something from a Three Stooges skit. And no, it wasn't that finger.

There is a certain unity among the fans of authoritarianism, and today the American far right is replete with Vladimir Putin lovers. Putin is the ultimate strongman in today's world and wants to get the old Soviet Union band back together. He hates democracy and, with the exception of Donald Trump, has never gotten along with American presidents. He's funneled money into politics across the globe to try and destroy democratic governments — even dumping money into the NRA to spread his authoritarian message to those Americans who worship guns before Jesus, while still claiming they are Christian.

Those gun-loving evangelicals are pushing hard to make sure women die or are forced to give birth, and don't really seem to care which happens. If women die in childbirth, they'll shrug their shoulders and say, Whatever God wills. If unwanted children are born, those same so-called Christians will shrug their shoulders and refuse the mother and child sustenance, health care or infrastructure. But they'll happily support hiring those children a few years later to pick lettuce or work in coal mines, if only they can crush the unions that once pushed for child labor laws. They are eager to defend the right to choose when it comes to COVID vaccines, but not when it comes to women. They remain chattel.

But can Trump move the mainstream like he did in 2016? Not a chance. He's supported by a continually dwindling number of malcontents, morons and mavens of autocracy. He's losing his mojo.

Sure, it's frightening to see Donald Trump sucking up to QAnon supporters — they're bats**t nuts.

But if they're your core supporters, you're cooked. https://www.salon.com/2022/09/22/its-a-scary-time-in-america--but-know-this-donald-is-finished/
Renato Mariotti: Trump Made N.Y. Attorney General's Fraud Case Virtually Unbeatable
Trump, his son Eric, and others took the Fifth hundreds of times and they can expect James and her team to throw that back in their faces to prove their case. All of the other evidence is just supporting corroboration. The testimony of Trump and his family — or lack thereof — is the centerpiece.

It is never easy to fight the attorney general of your state when she really wants to go after you. But Trump is overextended here because he is fighting a multi-front war. I frequently represent people and companies that are facing criminal and civil liability in different forums. Fighting on multiple fronts is hard and involves trade-offs.

If I were Trump's lawyer, I would have settled this case in its infancy. He delayed and dragged it out, just as he delayed and dragged on multiple criminal investigations for years. Trump might think it benefits him politically to claim James' is part of the vast 'witch hunt' (he has certainly fundraised well off of the recent investigations) but he will likely pay a legal price if he attempts to drag this out further. James hasn't accepted a settlement yet. Eventually she will, and the price she extracts will be a doozy. https://www.politico.com/news/magazine/2022/09/22/trump-attorney-general-fraud-case-00058377
Maureen Dowd: Solo Soulless Saboteurs
In the internet age, it's almost impossible to get away with anything.

And yet, some people still manage to pull off solo flights of destruction worthy of a megalomaniacal supervillain.

Vladimir Putin and Donald Trump, long entwined, continue on vile parallel paths: They would rather destroy their countries than admit they have lost.

They have each created a scrim of lies to justify lunatic personal ambition. And while it should be easy to see through these lies, both cult-of-personality leaders are able to con and bully enough people to remain puissant.

Speaking at the U.N. on Thursday, Sergey Lavrov, the Russian foreign minister, said, "We have no doubt that Ukraine has finally turned into a Nazi-style totalitarian state where standards of international humanitarian law are trampled underfoot with impunity."

Trump also constantly projects. And now he's using telepathy. He told Fox's Sean Hannity that he did not stash any classified papers at Mar-a-Lago because he merely had to think about declassifying them and it would be done. The Wizard of Id.

Just when you thought he couldn't go lower, Trump said "Hold my Diet Coke." He shared an image of himself sporting a "Q" pin, for QAnon, and has been reposting more QAnon garbage on his store-brand social media site.

It would be poetic justice to think the walls were closing in on Putin and Trump at the same time, because at some point, all this will become unsustainable. Losers, refusing to admit defeat. https://www.nytimes.com/2022/09/24/opinion/putin-trump-ukraine.html
Bess Levin: Donald Trump Is One Day Away From Claiming Biden Used Witchcraft To Reclassify The Documents He Claims He Declassified
Donald Trump famously spent his time in the White House saying and doing things that elicited the response "Donate this man's body to science so we can figure out what's wrong with him as soon as possible." He suggested the US trade Puerto Rico for Greenland. Claimed you can get cancer from sound. Told people Melania Trump and North Korean dictator Kim Jong Un were close personal friends, despite the fact that the two had never met. Publicly feuded with a dead man. Repeatedly bragged he'd been named Michigan Man of the Year, an award that does not exist. This list, obviously, goes on and on. But last night, Trump added another item to the file that arguably put all the others to shame vis-à-vis the depths of the crazy.

Asked in an interview with Fox News' Sean Hannity about his process for declassifying the government documents the FBI recovered from Mar-a-Lago—which Trump has spent the last month insisting, without evidence, that he did do—the ex-president responded: There doesn't have to be a process, as I understand it [to declassify]…if you're the president of the United States you can declassify just by saying it's declassified, even by thinking about it…there can be a process but there doesn't have to be.

To be clear, that's Donald Trump claiming he declassified top secret documents with his mind, which has the distinction of being both batshit crazy and not how any of this works, which people who know what they're talking about were quick to confirm

On Wednesday, New York attorney general Letitia James announced a massive lawsuit against the ex-president, several of his adult children, and his company, alleging years of staggering fraud. Trump has not yet said if he retroactively made all of the alleged crimes legal in his own head, but perhaps a statement from his lawyers is forthcoming. https://www.vanityfair.com/news/2022/09/donald-trump-classified-documents-even-by-thinking-it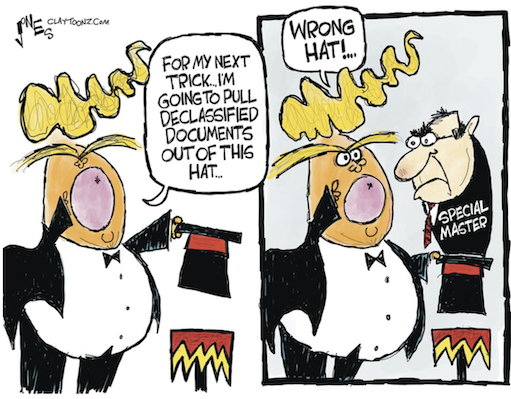 Joshua Yaffa: Putin's Escalation in Ukraine Is a Losing Strategy
On Wednesday morning, Vladimir Putin announced that the war in Ukraine is entering a new phase—or, at least, that was his intention. His televised address contained three central messages: the Kremlin plans to carry out referendums in its occupied Ukrainian territories in the south and east, so as to pave the way for their immediate annexation; those lands will then be considered within Russia's national borders, meaning that Russia is ready to use nuclear weapons to defend them; and a partial mobilization, that is, a military draft, has been ordered to prop up the Russian war effort. Putin cast the war in Ukraine as a struggle for Russia's very existence—at the hands of not the Ukrainian Army but, rather, the combined forces of the collective West. The goal of some in the West is to weaken, divide, and ultimately destroy our country, he said.

It was possible for Putin to maintain faith in this vision for much of the summer, as Russia used its substantial artillery power to blast its way across the Donbas, in eastern Ukraine. The lines looked effectively frozen in other areas that Russia occupied, such as the Kherson and Zaporizhzhia regions, buying Putin time for the status quo to take on the air of the inevitable. Russia wouldn't win by outright knockout, but through a kind of slow-motion T.K.O. in the months and years to come. The war—or special military operation, as it is known, in increasingly flimsy official parlance—could be fought on the cheap and dirty, using mercenaries, Kadyrovtsy from Chechnya, men rounded up from the streets of occupied Donetsk and Luhansk, and prisoners who were promised pardons if they survive the front.

Mobilization will not offer Putin much relief, either. In his televised address, he spoke of a partial call-up of reserves, limited to three hundred thousand people. But, according to Novaya Gazeta, a secret paragraph of the written order allows that number to reach a million. The first two days of mobilization have been marked by mass, almost indiscriminate roundups of men, especially in the far-flung provinces. As ever, the country's rural poor and ethnic minorities will suffer the most. Yet, no matter how many bodies the Kremlin is able to muster, mobilization in and of itself won't fix anything, the person familiar with Russian defense policy told me. It may well only create new problems.

Even if the Kremlin manages to add several hundred thousand people to the roster of the armed forces, the Army would have to house and train them, a mammoth effort. In the best-case scenario, that will take months, by which time it may be too late to affect the trajectory of the war—not least because these new draftees will not be particularly motivated or trained in advanced modern weaponry. If they had announced mobilization in March, by now they could have had, let's say, fifty thousand new troops prepared—but they didn't do that, the person told me.

The new conscription policy has exposed a fundamental contradiction for Putin, who, historically, has relied on a certain brand of civic demobilization, in which citizens are meant to be apathetic, disengaged, and inert, with little demanded or expected of them other than the most passive forms of nominal loyalty. Now, suddenly, Russians are being asked to sacrifice their lives for a cause that was never even properly explained to them.

Much depends on what happens on the battlefield. If mobilization fails to give the Russian military the forces that it needs to secure the annexed territories, Putin will end up in a situation where nothing but the nuclear option remains, Stanovaya said. I'm pretty sure Putin really hopes that nothing is lost yet and he won't have to resort to this argument. But, seeing as he miscalculated already multiple times about Ukraine, a new disappointment seems inevitable. https://www.newyorker.com/news/news-desk/putins-escalation-in-ukraine-is-a-losing-strategy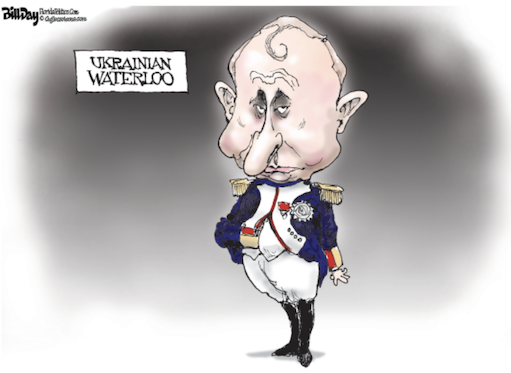 Paul Waldman and Greg Sargent:

Those radical antiabortion fantasies? They're already imploding
When the Supreme Court overturned Roe v. Wade in June, Republicans and their allies in the antiabortion movement were flush with excitement. Now that conservatives have been unshackled from Roe, how far could abortion restrictions extend? They let their imaginations, and their draft legislation, run wild.
Those aspirations have not changed, but the political situation has. And there's evidence that efforts to push extreme legislation at the state level have tapered off, as the most radical designs have run headlong into a wall of public opinion.
Some results from the Marquette University Law School poll show just how deep opposition runs to more extreme antiabortion proposals:
    ● 90 percent of respondents say the victims of rape or incest should be able to get an abortion if they become pregnant; 81 percent of Republicans agree.
    ●

Only 18 percent of respondents — and only 26 percent of Republicans — say a state should be able to bar women from traveling to another state to obtain an abortion.
    ●

76 percent of respondents say states shouldn't be able to stop women from getting out-of-state prescriptions for medication abortions; 60 percent of Republicans agree.
Similarly, a recent Quinnipiac poll found 85 percent of respondents saying rape and incest victims should be able to get abortions.
To a greater degree than expected in June, Republicans are finding themselves divided on how far their abortion laws should go. It's true that in more than a dozen conservative states, abortion is now illegal even for rape and incest victims. But nonetheless, there's been a dramatic shift.
Just after Roe fell, antiabortion activists were dreaming big, mulling constitutional amendments, bans on seeking abortions in other states, prosecutions of people who aided those quests, and restrictions on mailing or receiving abortion pills. Now many such proposals have been quietly shelved with
Republican candidates scrubbing websites of extreme abortion rhetoric and scrambled to portray themselves as moderates on the issue. When Sen. Lindsey O. Graham (R-S.C.) unveiled a bill that would ban abortions nationally after 15 weeks of pregnancy, his colleagues bolted.
"For nearly 50 years, you could talk about outright bans, but it wasn't a practical issue as long as Roe was in effect," Franklin said. "Absolutist rhetoric, when it wasn't a practical matter, gave you a way to signal how strongly pro-life you were to a pro-life Republican base."
So while conservatives won a monumental victory in the culture war by getting Roe overturned, the radical future they continue to pine after appears to be on hold. https://www.washingtonpost.com/opinions/2022/09/22/radical-anti-abortion-plans-republicans/