September 30, 2021
ON THE RECORD. . .
"His insatiable need for attention is one reason he continues to flaunt this disingenuous 2024 run. The other is he's making more money doing that than anything he has ever done before." — Michael Cohn, Donald Trump's former lawyer and fixer.

"We always do this fucking dance. I don't know if people are going to put their sane minds on and do what needs to be done, or shut it down. This is just a ridiculous exercise… I can't even compare it to anything I do on the farm that's this stupid." — Sen. Jon Tester (D-MT) on the debt stalemate that is pushing the country toward economic debacle.

""I've been here for cliffs and crises and wars, and this is going to be the biggest mashup we've ever had since I've been here — with the debt limit, with a government shutdown, with reconciliation and with infrastructure. And I have no idea how it all works out." — Rep. Peter DeFazio, D-Ore.

"Lindsey and Mike should be ashamed of themselves for not putting up the fight necessary to win. Look at the facts that are coming out in Arizona, Georgia, Michigan, Pennsylvania, Wisconsin, and other States." — Donald Trump saying Sens. Mike Lee and Lindsey Graham should be "ashamed" of themselves for not fighting harder to prove his false claims of election fraud.

Retiring Georgia Lt. Gov. Geoff Duncan (R) compared the former president to the devil, "looking for a party's soul to steal."

"Put on your heat shields and buckle up, because this is going to be intense." — Sen. Chris Van Hollen (D-MD), on Democrats trying to pass their $1 trillion infrastructure and $3.5 trillion social policy and climate change measure.

"The elephant in the room is whether you're going to be renominated. Renominating you means gambling that, for the next five years, a Republican majority at the Federal Reserve, with a Republican chair who has regularly voted to deregulate Wall Street, won't drive this economy over a financial cliff again." — Sen. Elizabeth Warren, (D-MA), blasted the Federal Reserve chair, Jerome H. Powell, for his financial regulation track record and said that she would not support him if the White House renominated him, calling him a "dangerous man to head up the Fed."

"Republicans in Congress have spent a decade ushering in a new era where the prospect of default and a global economic meltdown has become a dangerous political football. As we rebound from the deep recession caused by the pandemic, it's more important now than ever to put partisanship aside, remove this cloud from over our economy, and responsibly address the debt limit — just like Democrats did three times under the previous administration." — Michael Gwin, a White House spokesman.

 "I'm a broken record here, but whatever is happening on Capitol Hill right now is functionally incomprehensible to anyone whose full-time job isn't paying attention to it." — Reuters correspondent Pete Schroeder.

VIDEOS

Rep. Marjorie Taylor Greene's (R-GA) new ad, airing on OANN, calls on House Republicans to vote no on the bipartisan infrastructure bill. Greene blasts the "19 cowardly Senate Republicans" who voted for the bill, which she calls "the first step in Biden's communization of America." https://youtu.be/CfWSR8rDaHs

CNN's Don Lemon says Fox News' Tucker Carlson is using what's happening at the border to push a theory that falsely claims that white Americans are being intentionally replaced by Black and brown migrants. Carlson played Biden sound out of context. Hear what Biden really said at
https://www.cnn.com/videos/media/2021/09/24/tucker-carlson-biden-immigration-dons-take-dlt-vpx.cnn

Trump claims that the Arizona "audit," which affirmed Biden's victory in the state, actually concluded that he won. Shameless lying and his fans eat it up. #TrumpRally https://twitter.com/atrupar/status/1441923264163500032
Litigation Tracker: Pending Criminal and Civil Cases Against Donald Trump
---
IN THIS ISSUE
IN THE NEWS
OPINION
Andy Borowitz: Trump Claims He Won German Election
Urging the German people to "stop the steal," Donald J. Trump claimed that he was elected Chancellor of Germany over the weekend.

Trump said that, once the official vote tallies have been recounted, it will be clear that he won the German election by a "landslide."

Reflecting on his purported win, Trump said, "I've always wanted to be the Chancellor of Germany. That's a title that's been held by some very fine people."

He revealed that he planned to send the former mayor of New York Rudy Giuliani to Germany to contest the election results. "He hasn't been disbarred there yet," Trump said.

For his part, Giuliani said that he relished his latest mission on Trump's behalf. "I can't wait to get to Germany," he said. "When does Oktoberfest start?" https://www.newyorker.com/humor/borowitz-report/
Biden's reengineer-America moment
The Senate's bipartisan $1.2 trillion infrastructure bill and President Biden's $3.5 trillion spending package could live or die this week — and take Democrats' fortunes with them. But all the minute-by-minute political drama obscures how much America could change if even a fraction of it passes.
Anything short of total failure could have a transformative impact on day-to-day life — from how we move around to our access to the internet, paid family leave and child care, health care and college.
If the effort collapses under its own weight — or because Democrats have forgotten how to negotiate — the cost of the missed opportunities will shape America's future, too. https://www.axios.com/bidens-infrastructure-bet-impact-on-america-7af66393-d462-40d8-ba59-0628414cf67f.html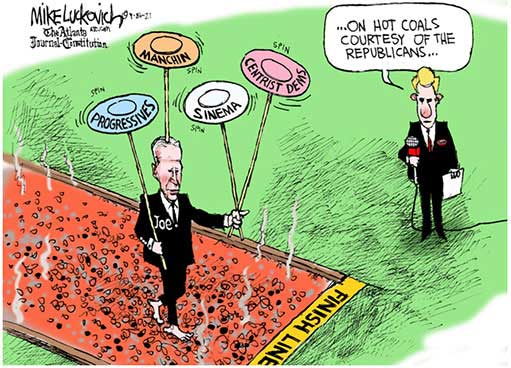 Republicans plot to keep Texas red in redistricting
Republicans spent tens of millions of dollars in 2020 to keep Democrats from painting more of Texas blue. Now, the GOP is trying to fireproof its districts with a new map that contains the suburban damage they've suffered.
The Texas state Senate is on the verge of releasing new congressional lines that could very well determine the balance of power in the House for the next decade. While the precise boundaries are still being finalized, the new map is likely to shore up all of the state's GOP incumbents by packing Democrats together in three new deep-blue seats in the biggest metro areas: Austin, Houston and Dallas. https://www.politico.com/news/2021/09/27/republicans-texas-red-redistricting-514330
Even though Arizona 'audit' found more Biden votes Eric Greitens still wants to overturn the election
Despite a draft report of a Republican-led election review that found more votes in Arizona for President Joe Biden, former Missouri Gov. Eric Greitens called on the state Friday to decertify its 2020 presidential election results.
Greitens and other Missouri Republican candidates are courting hard-right primary voters and have all played some role in either perpetuating baseless claims of voter fraud or indulging those who believe Trump won the election. But Greitens has been the most aggressive, traveling to Arizona  and securing the endorsement of a far-right Arizona state senator close to the review. https://www.kansascity.com/news/politics-government/article254501232.html
Cargo Piles Up as California Ports Jostle Over How to Resolve Delays
The American supply chain has so far failed to adapt to the crush of imports as businesses rush to restock pandemic-depleted inventories. Tens of thousands of containers are stuck at the ports of Los Angeles and Long Beach, Calif., the two West Coast gateways that move more than a quarter of all American imports. More than 60 ships are lined up to dock, with waiting times stretching to three weeks.
Participants in each link in the U.S. chain—shipping lines, port workers, truckers, warehouse operators, railways and retailers—blame others for the imbalances and disagree on whether 24/7 operations will help them catch up. All of them are struggling with a shortage of workers. https://www.wsj.com/articles/cargo-delays-are-getting-worse-but-california-ports-still-rest-on-weekends-11632648602
GOP attacks its own candidates
Republican super PACs are beating up on the party's own candidates in key Senate primaries while Democratic groups largely hold their intra-party fire, an Axios analysis found.
The negative ads some Republican groups are directing at GOP candidates threaten to elevate damaging stories about them ahead of competitive fights that could determine control of the 50-50 Senate.
The risk isn't just the quantity or volume of Republican-on-Republican attacks; it's their brutal tone. https://www.axios.com/gop-attacks-candidates-senate-primaries-7c47efa5-df9e-46fe-936f-33c5b04d7c4d.html
Fallout begins for far-right trolls who trusted Epik to keep their identities secret
In the real world, Joshua Alayon worked as a real estate agent in Pompano Beach, Fla., where he used the handle "SouthFloridasFavoriteRealtor" to urge buyers on Facebook to move to "the most beautiful State."
But online, data revealed by the massive hack of Epik, an Internet-services company popular with the far right, signaled a darker side. Alayon's name and personal details were found on invoices suggesting he had once paid for websites with names such as racisminc.com, whitesencyclopedia.com, christiansagainstisrael.com and theholocaustisfake.com.
The information was included in a giant trove of hundreds of thousands of transactions published this month by the hacking group Anonymous that exposed previously obscure details of far-right sites and launched a race among extremism researchers to identify the hidden promoters of online hate. https://www.washingtonpost.com/technology/2021/09/25/epik-hack-fallout/
21 million Americans say Biden is 'illegitimate' and Trump should be restored by violence, survey finds
But the threat from far-right insurrectionists is not over.
For months, my colleagues and I at the University of Chicago Project on Security and Threats have been tracking insurrectionist sentiments in U.S. adults, most recently in surveys in June. We have found that 47 million American adults – nearly 1 in 5 – agree with the statement that "the 2020 election was stolen from Donald Trump and Joe Biden is an illegitimate president." Of those, 21 million also agree that "use of force is justified to restore Donald J. Trump to the presidency."
Our survey found that many of these 21 million people with insurrectionist sentiments have the capacity for violent mobilization. At least 7 million of them already own a gun, and at least 3 million have served in the U.S. military and so have lethal skills. Of those 21 million, 6 million said they supported right-wing militias and extremist groups, and 1 million said they are themselves or personally know a member of such a group, including the Oath Keepers and Proud Boys. https://opiniontoday.com/2021/09/23/21-million-americans-say-biden-is-illegitimate-and-trump-should-be-restored-by-violence-survey-finds/
US-China trade war did not bring American firms home, research finds
The trade war between the United States and China failed to prompt American businesses to leave the Chinese market, with costs from tariffs instead passed along to consumers, new research found.
In a paper published on the preprint platform SSRN this month, researchers Samantha Vortherms and Jiakun Jack Zhang argued that US tariffs on billions of dollars' worth of Chinese products – launched in mid-2018 to bring US companies home – hurt the US economy and did not successfully pressure China to change its economic policies.
Despite tit-for-tat tariffs and intensifying political hostility between the powers, businesses in each of the countries remained "deeply integrated" with the other and foreign investment into China still hit a record US$144.4 billion last year, they said. https://www.scmp.com/news/china/diplomacy/article/3149792/us-china-trade-war-did-not-bring-american-firms-home-research
The new big lie Republicans want you to believe? That there's a puppeteer at the White House.
Casual ageism is a staple of the conservative arsenal against the president, and it would be laughable except that it's so insulting – not just to him but to two generations of seniors. Like the "big lie" that Donald Trump actually won the 2020 election and will be reinstated as president any day now, we now have the big lie that Biden, at 78, is muddled and incapacitated.
Tucker Carlson says Biden is senile and can't think clearly. Sean Hannity calls him "President Sippy Cup" and says he's lazy. A few days ago, he reamed Biden for "enjoying another long weekend off in Delaware" instead of "working around the clock" at a command center to secure the release of Americans and allies still in Afghanistan. (Apparently Hannity's not familiar yet with the concept of remote work.) https://www.usatoday.com/story/opinion/2021/09/22/republicans-attack-joe-biden-over-age-insult-boomer-voters/5802798001/ 
'Vigilante treatments': Anti-vaccine groups push people to leave ICUs
Anti-vaccine Facebook groups have a new message for their community members: Don't go to the emergency room, and get your loved ones out of intensive care units.
Consumed by conspiracy theories claiming that doctors are preventing unvaccinated patients from receiving miracle cures or are even killing them on purpose, some people in anti-vaccine and pro-ivermectin Facebook groups are telling those with Covid-19 to stay away from hospitals and instead try increasingly dangerous at-home treatments, according to posts seen by NBC News over the past few weeks.
The messages represent an escalation in the mistrust of medical professionals in groups that have sprung up in recent months on social media platforms, which have tried to crack down on Covid misinformation. And it's something that some doctors say they're seeing manifest in their hospitals as they have filled up because of the most recent delta variant wave. https://www.nbcnews.com/tech/tech-news/vigilante-treatments-anti-vaccine-groups-push-people-leave-icus-rcna2233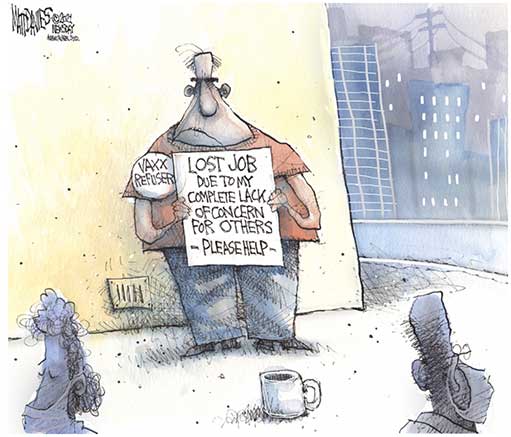 'The No. 1 issue': Trump whips up election falsehoods after flawed Arizona report
Friday's flawed report from the Republicans investigating Arizona's 2020 election isn't changing minds or dampening enthusiasm among election conspiracy theorists. Instead, the movement keeps gaining traction in the Republican Party.
Inexperienced reviewers hired by the Arizona state Senate have been trawling through the results in Maricopa County for months, with the county's Republican elected officials debunking their claims as they went along. But as draft copies of the report surfaced Thursday night, with a vote count aligning with the official results showing President Joe Biden won, GOP-controlled Texas became the latest state to launch a copycat investigation of 2020 results in four large counties. Republican state legislative leaders in two states Biden narrowly won, Pennsylvania and Wisconsin, recently blessed election reviews as well.
Republican candidates up and down the ballot in state after state are adopting former President Donald Trump's phony claims about fraud and stolen elections. And in Arizona, Republicans said their demand to keep revisiting 2020 was inflamed — and that the report made it necessary to consider more restrictive voting rules in future elections.
"This is a huge win for the 3 November movement to get to the bottom of the 2020 election," said Boris Epshteyn, former special assistant to Trump who has been tracking efforts in Arizona. He said "the next step is a full audit and canvass of all Arizona counties and including a full canvass in Maricopa County." https://www.politico.com/news/2021/09/24/trump-election-falsehoods-arizona-report-514275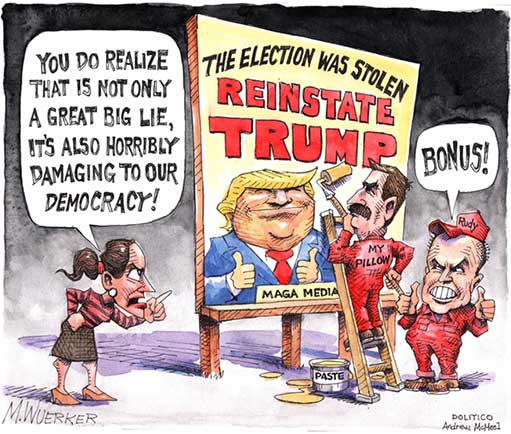 California's universal voting by mail becomes permanent
California's pandemic-inspired move toward mailing a ballot to every registered, active voter will become a permanent part of the state's political landscape, an embrace of an extended and flexible voting process instead of the traditional focus on a single day of voting in person.
Gov. Gavin Newsom's signature Monday on Assembly Bill 37 makes California the eighth state in the nation with a law on the books requiring every voter to be mailed a ballot. The new law is part of an evolution of voting in the state over the last two decades, an effort to provide voters more options for when and where to cast their ballots. https://www.latimes.com/california/story/2021-09-27/california-universal-voting-by-mail-becomes-permanent
Trump's spiteful support for Abrams over Kemp sparks midterms fear from Georgia Republicans
Donald Trump is escalating his fight against Republican Gov. Brian Kemp of Georgia, and state Republicans fear it will give Democrats a stronger foothold in the key swing state as next year's midterm elections loom.
The former President's criticism of Kemp now includes hyping Democrat Stacey Abrams as a preferable alternative to the GOP governor, whose crime against Trump was staying out of his attempt to overturn the Georgia 2020 election returns.
"Having her, I think, might be better than having your existing governor, if you want to know what I think," Trump said Saturday at his rally in Perry, adding later, "Stacey, would you like to take his place? It's OK with me." https://www.cnn.com/2021/09/28/politics/trump-georgia-stacey-abrams-brian-kemp/index.html
The DAILY GRILL
The past debt ceiling paid for everything in the Trump administration, plus seven months of this Biden administration," — House Minority Leader Kevin McCarthy (R-CA) in an interview on Fox News.

VERSUS

Raising the debt limit would cover the cost of programs that were approved in the past, such as the GOP tax cuts from 2017. The government continues to borrow hundreds of billions of dollars a year to finance them, $1.9 trillion over 10 years. —Salvador Rizzo, the Washinton Post Fact Checker.
 

"The folks that are around President Biden today in his White House talking about foreign policy are the same leaders — a fellow named Brett McGurk sent $150 billion, pallets of cash, to the Iranians, who are hosting the senior al-Qaeda leadership in Tehran today." —Former secretary of state Mike Pompeo (R).

VERSUS

The $150 billion, as we've written, was an aspect of President Barack Obama's Iranian nuclear deal. It was always an exaggerated number — and it referred to Iran's foreign-currency reserves, heavily restricted by sanctions. It was never U.S. taxpayer money. And the Treasury Department said in 2015 that the real figure was closer to $55 billion. Pompeo earned Four Pinocchios. It's time to retire this talking point. — Salvador Rizzo, the Washington Post Fact Checker.

 

Denouncing their actions as "outrageous," President Biden vowed there would be consequences for the Border Patrol agents photographed riding horseback while swinging reins and charging at Haitian migrants trying to enter the country.

VERSUS

Texas Gov. Greg Abbott (R) had a different message for any federal agents who might get into trouble — the Lone Star State has a job waiting for you.
Dana Milbank: Failure isn't an option, Democrats
Hey, Democrats, stop acting like children.
To Rep. Pramila Jayapal (Wash.) and fellow House progressives: Pass the damn bill. The $1 trillion bipartisan infrastructure bill, even by itself, is an enormous win for progressives, for Democrats and for Americans. You are on the cusp of historic gains for public transit, clean drinking water, safer roads and bridges, high-speed Internet, and clean energy. Don't blow it.
To Sens. Joe Manchin III (W.Va.) and Kyrsten Sinema (Ariz.) and fellow moderates: Stop stalling. West Virginians and Arizonans, like the vast majority of Americans, want paid family and medical leave, easier access to preschool, cheaper community colleges, and breaks on their health insurance and taxes. You can't stomach $ trillion? Then how about $2 trillion? Put up a number. The longer you play hard-to-get on President Biden's "Build Back Better" agenda, the more likely you are to produce nothing for your constituents.
To both sides in this internecine squabble: Failure isn't an option. If you come up empty on both of these packages, you will kill the rest of the Biden agenda, mortally wound the Biden presidency, and facilitate a Republican takeover of the House and the Senate — handing power to a faction that is creeping toward authoritarianism. https://www.washingtonpost.com/opinions/2021/09/29/democrats-failure-infrastructure-reconciliation-sabotage/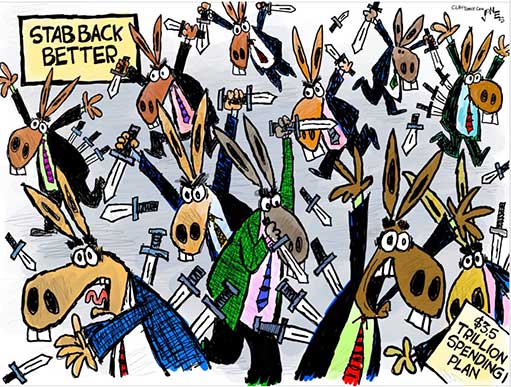 John Cassidy: Republicans Are Gambling Recklessly on the Debt Limit
The brinksmanship surrounding the debt ceiling—which brings the threat of a government default—represents something more recent and ominous. Led by Mitch McConnell, the Senate Minority leader, Republicans in Congress are cynically exploiting for partisan advantage a set of antiquated rules and procedures that should have been done away with years ago. They are displaying a willingness to bring the country to the edge of a financial cataclysm amid a global pandemic.
Last week, the House passed a temporary funding bill that would keep the government running until December 3, 2022, and also suspend the debt ceiling until that same month. It was this bill that Senate Republicans blocked on Monday, with the Democrats failing to get the sixty votes needed to defy a filibuster and McConnell accusing them of engaging in a "socialist" spending binge. For weeks, McConnell has made clear that his goal is to force the Democrats to raise the ceiling on their own, through the reconciliation bill, so that Republicans can attack them for profligacy going into next year's Senate and House races. The G.O.P. is pursuing this cynical and reckless course even though Democrats twice agreed, during Donald Trump's Presidency, to raise the debt limit on a bipartisan basis. https://www.newyorker.com/news/our-columnists/republicans-are-gambling-recklessly-on-the-debt-limit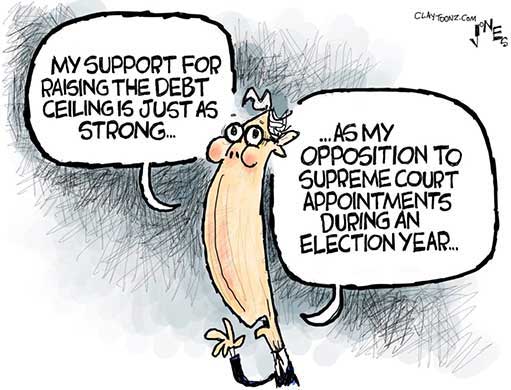 Philip Bump:The effort to downplay Jan. 6 is working
Two days before a planned rally at the U.S. Capitol in support of those arrested for participating in the violent riot at the Capitol on Jan. 6, former president Donald Trump, in whose name that riot unfolded, released a statement.
"Our hearts and minds are with the people being persecuted so unfairly relating to the January 6th protest concerning the Rigged Presidential Election," Trump wrote on Sept. 16, using the false characterization of the 2020 election that spurred the violence. "In addition to everything else, it has proven conclusively that we are a two-tiered system of justice. In the end, however, JUSTICE WILL PREVAIL!"
The idea is that those arrested for participating in the riot — including the 185 people arrested for "assaulting, resisting, or impeding officers or employees," in the words of the Justice Department, 55 of whom "have been charged with using a deadly or dangerous weapon or causing serious bodily injury to an officer" — have been targeted unjustly. That the riot wasn't a riot at all, just a demonstration, maybe with a few bad apples. That the effort to prosecute the participants is simply the Biden administration trying to target Republicans.
It's an idea that fundamentally downplays the scale of what happened that day. It's also an idea that has gained ground with Republicans over the past six months.
New polling from the Pew Research Center shows a significant decline since March in the percentage of Americans who say it's very or somewhat important to find and prosecute those involved in the riot. That shift is entirely a function of decreasing concern among Republicans and Republican-leaning independents.
When considering only those who say such prosecutions are very important, that decline is more dramatic. In March, about half of Republicans said this was important; now, about a quarter do. Among Republicans and leaning independents who in June said that Joe Biden won the 2020 election, about 43 percent said the prosecutions were very important. Among the Republicans who told Pew that Trump won (which, of course, he didn't), less than 1 in 5 said it was important to find and prosecute the rioters. https://www.washingtonpost.com/politics/2021/09/28/effort-downplay-jan-6-is-working/
Michael Hiltzik: America is not facing a civil war — only loudmouthed extremists
With an election just behind us and another beckoning a year from now, political pundits are dusting off their perennial observations about a "polarized" America.
Actually, these observations don't need to be dusted off because they're never put on the shelf, no matter how wrong they're proved by actual facts. The truth is that America is nothing like a polarized country.
Large majorities agree on the most pressing issues of the day: They favor abortion rights, stricter gun controls and more COVID-related restrictions, especially on unvaccinated people. You might not be aware of this if you listen to programs on Fox News or even the average political commentary in our leading newspapers or on CNN. There, depictions of an America wracked by irreconcilable disagreement is daily fare.
But they're not reporting a genuine schism in American politics; they're reporting on a divide pitting a majority in broad agreement against a boisterous minority. The latter's footprint is magnified through the platforms provided by Fox News, Facebook and other information outlets that don't care to report facts but prefer trading in conflict.
Sometimes you even hear the prospect of a new "civil war" being waged in the U.S.
One indication that chatter about America's perilous divide may be overwrought came just last weekend, when a highly touted rally scheduled for Washington to support the Jan. 6 insurrectionists turned into a comic-opera flop, with rallygoers apparently outnumbered by journalists.
"Emotions ran tepid," wisecracked the New Republic. https://www.latimes.com/business/story/2021-09-22/america-not-facing-a-civil-war-just-a-loudmouthed-extremism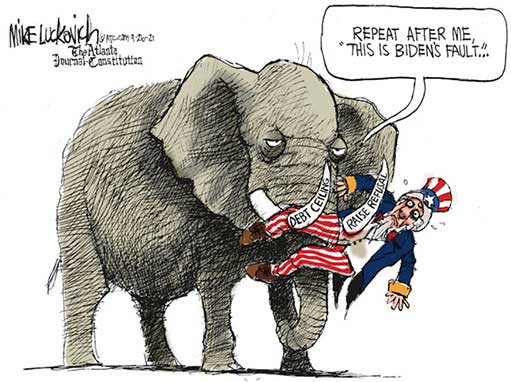 Ed Kilgore: Arizona Audit Aftermath Shows Trump Conspiracy Theories Will Go On Forever
After more than five months and around $6 million (most of it privately raised among Trump supporters), the legendarily ludicrous Arizona audit of the 2020 election results from Maricopa County (home of Phoenix) ended with the filing of an official report late last week. The headlines in most of the mainstream media focused on the most conspicuous finding by Cyber Ninjas, the outfit conducting the audit on behalf of Republican state senators: A hand recount of 2.1 million ballots cast in Maricopa (which accounted for about two-thirds of the state's vote) confirmed, and even slightly increased, Joe Biden's margin of victory there.
But MAGA folk have concluded the rest of the audit and the rest of the report have revealed yet-to-be-resolved anomalies in mail ballots; Trump himself is even claiming it "proved" he won Arizona, which is as mendacious as anything else he's said about the 2020 elections, but is nonetheless holy writ among his core followers. And the suspicions Cyber Ninjas raised will be used to justify similar "audit" efforts in other states, most notably Pennsylvania, Wisconsin, and Texas.
That this has nothing to do with legitimate questions about the 2020 results should be made plain by the fact that no one disputes Trump's 2020 win in Texas. This is "auditing" for the sake of auditing. There is no reason to think it will ever end until Trump has undermined faith in our electoral system enough to suit his purposes. https://nymag.com/intelligencer/2021/09/end-of-arizona-audit-doesnt-end-trump-conspiracy-theories.html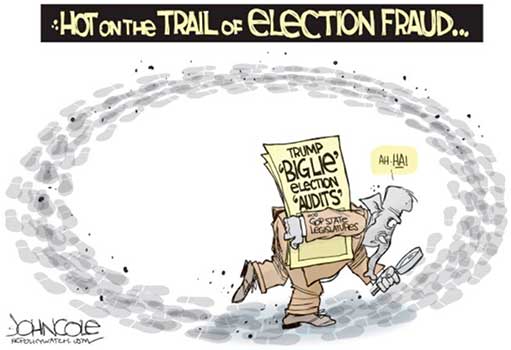 Aaron Blake: How Republicans learned to stop worrying and embrace 'replacement theory' — by name
The story of the Republican Party in the Trump era is, by and large, one of a boiled frog.
President Donald Trump constantly pushed the envelope in ways that made his allies uncomfortable. They sometimes spoke out, especially early on, only to have the base stand by the president and rebuke them. That meant that when Trump pushed even further, his duly chastened allies increasingly responded accordingly: with silence. It's how we got from a guy carping about supposed voter fraud in an election he won, in 2016, to a guy spurring a harebrained effort to overturn the 2020 election, which he lost.
The boiled frog (the proverbial tale of a frog that is boiled too slowly to realize what's happening to it) is now returning, in the form of "replacement theory." The GOP seems either unconscious of what's happening — or doesn't care.
As we wrote a while back, the Republican Party's increasing embrace of replacement theory — the idea popular in white supremacist circles that immigrants are being brought in to replace native-born (read: White) Americans — has been a slow build. For years, it was an idea relegated to infrequent mentions by fringe Republicans who operated outside the political mainstream and weren't generally welcomed in politer circles of the GOP. When it was mentioned, it was dressed up as something besides replacement theory, per se.
What has transpired over the past week, though, shows how quickly something can be injected into the bloodstream when that dressed-up version is initially given a pass. While some of the most prominent members of the conservative movement have increasingly espoused a version of replacement theory without calling it that — and sometimes seeking to differentiate it from the white supremacist version — they're now just straight-up embracing the label. https://www.washingtonpost.com/politics/2021/09/27/how-republicans-learned-stop-worrying-embrace-replacement-theory-by-name/
Ashley Parker: As Trump hints at 2024 comeback, democracy advocates fear a 'worst-case scenario' for the country
A year before the 2020 election, about two dozen constitutional scholars and democracy advocates traveled to Washington to work through a range of scenarios where something goes awry on Election Day.
The country's political system was being tested by a campaign like no other in modern history, with an incumbent president, Donald Trump, who showed little regard for the democratic traditions and constitutional norms that had guided his predecessors — and who repeatedly claimed that the only way he could lose was through rampant fraud.
So the group considered a slew of hypothetical catastrophes: "What do we do if a vigilante group takes over a major county tabulation facility and burns it to the ground? What do we do if there is a military coup?" But, as Tammy Patrick, a senior adviser to the elections program at Democracy Fund tells it, the experts were too quick in retrospect to dismiss the outrageous as unlikely to happen in a country like the United States.
But, the challenges for American democracy were on stark display almost exactly two months after Election Day, on Jan. 6, when a violent mob of Trump supporters mounted a deadly insurrection on the U.S. Capitol. And the challenges have been clear in the eight months since the riot, as Trump and his allies have intensified false claims of election fraud and the former president has remained the Republican Party's most popular leader.
Now, as Trump looks and sounds increasingly like he intends to mount a presidential campaign rerun, Democrats and democracy experts are grappling with what such a campaign — and a potential second Trump presidency — would mean for the country. https://www.washingtonpost.com/politics/as-trump-hints-at-2024-comeback-democracy-advocates-fear-a-worst-case-scenario-for-the-country/2021/09/28/ee357558-1a47-11ec-914a-99d701398e5a_story.html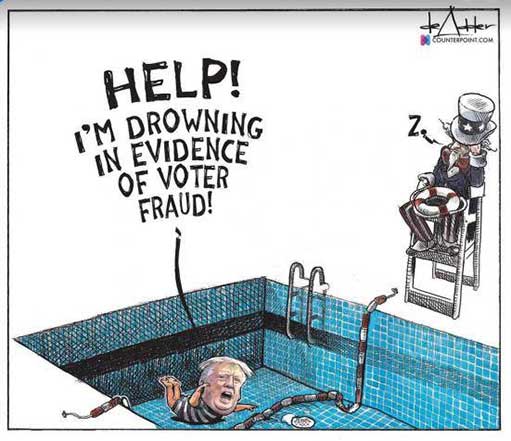 Dana Milbank: Republicans aim their fire at the military
Perhaps nothing Republican lawmakers do anymore should come as a surprise, but their treatment of Gen. Mark A. Milley on Tuesday opened a new front in the war against civilized norms.
Republicans on the Senate Armed Services Committee didn't just give a dressing down to the nation's top soldier about the Afghanistan pullout; they assassinated his character and impugned his patriotism, accusing him of aiding the enemy and of placing his own vanity before the lives of the men and women serving under him.
Had the senators listened, they would have learned from the generals that they uniformly opposed staying in Afghanistan beyond Aug. 31 because it would have resulted in "significant" U.S. casualties, that Trump's withdrawal agreement with the Taliban was violated by the Taliban from the start and left Afghan security forces demoralized, and that Biden faced the very real risk of the situation escalating into another war if he didn't withdraw.
But that was difficult to hear much beyond the Republicans' heckling:
"Humiliation."
"Fiasco."
"Debacle."
"Botched evacuation screwed things up."
"Disgraceful."
No. What's disgraceful is that Republicans have now turned their unquenchable rage into personal attacks on the nation's military leaders — and on the "broken" and no longer "trustworthy" military itself. https://www.washingtonpost.com/opinions/2021/09/28/mark-milley-senate-hawley-blackburn/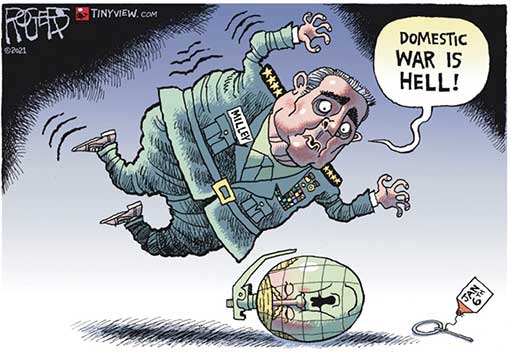 Susan B. Glasser The Most Important Statistic of the Biden Presidency
Trump is out of office, but Trump-style politics have decisively won over the Republican Party. A new CNN poll this week found that seventy-eight per cent of Republicans subscribe to Trump's Big Lie that Biden was not legitimately elected—more than in some polls in the immediate aftermath of Trump's traumatic exit.
The partisan split has also translated into a deadly divide in vaccination rates—a tragedy given that vaccines are, for now, the only real way out of this mess. And no wonder this divide persists. It is not an accident or an immutable fact of American political life; it's a fire built and stoked by Trump and his supporters. Among the top stories on Fox News' home page on Thursday, I could not find a single reference to the pandemic, and little sense that covid even existed, beyond a link to a video headlined "Liberal host torched for labeling GOP 'COVID-loving death cult' in bizarre rant." As I was writing this column, I received an e-mail from one Donald J. Trump. The subject was "Biden's vaccine mandate." "I totally OPPOSE this liberal overreach that requires Americans to be vaccinated," Trump wrote. "The Left is working overtime to CONTROL you, Friend," he warned. Biden, he added, "doesn't care about you or your freedoms."
The tragic triumph of Trumpism is not that he has persuaded all Americans, or even a majority of Americans, to reject their way out of the pandemic; it's that he has persuaded just enough of them to keep the disease wreaking havoc on the country.
The G.O.P.'s desire to see Biden fail has become a willingness to let the country fail. Nine months into Biden's Presidency, the bottom line is that the Republican war on Biden's legitimacy and the war on Biden's covid policies are now inextricably linked. The consequences of this are so hard to contemplate that we often do not do so: a politics so broken that it is now killing Americans on an industrial scale. https://www.newyorker.com/news/letter-from-bidens-washington/the-most-important-statistic-of-the-biden-presidency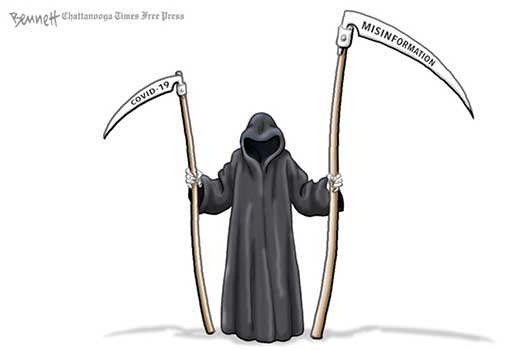 Robert Kagan: Our constitutional crisis is already here
The events of Jan. 6 proved that Trump and his most die-hard supporters are prepared to defy constitutional and democratic norms, just as revolutionary movements have in the past. While it might be shocking to learn that normal, decent Americans can support a violent assault on the Capitol, it shows that Americans as a people are not as exceptional as their founding principles and institutions. Europeans who joined fascist movements in the 1920s and 1930s were also from the middle classes. No doubt many of them were good parents and neighbors, too. People do things as part of a mass movement that they would not do as individuals, especially if they are convinced that others are out to destroy their way of life.
It would be foolish to imagine that the violence of Jan. 6 was an aberration that will not be repeated. Because Trump supporters see those events as a patriotic defense of the nation, there is every reason to expect more such episodes. Trump has returned to the explosive rhetoric of that day, insisting that he won in a "landslide," that the "radical left Democrat communist party" stole the presidency in the "most corrupt, dishonest, and unfair election in the history of our country" and that they have to give it back. He has targeted for defeat those Republicans who voted for his impeachment — or criticized him for his role in the riot. Already, there have been threats to bomb polling sites, kidnap officials and attack state capitols. "You and your family will be killed very slowly," the wife of Georgia's top election official was texted earlier this year. Nor can one assume that the Three Percenters and Oath Keepers would again play a subordinate role when the next riot unfolds. Veterans who assaulted the Capitol told police officers that they had fought for their country before and were fighting for it again. Looking ahead to 2022 and 2024, Trump insists "there is no way they win elections without cheating. There's no way." So, if the results come in showing another Democratic victory, Trump's supporters will know what to do. Just as "generations of patriots" gave "their sweat, their blood and even their very lives" to build America, Trump tells them, so today "we have no choice. We have to fight" to restore "our American birthright." https://www.washingtonpost.com/opinions/2021/09/23/robert-kagan-constitutional-crisis/
Donna F. Edwards: McConnell has given Democrats the justification they need to kill the filibuster
News flash: The Grand Old Party, also known as the Deadbeat Republican Party, is unwilling to pay the bills and ready to turn off the lights in America. No principles here; this is all about politics — no matter the consequences of this deliberately inflicted economic crisis with a global pandemic and multiple natural disasters as a backdrop.
Senate Minority Leader Mitch McConnell (R-Ky.) pronounced that no Republican would cast a vote to increase the debt ceiling. That moved the goal post, because he's effectively threatening a filibuster if 10 Senate Republicans do not join Democrats to advance the measure. With classic McConnell cynicism, he declared that the government must pay its bills while announcing that Republicans won't sign the checks. That was the reveal. Not to be outdone, every single House Republican voted against both increasing the debt limit and keeping the government running when funding runs out on Oct. 1.
Just as Republicans have fallen in line with the "big lie" about the 2020 election, undermining confidence in our democracy and its constitutional norms, they are now prepared to set fire to the entire house by tanking our economy. But this despicable move can give Democrats exactly the ammunition they need — a genuine, defensible justification for eliminating the filibuster.
Democrats should call McConnell's bluff. Kill the filibuster, raise the debt ceiling to pay our bills, fund the U.S. government. And then be free to move on and pass the broader agenda that the majority of voters want. https://www.washingtonpost.com/opinions/2021/09/25/mcconnell-has-given-democrats-justification-they-need-kill-filibuster/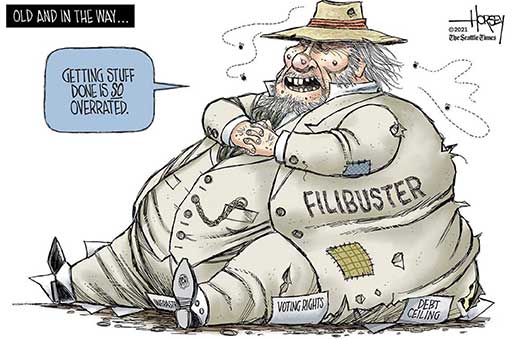 Cleve R. Wootson Jr.: Vice President Harris, assigned to tackle volatile issues, quietly builds a network
When Kamala Harris became an administration point person on abortion this month, many operatives in both parties viewed it as yet another example of President Biden's saddling her with a thankless task on an explosive subject he was eager to avoid handling. Biden had already assigned Harris to tackle the root causes of irregular migration, amid a chaotic influx at the southern border, and to take the lead on voting rights, as Republican-led states began passing restrictive voting laws.
All are volatile social issues that many politicians would see as offering little benefit as policy assignments. But behind the scenes, Harris has been quietly seizing the opportunity to build a liberal national network of dedicated activists that is convinced she embraces its causes.
If Harris has a path to the presidency, it is likely to run through an energized liberal base — not, as it did for Biden, through blocs of centrist Democrats and moderate Republicans." https://www.washingtonpost.com/politics/harris-assigned-to-tackle-volatile-issues-quietly-builds-a-network/2021/09/25/5440d8ac-163c-11ec-9589-31ac3173c2e5_story.html
Dan Pfieffer: The Real Reasons Behind the Mess on Capitol Hill
Stop looking for someone to blame and look for something to blame. In one fell swoop, Democrats are trying to rebuild our roads and bridges, unrig the tax code, lift millions out of poverty, address climate change, create jobs, expand access to high education and help families afford childcare and eldercare. Any of these on their own would be hard. Doing them all at once is nearly impossible. But this is the only option because Senate Democrats won't fix the filibuster, and Republicans will not lift a finger to help their constituents or save the planet under their feet.
Democrats are forced to use the one remaining budget reconciliation bill to accomplish their entire agenda. The process is cumbersome and depends on the capricious whims of the unelected Senate parliamentarian, who decides which policies can be included in budget reconciliation bills. It was the parliamentarian who decided that a minimum wage increase and immigration reform would not be included. Her reasoning was nonsensical because the entire process is nonsensical!
In 2009, Democrats had 59 Senate votes and couldn't overcome a Republican filibuster. Obamacare was paired with student loan reform and then pared back in various ways to satisfy the parliamentarian. We are repeating this pattern — and will continue to do so — until the filibuster is gone. The rest is just noise. https://messagebox.substack.com/p/the-real-reasons-behind-the-mess
Reid Wilson: Dozens of lawsuits filed ahead of redistricting presage years of litigation
The decennial redistricting process is always a magnet for legal challenges, though this decade is likely to represent a different sort of test. The U.S. Supreme Court in recent years has struck down many of the guardrails that once hemmed in legislatures, including sections of the Voting Rights Act. A more recent case effectively barred federal courts from weighing in on questions of partisan gerrymandering, forcing those suits into state courts. 
"Legislatures feel unbridled in what they're allowed to do," Feng said. "There were more legal constraints in past redistricting processes that have been eroded by court decisions and that sense that states can now engage in redistricting with far fewer legal constraints has allowed some to engage in very brazen gerrymandering." 
Torchinsky, the Republican attorney, said lawsuits over district lines and the process itself can represent a no-lose situation for a minority party in any state. If a majority party forces through a map that puts the minority at a disadvantage, the worst that can happen to a minority party in a lawsuit is maintaining the status quo — and the best that can happen is a much more favorable map.
"The Democrats have no incentive not to challenge any Republican-passed map, and the Republicans have no incentive not to challenge the Democrat-passed map, and whoever's ox feels gored by a commission has no incentive not to challenge it," he said. "The incentive is, whoever feels like they're on the losing side should sue." https://thehill.com/homenews/state-watch/573712-dozens-of-lawsuits-filed-ahead-of-redistricting-presage-years-of
Jamelle Bouie: Trump Had a Mob. He Also Had a Plan.
John Eastman, a prominent, respected member in good standing of the conservative legal establishment, who clerked for Supreme Court Justice Clarence Thomas, schemed with the president and his allies in the Republican Party to overturn the election and overthrow American democracy under the Constitution. Yes, they failed to keep Trump in office, but they successfully turned the pro forma electoral counting process into an occasion for real political struggle.
It was always possible, theoretically, to manipulate the rules to seize power from the voters. Now, it's a live option. And with the right pieces in place, Trump could succeed. All he needs is a rival slate of electoral votes from contested states, state officials and state legislatures willing to intervene on his behalf, a supportive Republican majority in either house of Congress, and a sufficiently pliant Supreme Court majority.
As it happens, Trump may well run for president in 2024 (he is already amassing a sizable war chest) with exactly that board in play. Republican state legislatures in states like Georgia and Arizona have, for example, used claims of fraud to seize control of key areas of election administration. Likewise, according to Reuters, 10 of the 15 declared Republican candidates for secretary of state in five swing states — Arizona, Georgia, Wisconsin, Michigan and Nevada — have either declared the 2020 election stolen or demanded that authorities invalidate the results in their states. It is also not unlikely that a Republican Party with pro-Trump zealots at its helm wins Congress in November of next year and holds it through the presidential election and into 2025.
If Trump is, once again, on the ballot, then the election might turn on the manipulation of a ceremony that was, until now, a mere formality.  https://www.nytimes.com/2021/09/24/opinion/jan-6-eastman-memo.html