April 7, 2016
ON THE RECORD. . .
"If I win, all of the bad things happening in the U.S. will be rapidly reversed!"— Donald Trump, 4/02/16.
"If I were in my car and getting ready to reverse and saw Donald in the backup camera, I'm not confident which pedal I'd push." — Ted Cruz 4.31.16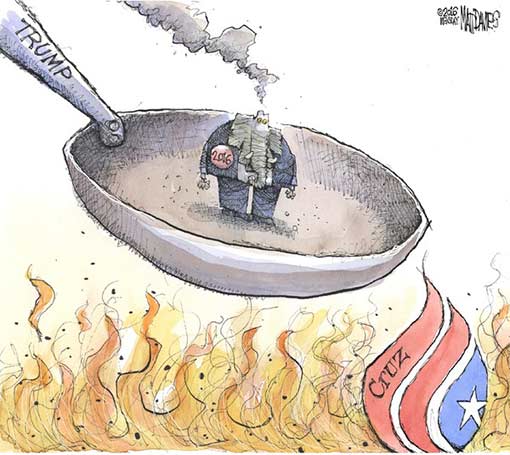 "If Bernie or Hillary is elected they'll mandate 'when to get up, what to eat, what you are thinking, what school you are going to go to and what you are going to believe.'" -- Rep. Don Young (R-AK). More of Rep. Young's bizarre comments. 3/31/16
"Republicans who once worried that Mr. Trump might gain overwhelming momentum in the primaries are now becoming preoccupied with a different grim prospect: that Mr. Trump might become a kind of zombie candidate — damaged beyond the point of repair, but too late for any of his rivals to stop him." -- Alexander Burns in the NY Times 4/01/16
"I think you need to run for president in order to be president. I'm not running for president, so, period. End of story." — Speaker Paul Ryan 4/03/16
"I am also a Democrat and have been a proud Democrat all my adult life. And I think that's kind of important if we're selecting someone to be the Democratic nominee of the Democratic Party. I know how important it is to elect state legislators, to elect Democratic governors, to elect a Democratic Senate and House of Representatives."  -- Hillary Clinton, whose Victory Fund has raised almost $27 million in 2015, money divided up between Clinton's campaign for the White House, the DNC, and nearly three dozen state Democratic parties.
"As long as you come here legally and get a proper job . . . we need immigrants. Who's going to vacuum our living rooms and clean up after us? Americans don't like to do that." — Trump's ex-wife, Ivana Trump 4/04, 2016
"I've asked God to forgive me because that's the most important thing. I want back in His fellowship. And so I asked God to forgive me. But I asked other people to again forgive me and I've already done that and I have truly asked the people of this state – they're the folks who love me and are the best people in the world – I have asked them to forgive me." -- Alabama Gov. Robert Bentley (R) apologizing without ever admitting to the affair he has been accused of. 4/05/15
"Tax avoidance is a big global problem. It's not unique to other countries." President Barack Obama, addressing the leaked Panama Papers documents that show how global business and government leaders have parked billions of dollars overseas in undisclosed accounts." 4/04/15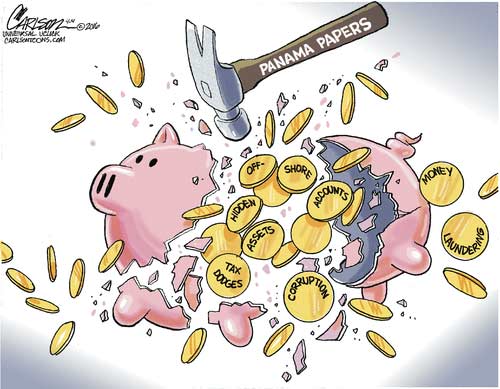 ---
IN THIS ISSUE
1. The DAILY GRILL
2. Scientists nearly double sea level rise projections for 2100, because of Antarctica
3. Odds of a Contested GOP Convention Rise
4. New Day for America ad: Lyin' Ted
5. From MEDIA MATTERS (They watch Fox News so you don't have to)
6. Late Night Jokes for Dems
7. From the Late Shows
8. Democrats Increasing Their Edge in U.S. Party Affiliation
9. GOP edging toward an earthquake
10. CANADA for President 2016
11. The Borowitz Report: Trump: Decision to Consider Women Humans Should Be Left to States 
12. Ted Cruz and the women's vote
13. The GOP's war on gays (cont.): Governor signs anti-LGBT law
14. Why the Odds Have Risen for a Democratic Victory
15. Wisconsin GOP Lawmaker Says Voter ID Will Help Republicans
1. Paul Krugman: Shadows of Smears Past
2. NY Times Editorial: Republicans and Voter Suppression
3. David Plouffe: Hillary Clinton has strengthened her hold on the nomination
4. Kos: Delusion sets in at Camp Sanders
5. Dana Milbank: The Dangerous Donald
6. Eleanor Clift: Democratic Superdelegates
7. Adam Gopnik: Donald Trump and the Stunts That Expose the G.O.P.
1. The DAILY GRILL
"147 FBI agents have been deployed to run down leads in the investigation into Clinton's private email server, according to a lawmaker briefed by FBI Director James B. Comey." -- The Washington Post"s Robert O'Harrow Jr 3/27/16

VERSUS

"There are currently about 12 FBI agents working full-time on the case" - a former FBI official, calling the 147 figure "a ridiculous number. You need an act of terrorism to get 50 agents working on something." -- NBC News 3/30/16

 

"The researchers concluded that just a few more decades of "unabated" carbon emissions could result in more than three feet of sea-level rise from WAIS by the end of this century. (The over-all rise would be much greater, as ice would also be lost from Greenland and from mountain glaciers.) Over the longer term, melt from Antarctica could raise sea levels by fifty feet." -- Elizabeth Kolbert in the New Yorker 3/31/16

VERSUS

Trump has repeatedly used Twitter—his favored policy platform—to scoff at the very notion of climate change. "Hoax" and "con job" are some of his more nuanced comments. "Bullshit" is another.Ted Cruz recently claimed that the federal government was "cooking the books" to demonstrate warming that doesn't exist. Cruz has said he will rescind rules the Environmental Protection Agency has put in place to limit emissions from power plants, while Trump has said he would eliminate the agency altogether. -- The New Yorker 3/31/16

 

"We don't represent Wall Street. We don't represent the drug companies or the fossil fuel industry. We don't want their money," -- Bernie Sanders who, along with his staff, surrogates, and his supporters routinely accuse Hillary of accepting money from fossil fuel companies, along with every other industry they find objectionable. But what they are alleging isn't even legal. Accepting direct contributions from corporations is a violation of campaign law.. 3/31/16

VERSUS

"I am so sick, I am so sick of the Sanders campaign lying about me. I'm sick of it." -- Hillary Clinton responding to a Bernie supporter who asked her if she "will act on her word to reject fossil fuel money in the future in your campaign." The Washington Post fact checker gives Sanders three Pinocchios for his statements on Clinton and the fossil fuel industry.

 

"Don't destroy the Democratic Party to satisfy the Secretary's ambitions to become president of the United States." -- Bernie Sanders' campaign manager Jeff Weaver admonishing the Clinton campaign. 4/06/16

VERSUS

"You know, I have been campaigning for Democrats, fundraising for Democrats, recruiting Democrats to run and win for a really long time. I think about 40 years. Senator Sanders, by his own admission, has never even been a Democrat. I understand they are getting anxious. I get that. But they need to be thoughtful about what they do say because at the end of the day we need a Democratic president." -- Hillary Clinton. 4/06/16

 

"Well let me, let me just say in response to Secretary Clinton: I don't believe that she is qualified if she is, if she is, through her super PAC, taking tens of millions of dollars in special interest funds." -- Bernie Sanders 4/16/16

VERSUS

"Hillary Clinton did not say Bernie Sanders was 'not qualified.' But he has now - absurdly - said it about her. This is a new low. ... Facing long odds, Sanders is inventing grievances & nonexistent paths to the nomination to rile his supporters & keep fundraising spigot on." -- Clinton spokesman Brian Fallon@brianefallon 4/16/16
2. Scientists nearly double sea level rise projections for 2100, because of Antarctica
Scientists behind a new study published in the journal Nature <http://www.nature.com/articles/nature17145.epdf> used sophisticated computer models to decipher a longstanding riddle about how the massive, mostly uninhabited continent surrendered so much ice during previous warm periods on Earth. They found that similar conditions in the future could lead to monumental and irreversible increases in sea levels. If high levels of greenhouse gas emissions continue, they concluded, oceans could rise by close to two meters in total (more than six feet) by the end of the century. The melting of ice on Antarctica alone could cause seas to rise more than 15 meters (49 feet) by 2500.
The startling findings paint a far grimmer picture than current consensus predictions, which have suggested that seas could rise by just under a meter at most by the year 2100. Those estimates relied on the notion that expanding ocean waters and the melting of relatively small glacierswould fuel the majority of sea level rise, rather than the massive ice sheets of Greenland and Antarctica. 3/30/16 https://www.washingtonpost.com/news/energy-environment/wp/2016/03/30/antarctic-loss-could-double-expected-sea-level-rise-by-2100-scientists-say/ Watch the video at http://wapo.st/1Y1evzz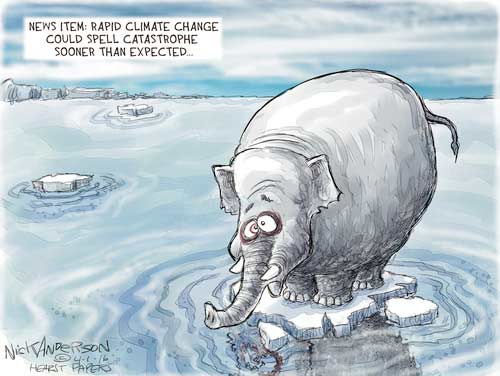 3. Odds of a Contested GOP Convention Rise
The Predict It betting market shows the chances of a contested Republican convention are rising rapidly - now up to 70% https://www.predictit.org/Contract/1565/Will-Republicans-have-a-brokered-convention-in-2016#data
Meanwhile, PredictWise shows Donald Trump's chances of winning the GOP nomination falling from about 80% to 56% in recent days. http://predictwise.com/politics/2016-president-republican-nomination
4. New Day for America Ad: Lyin' Ted
A super PAC aligned with Gov. John Kasich has put out this tough new attack ad featuring Sen. Ted Cruz: https://youtu.be/BDumsN1NCGg
5. From MEDIA MATTERS (They watch Fox News so you don't have to)
Fox News Doesn't Want USDA To Enforce Healthy School Lunches Because It Was Promoted By Michelle Obama http://mediamatters.org/video/2016/03/31/fox-news-doesnt-want-usda-to-enforce-healthy-sc/209671

Trump Ally Roger Stone Suggested He'd "Kick In" Money To See Hillary Clinton Kill Herself http://mediamatters.org/video/2016/04/01/trump-ally-roger-stone-suggested-hed-kick-in-mo/209685

Conservative Media Smear Merrick Garland: Benghazi Edition http://mediamatters.org/blog/2016/04/01/conservative-media-smear-merrick-garland-bengha/209681

Fox's Howard Kurtz Falsely Claims FBI Probe Into Clinton Email Is "A Criminal Investigation" http://mediamatters.org/video/2016/04/03/foxs-howard-kurtz-falsely-claims-fbi-probe-into/209713

Wash. Examiner's Susan Ferrechio: "The Media Love To Play Gotcha With Republican Candidates" Like Donald Trump On Abortion http://mediamatters.org/video/2016/04/03/wash-examiners-susan-ferrechio-the-media-love-t/209710

Longtime Donald Trump adviser and ally Roger Stone's sexist and racist tweets attacking media personalities have resulted in him being banned from CNN and MSNBC. http://mediamatters.org/blog/2016/04/05/trump-ally-roger-stones-scrubbed-tweets-stupid/209761
6. Late Night Jokes for Dems
"Trump's campaign manager Corey Lewandowski was recently arrested and charged with battery of a female reporter after he allegedly grabbed and twisted her arm, but Trump is dismissing the allegations and is standing by his campaign manager. I know what you are thinking — how is this the one time that Trump doesn't say, 'You're fired.'" – James Corden

"Trump's explanation for keeping Lewandowski on staff is that he's a loyal person. And Trump IS a loyal person. Just ask any of his three wives." – James Corden

"Donald Trump suggested this morning that his campaign manager Corey Lewandowski, who has been accused of harshly grabbing a reporter at a rally, could have just been keeping her from falling down. Sure. And Bill Cosby was just helping those ladies get a good night's sleep." – Seth Meyers

"Donald Trump says that if he is president, he will punish women who have abortions, although he doesn't yet know what that punishment would be. You know, aside from Donald Trump being the president." – Conan O'Brien

"Marco Rubio reportedly wants to play a role in the upcoming Republican convention. It all depends on whether or not they need a sign-spinner." – Conan O'Brien

"At yet another town hall last night, Ted Cruz was asked about his weaknesses, and admitted that he's 'hard-charging' and has stepped on some toes. Then he was like, 'But enough about my high school prom.'" – Jimmy Fallon

"Last night was the GOP town hall on CNN and of course all of the focus was on Ted Cruz and Donald Trump. I have to say, Trump and Cruz are turning into the real-life version of 'Batman v Superman': It's taking too long and it sucks." – James Corden

"There are rumors that Ted Cruz has had affairs with up to eight different women. Ted Cruz refuses to answer questions about the scandal, but he is accepting high-fives." – Conan O'Brien

"Donald Trump in a new interview supported the idea of holding back attacks on the wives and children of rival candidates, before adding, 'All you have to do is tell that to Ted Cruz because he started it.' Trump then added, 'I'm not touching him! I'm not touching him! I'm not touching him!'" –Seth Meyers

"Conservative pundit Glenn Beck said Friday that Ted Cruz was 'anointed' by God to become president. To which God replied, 'No, no, no, I said he was 'annoying.'" –Seth Meyers
7. From the Late Shows
Jimmy Kimmel Live: Senator Ted Cruz Discusses Not Being Liked By His Colleagues

The Late Show with Stephen Colbert: Cartoon Donald Trump Has The Biggest Numbers

SNL Cold Open: At This Hour

Last Week Tonight with John Oliver: Nuclear Security Summit

https://www.youtube.com/watch?v=7kYjvOCIREo

The View: Hillary Clinton Talks NY, Election 2016, and Sexism

https://www.youtube.com/watch?v=6qXc0j8EJyQ

The Daily Show w/Trevor Noah: Debbie Wasserman Schultz - Uniting The Democratic Party Against The GOP

http://www.cc.com/video-clips/xrw6uo/the-daily-show-with-trevor-noah-debbie-wasserman-schultz---uniting-the-democratic-party-against-the-gop
8. Democrats Increasing Their Edge in U.S. Party Affiliation
Forty-six percent of Americans now identify politically as Democrats or say they lean Democratic, while 40% identify as Republican or lean Republican. As recently as October, the parties had equal levels of support. 4/01/16 http://www.gallup.com/poll/190421/democrats-increasing-edge-party-affiliation.aspx
9. GOP edging toward an earthquake
A new Democracy Corps' new poll shows the country edging toward an earthquake in November.1 Hillary Clinton already holds a 13-point margin against Donald Trump and a 6-point lead over Ted Cruz, just a point short of Obama's margin in 2008. But seven new findings in this survey suggest something even more disruptive electorally.
The Republican Party brand, now defined by its widely-loathed presidential candidates and gridlock, has deteriorated to the record lows seen in the months after the government shutdown and debt-ceiling crises. More than half of likely voters now view the GOP unfavorably, driven down by diminished support among swing groups, including white unmarried women, the white working class, and independents, who now view the GOP more unfavorably than not.
The souring GOP brand is putting key swing groups in play. White unmarried women no longer underperform and are voting for Clinton two-to-one. The Trump candidacy also moves the once competitive suburban vote firmly into the Clinton camp, produces a small lead among seniors, and brings the vote to even among white college-educated men who voted heavily for Romney. And arguing against Mr. Trump's claim that he is winning over independents is the 31-point decline in their willingness to vote Republican since 2012. 4/01/16 http://www.democracycorps.com/attachments/article/1029/Dcor_March%20National_Memo_4.1.2016_FOR%20RELEASE.pdf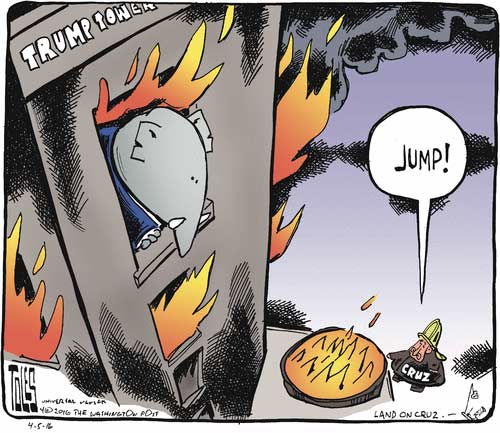 10. CANADA for President 2016
https://www.youtube.com/watch?v=sCyzdD0vYOw&list=PL7C2F7E71AA017D80&index=1
11. The Borowitz Report: Trump: Decision to Consider Women Humans Should Be Left to States
Attempting to repair some of the fallout from his recent remarks about women, Donald Trump said on Sunday that the decision of whether women should be considered humans should be left to the states.
"I wouldn't want to tell Texas whether women are humans, for example," he said on CBS's "Face the Nation." "They obviously have some very strong opinions about that."
Trump's latest comments drew a strong rebuke from his chief rival, Senator Ted Cruz, on the campaign trail in Wisconsin. "Once again, Donald has utterly failed to find a subtle way to express the Republican Party's anti-woman views," he said. Read more at http://www.newyorker.com/humor/borowitz-report/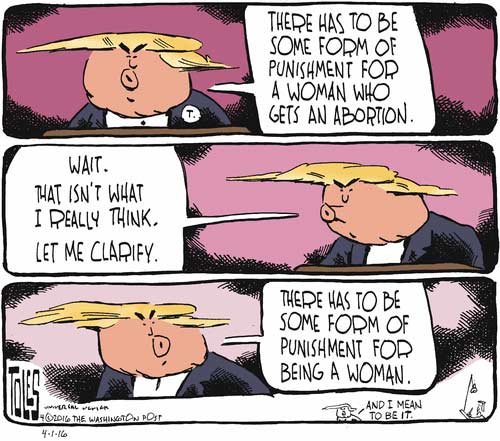 12. Ted Cruz and the women's vote
Ted Cruz is going after the women's vote. So far, this appeal mostly seems to involve having his wife and mother "hit the trail to highlight a softer side." Because—with a short pause to first shudder over the idea of Ted Cruz's softer side—here's a quick review of his views on just a few issues that may matter to women:
He opposes paycheck fairness
He opposes paid family leave
He opposed reauthorizing the Violence Against Women Act
He opposes raising the minimum wage
He opposes all reform to gun laws
He supports criminalizing abortion
He supports defunding (and prosecuting) Planned Parenthood
He supports abolishing the Department of Education
Yep. The ladies will love him.4/04/16 http://www.dailykos.com/stories/2016/4/4/1510105/-Ted-Cruz-attempts-to-woo-the-ladies
13. The GOP's war on gays (cont.): Governor signs anti-LGBT law
Mississippi's governor Gov. Phil Bryant (R) signed a law on Tuesday that allows public and private businesses to refuse service to gay couples based on the employers' religious beliefs. The measure allows churches, religious charities and privately held businesses to decline services to people whose lifestyles violate their religious beliefs. 4/05/16 http://talkingpointsmemo.com/news/mississippi-signs-anti-gay-law
14. Why the Odds Have Risen for a Democratic Victory
Candidates seeking to succeed a two-term incumbent of their own party face an uphill battle. All other things being equal, political scientists find, such candidates can expect to fall short of the incumbents' re-election vote share by at least 4 percentage points. Applied to the 2012 results, this metric would yield a 47% share for this year's Democratic nominee.
On the other hand, demographic trends favor the Democrats. As the nonwhite share of the electorate increases, Democrats can expect their baseline to shift upward by 1 or even 2 percentage points in each four-year cycle—a significant gain, but not enough to counter the third-term disadvantage.
It is at this point that factors specific to 2016 come into play. To begin, the American people's assessment of Barack Obama's performance as president has been rising steadily. From a low of 43% approval as recently as December, it has increased to an average of 49% today… Another potential plus for the 2016 Democratic nominee is the economy's improving condition… Since its recessionary low, the economy has added more than 13 million jobs, and the unemployment rate has fallen by half. 4/06/16 https://politicalwire.com/2016/04/06/why-the-odds-have-risen-for-a-democratic-victory/
15. Wisconsin GOP Lawmaker Says Voter ID Will Help Republicans
Rep. Glenn Grothman (R-WI), a supporter of Ted Cruz told WTMJ that his state's new voter ID laws were a key reason the Republican presidential candidate will be competitive there in the general election.
Said Grothman: "Well I think Hillary Clinton is about the weakest candidate the Democrats have ever put up. And now we have photo ID, and I think photo ID is going to make a little bit of a difference as well." 4/05/16 http://www.tmj4.com/news/local-news/grothman-voter-id-law-will-help-eventual-gop-nominee-win-wisconsin
1. Paul Krugman: Shadows of Smears Past
The Times has a sort of pre-mortem in which people associated with the Sanders campaign wonder if they might have pulled it off if they'd made personal attacks on Hillary Clinton earlier. I'd say, probably not.
Now, in a last desperate attempt to beat the arithmetic, the Sanders campaign is turning the implicit character attack explicit, and doing so on the weakest possible ground. Clinton, who has said that coal is on its way out, is a tool of the fossil-fuel industry because some people who work in that industry gave her money? Wow.
Still, maybe it can work — although you need to remember that Sanders needs landslide victories in what's left of the primary. The problem is that if it doesn't work, Sanders will have spent a couple of months validating Republican attacks on the Democratic nominee (or, if he somehow pulls off an incredible upset, deeply alienating lots of progressives he's going to need himself.)
But what an ugly way to end a campaign that was supposed to be positive and idealistic. 4/04/16 http://krugman.blogs.nytimes.com/2016/04/04/shadows-of-smears-past/?emc=edit_ty_20160404&nl=opinion&nlid=74243604
2. NY Times Editorial: Republicans and Voter Suppression
It's become an accepted truth of modern politics that Republican electoral prospects go up as the number of voters goes down. Conservatives have known this for a long time, which helps explain their intensifying efforts to make it harder to vote, or to eliminate large numbers of people from political representation entirely.
On Monday, the Supreme Court unanimously rejected one of the more extreme attempts — a lawsuit from Texas that aimed to reverse longstanding practice and require that only eligible voters be counted in the drawing of state legislative districts.
The problem, as Judge Adelman and others have documented again and again and again, is that voter-ID laws are a destructive solution to a nonexistent problem. If there were any doubts about the bad faith of these laws, consider this: The Wisconsin law requires the state to educate voters about acceptable forms of ID and how to secure them — a particularly important public service for the roughly 300,000 state residents estimated not to have the proper ID. But despite requests from the state's nonpartisan Government Accountability Board for $300,000 to $500,000 for that effort, the Legislature provided no funding. Instead, Governor Walker signed a bill in December to dismantle the board.
Voting is a fundamental constitutional right, and politicians should be fighting to protect and expand it no matter their political affiliation. In an op-ed column in The Times last week, Representative Jim Sensenbrenner of Wisconsin, a 19-term Republican, made the case against more barriers to voting. "Ensuring that every eligible voter can cast a ballot without fear, deterrence and prejudice is a basic American right," he wrote. "I would rather lose my job than suppress votes to keep it." It's a shame, but not a surprise, that more of Mr. Sensenbrenner's colleagues don't agree. 4/04/16 http://www.nytimes.com/2016/04/05/opinion/republicans-and-voter-suppression.html?emc=edit_ty_20160405&nl=opinion&nlid=74243604&_r=0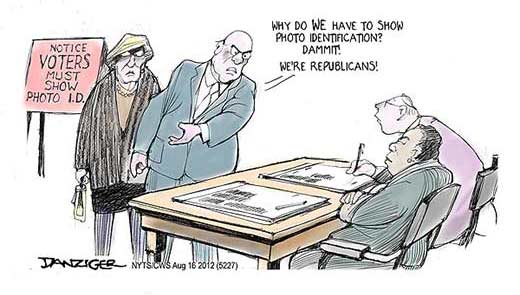 3. David Plouffe: Hillary Clinton has strengthened her hold on the nomination
I believe Hillary Clinton has zero chance of not being the Democratic nominee. But she still is going to lose a bunch of states to Bernie Sanders the rest of the way into the clubhouse.
The Clinton lead is almost 300 in pledged delegates. And over 700 in total delegates. Clinton will end the primary, even if she underperforms the rest of the way, with a pledged delegate lead greater than Barack Obama's in 2008.
And, no there is a zero percent chance the "super delegates" will somehow go against the will of the voters and choose the second place candidate. I find it hard to believe the Republican party leaders will take the nomination away from Trump in Cleveland, the GOP's clear vote and delegate leader. But it's not happening in Philadelphia
Still, closing by losing more states than you opponent. That won't be a "fun" narrative moment. So what could she do to change that? Very little. Bernie Sanders is running a strong campaign, and both have clearly identifiable bases of support. Doing the math, it's not that difficult to derive projected results.
The best you can hope is to over perform a bit here or there to secure an extra delegate or two in individual contests.
So as we follow each primary breathlessly and pundits assign outsized value to each of them and want to suggest momentum has changed this way or that, the reality is far less interesting. We for the most part this deep into the race already know what's going to happen. 3/28/16 https://medium.com/@davidplouffe/how-can-hillary-clinton-the-democratic-frontrunner-and-close-to-presumptive-nominee-lose-five-of-47a8875c1a87#.gog22hyfy
4. Kos: Delusion sets in at Camp Sanders
There are two candidates. No one else has delegates. By definition, someone will have a majority of pledged delegates. What that candidate won't have is a majority of all delegates, including the supers. But who cares? The only count that matters ispledged delegates. And if Sanders stages the biggest comeback in anything history to win a majority of pledged delegates? Kudos to him! He will have earned the nomination! 
But pretending that 1) we're going to have a brokered convention, when the math literally says it's impossible, and 2) pretending that the super delegates would abandon Clinton for him despite his historical and current antipathy toward the Democratic Party is simply delusional. 
His campaign can claim all it wants that it can still win the pledged delegate count. It won't, but let it pretend. But to claim we're going to have a brokered convention is … wait, now I'm just repeating myself. 4/05/15 http://www.dailykos.com/stories/2016/4/5/1510862/-Delusion-sets-in-at-Camp-Sanders
5. Dana Milbank: The Dangerous Donald
Whatever else one may think about Donald Trump, he has a gift for labeling opponents.
Jeb Bush? "Low energy."
Ted Cruz? "Lyin' Ted." (Trump directs supporters to drop the "g.")
Marco Rubio? "Liddle Marco." (He decrees that little be spelled with a double "d.")
"You have to brand people a certain way when they're your opponent," Trump said at a campaign rally recently.
He's right. So how about a brand for Trump? I suggest "Dangerous Donald."
This label has the virtue of being supported by many of Trump's fellow Republicans. "I don't know anyone who would be comfortable with someone who behaves this way having his finger on the button," remarked Cruz, his GOP rival, echoing a common complaint of many Republicans. "I mean, we're liable to wake up one morning and Donald, if he were president, would have nuked Denmark." https://www.washingtonpost.com/opinions/dangerous-donald--a-stop-trump-label-that-sticks/2016/03/30/710200d6-f6af-11e5-8b23-538270a1ca31_story.html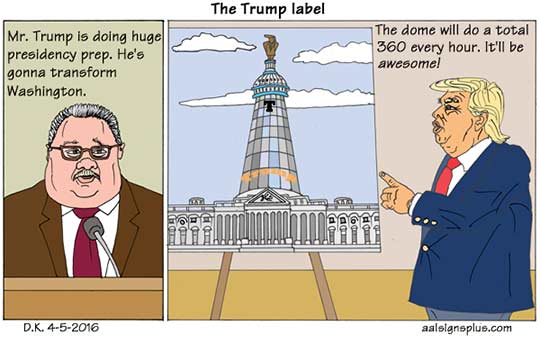 6. Eleanor Clift: Democratic Superdelegates
In the current cycle, there are 715 supers out of 4,765 total delegates. Of the supers, 473 are pledged to Hillary Clinton, 32 to Bernie Sanders, and 1 to Martin O'Malley, who left the race after Iowa. The rest, 209, are uncommitted.
A major irritant to the Sanders campaign is that hundreds of supers are pledged to Clinton, some in states where Sanders won more votes. But after attacking superdelegates as elitist establishmentarians who thwart the will of the people, Sanders is now aggressively lobbying many of them for their support.
That's because the only way he can possibly overtake Clinton in the delegate math is to get backing from the supers. It's a conundrum Clinton knows well. She lagged behind Barack Obama in delegates in '08, but she was ahead of him in the popular vote and thought the supers would move to her as the more electable candidate. Instead, they came down on the side of Obama, prioritizing his greater share of earned delegates as representing the will of the people.
Sanders is more than two million votes behind Clinton, so it's hard to see on what basis he would persuade a significant number of superdelegates to endorse him. They tend to be party regulars and Sanders—until last year an independent who caucused with the Democrats, and who's outright said he's running as one for the "media exposure"—underscored his lack of allegiance to the Democratic Party when he called a pricey fundraiser hosted by George Clooney "obscene." The money raised will be pooled among several Democratic Party organizations working to elect Democrats down the ticket.
Asked by MSNBC's Rachel Maddow if he might direct some of his prodigious fundraising efforts to party building, Sanders offered a non-committal, "we'll see," saying his priority is winning the nomination. 4/03/18 http://www.thedailybeast.com/articles/2016/04/04/democratic-superdelegates-how-the-party-learned-to-start-worrying-and-fear-its-voters.html
7. Adam Gopnik: Donald Trump and the Stunts That Expose the G.O.P.
Tose of us who accept the common-sense idea that everyone having guns is a good way to insure that a lot of people die from gunshots were first in despair at, and then darkly amused by, the success of a recent petition demanding "open carry" at this summer's Republican National Convention, in Cleveland. The petition, which gained more than fifty thousand signatures, turned out to be something of a Dada joke: an attempt, on the part of a gun-control enthusiast, to force gun fetishists to confront the logic, or illogic, of their own position. If guns bring order, why not bring them to a Cleveland delegate floor fight?
But then the people at the Quicken Loans Arena, where the Convention will be held, announced, rather alarmed, that their rule against heavily armed spectators was fixed. The Secret Service, which is, of course, in charge of protecting the candidates, also stated firmly that no one exercising a patriot's right to take guns wherever a patriot likes would be allowed to get anywhere near the Convention floor.
What was funny and ultimately telling was the minor uproar the petition set off in respectable conservative circles. The same gun-rights absolutists who talk about the importance of Americans having all the weapons they want in order to protect themselves against as-yet-unknown threats (the self-defense position) or to threaten tyrannical mayors and governors and park rangers (the Second-Amendment-is-the-pro-sedition-amendment position) suddenly got religion when it came to armed delegates in a convention hall in Cleveland. They know their own base well enough to know how that would end up, apparently. Schools, playgrounds, colleges—fine to have heavily armed patriots there. In a convention of conservative true believers, probably a bad idea. 4/05/16 http://www.newyorker.com/news/daily-comment/donald-trump-and-the-stunts-that-expose-the-g-o-p