August 3, 2017
ON THE RECORD. . .
"The 'Loch Ness monsters' of the swamp (Sens. Lisa Murkowski, Susan Collins, and John McCain) are always going to try to get in the way of [@POTUS] and his agenda." --  Senior adviser Kellyanne Conway to Sean Hannity

"Wisconsin is about to shell out as much as $3 billion for the privilege of luring Foxconn Technology Group. At $519 per citizen, it would have been cheaper to buy an iPhone for every man, woman and child in the midwestern state. ... Wisconsin shows that Foxconn isn't building the American Dream -- America is building the Foxconn machine." -- Bloomberg

Throughout the campaign, Trump heaped praise upon himself for his own greediness: "My whole life I've been greedy, greedy, greedy. I've grabbed all the money I could get. I'm so greedy." If elected, he promised he would be "greedy for the United States." So far, it is only his own bottom line that is benefitting from that outsize avarice. -- Dan Desai Martin in Share Blue 7/29/17

"Kelly is an almost perfect lab test of whether a Trump White House can be functional. He has all the ingredients to succeed: He's been granted unprecedented authority (for Trump), he's revered by all internally and has no dog in the factional wars in the West Wing. If he fails, we'll know this White House is truly ungovernable" -- Jonathan Swan In Axios

"I want to extend my sincere apologies to those in our Scouting family who were offended by the political rhetoric that was inserted into the jamboree," he said. "That was never our intent." -- Michael Surbaugh, chief executive scout for the Boy Scouts of America, in a lengthy statement about Trump's outrageous speech to the organization's annual national jamboree.

"We'll handle North Korea. We're going to be able to handle them. It will be handled. We handle everything. Thank you very much." — Trump, quoted by Politico.

"Trump's action could push the Earth over the brink, to become like Venus, with a temperature of two hundred and fifty degrees, and raining sulphuric acid. The decision of one man, damaging decades of increasing global political awareness of the urgent nature of climate change, would cause "avoidable environmental damage to our beautiful planet." -- Stephen Hawking expressing his horror about Trump pulling out of the Paris Agreement on Climate Change.

"That White House is a real dump." -- Donald Trump explaining his frequent appearances on his golf course to club members.  

"This president is a threat to this nation, to its constitution, to its democracy -- and we are doing nothing to respond. Except, let's go back and look at Hillary Clinton's emails?" -- Luis Gutierrez (D-Ill), a House Judiciary Committee member on the Republican chairman, Bob Goodlatte of Virginia, whose priority is to investigate Clinton's use of a private email server, as well as alleged Clinton ties to foreign governments and the leaking of classified information.
---
IN THIS ISSUE
FYI
OPINION
1. Andy Borowitz: Trump Supporters Furious That They Still Have Health Care
With a fury that could spell political trouble for Republicans in the midterm elections, Trump voters across the country on Friday expressed their outrage and anger that they still have health coverage.

"I went to bed Thursday night and slept like a baby, assuming that when I woke up I would have zero health insurance," Carol Foyler, a Trump voter, said. "Instead, this nightmare."

Harland Dorrinson, who voted for Trump "because he promised that he would take my health care away from me on Day 1," said that he was "very upset" that he will still receive that benefit.

"I woke up this morning, and my family and I could still see a doctor," he said. "This is a betrayal."

Many Trump supporters said that congressional Republicans "gave up too soon" in their efforts to deprive ordinary Americans like them of their health care.

"They should not take August off," Calvin Denoit, a Trump supporter, said. "They should stay in Washington and keep working until I totally lose my coverage."

ELSEWHERE: Thousands of angry comedians protested outside the White House on Monday afternoon, demanding the immediate reinstatement of the ousted communications director Anthony Scaramucci.

Chanting "Bring back Mooch," the irate funnymen and funnywomen argued that the abrupt removal of Scaramucci was akin to taking the food out of their families' mouths.

Tracy Klugian, a comedian who described herself as "furious" about Scaramucci's departure, said that she and her fellow-comedians were demanding that Donald J. Trump appoint a replacement who is acceptable to the comedy industry.

"Unless he picks someone of the order of Gary Busey or Snooki, it's going to get ugly," she said. Read more at https://www.newyorker.com/humor/borowitz-report/
2. GOP Support for Trump Is Starting to Crack
The capitulation of McConnell and Ryan has created an impression — especially among many liberals — that congressional Republicans stand behind the president. McConnell and Ryan, after all, are the leaders of Congress, and they continue to push for the legislation Trump wants and to permit his kleptocratic governing.
But don't be fooled: Republican support for the president has started to crack.
Below the leadership level, Republicans are defying Trump more often, and McConnell and Ryan aren't always standing in their way. You can see this defiance in the bipartisan Senate investigation of the Russia scandal. You can see it in the deal on Russian sanctions. And you can see it in the Senate's failure… to pass a health care bill. https://www.nytimes.com/2017/07/24/opinion/republican-support-donald-trump.html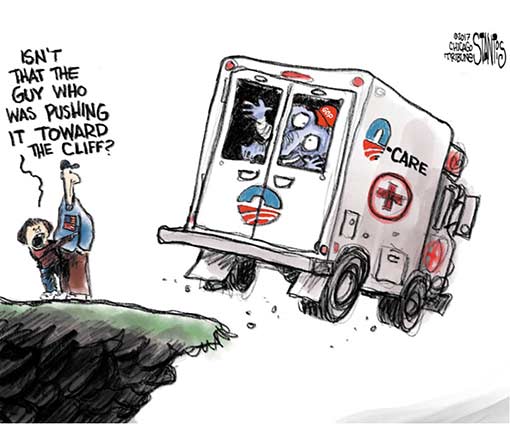 3. Intel Sources Think Putin's Media Czar Was Murdered
Vladimir Putin's former media czar was murdered in Washington, DC on the eve of a planned meeting with the U.S. Justice Department, according to two FBI agents whose assertions cast new doubts on the US government's official explanation of his death.
Mikhail Lesin's battered body was discovered in his Dupont Circle hotel room on the morning of November 5, 2015 with blunt-force injuries to the head, neck, and torso. After an almost year-long 'comprehensive investigation,' a federal prosecutor announced last October that Lesin died alone in his room due to a series of drunken falls 'after days of excessive consumption of alcohol.' His death was ruled an 'accident,' and prosecutors closed the case.
But the two FBI agents — as well as a third agent and a serving US intelligence officer — said Lesin was actually bludgeoned to death. None of these officials were directly involved in the government's investigation, but they said they learned about it from colleagues who were.
"Lesin was beaten to death," one of the FBI agents said. "I would implore you to say as much. There seems to be an effort here to cover up that fact for reasons I can't get into." https://www.buzzfeed.com/jasonleopold/putins-media-czar-was-murdered-just-before-meeting-feds
4. Donald Trump just had his most dishonest week as president: 7 days, 34 false claims
Donald Trump has never gone a full week without a false claim, but some weeks are worse than others.
The past week was his worst yet. From last Thursday, the six-month anniversary of his presidency, to this Wednesday, he made 33 false claims. That's about five every day. Starting Saturday, when this barrage really began, it's about seven per day.
Trump made the false claims in every possible venue: an interview with the Wall Street Journal (11 false claims) to a campaign rally in Ohio (five false claims) to a speech to the National Boy Scout Jamboree (four false claims).
List of lies for last 7 days - along with a list of every false claim Trump has made since his inauguration on Jan. 20. 7/27/17 https://www.thestar.com/news/world/2017/07/27/daniel-dales-donald-trump-fact-check-updates.html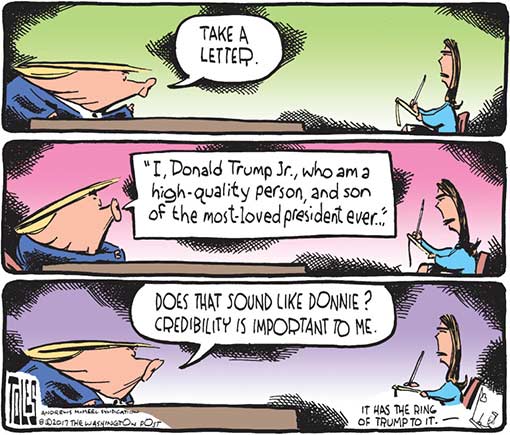 5. The DAILY GRILL
Trump "sinks 3-foot putts." -- Anthony Scaramucci at the White House press conference announcing his appointment of himself as the new communications director,

VERSUS

Trump "sinks 30-foot putts." -- Official transcript of the event, posted on .WhiteHouse.gov,

 

Senator @lisamurkowski of the Great State of Alaska really let the Republicans, and our country, down yesterday. Too bad! -- Donald J. Trump ✔@realDonaldTrump

VERSUS

"I have repeatedly said that healthcare reform, and especially major entitlement reform, should go through the committee process where stakeholders can weigh in and ideas can be vetted in a bipartisan forum.I voted 'no' today to give the Senate another chance to take this to the committee process." -- U.S. Senator Lisa Murkowski (R-AK) 

 

When you see these towns, and when you see these thugs being thrown into the back of a paddy wagon, you just see them thrown in, rough, I said, "Please don't be too nice." Like when you guys put somebody in the car and you're protecting their head, you know, the way you put their hand over. Like, don't hit their head, and they've just killed somebody. Don't hit their head. I said, "You can take the hand away, OK?"-- Donald Trump endorsing police violence while addressing police officers in Suffolk County,

VERSUS

"The SCPD has strict rules & procedures relating to the handling of prisoners.Violations of those rules are treated extremely seriously." ... "As a department, we do not and will not tolerate roughing up of prisoners." -- Suffolk County Police Department.
6. From MEDIA MATTERS (They watch Fox News so you don't have to)
Fox anchor pretends millions who will lose coverage from "skinny repeal" will do so "of their own volition" https://www.mediamatters.org/video/2017/07/27/fox-anchor-pretends-millions-who-will-lose-coverage-skinny-repeal-will-do-so-their-own-volition/217412

GOP Congressman: The media "forced" Trump to cyberbully Sessions https://www.mediamatters.org/video/2017/07/27/gop-congressman-media-forced-trump-cyberbully-sessions/217411

Fox & Friends casts Trump as "Robin Hood" amid reports he may refresh tax agenda. Stuart Varney: Rumored Trump tax proposal "a complete reversal of everything you have ever thought about from the Republican Party" https://www.mediamatters.org/video/2017/07/27/fox-friends-casts-trump-robin-hood-amid-reports-he-may-refresh-tax-agenda/217410

Fox's Brian Kilmeade celebrates Trump's cabinet changes as "guy's guys, with a guy that likes to be a guy" https://www.mediamatters.org/video/2017/07/28/foxs-brian-kilmeade-celebrates-trumps-cabinet-changes-guys-guys-guy-likes-be-guy/217439

Fox's Jesse Watters: "A lot of people wish President Trump was a dictator." Watters: Maybe then "we could repeal Obamacare" https://www.mediamatters.org/video/2017/07/27/foxs-jesse-watters-lot-people-wish-president-trump-was-dictator/217420

Here's the ridiculous explanation the GOP operative gave to explain his involvement in the Seth Rich conspiracy theory: Ed Butowsky: "One day, somebody came up to me -- just somebody I didn't know very well, and said, 'Hey, I heard something about this young guy Seth Rich and why he was murdered'" https://www.mediamatters.org/video/2017/08/01/heres-ridiculous-explanation-gop-operative-gave-explain-his-involvement-seth-rich-conspiracy-theory/217476
7. It's Never Been Harder to Be a Climate Scientist
Six months into the Trump administration, the onslaught msny feared has arrived. Scientists and science advocates say climatologists inside and outside the government are facing unprecedented intimidation from the Trump administration, conservative groups, and internet trolls. Jon Foley, a climate scientist and director of the California Academy of Sciences, said he's more worried about the future of his profession than any time in his 20-year career. "The ebbing and flowing of political currents effects science—it always has—but this is different," he said. "This is much worse than anything we've ever seen before." https://newrepublic.com/article/144056/its-never-harder-climate-scientist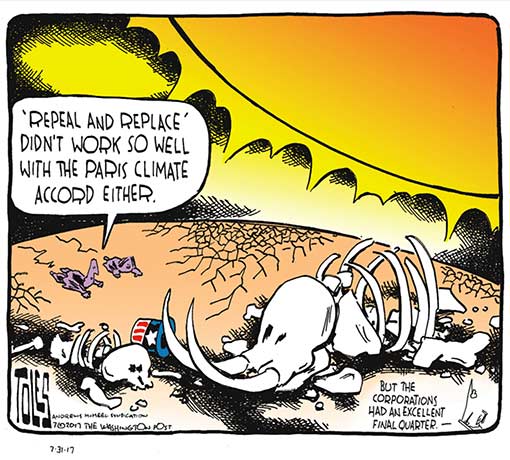 8. Late Night Jokes for Dems
Today, President Trump officially removed Anthony Scaramucci as his communications director. And this was a little awkward — when Scaramucci called an Uber to pick him up at the White House, Sean Spicer was driving. -- Jimmy Fallon

He's out after 10 days. So Scaramucci is gone, but his cologne will linger forever. -- Jimmy Fallon

First lady Melania Trump announced today that her first solo international trip will be to Toronto, Canada. The purpose of her trip hasn't been announced. But I'm guessing sanctuary? -- Seth Meyers

The Mooch lasted as communications director for only 10 days. Yes, 10 days! That's not even one whole pay period. His going-away party can serve what's left of his welcome cake. -- Stephen Colbert

Sean Spicer's out, Reince Priebus is out, Trumpcare is dead, and Kim Jong Un has a missile that can reach New York. And weirdly, I don't feel tired from all the winning yet. -- Jimmy Kimmel

Meanwhile, Donald Trump tweeted about Reince Priebus, who he fired. He wrote, "We accomplished a lot together, and I am proud of him." That's two lies in one sentence. -- Jimmy Kimmel
9. Four Mar-a-Lago Trips Cost More Than Transgender Troops
In announcing his ban on transgender people in the military, President Trump said that taxpayers "cannot be burdened with the tremendous medical costs and disruption that transgender in the military would entail.
Except that USA Today points out that trans troops don't really cost that much: "A report for the Pentagon last year found that transition-related care would cost between about $2.4 and $8.4 million per year — less than 0.14% of the military's medical budget. That's roughly the cost of four of Trump's trips to Mar-A-Lago." 7/27/17 https://www.usatoday.com/story/news/politics/onpolitics/2017/07/27/transgender-soldiers-cost-u-s-less-than-trumps-mar-a-lago-trips/515058001/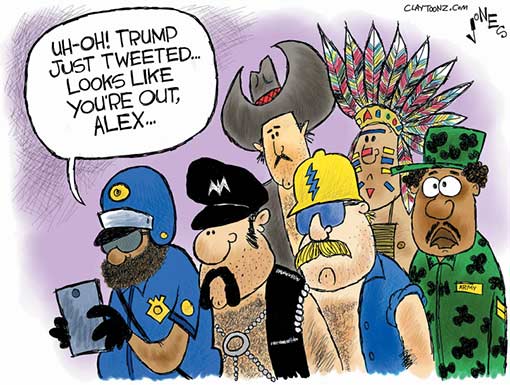 10. Are the Wheels Coming Off Trump's 'Fine-Tuned Machine'?
Accusations of incompetency can undermine even the most talented of politicians. Just ask George W. Bush (Iraq war, Hurricane Katrina) or Barack Obama (HealthCare.Gov)."
"But while the events and news over the last 24 hours seem like just another day for the Trump White House, they expose a level of dysfunction and chaos that could leave a lasting mark for a president who said back in February that he was running a 'fine-tuned machine.'"
The whole point of electing a businessman to become president was expecting someone to effectively run the government. But what happens when that businessman can't run the government? That's the significant long-term danger for Trump and his administration. http://www.nbcnews.com/politics/first-read/are-wheels-coming-trump-s-fine-tuned-machine-n786971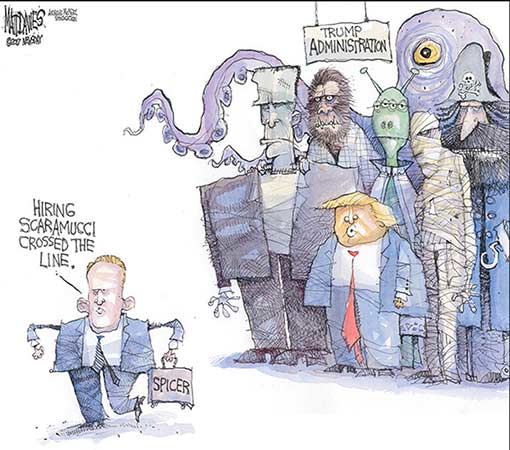 11. The president is taking credit for a massive taxpayer giveaway to Foxconn
President Trump celebrated and took credit for Foxconn's pledge to build a major LCD plant in Wisconsin during a White House ceremony on Wednesday.
Specifics of the deal aside, it's unclear whether Trump should even be taking credit for it. At far back as late 2013, Foxconn was planning to open a manufacturing plant in the U.S. The company, which has a poor record on workers' rights issues, struck a tentative a deal with the state of Pennsylvania to build a plant there in November of that year, but plans fell through. Talks with Pennsylvania continued until early this year.
But Trump — who hasn't shepherded a single major piece of legislation through Congress yet and is hungry for wins — touted the deal anyway.
The Foxconn deal is far from the first time Trump has taken credit for job announcements that were in the works well before he took office. As ThinkProgress detailed in April, Trump did the same thing following announcements from Intel, Exxon, Toyota, Charter, Ford, and SoftBank.
On the other hand, Trump was silent last week when Carrier laid off 338 employees at its Indianapolis plant — cuts that came months after then-President-elect Trump held a news conference at the plant and applauded himself for striking a deal that provided the company $7 million in state incentives to save about 800 jobs from outsourcing. https://thinkprogress.org/every-citizen-of-wisconsin-is-paying-519-so-trump-could-have-this-press-conference-7680f7f59944
12. Video: Donald Trump Exposes Donald Trump
13. Government-Run Health Care: Democrats' New Litmus Test
As Republicans learned last week, making grand promises to the base on health care is easy — following through on them is not. For now, single-payer is little more than a slogan. Despite that, one thing is for sure, the issue is moving in only one direction for Democrats and it's gaining steam quickly, including with recent converts in billionaires Warren Buffett and Mark Cuban.
Support for single-payer has jumped 19 percentage points among Democrats since 2014 — and nine points since January alone — to 52%, according to a Pew survey in June. With 85% of Democrats and Democratic-leaning independents now saying the federal government has a responsibility to make sure every American has health care, two-thirds of liberals favor single-payer as the means. 7/31/17 http://www.nbcnews.com/storyline/democrats-vs-trump/government-run-health-care-democrats-new-litmus-test-n787581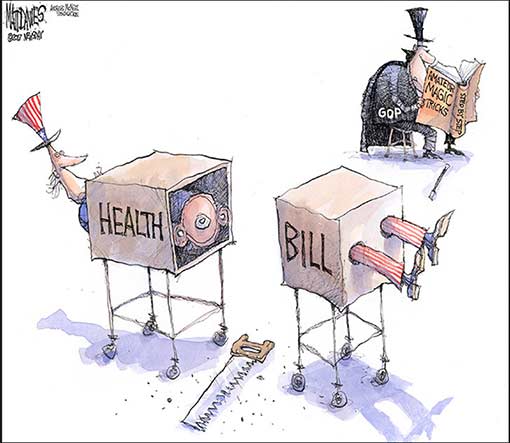 14. Big Money Comes Out to Boost Tax Reform
Never mind President Trump's weekend of after-the-whistle tweeting about health reform. The White House, Senate and House are all united in moving on full steam to tax reform this week.
They're doing it with heightened urgency, since Republican lawmakers are more desperate than ever to pass something substantial ahead of midterms. Republicans' House majority is in more danger than ever after the face-plant on health care. So they'll make noises about a last-ditch push.Forget it: A top congressional aide says it would take "a miracle."
The President is expected to demand a historic overhaul, rather than the mediocre tax cuts that most Washington veterans think are far more likely. 7/31/17 https://www.axios.com/after-health-care-loss-trump-pitching-tax-reform-2467507071.html
15. Trump Disapproval Reaches New High
The major polling aggregators all find President Trump registering his highest disapproval numbers yet.
FiveThirtyEight: 56.7%

RealClearPolitics: 56.1%

HuffPost Pollster: 58.6%
16. Kushner to Interns: Trump Team Too Disorganized to Collude With Russia
Donald Trump's election team could not have colluded with Russia because they were barely talking to each other, according to Jared Kushner, the president's son-in-law and top White House advisor. 
"They thought we colluded, but we couldn't even collude with our local offices," Kushner told congressional interns during a private talk at the Capitol Visitor Center in Washington on Monday afternoon.
For investigators attempting to determine whether Trump's associates knowingly worked with Russia to interfere with the 2016 U.S. presidential election, a defense claiming chaos and confusion might be the key difference between criminal behavior and incompetence. http://foreignpolicy.com/2017/07/31/kusher-to-interns-trump-team-too-disorganized-to-collude-with-russia/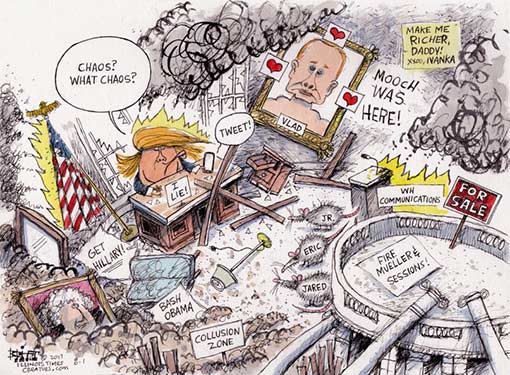 17. Behind Fox News' Baseless Seth Rich Story: The Untold Tale
The Fox News Channel and a wealthy supporter of President Trump worked in concert under the watchful eye of the White House to concoct a story about the murder of a young Democratic National Committee aide.
The explosive claim is part of the lawsuit filed against Fox News by Rod Wheeler, a longtime paid commentator for the news network.
Wheeler alleges Fox News and the Trump supporter intended to deflect public attention from growing concern about the administration's ties to the Russian government. His suit charges that a Fox News reporter created quotations out of thin air and attributed them to him to propel her story. http://www.npr.org/2017/08/01/540783715/lawsuit-alleges-fox-news-and-trump-supporter-created-fake-news-story
18. McConnell plans to pass tax bill with just GOP votes
Senate Republicans are sticking to their plans to pass a tax bill with 50 Republican votes, despite Democratic pleas not to be sidelined as they were on health care.
Majority Leader Mitch McConnell on Tuesday reaffirmed the GOP's long-standing intention to shield any tax overhaul from a likely Democratic filibuster by using the procedural protections of budget reconciliation.
In explaining his decision to reporters, the Kentucky Republican cited a Tuesday letter from 45 Democratic senators urging Republicans not to use reconciliation and vowing to oppose a tax plan that adds to the deficit or cuts the annual bill of the richest 1 percent of taxpayers.
"We will need to use reconciliation" for taxes in the wake of Democrats' statement that they are "not interested in addressing" Republican priorities, McConnell said. http://www.politico.com/story/2017/08/01/mitch-mcconnell-tax-bill-gop-votes-241212
19. "Told Me" — Amy McGrath for Congress Announcement Video (KY-6)
https://www.youtube.com/watch?v=CcjG2fK7kNk
20. Kelly and Mattis Had a Secret Pact to Watch Trump
The Associated Press reports that Gen. Jim Mattis and Gen. John Kelly "agreed in the earliest weeks of Trump's presidency that one of them should remain in the United States at all times to keep tabs on the orders rapidly emerging from the White House, according to a person familiar with the discussions." 8/01/17 http://hosted.ap.org/dynamic/stories/U/US_TRUMP_CHIEF_OF_STAFF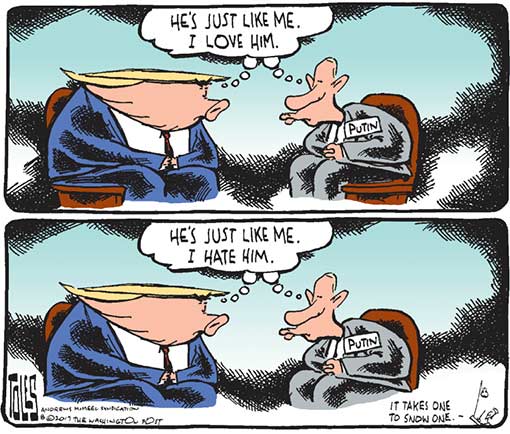 21. Ex-DOJ Official Specializing In Fraud, Foreign Bribery Joins Mueller Team
Greg Andres, a former Justice Department official specializing in fraud and illegal foreign bribery cases has become the sixteenth lawyer on the special counsel team investigating into Russia's interference in the 2016 election, Reuters reported Tuesday.
During his two-year tenure at the DOJ, Andres served as deputy assistant attorney general in the criminal division, overseeing the fraud unit and program that targeted illegal foreign bribery. Prior to joining to DOJ in 2010, he was chief of the criminal division in the U.S. attorney's office in Brooklyn, where he prosecuted several members of the Bonanno organized crime family. http://talkingpointsmemo.com/livewire/greg-andres-former-doj-official-joins-special-counsel-investigation
1. Peggy Noonan: Trump Is Woody Allen Without the Humor
Half his tweets show utter weakness. They are plaintive, shrill little cries, usually just after dawn.
The president's primary problem as a leader is not that he is impetuous, brash or naive. It's not that he is inexperienced, crude, an outsider. It is that he is weak and sniveling. It is that he undermines himself almost daily by ignoring traditional norms and forms of American masculinity.
He's not strong and self-controlled, not cool and tough, not low-key and determined; he's whiny, weepy and self-pitying. He throws himself, sobbing, on the body politic. He's a drama queen. It was once said, sarcastically, of George H.W. Bush that he reminded everyone of her first husband. Trump must remind people of their first wife. Actually his wife, Melania, is tougher than he is with her stoicism and grace, her self-discipline and desire to show the world respect by presenting herself with dignity.
Half the president's tweets show utter weakness. They are plaintive, shrill little cries, usually just after dawn. "It's very sad that Republicans, even some that were carried over the line on my back, do very little to protect their president." The brutes. Actually they've been laboring to be loyal to him since Inauguration Day. "The Republicans never discuss how good their health care bill is." True, but neither does Mr. Trump, who seems unsure of its content. In just the past two weeks, of the press, he complained: "Every story/opinion, even if should be positive, is bad!" Journalists produce "highly slanted & even fraudulent reporting." They are "DISTORTING DEMOCRACY." They "fabricate the facts."
Meanwhile the whole world is watching, a world that contains predators. How could they not be seeing this weakness, confusion and chaos and thinking it's a good time to cause some trouble? https://www.wsj.com/article_email/trump-is-woody-allen-without-the-humor-1501193193-lMyQjAxMTA3MzIzODcyOTgzWj/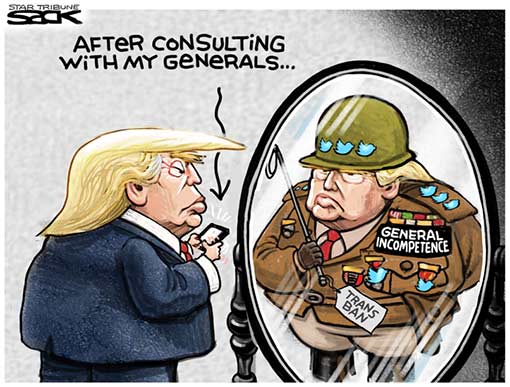 2. Jonathan Chait: Obama's Legacy Is Finally Coming Into Focus, Thanks to Trump
Even though it yielded a broad array of historic policy reforms, during the eight years Barack Obama occupied the White House, his administration looked and felt to most of his supporters like a bitter slog of gridlock punctuated by half-measures. And it looked to his enemies like a period of untrammeled radicalism that would soon be reversed. Six months later, his record appears very different, viewed from both the left and the right. Any president would benefit from the contrast with Donald Trump, of course. But for many reasons, not merely the flamboyant shortcomings of the current administration, the Trump era provides a vantage point from which to understand the scale and durability of the 44th president's accomplishments. Trump, quite by mistake, is revealing the true scale of his predecessor's achievements.
One obvious source of newfound clarity is the renewed realization that governing is hard, especially in a polarized era with a form of government laden with legislative choke points. Obama's critics complained endlessly about the slow pace of legislation and the endless compromises wrung by interest groups and recalcitrant moderates. Liberals spent his presidency pining for imagined alternatives who could overpower the opposition. High-minded centrists endlessly blamed the president for his failure to dissuade Republicans from their strategy of total opposition, and in so doing helped reinforce the success of that opposition. Throughout his time in office, Obama labored against the contrast of hazy memories of presidents of yore who could supposedly reason with or overpower their foes and impose their legislative will.
But Trump's experience reveals that personal charm and ideological willpower can only go so far in steamrolling these obstacles. The legislative process is inherently, famously, ugly, but we have a way of forgetting that fact when it happens. The bipartisan disgust at the ungainly policy-making under Obama — when a small, ultimately revoked break for Nebraska hospitals became a national scandal — looks quaint now that we have seen true ugliness. Needless to say, a bill-signing after an extended debate and negotiation is a more positive outcome than the total legislative collapse Trump has overseen. http://nymag.com/daily/intelligencer/2017/08/trump-is-proving-that-obamas-legacy-will-survive.html
3. Eugene Robinson: With the Mad King and His Court, the Worst Is Yet to Come
The problem is not just that President Trump is selfish, insecure, egotistical, ignorant and unserious. It is that he neither fully grasps nor minimally respects the concept of honor, without which our governing system falls apart. He believes "honorable" means "obsequious in the service of Trump." He believes everyone else's motives are as base as his.
The Trump administration is, indeed, like the court of some accidental monarch who is tragically unsuited for the duties of his throne. However long it persists, we must never allow ourselves to think of the Trump White House as anything but aberrant. We must fight for the norms of American governance lest we forget them in their absence.
It gets worse and worse. The past week has marked a succession of new lows.
Inside the mad king's court, the internecine battles are becoming ever more brutal. Members of Trump's inner circle seek his favor by leaking negative information about their rivals. This administration is more hostile to the media than any in recent memory, but also more eager to whisper juicy dirt about the ambitious courtier down the hall.
Do not become numb to the mad king's outrages. The worst is yet to come. 7/28/17 https://www.realclearpolitics.com/articles/2017/07/28/with_the_mad_king_and_his_court
_the_worst_is_yet_to_come_134597.html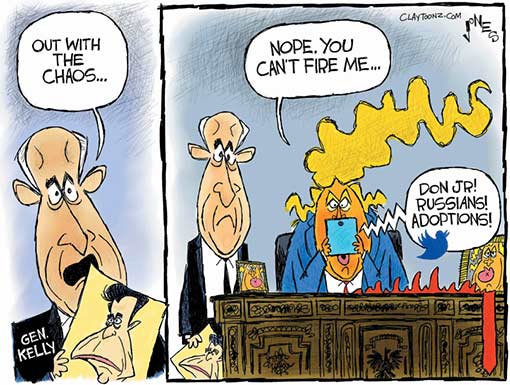 4. Alex Shephard: Trump Wants a Culture War. Are Democrats Ready to Fight Back?
Democrats have slowly—and tepidly—embraced economic bread-and-butter issues, in response to Trump destroying a Midwest firewall in the 2016 election with promises of returning decaying Rust Belt towns to their former glory. Meanwhile, Trump is running in the other direction. As his administration is riven by disputes both petty (Priebus vs. Mooch) and profound (Trump vs. Sessions), he has dived with relish into the culture wars. It raises a profound question for Democrats as they head into the 2018 midterm elections and beyond: Is the Better Deal agenda enough to overcome the cultural forces that swung the election to Trump?
Trump's play here is fairly straightforward. With a favorability rating in the mid-30s, Trump needs his base more than ever. His recent moves are chum for both religious conservatives and voters who rated immigration as their most important issue in 2016, both of whom broke for Trump. Yes, Trump won Democratic-leaning voters with an economic message of preserving the social safety net and upending job-stealing global trade agreements. But to a large extent "Make America Great Again" was a cultural message disguised as an economic one—an air raid siren, rather than a dog whistle, to voters who feared an increasingly diverse country.
The elections in 2018 and 2020 will primarily be about one thing: Donald Trump. And by all indications so far, Trump is going to spend both of those campaigns talking about immigration and terrorism and urban crime and T issues. Democrats have taken the right steps in fixing their economic message—in providing a program for the kinds of people who voted for Obama in 2008 and 2012, and for Trump in 2016. But they should also be preparing for an all-out culture war. https://newrepublic.com/article/144092/trump-wants-culture-war-democrats-ready-fight-back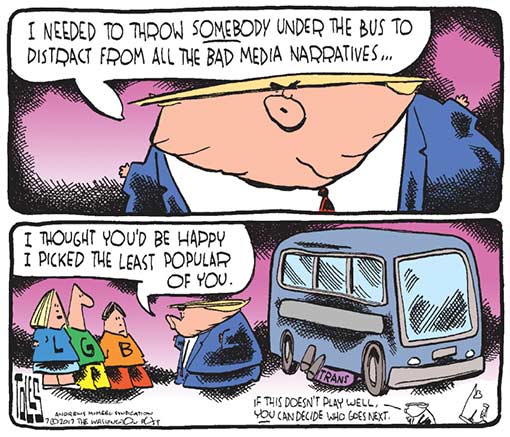 5. Des Moines Register Editorial: gender ban is an insult to the military
lThe president's ban is an insult not just to the transgender community, but to the military itself. The man who has trademarked the phrase "Make America great again"and shamelessly enlisted the support of our troops in fighting purely political battles on his behalf is now suggesting that thousands of patriots who have volunteered to fight and die for this country are a threat to our military readiness.
Fortunately, a few of the president's Republican supporters are voicing their opposition to this particular policy change.
Through a spokesman, U.S. Sen. Joni Ernst of Iowa, a 20-year military veteran, said that "Americans who are qualified and can meet the standards to serve in the military should be afforded that opportunity." And Sen. John McCain, a decorated veteran and former prisoner of war, didn't mince words when he said "there is no reason to force service members who are able to fight, train and deploy to leave the military, regardless of their gender identity."
As reported by the Register's Courtney Crowder, the president's order could have profound implications for transgender Iowans like Jack Schuler, who has spent five years in active duty with the Marine Corps and six years in the Army Reserves.
Before the president fired up his Twitter account Wednesday, Schuler was planning to have a full career in the military. Now, those plans are up in the air.
"I joined the military in wartime to help people," Schuler said. "I wanted to serve the American people and it would break my heart to have that cut short."
It should break everyone's heart. http://www.desmoinesregister.com/story/
opinion/editorials/2017/07/27/transgender-ban-insult-military/516604001/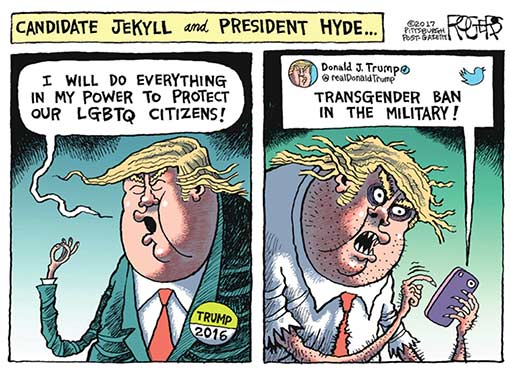 6.  Andrew Sullivan: A Week of Reckoning
We have become, at this point, inured to having an irrational president in an increasingly post-rational America. We've also come to tell ourselves that somehow (a) this isn't really happening, (b) by some miracle, it will be over soon, or (c) at some point the Republican Party will have to acknowledge what they are abetting, and cut their losses. And yet with each particular breach of decency, stability, and constitutionality, no breaking point seems to have arrived, even as the tribalism has deepened, the president's madness has metastasized, and the norms of liberal democracy are hanging on by a thread.
But surely this week must mark some kind of moment in this vertiginous descent, some point at which the manifest unfitness of this president to continue in office becomes impossible to deny.
We were subjected to the spectacle of the president going to the Boy Scout jamboree, of all places, and delivering a series of partisan jabs, campaign-rally catcalls, and completely inappropriate personal ramblings to a crowd of thousands of boys. The speech was, in some ways, a metaphor for everything Trump is and has done. He took a regular, civil, apolitical American gathering of mainly children and turned it into diatribe of deranged and nakedly partisan narcissism. He is actively despoiling our civic culture.
After the last few days, someone in the GOP leadership somewhere is surely going to have to take responsibility for running this country since we have a president who cannot. http://nymag.com/daily/intelligencer/2017/07/a-week-of-reckoning.html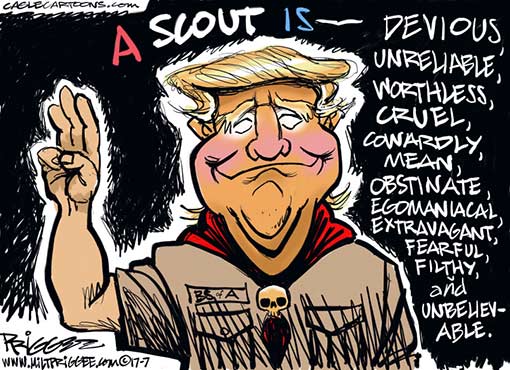 7. Jonah Goldberg: There's No Shakeup That Can Fix the Trump White House
The author of Donald Trump's problems is first and foremost Donald Trump. It's fine to point out the excesses of the Democrats and the media. There's certainly ample reason to criticize his staff. It's understandable that Trump supporters think the "establishment," the "swamp" or the "Deep State" have undermined him — because they have.
But Trump is not a victim. He is the hamster spinning the wheel in the massive Rube Goldberg machine that is the spectacle of presidential dysfunction.
Every few weeks, the debate about his tweeting starts again. It's like the gun control debate. Guns are to blame! No, criminals are to blame! Guns don't kill people, people do.
It's all nonsense. Twitter is a tool. Barack Obama had a Twitter account, too. Trump puts the bullets in the social media gun, and Trump pulls the trigger, aiming at his own foot with unerring accuracy. http://www.nationalreview.com/article/449835/trump-administration-scandals-problems-originate-trump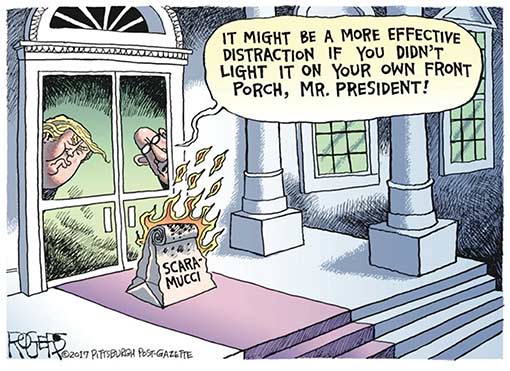 8. Michael Grunwald: McConnell's Strange Achievement
For obvious reasons, the big story out of the failed Republican effort to repeal Obamacare was the surprise tie-breaking vote cast by Senator John McCain. For political drama, it's hard to beat a cancer-stricken war hero defying his party to save the health reforms engineered by the Democrat who denied his presidential dreams. But the "no" votes cast by Republicans Susan Collins and Lisa Murkowski were just as important as McCain's, and so was the unified opposition of all 48 Senate Democrats. One could argue there should be even more attention paid to the grass-roots resistance that helped make repeal so toxic, and to the damage President Donald Trump's passive-aggressive approach did to his own cause. Of course, the defeat of legislation that could have taken health insurance away from millions of Americans and protections away from millions more is also a big deal in its own right.
But the most remarkable takeaway from the defeat of repeal ought to be how close it came to passing.
Forty-nine Republican senators voted for legislation that many of them admitted was substantively flawed and procedurally absurd—legislation that only 17 percent of the public supported and every major medical interest group opposed; that had been shredded by a bipartisan coalition of governors, the Congressional Budget Office and their own hand-picked parliamentarian. After Trump promised to expand coverage, lower costs and block any cuts to Medicaid, he almost got to sign a bill that the CBO warned would do exactly the opposite, leading to a massive expansion of the uninsured, higher premiums and deductibles for the old and the sick, and hundreds of billions of dollars' worth of Medicaid cuts. After attacking Democrats for ramming Obamacare into law with only 60 votes after insufficient hearings, insufficient bipartisan outreach, and insufficient transparency, Republican senators nearly passed Trumpcare with only 50 votes after no hearings, no bipartisan outreach, and so little transparency that even most of them had no idea what would be in it until a few hours before their middle-of-the-night roll call.
http://www.politico.com/magazine/story/2017/07/28/mcconnells-strange-achievement-215436
9. Sally Yates: Protect the Justice Department From President Trump
Over the past few days, many people from both parties have rightly expressed their dismay at how President Trump has publicly lambasted the attorney general, noting the president's lack of loyalty to a man who has been consistently loyal to him.
And while this is indeed true, it misses the larger and more dangerous President Trump claims that it is very "unfair" that Mr. Sessions recused himself from the Russia investigation, a recusal indisputably necessary given Mr. Sessions' role in the campaign that is now under investigation. At its core, the president's complaint is that he doesn't have a political ally at the Justice Department to protect him from the Russia investigation. And he is apparently trying to bully Mr. Sessions into resigning so that he can put someone in place who will.
The president hasn't stopped there. He has also tried to goad Mr. Sessions into re-initiating a closed investigation of the president's former political rival. And all of this takes place in the wake of the president's attempts to persuade the former F.B.I. director James Comey to back off the Michael Flynn investigation, and then firing Mr. Comey when he didn't.
President Trump's actions appear aimed at destroying the fundamental independence of the Justice Department. All the while, he's ripping the blindfold off Lady Justice and attempting to turn the department into a sword to seek vengeance against his perceived enemies and a shield to protect himself and his allies.
It's almost impossible to take all of this in. And while we risk becoming numb to the daily barrage of alarming news, we can't lose sight of the fact that this is beyond abnormal. It's dangerous.
We must do more than rubberneck as we drive past this car crash. We all have a responsibility to protect our Justice Department's ability to do its job free from interference. The very foundation of our justice system — the rule of law — depends on it. https://www.nytimes.com/2017/07/28/opinion/sally-yates-protect-the-justice-department-from-president-trump.html
10. NY Times Editorial Board: Why Obamacare Is Still in Peril
For the last seven years, Republican leaders have engaged in a fraudulent campaign against the A.C.A. based on the lie that the law is either unworkable or collapsing. The law, which is based on conservative market-based ideas, is certainly flawed and could be improved, but it has helped 20 million people gain insurance and, as a result, provided needed medical care to the poor and the sick. Not only was the Republican diagnosis wrong, but also leaders like the House speaker, Paul Ryan, and the Senate majority leader, Mitch McConnell, tried to push through legislation that was devoid of any ideas and would have weakened the health care system and left millions unable to afford health care. One telling sign: Insurance companies, hospitals, doctors and public interest groups like AARP opposed pretty much every proposal the Republicans put out over the last seven months.
Ultimately, this deceitful campaign ran aground by the narrowest of margins in the Senate thanks to the three Republicans and all 48 Democrats and independents. Much attention has rightly focused on Mr. McCain. Returning to the Senate after surgery and a brain cancer diagnosis, he delivered a stirring speech on Tuesday calling on lawmakers from both parties to reach "agreements made in good faith that help improve lives and protect the American people." He seemed to go against those sentiments early in the process when he voted to start debate. But, when it really counted, Mr. McCain did the right thing. An equal or larger amount of credit ought to go to Ms. Collins and Ms. Murkowski, who stood firm despite immense political pressure and, in Ms. Murkowski's case, shameful threats by the Trump administration.
After this failure, Republicans must figure out whose example they will follow. They can adopt Mr. Trump's call for yet another scorched-earth campaign. Or they can listen to the likes of Mr. McCain about the benefits of bipartisanship and cooperation. https://www.nytimes.com/2017/07/28/opinion/aca-republicans-mccain-murkowski-collins.html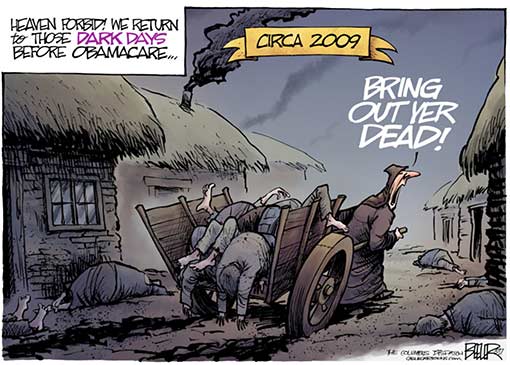 11. Jack Goldsmith: Our Non-Unitary Executive
The Trump Presidency is a strange combination of menacing and impotent.  It is also fractured internally like no presidency in American history.
The menacing element is plain.  Trump sets everyone on edge with incessant verbal attacks and relentlessly indecorous behavior.  The maelstrom that is his presidency seems like it could at any moment push the country off the rails—massive pardons to kill the Russia investigation, a Justice Department meltdown as a result of firings and resignations, a North Korean miscalculation, or who-knows-what-other-crazy-thing.  Many people worry how the impulsive Trump will handle his first crisis.    
Trump's tweets keep the attention on him, but the operation of some of the most important components of his administration seems entirely disconnected from the President and the White House generally.  The President is a figurehead who barks out positions and desires, but his senior subordinates carry on with different commitments.
The fractured executive branch is partly a result of terrible executive organization but mainly the product of an incompetent, mendacious president interacting with appointed or inherited executive branch officials who possess integrity.  The President says and does things that his senior officials, when asked, cannot abide.  And so they tell the truth, often with an awkward wince, or they ignore the President.  And in response to this overt disrespect, President Trump does … nothing.  https://lawfareblog.com/our-non-unitary-executive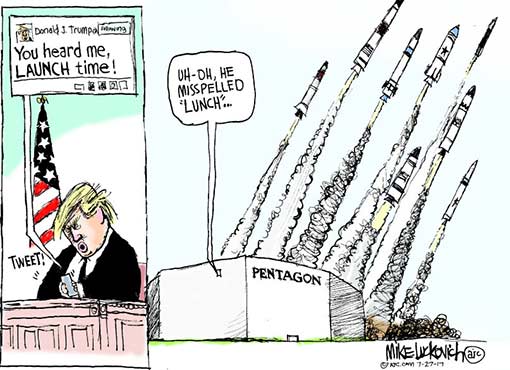 12. Paul Krugman: The New Climate Of Treason
The radicalization of the GOP began as a top-down affair, driven by big-money interests that financed campaigns and think tanks, pushing the party to the right. But to win elections, the forces engaged in this push cynically appealed to darker impulses – racism first and foremost, but also culture war, anti-intellectualism, and so on. To make this appeal, they created a media establishment – Fox News, talk radio, and so on – which drew in many working-class whites. This meant that a large segment of the population was no longer hearing the same news – basically not experiencing the same account of reality – as the rest of us. So what had been real but not extreme differences became extreme differences in political outlook.
And political figures either adapted or were pushed out. There once were Republicans who would have reacted with horror to Trump's embrace of Putin, but they've left the scene, or are no longer considered Republicans.
This has troubling implications for both the short and the long run. In the short run, it probably means that no matter how bad the Trump revelations get, most Republicans, both in the base and in Congress, will stick with him – because taking him down would be a victory for liberals, who are worse than anything.
In the long run, it makes you wonder whether and how we can get the country we used to be back. As Branko says, there was a time when Serbs and Croats seemed to get along fairly well, indeed intermarrying at a high rate. But could anyone now put Yugoslavia back together? At this rate, we'll soon be asking the same question about America. https://krugman.blogs.nytimes.com/2017/07/14/the-new-climate-of-treason/
13. Senator Jeff Flake (R-AZ): My Party Is in Denial About Donald Trump
Who could blame the people who felt abandoned and ignored by the major parties for reaching in despair for a candidate who offered oversimplified answers to infinitely complex questions and managed to entertain them in the process? With hindsight, it is clear that we all but ensured the rise of Donald Trump.
I will let the liberals answer for their own sins in this regard. (There are many.) But we conservatives mocked Barack Obama's failure to deliver on his pledge to change the tone in Washington even as we worked to assist with that failure. It was we conservatives who, upon Obama's election, stated that our No. 1 priority was not advancing a conservative policy agenda but making Obama a one-term president—the corollary to this binary thinking being that his failure would be our success and the fortunes of the citizenry would presumably be sorted out in the meantime. It was we conservatives who were largely silent when the most egregious and sustained attacks on Obama's legitimacy were leveled by marginal figures who would later be embraced and legitimized by far too many of us. It was we conservatives who rightly and robustly asserted our constitutional prerogatives as a co-equal branch of government when a Democrat was in the White House but who, despite solemn vows to do the same in the event of a Trump presidency, have maintained an unnerving silence as instability has ensued. To carry on in the spring of 2017 as if what was happening was anything approaching normalcy required a determined suspension of critical faculties. And tremendous powers of denial.
So, where should Republicans go from here? First, we shouldn't hesitate to speak out if the president "plays to the base" in ways that damage the Republican Party's ability to grow and speak to a larger audience. Second, Republicans need to take the long view when it comes to issues like free trade: Populist and protectionist policies might play well in the short term, but they handicap the country in the long term. Third, Republicans need to stand up for institutions and prerogatives, like the Senate filibuster, that have served us well for more than two centuries.
We have taken our "institutions conducive to freedom," as Goldwater put it, for granted as we have engaged in one of the more reckless periods of politics in our history. In 2017, we seem to have lost our appreciation for just how hard won and vulnerable those institutions are.  7/31/17 http://www.politico.com/magazine/story/2017/07/31/my-party-is-in-denial-about-donald-trump-215442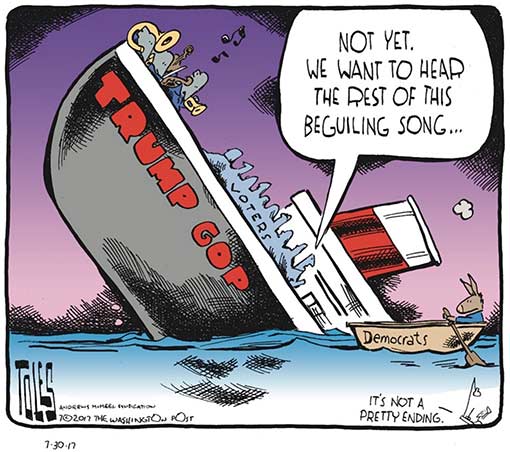 14. Bloomberg Editorial: Stop Sabotaging Obamacare, Mr. President
Say what you will about Congress's failure to repeal Obamacare -- and there was a lot to be said about its reckless efforts -- at least the process acknowledged one basic fact of America's constitutional system: If Congress doesn't like a law, it can change it. If the president does not like a law, he cannot be allowed to sabotage it.
Yet that is what President Donald Trump and Secretary of Health and Human Services Tom Price have been doing for months with the Affordable Care Act. For the sake of both his constituents and the Constitution, which requires the president to "take care that the laws be faithfully executed," he needs to stop.
Just after last week's congressional vote failed, Trump tweeted his desire to "let Obamacare implode." He subsequently said that "bailouts" for insurance companies -- by which he presumably meant the subsidies that enable insurers to offset costs for low-income consumers -- would be terminated. For his part, Price saidSunday that "no decision's been made" on whether to continue the subsidies that enable low-income Americans to afford insurance.
This continued sowing of confusion and doubt may be more tactical than strategic, or it may be neither; either way, it's unconscionable. The ACA -- for better and, in some instances, worse -- is the health-care system America has. If Trump continues to try to destroy the law, he will not only erode his stature and the presidency's, he will also hurt vulnerable Americans. 8/01/17 https://www.bloomberg.com/view/articles/2017-08-01/stop-sabotaging-obamacare-mr-president