January 26, 2023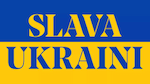 To subscribe to this FREE weekly newsletter simply email jellison@san.rr.com with "subscribe" as the subject.
THE WEEK'S BEST QUOTES. . .
Marjorie Taylor Greene on Biden classified documents story: "Impeach Biden." https://twitter.com/atrupar/status/1612904668505559042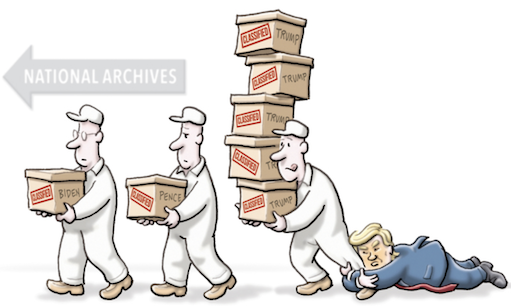 Christian nationalism attempts to sanctify oppression and not liberation. It attempts to sanctify lies and not truth. At best it's a form of theological malpractice. At worst, it's a form of heresy. — Rev. William J. Barber II https://www.cnn.com/2023/01/21/us/william-barber-christian-nationalism-blake-cec/index.html
Democrats might imagine they could do better than offering voters a second Biden administration. But it's a risky business. The great civil-rights leader Frederick Douglass famously said during the Reconstruction era that "the Republican Party is the ship; all else is the sea." At this particular moment in history, Democrats are the party of civil rights, and Biden is the captain of their fragile ship. — Ed Kilgore https://nymag.com/intelligencer/2023/01/why-bidens-easy-path-to-renomination-is-good-for-democrats.html
"I'm going to suffer the consequences, but I hope they see I didn't break the law and acted like a fucking idiot." —Richard "Bigo" Barnett, who famously propped his feet on a desk in then-Speaker Nancy Pelosi's Capitol suite during the January 6 riots, urged jurors to consider his behavior the actions of a "fucking idiot" — not a criminal. https://www.politico.com/news/2023/01/20/man-pelosi-suite-capitol-00078838
"Researchers have identified a previously unknown species in D.C. Like cicadas, this species stays underground for years at a time, typically in four- or eight-year intervals. Its members hide away until there is an auspicious change in the ecosystem. Then, they bust out and wreak havoc. This species: Republicans who care about deficits." — Catherine Rampell https://www.washingtonpost.com/opinions/2023/01/17/republican-deficit-concerns-only-temporary/
"What the hell is going on? But it was said and said again: 'Only in America.' This happened on our watch. We allowed this to happen. Where's the Republican Party? One state can't do it alone." — Gov. Gavin Newsom (D) in angry remarks delivered after visiting with victims' families in Half Moon Bay saying that the state needs help from the federal government and a Republican Party that once supported some gun-control measures but has become deeply opposed. https://www.washingtonpost.com/nation/2023/01/24/california-shootings-despite-gun-laws/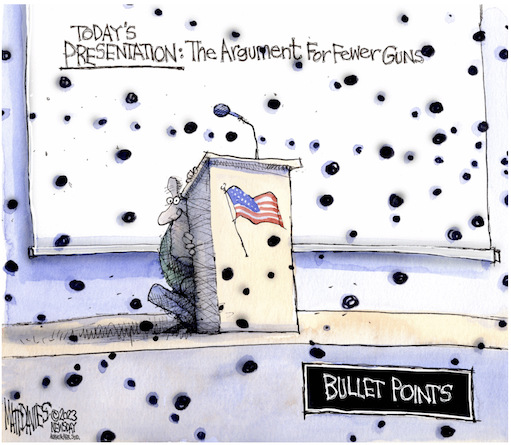 Trump withdraws suit against NY State AG Letitia James — the type of frivolous case that was cited by the judge who last night imposed sanctions of nearly $1 million against Trump and his lawyer Alina Habba. https://twitter.com/hugolowell/status/1616451669264601091
"I will never leave that woman, I will always take care of her." — Speaker Kevin McCarthy gushing to a friend about the ironclad bond he had developed with an unlikely ally in his battle for political survival, Representative Marjorie Taylor Greene of Georgia, a former QAnon follower who had routinely trafficked in conspiratorial, violent and bigoted statements, who was widely seen as a dangerous liability to the party and a threat to the man who aspired to lead Republicans back to the majority — a person to be controlled and kept in check, not embraced. https://www.nytimes.com/2023/01/23/us/politics/kevin-mccarthy-marjorie-taylor-greene.html
Today should've been the 50th Anniversary of Roe v. Wade. Instead, MAGA Republican officials are waging a war on women's right to make their own health care decisions. But this fight isn't over. — President Biden https://twitter.com/POTUS/status/1617180530281168896
Like the President has said many times, raising the debt ceiling is not a negotiation; it is an obligation of this country and its leaders to avoid economic chaos. Congress has always done it, and the President expects them to do their duty once again. That is not negotiable. — Statement from White House Press Secretary Karine Jean-Pierre. https://www.whitehouse.gov/briefing-room/statements-releases/2023/01/20/statement-from-white-house-press-secretary-karine-jean-pierre-on-meetings-with-congressional-leaders/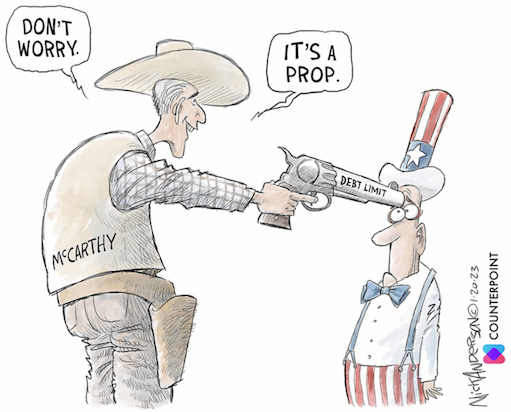 "As I spoke against it on the House floor two years ago, I will not support this charade again." McCarthy "needs to stop 'bread and circuses' in Congress and start governing for a change." — Rep. Victoria Spartz (R-IL) https://twitter.com/AndrewSolender/status/1617918472729812992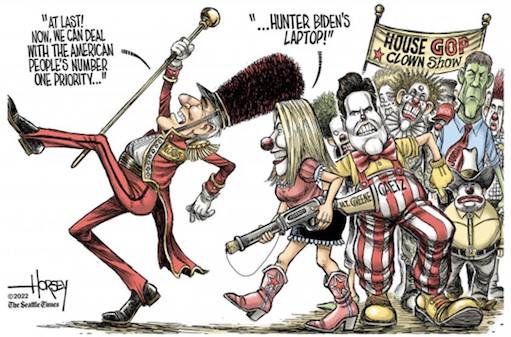 VIDEOS
Rep. Byron Donalds (R-FL) was asked about Rep. George Santos (R-NY) by Victor Blackwell on CNN: BLACKWELL: You haven't called for Santos to resign. DONALDS: I don't think that's the job of another member of Congress. BLACKWELL: Well, I will say you called for Biden to resign. https://twitter.com/atrupar/status/1616162085213274113
Saturday Night Live: George Santos stops by the Update desk to prove he's definitely not a liar. https://twitter.com/nbcsnl/status/1617038013711646722
"We may even say no tax on gas stoves coming up this year. We'll do that! That's fine with me! I want you to be able to have a choice" — Gov. Ron DeSantis https://twitter.com/dcexaminer/status/1615808232479461381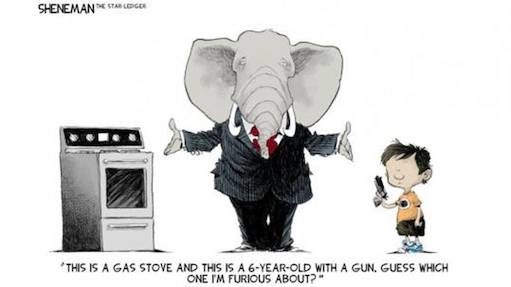 "Growing up poor, all I had was the American dream. It kept me going: as a kid sleeping on the floor, a student scrubbing toilets, a Marine losing brothers in Iraq.Today, too many Arizonans see their dream slipping away. I'm running for the U.S. Senate to win it back for you!" — Ruben Gallego who is challenging independent Sen. Kyrsten Sinema in 2024. https://twitter.com/RubenGallego/status/1617507452198469636
Let me be very clear and respectful to you. You asked me a question. When I answer it, it's the answer to your question. You don't get to determine whether I answer your question or not, okay? In all respect. "— Speaker Kevin McCarthy (R-CA), to a reporter who complained McCarthy did not answer the question. https://www.foxnews.com/politics/mccarthy-gets-heated-reporter-dont-get-determine-whether-answer-question
Biden's Accomplishments:
LITIGATION TRACKER
Pending Criminal and Civil Cases Against Donald Trump.
https://www.justsecurity.org/75032/litigation-tracker-pending-criminal-and-civil-cases-against-donald-trump/
---
IN THIS ISSUE
IN THE NEWS
OPINION
Andy Borowitz: Giuliani Praises George Santos: "The G.O.P. Must Pass the Torch to a New Generation of Liars"
Offering his full-throated support for Representative George Santos, Rudolph Giuliani said that "it's time for Republicans to pass the torch to a new generation of liars."
"I get why some Republicans are knocking the kid—they're envious of his raw talent," Giuliani told Fox News Channel's Sean Hannity. "But we should be showing him our respect. I mean, look at this kid's body of work. He could turn out to be the Michael Jordan of lying."
"When I watch him lie, he reminds me of me at his age," Giuliani said. "Like poetry in motion. But he's taking his game to a whole new level. The inventiveness, the audacity. Personally, I can't wait to see what he does next."
"I still like to think that I can lie with the best of them, but I know I've lost a step," he added. "What can I tell you? I had a good run. But now it's George Santos's time to shine. Just put him out there and watch the magic happen." https://www.newyorker.com/humor/borowitz-report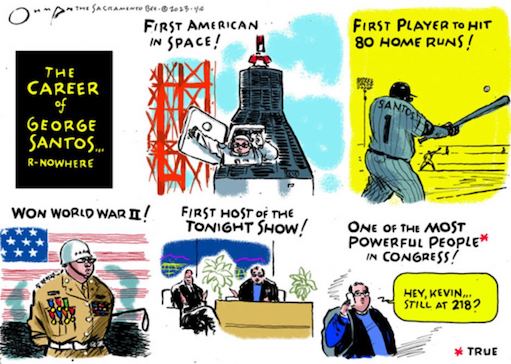 Florida Gov. Ron DeSantis' administration is seeking information on university students who have sought gender-affirming treatment.
In a request sent to 12 state universities, top officials with the Republican governor requested data on the number of students who have been diagnosed with gender dysphoria or who have received treatment in university clinics across the state.
It's not immediately clear why the DeSantis administration is after transgender students' personal information, but some Democrats say the move might signal a plan to scale back on health services offered to trans individuals. https://www.nydailynews.com/news/national/ny-desantis-information-trans-students-universities-florida-20230119-riheb4hpfvbldf4b4unccsfckq-story.html
Trump Sanctioned Nearly $1 Million by Judge
A federal judge on Thursday imposed nearly $1 million in sanctions on former President Donald Trump and his lawyer for filing a since-dismissed "frivolous" lawsuit against Hillary Clinton and many others, which had claimed they tried to rig the 2016 presidential election in her favor by smearing Trump.
"We are confronted with a lawsuit that should never have been filed, which was completely frivolous, both factually and legally, and which was brought in bad faith for an improper purpose," wrote Judge John Middlebrooks in U.S. District Court for the Southern District of Florida in his order sanctioning Trump and his attorney Alina Habba.
"He is the mastermind of strategic abuse of the judicial process, and he cannot be seen as a litigant blindly following the advice of a lawyer," Middlebrooks wrote. https://www.cnbc.com/2023/01/20/trump-and-lawyers-sanctioned-almost-1-million-for-frivolous-lawsuit-against-hillary-clinton.html
McCarthy hands detractors critical posts to influence legislation
Speaker Kevin McCarthy announced his picks for the Rules Committee on Monday evening, awarding his group of detractors another powerful perch: The ability to influence nearly everything that will come to the House floor.
McCarthy's decision will give the House GOP's right flank the ability to put their stamp on everything — from what bills advance to the full chamber to the structure of floor debates and amendments — and they're much less likely to go along with leadership."
Importantly, if Roy, Norman or Massie hang together they can effectively block legislation, including bills that McCarthy supports, from getting to the floor, as minority party members usually vote no on the 9-4 split panel. https://www.politico.com/news/2023/01/23/mccarthy-detractors-critical-posts-rules-00079136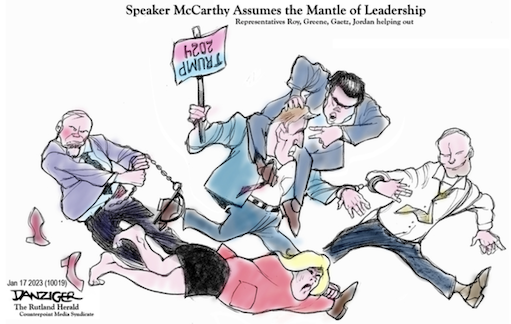 Trump Resort to Host Pro-QAnon Speaking Tour
A resort owned by Donald Trump is set to host a conference this spring headlined by QAnon promoters and other conspiracy theorists, marking a new connection between the ex-president and his party's far-right fringe. https://www.thedailybeast.com/trump-resort-to-host-pro-qanon-speaking-tour-led-by-michael-flynn
DOJ reserves right to not cooperate with certain House GOP requests
The Justice Department is signaling that it has the right to not cooperate with Hill Republicans' requests to peek into their ongoing investigations.
The Justice Department letter cites a 1982 directive from President Ronald Reagan, stressing that the administration would try to respond to congressional oversight requests and avoid invoking executive privilege, reserving it for use 'only in the most compelling circumstances.' https://www.politico.com/news/2023/01/20/doj-gop-house-investigations-00078805
Trump trounces DeSantis in potential GOP primary match-up, new poll finds
Former President Trump holds at 17-point lead over Florida Gov. Ron DeSantis (R) in a hypothetical GOP primary match-up, according to a new poll.
A Morning Consult poll  released  Just over a year out from the Republican Party's first presidential nominating contest, Trump holds at 17-point lead over Florida Gov. Ron DeSantis (R) in a hypothetical GOP primary match-up. https://thehill.com/homenews/campaign/3817804-trump-trounces-desantis-in-potential-gop-primary-matchup-new-poll-finds/
Trump Maintains Lead over DeSantis in GOP Primary
In the Emerson College 2024 Republican Primary poll, Donald Trump holds a 26-point advantage over Florida Governor Ron DeSantis, leading 55% to 29%. Other candidates to receive support include Mike Pence at 6% and Nikki Haley at 3%. Since the November national poll, Trump's support has held at 55% while DeSantis's support increased by four percentage points, from 25% to 29%. https://emersoncollegepolling.com/national-poll-bidens-approval-recovers-two-years-into-term-trump-maintains-lead-over-desantis-in-gop-primary/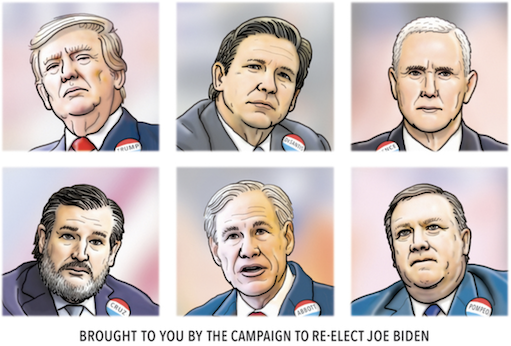 Trump thought photo of accuser was of ex-wife during deposition
Donald Trump mistook his sexual assault accuser E. Jean Carroll for his ex-wife Marla Maples when shown a photograph from the 1990s in a deposition at Mar-a-Lago last year, potentially undermining one of the common defenses he has used to deny an attack.
Trump, who is being sued by Carroll, an author and advice columnist, for defamation and sexual assault stemming from the same alleged encounter, has repeatedly said Carroll is not his "type," suggesting an assault could not have occurred because he would not have pursued her romantically. https://www.washingtonpost.com/national-security/2023/01/18/trump-deposition-carroll-photo/
Florida Says AP African American Studies Program 'Lacks Educational Value'
The state used Ron DeSantis' "Stop WOKE Act" to block the College Board from testing a pilot Advanced Placement African American Studies curriculum in the state saying the curriculum "is inexplicably contrary to Florida law and significantly lacks educational value. https://www.rollingstone.com/politics/politics-news/ron-desantis-blocks-ap-african-american-studies-course-1234663155/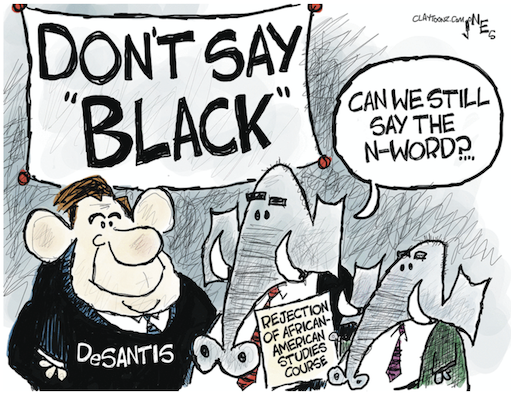 Washington's little secret: 'Spillage' of classified information is a common occurrence
What is known in intelligence circles as 'classified spillage' is, in fact, incredibly common, according to former intelligence officials and attorneys who specialize in cases involving classified information.

Most of these cases are simple mistakes that aren't charged as crimes: a government employee accidentally takes a document home in their briefcase or fails to follow the correct protocol for handling a particular piece of information. https://www.cnn.com/2023/01/19/politics/classified-documents-spillage/index.html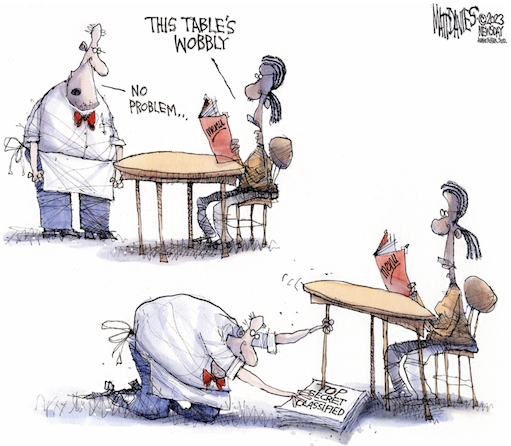 Judge refuses to dismiss Peter Navarro's contempt of Congress case and clears the way for trial
A federal judge declined Thursday to dismiss the criminal contempt of Congress charges brought against former Trump White House adviser Peter Navarro for his failure to comply with a subpoena from the House select committee that investigated the January 6, 2021, attack on the US Capitol.
In his opinion, US District Judge Amit Mehta dismantled a wide variety of arguments that Navarro had brought trying to get the case thrown out. Mehta's decision clears the way for the contempt of Congress case – the second such prosecution that the Department of Justice has brought stemming from the now-defunct House January 6 probe – to go to trial at the end of the month. https://www.cnn.com/2023/01/19/politics/peter-navarro-contempt-of-congress-case/
In Debt-Limit Fight, Trump Wants Republicans to Play a Dangerous Game of Chicken
Donald Trump is egging on Republicans already intent on using the federal debt limit as leverage to extract concessions from Democrats, potentially pushing the country further toward the brink of default as the former president seeks to reassert his grip on the GOP. https://www.bloomberg.com/news/articles/2023-01-19/trump-bucks-up-gop-s-debt-hard-liners-as-his-star-in-party-fades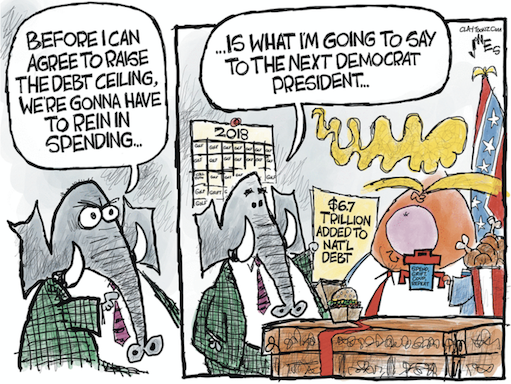 Russia sends drug addicts to war to up mobilization numbers
"The information about the massive mobilization of drug addicts was confirmed by one of the Russian soldiers who surrendered to the Resistance Movement," the Ukrainian Center for National Resistance reported. "According to him, he was not cured of addiction and continued to use drugs while fighting in Zaporizhzhia. The man took the drugs with him as medicine." https://www.jpost.com/international/article-729122
Inside the Supreme Court Inquiry: Seized Phones, Affidavits and Distrust
Last spring and summer, employees of the Supreme Court were drawn into an investigation that turned into an uncomfortable awakening.
As the court marshal's office looked into who had leaked the draft opinion of the decision overturning the constitutional right to abortion, law clerks who had secured coveted perches at the top of the judiciary scrambled for legal advice and navigated quandaries like whether to surrender their personal cellphones to investigators.
Inside the court, justices are treated with such day-to-day deference that junior aides assist them in putting on their black robes. As staff members were grilled, some grew concerned about the fairness of the inquiry, worried that the nine most powerful people at the court were not being questioned rigorously like everyone else. https://www.nytimes.com/2023/01/21/us/supreme-court-investigation.html
Former Senior F.B.I. Official in New York Charged With Aiding Oligarch
A former senior F.B.I. official who oversaw some of its most secret and sensitive counterintelligence investigations in New York was accused on Monday of taking money from a former Albanian intelligence employee and from a representative of a Russian oligarch.
Before he retired in 2018, Charles McGonigal had been the special agent in charge of the F.B.I.'s counterintelligence division in New York. In that post, he supervised investigations of Russian oligarchs, including Oleg V. Deripaska, the oligarch whom the U.S. attorney's office in Manhattan on Monday charged him with aiding. https://www.nytimes.com/2023/01/23/nyregion/fbi-money-laundering-charles-mcgonigal.html
Jeffries says GOP has "double standard" on committee assignments
House Minority Leader Hakeem Jeffries (D-N.Y.) nominated Reps. Adam Schiff (D-Calif.) and Eric Swalwell (D-Calif.) to the Intelligence Committee in a letter to House Majority Leader Kevin McCarthy (R-Calif.) on Saturday first obtained by Punchbowl News.

McCarthy has said he will deny Schiff's and Swalwell's nominations to the committee, though Jeffries told McCarthy in the letter that doing so would run "counter to the serious and sober mission of the Intelligence Committee" and would lay bare Republican's "apparent double standard" in designating committee assignments.

While McCarthy has said he plans to oust Schiff and Swalwell from the Intelligence Committee, embattled Rep. George Santos (R-N.Y.), who has been facing calls to resign from Republicans and Democrats for fabricating details about his background throughout his campaign, received two committee assignments last week.

Far-right Republicans Reps. Marjorie Taylor Greene (R-Ga.) and Paul Gosar (R-Ariz.) also received committee assignments again — reversing 2021 bipartisan votes to remove their assignments for either making or promoting violent and inflammatory rhetoric against their political opponents.
"At the same time that Republicans have threatened to deny seats on the Intelligence Committee to clearly qualified democratic members, serial fraudster George Santos has been placed on two standing committees of the House and welcomed into your conference," Jeffries letter to McCarthy reads. https://www.axios.com/2023/01/23/jeffries-gop-double-standard-committee-assignment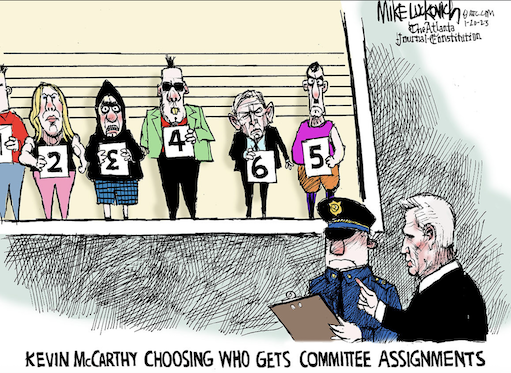 Fox News' defense in defamation suit invokes debunked election-fraud claims
Dominion's attorneys have deposed people throughout the Fox hierarchy, from junior producers to stars, to executives, to most recently, controlling owner Rupert Murdoch, who sat for questioning under oath at the Fox Studio lot last Thursday and Friday. Its case relies on the theory that there was an effort - from top to bottom of Fox hierarchy - to appease viewers angered that Fox had been the first television network to call the key state of Arizona for Joe Biden in November 2020. (The Murdochs and Fox refused to reverse the projection despite intense pressure from Trump and his campaign.) That explains the sustained embrace of unsustainable claims, Dominion's legal team argues. https://www.npr.org/2023/01/23/1150213311/fox-news-dominion-voting-system-election-fraud-claims
George Santos Admits 500K Personal Loan to Campaign Wasn't 'Personal'
Rep. George Santos (R-NY) filed a flurry of amended campaign finance reports, telling the feds, among other things, that a $500,000 loan he gave to his campaign didn't, in fact, come from his personal funds as he'd previously claimed.
However, while the new amended filing told us where the funds did not come from, it also raised a new question—where did the money come from? https://www.thedailybeast.com/george-santos-admits-500k-personal-loan-to-campaign-wasnt-persona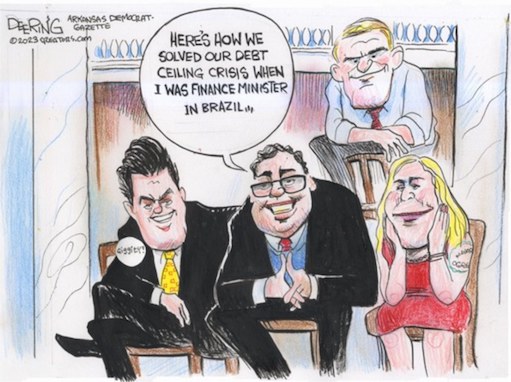 South Dakota Gov. threatens charges for abortion pills
South Dakota Gov. Kristi Noem, along with the state's Republican attorney general, said Tuesday the state will prosecute pharmacists who dispense abortion-inducing pills following a recent Food and Drug Administration rule change that broadens access to the pills.
The FDA earlier this month formally updated labeling for abortion pills to allow many more retail pharmacies to dispense them. https://www.startribune.com/south-dakota-gov-noem-threatens-charges-for-abortion-pills/600246087/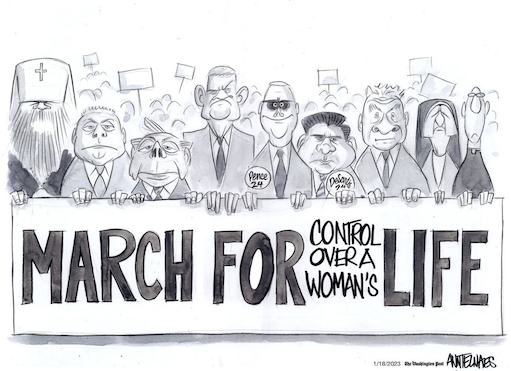 McHenry Warns Fellow GOP Leaders to Be Reasonable in Debt-Ceiling Talks
Financial Services Committee Chairman Patrick McHenry on Tuesday privately warned fellow House Republican leaders to be reasonable and realistic as they demand federal spending cuts in exchange for raising the nation's debt ceiling.

McHenry, who has emerged as a critical player in the House's narrow GOP majority, warned Republicans of the ramifications of a catastrophic debt default, arguing that behaving recklessly could lead to the US losing its position as the world's dominant reserve currency.  https://www.bloomberg.com/news/articles/2023-01-24/mchenry-warns-republicans-to-be-sensible-in-debt-ceiling-talks
The Doomsday Clock was moved forward on Tuesday to 90 seconds to midnight
The Bulletin of the Atomic Scientists doomsday clock ticked forward largely, though not exclusively, because of the nuclear dangers posed by the war in Ukraine.

"Russia's thinly veiled threats to use nuclear weapons remind the world that escalation of the conflict – by accident, intention, or miscalculation – is a terrible risk. The possibility that the conflict could spin out of anyone's control remains high," the Bulletin said. https://www.usatoday.com/in-depth/news/nation/2023/01/24/doomsday-clock-2023-time-announced/11026446002/
There is no easy escape from America's debt-ceiling mess
Most games of chicken do not have trillion-dollar stakes. But such a spectacle is common in America when Republicans in Congress face off with a Democratic president over the debt ceiling. This legal limit on the amount of debt held by the Treasury is periodically raised—but never by enough to avoid a repeated stalemate. Without a bipartisan political deal to raise the ceiling America would be in uncharted and dangerous territory, bumbling into pointless default.

The last close call, in 2011 when Barack Obama was president and Joe Biden was vice-president, was resolved with only days to spare, spooking stock markets and leading one ratings agency to downgrade the federal government's credit. The impasse of 2023 may well be just as dramatic.
At the moment, neither side has any incentive to back down. Impending market cataclysm might be the only motivating factor, though it will not arrive for several months. Trillion-dollar chicken has a while yet to go. https://www.economist.com/united-states/2023/01/23/there-is-no-easy-escape-from-americas-debt-ceiling-mess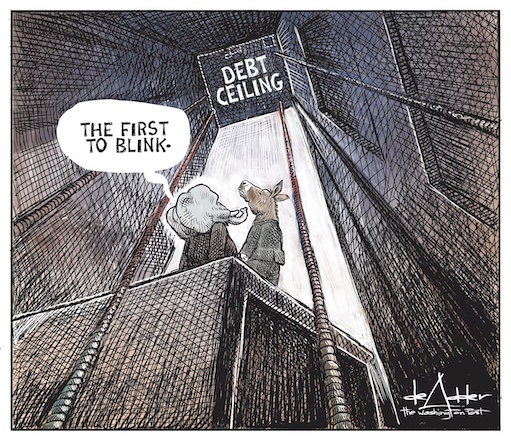 Twitter Reinstates Nick Fuentes, Kanye's Hitler-Loving Muse
Twitter has reinstated the account of white nationalist Holocaust denier Nick Fuentes. Fuentes was permanently banned from the platform in July 2021, and attempted to skirt the ban following Elon Musk's October takeover of the social media platform. The decision to reinstate Fuentes is the latest digital pardon the billionaire has granted to extremist figures looking to re-establish themselves on Twitter.

The return of extremist figures to Twitter has been a hallmark of Musk's early tenure at the platform. He has granted near-blanket amnesty to prominent neo-Nazi's, white nationalists, and conspiracy theorists. https://www.rollingstone.com/politics/politics-news/nick-fuentes-reinstated-twitter-1234667137/
The Obscure NY Law That Could Dismantle Trump's Empire
Donald Trump's riches are being threatened by a powerful law enforcement tool that AG Letitia James is wielding like a sledgehammer. Her civil lawsuit against him and his family—which accuses them of rampant bank and tax fraud—relies on the state's Executive Law 63 (12). Its potential to deal serious damage is evident by how desperately the former president has tried to avoid fighting it head-on.

Rather than present an actual defense, Trump has questioned for nearly a year whether that law even gives AG Letitia James the authority to target his family company. He's failed miserably. https://www.thedailybeast.com/the-obscure-new-york-law-that-could-dismantle-trumps-empire
'Liberal' May Finally Be Shedding Its Political Stigma
More than half of Democrats now identify as liberal, suggesting that the long-vilified L-word may be losing its potency as political kryptonite. https://thehill.com/homenews/campaign/3828958-liberal-may-finally-be-shedding-its-political-stigma/
Why Kyrsten Sinema is in deep trouble
There's no shortage of Democratic senators in danger of losing their seats in 2024. Joe Manchin in ruby-red West Virginia. Jon Tester in solidly Republican Montana. Sherrod Brown in ever-more-conservative Ohio. And their colleagues in Wisconsin, Pennsylvania, Nevada and Michigan — four of the purplest places on the map.

But if the latest polls are to be believed, no Senate incumbent is in as much trouble as Arizona's Kyrsten Sinema. https://news.yahoo.com/why-kyrsten-sinema-is-in-deep-trouble-190030007.html
Democrats hammer GOP plan to impose national sales tax, abolish IRS
Democrats are seizing on a Republican proposal to impose a national sales tax and abolish the Internal Revenue Service as a cudgel against the GOP, even though the bill has few fans even among Republican lawmakers. https://www.washingtonpost.com/politics/2023/01/25/gop-national-sales-tax-irs/
G.O.P. State Lawmakers Push a Growing Wave of Anti-Transgender Bills
Over the past three years, Republican state lawmakers have put forward a barrage of bills to regulate the lives of transgender youths, restricting the sports teams they can play on, bathrooms they can use and medical care they can receive.

But even by those standards, the start of the 2023 legislative season stands out for the aggressiveness with which lawmakers are pushing into new territory.
The bills they have proposed — more than 150 in at least 25 states — include bans on transition care into young adulthood; restrictions on drag shows using definitions that could broadly encompass performances by transgender people; measures that would prevent teachers in many cases from using names or pronouns matching students' gender identities; and requirements that schools out transgender students to their parents. https://www.nytimes.com/2023/01/25/us/politics/transgender-laws-republicans.html
'I felt like we were in "Goodfellas''': How George Santos wooed investors for alleged Ponzi scheme
Collectively, the accounts gathered by The Washington Post offer a detailed picture of Santos's efforts to recruit investors for Harbor City. In two instances, he inflated his own academic or professional credentials… In addition, Zoom recordings of workplace meetings show Santos offering anecdotes about his purported interactions with wealthy people — stories disputed by those involved — for potential inclusion in marketing materials or to impress prospective clients.
Two of the people he pitched said they did not realize until being contacted by a reporter that the man they'd known as 'George Devolder' was the newly elected congressman who among other things falsely claimed that his mother was working in the World Trade Center on Sept. 11, 2001. https://www.washingtonpost.com/investigations/2023/01/25/george-santos-ponzi-scheme-harbor-city/
Independent Sinema Courted by GOP as Democrat Raises $1 Million
Newly independent Senator Kyrsten Sinema of Arizona is being courted by Senate Republicans, as the Democrat running to take her seat next year raked in $1 million the day after announcing his candidacy.

Rep. Ruben Gallego has capitalized on Sinema's unpopularity with Democrats in Arizona and nationwide, pulling in donations from 27,000 people after making his much-anticipated 2024 bid for the Senate seat official on Monday. https://www.bloomberg.com/news/articles/2023-01-24/independent-sinema-courted-by-gop-as-democrat-lines-up-challenge
Dems mobilize to defend Omar in face of GOP defections
Democratic leaders are working to have no defections on the vote to remove Omar from the Foreign Affairs Committee when it comes up for a full House vote as soon as next week. And even Democrats who have vocally taken issue with her stance on Israel are now urging colleagues on both sides of the aisle to allow her to remain on the panel.

Taking Omar off panels only requires a simple majority vote, but even that could prove difficult for a House GOP with a historically slim margin — and a second public defector emerging Tuesday, as Rep. Victoria Spartz (R-IN) joined Rep. Nancy Mace (R-SC) in declaring that she wouldn't vote for yanking Omar. https://www.politico.com/news/2023/01/24/democrats-ilhan-omar-house-committees-mccarthy-00079319
McCarthy names GOP members to run sweeping investigative panel
Speaker Kevin McCarthy, on Tuesday evening, appointed a dozen GOP lawmakers, including Jordan, to a select subcommittee on the "weaponization" of the federal government. Republicans are expected to use it to probe, among other targets, the FBI, Justice Department and the intelligence community — agencies at the center of some of their biggest recent gripes. https://www.politico.com/news/2023/01/24/house-government-weaponization-subcommittee-members-00079341
THE DAILY GRILL
McCarthy made good on his threat to oust two California Democrats from the House Intelligence Committee — former Chair Schiff and member Eric Swalwell — in promised payback for Democrats' sanctions of Gosar and Greene in 2021. Of Swalwell, McCarthy told reporters on camera, "If you got the briefing I got from the FBI, you wouldn't have Swalwell on any committee."
He also baselessly claimed that Schiff "openly lied to the American public" to engineer Trump's first impeachment, for suggesting to Ukraine's president that his country would lose U.S. military aid unless it produced dirt against presidential candidate-to-be Biden. https://www.washingtonpost.com/politics/2023/01/18/mccarthys-specious-attacks-adam-schiff-eric-swalwell/

VERSUS

Schiff has consistently maintained he did not know the identity of the whistleblower — and no evidence has emerged to the contrary, despite McCarthy's claim that he lied about it. As for Swalwell, there is no evidence he did anything wrong, despite McCarthy's claim that a classified briefing suggested something nefarious. https://www.washingtonpost.com/politics/2023/01/18/mccarthys-specious-attacks-adam-schiff-eric-swalwell/



"Rep. George Santos (R-NY) has claimed that reports and videos documenting him performing in drag are both 'outrageous' and 'categorically false,'" Politico reports. https://www.politico.com/news/2023/01/20/george-santos-appears-to-admit-drag-queen-past-in-wiki-post-00078812

VERSUS

Meanwhile, Rio drag queens found this video of George Santos in drag. https://twitter.com/wesleybonner/status/1616429324550426625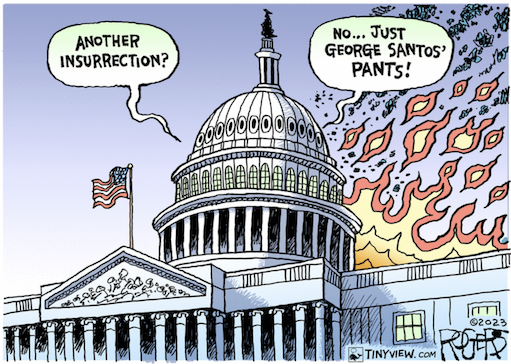 Catherine Rampell: Republicans pledge to balance the budget. But they have no idea how
Republicans have Very Serious budget demands. Unfortunately, they can't identify what any of those demands are.
They say they want to reduce deficits — but meanwhile have ruled out virtually every path for doing so (cuts to defense, cuts to entitlements, wiping out nondefense discretionary spending, or raising taxes).
Lawmakers need to raise the debt limit so the government can continue paying all the bills that Congresses past have already committed to. Republicans are refusing to cooperate, though. They say they'll raise the borrowing limit only on the condition that Democrats make some (as-yet-undetermined) cuts relating to future budgets.

Sorting out the country's fiscal challenges is a worthwhile goal – one that should be achieved through the usual process lawmakers use for spending and taxation decisions, i.e., the budget process. There is no universe, though, in which holding the debt limit hostage (i.e., threatening not to pay our bills) would promote greater fiscal health. https://www.washingtonpost.com/opinions/2023/01/24/republican-debt-ceiling-hostage-budget/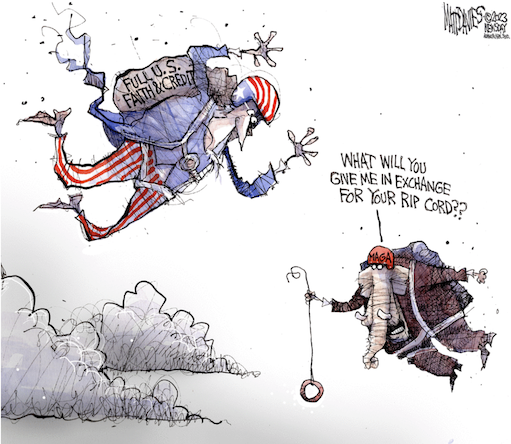 Maggie Haberman and Michael C. Bender: Can Trump Count on Evangelicals in 2024? Some Leaders Are Wavering
On Sunday, the Rev. Robert Jeffress, a longtime supporter of Donald J. Trump who has yet to endorse his 2024 White House bid, shared the stage at his Dallas megachurch with one of the former president's potential rivals next year: former Vice President Mike Pence.

The next day, Mr. Trump lashed out at Pastor Jeffress and other evangelical leaders he spent years courting, accusing them of "disloyalty" and blaming them for the party's disappointing performance in the 2022 midterm elections.

The clash highlighted one of the central tensions inside the Republican Party as it lurches toward an uncertain 2024 presidential primary: wavering support for Mr. Trump among the nation's evangelical leaders, whose congregants have for decades been a key constituency for conservatives and who provided crucial backing to Mr. Trump in his ascent to the White House.

If these leaders break with Mr. Trump — and if evangelical voters follow, which is by no means a certainty — the result will be a tectonic shift in Republican politics…"

"Indeed, recent polls point to some Trump fatigue among Republican voters. But it is an open question whether evangelical voters will abandon him if prominent Christian ministers support other candidates. And Mr. Trump has previously had an ability to cleave various types of conservative voters from their longtime leaders, as he did during his unexpected Republican primary victory in 2016. https://www.nytimes.com/2023/01/19/us/politics/trump-evangelicals-2024.html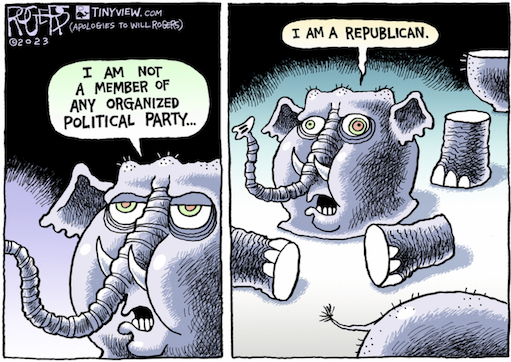 Molly Jong-Fast: The Not Particularly Talented Mr. Santos
While Santos may take lying to another level, his willingness to deceive the public for power—along with Republicans tolerating or even excusing such behavior—isn't out of character with today's GOP. Remember, McCarthy, along with 138 other House Republicans, were willing to overturn the will of the American people to validate Trump's 'stolen' election lies, while also looking the other way for four years as the former president made more than 30,000 false or misleading claims.
The message Republicans sent even before Santos is that lying to Americans is acceptable if it's in the pursuit of power. https://www.vanityfair.com/news/2023/01/george-santos-gop-house-seats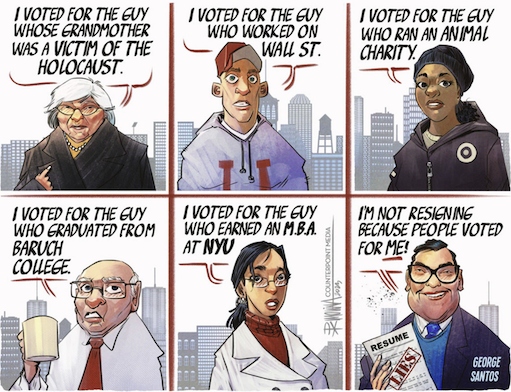 Ed Kilgore: Progressive Ruben Gallego Sets Sights on Taking Down Kyrsten Sinema
This week, the newly minted independent U.S. senator Kyrsten Sinema of Arizona drew a lot of attention at the annual gathering of global elites in Davos, Switzerland. Once again she defended her stubborn defense of the Senate filibuster, that great font of conservative obstructionist power, even high-five-ing her fellow filibuster fan Joe Manchin over their success in thwarting (or at least radically reshaping) Democratic legislation in the last Congress.
Whatever the assembled plutocrats and power brokers thought of Sinema's preening, it did not play well back in Arizona among the Democrats who feel that she betrayed them before abandoning them with a shift in her party affiliation from D to I. Indeed, progressive congressman Ruben Gallego chose the occasion to signal he will soon formally announce his widely anticipated challenge to the incumbent's reelection in 2024. https://nymag.com/intelligencer/2023/01/progressive-gallego-sets-sights-on-taking-down-sinema.html
Aaron Rupar: McCarthy turns House Oversight into a Tucker panel
News that House Oversight is now controlled by a basket of deplorables is the latest indication that McCarthy sold the farm to become House speaker. Greene, you might recall, was stripped of her committee assignments in early 2021 because of her background of endorsing political violence, embracing conspiracy theories like QAnon, and harassing school shooting survivors.
Gosar, who barely tries to hide his white nationalism, lost his committee seats months later after he posted a bizarre animation on social media depicting him killing AOC. Boebert has a history of Islamophobia, and Perry was so involved in the January 6 coup plotting that his phone was seized by the feds. It's all indefensible, but these are the characters McCarthy and House Republican leadership put in charge of high-profile investigations sure to receive heavy coverage, not only on Fox News but on more mainstream networks, too.

In addition to her seat on oversight, Greene, who not so long ago was a proponent of a conspiracy theory about the world being run by a secret cabal of Democratic pedophiles, also got a spot on the Homeland Security Committee, which is poised to start with impeachment hearings for HHS Secretary Alejando Majorkas.

"Joe Biden, be prepared," she said in a statement. "We are going to uncover every corrupt business dealing, every foreign entanglement, every abuse of power." https://aaronrupar.substack.com/p/house-oversight-committee-greene-boebert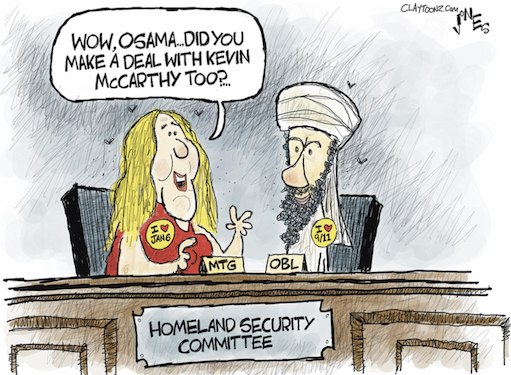 Dan Pfeiffer: How the GOP Already Fumbled the Biden Investigations
Kevin McCarthy gave Joe Biden a big gift on Tuesday. Now, of course, the Speaker-In-Name-Only didn't give the President a peace offering to kick off an era of bipartisan cooperation. Instead, McCarthy did what he always does — he put a rake on the ground and immediately stepped on it.

On Tuesday, the House Republicans were assigned to their legislative committees. The chairs of those committees were decided weeks ago. Therefore, most of the decisions were relatively pro forma. Who really cares which nameless Republican is on which essentially powerless committee? Congressional watchers were, however, interested in two things. First, they wondered to which committees noted fraudster George Santos would get assigned. Small Business and Science; assignments only possible because irony is dead. The second announcement of interest was the Government Reform and Oversight Committee membership — the panel designated to lead the Republican investigations into the Biden Administration.

And boy, was it a doozy.

McCarthy appointed a who's who of MAGA extremist chuckleheads to sit on this critical committee. In addition to Marjorie Taylor Greene, Lauren Boebert, and Paul Gosar, the committee also includes Scott Perry, who was actively involved in planning the insurrection, and Anna Paulina Luna, a conspiracy theorist with QAnon sympathies. Nearly every member of the committee is an election denier who voted against the certification of the election only hours after the violent assault on the Capitol.
Putting these folks on this important committee was certainly part of the many backroom deals McCarthy made to secure the votes to become Speaker. In doing so, he made Joe Biden's life easier and gave the Democrats an easy retort to the parade of investigations that they hope will trip up the Democrat while he runs for reelection. https://messagebox.substack.com/p/how-the-gop-already-fumbled-the-biden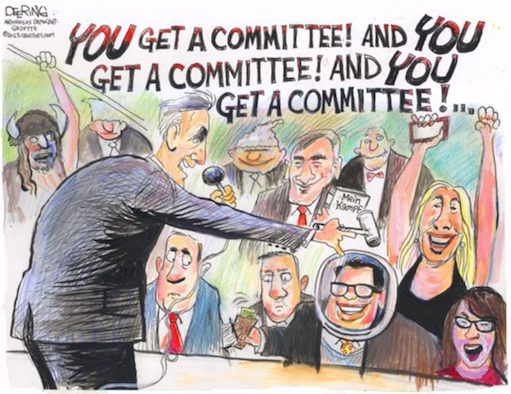 Ruth Marcus Was leaking the Dobbs opinion the perfect crime? It sure looks that way.
Imagine that a group of people is gathered at a country home for the weekend. One of the guests is shot and killed. The suspects are carefully questioned, their rooms searched for the murder weapon. Except for nine of those present, who are not required to undergo anything like such rigorous interrogation. They simply attest that they didn't pull the trigger.
The conclusion of this bad Agatha Christie murder mystery will come as no surprise: Authorities pronounce themselves unable to conclusively identify the perpetrator.
From everything that we can deduce from the Supreme Court's just-released report on the leak of its abortion ruling, that is about what happened during the court's investigation of itself. That raises the question that Christie would ask: Did the court — did Chief Justice John G. Roberts Jr. — really want to find the leaker, the person responsible for what the court's statement termed "a grave assault on the judicial process" and an "extraordinary betrayal of trust"? https://www.washingtonpost.com/opinions/2023/01/20/supreme-court-leak-mystery/