March 8, 2017
ON THE RECORD. . .
Senator Franken, I'm not aware of any of those activities. I have been called a surrogate at a time or two in that campaign and I didn't have––did not have communications with the Russians, and I'm unable to comment on it. -- Senator Sessions responding to Sen. Franken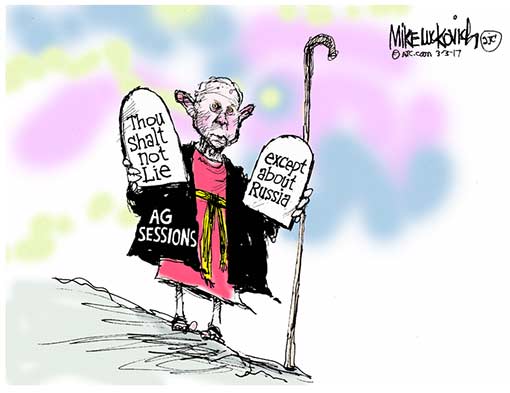 "Donald Trump has been president for 41 days, and he finally put up a goose egg: no factual errors or misleading statements for a full day, midnight to midnight ... All he had to do, it turns out, was say almost nothing." --Washington Post 3/2/17
""It's not about the show … because everyone I ran into came up to me and said, 'I love the show ... but I turned it off because as soon as I read Trump's name, I'm outta there!'" ... "When people found out that Trump was still involved as executive producer and was still receiving money from the show, then half the people [started] boycotting it." -- Arnold Schwarzenegger
"I'm very worried that our president is suggesting the former president has done something illegal. I'd be very worried if in fact the Obama administration was able to obtain a warrant lawfully about Trump campaign activity with foreign governments. It's my job as United States senator to get to the bottom of this." — Sen. Lindsey Graham (R-SC) 3/04/17
"A cardinal rule of the Obama administration was that no White House official ever interfered with any independent investigation led by the Department of Justice. As part of that practice, neither President Obama nor any White House official ever ordered surveillance on any U.S. citizen. Any suggestion otherwise is simply false. -- Obama spokesman Kevin Lewis
No President can order a wiretap. Those restrictions were put in place to protect citizens from people like you. -- Former deputy national security adviser Ben Rhodes@brhodes
"This was something that was, you know, just — they wanted to do (the covert mission in Yemen). And they came to see me and they explained what they wanted to do, the generals, who are very respected. ... And they lost Ryan." -- Donald Trump, refusing to accept responsibility for the mission he authorized and the subsequent death of Senior Chief Petty Officer William 'Ryan' Owens.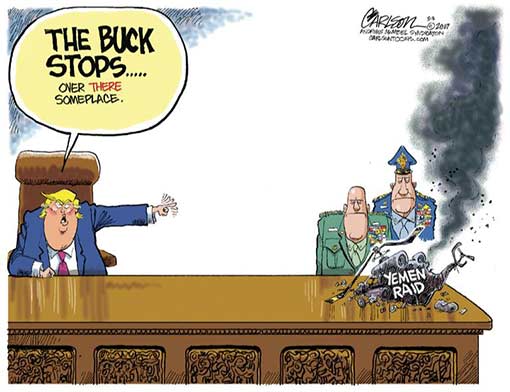 "You make up something and then you have the press write about it, and then you say, 'everybody's writing about this charge.' It's a tool of an authoritarian, to just have you always be talking about what you want to be talking about."— House Minority Leader Nancy Pelosi.
"This may come as some surprise to the current occupant of the Oval Office, but the president of the United States does not have the authority to unilaterally order the wiretapping of an American citizen." -- Former White House press secretary Josh Earnest
@RealDonaldTrump needs to purge Leftists from executive branch before disloyal, illegal & treasonist acts sink us. -- Rep. Steve King ✔@SteveKingIA
"If we start down the rabbit hole of discussing this stuff, we end up in a very difficult place." —White House press secretary Sean Spicer, on basis for Trump's claims that former President Obama ordered wiretaps on his phones.
"They rarely agree on much, but health care experts on the left, right and center of the political spectrum have found consensus on the House GOP's Obamacare replacement: It won't work." -- NBC News
"It (Trumpcare) is likely to result in a substantial reduction in the number of Americans able to buy affordable health insurance or maintain coverage under the Medicaid program. We are very concerned that the draft legislative proposal being considered by the House committees could lead to tremendous instability for those seeking affordable coverage." -- Coalition of of hospital groups and systems letter to Congress. 3/8/17
---
IN THIS ISSUE
1. Andy Borowitz: Obama Denies Wiretapping Trump: "like I'd Want To Hear More From That Fool?"
2. For Donald Trump Jr., lingering questions about meeting with pro-Russia group
3. The DAILY GRILL
4. From MEDIA MATTERS (They watch Fox News so you don't have to)
5. From the Late Shows
6. Majority Want to Keep and Improve Obamacare
7. Trump Team Denied Russia Contacts 20 Times
8. Treasury Asked to Look Into Trump Foreign Associates
9. Why People Think Trump Is Getting Things Done
10. Obama to receive 2017 Profile in Courage Award
11. Late Nite Jokes
12. AP FACT CHECK: Trump's Skewed Ledger Of Achievements
13. What To Make Of Donald Trump's Early-morning Wiretap Tweets
14. Welcome to our post-truth presidency
15. "Trump Regretters"
16. Schumer's plan to stop the wall
17. ACLU's Comment On Trump's New Muslim Ban
18. A Tax Cut Masquerading As a Health Care Bill 
1.Richard Wolffe: Donald Trump's Congress speech was a heroic effort in contradiction and cliche
2. John Cassidy: Don't Be Fooled. Donald Trump Didn't Pivot
3. Jonathan Chait: Trumpcare Is the Culmination of All the GOP's Health-Care Lies
4. Ryan Lizza: Paul Ryan's Health-care Vise
5. Doyle McManus: Trump speech: Promise the world, leave out the details
6. Jonathan Chait: What We Already Know About Trump's Ties to Russia Amounts to Treachery to the Republic
7. Michael Gerson :Trump's speech coherent, but his budget is not
8. Strobe Talbott and Jessica Brandt: What Putin Is Up To
9. Margaret Carlson: In Trump's Terrifying New Normal, Obama Is Nixon and Up Is Down
10. Eric Lipton and Binyamin Appelbaummarch: Leashes Come Off Wall Street, Gun Sellers, Miners and More 
11. New York Daily News Editorial: A wall to nowhere: Trump's misguided vanity project 
12. Amy Davidson; Trump's Divisive New Travel Ban 
13. David Cay Johnston: The GOP's Cruel, Costly, Corporate Obamacare Replacement 
14. John Cassidy: The House G.O.P. Health-care Plan Is Harmful, Regressive, And Wrong 
1. Andy Borowitz: Obama Denies Wiretapping Trump: "like I'd Want To Hear More From That Fool?"
Donald J. Trump's claim that Barack Obama wiretapped him received a strong denial on Monday from the former President, who said to reporters, "Like I'd want to hear more from that fool?"

Obama said that, when he first saw Trump's allegations on Twitter, "My first thought was, Only a narcissist on the scale of Donald Trump would think people want to hear more from him than they currently do. If anything, I think we'd all like to hear way, way less."

"When I read her those Trump tweets on Saturday morning, she totally cracked up," the former President said. "Whenever we're at home and that guy comes on TV, I'm always, like, 'Michelle, turn that damn thing off.' "

Obama visibly shuddered at the notion of intelligence agencies providing him with hours of recordings of Donald Trump talking. "Don't even," he said.

EARLIER: In a stunning rebuke of the Attorney General, Russian President Vladimir Putin has demanded that Jeff Sessions resign from the Russian government "at once."

Putin asserted that Sessions had "become a distraction," and ordered the Alabama native to clear out his desk at the Kremlin "by Friday morning at the latest." Read more at http://www.newyorker.com/humor/borowitz-report/
2. For Donald Trump Jr., lingering questions about meeting with pro-Russia group
Three weeks before Election Day, Donald Trump Jr. left the campaign trail and the country to speak at a private dinner in Paris organized by an obscure pro-Russia group that promotes Kremlin foreign policy initiatives and has since nominated Russian President Vladimir Putin for the Nobel Peace Prize. A key organizer of the event later told reporters she flew to Moscow to brief a senior Russian official about the session. Read more at http://abcnews.go.com/Politics/trump-jr-lingering-questions-meeting-pro-russia-group/story?id=45858839
3. The DAILY GRILL
"Donald Trump himself wanted and advocated for" softening the language on Ukraine in the GOP platform at a March 2016 meeting at then-unfinished Trump International Hotel in Washington, D.C. -- J.D. Gordon, the Trump campaign's national security policy representative at the RNC

VERSUS

The change in the GOP's Ukraine policy "absolutely did not come from the Trump campaign." -- Paul Manafort , Trump's campaign manager at the time of the convention,

 

We have cleared the way for the construction of the Keystone and Dakota Access pipelines [applause] thereby creating tens of thousands of jobs. And I have issued a new directive that new American pipelines be made with American steel. -- Donald Trump

VERSUS

"The Keystone XL Pipeline is currently in the process of being constructed, so it does not count as a new, retrofitted, repaired or expanded pipeline." -- A White House spokeswoman, exempting Keystone from Trump's promise. 3/3/17

 

During the third presidential debate, Donald Trump said one of the first things he would do to improve the border is get drug dealers and "bad hombres" out of the US.

VERSUS

– A 26-year-old woman with a brain tumor was detained by ICE and blocked from contacting her family.

– A victim of domestic violence was arrested by ICE agents in El Paso, TX, while she was at a courthouse seeking a protective order from an abusive boyfriend.

– Guadalupe García de Rayos, a mother of two who had checked in with immigration officials for almost a decade, was separated from her children and husband by ICE and sent to Mexico.

– Martha Pina, a mother who herself was brought to America as a child over 40 years ago, was arrested by ICE in front of her daughter and family.

– Daniela Vargas, a 22-year-old who was brought to America when she was 7, was arrested by ICE after holding a press conference to speak about her fear of deportation.

– Manuel Mosqueda, a 50-year-old house painter, was put on a bus and sent back to Mexico while ICE agents were looking for somebody else.

– Sergio, a father of two without a criminal record, arrested by ICE as he and his wife headed to work early in the morning, and taken 300 miles away from his family without money or extra clothes.

– A father, dropping his son off at an elementary school, was arrested by ICE.

– A man without a criminal record, engaged to be married, dragged out of his fiancé's home by ICE.

– A barber and local business owner without criminal records were arrested by ICE agents in the parking lot of a Walgreens drug store. -- Shareblue

 

I hereby demand a second investigation, after Schumer, of Pelosi for her close ties to Russia, and lying about it. -- Donald J. Trump @realDonaldTrump

VERSUS

.@realDonaldTrump doesn't know difference between official mtg photographed by press & closed secret mtg his AG lied about under oath. -- Nancy Pelosi ✔@NancyPelosi


"TrumpCare will make healthcare in America worse in almost every way and likely leave more Americans uninsured. With respect to women, TrumpCare would send us back to the dark ages." -- Minority Leader Charles Schumer (N.Y.)

VERSUS

"It's not Trumpcare!" -- White House spokesperson.
4. From MEDIA MATTERS (They watch Fox News so you don't have to)
Fox News Caught Lying: Sweden Reinstated Draft Because Of Russia, Not Refugees - Fox News Continues To Lie About Sweden And Refugees. http://mediamatters.org/blog/2017/03/02/fox-news-caught-lying-sweden-reinstated-draft-because-russia-not-refugees/215534

Trump Fell For Right-Wing Media's Misleading Spin On A Study About Immigration - A September 2016 report by the National Academy of Sciences (NAS) found that immigrants pay more in taxes than they use in benefits over time, but right-wing media cherry-picked and distorted the findings to claim that immigrants "drain the government," a claim that President Donald Trump repeated in his February 28 speech to Congress. http://mediamatters.org/research/2017/03/02/trump-fell-right-wing-medias-misleading-spin-study-about-immigration/215527

Fox's Greg Gutfeld Has "A Theory" That Democrats Colluded With Russia To "Destroy Donald Trump" - Gutfeld: Make Democrats Prove "They Weren't In Fact Colluding To Get Hillary Elected So She Could Sell Them More Uranium" http://mediamatters.org/video/2017/03/03/fox-s-greg-gutfeld-has-theory-democrats-colluded-russia-destroy-donald-trump/215552

Sean Hannity Says Obama's Campaign Database Is Proof Of A Shadow Government -- Hannity: "That Sounds Like A Shadow Government. Sounds Like Sean Hannity's Not The Great Conspiracy Theorist That Some People May Think I Am."http://mediamatters.org/video/2017/03/06/sean-hannity-says-obamas-campaign-database-proof-shadow-government/215574

Alex Jones Tells Trump To Use Violence Against His Opponents -- Jones To Trump: "You Must Go On The Offense. This Is War. You Think George Washington Kicked The Redcoats' Ass Just With Information? No."  http://mediamatters.org/video/2017/03/06/alex-jones-tells-trump-use-violence-against-his-opponents/215568
5. From the Late Shows
SNL: Republican Movie Trailer: https://youtu.be/aXzjxVYPjys

SNL Cold Open: Jeff Sessions Gump: https://youtu.be/8ZM3jvlvgVw

SNL: Weekend Update: Eric and Donald Trump Jr.: https://youtu.be/-OBiSNOumtU

SNL: Weekend Update on Donald Trump's Wiretapping Accusation: https://youtu.be/O4PlNQ9Uhzg

Late Night with Seth Meyers: Media Fawns Over Trump's New Tone: A Closer Look: https://youtu.be/FFbATlYUwt4

The Late Show with Stephen Colbert: Republicans Release New Health Plan, And We're All Going To Die: https://youtu.be/DZMQu30RsX4

John Oliver - Trump's Obama Conspiracy: https://youtu.be/8x77lW59Lys
6. Majority Want to Keep and Improve Obamacare
A new Monmouth poll, conducted just before House Republicans revealed their new health care legislation, found that 51% of Americans said they would prefer to keep the Affordable Care Act and work to improve it, with another 7% saying they want to keep the ACA entirely intact.
Just 39% want to see the ACA repealed, either with a replacement put in place (31%) or repealed entirely without a replacement (8%) Read more at https://www.monmouth.edu/polling-institute/reports/MonmouthPoll_US_030717/
7. Trump Team Denied Russia Contacts 20 Times
USA Today: "President Trump, and his presidential campaign, have issued at least 20 denials of campaign officials' communications with and connections with Russian officials." 3/3/17 Read more at http://www.usatoday.com/story/news/politics/2017/03/02/trump-teams-many-many-denials-contacts-russia/98625780/
Here are Known or possible links between Team Trump, Russia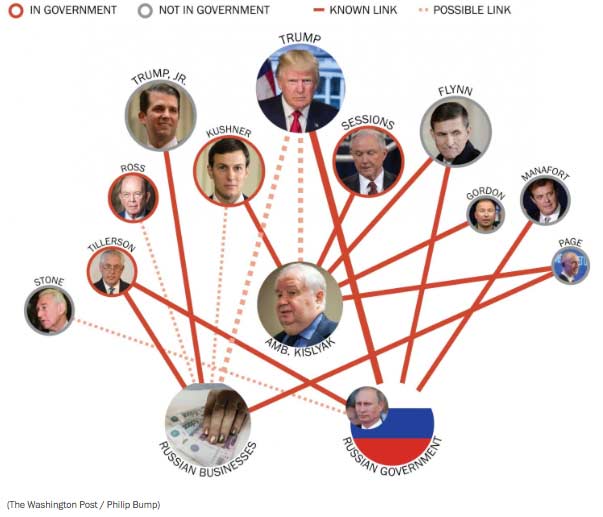 8. Treasury Asked to Look Into Trump Foreign Associates
Sen. Sherrod Brown (D-OH) has asked the Treasury Department to evaluate whether President Trump and his family's business associates and possible investors from Russia and other countries have violated U.S. laws against financing terrorism, money laundering and other illicit activities, the reports.
Brown said that Trump's "refusal to disclose investments that create potential conflicts of interest raises concern for his international holdings." -- AP 3/3/17 Read more at http://www.pressofatlanticcity.com/ap/business/treasury-asked-to-look-into-trump-foreign-associates/article_1f795d42-3c6c-592e-8e5f-3539ccc17edd.html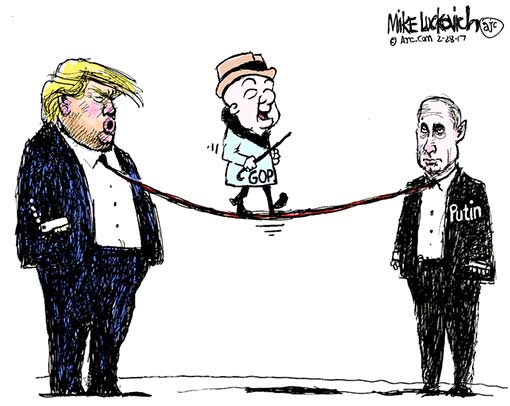 9. Why People Think Trump Is Getting Things Done
For all that certainty in the country at large, the president remains a figure of sphinx-like mystery to those trying to work out what his government is actually doing… The puzzle, then, is why so many Americans are so sure that Mr Trump is keeping his promises.
The answer lies in the president's unusual relationship with his supporters. He was elected on grandiloquent pledges to 'bring the jobs back' and build a 'great wall' on the Mexican border that will stop people, drugs and crime. Those promises were really a commitment to be a champion for his supporters. Mr Trump can be hazy about what he plans to do because he is so clear about whom he represents: those he calls 'forgotten' Americans, defined as hard-working, law-abiding heartland folk. And every time the news shows him signing some executive proclamation, the image carries almost as much messaging-power as a bill that took years to pass. 3/3/17 Read more at http://www.economist.com/news/united-states/21717817-answer-lies-presidents-unusual-relationship-his-supporters-why-do-most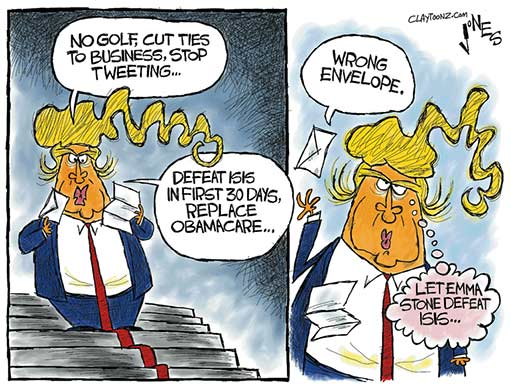 10. Obama to receive 2017 Profile in Courage Award
On Thursday, the John F. Kennedy Library Foundation announced that Mr. Obama would be the 2017 recipient of its John F. Kennedy Profile in Courage award. Obama is being recognized for a number of principled stances he took as president, including his action on climate change, expansion of health care under the Affordable Care Act, and work to restore diplomatic relations with Cuba. Read more at http://www.csmonitor.com/USA/2017/0303/Obama-to-receive-2017-Profile-in-Courage-Award
11. Late Nite Jokes
President Trump gave his big address to Congress last night. But it was surprising — he didn't trash the media or brag about winning the election. It was the first time people playing a Trump drinking game ended up sober. -- Jimmy Fallon

But not everyone was impressed. In fact, many Democrats actually rushed out at the end of Trump's address. Most were annoyed by Trump's speech, while Bernie Sanders said, "Drinking a Big Gulp right before was NOT a good idea." -- Jimmy Fallon

It's come out that Trump Administration Press Secretary Sean Spicer was the White House Easter Bunny in the early 2000s. Or as Spicer calls it "back when I had some dignity."

On Saturday, pro-Trump rallies around the country were attended by hundreds. Or as Trump put it, "trillions."

Attorney General Jeff Sessions is in trouble because he was caught lying under oath about contacting the Russians during the election. When asked if the allegations were true, Sessions said, "Absolutely nyet. -- Conan O'Brian

The Senate confirmed former Texas Gov. Rick Perry to lead the Energy Department. "That poor son of a b---h," said Rick Perry, before realizing HE was Rick Perry. -- Seth Meyers

The Senate today also confirmed Ben Carson as secretary of Housing and Urban Development. The news came as a surprise to Carson, who thought he dreamed it. -- Seth Meyers
12. AP FACT CHECK: Trump's Skewed Ledger Of Achievements
Trump has claimed credit for:
- big savings in an F-35 fighter jet contract that were in motion well before he became president.

- corporate job announcements that also had been months or longer in the making.

- an infusion of money from NATO partners that has not materialized at all, but reflects a long-standing intent by some members to increase their military capabilities.

- a tough-on-criminals approach to immigration enforcement that was planned and put into place during Obama's presidency.

- a $12 billion drop in the U.S. debt, a routine blip traced to the regular timing of tax payments and other fiscal factors unconnected to any president.

- his plan to restore military supremacy, though he inherited military capabilities that are already second to none.
http://talkingpointsmemo.com/news/ap-fact-check-trump-takes-credit-ledger-achievements
13. What To Make Of Donald Trump's Early-morning Wiretap Tweets
One of President Trump's most consistent rhetorical maneuvers is a fairly basic but often highly effective one—the diversionary reverse accusation. When he is accused of benefitting from "fake news," he flips the neologism on its head; suddenly CNN, the Times, and the rest are "fake news." When Democratic politicians such as Chuck Schumer and Nancy Pelosi call for investigations of his campaign's contacts with Russian officials, Trump posts pictures of those critics meeting publicly with Vladimir Putin and calls for an investigation. This happened on Saturday. He fogs the language and clouds the issue.
The stories on Breitbart appear to be related to the efforts of American intelligence and law-enforcement officials to investigate potential links between Trump aides and Russian officials. It would seem that Trump, in the same spirit of diversion, has conflated the work of the courts, law enforcement, and intelligence agencies with "Obama." Read more at http://www.newyorker.com/news/news-desk/donald-trumps-early-morning-tweets?intcid=mod-latest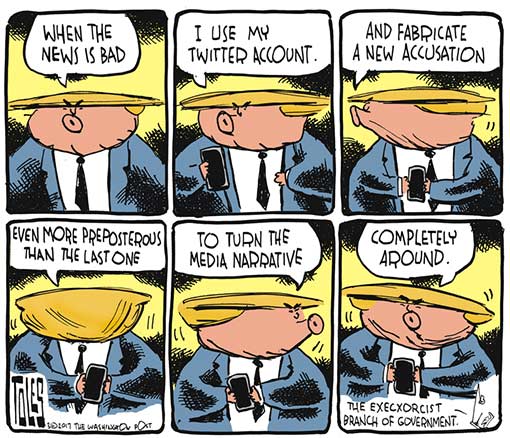 14. Welcome to our post-truth presidency
President Trump's assertion — without evidence — that Barack Obama wire-tapped Trump Tower during the 2016 election started as a "conspiratorial rant" on conservative talk radio, got picked up by Breitbart News, and then moved over to the president's Twitter feed, the New York Times writes. FBI Director James Comey has asked the Justice Department to publicly reject Trump's claim because it's untrue. And the entire episode potentially opens up President Trump to libel charges. "He's basically stating that Mr. Obama committed crimes, and to state that somebody has committed a crime when it's false is clearly defamatory," Benjamin Zipursky, who teaches defamation law at Fordham University Law School in New York, told NBC News. Welcome to our post-truth presidency. To recap some of Trump's biggest whoppers since taking office go to http://www.nbcnews.com/politics/first-read/welcome-our-post-truth-presidency-n729481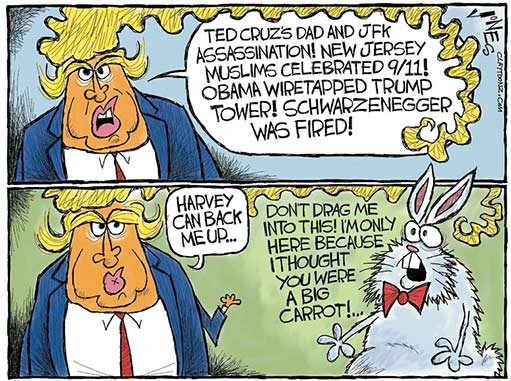 15. "Trump Regretters"
About 11% of adults surveyed in PSB's recent polling are what they call Trump Regretters. They were Trump voters who wouldn't vote for him today, or have become unenthusiastic in their Trump support. Unenthusiastic Clinton voters who have grown enthusiastic toward her, and non-voters who now would vote for Clinton are also included in this group.
These Trump Regretters are particularly likely to say Trump has been "going too far" more than they expected (58%). And regression analysis shows it is one of the best predictors of being a Regretter. http://psbresearch.com/wp-content/uploads/2017/02/PSB-Trump-Regretters-Memo-2.17.2017.pdf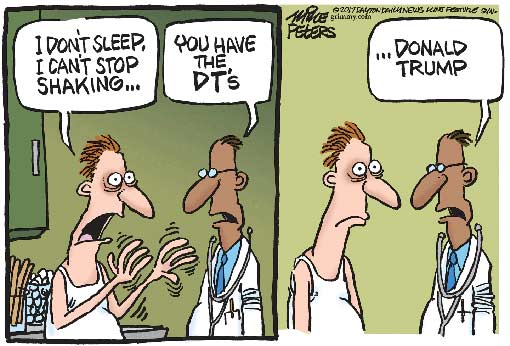 16. Schumer's plan to stop the wall
Sen. Chuck Schumer (D-NY) has concluded that denying President Trump his "Great Wall" would be the biggest defeat Democrats can hand him in his first year.
Trump needs 60 Senate votes to fund construction - unlike healthcare or tax reform, Republicans can't use the budget process to ram the wall funding through Congress using only Republican votes. 3/5/17 Read more at https://www.axios.com/schumers-plan-to-stop-the-wall-2301564920.html
17. ACLU's Comment On Trump's New Muslim Ban
"The Trump administration has conceded that its original Muslim ban was indefensible. Unfortunately, it has replaced it with a scaled-back version that shares the same fatal flaws. The only way to actually fix the Muslim ban is not to have a Muslim ban. Instead, President Trump has recommitted himself to religious discrimination, and he can expect continued disapproval from both the courts and the people.
"What's more, the changes the Trump administration has made, and everything we've learned since the original ban rolled out, completely undermine the bogus national security justifications the president has tried to hide behind and only strengthen the case against his unconstitutional executive orders." 3/6/17 Read more at https://www.aclu.org/news/aclu-comment-trumps-new-muslim-ban
18. A Tax Cut Masquerading As a Health Care Bill
The most naked and revealing moment of Ryan's press conference came when he was asked about why his plan provides a huge tax cut for the rich. You can watch his response, ten minutes in. Ryan scoffs and makes a dismissive hand gesture, like he's been presented with an utterly frivolous objection. Then Ryan says, 'Read the bill! Go to readthebill.gop!' and moves on to next question while he and his lieutenants share forced laughter at the absurd query.
It is of course incontrovertibly true that Ryan's bill provides a big tax cut for the rich. It's a $600 billion tax cut, almost all of which would accrue to the very rich. His tax cut is a major reason why his plan provides fewer resources to cover the poor and sick. He believes that feature is so unpopular and objectionable he literally cannot even acknowledge its existence. It is emblematic of his entire approach. Ryan's strategy is to pass his plan into law without ever admitting its central objective. 3/08/17 Read more at http://nymag.com/daily/intelligencer/2017/03/paul-ryan-wont-admit-his-plan-is-obamacare-but-less-of-it.html
1. Richard Wolffe: Donald Trump's Congress speech was a heroic effort in contradiction and cliche
All presidents deserve the respect that belongs to the office of the commander-in-chief. Even orange ones who trash the media, hide their business interests from public view, and praise Russian foes.
Yes, even Donald Trump deserves something more than "you lie!" Especially when he lies.
"A new national pride is sweeping across our nation," he read from his prompter in a tone he used to describe as low energy. "And a new surge of optimism is placing impossible dreams firmly within our grasp."
You can almost feel the surge of optimism in the previously downtrodden minority known as white supremacists. The impossible dreams of David Duke are firmly within his grasp, including his warm embrace of Trump's conspiracy theories about those antisemitic bomb threats.
Trump described a world in which dead factories would come back to life, drug addiction would end, inner cities would spring into prosperity, and the nation would be paved with gleaming new roads. Seriously, they are going to gleam because of this promise: "Above all else, we will keep our promises to the American people."
This is the best promise of all. An A+ kind of promise, which we know to be true because this is the most principled and ethical government ever. 2/28/17 https://www.theguardian.com/us-news/2017/feb/28/trump-congress-speech-policy-contradictions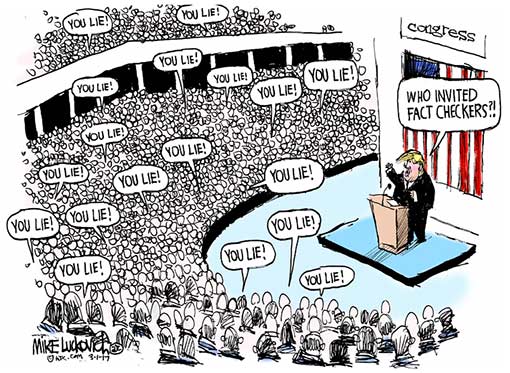 2. John Cassidy: Don't Be Fooled. Donald Trump Didn't Pivot
"Crumbling infrastructure will be replaced with new roads, bridges, tunnels, airports, and railways, gleaming across our very, very beautiful land," he promised. He also pledged "massive tax relief for the middle class," and much lower corporate taxes, too. He also said, "I am going to bring back millions of jobs," and that he would work with Congress to create "a better health-care system for all Americans."
Absent from Trump's discussion of these issues was any proper explanation of how any of his proposals would be paid for. He did say his trillion-dollar infrastructure plan would be "financed through both public and private capital," but he didn't provide any details, and the words "budget deficit" didn't once cross his lips.
Nor did he mention Russia or climate change or the robust job growth he inherited. His only use of the word "environment" came in reference to the violent crime wave that he falsely claims is sweeping the nation. "We want all Americans to succeed," he said, "but that can't happen in an environment of lawless chaos." 3/1/17 http://www.newyorker.com/news/john-cassidy/dont-be-fooled-donald-trump-didnt-pivot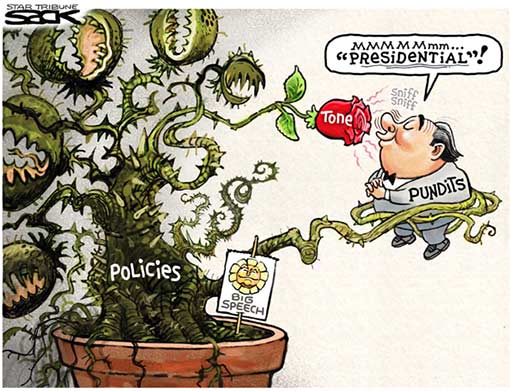 3. Jonathan Chait: Trumpcare Is the Culmination of All the GOP's Health-Care Lies
The Republican Party in its modern incarnation is incapable of writing a decent health-care bill, if we define "decent" to mean both some level of technical competence as well as morally decent. That inability has been clear to the party's outside critics for many years. Republicans have fervently denied this, and probably believed their own denials. As a result they locked themselves into a course of action that forced them to propose a bill on a deadline. They seem to have realized the impossibility of the task midway through, but, unable to retreat on their commitment, they instead rushed out a plan that is shambolic and cruel.
The national health-care debate began in 2009. Republicans have had eight years since then to draw up and unify around a plan of their own. They have spent this time insisting they could do so easily. For most of the year, in fact, House Republicans have been running a television ad assuring the public they already "have a plan" with wonderful features: "Health insurance that provides more choices and better care, at lower costs. Provides peace of mind to people with preexisting conditions … without disrupting existing coverage."
Eventually they had told the lie so long it became impossible for them to abandon it. And so Republicans have found themselves frantically scrawling out a hopelessly inadequate solution in order to meet a self-imposed deadline driven by their overarching desire to cut taxes for the rich. "Expanding subsidies for high earners, and cutting health coverage off from the working poor: it sounds like a left-wing caricature of mustache-twirling, top-hatted Republican fat cats," writes the Republican health-care adviser Avik Roy. The caricature is true. Read more at http://nymag.com/daily/intelligencer/2017/03/trumpcare-the-culmination-of-all-the-gops-health-care-lies.html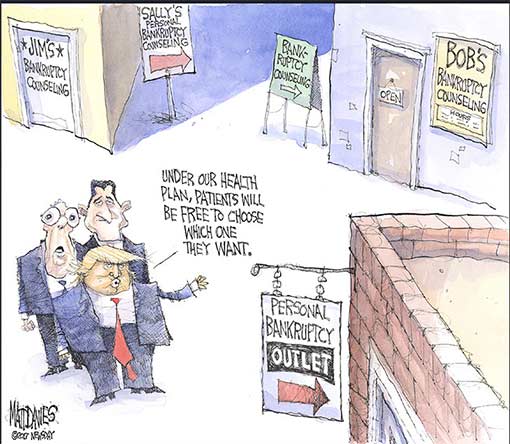 4. Ryan Lizza: Paul Ryan's Health-care Vise
If there is a single person who made Paul Ryan the Speaker of the House, it is probably Mark Meadows. Back in 2015, Meadows, a former restaurant owner who, in 2012, was elected to represent the most conservative district in North Carolina, set into motion the events that led to Speaker John Boehner's resignation. Meadows, who had no legislative experience, filed an obscure parliamentary procedure known as a motion to vacate that would have forced a referendum on Boehner in the House. Boehner resigned rather than face the prospect of losing that vote, and Ryan emerged as the only Speaker candidate acceptable to all the factions of the House G.O.P.
Forced to navigate House Republican politics, the lobbying pressure from the insurance industry, and the obscure rules of the budgeting process, Ryan has produced a bill that nobody would ever propose as a sane solution to the problems with Obamacare. Its only chance is speed. If Ryan can rush and muscle it through the House and Mitch McConnell can do the same in the Senate, it might end up on Trump's desk. But the more scrutiny this House bill is subjected to, the more likely it is to share the fate of most efforts at health-care reform and die somewhere on its journey to the Senate, and perhaps long before then. If his health-care-reform effort fails, Ryan himself may not survive as the House leader. Meadows and his colleagues catapulted Ryan to the Speakership, and they still have the power to bring him down. 3/07/17 Read more at http://www.newyorker.com/news/ryan-lizza/paul-ryans-health-care-vise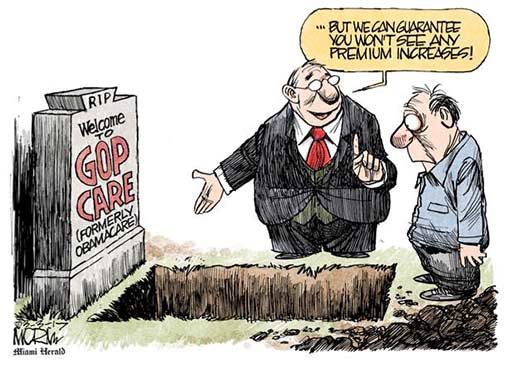 5. Doyle McManus: Trump speech: Promise the world, leave out the details
President Trump boasted in his speech to Congress Tuesday that he's keeping the many campaign promises he made to voters, beginning with his pledges to boost economic growth and slash regulations on business.
"A new chapter of American greatness is now beginning," he said. "Dying industries will come roaring back to life.... Our neglected inner cities will see a rebirth of hope, safety and opportunity.  Above all else, we will keep our promises to the American people."
But the president's bravado masked a harsher reality: His agenda's already in trouble — for the simple reason that it's inconsistent and unrealistic.
"I think the money is going to come from a revved up economy," he said on Fox News. "If I can get [growth] up to 3% or maybe more, we have a whole different ball game."
In the end, that's the whole of Trump's plan: cut taxes, eliminate regulations, and pray for a boom. It would be nice if it happened, but economists think it's unlikely.
It's not a knock on Trump that he hasn't delivered on his biggest promises; his presidency is still only in its fifth week.
But without a budget plan or legislative strategy, much of his agenda could turn out to be what Silicon Valley calls "vaporware": promises without a product. And his sonorous, un-Trumplike speech on Tuesday — with its call to both parties to abandon "small thinking [and] trivial fights" — will be remembered, alas, as empty words. Read more at http://www.latimes.com/opinion/op-ed/la-oe-mcmanus-trump-speech-budget-20170228-story.html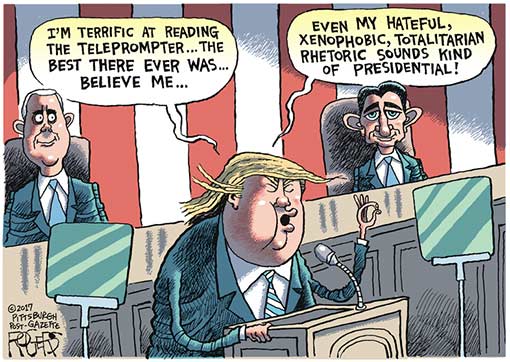 6. Jonathan Chait: What We Already Know About Trump's Ties to Russia Amounts to Treachery to the Republic
On March 2nd, House Speaker Paul Ryan asserted that he had seen "no evidence that anybody on the Trump campaign or an American was involved in colluding with the Russians." What evidence would he like? A Trump adviser coyly revealing his advance knowledge of stolen email dumps, then admitting he has a "back-channel communication with Assange"? Because that exists. Maybe video of Trump asking Putin to hack his opponents' email? Because that exists, too. "Russia, if you're listening, I hope you're able to find the 30,000 emails that are missing," Trump announced at a press conference last summer. "I think you will probably be rewarded mightily by our press." (Trump later claimed he was joking.) Even if Trump had nothing to do with encouraging the Russian hacking, aggressively exploiting it was a ­conscious choice. Other Republicans, like Marco Rubio — in one of his periodic outbreaks of conscience — asserted that the GOP should renounce the use of information from WikiLeaks rather than reward foreign interference in American elections. Trump made the opposite decision.
And Trump's party has mostly decided likewise. All of it is fine — the nondisclosure of tax returns, the unprecedented self-enrichment, the fantastic lies and authoritarian lingo. Republicans in Washington see Trump as a useful vehicle for their policy objectives. Indeed, at least for the time being, Trump's nationalist ravings have utility for special interests from the Kremlin to Wall Street, all of whom look upon the American president with smugness and satisfaction at a deal well struck. In Trump's short tenure as president, his demagogic claim that elites have betrayed the American people out of solicitousness to foreign powers has finally become true. Read more at http://nymag.com/daily/intelligencer/2017/03/trumps-ties-to-russia-amount-to-treachery-to-the-republic.html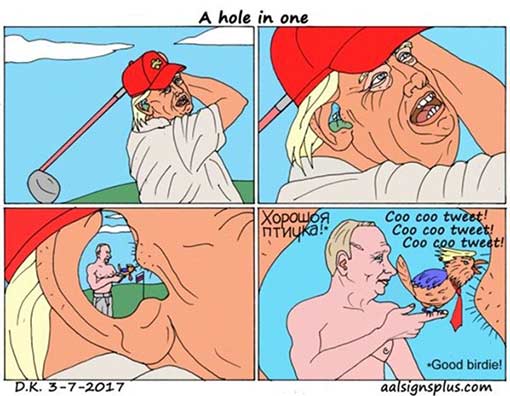 7. Michael Gerson: Trump's speech coherent, but his budget is not
President Trump's main achievement in his first address to Congress was to make the phrase "President Trump" seem more plausible to more Americans. The event had all the reassuring signs of normalcy -- the familiar ovations, the teleprompter (actually being used), the policy proposals, the attempts at inspiration.
And still. The actual purpose of a president's first speech to Congress is not to burnish his image; it is to clarify his budget priorities. And here, Trump is on more familiar, less coherent, ground.
The Trump budget -- which still only exists in its barest outlines -- would increase defense spending by more than $50 billion, cut discretionary spending by a similar amount, and leave entitlement programs alone. All of these elements represent the fulfillment of campaign pledges. But, taken together, they seem like the liberal caricature of a Republican budget: Cut poverty-fighting programs and international aid in order to fund more ships and tanks, but leave programs for the elderly (who disproportionately vote Republican) untouched.
Trump's budget leaves the trajectory of deficits unchanged; it imposes cruel and indiscriminate cuts in discretionary spending; it is cowardly, especially on the main drivers of future debt; it is injurious to elected Republicans who will risk the wrath of the Trump base in order to make rational budget choices; it is an indication of governing unseriousness and a preference for positioning over leadership.
But the speech was nice. Read more at http://www.bakersfield.com/opinion/trump-s-speech-coherent-but-his-budget-is-not/article_7d0ae6b7-8bbc-5d4a-9adb-0c3b80eaef86.html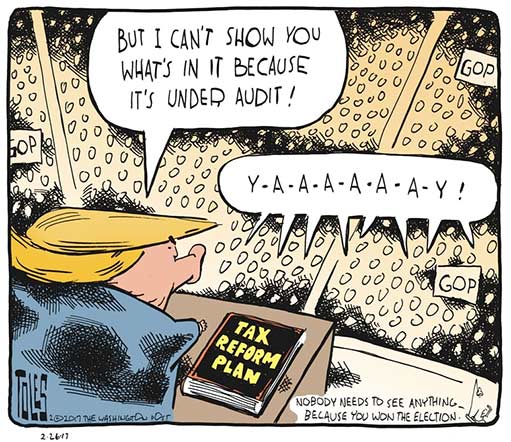 8. Strobe Talbott and Jessica Brandt: What Putin Is Up To
The vast damage to American interests wrought by Putin is likely to deepen for years to come. It is bad for Trump, since the ongoing revelations of a foreign adversary's contamination of an American election undermines the outcome's validity. This would be the case however Trump handled the matter, but he has exacerbated the qualms and controversy. His fury over leaks from U.S. intelligence agencies and investigative stories by the mainstream American media created the impression that he is shooting the messengers in order to divert attention from the core message that Russia successfully attacked America's democracy, tarnished its reputation worldwide, and cast a pall over its president's legitimacy. Trump has seemed more outraged at his own government than Putin's, rousing public anger from two former CIA directors. During the campaign, Mike Morrell, former acting director of the CIA under Obama, called Trump Russia's "unwitting agent." Michael Hayden, who led the agency under George W. Bush, chimed in, scorning Trump as Moscow's "useful fool."
There is perhaps no more vivid instance of the president's odd, insouciant posture toward Russia than the Michael Flynn episode. Before Trump's inauguration, Flynn, his pick for national security adviser, indicated to Sergei Kislyak, the Russian ambassador in Washington, that the White House might ease or lift the sanctions President Obama imposed on Russia for its alleged interference with the U.S. election. What Trump knew of those conversations remains unclear. But when he fired Flynn for lying to Vice President Mike Pence about the conversation with Kislyak, Trump said, "I would have directed him to do it if I thought he wasn't doing it."
While Trump's team seems to have sent a welcome signal to Moscow, the president himself declared a vendetta against his own agencies. The White House put out the word that a billionaire financier and political ally of Trump's, Stephen Feinberg, would conduct a broad review of the U.S. intelligence community. The episode seemed like punishment of the agencies for gathering information on contacts between the president's campaign aides and Russian agents over the last year and for leaking them. In February, when details of an ongoing FBI probe into that embarrassing and potentially criminal matter appeared in the press, Trump's White House leaned on the bureau to discredit them. The FBI refused. Read more at https://www.theatlantic.com/international/archive/2017/03/putin-trump-russia-flynn-sessions-hack-kremlin/518412/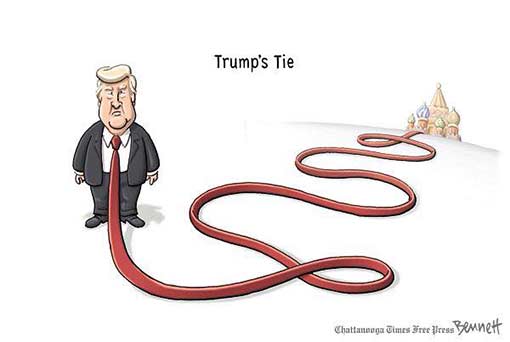 9. Margaret Carlson: In Trump's Terrifying New Normal, Obama Is Nixon and Up Is Down
First, let's relegate President Donald Trump's first address to the joint houses of Congress to the dustbin of what might have been.
To those still wondering if the president's highly praised speech marked a turning point in his nascent presidency, the answer is no, definitively so, now that we have Saturday's pre-dawn tweets revealing that the current president believes the prior president tapped his phone. The FBI may have used its wiretap authority but a president doesn't have any such thing. An Obama spokesperson has issued a blanket denial and no sensible person thinks Obama would do that. We are past the point of asking whether he means what he says. 
Apparently relying on a Breitbart article, Trump wrote: "How low has President Obama gone to tap my phones during the very sacred election process. This is Nixon/Watergate. Bad (or sick) guy!"
For all our hopes and dreams, Trump is unable to conduct himself other than as someone building casinos or hosting The Apprentice who projects his faults on to others whom he would fire if he could.  He says Obama's listening in on him because Trump would listen in on his enemies if he could. We saw this during the campaign when he projected his weaknesses on to Lyin' Ted, Little Marco and Ben Carson, then an incurable sociopath, now a Cabinet Secretary. 
One theory—excuse, actually—of Trump's meltdowns are that they happen, mostly over the weekend, when he's home alone. But for this one he was at home, with company, at Mar a Lago with staff, his newest Cabinet member, Wilbur Ross and his family. There's Melania who doesn't talk all that much but must be a good listener. Ivanka is a stabilizing force and while it's the Sabbath, she is a stone's throw away from his apartment at  her cottage on the grounds. I wonder if, along with the millions Donald's father gave him, he ever tell his son the time-honored wisdom that everything looks better in the morning.
There's a word for us and I will use it—gullible, easily conned, wanting to trust to the point of incredulity. After the Friday Night Madness, it is time to get over the illusion that a speech means we will be alright. We won't. 03.04.17 Read more at http://www.thedailybeast.com/articles/2017/03/04/in-trump-s-terrifying-new-normal-obama-is-nixon-and-up-is-down.html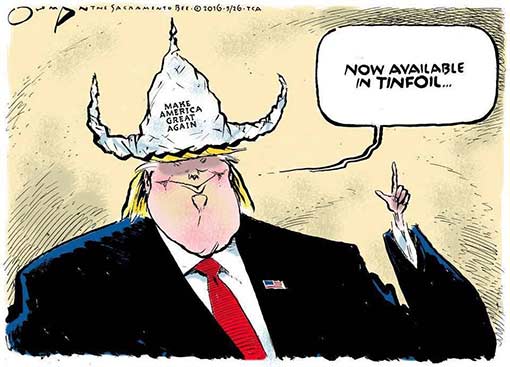 10. Eric Lipton and Binyamin Appelbaummarch: Leashes Come Off Wall Street, Gun Sellers, Miners and More
Telecommunications giants like Verizon and AT&T will not have to take "reasonable measures" to ensure that their customers' Social Security numbers, web browsing history and other personal information are not stolen or accidentally released.
Wall Street banks like Goldman Sachs and JPMorgan Chase will not be punished, at least for now, for not collecting extra money from customers to cover potential losses from certain kinds of high-risk trades that helped unleash the 2008 financial crisis.
And Social Security Administration data will no longer be used to try to block individuals with disabling mental health issues from buying handguns, nor will hunters be banned from using lead-based bullets, which can accidentally poison wildlife, on 150 million acres of federal lands.
These are just a few of the more than 90 regulations that federal agencies and the Republican-controlled Congress have delayed, suspended or reversed in the month and a half since President Trump took office, according to a tally by The New York Times.
The emerging effort — dozens of additional rules could be eliminated in the coming weeks — represents one of the most significant shifts in regulatory policy in recent decades. It is the leading edge of what Stephen K. Bannon, Mr. Trump's chief strategist, described late last month as "the deconstruction of the administrative state." Read more at https://www.nytimes.com/2017/03/05/us/politics/trump-deregulation-guns-wall-st-climate.html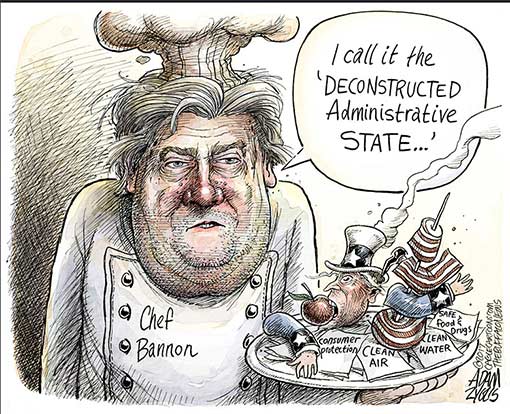 11. New York Daily News Editorial: A wall to nowhere: Trump's misguided vanity project
The aging bridges, tunnels, sewage systems, dams, electric grids, commuter trains and subways of the United States are desperate for upgrades — improvements that will pay dividends in jobs today and productivity tomorrow.
Yet while White House plans for that urgent revival have yet to emerge, President Trump is obsessed with a single, unnecessary $20 billion construction project that will, if anything, be a drag on economic growth.
According to a document obtained by Reuters late last week, the Department of Homeland Security has only found $20 million that can be redirected to the project.
That is 0.1% of the government's own estimated $21.6 billion cost.
For now, any additional funding will have to come from slashing other programs, a process already made more painful by the fact that domestic discretionary spending is getting cut by more than $50 billion to pay for a military buildup.
The President is scrambling to make progress on one very big, very bad infrastructure project while dozens of very good ones await leadership and money. 3/5/17 Read more at http://www.nydailynews.com/opinion/wall-trump-misguided-vanity-project-article-1.2988318
12. Amy Davidson Trump's Divisive New Travel Ban
The new executive order includes a section on "transparency," which orders government agencies to publicize crimes by noncitizens, mentioning in particular "honor killings" and other crimes against women. (This raises the question of why Trump's Republican allies have been so resistant to the collection of data on gun crimes, which play an outsized roll in domestic violence.)  When Trump speaks of the order, he talks about the need to keep out immigrants who don't "love" us—a word he used in last week's address to Congress—or whose values differ from ours. And, in a way, his railing about the danger to the country points to the bottom-line question about the executive order, and about Trump himself: What are our values, and the things that we love about America? And what do we do when a President, wielding falsehoods and fearful conspiracy-laced stories, tosses them aside? Read more at http://www.newyorker.com/news/amy-davidson/trumps-divisive-new-travel-ban
13. David Cay Johnston: The GOP's Cruel, Costly, Corporate Obamacare Replacement
It took Congressional Republicans nearly seven years to devise a plan to repeal and replace Obamacare (PDF), but summing it up takes just three words: cruel, costly, corporate.
The bill is cruel because the Republicans propose a mix of shrinking subsidies and modest tax credits that will put health care beyond the reach of millions of people who today are treated by doctors thanks to the Patient Protection and Affordable Care Act, Obamacare's official name. Under the proposed bill, companies could take unlimited tax deductions for health care spending on their executives and directors while eliminating or reducing coverage for the rank and file. The ACA, on the other hand, requires large companies to insure their workers and taxes so-called Cadillac health care insurance for executives who often have no out-of-pocket costs.
The bill is costly because it will drive federal budget deficits higher while adding costs elsewhere, as Congressional Budget Office reports warned this year and in 2015. If people don't have insurance there will be more premature deaths, the most serious cost of all. The prospect of over 44,000 more Americans dying each year is great news for the Grim Reaper (PDF). <http://www.pnhp.org/excessdeaths/health-insurance-and-mortality-in-US-adults.pdf>
The bill is corporate because its guiding principle is propping up health insurance companies, an utterly superfluous industry that America should sweep into the dustbin of history.
In economic terms, the bill comes from Happy Go Magic Land, a place where fantasy overrides facts. Consider Section 202, the "provision of financial assistance" for "high-risk individuals who do not have access to health insurance coverage offered through an employer." That's an official euphemism for people with pre-existing conditions whom no insurance company wants to cover because big medical bills are virtually certain.
Let's call this legislation what it is: the Create More Orphans and Widows Act of 2017. Read more at http://www.thedailybeast.com/articles/2017/03/08/the-gop-s-cruel-costly-corporate-obamacare-replacement.html
14. John Cassidy: The House G.O.P. Health-care Plan Is Harmful, Regressive, And Wrong
There are at least two ways to look at the American Health Care Act, the Obamacare-replacement proposal that House Republicans released on MondaY aims to take a wrecking ball to the principle of universal coverage. If enacted, millions more Americans would end up without any health care. For many people who purchase individual policies, especially older people, it promises fewer services for more money. And it also proposes a big tax cut for the rich, which would be financed by slashing Medicaid, the federal program that provides health care to low-income people.
Back in January, Donald Trump promised that the replacement for Obamacare would provide "insurance for everybody." By endorsing the American Health Care Act, on Tuesday, Trump has broken his pledge. Paul Ryan, the House Speaker, and his colleagues aren't talking about universal coverage. Instead, they use weasel words such as "universal access." Roughly speaking, that means that if you can afford an insurance plan, and you choose to buy one, you will be able to do so. The A.C.A. was fundamentally different. To provide near-universal coverage, it relied on legal mandates, hefty subsidies, and a big expansion of Medicaid. The Republican proposal would eliminate the mandates, replace the subsidies, and gut the Medicaid expansion.
How many millions will end up uninsured if this bill passes? The Congressional Budget Office, once it has analyzed the proposal, will provide its best guess. Rather than wait for the C.B.O. to complete this work, Ryan and his colleagues are trying to hurry the legislation through the committee stage in a few days. According to some reports, they want the entire House to vote within a month. The reason for the rush should be obvious: the more you look at the G.O.P. proposal, the more damaging it appears. 3/7/17 Read more at http://www.newyorker.com/news/john-cassidy/the-house-g-o-p-health-care-plan-is-harmful-regressive-and-wrong