October 12, 2023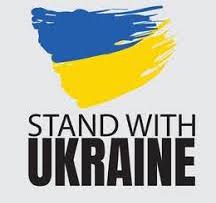 To subscribe to this FREE weekly newsletter simply email jellison@san.rr.com with "subscribe" as the subject.
LITIGATION TRACKER
Pending Criminal and Civil Cases Against Donald Trump

.

https://www.justsecurity.org/75032/litigation-tracker-pending-criminal-and-civil-cases-against-donald-trum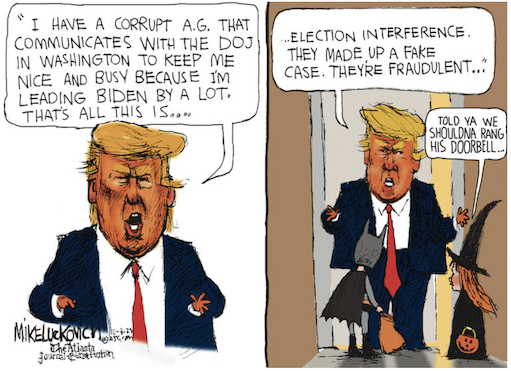 THE WEEK'S BEST QUOTES. . .
"Mike Lindell's lawyers in the Dominion lawsuit are abandoning the sinking ship. They've filed a Motion to Withdraw with the court and say they are owed millions in unpaid fees from the pillow man." https://twitter.com/MeidasTouch/status/1710011431759040850
"At some point maybe there needs to be a formal deprogramming of the cult members." — Hillary Clinton about Trump supporters. https://twitter.com/theblaze/status/1710119355244011829
"Trump also submitted statements of financial condition that described the roughly 11,000-square-foot triplex apartment where he has lived in Trump Tower as nearly three times the size it is. A discrepancy of this order of magnitude, by a real estate developer sizing up his own living space of decades, can only be considered fraud."  -- New York State Supreme Court Justice Arthur Engoron. https://www.propublica.org/article/trump-fraud-ruling-property-valuation-michael-cohen

"You all are not the happiest people in the world, what you report. And I mean this sincerely. It gets—you get more legs when you're reporting something that's negative. I don't mean you're picking on me. It's just the nature of things."  — President Biden, blaming the news media for Americans' poor view of the economy. https://www.thedailybeast.com/joe-biden-blames-negative-media-for-americans-poor-view-of-the-economy

"The actions taken by some members of my party were wholly irresponsible without this going on. They're now even putting a brighter light on the irresponsibility of not having someone in place." — Former Gov. Chris Christie (R) on the dysfunction in the House of Representatives that leaves it without a way to pass legislation, including needed foreign aid to Israel. https://abcnews.go.com/Politics/attack-israel-underscores-irresponsibility-republicans-paralyzing-house-speaker/story
"Eric Trump directed me to make certain decisions that led to the inflated valuations of several Trump properties." — Jeff McConney, the former controller of the Trump Organization. https://www.cnn.com/2023/10/06/politics/eric-trump-fraud-trial/index.html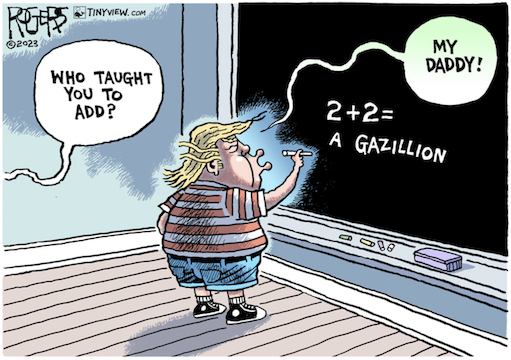 VIDEOS ...
"I engage with him frequently and he is alert, sound, does his homework, reads the papers, reads all the read-ahead material, and is very, very engaging in issues of very serious matters of war and peace and life and death. So if the American people are worried about an individual, who is someone who's making decisions of war and peace and makes the decisions of nuclear weapons and that sort of thing, I think they can rest easy." — Gen. Mark Milley defending Biden on 60 Minutes. https://twitter.com/ChrisDJackson/status/1710103373763002636
Because "you have to be insane to actually want this job, some Republicans are floating the name of a person who is, in fact, insane, with President Donald Trump as one possibility." — Seth Meyers. https://www.nytimes.com/2023/10/05/arts/television/seth-meyers-trump-speaker.html

"After just nine months of sucking at his job, McCarthy was stripped of the gavel by eight members of his own party. To make it even worse, this all happened — and this is true — on National Kevin Day." — Stephen Colbert. https://www.nytimes.com/2023/10/05/arts/television/seth-meyers-trump-speaker.html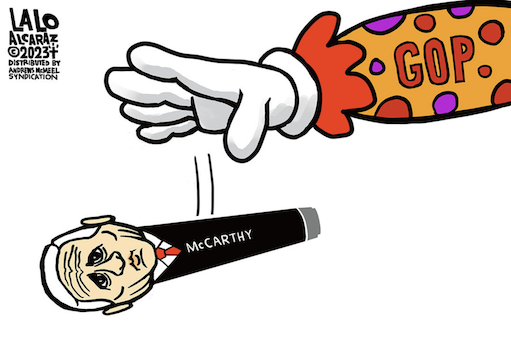 Rep. Nancy Mace (R-SC) was interviewed on Face the Nation by Margaret Brennan about the Speaker's race:
BRENNAN: Do the past allegations of Jim Jordan that he turned a blind eye to sexual abuse give you reservations?
MACE: I'm not familiar or aware of that.
BRENNAN: Ohio State University allegations.
MACE: I don't know anything. https://twitter.com/Acyn/status/1711037769647088054
"I have a much better body than him." — Trump about Biden going shirtless at the beach. https://twitter.com/gtconway3d/status/1710773393841115561

"Rep. Jim Jordan claims he never said the election was stolen. That's not what the video shows. Let's roll the tape, shall we?" — Mother Jones. https://twitter.com/MotherJones/status/1349135049220706304
PBS' FRONTLINE traces Elon Musk's long and often troubled relationship with Twitter. Watch it at https://www.pbs.org/wgbh/frontline/documentary/elon-musks-twitter-takeover/
---
IN THIS ISSUE
IN THE NEWS
OPINION
Andy Borowitz: House Republicans Hold Emergency Meeting to See Who Has to Sit Next to Matt Gaetz
House Republicans have convened an emergency meeting to determine who must sit next to Representative Matt Gaetz going forward.
Members of the conference had hoped to take a week off after the gruelling ordeal of ousting Kevin McCarthy, but the matter of who would be forced to sit next to Gaetz "had to be settled," one G.O.P. congressperson said.

"Colleagues have declared that, if they are required to sit next to Matt, they will retire from politics instead," the legislator, who spoke on the condition of anonymity, said. "We could lose our majority over this."

Republicans' hopes that they had found a willing seatmate for Gaetz collapsed when Representative Lauren Boebert flatly refused the assignment.
"Even I have standards," she reportedly said. https://www.newyorker.com/humor/borowitz-report/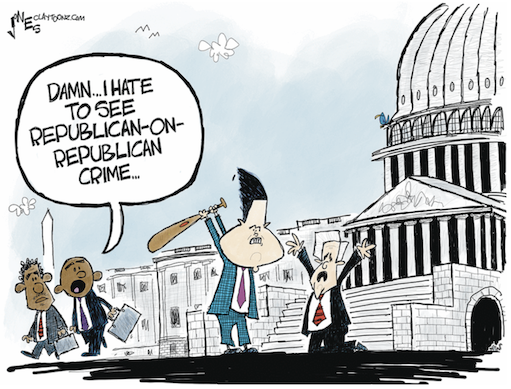 Trump Escalates Anti-Immigrant Rhetoric With 'Poisoning the Blood' Comment
Donald Trump said undocumented immigrants were 'poisoning the blood of our country' in a recent interview, language with echoes of white supremacy and the racial hatreds of Adolf Hitler.
Said Trump: "Nobody has any idea where these people are coming from, and we know they come from prisons. We know they come from mental institutions and insane asylums. We know they're terrorists. Nobody has ever seen anything like we're witnessing right now. It is a very sad thing for our country. It's poisoning the blood of our country. It's so bad, and people are coming in with disease. People are coming in with every possible thing that you could have." https://www.nytimes.com/2023/10/05/us/politics/trump-immigration-rhetoric.html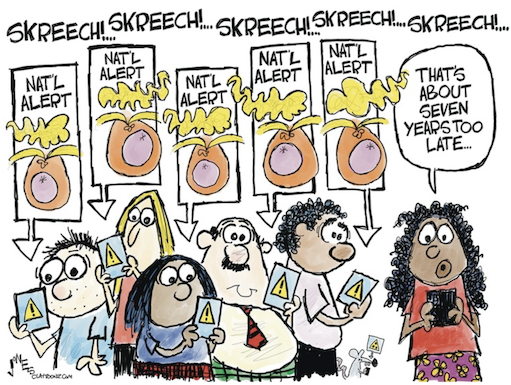 RFK Jr. goes independent. Does that hurt Biden or Trump?
Robert F. Kennedy Jr. is poised to be the most formidable independent presidential candidate in more than two decades.
And already, operatives in both parties are moving to head off the impact.

A combination of his famous name and widespread voter dissatisfaction with both likely major party nominees puts him in position to earn the largest share of the vote for an independent candidate since Ross Perot drew nearly 19 percent in the 1992 election.

Despite Biden's weaknesses, Kennedy's independent candidacy could end up being the spoiler to help the president secure a second term.
Polls consistently show Kennedy is more popular with Republicans than Democrats, a phenomenon that emerged during Kennedy's ill-fated primary against Biden, as the campaign put the activist's longtime skepticism about vaccines in the spotlight, and Kennedy made a host of appearances on Fox News. https://www.politico.com/news/2023/10/09/rfk-jr-independent-campaign-00120607
RNC Distributes '23 Reasons to Oppose RFK Jr.' List Ahead of Major Announcement
The RNC on Monday sent out a list of reasons to vote against presidential hopeful Robert F. Kennedy Jr. as he prepares to make a "major announcement.
https://themessenger.com/politics/rnc-distributes-23-reasons-to-oppose-rfk-jr-list-ahead-of-major-announcement
As false war information spreads on X, Musk promotes unvetted accounts
As false information about the rapidly changing war between Gaza Strip militants and Israel proliferated on the social media platform X over the weekend, owner Elon Musk personally recommended that users follow accounts notorious for promoting lies.
"For following the war in real-time, @WarMonitors & @sentdefender are good," Musk posted on the platform formerly called Twitter on Sunday morning to 150 million follower accounts. That post was viewed 11 million times in three hours, drawing thanks from those two accounts, before Musk deleted it.

Both were among the most important early spreaders of a false claim in May that there had been an explosion near the White House. The Dow Jones Industrial Average stock index briefly dropped 85 points before that story was debunked. https://www.washingtonpost.com/technology/2023/10/08/israel-hamas-disinfo-musk-twitter-x/
Jim Jordan Tried to Help Trump Mount a Coup. Now He Gets To Be Speaker?
Rep. Jim Jordan (R-OH), like Rep. Kevin McCarthy (R-Calif.), the man he hopes to replace as House speaker, lies a lot. Jordan's rapid-style monologues—on topics such as Russia's attack on the  2016 election, Donald Trump's 2019 effort to extort Ukraine, Hunter Biden, and internet censorship—are often loaded with allegations that are demonstrably false. He has made pushing pro-Trump disinformation a priority for the GOP caucus. As the House Judiciary Committee chairman, he presides over a subcommittee on the supposed "weaponization" of the federal government that is mostly devoted to furthering Trump's claim that the former president is a victim of the Deep State and facing four indictments only because of a vast conspiracy. Jordan uses that post to promote the belief system of the Fox News bubble. And though he may stand out from his colleagues on brazenness, on most topics, his fibs align with his fellow House Republicans.
But Jordan, a leading contender for the speakership, does differ from his GOP colleagues in an important way: his unique role in helping Trump try to steal the 2020 election and launch the January 6 riot. https://www.motherjones.com/politics/2023/10/jim-jordan-speaker-of-the-house-january-6-donald-trump-mount-a-coup/
Israel-Hamas war has X and its users swimming in sea of disinformation
While all major world events are now accompanied almost instantly by a deluge of disinformation aimed at controlling the narrative, the scale and speed at which disinformation was being seeded about the Israel-Hamas conflict is unprecedented—particularly on X.
Boosted by the algorithm that promotes users willing to pay X $8 a month for a premium subscription, posts from those with a blue checkmark shot to the top of news feeds for people seeking information about the conflict.

Rather than being shown verified and fact-checked information, X users were presented with video game footage passed off as footage of a Hamas attack and images of firework celebrations in Algeria presented as Israeli strikes on Hamas. There were faked pictures of soccer superstar Ronaldo holding the Palestinian flag, while a 3-year-old video from the Syrian civil war repurposed to look like it was taken this weekend.

Many of these videos and images racked up hundreds of thousands of views and engagements. While some later featured a note from X's decimated community fact-checking system, many more remained untouched. And as Elon Musk has repeatedly done in recent incidents, the platform's CEO made the situation much worse.

"Elon Musk's changes to the platform work entirely to the benefit of terrorists and war propagandists," Emerson Brooking, a researcher at the Atlantic Council Digital Forensics Research Lab, tells WIRED. "Changes in profit and incentive structure mean that there's a lot more tendency for people to share at high volume information which may not be true because they are trying to maximize view counts. Anyone can buy one of those little blue checks and change their profile picture to something that's seemingly a media outlet. It takes quite a bit of work to vet who's telling the truth and who's not."
X, which eliminated its entire PR team last year, responded to WIRED's request for comment on the proliferation of disinformation on its platform with the automated message: "Busy now, please check back later." https://arstechnica.com/tech-policy/2023/10/israel-hamas-war-has-x-and-its-users-swimming-in-sea-of-disinformation/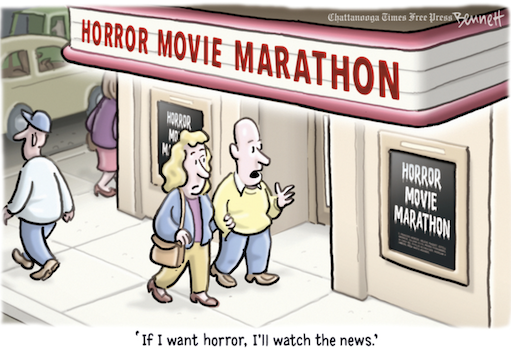 Many GOP anti-Trumpers are throwing in the towel
A growing number of anti-Trump Republicans are giving up — and giving into the belief that nothing will stop him from winning the GOP's presidential nomination.
They've concluded that the GOP's base can't quit Trump. https://www.axios.com/2023/10/06/gop-anti-trump-fading-away-2024
Team Trump readies attacks on RFK Jr. as spoiler anxiety grows
Members of Donald Trump's team are quietly preparing to go on offense against Robert F. Kennedy Jr. as internal campaign polling suggests his expected third party bid could draw more votes from Trump than President Joe Biden in a general election.
One person close to Trump's campaign said it showed that Kennedy took more votes from Trump than left-wing independent Cornel West drew from Biden when both were tested.

It's single digits, but it's enough where it counts to make a difference, the person said. A second person familiar with the polling confirmed their description.

Trump team's newfound focus on RFK Jr. as an opponent is yet another example of the campaign shifting into general election mode early. But it also could be dangerous for Kennedy, who up until now has enjoyed the support of many pro-Trump figures and conservative media.

"He used to be a fun plaything to hurt Biden, now he is something that could hurt the GOP," one Trump-aligned operative said. https://www.semafor.com/article/10/06/2023/team-trump-readies-attacks-on-rfk-jr-as-spoiler-anxiety-grows
Opposition to Ukraine Aid Becomes a Litmus Test for the Right
The Republican meltdown on Capitol Hill that toppled the speaker this week and left the House in chaos has also highlighted a sharp decline in G.O.P. support for continuing to send aid to Ukraine, and how opposition to helping Kyiv has become a litmus test for the right.
The intensifying shift is striking for a party that has long defined itself by its belief in a muscular American military defending democracy around the world. And it could make it far more difficult for the Biden administration to fulfill its promise to support Ukrainian fighters for the long haul. https://www.nytimes.com/2023/10/05/us/politics/republicans-ukraine-aid.html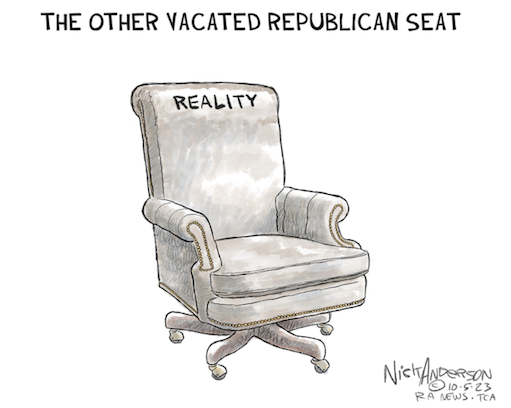 X is placing ads for the NFL on prominent white nationalist accounts
X (formerly Twitter) has been placing advertisements for the NFL on prominent white nationalist accounts, including accounts that have attacked the league by calling it anti-white. While X has been monetizing those racist accounts, which collectively have over a million followers, a senior NFL executive recently praised company CEO Linda Yaccarino for supposedly "doing great work innovating to make the platform better."
Despite the NFL's endorsement, X has descended into a cesspool of bigotry, conspiracy theories, and antisemitism under Yaccarino and owner Elon Musk. That toxic content makes companies that advertise with X especially vulnerable, as the platform has placed advertisements for major brands directly on pro-Hitler, Holocaust denial, white nationalist, pro-violence, and neo-Nazi accounts. Ads, including for the NFL, have also appeared next to unhinged conspiracy theories about Jewish people and 9/11. https://www.mediamatters.org/white-nationalism/x-placing-ads-nfl-prominent-white-nationalist-accounts
Trump's words turn violent as pressure on him builds
Trump's violent rhetoric — a staple of his political brand dating back to 2015 — has grown more extreme as the walls have begun to close in on his business empire, livelihood and personal freedom. His words' violent turn in recent weeks — calling for a U.S. military leader to be executed, mocking a potentially fatal assault on a congressional spouse, urging police to shoot shoplifters — suggest a line has been crossed.
https://www.axios.com/2023/10/04/trumps-words-turn-violent-pressure-builds
Rep. Moskowitz calls for Palm Beach County to tax Mar-a-Lago at the rate Trump claims it's worth
Rep. Jared Moskowitz (D-FL) is asking Palm Beach County to tax Donald Trump's Mar-a-Lago property at the rate the former president claims it is worth amid his ongoing civil fraud trial in New York.
Wrote Moskowitz: "Between 2011 and 2021, you value the Mar-a-Lago property between $18 million and $28 million. Mar-a-Lago was listed as worth $490 million in financial documents given to banks. If the property value of Mar-a-Lago is so much higher than it was appraised, will you be amending the property value in line with the Trump family's belief that the property is worth well over a billion dollars?" https://www.nbcnews.com/politics/donald-trump/rep-jared-moskowitz-calls-palm-beach-county-tax-mar-lago-rate-trump-cl-rcna119042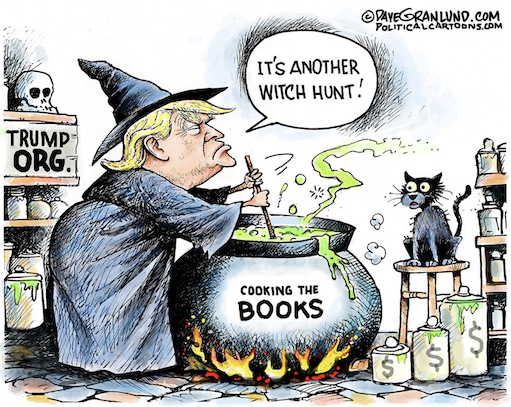 Judge Tries to Stop Trump From Hiding His Money
The judge who doomed Donald Trump's family business last week took an aggressive and preemptive step on Wednesday to ensure the former president can't secretly shift assets to salvage his real estate empire.
In an order that was posted on the fourth day of the former president's bank fraud trial, Justice Arthur F. Engoron commanded that the Trumps identify any corporations they have—and come clean about any plans to move around money in an attempt to hide or keep their wealth. https://www.thedailybeast.com/judge-tries-to-stop-trump-from-hiding-his-money
Federal Court Picks New Alabama Map
A federal court just selected Alabama's new congressional map, featuring an additional Black majority district. Under the remedial plan, #AL02 swings from Trump +29 to Biden +12, virtually assuring a Dem pickup.
https://twitter.com/Redistrict/status/1709950884770115951
Amazon's Alexa has been claiming the 2020 election was stolen
Amid concerns the rise of artificial intelligence will supercharge the spread of misinformation comes a wild fabrication from a more prosaic source: Amazon's Alexa, which declared that the 2020 presidential election was stolen, the Washington Post reports.
Asked about fraud in the race — in which President Biden defeated former president Donald Trump with 306 electoral college votes — the popular voice assistant said it was 'stolen by a massive amount of election fraud,' citing Rumble, a video streaming service favored by conservatives. https://www.washingtonpost.com/technology/2023/10/07/amazon-alexa-news-2020-election-misinformation/
Fearing Third-Party Spoilers vs.Trump, Biden Allies Try to Squash Them
Powerful allies of President Biden are aggressively working to stop third-party and independent presidential candidacies, fearing that an outside bid could cost Democrats an election that many believe will again come down to a few percentage points in key battleground states.
The broad Democratic unease is rooted in a core belief that Mr. Trump has both a high ceiling and a low floor of general-election support — meaning that his voters are less likely to be swayed by a third-party or independent candidate. Mr. Biden has wider appeal, but his supporters are not as loyal. https://www.nytimes.com/2023/10/08/us/politics/biden-trump-third-parties-no-labels.html
A catalogue of Trump's attacks on judges, prosecutors and witnesses
Trump's attacks on judges, prosecutors, their staffs and potential witnesses against him — which have long tempted judges to issue such gag orders and are also the subject of a looming decision in another case — follow a familiar formula. The substance and even the words tend to be virtually the same, they're generally baseless, and they're often ugly.
Three of the prosecutors bringing cases against Trump are Black, and Trump often accuses them of racism against him.
Trump has cited, without evidence, the idea that key figures in his legal cases were romantically tied to allegedly nefarious figures or his political opponents.
Trump is often not content to attack people individually; he also invokes their friends and relatives in support of his claims that they are biased against him.
Trump often uses 'Marxist' and 'fascist' labels against his political opponents, and he's invoked them repeatedly against judges and prosecutors.
Trump has long described any scrutiny of him as a witch hunt, and these figures from his court cases are not exempt from that charge.
Accusing  them of election interference is another Trump go-to from when he was facing impeachment.
Trump has claimed that every prosecutor in his criminal indictments and civil fraud trial is crazy.
Attempting to muddy the waters, Trump will say that those who have accused him of crimes have instead committed crimes themselves.
Threatening IF YOU GO AFTER ME, I'M COMING AFTER YOU!
https://www.washingtonpost.com/politics/2023/10/05/catalogue-trumps-attacks-judges-prosecutors-witnesses/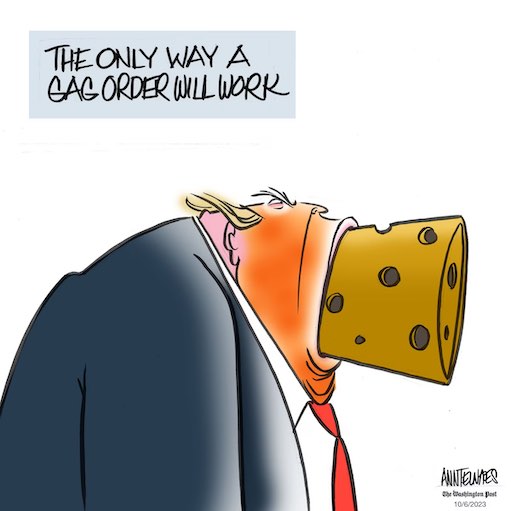 Tuberville won't bend on military blockade amid Israel crisis
Sen. Tommy Tuberville is not relenting from his months long blockade of military nominations over the Biden administration's abortion policy — even in the face of one of America's closest allies going to war, Politico reports.
After Hamas attacked Israel, Senate Democrats said it was past time for several top-level military nominees to be approved. But a Tuberville spokesperson confirmed Sunday that the senator's position remains: Democrats must move top nominees individually until the Pentagon revokes its policy of covering travel costs for troops seeking an abortion across state lines. https://www.politico.com/news/2023/10/08/tuberville-blockade-israel-military-00120525
Hamas Seeds Violent Videos on Sites With Little Moderation
Since Hamas launched a deadly cross-border attack into Israel over the weekend, violent videos and graphic images have flooded social media. Many of the posts have been seeded by Hamas to terrorize civilians and take advantage of the lack of content moderation on some social media sites — particularly X and Telegram — according to a Hamas official and social media experts.
The strategy mirrors efforts by extremist groups like the Islamic State and Al Qaeda, which took advantage of the lack of guardrails at social media companies years ago to upload graphic footage to the internet. Social media companies reacted then by removing and banning accounts tied to those groups.

The issue has sprouted anew in the past week, particularly on X, where safety and content moderation teams have largely disbanded under Elon Musk's ownership, and on Telegram, the messaging platform which does virtually no content moderation. https://www.nytimes.com/2023/10/10/technology/hamas-violent-videos-online.html
THE DAILY GRILL
"Today is devastating for all those seeking a lasting peace and respect for human rights in Israel and Palestine. I condemn Hamas' attack in the strongest possible terms. No child and family should ever endure this kind of violence and fear, and this violence will not solve the ongoing oppression and occupation in the region. An immediate ceasefire and de-escalation is urgently needed to save lives." —  Rep. Alexandria Ocasio-Cortez (NY-14) statement on the violence in Israel and Palestine. https://ocasio-cortez.house.gov/media/press-releases/statement-rep-ocasio-cortez-violence-israel-and-palestine
"I condemn the horrific acts we are seeing unfold today in Israel against children, women, the elderly, and the unarmed people who are being slaughtered and taken hostage by Hamas. Such senseless violence will only repeat the back and forth cycle we've seen, which we cannot allow to continue. We need to call for deescalation and ceasefire. I will keep advocating for peace and justice throughout the Middle East." -- Rep. Ilhan Omar (D-MN). https://twitter.com/IlhanMN/status/1710730202353934338
"I strongly condemn the horrific attacks by Hamas and am saddened by the loss of precious lives, especially on the holy day of Simchat Torah. We need a way to end this deadly violence that is killing and traumatizing generations of Israelis and Palestinians alike — including the blockade of Gaza. I have been to the Gaza border and know that Israelis and Palestinians are constantly living in fear. We must work harder to ensure peace in the region." — Rep. Jamaal Bowman (D-NY). https://twitter.com/RepBowman/status/1710711916484579524
VERSUS
"To the 'Squad,' shut the hell up. You're emboldening the enemy. You're a disgrace to the United States Congress. You're siding with terrorists over a democracy called Israel. You've lost your perspective here. I'm confident most Democrats don't agree with the squad."  — Sen. Lindsey Graham, (R-SC). https://themessenger.com/politics/lindsey-graham-tells-house-squad-to-shut-the-hell-up-over-israel-statements-youre-a-disgrace


"He's a terrible human being. He does not deserve to be in the House of Representatives. He deserves to be in a federal prison. And I think the issue of expulsion is going to be something that a lot of my colleagues are going to talk about." — Rep. Nick LaLota (R-NY). https://punchbowl.news/article/santos-faces-expulsion-calls-following-indictment/
VERSUS
"They can try to expel me, but I pity the fools that go ahead and do that and think that that's the smartest idea. They're in tough elections next year, but they're setting precedent for the future." — Rep. George Santos (R-NY) on efforts by some Republicans to expel him after he was hit with a 23-count superseding federal indictment. https://www.politico.com/live-updates/2023/10/11/congress/santos-shaggy-defense-plea-deal-00120918
Max Boot: This is Israel's 9/11. The consequences will be dangerous — and unforeseeable.
The Israeli military remains the strongest force in the Middle East, and it will ultimately prevail. But even a tactical victory would leave Israel facing the question "Now what?" Most Israelis have no desire for a long-term occupation of the Gaza Strip, one that would inevitably lead to further Israeli casualties and accusations that their troops are committing war crimes. But they are running out of alternatives.
The only certainty is that the Hamas attack will make life worse for Palestinians. Gaza is already one of the poorest places on Earth, and its misery has only been exacerbated by the Israeli-Egyptian blockade designed to prevent Hamas from amassing too much military power. The day before the attacks, The Post ran a heart-rending story about how merchants in Gaza are so poor, they cannot afford trucks and have to rely on donkeys — only to see the supply of donkeys from Israel dry up.

Hamas did not attack because of the miserable conditions in Gaza. Its leaders are insulated from deprivation and motivated by religious and nationalist fanaticism. But the terrible conditions do make it easy for Hamas to recruit fighters from among young men so poor and desperate that they have no better alternative than to become "martyrs."

Ultimately, Israelis and Palestinians have to recognize that they have no alternative but to live side by side in peace. Responsible Israelis — who are largely missing from Netanyahu's far-right cabinet — know that Palestinians' lives have to improve to prevent more eruptions of violence in the future.  https://www.washingtonpost.com/opinions/2023/10/07/gaza-israel-war-hamas-destruction/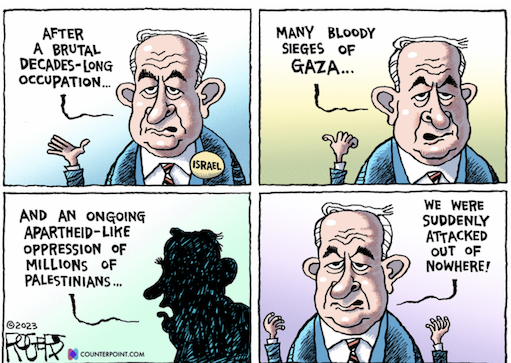 Eric Lutz: Republicans Are Using Attack on Israel to Take Cynical Swings at Biden
The Biden administration has emphasized that American taxpayers did not, in fact, fund the attack Saturday, during the Simchat Torah holiday. "Not a penny has been spent" of the Iranian assets the United States has opened up, Brian Nelson, under secretary for Terrorism and Financial Intelligence at the Treasury Department, wrote over the weekend. Secretary of State Antony Blinken also added Sunday that the administration is still investigating Iran's possible involvement in the incursion. "We don't have anything that shows us that Iran was directly involved in this attack, in planning it or carrying out, but that's something we're looking at very carefully," Blinken said.
But that didn't stop Republicans from accusing the Biden administration of inadvertently funding the attack. "Do you think it was irresponsible of your rivals to level that allegation without any evidence or proof?" NBC News' Kristen Welker asked Nikki Haley on Sunday. "I actually think it was irresponsible for Secretary Blinken to say that the $6 billion doesn't weigh in here," Haley responded. "Let's be honest with the American people and understand that Hamas knows and Iran knows they're moving money around as we speak, because they know six billion is going to be released," the former United Nations ambassador added. "That's the reality."

It's a cynical framing, as Republican National Committee Chair Ronna McDaniel inadvertently laid bare on Fox News over the weekend: "I think this is a great opportunity for our candidates to contrast where Republicans have stood with Israel—time and time again—and Joe Biden has been weak,"  she said.
But this is obviously about more than just cheap political point-scoring. The Hamas attack over the weekend left more than 700 dead and at least 2,300 wounded in Israel, which responded with a siege that has killed at least 590 in Gaza and injured thousands of others. It's a horrific situation—with innocent civilians caught in the middle. "For too many Republicans, their hatred of Democrats is their only organizing prism," as Democratic Senator Chris Murphy wrote Sunday, after a GOP colleague claimed Biden's "appeasement" of Iran had led to the war. "Even on a day like today all they can do is attack." https://www.vanityfair.com/news/2023/10/republicans-attack-biden-over-hamas-attack-israel
Jackie Calmes: Jim Jordan should never be House speaker. Here's why
If Republicans choose Jordan over the other speaker candidate, House Majority Leader Steve Scalise, the person second in line to the presidency would be a guy who actively sought to overturn a presidential election that even Trump administration officials deemed "the most secure in American history."
Two days after the 2020 election, Jordan starred at a "Stop the Steal" rally at the Capitol in Pennsylvania, one of the pro-Biden states central to coup plotters' scheming. On TV, he repeatedly claimed that the election was stolen. He was in cahoots with Trump officials about goading then-Vice President Mike Pence to reject some Biden electoral votes when Pence presided over the certification of the election in Congress on Jan. 6. Jordan attended a pivotal White House planning meeting on Dec. 21, and that month Trump cited the "fighter" Jordan's support in haranguing Justice Department leaders to back the false voting fraud allegations.

There's more: On Jan. 2, 2021, Jordan led — led! — a conference call with Trump and a few other Republicans to strategize about the certification vote as well as a social media effort to mobilize a simultaneous MAGA "march to the Capitol." Trump and Jordan then spoke privately for 18 minutes.

In the hours after the insurrection, with several people dead and scores of police injured, Jordan continued to coordinate with Trump and Co. to upend the election certification. And after Jan. 6, he spoke with Trump advisors about pardons for implicated Republicans.
On Jan. 11, Trump cheapened the esteemed Presidential Medal of Freedom, intended to recognize "an especially meritorious contribution to the security or national interests of the United States," by privately awarding it to his accomplice, Jordan. https://www.latimes.com/opinion/story/2023-10-10/jim-jordan-house-speaker-steve-scalise-kevin-mccarthy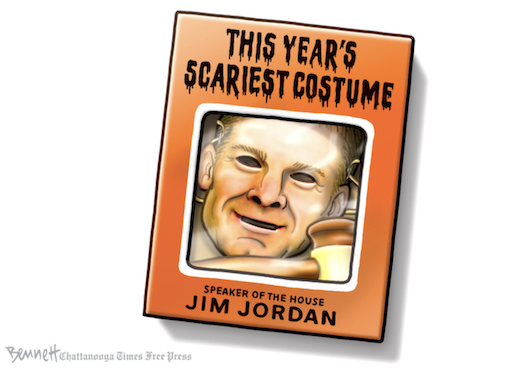 Adam Rawnsley and Asawin "Swin" Suebsaeng: Team Trump Is Using 'Fyre Festival Strategies' in N.Y. Fraud Case
In the weeks leading up to the start of his $250 million civil fraud trial in New York, Donald Trump and his attorneys privately discussed how they believed defeat in this trial was preordained. Their best chance — and it wasn't much, according to two sources familiar with the matter and another two people briefed on internal deliberations — would be to fight the case on appeal.
This belief led to the development of an approach to the case that centers around chaos and cacophony, rather than any attempt to win it on the merits. One person close to Trump describes it as the "Fyre Festival strategies."

That approach — 'let's just do it and be legends,' in the words of the festival's founder —  famously turned Fyre Fest into a scandal-riddled disaster. But Trump and his lawyers are hoping that their legal strategy in their ongoing courtroom "suicide mission" will score some political and public-relations points for Trump, kick up as much dirt as possible, enrage the judge, gratuitously trash some of the witnesses, and turn the process into a media circus.https://www.rollingstone.com/politics/politics-features/trump-team-new-york-fraud-case-media-circus-1234848510/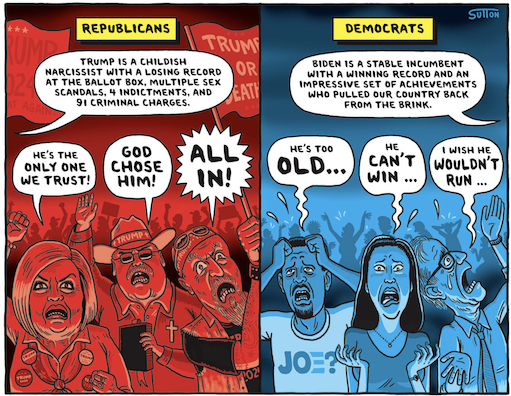 Jen Psaki: Putin must be loving this
Vladimir Putin is likely thrilled with MAGA lawmakers right now. And why wouldn't he be?
His entire goal in 2016 was to throw the United States and its institutions into chaos. Well, the MAGA wing of the House is now doing just that — and the Russian president hasn't had to lift a finger. With no speaker, and no consensus choice from the caucus in advance of leadership elections next week, a chaotic, divisive power vacuum has developed. This is exactly the kind of feckless governing Putin dreams about instigating.

But that's not all. This incompetence, coupled with Republicans who seem to be secretly rooting for the Kremlin is terrible for the Ukrainian war effort. Ukraine needs additional funding to ensure it can adequately defend itself on the front lines, but the chances of securing that vital funding appear to be dwindling. So yes, Putin is thrilled with the party that Trump has created. They are doing his work for him. https://www.msnbc.com/inside-with-jen-psaki/matt-gaetz-kevin-mccarthy-speaker-chaos-putin-rcna119245
Karen Tumulty: McCarthy's legacy is one of damage to the House and his former office
McCarthy's leadership — if you can call it leadership — was notably rudderless and chaotic. On his watch, the country came to the brink of what could have been a catastrophic default on its debt. His hard-right members regularly humiliated him by blocking vital GOP-backed measures from even coming to a vote on the House floor — among them, recently, one to fund the Pentagon. It was only with the help of Democrats that he managed to muster enough votes Saturday to prevent a government shutdown.
And yet, he continued to try to appease the hard-liners, including by unilaterally opening an impeachment inquiry into President Biden based on allegations — but no evidence — that the president had benefited from the business dealings of his son Hunter.

In a grievance-filled news conference after he announced his decision not to try to get his job back, McCarthy said, with dark humor: 'I made history, didn't I?' Indeed, he has left a mark — a scar on the institution and the office — that will be hard to erase. https://www.washingtonpost.com/opinions/2023/10/04/kevin-mccarthy-legacy-house-speaker/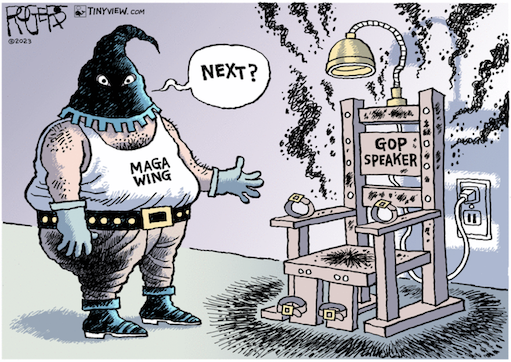 Michelle Cottle: Can Anyone Lead House Republicans Out of the Darkness?
Who out there picked nine months in the office betting pool for how long Kevin McCarthy would survive as House speaker? Go ahead. Raise your hands. Looks like you're due a victory lap.
On Tuesday, the right-wing extremists made good on their long-dangled threat to depose Mr. McCarthy — whom they never wanted or trusted as speaker in the first place. The motion to vacate introduced on Monday by Representative Matt Gaetz, the self-appointed King of the Wingers, wound up passing with the support of eight Republicans and all of the 208 Democrats present. With this decapitation, the first ever in the House, Mr. McCarthy has indeed made history.

But the conference's clown car rolls on, with Republicans now scrambling to select their next driver. With no obvious candidate who can win full Republican support, the process promises to be messy. For now, Representative Patrick McHenry is serving as the interim speaker, thanks to a 2003 rule that required Mr. McCarthy to designate who his temporary successor would be in the event his chair became vacant. For this and other reasons, Mr. McHenry needs to be replaced by a duly elected speaker ASAP.
And so here we go again. The House's chaos is reminiscent of Mr. McCarthy's ordeal back in January, when he went 15 rounds with his right-wing rebels, until he finally wore them down enough to squeak into power. I suppose he could be hoping for a new variation on this: Let his critics try, and repeatedly fail, to install a suitable replacement, until exhaustion and despair drive them to reinstate him almost by default. But as of Tuesday evening, he was insisting that he would not run for the job again. https://www.nytimes.com/2023/10/03/opinion/can-anyone-lead-house-republicans-out-of-the-darkness.html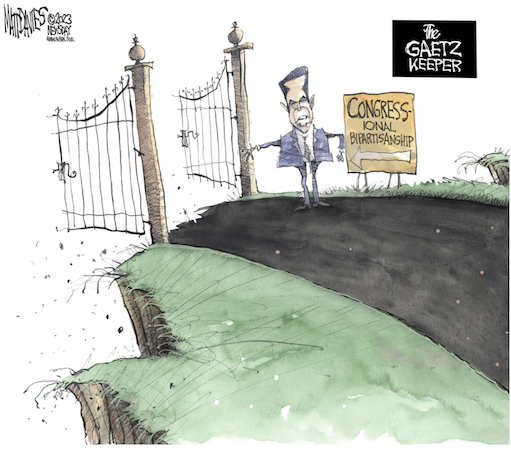 Susan B. Glasser: McCarthy's Ouster Is Proof, Once Again, That Appeasement Doesn't Work
The overthrow began, on Monday evening, with a fittingly juvenile exchange of public taunts. "Bring it on," House Speaker Kevin McCarthy posted, at 7:31 p.m. "Just did," Representative Matt Gaetz replied. Gaetz is the latest in a series of increasingly confrontational Republican members of Congress who have, during the past dozen years, made the job of Speaker in a G.O.P.-controlled Congress one of the capital's most impossible positions. (See: Boehner, John; Ryan, Paul.) This, however, turned out not to be just another episode of the House Republicans' rolling soap opera of dysfunction but an assault by a punk from Florida serious enough to go down in the history books.
Gaetz, an acolyte of Donald Trump, followed through on months of threats on Tuesday, using the weapon that McCarthy himself had provided back in January to win the speakership in the first place, when he agreed to a rule allowing a single member to force a vote on a motion to vacate the chair. This was akin to giving Gaetz a loaded gun; it was inevitable that he would pull the trigger. The last time there was a vote on a motion to vacate was in 1910; Joseph Cannon survived and went on to become one of Congress's legendary figures, an iron-fisted ruler whose name today adorns one of the House's three main office buildings. No one, it's safe to conjecture, will be naming any buildings for Kevin McCarthy.

The political-obituary writers will not be as kind to McCarthy as he was to himself. The fifty-fifth Speaker of the House turned out to be one of the weakest America has ever had, a man whose overriding ambition seemed merely to have been obtaining the job itself and whose willingness to make a bad deal to get it proved to be his predictable undoing.

The record of his suck-uppery to Trump and the Trumpists is too long to recount in full. Perhaps it's enough to recall that Trump nicknamed him "my Kevin," and that, during Trump's Presidency, McCarthy was reported to have sent over to the White House a jar of Trump's favorite Starbursts, carefully culled of all but his favorite red and pink candies. It was McCarthy's egregious behavior in the aftermath of the January 6th attack on the U.S. Capitol by a pro-Trump mob, however, that really proved him to be a hopeless stooge.
And yet, for all that McCarthy did for Trump, it was no surprise that Trump declined to step in and do anything to save McCarthy's tenuous speakership. On the contrary, Trump publicly cheered on those like Gaetz, who were pushing for a government shutdown over McCarthy's frantic efforts to stop it. As the coup unfolded, Gaetz gleefully told reporters that he had spoken with the ex-President. https://www.newyorker.com/news/letter-from-bidens-washington/mccarthys-ouster-is-proof-once-again-that-appeasement-doesnt-work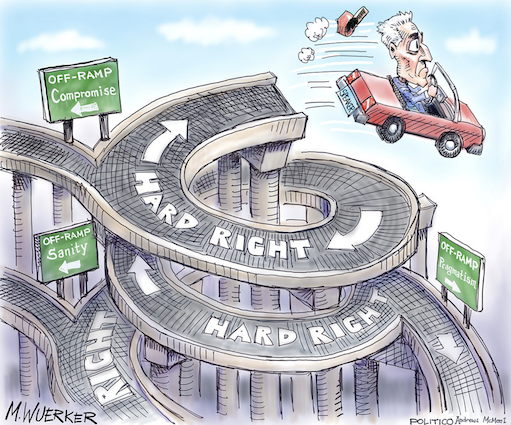 David Frum: GOP Fantasy Collides With Reality
The rules of contemporary Republican politics make it hard to accept reality. Reality is just too awkward.
In reality, Trump has been a big vote loser for Republicans. He fluked into the presidency with a Dukakis-like share of the vote in 2016, then lost his party its majority in the House in 2018. Trump got decisively booted from the presidency in 2020; rampaged illegally on January 6, 2021; and then cost his party its Senate majority in the January 2021 runoff elections. His election-denier message damaged his party further in the elections of 2022. His demand for a Biden investigation and impeachment in 2023 is producing an embarrassing fiasco. But no Republican leader dares say these things out loud.

Most taboo of all is working with Democrats, on any terms other than total, one-sided domination: We win, you lose. So McCarthy just had to press ahead, acting as if he commanded a majority when he did not; insulting and demeaning the minority, even though he had to know that he might need their help at any minute.

That minute came. McCarthy sought Democratic votes to save him from his own refractory members, and in return he offered nothing. Not even politeness.
That proposition did not produce the desired results, and so here we are. https://www.theatlantic.com/ideas/archive/2023/10/kevin-mccarthy-republican-party-delusion/675538/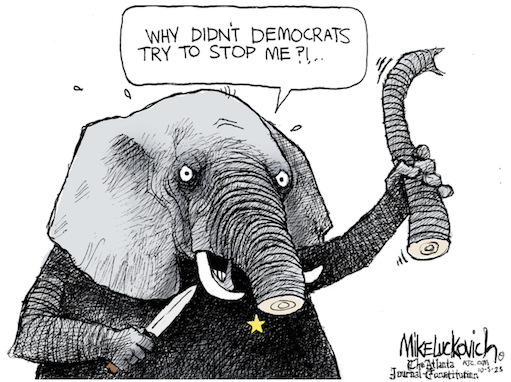 David Graham: Donald Trump Is Any Defense Attorney's Nightmare
It's possible to construct a theory under which Trump's outbursts at judges aren't all that disastrous. Trump often seems to prioritize his political fortunes—fervor among his base, fundraising, press coverage—over his apparent best interest. But if you presume that losses in both the fraud and election-subversion cases are already foregone conclusions, then his strategy makes some sense. Engoron has already ruled that Trump committed fraud, and the facts in the election case are damning… Any conviction (or damages, in the civil cases against him) will likely be appealed, but at the trial level, Trump may have already accepted he is likely to lose, and thus may stand to gain the most by wrapping himself in a lost cause.
But even if the self-inflicted wounds in any individual case are incidental, his tendency to create unnecessary nightmares for defense teams (along with his history of stiffing contractors) means that he is less able to attract high-quality representation. Top-tier lawyers have repeatedly declined to work for him, and among those who have taken the job, many don't stay for long. Over time, that could deepen his risk in all of the cases against him. https://www.theatlantic.com/ideas/archive/2023/10/trump-civil-trial-lawyers-gag-order/675564/
NY Times Editorial: The Cost of Inaction on Immigration
It is difficult to find an issue that more exemplifies the dysfunction of American government today than immigration.

In the past year, more than a million people have entered the United States through the southern border, overflowing shelters and straining public services. Most of the newcomers claim asylum, a status that allows them to be in the country legally but leaves them in limbo. They often must wait years for their cases to be heard, and it can be a lengthy process to obtain legal permission to work.

This nation has long drawn strength from immigration, and providing asylum is an important expression of America's national values. But Congress has failed to provide the necessary resources to welcome those who are eligible and to turn away those who are not. Instead, overwhelmed immigration officials allow nearly everyone to stay temporarily, imposing enormous short-term costs on states and cities that the federal government hasn't done enough to mitigate.
Vice President Kamala Harris and others have correctly identified corruption and instability in Central and South America as reasons many people continue to flee their homes, and the United States should do what it can to help countries with these challenges. But that is not an answer to the disruption that this recent wave of people is causing in American communities right now.

The federal government's negligence is fueling anger against immigrants and stoking divisions. The question is whether Congress, mired in dysfunction, can stir itself to enact sensible changes so the nation can reap the benefits of immigration.
The White House is limited in the actions it can take; Mr. Biden may have exhausted what he can do through his executive authority. Until Congress decides to take meaningful action, America will continue to pay a price. https://www.nytimes.com/2023/10/07/opinion/new-york-migrant-crisis.html