May 21, 2020
ON THE RECORD. . .
"One knows, of course, that Donald Trump behaves differently from the leaders of other countries, especially the leaders of other Western democracies. But seeing him in this video juxtaposed with other world leaders during this coronavirus pandemic comes, nevertheless, as a shock."

"We have a 'don't wear masks' movement that overlaps almost entirely with the 'reopen immediately' movement. There are only two possible explanations for why this might be. The first is that people are dumber than a bag of hammers." — Jonathan Last

"I was wrong. They did leave behind a plan. I clearly made a mistake in that regard." — Senate Majority Leader Mitch McConnell  conceding that he was wrong to claim that the Obama administration had not left behind a plan to deal with a pandemic in the US.

 

Trump's latest interview with Maria Bartiromo was a window into an upside down world where "Obamagate" is a bigger story than the coronavirus pandemic -- and an indication he plans to run for the second straight cycle on imprisoning prominent Democrats.

Trump has appointed an attorney general who will be, as Trump plaintively called for in his first year, "my Roy Cohn." Barr is carrying out the role just as Trump wants, twisting the law to protect Trump's friends and hound his enemies. — Jonathan Chait

"The way to keep your job is to out-loyal everyone else, which means you have to tolerate quackery. You have to flatter him in public and flatter him in private. Above all, you must never make him feel ignorant." — Anthony Scaramucci, who was briefly the White House director of communications.

"More than anything, this pandemic has fully, finally torn back the curtain on the idea that so many of the folks in charge know what they're doing. A lot of them aren't even pretending to be in charge." — Barack Obama.

"I think our country is in very serious trouble. "When you have such blatant political corruption at the highest levels of the U.S. government, something I never thought I would see in my lifetime, but when you have an administration, White House, the Attorney General, the acting head of the intelligence community all acting in concert to try to advance the personal interests of Mr. Trump and to misrepresent the facts and abuse the authorities within the intelligence community and in the law enforcement community in order to continue to perpetuate this egregious abuse of authority on the American people which is what it is." — Former CIA Director John Brennan

"The firings of multiple Inspectors General is unprecedented; doing so without good cause chills the independence essential to their purpose. It is a threat to accountable democracy and a fissure in the constitutional balance of power."— Sen. Mitt Romney (R-UT) denouncing President Trump.

"They think they're taking away Donald Trump's greatest tool, which is to go into an arena and fill it with 50,000 people every time. You watch. They will milk it every single day between now and November 3rd. And guess what – after November 3rd, coronavirus will magically, all of the sudden, go away and disappear and everybody will be able to reopen." — Eric Trump

The President, who began his political career with one Obama conspiracy theory––birtherism––now hopes to prolong it with a new one. Along the way, he has helped promote the idea that Antonin Scalia may have been murdered in his bed, that windmills cause cancer, and that voter fraud cost him the popular vote in 2016. Not that he is incapable of changing his mind. Trump used to tweet that vaccines may cause autism. Now he is hoping that a vaccine comes quick—sometime before November. — David Remnick 

"LOSER!" — Trump tweet against Sen. Mitt Romney (R-UT) after the Utah senator criticized him for firing an inspector general on Friday evening. The tweet includes a video recapping Romney's 2012 loss to Barack Obama.

"He's our president and I would rather he not be taking something that has not been approved by the scientists, especially in his age group and in his, shall we say, weight group — morbidly obese, they say." — Speaker Nancy Pelosi

"I don't know him. Never heard of him. But they asked me to terminate him. I have the absolute right as president to terminate. I said who appointed him, and they say President Obama, I said, look I'll terminate him." — Trump on firing the State Department inspector general late Friday night.

"Now I have you telling me about dog walking, washing dishes and you know what, I'd rather have him on the phone with some world leader than have him wash dishes because maybe his wife isn't there or his kids aren't…you know." — Trump defending Secretary of State Mike Pompeo as a "high-quality person" and a "brilliant guy," while suggesting that the nation's top diplomat had assigned government employees to perform household tasks because his wife or children were not around.

"I don't look at that as a bad thing. I look at that, in a certain respect, as being a good thing. Because it means our testing is much better." — Trump saying the U.S. having the most coronavirus cases in the world is "a badge of honor."

 

"That was a false study done. Where they gave it very sick people. Extremely sick people. People that were ready to die. It was given by obviously not friends of the administration" -- Trump defends hydroxychloroquine by suggesting a study of VA patients was fruit of a conspiracy.
POLITICAL ADS

This Week: The Lincoln Project: https://www.youtube.com/watch?v=AVJENCKjF-o&feature=youtu.be

"We See You." The Lincoln Project ad condemning Sen. Thom Tillis's loyalty to President Trump: https://youtu.be/9CwCVfJb2ZI.

Voters For Trump Ad - SNL 2016: https://youtu.be/Qg0pO9VG1J8

GOP Cribs: The Lincoln Project: https://youtu.be/M2b-Jij96-E
---
IN THIS ISSUE
FYI
OPINION
1. Andy Borowitz: Trump Says Nation Will Have Vaccine Before It Sees His Taxes
Making a solemn promise to the American people, Donald Trump vowed that the nation will have a coronavirus vaccine before it sees his tax returns.

"People are saying that it takes a long time to see a vaccine," Trump said. "I say, not compared to how long it will take to see my taxes."

Trump said that while there was a chance that Americans could have an effective coronavirus vaccine by the end of the year, the chance of their having a glimpse of his tax returns by then sits at zero. "Those are fantastic odds in favor of a vaccine," he beamed.

To insure that the nation gets a vaccine before it gets his taxes, Trump said he was launching an ambitious initiative called Operation Infinite Delay, to slow the disclosure of his taxes to a dead halt.

"Eventually, my taxes will just go away," he predicted.

At the National Institutes of Health, Anthony Fauci was asked for his assessment of Trump's forecast that a vaccine would be released before his taxes. "This might be the first scientifically accurate thing he's said," Fauci commented. https://www.newyorker.com/humor/borowitz-report/
2. The Radicalization of the Right
The level of anger directed at the media from these protestors was alarming. As always, I will tell a fair and unbiased story today. This short video conveys it like no words can."
"I'll probably never forget what happened today. I was insulted. I was berated. I was practically chased by people who refused to wear masks in the middle of a pandemic. All the while, I was there to tell THEIR story." Here's the finished product.— Kevin Vesey, a reporter for News 12 Long Island who shot the video. https://twitter.com/KevinVesey/status/1261054854044229635
3. The Coronavirus Makes Trump's Cruelty Toward Indian Country Even More Deadly
The Trump administration is slow-walking $8 billion in desperately needed pandemic aid to Native American tribes, many of whose lands have become coronavirus hot spots while enduring their worst economic crisis in decades. This was foreseeable; the president has spent decades telegraphing his enmity toward Native people and disregard for their concerns, even before he took office. It was a matter of time before a disaster of this magnitude brought it all to bear. https://nymag.com/intelligencer/2020/05/trump-native-american-pandemic.html
4. Obama emerges as central figure in 2020 presidential race
Nearly eight years after he was last on the ballot, Barack Obama is emerging as a central figure in the 2020 presidential election.
Democrats are eagerly embracing Obama as a political wingman for Joe Biden, who spent two terms by his side as vice president. Obama remains the party's most popular figure, particularly with black voters and younger Democrats, and Biden's presidential campaign is planning for him to have a highly visible role in the months to come.
For President Donald Trump, that means an opportunity to focus the spotlight on one of his favorite political foils. In recent days, Trump and his allies have aggressively pushed conspiracy theories about Obama designed to fire up the president's conservative base, taint Biden by association and distract from the glut of grim health and economic news from the coronavirus pandemic. https://apnews.com/e0d39d6a7dcc6027de9d8c6c7922077c
5. Trump wanted less testing after Kushner worried more positive results would spook market: report
Based on interviews with dozens of current and former Trump advisers and global health officials and experts, the Financial Times report revealed that Jared Kushner held more influence over the president than top health experts as the country grappled with the health crisis.
"Jared [Kushner] had been arguing that testing too many people, or ordering too many ventilators, would spook the markets and so we just shouldn't do it," a Trump confidant who frequently speaks with the president told the outlet. "That advice worked far more powerfully on him than what the scientists were saying. He thinks they always exaggerate." https://www.thedailybeast.com/trump-feared-testing-too-many-people-for-virus-would-spook-stock-markets-says-report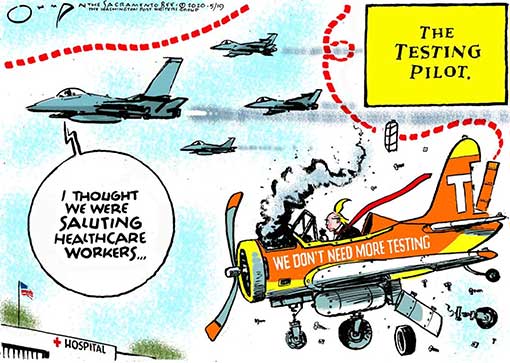 6. What 74 former Biden staffers think about Tara Reade's allegations
The PBS NewsHour spoke with 74 former Biden staffers, of whom 62 were women, in order to get a broader picture of his behavior toward women over the course of his career, how they see the new allegation, and whether there was evidence of a larger pattern.
None of the people interviewed said that they had experienced sexual harassment, assault or misconduct by Biden. All said they never heard any rumors or allegations of Biden engaging in sexual misconduct, until the recent assault allegation made by Tara Reade. https://www.pbs.org/newshour/politics/what-74-former-biden-staffers-think-about-tara-reades-allegations
7. Donald Trump Jr. Smears Biden With Baseless Instagram Post
Trump's eldest son on Saturday posted a social media message suggesting Joe Biden was a pedophile, an incendiary and baseless charge that illustrates the tactics the president is turning to as he attempts to erase Mr. Biden's early advantage in key state polls. https://www.nytimes.com/2020/05/16/us/donald-trump-jr-biden-smear.html
8. 'Hang Fauci' Sign Brandished Amid Lockdown Protesters Trump Hailed As 'Great People'
A disturbing sign with the words "Hang Fauci" appeared in a news report about COVID-19 lockdown protesters whom President Donald Trump hailed on Saturday as "great people."
The sign was part of a threatening rhyme reading: "Hang Fauci Hang (Bill) Gates, Open Up All Our States." https://www.huffpost.com/entry/hang-fauci-trump-long-island-covid-19-protest_n_5ec1c6e9c5b6f6a9e9c6ae29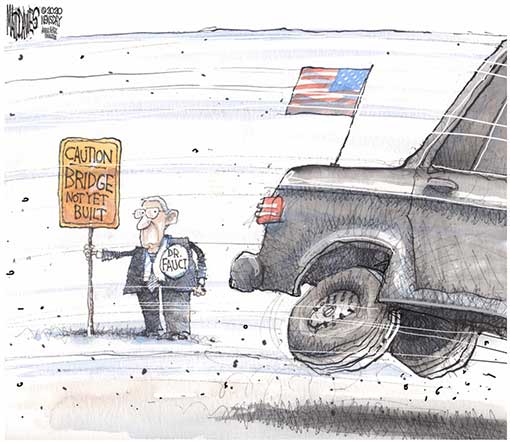 9. 2016 repeat? Trump revives Clinton playbook to battle Biden
Accusations of a "deep state" conspiracy. Allegations of personal and family corruption. Painting an opponent as a Washington insider not to be trusted.
It's 2016 again. Or at least that's President Donald Trump's hope.
Trump and his allies are dusting off the playbook that helped defeat Hillary Clinton, reviving it in recent days as they try to frame 2020 as an election between a dishonest establishment politician and a political outsider being targeted for taking on the system. This time, however, the so-called outsider is the sitting president of the United States. https://apnews.com/0992f2e3feef64c889fa7c34bff916a2
10. Mike Bloomberg plots spending blitz to support Joe Biden's run for president
Billionaire and former presidential candidate Mike Bloomberg is plotting a massive spending blitz to back Joe Biden's quest for the White House. 
The former New York mayor and his closest political advisors are discussing whether Bloomberg's expenditures will include major donations to pro-Biden super PACs, Biden's joint fundraising effort with the Democratic National Committee, or another independent group, according to people familiar with the conversations. These people declined to be named as the talks were private. 
Though it's unclear how much Bloomberg will eventually spend, some of the people familiar with the matter noted that they anticipate Bloomberg to end up spending in excess of $250 million to support Biden, the apparent Democratic nominee. Any major financial support from Bloomberg backing Biden does not include what he could put toward assisting congressional Democrats. After dropping out of the Democratic primary for president in March, Bloomberg endorsed Biden and later announced his campaign would transfer $18 million to the DNC. https://www.cnbc.com/2020/05/15/mike-bloomberg-plots-spending-blitz-to-back-joe-biden-campaign.html  
11. Trump's GOP 'party of health care' has no coverage plan for millions amid pandemic
President Trump left no doubt what he wanted his GOP allies to focus on, diverting to the TV cameras before he entered a private huddle of Senate Republicans.
"Let me tell you exactly what my message is: The Republican Party will soon be known as the party of health care," the president said. "You watch."
Nearly 14 months later, reminded of that day, Sen. John Cornyn (R-TX.) broke into a knowing laugh, fully aware that Trump's "party of health care" declaration went nowhere. Within days, Republicans gave up on trying to draft a replacement for the Affordable Care Act, and after some hesitation this month, the Trump administration plowed ahead with its effort to get the Supreme Court to rule the 2010 law unconstitutional even as no substitute is being drafted on Capitol Hill.
Now faced with a viral pandemic that has driven more than 36 million workers to file unemployment claims in eight weeks, Republicans find themselves heading into an election season still lacking any health plan. https://www.washingtonpost.com/powerpost/trumps-gop-party-of-health-care-has-no-coverage-plan-for-millions-amid-pandemic/2020/05/16/272ac718-96dd-11ea-82b4-c8db161ff6e5_story.html
12. Secret Service signs $179,000 contract to rent golf carts in Bedminster, N.J., this summer
The Secret Service this week signed a $179,000 contract to rent golf carts and other vehicles this summer in Bedminster, N.J., a rental that in past years was made in advance of President Trump's visits to his golf club there. https://www.washingtonpost.com/politics/secret-service-signs-179000-contract-to-rent-golf-carts-in-bedminster-nj-this-summer/2020/05/15/f9c09642-96b7-11ea-91d7-cf4423d47683_story.html
13. Trump officials deflect blame for US death toll, escalate reopening push
Two of President Donald Trump's top officials are now pointing the finger at the administration's own scientists and Americans' pre-existing health conditions to explain the country's world-leading Covid-19 death toll.
The White House has been escalating its effort to recast the narrative of its own chaotic response to the crisis as it aggressively pushes to reopen the country, a process vital to the fortunes of millions of people who have lost their jobs in lockdowns and its own political prospects in November.
The effort follows Trump's repeated early denials that the virus would be a problem for the United States and claims that his administration had it under control months ago.
The United States accounts for about 4.25% of the world's population, but currently has about 29% of the confirmed deaths from the disease, and models used by the White House suggest the tragic toll could rise to around 147,000 by early August. https://www.cnn.com/2020/05/18/politics/trump-us-death-toll-blame-reopen/index.html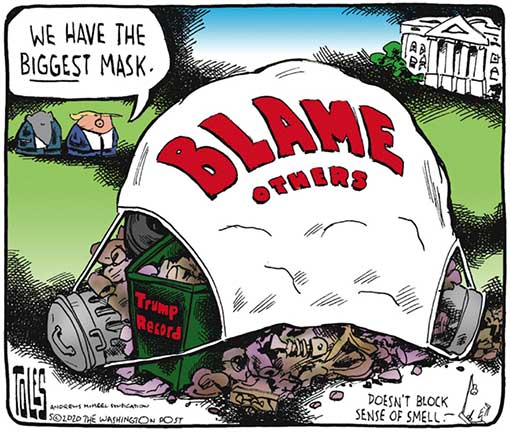 14. Federal Judge Rules Lawsuit Against Trump Corporation Will Go Forward
A federal judge ruled Monday that a lawsuit alleging President Trump engaged in fraud by promoting a pyramid scheme will not be delayed.
 The lawsuit, led by four anonymous plaintiffs, claims that the Trump and his children Donald Trump Jr., Eric Trump and Ivanka Trump are guilty of fraud, false advertising and unfair competition for their dealings with multi-level marketing company ACN, although federal racketeering and conspiracy charges were dismissed last year.
Trump's relationship with ACN is said to have begun in the mid-2000s, continuing until just before he began campaigning for president. The lawsuit was originally filed in October 2018, alleging that the Trumps never disclosed their relationship with ACN as they made millions by falsely claiming that vulnerable investors would have a "reasonable probability of success" if they spent hundreds of dollars or more to join the scheme.
"The Trumps conned each of these victims into giving up hundreds or thousands of dollars—losses that many experienced as a devastating and life-altering," the lawsuit claims. "Surely the Trumps dismissed these amounts (and the lives they wrecked) as trivial. But by defrauding so many for so long, the Trumps made millions." https://www.newsweek.com/federal-judge-rules-lawsuit-against-trump-corporation-will-go-forward-1504963
15. Trump's preferred construction firm lands $1.3 billion border wall contract, the biggest so far
A North Dakota construction firm that has received backing from President Trump has now secured the largest border wall contract ever awarded, a $1.3 billion deal to build 42 miles of black-painted fencing through the rugged mountains of southern Arizona.
The company that won the contract, Fisher Sand and Gravel, has been repeatedly lauded by the president in White House meetings with border officials and military commanders, the result of a long and personalized marketing pitch to Trump and ardent supporters of his barrier project. https://www.washingtonpost.com/immigration/trump-border-wall-fisher-contract/2020/05/19/d22943f2-99de-11ea-b60c-3be060a4f8e1_story.html
16. To Figure Out Who's A Citizen, Trump Administration Is Using These Records
You will not find a citizenship question on the 2020 census forms.
But in the months since federal courts permanently blocked the Trump administration from asking the hotly contested question for this year's national head count, the administration has been pushing ahead with a backup plan — amassing government records to try to determine the U.S. citizenship status of every adult living in the country.
Information from the U.S. Army, federal prisons and the Department of the Interior's law enforcement system are among the newly disclosed batch of records the Census Bureau says it is using to comply with President Trump's executive order for citizenship data, according to a memo the bureau quietly posted on its website this month. https://www.npr.org/2020/05/20/855062093/to-figure-out-whos-a-citizen-trump-administration-is-using-these-records
17. Trump expresses opposition to extending unemployment benefits enacted in response to pandemic
Trump on Tuesday privately expressed opposition to extending a weekly $600 boost in unemployment insurance for laid-off workers affected by the coronavirus pandemic, according to three officials familiar with his remarks during a closed-door lunch with Republican senators on Capitol Hill. https://www.washingtonpost.com/politics/trump-expresses-opposition-to-extending-unemployment-benefits-enacted-in-response-to-pandemic/2020/05/19/19ae0e50-9a12-11ea-a282-386f56d579e6_story.html
18. GOP fronts 'pro-Trump' doctors to prescribe rapid reopening
 Republican political operatives are recruiting "extremely pro-Trump" doctors to go on television to prescribe reviving the U.S. economy as quickly as possible, without waiting to meet safety benchmarks proposed by the federal Centers for Disease Control and Prevention to slow the spread of the new coronavirus.
The plan was discussed in a May 11 conference call with a senior staffer for the Trump reelection campaign organized by CNP Action, an affiliate of the GOP-aligned Council for National Policy. A leaked recording of the hourlong call was provided to The Associated Press by the Center for Media and Democracy, a progressive watchdog group. https://apnews.com/4ee1a3a8d631b454f645b2a8d9597de7
19. EPA staff warned that mileage rollbacks had flaws. Trump officials ignored them.
Details about objections from EPA staff could create legal problems for the administration's Safer Affordable Fuel-Efficient (SAFE) Vehicles rule, which requires U.S. cars, pickup trucks and SUVs to improve average fuel efficiency by 1.5 percent each year between model years 2021 and 2026. It replaces Obama-era standards that would have improved the auto fleet's average mileage by 5 percent a year over the same period.
"In the rush to finalize this rule — and in the middle of a pandemic, no less — they broke just about every rule in the book," said Carper, who on Monday asked the EPA inspector general to investigate. "The result is a policy that fails to protect public health, fails to save money, fails to result in safer vehicles and will, ultimately and undoubtedly, fail in court."
In his letter, Carper argued the EPA violated federal rules by failing to enter all relevant documents into the public record, changing the rule after it was signed and not meeting its obligation to write its part of the mileage rule. https://www.washingtonpost.com/climate-environment/epa-staff-warned-that-mileage-rollbacks-had-flaws-trump-officials-ignored-them/2020/05/19/242056ba-960f-11ea-91d7-cf4423d47683_story.html
20. Freed by Court Ruling, Republicans Step Up Effort to Patrol Voting
Six months before a presidential election in which turnout could matter more than persuasion, the Republican Party, the Trump campaign and conservative activists are mounting an aggressive national effort to shape who gets to vote in November — and whose ballots are counted.
The Republican program, which has gained steam in recent weeks, envisions recruiting up to 50,000 volunteers in 15 key states to monitor polling places and challenge ballots and voters deemed suspicious. That is part of a $20 million plan that also allots millions to challenge lawsuits by Democrats and voting-rights advocates seeking to loosen state restrictions on balloting. The party and its allies also intend to use advertising, the internet and Mr. Trump's command of the airwaves to cast Democrats as agents of election theft. https://www.nytimes.com/2020/05/18/us/Voting-republicans-trump.html
21. The DAILY GRILL
If I were a Senator or Congressman, the first person I would call to testify about the biggest political crime and scandal in the history of the USA, by FAR, is former President Obama. He knew EVERYTHING. Do it @LindseyGrahamSC, just do it. No more Mr. Nice Guy. No more talk! -- Donald Trump, calling on Sen. Graham to investigate Joe Biden.

VERSUS

"I don't think now's the time for me to do that. I don't know if that's even possible. I have grave concerns about the role of executive privilege and all kinds of issues. I understand President Trump's frustration, but be careful what you wish for. Just be careful what you wish for. — Sen. Lindsey Graham (R-SC)

 

"We're the Wild West. There are no restrictions at all across the state of Wisconsin… So at this point in time, there is nothing that's compelling people to do anything other than having chaos here." — Wisconsin Gov. Tony Evers (D) after the state's highest court invalidated his stay-at-home orders to contain the coronavirus.

VERSUS

The Great State of Wisconsin, home to Tom Tiffany's big Congressional Victory on Tuesday, was just given another win. Its Democrat Governor was forced by the courts to let the State Open. The people want to get on with their lives. The place is bustling! — Trump

"I had to fire General Flynn because he lied to the Vice President and the FBI. He has plead guilty to those lies." — Trump on Twitter, December 2, 2017

VERSUS

"What they've done to that man and that family is a disgrace." — Trump quoted by the New York Times, May 13, 2020

 

They, and the Lamestream Media (including Jake), have spent 3 1/2 years illegally smearing me. They got caught! https://twitter.com/ArthurSchwartz/status/1262080991876780033… Donald J. Trump

VERSUS

A better focus for you, Mr. President:
* at least 1,482,916 cases of coronavirus in the US;
* at least 89,318 dead in the US from coronavirus;
* tens of of millions unemployed and even more suffering.
Insult me all you want; please focus on helping the American people, sir. — Jake Tapper

 

"Scandal has defined the Obama Administration." — Donald J. Trump

VERSUS

"You were impeached."-- George Conway

 

"The president insisted that [hydroxychloroquine] has enormous benefits for patients either trying to prevent or already have Covid-19. The fact of the matter is, though, when the president said, 'What have you got to lose?' the number of studies [show] the population have one thing to lose: their lives. If you are taking this as a preventative treatment to ward off the virus, or in a worst-case scenario you are dealing with the virus and you are in this vulnerable population, it will kill you. I cannot stress that enough. This will kill you." — Fox's Neil Cavuto

VERSUS

.@FoxNews is no longer the same. We miss the great Roger Ailes. You have more anti-Trump people, by far, than ever before. Looking for a new outlet! —Trump after reed half a dozen Twitter posts attacking Cavuto and calling him an "idiot," "foolish," "gullible" and "an asshole."

 

"We're going after Virginia, with your crazy governor, we're going after Virginia. They want to take your Second Amendment away. You'll have nobody guarding your potatoes." — Trump

VERSUS

I grew up on a Virginia farm, Mr. President—our potatoes are fine. And as the only medical doctor among our nation's governors, I suggest you stop taking hydroxychloroquine.
Let's all get back to work. -- Ralph Northam @GovernorVA

 

"A lot of good things have come out about the hydroxy. A lot of good things have come out. You'd be surprised at how many people are taking it, especially the front-line workers — before you catch it," Trump said at the White House. "I happen to be taking it. I happen to be taking it. … I'm taking it — hydroxychloroquine — right now." — Trump

VERSUS

"When they gave the diagnosis, I felt like it was a death sentence. I was like, 'I'm going to die,'" she said. "I'm like, 'How can I be sick? How? I'm on the hydroxychloroquine.' They were like, 'Well, nobody's ever said that was the cure or that was going to keep you safe' and it definitely did not." — A Wisconsin woman who has taken hydroxychloroquine for 19 years to treat lupus.
22. From MEDIA MATTERS (They watch Fox News so you don't have to)
Weeks after the network began hyping protests against the coronavirus safety measures, Fox News has found a folk hero in Texas salon owner Shelley Luther, who defied the state's stay-at-home order to reopen her salon and refused to comply in a court appearance. The network — unlike conservative commentator and former Rep. Allen West — hasn't made explicit comparisons between Luther and Parks just yet. But Fox has used its platform to promote local sheriffs and business owners who are defying lockdown orders. And it's made Luther into the de facto face of the anti-lockdown movement against big, overreaching government, utilizing an old playbook to turn a public health emergency into a battle in the culture war. https://www.mediamatters.org/coronavirus-covid-19/sheriffs-salon-owners-and-fox-news-desperate-attempt-turn-pandemic-latest

Hannity and other Fox personalities loved Judge Emmet Sullivan, the judge in Michael Flynn's case -- before they turned on him. VIDEO at https://youtu.be/T9oQRHIkEVs

The right-wing media machine is particularly upset that Sullivan ordered a hearing to resolve issues that arose as a result of the Trump Justice Department moving suddenly to drop the case, even though Flynn had twice attested to his guilt in open court. Further, reports indicate that key context was left out of the DOJ's filing. Put another way: It's not Sullivan's conclusions that are making right-wing media rage -- because he hasn't made any. It is his decision that the resolution of the case be decided in a fair, open hearing -- and not through the corruption of Attorney General Bill Barr's DOJ. VIDEO https://www.mediamatters.org/michael-flynn/attacking-judge-michael-flynns-case-sean-hannity-used-praise-his-integrity

Facebook is allowing coronavirus misinformation from conspiracy theory outlet Infowars to circulate on the social media platform, despite announcing last year that it would ban Infowars content. Videos from the Infowars-affiliated streaming platform banned.video -- along with groups and pages that associate themselves with that streaming platform -- are still appearing on Facebook, in the latest effort to evade the company's spotty enforcement. https://www.mediamatters.org/facebook/infowars-was-banned-facebook-year-ago-dangerous-covid-19-misinformation-its-streaming

Facebook is letting the Trump campaign publish at least 529 ads with false claims of voter fraud. As government officials consider implementing vote-by-mail for the 2020 election because of the coronavirus pandemic, President Donald Trump is using Facebook and Instagram ads to ramp up false allegations of voter fraud. These allegations compound years of lies from Trump and his allies in right-wing media repeating false claims of widespread voter fraud. https://www.mediamatters.org/facebook/facebook-letting-trump-campaign-publish-least-529-ads-false-claims-voter-fraud

Fox's Martha MacCallum falsely claims Obama failed to warn Trump about Gen. Mike Flynn. On the May 19 broadcast of Fox News' "The Story," anchor Martha MacCallum asked Sen. Ron Johnson (R-WI) why the Obama administration failed to warn the incoming Trump administration of potential security concerns regarding Michael Flynn. In response, Johnson claimed that the lack of warning was evidence of a "corrupt transition process." However, as was widely reported in media outlets in 2017, Obama personally warned president-elect Donald Trump about security concerns with Flynn two days after Trump's election. https://www.mediamatters.org/martha-maccallum/fox-news-anchor-falsely-claims-obama-failed-warn-trump-about-gen-mike-flynn
23. From the Late Shows
The Daily Show: What the hell is Obamagate? @DesiLydic watched Fox News for 48 hours straight and here's what she found: https://twitter.com/TheDailyShow/status/1262035394868195328

Top 10 Obama Scandals | The Daily Show: https://youtu.be/7MWxq80oze0

Weekend Update Home Edition: Jeanine Pirro on Coronavirus Lockdown Protests - SNL: https://www.youtube.com/watch?v=QoksOSI0djk

The Late Show with Stephen Colbert: Trump Throws Shade At Dr. Rick Bright As The Whistleblower Warns Congress Of Dark Days Ahead: https://youtu.be/Wie-JIZW-Ew

Late Night with Seth Meyers Trump Says He's Taking Hydroxychloroquine: A Closer Look:
https://youtu.be/OqPZ42isWbE
1. Susan Glasser: "Obamagate" Is Niche Programming for Trump Superfans
Hating on Obama, lying about him, blaming him: these long ago became the default settings of Trump's Presidency. When Trump is troubled or cornered or simply deciding what to do, he often finds a way to bring Obama into it, no matter how tenuous or even absurd the connection. He has called Obama a "bad" person, a "sick" person, "a disaster," "the most ignorant President in our history," and even the "founder of isis." Barely more than a month into his Administration, in early March of 2017, Trump accused Obama of secretly wiretapping him at Trump Tower during the 2016 campaign, an allegation that was no more true than any of the other nutty things Trump has said about Obama since then.
During the course of the pandemic in the past couple of months, Trump has repeatedly invoked Obama and sought to blame his predecessor for everything from the lack of a sufficient national stockpile of medical supplies to inadequate testing for the coronavirus, which did not exist when Obama was President. Trump often mentions Obama's handling of the H1N1 swine flu, which killed twelve thousand Americans, but which Trump nonetheless claims was a disastrous contrast to his own deft handling of a national crisis that has so far tanked the American economy and killed more citizens than the wars in Vietnam, Iraq, and Afghanistan combined. In fact, the President made a point of it again on Thursday afternoon during an appearance in Pennsylvania. For Trump, spending the week attacking Obama, no matter what the subject, is the political equivalent of retreating to his bedroom and hiding under the blanket. It's his safe space, his comfort zone. https://www.newyorker.com/news/letter-from-trumps-washington/obamagate-is-niche-programming-for-trump-superfan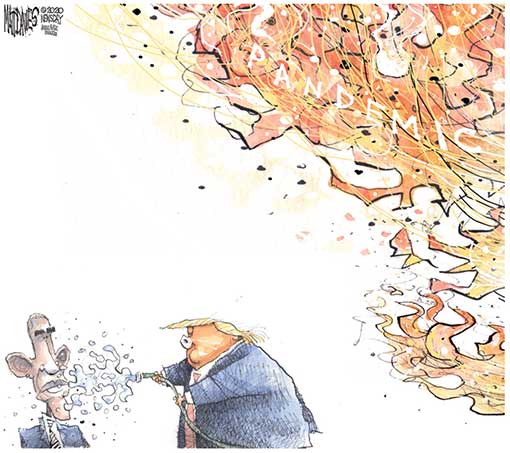 2. Philip Rucker, Matt Zapotosky, Robert Costa and Shane Harris: How a Flynn theory became central to the Trump reelection campaign
With Trump suffering political damage for his management of the coronavirus pandemic less than six months before the election, the president's government appointees and allies in Congress are using their powers to generate a political storm aimed at engulfing Biden, the presumptive Democratic nominee, and Obama, who polls show is the nation's most popular political figure, making him a potent threat to Trump as a Biden surrogate.
Another objective is to rewrite the history of the Russia investigation as Trump has long sought, by casting Flynn as a martyr wronged by nefarious bureaucratic elites.
These efforts are being amplified by wall-to-wall coverage on Fox News Channel and elsewhere in conservative media, where this week Flynn coverage has rivaled and at times overshadowed news about the pandemic, even as the U.S. death toll from the novel coronavirus climbed past 85,000. https://www.washingtonpost.com/politics/seven-days-of-obamagate-how-a-flynn-theory-became-central-to-the-trump-reelection-campaign/2020/05/14/e698bfba-960b-11ea-82b4-c8db161ff6e5_story.html
3. Brian Beutler: Trump Begins His Final Authoritarian Push
Under cover of awful darkness—85,000 dead Americans, nearly all of whom should be alive today, and a great depression of his own making—President Trump has accelerated his efforts to dismantle the rule of law in America. Those efforts have now reached an end stage where, having successfully manipulated the justice system to jailbreak his coconspirators and place those who investigated them under investigation themselves, he will now endeavor to use it to deprive his enemies of their freedom for his own political advantage.
Trump couldn't have made so much progress toward this goal without the encouragement of Republicans in Congress, nor an opposition party that long ago decided it wouldn't oppose him on the basis of his general lawlessness—nor perhaps without a national press corps that varyingly sanitizes or revels in that conduct.
But he also couldn't do it without mass deception—a fabricated tale in which his enemies are corrupt, and he is just. There's no such thing as OBAMAGATE, not even Donald Trump can tell you what it means. But that meaningless word has already been broadcast unfiltered into the homes and Twitter apps of millions of Americans, along with a blizzard of lies designed to give it the appearance of meaning. And Republicans won't stop until it, like BENGHAZI, EMAILS, and BURISMA before it, creates a miasma of scandal around Democrats that makes it impossible for many voters to say one way or another which party is headed by a crook, and which is not.
The truth of the matter at the heart of the coming disinformation campaign isn't hard to grasp, particularly for those who have more than passing familiarity with the details of the Russia investigation or the Mueller report. But that doesn't mean Trump's propaganda campaign won't work—or, worse, that people won't find themselves under indictment, facing years in prison, as part of a desperate bid to help Trump win re-election and spare him from legal consequences of his own. https://crooked.com/articles/trump-final-authoritarian-push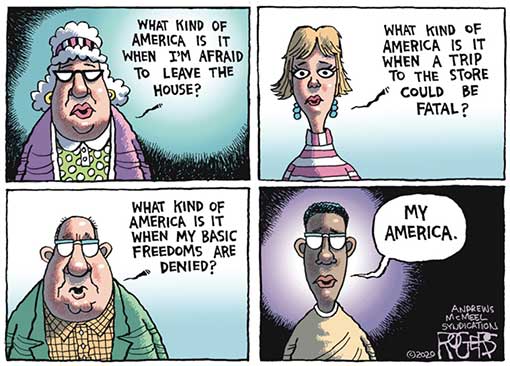 4. Alexandra Petri: Obamagate was the worst crime ever committed and here is what it was
"What is the crime exactly that you're accusing him of?"
"You know what the crime is. The crime is very obvious to everybody. All you have to do is read the newspapers, except yours."
— Trump responding to Washington Post reporter Philip Rucker
Obamagate began long ago, long before Trump even got elected, before he even knew he was running. It began before America, before time, in those early days when President Barack Obama lit the furnace of the sun, just before he fixed the paths of the planets in such a way that millennia in the future, Donald Trump would stare directly into a solar eclipse. And, of course, everyone knew about it.
There is more to come about Obamagate, and we will be stunned, because the horror of it all is clear. One of the many facets of Obamagate is that it prevented people from telling Michael Flynn that lying to the FBI was a crime, even if they were investigating something else; had he realized this, he would not have lied to the FBI, probably? It is a commonly known fact (just as commonly known as that Obamagate is ancient and horrible) that it is polite to lie to the FBI unless you are explicitly instructed not to.
Obama is still president to this day, which is why everything that goes wrong is his fault. But that will change soon. Donald Trump is here and can point this out. The rule of law is suffering from the people in charge of the government right now. Their pandemic response has not been all that could be hoped. It is a total disaster and an absolute fiasco, what is going on in the White House right now, or, as I guess we must refer to it, Obamagate. And everyone knew exactly what it was. https://www.washingtonpost.com/opinions/2020/05/13/obamagate-was-worst-crime-ever-committed-here-is-what-it-was/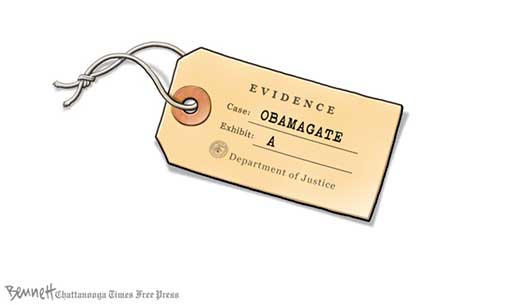 5. Caleb Ecarma: Trump's "Obamagate" Obsession Finds A Friendly Audience On Fox
Egged on by a Fox interviewer on Thursday, Donald Trump insisted that his administration is the victim of the worst government conspiracy in U.S. history, a likely preview of his reelection messaging strategy. "This is the greatest political scam, hoax, in the history of our country," said the president, adding that "people should be going to jail for this stuff," remarks that Fox Business host Maria Bartiromo agreed with. "It is the biggest political scandal we've ever seen," she concurred.
As the pandemic's devastation continues, and with the November election just over five months away, Trump and his media allies have spent the past week intensely focused on so-called Obamagate, with the president incessantly tweeting and discussing it. On Monday, the president, after spending Mother's Day sharing of Obamagate–related tweets, used the White House's coronavirus presser to attempt to break down the conspiracy. "Obamagate. It's been going on for a long time. It's been going on from before I even got elected, and it's a disgrace that it happened, and if you look at what's gone on, and if you look at now, all this information that's being released," he said. "And from what I understand, that's only the beginning—some terrible things happened, and it should never be allowed to happen in our country again. And you'll be seeing what's going on over the next, over the coming weeks." When pressed for an exact crime, the president eschewed specifics: "You know what the crime is. The crime is very obvious to everybody." https://www.vanityfair.com/news/2020/05/fox-news-donald-trump-obamagate-obsession
6. Philip Rucker, Matt Zapotosky, Robert Costa and Shane Harris: How a Flynn theory became central to the Trump reelection campaign
With Trump suffering political damage for his management of the coronavirus pandemic less than six months before the election, the president's government appointees and allies in Congress are using their powers to generate a political storm aimed at engulfing Biden, the presumptive Democratic nominee, and Obama, who polls show is the nation's most popular political figure, making him a potent threat to Trump as a Biden surrogate.
Another objective is to rewrite the history of the Russia investigation as Trump has long sought, by casting Flynn as a martyr wronged by nefarious bureaucratic elites.
These efforts are being amplified by wall-to-wall coverage on Fox News Channel and elsewhere in conservative media, where this week Flynn coverage has rivaled and at times overshadowed news about the pandemic, even as the U.S. death toll from the novel coronavirus climbed past 85,000.
And in a remarkable turn Thursday, Trump urged Congress to call Obama to testify and even suggested those involved — including Biden and two longtime Trump antagonists, former FBI director James B. Comey and former CIA director John Brennan — go to prison.
"I'm talking with 50-year sentences," Trump said in an interview with Fox Business Network that aired Thursday. "It's a disgrace what's happened. This is the greatest political scam, hoax in the history of our country. . . . People should be going to jail for this stuff. "
Trump added, "This was all Obama. This was all Biden. These people were corrupt — the whole thing was corrupt — and we caught them." https://www.washingtonpost.com/politics/seven-days-of-obamagate-how-a-flynn-theory-became-central-to-the-trump-reelection-campaign/2020/05/14/e698bfba-960b-11ea-82b4-c8db161ff6e5_story.html
7. Peter Baker: Changing Subject Amid a Pandemic, Trump Turns to an Old Ploy: Obama
Donald Trump has embarked on an aggressive new drive to rewrite the narrative of the Russia investigation by making dark and unsubstantiated accusations that former President Barack Obama masterminded a sinister plot to bring him down.
On Twitter, on television, in the Rose Garden and even on an official White House social media page, Mr. Trump in recent days has taken aim at his most recent predecessor in a way that no sitting president has in modern times, accusing Mr. Obama of undefined and unspecified crimes under the vague but politically charged catchphrase "Obamagate."
The president went even further on Thursday by demanding that Mr. Obama be hauled before the Senate "to testify about the biggest political crime and scandal in the history of the USA," a scenario that itself has no precise precedent in American history. Within hours, Mr. Trump's most faithful Republican ally in the Senate promptly announced that he would indeed investigate, although he would probably not summon Mr. Obama.
In flinging incendiary charges at his predecessor, Mr. Trump has offered no evidence and has not even specified what "crime" he was accusing the former president of committing. Instead, Mr. Trump seemed to be tying the investigation by the special counsel Robert S. Mueller III, which has enraged him for years, back to Mr. Obama while hinting ominously at forthcoming revelations that will bolster his claims. https://www.nytimes.com/2020/05/14/us/politics/trump-obama.html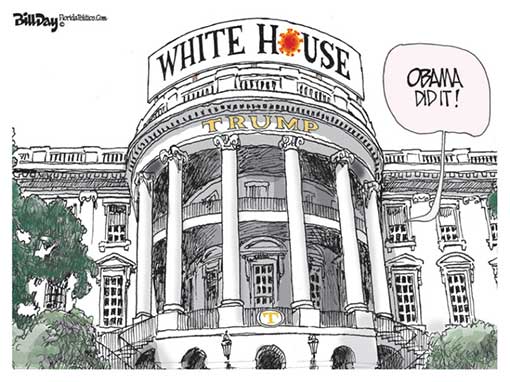 8. Robert J. Samuelson: Trump's failure of leadership makes a feeble economy and resurgent virus more likely
There are times when nations must do unpopular and painful things — and those are the times when a country needs a leader. Ours has gone missing in action. Worse, President Trump is actually subverting leadership. The resulting vacuum of power feeds confusion and chaos, as mayors, governors, members of Congress, doctors and scientists all strive to fill the vacuum.
The job of a leader in a crisis — and the coronavirus pandemic is a genuine crisis, not just an outburst of alarmism — is to forge a consensus that enables a society to deal with the crisis. This is hard. It requires the leader to explain things that are usually difficult to explain. And explanation is not enough. People must be persuaded to do or accept things that they oppose or don't support.
The point here is not to argue for one position or the other. It is to recognize the difficulty of creating consensus in democratic societies. It's especially hard when the nation's nominal leader spurns the leader's traditional role — that's what Trump has done. A true leader would have used the bully pulpit to mobilize public opinion to accept changes that we don't like but that can't be avoided. https://www.washingtonpost.com/opinions/trumps-leadership-vacuum-makes-a-feeble-economy-and-resurgent-virus-more-likely/2020/05/17/b53a62c4-96cf-11ea-9f5e-56d8239bf9a
9. Jack Shafer: How Not to Listen to Donald Trump
Despite a lack of interest from his minions in Congress (Graham has said he has no plans to grill Obama), Trump's foggy demagoguery has mobilized the entire press corps to determine what the hell Trump is talking about. Explainers from Reuters, the Washington Post, the Guardian, CNN, and elsewhere struggle to decipher Trump's vague but strident accusations with little success. We can say this much with certainty. It appears linked to the counterintelligence operation against Gen. Michael Flynn in late 2016, and the requests from Obama administration officials that his identity be "unmasked" from intelligence reports so they could understand who, exactly, was talking to the Russian ambassador. Flynn lied to the FBI about speaking to the ambassador about sanctions and later pled guilty to lying to the FBI about those conversations. (Unmasking, by the way, is a routine, not nefarious thing, which the Trump administration has requested thousands of times.) But until Trump uses his words to make his charges about Obama more specific, we can only guess at what the actual crime might be.
Why must we fetch every bone that Trump hurls into the high, prickly brush? Well, he's the president, and he wouldn't make such an extreme charge if it weren't true, would he? But he does, and he does all the time. This tidy list from Business Insider demonstrates his historic capacity for making baseless but grotesque claims of criminality and deception: implicating Ted Cruz's father in the Kennedy assassination; claiming that Obama wasn't born in the United States; surmising that Justice Antonin Scalia did not die of natural causes; accusing Joe Scarborough of complicity in the death of an intern; asserting massive voter fraud in the 2016 presidential election; saying windmills cause cancer; connecting the Clintons to Jeffrey Epstein's death; and the Bidens-in-Ukraine baloney.
Now it could be that Obama did commit the biggest political crime in the history of the USA. If there's a shred of evidence, I want Obama investigated. If the investigation bears fruit, I want him to have a fair trial. If he's found guilty, I want him punished. But show me that shred of evidence first or I'm going back to bed. https://www.politico.com/news/magazine/2020/05/15/how-not-to-listen-to-donald-trump-260938
10.  Peter Slevin: The Trump Campaign Brings Its Angry Tone to the Coronavirus Era
Donald Trump, Jr., the President's eldest son, thinks that his father is getting a raw deal. In a recent appearance on "Team Trump Online"—a nightly video series that serves as a substitute for campaign rallies and often attracts more than a million viewers—he complained that his father is having to wage war against "the deep-state guys" and unchecked attacks from "influencers on the other side." He said that each reporter at the White House briefings "has an agenda, and that is to destroy Donald Trump." Joe Biden "can't remember where he is fifty per cent of the time," Trump, Jr., said, but he can count on the "media lackeys" who are the "marketing wing of the Democrat Party." The Democrats, he added, are "becoming the party of socialism and communism." That includes Representatives Alexandria Ocasio-Cortez and Rashida Tlaib—"you know, the Hamas caucus in Congress." As for the covid-19 outbreak, which has caused more than eighty thousand deaths in the U.S. to date, he said, "China basically screwed the whole world."
Venom and victimization largely define the President's public persona, and the same holds true for the online campaign. Biden became the presumptive Democratic nominee in early March, and the covid-19 pandemic put a halt to barnstorming a few weeks later, but the rhetoric of Trump's campaign has barely budged. On March 12th, as the coronavirus crisis was taking hold in the United States, it e-mailed its supporters a photograph of Trump, ruddy face fully made up, a flag pin in his lapel, sitting behind the Resolute desk in the Oval Office, looking steely. The e-mail said that there is "no room for partisanship, and the President is calling on both parties in Congress to unite." The very next day, when Trump declared a national emergency, the campaign reverted to form, blasting "Sleepy Joe" and "Crazy Bernie." Last weekend, after the Justice Department dropped its charges against Michael Flynn, Trump's former national-security adviser, who had twice pleaded guilty to lying to the F.B.I., the campaign crowed, in a fund-raising text, "Justice for Gen Flynn! A witch hunt from day 1! all gifts tripled to drain the swamp."
In hundreds of different versions of its standard pitch, Trump's campaign complains, boasts, and beseeches. The President, his surrogates, and the campaign staff spray a familiar buckshot of belittling nicknames and insults at a cast that includes "Sleepy Joe," "Crazy Bernie," and "Crooked Hillary," who were recently joined by "Cheatin' Obama." An e-mail on Monday, targeting Biden, asked supporters to "show the Left that you reject their corrupt candidate," while one on Friday called Biden "a certified CROOK." During a recent "Team Trump Online" broadcast, Parscale bragged about "a roll of Hillary Clinton toilet paper that I use every time I'm in a bad mood. I have boxes of it, and I take it into the bathroom, and it's just enjoyable." https://www.newyorker.com/news/campaign-chronicles/the-trump-campaign-brings-its-angry-tone-to-the-coronavirus-era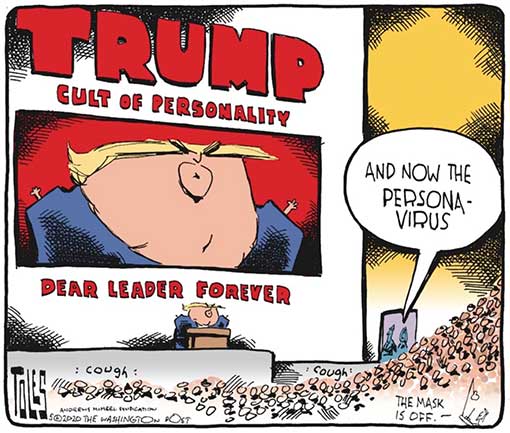 11. David Smith: It eats him alive inside': Trump's latest attack shows endless obsession with Obama
But what became clear during the three and a half years of Trump's presidency is that Obama remains something of an obsession for Trump; the subject of a political and personal inferiority complex.
Observers point to a mix of anti-intellectualism, racism, vengeance and primitive envy over everything from Obama's Nobel peace prize to the scale of his inauguration crowd and social media following.
Ben Rhodes, a former Obama national security aide, tweeted this week: "Trump's fact-free fixation on Obama dating back to birtherism is so absurd and stupid that it would be comic if it wasn't so tragic."
"Birtherism" was a conspiracy theory that Trump started pushing in 2011 ("He doesn't have a birth certificate. He may have one but there is something on that birth certificate – maybe religion, maybe it says he's a Muslim, I don't know.") . Nine years later, he has come full circle with "Obamagate", which accuses his predecessor of working in league with the "deep state" to frame Trump for colluding with Russia to win the 2016 election.
There is zero evidence for this claim. Indeed, a case could be made that the supposed "deep state" did more to help Trump than hurt him when the FBI reopened an investigation into his opponent, Hillary Clinton, just before election day. When questioned by reporters, Trump himself has struggled to articulate what "Obamagate" means. Ned Price, a former CIA analyst, dubbed it "a hashtag in search of a scandal".
Trump and his allies in the Republican party and conservative are stepping up to build a parallel universe where this is the big story and Obama is at the center of it. Sean Hannity, a host on Fox News, demanded: "What did Barack Obama know and when did he know it?" Over the past week, the channel's primetime shows have devoted more coverage to the bogus crimes of "Barack Hussein Obama" than to the coronavirus pandemic – and Trump's mishandling of it. https://www.theguardian.com/us-news/2020/may/16/trump-obama-obsession-coronavirus-president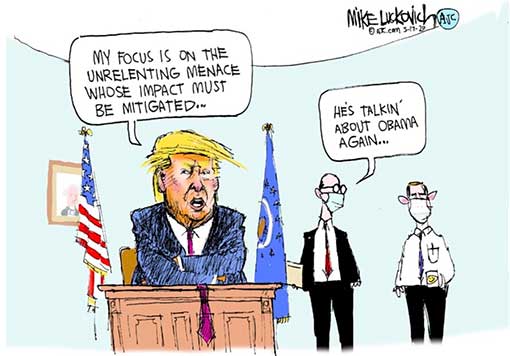 12. Max Boot: If Trump had been in charge during World War II, this column would be in German
The 75th anniversary of the Allied victory over Nazi Germany got me thinking about how World War II might have turned out if President Franklin D. Roosevelt had acted like President Donald J. Trump.
Picture the scene a few months after Pearl Harbor. The first U.S. troops have arrived in England, and the Doolittle raiders have bombed Tokyo. But even though the war has just begun, the Trumpified FDR is already losing interest. One day he says the war is already won; the next day that we will just have to accept the occupation of France because that's the way life is. He speculates that mobilization might be unnecessary if we can develop a "death ray" straight out of a Buck Rogers comic strip. He complains that rationing and curfews are very unpopular and will have to end soon. He tells the governors that if they want to keep on fighting, they will have to take charge of manufacturing ships, tanks and aircraft. Trumpy FDR prefers to hold mass rallies to berate his predecessor, Herbert Hoover. He even suggests that Hoover belongs in jail along with the leading Republican congressmen — "Martin, Barton and Fish."
In reality, of course, Roosevelt focused with single-minded devotion on defeating the United States' enemies until the day of his death. Old political battles and agendas fell by the wayside. "Dr. New Deal" had been transformed, he explained, into "Dr. Win-the-War."
Trump, by contrast, cannot focus on a single subject for the length of a paragraph. So it is no surprise that he has already gotten bored with a war against the coronavirus that isn't going his way. He is taking his cues not from FDR but from Sen. George Aiken, the Vermont Republican whose plan for the Vietnam War was summed up as "declare victory and get out." In Trump's case, that means getting Americans out of the home whether it's safe to do so or not.
Coronavirus deaths are surging past 86,000 and unemployment claims past 36 million, but Trump sounded on Monday as if the pandemic is already over. "We have met the moment and we have prevailed," he declared. It's as if Roosevelt had declared Victory in Europe before D-Day. https://www.washingtonpost.com/opinions/2020/05/15/if-trump-had-been-charge-during-world-war-ii-this-column-would-be-german/
13. Doyle McManus: We won't end COVID-19 with 'test and trace'
To hear public health experts describe it, defeating the coronavirus is a massive but straightforward problem, difficult but not impossible while waiting for a vaccine.
First, administer tens of millions of tests to find out who has the disease. Then trace all their recent contacts, using a cellphone app that tells the government whom they met. Finally, track down all those people and order them into isolation for 14 days, possibly in a quarantine hotel.
Now think about that scenario.
In a country where armed men are marching to defend their right not to wear masks, how will intrusive measures like those go down?
Answer: Not easily.
We've already seen widespread protests against the shutdown orders imposed by many governors — protests encouraged, bizarrely, by President Trump, even though the governors are following White House guidelines. https://www.latimes.com/politics/story/2020-05-17/column-we-wont-end-covid-19-with-test-and-trace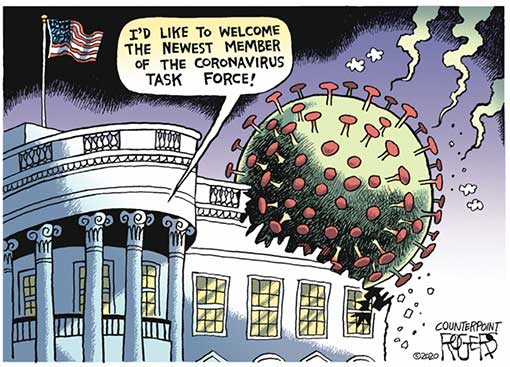 14. Sean Illing: The fake "Obamagate" scandal shows how Trump hacks the media
We've been introduced to a new conspiracy theory this week: "Obamagate."
There's no point in unpacking this theory here because it's bullshit and everyone knows it. (If you need an explainer, my Vox colleague Jen Kirby has you covered.) But for the sake of a reference point, here's the simplest version possible: "Deep state" holdovers from the Obama administration allegedly spearheaded the prosecution of former National Security Adviser Michael Flynn as part of a broader scheme to undermine the Trump presidency.
I really don't want to offer any more details because, again, this is a bullshit story. (Trump, despite promoting it endlessly, couldn't even explain it when asked by a reporter.)
The important thing here is not that this theory is false. The important thing is that we're talking about it at all, and we're only talking about it because the president wants us to talk about it. Talking about this non-story means we're talking less about, say, the nearly 85,000 Americans who have died so far from the coronavirus or the impending recession.
Watching the media pounce on this story like greyhounds chasing mechanical rabbits has been painful, but also deeply familiar. It's a pattern we've seen unfold countless times. The president unleashes a tweetstorm, millions of people retweet it, right-wing media boosts the signal, and then mainstream media outlets cover it, often breathlessly.
Consider this Axios tweet stating that "Biden's presence on the list could turn it into an election year issue, though the document itself does not show any evidence of wrongdoing." But Biden's name on a document is only an election issue if the press treats it like one. And if the "document itself does not show any evidence of wrongdoing," why the hell are we talking about it? Again, we're talking about it because Trump talked about it and now it's a legitimized "story." https://www.vox.com/policy-and-politics/2020/5/16/21258788/obamagate-trump-flynn-bannon-flood-the-zone
15. Margaret Sullivan: The media is helping Trump turn the bogus 'Obamagate' into the 2020 version of Clinton's emails
It's becoming clear that journalists never fully reckoned with the mistakes of 2016 campaign coverage. We know this because they seem poised to repeat them.
As you may recall, the news media — from Fox News to the New York Times and plenty of others across the political spectrum — managed to make the relative molehill of Hillary Clinton's dicey email practices into a daily obsession, roughly equal to the mountain of Donald Trump's financial and personal transgressions.
Well, don't look now but this is happening again before our eyes. Its name this time is "Obamagate." That's a moniker that, in President Trump's outraged tweets, is rendered in all capital letters, but let's not.
This vaporous, apparently made-up offense, according to Trump, is the political crime of the century — and, heck, last century too, because he claims that it makes the 1970s Watergate scandal look like child's play. https://www.washingtonpost.com/lifestyle/media/the-media-is-helping-trump-turn-the-bogus-obamagate-into-the-2020-version-of-clintons-emails/2020/05/18/c5382f82-9907-11ea-89fd-28fb313d1886_story.html
16. Chuck Todd, Mark Murray, Carrie Dann and Melissa Holzberg; Even in these unprecedented times, Trump's playbook never changes
Ignore the experts, attack the referees and undermine global institutions.
That's the unmistakable takeaway from President Trump's recent actions after he's fired multiple inspector generals.
After he's — once again — railed against the news media and cheered on supporters who curse at local reporters.
After he's picked yet another fight with the World Health Organization, threatening to permanently freeze its U.S. funding.
These events are all new, but the pattern has been the same throughout Trump's entire presidency.
When you ignore the experts, attack and fire the referees, and undermine institutions — no matter all of their imperfections and mistakes — you make it clear that you're the only one in charge and will do whatever you please, as Politico writes this morning.
And that's the antithesis of America's democracy (with all of its checks and balances), as well as its federalism. https://www.nbcnews.com/politics/meet-the-press/even-these-unprecedented-times-trump-s-playbook-never-changes-n1210201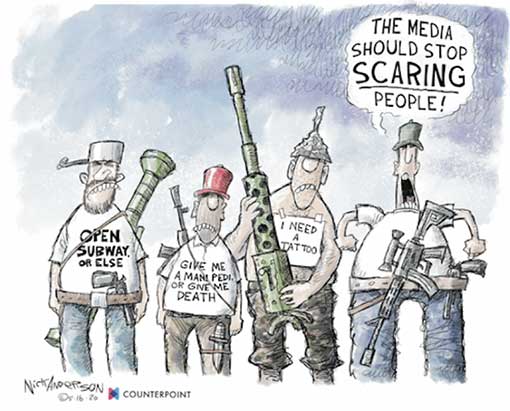 17. Charlotte Klein: Groundhog Day From Hell: Trump's 2020 Strategy Invokes 2016 Whiplash
The president and his campaign's attacks on Joe Biden's character seem right out of the playbook that proved effective against Hillary Clinton—but even some Republicans aren't sure it'll work the second time around.
In seeking reelection, President Donald Trump appears to be reviving the political strategy that got him to the White House, bombarding Joe Biden with attacks and allegations much like those lobbed at 2016 opponent Hillary Clinton. As the Associated Press reports, Trumpworld is "dusting off the playbook that helped defeat" Clinton by trying to frame the upcoming election as one "between a dishonest establishment politician and a political outsider being targeted for taking on the system." The difference in 2020, the AP notes, is that "the so-called outsider is the sitting president of the United States."
According to long-time Biden adviser Mike Donilon, Trump's allegations of personal and family corruption—claiming Biden's son, Hunter, profited off the vice presidency and his recent "Obamagate" obsession—are part of the campaign's attempt to create distraction. "We have a president who doesn't want to talk about the central issue in this campaign right now," Donilon told the AP, acknowledging that the "all-out effort to try to take people away from what they're living through" is a tactic that "has succeeded in the past in terms of throwing up distractions and smokescreen."
And based on Trump 2020 spokesman Tim Murtaugh's remarks, the ugly political tactics waged against Biden in recent days are merely a taste of what's to come. "We have only just begun to define Joe Biden using his own record, particularly on his softness on China, and it's working." https://www.vanityfair.com/news/2020/05/groundhog-day-from-hell-trumps-2020-strategy-invokes-2016-whiplash
18. Chris Megerian, Noah Bierman and Eli Stokols: Trump lashes out with distractions and disinformation
Trump has accelerated his attacks on government watchdogs, judges, reporters and other independent voices as he runs for reelection, escalating his spread of disinformation about perceived enemies and his administration's record during the COVID-19 crisis.
Experts struggled to think of a historical parallel where the president has turned the world's most powerful and influential office into a megaphone for wholesale fabrications and bizarre claims in an effort to confuse voters and salvage his own political future.
"Trump is certainly not the first politician to lie or invent stories," said Eileen Culloty, who researches disinformation at Dublin City University in Ireland. "But his history of making baseless, conspiratorial claims — whether it's Obama's birth certificate, linking Ted Cruz's family to the Kennedy assassination or now Obamagate — is striking for its scale and frequency."
"He is in a class by himself," said Kathryn Olmsted, a UC Davis history professor who has studied post-Watergate political reforms. "He doesn't feel constrained by rules or optics or norms." https://www.latimes.com/politics/story/2020-05-18/trump-lashes-out-with-disinformation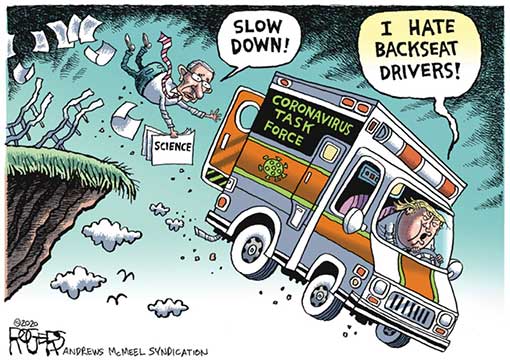 19. Charles M. Blow: Stop Airing Trump's Briefings!
Simply put, the media was complicit in Trump's rise. Trump was macabre theater, a man self-immolating in real time, one who was destined to lose, but who could provide entertainment, content and yes, profits while he lasted.
The Hollywood Reporter in February of 2016 quoted CBS's C.E.O. as saying, "It may not be good for America, but it's damn good for CBS," because as The Reporter put it, "He likes the ad money Trump and his competitors are bringing to the network."
I fear that history is repeating itself.
For over a month now, the White House has been holding its daily coronavirus briefings, and most networks, cable news channels and major news websites have been carrying all or parts of them live, as millions of people, trapped inside and anxious, have tuned in.
The briefings are marked by Trump's own misinformation, deceptions, rage, blaming and boasting. He takes no responsibility at all for his abysmal handling of the crisis, while each day he seems to find another person to blame, like a child frantically flinging spaghetti at a wall to see which one sticks.
He delivers his disinformation flanked by scientists and officials, whose presence only serves to convey credibility to propagandistic performances that have simply become a replacement for his political rallies. https://www.nytimes.com/2020/04/19/opinion/trump-coronavirus-briefings.html