January 20, 2022
THE WEEK'S BEST QUOTES. . .
"We have enough evidence to put everyone in prison for life, 300 and some million people." Is he planning to imprison basically the entire US population? — Mike Lindell has never been more confident about his plan to overturn the 2020 election:

"We have so many serious problems and we can point them all at one man. That is Dr. Fauci. Dr. Fauci is responsible for all of this. He created the gain-of-function. He gave it to China. They created the bioweapon, which is Covid-19, and it broke the world." — Rep. Marjorie Taylor Greene (R-GA) baselessly blaming Dr. Anthony Fauci for being entirely "responsible" for the coronavirus pandemic.

"The volatility is so great right now that voters are almost shellshocked. The way people describe it is they're on a roller coaster and they want to get off." — Democratic pollster Celinda Lake.

During the opening segment of Wednesday's Fox News Primetime, the network displayed a Joe Biden superimposed over a photo of the empty shelves in a grocery store to underscore rising inflation. The image is actually from a 2011 NPR story  about residents fleeing the disaster area near the Fukushima nuclear power plant. — Mediaite.

"The six right-wingers on the court should all have right-wing talk radio shows. They are not justices in the great tradition of Supreme Court justices. They're just politicians…"  -- Joy Reid reacts to the Supreme Court's ruling against President Biden's business vaccine mandate.

"Let's recall that the Nazis dehumanized Jewish people before segregating them, segregated them before imprisoning them, imprisoned them before enslaving them, and enslaved them before massacring them." — Rep. Warren Davidson (R-OH) comparing Covid vaccine mandates to the Holocaust.

"Wait too long to exorcise Trumpism from the Republican Party and it's going to get harder to dig the tick out of the body." — Mike Madrid, co-founder of the Lincoln Project.

"I'm worried about losing the House. I'm worried about losing this democracy. That's why I'm fighting as hard as I can for this voting rights bill, because we are teetering on the edge of losing this democracy." — House Majority Whip James Clyburn (D-SC)

"It has been a mistake to have backroom conversations with Manchin and Sinema for the last four months, or five months. Those conversations have gotten nowhere. But what they have done is demoralize tens of millions of Americans." — Sen. Bernie Sanders

I learned that there were lots of people calling Nancy Pelosi's office on January 7th, asking whether there was a lost and found because they forgot their phone there, or they left their purse or what have you. — Rep. Jamie Raskin (D-MD)

"Democrats whine too much… Just quit being a whiny party and get out there and fight and tell people what you did, and tell people the exact truth."— James Carville

"The left is now rationing life-saving therapeutics based on race, discriminating against and denigrating, just denigrating white people to determine who lives and who dies." — Trump falsely claiming that white people are being discriminated against and sent to the "back of the line" when it comes to receiving COVID-19 vaccines and treatment.

"As I've said before, there are a hundred members of the United States Senate, and I'm not going to absolve — nor should any of us — absolve any member of the United States Senate from taking on a responsibility to follow through on the oath that they all took to support and defend the Constitution of the United States." — Vice President Kamala Harris on the failure of the Senate to pass voting rights legislation.

EXCLUSIVE: Trump is demanding to know Ron DeSantis's booster status, and I can now reveal it. He was a loyal booster when Trump ran in 2016, but then he learned our president was a liar and con man whose grift was permanent. I hope that clears things up. — Ann Coulter @AnnCoulter

"Whoever incites, sets on foot, assists, or engages in any rebellion or insurrection against the authority of the United States or the laws thereof, or gives aid or comfort thereto, shall be fined under this title or imprisoned not more than ten years, or both; and shall be incapable of holding any office under the United States." — 18 U.S. Code § 2383 - Rebellion or insurrection

The GOP's Doctors Caucus send a letter to Dr. Fauci demanding he apologize for calling Sen. Roger Marshall, R-Kan., a "moron." — Fox News
VIDEOS
The Wonders Of The Filibuster! — Mark Fiore

Peter Navarro says the quiet part out loud. — The Lincoln Project
Litigation Tracker: Pending Criminal and Civil Cases Against Donald Trump
---
IN THIS ISSUE
IN THE NEWS
OPINION
Andy Borowitz: Trump Calls NPR the Worst TV Network in America
After abruptly hanging up on one of its hosts, Donald J. Trump called NPR "the worst TV network in America."

Trump said that the host, Steve Inskeep, was "a loser like you wouldn't believe who never should have been given a television show. He's one of the reasons nobody watches NPR."

"I've worked with some of the greats," Trump said. "Sean Hannity. Laura Ingraham. Tucker Carlson. This Inskeep joker doesn't belong on TV."

Trump claimed that "NPR's TV ratings are horrible. They're losing incredible amounts of money, O.K.? It wouldn't surprise me if they started begging for donations." https://www.newyorker.com/humor/
Trump is losing hundreds of voters a day to Covid — far more than the margins in the swing states.
As of this week, about 1,800 Americans a day are dying of Covid; the C.D.C. expects that number to rise above 2,600.
Virtually all are adults. If 95 percent were unvaccinated and we assume that 75 percent of those were Trump supporters, that's 1,300 to 1,900 of his voters being subtracted from the rolls every single day.
Right now, about 60 Arizonans, 36 Georgians, 34 Wisconsinites and 14 Nevadans are dying of Covid each day. Seventy five percent of 95 percent of that would be minus 103 Trump voters per day — just in those four swing states. Week after week. That adds up.
Also, there is another factor in the equation. Covid is just one cause of overall mortality. While Republican state legislatures are working hard to suppress the Democratic vote, an invisible opposing hand is working against them: God's. https://donaldgmcneiljr1954.medium.com/trump-backs-boosters-clearly-someone-did-the-math-for-him-153a2ff62718
Census Memo Cites 'Unprecedented' Meddling by Trump Administration
A newly disclosed memorandum citing 'unprecedented' meddling by the Trump administration in the 2020 census and circulated among top Census Bureau officials indicates how strongly they sought to resist efforts by the administration to manipulate the count for Republican political gain. https://www.nytimes.com/2022/01/15/us/2020-census-trump.html
McCarthy's plot to build the House of Trump
Kevin McCarthy is signaling he'll institutionalize key Trumpian priorities if he takes over as House speaker next year — aggressive tactics targeting undocumented immigrants, liberals and corporate America. 
He'd govern with an edge and agenda in stark contrast not just to Speaker Nancy Pelosi (D-Calif.) but to Paul Ryan, the last Republican in the role. McCarthy's vision would empower populists and pugilists to complete the Republican makeover Donald Trump drove this far. https://www.axios.com/mccarthys-plot-to-build-the-house-of-trump-df47ba09-12d9-4f38-aaa9-610af268c488.html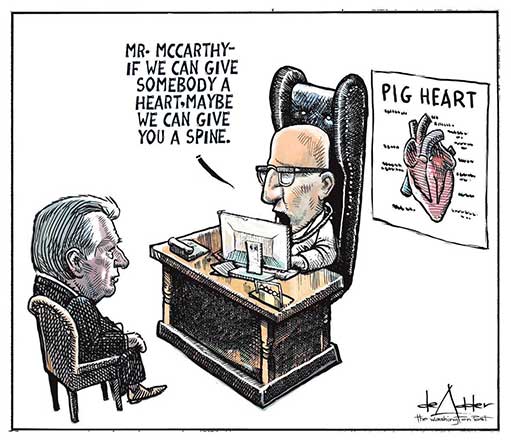 Poll: Political Instability Not U.S. Adversaries, Seen As Bigger Threat
In a sharply divided country, Americans agree on this: the bigger danger to the United States comes from within. Seventy-six percent say they think political instability within the country is a bigger danger to the United States compared to the 19 percent who think other countries that are adversaries of the United States are the bigger danger, according to a Quinnipiac University national poll of adults released today.
Democrats say 83 - 13 percent, independents say 78 - 19 percent, and Republicans say 66 - 29 percent that political instability in the U.S. is the bigger danger.
A majority of Americans, 58 - 37 percent, think the nation's democracy is in danger of collapse. https://poll.qu.edu/poll-release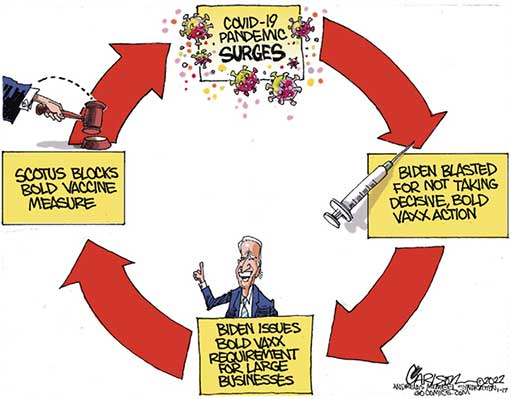 Swing-district Democrats in need of a midterm reboot push leadership to break up BBB
House Democrats running for reelection in competitive districts, facing increasingly long odds of surviving a potential Republican wave, have confronted party leaders in recent days with demands for a new midterm strategy.
Among the requests of these so-called "front-liner" Democrats is to break up President Biden's sprawling Build Back Better spending bill that has stalled in the Senate amid opposition from Sen. Joe Manchin III (D-W.Va.) and hold votes on a series of politically popular provisions that would appeal to centrist voters and core Democrats alike.
Even if the bills face no chance of passage in the Senate, members argued that it is still time well spent so they can have an arsenal of proof for voters that House Democrats are meeting the moment and addressing their concerns, according to three aides familiar with the meeting. https://www.washingtonpost.com/politics/democrats-bbb/2022/01/17/277e34da-7402-11ec-8ec6-9d61f7afbe17_story.html
'It's starting to go into my lungs': Unvaxxed Glenn Beck says he has Covid-19 again
Right-wing talk radio personality Glenn Beck on Wednesday said he has contracted Covid-19 for the second time and complained about the disease's effect on his lungs.
"It's starting to go into my lungs today and a little disturbing. I'm on all the medications and treatments and everything else, so ... it's all good,"
Beck said the antibody treatment 'doesn't seem to be working' in his case, but he added that he is taking Ivermectin, an anti parasite drug popular in right-wing, anti-vaccine circles that has no proven effect against Covid-19. https://www.independent.co.uk/news/world/americas/us-politics/glenn-beck-covid-ivermectin-mark-levin-b1992427.html
Trump loyalists form alliance in bid to take over election process in key states
Extreme Republicans loyal to Donald Trump and his "big lie" that the 2020 election was rigged have formed a nationwide alliance aiming to take control of the presidential election process in key battleground states that could determine the outcome of the 2024 presidential race.
At least eight Republicans who are currently running to serve as chief election officials in crucial swing states have come together to form the coalition.
The group shares conspiracy theories about unfounded election fraud and exchanges ideas on how radically to reconstruct election systems in ways that could overturn the legitimate results of the next presidential race. https://www.theguardian.com/us-news/2022/jan/13/trump-loyalists-secretary-of-state-candidates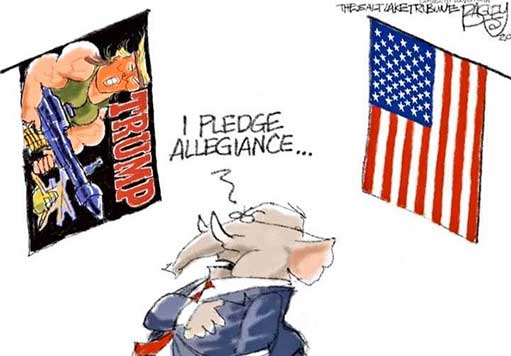 Trump allies' fake Electoral College certificates offer fresh insights about plot to overturn Biden's victory
In the weeks after the 2020 election, then-President Donald Trump's allies sent fake certificates to the National Archives declaring that Trump won seven states that he actually lost. The documents had no impact on the outcome of the election, but they are yet another example of how Team Trump tried to subvert the Electoral College -- a key line of inquiry for the January 6 committee.
The fake certificates were created by Trump allies in Georgia, Arizona, Michigan, Pennsylvania, Wisconsin, Nevada and New Mexico, who sought to replace valid presidential electors from their states with a pro-Trump slate, according to documents obtained by American Oversight.
The documents contain the signatures of Trump supporters who claimed to be the rightful electors from seven states that President Joe Biden won. But these rogue slates of electors didn't have the backing of any elected officials in the seven states -- like a governor or secretary of state, who are involved in certifying election results -- and they served no legitimate purpose.
The documents were first posted online in March by the government watchdog group. But they received renewed attention this week, as the January 6 committee ramps up its investigation into Trump's attempted coup, including how his allies tried to stop states from certifying Biden's victory, in part, by installing friendly slates of electors who would overturn the will of the voters. https://www.cnn.com/2022/01/12/politics/trump-overturn-2020-election-fake-electoral-college/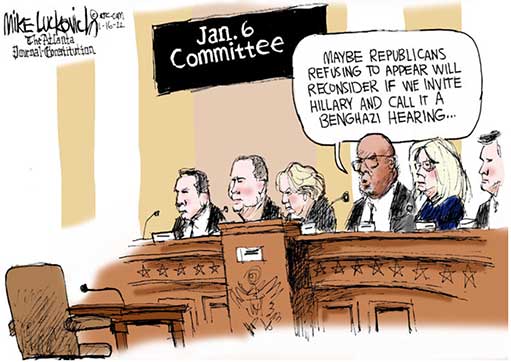 Virginia bill targeting critical race theory cites wrong Lincoln debate
"A new measure aimed at eliminating critical race theory in Virginia schools proposes teaching students about key documents in American history — including a debate between President Abraham Lincoln and the abolitionist Frederick Douglass that never happened," The Hill reports. The bill, introduced this week by freshman Delegate Wren Williams (R), appears to confuse Frederick Douglass with Sen. Stephen Douglas (D), who battled Lincoln for a seat in the Senate in 1858.  https://thehill.com/homenews/state-watch/589736-virginia-bill-targeting-critical-race-theory-cites-wrong-lincoln-debate
The DAILY GRILL
"President Biden goes down the same tragic road taken by President Trump — casting doubt on the reliability of American elections. This is a sad, sad day. I expected more of President Biden, who came into office with the stated goal of bringing the country together."— Mitt Romney

VERSUS

"With all due respect to Senator Romney, I think anyone would note there's a night and day difference between fomenting an insurrection based on lies ... and making objective, true statements." -- White House press secretary Jen Psaki pushing back on Romney's criticism of Biden's voting rights speech.
Dana Milbank: As one Joe builds, another Joe destroys
It was the split screen that has bedeviled the Biden presidency.
There they were Wednesday afternoon, in the exact same time slot: The two Joes. The president, and the man who is destroying his presidency.
In the East Room of the White House, President Biden gave only the second solo news conference of his tenure, marking the end of a punishing first year in office.
And smack dab in the middle of the news conference, Sen. Joe Manchin III (D-W.Va.) rose on the Senate floor to hammer one more gratuitous nail in the coffin of Biden's agenda.
Biden, in a nearly two-hour session with reporters, pleaded passionately for Democrats to force action on the voting rights legislation to counter breathtaking moves by GOP-controlled states to disenfranchise racial minorities, give partisan actors more power to overrule election outcomes and otherwise stack the deck against democracy.
"There's certain things that are so consequential you have to speak from your heart as well as your head," Biden said, defending his earlier statement that those who defeat voting rights will be on the side of Bull Connor and George Wallace in history. "Don't think this is a freebie. You don't get to vote this way and then somehow it goes away. This will be — stick with you the rest of your career and long after you're gone."
Manchin, reaffirming his intention to uphold a Republican filibuster of voting rights legislation, self-righteously portrayed himself as a defender of minority rights in the Senate. But the practical effect of his action will be to deny voting rights to millions of Black, Latino and Asian American voters — and to doom yet another piece of Biden's agenda, and a foundational piece of American democracy. https://www.washingtonpost.com/opinions/2022/01/19/joe-biden-faces-off-with-joe-manchin/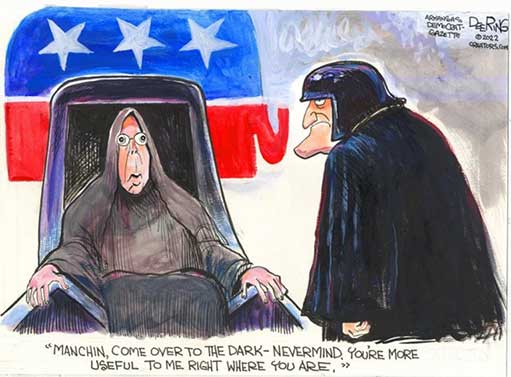 Steven Levitsky, Daniel Ziblatt: The Crisis of American Democracy
Nearly all living Americans grew up taking our democracy for granted. Until recently, most of us believed—and acted as if—our constitutional system was unbreakable, no matter how recklessly our politicians behaved.
No longer. Americans watch with growing unease as our political system threatens to go off the rails: costly government shutdowns, stolen Supreme Court seats, impeachments, mounting concerns about the fairness of elections, and, of course, the election of a presidential candidate who had condoned violence at rallies and threatened to lock up his rival, and who, as president, has begun to subvert the rule of law by defying congressional oversight and corrupting law enforcement agencies to protect his political allies and investigate his opponents.
In a 2019 survey by Public Agenda, 39 percent of Americans said they believed our democracy is "in crisis," while another 42 percent said it faces "serious challenges." Only 15 percent said American democracy is "doing well."
Democratic backsliding in the United States is no longer a matter of speculative concern. It has begun. Well-regarded global democracy indexex, such as Freedom House, rank the United States as now less democratic than Chile, the Czech Republic, Slovenia, Taiwan, and Uruguay—and in the same category as newer democracies like Croatia, Greece, Mongolia, and Panama.
We're facing crises in economic opportunity and racial justice, both of which have deep roots in systemic bias. And these are made worse by a crisis of politics, in which science is questioned and democratic norms are disregarded. To heal, we need to understand why it is so difficult for our country to come together. These articles on saving our democracy explore the polarization and disinformation that are tearing us apart—and offer hope for a better America.. https://www.aft.org/ae/fall2020/levitsky_ziblatt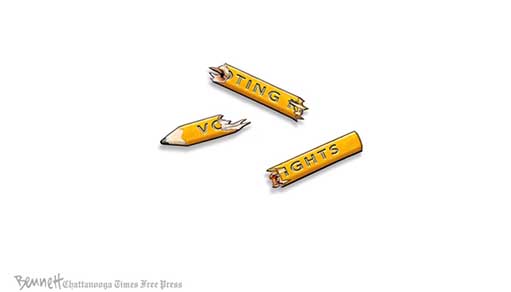 Michael Gerson: The GOP celebration of covid ignorance is an invitation to death
When the future judges our present, it will stand in appalled, slack-jawed amazement at the willingness of GOP leaders to endanger the lives of their constituents — not just the interests of their constituents, but their lungs and beating hearts — in pursuit of personal power and ideological fantasies.
We are seeing at least three varieties of GOP political necromania.
The first, practiced most vigorously by Florida Gov. Ron DeSantis, uses an ongoing pandemic as a stage for the display of ideological zeal employing the power of their office to prevent other social institutions from taking responsible, lifesaving steps in the midst of a pandemic. This is an effort by populists to prove that their MAGA commitments outweigh all common sense, public responsibility and basic humanity.
A second type of the Republican romance with death comes in the vilification of those most dedicated to preserving the lives of Americans. Public officials such as Sen. Rand Paul (R-Ky.) invent a conspiratorial backstory to the covid crisis and depict the most visible representatives of the United States' covid response as scheming, deceptive deep-state operatives. Any change in emphasis or strategy by scientists — an essential commitment of the scientific method — is viewed as rich opposition research.
A third category of Republican death wish is the practice of strategic ignorance. In a case such as Sen. Ron Johnson (R-Wis.) — America's most reliable source of unreliable information about covid-19 — such ignorance might not be feigned. He might well believe that gargling with mouthwash call kill the coronavirus, and that thousands of people are regularly dying from vaccine side effects, and that a pandemic that has taken more than 800,000 lives in the United States is "overhyped." https://www.washingtonpost.com/opinions/2022/01/13/gop-covid-ignorance-endangers-american-lives/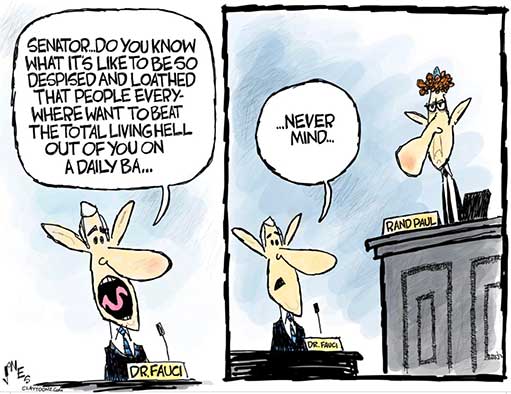 Maureen Dowd: Trump's Coup, Part Deux
In his speech in Statuary Hall, President Biden pierced the haze of his first year and called out Trump: "He lost." Without using his name, Biden charged Trump with a profound sin: turning Americans against their own democracy. "Those who stormed this Capitol and those who instigated and incited and those who called on them to do so held a dagger at the throat of America, at American democracy," he said.
Besides his dagger at the throat of democracy, Trump has his party in a chokehold. Republicans may have held back Trump from giving a news conference Thursday, because they know that Nov. 3 and Jan. 6 are dates that make them look awful, but they are still in his vile grip, as evidenced by their shameful flight from the Capitol. (And they didn't even know "Dear Theodosia" was coming.)
Trump's coup attempt is in its second stage. As NPR reported, the MAGA crowd is working hard in states like Georgia and Arizona, which defied Trump in 2020, to institutionalize Trump's big lie, with election-deniers running for offices that control the voting process. The Washington Post revealed that "at least 163 Republicans who have embraced Trump's false claims are running for statewide positions that would give them authority over the administration of elections" and "at least five candidates for the U.S. House were at the Capitol during the Jan. 6 riots."
https://www.nytimes.com/2022/01/08/opinion/cheney-jan-6.html
Jonathan Stevenson and Steven Simon: We Need to Think the Unthinkable About Our Country
A year after the Jan. 6 storming of the Capitol, the United States seems perhaps even more alarmingly fractious and divided. Regrettably, the right has sustained its support for Donald Trump and continued its assault on American democratic norms.
The next national election will almost inevitably be viciously (perhaps violently) contested. It is fair to say that the right-wing threat to the United States — and its apparent goal of laying the groundwork for a power grab, if necessary, in 2024 — is politically existential.
Yet many Americans seem to be whistling past the graveyard of American democracy. In particular, there seems to have been little effort so far at think tanks, professional military institutions and universities to build and contemplate the dire scenarios that have become increasingly plausible. And the worst-case scenario is this: The United States as we know it could come apart at the seams.
The worst case isn't necessarily the most likely, but there's a natural tendency to assign a vanishingly low probability to events that appear to pose insoluble problems and catastrophic outcomes and thus to dismiss them as fanciful.
A right-wing minority — including many elected politicians — is now practicing a form of brinkmanship by threatening to unilaterally destroy American democracy, daring what it hopes is a timid and somnolent majority to resist. But that majority has the benefit of warning ahead of 2024.
The overarching idea is, publicly and thoroughly, to explore just how bad things could get precisely to ensure that they never do and that America's abject political decay is averted.
https://www.nytimes.com/2022/01/13/opinion/january-6-civil-war.html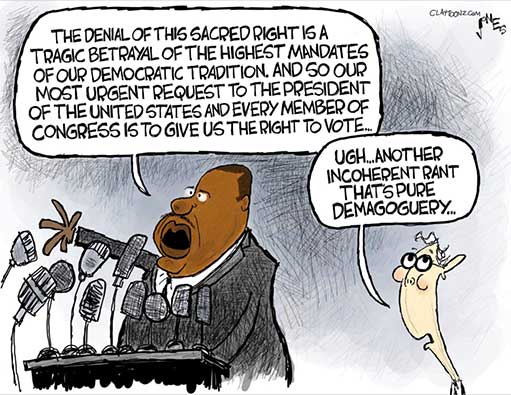 NY Times Editorial: 1 in 3 Americans now 'alarmed' by climate change. Why aren't our leaders?
New results from a long-running public opinion survey show that about 1 in 3 Americans is now "alarmed" by global warming. Is it any wonder, given the horrific onslaught of fires, floods, heat waves and other climate disasters we've experienced in the last year alone?
The share of the U.S. adult population alarmed by global warming nearly doubled over the last five years from 18% to an all-time high of 33%, with about half of that increase occurring between December 2020 and September 2021, researchers with Yale University and George Mason University reported Wednesday as part of a twice-a-year nationwide survey. About 59% of Americans are either "alarmed" or "concerned" about climate change and overall are becoming more engaged and supportive of policies to reduce planet-warming pollution.
The shift in public opinion is surely being driven by experience. A recent Washington Post analysis found that more than 40% of Americans live in a county that was hit by climate-related disasters in 2021 — extremes that will get worse as the greenhouse gas-fueled rise in temperatures continues.
But what should alarm us even more is how out of step our government remains with Americans' fast-evolving views on climate change, and how little state and federal leaders have done in the face of an escalating emergency. Instead of acting decisively to slash emissions, switch to renewable energy and phase out fossil fuel production, our government is still stuck in the mud, even as U.S. greenhouse gas emissions roar back after a pandemic-induced lull. https://www.latimes.com/opinion/story/2022-01-13/americans-more-worried-climate-change
Sidney Blumenthal: The insurrection is only the tip of the iceberg
The insurrection may also have been intended to provide a pretext for precipitating clashes with anti-Trump demonstrators, following the example of the street violence and multiple knife stabbings perpetrated in Washington by the neo-Nazi Proud Boys chanting "1776" on 12 December, and which would then be an excuse for invoking the Insurrection Act. In the criminal contempt citation of Meadows for his refusal to testify before the select committee investigating the US Capitol attack, the committee noted that Meadows sent an email the day before the assault to an unnamed individual "that the national guard would be present to 'protect pro-Trump people' and that many more would be available on standby". From whom would "pro-Trump people" be protected?
In the midst of the attack, the House minority leader, Kevin McCarthy, managed to reach a preoccupied Trump, who was riveted viewing the unfolding chaos on television at the White House, closely monitoring whether the coup would finally succeed, taking phone calls from Jim Jordan and a host of collaborators, and fending off urgent pleas to call it off from his daughter Ivanka. Trump's first reply to McCarthy was to repeat "the falsehood that it was antifa that had breached the Capitol", according to the Republican
The 6 January attack was a spawn of the coup; it was its effect, not its alpha and omega. Only those incited to sacrifice themselves in the Pickett's Charge of the insurrection have paid the price, but none of those who conceived the coup a year earlier have been brought before a federal grand jury, charged, or apparently are even being investigated by the Department of Justice.
It would be as if only the Watergate burglars were prosecuted and that was the end of the affair. All of the higher-ups involved in the scandal – chief of staff Bob Haldeman, his deputy John Ehrlichman, attorney general John Mitchell, the entire cast of complicit characters and President Richard Nixon – would have remained untouched in power.
The threat of intimidation, coercion and intimidation hangs over American politics. The coup may have failed, but it rolls on. -- https://www.theguardian.com/commentisfree/2022/jan/06/capitol-attack-coup-attempt-trump-far-right-republicans
Charlie Sykes: Trump Previews the GOP's Future
On Saturday night in Arizona, Republicans got a glimpse of the future that Donald Trump has in store for them, and it looks very much like the past, but even more deplorable. And, frankly duller.
You could see the GOP future in the whole show: a rally that featured all the misfit toys embraced by the Once and Future God King. The My Pillow Guy, Mike Lindell, was there, and treated like a rock star rather than a mental patient off his meds. Indeed, Trump's rally featured the whole pantheon of deplorability; Rep. Andy Biggs and Rep. Paul Gosar were there, along with the state's batty party chair, Kelli Ward.
Michael Brendan Dougherty notes that Trump no longer offers his voters anything like a substantive agenda. When he first ran, Trump "promised to do things that voters wanted, to make the country great, proud, and prosperous again."
This time around, writes Dougherty, "he is essentially asking Republicans to do something for him, to restore his tarnished honor and make credible his belief in his own victory."
All that is left of Trumpism are Trump's grievances and aspirations.
This is not an agenda that will win him high office, help his party, or accomplish anything for his countrymen.
Worse for Trump: at some point the act becomes less edgy than boring. https://morningshots.thebulwark.com/p/trump-previews-the-gops-future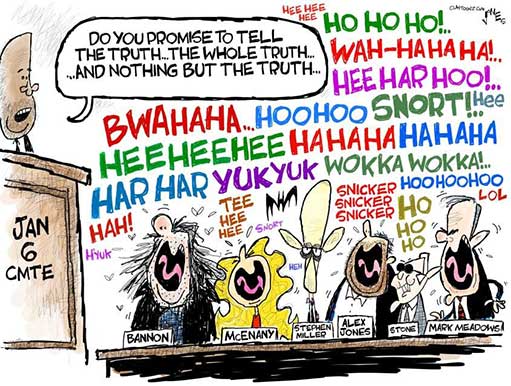 Walter Shapiro: It's Foolish to Predict the Midterms Until We Know Covid's Future
During the early days of the pandemic, humorist Fran Lebowitz made a shrewd point about Covid. "The upside of being old ... is that almost everything that happens reminds you of something else," she said in an interview. "This is the first big thing that has happened in my adult life that didn't remind me of something else."
Now during this winter of our discontent—when it feels as if our lives will be governed for decades by new variants with Greek letters—Lebowitz's observation has become truer than ever. The pandemic has universally shaped the national mood and dominated our collective psyches like nothing since World War II.
But apocalyptic fears that the full-blown pandemic will be eternal are, at their core, irrational.
As Fran Lebowitz pointed out, no one living has been down this road before, unless you count the centenarians who were just squalling babies during the 1919 influenza epidemic. There are no guarantees about anything in a post-Covid America, other than that the blessed moment should arrive eventually. The height of folly would be to fail to appreciate that sooner or later there will be a collective burst of euphoria unlike anything America has experienced since V-J Day. https://newrepublic.com/article/165042/covid-pandemic-midterm-elections-joe-biden-democrats
Matt Lewis: Trump's Arizona Speech Proves His Shock Comic Act Has Jumped the Shark
The Arizona rally may have been the unofficial kickoff of his 2024 campaign. But this time around, Trump will have to work harder to break through—and not just because the media is less likely to give him ample air time free of charge.
Call it the Andrew Dice Clay conundrum: If your entire schtick is based on shock value, eventually the audience grows inured, and the lack of substance becomes embarrassingly plain.
Trump made assertions in Arizona Saturday night that might once have garnered buzz (on Sunday morning, at least). But they're getting little play. In its writeup of the rally, Politico said Trump "issued a blistering response to Democrats" and that he "opened his speech by falsely claiming 'proof' that the 2020 election was 'rigged.'" A more telling fact is that this "blistering response" was not deemed worthy enough to be the site's lead story. What might have spawned outrage and wagging tongues a few years prior now elicits a collective chorus of yawns.
We'd be fools to count Trump out entirely. If anyone in American lore is capable of a third act—it's him. But he needs new material, and fast, because if his Arizona rally shows anything, it's that the old routine just doesn't land anymore. https://www.thedailybeast.com/trumps-arizona-speech-proves-his-shock-comic-act-has-jumped-the-shark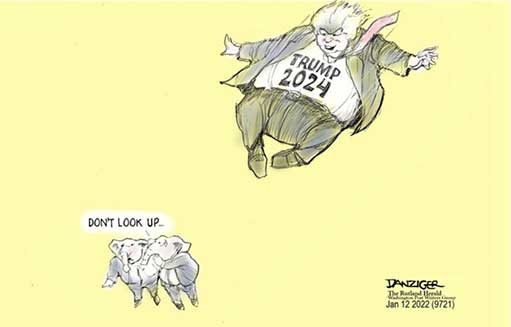 Jack Shafer: Why You Can Count On a Biden Bounce
We've already seen the weeks and weeks of coverage marking the end of his presidency, capstoned by his twin failures to navigate his multitrillion-dollar Build Back Better bill past Sens. Joe Manchin (D-W.Va.) and Kyrsten Sinema (D-Ariz.) and get his voting bill passed.
Here's another way to see it: He may be cratering at just the right time.
This isn't to suggest that Biden is about to become so popular that they're going to break ground for his presidential memorial next week. But there's most of a year before the 2022 elections, and nearly three years before Americans vote for president again — and two big things have sorted themselves out over the last couple of weeks that could play to the president's political advantage over the long haul.
As presidential scholars tell us, a rising economy lifts all incumbents' boats. It isn't exactly morning in America yet, but things are looking up. We just may be turning the corner on Covid. Despite the burst of inflation and supply chain hassles, the economic signs look great. Unemployment is down. Wages are up. Signing bonuses are common. People are quitting their bad jobs for better ones. Consumers are buying lots of stuff. If the current economic trends continue into the summer, Democratic candidates on the hustings will have a positive story to tell voters. Had the Build Back Better behemoth passed, the Republicans would have campaigned against big government and more taxes. Instead, with no new taxes in the immediate offing, Biden Democrats have denied Republicans their primary issue, leaving Biden and his followers yet another popularity-enhancing chapter to read to constituents.
How much of Biden's low popularity is a function of the heckling from other Democrats can't be easily teased out. At some point between now and the midterms, it's likely that progressive Democrats will stop with their hardcore hating on Biden and rally around him. After all, what choice do they have? If Republicans make their unifying midterm message all about hating Biden, Democrats will have no option other than to extend to him the sort of reverence they bestow on their favorite plush toy. Appearing on Meet the Press Sunday, former Bill Clinton strategist James Carville unequivocally endorsed the policy of love-bombing Biden. He advised his fellow Democrats to "quit being the whiny party" and start taking credit for Biden's — and the Democratic Congress' — accomplishments on child poverty, the economy, and the $1 trillion rail, roads, bridges, utilities and broadband infrastructure bill that passed. https://www.politico.com/news/magazine/2022/01/18/biden-poll-comeback-527339