October 15, 2020
ON THE RECORD. . .
"I'm back because I'm a perfect physical specimen, and I'm extremely young. And so I am lucky that way." — Trump, about having Covid-19 in a phone call with Fox Business.

In just over 24 hours on Twitter, the infected president blocked a stimulus bill, and demanded one. Said the military could deliver free miracle drugs to all, and should leave Afghanistan by Christmas. Said low-income housing would ruin suburbs, and blamed a Black man for it. — Steve Inskeep

"So I had to constantly fight off all of this Scum, achieve more than any other President in First Term, and then they talk Chaos. They created crimes against me and this administration!" -- Trump tweet complaining about the FBI's Trump probe.

"This monster who was on stage with Mike Pence last night." — Trump referred to Sen. Kamala Harris in a Fox Business.

"If you fuck around with us, if you do something bad to us, we are gonna do things to you that have never been done before." — Donald "Corleone" Trump, referring to Iran on the Rush Limbaugh Show.

Just so it's clear. @realDonaldTrump today called for @BarackObama and @JoeBiden to be indicted and prosecuted. Have our standards fallen so far that this kind of antidemocratic authoritarian behavior passes without criticism? Is this now normal? — Jeffrey Toobin on Twitter

"If on Election Day, people are angry and they've given up hope and they're depressed, which is what Pelosi and Schumer want them to be, I think it could be a terrible election. I think we could lose the White House and both houses of Congress, that it could be a bloodbath of Watergate proportions." — Sen. Ted Cruz (R-TX).

All Russia Hoax Scandal information was Declassified by me long ago. Unfortunately for our Country, people have acted very slowly, especially since it is perhaps the biggest political crime in the history of our Country. Act!!! — Trump on twitter

"If you f**k around with us, if you do something bad to us, we are gonna do things to you that have never been done before." — Don "Corleone" Trump warning Iran on the Rush Limbaugh Show.

Just so it's clear. @realDonaldTrump today called for @BarackObama and @JoeBiden to be indicted and prosecuted. Have our standards fallen so far that this kind of antidemocratic authoritarian behavior passes without criticism? Is this now normal? — Jeffrey Toobin

"In my nearly five decades of public service, I have never publicly endorsed any political candidate. The comments attributed to me without my permission in the GOP campaign ad were taken out of context from a broad statement I made months ago about the efforts of federal public health officials." — Dr. Anthony Fauci who was featured in a Trump campaign advertisement touting Donald Trump's handling of the coronavirus pandemic.

"I think there's only one story in the country right now. We are seeing something we have never seen before in American history: A massive voter suppression effort, an effort to steal the election even beforehand, before our eyes." — Tom Friedman, on CNN.

When he left the hospital, Trump wanted to appear frail at first when people saw him, according to people with knowledge of the conversations. But underneath his button-down dress shirt, he would wear a Superman T-shirt, which he would reveal as a symbol of strength when he ripped open the top layer.

"Nothing reeks of desperation quite like the Republican Party organization these days — willing to lie, cheat, and threaten our democracy all for the sake of gaining power. These unofficial drop boxes aren't just misleading, they are illegal." — Gov. Gavin Newsom on the California Republican Party's private ballot collection containers marked as "unofficial drop boxes."

------------------------------------------

How to drugs | Sarah Cooper: https://www.youtube.com/watch?v=W9R_U3pgxMI

Scowls, Smirks, Eye Rolls | The Daily Social Distancing Show: https://youtu.be/sq_3zKddBaM
---
IN THIS ISSUE
FYI
OPINION
1. Trump Funnels Record Subsidies to Farmers Ahead of Election Day
For the American farmers President Trump counts on for support, the government money is flowing faster than ever.
Federal payments to farmers are projected to hit a record $46 billion this year as the White House funnels money to Mr. Trump's rural base in the South and Midwest ahead of Election Day.
The gush of funds has accelerated in recent weeks as the president looks to help his core supporters who have been hit hard by the double whammy of his combative trade practices and the coronavirus pandemic. According to the American Farm Bureau, debt in the farm sector is projected to increase by 4 percent to a record $434 billion this year and farm bankruptcies have continued to rise across the country.
Farmers are not the only constituency benefiting from the president's largess: He has promised $200 prescription drug cards to millions of seniors, approved $13 billion in aid to Puerto Rico, which could help his prospects in Florida, and he directed his Agriculture Department include letters signed by him in millions of food aid boxes that are being distributed to the poor. https://www.nytimes.com/2020/10/12/us/politics/trump-farmers-subsidies.html " NOTE: Trump's plan to send 33 million Medicare beneficiaries a card that can be used to help pay for as much as $200 in prescription drug costs won't be completed until after the election," the Wall Street Journal reports.
2. As Trump's fortunes sink, Republicans start to distance themselves in bid to save Senate
As President Trump skids deeper into political peril, anxious Republicans have started to try to distance themselves from his fate, appealing to voters to elect them as a check on a Joe Biden administration.
"I think Trump might cause us a tidal wave," said one top Republican strategist and Trump supporter, who asked not to be named, discussing internal party matters. "He is ankle weights in a pool on Senate candidates." https://www.latimes.com/politics/story/2020-10-09/republican-candidates-begin-distancing-themselves-from-trump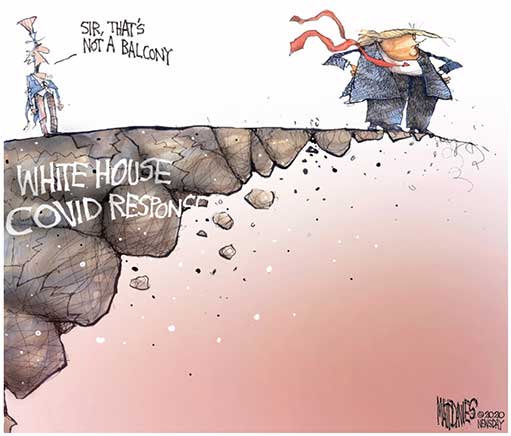 3. How Team Trump used Fox News as a laundromat for unverified Russian information about top Democrats
Trump, with the help of outlets like Fox News, has been pushing a dishonest narrative in touting intelligence documents that his administration declassified last month on the eve of the first presidential debate. They claimed the information was a supposed smoking gun proving that Hillary Clinton and the Obama administration sought to frame Trump with a Russian collusion scandal.
But when examined closely the documents indicate no such thing. In fact, by the Trump administration's own admission, they are based on unverified Russian intelligence that could be totally bogus. Which is to say that the President and Fox News personalities such as Sean Hannity and Tucker Carlson are hyping and disseminating information that originates from a foreign adversary to bludgeon top Democratic officials.
Trump and his allies have even gone so far as to demand or suggest that President Barack Obama and former Vice President Joe Biden should be charged with actual crimes -- again, resting much of their case on unverified Russian chatter and other cherry-picked material that the Central Intelligence Agency and National Security Agency warned against releasing, as CNN previously reported.

It's the latest episode in a long-running attempt by Trump and right-wing media to portray the Obama administration as nefarious actors who sought to launch a coup of an incoming Republican administration. This "deep state" conspiracy has been thoroughly discredited. https://www.cnn.com/2020/10/11/politics/fox-news-ratcliffe-russia-intelligence/index.html
4. Trump's children brought Secret Service money to the family business with their visits
Eric Trump took his Secret Service agents to Trump golf courses in Scotland, as he led transatlantic tours for paying customers. Donald Trump Jr. took his protectors to the Trump hotel in Vancouver, stopping over on hunting trips to Canada.
And Ivanka Trump took her Secret Service detail to the Trump golf club in Bedminster, N.J., again and again — even after she asked other Americans to "please, please" stay home during the coronavirus pandemic.
On trips like these, Secret Service agents were there to protect Trump's children. But, for the Trump family business, their visits also brought a hidden side benefit.
Money.
That's because when Trump's adult children visited Trump properties, Trump's company charged the Secret Service for agents to come along. The president's company billed the U.S. government hundreds, or thousands, of dollars for rooms agents used on each trip, as the agency sometimes booked multiple rooms or a multi-room rental cottage on the property
In this way, Trump's adult children and their families have caused the U.S. government to spend at least $238,000 at Trump properties so far. https://www.washingtonpost.com/politics/secret-service-spending-trump-kids/2020/10/12/ffc1c330-ff31-11ea-9ceb-061d646d9c67_story.html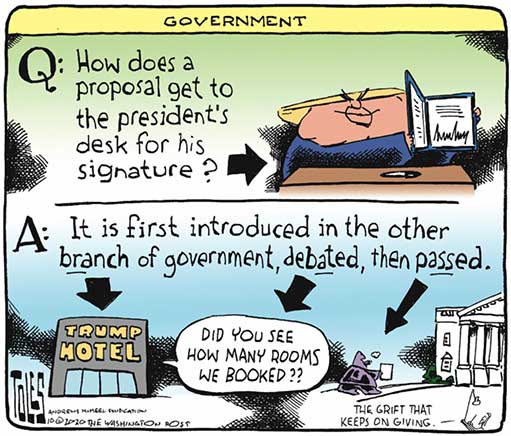 5. Riled Up: Misinformation Stokes Calls for Violence on Election Day
In a video posted to Facebook on Sept. 14, Dan Bongino, a popular right-wing commentator and radio host, declared that Democrats were planning a coup against President Trump on Election Day.
His video, which has been viewed 2.9 million times, provoked strong reactions. One commenter wrote that people should be prepared for when Democrats "cross the line" so they could "show them what true freedom is." Another posted a meme of a Rottweiler about to pounce, with the caption, "Veterans be like … Say when Americans." https://www.nytimes.com/2020/10/13/technology/viral-misinformation-violence-election.html
6. Trump urges California GOP to 'fight on' with unofficial ballot boxes despite prosecution threat
Donald Trump took to Twitter on Tuesday to urge the California Republican Party to "fight on" in its move to collect ballots in unofficial "drop boxes'' around the state, in defiance of legal threats from state officials.
Trump's comments come a day after top California officials sent the state party a cease-and-desist notice, ordering them to remove the unofficial ballot drop boxes. The appearance of the boxes prompted Gov. Gavin Newsom to accuse California Republicans of being "willing to lie, cheat and threaten our democracy all for the sake of gaining power." https://www.politico.com/states/california/story/2020/10/14/trump-urges-california-gop-to-fight-on-with-unofficial-ballot-boxes-despite-prosecution-threat-1324290
7. Trump Lashes Out at His Cabinet With Calls to Indict Political Rivals
Trump berated his own cabinet officers on Thursday for not prosecuting or implicating his political enemies, declaring that Attorney General Barr would go down in history "as a very sad, sad situation" if he did not indict Democrats like Mr. Biden and former President Barack Obama. He complained that Secretary of State Mike Pompeo had not released Hillary Clinton's emails, saying, "I'm not happy about him for that reason." And he targeted Christopher A. Wray, the F.B.I. director. "He's been disappointing," Mr. Trump said.
"Unless Bill Barr indicts these people for crimes, the greatest political crime in the history of our country, then we're going to get little satisfaction unless I win and we'll just have to go, because I won't forget it," Mr. Trump said, referring to the investigation into his 2016 campaign ties with Russia. "But these people should be indicted. This was the greatest political crime in the history of our country, and that includes Obama and it includes Biden." — Trump in interviews with Fox Business Network https://www.nytimes.com/2020/10/08/us/politics/trump-calls-to-indict-political-rivals.html
8. Trump's antibody treatment was tested using cells originally derived from an abortion
This week, President Donald Trump extolled the cutting-edge coronavirus treatments he received as "miracles coming down from God." If that's true, then God employs cell lines derived from human fetal tissue.
The emergency antibody that Trump received last week was developed with the use of a cell line originally derived from abortion tissue, according to Regeneron Pharmaceuticals, the company that developed the experimental drug. https://www.technologyreview.com/2020/10/07/1009664/trumps-antibody-treatment-was-tested-using-cells-from-an-abortion/
9. Trump intensifies focus on Harris in final weeks of campaign
Grasping for a comeback, Donald Trump and his Republican allies are intensifying their focus not on Democratic nominee Joe Biden, but on his running mate, Sen. Kamala Harris — arguing without evidence that it's Harris, the first Black woman on a major party ticket, who would really be in charge if Democrats win the White House.
The effort is laced with sexist and racist undertones, and one that is aimed at winning back Republicans and independents who are comfortable with Biden's more moderate record, but may associate Harris with Democrats' left flank, despite her own more centrist positions on some major issues. https://apnews.com/article/election-2020-virus-outbreak-race-and-ethnicity-joe-biden-donald-trump-699355ac17282f49187ed00eb0d02404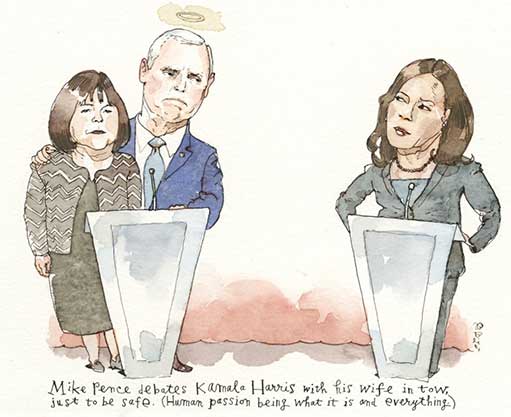 10. COVID cases since June
Animated bar chart at: https://twitter.com/ReallyAmerican1/status/1315773524800307203
11. Trump got a $21 million tax break for saving the forest outside his N.Y. mansion. Now the deal is under investigation.
Five years ago, Donald Trump promised to preserve more than 150 acres of rolling woodlands in an exclusive swath of New York suburbia prized for its luxury homes and rural tranquility.
In exchange for setting aside this land on his estate known as Seven Springs, Trump received a tax break of $21.1 million, according to court documents.
The size of Trump's tax windfall was set by a 2016 appraisal that valued Seven Springs at $56.5 million — more than double the value assessed by the three Westchester County towns that each contained a piece of the property.
The valuation has now become a focal point of what could be one of the most consequential investigations facing President Trump as he heads into the election. https://www.washingtonpost.com/politics/trump-got-a-21-million-tax-break-for-saving-the-forest-outside-his-ny-mansion-now-the-deal-is-under-investigation/2020/10/07/de84c1ba-ff6b-11ea-830c-a160b331ca62_story.html
12. Trump's Struggles Ripple Across the Sun Belt, Endangering G.O.P. Stronghold
New polls show Mr. Trump's support is collapsing nationally, as he alienates women, seniors and suburbanites. He is trailing not just in must-win battlegrounds but according to private G.O.P. surveys, he is repelling independents to the point where Mr. Biden has drawn closer in solidly red states, including Montana, Kansas and Missouri, people briefed on the data said.
Nowhere has Mr. Trump harmed himself and his party more than across the Sun Belt, where the electoral coalition that secured a generation of Republican dominance is in danger of coming apart.
"There are limits to what people can take with the irresponsibility, the untruthfulness, just the whole persona," said Jeff Flake, the former Republican senator from Arizona. Mr. Flake is crossing party lines to support Mr. Biden, who made his first visit of the general election here Thursday. https://www.nytimes.com/2020/10/09/us/politics/trump-biden-sun-belt.html
13. Barr tells Republicans Durham report won't be ready by election
Attorney General Bill Barr has begun telling top Republicans that the Justice Department's sweeping review into the origins of the Russia investigation will not be released before the election, a senior White House official and a congressional aide briefed on the conversations tell Axios.
Republicans had long hoped the report, led by U.S. Attorney John Durham, would be a bombshell containing revelations about what they allege were serious abuses by the Obama administration and intelligence community probing for connections between President Trump and Russia.
 Trump's allies have long asserted that Durham's investigation will result in the arrests of top Obama administration officials. So far, Durham's probe has resulted in one criminal case: a former FBI lawyer who pleaded guilty to altering an email used to help obtain a surveillance warrant on former Trump campaign adviser Carter Page. https://www.axios.com/barr-durham-report-election-3c02ec6a-7613-4083-b35c-4844de6da16b.html
14. Federal judge in Pennsylvania dismisses Trump campaign lawsuit on voting, calling fraud claims 'speculative'
U.S. District Judge J. Nicholas Ranjan has dismissed a lawsuit filed by the Trump campaign in Pennsylvania seeking to block the use of drop boxes as receptacles for mail ballots, require ballot signatures to match voter registration records and allow nonresident poll watchers at polling places, ruling that the president's claims of potential fraud were "speculative." https://www.washingtonpost.com/politics/pennsylvania-trump-lawsuit-voting/2020/10/10/44c16ba6-0b2c-11eb-859b-f9c27abe638d_story.html
15. White House Blocked C.D.C. From Requiring Masks on Public Transportation
The Centers for Disease Control and Prevention drafted a sweeping order last month requiring all passengers and employees to wear masks on all forms of public and commercial transportation in the United States, but it was blocked by the White House, according to two federal health officials. https://www.nytimes.com/2020/10/09/health/coronavirus-covid-masks-cdc.html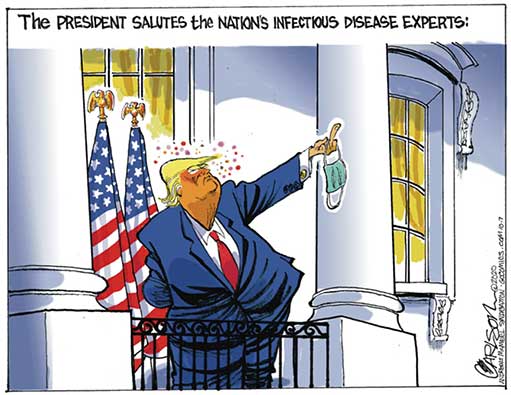 16. How Amy Coney Barrett played a role in Bush v. Gore — and helped the Republican Party defend mail ballots
Amy Coney Barrett was just three years out of law school, a 28-year-old associate at a boutique Washington law firm, when she was dispatched to Florida to help George W. Bush's legal team rescue thousands of Republican absentee ballots.
Barrett's work on the case serves as a reminder of how aggressively the Republican Party has sought to harness mail voting for years, in contrast to President Trump's relentless attacks on the practice. https://www.washingtonpost.com/politics/amy-coney-barrett-bush-gore/2020/10/10/594641b8-09e3-11eb-991c-be6ead8c4018_story.html
17. DOJ says Trump's tweets "declassifying" Russia documents are not orders
Attorneys from the Department of Justice argued in court on Tuesday that President Trump's tweets authorizing the "total declassification of any & all documents" related to the Russia investigation and Hillary Clinton's emails should not be considered real declassification orders. https://www.axios.com/trump-tweets-declassification-russia-doj-1b1e48fa-8564-4936-adde-45b1e1ed0bfd.html
18. Trump's COVID Task Force Is Now Openly Rebelling Against Him
After months of trying to avoid direct run-ins with the president, task force officials are no longer tiptoeing around his demands. Anthony Fauci, the director of the National Institute of Health and Infectious Disease, has for weeks spoken out against Scott Atlas—a neuroradiologist who has no experience dealing with infectious diseases but has become Trump's coronavirus guru by feeding his desire for positive news—for "cherry-picking data." More recently, he's railed against the Trump campaign for "harassing" him in their ads."
"I think aside from Fauci, they are still not speaking out or speaking the truth to the American people," said Leslie Datch, who ran the Ebola response at the Department of Health and Human Services during the Obama administration. "I think Trump bringing COVID-19 into the White House, the intensifying epidemic around the country, and Trump's doubling down on his craziness after his illness, has shown them that he will never do the right thing. Any glimmer of hope or sanity has been removed. If you have any fidelity to the truth, to the Hippocratic oath, or to the principles you tell yourself and your family are important... it's become impossible to remain silent and be complicit." https://www.thedailybeast.com/fauci-birx-and-others-on-trumps-covid-task-force-are-turning-on-him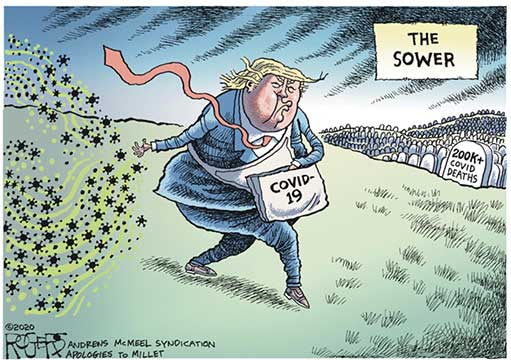 19. Videos show closed-door sessions of leading conservative activists: 'Be not afraid of the accusations that you're a voter suppressor
As the presidential campaign entered its final stages, a fresh-faced Republican activist named Charlie Kirk stepped into the spotlight at the Council for National Policy's closed-door gathering of leading conservatives and shared his delight about an impact of the coronavirus pandemic: the disruption of America's universities. So many campuses had closed, he said, that up to a half-million left-leaning students probably would not vote.
"So, please keep the campuses closed," Kirk, 26, said in August as the audience cheered, according to video of the event obtained by The Washington Post. "Like, it's a great thing."
Expressing concern about voter fraud and disenfranchisement, Fitton called on the audience to find a way to prevent mail-in ballots from being sent to voters. "We need to stop those ballots from going out, and I want the lawyers here to tell us what to do," said Fitton, whose organization is a tax-exempt charity. "But this is a crisis that we're not prepared for. I mean, our side is not prepared for." https://www.washingtonpost.com/investigations/council-national-policy-video/2020/10/14/367f24c2-f793-11ea-a510-f57d8ce76e11_story.html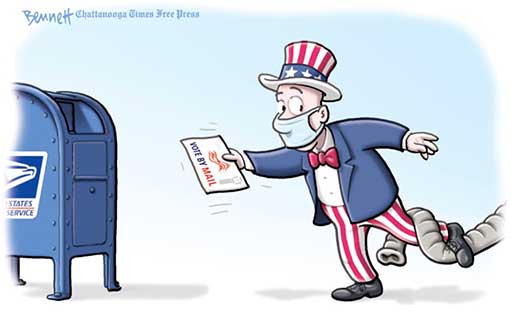 20. The DAILY GRILL
Republicans must state loudly and clearly that WE are going to provide much better Healthcare at a much lower cost. Get the word out! Will always protect pre-existing conditions!!! -- Trump ... "We will have Healthcare which is FAR BETTER than ObamaCare, at a FAR LOWER COST — BIG PREMIUM REDUCTION. PEOPLE WITH PRE EXISTING CONDITIONS WILL BE PROTECTED AT AN EVEN HIGHER LEVEL THAN NOW. HIGHLY UNPOPULAR AND UNFAIR INDIVIDUAL MANDATE ALREADY TERMINATED. YOU'RE WELCOME!" -- Trump

VERSUS

All Trump is offering for his part are hogwash and snake oil. That's not healthcare. It's fraud. — David Lazarus in LA Times

 

● "If we want to talk about hatred, then Gov. Whitmer, go look in the mirror -- the fact that she wakes up everyday with such hatred in her heart for President Trump." — Trump campaign official Jason Miller on Fox News attacking Gretchen Whitmer, the victim of a kidnapping plot.

● Governor Whitmer of Michigan has done a terrible job. She locked down her state for everyone, except her husband's boating activities. The Federal Government provided tremendous help to the Great People of Michigan. — Donald Trump doing the same.

VERSUS

"You know, the fact that after a plot to kidnap and to kill me, this is what they come out with. They start attacking me, as opposed to what good, decent people would do is to check in and say, 'Are you OK?,' which is what Joe Biden did. I think that tells you everything that's at stake in this election, It tells you everything you need to know about the character of the two people on this ballot that we have to choose from in a few weeks." — Governor Whitmer to CNN's Erin Burnett.

 

"Now what happens is you get better. That's what happens, you get better." — Trump to Fox Business on those who get COVID-19.

VERSUS

As a blanket assurance, that is obviously false. Most people get better. But more than 1 million people worldwide have died from the disease, more than 212,000 of them in the U.S. The disease also may leave many people with long-term harm that is not fully understood.-- AP Fact Check

 

"He suspended all travel from China, the second-largest economy in the world. Joe Biden opposed that decision, he said it was xenophobic and hysterical." — VP Pence

VERSUS

Trump's order did not suspend "all travel from China." He restricted it, and Biden never branded the decision "xenophobic." Dozens of countries took similar steps to control travel from hot spots before or around the same time the U.S. did. — AP Fact Check.

 

On the conclusions of special counsel Robert Mueller's Russia investigation: "It was found that there was no obstruction, no collusion. Case closed."— VP Pence

VERSUS

That's a mischaracterization of Mueller's nearly 450-page report and its core findings. Mueller also didn't quite find "no collusion." His investigation identified multiple contacts between Russians and Trump associates and outlined sweeping Russian interference that he said the Trump campaign welcomed and expected to benefit from. Mueller said that he did not have enough to establish a criminal conspiracy between the Trump campaign and Russia; collusion is not a precise legal term. — AP Fact Check.

 

"A total and complete sign off from White House Doctors yesterday. That means I can't get it (immune), and can't give it. Very nice to know!!!" -- Trump tweet

VERSUS

This Tweet violated the Twitter Rules about spreading misleading and potentially harmful information related to COVID-19. -- Twitter

 

"That means that I interpret the Constitution as a law... I understand it to have the meaning that it had at the time people ratified it. That meaning doesn't change over time and it's not up to me to update it or infuse my policy views into it." — Amy Coney Barrett on originalism

VERSUS

At the time the Constitution was ratified, women couldn't vote, much less be judges. — Hillary Clinton
21. From MEDIA MATTERS (They watch Fox News so you don't have to)
Fox host Brian Kilmeade complains that Gov. Gretchen Whitmer wasn't "grateful" enough to Trump for the FBI stopping a kidnapping plot. https://www.mediamatters.org/brian-kilmeade/fox-host-brian-kilmeade-complains-gov-gretchen-whitmer-wasnt-grateful-enough-trump
Right-wing media wasted no time launching sexist and racist attacks against Kamala Harris during debate, calling the vice presidential candidate "vile," "bitchy," "smug," and a "clown." https://www.mediamatters.org/kamala-harris/right-wing-media-waste-no-time-launching-sexist-and-racist-attacks-against-kamala
John Ratcliffe, President Donald Trump's handpicked director of national intelligence, is selectively declassifying documents related to Russian interference in the 2016 election. His politically motivated disinformation campaign puts bolstering the president's faltering reelection chances above U.S. national security. And he has found eager partners at Fox News. The network's hosts are lapping up the story and baselessly claiming that it vindicates their conspiracy theories that the federal investigation into Russia's actions was an anti-Trump witch hunt. https://www.mediamatters.org/fox-news/john-ratcliffe-back-his-bullshit-and-fox-news-loves-it
Fox News medical contributor Dr. Marc Siegel has been a constant presence on Fox's coronavirus coverage since the beginning of the crisis. During these many, many appearances -- 318 since January 20 -- Siegel regularly pushes coronavirus misinformation, downplays the severity of the crisis, and discards science in favor of right-wing talking points. https://www.mediamatters.org/coronavirus-covid-19/persistent-anti-science-propaganda-foxs-medical-correspondent-marc-siegel
GREG JARRETT (GUEST):" Well that's a great point, Sean. Is Joe Biden to blame for the widespread violence by Antifa and BLM? Because he stoked racial unrest with his own divisive rhetoric. Not to mention the fact that he spent months refusing to condemn that violence. Did he make it worse? I mean, that's a lot more plausible than blaming President Trump for a plot in Michigan by people he doesn't even know. But that's what Whitmer and Pelosi and Joe Biden did. The truth is that Trump has criticized and denounced what Governor Whitmer did with her unlawful, and discriminatory, and unconstitutional abuse of power. And, it turns out, the president was 100 percent correct." https://www.mediamatters.org/fox-news/fox-news-legal-analyst-joe-biden-stoked-racial-unrest-his-own-divisive-rhetoric
SEAN HANNITY (HOST): "First, we do start with a simple fact. The level of transparency in the Trump administration is unmatched. This president communicates with you, we, the American people often, he does it without a filter, he answers a million questions across multiple platforms, he does it each and every day." https://www.mediamatters.org/fox-news/sean-hannity-level-transparency-trump-administration-unmatched
1. Karen Tumulty, Kate Woodsome and Sergio Peçanha: How sexist, racist attacks on Kamala Harris have spread online — a case study
Former vice president Joe Biden's history-making pick of a woman of color to share the Democratic ticket has been a popular decision. A Post-ABC News poll taken in the days after his selection of his former rival Sen. Kamala D. Harris (D-Calif.) found that a solid 54 percent of Americans approved, while only 29 percent had a negative opinion.
But in the fetid corners of the Internet, a different set of plotlines took hold. A racist trope questioned whether Harris, a daughter of immigrants who was born in the United States, is constitutionally eligible to be vice president. Another suggested her heritage, which is Jamaican and Indian, disqualifies her from claiming she is Black.
One pernicious line of attack on Harris is as old as misogyny itself. It claims that a woman who has served as San Francisco district attorney, California attorney general and U.S. senator slept her way into those positions.
In the first week after Harris was named to the ticket, the sexualized hashtag #heelsupharris appeared 35,479 times in Twitter posts, according to an analysis by the media intelligence platform Zignal Labs. It also found that, immediately following the running-mate announcement, false claims about Harris were being shared at least 3,000 times an hour on Twitter.
Raw numbers, however, do not get to the roots of these lies. So we have looked into one example. In this case, what started as an offensive post on one man's personal Facebook page was seized upon and expanded by malicious actors, then blasted across the Internet. Ultimately, it would be seen more than 630,000 times on Twitter alone, adding fuel to sexist attacks being made on Harris by leading right-wing figures and even the president of the United States.
All of this, of course, comes too late. What one man wrote on Facebook, casually and carelessly, lives on and continues to spread. His story is just a small part of the picture, but one that is being repeated countlessly, feeding a climate of toxicity that confronts Harris and every other woman who dares to rise. https://www.washingtonpost.com/opinions/2020/10/07/kamala-harris-sexist-racist-attacks-spread-online/
2. Governor Gretchen Whitmer: I will hold the president accountable for endangering and dividing America
When I addressed the people of Michigan on Thursday to comment on the unprecedented terrorism, conspiracy and weapons charges against 13 men, some of whom were preparing to kidnap and possibly kill me, I said, "Hatred, bigotry and violence have no place in the great state of Michigan." I meant it. But just moments later, President Trump's campaign adviser, Jason Miller, appeared on national television accusing me of fostering hatred.
I'm not going to waste my time arguing with the president. But I will always hold him accountable. Because when our leaders speak, their words carry weight.
When our leaders encourage domestic terrorists, they legitimize their actions. When they stoke and contribute to hate speech, they are complicit. And when a sitting president stands on a national stage refusing to condemn white supremacists and hate groups, as President Trump did when he told the Proud Boys to "stand back and stand by" during the first presidential debate, he is complicit. Hate groups heard the president's words not as a rebuke, but as a rallying cry. As a call to action. https://www.washingtonpost.com/opinions/2020/10/09/gretchen-whitmer-hold-trump-accountable/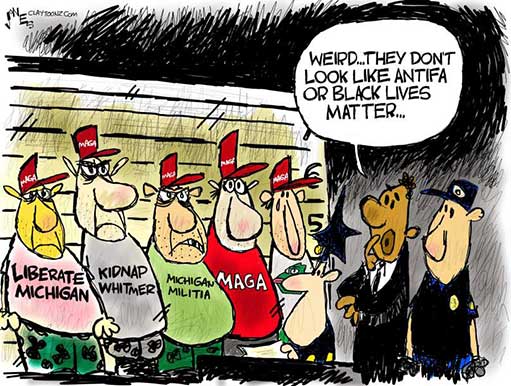 3. Nicholas Confessore, Karen Yourish, Steve Eder, Ben Protess, Maggie Haberman, Grace Ashford, Michael LaForgia, Kenneth P. Vogel, Michael Rothfeld and Larry Buchanan: The Swamp That Trump Built
Mr. Trump did not merely fail to end Washington's insider culture of lobbying and favor-seeking.He reinvented it, turning his own hotels and resorts into the Beltway's new back rooms, where public and private business mix and special interests reign.
As president-elect, he had pledged to step back from the Trump Organization and recuse himself from his private company's operation. As president, he built a system of direct presidential influence-peddling unrivaled in modern American politics.
Federal tax-return data for Mr. Trump and his business empire, which was disclosed by The New York Times last month, showed that even as he leveraged his image as a successful businessman to win the presidency, large swaths of his real estate holdings were under financial stress, racking up losses over the preceding decades.
But once Mr. Trump was in the White House, his family business discovered a lucrative new revenue stream: people who wanted something from the president. An investigation by The Times found over 200 companies, special-interest groups and foreign governments that patronized Mr. Trump's properties while reaping benefits from him and his administration. Nearly a quarter of those patrons have not been previously reported. https://www.nytimes.com/interactive/2020/10/10/us/trump-properties-swamp.html
4. Armando Iannucci: I Created Veep and Even I Couldn't Make the Last Week Up
All of Trump's behavior has been devoted to building this kingdom on Earth. And we've all become familiar with how his alternative facts stack together to protect it. It started with the claim that his inauguration crowd was the biggest ever, an assertion that was annoyingly undermined by a threefold enemy — public testimony, photography, and arithmetic. The next three years were then devoted to chipping away at the credibility of those forces — demeaning anything anyone said under oath, denying anything caught on-camera, offering different numbers from those cited — so that a near majority of people have now come to accept everything he says. Some do it because they've always believed him, many yield out of sheer exhaustion.
Trump's viral version of the truth has infected reality for so many of us it can seem there's no point trying to resist. Trump has won, irrespective of the election result. If it's declared for Biden, then the vote counters, the commentators, the media are all hoaxes. If the result is defended in court, the lawyers are fake. If it's upheld, the judges are impostors. Won't it then be easier to believe that the election never happened?
Look at him now, outside on the White House lawn, praising the miracle elixir that saved him. Life will be sweeter, he's saying, if you believe in me. And so he beckons us to come join him, and when we do, we'll have crossed over into the Promised Land where nothing will trouble us, where we no longer have enemies to deal with, where Trump after Trump can look after us. https://nymag.com/intelligencer/2020/10/armando-iannucci-trump-covid-19.html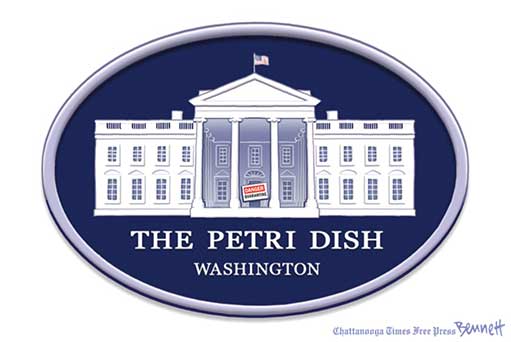 5. Bess Levin: Donald Trump Doesn't Seem To Know What Year It Is, Who He's Running Against (Hint: Not Hillary Clinton)
Speaking to Fox News on Friday, Secretary of State Mike Pompeo told Dana Perino, "We've got the emails. We're getting them out. We're gonna get all this information out so the American people can see it. You'll remember there was classified information on a private server, should have never been there. Hillary Clinton should never have done that. It was unacceptable behavior. It's not the kind of thing that leaders do.... Classified information needs to stay on the right places. Secretary Clinton, when she was here at the State Department, did not do that.... We'll get the information out that needs to get out…as fast as we can. I certainly think there'll be more to see before the election."
The news that the federal government is working on releasing Clinton's emails "as fast" as it can, as though there are no other pressing issues to deal with, comes one day after Trump called in to Fox Business to rant about the fact that his former opponent hasn't been "indicted" (which may have something to do with the fact that she was cleared of wrongdoing), saying that he was "not happy" with Pompeo for failing to get her emails out to the public. (He also complained that his attorney general hasn't indicted Biden and Barack Obama, saying that Bill Barr will go down in history "as a very sad, sad situation" if he fails to prosecute the president's enemies.)
In a sign of how utterly bizarre it is that Trump is screaming about Clinton's emails and thinks releasing them might help his reelection chances, even some of the gang at Fox Business have wondered why he thinks voters care about any of this. "President Trump didn't follow what the Wall Street Journal was saying in terms of staying on policy," anchor Dagen McDowell said following the interview with Maria Bartiromo. "I am not sure it helped his campaign to talk about Hillary Clinton's emails and going back down that rabbit hole like it was four years ago.... It was kind of, well, all over the place. It didn't really focus on the very issues of what the American people want to hear. Some of it did, but some of it clearly did not." https://www.vanityfair.com/news/2020/10/donald-trump-hillary-clinton-emails-2020
6. Jonathan V. Last: The President Is a Sociopath. And 60 Million Americans Like It.
Like every mystic, Trump adheres to magic over science. When pressed about climate change, he said the scientists don't know. When pressed about the pandemic he said it would magically disappear. He often refuses to wear a mask and may be responsible for as many as 40 people in and around the White House becoming infected by the coronavirus. Like the huckster selling snake oil or the phony shaman dancing around a fire, Trump proclaimed himself feeling "great" in a video he tweeted to his millions of adoring fans. His magic is that of the wizard in the Wizard of Oz, and few who love him would dare pull back the curtain.
He is the political messiah who will right all wrongs, drain the swamp, build a wall, make the economy better, and turn life into heaven on earth. Only he can solve the problems—never mind that he caused most of them. He lies to convince his worshipers, who in turn believe him because he addresses their concerns. Something isn't right if the common man is getting screwed so much and life is so tough. Trump must be right. He's a common man to the common man. Millions of his evangelical Christian admirers act as though he is a Christian; they are unwilling or unable to see he clearly is not . In truth, he's merely a rich, pampered insecure man who only worships himself. It's hard to see as he gives those who feel so disaffected an enemy to hate. It's not our fault, he says, it's the swamp. It's the deep state. It's anyone but us.
Like every cult leader, his outsized ego and narcissism fuel the rage he has against those who think or act differently than he. His closest disciples and believers have gone all in—because they see a path to glory and power they would otherwise not have. Stephen Miller, a man perpetually picked last for kickball, would never reach such heights without Trump, the mystic, as his mentor. Trump is a sedulous fly-catcher and he is among the best. He's never worked for a living, but has convinced hard-working Americans that he alone knows what is best for the working man. He's never served either in the military or in politics, prior to his run for president, but those who believe in him see a dedicated and selfless public servant who would charge into a tense standoff with guns blazing, like a cinematic Rambo. https://thebulwark.com/the-trumpist-death-cult/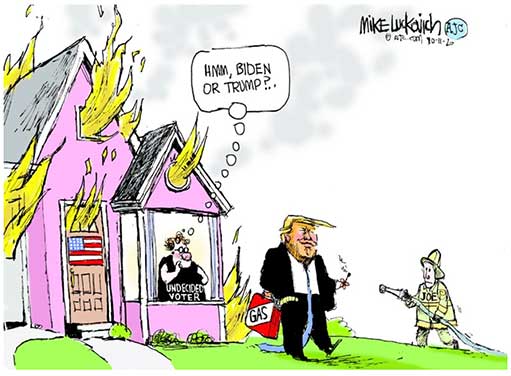 7. Richard North Patterson: Trump is the Wizard of Oz—Only Nuts
Anxious Democrats imagine Donald Trump as a political Houdini—a genius at escaping the most dire political straits. Somehow, they fear, he will summon serial October surprises beyond the capacity of lesser mortals.
Rubbish.
In truth, Trump is America's ersatz Wizard of Oz—a one-trick faux populist with deep but finite appeal who, in 2016, filled the mother of inside straights. By 2018, he had squandered his winnings. In 2020, he's become the little man behind the curtain, brutally exposed by his own incompetence and instability.
Given Trump's burgeoning plague of political locusts, the revelation of his tax records last week seems to have occurred half a lifetime ago. But this particular mortification exposed that, as a businessman, Trump was less wizard than chiseler. He paid no federal income taxes in 11 of 18 years; took highly dubious write-offs to shelter his income; showed staggering business losses; and now faces hundreds of millions in loans which will shortly come due.
Though damaging in themselves, these revelations come bearing grave adverse implications. They expose Trump's vulnerability to leverage from outsiders, making him a potential national security risk. They suggest that he must win re-election to avoid criminal prosecution for, at the least, tax fraud. And they may explain an underlying reason for his enthrallment by Russia: debt.
Trump was never a brilliant businessman—he was a sociopath who used bullying, bankruptcy, and branding to perpetuate a false image of success. As an entrepreneur, and as president, he now stands exposed as a narcissistic fraud.
After enduring four years of Trump, too many Americans see this too clearly. He has done that to himself, and it is lethal. Character is, after all, fate.
If Joe Biden can simply stay safe, you can stick a fork in the man behind the curtain. https://thebulwark.com/trump-is-the-wizard-of-oz-only-nuts/
8. Tim Miller: Trump's Closing Argument: The Unfairness Never Ends
Is there anything that sums up the Trump-Limbaugh worldview better than, "the unfairness never ends?"
Throughout their burn book session, the message was simply that "they" (the media, the left, professional athletes) criticize "us." That despite having the presidency and the most listened to talk radio show in the history of the country, they don't have the complete cultural hegemony that they require to be satisfied.
And while that might seem insane to those who are outside this grievance bubble, it is exactly what the dittoheads want to hear.
They want to be the ones who are righteously aggrieved. They are sick of hearing about how Black Lives Matter. ("a terrible term, a racist term" – Trump). They are sick of hearing about the treatment of immigrants. They are sick of hearing about women who are sexually assaulted in the workplace by men like Donald Trump.
They want a victimization narrative they can make their own. And nobody is better at giving it to them than the boy from Queens who never got the respect he thought he deserved, even after he became President of the United States.
So without a real desire win over new people, but with a deep abiding sense of how unfair everyone has been to him his entire life, the president delivered the closing message of his campaign to the legions of Limbaugh stans: The unfairness will never end. https://thebulwark.com/trumps-closing-argument-the-unfairness-never-ends/
9. Eugene Robinson: Trump's frantic desperation will only get worse
Predictions are risky these days, but I make this one confidently: President Trump's frantic desperation at the prospect of losing the election will only get worse. Probably much worse.
I know that seems impossible, given the volume of vitriol now spewing hourly from the president. And I know it makes no political sense for Trump to continue to sound like a deranged end-of-days preacher yelling at random passersby. But nothing in Trump's history suggests he will abandon his reelection "strategy" of unceasing bombast, transparent lies, manufactured grievance, unhinged conspiracy-mongering and an unforgivable attempt to disrupt the electoral process itself.
Another day, another flood of dangerous and offensive nonsense: In a single telephone interview Thursday with Fox Business Network, Trump vowed not to attend a virtual debate next week with his Democratic opponent, Joe Biden, complaining that the moderator would actually be able to cut him off; called Biden's running mate, Sen. Kamala D. Harris (D-Calif.), a "monster" and a "communist," among other insults; and described himself as a "perfect physical specimen," saying he believed he had been "cured" of covid-19, a disease for which there is no known cure. https://www.washingtonpost.com/opinions/trumps-frantic-desperation-will-only-get-worse/2020/10/08/0e6473fa-0992-11eb-859b-f9c27abe638d_story.html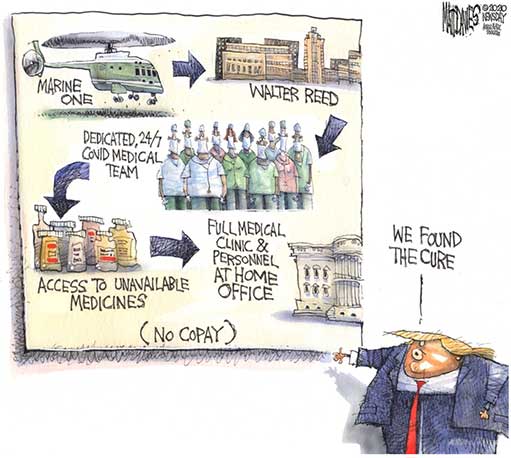 10. Stuart Stevens: Republicans couldn't tell the truth about Trump anymore, even if they wanted to
Republican leaders continue to defend the president — to genuflect, really — as he turns his own covid-19 diagnosis into a reality TV show, mocking his administration's own public health guidance, showing the Americans who have suffered that he doesn't give a whit for their plight. They know they're defending the indefensible, and they know if the president were a Democrat, they wouldn't hesitate to condemn him. With a straight face in Wednesday's debate, Vice President Pence claimed, "From the very first day, President Donald Trump has put the health of America first." They're so used to this routine that co-signing Trump's bad behavior is now habit and shooting straight is completely foreign.
About a year ago, I finished a pretty bleak book about the GOP, but it turns out I was too optimistic. Even after the party's turn away from time-honored Republican principles, I couldn't have imagined a party that would abandon any pretense of standing for conservative values, decency or common sense. Having spent four years defending their guy at every turn, they're stuck. In for a penny, in for a pound: Republicans can't tell the truth about Trump anymore. Even if they wanted to. https://www.washingtonpost.com/outlook/2020/10/08/trump-pence-republicans-truth/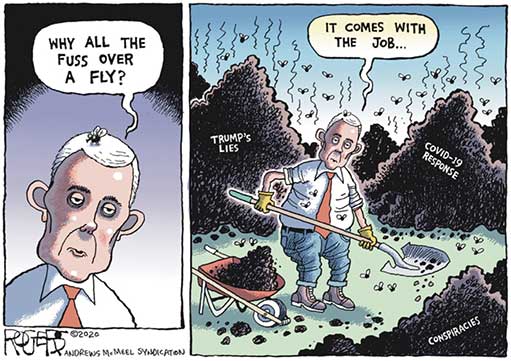 11. Kyle Cheney: 'Where are all of the arrests?': Trump demands Barr lock up his foes
Donald Trump mounted an overnight Twitter blitz demanding to jail his political enemies and call out allies he says are failing to arrest his rivals swiftly enough.
Trump twice amplified supporters' criticisms of Attorney General William Barr, including one featuring a meme calling on him to "arrest somebody!" He wondered aloud why his rivals, like President Barack Obama, Democratic nominee Joe Biden and former Democratic nominee Hillary Clinton hadn't been imprisoned for launching a "coup" against his administration.
"Where are all of the arrests?" Trump said, after several dozen tweets on the subject over the past 24 hours. "Can you imagine if the roles were reversed? Long term sentences would have started two years ago. Shameful!"
By early afternoon, Trump was letting loose his frustrations in an all-caps missive that seemed aimed at nobody in particular.
"DO SOMETHING ABOUT THIS, THE BIGGEST OF ALL POLITICAL SCANDALS (IN HISTORY)!!! BIDEN, OBAMA AND CROOKED HILLARY LED THIS TREASONOUS PLOT!!! BIDEN SHOULDN'T BE ALLOWED TO RUN - GOT CAUGHT!!!" Trump tweeted.
The day-long run of tweets and retweets marked the most frantic stretch of Trump's public activity since he left the presidential suite at Walter Reed Medical Center and returned to treatment at the White House. They also underscored the degree to which Trump remains fixated on his grievances over the Russia probe, and often on obscure aspects of that investigation that are unintelligible to all but its most careful followers.
Trump has made clear that he remains focused on punishing perceived enemies regardless of the political cost. While recovering at Walter Reed Monday morning, his chief of staff Mark Meadows told Fox News that Trump had kept busy that morning in part by directing the declassification of documents related to the Russia probe — a set of files he claimed were conclusive proof that Clinton had concocted the notion that his campaign team had ties to Russia even though the Senate Intelligence Committee and the special counsel's team had rejected the allegations as unverified.
In releasing them, Trump's own hand-picked intel chief, John Ratcliffe, acknowledged the documents, sourced to Russian intelligence, might have been "exaggerated" or even "fabricated" to deflect from their culpability in the election interference effort. https://www.politico.com/news/2020/10/07/trump-demands-barr-arrest-foes-427389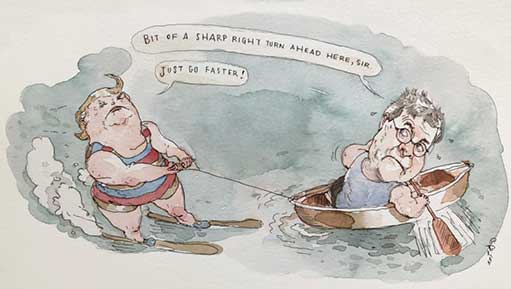 12. David Remnick: A Racist in the White House
On November 4, 2008, Barack Obama beat John McCain by nine and a half million votes and became the country's first African-American President. In 2016, Donald Trump, an unapologetic racist, lost the popular ballot by three million votes but, thanks to the antediluvian rules that still govern our voting system, succeeded Obama in the Oval Office. Understanding the role of racism and its persistence in this dismal pivot will be as central to our understanding of our times as it was to our understanding of Reconstruction.
What's curious is just how many people have resisted seeing squarely Trump's racism, his shrewd exploitation of animosity, hatred, and division for political advantage. Trump is hardly a man of subtle concealment. W. E. B. Du Bois wrote that Andrew Johnson's unwillingness to enact policies to give freedmen land, a decent education, or voting rights resided, first and foremost, in "his inability to picture Negroes as men." Trump's hostility toward minorities and his capacity to signal that hostility to others has never been a secret. This quality is central to his politics and his appeal.
The biography is plain. As real-estate developers in the nineteen-seventies, Trump and his father did what they could to keep people of color out of their buildings in Brooklyn and Queens. These slimy stratagems attracted the attention of the Department of Justice. As a tabloid bigmouth eager to enhance his peculiar brand of outrageous celebrity, Trump paid for ad space in the New York papers to call for the execution of the so-called Central Park Five. Long after they were vindicated and given a collective award of forty-one million dollars, Trump refused to apologize or reconsider.
The foundational cause of Trump's fledgling political career was not tax policy or the nuclear deal with Iran; it was the promotion of "birtherism," the conspiracy theory that Obama was lying about his citizenship and place of origin. After the election, a ban on Muslim immigration was among Trump's top priorities. His ongoing cruelties directed at men, women, and children at the southern border is a naked attempt to strike fear into would-be migrants throughout Mexico and Central America and to arouse the approval of white voters. The President's views are clear: black athletes who dare to protest police violence are "sons of bitches"; African countries are "shitholes"; and there are some "fine people" among the bigoted thugs who carried tiki torches and chanted "Blood and soil" and "Jews will not replace us" in Charlottesville.
Just last week, the President invited to the White House leading members of the far-right social-media crowd, including one "Carpe Donktum," who recently made a nasty altered video of Joe Biden; Bill Mitchell, who ladles out the latest QAnon conspiracy theories; the oppo-research operative James O'Keefe III; and Ali Alexander, who, like the President's own son, recently shared a tweet that called into question Kamala Harris's racial background. A sterling bunch. At the meeting, Trump expressed the full knowledge that cyber-fuelled hatred and racism had helped him win the election. He honored the group with a White House invitation in the hopes that it will be there for him again in 2020. "The crap you think of is unbelievable!" he told them in bemused admiration. These were his people. https://www.newyorker.com/news/daily-comment/a-racist-in-the-white-house-donald-trump-tweets-ocasio-cortez-tlaib-omar-pressley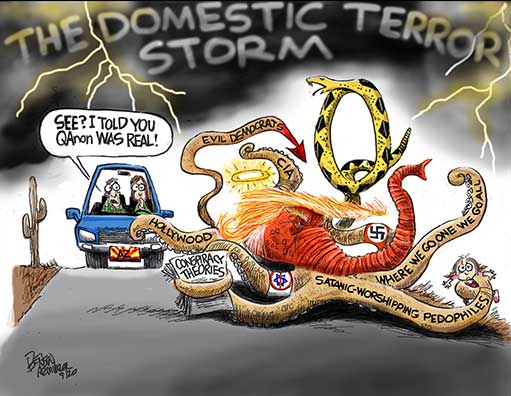 13. Erika D. Smith: Harris showed Black women how to be 'angry' and handle a condescending white man
Harris was the first Black woman — as well as the first South Asian woman — to represent a major-party ticket in a general election debate. And yet, she is still a Black woman and Black women, by most metrics of American society, including pay and access to healthcare, rank at or near the bottom in terms of equity.
And this is a big part of what makes the old angry Black woman trope so insidious and so often a self-fulfilling prophecy. The more we are denied opportunities because of years upon years of systemic racism, the angrier we get — understandably so — and the more opportunities are denied to us.
What I saw on that debate stage in Salt Lake City on Wednesday was Harris beginning to break that cycle.
The vice presidential debate might not have changed a lot of minds in terms of who to vote for, but it will go down in history as setting a new standard and example for Black women ascending the ranks of power. In the coming years, expect a lot more of us to, like Harris, refuse "to sit here and be lectured by the vice president" or anyone else. https://www.latimes.com/california/story/2020-10-08/harris-kamala-exposed-pence-patronizing-white-man-vp-debate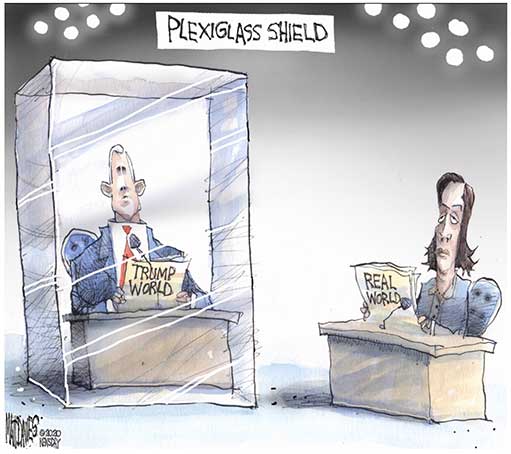 14. Kevin K. McAleenan and Thomas K. Plofchan III: The alleged plot in Michigan isn't an anomaly. The domestic terrorism threat is rising.
Within the domestic terrorist threat landscape, racially and ethnically motivated violent extremists, and specifically white-supremacist extremists, represent the "most persistent and lethal threat," according to the recent DHS threat assessment. But others, including both anti-government and anti-authority extremists, increasingly find cause to mobilize in response to political and social tension.
Consider the white-supremacist-inspired shootings in Charleston, S.C., Poway, Calif., and El Paso that took dozens of innocent lives in recent years, the anti-law-enforcement shooting that killed Protective Security Officer David Patrick Underwood in Oakland, Calif., earlier this year, and the opportunistic acts of violence carried out against law enforcement and counter protesters at otherwise peaceful and lawful demonstrations over the summer. The United States today is clearly grappling with domestic terrorist threats that are changing rapidly and have become more likely and frequent sources of deadly acts of violence than foreign threats.
This calls for a serious, coordinated whole-of-society effort toward prevention and mitigation. The challenges are daunting, but law enforcement on many levels is responding. Efforts include the FBI's work to investigate domestic terrorism cases and to counter foreign influence; the U.S. Secret Service's analysis and guidance on factors leading to mass attacks; and the Cyber Security and Infrastructure Security Agency's support for local communities with training and other resources. The government is also making grants to community groups designed to deter individuals from continuing on a path to violence.
In the final weeks of the presidential campaign, during an already extraordinarily tense year, many Americans are understandably concerned about election security and even the safety of polling places. They should know that law enforcement and homeland security professionals are working hard to address potential threats to the administration of the election.
And Americans should vote. Vigilance is essential, but they can be confident about engaging in civic expression. Cases like the one in Michigan remain at the fringes in American society, and law enforcement at all levels is increasingly informed, focused on and dedicated to addressing these emerging threats. The best antidote to violent extremism is for the American people to exercise the most powerful guarantor of democracy and freedom — by casting their ballots. https://www.washingtonpost.com/opinions/2020/10/11/alleged-plot-michigan-isnt-an-anomaly-domestic-terrorism-threat-is-rising/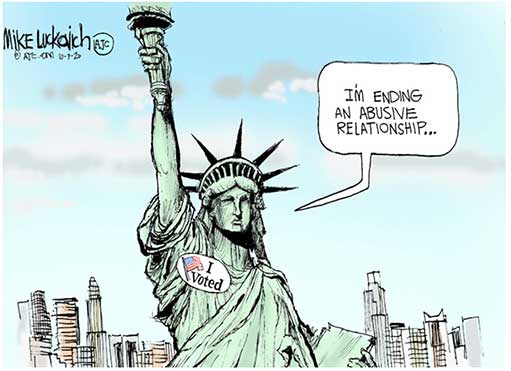 15. Sidney Blumenthal: Lindsey Graham, reverse ferret: how John McCain's spaniel became Trump's poodle
That Lindsey Graham would become Donald Trump's poodle was not a tale (or tail) foretold. But it has landed him in the dogfight of his life for re-election to his Senate seat in South Carolina, challenged by a relentless and capable Democratic candidate, Jaime Harrison, who methodically chased Graham around the ring in their debate, repeatedly jabbing him as a hypocrite, until he struck him with a haymaker, ending the verbal fisticuffs with a TKO: "Be a man."
Bruised and battered, Graham retreated to his corner, Sean Hannity's show on Fox News, to beg: "I'm getting overwhelmed … help me, they're killing me money-wise. Help me."
Graham has climbed the greasy pole within the Senate, to a position that historically has been rewarded by his state with a lifetime tenure. He succeeded to the seat that Strom Thurmond held for 48 years before he died at 100. From Graham's chairmanship of the Senate judiciary committee he has taken up the defense of Trump, to unmask the dastardly conspiracy of "Obamagate" and to handle the confirmation of a justice on the supreme court, to pack it with a conservative majority for a generation to come. But just at this consummate moment of his career, events have conspired to dissolve his facade and expose his flagrant hypocrisy. His presumed strength has turned into his vulnerability. Worse, in Washington, where the press has treated him for more than 20 years like the genial star of the comedy club, he has become an object of ridicule.
In British political discourse, a figure like Graham would be described with the seemingly enigmatic phrase of "reverse ferret", applied to a politician who takes a dramatic and often contorted U-turn. According to the classic work Lying, by Sissela Bok, the word "hypocrisy" has its origins in Greek theater, as the slanted reply of an actor to the action on the stage. "Its present meaning is: the assumption of a false appearance of virtue or goodness, with dissimulation of real characters or inclinations." The hypocrite deceives in order to be perceived as virtuous. His dishonesty is in the service of an image of honesty.
 Graham has always been more than complicit with liars like Trump, not simply as an enabler
Unlike Trump, Graham is not a pathological liar, but his mendacity fits the category of "duping delight" as defined by Bok: "It evokes the excitement, allure, challenge that lying can involve." For Graham, it's the thrill of the illicit done in public, creating a suspension of disbelief, the skill of the actor. Graham has always been more than complicit with liars like Trump, not simply as an enabler. From the beginning, well before Trump, he has advanced his career through hypocrisy as his chief means of ambition, knowingly engaging in deceit, adopting a false attitude to win praise and applause as a truth-teller.
The political tasks Trump has delegated to Graham, intended as rescue operations at the close of the presidential campaign, have become showcases for how Graham's hypocrisy threatens his political life. He squirms in the spotlight he has sought. https://www.theguardian.com/commentisfree/2020/oct/11/lindsey-graham-reverse-ferret-john-mccain-trump
16. Max Boot: How can 42 percent of Americans still support the worst president in our history?
I have some good news and some bad news. The good news: 52 percent of Americans support Joe Biden in the FiveThirtyEight poll average. The bad news: 42 percent support President Trump. Why isn't Trump losing by a whole lot more? How is it possible that so many still back him despite everything that has gone wrong?
Trump is on track to be the first president since World War II to see a net loss of jobs during his term. Even worse, he has presided over the loss of 214,000 lives and counting from covid-19. That's already nearly four times the U.S. fatalities in the Vietnam War, previously the nadir of presidential bungling. Even now, after having contracted covid-19 himself, Trump refuses to take the pandemic seriously. He keeps promising it will magically disappear of its own accord while holding rallies practically guaranteed to spread the disease.
As if that weren't reason enough to vote for Biden, there is also the fact that Trump has abused his power; he was even impeached for doing so. He has trafficked in racism and xenophobia. He has incited violence. He has kowtowed to dictators and trashed our alliances. He has welcomed Russian attacks on our elections. He has locked children in cages. He has called for his opponents to be locked up. In sum, Trump has made a strong case that he is the worst president in our history.
Yet tens of millions of voters still support him. What are they thinking? I get that there are single-issue voters to whom Trump has a strong appeal — people who feel passionately about tax cuts, judges, abortion or Israel. There are also people for whom Trump's boorishness, racism and xenophobia are not a turnoff but a selling point. (Studies show that appeals to prejudice were the most important factor in Trump's 2016 victory.)
https://www.washingtonpost.com/opinions/2020/10/13/how-can-42-percent-americans-still-support-worst-president-our-history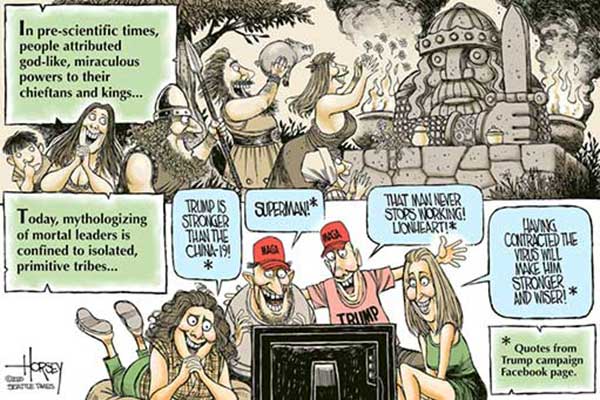 17. Jonathan Chait: Rudy Found Hunter Biden Emails That Totally Weren't Stolen by Russia
Rudy Giuliani has spent at least two years attempting to find some kind of Ukrainian dirt that can be used to discredit Joe Biden. Now he has unveiled his October surprise: emails, or images of what purport to be emails, between Hunter Biden and Burisma officials.
The conservative New York Post has a credulous account of how Rudy came across these emails.
The Post claims somebody brought the computer to a repair shop in Delaware, but then never bothered to pay for the repair. The shop owner saw that the computer had a sticker for the Beau Biden Foundation. But instead of returning the computer to the Biden family, he made a copy of the hard drive and gave it to Rudy Giuliani's lawyer, before turning it over to the FBI.
Now, what about the Delaware computer-shop origin story? The best thing you can say is that this account is not physically impossible, in that it does not violate any laws of of nature or require any discontinuity in the space-time continuum. It is not, however, a very plausible account.
To begin with, if you were a computer-repair shop in Delaware, and you had a Biden-owned computer that you repaired but weren't paid for, why would your first step be to reach out to Rudy Giuliani's attorney? Why wouldn't you go to the Bidens — who are fairly well known and easy to find in Delaware — to get paid? And why would the FBI even be allowed to investigate this computer without a search warrant?
The author of the Post's stories on the stolen Hunter Biden emails, Emma-Jo Morris, is a former Hannity segment producer-booker who has written a total of three articles, all of them covering the Biden story and published today. https://nymag.com/intelligencer/2020/10/biden-emails-burisma-rudy-giulliani-russian-hackers-ukraine-new-york-post.html
18. Ryan Cooper: Donald Trump has turned the White House into a bribe factory
For years now it has been clear that Donald Trump is the most corrupt president in American history. No previous president has continued to operate a vast personal business empire while in office — creating more than 3,000 identifiable conflicts of interest. As I predicted three days before he was inaugurated, he has constantly jammed taxpayer money into his own pockets, corruptly bullied foreign powers into doing him political favors, and turned the Department of Justice into an arm of his campaign.
Should Joe Biden be elected along with a Democratic Congress,  the first orders of business should be a thorough investigation of the Trump regime's gargantuan corruption — from soliciting bribes, to looting the state, to sending out illegal payments to voters, to accepting unconstitutional payments from foreign governments, to whatever else might be found. Trump's suspiciously gigantic golf course losses, for example, give off a distinct whiff of money laundering. He might be in much better shape money-wise than he appears to be on paper.
But whatever we may find, it is now known for a fact that Trump is abusing his power for personal profit, yet again. Like practically everything else he has done in office, it is a grotesque betrayal of the foundational values of a democratic republic. Another four years of this man in office will be another four years of chintzy schemes to line his own pockets, while he lies about "draining the swamp. https://theweek.com/articles/943450/donald-trump-turned-white-house-into-bribe-factory