June 16, 2022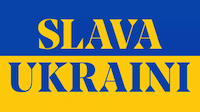 If you have a friend, family member, or neighbor who would like to subscribe to this FREE weekly newsletter they should simply email jellison@san.rr.com with "subscribe" as the subject.
THE WEEK'S BEST QUOTES. . .
"I was thinking the other day about somebody had mentioned on the radio Adolf Hitler and how he aroused the crowds. And he would get up there screaming these epithets and these people were just — they were hypnotized by him. That's, I guess, I guess that's the kind of leader we need today. We need somebody inspirational. We need somebody that is a doer, has been there and done it."  —
Carl Paladino (R)
, candidate for the NY 23rd CD when asked on a radio show how to "rouse the population" and get people thinking about change.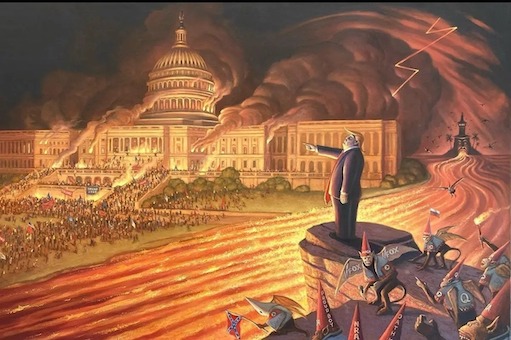 The problem is social interaction to a large measure based on "the overuse of these dang smartphones."  —
Rep. Pat Fallon (R-TX)
explaining the increase in gun deaths.
"I'll be shocked if he doesn't run. All the polling shows he would be the front-runner by a country mile. The day that Trump makes it clear he's going to run — it would be a mountain to climb to beat him. If it's a policy election, he's in good shape. It's his primary to lose." —
Sen. Lindsey Graham (R-SC)
When we Americans next hear that the Second Amendment protects a right against more effective regulation of weapons capable of imposing death on our neighbors, we should insist in response that the Second Amendment requires the opposite. It empowers a free people to regulate weapons as necessary to maintain their security and to protect their freedoms from fear and violence. We can be free, but only if we regulate guns—just as the Second Amendment tells us. -- 
Don Williams in Vigour Times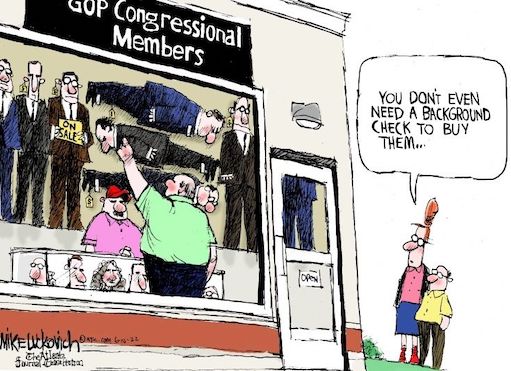 "We cannot just sweep this under the rug. We need to know why it happened, who did it and people need to be held accountable for it. And I'm committed to make sure that happens." — Leaked audio shows 
House Minority Leader Kevin McCarthy
supported a congressional inquiry into the January 6 insurrection — just five days after it happened — the opposite of the opinion he later argued in public. In the weeks after the riot when he completely reversed his position.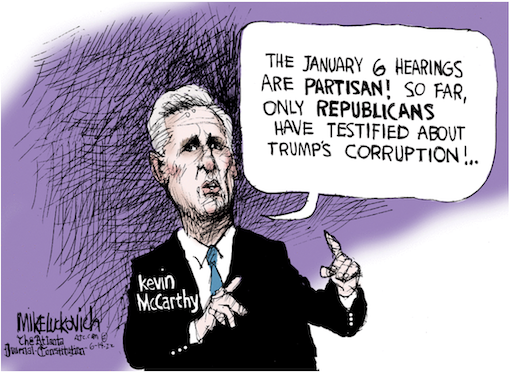 You really can't win an election with a bumper sticker that says: "Well, we can't do much, but the other side is worse." —
Sen. Bernie Sanders (I-VT)
"Did anyone speak like this with Adolf Hitler during World War II? Did anyone say that Adolf Hitler must save face? That we should proceed in such a way that it is not humiliating for Adolf Hitler? I have not heard such voices." —
Polish President Andrzej Duda
slamming the leaders of France and Germany over their phone calls with Russian President Vladimir Putin. reports.
"So the Unselect Committee of political HACKS refuses to play any of the many positive witnesses and statements, refuses to talk of the Election Fraud and Irregularities that took place on a massive scale, and decided to use a documentary maker from Fake News ABC to spin only negative footage. Our Country is in such trouble!" — Among the at least nine posts
Donald Trump
made at on his social media platform on Thursday night and Friday morning to slam the prime-time Jan. 6 hearing.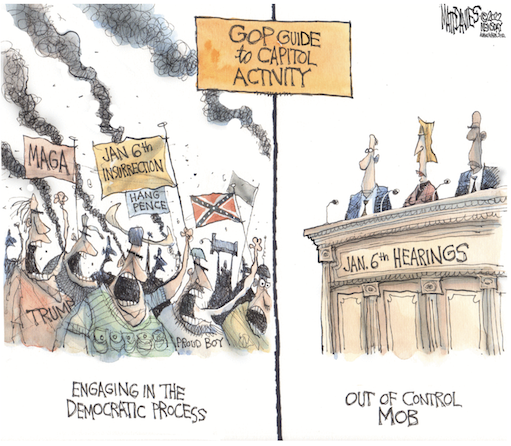 "Tonight, I say this to my Republican colleagues who are defending the indefensible: There will come a day when Donald Trump is gone, but your dishonor will remain." — 
Rep. Liz Cheney (R-WY)
"Biden doesn't get the credit he deserves for steering the country through the worst of the pandemic, passing historic legislation, pulling the NATO alliance together against Russian aggression and restoring decency and decorum to the White House. And part of the reason he doesn't is performative. He looks his age and isn't as agile in front of a camera as he once was, and this has fed a narrative about competence that isn't rooted in reality." —
David Axelrod
"Mr. Trump betrayed his supporters by conning them on Jan. 6, and he is still doing it." —
Wall St. Journal Editorial
Meanwhile, reports that Trump was pleased that the Jan. 6 crowd chanted for Vice President Mike Pence to be hanged — a truly reprehensible sentiment — makes him unworthy for the office. Trump can't look past 2020. Let him remain there. —
NY Post Editorial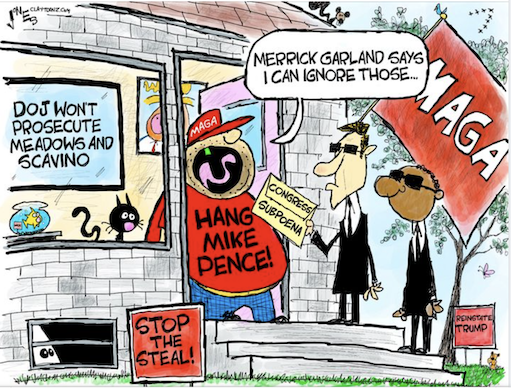 Trump is politically, morally responsible for much of what has happened. …. Republicans need to do a lot of soul searching as to what is the right thing here and what is the right thing for our democracy in the future and not simply adhere to the basic instincts of some of our base. -- 
Arkansas
Go
v. Asa Hutchinson (R)
If the committee does its work properly — and I have every confidence it will — it will create a clear record. Which means that for our children and our children's children — for as far as future generations will know of our recorded history — Donald Trump will live in infamy —
Robert Reich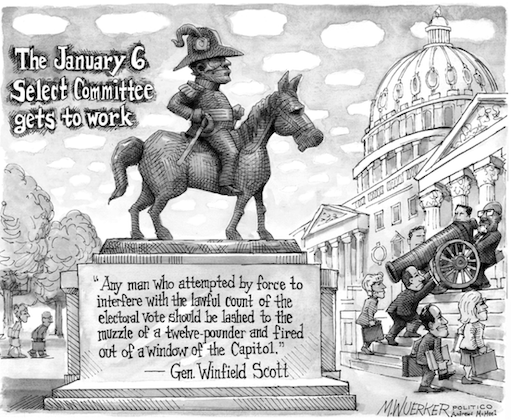 T
he true scandal of January 6th had always been apparent, long before the House select committee made it clear once again on Thursday night: the mob never would have been there had Donald Trump not lied about the election he lost. — Susan B. Glasser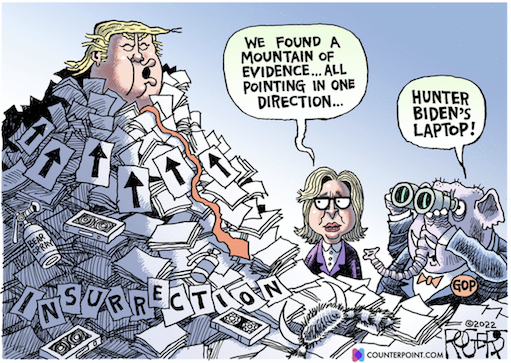 "I am disgusted and outraged at the outright lie by Jason Miller and Bill Steppien [sic]. I was upset that they were not prepared for the massive cheating (as well as other lawyers around the President) I REFUSED all alcohol that evening. My favorite drink … Diet Pepsi. ... Is the false testimony from Miller and Steppien [sic] because I yelled at them? Are they being paid to lie? — Rudy Giuliani tweets, which were since deleted, responding to testimony that he was drunk on Election Night 2020.
VIDEOS
"It's clear that he intentionally misled his donors, asked them to donate to a fund that didn't exist and used the money raised for something other than what he said. Now it's for someone else to decide whether that's criminal or not." —
Rep Zoe Lofgren
on Donald Trump.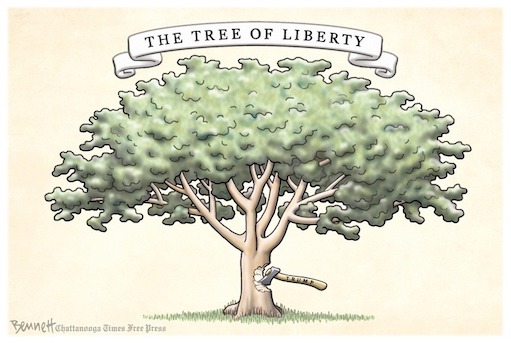 LITIGATION TRACKER
Pending Criminal and Civil Cases Against Donald Trump. 
https://www.justsecurity.org/75032/litigation-tracker-pending-criminal-and-civil-cases-against-donald-trump/
---
IN THIS ISSUE
IN THE NEWS
OPINION
Andy Borowitz: Elon Musk Announces Purchase of Ron DeSantis
Elon Musk has revealed that he intends to purchase the Governor of Florida, Ron DeSantis.

The Tesla C.E.O. said that he already had financing lined up to acquire the Republican Presidential hopeful and that he planned to complete the transaction well before the 2024 election.

There could be bumps in the road ahead, however, as the billionaire indicated that he would be doing "due diligence" on DeSantis before the acquisition is finalized.

The Republican strategist Harland Dorrinson warned that a closer look at the Florida Governor might give Musk cold feet. "This whole thing could go south if it turns out, as many suspect, that DeSantis is a bot," he said. https://www.newyorker.com/humor/borowitz-report/elon-musk-announces-purchase-of-ron-desantis
https://www.newyorker.com/humor/borowitz-report/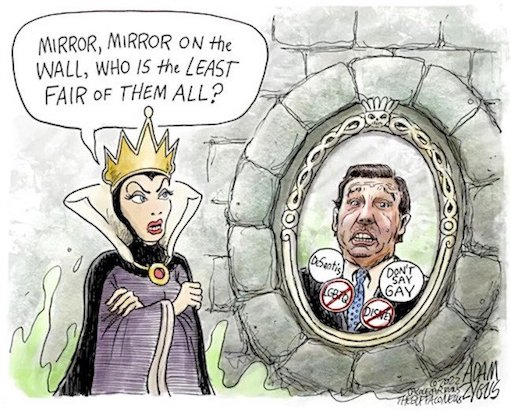 Trump raised $250M off stolen election claim
Former President Trump and his die-hard allies raised $250 million off their claims the 2020 election was stolen — but most of the funds went toward his newly created Save America PAC rather than to pay for various challenges to Joe Biden's victory, the House select committee probing last year's Capitol riot revealed Monday.
In a video presentation near the end of the committee's second public hearing in five days, the panel's senior investigative counsel, Amanda Wick, said the 45th president's campaign "pushed false election claims to fundraise, telling supporters it would be used to fight voter fraud that did not exist."
According to Wick, more than $100 million alone was raised in the first week after Election Day.
Most of the funds raised by Trump to fight Joe Biden's presidential victory went towards his newly created Save America PAC.
The video included screenshots of emails imploring Trump supporters to donate to an "Official Election Defense Fund."
"The select committee discovered no such fund existed," said Wick. https://nypost.com/2022/06/13/trump-raised-250m-off-stolen-election-claim/
The Political Risk for the GOP on Gun Control
In an indication of the political risks Republicans see in embracing even modest gun safety measures, none of the 10 who endorsed Sunday's deal was facing voters this year. The group included four Republican senators who are leaving Congress at the end of the year — Roy Blunt of Missouri, Richard M. Burr of North Carolina, Rob Portman of Ohio and Patrick J. Toomey of Pennsylvania — and five who are not up for re-election for another four years: Mr. Cornyn, Thom Tillis of North Carolina, Bill Cassidy of Louisiana, Susan Collins of Maine and Lindsey Graham of South Carolina. Senator Mitt Romney of Utah, who also embraced the deal, will face voters in 2024. https://www.nytimes.com/2022/06/12/us/politics/senator-gun-safety-deal.html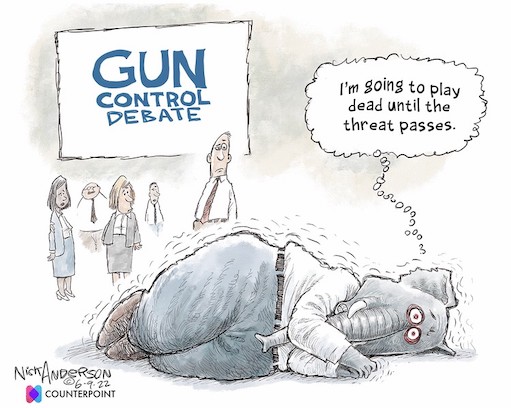 Most Americans Hold Trump Responsible for Capitol Riot
A new Politico/Morning Consult poll finds 57% of Americans say Donald Trump is "very" or "somewhat" responsible for the U.S. Capitol riot on January 6, 2021, while 31% say he is "not too" or "not" responsible. https://www.politico.com/f/?id=00000181-5dca-def0-abb5-5fde2c1d0000
GOP spends millions on election volunteers to search for fraud
The Republican National Committee is spending millions this year in 16 critical states on an unprecedented push to recruit thousands of poll workers and watchers, adding firepower to a growing effort on the right to find election irregularities that could be used to challenge results.

The RNC was until recently barred from bringing its substantial resources to bear on field operations at polling sites because of a decades-old court order. Now, the party apparatus is mobilizing volunteers to scrutinize voting locations for suspected fraud.

While Democrats have set up legal hotlines and mobilized volunteers by stressing a need to help those denied a chance to vote, the Republican operation is centered on challenging ballots, spotting potential fraud — and for poll watchers, reporting those concerns directly to party attorneys on Election Day, according to the RNC. https://www.washingtonpost.com/politics/2022/06/15/rnc-election-integrity-trump-mcdaniel/
Government expands investigation into Trump's social network deal
Federal securities regulators have expanded their investigation into the planned merger between a blank check acquisition company and former President Trump's social media business, known as Truth Social, according to a Monday morning filing with the SEC.

The Securities and Exchange Commission is investigating communications between the blank check company, called Digital World Acquisition Corp., and Trump. Of particular interest would be if the two sides negotiated prior to DWAC going public, which would have been illegal. https://www.axios.com/2022/06/13/government-expands-investigation-trump-social-network-deal
Trump and DeSantis Given Equal Odds for 2024
For the first time, the PredictIt political futures market gives Donald Trump and Ron DeSantis the same odds of winning the Republican presidential nomination. https://www.predictit.org/markets/detail/7053/Who-will-win-the-2024-Republican-presidential-nomination
Taking Aim at DeSantis, Spooked Trump Considers Launching 2024 Bid in Florida
Donald Trump in recent months has been telling confidants that he may launch his 2024 presidential campaign early — and that he's considering launching it in Florida to stick it to Gov. Ron DeSantis.

Trump has kicked around staging a large, flashy launch rally (with fireworks, of course) that would announce his White House bid before the 2022 midterm elections, according to three sources familiar with the matter.

People who've spoken to Trump say that one reason he's eying the Sunshine State is to assert his dominance over an ascendant DeSantis, who — if they both run in 2024 — would likely be the former president's most formidable competitor in a primary fight for the GOP nomination. One of the sources said Trump's motivation is to show the governor "who the boss is" in the modern-day GOP.. https://www.rollingstone.com/politics/politics-news/donald-trump-ron-desantis-florida-1366990/
Ohio will arm more teachers
As Congress wrestles over gun control, Ohio Gov. Mike DeWine (R) signed into law a bill Monday that would arm more schoolteachers by reducing training requirements for staffers to carry guns on campus.
Ohio already permits schoolteachers to be armed, but they need the permission of their school board and 700 hours of training as a peace officer. In the news conference Monday, DeWine said school staff who want to carry weapons will be required to have at least 24 hours of training. https://www.washingtonpost.com/education/2022/06/13/ohio-armed-teachers-guns-uvalde/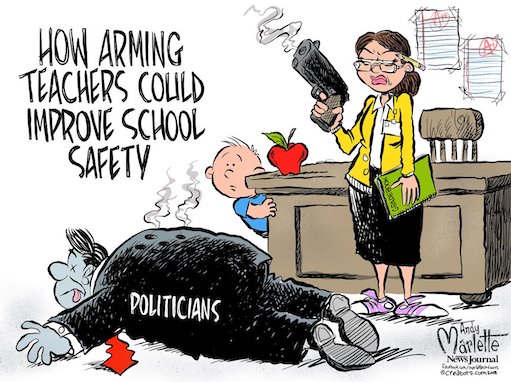 The Giuliani Hit With Ethics Charges by Washington D.C. Authorities Over False Election Claims
The District of Columbia office that polices attorneys for ethical misconduct filed charges on Friday against President Donald Trump's former attorney, Rudy Giuliani, over baseless claims he made in federal court alleging the 2022 presidential election was stolen. The D.C. Office of Disciplinary Counsel alleges that Giuliani, who is a member of the D.C. bar, made baseless claims in federal court filings about the results of the 2020 presidential election in Pennsylvania. https://www.usnews.com/news/top-news/articles/2022-06-10/d-c-disciplinary-office-files-ethics-charges-over-rudy-giulinis-false-election-claims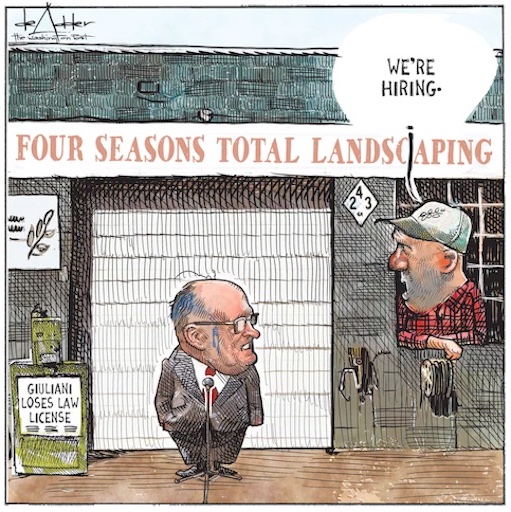 Putin Likens Himself to Peter the Great in Comparing Ukraine War to Imperial Russia
Vladimir Putin on Thursday drew a not-so subtle comparison between himself and Peter the Great, celebrating the birth of the first "emperor of all Russias" by drawing a link between his own unyielding rule and that of the revered Romanov czar who established the country as a dominant European power – one that included parts of modern-day Ukraine. https://www.usnews.com/news/world-report/articles/2022-06-09/putin-likens-himself-to-peter-the-great-in-comparing-ukraine-war-to-imperial-russia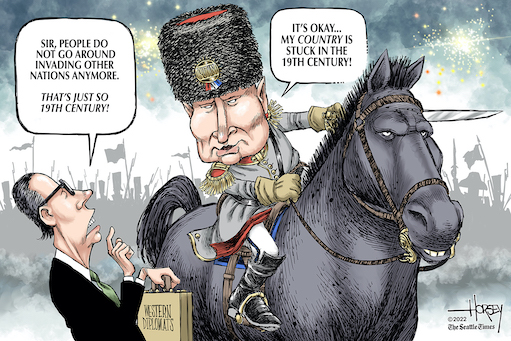 Ginni Thomas Urged 29 Lawmakers to Overturn Election
Virginia "Ginni" Thomas, the wife of Supreme Court Justice Clarence Thomas, pressed 29 Republican state lawmakers in Arizona — 27 more than previously known — to set aside Joe Biden's popular vote victory and "choose" presidential electors, the Washington Post reports.

"The revelation that Ginni Thomas was directly involved in pressing them to override the popular vote — an act that would have been without precedent in the modern era — intensified questions about whether her husband should recuse himself from cases related to the 2020 presidential election and attempts to subvert it." https://www.washingtonpost.com/investigations/2022/06/10/ginni-thomas-election-arizona-lawmakers/
The DAILY GRILL
Senate hopeful Herschel Walker said he was a University of Georgia graduate, 
but that wasn't true
.
He said he was his high school's valedictorian, 
but that wasn't true
.
He said he was the founder of a charity for veterans, 
but that wasn't true
.
He said at least three time in recent years that he'd worked in law enforcement — as a police officer or an FBI agent,
but that wasn't true
.
No, you know, we're going to tell the facts. If the Department of Justice looks at it, and assume that there's something that needs further review, I'm sure they'll do it." —
Committee Chair Bennie Thompson (D-MS)
saying that the panel will not make any criminal referral of former President Donald Trump or anyone else to the Justice Department.
VERSUS
"The January 6th Select Committee has not issued a conclusion regarding potential criminal referrals. We will announce a decision on that at an appropriate time." — 
Committee Vice Chairman, Liz Cheney (R-WY)
contradicting the chairman's comments.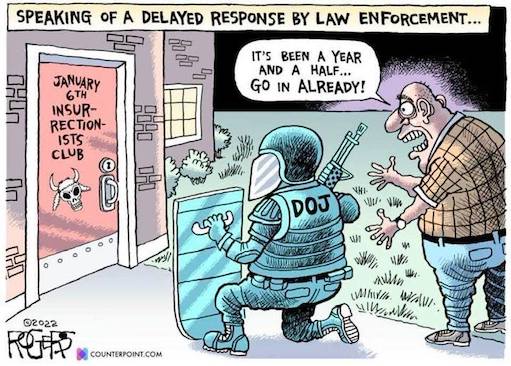 Maureen Dowd: Donald Trump, American Monster
Monsters are not what they used to be.
We listened Thursday night to the frightful catalogue of Trump's deeds. They are so beyond the pale, so hard to fathom, that in some ways, it's all still sinking in.
The House Jan. 6 committee's prime-time hearing was not about Trump as a bloviating buffoon who stumbled into the presidency. It was about Trump as a callous monster, and many will come away convinced that he should be criminally charged and put in jail. Lock him up!
The hearing drove home the fact that Trump was deadly serious about overthrowing the government. If his onetime lap dog Mike Pence was strung up on the gallows outside the Capitol for refusing to help Trump hold onto his office illegitimately, Trump said, so be it. "Maybe our supporters have the right idea," he remarked that day, chillingly, noting that his vice president "deserves it."
Let some conservatives dismiss the hearings as "A Snooze Fest." Let Fox News churlishly refuse to run them.
The hearing was mesmerizing, describing a horror story with predatory Proud Boys and a monster at its center that even Mary Shelley could have appreciated. The ratings were boffo, with nearly 20 million viewers.
Caroline Edwards, the tough Capitol Police officer who suffered a concussion, was sprayed in her eyes and got back up to return to the fight, described a hellscape.
"I was slipping in people's blood," she recalled. "You know, I — I was catching people as they fell. I — you know, I was — it was carnage."
In his dystopian Inaugural speech, Trump promised to end "American carnage." Instead, he delivered it. Now he needs to be held accountable for his attempted coup — and not just in the court of public opinion.
https://www.nytimes.com/2022/06/11/opinion/trump-january-6.html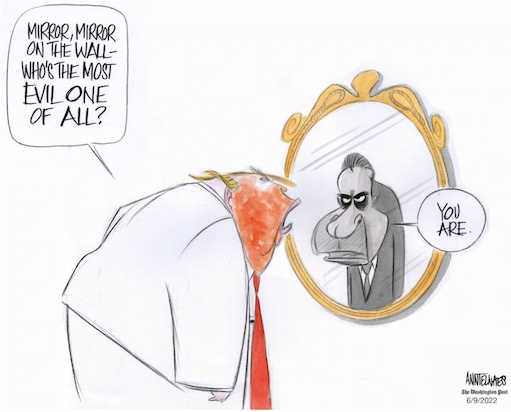 Aaron Blake: Trump team descends into infighting over Jan. 6
We've seen just two relatively brief hearings of the House Jan. 6 committee. Yet already members of President Donald Trump's inner circle are accusing one another of lying under oath, taking bribes from Democrats, shilling for Marxists and being past their primes. They're also rekindling old scandals involving their onetime allies and deriding each other's mental faculties (including, in one particularly remarkable case, Trump's).

The Jan. 6 committee's work might never lead to criminal charges against Trump or those around him. But it has certainly prompted an extraordinary round of sniping and infighting.

Perhaps the most pronounced example came Tuesday morning, when Rudy Giuliani effectively accused two top Trump campaign aides, Jason Miller and Bill Stepien, of perjury. Miller had said under oath that Trump's former attorney was "definitely intoxicated" on election night 2020. (Stepien didn't say this, though Giuliani apparently believed he had.) Giuliani also suggested they might have taken bribes for testifying to that effect.

The other big clash to emerge from Monday's hearing was between Trump and his former attorney general, William P. Barr. The committee on Thursday and again on Monday played clips of Barr repeatedly deriding Trump's and his allies' voter-fraud claims in stark terms. On Monday, they added clips of Barr saying he informed Trump that his theories were bogus — something that could be legally significant.

Trump spokeswoman Liz Harrington responded to this by accusing Barr of being a "cowardly RINO" and a "shill" for "Marxist Democrats".

But one of the benefits of launching an investigation and getting people under oath is forcing them to say what they really thought of one another and what was happening in real time. And the prevailing message thus far is that lots of people knew Trump's push to overturn the election was completely untethered to reality.

It also suggests there will be plenty for all of them to fight over in the coming days and weeks, as the committee reveals even more that was previously obscured. https://www.washingtonpost.com/politics/2022/06/14/trump-team-descends-into-infighting-over-jan-6/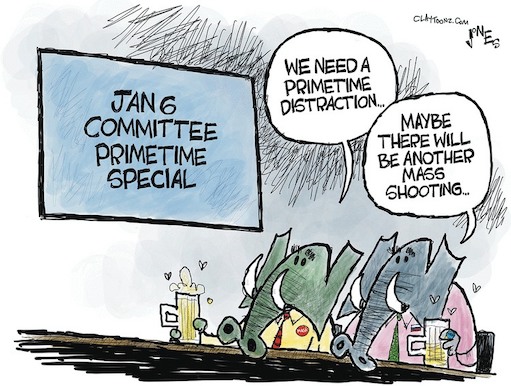 Molly Ball: How the 'MAGA Squad' Is Building Power to Control the Next Congress
Torching the news cycle is what Gaetz and Greene love to do. They are constantly in the headlines for their attention-getting antics, outrages and feuds. The pair have defended the Jan. 6 rioters, promoted countless conspiracy theories, hobnobbed with white nationalists and picked fights with colleagues on both sides of the aisle. Their own Republican colleagues have called them "unserious," clowns, bigots, and worse. The humorist Dave Barry called them "Trump's inner circle of trusted wack jobs."
Gaetz and Greene are the ringleaders of the GOP's most hard-core, pro-Trump congressional faction. The MAGA Squad, as you might call them, is not a formal caucus, but its numbers are growing—despite the impending departure of one prominent member, Rep. Madison Cawthorn, who lost his North Carolina primary after scandals ranging from insider-trading allegations to lewd videos. The group includes freshmen members like Lauren Boebert, who accused a Muslim colleague of being a member of the "Jihad Squad," as well as longer-serving representatives like Scott Perry of Pennsylvania, who pushed Trump's Department of Justice to throw out electoral votes after the 2020 election, and Paul Gosar of Arizona, who has extensive ties to white nationalists and once posted an animated video showing him murdering Democrat Alexandria Ocasio-Cortez with a sword. There's Representative Andy Biggs of Arizona, who allegedly helped plan the Jan. 6 rally that preceded the Capitol riot, and Mo Brooks of Alabama, who spoke at the rally. Several members have been subpoenaed by the Jan. 6 Committee, which is also investigating Representative Barry Loudermilk for leading what some have called a "reconnaissance" tour of the closed Capitol on Jan. 5, 2021. There have long been rabble-rousing right-wingers in Congress, but this group makes the Freedom Caucus seem tame.
To Republicans trying to convince voters to hand them power this November by seeming sensible, sober and interested in governing, they're a constant headache and distraction. The Senate minority leader, Mitch McConnell, has described Greene's "loony lies and conspiracy theories" as a "cancer for the Republican Party." Not that the MAGA Squad care what the GOP Establishment thinks: Back before Twitter permanently banned her for spreading Covid misinformation, Greene shared a tweet calling Kevin McCarthy—the leader of her own party in the House—a "feckless c-nt."
The MAGA Squad: They're here. They're weird. And pretty soon, they may be in control of the GOP Congress—if they aren't already.
https://time.com/6186037/matt-gaetz-marjorie-taylor-greene-maga-house-republicans/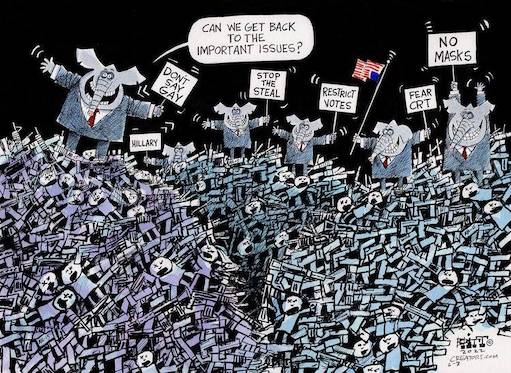 Max Boot: I thought the Jan. 6 committee wouldn't matter. I was wrong
I admit to having been skeptical, ahead of time, of the hearings planned by the House select committee investigating the events of Jan. 6, 2021. What more is there to be said, I wondered? The evidence of Donald Trump's guilt in inciting an insurrection was already so obvious that it was hard to imagine that the committee would have much to add. This was not, after all, a situation such as Watergate, where the scandal happened behind closed doors. The entire nation saw Trump's incendiary remarks and tweets, and the riot that followed, on national television.
I am happy to say I was wrong. The committee's hearings are exceeding expectations, because it is not behaving like a typical congressional committee. There is no grandstanding and no preening. There are no petty partisan squabbles. There is not even the disjointedness that normally occurs when a bunch of politicians are each given five minutes to question each witness. There is only the relentless march of evidence, all of it deeply incriminating to a certain former president who keeps insisting that he was robbed of his rightful election victory.
https://www.washingtonpost.com/opinions/2022/06/14/january-6-committee-hearings-impact-trump-aides/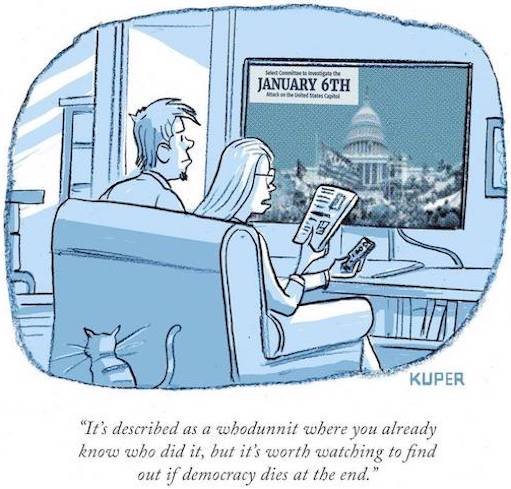 Dana Milbank: Trump will be gone, but the GOP's 'dishonor will remain'
"I say this to my Republican colleagues who are defending the indefensible," she said at Thursday night's opening hearing of the Jan. 6 House select committee. "There will come a day when Donald Trump is gone, but your dishonor will remain."
The Wyoming congresswoman, daughter of the former vice president, and vice chair of the committee, outlined for the country, and for history, two contrasting stories about the bloody insurrection.
One was a tale of honor and duty. Officials in the Justice Department and White House, to a greater extent than was previously known, confronted Trump about his election lies and repeatedly threatened to resign if he followed through with his darkest impulses.
The other was a tale of brutality and deceit by Trump and a small band of loyalists. They knew he had lost, and yet, as Cheney put it, "Trump oversaw and coordinated a sophisticated, seven-part plan to overturn the presidential election and prevent the transfer of presidential power."
In perhaps the most chilling moment of the hearing, Cheney spoke of former White House officials' testimony about Trump's bloodthirstiness toward his own vice president. "Aware of the rioters' chants to hang Mike Pence, the president responded with this sentiment, quote, 'Maybe our supporters have the right idea.' Mike Pence, quote, 'deserves it.' "
With rare exception, Republican officeholders have chosen to side with Trump, who indicated his vice president deserved to be hanged, and who, when begged by his staff to call off the mob, responded: "They're doing what they should be doing," according to committee testimony.
It's beyond the Jan. 6 committee's mandate to explain how so many people who began with honorable instincts ultimately retreated to join Trump. And there is probably no convincing them, nor the tens of millions they have deceived, to correct course now. But the committee's work gives hope that the dishonorable will, at least, earn history's rebuke. 
https://www.washingtonpost.com/opinions/2022/06/09/january-6th-committee-testimony-cheney-trump-dishonor/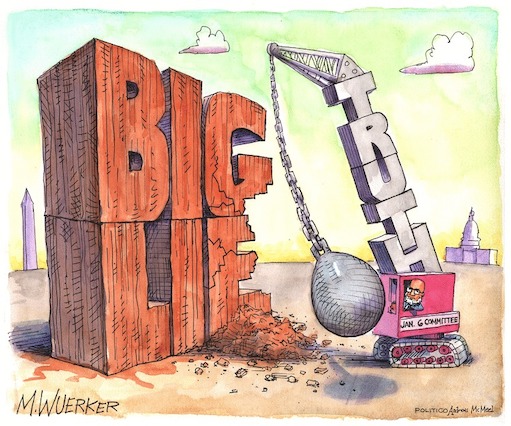 Bess Levin: Donald Trump Throws Predictable Shit Fit After Ivanka Throws Him Under The Bus
For the entirety of her 40 years on earth, Ivanka Trump has had the dubious honor of being Donald Trump's favorite child. And while it's difficult to imagine her doing literally anything that would result in Don Jr. or Eric moving up in the ranks, on Thursday evening she came extremely close when the January 6 committee aired a portion of her April testimony in which the former first daughter said she knew there was no evidence that her father had won 2020 election, i.e., the lie he's maintained for approximately 19 months now.
Not surprisingly the ex-president didn't take kindly to being thrown under the bus by his own flesh and blood, and on Friday morning, fired up the internet to inform his followers that his eldest daughter doesn't know what the hell she's talking about.
Ivanka, of course, stood by her father as he pushed his election lies—as other members of the administration resigned in protest—so she shouldn't actually receive any credit for only now admitting something that half the country already knew. But the fact that she did, to the January 6 committee, obviously makes her father look even worse than he already did—and clearly, he knows it.
Unsurprisingly, Ivanka wasn't the only object of Trump's rage on Friday. He also sent out a series of "truths" attacking former attorney general Bill Barr, who called his election-fraud claims "bullshit" in deposition to the committee and insisted that Vice Chair Liz Cheney's claim that he supported the rioters' "hang Mike Pence" chants false. "I NEVER said, or even thought of saying, 'Hang Mike Pence.' This is either a made up story by somebody looking to become a star, or FAKE NEWS!" Trump ranted, according to Politico. In reality, Cheney didn't say that Trump uttered the words "hang Mike Pence," but that he reportedly suggested to White House aides that the then V.P. deserved what the insurrectionists had in mind for him. Also, his denials would be a lot more convincing if he wasn't literally on tape defending the "Hang Mike Pence" calls. https://www.vanityfair.com/news/2022/06/donald-trump-ivanka-trump-january-6-hearing-election-claims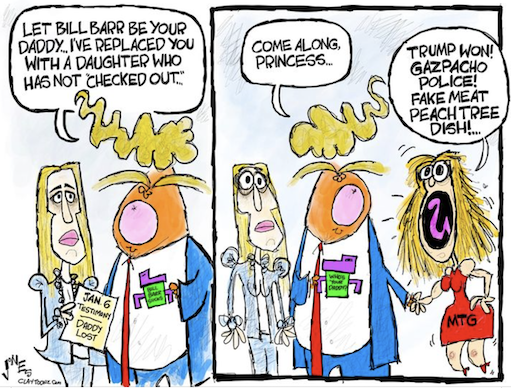 Dana Milbank: As climate catastrophes multiply, Republicans rethink denialism
Each day seems to bring us a zombie step closer to the climate apocalypse.
Drought in the West. Fires in the Southwest. Power outages coming to the Midwest.  Monkeypox and other strange diseases spreading. Food prices soaring. Migration and crime exploding. Giant spiders arriving with young that can parachute from the sky. The National Oceanic and Atmospheric Administration going full Lake Wobegon, forecasting a seventh consecutive "above-average" hurricane season.
It might feel as if The End Is Near. But fear not: House Republicans are swinging into action.
After a quarter century of Republican climate denialism, The Post's Maxine Joselow and Jeff Stein revealed this exciting news last week: "House Minority Leader Kevin McCarthy (R-Calif.) plans to unveil a strategy Thursday outlining how Republicans would address climate change, energy and environmental issues."
But there were just a couple of small problems with the resulting two-pager put out by the House GOP "Energy, Climate, & Conservation Task Force." The strategy didn't, er, actually mention the word "climate." Neither did it make any commitment to decreasing greenhouse-gas emissions. The only indirect acknowledgment that climate change is even a thing was a call to mine more rare minerals of the sort used in batteries. And the strategy included a gusher of proposals to boost oil and gas production.

The Sierra Club's legislative director, Melinda Pierce, called the plan "McCarthy's latest attempt to greenhouse gaslight the American public."  https://www.washingtonpost.com/opinions/2022/06/08/climate-change-deniers-republican-catastrophe/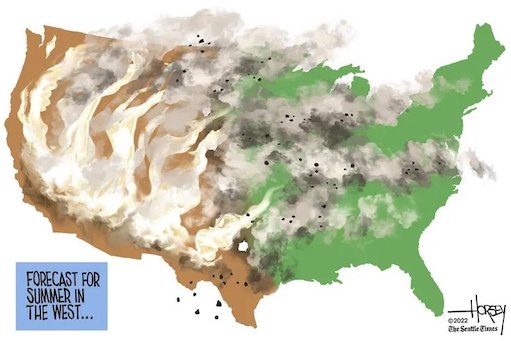 Lorraine Ali, TV Critic: Drunk Rudy. Loser Trump. How the Jan. 6 hearings' wild comedy weakens the Big Lie
Insurrection is no joke. But it was hard not to laugh during the Jan. 6 Committee's public hearings on Monday as the theme of Day 2 came into focus: the truth behind The Big Lie. Witness after witness testified to the outlandish schemes, absurd conspiracy theories and drunken advice President Trump used to falsely declare he'd won the 2020 election.
What emerged was a picture of a Trump White House whose alternate reality makes "Veep's" fictional Selena Meyer look like a policy wonk: There were "the suspicious black suitcase"; ballot mules; rigged voting machines; deep state operatives; armies of dead voters; a deceased Venezuelan communist conspiring to sink the incumbent. Peter Sellers couldn't have concocted a more deranged flight of fancy.
The televised hearing, helmed by Chairman Bennie Thompson (D-Miss.) and Rep. Zoe Lofgren (D-San Jose), signaled a tonal shift from the violence and horror of the attack on the Capitol documented in Thursday's emotional, prime-time premiere. The proceedings delivered on the committee's promise to examine the events that led to the attempted coup in clear installments, or episodes. "Trump rejected the advice of his campaign experts on election night, and instead followed the course recommended by an apparently inebriated Rudy Giuliani to just claim that he won," said Vice Chairwoman Liz Cheney's (R-Wyo.) in her opening statement, setting up viewers for a juicy segment examining the former New York mayor's role.
Like any compelling TV series, levity is critical to keeping viewers invested in an otherwise heavy story. Audiences can only take so much trauma before they turn away, especially when the story is still unfolding. Consciously or not, Monday's live broadcast wove comic relief into a larger narrative of powerful men behaving badly and once again showed that the hearings are a far cry from the usual political theater. Instead, the committee highlighted the ludicrous culture inside the Oval Office and underscored the absurdity of the Big Lie.
Those who were able to testify in person not only established that the former president and his associates knew he'd lost the 2020 election and still pushed claims of election fraud for political and financial gain. They also showed that Trump and his cronies did so with the subtlety of the Keystone Kops.
The hearing closed with a video presentation revealing how Trump and associates used The Big Lie to raise $250 million from people for bogus efforts such as the "election defense fund" — a nonexistent operation.
"Not only was there The Big Lie, there was The Big Ripoff," said Lofgren. And the title for a forthcoming comedy show based on the hearings was born. https://www.latimes.com/entertainment-arts/tv/story/2022-06-13/jan-6-committee-hearings-stepien-barr-giuliani-trump-monday-day-2