May 23, 2019
ON THE RECORD. . .
"At some point, as every committee gets stonewalled. The case for impeachment as a mechanism to get what we need . . . gets stronger and stronger. I think a lot of people are going to have to reconcile themselves to that." — Natural Resources Committee Chairman Raúl M. Grijalva (D-Ariz.) when asked whether he thinks Pelosi will support impeachment eventually.
"It is really a condescending word. Are they saying family is without merit?" — Nancy Pelosi taking issue with the White House's characterization of the kind of immigrants who bring "merit" (skills instead of family ties) to the United States.
"The letter that came from the White House yesterday was completely outrageous. That letter that came from the White House was a joke, beneath the dignity of the presidency of the United States, in defiance of our Constitution. Shame on them." — Speaker Nancy Pelosi criticizing the White House for asserting that it would not comply with a range of requests from the House Judiciary Committee.
"It is time for women to rise up, to be heard, to run for office. I mean all women." —Alabama state Sen. Linda Coleman-Madison (D), writing in Elle, after her colleagues passed a law outlawing abortion in the state.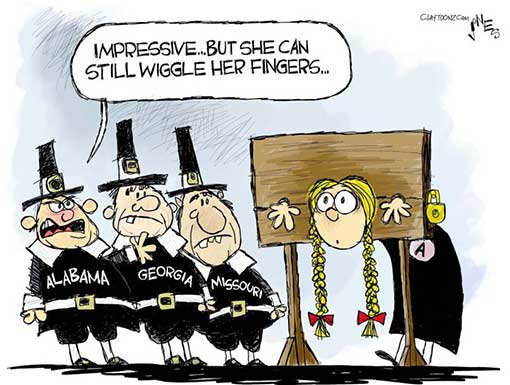 "As a party, we should be 100 percent pro-choice, and it should be nonnegotiable. We should not settle for less, and if our party cannot support women's basic human rights, their fundamental freedoms to make decisions about their bodies and their futures, then we are not the party of women." — Sen. Kirsten Gillibrand (D-NY)
"Bill Barr does Fox interview, making crystal clear he's putting the Justice Department 100% behind Trump's lawlessness." — Josh Marshall tweet
"Government power was used to spy on American citizens. I can't imagine any world where we wouldn't take a look and make sure that was done properly. Just like we need to ensure that foreign actors don't influence the outcome of our elections, we need to ensure that the government doesn't use its powers to put a thumb on the scale." — AG Barr in a Wall Street Journal interview
"Knowing that the President's lawyers sought to discourage Flynn from cooperating with prosecutors underscores how fundamentally flawed this presidency is. Mob bosses try to keep their associates from helping law enforcement uncover crimes, not presidents."— Former prosecutor Joyce White Vance.
"I've been to detention facilities where I've walked up to these individuals that are so-called minors, 17 or under. I've looked at them—and I've looked at their eyes, Tucker—and I've said, 'That is a soon-to-be MS-13 gang member.'" — Mark Morgan, Trump's pick to lead the border-security agency, not only bolstered the fear that undocumented immigrants might be MS-13 members, but suggested that he's somehow capable of discerning which young migrants will join the brutal gang.
"I'm going to Atlanta to lead the fight against these unbelievable, draconian inhumane abortion bans. As I've watched this, I have become more and more concerned that we not only need to shine a light on it and lift up the voices of women who will be impacted, but that I have to lead this fight. So I'm going to take it right to the lion's gate. I'm going to take it right to the belly of the beast." — Sen. Kirsten Gillibrand (D-NY.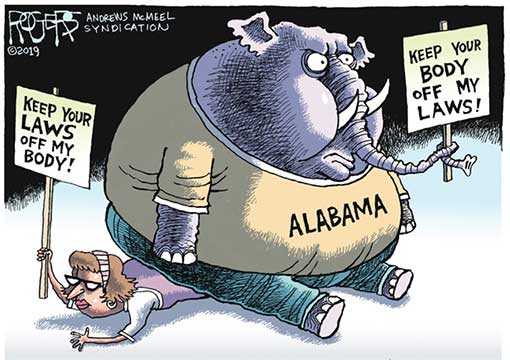 "We're changing laws as rapidly as we can get them through the courts." — Trump, in an interview on Fox News, revealing a misunderstanding of how laws are supposed to be made.
 "I guess what bothers me as much as anything is I know what we're doing is, some time along the way we are going to open a door that will eventually lead to recreational marijuana. … If there is someone that needs it, let's say there is someone doing the cancer treatment, they have nausea problems and they need something to control it, they can get it!" — Alabama state Sen. Jim McClendon (R) explaining that he voted against a medical marijuana bill because cancer patients can buy it illegally on the street if they need it.
I asked @SecretaryCarson about REOs - a basic term related to foreclosure - at a hearing today. He thought I was referring to a chocolate sandwich cookie. No, really. — Rep. Katie Porter@RepKatiePorter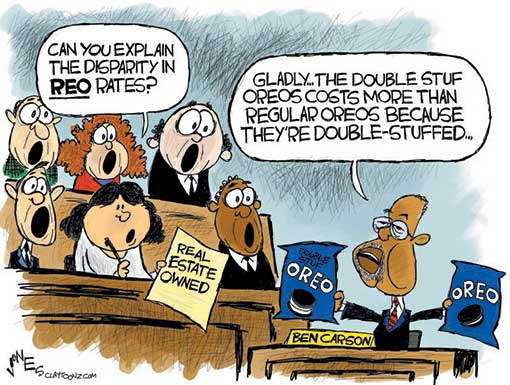 "We love clean, beautiful West Virginia coal. And you know, that's indestructible stuff. In times of war, in times of conflict, you can blow up those windmills, they fall down real quick. You can blow up pipelines, they go like this," he said, making a hand gesture. "You can do a lot of things to those solar panels, but you know what you can't hurt? Coal." — Trump at a political rally in West Virginia.
"I think it's a terrible idea to pardon someone who is legitimately convicted of committing war crimes. It's unthinkable,"-- Sen. Mitt Romney (R-Utah) when asked about the New York Times report that reported plans to pardon several U.S. servicemen accused or convicted of war crimes.
"I think Bill Barr has all the duplicity of Rudy Giuliani without all the good looks and general likability of Rudy Giuliani." — House Intelligence Committee Chairman Adam Schiff (D-CA).
---
IN THIS ISSUE
FYI
OPINION
1. Dark clouds hang over Trump's trade war
If the president moves ahead with 25 percent tariffs on everything China exports to the United States, it could amount to a tax hike of more than $2,000 on the average American family, swamping the reduction they won from Trump's signature legislative achievement — the 2017 tax law. https://www.politico.com/story/2019/05/20/trump-trade-war-2020-1455474
2. 78 Environmental Rules on the Way Out Under Trump
All told, the Trump administration's environmental rollbacks could lead to at least 80,000 extra deaths per decade and cause respiratory problems for more than one million people, according to a separate analysis conducted by researchers from Harvard. That number, however, is likely to be "a major underestimate of the global public health impact," said Francesca Dominici, a professor of biostatistics at the Harvard School of Public Health. — Details at https://www.nytimes.com/interactive/2017/10/05/climate/trump-environment-rules-reversed.html
3. Russian documents reveal intent to sow racial discord — and violence — in the U.S.
Russians who were linked to interference in the 2016 U.S. election discussed ambitious plans to stoke unrest and even violence inside the U.S. as recently as 2018, according to documents reviewed by NBC News.
The documents — communications between associates of Yevgeny Prigozhin, a Kremlin-linked oligarch indicted by special counsel Robert Mueller for previous influence operations against the U.S. — laid out a new plot to manipulate and radicalize African Americans. The plans show that Prigozhin's circle has sought to exploit racial tensions well beyond Russia's social media and misinformation efforts tied to the 2016 election.
One document said that President Donald Trump's election had "deepened conflicts in American society" and suggested that, if successful, the influence project would "undermine the country's territorial integrity and military and economic potential." https://www.nbcnews.com/news/world/russian-documents-reveal-desire-sow-racial-discord-violence-u-s-n1008051
4. Merrick Garland, denied Supreme Court spot, is set to consider Trump subpoena appeal
President Trump's appeal of a subpoena from House Democrats to turn over his financial records will be heard by a court where snubbed Supreme Court pick Merrick Garland is the chief judge. https://thehill.com/homenews/administration/444792-merrick-garland-denied-supreme-court-spot-on-court-set-to-consider
5. GOP Lawmaker Unloads on Trump and Barr
Rep. Justin Amash (R-Mich.), a critic of President Trump who has entertained a run against him in 2020, became the first Republican congressman to say the president "engaged in impeachable conduct" based on the Mueller report.
Amish, often the lone Trump dissenter on his side of the House aisle, shared his conclusions in a lengthy Twitter thread Saturday after reviewing the full report by special counsel Robert S. Mueller III.
Amash's "principal conclusions" are:
1. Attorney General Barr has deliberately misrepresented Mueller's report.

2. President Trump has engaged in impeachable conduct.

3. Partisanship has eroded our system of checks and balances.

4. Few members of Congress have read the report.
Amish concludes that "America's institutions depend on officials to uphold both the rules and spirit of our constitutional system even when to do so is personally inconvenient or yields a politically unfavorable outcome. Our Constitution is brilliant and awesome; it deserves a government to match it." https://twitter.com/justinamash/status/1129831615952236546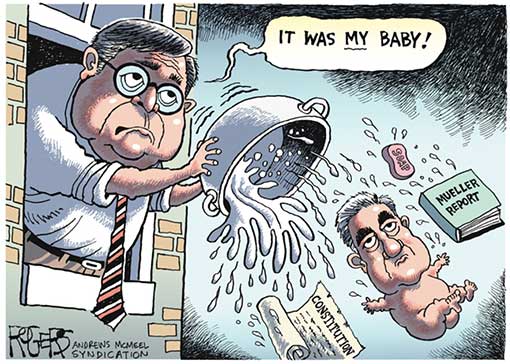 6. The DAILY GRILL
"Don't hop on our channel and continue to put down the other hosts on the channel, or the channel. If you feel that negative about it, don't come." — "Fox & Friends" host Brian Kilmeade

VERSUS

"You've got Tucker Carlson saying that immigrants make America dirty. ... You've got Laura Ingraham comparing detention centers with children in cages to summer camps. There's a reason why anybody has to swallow hard and think twice before participating in this media ecosystem." — Pete Buttigieg,  defending appearing on the conservative-leaning network, following criticism from some Democrats.

 

"Well, people have a lot of respect for this Prime Minister.  He's a respected man.  And I know he's a tough man, but he's a respected man.  And he's done the right thing, according to many people, on immigration.  And you look at some of the problems that they have in Europe that are tremendous because they've done it a different way than the Prime Minister."— Trump 

VERSUS

Even by the standards of Trump's own praise of strongmen such as Vladimir Putin of Russia or Abdel Fatah al-Sissi of Egypt, Trump's welcome of Orban is in a class of its own. Orban is not merely a "tough man" — so were Hitler and Stalin — but a smotherer of democracy and a demagogic bigot. He proceeds as if the Holocaust never happened — as if Jews were never murdered for being Jewish, as if the Arrow Cross never aided the Nazis in killing an additional 80,000 Jews. Orban is an heir to that Arrow Cross. Trump is an heir to everyone who looked away. —  Richard Cohen in the Washington Post

 
7. From MEDIA MATTERS (They watch Fox News so you don't have to)
Jay Sekulow parroted Seth Rich conspiracy theories on Hannity's Fox show -- then became the president's lawyer. https://www.mediamatters.org/blog/2019/05/16/jay-sekulow-parroted-seth-rich-conspiracy-theories-hannity-s-fox-show-then-became-president-s-lawyer/223720

Fox guest suggests the US measles outbreak happened because of asylum-seekers. https://www.mediamatters.org/video/2019/05/16/fox-guest-suggests-us-measles-outbreak-happened-because-asylum-seekers/223721

Fox's Andrew Napolitano says it's wrong to impeach Trump without broad bipartisan consensus. He called for Obama's impeachment at least nine times. Napolitano even once called for impeaching Obama on Alex Jones' show. https://www.mediamatters.org/blog/2019/05/16/fox-s-andrew-napolitano-says-it-s-wrong-impeach-trump-without-broad-bipartisan-consensus-he-called/223718\

Fox News guest suggests European allies disagree with increased aggression in Iran because Trump has seen intelligence that they haven't. https://www.mediamatters.org/video/2019/05/15/Fox-News-guest-suggests-European-allies-disagree-with-increased-aggression-in-Iran-because/223710

Brian Kilmeade: "Guatemala and Honduras are looking to empty out the people that are on their social system to put them in ours." https://www.mediamatters.org/video/2019/05/16/brian-kilmeade-guatemala-and-honduras-are-looking-empty-out-people-are-their-social-system-put-them/223715

On Fox Business, Herman Cain says Black Americans have been "brainwashed" to hate Trump. Cain: "Many of them only look at the liberal stations, which we know report 92% negative news about President Trump and his administration." https://www.mediamatters.org/video/2019/05/17/On-Fox-Business-Herman-Cain-says-Black-Americans-have-been-brainwashed-by-the-liberal-medi/223728

On Fox News, Dinesh D'Souza claims Democrats "want to sort of transform the demographics of America" through immigration. https://www.mediamatters.org/video/2019/05/17/fox-news-dinesh-d-souza-claims-democrats-want-sort-transform-demographics-america-through/223737

Trump adviser tells Lou Dobbs the "all-out coordinated attack on abortion in America" is "a great thing to witness." Pastor Robert Jeffress: "None of this would be happening without the support of President Trump." https://www.mediamatters.org/video/2019/05/17/trump-adviser-tells-lou-dobbs-all-out-coordinated-attack-abortion-america-great-thing-witness/223736

Fox News host: Trump's move to pardon convicted and accused U.S. war criminals will unite the country out of "a love of our military." https://www.mediamatters.org/video/2019/05/19/fox-news-host-trump-s-move-pardon-convicted-and-accused-us-war-criminals-will-unite-country-out-love/223738

Tucker Carlson: "Congresswoman Ilhan Omar, herself a symbol of America's failed immigration system if there ever was one. Someone who hates this country." https://www.mediamatters.org/video/2019/05/17/tucker-carlson-congresswoman-ilhan-omar-herself-symbol-americas-failed-immigration-system-if-there/223734

After Rep. Justin Amash says Trump's conduct is impeachable, Fox contributor tells him to "leave the Republican Party immediately." Dan Bongino: "I thought he was one of the more principled guys in Congress. It turns out he's the biggest phony up there right now. …. There's absolutely nothing libertarian about claiming that an innocent man, President Trump, who did nothing wrong in this case should be impeached and thrown out of office for fictitious crimes that didn't happen. It's outrageous he would even claim that.  https://www.mediamatters.org/video/2019/05/20/after-rep-justin-amash-says-trumps-conduct-impeachable-fox-contributor-tells-him-leave-republican/223740

After his Fox News town hall, Fox & Friends launches a propaganda onslaught against Pete Buttigieg. Fox hosts called Buttigieg a "clown," said his town hall was stacked with friends and relatives, and mischaracterized his positions. https://www.mediamatters.org/blog/2019/05/20/after-his-fox-news-town-hall-fox-friends-launches-propaganda-onslaught-against-pete-buttigieg/223745

Tucker Carlson says immigrants have "plundered" American wealth and warns that "they are coming" for more. https://www.mediamatters.org/video/2019/05/21/tucker-carlson-says-immigrants-have-plundered-american-wealth-and-warns-they-are-coming-more/223764

Brian Kilmeade says "this is a flat-out invasion" as Fox & Friends discusses the fifth child to die after being taken into custody at the border. https://www.mediamatters.org/video/2019/05/22/brian-kilmeade-says-flat-out-invasion-fox-friends-discusses-fifth-child-die-after-being-taken/223766
8. From the Late Shows
The Late Show with Stephen Colbert: 25 Republican Men Ban Abortion In Alabama: https://youtu.be/f-ag5kf1cOE

Don't Stop Me Now Cold Open - SNL; https://youtu.be/ejAjdcRC28Y
9. 1,700 additional children it may have been separated from their parents
The Trump administration has identified at least 1,712 migrant children it may have separated from their parents in addition to those separated under the "zero tolerance" policy, according to court transcripts of a Friday hearing.
U.S. District Court Judge Dana Sabraw ordered the Trump administration to identify children separated before the zero tolerance policy went into effect in May 2018, resulting in the separation of over 2,800 children. https://www.nbcnews.com/news/us-news/1-700-additional-separated-migrant-children-identified-trump-administration-n10074261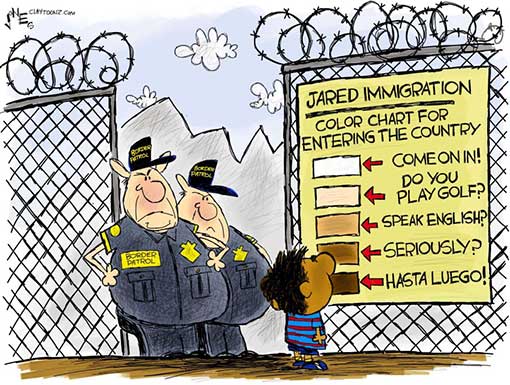 10. Nevada: Where women call the shots
Yvanna Cancela, a newly elected Democrat in the Nevada Senate, didn't want to "sound crass." But when a Republican colleague defended a century-old law requiring doctors to ask women seeking abortions whether they're married, Cancela couldn't help firing back.
"A man is not asked his marital status before he gets a vasectomy," she countered — and the packed hearing room fell silent.
Since Nevada seated the nation's first majority-female state legislature in January, the male old guard has been shaken up by the perspectives of female lawmakers. Bills prioritizing women's health and safety have soared to the top of the agenda. Mounting reports of sexual harassment have led one male lawmaker to resign. And policy debates long dominated by men, including prison reform and gun safety, are yielding to female voices. https://www.washingtonpost.com/nation/2019/05/17/nevadas-legislature-women-outnumber-men-first-nation-carson-city-may-never-be-same/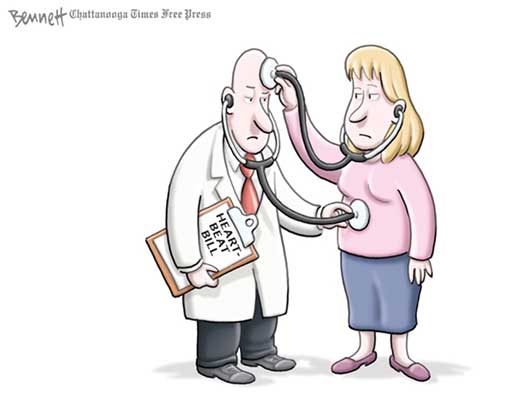 11. Last-minute amendment makes Florida felon voting records confidential
Voter registration records are public, as are felony criminal records.But a last-minute insertion into a bill that passed with overwhelming support on the final day of Florida's legislative session aims to keep the public from seeing felon voting restoration records. The change makes it difficult, if not impossible, to track the progress of a November constitutional amendment that restored voting rights to more than 1 million felons. https://www.news-journalonline.com/news/20190521/last-minute-amendment-makes-florida-felon-voting-records-confidential
12. New York lawmakers pass bill aimed at weakening Trump's pardon power
New York state lawmakers passed a measure Tuesday that would allow prosecutors to pursue state charges against certain individuals even if they have received a presidential pardon, a move seen as a direct shot at President Donald Trump.
Prosecutors and lawmakers who back the bill said the measure is necessary to ensure that investigations into the president, his associates and his business taking place at the state level are not derailed by pardons. https://www.nbcnews.com/politics/donald-trump/new-york-lawmakers-pass-bill-aimed-weakening-trump-s-pardon-n1008381
13. So Far, $1.57 Billion for Wall Yields 1.7 Miles of Fence
U.S. Customs and Border Protection has put up just 1.7 miles of fencing with the $1.57 billion that Congress appropriated last year for President Donald Trump's wall along the Mexican border, a federal judge was told.
A lawyer for the House of Representatives provided the information onTuesday to the judge in Oakland, California, who is weighing requests from 20 state attorneys general and the the Sierra Club to block Trump from using funds not authorized by Congress to build the wall. https://www.bloomberg.com/news/articles/2019-05-21/federal-wall-funding-of-1-57-billion-yields-1-7-miles-of-fence
14. Mueller Probed Cohen Ties to Russian Oligarch
 Donald Trump's former lawyer, Michael Cohen, communicated more than 1,000 times by text and telephone over eight months with the chief executive of a U.S. money-management firm with ties to a Russian oligarch, Special Counsel Robert Mueller's office determined in the summer of 2017.
Five search warrants filed by Mueller's office starting that July were unsealed Wednesday in federal court in Washington, D.C., detailing some of the early suspicions of Mueller's investigators. Exchanges between Cohen and Andrew Intrater, the chief executive officer of Columbus Nova LLC, began on the day of Donald Trump's election, according to a warrant filed in Washington on Aug. 7, 2017. https://www.bloomberg.com/news/articles/2019-05-22/michael-cohen-filings-show-950-messages-with-oligarch-s-cousin
15. Taxpayers Picking Up The Tab: Trump's Golf Costs: $102 Million And Counting
Donald Trump's golf habit has already cost taxpayers at least $102 million in extra travel and security expenses, and next month will achieve a new milestone: a seven-figure presidential visit to another country so he can play at his own course.
U.S. taxpayers have spent $81 million for the president's two dozen trips to Florida, according to a HuffPost analysis. They spent $17 million for his 15 trips to New Jersey, another $1 million so he could visit his resort in Los Angeles and at least $3 million for his two days in Scotland last summer ― $1.3 million of which went just for rental cars for the massive entourage that accompanies a president abroad. https://www.huffpost.com/entry/trump-golf-102-million-taxpayers_n_5ce46727e4b09b23e65a01bb
16. Sweeping power to investigate Trump's finances upheld
Ruling that Congress has wide-ranging power to investigate President Donald J. Trump's finances even without opening an impeachment probe, a federal judge in Washington, D.C., has ordered a private accounting firm to disclose eight years of his private business records to a Capitol Hill committee.
The 41-page decision on Monday by U.S. District Judge Amit P. Mehta rejected virtually every legal and constitutional argument that the President and his lawyers have been making in recent weeks in defying subpoenas issued by a series of investigating committees of the House of Representatives. If the ruling withstands an appeal that will now go forward, it could set a precedent affecting congressional inquiries well beyond the specific one at issue before Judge Mehta.
This opening round of what are expected to be several court cases growing out of the impasse between the White House and Democratic lawmakers is moving at unusual speed and could reach the Supreme Court in a matter of weeks. The two sides in the case before Judge Mehta had agreed that his ruling would be put on hold for seven days to allow an appeal, but the judge refused a request by Trump's lawyers for a longer delay.
The President's legal team is expected to ask a federal appeals court to block Monday's ruling and then to overturn it. The stakes are so high, for both sides, that a final review by the Supreme Court seems almost inevitable. https://constitutioncenter.org/blog/sweeping-power-to-investigate-trumps-finances-upheld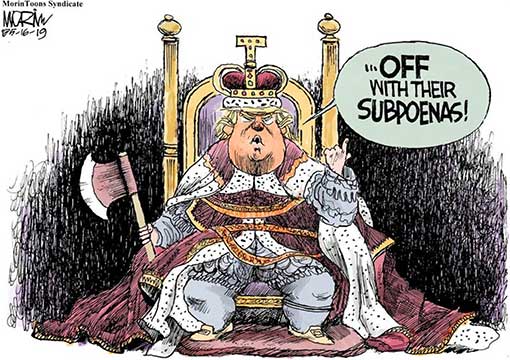 17. The Washington Post is asking 2020 Democrats where they stand on key issues
A record number of candidates are running for the 2020 Democratic presidential nomination. To provide voters with a clear sense of what these candidates are for and against, The Post is publishing a series of pages laying out their policy stances. https://www.washingtonpost.com/graphics/politics/policy-2020/
The issues 2020 Democrats are running on, according to their social media: https://www.washingtonpost.com/graphics/politics/policy-2020/priorities-issues/

Where 2020 Democratic candidates stand on the electoral college, court packing and changes to democracy: https://www.washingtonpost.com/graphics/politics/policy-2020/voting-changes/

Where 2020 Democrats stand on Medicare-for-all: https://www.washingtonpost.com/graphics/politics/policy-2020/medicare-for-all/
1. Eric Levitz: The GOP's Assault on Abortion Rights Is Tyranny of the Minority
The government of Alabama just decided that providing an abortion to a 12-year-old girl who was raped by her father is a more serious crime than raping a 12-year-old girl.
On Wednesday, Governor Kay Ivey enacted the most restrictive abortion ban in the United States. Under its provisions, performing an abortion on someone who has been pregnant for more than six weeks is a Class A felony, carrying a minimum sentence of ten years in prison, no matter how said person became pregnant. Statutory rape and incest, meanwhile, remain Class C felonies — carrying a minimum prison sentence of just over one year.
Although some putatively "moderate" Republicans like Marco Rubio believe that the state should coerce victims of rape and incest into incubating their abusers' fetuses, the vast majority of Americans do not. A 2018 Gallup poll found that 77 percent of voters felt abortion should be legal in such circumstances during the first trimester of pregnancy (while 52 percent said it should remains so in the last three months of a pregnancy). Even Pat Robertson — the Christian-fundamentalist televangelist who blamed "the gays" for 9/11 — said this week that Alabama's abortion ban had "gone too far."
Nevertheless, while Alabama's decision to dispense with rape and incest exemptions is aberrant, it is far from alone in banning abortion in virtually all cases after the first six weeks of pregnancy — which is to say, before many women will even realize that they are pregnant. http://nymag.com/intelligencer/2019/05/alabama-abortion-ban-heartbeat-law-rape-incest-polls-republicans.html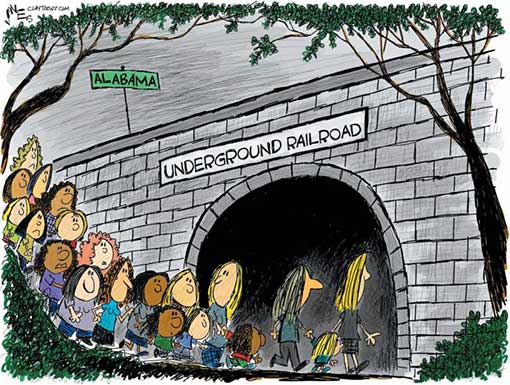 2. Bess Levin: Of Course Trump Pardoned A Con Man Who Wrote A Fawning Book About Him
Trump pardoned ex-businessman Conrad Black, who was convicted in 2007 of obstruction of justice and fraud after swindling millions from Hollinger International and subsequently "removing 13 boxes with documents from his Toronto offices in 2005, and a security camera had caught Black and his driver transferring boxes from his office to the car."
Importantly, Black wrote an entire book last year entitled "Donald J. Trump: A President Like No Other," which argues that Trump "possesses the optimism to persevere and succeed, the confidence to affront tradition and convention, a genius for spectacle, and a firm belief in common sense and the common man," and that "the great majority of anti-Trump activity in the first year of his administration was devoted to falsehoods," and that Trump is not "a racist, sexist, warmonger, hothead, promoter of violence, or a foreign or domestic economic warrior."
In addition to his book (presumed working title: Women Want to Be with Him, Men Want to Be Him: the Donald J. Trump Story), in 2015 Black wrote an op-ed for the National Review entitled "Trump is the Good Guy," in which he argued that it was "time to look more seriously at the Donald Trump presidential candidacy." To which Trump responded, "What an honor to read your piece. As one of the truly great intellects & my friend, I won't forget!" https://www.vanityfair.com/news/2019/05/conrad-black-donald-trump-pardon
3.  Charles M. Blow: White Supremacy Beyond a White Majority
We are living through a flagrant display of a white male exertion of power, authority and privilege, a demonstration meant to underscore that they will forcefully fight any momentum toward demographic displacement, no matter how inevitable the math.
While much of the country tries to contend with the unending stream of outrages in the White House, the Senate majority leader is pushing through a steady stream of Trump's far-right federal judges, often breaking precedent and allowing for their confirmations over their home state's senators' objection.
Trump will be president for only two more years — or, God forbid, six more — but this tension and standoff over power and status will continue. At present, white men still control much of the power in this country.
Frederick Douglass once said, "Power concedes nothing without a demand." I speculate that this power may not concede until its death rattle. https://www.nytimes.com/2019/05/15/opinion/race-government-politics.html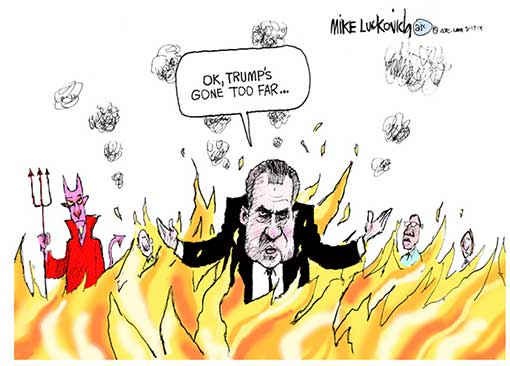 4. NY Times Editorial Board: What's Missing in Trump's 'Beautiful, Bold' Immigration Plan
In a Rose Garden address, President Trump on Thursday unveiled his plan "to create a fair, modern and lawful system of immigration for the United States."
"This is the big, beautiful, bold plan," Mr. Trump said — one that would not only establish "the most complete and effective border security package ever assembled," but also effect a "sweeping modernization of our dysfunctional legal immigration process."
These are, to be sure, worthy goals. Unfortunately, what Mr. Trump rolled out was less a transformative reform proposal than another missed opportunity. Immigration is this president's signature issue, one defined by entrenched, complex problems that call for serious thought, informed analysis and painful compromise. Instead, the president has produced a political messaging vehicle — a vision statement around which to unify and rally his party heading into next year's election.
Even on those narrow, dispiriting terms, it's likely to fall short.
Assembled over the past several months by Jared Kushner, Mr. Trump's son-in-law and senior adviser, this proposal does not address some of the thorniest elements of the immigration debate. Most notably, it avoids the question of what to do about the 1.8 million immigrants brought to the United States illegally as children and protected from deportation under an Obama-era program, Deferred Action for Childhood Arrivals, or DACA. No proposal that fails to grapple with this vulnerable population will be taken seriously by Democrats — nor should it be. https://www.nytimes.com/2019/05/16/opinion/immigration-trump-kushner.html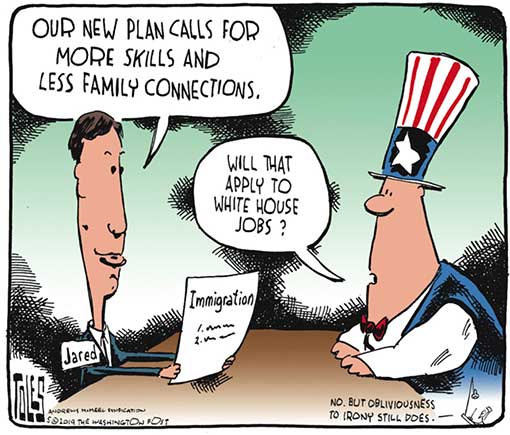 5. Andrew Sullivan: Elizabeth Warren Just Transformed the Abortion Debate
Elizabeth Warren is not afraid. Today, she set out a proposal to integrate Roe v. Wade's provisions for access to abortion into federal law. She even framed her proposal this way: Congress Can Protect Choice. And she's right. Congress can legislate on abortion; the matter can be settled through politics, rather than through a strained parsing of the Constitution by the courts. Political arguments can be made, and countered. Voters can go to the polls to support candidates who will vote for such a law, which will make any previous Supreme Court ruling irrelevant.
This is the process called politics. And America, for 46 years, has tried to keep abortion out of it. It's encouraging to see Warren jump into the fray to bring legislative politics back to the subject — and to call the right's bluff on taking that approach. It's amazing it has taken this long.
Every other major democracy treats abortion this way: through the legislative branch hammering out a compromise. http://nymag.com/intelligencer/2019/05/andrew-sullian-a-way-through-the-intractable-abortion-wars.html 
6. Nancy LeTourneau: On Fox News, Barr Teed Up Some New Conspiracy Theories
William Barr gave his first interview since becoming attorney general, and it should come as no surprise that it was granted to Fox News. Lis Power recently documented that his client (Trump) has given 12 interviews so far in 2019, eleven of which have been with Fox. When you want to avoid difficult questions, as Barr demonstrated when he refused to be questioned by lawyers for the House Judiciary Committee, the right-wing propaganda network is a safe place to go.
The focus of the interview was on Barr's commitment to investigate the origins of the Trump-Russia probe. In that regard, he made his intentions clear.
He said that "we should be worried about whether government officials abused their power and put their thumb on the scale." What is truly bizarre about that statement is that, if government officials "put their thumb on the scale," they were horribly inept, because most of what we know about their investigation came out after Donald Trump was elected. The rational explanation is that they did everything in their power to avoid putting their thumb on the scale. But obviously Barr isn't interested in rational answers to his questions. https://washingtonmonthly.com/2019/05/17/on-fox-news-barr-teed-up-some-new-conspiracy-theories/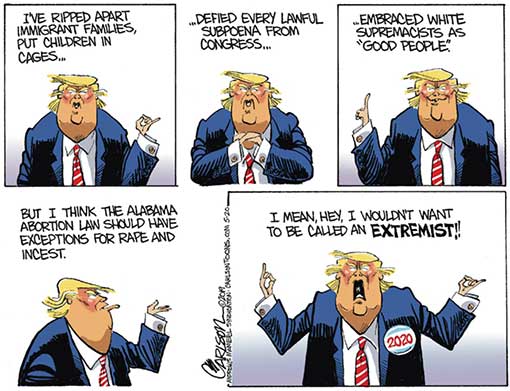 7. David Atkins: The Wall Scam: Bigots and Their Money Are Soon Parted
A December fundraising campaign brought in more than $20 million over the course of a few weeks, its thousands of donors united by a common goal: the construction of a wall along the U.S.-Mexico border, oft-promised by President Trump.This is about the the hundreds of thousands of gullible people who donated millions of dollars to a complete stranger with no construction experience, not to do something good in the world or to help people, but to erect pieces of a racist icon that their ineffectual president couldn't deliver.
The now-famous border wall GoFundMe was conceived by Purple Heart recipient Brian Kolfage, who has no experience with this sort of logistical undertaking. His principal experience seems to be in running con jobs targeting online conservatives:
It says everything about Trump's base that they chose to throw $20 million at this mess, rather than spend it on … well, just about anything else. And it says everything about the conservative movement that they appear to have been taken for a ride. https://washingtonmonthly.com/2019/05/11/the-wall-scam-a-bigot-and-their-money-are-soon-parted/
8. Kevin Poulsen: The Hell of Working at Trump's New Favorite Network
Conspiracy theories, racist outbursts, and a whole lot of Putin love. Working for the far-right One America News Network was a deeply weird experience, former employees say.
Ernest Champell realized there was something unusual about One America News Network during his first day on the job as a writer, when the young staffer assigned to show him the ropes announced matter-of-factly, "Yeah, we like Russia here."
Founded and helmed by 77-year-old circuit-board millionaire Robert Herring Sr., OANN launched in 2013 as an answer to the chatty, opinionated content of mainstream cable news channels—and a place for viewers too conservative for Fox News. Under Herring's direction the network embraced Trumpism enthusiastically starting in 2016, and in recent months the once-obscure cable news channel has been basking in a surge of attention from Donald Trump.
Nearly all of OANN's 24-hours of daily programming is centered at an anchor desk, with a polished TV anchor delivering headlines and introducing packaged segments in the time-honored manner of Edward R. Murrow or Walter Cronkite. But there's a twist: The segments, the interviews, the words the anchors are speaking and even the crawl at the bottom of the screen are a slurry of fake news mixed with genuine reporting; internet conspiracy theories blended with far-right rhetoric and drizzled with undiluted Kremlin propaganda.
If you don't live in a world where Donald Trump's inauguration drew record crowds, Roy Moore won the Alabama special election in a landslide, and Hillary Clinton has her political enemies assassinated, viewing OANN for a couple of hours is a surreal experience that inspires the same vague, uneasy dread you get from a David Lynch movie.
Working there is a million times worse. https://www.thedailybeast.com/the-hell-of-working-at-trumps-new-favorite-tv-channel-one-america-news-network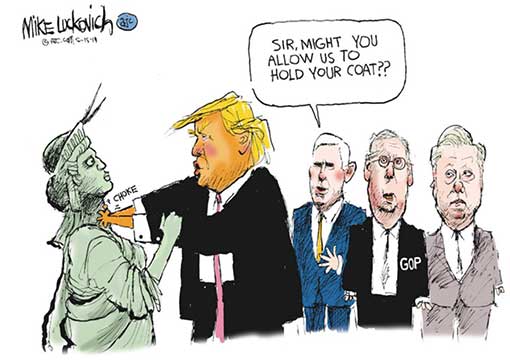 9. Philip Bump: Trump is taxing Americans to support farmers struggling from his trade war
To hear President Trump tell it, the calculus is simple.
Yes, farmers are feeling the pain of Trump's trade war. China retaliated against tariffs imposed by the United States by adding tariffs of their own to American-made products, including crops. On Monday, soybean futures hit their lowest price in a decade.
But, Trump argues, those tariffs are "being paid to the United States by China of 25% on 250 Billion Dollars worth of goods & products." Farmers, he claims, will end up being the "biggest beneficiaries of what is happening now" because either China will soon resume buying American crops or the United States "will be making up the difference" using "the massive Tariffs being paid to the United States." Win-win.
The problems with that equation are twofold. First, China isn't paying all of the tariffs and much of the increased cost is being incurred by American consumers. Second, we can look at the support being given to farmers in another light: Trump is taxing consumers to bolster farmers, a core part of his political base.
The Agriculture Department spokesman also identified the states that had received the most support from the trade-war program. The state that got the most support was Illinois, followed by Iowa, Kansas, Nebraska and Indiana, all of which voted for Trump in 2016 by between 9 and 25 points. It's also safe to assume that most of the support that went to Illinois didn't go to Chicago Democrats.
The equation gets more complex. With his reelection bid looming, the Trump administration taxes consumers to the tune of $18 billion through April, $8.52 billion of which goes to a group that overwhelmingly supported him in 2016 heavily in states that he won.
But the politics aren't exactly simple. At times, farmers have been willing to give Trump the benefit of the doubt on the trade fight. A soybean farmer I spoke with last August in Pennsylvania described the tariff fight as "a small loss for a big-time gain." Whether that optimism holds nine months later — and whether it will last for another year — is unclear. https://www.washingtonpost.com/politics/2019/05/14/trump-is-taxing-americans-support-farmers-struggling-his-trade-war/?utm_term=.b28f2f864c8d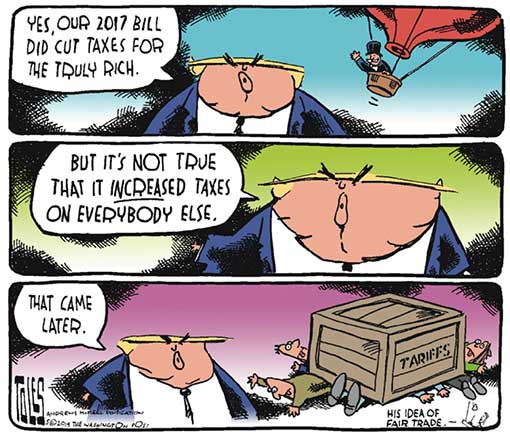 10. Frank Figliuzzi:  AG Barr's FBI investigation, President Trump and the threat from within
On Monday, Attorney General William Barr, acting more like defense counsel for a cornered president than the nation's top law enforcement official, ordered a U.S. Attorney review the FBI's decision to open a counterintelligence investigation into alleged ties between Trump associates and Russia in 2016. This action, coupled with Barr's previous reckless conduct, unwittingly promotes the interests of America's enemies as Barr perpetuates dangerous conspiracy theories about secret Washington cabals and FBI corruption.
Often external forces are aided by both witting and unwitting parties inside our borders and even within our government. Such insiders need not be recruited nor even capable of finding Russia or China on a map. Frequently these players can neither foresee nor comprehend the consequences of their actions until long after the damage to our democracy has been done. When an adversary is aided in its cause by a fortuitous insider who required no energy or resources to cajole or coerce, the enemy views such serendipity as a gift. When that insider happens to be the attorney general of the United States, that gift is priceless. https://www.nbcnews.com/think/opinion/ag-barr-s-fbi-investigation-president-trump-threat-within-ncna1006996
11. Charles M. Blow. An Ode to 'Desperate Don'
When a dyed-in-the-wool thief realizes that there are no consequences for theft, everything not nailed down will go missing. The same is true of the liar: When there is no consequence, the deceiver is unbound and unashamed.
But, to me, it is when Trump lies out of desperation, out of the fear of being found out, blamed, reprimanded, possibly even abandoned, that most people can relish it. It is in those moments that Trump is most human and our ire toward this liar is most vindicated and validated.
We occasionally get a glorious glimpse of this fear fibbing. It's like the time he held the bracing news conference in Trump Tower to defend his both-sides-ism on Charlottesville. It's like the time he told the deer-in-the-headlights lie on Air Force One about not knowing about hush money payments to women alleging to have had sexual encounters with him (while he was married, by the way). It is in the police-interrogation-room-like correction that he didn't mean to side with Russia — and deny our intelligence community — while standing next to Vladimir Putin in Helsinki.
In all those moments, he simply reeks of dread and trepidation. In those moments, we are reminded that Trump knows what other thinking people know: In a world not blinded and numbed by racial tribalism, demographic fears and cultural panic, these issues that barely nick him would cut him smooth and deep.
It is in those moments that we are reminded of what normal felt like, when an apology or explanation was compelled, and politicians confronted their foibles with some degree of contrition.
Trump knows nothing of contrition, but take his moments of desperation as proof that the world has not completely gone mad, that sin still has the ability to convict. https://www.nytimes.com/2019/05/19/opinion/donald-trump-lies.html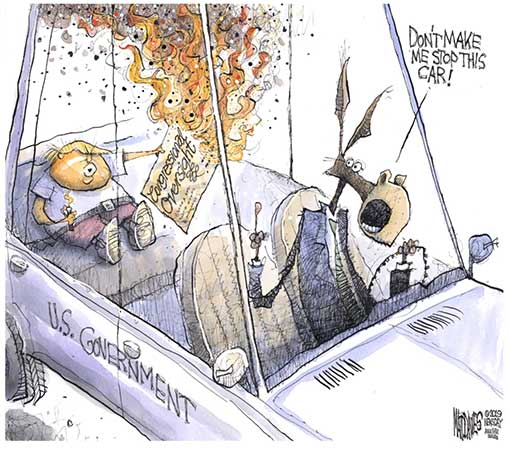 12. Chas Danner: Trump Wants to Make War Criminals Great Again
President Trump may pardon several U.S. service members who have been accused or convicted of serious war crimes, including the mass murder of civilians, the New York Times reported Saturday. On Friday, the Trump administration filed expedited requests for the necessary paperwork to issue the pardons on or just after Memorial Day — condensing what is normally a months-long process into a little more than a week. The typical "Trump may change his mind" caveat applies, but if not, the pardons would provide yet another striking demonstration of how little the president understands or cares about the rule of law or the nature of service. http://nymag.com/intelligencer/2019/05/trump-wants-to-make-war-criminals-great-again.html
13. Catherine Rampell: We don't know what Trump's tax returns are hiding. But the hints are troubling.
When you look at the short span of President Trump's political career, one question jumps out: How much of his craziest, most paranoid and norm-violating behavior is motivated by a desire to keep his financial arrangements secret?
It began with Trump's bizarre refusal to release his tax returns, in defiance of both a nearly half-century practice and Trump's own promise that he'd do so.
Then there was his refusal to divest from his sprawling multinational empire, or even put it into a blind trust — either of which would have forced at least some information disclosure to a third party.
There were also the interviews and tweet storms calling journalists who report on his finances "enemies of the people," and suggestions that federal officials who audit him are anti-Christian.
As well as his implicit threat in 2017 that he would fire special counsel Robert S. Mueller III if he crossed a "red line" by examining Trump's personal financial dealings.
Also, his curious personnel priorities. Once it became clear that House Democrats would exercise their explicit statutory authority to get Trump's tax returns from the Internal Revenue Service, Trump asked Senate Majority Leader Mitch McConnell (R-Ky.) to prioritize confirmation of Trump's IRS general counsel nominee ahead of confirmation of a new attorney general. This IRS general counsel pick, mind you, also happened to have previously advised the Trump Organization on tax issues.
Trump's treasury secretary has also been spending so much time safeguarding Trump's tax returns, in violation of that explicit statute, that the activity is reportedly crowding out his day job.
All of which raises the question: Why exactly is Trump (and the rest of his administration) expending so much energy and political capital to keep these documents hidden? What could possibly be so disturbing or incriminating to justify such an effort? https://www.washingtonpost.com/opinions/we-dont-know-what-trumps-tax-returns-are-hiding-but-the-hints-are-troubling/2019/05/20/d33a5f5e-7b3c-11e9-8bb7-0fc796cf2ec0_story.html
14.  Jonathan Chait: Just This Week, Trump Has Already Committed 5 More Impeachable Acts
At his rally last night, President Trump's characteristic threats of vengeance against his enemies took an especially chilling turn. "There was treason!" he announced, summarizing the investigation into the Mueller probe. The crowd began chanting, "Lock them up! Lock them up!"
Trump initially returned to his prepared text, itself a creepily ethno-nationalist paean to his narrow Electoral College win. "You reclaimed your destiny, you defended your dignity, and you took back your country," he read, in a passage that probably sounded better in the original German. But the "Lock them up!" chants persisted, and, with his showman's gift for timing, Trump turned back to his audience and paused as the chants increased, then theatrically relented to the demands of the crowd that he had stoked. "We have a great new attorney general who will give it a very fair look, very fair look," he promised.
It is difficult to fully describe what Trump conveyed in this line without watching the video. As Trump said "very fair," he wore an arch expression. Trump of course does not use "fair" in anything like the dictionary definition of the term. Trump's notion of "fairness" is purely positional, revolving entirely around his own self-interest. With his expression, Trump — unusual for him — brought the crowd in on the joke. "Very fair" was a punch line. http://nymag.com/intelligencer/2019/05/5-more-impeachable-acts-trump-barr-cohen-mcgahn-war-crimes-deutschebank.html
15. Jonathan Bernstein: Trump Should Worry About His Approval Rating
Over the past two months, Trump's approval has dipped, rebounded and dipped again. Through May 21, he was down to 41.2% approval and 54.0% disapproval. That's a little worse than it was before Robert Mueller's investigation ended. But it's likely that random variation in survey results are producing small ups and downs. My guess is that Trump has been at around 42% approval and 53% disapproval ever since the government shutdown ended in January. More broadly, Trump seems to have lost half a percentage point in approval since 2018. For a normal president, a change that tiny wouldn't be worth mentioning. For Trump, who has had incredibly stable numbers, anything that bumps him down even a little seems (and maybe is) more important.Trump's current approval rating is the second-lowest of any polling-era president through 852 days in office, beating out only Jimmy Carter.
He has the worst disapproval at this point of any of those presidents, and is second to last in net approval (the difference between approval and disapproval). Compared to the last four presidents who were reelected, Trump is solidly behind. His net approval, at -12.8%, is about 14 points worse than Ronald Reagan's, 20 points worse than Barack Obama's and 25 points worse than Bill Clinton's. He trails George W. Bush by 45 points. As always, I'll point out that there's plenty of time for change. In the 18 months before they were up for re-election, most of the polling-era presidents had swings of at least 10 percentage points, up or down (or in many cases both).
That said, it's still true that there's never been a president, at least from Harry Truman on, as consistently unpopular as Donald Trump. It remains hard to see where he would find new support, and it's possible that he has at least a soft ceiling at around 45% approval. If that's true, it's going to take either an amazing fluke for him to win a second term or a lot of people voting for him while thinking he's doing a bad job. And people usually don't vote for a president while thinking he's doing a bad job.. https://www.bloomberg.com/opinion/articles/2019-05-22/donald-trump-should-worry-about-his-approval-rating