June 10, 2021
ON THE RECORD. . .
He can simply be reinstated. A new inauguration date is set, and Biden is told to move out of the White House, and President Trump should be moved back in. I'm sure there's not going to be credit for time lost, unfortunately, because the Constitution itself sets the date for inauguration, but he should definitely get the remainder of his term and make the best of it." — Sidney Powell, a former attorney for Donald Trump at a QAnon conference.

"Reinstatement? What the **** is this *******?" — Benjamin Franklin, attrib.

"My argument is, look, when Bushes and Trumps come together, good things happen... we make a really good team. Dad gets it." — Texas Land Commissioner George P. Bush, candidate for TX AG.

"The Republican Party has spoken - that anybody who does not believe Trump's iron grip over the GOP has been institutionalized is living in a "fantasy." — Axios CEO Jim VandeHei

"These are not looters and thieves, these people came with political request." -- Vladimir Putin criticizing the U.S. prosecution of rioters who took part in the January attack on the Capitol, calling it an example of American "double standards."

"It's a very important thing. He's doing the right thing, and it's a very important thing." — Donald Trump calling into Fox Business to praise Sen. Joe Manchin (D-WV) for his refusal to do away with the filibuster. NOTE: Of course, Trump repeatedly urged Mitch McConnell to abolish the filibuster when Republicans had the Senate majority.

"When you listen to Donald Trump talk now, when you hear the language he's using now, it is essentially the same things that the Chinese Communist Party, for example, says about the United States and our democracy. When he says that our system doesn't work ... when he suggests that it's, you know, incapable of conveying the will of the people, you know, that somehow it's failed -- those are the same things that the Chinese government says about us. And and it's very dangerous and damaging ... and it's not true." — Representative Liz Cheney(R-WY)  

"Joe Manchin has become the new Mitch McConnell… Manchin is not pushing us closer to bipartisanship, he is doing the work of the Republican Party by being an obstructionist, just like they've been since the beginning of Biden's presidency." — Rep. Jamaal Bowman (D-NY)

"Is there anything the National Forest System or the Bureau of Land Management could do to change the course of the Moon's orbit or the Earth's orbit around the Sun in order to fight climate change?" — Rep. Louie Gohmert (R-TX) during a House Natural Resources hearing.
VIDEOS
"He called me a loser. I've never lost an election. He has. He's the only loser in that mix… He's down there obsessing about the fact that he's a loser. I'm sorry you're a loser, but you lost." —Rep. Adam Kinzinger (R-IL), talking about Donald Trump.

Trolling the QAnon Conference - MeidasTouch and Patriot take on the radical right in an ad that Fox wouldn't broadcast.

One reviewer of the SNL show said that Pitt looked 'exactly like me.' "That statement made my year." — Dr. Anthony Fauci wrote to a colleague on April 27 about SNL's Dr. Fauci Cold Open

GOP Betrayed America | MeidasTouch
REMINDER: Just Security is continuing to track every pending criminal and civil case against Donald Trump.
---
IN THIS ISSUE
IN THE NEWS
OPINION
Andy Borowitz: Putin Says He Has No Intention of Reinstating Trump
Calling recent speculation "absurd," Vladimir Putin said that he has "no intention whatsoever" of reinstating Donald J. Trump as President of the United States.

Speaking to reporters, the Russian President bristled at the suggestion that he would reinstall Trump in the White House "this August or any other month, for that matter."

"I think if I were planning to put Trump back in power, I would know about it," the visibly annoyed Putin said. "This was all news to me."

Irritated by the former U.S. President's "needy" behavior, Putin said that he wished that Trump "would stop texting me."

"I realize that he's been banned from Twitter and Facebook and God knows where else, and he's probably lonely," the Russian leader said. "But, really, he's got to get a life. I've moved on. Why can't he?  https://www.newyorker.com/humor/borowitz-report/
Trump's new Hillary
Trump plans to make Anthony Fauci a top target at upcoming rallies, using increased attention to the Wuhan lab-leak theory as a weapon against an official long viewed as more trustworthy.
Trump and conservative media have made Fauci an improbable face of the opposition, trying to give him the cartoon-villain status once accorded to former Sen. Harry Reid, Speaker Nancy Pelosi, or — in Trump's case — Hillary Clinton. https://www.axios.com/trump-fauci-wuhan-lab-leak-04913c77-b8bc-47c5-8e05-1b1dbbeb5a30.html
2022's war over racism
With or without Donald J. Trump atop the party, the Republican strategy for the 2022 elections and beyond virtually assures race — and racism — will be central to political debate for years to come. 
In an era when every topic seems to turn quickly to race, Republicans see this most divisive issue as either political necessity or an election-winner — including as it relates to voting laws, critical race theory, big-city crime, immigration and political correctness. 
These topics pit the mostly white GOP against the very diverse Democratic Party. It's unfolding in local school boards, national politics and on social media. https://www.axios.com/republican-strategy-culture-war-racism-e0c6ce43-98c9-4fd7-8600-d4093ca980ed.html
Trump's Chief of Staff Pressed Justice Dept. to Investigate Election Fraud Claims
In Donald J. Trump's final weeks in office, Mark Meadows, his chief of staff, repeatedly pushed the Justice Department to investigate unfounded conspiracy theories about the 2020 presidential election, according to newly uncovered emails provided to Congress, portions of which were reviewed by The New York Times. https://www.nytimes.com/2021/06/05/us/politics/mark-meadows-justice-department-election.html
Charges after US Capitol roil far-right groups
Former President Donald Trump's lies about a stolen 2020 election united right-wing supporters, conspiracy theorists and militants on Jan. 6, but the aftermath of the insurrection is roiling two of the most prominent far-right extremist groups at the U.S. Capitol that day.
More than three dozen members and associates across both the Proud Boys and the Oath Keepers have been charged with crimes. Some local chapters cut ties with national leadership in the weeks after the deadly siege. The Proud Boys' chairman called for a pause in the rallies that often have led to clashes with anti-fascist activists. And one Oath Keeper has agreed to cooperate against others charged in the riot. https://apnews.com/article/capitol-insurrection-charges-roil-far-right-groups-1e0560dbd5572944e3435e225f8be616
Jan. 6 riot caused $1.5 million in damage to Capitol — and U.S. prosecutors want defendants to pay
U.S. prosecutors this week put a price tag on damage to the U.S. Capitol from the Jan. 6 breach — $1.5 million so far — and for the first time are asking defendants to cover some of the bill in plea offers, prosecutors and defense lawyers said. https://www.washingtonpost.com/local/legal-issues/capitol-riot-defendants-pay-damages-restitution/2021/06/03/74691812-c3ec-11eb-93f5-ee9558eecf4b_story.html
For Arizona GOP, bonkers election creates financial rewards
By practically every metric, Arizona Republicans' utterly bonkers election "audit" is a fiasco for the ages. A variety of prominent state GOP officials are increasingly mortified by this embarrassing debacle, and as of last week, the IT company that was in charge of running the day-to-day process no longer wants anything to do with the scheme.
The Republican-dominated Maricopa County Board of Supervisors recently urged the GOP-led state Senate to put a stop to the madness, calling the outlandish process a "spectacle that is harming all of us," adding, "Our state has become a laughingstock."
The assessment was more than fair given the circumstances. But there is one relevant metric that Republican proponents of the ridiculous "audit" are likely celebrating. The Arizona Republic reported yesterday on the fiasco's financial rewards:
The Arizona Republican Party, along with other Trump-leaning groups, has used the state Senate's ongoing ballot review as a way to raise funds for their causes and candidates. The fundraising has helped revitalize the Arizona GOP financially, tying its fortunes extremely closely to Trump.
The report added the state Republican Party, in the first part of 2021, has "taken in and kept far more cash" than at comparable periods in recent years. https://www.msnbc.com/rachel-maddow-show/arizona-gop-bonkers-election-audit-creates-financial-rewards-n1269462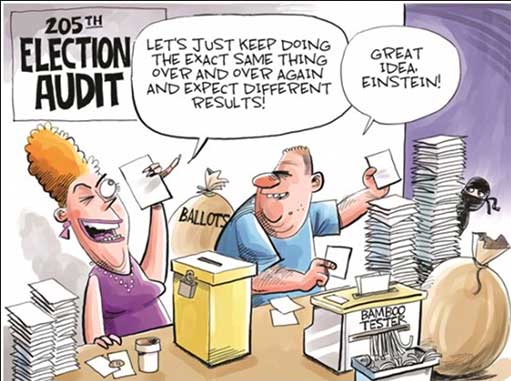 Trump has grown increasingly consumed with ballot audits as he pushes falsehood that election was stolen
Former president Donald Trump remains relentlessly focused on the false claim that the November election was stolen from him and is increasingly consumed with the notion that ballot reviews pushed by his supporters around the country could prove that he won, according to people familiar with his comments.
Trump has rebuffed calls from some advisers to drop the matter, instead fixating on an ongoing Republican-commissioned in Arizona and plotting how to secure election reviews in other states, such as Pennsylvania, Michigan, Wisconsin, New Hampshire and Georgia, according to advisers. He is most animated by the efforts in Fulton County, Ga., and Maricopa County, Ariz., according to two advisers who, like others interviewed for this report, spoke on the condition of anonymity to describe private conversations.
Trump's interest has been fueled by conversations he has had with an array of figures who have publicly touted false claims of election fraud. Among them, according to advisers, is Christina Bobb, a host at the One America News network who has privately discussed the Arizona audit with the former president and his team; Mike Lindell, the chief executive of the company MyPillow; and Pennsylvania state Sen. Doug Mastriano (R), who urged the state's congressional delegation to reject Biden's victory there last fall. https://www.washingtonpost.com/politics/trump-2020-election-audits/2021/06/02/95fd3004-c2ec-11eb-8c34-f8095f2dc445_story.html
New GOP laws target more than just voter access
Across the country, Republican-controlled state legislatures have done more than pass voting restrictions after losing the 2020 presidential contest.
They've enacted or drafted provisions that create new election powers, change election administration and punish election officials who don't perform their duties — which all have the potential of injecting chaos into the counting of the next presidential race.
And in several states around the country, pending or passed legislation would also levy hefty fines — or even criminal penalties — on elections officials for failing to follow the law to the letter. https://www.nbcnews.com/politics/meet-the-press/new-gop-voting-laws-target-more-just-voter-access-n1269468s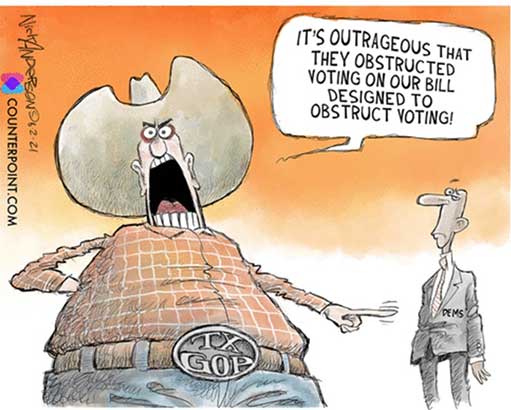 Vermont's Governor Expands Voting Rights, Bucking Republican Push
Vermont Gov. Phil Scott (R) signed legislation that requires all registered voters in the state to receive mail-in ballots, an expansion of voting rights that counters a movement among Republicans in other states to restrict them. https://www.nytimes.com/2021/06/07/us/vermont-voting-rights.html
The Secret IRS Files: Trove of Never-Before-Seen Records Reveal How the Wealthiest Avoid Income Tax
ProPublica has obtained a vast trove of Internal Revenue Service data on the tax returns of thousands of the nation's wealthiest people, covering more than 15 years. The data provides an unprecedented look inside the financial lives of America's titans, including Jeff Bezos, Warren Buffett, Bill Gates, Rupert Murdoch and Mark Zuckerberg. It shows not just their income and taxes, but also their investments, stock trades, gambling winnings and even the results of audits.
Taken together, it demolishes the cornerstone myth of the American tax system: that everyone pays their fair share and the richest Americans pay the most. The IRS records show that the wealthiest can — perfectly legally — pay income taxes that are only a tiny fraction of the hundreds of millions, if not billions, their fortunes grow each year.
Many Americans live paycheck to paycheck, amassing little wealth and paying the federal government a percentage of their income that rises if they earn more. In recent years, the median American household earned about $70,000 annually and paid 14% in federal taxes. The highest income tax rate, 37%, kicked in this year, for couples, on earnings above $628,300.
The confidential tax records obtained by ProPublica show that the ultrarich effectively sidestep this system. https://www.propublica.org/article/the-secret-irs-files-trove-of-never-before-seen-records-reveal-how-the-wealthiest-avoid-income-tax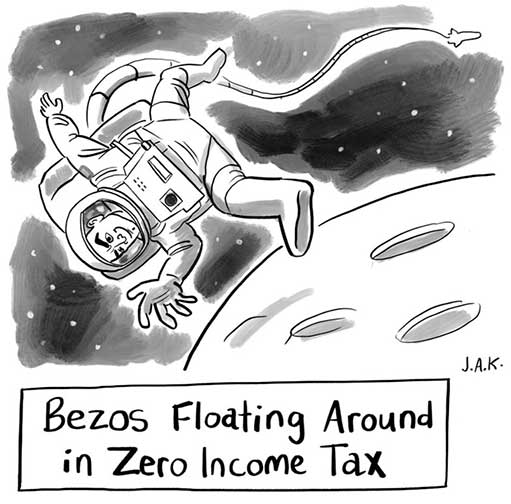 Senate Republicans hold up Biden personnel nominee over 'critical race theory' and abortion rights
Senate Republicans are blocking a quick confirmation for President Biden's nominee to lead the federal personnel agency, targeting her past emphasis on the concept of systemic racism known as "critical race theory" that has become a lightning rod for conservatives.
Republicans also are pushing back on Kiran Ahuja's support for abortion rights at a time when a long-standing ban on federal funding for the procedure — known as the Hyde Amendment — has emerged as a renewed flash point for the right because of Biden's support for overturning it.
The delay on Ahuja's nomination is being led by Sen. Josh Hawley (R-Mo.), although several Republicans objected to a quick confirmation vote for her, according to senior Democratic and GOP officials. The move will force Senate Majority Leader Charles E. Schumer (D-N.Y.) to go through procedural hurdles on the Senate floor, rather than move quickly with a pro forma vote that is more common for nominees to lower-profile posts. https://www.washingtonpost.com/politics/biden-personnel-chief-hawley/2021/06/07/c8f9aba8-c54a-11eb-9a8d-f95d7724967c_story.html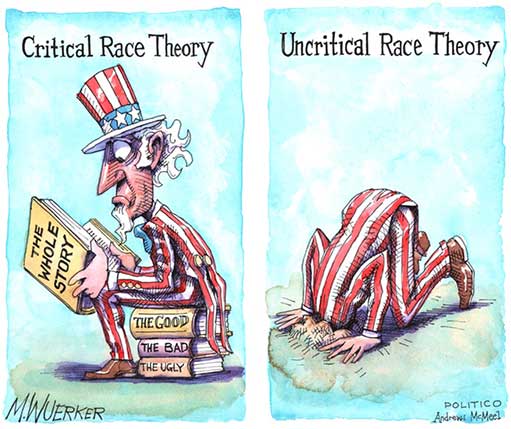 Despite pandemic, carbon dioxide level in hits record high
Economies worldwide nearly ground to a halt over the 15 months of the coronavirus pandemic, leading to a startling drop in global greenhouse gas emissions.
But the idle airplanes, boarded-up stores and quiet highways barely made a dent in the steady accumulation of carbon dioxide in the atmosphere, which scientists from the Scripps Institution of Oceanography and the National Oceanic and Atmospheric Administration said Monday had reached the highest levels since accurate measurements began 63 years ago. https://www.washingtonpost.com/climate-environment/2021/06/07/atmospheric-carbon-dioxide-hits-record-levels/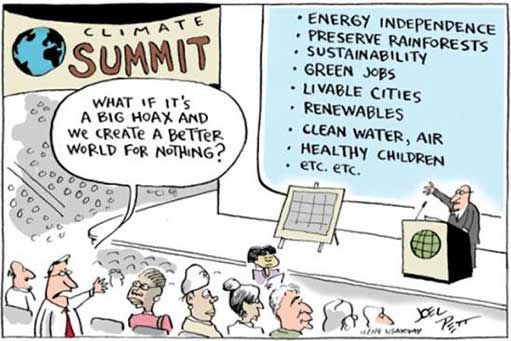 Democratic Report Raises 2022 Alarms on Messaging and Voter Outreach
Democrats defeated President Donald J. Trump and captured the Senate last year with a racially diverse coalition that delivered victories by tiny margins in key states like Georgia, Arizona and Wisconsin.
In the next election, they cannot count on repeating that feat, a new report warns.
A review of the 2020 election, conducted by several prominent Democratic advocacy groups, has concluded that the party is at risk of losing ground with Black, Hispanic and Asian American voters unless it does a better job presenting an economic agenda and countering Republican efforts to spread misinformation and tie all Democratic candidates to the far left.
The 73-page report, obtained by The New York Times, was assembled at the behest of three major Democratic interest groups: Third Way, a centrist think tank, and the Collective PAC and the Latino Victory Fund, which promote Black and Hispanic candidates. It appears to be the most thorough act of self-criticism carried out by Democrats or Republicans after the last campaign.
The document is all the more striking because it is addressed to a victorious party: Despite their successes, Democrats had hoped to achieve more robust control of both chambers of Congress, rather than the ultra-precarious margins they enjoy. https://www.nytimes.com/2021/06/06/us/politics/democrats-2020-election.html
Record 31 million Americans have health-care coverage through Affordable Care Act, White House says
About 31 million Americans now have health-care coverage through the Affordable Care Act, the White House announced Saturday, setting a record since the law, colloquially known as "Obamacare," was enacted in 2010 under President Barack Obama.
According to a report from the Health and Human Services Department, about 11.3 million Americans were enrolled in health-care plans through the Affordable Care Act's federal marketplaces as of February, with 14.8 million people newly enrolled in Medicaid through the law's expansion of eligibility as of December. The report also counted an additional 3.9 million Medicaid-enrolled adults who would have been eligible even before the Affordable Care Act but credited "enhanced outreach, streamlined applications, and increased federal funding" from the law for the numbers. https://www.washingtonpost.com/politics/2021/06/05/record-31-million-americans-have-health-care-coverage-through-affordable-care-act-white-house-says
Ann Telnaes: The Republican seditious senators
Thirty-five Republican senators voted against an investigation of the Jan. 6 mob attack on the U.S. Capitol, putting their own political interests before country. Read the names. Remember them.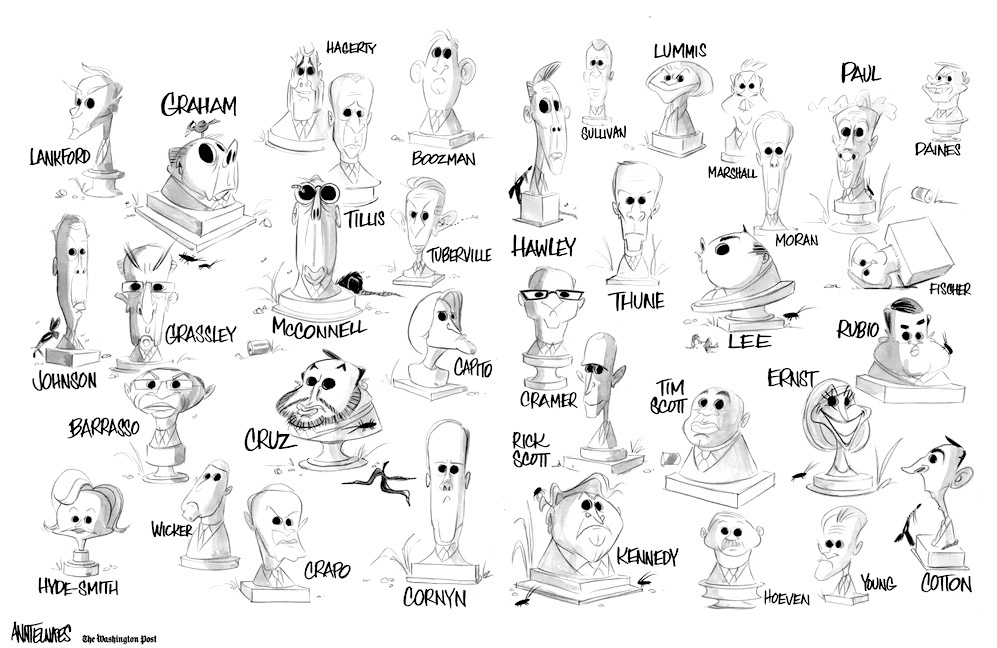 Justice Dept. continues appeal on behalf of Trump in defamation case brought by sexual assault accuser
The Justice Department's Civil Division under President Biden is continuing the Trump-era push to represent the former president in a defamation lawsuit brought by author E. Jean Carroll, according to a Monday night appellate court filing. https://www.washingtonpost.com/national-security/jean-carroll-trump-lawsuit/2021/06/07/998d9912-c7d2-11eb-81b1-34796c7393af_story.html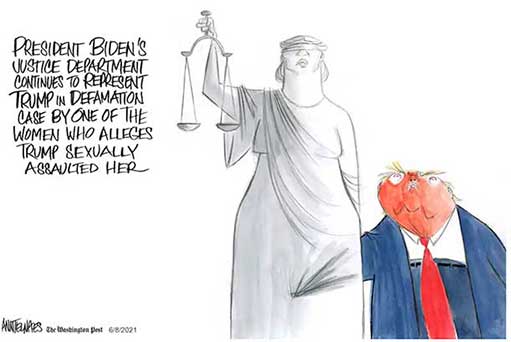 The DAILY GRILL
"I believe that partisan voting legislation will destroy the already weakening binds of our democracy, and for that reason, I will vote against the For the People Act. Furthermore, I will not vote to weaken or eliminate the filibuster. — Sen. Joe Manchin in his Op-Ed

VERSUS

Manchin's op-ed might as well be titled, "Why I'll vote to preserve Jim Crow." — Rep. Mondaire Jones (D-NY-17)
Adam Serwer: The Capitol Rioters Won: Most Republicans have come to support the rioters' claim that Trump's defeat meant the election was inherently illegitimate.
But Republicans are not blocking a bipartisan January 6 commission because they fear Trump, or because they want to "move on" from 2020. They are blocking a January 6 commission because they agree with the underlying ideological claim of the rioters, which is that Democratic electoral victories should not be recognized. Because they regard such victories as inherently illegitimate—the result of fraud, manipulation, or the votes of people who are not truly American—they believe that the law should be changed to ensure that elections more accurately reflect the will of Real Americans, who by definition vote Republican. They believe that there is nothing for them to investigate, because the actual problem is not the riot itself but the unjust usurpation of power that occurred when Democrats won. Absent that provocation, the rioters would have stayed home. https://www.theatlantic.com/ideas/archive/2021/06/capitol-rioters-won/619075/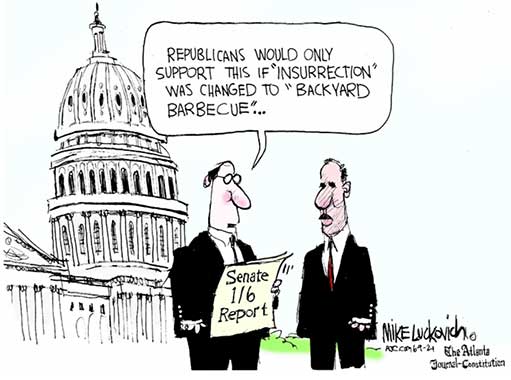 Jonathan Bernstein: Are Republicans Really a Threat to Democracy?
"How worried should we be about the state of democracy in the US? A group of leading political scientists who study the issue say: a lot. A whole lot. In fact, they say: "our entire democracy is now at risk." They're correct. If they had asked me, I would've signed on.
The problem is easy enough to describe. In a two-party political system, one party, the Republican Party, has in large part turned antidemocratic. That party will eventually be voted into office, and if it implements nationally the policies that some of its leading politicians have advocated — and in some cases advanced at the state level — it's possible that it will succeed in seriously harming democracy.
On one level, this process is straightforward. After all, if former President Donald Trump had his way, Republicans would've overturned the 2020 election on the basis of flat-out lies about fraud. Trump wasn't a fringe figure; he was the party's two-time presidential nominee, and he may well be nominated again in 2024. Nor was he alone. Dozens of House Republicans voted with him, and hundreds of party actors across the country, including elected officials, supported his efforts. Even now, months after President Joe Biden was sworn in, Arizona Republicans are holding a fraudulent "audit" of the election. Trump's supporters are barely even pretending that they're interested in anything other than an authoritarian power grab, and they seem prepared to kick everyone who isn't fully on board with this program out of the party. https://english.aawsat.com/home/article/3006821/jonathan-bernstein/are-republicans-really-threat-democracy
Josh Dawsey and Rosalind S. Helderman: Trump has grown increasingly consumed with ballot audits as he pushes falsehood that election was stolen
Former president Donald Trump remains relentlessly focused on the false claim that the November election was stolen from him and is increasingly consumed with the notion that ballot reviews pushed by his supporters around the country could prove that he won, according to people familiar with his comments.
Trump has rebuffed calls from some advisers to drop the matter, instead fixating on an ongoing Republican-commissioned audit in Arizona and plotting how to secure election reviews in other states, such as Pennsylvania, Michigan, Wisconsin, New Hampshire and Georgia, according to advisers. He is most animated by the efforts in Fulton County, Ga., and Maricopa County, Ariz., according to two advisers who, like others interviewed for this report, spoke on the condition of anonymity to describe private conversations.
Trump's interest has been fueled by conversations he has had with an array of figures who have publicly touted false claims of election fraud. Among them, according to advisers, is Christina Bobb, a host at the One America News network who has privately discussed the Arizona audit with the former president and his team; Mike Lindell, the chief executive of the company MyPillow; and Pennsylvania state Sen. Doug Mastriano (R), who urged the state's congressional delegation to reject Biden's victory there last fall. https://www.washingtonpost.com/politics/trump-2020-election-audits/2021/06/02/95fd3004-c2ec-11eb-8c34-f8095f2dc445_story.html
Alexandra Petri: What my civics textbook says about Trump getting 'reinstated'
Lately I have noticed that Donald Trump (formerly the president of the United States) keeps talking about how he's going to get "reinstated" by August once so-called ballot audits are complete. I don't, however, recall anything on the subject of reinstatement from my civics education, so I consulted the most recent edition of the textbook I was taught. Inside was this primer:
Is reinstatement real?
Reinstatement is real only in the way that Slenderman is real — in the sense that if enough people believe in it, weird, bad things will start to happen.
What happens in a reinstatement?
Simple! The reinstated person goes from not being president because they lost an election to being president again! No one knows precisely by what mechanism this happens, but it has been said to involve Cyber Ninjas. https://www.washingtonpost.com/opinions/2021/06/04/trump-reinstated-president-civics-textbook-constitution/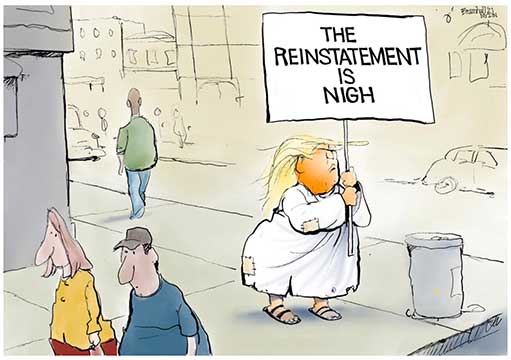 Jonathan Chait: Texas Republicans Want to Make Trump's Coup Nice and Legal 
This past weekend, former national security adviser Michael Flynn appeared at the "For God & and Country Patriot Roundup," a right-wing conclave in Texas, where he endorsed a military coup. "I want to know why what happened in Minamar [sic]" — QAnon believers have fixated on Myanmar's military junta as a precursor to a similar event here — "can't happen here?" an audience member, who identified himself as a Marine, asked Flynn. "No reason. I mean, it should happen here. No reason. That's right," Flynn replied. (Flynn later denied saying this, but it was captured on video.)
At the same time Flynn casually endorsed the military overturning the election and reinstalling the defeated president, the state's Republican legislature was rushing through a package of voting restrictions that would advance the same broad agenda as Flynn advocates, but within the color of law.
One of the easy and cheap tools of political rhetoric is to hold up one of the more extreme members of the opposing party and misleadingly depict them as representative. To be clear, Michael Flynn is not representative of the Republican Party. He is an outlier in the full extent of his paranoia and willingness to advance the party's cause through mass-scale illegal domestic violence.
But Flynn's beliefs are not isolated, and as the drama in Texas indicates, they relate closely to the agenda of the party's mainstream. A clear majority of Republican voters believe the 2020 election was stolen, and nearly a quarter of them support QAnon's deranged fantasies.
The party's mainstream has accordingly formed a position between the pro-military coup pole and the accept-the-election pole. That consensus Republican position avoids engaging with internally divisive questions like the legitimacy of Biden's election (the official talking point, when asked if Biden won the election fairly, is to avoid the question and simply note that he is the sitting president). Republicans likewise prefer to avoid the topic of QAnon by deflecting questions and pivoting to talk about other extremist groups.
But Republicans can't afford to completely alienate their pro-coup wing. That is why the consensus party stance is to act on the majority Republican belief that Biden stole the election, by imposing a sweeping regimen of voting restrictions, along with legal provisions that will allow Republicans to more easily challenge and overturn the next Democratic presidential election victory. https://nymag.com/intelligencer/2021/06/texas-republicans-vote-suppression-michael-flynn-coup-trump.html
Natasha Korecki and Sarah Owermohle: Attacks on Fauci grow more intense, personal and conspiratorial
For over a year, Anthony Fauci has been a bogeyman for conservatives, who have questioned his handling of the Covid-19 pandemic and accused him of quietly undermining then-President Donald Trump.
But those attacks took on a whole new level of vitriol this week, to the point that one social media analysis described it as highly misleading and at least one platform pulled down some posts, citing false content.
It all stemmed from a tranche of Fauci's emails that were published as part of a Freedom of Information Act request filed by various news outlets. Within hours of publication, the hashtag #FauciLeaks was trending on Twitter, accusing the nation's top infectious disease doctor of lying under oath about the origins of Covid. It became a trending topic on Facebook too, where detractors added an inaccurate and more nefarious framing that the emails were secretly "leaked" — drawing on a playbook that has worked for partisans on the right in the past, despite the fact that Fauci's publicly disclosed emails were not state secrets.
Reddit and Facebook lit up with a fresh round of Fauci attacks, some of which called him a war criminal. Sen. Rand Paul (R-Ky.), perhaps Fauci's most prominent bete noire on the Hill, quickly released Facebook ads demanding to "fire Fauci" and requesting a campaign donation. https://www.politico.com/news/2021/06/04/fauci-attacks-personal-conspiratorial-491896
Charles C. W. Cooke: Maggie Haberman Is Right
Maggie Haberman's reporting was correct. Donald Trump does indeed believe quite genuinely that he — along with former senators David Perdue and Martha McSally — will be "reinstated" to office this summer after "audits" of the 2020 elections in Arizona, Georgia, and a handful of other states have been completed.
The scale of Trump's delusion is quite startling. This is not merely an eccentric interpretation of the facts or an interesting foible, nor is it an irrelevant example of anguished post-presidency chatter. It is a rejection of reality, a rejection of law, and, ultimately, a rejection of the entire system of American government. There is no Reinstatement Clause within the United States Constitution. Hell, there is nothing even approximating a Reinstatement Clause within the United States Constitution. The election has been certified, Joe Biden is the president, and, until 2024, that is all there is to it. It does not matter what one's view of Trump is. It does not matter whether one voted for or against Trump. It does not matter whether one views Trump's role within the Republican Party favorably or unfavorably. We are talking here about cold, hard, neutral facts that obtain irrespective of one's preferences; it is not too much to ask that the former head of the executive branch should understand them. https://www.nationalreview.com/2021/06/maggie-haberman-is-right/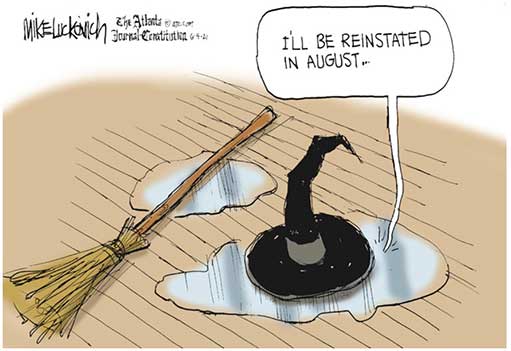 James Hohmann: George P. Bush, the Lone Star state's latest profile in cowardice
George Prescott Bush's middle name is an homage to his great-grandfather, whose proud legacy was his courage in calling out demagogues. Now, the ambitious young politician is defiling that memory.
When Prescott Bush ran for Senate in 1952, he criticized Joseph McCarthy's methods during a Republican rally in Connecticut, knowing he'd draw boos from a crowd that had assembled to see the red-baiting rabble-rouser. In 1954, Prescott broke ranks with half his GOP colleagues by voting to censure the Wisconsin senator.
That episode, foundational to Bush family lore, came to mind as George P. Bush, the son of former Florida governor Jeb Bush, launched his bid for Texas attorney general last week. It was rich for the great-grandson of a senator, the grandson of a president, the nephew of another president and the son of a governor to decry the "elite" during his first commercial. But other politicians before him have tried to play down their fancy pedigrees.
More revealing — and more disappointing — was that even as the 45-year-old made no reference to his storied family, he lavished praise on a man who has humiliated them. Politics ain't beanbag, but does it really require this? https://www.washingtonpost.com/opinions/2021/06/06/george-p-bush-lone-star-states-latest-profile-cowardice/
Robert Maguire and Caitlin Moniz: Insurrectionist members have received $2.6 million from corporate interests since January 6th
In just the first few months since the insurrection, corporate and industry PACs have contributed more than $2.6 million to campaigns, leadership PACs, and party committees allied with the 147 members of Congress who fed the Big Lie that led to the deadly attack on the Capitol. In all, 170 business PACs—some of which had previously committed to stop giving—have donated to political committees that support and defend the members who voted not to certify the election results. 
Corporate political giving has long been a corrupting force in Washington—with lawmakers  depending on it for their political survival, while businesses use the donations to gain access to the officials who make decisions that will impact their bottom line. In the wake of the attack on the Capitol, the situation is worse: Corporate contributions are now increasingly an obstacle to holding elected officials accountable—not only for pushing the baseless conspiracy theories that caused the attack, but also for continuing to make excuses for it. https://www.citizensforethics.org/reports-investigations/crew-reports/insurrectionist-members-have-received-2-6-million-from-corporate-interests-since-january-6th/
Max Boot: Too many people are still underestimating the Trump threat
Former president Donald Trump's secret weapon has always been that it is hard for educated people to take him seriously. He acts like a preening buffoon with pretensions of grandeur — doltish and delusional in equal measure. Everything about him, from his orange tan and bad combover to his insistence that he is a "very stable genius," screams: Are you kidding me?
How can we take seriously someone who insisted that taking hydroxychloroquine, or possibly injecting bleach, could cure covid-19? Or who keeps on claiming, as he did in North Carolina on Saturday, that the election was "the crime of the century" even though more than 60 lawsuits alleging election irregularities have been dismissed by the courts?
Now Trump is avidly tracking a cuckoo audit of votes in Maricopa County, Ariz., where a group of conspiracy theorists is looking for evidence of bamboo fibers to show that fraudulent ballots were shipped from Asia. Most bizarre of all, Trump reportedly now insists that he will be d as president in August. Doesn't this ignoramus know there is no reinstatement clause in the Constitution?
But while Trump is not a serious person, he is a serious threat to our democracy — and we make a grave mistake if we dismiss him as a punch line. We've committed that blunder before. Recall that the star of "The Apprentice" was driven to run for the presidency partly because of the ridicule he received from comedian Seth Meyers and then-President Barack Obama at the 2011 White House Correspondents' Association dinner. Meyers even said: "Donald Trump has been saying he will run for president as a Republican — which is surprising, since I just assumed he was running as a joke." https://www.washingtonpost.com/opinions/2021/06/07/too-many-people-are-still-underestimating-trump/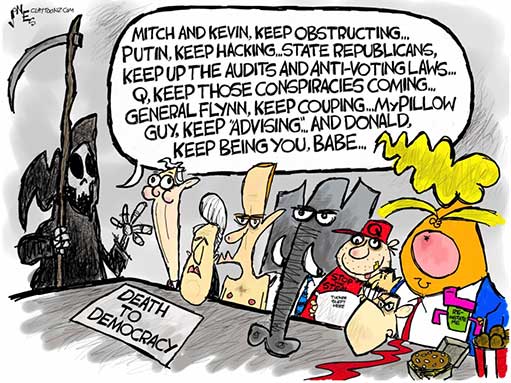 Bess Levin: Trump's Inner Circle Is Terrified The Feds Are Coming For Them Next
If you haven't been keeping up with the legal affairs of Donald Trump of late, what you should know is that the guy is very likely f--ked. With the ex-president facing no fewer than 29 lawsuits and three criminal investigations, his tax returns are currently in the hands of Manhattan district attorney Cyrus Vance Jr., whose team is also working to flip the Trump Organization employee who knows where all the bodies are buried and has both (1) cooperated with prosecutors in the past and (2) made some rather interesting comments about the company's legal dealings. At the same time Rudy Giuliani had his home and office raided by the feds last week, a turn of events that former U.S. attorney Preet Bharara has said is very, very bad news for the NYC mayor turned Trump lawyer/cautionary tale. All of which reportedly has the rest of the 45th president's inner circle extremely concerned about their own legal exposure.
CNN reports that the raids on Giuliani's Madison Avenue apartment and Park Avenue office have "left allies of the former president feeling uneasy about what could come next," according to sources close to Trump. "This was a show of force that sent a strong message to a lot of people in Trump's world that other things may be coming down the pipeline," one adviser told CNN. According to that person, the seizing of Giuliani's electronic devices has "ignited a sense of fear" inside Trump's orbit "that Justice Department officials may be more willing to pursue investigations of the 45th president or his inner circle than many Trump allies had previously believed." The same person opined to CNN that they couldn't believe "you would need to send seven FBI agents to go and collect a cell phone and laptop," calling the raid "overkill." https://www.vanityfair.com/news/2021/05/trump-inner-circle-raid-fears
Catherine Rampell: No room at the inn in Texas
Last week, Abbott ordered Texas regulators to "discontinue state licensure of any child care facility" that has a federal contract to temporarily house unaccompanied minors in Texas, giving these facilities 90 days to "wind down" their existing contracts. This is, ostensibly, because he believes the influx of migrant kids threatens to "negatively impact" facilities that serve Texas children, even though domestic kids are generally placed at separate locations and served by different programs.
Abbott wants to use migrant kids as a political football anyway, as governors in several other states previously did when slamming the door on unaccompanied children. The decision matters more in Texas, though, since its state-licensed facilities house about a quarter of all unaccompanied children in federal custody.
Some 4,200 children are likely to be displaced by Abbott's de-licensure directive — and many may end up having longer stays in those "health and safety nightmare" intake sites that Abbott himself warned about.
So, Abbott is deliberately making it harder for the federal government to fulfill its legal obligations to vulnerable children. Federal contracts currently require these types of higher-quality facilities to be licensed by the state, and it's not clear how the federal government will adapt. In a statement, the U.S. Department of Health and Human Services, which awards these contracts, said it is "assessing the Texas directive concerning licensed facilities providing care to unaccompanied children" and does "not intend to close any facilities as a result of the order." https://www.washingtonpost.com/opinions/2021/06/07/no-room-inn-texas/
Eugene Robinson: Joe Manchin retreats to fantasyland and sticks America with the consequences
Sen. Joe Manchin III (D-W.Va.) has the right to live in a make-believe wonderland if he so chooses. But his party and his nation will pay a terrible price for his hallucinations about the nature of today's Republican Party. And even this sacrifice might not guarantee that Manchin can hold on to support back home.
Manchin's declaration Sunday that he will vote against sweeping legislation to guarantee voting rights nationwide and that he "will not vote to weaken or eliminate" the Senate filibuster is a huge blow to President Biden's hopes of enacting his ambitious agenda. There's no way to spin this as anything other than awful.
Manchin's decision is a catastrophe not just for this particular bill, though he has almost certainly doomed the legislation. A senior administration official told me Monday that "none of this is a surprise to those who have heard Manchin's views" and that the White House will continue working to "make progress notwithstanding the difficult challenges in front of us, including a 50-vote Senate." But thanks to Manchin's decision, Biden doesn't even have a 50-vote Senate for what many Democrats see as an existential fight against the GOP's attempt to gain and keep power through voter suppression. The 49 Senate votes left after Manchin's defection will take Biden and the Democrats precisely nowhere. https://www.washingtonpost.com/opinions/2021/06/07/joe-manchin-retreats-fantasyland-sticks-america-with-consequences/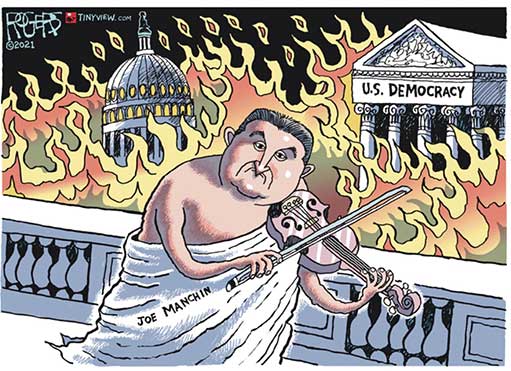 Dana Milbank: Attack the Capitol, sure. But stay out of my garage!
Rep. Mo Brooks is strictly an armchair insurrectionist.
On. Jan. 6, the Alabama Republican incited Trump followers to sack the Capitol. "Today is the day American patriots start taking down names and kicking ass!" he told the crowd at a pre-riot rally. "Now, our ancestors sacrificed their blood, their sweat, their tears, their fortunes, and sometimes their lives…. So I have a question for you: Are you willing to do the same? My answer is yes. Louder! Are you willing to do what it takes to fight for America? Louder!"
But when it came time to be held to account for inciting the deadly insurrection, Brooks chose flight, not fight.
Rep. Eric Swalwell (D-CA) sued Brooks, along with former president Donald Trump and others, for the damage caused by the insurrection. But Brooks, unlike the other defendants, refused to accept service of the court papers — prompting Swalwell to hire a private investigator to hunt him down.
Brooks provoked hundreds of Trump supporters to invade the Capitol, injuring hundreds of police and leading to several deaths. But now he's ALL-CAPS enraged because a nonviolent process server walked into his open garage.
Since his election to Congress a decade ago, Brooks has distinguished himself by:
Saying that, to remove immigrants who are in the United States illegally, "I will do anything short of shooting them."

Declaring that Democrats, under President Barack Obama, had launched a "war on Whites."

Announcing that the top cause of rising sea levels isn't climate change but rocks and sediment falling into the ocean.

In his latest gambit — championing Trump's "big lie" about the 2020 election — Brooks is pretty much doing the same thing as his Republican colleagues in Congress. He's just doing it more clumsily.
As early as Nov. 19, Brooks claimed members of Congress "control who the president of the United States is." He later declared that "Joe Biden did not win" Georgia and that "Congress should reject any Georgia submission of 16 electoral college votes for Joe Biden." He billed his appearance at the pre-insurrection Trump rally on Jan. 6 by saying he would "tell the American people about the election system weaknesses that the Socialist Democrats exploited to steal this election."
After Trump's marauders attacked the Capitol, Brooks proclaimed, "All may not be (and likely is not) what appears. Evidence growing that fascist ANTIFA orchestrated Capitol attack with clever mob control tactics."
https://www.washingtonpost.com/opinions/2021/06/08/attack-capitol-sure-stay-out-my-garage/
Greg Sargent: Mitch McConnell is laughing in your faces
In terms of pure, raw, utterly shameless cynicism, there is no figure in American public life who rivals Senate Minority Leader Mitch McConnell. And the Kentucky Republican's latest comments about the possibility of an infrastructure deal are a reminder of one of his most devious tricks.
On Wednesday afternoon, President Biden met with Sen. Shelley Moore Capito (R-W.Va.), the lead Republican negotiating with the White House over such a deal. This comes after Capito's last offer was a plan mostly paid for by repurposed covid-19 relief funds, which ensured it will be a nonstarter with Democrats.
Yet McConnell wants you to believe that he really, truly, absolutely hopes a bipartisan deal comes together. No, really, he totally does!
To embroider this impression, he told reporters in Kentucky that he spoke to Capito before the meeting, adding: "I'm hoping for the best, that we can actually reach a bipartisan agreement on infrastructure."
As Politico archly put it, progressives are reading this as "evidence there will never be any deal — only more delay."
And of course that's exactly the right reading. McConnell isn't just trying to create the impression that the GOP Senate caucus wants a deal. He's also trying to get Democrats to keep chasing after this mirage, to delay as long as possible the most likely outcome, that Senate Democrats will act alone on infrastructure via a simple majority "reconciliation" vote. https://www.washingtonpost.com/opinions/2021/06/02/mitch-mcconnell-is-laughing-your-face/