January 17, 2019
ON THE RECORD. . .
"The wall has become a prison of Trump's own making, his desire for its construction an enduring ego trip and a carrot for his supporters, not a response to an actual security need."-- Jak Cheney-Rice in the NY Intelligencer
"Why would the Senate leave town this weekend before voting to reopen the government? Countless federal workers aren't being paid. People are worrying about how to pay bills. Congress could act now to fix it if Mitch McConnell would just take up a bill. Let's stay here and do it!" — Sen. Tim Kaine (D-Va.) tweeted on Thursday afternoon.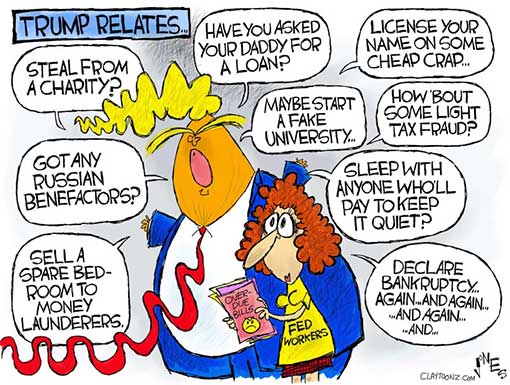 Trump thinks new, young Democrats in Congress "are crazy." — TPM Livewire video
"I think we're stuck. I just don't see a pathway forward. I don't see a way forward. I have never been more depressed about moving forward than I am right now. I just don't see a pathway forward." — Sen. Lindsey Graham (R-SC), who had been leading the effort to break an impasse over the government shutdown.
"Don't give up. Don't allow it to happen. If there's a concrete wall in front of you, go through it. Go over it. Go around it. But get to the other side of that wall." — Donald Trump, in a 2004 video clip aired on the Daily Show.
"800,000 people don't know when they'll see a paycheck. Thousands of children are still detained. People seeking asylum are being turned away. Rather than using his office to spread fear, it's time for @realDonaldTrump to end the shutdown and address these real crises." -- Senator Kirsten Gillibrand (D-NY)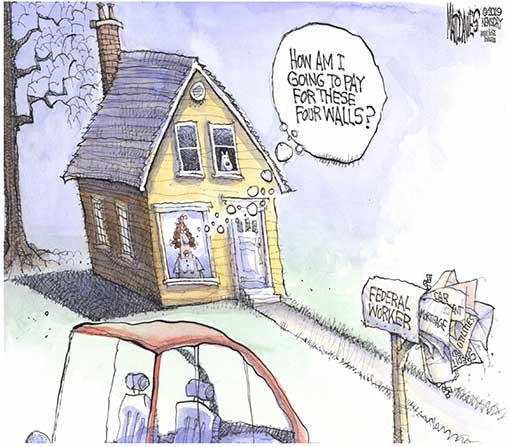 "Mr. Trump manifestly lacks a long list of traits associated with effective leadership: "humility, acknowledging errors, shouldering blame and learning from mistakes, empathy, resilience, collaboration, connecting with people and controlling unproductive emotions."-- Doris Kearns Goodwin, presidential historian and author of the recent book "Leadership: In Turbulent Times.
"Humanitarian Crisis at our Southern Border. I just got back and it is a far worse situation than almost anyone would understand, an invasion! I have been there numerous times - The Democrats, Cryin' Chuck and Nancy don't know how bad and dangerous it is for our ENTIRE COUNTRY" — Donald J. Trump, continuing to make exaggerated or false claims about illegal immigration and border security.
Democrat Sen. @MarkWarner on latest Manafort twist in Mueller probe: "Sharing confidential polling data with a known Russian spy... I don't whether you call that collusion... but to me that is inappropriate and one of the most significant items of the whole investigation." 
— Anderson Cooper 360° (@AC360) January 10, 2019
'You just fucked it all up, Mick.' - Trump, chastising his new chief of staff, Mick Mulvaney, in front of congressional leaders of both parties over Mulvaney's trying to negotiate a compromise sum of money for the wall.
"Like I said: A puppet." — Hillary Clinton, on Twitter.
"He's going to tell the story of what it's like to work for a madman, and why he did it for so long. He's going to say things that will give you chills." — A person close to  Michael Cohen
"Shocker…@CNN, the aquarium for Republican never-Trump swamp creatures, who have no real supporters outside of the their own green room, adds this original swamp creature to their collection of nobodies. https://t.co/h9Sga7s641" — Trump's campaign manager, Brad Parscale, reacting to the news that CNN has hired John Kasich — a potential 2020 Republican primary rival.
"The one thing that the President has not talked about is the fact that he has systematically engaged in the violation of international human rights on our border. He has separated children from their families. He talked about what happened the day after Christmas—on the day of Christmas, a child died in [Customs and Border Protection] custody. The President should not be asking for more money to an agency that has systematically violated human rights; the President should be really defending why we are funding such an agency at all. Because right now what we are seeing is death, right now what we are seeing is the violation of human rights, these children and these families are being held in what are called hieleras, which are basically freezing boxes that no person should be maintained in for any amount of time. . . . He is trying to restrict every form of legal immigration there is in the United States. He is fighting against family reunification, he's fighting against the diversity visa lottery. . . . This is systematic, it is wrong, and it is anti-American." — Rep. Alexandria Ocasio-Cortez ( VIDEO) on The Rachel Maddow Show.
"White nationalist, white supremacist, Western civilization — how did that language become offensive?" — Rep. Steve King (R-IA)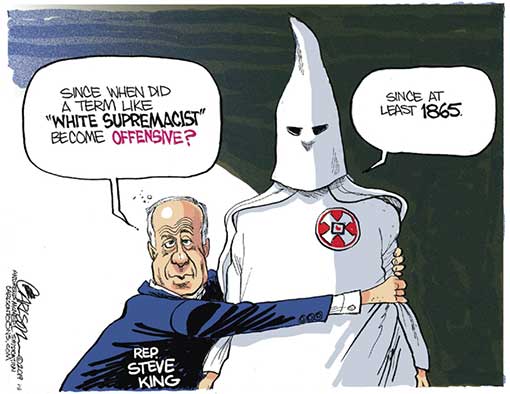 "A revolving door of deeply flawed individuals — amateurs, grifters, weaklings, convicted and unconvicted felons — who were hustled into jobs they were never suited for, sometimes seemingly without so much as a background check via Google or Wikipedia." — Former Gov. Chris Christie, writing about the Trump White House in his new book, "Let Me Finish."
"Recurring theme from sources over last two days: Kushner is the de facto chief of staff, whether people realize it or not." — Maggie Haberman tweet.
---
IN THIS ISSUE
FYI
OPINION
1.  Andy Borowitz: Sarah Huckabee Sanders Offers to Lie for Free During Shutdown
Calling it "the least I can do for my country," the White House press secretary, Sarah Huckabee Sanders, said on Saturday morning that she would lie for free during the government shutdown.

"Now more than ever it's important that the stream of falsehoods and distortions from this White House continues to flow in a steady and uninterrupted fashion," Sanders said. "To achieve that, for the duration of the government shutdown I will be lying on a pro-bono basis."

Sanders said that Donald Trump had asked that she keep a full accounting of the lies she told during the shutdown so that she could be reimbursed for them later, but she turned down that offer. "I've often said that I like to lie so much I would do it for free," she said. "This is a chance to put my money where my mouth is."

The press secretary said that her offer had already inspired other top Administration figures to lie for free during the shutdown, including Vice-President Mike Pence, Attorney General Jeff Sessions, and White House doctor Ronny Jackson.

After making her announcement, Sanders moved on to a broad range of other topics, including her assertion that the government had not shut down. https://www.newyorker.com/humor/borowitz-report/
2. Trump Channels Hannity and Lou Dobbs, Fearmongers for the Wall
In the days before his Oval Office address on Tuesday night, Donald Trump leaned on a number of advisers on how to navigate the government shutdown he'd waged over funding for his border wall. The list included immigration hardliners Fox News host Sean Hannity and Fox Business star Lou Dobbs, both of whom, according to two sources familiar with the conversations, had a clear message for the president: push forward for the wall funding and break the Democrats' will. https://www.thedailybeast.com/trump-channels-hannity-and-lou-dobbs-fear-mongers-for-the-wall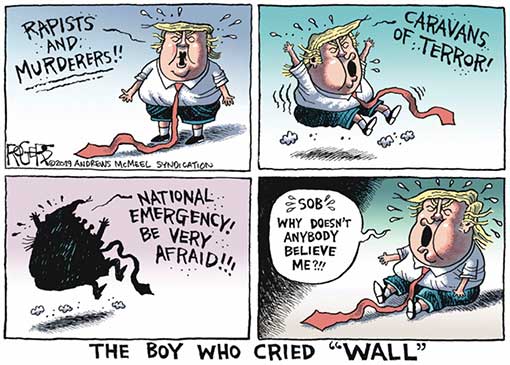 3. Evangelical Pastor Defends Trump's Border Plan: 'Heaven Itself Is Gonna Have A Wall'
An evangelical preacher is using the Bible to defend President Donald Trump's dream of building a wall along the U.S.-Mexico border ― suggesting that even heaven will have a wall around it.
Robert Jeffress, pastor of First Baptist Dallas Church in Texas and a longtime  Trump supporter, appeared on "Fox & Friends" Sunday to push back on the argument from House Speaker Nancy Pelosi (D-Calif.) and other Democrats that the wall is "immoral."
 
"The Bible says even Heaven itself is gonna have a wall around it," Jeffress said on the show. "Not everybody is going to be allowed in. So if walls are immoral, then God is immoral." https://www.huffingtonpost.com/entry/preacher-robert-jeffress-border-wall-trump_us_5c3640d2e4b00c33ab5f394b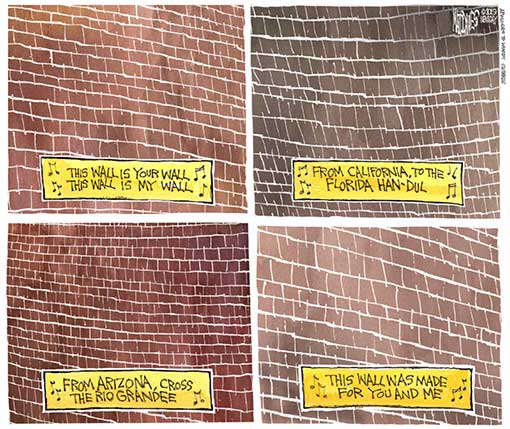 4. Unauthorized Special Edition of the Washington Post: "Trump Flees White House"
Early Wednesday morning, thousands of commuters in Washington, D.C. were handed a spitting image of the Washington Post. But this one was dated May 1, 2019 — and in lieu of the Post's usual tagline, "Democracy Dies in Darkness," the phrase "Democracy Awakens in Action" appeared at the top. The paper's lead headline: "Unpresidented: Trump Hastily Departs White House, Ending Crisis." An online version of the paper has also been making the rounds, at http://democracyawakensinaction.org/. There is also a  PDF of the print version at http://democracyawakensinaction.org/static/img/unpresidented-washington-post.pdf
5. How the new 2020 primary schedule gives Beto and Kamala a critical boost
The longstanding home turf primary advantage held by presidential candidates is one of the main reasons that the new 2020 schedule — with California and Texas now voting on the enormous March 3rd Super Tuesday — may give a decisive early advantage to two Democratic hopefuls: Sen. Kamala Harris (Calif.) and former Rep. Beto O'Rourke (Texas). And because of Democratic primary rules, it might be hard for anyone else in the field to catch them.
Harris and O'Rourke's advisers are looking at the same primary calendar and delegate math that we are, and here's one thing I can guarantee you: They like what they see. https://theweek.com/articles/816357/how-new-2020-primary-schedule-gives-beto-kamala-critical-boost
6. Trump Allies' Plan To Meddle In The 2020 Democratic Primary
 The pair of outside groups tied closely to President Donald Trump has retained the top Republican opposition group in an effort to smother Democrats seeking to challenge him — and perhaps even help pick his 2020 challenger.
The early move is part of Trump and his allies' plan to dominate the Democratic presidential primary and push to have the nominating contest play out on their terms, especially since Trump himself has been uncharacteristically quiet in the new year about top Democratic White House hopefuls, preoccupied with the partial government shutdown and his push for a border wall.
America First Policies and its affiliated super PAC have made significant investments in the opposition group America Rising, funding their efforts to dig into the top Democratic contenders — along with some second-tier candidates — and prep opposition research books on all of them, according to five sources involved or familiar with the plans.
Those close to Trump say the work from America Rising will be used against Democrats in the primary to hammer candidates they think will be most challenging for Trump to beat, weakening the overall field and the eventual Democratic nominee. https://www.buzzfeednews.com/article/tariniparti/donald-trump-reelection-2020-campaign-america-first\
7. Tax Cut Is Better (for Companies) and Worse (for Everyone Else)
Donald Trump and the Republicans' tax cut is proving to be vastly more generous for corporate America, and vastly more expensive for taxpayers, than expected. Worse, the Trump Slump is erasing the bump the stock market received from the tax cuts. And evidence is mounting that the promised economic boost isn't materializing. The administration's signature political achievement is being eclipsed by disarray over trade, immigration and a government shutdown.
In late 2017, soon before Congress passed the tax cut — which reduced the U.S. corporate rate to a flat 21 percent from a previous marginal rate that topped out at 35 percent — the Joint Committee on Taxation estimated it would cost $1.4 trillion over 10 years. White House officials criticized that estimate as being too high. In fact, it wasn't nearly high enough. Stephen Gandel's current estimate, now that companies have completed 2018, is nearly $2 trillion, and that's just for the S&P 500. That's nearly $400 billion more than he calculated in May. And the actual bill could rise even more while the lasting benefits are still pretty questionable. https://www.bloomberg.com/opinion/articles/2019-01-14/trump-tax-cut-turns-out-both-better-and-worse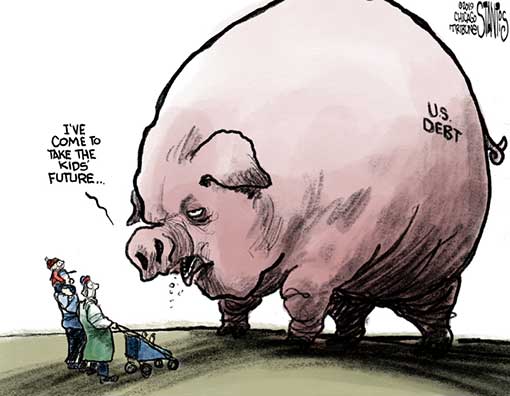 8. Texas landowners prepare for wall fight
The federal government has started surveying land along the border in Texas and announced plans to start construction next month. Rather than surrender their land, some property owners are digging in, vowing to reject buyout offers and preparing to fight the administration in court. https://apnews.com/0b3d63c524214bbdbfb58ce8f61589f0
9. The 'doomsday' scenario: Here's what happens if the shutdown drags on
"The country would face an economic hellscape if the government shutdown lasts 'months or even years,' as the president has suggested it might," experts tell NBC News.
The doomsday scenario might be unlikely — the longest the federal government has ever shut down is 21 days, a record that will fall if the current closure lasts until Saturday — but it is chilling.
"We'll be in no man's land," Mark Zandi, chief economist at Moody's Analytics, told NBC News.
The end isn't near — yet. But if the standoff persists — talks blew up at the White House on Wednesday — and Congress and President Donald Trump can't reach a deal on raising the debt ceiling in a few months, "it's game over — you'll have a pretty severe recession," Zandi said, adding that given the trade war with China, and Brexit looming, "you could start seeing some pretty dark scenarios." https://www.nbcnews.com/politics/politics-news/doomsday-scenario-here-s-what-happens-if-shutdown-drags-n955946worldwide.
10. The DAILY GRILL
"I certainly hope she's not the future and I don't believe she is." — Joe Lieberman, former Democratic Senator from Connecticut, saying Rep. Alexandria Ocasio-Cortez is not the future of the Democratic party.

VERSUS

'New party, who dis?,' -- 29-year-old Ocasio-Cortez retweeted the 76-year-old's sentiment with a four-word rejoinder, a phrase has morphed into a snarky tool for rejecting someone by framing their approach as a mistake.

 

They say 'a wall is medieval.' Well, so is a wheel. A wheel is older than a wall. The wheel is older than the wall, you know that? There are some things that work. You know what? A wheel works and a wall works. Nothing like a wall. — Donald Trump

VERSUS

When it comes to walls, one of the first known walls used in civilization to enclose a city was the Wall of Jericho, which surrounded one of the first permanent settlements, traced back to about 9000 B.C.  The first wheel is traced back to about 3500 B.C., thousands of years after walls. -- USA Today

 

"We can't have people pouring into our country like they have over the last 10 years." -- Trump

VERSUS

THE REALITY: Illegal border crossings have been declining for nearly two decades. In 2017, border-crossing apprehensions were at their lowest point since 1971.

 

"Over the years, thousands of Americans have been brutally killed by those who illegally entered our country, and thousands more lives will be lost if we don't act right now."-- Trump

VERSUS

A large-scale collaboration by four universities suggests either that immigration has the effect of reducing average crime, or that there is simply no relationship between the two, and that the 54 areas in the study where both grew were instances of coincidence, not cause and effect. This was a consistent pattern in each decade from 1980 to 2016, with immigrant populations and crime failing to grow together. — Robert Adelman, a sociologist at the State University of New York at Buffalo

 

Speaking to reporters just before players showed up, Trump proudly displayed the spread of "great American food," and said, "we have 300 hamburgers, many, many french fries — all of our favorite foods." — Aaron Rupar in Vox

VERSUS

Great being with the National Champion Clemson Tigers last night at the White House. Because of the Shutdown I served them massive amounts of Fast Food (I paid), over 1000 hamburgers etc. Within one hour, it was all gone. Great guys and big eaters!— Trump on Twitter
11. From MEDIA MATTERS (They watch Fox News so you don't have to)
Tucker Carlson attacks corporate diversity policies as "racial discrimination" and calls for a Justice Department crackdown. Carlson also claimed Alex Jones was deplatformed by tech companies only for "saying things they disliked." https://www.mediamatters.org/video/2019/01/09/tucker-carlson-attacks-corporate-diversity-policies-racial-discrimination-and-calls-justice/222476

Fox News contributor: Children died in DHS custody because "there wasn't a wall" to stop them from immigrating. Tom Homan: "Where those two children died after they crossed the border, there wasn't a wall there. A wall will save lives."https://www.mediamatters.org/video/2019/01/10/fox-news-contributor-children-died-dhs-custody-because-there-wasnt-wall-stop-them-immigrating/222488

Trump is doing a Hannity interview because the entire shutdown is a show aimed at the Fox News audience. https://www.mediamatters.org/blog/2019/01/10/trump-doing-hannity-interview-because-entire-shutdown-show-aimed-fox-news-audience/222484

Trump tells Hannity "you're not fake news, actually. You are real news." https://www.mediamatters.org/video/2019/01/10/trump-tells-hannity-youre-not-fake-news-actually-you-are-real-news/222492

Anti-semitic pastor tells Lou Dobbs Democrats "are morally liable for the death of children, the assault of women and the humanitarian crisis." Robert Jeffress: "I believe the Democrats are morally liable for the death of children, the assault of women, and the humanitarian crisis we're seeing at the border right now." https://www.mediamatters.org/video/2019/01/11/anti-semitic-pastor-tells-lou-dobbs-democrats-are-morally-liable-death-children-assault-women-and/222507

Fox's Newt Gingrich attacks Democratic concerns over children dying in Border Patrol custody. Gingrich: Well, look. I think there are a couple of things going on. First of all, a large part of the Democratic Party cares more about the fate of people who are not legally here than they care about Americans. I mean let's just be honest. They're biased. If you're an American citizen why should they worry about you? https://www.mediamatters.org/video/2019/01/11/foxs-newt-gingrich-attacks-democratic-concerns-over-children-dying-border-patrol-custody/222505

The Federalist's Jesse Kelly fantasizes about dating Rep. Alexandria Ocasio-Cortez: "A little bit of crazy can be fun. I'm not talking about marrying her, I'm just talking about a date or two." NRATV's Grant Stinchfield: But "could you imagine that look when she's mad at you because you didn't take out the trash? https://www.mediamatters.org/video/2019/01/04/federalist-s-jesse-kelly-fantasizes-about-dating-rep-alexandria-ocasio-cortez-little-bit-crazy-can/222424

Fox & Friends botches concept of marginal rates, claims Alexandria Ocasio-Cortez wants to take 70 percent of people's paychecks. https://www.mediamatters.org/blog/2019/01/14/fox-friends-botches-concept-marginal-rates-claims-aoc-wants-take-70-percent-people-s-paychecks/222511

Trump's Fox advisers keep telling him that he's winning the shutdown, which is why it won't end any time soon. https://www.mediamatters.org/blog/2019/01/15/trump-s-fox-advisers-keep-telling-him-he-s-winning-shutdown-which-why-it-wont-end-any-time-soon/222527
12. 1958 TV Series Featured Con Man Selling a Wall
In 1958, CBS aired an episode of Trackdown in which a con man attempted to sell a town a "wall" in order to protect them from the fake threat of a meteor shower.
The con man's name was Trump.
The show's main character ultimately exposes Trump as a fraud who was plotting with the town's sheriff to sell the wall. His final words: "You're under arrest Trump. https://twitter.com/_AlexHirsch/status/1083140191362048000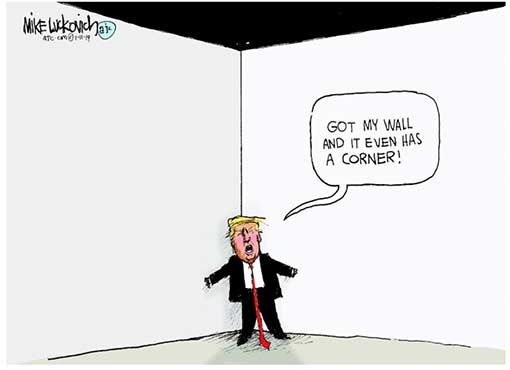 13. From the Late Shows
Colbert: Trump Will 'Definitely' Declare A National Emergency, 'Probably': https://www.facebook.com/colbertlateshow/videos/654084954994257/

Late Night with Seth Meyers: Trump Is Losing the Shutdown Fight: A Closer Look: https://youtu.be/byj85TQq6Yc
14. As Robert Mueller writes his report, a potential battle brews over obstruction of justice
Conflicting public statements by President Donald Trump and his team that could be seen as an effort to influence witnesses and obstruct justice, according to people familiar with the investigation.
The line of questioning adds to indications that Mueller views false or misleading statements to the press or to the public as obstruction of justice. That could set up a potential flashpoint with the White House and the Trump legal team should that become part of any final report from the Mueller investigation.
Mueller hasn't addressed the issue publicly, but prosecutors have dropped hints that they view public statements as possibly key in influencing witnesses. https://www.cnn.com/2019/01/10/politics/robert-mueller-trump-obstruction-battle/index.html
15. Trump's Russia Cover-Up By The Numbers – 101 Contacts With Russia-Linked Operatives
Members of President Trump's campaign and transition team had more than 100 contacts with Russian-linked operatives.
The milestone illustrates the deep ties between members of Trump's circle and the Kremlin. The findings, tracked by the Center for American Progress and its Moscow Project, come amid reports that special counsel Robert Mueller is nearing the conclusion of the two-year investigation into Russian collusion in the 2016 election and possible obstruction of justice by the president. https://themoscowproject.org/explainers/trumps-russia-cover-up-by-the-numbers-70-contacts-with-russia-linked-operatives/
16. Border Patrol union deleted 2012 webpage opposing border wall
A union that represents Border Patrol agents recently deleted a webpage that said building walls and fences along the border to stop illegal immigration would be "wasting taxpayer money."
The deleted webpage, posted in 2012, argued that border barriers don't tackle the root causes of migration — and could potentially encourage more migrants to enter the U.S. fraudulently or overstay visas.
The webpage was taken down after the union's president endorsed the wall at a White House news briefing earlier this month. https://www.politico.com/story/2019/01/11/border-patrol-union-deleted-2012-webpage-opposing-walls-and-fences-1081250
17. Trump has concealed details of his face-to-face encounters with Putin from senior officials in administration
President Trump has gone to extraordinary lengths to conceal details of his conversations with Russian President Vladi­mir Putin, including on at least one occasion taking possession of the notes of his own interpreter and instructing the linguist not to discuss what had transpired with other administration officials, current and former U.S. officials said.
Trump did so after a meeting with Putin in 2017 in Hamburg that was also attended by then-Secretary of State Rex Tillerson. U.S. officials learned of Trump's actions when a White House adviser and a senior State Department official sought information from the interpreter beyond a readout shared by Tillerson.
The constraints that Trump imposed are part of a broader pattern by the president of shielding his communications with Putin from public scrutiny and preventing even high-ranking officials in his own administration from fully knowing what he has told one of the United States' main adversaries.
As a result, U.S. officials said there is no detailed record, even in classified files, of Trump's face-to-face interactions with the Russian leader at five locations over the past two years. Such a gap would be unusual in any presidency, let alone one that Russia sought to install through what U.S. intelligence agencies have described as an unprecedented campaign of election interference.
Previous presidents have required senior aides to attend meetings with adversaries including the Russian president largely to ensure that there are not misunderstandings and that others in the administration are able to follow up on any agreements or plans. Detailed notes that Talbot took of Clinton's meetings with Yeltsin are among hundreds of documents declassified and released last year. https://www.washingtonpost.com/world/national-security/trump-has-concealed-details-of-his-face-to-face-encounters-with-putin-from-senior-officials-in-administration/2019/01/12/65f6686c-1434-11e9-b6ad-9cfd62dbb0a8_story.html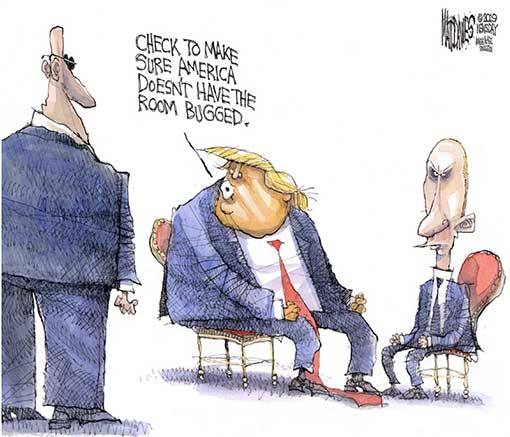 18. Conservative Men Are Obsessed With Alexandria Ocasio-Cortez
Ocasio-Cortez's power is a direct threat to conservatives because her very existence in Congress as a young, Latina, working-class woman threatens to upend the social order that has kept white men in the ruling class for centuries. (Eighty-eight percent of House Republicans are white men, most are over the age of 50, and the party's voters are majority white and male.) On top of that, she is using her position and platform to directly challenge that order ― to attempt to get money out of politics, raise taxes on the super-rich and level the playing field.
She doesn't just challenge the patriarchy, she's challenging the race, class, and gender hierarchies all at once, as well as the capitalist system that requires member of Congress be wealthy before they get there," said Caroline Heldman, a gender and politics professor at Occidental College. "That's remarkably threatening." https://www.huffingtonpost.com/entry/conservatives-afraid-alexandria-ocasio-cortez_us_5c38cb74e4b05cb31c421cc3
19. Majority of Democrats Identify as Liberal for First Time
The percentage of Democrats identifying as liberal averaged 51% in 2018, up from 50% in 2017, marking the first time a majority of Democrats have adopted this term, following gradual increases since the 1990s.
In 1994, nearly half of Democrats described their views as moderate while equal percentages, at 25%, identified themselves as liberal and conservative. That fundamental pattern held until about 2002, during the first half of President George W. Bush's first term in office. From 2002 through 2014 -- spanning the Iraq War under Bush and the Barack Obama presidency -- the liberal share increased approximately one percentage point a year, while the percentages moderate and conservative fell. Since 2014, the percentage of Democrats identifying as liberal has increased at an even faster rate of two points per year on average. https://news.gallup.com/poll/245813/leans-conservative-liberals-keep-recent-gains.aspx
20. High Crimes and Misdemeanors
Since 1386, the English parliament had used the term "high crimes and misdemeanors" to describe one of the grounds to impeach officials of the crown.
Benjamin Franklin asserted that the power of impeachment and removal was necessary for those times when the Executive "rendered himself obnoxious," and the Constitution should provide for the "regular punishment of the Executive when his conduct should deserve it, and for his honorable acquittal when he should be unjustly accused." James Madison said, "...impeachment... was indispensable" to defend the community against "the incapacity, negligence or perfidy of the chief Magistrate." With a single executive, Madison argued, unlike a legislature whose collective nature provided security, "loss of capacity or corruption was more within the compass of probable events, and either of them might be fatal to the Republic." https://en.wikipedia.org/wiki/High_crimes_and_misdemeanors
21. Trump Confronts the Prospect of a 'Nonstop Political War' for Survival
If the now 23-day government shutdown standoff between Mr. Trump and Congress has seemed ugly, it may eventually seem tame in light of what is to come. The border wall fight is just the preliminary skirmish in this new era of divided government. The real battle has yet to begin.
With Democrats now in charge of the House, the special counsel believed to be wrapping up his investigation, news media outlets competing for scoops and the first articles of impeachment already filed, Mr. Trump faces the prospect of an all-out political war for survival that may make the still-unresolved partial government shutdown pale by comparison. https://www.nytimes.com/2019/01/13/us/politics/trump-russia-shutdown.html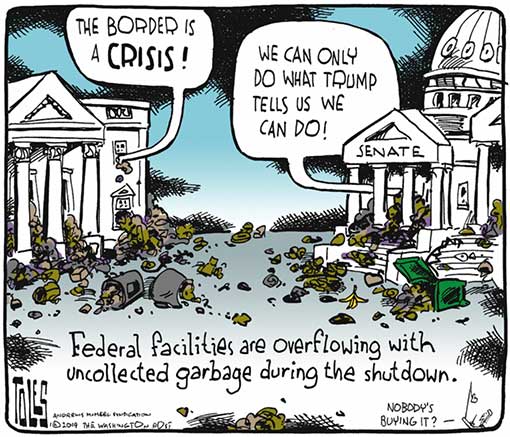 22. Democrats warn Trump not to 'discourage, intimidate' Michael Cohen
The Democratic chairmen of three House panels called on President Donald Trump to cease what they said are "efforts to discourage, intimidate, or otherwise pressure" his former personal attorney and fixer, Michael Cohen, "not to provide testimony to Congress."
Reps. Elijah Cummings, D-Md., Jerry Nadler, D-N.Y., and Adam Schiff, D-Calif., chairmen of the House Oversight, Judiciary, and Intelligence Committees, respectively, issued the statement Sunday morning in response to comments the president made Saturday night in an interview on Fox News.
In the interview, Trump accused Cohen of agreeing to testify in front of Congress as part of an effort "to get his sentence reduced," and suggested without evidence that Cohen's father-in-law might face legal exposure because "that's the money in the family." https://abcnews.go.com/beta-story-container/Politics/democrats-warn-trump-discourage-intimidate-michael-cohen/story
23. Ice loss from Antarctica has sextupled since the 1970s
Antarctic glaciers have been melting at an accelerating pace over the past four decades thanks to an influx of warm ocean water — a startling new finding that researchers say could mean sea levels are poised to rise more quickly than predicted in coming decades.
The Antarctic lost 40 billion tons of melting ice to the ocean each year from 1979 to 1989. That figure rose to 252 billion tons lost per year beginning in 2009, according to a study published Monday in the Proceedings of the National Academy of Sciences. That means the region is losing six times as much ice as it was four decades ago, an unprecedented pace in the era of modern measurements. (It takes about 360 billion tons of ice to produce one millimeter of global sea-level rise.)
The findings are the latest sign that the world could face catastrophic consequences if climate change continues unabated. In addition to more-frequent droughts, heat waves, severe storms and other extreme weather that could come with a continually warming Earth, scientists already have predicted that seas could rise nearly three feet globally by 2100 if the world does not sharply decrease its carbon output. But in recent years, there has been growing concern that the Antarctic could push that even higher.
That kind of sea-level rise would result in the inundation of island communities around the globe, devastating wildlife habitats and threatening drinking-water supplies. Global sea levels have already risen seven to eight inches since 1900.
https://www.washingtonpost.com/energy-environment/2019/01/14/ice-loss-antarctica-has-sextupled-since-s-new-research-finds/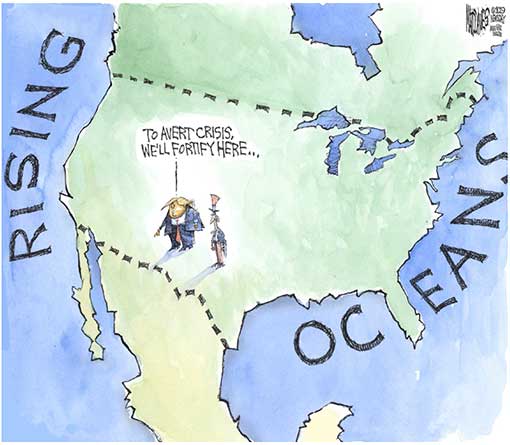 24. Trump can't stop U.S. coal plants from retiring
More U.S. coal-fired power plants were shut in President Donald Trump's first two years than were retired in the whole of Barack Obama's first term, despite the Republican's efforts to prop up the industry to keep a campaign promise to coal-mining states. https://www.reuters.com/article/us-usa-trump-coal/president-trump-cant-stop-u-s-coal-plants-from-retiring-idUSKCN1P80BY
25. Has the Democratic Party moved beyond Bernie Sanders?
Yes, supporters of Senator Bernie Sanders are hosting house parties and signing petitions this month to show the Vermont independent that his loyal followers are still feeling the Bern and want him to run for president again in 2020.
But as Sanders weighs another campaign, some say that even as he has moved the Democratic Party ideologically — pushing issues such as Medicare for all, free college tuition, and a $15 minimum wage into the mainstream — the party has moved past him personally. https://www.bostonglobe.com/metro/2019/01/14/has-democratic-party-moved-beyond-bernie-sanders/Fm6lz4E58TpynZ6MXxqppM/story.html
26. T-Mobile announced a merger needing Trump administration approval. The next day, 9 executives had reservations at Trump's hotel
Last April, telecom giant T-Mobile announced a megadeal: a $26 billion merger with rival Sprint, which would more than double T-Mobile's value and give it a huge new chunk of the cellphone market. But for T-Mobile, one hurdle remained: Its deal needed approval from the Trump administration.
The next day, in Washington, staffers at the Trump International Hotel were handed a list of incoming 'VIP Arrivals.' That day's list included nine of T-Mobile's top executives — including its chief operating officer, chief technology officer, chief strategy officer, chief financial officer and its outspoken celebrity chief executive, John Legere. https://www.washingtonpost.com/politics/a-place-i-feel-very-comfortable-t-mobile-executives-seeking-government-approval-for-merger-stayed-at-trumps-hotel-repeatedly/2019/01/15/6a114d3e-142c-11e9-b6ad-9cfd62dbb0a8_story.html
27. Power Up: The Art of Prolonging a Government Shutdown
Trump is so far flunking the biggest test of his dealmaking skills as president, learning the hard way that governing in a divided Washington is not remotely like running the Trump Organization or hosting "The Apprentice." Firing his Democratic foes, Pelosi and Sen. Chuck Schumer (D-N.Y.), a la Omarosa's unceremonious dumping from both his reality TV show and then the White House, is not an option. https://www.washingtonpost.com/news/powerpost/paloma/powerup/2019/01/10/powerup-the-art-of-prolonging-a-government-shutdown/5c365da21b326b66fc5a1bf6/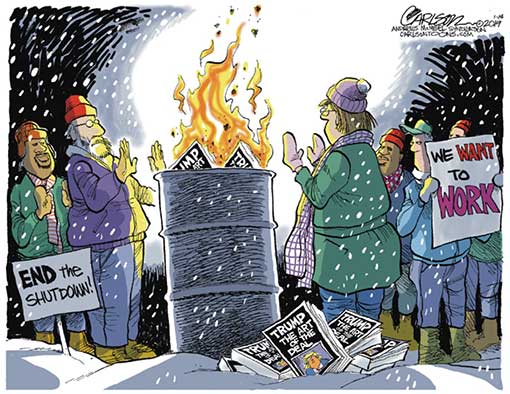 1. Garrett Graff: Trump Must Be A Russian Agent; The Alternative Is Too Awful
"The pattern of his pro-Putin, pro-Russia, anti-FBI, anti-intelligence community actions are so one-sided, and the lies and obfuscation surrounding every single Russian meeting and conversation are so consistent, that if this president isn't actually hiding a massive conspiracy, it means the alternative is worse: America elected a chief executive so oblivious to geopolitics, so self-centered and personally insecure, so naturally predisposed to undermine democratic institutions and coddle authoritarians, and so terrible a manager and leader, that he cluelessly surrounded himself with crooks, grifters, and agents of foreign powers, compromising the national security of the US government and undermining 75 years of critical foreign alliances, just to satiate his own ego.
In short, we've reached a point in the Mueller probe where there are only two scenarios left: Either the president is compromised by the Russian government and has been working covertly to cooperate with Vladimir Putin after Russia helped win him the 2016 election—or Trump will go down in history as the world's most famous "useful idiot," as communists used to call those who could be co-opted to the cause without realizing it.
At least the former scenario—that the president of the United States is actively working to advance the interests of our country's foremost, long-standing, traditional foreign adversary—would make him seem smarter and wilier. The latter scenario is simply a tragic farce for everyone involved.
We're left here—in a place unprecedented in American political history, wondering how much worse the truth is than we already know—after four days of fresh revelations in the public drip-drip-drip of the Russia investigation. The past two months have seen the public understanding of the case advance into almost unthinkable territory. Now we're simply trying to figure out how bad things really are. https://www.wired.com/story/president-trump-mueller-russia-agent-putin/
2. Roger Cohen: Donald Trump Just Cannot Help It. The Reichstag fire was at least a fire. Here, there is smoke and mirrors.
Watching the Trump show from the distance afforded by my brief leave of absence has been like watching a frenzy of ants. It's hypnotic, in part because it appears devoid of meaning. Keep your eye on the bouncing ball, goes the adage. But what if the ball is a blur?
When Trump was in business, his shtick was stiffing contractors. If confronted, he would try some bombast and storm out of meetings, as he did the other day with congressional leaders, ending talks on the partial government shutdown caused by a crisis he has manufactured. His shtick now is stiffing all Americans. The technique is the same: Keep reality at a distance through hyperactive fakery.
I have been fascinated by Trump's compulsion. Like birds feasting on mangled flesh in the middle of the road, he cannot help it. Like travelers beset with reflex gluttony in airline lounges, he cannot help it. Like the sulking child denied a video, he cannot help it.
Like the dog that returns to its vomit, he cannot help it. Like a puppet on a string, he cannot help it. Like the scorpion that stings the frog ferrying it across the torrent, he cannot help it. It's his nature, you see. https://www.nytimes.com/2019/01/11/opinion/donald-trump-illegal-immigration-border-wall.html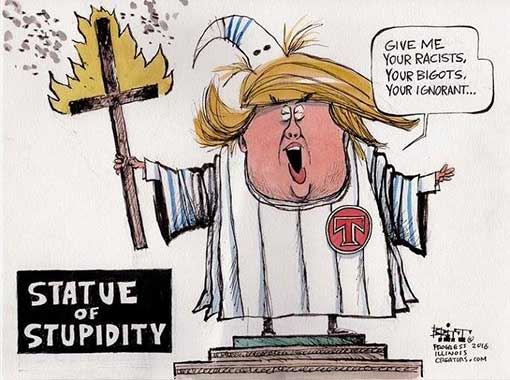 3. James Hohmann: From Brexit to NATO and the shutdown, Putin is winning so much he might get tired of winning
With the British Parliament's lopsided rejection of Prime Minister Theresa May's Brexit plan and the U.S. partial government shutdown dragging into its 26th day, the two oldest and most important Western democracies are simultaneously mired in utter political chaos with no obvious way out.
Against the backdrop of the American withdrawal from Syria and President Trump's musings about pulling out of NATO, it adds up to a strategic bonanza for Vladimir Putin and his vision of a revanchist Russia.
We don't know exactly how much Moscow spent supporting influence operations to impact the U.K. and U.S. elections in 2016, but it seems hard to overstate how good the Kremlin's return has been on what Western intelligence agencies believe was a relatively modest investment. https://www.washingtonpost.com/news/powerpost/paloma/daily-202/2019/01/16/daily-202-from-brexit-to-nato-and-the-shutdown-putin-is-winning-so-much-he-might-get-tired-of-winning/5c3eb0a71b326b3b88fef0a0/
4. Benjamin Wittes: What if the Obstruction Was the Collusion? On the New York Times's Latest Bombshell
Observers of the Russia investigation have generally understood Special Counsel Robert Mueller's work as focusing on at least two separate tracks: collusion between the Russian government and the Trump campaign, on the one hand, and potential obstruction of justice by the president, on the other. But what if the obstruction was the collusion—or at least a part of it?
This possibility, of course, raises a different legal puzzle, which is whether and under what circumstances the president can be a national security investigative subject of his own FBI given that it is ultimately he who defines national security threats for the executive branch. But that's a question for another day.
Second, if it is correct that the FBI's principal interest in obstruction was not as a discrete criminal fact pattern but as a national security threat, this significantly blurs the distinction between the obstruction and collusion aspects of the investigation. In this construction, obstruction was not a problem distinct from collusion, as has been generally imagined. Rather, in this construction, obstruction was the collusion, or at least part of it. The obstruction of justice statutes become, in this understanding, merely one set of statutes investigators might think about using to deal with a national security risk—specifically, the risk of a person on the U.S. side coordinating with or supporting Russian activity by shutting down the investigation. https://www.lawfareblog.com/what-if-obstruction-was-collusion-new-york-timess-latest-bombshell
5. Gail Collins: Down the Rabbit Hole With Donald
Pop quiz: When Trump was invited to comment on the pain of the unpaid government workers, did he say:
A) That it's better than being killed by an illegal immigrant.

B) That a lot of them think it's worth missing their salaries to get a wall.

C) That he, too, had to suffer by spending the holidays in the White House.

D) All of the above.
O.K., I know that was too easy.
It does feel as if we've fallen down a rabbit hole into an alternate universe that is definitely not Wonderland. Just keep telling yourself that it isn't going to last forever. Soon the presidential primary races will be underway and concerned citizens will have something to talk about besides the Mad Hatter. It looks as if the Democrats are going to have lots of serious policy discussions. And the fact that this week Beto O'Rourke posted videos of himself having his teeth cleaned is just one hint that there will also be plenty of cheering diversion.
Meanwhile, your best options near-term are either to get together with friends and drink heavily, or crawl under your bed and assume a fetal position. https://www.nytimes.com/2019/01/11/opinion/trump-border-shutdown.html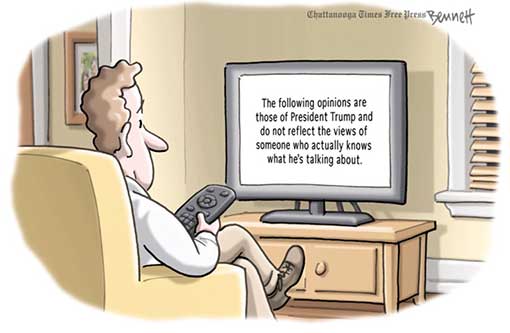 6. Jonathan Chait: Mueller Is Investigating Trump as a Russian Asset
Friday night, the New York Times published a bombshell report  that the FBI has been investigating whether President Trump "had been working on behalf of Russia against American interests." The story reframes the focus and purpose of the investigation now headed by Robert Mueller. The probe is not just about Russian election interference, or about Trump's obstruction of the probe — it is about the secret relationship between Trump and Russia that appears to be causing both these things to happen.
Much of the public focus on the Mueller investigation has centered on campaign collusion. Russia worked to help elect Trump, and Trump and his campaign at minimum welcomed its help, and at maximum, actively participated. (Trump campaign manager Paul Manafort gave polling data to a Russian oligarch, the most likely use for which would have been guiding Russian social media efforts.) But campaign collusion is a relationship with a fixed endpoint: November 8, 2016. After Trump won presidency, any secretive or suspicious mutual interest between him and Vladimir Putin would conclude. Having succeeded in helping to elect the friendly Trump (and block the unfriendly Clinton), Putin could now operate with his chosen candidate on a normal president-to-president basis.
The Times report tells us that collusion is only part of the story. The relationship between Trump and Putin did not merely rest on their mutual interest in the Trump campaign defeating Clinton, but indicates some deeper connection. From the very beginning of this story, pundits have underestimated the full extent of Trump's ties to Russia and how much deeper the story might yet go. Now we already know Mueller is not merely looking into crimes, but trying to ascertain the foundational loyalties of the President of the United States. http://nymag.com/intelligencer/2019/01/mueller-investigating-trump-russian-asset.html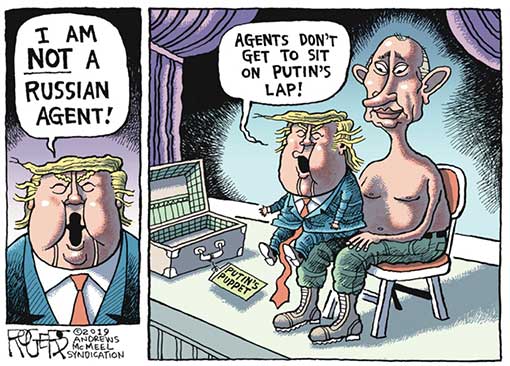 7. Molly Ball: Trump and Pelosi Are Locked in Their First Battle. Neither Can Afford to Lose
A new year has dawned in Washington, and this is what it looks like: a partial government shutdown in its third week; a new Congress sworn in only to sit on its hands; an emboldened House Speaker Nancy Pelosi refusing to cede an inch; and an angry President Trump abandoning negotiations to take to television and make the case for crisis measures.
But step back from the sordid details, and you could hardly get a more accurate tableau of America's new political reality: a nonfunctioning federal government whose leaders, each insisting the stakes are too high to budge, have retreated to their corners. At the center of the drama are the two towering figures whose clash will define the next biennium: Trump and Pelosi, the yang and yin of a divided America, two powerful leaders with their credibility on the line, both convinced they hold the winning hand.
"Neither can afford to lose…. Trump, true to his tendencies, acts on impulse, prevaricates, shreds norms and takes unilateral actions of questionable legality. He stumbles into authoritarianism, not out of calculation but out of machismo. Meanwhile, the Speaker, true to her tendencies, unites her wayward party behind a carefully chosen, logical course of action, but her best-laid plans may still be no match for an extraordinary moment. Ultimately, it is fitting that Trump, avatar of chaos, should face off against Pelosi, master of rules. And there's no end in sight for the clash of these two titanic figures. http://time.com/5498900/donald-trump-nancy-pelosi-battle
8. Andrew Sullivan: Welcome to Act III of the Trump Tragedy
When is the moment we can say that Trump has clearly gone over the line in erasing democratic and constitutional restraints on his personal power?
I'd say declaring a national emergency when there isn't one to fund a project he can't get through Congress pretty obviously qualifies. Wouldn't you?
He couldn't manage to get his wall funded when his own party controlled the entire government. He even turned down a bipartisan offer to build a "wall" in return for a path to citizenship for Dreamers last year, because he wanted a reduction in legal immigration as well. He petulantly refuses to accept greater funding for border control and immigration enforcement if his symbolic wall isn't part of the package. He says he intends to use the military to do what a civilian border force is constitutionally designed for. He even intends to seize private land in order to construct the Great Wall of America, using a military version of "eminent domain." And he says he has the power to do all this anyway and is only negotiating with congressional leaders because he feels like it. His benchmark for when an emergency begins? When Nancy Pelosi refuses to budge. Which is proof that this "emergency" is pulled out of his giant, shapeless ass. http://nymag.com/intelligencer/2019/01/andrew-sullivan-welcome-to-act-iii-of-the-trump-tragedy.html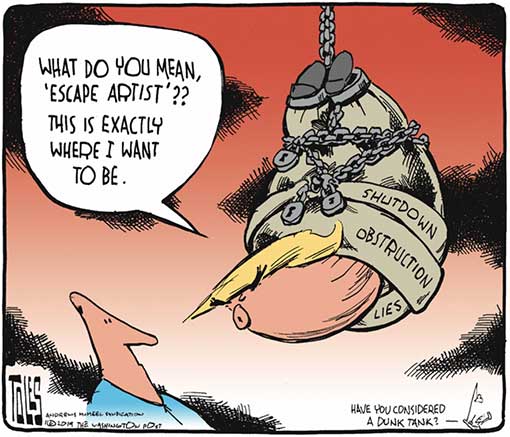 9. Karen Tumulty: Trump is the president of the Republican base — not the country
The Great Shutdown Showdown of 2019 has shown more clearly than anything before the central reality of Donald Trump's presidency: He does not lead a country; he leads a movement.
Trump is president of the Republican base. He knows how to make his most passionate supporters vibrate like the reed of a clarinet. And they have the same effect on him.
That is why he was willing to go to the wall over The Wall, despite the fact that most Americans think it is a lousy idea. It is why he proudly claimed ownership of what has now become the longest government shutdown ever, and is deservedly getting more of the blame for the pain that it is causing.
Trump used his first televised Oval Office address not to offer a more persuasive argument, or a fresh compromise, or to bring the country together. The only thing he managed to do in that precious nine minutes was to cheapen our most revered national platform with the same histrionic claims about illegal immigration that he made when he came down the Trump Tower escalator in 2015. https://www.washingtonpost.com/opinions/trump-is-the-president-of-the-republican-base--not-the-country/2019/01/11/3862aa9c-150f-11e9-90a8-136fa44b80ba_story.html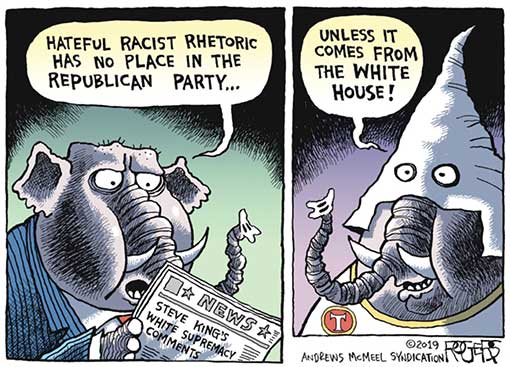 10. Greg Miller: Trump has concealed details of his face-to-face encounters with Putin from senior officials in administration
Trump has gone to extraordinary lengths to conceal details of his conversations with Russian President Vladi­mir Putin, including on at least one occasion taking possession of the notes of his own interpreter and instructing the linguist not to discuss what had transpired with other administration officials, current and former U.S. officials said.
Trump did so after a meeting with Putin in 2017 in Hamburg that was also attended by then-Secretary of State Rex Tillerson. U.S. officials learned of Trump's actions when a White House adviser and a senior State Department official sought information from the interpreter beyond a readout shared by Tillerson.
The constraints that Trump imposed are part of a broader pattern by the president of shielding his communications with Putin from public scrutiny and preventing even high-ranking officials in his own administration from fully knowing what he has told one of the United States' main adversaries.
As a result, U.S. officials said there is no detailed record, even in classified files, of Trump's face-to-face interactions with the Russian leader at five locations over the past two years. Such a gap would be unusual in any presidency, let alone one that Russia sought to install through what U.S. intelligence agencies have described as an unprecedented campaign of election interference. https://www.washingtonpost.com/world/national-security/trump-has-concealed-details-of-his-face-to-face-encounters-with-putin-from-senior-officials-in-administration/2019/01/12/65f6686c-1434-11e9-b6ad-9cfd62dbb0a8_story.html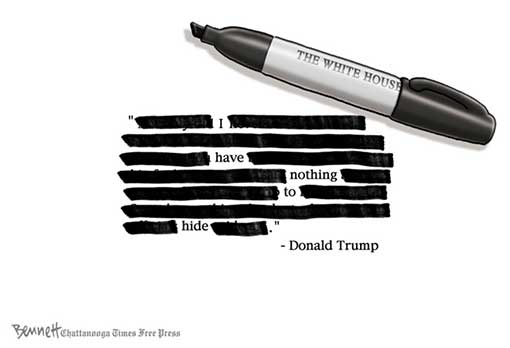 11. Maureen Dowd: Nancy Pelosi Spanks the First Brat
Over the years, Fred funneled tens of millions of dollars to clean up Donald's messes. The father even gave the son $3.5 million in chips to save an Atlantic City casino. By the time he was in his 40s, Donnie's allowance was more than $5 million annually. No wonder he's still an infant.
When Trump said he could "relate" to federal workers who are now going without pay, it may have been the most audacious lie he told all week. He may know what it's like to go from bankruptcy to bankruptcy — though always with a paternal safety net — but he has no idea of what it's like to live paycheck to paycheck, much less none at all.
As Pelosi told reporters: "He thinks maybe they could just ask their father for more money. But they can't." She also leveled the barb on Trump in person.
Pelosi deploys what she calls her "mother of five" voice on our tantrum-prone president, perhaps in an effort to reparent him. But how do you discipline the world's brattiest 72-year-old? https://www.nytimes.com/2019/01/12/opinion/sunday/dowd-nancy-pelosi-donald-trump.html
12. Steven Levitsky and Daniel Ziblatt: Why Autocrats Love Emergencies
Trump's behavior, particularly since the November midterm elections, betrays his autocratic instincts. The president manifestly lacks the patience or negotiating skills needed to deal with divided government. His response to Democratic control of the House of Representatives has been a refusal to compromise and, more dangerously, a refusal to lose. Unlike Presidents Clinton and Bush, who conceded defeat when it became clear that their initiatives lacked legislative support, Mr. Trump has refused to accept the failure of his border wall project. Unable to obtain the necessary votes in Congress, the president recklessly forced a government shutdown. When that didn't get him his wall, he moved to circumvent Congress altogether by inventing — if not yet declaring — a national emergency. In his Oval Office speech on Tuesday, he used the word "crisis" six times in eight minutes. That is how autocrats respond to legislative opposition. Following in the tradition of Vargas and Marcos, Mr. Trump fabricated a security threat to make the case for bypassing Congress.
The president's border wall stunt may well fail. Mr. Trump is politically weak. Outside of his core group of supporters, few Americans believe that the southern border poses a national security threat, and there is a chance — though it is far from certain — that any effort by Mr. Trump to circumvent Congress would be blocked by the courts. On Friday, Mr. Trump seemed to acknowledge the weakness of his position when he announced that "what we're not looking to do right now is national emergency," although he continued to hold the threat over Congress.
But no matter the outcome, these developments should set off alarm bells. Our president is behaving like an autocrat. His willingness to fabricate a national crisis and subvert constitutional checks and balances to avoid legislative defeat places him closer to Ferdinand Marcos than to Ronald Reagan. https://www.nytimes.com/2019/01/12/opinion/sunday/trump-national-emergency-wall.html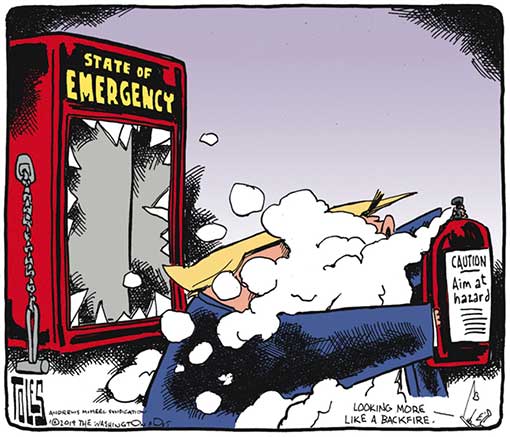 13. Jonathan Bernstein; Trump Isn't Above the Law
We expect presidents to push against the boundaries of their legal authority. In normal times, that's a perfectly healthy aspect of the U.S. political system. Alexander Hamilton talked about the importance of "energy in the executive," and James Madison wanted ambition to counter ambition. The system is supposed to thrive on politicians trying to become more powerful. If anything — and again, in normal times with a normal president — the real culprit here would be Congress for delegating its powers and then having a tantrum (rather than doing something) when a president uses what they've given away.
Except Trump is no normal president. His constant disregard for the rule of law is impossible to ignore. It makes his attempts to exploit the presidency inextricable from his larger assault on the republic. Look at just this weekend. He once again attacked the independence of the Justice Department; he sought as usual to undermine the independent press; he continued using ethnic slurs against his political opponents; and he attempted to obstruct justice by intimidating a witness. All these acts are violations of his oath of office. And that's not even counting his continued flouting of the emoluments clause of the Constitution, his serious violations of campaign-finance laws, and on and on. 
The parallels to Richard Nixon are as obvious as they are sad. What eventually cost Nixon his presidency wasn't a specific crime — he wasn't the first president to break the law in some way. Nor was it Nixon's hunger for power. What made it necessary to remove him from office, so necessary that eventually his own political allies agreed, was that he acted as if he was above the law. Once a president's contempt for the rule of law becomes obvious, everything he or she does must be seen in that context. And so what would otherwise be a normal case of testing the boundaries of authority becomes, to everyone watching, an act fraught with danger. https://www.bloomberg.com/opinion/articles/2019-01-14/trump-isn-t-above-the-law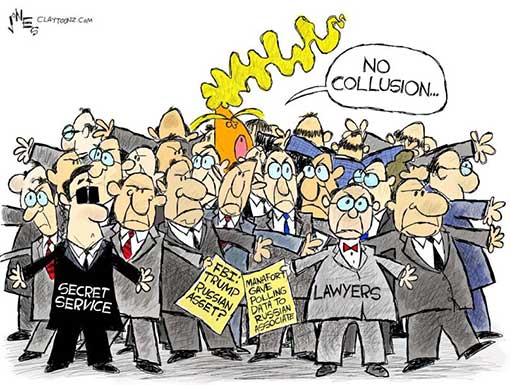 14.  Bess Levin: Donald Trump Cracks After Weekend From Hell
The day he drove a fourth company into bankruptcy; the moment his longtime doctor told The New York Times he takes Propecia, a drug used to treat male-pattern baldness; the exact second he realized he would have to actually serve as president. Arguably, these have been some of the worst moments of Donald Trump's life—that is, until this past weekend, when, over a period of 48 hours, the Times reported that law enforcement had opened an investigation into the possibility that the president of the United States was a Russian asset, The Washington Post reported that Trump has "gone to extraordinary lengths to conceal details of his conversations with Russian President Vladimir Putin," his economy-dinging shutdown entered its 23rd day, and no one—not one person!—gave him credit for sticking around the White House when he could've been off playing golf at Mar-a-Lago, a situation that left him even more steamed and unglued than usual.
But let's rewind. On Friday night, the paper of record published an absolutely bombshell report saying that in the days after Trump fired F.B.I. director James Comey, law-enforcement officials "became so concerned by the president's behavior that they began investigating whether he had been working on behalf of Russia against American interests," actions that could have constituted a threat to national security, whether the president was "knowingly working for Russia or had unwittingly fallen under Moscow's influence." For those so broken by the past two years that they cannot remember whether it's normal for the president of the United States to be investigated as a possible foreign asset, spoiler alert: it's not! It also means that the election-collusion angle being probed by special prosecutor Robert Mueller is only part of the story. (Both the F.B.I. and the special counsel's office declined the Times's request for comment, and Rudy Giuliani, the president's lawyer, told the paper that, clearly, investigators had "found nothing.") https://www.vanityfair.com/news/2019/01/donald-trump-cracks-after-weekend-from-hell