June 17, 2021
ON THE RECORD. . .
During the Obama administration, folks thought we'd have a 60 Democrat majority for a while. It lasted 4 months. Democrats are burning precious time and impact negotiating with the GOP who won't even vote for a Jan 6 commission. McConnell's plan is to run out the clock. It's a hustle. We need to move now. — Rep. Alexandria Ocasio-Cortez (D-NY) warns on Twitter.

"A lot of what you're seeing as attacks on me, quite frankly, are attacks on science, because all of the things that I have spoken about, consistently from the very beginning, have been fundamentally based on science." — Dr. Anthony Fauci ito critics calling for his ouster.

"I don't believe in evolution… I don't believe in that type of so-called science. I don't believe in evolution. I believe in God." — Rep. Marjorie Taylor Greene (R-GA) to Steve Bannon on his podcast.

"We've seen plenty of video of people in the Capitol and they weren't rioting. It doesn't look like an armed insurrection when you have people that breach the Capitol – and I don't condone it – but they're staying within the rope lines in the Rotunda. That's not what an armed insurrection would look like." — Sen. Ron Johnson (R-WI) about the 1/6 insurrection.

"We can roll our eyes and treat the Arizona audit as a joke, but a clown with a flamethrower still has a flamethrower, and the danger of this is spreading from state to state. This has now become gospel in the Republican Party" — Charlie Sykes

"Essentially we're all Joe Manchin. With the margins we have, everybody has the ability to tank whatever we're trying to do… Unity is not only our strength, it is the only chance we have." —House Budget Committee Chairman John Yarmuth (D-KY).

"A growing number of GOP Senate contenders are spurning former President Donald Trump's wishes with campaigns that defy his criticism or ignore his support of a rival, as the Republican Party debates his role in its future."  – CNN 

"It basically teaches that certain children are inherently bad people because of the color of their skin, period. For example, These people, when they were doing the training programs — and the government — if you didn't buy into what they taught you a hundred percent, they sent you away to a reeducation camp." – Alabama state Rep. Chris Pringle (R) when asked to define "critical race theory," which he seeks to make illegal to teach in schools.

"Mitch McConnell's come under a lot of criticism for saying at one point he wanted to make sure that Barack Obama was a one-term president. I want to make Joe Biden a one-half-term president. And I want to do that by making sure they no longer have the House, Senate and White House." – Sen. John Barrasso (R-WY) vowing to make President Joe Biden a "one-half-term president" by toppling Democrats' congressional majorities in the 2022 midterms.

"When you look at my policies, I'm all about America First. Trump is the center of the Republican Party. I'm my own man, I support him and we need to carry on that legacy and capture the lightning that he brought to the Republican Party so that we can help all of our fellow Republicans down ballot." — Texas Land Commissioner George P. Bush reasserting his support for Donald Trump in a Fox News interview.

"So, the critical race theory — and I can't think of the author right off the top of my head who wrote about this — really had a theory that, at the high level, is one that really starts creating those divisions between us about defining who we are based on race and that sort of thing and really not about how to bring us together as Americans rather than — and dividing us and also having a lot of very socialist-type ideas about how that would be implemented in our state." — Nebraska Gov. Pete Ricketts (R), when asked to define "critical race theory" on his monthly call-in radio show.

You had January 6.... they opened the door to the capitol… it's not an easy building to get into… They opened the door and people walked through… Some people just walked in. And now they are being kept for misdemeanors in some political jail? What is happening here? —Liz Harrington, on her first day as Donald Trump's chief spokesperson.
VIDEOS
Then Sen. Kamala Harris questioning Attorney General William Barr at a Senate Judiciary Committee hearing on May 1, 2019:

HARRIS: Has the president or anyone at the White House ever asked or suggested you open an investigation into anyone?
BARR: …ah…
HARRIS: Seems like something you should be able to answer.
BARR: I don't know… https://twitter.com/atrupar/status/1123655541241282561
Just Security is continuing to track every pending criminal and civil case against Donald Trump.
---
IN THIS ISSUE
IN THE NEWS
OPINION
Andy Borowitz: Trump Explodes After Biden Asks Him to Dog-Sit During G-7
Donald Trump reportedly "exploded" after President Biden asked him to dog-sit his German shepherd, Major Biden, during the G-7 summit, in London.

"I called him up and said, 'Do me this favor, man,' " Biden said. "He literally flipped his lid."

Biden said that he had "no idea" why Trump had reacted so negatively to the idea of dog-sitting Major, whose obedience training "has been going really well."

"I said, 'Look, Jack, you're not being reinstated at the White House, so taking care of the White House dog is as close as you're gonna get,' " the President said. "Oh, well. It was worth a shot." https://www.newyorker.com/humor/borowitz-report/
Republicans Really, Really Dislike Biden. But It's Not Just About Him.
Republicans don't like President Biden very much. Among Republicans, his approval rating sits somewhere between 10 and 20 percent in most recent surveys, and his disapproval rating hovers between 75 to 90 percent.
Democrats similarly really disliked former President Trump. Biden's topline approval rating also isn't that bad — he's currently at 53 percent approval and 41 percent disapproval, per FiveThirtyEight's presidential approval tracker — thanks to positive opinions of the president among Democrats (overwhelmingly) and independents (albeit marginally).
Although there's nothing that unusual about members of the other party holding disproportionately negative attitudes about the president, members from the other party were once more willing to give a new president some benefit of the doubt early on — or at least, their opposition was not quite so baked in, as the figures for both Bush and Barack Obama suggest. What's more, there hasn't been a corresponding change in how strongly the president's own party feels about him. Members of the president's party overwhelmingly support him, but there hasn't been an uptick in those who say they strongly approve of him. https://fivethirtyeight.com/features/republicans-really-really-dislike-biden-but-its-not-just-about-him/
Don McGahn Told Congress How Close Trump Came to 'Inflection Point,' Another 'Saturday Night Massacre'
Former White House counsel Don McGahn told the House Judiciary Committee last week and said that former President Donald Trump had directed him to convey a message to Deputy Attorney General Rod Rosenstein urging the firing of Special Counsel Robert Mueller, Law and Crime reports.
When asked if Trump had demanded McGahn "do crazy shit," McGahn said he thought that was a "fair" characterization of the president's request. https://lawandcrime.com/high-profile/point-of-no-return-don-mcgahn-told-congress-how-close-trump-came-to-inflection-point-another-saturday-night-massacre/
McConnell All But Admits He Would Never Confirm a Biden Supreme Court Pick
Senate Minority Leader Mitch McConnell (R-Ky.) signaled Monday that Republicans, if they win back control of the upper chamber, wouldn't advance a Supreme Court nominee if a vacancy occurred in 2024, the year of the next presidential election.  https://nymag.com/intelligencer/2021/06/mcconnell-hints-hed-never-confirm-biden-supreme-court-pick.htm
Democratic Report Raises 2022 Alarms on Messaging and Voter Outreach
A review of the 2020 election, conducted by several prominent Democratic advocacy groups, has concluded that the party is at risk of losing ground with Black, Hispanic and Asian American voters unless it does a better job presenting an economic agenda and countering Republican efforts to spread misinformation and tie all Democratic candidates to the far left.
The 73-page report, obtained by The New York Times, was assembled at the behest of three major Democratic interest groups: Third Way, a centrist think tank, and the Collective PAC and the Latino Victory Fund, which promote Black and Hispanic candidates. It appears to be the most thorough act of self-criticism carried out by Democrats or Republicans after the last campaign.
Overall, the report warns, Democrats in 2020 lacked a core argument about the economy and recovering from the coronavirus pandemic — one that might have helped candidates repel Republican claims that they wanted to "keep the economy shut down," or worse. The party "leaned too heavily on 'anti-Trump' rhetoric," the report concludes.
"Win or lose, self-described progressive or moderate, Democrats consistently raised a lack of strong Democratic Party brand as a significant concern in 2020," the report states. "In the absence of strong party branding, the opposition latched on to G.O.P. talking points, suggesting our candidates would 'burn down your house and take away the police.'" https://www.nytimes.com/2021/06/06/us/politics/democrats-2020-election.html
Arizona 'biased teaching' bill would fine teachers for discussion of controversial issues
Arizona teachers could face a $5,000 penalty if they allow classroom discussions on controversial topics such as racism or fail to give equal weight to divisive topics, under provisions of a last-minute amendment that flew through the Arizona House of Representatives on Wednesday. https://amp.azcentral.com/amp/4961516001
Sinema faces Arizona blowback over becoming the Senate's new unmovable roadblock
Alejandra Gomez, the co-executive director of the community organizing group, LUCHA, went door to door in the sweltering Arizona heat in 2018, turning out the Democratic voters that helped get Sinema elected to the Senate. The work was arduous and the hours long, but Gomez and others believed deeply in the need to defeat Republican Martha McSally, who had aligned herself with then-President Donald Trump.
Her work paid off -- Sinema won by nearly 3 percentage points. But it is what happened next -- the Arizona Democrat has become one of the most unmovable roadblocks on Democratic priorities in Washington -- that has shocked people who considered themselves ardent Sinema supporters a few short years ago.
Gomez now has another label for the woman she helped elect: A wolf in sheep's clothing.
"We are prepared to support a viable candidate that is ready to actually stand for our communities," Gomez said.
When asked if challenging Sinema was worth the risk of losing the seat to a Republican, Gomez didn't flinch.
"We already have a Republican in that seat," she said. https://amp.cnn.com/cnn/2021/06/10/politics/sinema-arizona-progressive-blowback/index.html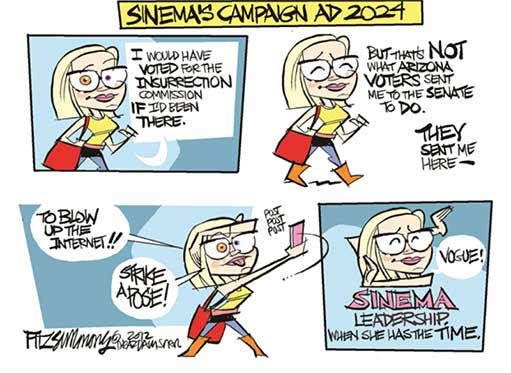 Haaland urges Biden to fully protect three national monuments weakened by Donald Trump
Interior Secretary Deb Haaland has recommended in a confidential report that President Biden restore full protections to three national monuments diminished by President Donald Trump, including Utah's Bears Ears, Grand Staircase-Escalante and a huge marine reserve off New England. The move, described by two people who spoke on the condition of anonymity because it was not yet public, would preserve about 5 million acres of federal land and water. https://www.washingtonpost.com/climate-environment/2021/06/14/haaland-biden-national-monuments/
Exodus of election officials raises concerns of partisanship
It's difficult to quantify exactly how many election officials across the country have left their posts and why, since the departures are not generally tallied. Retirements also are common after presidential elections.
But in places that do track such information, along with anecdotal accounts from county officials, it is clear that many have recently left because of the newfound partisan rancor around the jobs and the threats many local election workers faced leading up to the November election and afterward as former President Donald Trump and his allies challenged the results.
About a third of Pennsylvania's county election officials have left in the last year and a half, according to a spokesman for the state's county commissioners association, who cited heavy workloads and rampant misinformation related to voting among the reasons.
"It was particularly challenging last year with all the misinformation and angst out there," said Lisa Schaefer, executive director of the County Commissioners Association of Pennsylvania. "And none of it was caused by county election officials."
The executive director of a clerks association in Wisconsin said more than two-dozen clerks have retired since the presidential election and another 30 clerks or their deputies quit by the end of 2020. Thirteen have left since the beginning of this year. In Michigan, Byrum said she didn't know a precise number of newly vacant positions but was able to rattle off several seasoned election officials who have recently left.
The local election jobs are being vacated as Trump's false claims of fraud persist within the GOP and provide a platform for his loyalists to launch campaigns to become top election officials in several swing states. https://apnews.com/article/election-officials-retire-trump-2020-threats-misinformation-3b810d8b3b3adee2ca409689788b863f
Trump is doing more lying about the election than talking about any other subject
Forty-three of the 132 post-presidency statements Trump had issued through June 9 included a lie about the election. That's about 33%. These lies range from vague claims that the election was "stolen" and "rigged" to specific false assertions about what happened in various states he lost. https://www.cnn.com/2021/06/12/politics/analysis-trump-election-lies-blog-post-presidency/index.html
Garland announces expansion of Justice Department's voting rights unit, vowing to scrutinize GOP-backed voting restrictions and ballot reviews
In an expansive speech that invoked the nation's long and, at times, faltering progress toward ensuring every American's right to vote, AG Merrick Garland likened the fight against efforts to curtail ballot access to past campaigns enshrining voting rights for Black Americans in the Constitution and the seminal Voting Rights Act of 1965.
Garland said additional trial attorneys, which he plans to hire over the coming 30 days, will scrutinize new laws and existing practices across the nation for potential discrimination against Americans of color, including in new measures GOP state lawmakers are pushing. They will enforce provisions of the Voting Rights Act by challenging such laws or practices in court — and prosecute anyone found to intimidate or threaten violence against election officials. https://www.washingtonpost.com/politics/merrick-garland-voting-rights/2021/06/11/47906eda-cad1-11eb-81b1-34796c7393af_story.html
America's Image Abroad Rebounds With Transition From Trump to Biden
The election of Joe Biden as president has led to a dramatic shift in America's international image. Throughout Donald Trump's presidency, publics around the world held the United States in low regard, with most opposed to his foreign policies. This was especially true among key American allies and partners. Now, a new Pew Research Center survey of 16 publics finds a significant uptick in ratings for the U.S., with strong support for Biden and several of his major policy initiatives.
Looking at 12 nations surveyed both this year and in 2020, a median of 75% express confidence in Biden, compared with 17% for Trump last year. https://www.pewresearch.org/global/2021/06/10/americas-image-abroad-rebounds-with-transition-from-trump-to-biden/
Biden officials move to reinstate Alaska roadless rule, overturning Trump policy
The Biden administration said Friday that it would "repeal or replace" a rule allowing roads and other types of development in more than half of Alaska's Tongass National Forest, reviving 20-year-old protections President Donald Trump had stripped three months before leaving office.
The move was outlined in the administration's new regulatory agenda. The notice from the White House said the change was consistent with President Biden's Jan. 27 executive order "Protecting Public Health and the Environment and Restoring Science to Tackle the Climate Crisis." The Agriculture Department expects to publish the proposed rule in August, the notice said. https://www.washingtonpost.com/climate-environment/2021/06/11/tongass-roadless-rule/]
Critical race theory battle invades school boards — with help from conservative groups
Virtually all school districts insist they are not teaching critical race theory, but many activists and parents have begun using it as a catch-all term to refer to what schools often call equity programs, teaching about racism or LGBTQ-inclusive policies.
Now, conservative activists are setting their sights on ousting as many school board members as they can, and local Republican Parties have vowed to help, viewing the revolt against critical race theory as akin to the tea party wave from a decade ago. https://www.nbcnews.com/news/us-news/critical-race-theory-invades-school-boards-help-conservative-groups-n1270794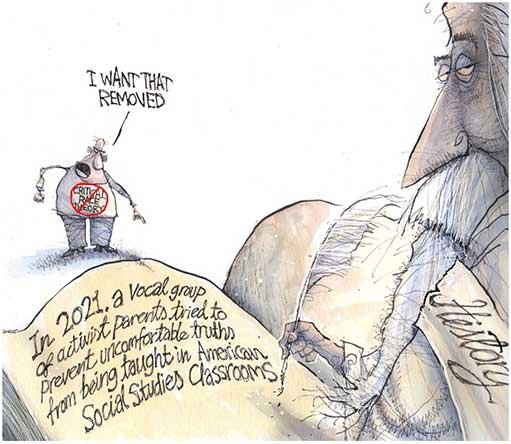 Progressives draw red line on keeping climate provisions in infrastructure bill
Progressive anxiety about sufficiently strong climate change provisions being left out of forthcoming infrastructure legislation burst into public Wednesday with several Democratic lawmakers warning they would not rubber-stamp eventual legislation. Faced with razor-thin majorities in both chambers and bipartisan negotiations that have languished for weeks, many Democrats behind the scenes worry climate change has faded from center stage — and they worry about sacrificing what the scientific community says is necessary to stave off the worst consequences to claim a bipartisan victory.
"The White House and Democratic Congress need to hold strong on real meaningful bold substantial climate provisions that President Biden proposed in his American Jobs Plan," Sen. Martin Heinrich (D-N.M.) said at an event with Climate Power on Wednesday. "There is little appetite in our caucus for an infrastructure plan that ignores the greatest crisis, the most existential crisis that we face." https://www.politico.com/news/2021/06/09/progressives-climate-provisions-infrastructure-492667
The campaign of fear, sparked by Trump's voter-fraud falsehoods, threatens the U.S. electoral system.
Late on the night of April 24, the wife of Georgia's top election official got a chilling text message: "You and your family will be killed very slowly."
A week earlier, Tricia Raffensperger, wife of Secretary of State Brad Raffensperger, had received another anonymous text: "We plan for the death of you and your family every day."
That followed an April 5 text warning. A family member, the texter told her, was "going to have a very unfortunate incident."

Trump's relentless false claims that the vote was "rigged" against him sparked a campaign to terrorize election officials nationwide – from senior officials such as Raffensperger to the lowest-level local election workers. The intimidation has been particularly severe in Georgia, where Raffensperger and other Republican election officials refuted Trump's stolen-election claims. The ongoing harassment could have far-reaching implications for future elections by making the already difficult task of recruiting staff and poll workers much harder, election officials say. https://www.reuters.com/investigates/special-report/usa-trump-georgia-threats/
This melting glacier was already the biggest source of sea level rise. Then things got worse
The Pine Island glacier, a160-mile-long river of ice is known as "the weak underbelly" of West Antarctic, contributes more to sea level rise than any other glacier on the continent and ranks among the fastest melting glaciers in the world.
Unlike other Antarctic glaciers, Pine Island is not sheltered from the warming ocean by a vast expanse of sea ice. The only thing preventing it from flowing directly into the Amundsen Sea embayment is a shelf of floating ice that sticks out from the glacier's edge. This shelf is like a cork in a bottle, pressing against the stable sides of the bay to contain the tremendous pressure at its back.
But the ice shelf is tearing itself apart. It has lost one-fifth of its mass in the last five years, shedding icebergs the size of cities. Rifts have opened up in the center of the shelf, potentially adding to the instability.
If this disintegration continues, "the whole shelf could potentially fall apart in the next few years, which is greatly faster than what we expected," said Ian Joughin, a glaciologist at the University of Washington's Applied Physics Laboratory who co-wrote the new report. https://www.washingtonpost.com/climate-environment/2021/06/11/pine-island-ice-shelf-collapse/
Schumer to trigger reconciliation process
Senate Majority Leader Charles Schumer (D-N.Y.) says he will convene a meeting with all 11 Democratic members of the Senate Budget Committee on Wednesday to begin the process for passing a budget resolution, paving the way for Democrats to pass a major infrastructure bill on a party-line vote.
Schumer said he hopes to pass the budget resolution for fiscal 2022 in July. https://thehill.com/homenews/senate/558567-schumer-to-trigger-reconciliation-process-on-wednesday
Most Republicans Think 'Audits' Will Change Election Outcome
A new Politico/Morning Consult poll finds a 51% of Republicans think "audits" of the 2020 presidential election will change its outcome, including 29% who "definitely" think it will change the outcome and 22% who think it "probably" will change the results.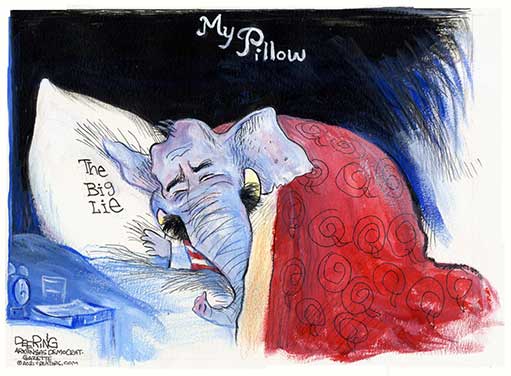 Gov. Abbott signs 'anti-critical race theory' bill into law over objections from educators and civic groups
Texas on Tuesday became the latest conservative state to bar certain concepts related to race and racism from being discussed in the classroom, ignoring the passionate objections of educators who say the new law will make it harder for them to teach about America's true past and present.
A bill that legislators say sought to ban "critical race theory" in school — but never defined or mentioned the concept explicitly — stirred fear among educators that there could be repercussions for broaching current events during class. https://www.dallasnews.com/news/education/2021/06/15/gov-abbott-signs-anti-critical-race-theory-bill-into-law-over-objections-from-educators-and-civic-groups/
'Potential red flag': Trump struggles to clear Senate GOP fields
A growing number of GOP Senate contenders are spurning former President Donald Trump's wishes with campaigns that defy his criticism or ignore his support of a rival, as the Republican Party debates his role in its future. https://www.cnn.com/2021/06/15/politics/trump-influence-2022-senate-gop-field/index.html
Ex-Police Chief Indicted on Capitol Riot Charges
Alan Hostetter, a California police-chief-turned-yoga-instructor-turned-"Stop the Steal"-organizer, was indicted Wednesday on four charges, along with fellow Californians Russell Taylor, 40; Erik Scott Warner, 45; Felipe Antonio "Tony" Martinez, 47; Derek Kinnison, 39; and Ronald Mele, 51.
The men are all members of the Three Percenters militia group, the indictment states, and allegedly brought two-way radios, bear spray, knives, stun batons, bulletproof vests, and a range of other weaponry to use in storming the Capitol. https://www.thedailybeast.com/alan-hostetter-california-stop-the-steal-organizer-indicted-for-conspiracy
Third member of U.S. FDA advisory panel resigns over Alzheimer's drug approval
A third member of a panel of outside advisers to the U.S. Food and Drug Administration has resigned in protest over the agency's decision to approve Biogen Inc's (BIIB.O) Alzheimer's disease treatment despite the committee's recommendation against doing so.
Aaron Kesselheim, a Professor of Medicine at Harvard Medical School who had served on the FDA's advisory committee for nervous system drugs since 2015, told Reuters on Thursday he was stepping down from the panel.
"My rationale was that the FDA needs to re-evaluate how it solicits and uses the advisory committees ... because I didn't think that the firm recommendations from the committee in this case ... were appropriately integrated into the decision-making process," Kesselheim said in an email.
The 11-member committee voted nearly unanimously in November that Biogen's drug should not be approved, citing inconclusive evidence that the drug was effective.
The FDA on Monday gave the drug "accelerated approval," based on evidence that it can reduce a likely contributor to Alzheimer's, rather than proof of a clear benefit against the disease. https://www.reuters.com/world/us/third-member-us-fda-advisory-panel-resigns-over-alzheimers-drug-approval-2021-06-10/
The DAILY GRILL
A Capitol police officer was 'lying in wait' for Ashli Babbitt before shooting her. Says Babbitt was "executed" by police, demands name of officer involved in shooting — Rep. Paul Gosar (R-AZ), at House hearing.

VERSUS

On January 6, as the violent mob advanced on the House chamber, I was standing near Rep. Paul Gosar and helped him open his gas mask. The Capitol Police led us to safety. It is disgusting and despicable to see Gosar lie about that day and smear the men and women who defended us. — Rep. Liz Cheney.

 

"As a woman of faith, as a mother of baby Blake, as a person who meticulously prepared at some of the world's hardest institutions, I never lied. I sourced my information." — Trump's Press Secretary Kayleigh McEnany at a conservative conference.

VERSUS

Politifact has a fairly harsh rating for McEnany's tenure as press secretary, evaluating her statements as "Mostly False," "False," or "Pants on Fire" 56 percent of the time. McEnany earned "Half True" 14 percent of the time, "Mostly True" 28 percent, and "True" zero percent.

 

"I think that Ilhan (U.S. Rep. Ilhan Omar) should receive the same type of punishment as Marjorie because if it's good for one, it is good for another …..Anti-semitism is the same thing as anti-semitism. – Rep. Maria Salazar (R-Fla.), who voted to remove Greene from her committees.

VERSUS

There's only one problem: Treating what MTG and Omar have said as equal expressions of false equivalence actually is false, as any honest evaluation of their words quickly shows. Rep. Marjory Greene, bluntly comparing COVID-19 precautions to the Holocaust, analogized vaccine documentation mandates to the Nazi practice of making Jews wear yellow stars, and, for good measure, said Democrats are like Nazis because they are "socialists." -- Ed Kilgore

 

"YouTube's arrogant Covid censorship continues. How many lives will be lost as a result? How many lives could have been saved with a free exchange of medical ideas? This suppression of speech should concern every American." -- Senator Ron Johnson

VERSUS

600,000 Americans are dead because Trump failed the country every single step of the way. He failed on testing and contract tracing. He failed to invoke the Defense Production Act as the country's PPE shortage grew desperate. He failed to implement social distancing measures quickly enough. He even failed to communicate consistently the most basic public health measures that could have saved hundreds of thousands of lives. If not for Trump's lies, incompetence—and his reckless, psychopathic behavior as the virus ravaged the nation—half a million Americans who died during the pandemic could still be alive today. https://thedailyedge.substack.com/p/trump-killed-500000-americans
Rep. Elise Stefanik of New York wants Fauci fired immediately.
Sen. Josh Hawley of Missouri expressed shock at the supposed revelations in Fauci's emails and called for a full congressional investigation.
Tucker Carlson wants a criminal investigation. His Fox News colleague Steve Hilton claimed last weekend that Fauci lied to Congress about ties between a Chinese lab and the Obama administration.
And the fringe Gateway Pundit website published a story blaming Fauci for millions of deaths. It featured a deranged headline that recalled the fake miracle cures for covid-19 that Trump used to tout: "They CONSPIRED to Disqualify Hydroxychloroquine as a COVID treatment."
Social media, of course, takes all of this to a much darker place, led in part by Donald Trump Jr. who shared a murder meme about Fauci on Instagram last week. Was the former president's son making an explicit death threat, as some charged? Maybe not, but he intentionally turned up the heat on a situation that was already dangerous.
In October, Fauci told CBS's "60 Minutes" that he and his family had received death threats and said he required a security detail to do his daily power walks. In November, former Trump adviser Stephen K. Bannon was banned from Twitter after he called for Fauci's beheading.
But the campaign against Fauci has dramatically intensified recently — especially since BuzzFeed and The Washington Post released his email trove last week.
In a right-wing culture so often opposed to verifiable reality, who better to target than a person who stands for science and facts? https://www.washingtonpost.com/lifestyle/media/sullivan-fauci-emails/2021/06/09/8b0724a8-c93a-11eb-81b1-34796c7393af_story.html
Henry Fountain: Climate Change Is Accelerating, Bringing World 'Dangerously Close' to Irreversible Change
More devastating fires in California. Persistent drought in the Southwest. Record flooding in Europe and Africa. A heat wave, of all things, in Greenland.
Climate change and its effects are accelerating, with climate related disasters piling up, season after season.
"Things are getting worse," said Petteri Taalas, Secretary General of the World Meteorological Organization, which on Tuesday issued its annual state of the global climate report, concluding a decade of what it called exceptional global heat. "It's more urgent than ever to proceed with mitigation."
But reducing greenhouse gas emissions to fight climate change will require drastic measures, Dr. Taalas said. "The only solution is to get rid of fossil fuels in power production, industry and transportation," he said.
Seas are warming and rising faster, putting more cities at risk of tidal flooding or worse. Glaciers are melting at a pace many researchers did not expect for decades. The amount of Arctic sea ice has declined so rapidly that the region may see ice-free summers by the 2030s.
Even the ground itself is warming faster. Permanently frozen ground, or permafrost, is thawing more rapidly, threatening the release of large amounts of long-stored carbon that could in turn make warming even worse, in what scientists call a climate feedback loop.
In a recent commentary in the journal Nature, scientists from the Potsdam Institute for Climate Impact Research in Germany and other institutions warned that the acceleration of ice loss and other effects of climate change have brought the world "dangerously close" to abrupt and irreversible changes, or tipping points. Among these, the researchers said, were the collapse of at least part of the West Antarctic ice sheet — which itself could eventually raise sea levels by four feet or more — or the loss of the Amazon rainforest.
"In our view, the consideration of tipping points helps to define that we are in a climate emergency," they wrote.
https://www.nytimes.com/2019/12/04/climate/climate-change-acceleration.html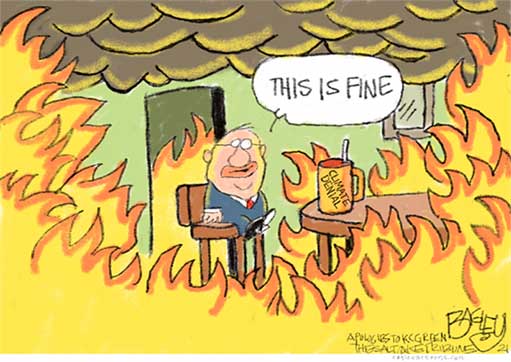 Tim Miller: Get Ready for the Shitstorm That Will Follow the Arizona "Recount"
Sometime soon the results of the Arizona audit will be brought forth. It seems quite likely, given the participants, that the auditor ninjas will claim that Donald Trump won Arizona. Or probably won Arizona—who can say!
Or would have won Arizona, if not for those meddling kids.
And if this happens, the former president and his MAGA media echo chamber will once again stoke the flames of insurrection. Q-adherents will convince themselves that one of the seven seals has been revealed. Millions (tens of millions) of Republicans throughout the country will believe it. And some of them will demand action.
So when the Arizona audit bell tolls, what exactly is McConnell and McCarthy's plan?
Because it sure looks as though they are dooming us all to repeat the same history we just lived through, humoring Trump's delusions and hoping that none of their supporters die in their imaginary fight for freedom this time. https://thebulwark.com/get-ready-for-the-shitstorm-that-will-follow-the-arizona-recount/
Benjamin Wallace-Wells: What Do Conservatives Fear About Critical Race Theory?
The notion—that a generation can arise purely in the context of its own experience rather than that of its parents or generations before them—recurs often in American politics, and especially right now. Increasingly, conservatism after Donald Trump has been defined by a fear that American society is on the verge of being displaced by a progressive reimagining, with woke politics and aggressive redistribution. Progressivism is defined by an equally urgent hope that it can, in fact, displace old patterns of ecological destruction and discrimination. It is interesting—and slightly ironic—that critical race theory, with its invocations of structural racism, should be so central to the policy debate right now: part of its teaching is that the patterns of American society can't be easily dislodged by a change in manners, and that if you are snapping your fingers to make the past disappear you are only doing so in tandem with the rhythms of the past.
That is reason to think that the conflict over critical race theory might endure, even when the attention of Fox News inevitably drifts. The question of what children are held responsible for cuts deep, and the answer isn't always determined by a person's ideology or partisan identity. When I spoke with Terry Stoops, a conservative education-policy expert at the John Locke Foundation who had been appointed to a task force on "indoctrination" in public schools by the conservative lieutenant governor of North Carolina, he told me that he wasn't sure how long the outrage of some grassroots conservatives would ultimately last. But he did think their anger had been misunderstood. "I've seen so much discussion about the fact that conservatives are advancing these critical-race-theory bills because they don't want the truth of slavery or racism to be taught, and I haven't seen that at all. I think parents want their children to learn about the mistakes of the past in order to create a better future," Stoops said. "They don't want their children to be told that they are responsible for the mistakes of their ancestors, and that unless they repent for those mistakes then they will remain complicit." The debate isn't about history, exactly. It is about the possibility of blamelessness. https://www.newyorker.com/news/annals-of-inquiry/what-do-conservatives-fear-about-critical-race-theory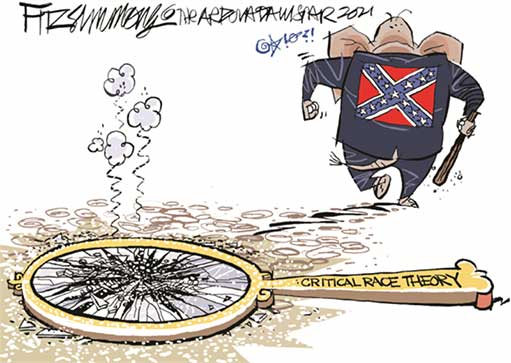 Jonathan Weisman: In Congress, Republicans Shrug at Warnings of Democracy in Peril
Almost daily, Democrats warn that Republicans are pursuing racist, Jim Crow-inspired voter suppression efforts to disenfranchise tens of millions of citizens, mainly people of color, in a cynical effort to grab power. Metal detectors sit outside the House chamber to prevent lawmakers — particularly Republicans who have boasted of their intention to carry guns everywhere — from bringing weaponry to the floor. Democrats regard their Republican colleagues with suspicion, believing that some of them collaborated with the rioters on Jan. 6.
Republican lawmakers have systematically downplayed or dismissed the dangers, with some breezing over the attack on the Capitol as a largely peaceful protest, and many saying the state voting law changes are to restore "integrity" to the process, even as they give credence to Mr. Trump's false claims of rampant fraud in the 2020 election.
They shrug off Democrats' warnings of grave danger as the overheated language of politics as usual.
Senator Angus King (I-Maine) said he had had serious conversations with Republican colleagues about the precarious state of American democracy. Authoritarian leaders like Vladimir V. Putin, Viktor Orban and Adolf Hitler have come to power by election, and stayed in power by warping or obliterating democratic norms.
But, he acknowledged, he has yet to get serious engagement, largely because his colleagues fear the wrath of Mr. Trump and his supporters. https://www.nytimes.com/2021/06/14/us/politics/democracy-in-peril.html

Peggy Noonan: Why We Can't Move On From Jan. 6
I want to say something about the meaning of 1/6 and why it is so important we set ourselves to knowing all that happened that day.
It's not just "the past" and we can't just "move on." It's a story that's still happening.
People experienced it differently. Most of us were chilled and horrified as we saw the pictures of men in assault gear climbing the face of the Capitol, breaking in, swarming the Rotunda. It was a shock to see the Capitol breached.
But some weren't horrified. They see the Capitol as already trashed through decades of bad governance, and now a stolen election. Jan. 6 was merely the physical expression of a longtime fact, that the vandals had already arrived and were wearing congressional pins.
To the horrified, the Capitol is a symbol and repository of our republic, our democracy. Those we choose to represent us do their work there. It may be a mess and a bit of a whorehouse but it's always been a mess and a bit of a whorehouse, because it's human. And yet greatness can erupt there, progress can be made, things improved.
It's what as a nation we've got. It's our only hope.
If you weren't appalled by 1/6, then you have given up: Throw in the towel, democracy's done, its over. Those who know it's not done, not over, who won't allow it to be done and over, also know that democracy needs friends right now. https://www.wsj.com/articles/why-we-cant-move-on-from-jan-6-11623363175
Ron Brownstein: Democracy Is Already Dying in the States
In places such as Florida, Georgia, Arizona, Iowa, Kansas, and Montana, the most restrictive laws approved this year have passed on total or near-complete party-line votes, with almost all state legislative Republicans voting for the bills and nearly all Democrats uniting against them, according to an analysis of state voting records provided exclusively to The Atlantic by the Brennan Center for Justice at NYU.
The pattern of unrelenting partisanship has left many state-level Democrats incredulous at the repeated insistence by Manchin, a conservative Democrat from West Virginia, that he will support new federal voting-rights legislation only if at least some Republican senators agree to it.
After being steamrolled by Republicans in these debates, many state-level Democrats are mystified by Manchin's declaration that Washington should intervene to protect voting rights only if Senate Republicans agree to do so. "I know Senator Manchin is a former secretary of state, so I know he knows this subject matter, but in some places in the Deep South, like Texas, the level of voter discrimination is not accidental; it's intentional, and there is no common ground you are going to find with Republicans, when it is their sole mission to stop people from voting," Democratic Texas State Representative Trey Martinez Fischer told me. https://www.theatlantic.com/politics/archive/2021/06/manchin-republicans-bipartisan/619167/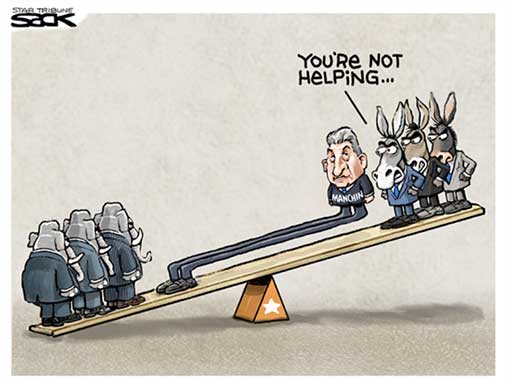 Thomas Edsall: How Far Are Republicans Willing to Go? They're Already Gone.
Determined to enforce white political dominance in pivotal states like Georgia, Arizona, Texas and North Carolina, Republicans are enacting or trying to enact laws restricting the right to vote, empowering legislatures to reject election outcomes and adopting election rules and procedures designed to block the emergence of multiracial political majorities.
Republicans "see the wave of demography coming and they are just trying to hold up a wall and keep it from smashing them in," William Frey, a senior fellow at Brookings, told CNN's Ron Brownstein. "It's the last bastion of their dominance, and they are doing everything they can."
Among statutes Republican-controlled state legislatures have passed or are in the process of approving are "laws politicizing the administration and certification of elections" that could enable some state legislatures or partisan election officials to do what they failed to do in 2020: reverse the outcome of a free and fair election. Further, these laws could entrench extended minority rule, violating the basic and longstanding democratic principle that parties that get the most votes should win elections.
The precipitating event driving the current surge of regressive voting legislation in Republican-controlled states is Donald Trump's defeat in 2020 and the widespread acceptance on the right of Trump's subsequent claim that the presidency was stolen from him. The belief among Republicans that Trump is essential to their drive to slow or halt the growing power of nonwhite voters aligned with the Democratic Party has powered the broad acquiescence to that lie both by people who know better and by people who don't. https://www.nytimes.com/2021/06/09/opinion/us-democracy-republicans.html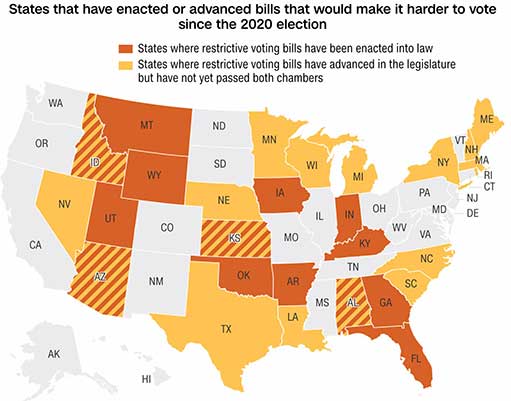 Perry Bacon: We should rethink how we think about Vice President Harris
The assumption that Harris is a bad politician is largely based on her 2020 Democratic primary run. It's true that Harris wasn't the greatest candidate. That said, Harris, like Sens. Kirsten Gillibrand (N.Y.), Amy Klobuchar (Minn.) and Warren, never really had a chance to win. After the shock of Hillary Clinton's loss, Democratic voters were committed to running a man against Trump. And there was really never a chance that Democrats were going to nominate a Black woman. But many Democrats were also never going to say any of that directly, forcing them to look for ways to ding Harris and the other female candidates — "bad campaigns!" — to avoid citing their actual reason.
But outside of the 2020 primary, Harris has actually done very well politically. She rose to the top of the largest state in the country, one loaded with Democratic talent, and did it as a woman of color no less. Biden's victory during the primaries was followed by an informal but real and heated campaign for vice president, and Harris won that, too.
Most important, Harris can woo the kinds of voters who back Democrats in this era. Biden didn't win the presidency by getting lots of White voters without college degrees and in rural areas to swing back to the Democrats. What drove his victory was a surge in turnout, particularly among young people, African Americans and other Democratic-leaning blocs, combined with gains with White voters in the suburbs and those with college degrees in particular. Harris is a great fit for that kind of political coalition. If Biden, who is 78, opts not to run in 2024, Harris absolutely can win the presidency.
If she does, she'd certainly make history as a woman and woman of color. But in other ways — disciplined, experienced, in the ideological mainstream — she'd be the kind of president we've seen many times before. https://www.washingtonpost.com/opinions/2021/06/13/we-should-rethink-how-we-think-about-vice-president-harris/