November 10, 2016
ON THE RECORD. . .
"She is an abject, psychopathic, demon from hell that as soon as she gets into power is going to try to destroy the planet. I mean, I was told by people around her that they think she's demon-possessed, okay … They say, listen, Obama and Hillary both smell like sulfur … And they say listen, she's a frickin' demon and she stinks and so does Obama. I go, like what? Sulfur. They smell like hell." -- Trump surrogate and InfoWars host Alex Jones revealing that Hillary Clinton is not simply an especially craven member of the Illuminati, but rather, a literal demon birthed in the bowels of hell. 11/04/16 http://nymag.com/daily/intelligencer/2016/11/spirit-cooking-explained-satanic-ritual-or-fun-dinner.html
"For racists in this country, this campaign has been a complete affirmation of their fears, worries, dreams and hopes. Most things they believe have been legitimized, or have been given the stamp of approval, by mainstream American politics to the point now where it's no longer shameful to be a racist." -- Ryan Lenz, editor of the Hatewatch blog at the Southern Poverty Law Center, which tracks such groups from its headquarters in Montgomery, Ala. 11/06/16
"We have seen that our nation is more deeply divided than we thought, but I still believe in America and I always will," she continued. "If you do, then we must accept this result and then look to the future. Donald Trump is going to be our President. We owe him an open mind and the chance to lead." -- Hillary Clinton 11/09/16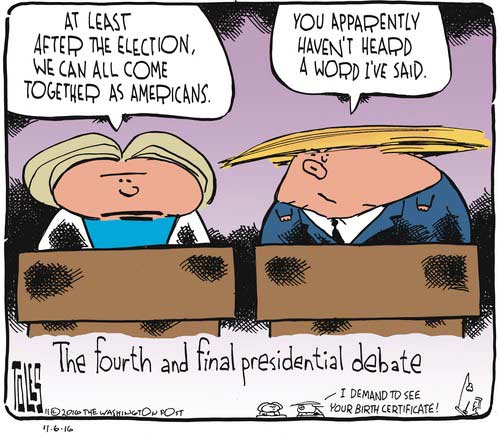 "We've talked about everything but race tonight. We have talked about income, we've talked about class, we've talked about region. We haven't talked about race. This was a white-lash. This was a white-lash against a changing country. It was a white-lash against a black president in part, and that's the part where the pain comes. And Donald Trump has a responsibility tonight to come out and reassure people that he is going to be the president of all the people who he insulted and offended and brushed aside." -- CNN contributor Van Jones 11/09/16
"For me, it's better ecstasy than bagging the prom queen. It's so ethereal I can't believe that Trump is tuned into reality. Trump's tuned into America. His sons are tuned into America. They're retweeting us every day." - Infowars president s Alex Jones 11/09/16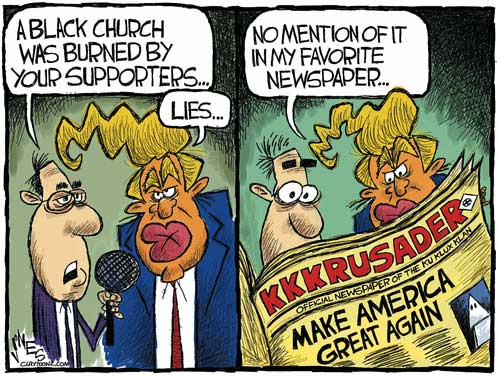 "A country designed to resist tyranny has now embraced it. A constitution designed to prevent democracy taking over everything has now succumbed to it. A country once defined by self-government has openly, clearly, enthusiastically delivered its fate into the hands of one man to do as he sees fit. After 240 years, an idea that once inspired the world has finally repealed itself. We the people did it." -- Andrew Sullivan 11/09/16
---
IN THIS ISSUE
1. Andy Borowitz: F.B.I. Regretfully Announces That Hillary Committed No Crimes
2. The DAILY GRILL
3. From MEDIA MATTERS (They watch Fox News so you don't have to)
4. From the Late Shows
5. The 155 Craziest Things Trump Said This Election
6. The Polls, Forecasts and Political Scientists Were All Wrong
7. Trump Broke Every Rule on the Way to Victory
8. Will Trump go down in history as the man who pulled the plug on a livable climate?
9. Private Prison Stocks Surging After Trump's Win
10. Peter Daou: A letter of gratitude to Hillary Clinton on Election Day, 2016.
11. Late Night Jokes
1. Bret Stevens: 2016's Big Reveal: Donald Trump is a demagogue. Period. The right's failure to see it is a disgrace
2. David Remnick: An America Tragedy
3. Thomas L. Friedman: Homeless in America
4. Joshua Keating: It's Not Just America. Liberal Democracy Is Under Attack Everywhere.
5. James Palmer: China Just Won The U.S. Election
6. Paul Krugman: The Economic Fallout
7. Tara Culp-Ressler: Hate wins
8. Ian Millhiser: Why America failed
9. Melissa McEwan: She's earned it
10. Leonard Pitts, Jr: An election on who and what we are
11. Richard Epps: Donald Trump Has Broken the Constitution 
1. Andy Borowitz: F.B.I. Regretfully Announces That Hillary Committed No Crimes
James Comey, the F.B.I. director, held a press conference on Sunday to "regretfully announce" that Hillary Clinton had committed no crimes related to her e-mails while Secretary of State.

"It is with a deep sense of sadness in my heart that I report that Hillary Clinton committed no crimes," a visibly emotional Comey said.

Calling the discovery that Clinton could not be prosecuted for wrongdoing "probably the darkest hour of my career at the F.B.I.," Comey said that he would try to move on from what he called "a shattering disappointment for me personally."

"No one ever said this job would be a picnic," he said. "As dismayed as I was to learn that Hillary Clinton committed no crimes, it's my duty as a professional to find a way forward somehow."

On the campaign trail, Donald Trump blasted the F.B.I. director. "I thought Comey was rigged, and then I thought he was unrigged, and now I think he's rigged again," Trump said. "Lock him up."

LATER: "The American people have just had eight years of a President who didn't blow up the planet," Kellyanne Conway said. "Donald Trump is offering something different." Read more at http://www.newyorker.com/humor/borowitz-report/
2. The DAILY GRILL
Just out according to @CNN: "Utah officials report voting machine problems across entire country" -- Donald J. Trump ✔@realDonaldTrump

VERSUS

No. Utah officials reported machine problems across one entire COUNTY, not the entire COUNTRY. -- Brian Stelter ✔@brianstelter

 

"She wants virtually unlimited immigration and refugee admissions, from the most dangerous regions of the world, to come into our country and to come into Minnesota, and you know it better than anybody,. Her plan will import generations of terrorism, extremism, and radicalism into your schools and throughout your community. You already have it." -- Trump speaking to supporters in Minneapolis

VERSUS

Minneapolis is a better, stronger place for having our Somali and East African immigrants and refugees in it. It is a privilege and an honor to be mayor of the city with the largest Somali population in this country. Your ignorance, your hate, your fear just make me remember how lucky we are to have neighbors who are so great. -- Minneapolis Mayor Betsy Hodges' message to Trump on Facebook, saying he was ignorant of the Minnesota values of coming together to meet challenges.
3. From MEDIA MATTERS (They watch Fox News so you don't have to)
A Case Study On Why Fox News Can't Be Trusted: Bret Baier Edition. Fox News anchor Bret Baier's seemingly bombshell reporting about the Clinton Foundation and a "likely" indictment regarding Democratic presidential nominee Hillary Clinton's use of a private email server, which was based on two unknown sources, collapsed within days when the anchor admitted he'd made a "mistake."  By the time Baier walked back his comments, his claims had already been parroted by Republican presidential nominee Donald Trump, Fox hosts and correspondents, right-wing blogs, and some mainstream outlets like The Hill. http://mediamatters.org/blog/2016/11/05/case-study-why-fox-news-can-t-be-trusted-bret-baier-edition/214335

Trump Ally Roger Stone: It's A "Real Possibility" That Hillary Clinton Is A Manchurian Candidate Programmed By Somebody http://mediamatters.org/video/2016/11/05/trump-ally-roger-stone-it-s-real-possibility-hillary-clinton-manchurian-candidate-programmed/214331

Donald Trump Pushes Abandoned Fox News FBI Report To Attack Clinton. CNN's Victor Blackwell: Fox And Bret Baier Have "Not Just Walked It Back Some, But Has Apologized For Using The [Indictment] Term" http://mediamatters.org/video/2016/11/05/donald-trump-pushes-abandoned-fox-news-fbi-report-attack-clinton/214333

Trump Ally Roger Stone: Clinton May Stage A "False Flag Attack On American Interests" http://mediamatters.org/video/2016/11/05/trump-ally-roger-stone-clinton-may-stage-false-flag-attack-american-interests/214334

Sean Hannity: There's a day of reckoning with the Republican Party after this election tomorrow and those that have sabotaged and those so-called "intellectual conservatives" that are smarter than everybody else. http://mediamatters.org/video/2016/11/07/sean-hannity-theres-day-reckoning-republican-party-after-election/214370

NRA "Work Of Fiction" Predicts Syrian Refugees Will Establish "Islamic State In The United States" During Clinton's First Term http://mediamatters.org/blog/2016/11/07/nra-work-fiction-predicts-syrian-refugees-will-establish-islamic-state-united-states-during-clinton/214367

Donald Trump Jr. Promotes "Alt-Right" Video Claiming Clinton Camp Has Satanists Who Want To Kidnap Kids -Trump Jr.-Promoted Video Praises Trump Jr. For Looking Like He Wants To "Waterboard Or Guillotine" Clinton's Circle http://mediamatters.org/blog/2016/11/07/donald-trump-jr-promotes-alt-right-video-claiming-clinton-camp-has-satanists-who-want-kidnap-kids/214365

Trump Ally Roger Stone Says Hillary Clinton, Who Is Younger Than Trump, Is "Too Old To Be President" http://mediamatters.org/video/2016/11/08/trump-ally-roger-stone-says-hillary-clinton-who-younger-trump-too-old-be-president/214396

Rudy Giuliani Shouts Down MSNBC's Katy Tur, Refuses To Condemn Trump Supporters Saying "Assassinate That Bitch" Clinton http://mediamatters.org/video/2016/11/08/rudy-giuliani-shouts-down-msnbcs-katy-tur-refuses-condemn-trump-supporters-saying-assassinate-bitch/214394

Trump Advisor Roger Stone Tweets Racist Image Of Black Rioters As "Hillary Supporters" http://mediamatters.org/blog/2016/11/08/trump-advisor-roger-stone-tweets-racist-image-black-rioters-hillary-supporters/214401
4. From the Late Shows
SNL Cold Open: Hillary Clinton/Donald Trump

https://www.youtube.com/watch?v=hxH6bKNPBIA

Full Frontal with Samantha Bee: Let Hillary Be Hillary

Full Frontal with Samantha Bee: Freedom of Depress

Stephen Colbert: The Making of Donald Trump

Trevor Noah Shocked by Trump Surge: How Can America Be This 'Hateful'?
5. The 155 Craziest Things Trump Said This Election
Gathered from Twitter, rallies, interviews and more is this (highly subjective) list of 155 of Trump's most controversial, most eyebrow raising, most mystifying, even amusing "Trumpisms" this cycle. http://www.politico.com/magazine/story/2016/11/the-155-craziest-things-trump-said-this-cycle-214420
6. The Polls, Forecasts and Political Scientists Were All Wrong
The polls were wrong — all of them. So were the experts, the political consultants and the seasoned officials in both parties who predicted Donald Trump would lead his party to ruin. So were the markets, which had anticipated a Hillary Clinton victory and crashed overnight as her electoral firewall caught ablaze. So was every living president and past presidential nominee of both parties, save Bob Dole, all of whom opposed Trump. So was this reporter and so many like him — and Trump told me as much. 11/09/16 Read more here http://www.nbcnews.com/politics/2016-election/elite-got-it-wrong-trump-s-supporters-want-you-know-n681121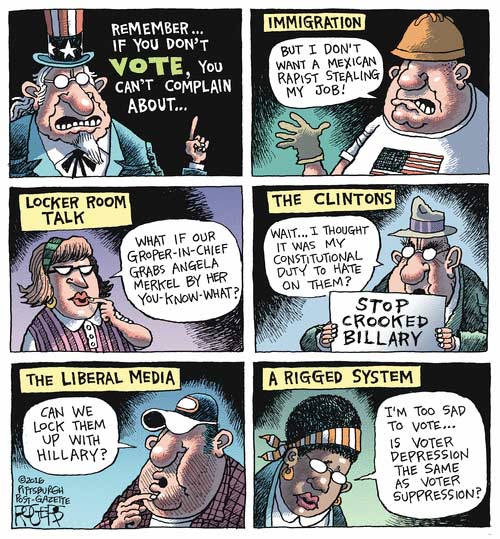 7. Trump Broke Every Rule on the Way to Victory
Donald Trump ran against himself and won. The Manhattan billionaire who for decades boasted of his playboy lifestyle, stiffed contractors and vendors, hired illegal immigrants, eschewed churchgoing, embraced liberal causes, and counted Hillary and Bill Clinton as friends and allies pulled off one of the most brazen pivots in American history, selling himself to American voters as a populist hero who understood their frustrations and guaranteed a blizzard of wins.
Trump told people what they wanted to hear: that a rapidly changing and splintering society could be forced back to a nostalgia-drenched sense of community and purpose, that long-lost jobs could be retrieved, that a pre-globalized economy could be restored. 11/09/16 Read more here https://www.washingtonpost.com/politics/how-donald-trump-broke-the-old-rules-of-politics--and-won-the-white-house/2016/11/09/f3190498-a5e1-11e6-8fc0-7be8f848c492_story.html
8. Will Trump go down in history as the man who pulled the plug on a livable climate?
The shocking election of Donald Trump on Tuesday night is a turning point in the history of climate action, and therefore the history of homo sapiens. That's because whatever warming, sea level rise, ocean acidification, and Dust-Bowlification we commit to is irreversible on a timescale of a thousand years.
Tragically, America has elected a man who has repeatedly called global warming a "hoax" and who put a climate science denier in charge of his EPA transition team. We've elected a man who has vowed to kill the Paris climate deal, end all efforts to help other countries deal with climate change, stop domestic climate action, reinvigorate coal, and zero out all research into climate science and clean energy. -- Dr. Joe Romm is Founding Editor of Climate Progress Read more here https://thinkprogress.org/trump-victory-climate-a0c595572299#.ovsvgief0
9. Private Prison Stocks Surging After Trump's Win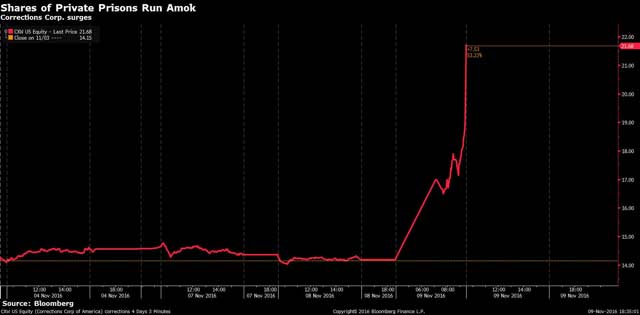 http://www.bloomberg.com/news/articles/2016-11-09/private-prison-stocks-are-surging-after-trump-s-win
10. Peter Daou: A letter of gratitude to Hillary Clinton on Election Day, 2016
It's Election Day and I'm heading out to vote for you. Before I do, I wanted to express my gratitude for everything I've learned in the ten years since I sat down for that first job interview with you.
Thank you for what you've taught me about dignity.

Thank you for what you've taught me about leadership.

Thank you for what you've taught me about focus.

Thank you for what you've taught me about perseverance.

Thank you for what you've taught me about inner fortitude.

Thank you for what you've taught me about pragmatism.

Thank you for what you've taught me about believing in yourself.

Thank you for what you've taught me about trust.

Thank you for what you've taught me about grace under pressure.

Thank you for what you've taught me about faith in others.

Thank you for what you've taught me about family.

Thank you for what you've taught me about loyalty.

Thank you for what you've taught me about humility.

Thank you for what you've taught me about patience.

Thank you for what you've taught me about caring.

Thank you for what you've taught me about generosity of spirit.

Thank you for what you've taught me about accepting your own imperfections.

Thank you for what you've taught me about learning from your mistakes.

Thank you for what you've taught me about the value of humor.

Thank you for what you've taught me about the power of joy.

Thank you for what you've taught me about the discipline of gratitude.
Peter 11/08/16 Read more here http://shareblue.com/dear-hillary-thank-you-for-what-youve-taught-me/
11. Late Night Jokes
"But, you know, Trump voters—really? Not even the guy who says he wants to f**k his daughter? This is not a deal-breaker for you? I mean, what does it take? A racist, a liar, a tax cheat, a draft-dodger, a deadbeat, a Russian agent, and a rapist. You know we're a nuclear power, right? These are red flags." — Bill Maher

"It looks like the FBI was trying to hurt Hillary's campaign, which has a lot of people upset. Mostly Russia. That's THEIR gig." –Stephen Colbert

"Donald Trump still hasn't released his tax returns. Twelve women have accused him of sexual assault, and he's going on trial for fraud for Trump University in November, but now the only thing the media is talking about is emails. It's like if during the O.J. trial, everyone was focused on whether or not the Ford Bronco had up-to-date registration." –Seth Meyers

"A memo from a veteran spy says that Vladimir Putin has been supporting Donald Trump for five years. After hearing this, Trump said, 'Oh my God, I forgot it was our anniversary! What do you get for five years? I hope it's not CHINA?'" –Jimmy Fallon

"After claiming the election is rigged, Donald Trump said at a rally that the country should, quote, 'Just cancel the election and give it to Trump.' And then on Friday, FBI director James Comey said, 'OK.'" –Seth Meyers
1. Bret Stevens: 2016's Big Reveal: Donald Trump is a demagogue. Period. The right's failure to see it is a disgrace
Someday, maybe, when I'm old and a child asks me what I remember about the awful election of 2016, I'll say: It was the Big Reveal.
Revealed: That the guiding spirit of the modern conservative movement is neither Burke nor Lincoln. It's Marx. "These are my principles," Groucho once cracked, "and if you don't like them, well, I have others." Everything Republicans once claimed to advocate—entitlement reform, free trade, standing up to dictators, encouraging the march of freedom around the world—turns out to be negotiable and reversible, depending onDonald Trump's whims and the furies of his base.
Revealed: That moral clarity and moral equivalence have become interchangeable concepts in today's GOP. The same Republicans who pontificated throughout the 1990s about restoring honor and dignity to the Oval Office are now eager to rent that office to a man who boasts of his own sexual predations. Why? Because Bill Clinton already did it.
Revealed: That Mr. Trump's unrelenting and apparently irrepressible bigotry, misogyny, bullying and conspiracy-mongering won't keep Republican leaders from supporting him, provided he mouth pieties about appointing more Scalias to the court or cutting corporate tax rates. "More common ground than disagreement," was how House SpeakerPaul Ryan justified his June endorsement of the GOP nominee, right around the time he described Mr. Trump's slander of "Mexican" judge Gonzalo Curiel as a "textbook definition of a racist comment." A smarter response by the speaker might have been: "You lost me at hello."
Also revealed: That conservatives who once took umbrage at being called racist or anti-Semitic are now happy to flirt with white nationalism. That a party of self-described strict constructionists sees nothing amiss in Mr. Trump's call to rewrite the 14th Amendment. That the ability of Mr. Trump and his supporters to hurl insults at their critics is only exceeded by their exquisite sensitivity when they are insulted back. That a reset with Russia is a fiasco when executed by Hillary Clinton but evidence of fresh foreign-policy thinking when proposed by Mr. Trump.
George Orwell said that "to see what is in front of one's nose needs a constant struggle." The Big Reveal of 2016 is that most conservatives failed the Orwell test. 11/07/166 Read more here: http://www.wsj.com/articles/2016s-big-reveal-1478564830
2. David Remnick: An America Tragedy
The election of Donald Trump to the Presidency is nothing less than a tragedy for the American republic, a tragedy for the Constitution, and a triumph for the forces, at home and abroad, of nativism, authoritarianism, misogyny, and racism. Trump's shocking victory, his ascension to the Presidency, is a sickening event in the history of the United States and liberal democracy. On January 20, 2017, we will bid farewell to the first African-American President—a man of integrity, dignity, and generous spirit—and witness the inauguration of a con who did little to spurn endorsement by forces of xenophobia and white supremacy. It is impossible to react to this moment with anything less than revulsion and profound anxiety.
There are, inevitably, miseries to come: an increasingly reactionary Supreme Court; an emboldened right-wing Congress; a President whose disdain for women and minorities, civil liberties and scientific fact, to say nothing of simple decency, has been repeatedly demonstrated. Trump is vulgarity unbounded, a knowledge-free national leader who will not only set markets tumbling but will strike fear into the hearts of the vulnerable, the weak, and, above all, the many varieties of Other whom he has so deeply insulted. The African-American Other. The Hispanic Other. The female Other. The Jewish and Muslim Other. The most hopeful way to look at this grievous event—and it's a stretch—is that this election and the years to follow will be a test of the strength, or the fragility, of American institutions. It will be a test of our seriousness and resolve.
For eight years, the country has lived with Barack Obama as its President. Too often, we tried to diminish the racism and resentment that bubbled under the cyber-surface. But the information loop had been shattered. On Facebook, articles in the traditional, fact-based press look the same as articles from the conspiratorial alt-right media. Spokesmen for the unspeakable now have access to huge audiences. This was the cauldron, with so much misogynistic language, that helped to demean and destroy Clinton. The alt-right press was the purveyor of constant lies, propaganda, and conspiracy theories that Trump used as the oxygen of his campaign. Steve Bannon, a pivotal figure at Breitbart, was his propagandist and campaign manager.
It is all a dismal picture. Late last night, as the results were coming in from the last states, a friend called me full of sadness, full of anxiety about conflict, about war. Why not leave the country? But despair is no answer. To combat authoritarianism, to call out lies, to struggle honorably and fiercely in the name of American ideals—that is what is left to do. That is all there is to do.11/09/16 Read more here http://www.newyorker.com/news/news-desk/an-american-tragedy-donald-trump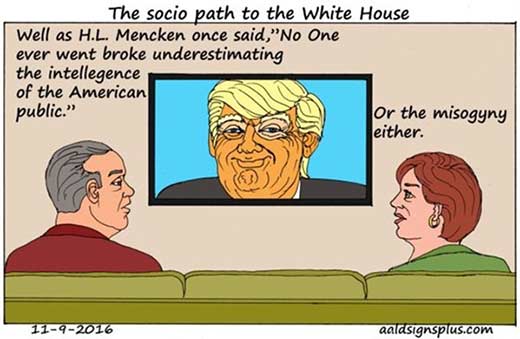 3. Thomas L. Friedman: Homeless in America
How do I explain Trump's victory? Way too soon to say for sure, but my gut tells me that it has much less to do with trade or income gaps and much more to do with culture and many Americans' feeling of "homelessness."
There is nothing that can make people more angry or disoriented than feeling they have lost their home. For some it is because America is becoming a minority-majority country and this has threatened the sense of community of many middle-class whites, particularly those living outside the more cosmopolitan urban areas.
For others it is the dizzying whirlwind of technological change we're now caught up in. It has either wiped out their job or transformed their workplace in ways they find disorienting — or has put stressful demands on them for lifelong learning. When the two most important things in your life are upended — the workplace and community that anchor you and give you identity — it's not surprising that people are disoriented and reach for the simplistic solutions touted by a would-be strongman.
What I do know for certain is this: The Republican Party and Donald Trump will have control of all the levers of government, from the courts to the Congress to the White House. That is an awesome responsibility, and it is all going to be on them. Do they understand that?
Personally, I will not wish them ill. Too much is at stake for my country and my children. Unlike the Republican Party for the last eight years, I am not going to try to make my president fail. If he fails, we all fail. So yes, I will hope that a better man emerges than we saw in this campaign.
But at the moment I am in anguish, frightened for my country and for our unity. And for the first time, I feel homeless in America. 11/09/16 Read more here http://www.nytimes.com/2016/11/09/opinion/were-near-the-breaking-point.html
4. Joshua Keating: It's Not Just America. Liberal Democracy Is Under Attack Everywhere.
The results were barely in Tuesday night when calls to blame Vladimir Putin's government for what unfolded began:
We may be living through the most successful Russian intelligence operation since the Rosenbergs stole the A-bomb. David Frum ✔@davidfrum
I understand the impulse, but this line of thinking lets the U.S. electorate, political leaders, and media off way too easy. If all it took to elect someone like Donald Trump president was the release of somewhat embarrassing email conversations, Americans turned out to be stupendously easy marks.
That said, we appear to be in for an administration that will not only be much friendlier to Putin's geopolitical goals (this is a terrifying day for Ukraine and a great one for Bashar al-Assad)—it will have an affinity toward his worldview and methods. Like Putin, Trump has demonstrated contempt for the rule of law (including torture and the extrajudicial killing of noncombatants), is hostile to the free press, is willing to scapegoat the most vulnerable groups in society, and uses sympathetic media outlets to create an alternate reality with its own set of facts.
Not surprisingly, Putin was quick to congratulate Trump on his victory, expressing his hope for better U.S.-Russia relations. The Russian parliament erupted in applause after it was confirmed, and the country's media is on cloud nine.
Also celebrating Trump on Wednesday are the leaders of far-right nationalist parties throughout Europe, many of whom have their own murky links to Moscow. Marine Le Pen, leader France's far-right, anti-immigrant National Front, was among the first to send congratulations, and the party's vice president tweeted, ominously, "Their world is crumbling. Ours is being built." Le Pen appears almost guaranteed to make it to the runoff round in next year's election. The conventional wisdom is that she won't be able to win a head-to-head matchup against a mainstream conservative candidate, but after conventional wisdom was proved so preposterously wrong on the presidential election and Brexit, she has to feel better about her chances. If the United States can go this way, why not France, or for that matter Germany, Britain, or Japan? 11/09/16 Read more here http://www.slate.com/blogs/the_slatest/2016/11/09/it_s_not_just_america_liberal_democracy_is_under_attack_everywhere.html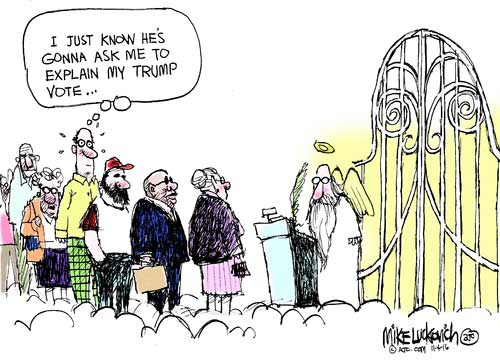 5. James Palmer: China Just Won The U.S. Election
The election of Donald Trump will be a disaster for anyone who cares about human rights, U.S. global leadership, and media freedom. That means it's a victory for Beijing, where as I write, the Chinese leaders near me in the palatial complex of Zhongnanhai are surely cracking open the drinks and making mean jokes.
There are four major victories for the Chinese leadership here, tempered by one possible fear. The first victory is the obvious one, the geopolitical victory; China no longer faces the prospect of Hillary Clinton, a tough, experienced opponent with a record of standing up to bullies. Instead, it faces a know-nothing reality TV star who barely seems aware that China has nuclear weapons, has promised to extort money from U.S. allies around China like South Korea and Japan, and has repeatedly undercut U.S. credibility as a defense partner. Trump is also exactly the kind of businessman who is most easily taken in by China — credulous, focused on the externalities of wealth, and massively susceptible to flattery. A single trip, with Chinese laying on the charm, could leave him as fond of China's strongmen as he is of Russia's Putin.
Countries like Vietnam, Myanmar, and the Philippines, uncertain about who to back in the contest for power in the Pacific, will swing massively China's way, preferring a country that keeps its promises to one that can turn on the pull of an electoral lever. The strongest U.S. allies, Taiwan, South Korea, and Japan, no longer confident in the U.S. nuclear umbrella, will begin seriously considering other alternatives — like acquiring their own nuclear deterrent, prompting new tensions with China. 11/09/16 Read more here http://foreignpolicy.com/2016/11/09/china-just-won-the-u-s-election-trump-victory/
6. Paul Krugman: The Economic Fallout
Under any circumstances, putting an irresponsible, ignorant man who takes his advice from all the wrong people in charge of the nation with the world's most important economy would be very bad news. What makes it especially bad right now, however, is the fundamentally fragile state much of the world is still in, eight years after the great financial crisis.
It's true that we've been adding jobs at a pretty good pace and are quite close to full employment. But we've been doing O.K. only thanks to extremely low interest rates. There's nothing wrong with that per se. But what if something bad happens and the economy needs a boost? The Fed and its counterparts abroad basically have very little room for further rate cuts, and therefore very little ability to respond to adverse events.
Now comes the mother of all adverse effects — and what it brings with it is a regime that will be ignorant of economic policy and hostile to any effort to make it work. Effective fiscal support for the Fed? Not a chance. In fact, you can bet that the Fed will lose its independence, and be bullied by cranks.
So we are very probably looking at a global recession, with no end in sight. I suppose we could get lucky somehow. But on economics, as on everything else, a terrible thing has just happened. 11/09/16 Read more here http://www.nytimes.com/interactive/projects/cp/opinion/election-night-2016/paul-krugman-the-economic-fallout
7. Tara Culp-Ressler: Hate wins
After launching his bid for the presidency by calling Latino immigrants rapists, drug dealers, and criminals, Trump ran a brazenly racist campaign that invigorated neo-Nazis and white supremacists.
Trump called for a total ban on Muslim immigration, equated refugees to terrorists, insulted African Americans' education, stoked anti-Semitism, pledged to build a wall along the U.S.-Mexico border, and promised to implement an ideological test for immigrants.
Over the course of the campaign, more than a dozen women came forward to say that Trump has sexually assaulted them. The accusers described nonconsensual activity that tracks very closely with behavior that Trump himself has bragged about. Trump responded by insulting and threatening them.
Trump shocked political observers by flouting the fundamental principles of democracy, including freedom of the press and freedom of religion. He has repeatedly suggested that he might not accept the results of this election, and that he may jail his political opponent Hillary Clinton.
As president, Trump will bring unprecedented conflicts of interest into office. He is embroiled a number of ongoing legal battles, some of which have court dates set for right after the election. Unlike every party nominee since 1977, he refused to release his tax returns, perhaps to obscure the fact that he may have used illegal schemes to avoid paying taxes.
None of this was persuasive to the majority of people in the United States, who elected Donald Trump with 58,935,231 votes. Read more here https://thinkprogress.org/hate-wins-2c48768814b2#.7qq6qqq3e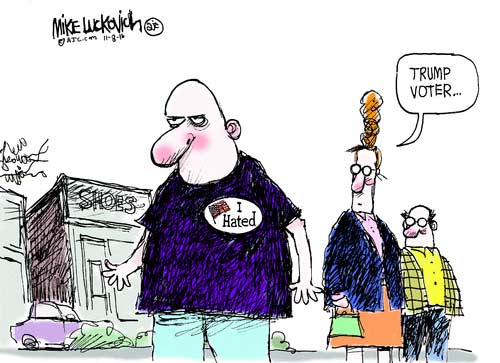 8.Ian Millhiser: Why America failed
The only comfort anyone can feel tonight is that the human brain lacks the capacity to process true enormity. We will not understand what this election means. Take solace in that numbness.
Donald Trump is the president-elect. If he follows through on his promises, millions of immigrants now face deportation. Millions more could lose their health insurance. Thousands will die because they can no longer afford care. The world is more likely to lose its fight against global warming. And all of us have to go to bed tonight knowing that we live in a country that chose an overt racist as its leader.
There will be a lot of finger pointing in the coming days. But the truth is that this happened because of systemic failure of every institution that should have prevented such an outcome. We are the victims of a tsunami of incompetence, bad judgment, ideology, constitutional failure, and hate, with each component building on each other until it crested into disaster. 11/09/16 Read more here: https://thinkprogress.org/why-america-failed-4f2cbabcd99e#.nv9yl5xef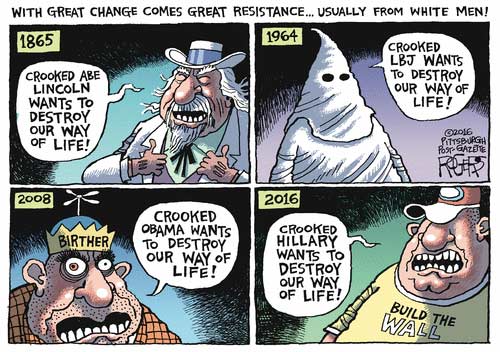 9. Melissa McEwan: She's earned it
Every time Hillary Clinton has run for office, she has been accused by segments of the media and by many of her ideological opponents of feeling "entitled" to the office she is seeking.
This narrative has been promulgated in many ways, from straightforwardly accusing her of feeling entitled to casting her as an imperious queen who expects a "coronation."
There has, quite frankly, never been any merit to these accusations. Not against a candidate who fought a long, hard primary battle in 2008, then immediately got to work helping her rival get elected, then served in his cabinet, then ran another long, hard primary battle eight years later.
The way Clinton has campaigned throughout this general election should, at long last, put to rest any notion of an uppity woman who feels "entitled" to have the nation's highest office handed to her.
She has worked for every single vote.
That is not a candidate who feels "entitled" to anything. That is a candidate who knows she has to work for the office she seeks, and has done everything she can to earn it.
What "entitlement" looks like is a candidate who has never served a day in public office, has zero command of the issues, makes no effort to reach out or speak to half the country, has no idea what he is even doing, and yet thinks he is qualified to be the president — and brays ceaselessly about how the election must be "rigged" if he does not win.
That is entitlement.
And she certainly has. 11/06/16 Read more here: http://shareblue.com/shes-earned-it/
10. Leonard Pitts, Jr: An election on who and what we are
A black man was elected president, and white people lost their minds.
Not all of them, no. Not even most of them. But not a piddling few, either.
That, in a nutshell, is the story of America's hateful and obstructionist politics over the last eight years — and of the nasty, arduous excuse for a presidential campaign that finally ends on Tuesday. Granted, many pundits have chosen to explain those things in terms of "economic anxiety," the fiscal insecurity of the undereducated white working class. But here on election eve can we, for once, be honest with ourselves about ourselves?
The white guy who preceded the black guy spent a $128 billion surplus into an over $400 billion deficit, presided over a cratering stock market and anemic job creation. Yet for all the grief he was given, nobody ever called him a "subhuman mongrel."
Lawmakers from the other party did not declare their refusal to work with him on even the most routine matters of governance.
Are we a backward-looking nation defined by those who lost their minds because a black guy was elected president? Or are we a forward facing people, challenged by change but never shying from it, never so terrified by it as to betray our fundamental selves?
The thing is, change doesn't care what we decide. It comes regardless, and you can no more question it than you can gravity. The toothpaste won't go back into the tube, the gay people back into the closet, the women back into the kitchen nor the African Americans back to the rear of the bus.
The past will not be restored. So the only question here is how we will respond to the future. With fear or faith? With cowardice or courage?
It's time for us all to take a deep breath. 11/04/16 Read more here: http://www.miamiherald.com/opinion/opn-columns-blogs/leonard-pitts-jr/article112632598.html#storylink=cpy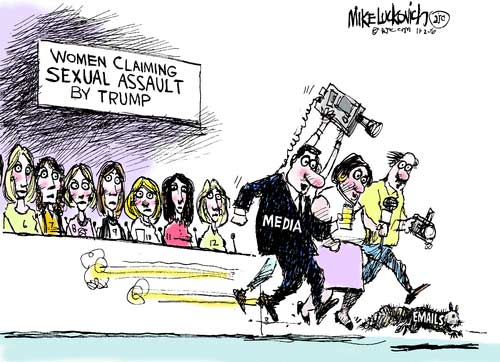 11. Richard Epps: Donald Trump Has Broken the Constitution
Donald Trump ran on a platform of relentless, thoroughgoing rejection of the Constitution itself, and its underlying principle of democratic self-government and individual rights. True, he never endorsed quartering of troops in private homes in time of peace, but aside from that there is hardly a provision of the Bill of Rights or later amendments he did not explicitly promise to override, from First Amendment freedom of the press and of religion to Fourth Amendment freedom from "unreasonable searches and seizures" to Sixth Amendment right to counsel to Fourteenth Amendment birthright citizenship and Equal Protection and Fifteenth Amendment voting rights.
Like an admissions officer at Trump University, he offered Americans a bag of magic beans and asked them in exchange to hand over their rights and their form of government.
Smiling, nearly 60 million complied.
I deny their right to give Trump my rights or those of others who cannot defend themselves. No result is legitimate that threatens the Constitution its very promise of the "blessings of liberty." No transient plurality, no matter how angry, has the power to strip minorities of equal status and protection; no mass of voters, no matter how frightened, has the power to vote away the democratic future of their children and their children's children. 11/09/16 Read more at http://www.theatlantic.com/politics/archive/2016/11/donald-trump-has-broken-the-constitution/507146/