November 9, 2017
ON THE RECORD. . .
I just need this to stop being about the middle class. There aren't middle class people in America who are ever exposed to the estate tax. If you have one, if you find one, text us, tweet us @velshirule, or hit me up at @alivelshi. They are not there. -- MSNBC's Ali Velshi using his program to poke holes in the Republican claim as they revealed the legislation that would mandate a giant handout to the families of billionaires in America.
'When you don't need to fill slots, don't fill them.' But we have some people that I'm not happy with there. Lemme tell you, the one that matters is me. I'm the only one that matters, because when it comes to it, that's what the policy is going to be." — Trump about unfilled State Department positions.
But also from the standpoint of sexual assault, when the lights are on, when you have light that shines, the righteousness, if you will, on those types of acts. So from the standpoint of how you really affect people's lives, fossil fuels is going to play a role in that. I happen to think it's going to play a positive role." -- Energy Secretary Rick Perry claiming that fossil fuels help prevent sexual assault.
"I have a hard time not concluding that she's done a serious disservice to the historical record and to all Democrats." — Josh Marshall on Donna Brazile's new book
"There is a military option: to destroy North Korea's program and North Korea itself. If thousands die, they're going to die over there. They're not going to die here — and he's told me that to my face." Sen. Lindsey Graham (R-SC) relaying a conversation with Trump.
"[T]he reason our stock market is so successful is because of men. I've always been great with money, I've always been great with jobs, that's what I do. And I've done it well, I've done it really well, much better than people understand and they understand I've done well." — Trump, failing to note that his companies filed for bankruptcy at least four times and he managed to drive multiple casinos into the ground.
"Sarah Huckabee Sanders briefings are breathtaking — certainly this week's were. For some 20 minutes every afternoon, down is up, paralysis is progress, enmity is harmony, stupid is smart, villain is victim, disgrace is honor, plutocracy is populism and Hillary Clinton colluded with Russia if anyone would summon the nerve to investigate her (because, you know, that never, ever happens). I watch and listen with sheer awe." — Frank Bruni in the NY Times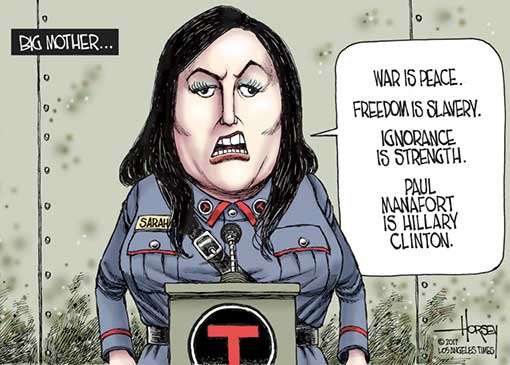 "All I can say is that in Texas at least we have the opportunity to have concealed carry. And so if it's a place where somebody has the ability to carry, there's always the opportunity that gunman will be taken out before he has the opportunity to kill very many people." -- Texas Attorney General Ken Paxton (R)
"Donna (Brazile) was a Vice Chair of the Party for the last 15 years or so. The idea that she was some outsider coming in to be a truth teller is ludicrous. I find it all just sad and I am done talking about it." -- Hilary Rosen, a longtime Democratic operative."My donors are basically saying, 'Get it done or don't ever call me again.'" — Rep. Chris Collins (R-NY), on the Republican tax reform bill.
"President Trump's pressuring of the Justice Department and FBI to pursue cases against his adversaries and calling for punishment before trials take place are totally inappropriate. The president's remarks "not only undermine our justice system but erode the American people's confidence in our institutions. -- Sen. Bob Corker (R-TN), firing back at President Trump over his push for the Justice Department to investigate Democrats and Hillary Clinton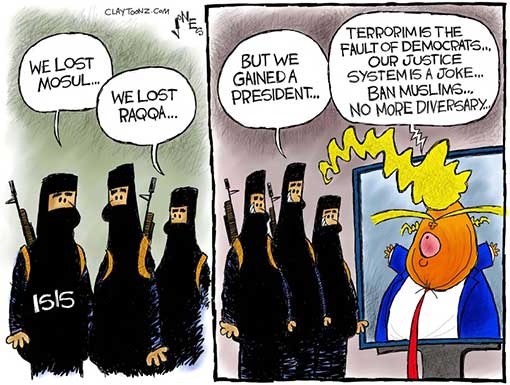 "President Trump is the worst president in modern history. And each day, he works on eliminating 'modern' from that description." — Rep. Adam Schiff (D-CA), on Twitter. 
---
IN THIS ISSUE
FYI
OPINION
1. Anti-Trump backlash fuels a Democratic sweep in Virginia and elections across the country
Tuesday was the best day for Democrats politically since Barack Obama won reelection in 2012. Remember, conservatives scored significant victories in the November 2014, 2015 and 2016 elections. Democrats desperately needed some wins after they went all-in on a House special election in Georgia this spring and lost. Last night, they got them.
Voters came out in droves. They braved the rain and the cold to send a message to President Trump. The results across the country represent nothing less than a stinging repudiation of Trump on the first anniversary of his election. https://www.washingtonpost.com/news/powerpost/paloma/daily-202/2017/11/08/daily-202-anti-trump-backlash-fuels-a-democratic-sweep-in-virginia-and-elections-across-the-country/5a023fd230fb0468e76541b3/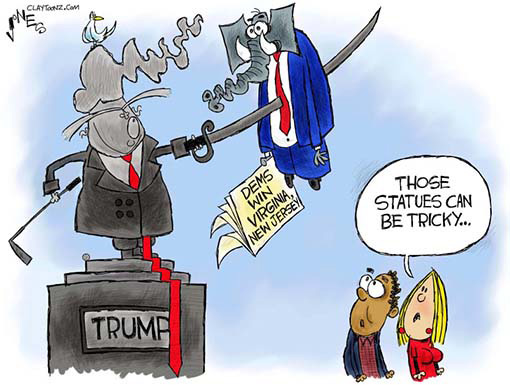 2. Democrats Euphoric After Election Romp
Jubilant Democrats struck a defiant tone after sweeping victories across the country on Tuesday night, led by Democrat Ralph Northam's surprise pummeling of Republican Ed Gillespie in Virginia's gubernatorial race. Surveying their first electoral sweep in half a decade after a soul-crushing 2016 campaign and a desultory start to the Donald Trump era, Democratic leaders reset their expectations for the 2018 midterms.
They're now expecting a fundraising and candidate recruitment surge, powered by grass-roots fury at the Trump administration. While most Democrats stopped short of predicting the party will take the House next year, they noted in Gillespie the failure of a candidate who tried balancing between Trump-style populism and establishment Republicanism.  https://www.politico.com/story/2017/11/07/democrats-virginia-new-jersey-election-results-244674
3. In reversal, Democrats see an Obamacare boost at the polls
comeback in Tuesday's elections, its strongest show of support since President Donald Trump was elected and the GOP spent months on a futile effort to repeal it.
In the governor's race in Virginia and a ballot initiative in Maine, the Affordable Care Act buoyed Democrats, a remarkable reversal from how Trump and congressional Republicans won elections excoriating the "failed" and "doomed" law.
A remarkable 4 out of 10 Virginians in an early exit poll said health care was their top issue in a race that saw Democrat Ralph Northam, the current lieutenant governor, handily defeat Republican Ed Gillespie to become Virginia's next governor. And in Maine, voters in a landslide backed Obamacare Medicaid expansion, which their governor had vetoed on five separate occasions.  https://www.politico.com/story/2017/11/08/obamacare-boost-at-the-polls-244696
4. Fox News Went 100 Minutes Without Discussing GOP Loss
The biggest political story of the hour is that Republican gubernatorial candidate Ed Gillespie went down big in Virginia after running a Trump-esque campaign fixated on inflammatory culture-war issues, losing to Democrat Ralph Northam by what looks like it will end up as a nine-point margin. It's the biggest story of the hour, that is, unless you're watching Fox News: As observed by political writer Chris Hooks, Donald Trump's favorite network spent more than 90 minutes in prime time on Tuesday—Election Night!—between discussions of election results.  http://www.slate.com/blogs/the_slatest/2017/11/08/fox_news_what_election_results.html
5. Andy Borowitz:Poll: Trump Accomplishing Little in Final Year as President
Donald Trump has accomplished little or nothing in his final year as President, a new poll finds.  According to the poll, a majority of Americans believe that Trump has made no progress on the economy, terrorism, or other key issues in his Presidency's dwindling final days.
"Trump is desperate for a legislative victory to prove that his final year as President was not a total disaster," Logsdon said. "But with so few days, or possibly hours, remaining, it's hard to see that happening."
ELSEWHERE:The White House called an unscheduled press briefing on Sunday to clarify Michael T. Flynn's role in the Trump campaign, claiming that his job consisted entirely of making coffee when George Papadopoulos was busy with other matters.
"Sometimes, we would ask for coffee and George was otherwise occupied," the White House press secretary, Sarah Huckabee Sanders, said. "At that point, Michael Flynn would step in and make that coffee."
When asked what role Flynn's son, Michael G. Flynn, played in the campaign, Sanders indicated that he, too, was involved in coffee-making to the exclusion of all other responsibilities.
"There were many times when the two Flynns would make coffee together," she said. "The father would actually make the coffee, and the son would add the creamer, sweetener, and whatnot."  https://www.newyorker.com/humor/borowitz-report
6. The Most Corrupt Administration In History?
According to the presidential historian Robert Dallek, no American leader has acted with more unadulterated self-interest as Trump. Dallek says that in terms of outright corruption, Trump is worse than both Ulysses S. Grant and Warren G. Harding, presidents who oversaw the most flagrant instances of graft in American political history.
What makes this different is that the president can't seem to speak the truth about a host of things.
Trump isn't just allowing corruption, in Dallek's view, but encouraging it: "The fish rots from the head."  http://www.newsweek.com/2017/11/10/trump-administration-most-corrupt-history-698935.html
7. The DAILY GRILL
"Every American deserves the dignity and respect of high expectations and as public officials we should deliver programs that instill hope and say to each beneficiary that we believe in their potential. CMS believes that meaningful work is essential to beneficiaries' economic self-sufficiency, self-esteem, well-being, and health of Americans." -- Centers for Medicare & Medicaid Services (CMS) Administrator Seema Verma  on a rule change allowing states to impose work requirements on their Medicaid recipients and kick people out of the program who cannot find gainful employment.

VERSUS

"I'm not sure how denying coverage for people based on their inability to find work really meets the objective of providing health insurance to low-income individuals." -- Jessica Schubel, a senior advisor for CMS during the Obama administration.
8. From MEDIA MATTERS (They watch Fox News so you don't have to)
Reporter for Alex Jones' Infowars says Hitler is alive and the U.S. government is covering it up.  https://www.mediamatters.org/video/2017/11/02/reporter-alex-jones-infowars-says-hitler-alive-and-us-government-covering-it/218435

Trump repeats right-wing radio host's call for FBI and DOJ to investigate Clinton. During interview, Trump complained "the saddest thing" about being president is not being able to interfere with the Justice Department.  https://www.mediamatters.org/blog/2017/11/03/trump-repeats-right-wing-radio-host-s-call-fbi-and-doj-investigate-clinton/218446

The Weekly Standard, which is reportedly in talks with Facebook to become its fact-checking partner, published an article in its new fact-checking section debunking a popular right-wing media myth about former Democratic presidential nominee Hillary Clinton. But The Weekly Standard has itself pushed this misinformation in multiple articles -- one of which was published just days before the fact check.  https://www.mediamatters.org/blog/2017/11/03/weekly-standard-wants-become-facebook-s-fact-checking-partner-will-it-fact-check-itself/218448

Trump's CIA director met with frequent Fox guest to discuss his claim the DNC hack was an inside job. William Binney's conspiracy theory also appeared on Alex Jones' Infowars.  https://www.mediamatters.org/blog/2017/11/07/trump-s-cia-director-met-frequent-fox-guest-discuss-his-claim-dnc-hack-was-inside-job/218472
9. From the Late Shows
Paul Manafort's House Cold Open - SNL https://youtu.be/spkfIpPmPgs

Weekend Update on Paul Manafort's Indictment - SNL https://youtu.be/kK4UJ86GAXE

Press Conference - SNL: https://youtu.be/YwQjnWvfLck

The Daily Show: Hillary Clinton - "What Happened" & What Comes Next for America:  https://youtu.be/mkcKDY50hLs
10. Late Night Jokes for Dems
Japanese Prime Minister Shinzo Abe yesterday gifted President Trump with a white version of Trump's signature "Make America Great Again" hat, reading "Donald & Shinzo Make Alliance Even Greater." And Melania gave HIM a special hat in return [shows photo of hat reading "Please Grant Me Asylum"]. -- Seth Meyers

President Donald Trump arrived in Japan over the weekend to kick off a 13-day trip through Asia. Following the president's trip, Secretary of State Rex Tillerson will then kick off his own 13-day trip to apologize for everything Donald Trump said. -- James Corden

There is an update to a story we talked about last week. A woman flipped off the presidential motorcade when it happened to drive by her while she was riding her bike. Well, it turns out she was fired from her company for violating their social media policy when she used the photo as her profile picture on Facebook. Immediately after her bosses told her that they were letting her go, she re-enacted that photo right there for them. She says she would be sad about her firing but she's too busy going through the 15,000 job offers that have come in since. -- James Corden

A talking-point memo issued last week by House Republicans about their new tax cut plan referred to Americans earning $450,000 a year as low- and middle-income. This is insulting for everyone. People who are actually middle-class are like, "Are you kidding me?" And people who really do make $450,000 a year are like, "Wait, I'm not rich?" -- James Corden
11. Trump's Female Accusers May Get Their Day In Court
"While allegations of sexual misconduct against powerful men in recent weeks have drawn wide public support and prompted quick response, women who came forward during the presidential race with accusations against Donald Trump said they spent the past year feeling dismissed and forgotten," the New York Times reports.
But that could change if a defamation lawsuit brought by a woman who accused Mr. Trump of unwanted sexual advances is allowed to proceed in New York State Supreme Court, a legal ruling that could come before the end of the year. Lawyers in the suit sought a subpoena seeking all Trump campaign records related to his female accusers. If the case advances, the accusers could be deposed, going up against Mr. Trump yet again.  https://www.nytimes.com/2017/11/01/us/politics/trumps-female-accusers-feel-forgotten-a-lawsuit-may-change-that.html
12. GOP Bill Would Politicize Churches
The newly unveiled Republican tax reform bill includes a provision that will likely make leaders of the Religious Right very happy—by amending a part of the tax law that keeps churches from engaging in explicit political advocacy."
Embedded within the bill's more than 400 pages is a small provision that would change an aspect of the so-called 'Johnson Amendment,' a provision of the tax codes that prohibits churches, faith communities, and other non-profits from outright endorsing political candidates.  https://thinkprogress.org/gop-tax-reform-bill-politicize-churches-215bd7f610c4/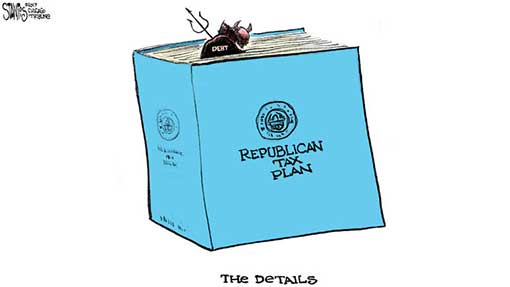 13. Americans Are Officially Freaking Out
Almost two-thirds of Americans, or 63%, report being stressed about the future of the nation, according to the American Psychological Association's Eleventh Stress in America survey… The 'current social divisiveness' in America was reported by 59% of those surveyed as a cause of their own malaise.
A majority of the more than 3,400 Americans polled, 59%, said 'they consider this to to be the lowest point in our nation's history that they can remember.' That sentiment spanned generations, including those that lived through World War II, the Vietnam War, and the terrorist attacks of Sept. 11.  https://www.bloomberg.com/news/articles/2017-11-01/americans-are-officially-freaking-out
14. Michael Flynn Followed Russian Troll Accounts, Pushed Their Messages in Days Before Election
Former White House National Security Adviser Michael Flynn followed five Twitter accounts based out of the Russian-backed "troll factory" in St. Petersburg—and pushed their messages at least three times in the month before the 2016 election.
Over 2,750 troll accounts based out of the Kremlin-backed Internet Research Agency were made public by House investigators on Wednesday. The accounts, some of which had previously been identified by The Daily Beast as Russian-generated, were pulled from Twitter due to their ties to the troll factory over the past three months.
The Daily Beast had previously discovered Flynn, Donald Trump Jr., Trump campaign manager Kellyanne Conway, and Trump campaign digital director Brad Parscale retweeted Ten_GOP several times in the month before the election.  https://www.thedailybeast.com/michael-flynn-followed-russian-troll-accounts-pushed-their-messages-in-days-before-election
15. Inside story: How Russians hacked the Democrats' emails
An Associated Press investigation into the digital break-ins that disrupted the U.S. presidential contest has sketched out an anatomy of the hack that led to months of damaging disclosures about the Democratic Party's nominee. It wasn't just a few aides that the hackers went after; it was an all-out blitz across the Democratic Party. They tried to compromise Clinton's inner circle and more than 130 party employees, supporters and contractors."
The AP's reconstruction— based on a database of 19,000 malicious links recently shared by cybersecurity firm Secureworks — shows how the hackers worked their way around the Clinton campaign's top-of-the-line digital security to steal chairman John Podesta's emails in March.  https://apnews.com/dea73efc01594839957c3c9a6c962b8a
16. Mainstream media spread Russian propaganda from Twitter
U.S. lawmakers are probing the extent of the Kremlin's campaign to disrupt last year's presidential election and have focused their latest efforts on tech platforms like Twitter.
But new data show that many news publications — from established outfits like the Post, the Miami Herald (owned by McClatchy), Buzzfeed, CBS and even Vox, to controversial alt-right hubs like InfoWars — were duped into citing some of these nefarious tweets in their coverage, perhaps unwittingly amplifying the reach of Russian propaganda.  https://www.recode.net/2017/11/3/16599816/washington-post-mcclatchy-miami-herald-ap-russian-propaganda-twitter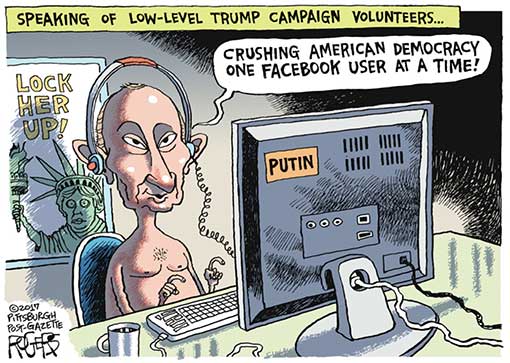 17. GOP tax plan would increase federal deficits beyond the limit, new analysis shows
A new Penn-Wharton report shows that the House GOP bill would increase federal deficits substantially in both the short-run and the long-run in ways that would vastly increase the difficulty of passing it in the Senate, CNBC reports.
The Penn-Wharton model shows that the House GOP tax bill would reduce tax revenue by $1.7 trillion over the next 10 years. That exceeds the $1.5 trillion permitted under the budget 'reconciliation' rules that allow Senate Republicans to sidestep Democratic filibusters.
Moreover, the Penn-Wharton model projects that the House GOP bill would lost another $2.6 trillion in revenue during the 12 years after 2027. Under the no-filibuster rules, the tax bill would not be permitted to increase the deficit at all after its first 10 years.  https://www.cnbc.com/2017/11/06/gop-tax-plan-overwhelmingly-favors-the-wealthy-and-might-stall-in-senate-new-analyses-show.html
18. Crush of tough issues could bring about government shutdown
As Republicans focus on overhauling the tax code, the rest of Washington's fall agenda seems to be adrift, raising the real possibility of a government shutdown in December.
A divided Congress is struggling to agree on military and domestic spending and help for young immigrants, among other issues. And President Donald Trump's penchant for shifting his positions isn't helping.
The agenda outside tax reform is a combustible mix of must-do and could-do items, with the current government spending bill set to expire Dec. 8. On the list are immigration and a U.S.-Mexico border wall; an impasse over children's health care; pent-up demand for budget increases for the Pentagon and domestic agencies; and tens of billions of dollars in hurricane aid.  https://wtop.com/congress/2017/11/crush-of-tough-issues-could-bring-about-government-shutdown/
1. Jonathan Chait: The Anti-Trump Wave Has Come, and Republicans Can't Stop It
Democrats have suffered a series of close losses in special elections in 2017, contributing to the broad sense, especially among Democrats themselves, that Donald Trump had a kind of supernatural appeal that defied political physics and rendered metrics such as his dismal approval rating suspect.
The anti-incumbent wave in Virginia has dispelled that particular form of magical thinking. Trump is a deeply unpopular president, and his party is in serious danger of losing control of the House, many of its down-ballot offices, and conceivably even the Senate.
To be sure, Virginia has unique demographic qualities that may have enhanced the power of the anti-Trump wave. It is a racially diverse state with a high proportion of college-educated voters. But there are many House Republicans from districts with similar demographic profiles — in New Jersey, New York, and California, among other places. The suburbs alone could offer up enough Republican defeats to flip the House in 2018.
What is remarkable is that the Republican plan to avert this catastrophe is to inflict economic hardship on these very constituents. The party has convinced itself that the solution to its unpopularity is to vote through an unpopular plan to combine tax cuts for corporations and rich people with tax increases on a large minority of the middle class. The highest doses of fiscal pain of the Republican plan would be concentrated on upper-middle-class voters who live in blue states — like, say, New Jersey, New York, and California.  http://nymag.com/daily/intelligencer/2017/11/the-anti-trump-wave-has-come-and-republicans-cant-stop-it.html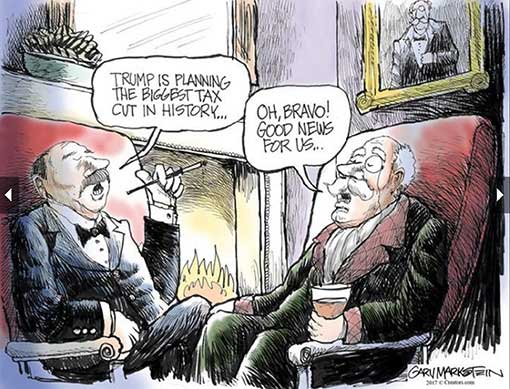 2. Eric Levitz: One Year After Trump's Victory, the Democrats Aren't in Disarray
What a difference a year makes. The first 12 months of the Trump era have been terrible for the country — but they've been better for the Democratic Party than most ever would have thought.
The party's performance in Virginia Tuesday was nothing short of a triumph. In the face of a vicious, race-baiting Republican campaign; manufactured controversies over Confederate monuments, (nonexistent) sanctuary cities, and kneeling NFL players — not to mention a rain storm that singled-out the bluest parts of the state — Democratic gubernatorial candidate Ralph Northam defeated Ed Gillespie by a near double-digit margin. As of this writing, Democrats are expected to overpower GOP gerrymandering and reclaim Virginia's House of Delegates — a result that most election analysts had thought impossible.
These victories suggest that many of the party's post-2016 fears were fallacies. Ralph Northam centered his campaign on (a decidedly, low-key brand of) economic populism, savaging Gillespie as a tool of corporate interests, and attacking Trump for proposing cuts to federal funding for health care and education — and won the wealthiest county in the United States by more than 20,000 votes. Down ballot, Virginia elected its first transgender and Democratic Socialist state legislators, developments that belie centrist hand-wringing about both "identity politics" and left populism.
Most critically, Democrats succeeded in turning out nonwhite voters in a non-presidential election and an off-year non-presidential election, at that. This has historically been the Achilles' Heel of the Obama coalition.  http://nymag.com/daily/intelligencer/2017/11/the-democrats-arent-in-disarray.html
3. Nicholas Kristof: Robert in the Cross Hairs
We may shortly be facing a national crisis. President Trump's base is egging him on to undertake his own "Saturday Night Massacre" and fire Robert Mueller for committing … for committing … uh, well, for working too hard as a prosecutor.
On Fox News, the host Jeanine Pirro proposed firing Mueller, blaming the Democrats, and imprisoning Hillary Clinton. Speaking of the Mueller investigation, Pirro said, "It's time to shut it down, turn the tables, and lock her up."
Wow. I've reported from tin-pot countries where public figures talk blithely of shutting down prosecutors and imprisoning rivals. I never thought I'd live in one.
Lou Dobbs of Fox Business Network denounced Mueller's "gross overreach," and the pro-Trump site Gateway Pundit excoriated "deep state crooked cop Robert Mueller." Across the right wing, ideological snipers are taking potshots at Mueller, and even The Wall Street Journal has suggested in an editorial that Mueller resign.
Gingrich describes Mueller as an "out-of-control prosecutor" guilty of "grotesque abuse."
What changed? Mueller is vigorously investigating whether Trump's campaign colluded with Moscow, and I believe he has found evidence that it did. A Trump foreign policy aide, George Papadopoulos, has pleaded guilty to lying to the F.B.I. about this collusion, which involved meetings with Russian representatives, disclosures by Moscow that it had Clinton emails and discussions with three top Trump campaign officials about how to pursue the relationship. We don't know whether Trump himself colluded, but thanks to Mueller, it seems to me clear that his campaign did.  https://www.nytimes.com/2017/11/01/opinion/trump-mueller-fire.html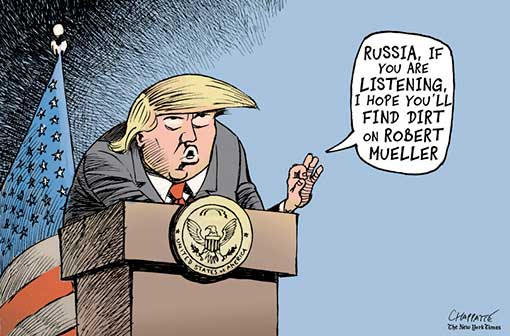 4. Ryan Cooper: Paul Manafort, the gentleman thief
One of the most striking things about the indictment of President Trump's former campaign chairman Paul Manafort and adviser Rick Gates — and the guilty plea from another Trump campaign adviser George Papadopoulos for lying to the FBI — is the brazenness and incompetence of it all. Manafort and Gates allegedly barely even tried to hide their ill-gotten gains, while Papadopoulos communicated through a hilariously insecure channel (namely, Facebook chat).
It's emblematic of the culture of impunity that has developed in the American elite over the last generation. Rich people like Manafort and Trump have learned that they can get away with just about anything. Why even bother trying to hide things, if nobody will even try to catch you?
If nothing else, perhaps the investigation of Special Counsel Robert Mueller will put some long-overdue fear into the huge population of upper-class American criminals.
As Jesse Eisinger writes, punishment for crime committed by elites has all but collapsed over the past couple decades. Whether it's allegedly paying the district attorney not to prosecute a sexual assault charge or the rise of deferred prosecution agreements for white-collar crime, elites have lately gotten away with a staggering amount of lawbreaking.
This is the result: an absolute plague of dimwitted swindlers, liars, and two-bit cheats in the highest circles of government.  http://theweek.com/articles/734310/paul-manafort-gentleman-thief
5. Paul Krugman: Donald Trump, Paul Ryan and the Con Man Caucus
It really is amazing to watch this chaotic horror show play out at the highest levels of a great nation's government. But I guess this is what you have to expect when you hand over the reins of power to a con man, whose whole career has been based on convincing naïve marks that he's a brilliant deal maker, but turns out to have no idea how to actually govern.
Oh, wait — did you think I was talking about Donald Trump? I'm talking about Paul Ryan, the speaker of the House, an obvious phony who nonetheless convinced the rubes — that is, much of the news media and the political establishment — that he was a brilliant fiscal expert. What we're witnessing now is the end of the charade, the political equivalent of what happened when graduates of Trump University tried to get some value in return for their money.
But actual legislation can't close huge fiscal gaps with vague promises. To hand out those big tax cuts while raising the deficit by "only" $1.5 trillion, Republicans needed to find real money somewhere, and that turns out to be really hard.
The big question should be, why do any of this? Ryan used to claim that his plans were about reducing the budget deficit, but he has now given up that pretense.
And why should tax cuts even be on the table? We have budget deficits, not surpluses, and lots of unmet needs for future spending. U.S. taxes are low, not high, compared with other wealthy countries. Predictions that tax cuts will lead to rapid economic growth have been wrong time and again. And by large margins, voters want taxes on corporations and the wealthy to go up, not down.
The ruling theory among Republicans seems to be that going into the midterm elections they need a "win" to offset their failure to repeal Obamacare. I guess this might be right, although it's a theory that reveals extraordinary contempt for voters, who are supposed to be impressed by the G.O.P.'s ability to ram through policies that only benefit a tiny elite.
However the politics turn out, this is remarkably terrible policy, devised via a remarkably terrible process. Most Americans realize that Donald Trump is a very bad president; they need to realize that his party's congressional leadership is pretty awful, too.  https://www.nytimes.com/2017/11/02/opinion/gop-taxes-paul-ryan.html?emc=eta1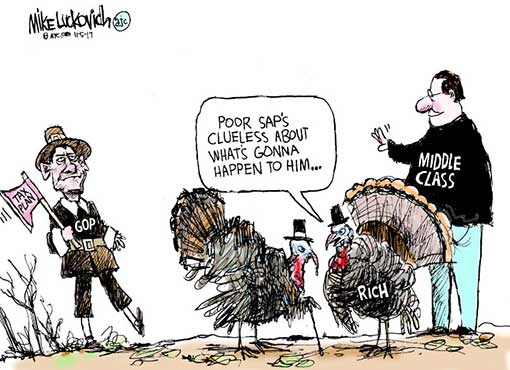 6. Jonathan Chait: The Republican Tax Plan Is Political Suicide
It is a testament to the power of self-delusion that Republicans have convinced themselves that their political self-interest demands that they pass a deeply unpopular tax-cut plan. The House has designed a proposal that not only violates Senate budget rules but seems virtually designed to seed an endless supply of attack ads against congressional Republicans.
A Washington Post poll provides a good starting point for measuring public opinion at the outset of the tax debate. Only one-third of Americans support the plan, against half opposing it. Sixty percent of the public believe it favors the rich. To the extent that people learn more, support is likely to fall even lower.
In order to keep its net cost down to $1.5 trillion, when the tax cuts it gives out cost much more, Republicans went scrounging through the cushions of the tax code for loose change. And the nickels and dimes they're saving to pay for the corporate and estate tax cuts include things like eliminating the tax credit that offsets the (frequently exorbitant) cost of adoption. Or the tax credit for small business to create access for disabled employees. Or the tax credit for clinical tests for treatment for rare diseases — which, the New York Times explains, is "central to the business model for such firms and eliminating it could mean that big pharmaceutical companies will have little reason to invest in drugs that help small patient populations." Or repealing the Work Opportunity Tax Credit, which creates an incentive for hiring veterans.
The plan reads as if it was reverse-engineered from 30-second political attack ads. And while it seems very unlikely that Republicans actually designed their proposal by asking Democratic ad-makers for a list of the most sympathetic people in America — veterans, orphans, the disabled, people suffering rare diseases — the effect will be the same.
Republicans could have written a tax-cut plan that hurt nobody. Or they could have written a sweeping tax reform that could stand for years. Incredibly, they have done neither. They have taken on all the political downside of tax reform — but because their plan can't pass the Senate, they will get none of the upside.  http://nymag.com/daily/intelligencer/2017/11/the-republican-tax-plan-is-political-suicide.html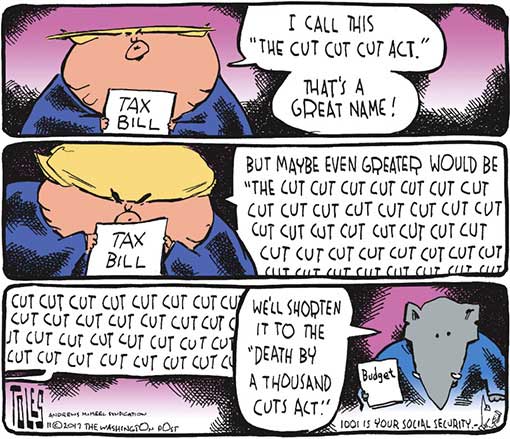 7.  Annie Karni and Eliana Johnson: Trump's year of anger, disruption and scandal
It was after midnight on Nov. 9, 2016, and Donald Trump was sitting at the kitchen table of his Trump Tower penthouse.
Trump had been glued to the television, watching what was supposed to be Clinton's Javits Center victory party — and taking note of the shocked faces in the crowd. "I think he was aware of how unexpected this was," said his longtime aide, Hope Hicks, now the White House communications director, explaining the un-Trumpian unity rallying cry. "He wanted to give a speech that would de-escalate everything and, while the whole world was watching, be a leader for all."
Onstage, Trump would say: "To all Republicans and Democrats and independents across this nation, I say it is time for us to come together as one united people. It's time."
It was a glimpse of a presidency that could have been.
Instead, in the year since that night, Trump has relished personal fights and nursed grudges; continued to vilify Clinton and defend his own legitimacy amid the expanding Russia probes; stirred racial tensions while measuring his success by the strength of his base; and taken more interest in throwing elbows on cultural issues than on the matters of policy that preoccupy Republican leaders in Congress.  https://www.politico.com/story/2017/11/04/trump-first-year-office-244542
8. Paul Waldman: The Republican tax bill is a trainwreck
At the GOP's press conference announcing the release of their tax cut bill, one Republican member of Congress noted that it has been exactly seven years since they took back control of the House in the 2010 election, and now they're delivering on the promise they made back then.
So after seven long years, this mess is what they came up with?
Before we go further, we should acknowledge that they made a few hard choices and inserted some provisions that were destined to be unpopular, for which they deserve a bit of credit. But the deeper you go into this topic, the more you realize why it is that doing genuine tax reform usually takes a matter of years. And yet Republicans believed they could put it together in a few weeks and everything would work out.
It has been a mess up until now, a slapdash bill that validates almost every criticism Democrats make of Republicans. And it's only going to get worse.
I can't say whether Republicans really believe it when they say that this package of tax cuts will supercharge economic growth to such a degree that not only will it pay for itself but it will create a paradise of prosperity for all. Maybe they do. But between now and the day when those riches are showered down upon us all, this bill could wind up being a nightmare for them in all kinds of ways.  http://theweek.com/articles/734839/republican-tax-bill-trainwreck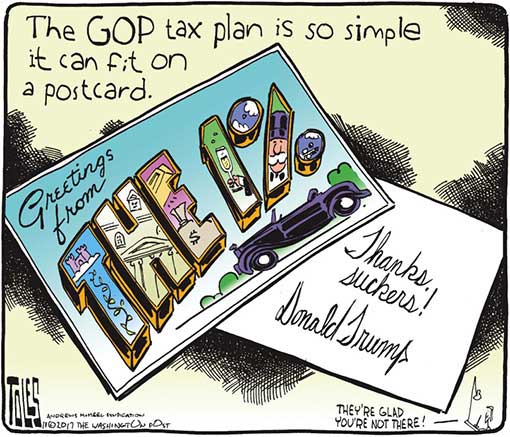 9. Nicholas Kristof: Slouching Toward War With North Korea
John Brennan, the former head of the C.I.A., estimates the chance of a war with North Korea at 20 to 25 percent.
Joel S. Wit, a Korea expert at Johns Hopkins University, puts it at 40 percent.
Richard Haass, the president of the Council on Foreign Relations, says the odds may be somewhere around 50/50.
Yet we're complacent: Neither the public nor the financial markets appreciate how high the risk is of a war, and how devastating one could be.
The Congressional Research Service last month estimated that as many as 300,000 people could die in the first few days of war — and that's if it remains nonnuclear. If there is a nuclear exchange, "there easily could be a million deaths on the first day," says Scott Sagan, an international security expert at Stanford.
Sagan says the odds of war "are certainly greater than is widely recognized by the American public."
President Trump is traveling in Asia this week, rallying countries to strengthen sanctions against North Korea. His past efforts at this have been quite successful, and during my recent visit to Pyongyang I saw signs that sanctions were biting.
But the goal appears doomed: Almost no expert believes that sanctions will force Kim Jong-un to give up his nuclear weapons or halt his missile program. That puts us on a collision course, for North Korea seems determined to develop a clear capacity to target the U.S. with nuclear weapons, while the White House hints that it would rather have a war than allow the North to become a nuclear threat.  https://www.nytimes.com/2017/11/04/opinion/sunday/nuclear-war-north-korea.html
10. Juan Williams: Trump's war on media is truly dangerous
President Trump's opinion. He said in the Oval Office this month that it was "frankly disgusting" that the press is "able to write whatever they want to write."
Clearly the president has an authoritarian bent when it comes to journalism. His latest comments fit with past labeling of straight news reporters as "dishonest," "scum" and the "enemy of the American people."
"I hate some of these people, I hate 'em," Trump said about reporters at a Michigan rally late last year, a month after he won the presidency. "I would never kill them. I would never do that."
Trump's appetite for shutting down the free press is a reminder of his open admiration for strong men dictators like Russia's Vladimir Putin, Turkey's Recep Erdogan and the Philippines' Rodrigo Duterte. Those strongmen limit the freedom of the press and, in some cases, kill and jail journalists.
Recall what President Jefferson wrote in his famous letter to Edward Carrington:
"Were it left to me to decide whether we should have a government without newspapers, or newspapers without a government, I should not hesitate a moment to prefer the latter."
How far we've come from Jefferson's wisdom to Trump's ugly, ignorant threats.
Fake News, indeed.  http://thehill.com/opinion/white-house/357748-juan-williams-trumps-war-on-media-is-truly-dangerous
11. Jonah Shepp: The Russian Hacking Scandal Is Way Bigger than Donald Trump
 Trump was at best an unwitting beneficiary in last year's election meddling, he cannot see past his own role in this story to understand these implications in the longer term. Congress is taking this threat seriously, at least, as is special prosecutor Robert Mueller, but the messaging from the White House has been consistently to downplay the problem by way of denying that any collusion took place. It is hard to see how our government can effectively respond to this new trend in cyber-espionage when the president thinks it's all fake news.
The masterstroke of Russia's election disruption is that it's very hard for any president, especially an ego-driven character like Trump, to acknowledge receiving that kind of help. If this gets reduced to a political fight over whether this administration is in bed with the Kremlin, and if the public becomes divided along partisan lines as to whether the interference happened at all, that will go along way toward ensuring that Russia's digital army of hackers and trolls continues to work unimpeded.
Perhaps instead of trying to catch the administration in another lie, the White House press corps should start asking what they are doing to prevent this type of interference from happening again in the future. Responding to such threats is part of the president's job, and if he refuses to do so, he should pay a price for that negligence, at least in the court of public opinion. The scope of the threat here is much bigger than one election and one president, or even one country, and combating it needs to be a focal point of our foreign and national security policies, regardless of which president or party Russia's machinations are currently helping.  http://nymag.com/daily/intelligencer/2017/11/the-russian-hacking-scandal-is-way-bigger-than-donald-trump.html
12. Jennifer Rubin: Trump's latest impeachable actions
At the core of President Trump's unfitness and his malfeasance in office is his interaction with the Justice Department and the courts. This goes from the merely verbal denigration of the courts — "a joke," "a laughingstock," "so-called judges" — to actual actions such as firing the FBI director, reportedly imploring the FBI director to lay off of former national security adviser Michael T. Flynn, trying to meddle in the prosecution of Joe Arpaio (whom he subsequently pardoned for criminal contempt of court) and, now, directly encouraging the Justice Department to go after a political opponent for spurious, long-ago debunked claims.
In a series of tweets, he called on the Justice Department to go after the Democrats: "Everybody is asking why the Justice Department (and FBI) isn't looking into all of the dishonesty going on with Crooked Hillary & the Dems … People are angry. At some point the Justice Department, and the FBI, must do what is right and proper. The American public deserves it!" In remarks to reporters, he continued on in this vein. "I'm really not involved with the Justice Department. I'd like to let it run itself, but honestly, they should be looking at the Democrats. They should be looking at [John] Podesta and all of that dishonesty. They should be looking at a lot of things. And a lot of people are disappointed in the Justice Department, including me."
There is no president in modern memory who has repeatedly and directly called on the Justice Department to investigate a political opponent in such a manner. A politician, one could imagine, upon new and actual evidence of wrongdoing, might say something like, "The appropriate authorities should look into this." That's not what Trump is doing here. He is both assuming guilt and applying pressure to go after an opponent based on scurrilous propaganda that he and his followers have generated. This is the conduct of a Third World dictator, and by any stretch of the imagination, an abuse of presidential power.  https://www.washingtonpost.com/blogs/right-turn/wp/2017/11/03/trumps-latest-impeachable-actions/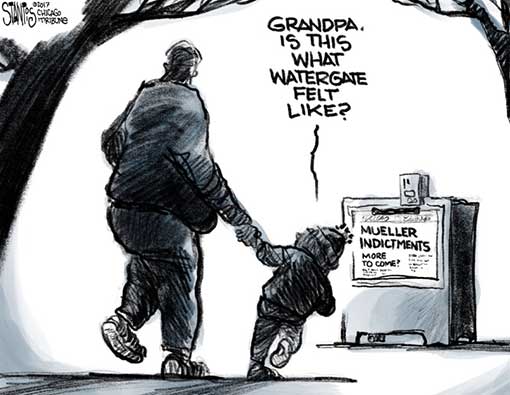 13. David Faris :The depressing ritual of mass murder in America
Yesterday afternoon, the tenuous peace of the country was interrupted yet again by the latest in a long, seemingly endless line of unfathomable mass killings, this one carried out inside a church in rural Sutherland Springs, Texas. Before he was finished, one man had murdered at least 26 churchgoers in cold blood and wounded many more before dying in a fusillade of gunfire. Americans recoiled in horror. Twitter convulsed with anger and indignation. The country though, by all indications, will quickly move along.
America's mass shooting ritual is, by now, so familiar that it is beyond parody, beyond cynicism, indeed, beyond any reasonable explanation at all other than that we are too weak and too divided to make obvious changes to our laws and society to prevent more such tragedies. Sutherland Springs is Las Vegas is Sandy Hook is Orlando is Columbine. The names of the dead change but the political impotence remains very much the same.
Bet on this: Republican elected officials will tweet their "thoughts and prayers," a shoebox currency so degraded it can barely buy a week of freedom from these atrocities. Someone will post that Onion article, the headline of which contains an irrefutable indictment of America's policies and responses to gun violence. You know the one. Someone will offer Dan Hodges' endlessly retweeted observations that, "In retrospect Sandy Hook marked the end of the U.S. gun control debate. Once America decided killing children was bearable, it was over."  http://theweek.com/articles/735541/depressing-ritual-mass-murder-america