April 14, 2016
ON THE RECORD. . .
"He can't win. Ted Cruz is straight fastball down the middle of the plate for the Democratic Party, which they are expert at hitting out of the ballpark… If it's Donald, there is no playbook." — Rudy Giuliani, explaining his decision to back Donald Trump over Ted Cruz.

"He's threatening; you go to these county conventions, and you see the tactics, Gestapo tactics, the scorched-earth tactics." — Trump aide Paul Manafort, criticizing Ted Cruz's campaign.

"Let me say something about the New York primary: Any New Yorker who even thinks of voting for Ted Cruz should have their head examined. Really, here's a guy who refused to sign onto the 9/11 health care act for the cops and fireman. Here's a guy who talks about New York values. New York keeps going forward. We're tough, and to have some guy like Ted Cruz with cowboy boots walk around criticizing us. Look, I hope he gets the cold shoulder and other things from every New Yorker. Send him back where he belongs. He's a phony, and that was all off the record by the way. I don't want anyone listening. That was all off the record. .... I just can't stand that guy. --Rep. Peter King (R-NY) 4/07/16

"Cruz would be the most extreme right wing nominee in modern American history. He is deeply out of sync with a large majority of voters on social issues. His role in shutting down the government is anathema to most Americans. If Republicans nominate Cruz, they concede any claim to the center whatsoever." — Democratic pollster Geoff Garin, 4/06/16

"The challenge is entirely on Trump. He is not gonna get any help out of the establishment. They have reluctantly concluded that if, you know — Trump in a funny way has normalized Ted Cruz because without Trump, the establishment would be totally opposed to Cruz." -- Newt Gingrich "marveling at one of Donald Trump's biggest accomplishments in the 2016 race — making Ted Cruz appear normal," 04/06/16

Washington Post: "Cruz is the disciplined strategist who stays relentlessly on message and runs a by-the-book organization filled with aides and state chairs … Trump, by contrast, runs what amounts to a DIY presidential campaign." --  Katie Zezima 4/07/16

Hillary "is funded by millions and millions of dollars from Wall Street and other special interests.She's made a deal with the devil." --- Bernie Sanders' campaign manager Jeff Weaver. 4/08/16

"I watch Bernie. He wins, he wins, he keeps winning, winning and winning and then I see he's got no chance. They always say he's got no chance. Why doesn't he have a chance? Because the system is corrupt. And it's worse on the Republican side. And I say this to the RNC and I say this to the Republican Party: You're going to have a big problem folks, because there are people who don't like what's going on." -- Donald Trump

"Did you see the story? The whole front page, they made up the story that Trump is the president and they made up the whole front page. It's a make-believe story, which is really no different than the whole paper." -- Donald Trump dismissing the Boston Globe as a "stupid" and "worthless" newspaper after it published a fake front page with stories depicting would-be news events during a Trump administration.

"She may have the experience to be president of the United States. No one can argue that. But in terms of her judgment, something is clearly lacking." -- Sen. Bernie Sanders 4/10/16
---
IN THIS ISSUE
1. Ryan Unintentionally Gives Clinton a Big Boost
2. GunFAIL CLXXIX
3. The DAILY GRILL
4. From MEDIA MATTERS (They watch Fox News so you don't have to)
5. Trump Health Care Ideas Bewilder Experts
6. Late Night Jokes for Dems
7. From the Late Shows
8. Gov. John Kasich super PAC's new TV Ad: Ted Cruz & New York Values
9. GOP's War Against Gays (Cont.): MS Governor Signs Anti-LGBT 'License To Discriminate' Bill Into Law
10. "Hiding, Secret and Shell," a cartoon by MarkFiore
11. Boston Globe's Fake Front Page Imagining A Trump Presidency
12. Reuters/Ipsos poll: Blocking Trump could hurt Republicans in election
13. The Borowitz Report: Clinton Campaign Accuses Sanders of Trying to Win Nomination
14. Clinton donates millions to strapped Democratic Party
1. WA Post Editorial: The shaky foundation under Mr. Trump's wall
2. Matthew Yglesias: The delegate race
3. Erwin Chemerinsky: What If the Supreme Court Were Liberal?
4. Will Marshall and Ed Gerwin: Trade protectionism
5. Michael Scherer: Can America Learn to Love Ted Cruz?
6. Sally Kohn: Bernie Sanders Has Already Won His Revolution
7. Bryce Covert: Why Sanders' Claim That Clinton Isn't 'Qualified' Blew Up
8. Elizabeth Warren: Senate Republicans: Do your job
9. Jonathan Chait: Ted Cruz, While Better Than Trump, Would Be a Catastrophically Bad Nominee
10. Michelle Goldberg: Hard Choices - I used to hate Hillary. Now I'm voting for her
11. Paul Krugman: The Obamacare Replacement Mirage
12. Sen. Jeff Merkley (D-OR): Why I'm Supporting Bernie Sanders
1. Ryan Unintentionally Gives Clinton a Big Boost
The biggest beneficiary of Ryan's announcement yesterday (that he would not be a candidate for president) was Hillary Clinton and the Democrats. Why? Because Ryan is really the only major Republican out there who could be able to unite the party if there's a contested convention, especially with Trump's warning that 'I think you'd have riots' if such a convention were to result in anyone but him. The white knight has now been removed from the 2016 board. And the GOP's choices are essentially 1): Trump, 2) Cruz — with Trump and his supporters not going away quietly under that scenario; or 3) someone else who isn't Paul Ryan. -- First Read 4/13/16 Read more at http://www.nbcnews.com/politics/first-read/first-read-why-clinton-biggest-winner-ryan-s-no-go-n555266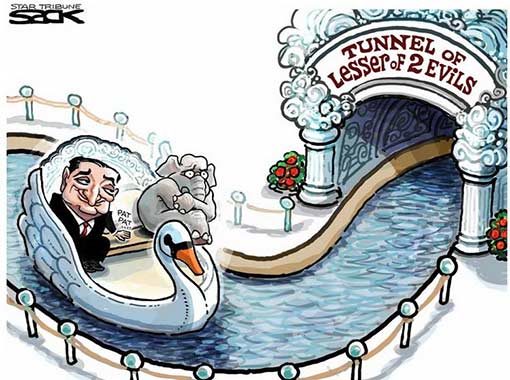 2. GunFAIL CLXXIX
62 guns were discovered by TSA agents at airports across the country, during the week of January 29-February 4, 2016.
The week of January 31st featured all the familiar GunFAIL categories, and all the familiar numbers. Twenty-three people accidentally shot themselves, ten kids were accidentally shot, seven people accidentally shot family members or significant others, five law enforcement officers (and one security guard) were involved in gun mishaps, five people  accidentally shot themselves while out shopping or dining (if drinking at the Bristol, CT Polish American Club counds as "dining"), and four people accidentally discharged their guns while cleaning them.
In other words, a pretty normal week.
Details on these and more are at http://www.dailykos.com/stories/2016/4/7/1477849/-Cop-My-FN-America-pistol-discharged-by-itself-FN-America-Want-a-free-gun-Jeb-GunFAIL-CLXXIX
3. The DAILY GRILL
"She continues to have a very, very hawkish foreign policy that has led to the rise and expansion of ISIS throughout the Middle East." -- Jeff Weaver, Sanders' campaign manager. 4/07/16

VERSUS

"Well, that is beyond absurd. You know, they're saying a lot of things these days, and I'm just going to let them say whatever they choose to say. But, you know, ISIS was primarily the result of the vacuum in Syria caused by Assad, first and foremost, aided and abetted by Iran and Russia. So I think that let's put responsibility where it belongs." -- Hillary Clinton responds. 4/10/16

 

"I predicted that the passage of this disastrous trade deal would make it easier, not harder, for the wealthy and large corporations to evade taxes by sheltering billions of dollars offshore. .... I wish I had been proven wrong about this, but it has now come to light that the extent of Panama's tax avoidance scams is even worse than I had feared." -- Senator Sanders news release. 4/05/16

VERSUS

"The Obama administration, backed by members of Congress, made it clear the free-trade deal — which Panama badly wanted, to match a deal between its Central American neighbors and the United States — hinged on a separate agreement granting U.S. tax authorities more access to Panama's financial system. The United States particularly insisted on plugging the "bearer shares" loophole. Panama agreed and changed its laws accordingly — Before the free-trade agreement reached the Senate and Mr. Sanders nevertheless voted "no," claiming, wrongly, that it would make the tax haven "worse." -- WA Post Ediorial Board

 

" The House version of the bill included a ban on semi-automatic assault weapons. Sanders had supported the ban since 1988." -- Sen. Bernie Sanders' campaign manager reiterating the senator's reasoning for voting in favor of the Clinton administration's 1994 Crime Bill despite serious reservations.2/25/16

VERSUS

"The House version of the bill, which passed the House that April and which Sanders has been criticized for voting for when he was a representative from Vermont, did not include an assault weapons ban." -- BuzzFeed 2/26/16

 

"She has been saying lately that she thinks that I am not qualified to be president. Well, let me, let me just say in response to Secretary Clinton: I don't believe that she is qualified if she is, if she is, through her super PAC, taking tens of millions of dollars in special interest funds. I don't think you are qualified if you get $15 million from Wall Street through your super PAC." -- Bernie Sanders (NOTE: President Obama, who was supported by super PACs, received over $15 million dollars from Wall Street.) 3/07/16

VERSUS

 "Hillary Clinton did not say Bernie Sanders was 'not qualified.' But he has now - absurdly - said it about her. This is a new low. Bernie Sanders, take back your words about Hillary Clinton." -- Clinton's press secretary Brian Fallon on Twitter 
4. From MEDIA MATTERS (They watch Fox News so you don't have to)
Fox's Bolling Criticizes Paid Family Leave: "Socialism Is Spreading Across America." Bolling: "You Don't Even Have To Be A Citizen ... You Can Just Come Across The Border And Get It"http://mediamatters.org/video/2016/04/07/foxs-bolling-criticizes-paid-family-leave-socia/209819

The "150 FBI Agents" Fiasco Isn't The First Time Anonymous Sources Have Burned Fox's Herridge, Facts Have Consistently Undermined Catherine Herridge's Unnamed Clinton Email Sources. http://mediamatters.org/research/2016/04/10/150-fbi-agents-fiasco-isnt-first-time-anonymous-sources-have-burned-foxs-herridge/209835

"How Many Times Do I Have To Say It, Chris?": Fox Can't Take Yes For An Answer On Clinton Emails. Fox's Chris Wallace Repeatedly Interrupts Obama Demanding "Guarantee" Of Evidence-Based Email Investigation http://mediamatters.org/video/2016/04/10/how-many-times-do-i-have-say-it-chris-fox-cant-take-yes-answer-clinton-emails/209841

Fox Pushes Conspiracy That Obama Is Protecting Clinton On Emails Due To "Personal Conflict" http://mediamatters.org/blog/2016/04/12/fox-pushes-conspiracy-obama-protecting-clinton-emails-due-personal-conflict/209891

Trump And NY Radio Host Simone Question Cruz's Eligibility To Run For President http://mediamatters.org/blog/2016/04/12/trump-and-ny-radio-host-simone-question-cruz-s-eligibility-run-president/209887

Trump Ally Roger Stone Writing Entire Book Alleging That The Clintons Secretly Murdered JFK Jr. Stone: JFK Jr. "Was Murdered By The Clintons Because He Was In The Way" http://mediamatters.org/blog/2016/04/12/trump-ally-roger-stone-writing-entire-book-alleging-clintons-secretly-murdered-jfk-jr/209885

Roger Stone Heavily Praised Author Who Claims Holocaust, Sandy Hook, And 9/11 Were Faked
http://mediamatters.org/research/2016/04/12/roger-stone-heavily-praised-author-who-claims-holocaust-sandy-hook-and-911-were-faked/209861
5. Trump Health Care Ideas Bewilder Experts
He would allow individuals to take tax deductions for insurance premium payments. But aides acknowledge that this tax break would not be worth much to people whose income is so low they pay little or nothing in federal income taxes. For them, Trump aides say, there would be Medicaid, which the billionaire businessman says he would not cut but would turn into a block grant to state governments."
"This whipsaw of ideas is exasperating Republican experts on health care, who call his proposals an incoherent mishmash that could jeopardize coverage for millions of newly insured people. But for Mr. Trump's campaign, such criticism appears only to bolster the candidate's outsider status." 4/08/16 Read more at http://nyti.ms/23hl880
6. Late Night Jokes for Dems
"Some people are blaming Donald Trump's loss in Wisconsin on the fact that he made fun of Ted Cruz's wife with a photo on Twitter. Trump said he regrets the decision and wishes he had used Instagram." –Conan O'Brien

"While campaigning in Wisconsin, Ted Cruz refused to wear the traditional Wisconsin 'Cheesehead.' Ted Cruz said the Cheesehead would compromise the dignity that he one day hopes to have." –Conan O'Brien

"My point is that Chris Christie eating M&Ms isn't something that should go viral. It's basically what we expect. Like nobody would get excited if they caught Bernie Sanders cutting his own hair in a bus station bathroom. It's just what he does." –James Corden

"Donald Trump is polling so badly with women that at a rally last night, he had his wife, Melania, introduce him. Because if there's one thing that's guaranteed to get American women on your side, it's a foreign model who's married to a billionaire and never has to work." –Conan O'Brien

"Donald Trump said yesterday that acting more presidential would make his campaign 'boring as hell.' Though if he gets elected, I suppose 'boring' is the best version of hell we can hope for." –Seth Meyers

"Donald Trump told The Washington Post that he'll be able to get the United States completely out of debt in eight years. When asked how, Trump was like, 'Easy, declare bankruptcy and start fresh! It's fantastic. I've done it already. It's amazing.'" –Jimmy Fallon

"Hillary Clinton said on 'Meet the Press' yesterday that the FBI has not reached out to schedule an interview with her regarding her private email server. When asked how she'd respond to such a request, Hillary said, 'Oh, I'd delete it.'" –Jimmy Fallon

"Members of Bernie Sanders' campaign staff say they regret not reaching out to black voters earlier. They also regret that, when they did reach out to black voters, it was to ask if they could touch their hair." –Conan O'Brien

"Bernie Sanders said today that none of the ideas he's proposed in his campaign are radical or unrealistic other than, of course, the idea of a 74-year-old Jewish president with a $2 haircut." –Seth Meyers

"A man was arrested on Friday by Secret Service officers for climbing over the White House fence. 'I just wanted to see the Oval Office,' said Jeb." –Seth Meyers
7. From the Late Shows
Full Frontal with Samantha Bee: Cruz 101

https://www.youtube.com/watch?v=cMgaqhTZBlg&feature=youtu.be

"The Daily Show" with correspondent Jessica Williams: The Trans-Panic Epidemic

http://www.cc.com/video-clips/cmx8r6/the-daily-show-with-trevor-noah-the-trans-panic-epidemic

Late Night with Seth Meyers: Long Lines at the Wisconsin Primaries: A Closer Look

https://www.youtube.com/watch?v=fHxSfs7GfdY

The Late Show with Stephen Colbert: Department Of Environmental, You're Fired

SNL Politics Nation: Voter I.D. Disaster + Black Voter Approval Ratings

https://www.youtube.com/watch?v=0LsKtCqf8gI

SNL Cold Open: Hillary Clinton Addresses Her Losing Streak

https://www.youtube.com/watch?v=ZwQkBfBs958&feature=youtu.be
8. Gov. John Kasich super PAC's new TV Ad: Ted Cruz & New York Values
https://www.youtube.com/watch?v=KkK-39fdWDk
9. GOP's War Against Gays (Cont.): MS Governor Signs Anti-LGBT 'License To Discriminate' Bill Into Law
Mississippi Gov. Phil Bryant (R) has signed into law a "religious liberty" bill that could be used to justify various forms of discrimination, including anti-LGBT discrimination. The bill, SB 2681, was approved by the legislature earlier this week after being a conference between the House and Senate. It differs from other state's "Religious Freedom Restoration Acts" (RFRAs) because Mississippi law defines the word "person" to include businesses, and thus it applies to corporations instead of just private citizens exercising their religious beliefs.
Mississippi's law would, for example, allow a church group to decline housing or adoption services to gay couples. Private businesses could refuse marriage-related services such as room rentals, cakes, photography or flowers. Any employer or school could refuse to allow a transgender person to use the bathroom of their choice. 4/03/16 Read more at http://thinkprogress.org/lgbt/2014/04/03/3422822/mississippi-governor-signs-anti-lgbt-license-to-discriminate-bill-into-law/
10. "Hiding, Secret and Shell," a cartoon by MarkFiore
11. Boston Globe's Fake Front Page Imagining A Trump Presidency
The Globe's predicted results to Trump's policies (the potential for riots, markets crashing, and the military refusing to obey Trump's orders ) don't seem too far off from reality: Deporting 11 million unauthorized immigrants would likely cause a lot of social unrest in the US, and Trump has explicitly called for violence at his rallies. Imposing taxes on foreign goods if Trump can't get the trade deals he wants would very likely hurt the economy. And former CIA Director Michael Hayden warned that the military really would ignore Trump's orders to go directly after the relatives of ISIS members and other terrorists. Read the full front page at https://assets.documentcloud.org/documents/2797782/Ideas-Trump-front-page.pdf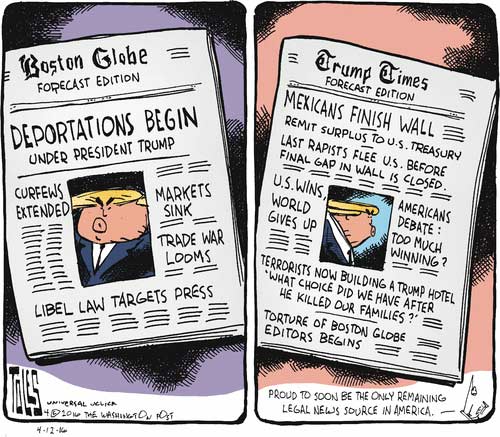 12. Reuters/Ipsos poll: Blocking Trump could hurt Republicans in election
A third of Republican voters who support Donald Trump could turn their backs on their party in November's presidential election if he is denied the nomination in a contested convention, according to a Reuters/Ipsos poll.
The results are bad news for Trump's rivals as well as party elites opposed to the real estate billionaire, suggesting that an alternative Republican nominee for the Nov. 8 presidential race would have a tougher road against the Democrats.
"If it's a close election, this is devastating news" for the Republicans, said Donald Green, an expert on election turnout at Columbia University. http://www.reuters.com/article/us-usa-election-republicans-poll-idUSKCN0X60B3
13. The Borowitz Report: Clinton Campaign Accuses Sanders of Trying to Win Nomination
The war of words between the two Democratic camps heated up over the weekend, as the Clinton campaign accused Vermont Senator Bernie Sanders of "blatantly attempting to win the Democratic nomination for President."

Appearing on NBC's "Meet the Press," the Clinton campaign spokesman Harland Dorrinson said that Sanders's actions in the past few weeks "left little doubt as to what his true intentions are—namely, to be the Party's nominee."

"He's been raising money, he's been running in primaries, and, yes, he's been winning caucuses," the Clinton aide said. "It's time for Bernie Sanders to come clean with the American people and admit what he's really up to."

"It's deeply troubling that what appeared at first to be a purely symbolic candidacy has turned into something else entirely," he said.

ELSEWHERE: No one in the United States has taken note of the total disappearance of New Jersey Governor Chris Christie, who vanished from view several weeks ago.

At the University of Minnesota, the historian Davis Logsdon said it was "highly unusual" for a governor of such a major state to simply drop off the radar without anyone noticing.

"Chris Christie's disappearance raises a whole host of questions," he said. "Where did he go? When did he leave? Does he plan to come back? To be honest with you, I don't care." Read more at http://www.newyorker.com/humor/borowitz-report/
14. Clinton donates millions to strapped Democratic Party
The Democratic National Committee began the presidential election year almost $1 million in the hole — a bad situation that would have been even worse without the millions of dollars in fundraising that Clinton's campaign sent its way.
That kind of assistance makes Clinton unique in the 2016 presidential field. No one else, Republican or Democrat, is raising money for his or her party at this early stage, including her Democratic rival, Sen. Bernie Sanders. 2/18/16 Read more at http://kxan.com/2016/02/18/clinton-bid-a-financial-boon-for-strapped-democratic-party/
1. WA Post Editorial: The shaky foundation under Mr. Trump's wall
Contrary to Mr. Trump's rhetoric, Mexico is a friendly neighbor, whose cooperation with Washington on bilateral issues is vital to North American prosperity. Mexico's help in interdiction was key to the Obama administration's efforts to stanch the wave of Central American youths heading toward the United States in summer 2014. Mexican authorities work closely with U.S. counterparts on cross-border trucking and trade, drug and human trafficking, and money laundering, among other issues.
If U.S. officials have not always thought Mexico's efforts were adequate, imagine what level of cooperation they could expect after a Trump administration declared economic war to extort a sum for a wall Mr. Trump prices at "$5-10 billion," but other estimates peg as high as $25 billion.
Separately Mr. Trump has vowed to deport every immigrant who is here illegally. It seems problematic to suppose Mr. Trump could block remittances from people who would no longer be in the country to transmit them. Legal experts say it would be difficult for Mr. Trump to use the USA Patriot Act, as he proposes, to block money transfers. And distinguishing transfers by legal immigrants from those by illegal ones would pose massive administrative challenges.
Illegal crossings at the United States' southwestern border are near a 40-year low, and since 2009 more Mexican immigrants have been leaving the country than entering it. What's more, a third of illegal immigrants enter the country as legal ones, then overstay their visas. Mr. Trump's plan to extort Mexico in the vain hope that a white elephant of a wall would "solve" illegal immigration is fanciful, naive and reckless, aimed more at exciting his base than grappling seriously with problems. But then, so is Mr. Trump's entire campaign. 4/09/16 Read more at https://www.washingtonpost.com/opinions/donald-trumps-mexican-wall-fantasy/2016/04/09/c3bdccc4-fdad-11e5-80e4-c381214de1a3_story.html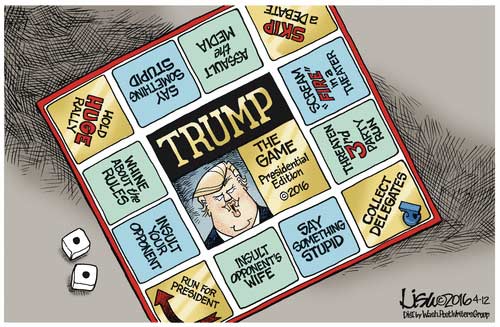 2. Matthew Yglesias: The delegate race
"The good news for Bernie Sanders is that he won Wisconsin… The bad news for Sanders is that in doing so he likely fell even further behind the pace he needs to capture the Democratic nomination.
To Sanders fans, this naysaying is just more evidence of the anti-Bernie bias in the media.
The truth is exactly the opposite. The media has a systematic self-interested bias toward exaggerating how close the race is. Sanders supporters are a minority of Democrats, but they are still a large number of people, and they avidly read and share content about Sanders's big fundraising hauls and his wins in low-population states.
Television networks want people to tune in to their debates and town halls, which they are much more likely to do if they think something is at stake. And Sanders's big fundraising has been transformed into big advertising dollars, which is literally money in the pockets of media companies.
The media loves Bernie Sanders!
And so do millions of voters. But somewhat more voters like Hillary Clinton, which is why she's been ahead of him in national polls from the beginning and why he keeps falling further and further short of the delegate totals he needs to win. http://www.vox.com/2016/4/6/11377008/wisconsin-results-sanders-delegate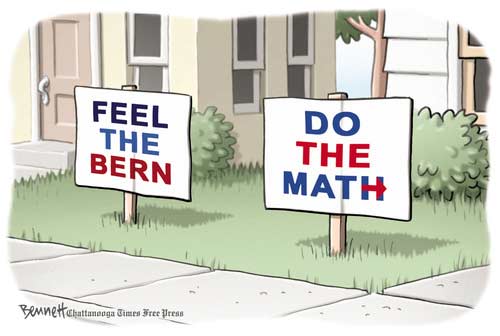 3. Erwin Chemerinsky: What If the Supreme Court Were Liberal?
Since 1970, the year Harry Blackmun received Senate confirmation, there always have been at least five justices appointed by a Republican president on the Court. If Merrick Garland is confirmed to replace Antonin Scalia, he will join Ruth Bader Ginsburg, Stephen Breyer, Sonia Sotomayor, and Elena Kagan as Democratic appointees to the high Court.
With a possible Merrick Garland confirmation and the prospect of another Democrat in the Oval Office, the left can't help but dream about an ideal judicial docket: abortion rights, voting rights, campaign finance…
The possibility of five or six Democratic justices allows one to imagine what might be done in other areas. Might the Court find a constitutional right to education and conclude that disparities in school funding violate the Constitution? Might the Court find that the racial injustices in the criminal-justice system violate equal protection? For so long, progressives have had to focus primarily on keeping the Court from overturning precedents and limiting rights. Justice Scalia's death and the coming presidential election allows liberals to dream of how much a different Court could do to advance liberty and justice for all. 4/06/16 Read more at http://www.theatlantic.com/politics/archive/2016/04/what-if-the-supreme-court-were-liberal/477018/
4. Will Marshall and Ed Gerwin: Trade protectionism
In this campaign season of populist anger and demagoguery, bad ideas are bubbling to the surface like marsh gas. Among the worst is protectionism, which would wreak havoc on a U.S. economy that's finally picking up steam.
Among economists, there is widespread agreement that open trade is a significant net plus for the U.S. economy, providing broadly shared benefits for consumers, workers, and businesses. Trade's negative impacts, on the other hand, tend to be concentrated, harming specific sectors and their workers. Protectionist policies like those offered by Trump and Sanders would effectively turn this dynamic on its head—benefitting the few, while harming the many.
Smart, high-standard trade agreements, on the other hand, can—as part of a broader, progressive pro-growth strategy—help spur the economic investment and innovation we need to rebuild the middle class and restore shared prosperity.
While many Americans are angry, most recognize the futility of trying to unplug our economy from connected global markets. They understand that economic isolation and protectionism will hardly bring about a "revolution" or "make America great again." Instead, by a significant majority, Americans see trade as an "opportunity." It's time to seize trade's opportunity to stimulate economic growth that works for everyone. 4/11/16 Read more at http://www.thedailybeast.com/articles/2016/04/11/donald-trump-and-bernie-sanders-are-delusional-on-trade-policy.html
5. Michael Scherer: Can America Learn to Love Ted Cruz?
Republicans now face an extraordinary and painful choice: Which flawed, disliked flag bearer do they want to go into battle against Hillary Clinton? The Cruz path promises a return to the purity of Barry Goldwater, Ronald Reagan's broad-shouldered muscle and the idealism of Ayn Rand. The Trump path leads to uncharted territory of conflict and possible realignment, where a self-described great man promises to do great things beyond the reach of ideology or history because of a great instinct honed by great real estate moxie. The two men have stood 11 times on the same debate stage, but they don't speak anything like the same language. The choices are as stark as any in history at this point in the process: Free-market purism or disruptive trade wars. Dismantle the federal entitlement system or strengthen the Social Security safety net. Return to American dominance on the world stage or threaten withdrawal from South Korea and NATO. End federal funding for Planned Parenthood or defend the women's health group. Then there is Trump's plan to force the relocation of 11 million people.
In his brief Senate career, Cruz seemed to go out of his way to make enemies, fundraising for groups that oppose incumbent Republicans, leading a hopeless charge in 2013 to shut down the government in the name of repealing Obamacare and objecting to procedural moves that would have prevented Republicans from taking difficult votes to raise the debt ceiling. In 2015, he took to the Senate floor to call Republican leader Mitch McConnell a liar. (In reply, McConnell sent word to the GOP lobbying class that they supported Cruz at their peril.) Cruz's home-state colleague, Texas Senator John Cornyn, has pointedly refused to offer an endorsement, even after Cruz won 44% of the state's primary vote, nearly 17 points more than the second-place Trump. At the same time, in a sign of the conflict, Cruz has warned his colleagues that "voters are upset" and that if the Establishment is seen "undercutting their will, that could be a powder keg."
The prospect of four days of televised political chaos has led GOP chairman Reince Priebus to move in recent days to take back his party. Republican governors in 31 states have been challenged by party leaders to try to get control of these delegations now and seed them with seasoned loyalists. Local party bigwigs and lobbying groups are leaning on the GOP governors to put some muscle into the effort. http://time.com/4284790/learning-to-love-ted-cruz/
6. Sally Kohn: Bernie Sanders Has Already Won His Revolution
Whatever the outcome of his presidential nomination bid, I suspect one of the lasting impacts the Sanders campaign will have on American politics and activism is the increasing willingness of political leaders and ordinary Americans to more proudly claim bold left positions. Think of it as freeing your own Bern.
According to polls, millennials today view socialism more favorably than capitalism, as do the majority of Democrats. Other polling suggests that more than one-third of Americans as a whole view socialism positively overall.
Somewhere in the midst of this, Sanders plays an important bridging role—simultaneously suggesting to radical left activists that they can and should try to connect their ideas in the mainstream, while showing more mainstream liberals that expressing more left positions is not self-destructive but may, in fact, create new openings for both voter enthusiasm and policy leadership that centrist liberalism had foreclosed.
I suspect it's particularly in the latter category that Sanders' lasting impact will be most felt, among those mainstream Democratic political figures who undoubtedly all along support marriage equality but were afraid to say so and only just recently "evolved," or who actually think deficit spending in a down economy is a good thing but feel they have to public prostrate otherwise, or who think that a shrinking American military is very much a good thing especially given the reality of how much damage and insecurity our bloated military has caused in recent decades. No longer will liberals feel the need to tamper any radical views in "polite conversation." And no longer will more radical progressives feel there is no place for them in mainstream political leadership.
As for me, I probably am more of a democratic socialist than I'd previously even thought to acknowledge. I also might be more in favor of ostensibly open borders and against what we know of as policing today, though I'm really not sure, but I'm sure wrestling with these questions now more than ever. That's thanks in large part to the social movements that have pushed me on these issues. And it's also thanks to Bernie Sanders, who has opened up new space for a popular, populist left in America.
Here's to more and more of us freeing our own Bern. 4/05/16 Read more at http://time.com/4280924/bernie-sanders-revolution/
7. Bryce Covert: Why Sanders' Claim That Clinton Isn't 'Qualified' Blew Up
Talking to a rally in Philadelphia, Democratic presidential candidate Bernie Sanders on Wednesday rolled out a new talking point against his rival Hillary Clinton: that she's not qualified to be president.
Research has found time and again that women's abilities are consistently discounted compared to men's, even when they look nearly identical.
The Sanders campaign has stumbled into gendered language controversies before. Terms that may seem like standard campaign fare become problematic or volatile when lobbed at women. Even though Sanders wasn't necessarily intending to be sexist, certain words or portrayals triggerpredisposed notions about how women should or should not behave.
Take one example just a day before Sanders' controversial speech in Philadelphia. His campaign manager, Jeff Weaver, warned that Clinton's campaign shouldn't "destroy the Democratic Party to satisfy the Secretary's ambitions to become president." The offhand remark cast Clinton's ambition in a negative light, something that constantly happens to women who act assertively or ambitiously in the workplace and find themselves penalized for it. They face a backlash if they self-promote or behave aggressively in negotiations. Women's feedback is far more negative if they're seen as coming on too strong.
In November, Sanders also came under fire for repeating a line he often used before in a more general context, that people were "shouting at each other" about gun control. But when he directed that same "shouting" comment specifically at Clinton in a debate, he again played into a negative stereotype that women face. Women who speak up in normal tones are often told they are being abrasive or aggressive.
By and large, these biases that confront women working to advance their careers are unconscious and are held by men and women alike. But they still have ramifications. They are part of why so few women can be seen at the top of businesses or in influential positions. Discounting their abilities and reacting strongly to the same tactics that help men get ahead leads directly to women being overlooked and stuck at the bottom. 4/07/16 Read more at http://thinkprogress.org/economy/2016/04/07/3767463/sanders-clinton-not-qualified/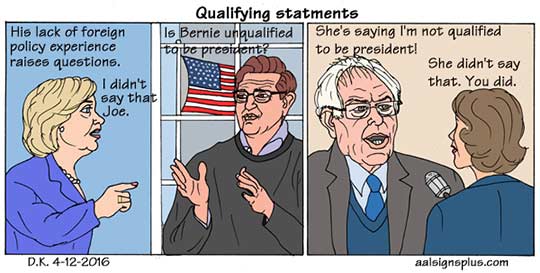 8. Elizabeth Warren: Senate Republicans: Do your job
Barack Obama won two consecutive elections and has been president for seven years. But since the first day of his presidency, Republican leaders have rejected his legitimacy and abused the rules of the Senate in an all-out effort to cripple the government under his leadership.
For seven years, through artificial debt ceiling crises, deliberate government shutdowns, and intentional confirmation blockades, Senate Republicans have acted as though the election and reelection of Obama relieved them of any responsibility to do their jobs. Senate Republicans embraced the idea that government shouldn't work at all unless it works only for themselves and their friends. The campaigns of Donald Trump and Ted Cruz are the next logical outgrowth of the same attitude — if you can't get what you want, just ignore the obligations of governing, then divert attention and responsibility by wallowing in a toxic stew of attacks on Muslims, women, Latinos, and each other.
If Senate Republicans don't like being forced to pick between a bullet and poison, then here's some advice: Stand up to extremists in the Senate bent on sabotaging our government whenever things don't go their way. Respect the oath you took to uphold and defend the Constitution. Show some courage and put that oath ahead of party politics. Do your job — and start by considering the president's nomination to the Supreme Court. 4/07/15 http://www.bostonglobe.com/opinion/2016/04/07/senate-republicans-your-job/tnb51cdpBAr77cRCh5ULbJ/story.html
9. Jonathan Chait: Ted Cruz, While Better Than Trump, Would Be a Catastrophically Bad Nominee
Donald Trump would probably be the worst candidate any major party has ever nominated — grossly uninformed, disorganized, personally and ideologically repellent to a majority of the public, and so unreliably attached to its core agenda he could potentially blow the party apart. Ted Cruz would be a much better choice. But there is a huge gap between "much better" and "good." Cruz would not be a good nominee. He'd be very, very bad.
As the electorate has hardened into polarized camps, with the Democratic camp growing slowly every four years through cohort replacement, Republicans face a strategic challenge to broaden their appeal to the presidential electorate. Several potential strategies have emerged. They can try a targeted appeal to Latino and Asian-American voters by embracing immigration reform; they can soften their stance on gay rights and other social issues; they can move to the center on economics by redirecting their attention from reducing taxes on the rich to problems faced by the working class; or they could simply find a likable pitchman to make their old policies appear less threatening.
Cruz has closed off all of these strategies. He is weighted down by all of the liabilities that any standard Republican candidate would bring to the general election. He advocates for a huge tax cut for the rich andderegulation of Wall Street, and would eliminate the Clean Power Plan and take away health insurance from some 20 million people who've gained it through Obamacare. He has defined himself as more militant and uncompromising than any other Republican in Congress, and many of his fellow Republican officeholders have depicted him as a madman. This is a broad heuristic — Ted Cruz is the candidate whose main reservation with the Republican Party is that it's too thoughtful and compromising. This definition colors Cruz's public image and accounts for high unfavorable ratings despite a relatively brief time on the public stage. 4/07/16 Read more at http://nymag.com/daily/intelligencer/2016/04/ted-cruz-would-be-a-catastrophically-bad-nominee.html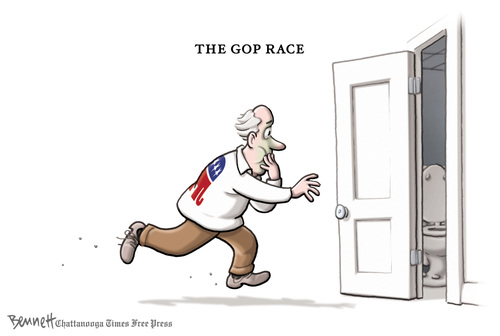 10. Michelle Goldberg: Hard Choices - I used to hate Hillary. Now I'm voting for her.
It was easier to write about Hillary Clinton when I hated her.
Empathizing with Clinton, however, is a painful business. It means wincing along as she endures yet another round of public humiliation, another batch of stories about women's indifference to her feminist appeal, another explosion of punditry about her lack of charisma. It means being constantly reminded that people on the left as well as the right find aging women pathetic. It means watching the Sanders phenomenon, in most ways a hugely welcome renaissance of American socialism, with dread as well as delight. There was no shame for Clinton in losing to Obama. But the fact that she's fighting for her political life against Sanders, a man who initially joined the race more to make a statement than to contend for power, is a mortifying public rebuke.
There's no way to know how much of this rebuke is about Clinton the individual, and how much about Clinton the woman. Al Gore endured similar media derision over his inability to fake authenticity. He was scorned by progressives who were convinced that legions of non-voters were prepared to rally behind Ralph Nader. But the fact that Clinton is the first woman to have a conceivable chance of winning the presidency gives the contempt with which she is treated an extra sting. She's contorted herself so many times to meet the shifting demands our culture makes of women in public life. I understand why so many now see her as someone who can't be trusted. But I've also come to understand the forces that made her that way. http://www.slate.com/articles/double_x/doublex/2016/02/why_one_feminist_woman_is_voting_for_hillary_clinton_over_bernie_sanders.html
11. Paul Krugman: The Obamacare Replacement Mirage
Hype springs eternal — certainly when it comes to Paul Ryan, whose media image as a Serious, Honest Conservative and policy wonk seems utterly impervious to repeated demonstrations that he is neither serious nor honest, and that he actually knows very little about policy. And here we go again.
But what really amazes me about the latest set of stories is the promise that Ryan will finally deliver the Republican Obamacare alternative that his colleagues in Congress have somehow failed to produce after all these years. No, he won't — because there is no alternative.
Or maybe I should say that there is no alternative to the right. Alternatives to the left do exist. True socialized medicine — an American NHS — would be feasible economically; so would single-payer, in the form of Medicare for all. The reasons we aren't doing those are political.
But on the right, is there a more free-market, more privatized system that could replace the Affordable Care Act without causing the number of uninsured to soar? No, as some of us have tried to explain many times. 4/11/16 Read more at http://nyti.ms/25UuTrE
12. Sen. Jeff Merkley (D-OR): Why I'm Supporting Bernie Sanders
Bernie is a determined leader in taking on the concentration of campaign cash from the mega-wealthy that is corrupting the vision of opportunity embedded in our Constitution.
And he has been unflinching in taking on predatory lending, as well as the threats to our economy from high-risk strategies at our biggest banks.
It has been noted that Bernie has an uphill battle ahead of him to win the Democratic nomination. But his leadership on these issues and his willingness to fearlessly stand up to the powers that be have galvanized a grass-roots movement. People know that we don't just need better policies, we need a wholesale rethinking of how our economy and our politics work, and for whom they work.
The first three words of the Constitution, in bold script, are "We the People." The American story is a journey of continuous striving to more fully realize our founding principles of hope and opportunity for all.
It is time to recommit ourselves to that vision of a country that measures our nation's success not at the boardroom table, but at kitchen tables across America. Bernie Sanders stands for that America, and so I stand with Bernie Sanders for president. 4/13/16 Read more at http://www.nytimes.com/2016/04/13/opinion/why-im-supporting-bernie-sanders.html