April 1, 2021
ON THE RECORD. . .
Senate Minority Leader Mitch McConnell asserted that proposed pro-democracy legislation was a "power grab" by Democrats while at the same time denying that state-level GOP lawmakers are pushing voter suppression measures nationwide.

"It has nothing to do with fairness, nothing to do with decency. They passed the law saying you can't provide water for people standing in line while they're waiting to vote? You don't need anything else to know that this is nothing but punitive, designed to keep people from voting. You can't provide water for people about to vote? Give me a break." — President Joe Biden on Georgia's new voting law.

"Some of them went in and they're — they're hugging and kissing the police and the guards. You know, they had great relationships. A lot of the people were waved in, and then they walked in and they walked out." —Trump complained to Fox News Channel's Laura Ingraham that law enforcement was now "persecuting" the Capitol rioters, hundreds of whom have been arrested, while "nothing happens" to left-wing protesters.

When you hear recall proponents yap about Newsom's handling of the pandemic, or homelessness, or the unemployment compensation snafu, it isn't really about any of that. It's a blatant partisan maneuver by desperate Republicans. They've demonstrated they can't get to the governor's office through the front door, so they're trying to force their way in through the back door again. — Garry South for the LA Times

In court records of people arrested in the wake of the Capitol insurrection, 68% reported they had received mental health diagnoses. The conditions they revealed included post-traumatic stress disorder, bipolar disorder, paranoid schizophrenia and Munchausen syndrome by proxy . — Raw Story

"Georgia is roughly where Virginia was a decade ago: Republicans still control state government and may be able to redistrict the state to their liking one last time…but long-term/demographically, the writing is kinda on the wall." — Cook Political Report's Dave Wasserman on Twitter.

Mitch McConnell called the For the People Act a "power grab." This is a bill that stops voter suppression and ends gerrymandering. How depraved do you have to be to insist that more people voting is somehow a power grab? What sort of anti-democratic garbage is that? — Public Citizen@Public_Citizen

"I own an AR-15. If there's a natural disaster in South Carolina where the cops can't protect my neighborhood, my house will be the last one that the gang will come to, because I can defend myself." — Sen. Lindsey Graham (R-SC), on Fox News.fantasizing about slaughtering desperate people instead of acting as a leader to secure the health and safety of his constituents.

As a result of the voter fraud lawsuit he'll soon be filing, "Donald Trump will be back in office in August. — MyPillow CEO Mike Lindell on to Steve Bannon on Real American Voice network.

"To come out and say that everybody was fine and there was no risk is just — that's manifestly false. People died. Other people were severely injured. To say there was no risk is just wrong." — Former White House chief of staff Mick Mulvaney saying former President Trump's recent comments on the Jan. 6 riot at the Capitol "manifestly false."

"Democrats think we'd be better off if more murderers and rapists and child molesters were voting." — Sen. Ted Cruz (R-Tex.) on Fox News's "Sunday Morning Futures."

"The psychological burdens of being detained pending trial are very real for Mr. Young.  Since he has no previous experience with the criminal justice system, being detained is taking an extremely high toll on his mental well-being." — Defense attorney Robert Foley for Graydon Young, who with 9 other members of the Florida Chapter of the Oath Keepers, "planned with each other, and with others known and unknown, to forcibly enter the Capitol."

Happy to announce that NC-11 was awarded grants from the U.S. Department of Health & Human Services. Appalachian Mountain Community Health Centers was given $2,458,000. Western North Carolina Community Health Services Inc. was given $4,622,375. — Rep. Madison Cawthorn (R-NC) tweet touting some funds that community health centers in his district will be receiving ― even though he voted against the legislation that made the money possible,"

Now, two and half months after leaving the White House, have Trump's legal fortunes miraculously improved? In a word, no. In three words, hell fuck no. In 19 words, the 45th president of the United States should probably just resign himself to the prospect of going to prison. -- Bess Levin

VIDEOS

On Friday MSNBC's "Morning Joe" opened with a revealing supercut showing the stark difference between President Joe Biden's confident leadership and his predecessor's divisive lies.

Videos of Republicans arguing against DC Statehood:

The Heritage Foundation's Zack Smith, arguing against DC statehood, says DC residents "already impact the national debate" because members of Congress see their yard signs while driving to work.

Here is Republican Rep. Jody Hice arguing against D.C. statehood because it doesn't have a landfill, airport, or car dealership (actually, it does have a car dealership)..

Here is Republican Rep. Glenn Grothman arguing that D.C. should not get statehood because it has insufficient manufacturing, agriculture, mining, and drilling.
REMINDER: Just Security is continuing to track every pending criminal and civil case against Donald Trump.
---
IN THIS ISSUE
IN THE NEWS
OPINION
Andy Borowitz: Georgia to Allow Some Voting in Certain Situations
Republicans in the Georgia Senate passed a new bill that would allow some voting in certain situations.

Senator Harland Dorrinson, who sponsored the bill, said that the legislation stopped short of other Republican proposals that would have banned voting altogether, but was still "a good step forward."

"Under this bill, voting in Georgia will be legal but rare," he said. "This legislation will stop the runaway growth in voting."

Dorrinson said that the bill would prevent a repeat of what happened during the January runoffs, when "voting was allowed to spiral out of control."

"People were voting as if it were their right," he said. https://www.newyorker.com/humor/borowitz-report/
Dominion Voting Systems Builds Legal Behemoth to Drain Trumpland of Billions
With billions of dollars in lawsuits now in the balance, Dominion Voting Systems has quietly expanded its legal armada in recent days, as the election technology company goes after Trumpworld and conservative media giants.
Dominion expanding its legal team is the latest effort to punish leading players in the months-long propaganda push to trash the company and baselessly assail the results of the 2020 U.S. presidential contest.
Other conservative media outlets including Newsmax and One American News Network—also aired post election conspiracy theories and are among the top targets for Dominion's next round of lawsuits, according to two people familiar with the matter.
Some of the targets or potential targets of Dominion's legal wrath have run for cover, or even resorted to deleting articles or covering their tracks. Others have remained reliably defiant, claiming that a court battle and the discovery that comes with it would lead to humiliation for Dominion instead.
People familiar with the matter say that the company's legal team still hadn't ruled out going after ex-President Trump specifically, but that no final decision had been made yet on if they wanted to open up that can of worms on the former leader of the free world. During his time in office, Trump personally promoted the same kinds of conspiracy theories and lies that the voting-tech executives and their attorneys now claim substantially and groundlessly damaged their business and has put them in danger via numerous death threats. https://www.thedailybeast.com/dominion-builds-legal-behemoth-to-drain-trumpland-of-billions
Florida COVID numbers face new scrutiny
New research published earlier this month in the American Journal of Public Health argues that Florida is undercounting the number of people who died from COVID-19 by thousands of cases, casting new doubt on claims that Gov. Ron DeSantis navigated the coronavirus pandemic successfully. https://www.yahoo.com/now/florida-covid-numbers-face-new-scrutiny-090058319.html
Matt Gaetz Is Said to Face Justice Dept. Inquiry Over Sex With an Underage Girl
Rep. Matt Gaetz (R-FL) is being investigated by the Justice Department over whether he had a sexual relationship with a 17-year-old and paid for her to travel with him. https://www.nytimes.com/2021/03/30/us/politics/matt-gaetz-sex-trafficking-investigation.html
Former Trump aides aren't necessarily happy to see Rep. Matt Gaetz (R-FL) in trouble, but they "feel a little vindicated," Insider reports. Said one: "He's the meanest person in politics."
Republicans seek to make vaccine passports the next battle in the pandemic culture wars
Republicans are opening a new front in the pandemic culture wars, attacking efforts by the Biden administration to develop guidelines for coronavirus vaccination passports that businesses can use to determine who can safely participate in activities such as flights, concerts and indoor dining.
The issue has received an increasing amount of attention from some of the party's most extreme members and conservative media figures, but it has also been seized on by Republican leaders like Florida Gov. Ron DeSantis, who is considered a potential 2024 presidential candidate.
"We are not supporting doing any vaccine passports in the state of Florida," DeSantis said Monday. "It's completely unacceptable for either the government or the private sector to impose upon you the requirement that you show proof of vaccine to just simply be able to participate in normal society."
Other Republicans have used more inflammatory rhetoric, with Rep. Marjorie Taylor Greene (R-Ga.) calling the passport idea "Biden's Mark of the Beast" and some conservative activists comparing it with Nazi policies to identify Jews. https://www.washingtonpost.com/politics/biden-vaccine-passports-desantis/2021/03/30/eeb41124-9171-11eb-9668-89be11273c09_story.html
Democrats Look at Lowering Medicare Eligibility Age in Healthcare Package
Congressional Democrats and the Biden administration are planning another round of healthcare initiatives that could include lowering the Medicare eligibility age, following their major expansion of the Affordable Care Act this year.
Democrats are still negotiating over which healthcare policy elements could be in the second of two spending programs the administration plans to unveil soon, according to congressional aides and industry groups.
The package is likely to contain measures to reduce drug prices and expand health coverage, lawmakers said. Proposals to expand Medicare eligibility from age 65 to 60 and to enable the federal government to negotiate drug prices in the health program for seniors—both of which President Biden supported on the campaign trail—are also likely to be included. https://www.wsj.com/articles/democrats-look-at-lowering-medicare-eligibility-age-in-healthcare-package-11617109207
Capitol riot suspect wore 'I Was There' shirt when arrested
Prosecutors say that when officers arrested a Capitol riot suspect at his Dallas home, he was wearing a T-shirt with "I Was There, Washington D.C., January 6, 2021" emblazoned on it. https://apnews.com/article/garrett-miller-capitol-riot-wore-i-was-there-shirt-b393f63484444463a459aa6998a78a7f
Schumer and Gillibrand lobby to restore lost deductions
U.S Senate Majority Leader Charles Schumer and U.S. Senator Kirsten Gillibrand introduced legislation in the new Congress to eliminate the $10,000 cap on the State and Local Tax (SALT) deduction starting in 2021. The proposal would allow taxpayers to fully deduct their state and local taxes on their federal income returns. In 2017, the deduction was capped at $10,000 and resulted in a tax increase for many middle-class families. http://timeshudsonvalley.com/stories/schumer-and-gillibrand-lobby-to-restore-lost-deductions,23697
The GOP's new power centers
Democrats control Washington, but Republicans have a mighty counterweight that gets little attention: dominance in the states and the courts.
The GOP controls a majority of statehouses and state legislatures + more state Supreme Court justices lean Republican than Democrat. All of this is backed by Republican-appointed majorities on federal appeals courts and the U.S. Supreme court. 
That one-two punch gives Republicans domain over a huge swath of America's governing system, including power over voting laws and the redistricting of House seats, plus the ability to use state courts to their advantage. https://www.axios.com/republicans-democrats-voting-courts-states-ea4183f9-4834-4c93-b125-1ad424605894.html
SolarWinds hack got emails of top DHS officials
Suspected Russian hackers gained access to email accounts belonging to the Trump administration's head of the Department of Homeland Security and members of the department's cybersecurity staff whose jobs included hunting threats from foreign countries, The Associated Press has learned.
The intelligence value of the hacking of then-acting Secretary Chad Wolf and his staff is not publicly known, but the symbolism is stark. Their accounts were accessed as part of what's known as the SolarWinds intrusion, and it throws into question how the U.S. government can protect individuals, companies and institutions across the country if it can't protect itself. https://apnews.com/article/solarwinds-hack-email-top-dhs-officials-8bcd4a4eb3be1f8f98244766bae70395
Georgia Voting Law Punished Their Secretary Of State For Defying Trump
Georgia Republican election official Gabriel Sterling told CNN on Saturday that the state's new restrictive voting law was also motivated by revenge against Brad Raffensperger, the official who defied Donald Trump over his false claims of election fraud.
The hugely controversial law signed by Republican Gov. Brian Kemp on Thursday creates stricter voter identification requirements for absentee balloting, limits drop boxes for ballots, imposes shorter early voting hours and makes it a crime to offer food or water to voters waiting in line at the polls.
The law also strips Georgia's secretary of state, Brad-Raffensperge, of his role as chief elections officer. https://www.huffpost.com/entry/gabriel-sterling-brad-raffensperger-punishing-cnn-georgia-election-law_n_605fe4eac5b6531eed059a5f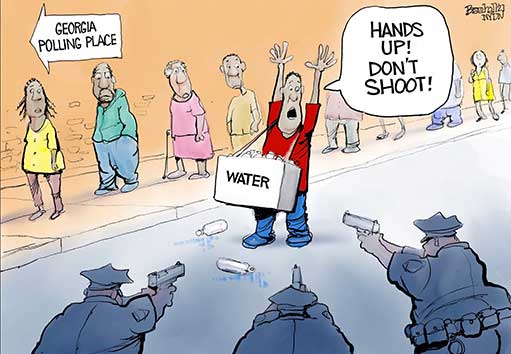 Texas Looks To Curb Local Efforts To Expand Voting Access
During a recent news conference, Gov. Greg Abbott argued that local election officials — including those in Harris County — were doing things not explicitly allowed by law. He also accused them of effectively opening the door to voter fraud.
"Whether it's the unauthorized expansion of mail-in ballots or the unauthorized expansion of drive-thru voting," Abbott says, "we must pass laws to prevent election officials from jeopardizing the election process."
In response to those local efforts, Republicans who control the state legislature filed a series of restrictive voting bills. Researchers last year said "Texas is the state with the most restrictive voting processes," but it's likely its laws will become stricter. https://www.npr.org/2021/03/26/981308277/texas-republicans-look-to-curb-local-efforts-to-expand-voting-access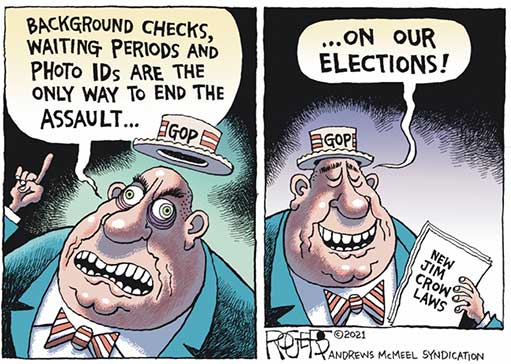 House launches wide-ranging review of federal handling of Jan. 6 insurrection
Seven House committees launched a sweeping investigation Thursday into the federal government's handling of the Jan. 6 assault on the Capitol — fueled by thousands of Donald Trump supporters who backed his false claim that the 2020 election was stolen — and the intelligence and security breakdowns that preceded it.
In letters to 16 agencies across the Executive Branch and Congress, the panels asked for all communications sent between agency officials regarding Congress' Jan. 6 session, when lawmakers certified Joe Biden's Electoral College victory. The requests demand all relevant documents and messages from Dec. 1, 2020, to Jan. 20, 2021.
The unusually broad committee review comes as Speaker Nancy Pelosi has been unable to secure bipartisan cooperation to launch an independent commission to review the federal government's handling of the attack. https://www.politico.com/news/2021/03/25/house-review-jan6-insurrection-478108
'Alex Azar Anonymous': Trump health officials start a club to counter former HHS chief
A small group of top Trump health officials recently held a series of discussions to coordinate their accounts of the administration's troubled Covid-19 response, worried they will be scapegoated by old colleagues — including their onetime boss, former Health secretary Alex Azar, according to six people with knowledge of their interactions.
Much of the group — which includes former FDA Commissioner Stephen Hahn, former CDC Director Robert Redfield, former Medicare chief Seema Verma and former White House Covid coordinator Deborah Birx — had fraught relationships with Azar, whose own accounts of the administration's pandemic efforts have often diverged from theirs. https://www.politico.com/news/2021/03/25/trump-health-officials-battle-covid-4781
Image of lawmaker's arrest spoils victory lap on election law
Even as Gov. Brian Kemp was denying charges that the sweeping elections changes he just signed into law didn't suppress the vote, authorities outside his office were dragging away a Black legislator who knocked on his office door during his remarks.
The arrest of state Rep. Park Cannon — who faces two felony charges — far overshadowed the victory lap that Kemp and other Republicans hoped to take with the signing Thursday of Senate Bill 202, legislation that imposed new ID requirements, limited drop boxes and instituted other restrictions.
The image of Cannon, an Atlanta Democrat, being forcibly dragged from the statehouse lobby was hard to watch and the arrest could be legally questionable, since state law protects sitting lawmakers from arrest during a session except for charges of treason, felonies or breach of the peace. https://www.ajc.com/politics/politics-blog/the-jolt-image-of-lawmakers-arrest-spoils-victory-lap-on-election-law/ANSKFQJUPVGOHAYNVIFTJ5HMDA/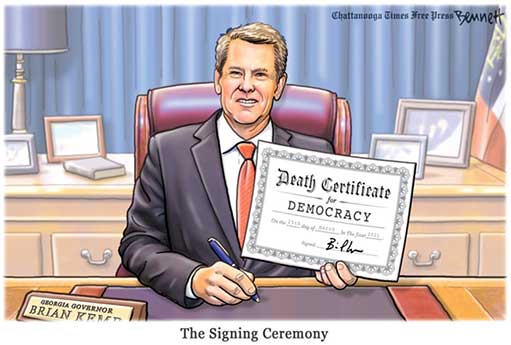 GOP 2024 contenders enter Iowa, wary of Trump's long shadow
Ambitious Republicans are starting to make moves in Iowa, long a proving ground for future presidents. Their first step is finding out whether activists there have gotten over the last one.
Associated Press: "Party activists say these early arrivals are the state expose the difference between their declared love for Trump and hope he runs again.
"
There are Trumpsters who can't wait for him to run again. They are the ones still moaning and groaning that they were cheated out of the election," said Gwen Ecklund, a veteran former county chairwoman in conservative western Iowa. "But there are some — average, rank-and-file Republicans — who are turning the page." https://apnews.com/article/donald-trump-des-moines-elections-iowa-mike-pompeo-dc85426cae010d9d050767144d523c9e
Stephen Miller to launch a new legal group
Former Trump White House policy adviser Stephen Miller, known for his hard-line immigration policies and conservative culture war postures, is launching a new legal group. And he's looking to use it to make Joe Biden's life miserable.
The group, which will be known as America First Legal, will help organize Republican attorneys general against perceived executive branch abuses in addition to filing lawsuits of its own, according to six people familiar with the planning. https://www.politico.com/news/2021/03/26/stephen-miller-legal-group-478167
These Mega-Businesses Are Already Back to Bankrolling Insurrectionists
The Daily Beast identified four companies that appear to have gone back on their suspension of donations to GOP election objectors: AT&T, Cigna Health, Ford Motors, and Pfizer. https://www.thedailybeast.com/these-mega-businesses-are-already-back-to-bankrolling-insurrectionists
Republicans Fear Flawed Candidates Could Imperil Key Senate Seats
The entry of two hard-right candidates this week into Senate races in Missouri and Alabama exposed the perils for Republicans of a political landscape in which former President Donald J. Trump is the only true north for grass-roots voters.
Strong state parties, big donors and G.O.P. national leaders were once able to anoint a candidate, in order to avoid destructive demolition derbies in state primaries.
But in the Trump era, the pursuit of his endorsement is all-consuming, and absent Mr. Trump's blessing, there is no mechanism for clearing a cluttered primary field. With the former president focused elsewhere — on settling scores against Republicans who advanced his impeachment or showed insufficient loyalty — a combative Senate primary season is in store for the 2022 midterms, when Republicans who hope to regain the majority face a difficult map. They are fighting to hold on to five open seats after a wave of retirements of establishment figures, and even deep-red Missouri and Alabama pose potential headaches.
There is no mechanism for clearing a cluttered primary field. https://www.nytimes.com/2021/03/24/us/politics/senate-races-missouri-alabama.html
At least 72% of AG Ken Paxton's voter fraud prosecutions target people of color, analysis shows
Since Texas Attorney General Ken Paxton took office in 2015, the vast majority of individuals his office has prosecuted for voter fraud are people of color — and primarily women of color, a new analysis by the American Civil Liberties Union shows.
The analysis, based on public records, court filings, media reports and assumptions based on common Hispanic surnames, found at least 72 percent of all the election fraud cases have been brought against Black and Latino defendants. At least 45 percent were against Black and Latino women.
The demographic analysis comes as lawmakers consider giving Paxton even more latitude to pursue felony charges against people who submit incorrect information on election-related documents and public officials who send out absentee ballot applications that are not requested. https://www.houstonchronicle.com/politics/texas/article/Ken-Paxton-voter-fraud-minorities-target-election-16049496.php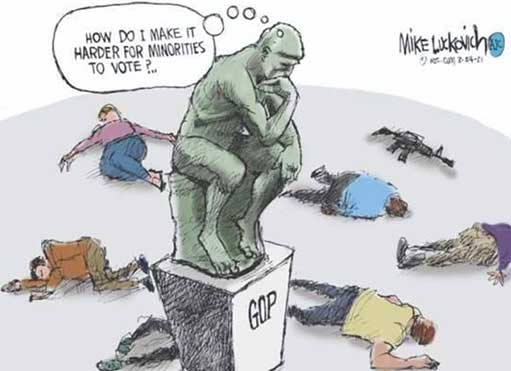 Agriculture Secretary Tom Vilsack says only 0.1 percent of Trump administration's covid farm relief went to Black farmers
In an interview with The Washington Post, Agriculture Secretary Tom Vilsack for the first time noted the extent to which the Trump administration's response to the coronavirus pandemic exacerbated existing disparities across the American economy.
The distribution of coronavirus relief increased those gaps, he said. Of those who identified their race or ethnicity, Black farmers received only $20.8 million of nearly $26 billion in two rounds of payments under the Coronavirus Food Assistance Program announced by the Trump administration last April, he said.
"We saw 99 percent of the money going to White farmers and 1 percent going to socially disadvantaged farmers and if you break that down to how much went to Black farmers, it's 0.1 percent," he said. "Look at it another way: The top 10 percent of farmers in the country received 60 percent of the value of the covid payments. And the bottom 10 percent received 0.26 percent." https://www.washingtonpost.com/business/2021/03/25/vilsack-interview-usda-rescue-plan/
Prosecutors allege Oath Keepers leader and Proud Boys coordinated before Capitol attack
A leader among the paramilitary group the Oath Keepers said he was coordinating with the Proud Boys about how their members would work together at the US Capitol on January 6, according to a new court filing from prosecutors late Tuesday night.
Facebook chats made public in the filing by the Justice Department show Kelly Meggs, a leader among the Oath Keepers, discussing his communications with Proud Boys leadership and how he had "orchestrated a plan" with the group.
Criminal conspiracy cases against the Proud Boys and Oath Keepers are among the most aggressive actions from the Justice Department following the violent pro-Trump riot. The new allegations about Meggs and the Proud Boys are the first time prosecutors have publicly linked allegedly violent efforts of the two right-wing extremist groups closely together. https://edition.cnn.com/2021/03/24/politics/capitol-riot-oath-keepers-proud-boys/index.html
Amid gun control debate, federal court rules states states restricty open carry of weapons
As the nation debates gun control following mass shootings in Colorado and Georgia, a California-based federal appeals court decided Wednesday that states may restrict the open carrying of guns without running afoul of the 2nd Amendment.
In a 7-4 decision the U.S. 9th Circuit Court of Appeals upheld a county law in Hawaii that has severely limited permits for open carrying of guns.
"The government may regulate, and even prohibit, in public places — including government buildings, churches, schools, and markets — the open carrying of small arms capable of being concealed, whether they are carried concealed or openly," Judge Jay Bybee, appointed by President George W. Bush, wrote for the majority.
The decision is likely to help push the Supreme Court to review the issue. Federal appellate courts have handed down conflicting rulings on gun laws that only the high court can resolve. https://www.latimes.com/california/story/2021-03-24/9th-circuit-appeals-court-panel-rules-states-may-restrict-open-carry-guns
Biden Names Wife of Pivotal Democratic Senator for Federal Post
President Joe Biden has nominated Gayle Conelly Manchin — an educator and the wife of Democratic Senator Joe Manchin, a key swing vote — to a regional economic development position after the lawmaker has emerged as a key swing vote in the chamber. https://freenews.today/2021/03/26/biden-names-wife-of-pivotal-democratic-senator-for-federal-post/
Trump's secret sit-down with Ohio candidates turns into 'Hunger Games'
It was a scene right out of "The Apprentice."
Donald Trump was headlining a fundraiser on Wednesday night at his golf club in West Palm Beach, Fla. But before the dinner began, the former president had some business to take care of: He summoned four Republican Senate candidates vying for Ohio's open Senate seat for a backroom meeting.
What ensued was a 15-minute backroom backbiting session reminiscent of Trump's reality TV show. Mandel said he was "crushing" Timken in polling. Timken touted her support on the ground thanks to her time as state party chair. Gibbons mentioned how he'd helped Trump's campaign financially. Moreno noted that his daughter had worked on Trump's 2020 campaign.
The scene illustrated what has become a central dynamic in the nascent 2022 race. In virtually every Republican primary, candidates are jockeying, auditioning and fighting for the former president's backing. Trump has received overtures from a multitude of candidates desperate for his endorsement, something that top Republicans say gives him all-encompassing power to make-or-break the outcome of primaries. https://www.politico.com/news/2021/03/25/trump-ohio-candidates-478059
Fox News sued by Dominion Voting for $1.6 billion over election fraud claims
Dominion Voting Systems on Friday filed a $1.6 billion defamation lawsuit against Fox News, alleging that the network purposefully aired false claims about the the company's role in the 2020 presidential election in order to boost ratings.
In the suit, filed in a Delaware court, Dominion argued that the Fox and several of its on-air personalities elevated conspiracy theories about the voting company rigging the 2020 election and allowed falsehoods by their guests to go unchecked, including a wild claim that the company's machines were manufactured in "Venezuela to rig elections for the dictator Hugo Chávez" and that Dominion's algorithm manipulated votes so that then-President Trump would lose.
"Fox engaged in this knowing and reckless propagation of these enormous falsehoods in order to profit off lies," reads the lawsuit. "Fox wanted to continue to protect its broadcast ratings, catering to an audience deeply loyal to President Trump."
Dominion attorney Stephen Shackleford said that Fox "took a small flame and turned it into a raging fire" by amplifying false statements about the election and Dominion, and that the media company did so with "reckless disregard" for the truth. https://www.washingtonpost.com/media/2021/03/26/fox-dominion-lawsuit-defamation/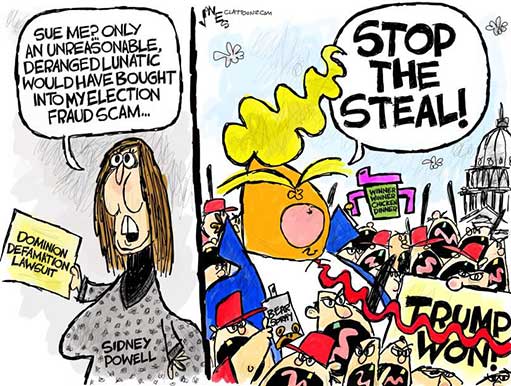 Democrats Are Poised to Raise Taxes on Business and the Rich
Democrats have spent the last several years clamoring to raise taxes on corporations and the rich, seeing that as a necessary antidote to widening economic inequality and a rebuke of Donald Trump's signature tax cuts.
Now, under President Biden, they have a shot at ushering in the largest federal tax increase since 1942. It could help pay for a host of spending programs that liberal economists predict would bolster the economy's performance and repair a tax code that Democrats say encourages wealthy people to hoard assets and big companies to ship jobs and book profits overseas. https://www.nytimes.com/2021/03/27/business/biden-taxes-business-rich.html
The Unlikely Team of Prosecutors Hunting Trump in Georgia
A sheriff's deputy who went to law school but remained a cop for another two decades. A prosecutor best known for tackling juvenile offenders. And the guy who literally wrote the book on racketeering cases against mafia goons. This is the team Fulton County District Attorney Fani Willis is assembling to investigate Donald Trump—to go after his advisers and their attempts to manipulate election results in Georgia. https://www.thedailybeast.com/the-unlikely-team-hunting-team-donald-trump-in-georgia
Raising Taxes on Wealthy Americans and Corporations to Fund Biden's Plan Is OK With Over 1 in 2 Voters
Coming off a slate of economic policy measures that enjoyed backing from both parties' voters, it appears that the tax increases being pitched to fund Biden's infrastructure plan aren't as popular, but still have support from a majority of registered voters. 
Fifty-four percent of voters said they support making improvements to America's infrastructure funded by taxes on those making more than $400,000 per year and increases to the corporate tax rate, according to new Morning Consult/Politico polling. Another 27 percent said they support improving the country's infrastructure, but only if those improvements can be made without higher taxes, and another 6 percent said they don't back making infrastructure improvements. https://morningconsult.com/2021/03/31/biden-infrastructure-plan-raising-taxes-wealthy-corporations/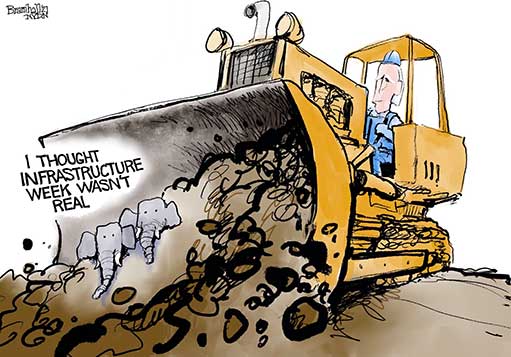 Gavin Newsom would survive a recall if it went to California voters today, new poll shows
If a recall election were held today, Gov. Gavin Newsom would likely survive, according to the latest poll released from the Public Policy Institute of California.
In interviews with more than 1,700 Californians conducted between March 14 and March 23, 56% of respondents said they would vote no to a recall, with 40% saying they would vote yes and 5% saying they were unsure. https://www.sacbee.com/news/politics-government/capitol-alert/article250317609.html
The DAILY GRILL
What happened here was the gradual habituation of the people, little by little, to being governed by surprise; to receiving decisions deliberated in secret; to believing that the situation was so complicated that the government had to act on information which the people could not understand, or so dangerous that, even if the people could understand it, it could not be released because of national security…. — Chicago reporter Milton Mayer, an American Jew of German ancestry, on how Nazis corrupted the political system and took it over, bit by bit.

VERSUS

In Georgia yesterday a voter suppression bill was passed that functionally hands to the Georgia legislature the power to decide who won elections in that state, regardless of how the vote turned out. It was introduced into the House, passed the House; introduced into the Senate, passed the Senate; sent to the Governor and signed by Governor Brian Kemp…all in less than one day. https://www.rawstory.com/georgia-kemp-authoritarian-takeover/

 

"D.C. statehood is a key part of the radical leftist agenda to reshape America, along with the Green New Deal, defunding the police, and packing the U.S. Supreme Court." — Rep. James Comer (R-KY)

VERSUS

The hypocrisy is so thick you couldn't cut it with a diamond saw. Wyoming only has 580k people in it and they have two Senators same as California which has 39 million. I guess it's only ok when the GOP does it. — Uncle Salty
Will Bunch: Georgia's white supremacy hiding in plain sight behind the state's new Jim Crow-style voting law.
Sometimes America's legacy of white supremacy is hiding in plain sight, literally. When Georgia Gov. Brian Kemp signed a hastily passed voter suppression law that many are calling the new, new Jim Crow on Thursday night, surrounded by a half-dozen white men, he did so in front of a painting of a plantation where more than 100 Black people had been enslaved.
The portrait of the plantation was the starkest reminder of Georgia's history of white racism that spans slavery, Jim Crow segregation, the rebirth of the modern Ku Klux Klan, and today's voter purges targeting Black and brown voters — but it wasn't the only one. At the very moment that Kemp was signing the law with his all-white posse, a Black female Georgia lawmaker — Rep. Park Cannon — who'd knocked on the governor's door in the hopes of watching the bill signing was instead dragged away and arrested by state troopers, in a scene that probably had the Deep South's racist sheriffs of yesteryear like Bull Connor or Jim Clark smiling in whatever fiery hellhole they now inhabit. https://www.inquirer.com/opinion/georgia-governor-brian-kemp-painting-slave-plantation-20210326.html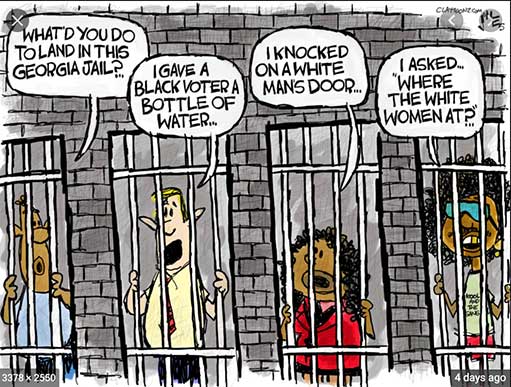 Charles M. Blow: Mass Shootings and Our Depraved Political Stagnation
Another mass shooting. Another round of recriminations. Another push for more gun control. Another pushback from Republicans in Congress doing the bidding of the gun lobby. Another reminder of the unlikelihood of any real federal legislative change.
As incessant as mass shootings have become in this country, so has the ritual in their wake to respond to them, a ritual that ultimately, inevitably unravels.
I hate to sound defeatist, but I feel defeated.
Yes, there are common-sense gun safety advocates who are making some headway, particularly on the state and local levels. But comprehensive federal gun legislation remains elusive, if not impossible.
Our anomalous gun culture and the shocking number of gun deaths and the prevalence of guns — including military-style weapons — in our society simply don't seem to convince enough politicians to take action.
Nor are the tens of thousands of Americans we lose to guns each year enough to inspire action. We have, on some level, simply absorbed that abominable number of deaths as normal, or perhaps collateral damage, in a society with a gun culture like ours. https://www.nytimes.com/2021/03/24/opinion/mass-shootings-gun-control.html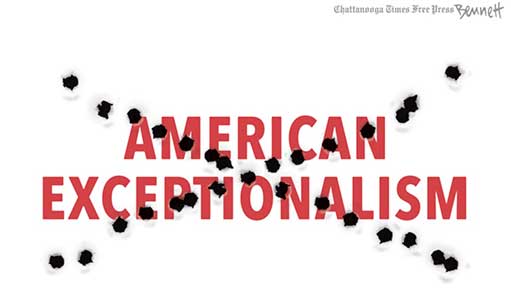 Mark Z. Barabak: National Republicans have gone all in on the Newsom recall. They're doing him a big favor
The attempt to recall current Democratic Gov. Gavin Newsom — still in the qualifying stage, but almost certain to make the ballot — has turned into a nationwide GOP crusade, engaging partisans from Arizona to Washington, D.C.
The party's national committee kicked in $250,000 to gather signatures, the Republican Governors Assn. hit up donors to help finance the effort, and high-profile personalities like Newt Gingrich and Mike Huckabee have championed the cause. The GOP's amen chorus on Fox News has turned Newsom-baiting into a feature of its nightly fulminating.
All of which is a boon to the beleaguered Democrat.
If Republicans hope to recall Newsom, the best thing those outside the state could do would be to keep their distance, making it harder for Democrats to nationalize the contest and turn it into a referendum on Trump and the ascendant QAnon wing of the party.
But if anyone believes the voluble ex-president will keep from weighing in, silencing himself the way Bush did, there's a bridge in Mar-a-Lago for sale, https://www.latimes.com/politics/story/2021-03-25/republicans-make-newsom-recall-a-national-fight
Philip Bump: A vivid reminder that the threat to American democracy remains
It has been a while since former president Donald Trump said something as ridiculous as what he said Thursday night during an interview with Fox News's Laura Ingraham.
Ingraham had asked the former president to opine on security at the U.S. Capitol, including on the once-imposing physical barriers that have recently been scaled back.
Trump said it was "disgraceful" and that it was "a political maneuver that they're doing," a vague "they" that, as usual, refers broadly to Trump's opponents.
The former president then tried to rewrite history.
"Right from the start, it was zero threat," Trump said of the Capitol. "Look, they went in. They shouldn't have done it. Some of them went in and they're — they're hugging and kissing the police and the guards. You know, they had great relationships. A lot of the people were waved in and then they walked in and they walked out."
"They're persecuting a lot of those people," the former president said of those who had been arrested.
It is ridiculous for Trump to make claims like this, but we're accustomed to such behavior. The familiarity of it, though, can blur how dangerous it is. When coupled with other developments on Thursday, it becomes much more difficult to ignore the risk posed by a president rationalizing a violent attack on his political opponents. https://www.washingtonpost.com/politics/2021/03/26/vivid-reminder-that-threat-american-democracy-remains/
Peter Slevin: The Power of Political Disinformation in Iowa
Republicans drove turnout in Iowa to unexpected levels by crafting a blunt-force narrative anchored in puffery and lies when it came to Trump and caricature when it came to Democrats. The message was repetitive, it was relentless, it was thin on facts and policy detail, and it worked, especially in rural counties, where Trump and the G.O.P. won by significant margins. The fundamental attack was straightforward: Democrats were socialists at heart, and would raise taxes, expand government, and extinguish individual freedom. Biden, meanwhile, was portrayed as corrupt and, at age seventy-seven, as barely able to complete a coherent sentence. The twin attacks coalesced during the summer of 2020. As David Kochel, an Iowa-based Republican strategist, explained, they went something like this: "Well, he's obviously older, he's getting more frail, which means he's not strong enough to fight inside his own coalition against the more extreme voices." Republican leaders and pundits amplified the message, and it powered candidates up and down the ticket. "No memos," Kochel said. "You just picked it up every day from what the President and his people were saying."
As a reporter, he watched any number of Iowa Democrats run what he considered solid, mainstream campaigns, attentive to voters and their local concerns, only to lose. "Unless you live here, I don't think you can appreciate the level of rural white grievance," Douglas Burns, a longtime newsman told me. "We think that you can win people over with the issues. I'm not sure that you can." https://www.newyorker.com/news/campaign-chronicles/the-power-of-political-disinformation-in-iowa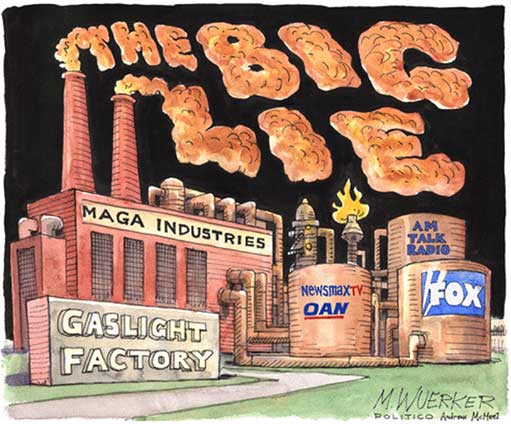 Missouri Republicans horrified by the prospect that poor people might get medical care
Republican lawmakers blocked Medicaid expansion funding from reaching the Missouri House floor on Thursday, posing a setback for the voter-approved plan to increase eligibility for the state health care program.
The House Budget Committee voted along party lines not to pass a bill allowing Missouri to spend $130 million in state funds and $1.6 billion in federal money to pay for the program's expansion. Under the Affordable Care Act, the federal government picks up 90% of the tab on expanding Medicaid.
The increased eligibility would allow an estimated 230,000 additional low-income Missourians to be covered. It is set to go into effect in July, after voters approved a ballot question last August with a 53% majority. . .
Missouri's Medicaid program does not currently cover most adults without children. Only the disabled, children and parents with incomes under 18% of federal poverty level — less than $5,800 a year for a family of four — are eligible. It is one of the lowest eligibility thresholds in the nation. The expansion will allow adults earning up to 138% of the federal poverty level to be covered.  https://www.lawyersgunsmoneyblog.com/2021/03/missouri-republicans-horrified-by-the-prospect-that-poor-people-might-get-medical-care
Jamelle Bouie: The G.O.P. Has Some Voters It Likes and Some It Doesn't
Republicans are using the former president's failed attempt to overturn the election as a guide to how you would change the system to make it possible. In Georgia, as we've seen, that means stripping power from an unreliable partisan and giving it, in effect, to the party itself. In Pennsylvania, where a state Supreme Court with a Democratic majority unanimously rejected a Republican lawsuit claiming that universal mail-in balloting was unconstitutional, it means working to end statewide election of justices, essentially gerrymandering the court. In Nebraska, which Republicans won, it means changing the way the state distributes its electoral votes, from a district-based system in which Democrats have a chance to win one potentially critical vote, as Joe Biden and Barack Obama did, to winner-take-all.
Where does this all lead? Perhaps it just ends with a few new restrictions and new limits, enough, in conjunction with redistricting, to tilt the field in favor of the Republican Party in the next election cycle but not enough to substantially undermine American democracy. Looking at the 2020 election, however — and in particular at the 147 congressional Republicans who voted not to certify the Electoral College vote — it's not hard to imagine how this escalates, especially if Trump and his allies are still in control of the party. https://www.nytimes.com/2021/03/30/opinion/voter-suppression.html
Erik Wemple: Dominion lawsuit outs Fox News' disinformation campaign
Back in December, Dominion Voting Systems warned Fox News and other spreaders of election-related conspiracy theories that lawsuits were imminent. For reasons that remain murky, the voting-machine company became a target for those seeking to convince the American public that the presidential election had been stolen from then-President Trump. With the help of lawyer Sidney Powell and longtime Trump attorney Rudolph W. Giuliani, Fox hosts laundered bogus claims that Dominion had flipped votes from Joe Biden to Trump; that "kickbacks" had been provided to officials in states that used Dominion systems; and that Dominion was owned by voting outfit Smartmatic, a company that has already sued Fox News over election coverage.
In pushing back against Dominion's threat, a Fox News spokeswoman "pointed to" a pair stories that the network had done on this matter: One was an interview by host Eric Shawn with a Dominion executive who stated that the company's voting machines hadn't been involved with fraud and that claims to the contrary were false; the other was the high-profile segment in which host Tucker Carlson said that Powell hadn't mustered evidence for her allegations.
When asked about a torrent of disinformation, in other words, Fox News highlighted two stories that told the truth. "You can't get away from defamation by saying the truth in the morning and then lying through your teeth in the afternoon. That doesn't cut it," said Stephen Shackelford, a Dominion attorney, on CNN's "Reliable Sources" Sunday. https://www.washingtonpost.com/opinions/2021/03/30/dominion-lawsuit-outs-fox-news-disinformation-campaign/
Catherine Rampell: The swamp isn't in D.C. It's in state capitals
The "swamp" that desperately needs draining isn't in Washington, D.C. It's in state capitals around the country, where undemocratic, anti-majoritarian officials are seizing rights from voters and flagrantly thwarting the will of the people.
"The traditional sources of accountability that nudged or forced elected officials to be responsive to their constituents have weakened. The result is greater job security for state officials practicing minority rule — and worse outcomes for voters."
You might wonder how state officials manage to stay in office if they fail to reflect the partisan or policy preferences of their constituents.
One answer, of course, is gerrymandering, which has become more sophisticated in recent years, thanks to better data and computer modeling. Geographic clustering of liberal voters in cities doesn't help either. Neither does the fact that local news organizations have collapsed, leaving fewer watchdogs in state capitals to ferret out bad behavior and report it back to voters. There's plenty of coverage of general swampiness, democratic backsliding and big-money lobbying in media hubs such as Washington and New York — and much less consistent attention paid to states' equally consequential actions.
The traditional sources of accountability that nudged or forced elected officials to be responsive to their constituents have weakened. The result is greater job security for state officials practicing minority rule — and worse outcomes for voters. https://www.washingtonpost.com/opinions/draining-the-swamp-should-start-in-state-capitals/2021/03/29/10c5a2ec-90bd-11eb-a74e-1f4cf89fd948_story.html
Michael Gerson: The GOP is facing a sickness deeper than the coronavirus
It is the sign of a sickness deeper than covid-19 that the defiance of public health guidance has become a political selling point in the Republican Party.
Consider the case of South Dakota Gov. Kristi L. Noem. Speaking last month to the 2021 Conservative Political Action Conference, she stirred some presidential buzz for her proud resistance to basic virus control measures even at the height of the pandemic. "Now let me be clear, covid didn't crush the economy, government crushed the economy," Noem told the conference. "South Dakota is the only state in America that never ordered a single business or church to close. We never instituted a shelter in place order. We never mandated that people wear massks."
Noem continued: "We have to show people how arbitrary these restrictions are, and the coercion, the force and the anti-liberty steps that government takes to enforce them."
Now let me be clear. South Dakota has the second-highest case rate and the eighth-highest covid death rate in the country. In that sparsely populated state, the disease has taken the lives of nearly 2,000 people. And Noem's defiant inaction has made that number higher than it should have been. What level of hubris, extremism or insanity does it take to crow about one of the worst covid records in the nation? Noem might as well be campaigning for higher office in a hearse. https://www.washingtonpost.com/opinions/the-gop-is-facing-a-sickness-deeper-than-the-coronavirus/2021/03/29/6addd488-90cd-11eb-9668-89be11273c09_story.html