November 22, 2017
ON THE RECORD. . .
"If you're one of the lucky Americans who owns a private jet, don't fret.  Republicans have your back—in the form of tax breaks." -- Yahoo News on the Senate tax bill that will give those who own or lease private planes breaks on the amount they pay to companies for maintenance, storage, fueling and even when they want to hire pilots and a crew onboard. "
"Sen. Franken has admitted wrongdoing, and the president hasn't. I think that's a very clear distinction." -- WH press secretary Sarah Huckabee Sanders saying that the allegations of sexual assault against Sen. Al Franken (D-Minn.) are different from those Donald Trump has faced because Trump has denied any wrongdoing.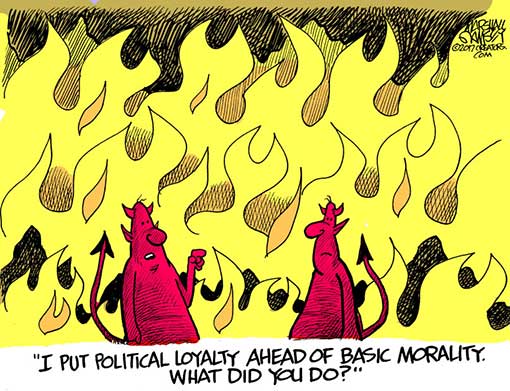 "Many of us spent years working for Senator Franken in Minnesota and Washington. In our time working for the senator, he treated us with the utmost respect. He valued our work and our opinions and was a champion for women both in the legislation he supported and in promoting women to leadership roles in our office." -- Statement by a group of eight women who worked for Sen. Al Franken in Washington and Minnesota
"If we become the party of Roy Moore and Donald Trump, we are toast." — Sen. Jeff Flake (R-AZ), caught on a live microphone by KNXV-TV.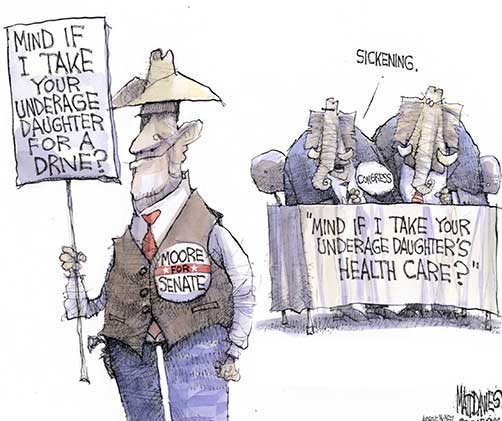 "The Republicans are led by a man who admitted to sexually assaulting women,. He bragged about it. And if we're going to encourage women to have the courage to be heard we can't excuse the president from this debate." --  Hillary Clinton
"At a time when higher education costs are skyrocketing, it is extremely disappointing Republicans are trying to jam through a plan that will take money from students and families who are trying to send their kids to college - all to pay for a massive tax cut for corporations and the richest among us. Republicans need to stop playing partisan games with our students' education, and start working with us to provide more opportunities for all." --  Sen. Patty Murray (R-WA), ranking Democrat of the Senate Health, Education, Labor and Pensions Committee on the he repeal or revision of higher education tax benefits in the House Republican bill would cost students and families more than $71 billion over the next decade.
"Honestly, between tweeting and golfing, how does he get anything done? I don't understand it. Maybe that's the whole point." — Hillary Clinton, quoted by Politico.
"You can make an argument that Obamacare is falling of its own weight, until we repeal the individual mandate. I hope every Republican knows that when you pass a repeal of the individual mandate, it's no longer their problem. It becomes our problem." -- Sen. Lindsey Graham (R-SC)
---
IN THIS ISSUE
FYI
OPINION
1.  Andy Borowitz: Trump Voters Celebrate Massive Tax Cut for Everyone But Them
Jubilant Trump voters on Thursday celebrated the prospect of a gigantic tax cut that will benefit everyone but them.

Across the country, Trump supporters were overjoyed that, after months of gridlock and wrangling, the man they voted for was about to make Americans other than them wildly richer.

"President Trump has taken a lot of hits from the fake-news media, but he stood his ground," Carol Foyler, a Trump voter in Ohio, said. "Today he honored his pledge to the American people, except for me and anybody I know."

Harland Dorrinson, a Trump supporter from Kentucky, agreed. "When I cast my vote last November, I said to myself, 'I sure hope this means that people with a thousand times more money than I have get even more money,' " he said. "Promise kept."

ELSEWHERE: Unimpressed by President Donald Trump's sudden backtracking on his proposed elephant-trophy ban, elephants from Zimbabwe and Zambia released a scathing official statement on Saturday, ominously warning Trump, "We don't forget."  https://www.newyorker.com/humor/borowitz-report/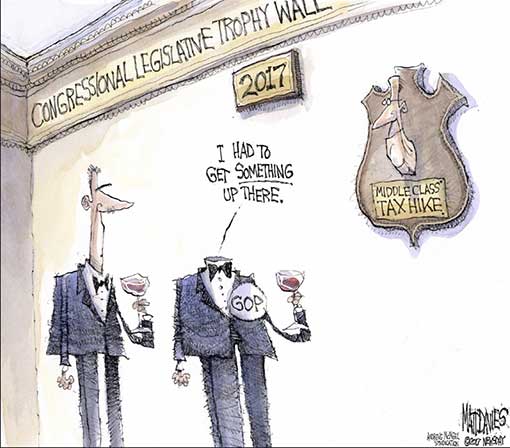 2. The GOP Tax Bill Is an Economic Policy Disaster
If it's enacted, the GOP tax cut now working its way through Congress will be the start of a decades-long economic policy disaster unlike any other that has occurred in American history.
There's no economic justification whatsoever for a tax cut at this time. U.S. GDP is growing, unemployment is close to 4 percent (below what is commonly considered 'full employment'), corporate profits are at record levels and stock markets are soaring. It makes no sense to add any federal government-induced stimulus to all this private sector-caused economic activity, let alone a tax cut as big as this one.
This is actually the ideal time for Washington to be doing the opposite.  https://www.forbes.com/sites/stancollender/2017/11/19/gop-tax-bill-is-the-end-of-all-economic-sanity-in-washington/#580196977ef7
3. The Shocking Math of the GOP Tax Plan
If it gives us nothing else positive, the Republican tax plan—and, in its Senate form, the health-care repeal—at least provides clarity. There is no debate. The middle class will, in the long run, pay more in taxes than under current law, and the rich will pay less.
Just ask the very people who wrote it, Congress' Joint Committee on Taxation, run by the chairs of the House Ways and Means Committee and the Senate Finance Committee—Representative Kevin Brady and Senator Orrin Hatch, respectively. The Joint Committee's reports of this week make startling reading, or as startling as a series of spreadsheets of tax revenue data can be. The report shows that this bill is much like a teaser rate on a new credit card: there are some goodies in the first couple of years, but those disappear fairly quickly, at least for those below the median income."
The report shows that the rich benefit and the poor are hurt in every way that it measures.  https://www.newyorker.com/news/news-desk/the-shocking-math-of-the-republican-tax-plan
4. The DAILY GRILL
"It's not good for me. Believe me, my plan is for the working people, and my plan is for jobs. I don't benefit,"  -- Donald Trump, who has insisted for months that the Republican tax plan he supports won't benefit him, telling a group of Democratic senators in a phone call, "My accountant called me and said 'you're going to get killed in this bill.'"

VERSUS

"Trump and his heirs potentially could save more than $1 billion overall under the GOP tax proposal that the House of Representatives passed Thursday, with most of that amount coming from a repeal of the estate tax, according to an analysis NBC News commissioned of Trump's one known 2005 tax return and his estimated net worth. Trump would save more than $20 million himself, according to the analysis of how the legislation affects his 2005 tax return, and his heirs could potentially save $1.1 billion based on his reported wealth." -- Mark Murray in First Read

 

"White House senior adviser Jared Kushner told congressional Russia investigators that he did not communicate with WikiLeaks and did not recall anyone on the Trump campaign who had," -- CNN.

VERSUS

"Kushner did receive and forward an email from Donald Trump Jr. about contact Trump Jr. had with WikiLeaks." -- Letter from the Senate Judiciary Committee
5. Editor Lists All the Women Who Said President Trump Sexually Assaulted Them
Judd Legum, editor and founder of Think Progress, took to Twitter to refresh our memories of all the women who came forward with allegations against Trump leading up to last year's election. 
1. Ninni Laaksonen, former Miss Finland. "Trump stood right next to me and suddenly he squeezed my butt" in July 2006.

2. Jessica Drake. Said Trump grabbed and kissed her without consent, then offered her 10K for sex in 2006.

3. Karena Virginia. Says she was groped by Trump at the U.S. Open in 1998.

4. Cathy Heller. Says Trump grabbed her and attempted to kiss her at Mar-a-lago in 1997

5. Summer Zervos. Apprentice contestant says Trump started kissing her and grabbing her breasts, began "thrusting his genitals." 2007

6. Kristin Anderson. Said Trump reached under her skirt and grabbed her vagina through her underwear in the early 1990s.

7. Jessica Leeds. Said Trump lifted up the armrest, grabbed her breasts and reached his hand up her skirt in the early 1980s.

8. Rachel Crooks. Says she was assaulted by Trump in an elevator in Trump Tower in 2005

9. Mindy McGillivray. Says Trump groped her while she was attending a concert at Mar-a-lago in 2003.

10. Natasha Stoynoff. Says Trump pushed her against a wall and jammed his tongue down her throat at Mar-a-lago in 2005.

11. Jennifer Murphy. Apprentice contestant says Trump kissed her on the lips after a job interview in 2005.

12. Cassandra Searles. Says Trump grabbed her ass and invited her to his hotel room in 2013

13. Temple Taggart McDowell. Former Miss Utah says Trump kissed her directly on the lips the first time she met him in 1997.

14. Jill Harth. Says Trump repeatedly sexually harassed her and groped her underneath a table in 1993.  https://www.advocate.com/politics/2017/10/11/editor-lists-all-women-said-president-trump-sexually-assaulted-them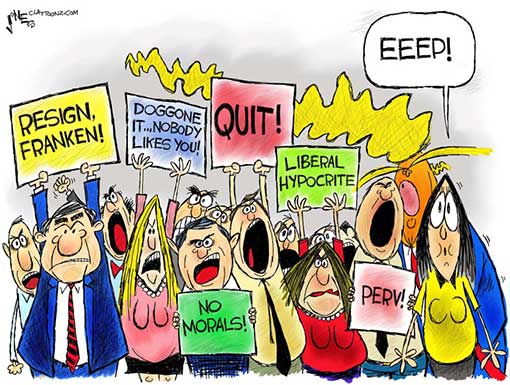 6. A Wave Is a Comin'
The last two weeks have seen some significant movement in Democrats favor. First, there were the impressive results from last Tuesday's elections. This week, we've seen two polls — one by Quinnipiac and one by Marist — that show Democrats with a congressional ballot advantage of +13 to +15. Three other recent polls — ABC/Washington Post, Fox, and NBC/Wall Street Journal — show Democrats with an advantage of anywhere from +7 to +15.
In 2016 we made the mistake of rationalizing away the prospect of a Trump victory. He was too unorthodox. He couldn't possibly sustain momentum through the grueling primary campaign. We should not make same mistake in 2018. Sure, a lot can change between now and next November. And, Democrats have a narrow path to 24 seats - even with a big wave or tailwind.  But, do not ignore what's right in front of us. A wave is building. If I were a Republican running for Congress, I'd be taking that more seriously than ever.  http://cookpolitical.com/analysis/house/house-overview/wave-comin
7. From MEDIA MATTERS (They watch Fox News so you don't have to)
On Fox & Friends, Sebastian Gorka claims Uranium One is "probably the biggest" national security scandal in decades.  https://www.mediamatters.org/video/2017/11/16/fox-friends-sebastian-gorka-claims-uranium-one-probably-biggest-national-security-scandal-decades/218575

Alex Jones: I know the Las Vegas gunman was a liberal because he drank Pepsi. Jones: "Conservatives drink Coca-Cola, if you drink soft drinks, liberals drink Pepsi. That's a big clue"  https://www.mediamatters.org/video/2017/11/21/alex-jones-i-know-las-vegas-gunman-was-liberal-because-he-drank-pepsi/218631

The Nation sports editor: Trump's demonization of black athletes is "a playbook that goes back 100 years." Dave Zirin: "Trump is doing nothing new. It's tired and it's wrong."  https://www.mediamatters.org/video/2017/11/21/nation-sports-editor-trumps-demonization-black-athletes-playbook-goes-back-100-years/218629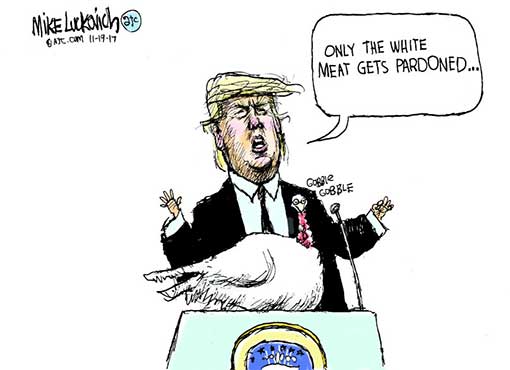 8. Alabama Senate Race Aggravates GOP Divide
"There was a time when the question of whether to disown a candidate accused of sexually abusing a 14-year-old girl was fairly straightforward," the New York Times reports.
"But the divisions in the Republican Party run so deep that the latest rallying cry for many on the right has become the case of Roy Moore, the Senate candidate in Alabama who faces allegations of preying on many young women, including a 14-year-old, when he was in his 30s."
"The debate among Republicans over what to do about Mr. Moore has taken on a significance that extends far beyond Alabama's borders. It pits ascendant forces in the party — the most conservative evangelical Christians and insurgent, anti-establishment populists — against the Republican leadership in Washington. And it is being fanned by many of the same emotions that helped stoke President Trump's rise and election: a mistrust of government, a desire for a leader who disdains and disrupts the political status quo, and a suspicion that elected officials will stop at nothing to hold on to power."  https://www.nytimes.com/2017/11/16/us/politics/republican-party-division-roy-moore.html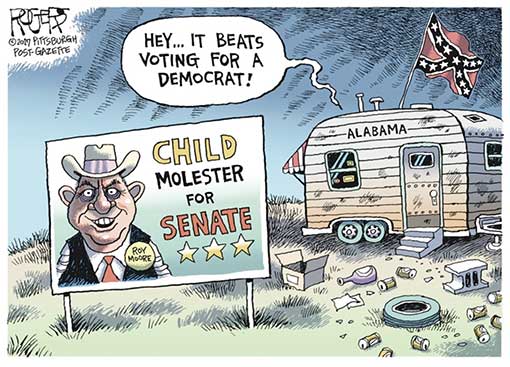 9. Clinton Challenges Legitimacy of 2016 Election
Hillary Clinton told Mother Jones that "there are lots of questions" about the legitimacy of Donald Trump's election due to Russian interference and widespread voter suppression efforts.
Clinton said Russian meddling in the election "was one of the major contributors to the outcome." The Russians "weaponized false information" in "a very successful disinformation campaign" that "wasn't just influencing voters, it was determining the outcome." 
Republican efforts to make it harder to vote, through measures such as voter ID laws, shortened early voting periods, and new obstacles to registration, likewise "contributed to the outcome."  http://www.motherjones.com/politics/2017/11/hillary-clinton-on-trumps-election-there-are-lots-of-questions-about-its-legitimacy/#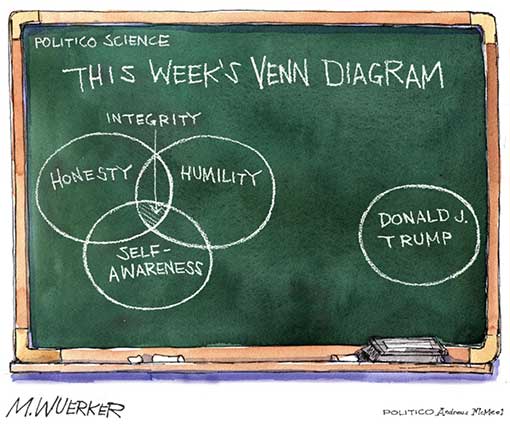 10. Anatomy of a Fake News Scandal
The claim that Hillary Clinton was a pedophile started in a Facebook post, spread to Twitter and then went viral with the help of far-right platforms like Breitbart and Info-Wars. But it was unclear whether Pizzagate was mass hysteria or the work of politicos with real resources and agendas. It took the better part of a year (and two teams of researchers) to sift through the digital trail. We found ordinary people, online activists, bots, foreign agents and domestic political operatives. Many of them were associates of the Trump campaign. Others had ties with Russia. Working together – though often unwittingly – they flourished in a new 'post-truth' information ecosystem, a space where false claims are defended as absolute facts.  http://www.rollingstone.com/politics/news/pizzagate-anatomy-of-a-fake-news-scandal-w511904
11. Speed and Subterfuge Is Key to GOP Tax Strategy
It is entirely conceivable that, in two weeks' time, the Republican Party's leaders will have largely succeeded in railroading through Congress an unpopular, regressive, and damaging tax reform. That was their plan from the beginning, and so far it has worked out much as they intended. On Thursday, the House, spurred on by Paul Ryan, voted to approve its version of the legislation. Now everything depends on what happens in the Senate.
To get their tax plan through this final legislative stretch, the Republicans will try to rely on speed, subterfuge, and diversion. McConnell and Ryan have read the opinion polls. They know that there is widespread opposition to their plan's major elements, such as its big tax cuts for corporations, unincorporated businesses, and rich people (like the President), or its new limits on popular deductions for mortgage interest and state and local taxes."
That explains why the Republicans didn't hold any hearings in the House, and why they are adopting similar blitzkrieg tactics in the Senate. The G.O.P.'s strategy is to rush this thing through before the other side has time to organize a defense.  https://www.newyorker.com/news/our-columnists/the-republican-tax-strategy-speed-subterfuge-and-diversion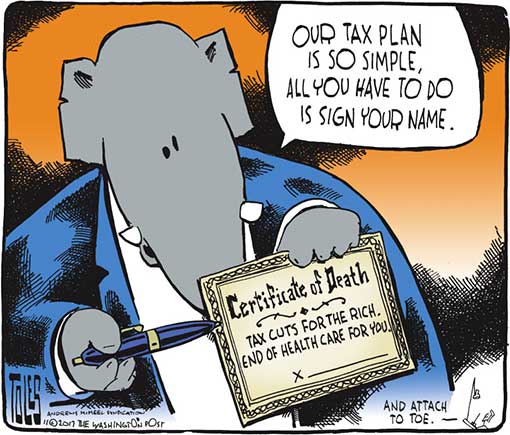 12. Government analysis shows House tax bill would increase cost of college by $71 billion over a decade
The repeal or revision of higher education tax benefits in the House Republican bill would cost students and families more than $71 billion over the next decade, according to an official analysis by Congress's Joint Committee on Taxation.
"At a time when higher education costs are skyrocketing, it is extremely disappointing Republicans are trying to jam through a plan that will take money from students and families who are trying to send their kids to college - all to pay for a massive tax cut for corporations and the richest among us," Sen. Patty Murray, Wash., the ranking Democrat of the Senate Health, Education, Labor and Pensions Committee said. "Republicans need to stop playing partisan games with our students' education, and start working with us to provide more opportunities for all."  http://www.chicagotribune.com/news/nationworld/politics/ct-house-tax-bill-cost-of-college-20171116-story.html
13. Make Nepotism Great Again: 20 Families Got Jobs in Trump Administration
A Daily Beast examination of public records reveals that there are at least 20 families, joined by either blood or marriage, in which multiple members hold some federal post or appointment. They include the families of some of Trump's most prominent campaign supporters and agency officials, including one cabinet officer. The posts range from senior White House staff to more ceremonial and advisory positions.  https://www.thedailybeast.com/meet-the-trump-officials-making-government-a-family-business
14. Late Night Jokes for Dems
North Korean state media today called President Trump a coward for canceling his visit to the demilitarized zone during his trip to Asia. Listen, President Trump is a lot of things, but a coward is just one of those things. -- Seth Meyers

Meanwhile, here on Earth, the House passed the GOP-backed tax plan today, which is very good news for billionaires and also just your average run-of-the mill millionaires too. The bill would shift the tax burden from the wealthy to people who really should be paying more, like college students. -- Jimmy Kimmel

A piece of wedding cake from Donald and Melania Trump's wedding is currently up for auction. The 12-year-old piece of cake is being marketed as a rare collector's item. I can't believe it lasted this long. Not the cake, the marriage. -- James Corden

This piece of cake is expected to go for over $1,000. What a rip-off. If I want to eat a 12-year-old piece of cake, I'll go to the liquor store and buy some dusty Twinkies like a normal person. -- James Corden

Trump said he accomplished a lot of things on his trip, but North Korea seems to have a different opinion because yesterday North Korea state media published a scathing review of President Trump's trip to Asia. They said Trump displayed his "true colors as an old lunatic, mean trickster and human reject." Now you listen here, North Korea, we may not like him either, but that is the president of the United States you're accurately describing. -- James Corden

Two more women have come forward accusing Roy Moore of making unwanted advances at the mall, which explains that new slogan, "Amazon: So you don't run into Roy Moore at the mall." -- Jimmy Fallon
1. Tom Perez: The Republican tax plan is a dumpster fire. Let's take out the trash.
I used to work on the back of a trash truck to help pay for college; I know garbage when I see it. And the Republican tax plan is a dumpster fire.
This bill was written for Donald Trump's wealthy friends on Wall Street, not for American families. We've seen this before: Republicans vote for massive giveaways to the richest corporations and individuals at the expense of the middle class while pretending their bill will create jobs for working families.
But this is even worse. For starters, the new bill House Republicans will vote on this week doesn't just give millionaires and billionaires a break. It would trigger $25 billion in cuts to Medicare and repeal the Affordable Care Act's individual mandate, causing premiums to rise and kicking 13 million people off their health insurance. This is the most shameful and cynical attempt yet by Donald Trump, Mike Pence and Republicans in Congress to sabotage our health care system. They couldn't get enough support to repeal the ACA, so now they've resorted to disguising their sabotage as a tax bill.
On top of their health care deceit, Republicans want to cut education funding and mortgage deductions that middle-class families rely on, while blowing a $2 trillion hole in the deficit.
Mitch McConnell, Paul Ryan and Republican lawmakers have been excitedly pitching this plan as a great boon for middle-class families. But the facts tell a different story. Millions of low- and middle-income families would actually see tax increases under the Republican plan, and workers over age 50 would find it harder to save for retirement. Meanwhile, nearly half the plan's benefits go to the top 1%. In a rare moment of honesty from the White House, tax plan author Gary Cohn even admitted that the people most excited about the Republican tax plan were "big CEOs."
We know Republicans have tried this kind of voodoo economics in the past. It failed then and it will fail now. It's no wonder so many groups have come out in opposition to this disastrous tax bill. The American Council on Education warned that the legislation will increase the cost of college for students and their families; the AARP called the bill a "health tax on millions of Americans with high medical costs"; and the National Association of Home Builders also blasted the GOP plan, which will make it even harder for working families to buy a house.  https://www.nbcnews.com/think/opinion/republican-tax-plan-dumpster-fire-let-s-take-out-trash-ncna820861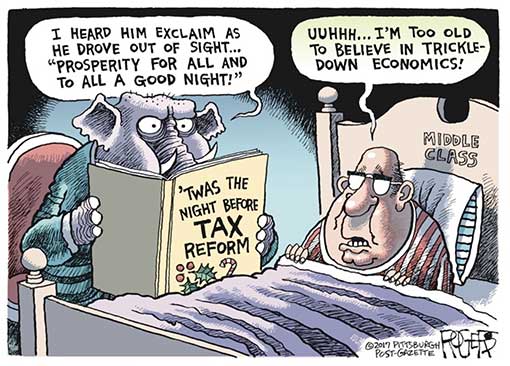 2. LA TImes Editorial: Note to Jeff Sessions: 'Lock her up' is not the mission of the Justice Department
We live in a country of laws and no one should be above them. That includes the president. And it also includes Hillary Clinton, the president's former campaign opponent. Where there is reason to believe wrongdoing or self-dealing has occurred in violation of the laws there should be an investigation and if necessary a prosecution.
But the calls by some Republicans for a special counsel to investigate Clinton smack of something other than a desire for evenhanded enforcement of the law. Rather, they are part of a desperate effort by the president, his allies in Congress and the right-wing media to take the focus off the tangled investigations into the Trump campaign's conduct, and particularly into any possible collusion with Russia.
Earlier this month Trump tweeted: "Everybody is asking why the Justice Department (and FBI) isn't looking into all of the dishonesty going on with Crooked Hillary & the Dems." Meanwhile, Republican members of Congress have offered up a grab bag of incidents and insinuations they claim justify the appointment of a special counsel.
This dubious bill of particulars includes Clinton's (minimal) role as secretary of state in the approval of the purchase by a Russian company of a controlling stake in Uranium One, a uranium company whose major investor had contributed to the Clinton Foundation; the investigation of Clinton's use of a private email server (yes, they're still on about that); and the Democrats' funding of the so-called "dossier" about Trump and Russia, which some Republicans theorize was the genesis of electronic surveillance of members of the Trump campaign.
From the beginning, Trump's "lock her up" attitude toward the woman he defeated has been cynical and irresponsible, reminiscent of the way leaders in authoritarian societies treat their political opponents. The Justice Department must not act in a way that suggests it is doing his bidding. http://www.latimes.com/opinion/editorials/la-ed-sessions-clinton-20171115-story.html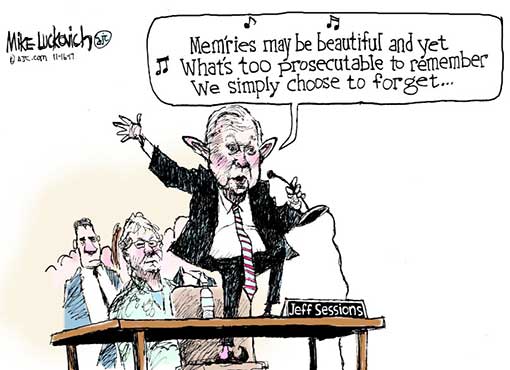 3.  Elizabeth Kolbert: In Bonn, Trump's Answer to Global Warming? Drill, Baby, Drill!
Every year around this time, negotiators from across the globe meet in one city or another—Montreal, Marrakech, Copenhagen, Paris—to resolve that the world really ought come up with a plan to do something about climate change. This year's Conference of the Parties, the twenty-third such gathering, is taking place in Bonn, and in addition to the usual impediments to progress—mistrust, inequality, bad faith—there's now the Trump Administration to contend with. On Monday, the U.S. delegation used its sole official appearance at COP23 to tout fossil fuels.
"Promoting coal at a climate summit is like promoting tobacco at a cancer summit," the former New York City Mayor Michael Bloomberg, who was in Bonn for the COP, observed. Protesters at the event sang songs and then walked out, leaving the hall half empty.
Next month, the President is expected to announce that he is cutting the size of Bears Ears National Monument, in southeastern Utah, by almost a million acres, or roughly ninety per cent. The land removed from protection could then be leased for drilling. "The ship of state is about to be turned into the Exxon Valdez," Dan Becker, the director of the Safe Climate Campaign, told the Washington Post.
What's key about all these moves is that they will lead to more investment in fossil-fuel infrastructure. Once a new offshore oil platform or natural-gas well is completed, it's likely to live out its useful life. (Call it establishing facts in the ground.) At events like COP23, this is known as "lock in"; the more fossil-fuel infrastructure that gets built, the more carbon emissions get "locked in." Whatever happens (or doesn't) this week in Bonn, the Trump Administration and its cronies in the fossil-fuel industry—the two groups are, admittedly, often interchangeable—are making it that much harder to curtail emissions. The future that's being "locked in" looks increasingly grim.  https://www.newyorker.com/news/daily-comment/in-bonn-trumps-answer-to-global-warming-drill-baby-drill
4. Richard Wolffe: Is the Trump administration afflicted with 'Moscow memory'?
According to Donald J Trump himself, he has "one of the great memories of all time". Unfortunately his great memory somehow failed him when it came to recalling the existence of his point man on Russia, George Papadopoulos.
Since so much of TrumpWorld is a legacy of the 1980s, this seems to be a good time to recall that classic line in The Bonfire of the Vanities about grand juries indicting ham sandwiches.
Now that we have Robert Mueller's team engaged with grand juries, we seem to have stumbled on a bumper delivery of quite delicious sandwiches.
There's the president's son who coordinated campaign activities with a hostile intelligence service and met with Russian nationals offering stolen information.
There's the president's foreign policy aide who has already admitted his guilt in lying to federal officials about coordinating with the Russians.
And there's the president himself actively promoting the work of the hostile intelligence service, and encouraging its Russian backers to hack some more. "Russia, if you're listening, I hope you're able to find the 30,000 emails that are missing," the candidate said at a press conference in July 2016.
Now, as president, the same man says he believes Putin when he says he didn't meddle with his own election. "Every time he sees me, he says 'I didn't do that' and I really believe that when he tells me that," Trump told reporters on Saturday.  https://www.theguardian.com/commentisfree/2017/nov/14/trump-administration-moscow-memory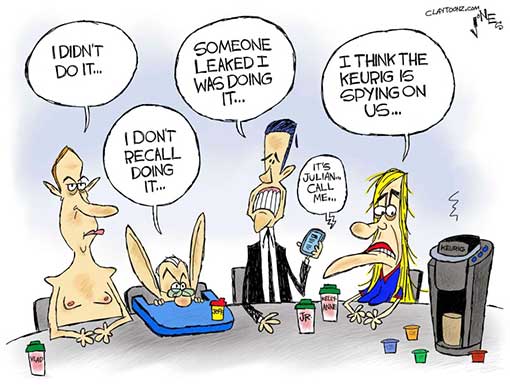 5. Ed Kilgore: December Disaster Looms As Spending, Debt, and Tax Controversies Pile Up
Unlike the health-care and tax legislation that has consumed so much congressional energy in 2017, the spending measure cannot be passed by special budget rules enabling passage by a simple majority in the Senate. So Democratic cooperation is a must — particularly since a number of House conservatives routinely vote against spending bills as a matter of principle. And one of the big questions surrounding a spending deal is whether Democrats exploit that leverage to make some nonnegotiable demands, particularly since the Republicans who control the federal government are almost certainly going to get the lion's share of the blame if a shutdown occurs.
The most likely deal-breaker demand is relief for Dreamers (young undocumented immigrants brought into the country as children who meet certain conditions indicating good behavior) now under threat of deportation after the president's delayed suspension of the Obama administration's DACA (Deferred Action for Childhood Arrivals) program. The administration and its congressional allies would prefer a DACA dealthat encompasses restrictions on legal immigration and/or beefed-up border security, including money for the president's much-ballyhooed wall. But making the issue part of a larger spending-bill bargain could lead to a DACA extension more to Democrats' liking.
And hanging over all the negotiations will be the virtual necessity of a deal over the separate defense and non-defense spending caps imposed as part of a fiscal deal back in 2011. Congress has regularly waived the caps via deals that gave Republicans more defense spending and Democrats more domestic spending. Republicans and a significant number of Democrats want to reform or abolish the caps once and for all to let defense spending rise. But Democrats will surely want a corresponding relaxation of non-defense caps, and conservatives will violently resist.
If all that isn't complicated and contentious enough, the continual slippage of the deadline for a spending deal makes it increasingly probable that the negotiations over it will encompass debt-limit legislation as well. The two issues had supposedly been decoupled thanks to Treasury assurances that it could deal with government borrowing needs for a while after the last extension expired. But as Politico reports, Congress may decide to lump it all together anyway.  http://nymag.com/daily/intelligencer/2017/11/december-disaster-looms-as-stopgap-spending-bill-expires.html
6.  Abigail Tracy: The Ex-spy Behind The Trump-Russia Dossier Left A Clue For Mueller
As federal investigators pore over the Trump campaign's ties to Russia, the work of ex-British spook Christopher Steele continues to loom large. At least part of Robert Mueller's probe has been informed by Steele's infamous dossier, which alleges substantive ties between Donald Trump and the Russian government. Though Trump world has cast doubt on the document's legitimacy, with former Trump aide Carter Page dubbing it the "dodgy dossier," Steele has stood by his research and, reportedly, has offered up another tip: zero in on the president's foreign real-estate deals.
In December of last year, Steele informed Luke Harding, a journalist for the Guardian, that "the contracts for the hotel deals and land deals" between Trump and individuals with the Kremlin ties warrant investigation. "Check their values against the money Trump secured via loans," the former spy said, according to a conversation detailed in Harding's new book, Collusion: Secret Meetings, Dirty Money, and How Russia Helped Donald Trump Win. "The difference is what's important."
According to his book, Steele did not elaborate on this point to Harding, but his implication was clear: it's possible that Trump was indebted to Russian interests when he descended Trump Tower's golden escalator to declare his candidacy. After the real-estate mogul suffered a series of bankruptcies related to the 2008 financial crisis, traditional banks became reluctant to loan him money— a reality he has acknowledged in past interviews. As a result, the Trump Organization reportedly became increasingly reliant on foreign investors, notably Russian ones. As Donald Trump Jr. famously said in 2008, "Russians make up a pretty disproportionate cross section of a lot of our assets. We see a lot of money pouring in from Russia."
The significance of such transactions is not lost on Special Counsel Robert Mueller. Citing a person familiar with the F.B.I. probe, Bloomberg reported in July that Mueller's team is investigating a series of deals Trump struck, including the Trump Organization's failed SoHo development that involved Russian nationals, the 2013 Miss Universe pageant in Moscow, and the president's sale of a Palm Beach estate in 2008. All three deals have drawn scrutiny for their ties to Russian interests; as Craig Unger outlined for the Hive, the 2014 Trump SoHo development is likely of interest to Mueller thanks to the involvement of Felix Sater—a Moscow-born, Russian-American businessman who did time for stabbing a man in the face with a margarita glass—and the now-defunct company he worked for, the Bayrock Group. Similarly, Russian developer Aras Agalarov, whose son Emin helped broker the controversial Trump Tower meeting last June between Donald Trump Jr. and Russian lawyer Natalia Veselnitskaya, paid $20 million to bring Miss Universe to Moscow. And Russian fertilizer magnate Dmitry Rybolovlev bought the Florida mansion for a staggering sum of $95 million in 2008—despite Trump having paid just $41 million for the property four years prior.  https://www.vanityfair.com/news/2017/11/christopher-steele-robert-mueller-trump-russia-dossier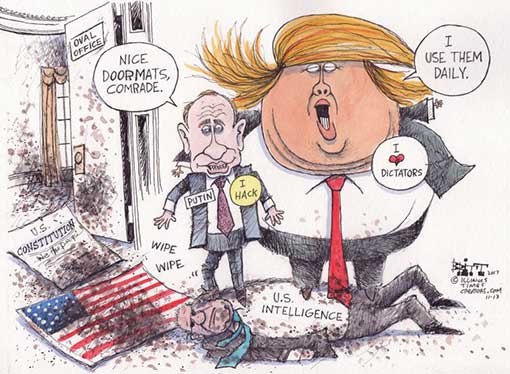 7. David Faris: The GOP's walking dead
This week we learned once again that there is no rock bottom with today's Republican Party. There will never be a rock bottom, just an infinity staircase leading to the bottomless depths of bad faith, irresponsible policy, and hypocrisy.
The party has been busy dealing with the fallout from its primary voters having nominated a man who allegedly enjoyed picking up and assaulting adolescent girls while he was in his 30s. GOP leaders are frantically trying to cancel the election in deep-red Alabama, a state Trump carried by 27 points but where Roy Moore (R-The Mall) trails his Democratic opponent by double digits according to the GOP's own polling. They are losing state legislative seats in districts where Trump clobbered Hillary Clinton and where Republicans should breeze to easy victories. The president, incapable of showing restraint or decency for more than 5 minutes, is about to watch several more of his closest campaign associates indicted. Meanwhile, it was revealed that President Trump's son-in-law Jared Kushner forwarded Russian email overtures to other members of the campaign team and then, of course, lied about it.
And in the midst of all this chaos, the party is simultaneously jamming a profoundly reckless and unpopular tax bill through Congress before it loses one or both chambers next year.
This is the scrambling behavior of a party that knows it is doomed. Republicans are deep in an airtight bunker of their own design, looking nervously at their cyanide capsules and wondering when the end will arrive. They can't quite hear the artillery fire yet but they've heard the radio crackle with reports of Team Blue breaking through the lines in Virginia, New Jersey, Oklahoma, and Alabama. A year ago they thought they had busted the secret code of American politics, but today their empire of empty sophistry and irreconcilable policy goals is crumbling all around them. Their answer to their historic unpopularity and their 11-point deficit on the generic congressional ballot is to double down on the very policies that have made them so loathed in the first place. It's quite a gambit.  http://theweek.com/articles/737792/republican-tax-bill-serious-trouble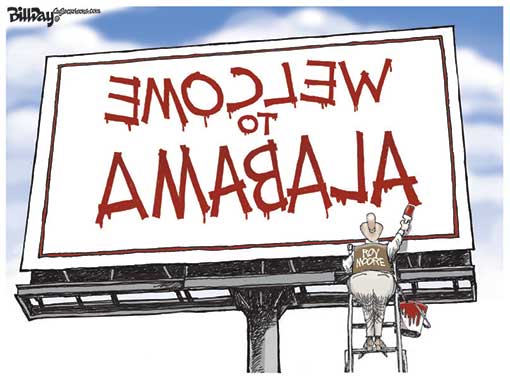 8. Ryan Cooper: The Republican tax bill is class war
The absolute horror of the Republican tax bill has been somewhat obscured recently by the never-ending deluge of mass shootings, rambling madness from President Trump, and sexual harassment allegations against, apparently, every fourth man on planet Earth. But the bill did pass the House, and it is nothing less than all-out class war on the 99 percent by the plutocracy holding the reins of the Republican Party. It's up next in the Senate, as early as next week.
The rest of the country should remember this assault, and repay the favor with interest.
The Republican donor class and their employees in Congress are barely even attempting to hide the fact that this tax "reform" is about transferring as much income and wealth to the ultra-rich as possible, on their direct orders. It's a huge corporate tax cut, a cut to Trump Organization-style "pass-through" companies, plus a sharp cut in the inheritance tax, which would be abolished completely in 2024. Oh, and a new tax subsidy for private jets. Why?
We now know there shall be no quarter from the ultra-rich in their quest to take as much of the national income and wealth for themselves as possible. So they should be given no quarter either.  http://theweek.com/articles/738111/republican-tax-bill-class-war
9. Stan Collender: GOP Tax Bill Is The End Of All Economic Sanity In Washington
There's no economic justification whatsoever for a tax cut at this time. U.S. GDP is growing, unemployment is close to 4 percent (below what is commonly considered "full employment"), corporate profits are at record levels and stock markets are soaring. It makes no sense to add any federal government-induced stimulus to all this private sector-caused economic activity, let alone a tax cut as big as this one.
This is actually the ideal time for Washington to be doing the opposite.  But by damning the economic torpedoes and moving full-speed ahead, House and Senate Republicans and the Trump White House are setting up the U.S. for the modern-day analog of the inflation-producing guns-and-butter economic policy of the Vietnam era. The GOP tax bill will increase the federal deficit by $2 trillion or more over the next decade (the official estimates of $1.5 trillion hide the real amount with a witches brew of gimmicks and outright lies) that, unless all the rules have changed, is virtually certain to result in inflation and much higher interest rates than would otherwise occur.
The GOP's insanity is compounded by its moving ahead without having any idea of what this policy will actually do to the economy. The debates in the Ways and Means and Senate Finance Committees and on the House floor all took place before the Congressional Budget Office's analysis and, if it really exists, the constantly-promised-but-never-seen report from the Treasury on the economics of this tax bill.  https://www.forbes.com/sites/stancollender/2017/11/19/gop-tax-bill-is-the-end-of-all-economic-sanity-in-washington/#2ff0bc377ef7