September 24, 2020
ON THE RECORD. . .
TRIBUTES TO JUSTICE RUTH BATER GINSBURG

"A Jewish teaching says those who die just before the Jewish new year are the ones God has held back until the last moment bc they were needed most & were the most righteous. And so it was that #RBG died as the sun was setting last night marking the beginning of RoshHashanah"— Nina Totenberg

This is a devastating personal loss for so many. But more than that, it is a devastating loss for our country. Her memory is already a blessing. May it also be a call to continue her work for justice and equality under the law. — Hillary Clinton

We have lost one of the most extraordinary Justices ever to serve on the Supreme Court. Ruth Bader Ginsburg's life and landmark opinions moved us closer to a more perfect union. And her powerful dissents reminded us that we walk away from our Constitution's promise at our peril. — Bill Clinton

Ruth Bader Ginsburg devoted her life to the powerful premise that every person counts. She was a warrior for justice, equality, and democracy. Thanks to her, those who carry on these fights will have not only history, but also the law, on their side. Rest in peace, RBG — Madeleine Albright

If Ruth Bader Ginsburg can endure months of chemotherapy for pancreatic cancer and still not miss the court arguments, we can stand in line for a few hours to vote for Biden/Harris 2020. Executive Order Singh, MD 

"Our nation has lost a justice of historic stature. We at the Supreme Court have lost a cherished colleague. Today we mourn but with confidence that future generations will remember Ruth Bader Ginsburg as we knew her, a tireless and resolute champion of justice." — Chief Justice John Roberts

-----------------------------------------------------------------------------------------------------------------------------

"There's no doubt everything will be sort of on the table if we're thrown into a world where you can't trust somebody's word and precedents get changed at will to fit your priorities of the moment." -- Sen. Chris Murphy (D-Conn.)

"Please follow your conscience. Don't vote to confirm anyone nominated under the circumstances President Trump and Senator McConnell have created. Don't go there. Uphold your constitutional duty, your conscience, let the people speak. Cool the flames that have been engulfing our country. We can't ignore the cherished system of checks and balances." — Joe Biden

"A long-standing tradition of not filling vacancies on the Supreme Court in the middle of a presidential election year." The principle is that "the American people are choosing their next president, and their next president should pick this Supreme Court nominee.  — Sen. McConnell four years ago.

Mitch McConnell has been blocking $25 billion in USPS funding for 124 days, legislation to restore Voting Rights Act for 284 days & legislation to prevent foreign election interference for 328 days but confirmed six more extreme Trump judges in 30 hours. — Ari Berman

"Other than slavery, the lock down and stay-at-home orders to combat the coronavirus are the greatest intrusion on civil liberties in American history." — AG Bill Barr

"Because of the new and unprecedented massive amount of unsolicited ballots which will be sent to 'voters', or wherever, this year, the Nov 3rd Election result may NEVER BE ACCURATELY DETERMINED." — Trump already questioning the coming election results.

TRUMP: I have it all ready. I have it all ready.
STEPHANOPOULOS: But it's … you've been trying to strike down preexisting conditions…
TRUMP: It doesn't matter. I have it all ready, and it's a much better plan for you, and it's a much better plan.

"This is not like embedding with the Marines in Fallujah. It is like you are taking your family with you to Fallujah." — ABC News White House correspondent Jon Karl on the risks associated with covering indoor Trump rallies.

"If you take the blue states out, we're at at a level that I don't think anybody in the world would be at. We're really at a very low level but some of the states — they were blue states, and blue-state management. " — Trump, blaming 'blue states' for increasing nation's coronavirus death rates, ignoring high rates in red states.

The Administration's coronavirus response "was like a family office meets organized crime, melded with 'Lord of the Flies.' It was a government of chaos." —Robert F. Kennedy's grandson, Max, who volunteered with Jared Kushner's COVID-19 task force

Trump gives himself an "A+" on pandemic response. We've done a "phenomenal job, not just a good job, a phenomenal job, other than public relations, but that's because I have fake news." -- Trump, failing to mention the 200,000 Americans who have died since March.

"I don't know that she said that, or was that written out by Adam Schiff and Schumer and Pelosi. I would be more inclined to the second… But that sounds like a Schumer deal or maybe a Pelosi or Shifty Schiff." — Trump told Fox & Friends that he did not believe Justice Ruth Bader Ginsburg's wanted the next president fill her seat on the Court, contradicting NPR, which reported that the 87-year-old justice dictated the note to her granddaughter, Clara Spera, in the final days of her life.

"I'm trying to make masks in America great again and I've got President Trump's masks."-- Ohio's Republican LtGov Husted, who tried to encourage Trump supporters to wear masks, was immediately & loudly booed.

"When you're a politician, you have to shake a lot of hands. You have to shake a lot of hands. And these people are disgusting. It's gross. And so maybe, Covid's probably a good thing, right? I don't have to shake hands. I don't have to do that anymore." — President Trump, quoted by former White House aide Olicia Troye on the Today Show.

'The president never downplayed critical health information." — White House press secretary Kayleigh McEnany, at a press briefing, despite an audio tape of President Trump telling Bob Woodward he was downplaying the threat of the coronavirus.

"With the vice presidential debate fast approaching, pro-Democrat Super PAC American Bridge 21st Century has released its entire opposition research book on VP Mike Pence for free online.

"Cans of tuna fish. They go out and buy tuna fish and soup. You know that, right? Because they throw it. It's the perfect weight, tuna fish, they can really rip it, right? And that hits you. No, it's true. Bumble Bee brand tuna." — Trump at a rally making up claims about protesters' methods.

TRUMP attacking Rep. Ilhan Omar (D-MN) at his Pennsylvania rally on Tuesday night: "She's telling us how to run our country. How did you do where you came from? How was your country doing?"
OMAR responding: "Firstly, this is my country and I am a member of the House that impeached you. Secondly, I fled civil war when I was 8. An 8-year-old doesn't run a country even though you run our country like one."

"Cindy can have Sleepy Joe." — Trump dismissing Cindy McCain's endorsement of Joe Biden saying he "hardly" knows her and describing the former vice president as a "lapdog" for her late husband.

"God created Republicans to do three things, and really only three things: cut taxes, kill foreign enemies and confirm right-facing judges. Only confirming judges has the potential to unite socially conservative populists and squishy corporatists with equal enthusiasm." — GOP strategist Brad Todd

Responsibility | Priorities USA: https://youtu.be/CKV1M7YzOqM

You asked us to use your own words against you. Here you go. | Meidas Touch: https://twitter.com/MeidasTouch/status/1307400158846443520

Shop Talk - Yes She Can | Joe Biden For President 2020: https://youtu.be/8ilFf10OJOI

Shop Talk - Criminal Justice Reform | Joe Biden For President 2020: https://youtu.be/hGvcHE_RPzs

--------------------------------------------------------------------------

Drunk History: Trump Edition | The Daily Show: https://youtu.be/kKl8CGL3V38
---
IN THIS ISSUE
FYI
OPINION
1. Andy Borowitz: Trump Claims Dog Ate His Health-Care Plan
Donald J. Trump's promise to release a long-delayed health-care plan hit a snag when his dog ate the only existing copy of the plan, the President disclosed.

"I left the plan on my desk, and somehow the dog got up there and ate it," he said. "It's a bad dog, quite frankly."

Trump's explanation met with raised eyebrows from the White House press corps, none of whom had been previously aware that the President had a dog.

Asked to describe the dog, Trump said, "It has, you know, paws, and fur, and that head that dogs have. It's a very basic dog that you would see."

Pressed to reveal the dog's name, Trump said, "I didn't name it, because I don't name dogs unless they do a good job. I'm not like Obama, who named every dog he got. I wish Obama's dog had eaten Obamacare. We wouldn't be in this mess."

The White House press secretary, Kayleigh McEnany, later announced that Trump's dog would be taking an indefinite leave of absence. https://www.newyorker.com/humor/borowitz-report/
2. The United States is backsliding into autocracy under Trump
Three years into the Trump administration, American democracy has eroded to a point that more often than not leads to full-blown autocracy, according to a project that tracks the health of representative government in nations around the world.
The project, called V-Dem, or Varieties of Democracy, is an effort to precisely quantify global democracy at the country level based on hundreds indicators assessed annually by thousands of individual experts. It's one of several ongoing projects by political scientists that have registered a weakening of democratic values in the United States in recent years.
V-Dem's findings are bracing: The United States is undergoing "substantial autocratization" — defined as the loss of democratic traits — that has accelerated precipitously under President Trump. This is particularly alarming in light of what the group's historic data show: Only 1 in 5 democracies that start down this path are able to reverse the damage before succumbing to full-blown autocracy. https://www.washingtonpost.com/business/2020/09/18/united-states-is-backsliding-into-autocracy-under-trump-scholars-warn/
3. Secret CIA assessment: Putin 'probably directing' influence operation to denigrate Biden
Russian President Vladimir Putin and his top aides are "probably directing" a Russian foreign influence operation to interfere in the 2020 presidential election against former vice president Joe Biden, which involves a prominent Ukrainian lawmaker connected to President Trump's personal lawyer Rudolph W. Giuliani, a top-secret CIA assessment concluded, according to two sources who reviewed it.. https://www.washingtonpost.com/opinions/2020/09/22/secret-cia-assessment-putin-probably-directing-influence-operation-denigrate-biden/
4. The Russian Trolls Have a Simpler Job Today. Just Quote Trump.
As part of their attempt to interfere with the 2020 election, Russians are grabbing screenshots of President Trump's tweets, or quoting his own misleading statements, analysts and officials say. https://www.nytimes.com/2020/09/22/us/politics/russia-disinformation-election-trump.html
5. CIA clamps down on flow of Russia intelligence to White House
The CIA has made it harder for intelligence about Russia to reach the White House, stoking fears among current and former officials that information is being suppressed to please a president known to erupt in anger whenever he is confronted with bad news about Moscow. https://www.politico.com/news/2020/09/23/cia-russia-intelligence-white-house-420351
6. Trump administration announces $13 billion in additional aid to Puerto Rico
The Trump administration on Friday announced $13 billion in additional aid to Puerto Rico to help with rebuilding in the aftermath of 2017's Hurricane Maria.
The move is likely an attempt to appeal to Puerto Rican voters who moved to the battleground state of Florida after the hurricane struck the US territory. https://www.cnn.com/2020/09/18/politics/trump-aid-puerto-rico/index.html
7. Trump's businesses charged Secret Service more than $1.1 million, including for rooms in club shuttered for pandemic
President Trump's luxury properties have charged the U.S. government more than $1.1 million in private transactions since Trump took office — including for room rentals at his Bedminster, N.J., club this spring while it was closed for the coronavirus pandemic, new documents show.
The documents, including receipts and invoices from Trump's businesses, were released by the Secret Service after The Washington Post filed a public-records lawsuit. They added $188,000 in previously unknown charges to The Post's running total of payments to Trump's properties related to the presence of Secret Service agents.
The receipts and invoices shed new light on the unprecedented relationship Trump has with his own government — where Trump's presidential travel brings a stream of public money to the private businesses that the president still owns. https://www.washingtonpost.com/politics/secret-service-spending-bedminster/2020/09/17/9e11e1c2-f6a0-11ea-be57-d00bb9bc632d_story.html
8. U.S. Admits That Congressman Offered Pardon to Assange If He Covered Up Russia Links
Lawyers representing the United States at Julian Assange's extradition trial in Britain have accepted the claim that the WikiLeaks founder was offered a presidential pardon by a congressman on the condition that he would help cover up Russia's involvement in hacking emails from the Democratic National Committee.
Jennifer Robinson, a lawyer, told the court that she had attended a meeting between Assange, then Republican Congressman Dana Rohrabacher, and pro-Trump troll Charles Johnson at Assange's hide-out, the Ecuadorian embassy in London, on August 15, 2017. https://www.thedailybeast.com/us-admits-that-putins-favorite-congressman-offered-pardon-to-assange-if-he-covered-up-russia-links
9. Majority of Americans report no confidence in Trump to confirm vaccine safety, effectiveness
As President Trump continues to tout the progress of coronavirus vaccine development, going so far this week as to promise delivery to everyone in the U.S. by next spring, 69% of Americans report having no confidence at all in him to confirm the safety of a potential inoculation, according to a ABC News/Ipsos poll. https://abcnews.go.com/Politics/majority-americans-report-confidence-trump-confirm-vaccine-safety/story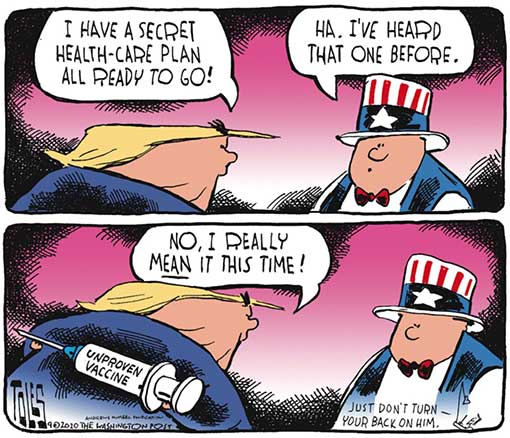 10. A Deal on Drug Prices Undone by White House Insistence on 'Trump Cards'
After months of heated accusations and painstaking negotiations, the White House and the pharmaceutical industry neared agreement late last month on a plan to make good on President Trump's longstanding promise to lower drug prices.
"The drug companies would spend $150 billion to address out-of-pocket consumer costs and would even pick up the bulk of the co-payments that older Americans shoulder in Medicare's prescription drug program."
"Then the agreement collapsed. The breaking point, according to four people familiar with the discussions: Mark Meadows, Mr. Trump's chief of staff, insisted the drug makers pay for $100 cash cards that would be mailed to seniors before November — 'Trump Cards,' some in the industry called them." https://www.nytimes.com/2020/09/18/us/politics/trump-drug-prices.html
11. Only 22% of Americans think the 2020 presidential election will be 'free and fair'
Just 22 percent of Americans believe this year's presidential election will be "free and fair," according to a new Yahoo News/YouGov poll — a disturbing loss of confidence in the democratic process that could foreshadow a catastrophic post-election period with millions of partisans refusing to accept the legitimacy of the results.  
The survey, which was conducted from Sept. 15 to 17, found that both Republicans and Democrats harbor grave and growing doubts about whether the upcoming election will accurately reflect the will of the people. https://news.yahoo.com/new-yahoo-news-you-gov-poll-less-than-a-quarter-of-americans-think-the-2020-election-will-be-free-and-fair-193758996.html
12. U.S. Public Now Divided Over Whether To Get COVID-19 Vaccine
About half of U.S. adults (51%) now say they would definitely or probably get a vaccine to prevent COVID-19 if it were available today; nearly as many (49%) say they definitely or probably would not get vaccinated at this time. Intent to get a COVID-19 vaccine has fallen from 72% in May, a 21 percentage point drop.
The share who would definitely get a coronavirus vaccine now stands at just 21% – half the share that said this four months ago. https://www.pewresearch.org/science/2020/09/17/u-s-public-now-divided-over-whether-to-get-covid-19-vaccine/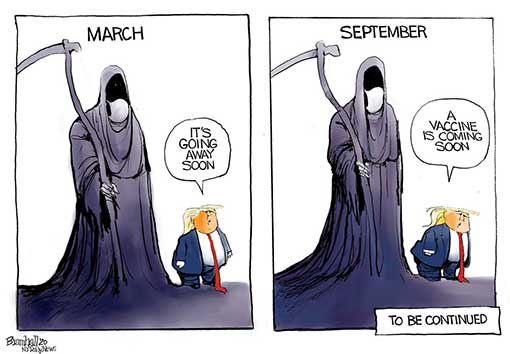 13. Idaho 'no-masker' pastor, who prayed against a mask mandate, in intensive care for covid-19.
When coronavirus cases began increasing in Coeur d'Alene, Idaho, in late July, Pastor Paul Van Noy prayed with his congregation that the city council would not pass a mask mandate.
"I don't want to be told I have to wear a mask," he said at the lectern. "We're adults and we don't need the government to tell us what to do."
A little over a month later, he and his wife contracted the virus and he has landed in the hospital's intensive care unit struggling to breathe, he said in a statement this week. https://www.washingtonpost.com/nation/2020/09/18/coronavirus-idaho-pastor-icu/
14. Mitch rams through six Trump judges in 30 hours after blocking coronavirus aid for months
The Republican-led Senate confirmed six of President Donald Trump's judicial nominees to lifetime appointments over two days this week, even though it has delayed crucial coronavirus relief since May.
Mitch McConnell has been blocking $25 billion in USPS funding for 124 days, legislation to restore Voting Rights Act for 284 days & legislation to prevent foreign election interference for 328 days but confirmed six more extreme Trump judges in 30 hours. https://news.yahoo.com/mitch-mcconnell-rams-six-trump-151816172.html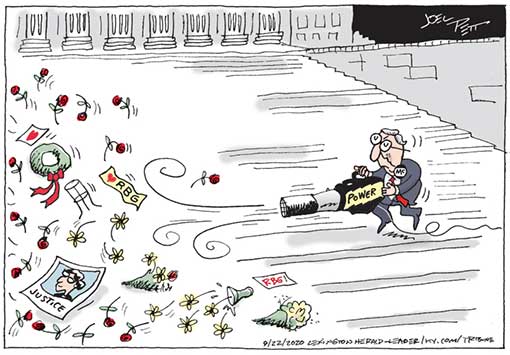 15. Trump alleges 'left-wing indoctrination' in schools, says he will create national commission to push more 'pro-American' history
 Trump pressed his case Thursday that U.S. schools are indoctrinating children with a left-wing agenda hostile to the nation's Founding Fathers, describing efforts to educate students about racism and slavery as an insult to the country's lofty founding principles.
Trump, speaking before original copies of the Constitution and Declaration of Independence at the National Archives, characterized demonstrations against racial injustice as "left-wing rioting and mayhem" that "are the direct result of decades of left-wing indoctrination in our schools. It's gone on far too long."
The federal government has no power over the curriculum taught in local schools. Nonetheless, Trump said he would create a national commission to promote a "pro-American curriculum that celebrates the truth about our nation's great history," which he said would encourage educators to teach students about the "miracle of American history." https://www.washingtonpost.com/education/trump-history-education/2020/09/17/f40535ec-ee2c-11ea-ab4e-581edb849379_story.html
16. Lev Parnas, Giuliani Associate, Faces New Fraud Charges
Lev Parnas, the Soviet-born businessman who teamed up with Rudolph W. Giuliani to collect damaging information on President Trump's political rivals, faced new federal charges Thursday that he duped investors in a company he founded that ostensibly protected consumers against fraud.
Mr. Parnas, who already had been indicted on charges of campaign finance violations in October 2019, was accused in an updated indictment of conspiring to defraud investors in the start-up he created, Fraud Guarantee. The indictment also charged Mr. Parnas, who broke from President Trump and Mr. Giuliani late last year, with additional campaign finance violations.
The new indictment was announced by the United States attorney's office in Manhattan and by the F.B.I., which also brought the earlier case against Mr. Parnas and three other men. The new charges expand an already wide-ranging criminal investigation that has loomed over the president's inner circle. https://www.nytimes.com/2020/09/17/nyregion/lev-parnas-charged.html
17. "That's Their Problem": How Jared Kushner Let the Markets Decide America's COVID-19 Fate
First-person accounts of a tense meeting at the White House in late March suggest that President Trump's son-in-law resisted taking federal action to alleviate shortages and help Democratic-led New York. Instead, he enlisted a former roommate to lead a Consultant State to take on the Deep State, with results ranging from the Eastman Kodak fiasco to a mysterious deal to send ventilators to Russia. 
Kushner, seated at the head of the conference table, in a chair taller than all the others, was quick to strike a confrontational tone. "The federal government is not going to lead this response," he announced. "It's up to the states to figure out what they want to do."
One attendee explained to Kushner that due to the finite supply of PPE, Americans were bidding against each other and driving prices up. To solve that, businesses eager to help were looking to the federal government for leadership and direction.
"Free markets will solve this," Kushner said dismissively. "That is not the role of government." https://www.vanityfair.com/news/2020/09/jared-kushner-let-the-markets-decide-covid-19-fate
18. Wray says Russia engaged in 'very active efforts' to interfere in election, damage Biden
FBI Director Christopher Wray on Thursday described "very active efforts" by Russia to interfere in the 2020 election, primarily by working to damage former Vice President and Democratic presidential nominee Joe Biden.
Wray said Russians have been using social media, as well as "proxies, state media, online journals" and other vehicles to hurt Biden and what it views as anti-Russian factions in U.S. politics.
Wray's assessment affirms the findings of the Office of the Director of National Intelligence, which last month described Russia's efforts to damage Biden and specifically identified Andriy Derkach, a pro-Russian Ukrainian lawmaker who has met with President Donald Trump's lawyer Rudy Giuliani, as an agent of Russia's influence operations. https://www.politico.com/news/2020/09/17/fbi-director-russia-election-meddling-416839
19. GOP will ask Supreme Court to limit mail voting in Pennsylvania in first post-RBG test
Republicans plan to ask the Supreme Court to review a major Pennsylvania state court ruling that extended the due date for mail ballots in the key battleground state, teeing up the first test for the Supreme Court since the death of its liberal leader Justice Ruth Bader Ginsburg. 
The GOP legal strategy, which was revealed in a pair of court documents filed overnight and Tuesday morning, has not been previously reported.
The development comes after the Pennsylvania Supreme Court dealt Republicans a major blow last week in a bitterly partisan election lawsuit that could help determine whether President Trump or Democratic nominee Joe Biden takes the Keystone State, which Trump won in 2016 by just over 44,000 votes. https://thehill.com/homenews/administration/517587-gop-will-ask-supreme-court-to-limit-mail-voting-in-pennsylvania-in
20. Judge dismisses Trump campaign challenge to Nevada mail-in voting law
In a significant setback for the Trump campaign in the battleground state of Nevada, a federal judge has dismissed a lawsuit brought by the campaign over the state's new mail-in voting law.Under the recently passed law all active voters receive a mail-in ballot, whether they ask for one or not. The bill, AB-4, was passed in a special session and requires all active voters to receive a mail in ballot during the state of emergency caused by the Covid-19 pandemic. https://www.cnn.com/2020/09/21/politics/nevada-republican-election-lawsuit/index.html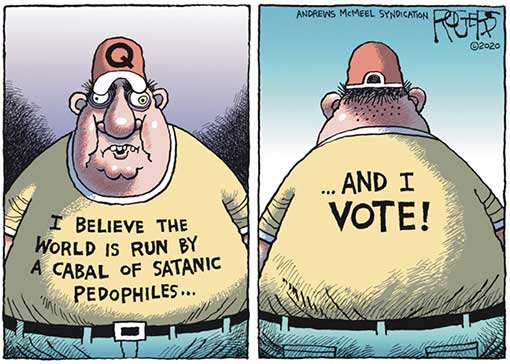 21. Nobel Prize-winning economists back Biden
Joe Biden's campaign released a letter signed by 13 winners of the Nobel Prize in economics who say that while their views are different, they all think his policies "will result in economic growth that is faster, more robust, and more equitable." https://www.axios.com/joe-biden-nobel-prize-economists-endorsement-14eb09d4-2b42-4edc-860c-8c9150639b93.html
22. Pentagon used taxpayer money meant for masks and swabs to make jet engine parts and body armor
A $1 billion fund Congress gave the Pentagon in March to build up the country's supplies of medical equipment has instead been mostly funneled to defense contractors and used to make things such as jet engine parts, body armor and dress uniforms.
The change illustrates how one taxpayer-backed effort to battle the novel coronavirus, which has killed more than 200,000 Americans, was instead diverted toward patching up long-standing perceived gaps in military supplies. https://www.washingtonpost.com/business/2020/09/22/covid-funds-pentagon/
23. Mike Bloomberg raises $16 million to allow former felons to vote in Florida
Former New York mayor Mike Bloomberg and his team have raised more than $16 million to pay the court fines and fees of nearly 32,000 Black and Hispanic Florida voters with felony convictions, an effort aimed at boosting turnout for Democratic presidential candidate Joe Biden. https://www.washingtonpost.com/politics/mike-bloomberg-raises-16-million-to-allow-former-felons-to-vote-in-florida/2020/09/21/6dda787e-fc5a-11ea-8d05-9beaaa91c71f_story.html
24. Comparing Biden and Trump's environmental policies
Joe Biden's platform revolves around his policy plan, called "Build Back Better," which pledges to invest $2 trillion into clean energy innovation and rebuilding infrastructure. Environmental and green energy policies remain at the forefront of Biden's campaign as he promises  to "lead the world to address the climate emergency and lead through the power of example."
Donald Trump's policies regarding environmentalism and green energy are scarce.The Trump administration remains committed to the oil and gas industry over green energy expansion. His campaign website states, "President Trump has approved the infrastructure and provided the resources needed to unleash oil and gas production in the U.S." https://www.saveonenergy.com/learning-center/post/presidential-election-rundown-green-energy/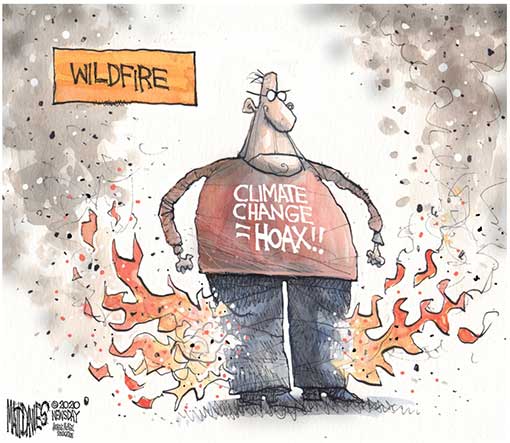 25. Biden Holds Big Lead Among Latino Voters
Joe Biden leads President Trump 62% to 26% among Latino registered voters nationally, but his lead trails Hillary Clinton's advantage with this voting bloc at this same stage in 2016, according to a new NBC News/Wall Street Journal/Telemundo poll.
https://www.documentcloud.org/documents/7213881-200625-NBCWSJTelemundo-September-Poll-Hispanic.html
26. Trump Could Be Investigated for Tax Fraud, D.A. Says for First Time
The Manhattan district attorney's office, which has been locked in a yearlong legal battle with President Trump over obtaining his tax returns, suggested for the first time in a court filing on Monday that it had grounds to investigate him and his businesses for tax fraud.
The filing by the office of the district attorney, Cyrus R. Vance Jr., offered rare insight into the office's investigation of the president and his business dealings, which began more than two years ago. https://www.nytimes.com/2020/09/21/nyregion/donald-trump-taxes-cyrus-vance.html
27. New York attorney general opposes Eric Trump efforts to delay subpoena until after presidential election
A lawyer for the New York attorney general's office argued Wednesday that President Donald Trump's middle son, Eric Trump, has no right to delay a subpoena for his testimony as part of an ongoing investigation until after the presidential election in November. https://www.cnbc.com/2020/09/23/trump-subpoena-court-arguments-on-new-york-investigation-.html
28. DHS awarded $6 million in contracts to firm where Acting Secretary Wolf's wife is executive
The consulting firm where the wife of acting Homeland Security Secretary Chad Wolf is an executive has been awarded more than $6 million in contracts from the Department of Homeland Security since September 2018, according to records on the federal government website USA Spending. https://www.nbcnews.com/politics/national-security/dhs-awarded-6-million-contracts-firm-where-acting-secretary-wolf-n1240773
29. House Democrats unveil changes to 'prevent future presidential abuses
House Democrats unveiled a sweeping package of changes Wednesday morning designed to strengthen Congress's ability to check the executive branch and prevent abuses of power, especially by the president.
The package, which its architects have informally referred to as "post-Trump reforms," includes measures to restrain the president's power to grant pardons and declare national emergencies, to prevent federal officials from enriching themselves and to accelerate the process of enforcing congressional subpoenas in court. It also includes provisions to protect inspectors general and whistleblowers, increase penalties for officials who subvert congressional appropriations or engage in overt political activity and safeguard against foreign election interference. https://www.washingtonpost.com/national-security/congress-post-trump-reforms/2020/09/23/38291e70-fd44-11ea-9ceb-061d646d9c67_story.html
30. Allegations of racism have marked Trump's presidency and become key issue as election nears
Over his 3½ years in office, Trump has presided over a sweeping U.S. government retreat from the front lines of civil rights, endangering decades of progress against voter suppression, housing discrimination and police misconduct.
His immigration policies hark back to quota systems of the 1920s that were influenced by the junk science of eugenics, and have involved enforcement practices — including the separation of small children from their families — that seemed designed to maximize trauma on Hispanic migrants.
With the election looming, the signaling behind even second-tier policy initiatives has been unambiguous. https://www.washingtonpost.com/national-security/trump-race-record/2020/09/23/332b0b68-f10f-11ea-b796-2dd09962649c_story.html
31. The Choice 2020: Trump vs. Biden
The Choice premiered Tuesday night on PBS and is now streaming on https://www.pbs.org/wgbh/frontline/film/the-choice-2020-trump-vs-biden/
With America in a perilous moment, this dual biography traces how both candidates have navigated challenges and crises throughout their lives — and what that says about how they might lead the country forward. https://www.pbs.org/wgbh/frontline/film/the-choice-2020-trump-vs-biden/
32. The DAILY GRILL

In an interview Tuesday with a Detroit TV station, Trump boasted of doing an "amazing" and "incredible" job against the pandemic.

VERSUS

The coronavirus has now killed 200,000 Americans, according to Johns Hopkins data. Whatever context you try to put this in, it is a catastrophe of historic proportions — and is yet another reminder of America's horrific failure to contain the virus. The death toll here is equivalent to roughly 65 Sept. 11 attacks. Three times more Americans have died from COVID than died in the Vietnam war — in only a fraction of the time. — Axios

 

"We're doing a great job. But if you really see a great job. Take New York and some of these other Democrat run states out of it. You'll see numbers that are unbelievable. Because New York had a very, very hard time. A lot of bad things happened. But if you take a few states out and you'll really see numbers." — Trump suggesting coronavirus statistics would be much better without Democrat-run states. 

VERSUS

"It's so unworthy of a president. It's beyond despicable. It's soulless. It's almost unspeakable in the middle of the pandemic to try to divide the country on a political basis when Covid-19 is really bipartisan." — Former Gov. Tom Ridge (R) on Trump saying the coronavirus death toll from the coronavirus was actually not so bad "if you take out the blue states."

 

"Biden FAILED BADLY with the Swine Flu. It was the Gang That Couldn't Shoot Straight". He didn't have a clue. We have done an incredible job with the much tougher China Virus!" — Trump tweeted.

VERSUS

12,469 Americans died from H1N1 from April 2009 to April 2010, while 196,277 Americans have died so far from COVID-19 over six months. — Centers for Disease Control

 

"If an opening comes in the last year of President Trump's term, and the primary process is started, we'll wait to the next election." — Sen. Lindsey Graham (R-SC), speaking in October 2018 on filling a Supreme Court vacancy just before an election.

VERSUS

I will support President @realDonaldTrump in any effort to move forward regarding the recent vacancy created by the passing of Justice Ginsburg. -- LIndsey Graham

 

"I proudly stand with my Republican colleagues in our shared belief -- our advice and consent -- that we should not vote on any nominee until the next president is sworn into office." — Sen.Ted Cruz, while he was running to be the Republican presidential nominee.

VERSUS

"I believe the right thing to do is for the Senate to take up this nomination and to confirm the nominee before Election Day." — Sen. Ted Cruz to George Stephanopoulos.

 

"Joe Biden has been explicit. He has said if he doesn't win he's going to challenge this election. Biden has already assembled a legal team to challenge the election if he loses and that Hillary Clinton has advised him not to concede the election." — Ted Cruz to George Stephanopoulos

VERSUS

"It's been President Trump who is the one talking about rigged elections. Joe Biden has not explicitly said he's going to challenge the election. Of course, they're going to have teams of lawyers, as every campaign always does, to look at irregularities." — George Stephanopoulos responding to Ted Cruz

 

"It affects elderly people, elderly people with heart problems and other problems. That's what it really affects," the president said. "In some states, thousands of people — nobody young. Below the age of 18, like, nobody. They have a strong immune system, who knows? Take your hat off to the young, because they have a hell of an immune system. But it affects virtually nobody. It's an amazing thing." — Trump, falsely downplaying the risks of the coronavirus.

VERSUS

Reports of Americans younger than 18 dying after contracting the coronavirus have become more regular in recent months, whether it's a 17-year-old in Florida or a 2-month-old in Michigan. "We are seeing young people who are dying from this virus." — Maria Van Kerkhove, head of the WHO's emerging disease and zoonosis unit, at a news conference last month.
33. From MEDIA MATTERS (They watch Fox News so you don't have to)
Fox's Mark Levin: Bill Barr is "right" to encourage U.S. attorneys to charge protesters with sedition.
Levin: "They're plotting to overthrow the government, that's what they tell us, Antifa, Black Lives Matter, and the rest" https://www.mediamatters.org/mark-levin/foxs-mark-levin-bill-barr-right-encourage-us-attorneys-charge-protesters-sedition

Climate denial, conspiracy theories, and misleading information -- Fox recycles old arguments year after year in wildfire coverage. Ignoring the clear scientific links between the climate crisis and this year's apocalyptic wildfires on the West Coast, coverage on Fox News and Fox Business has downplayed and denied the role of climate change in these devastating fires, deflecting from climate science while pushing President Donald Trump's perennial claim that forest mismanagement is to blame. At least two Fox programs have even falsely suggested that an organized campaign of arson is responsible for igniting the fires in the Pacific Northwest -- a harmful conspiracy theory that has also quickly spread across social media platforms. https://www.mediamatters.org/fox-news/fox-breaks-out-all-tools-denier-playbook-downplay-climate-changes-role-western-wildfires

Following news of the death of Court Justice Ruth Bader Ginsburg on September 18, abortion opponents and anti-abortion outlets reacted by celebrating the opportunity for President Donald Trump to appoint her replacement, attacking her voting record on abortion cases, and claiming that a new justice needs to be confirmed as soon as possible to overturn Roe v. Wade and end abortion. As we already saw in 2018 with the confirmation of Justice Brett Kavanaugh to the Supreme Court, anti-abortion figures and outlets will be ready to deploy a playbook of tactics to make sure another anti-abortion justice is confirmed to the court. https://www.mediamatters.org/supreme-court/abortion-opponents-immediately-celebrate-opportunity-trump-replace-justice-ginsburg

JESSE WATTERS (HOST): If the election is razor thin and the Democrats sue, which they probably will, the case would go to the Supreme Court with an empty seat on it. John Roberts can't be trusted. So it's only 4-4. Republicans need a full court to ensure radical lawyers don't steal the election -- so they need to confirm the nominee sooner rather than later. This is McConnell's bread and butter. He was a master with Kavanaugh and impeachment. We'll see if he can bring it home one more time. https://www.mediamatters.org/jesse-watters/foxs-jesse-watters-republicans-should-confirm-justice-soon-possible-because-democrats
JESSE WATTERS (HOST): Republicans should confirm a justice as soon as possible because Democrats are "bloodthirsty political killers. Republicans need a full court to ensure radical lawyers don't steal the election." https://www.mediamatters.org/jesse-watters/foxs-jesse-watters-republicans-should-confirm-justice-soon-possible-because-democrats
1. Susan Glasser "It Was All About the Election": Ex-White House Aide Olivia Troye on Trump's Narcissistic Mishandling of COVID-19
When I spoke with Olivia Troye on Thursday afternoon, she sounded more than a little scared. She was about to go public with a scorching video, in which she would denounce President Donald Trump and his stewardship of the country during the coronavirus pandemic. Troye, who served as Vice-President Mike Pence's adviser for homeland security until late July, has witnessed the Administration's response to the crisis, as Pence's top aide on the White House coronavirus task force. She had seen Trump rant in private about Fox News coverage as his public-health advisers desperately tried to get him to focus on a disease that has now killed some two hundred thousand Americans. She had decided that Trump was lying to the American public about the disease, and that "words matter, especially when you're the President of the United States," and that it was time to speak out. She was nervous and scared and worried for her family and her career. But she plunged ahead anyway.
I asked about her firsthand observation of the President during the crisis. She said that Trump was "disruptive." That he could not "focus." That he was consumed by himself and his prospects in November. "For him, it was all about the election," Troye told me. "He just can't seem to care about anyone else besides himself." https://www.newyorker.com/news/letter-from-trumps-washington/it-was-all-about-the-election-the-ex-white-house-aide-olivia-troye-on-trumps-narcissistic-mishandling-of-covid-19
2. Jonathan Chait: Trump Says Reporters Covering Protests Deserve to Be Attacked
At his rally Tuesday night, President Trump delivered an extended riff on the glories of police attacking journalists. First, he repeated a mangled version of a story that he told this weekend, about Ali Velshi being struck by a tear-gas canister while covering a rally, which he called "a beautiful sight." (Velshi was actually hit by a rubber bullet.) The second version of the story including more details, in which Trump and his audience could delight in Velshi's pain:
>>>That idiot reporter from CNN [Velshi works for MSNBC] got hit on the CNN with a canister of tear gas, right? And he went down. 'I've been hit, I've been hit.' He'd been hit … but he went down and he didn't like it, he was hit.
He then proceeded to regale his audience with a story of security forces removing a reporter from covering a protest:
They grabbed 'em. They were grabbing 'em left and right. Sometimes they grabbed, they grabbed one guy, 'I'm a reporter! I'm a reporter!' — 'Get out of here!' They threw him aside like a bag of popcorn. But honestly, when you watch the crap we've all had to take so long … when you see it, it's actually a beautiful sight. (video at https://twitter.com/atrupar/status/1308570366839853056)
Trump is an aspirational authoritarian with a criminal's contempt for legality, who believes the media and his opponents deserve to be beaten and imprisoned, and is inspiring and defending crazed violence among his supporters. He is a threat to the republic, and everyone who tolerates or minimizes him is irredeemably culpable. https://nymag.com/intelligencer/2020/09/trump-reporters-covering-protests-deserve-to-be-attacked.html
3. Barton Gellman: The Election That Could Break America
The danger is not merely that the 2020 election will bring discord. Those who fear something worse take turbulence and controversy for granted. The coronavirus pandemic, a reckless incumbent, a deluge of mail-in ballots, a vandalized Postal Service, a resurgent effort to suppress votes, and a trainload of lawsuits are bearing down on the nation's creaky electoral machinery.
Something has to give, and many things will, when the time comes for casting, canvassing, and certifying the ballots. Anything is possible, including a landslide that leaves no doubt on Election Night. But even if one side takes a commanding early lead, tabulation and litigation of the "overtime count"—millions of mail-in and provisional ballots—could keep the outcome unsettled for days or weeks.
The worst case, however, is not that Trump rejects the election outcome. The worst case is that he uses his power to prevent a decisive outcome against him. If Trump sheds all restraint, and if his Republican allies play the parts he assigns them, he could obstruct the emergence of a legally unambiguous victory for Biden in the Electoral College and then in Congress. He could prevent the formation of consensus about whether there is any outcome at all. He could seize on that un­certainty to hold on to power.
Trump's state and national legal teams are already laying the groundwork for postelection maneuvers that would circumvent the results of the vote count in battleground states. Ambiguities in the Constitution and logic bombs in the Electoral Count Act make it possible to extend the dispute all the way to Inauguration Day, which would bring the nation to a precipice. The Twentieth Amendment is crystal clear that the president's term in office "shall end" at noon on January 20, but two men could show up to be sworn in. One of them would arrive with all the tools and power of the presidency already in hand.
"We are not prepared for this at all," Julian Zelizer, a Prince­ton professor of history and public affairs, told me. "We talk about it, some worry about it, and we imagine what it would be. But few people have actual answers to what happens if the machinery of democracy is used to prevent a legitimate resolution to the election." https://www.theatlantic.com/magazine/archive/2020/11/what-if-trump-refuses-concede/616424/
4. Daniel Dale: A Fire Hose of Lying
Here is a brief summary lies Trump told at a Philadelphia town hall moderated by George Stephanopoulos (those without quotes have been reworded for brevity):
Trump: "I didn't downplay it [the coronavirus]"
Truth: Bob Woodward has Trump on tape saying: "I always wanted to downplay it"

Trump: "Nobody knew the seniors are susceptible"
Truth: Chinese officials emphasized this in public as early as January. The NYT published this on Jan. 23

Trump: Joe Biden said the pandemic was totally over-exaggerated
Truth: Biden said no such thing—ever

Trump: The cupboards were bare of ventilators when I took over
Truth: Trump inherited 19,000 ventilators from the Obama administration

Trump: "We have 20% of the cases because of the fact that we do much more testing"
Truth: Testing does not create cases, it merely reveals them; the U.S.is 20th worldwide in tests per capita

Trump: I put a ban on travel from China and Europe to protect Americans
Truth: The bans had so many holes you could fly a fleet of 747s through them

Trump: I will make a plan that will protect people with pre-existing conditions; Democrats won't
Truth: He's promised a plan for 4 years; Democrats support the ACA, which covers pre-existing conditions

Trump: I ended Obamacare
Truth: Republicans set the tax for not having insurance to $0 but the ACA is otherwise still intact

Trump: Biden has agreed to adopt Sen. Bernie Sanders' (I-VT) plan for socialized medicine
Truth: If he'd watched the primary debates, he'd have seen Biden repeatedly oppose Sanders' M4A plan

Trump: "Black communities are 81% in favor of having more police"
Truth: Actually, the poll he referenced said 20% want more police and 60% want the same amount as now

Trump: They [the Seattle protesters] took over a big chunk of the city—20% of the city
Truth: It was six blocks, a tiny fraction of the city

Trump: I activated the Minnesota National Guard after George Floyd was murdered
Truth: Gov. Tim Walz (DFL-MN) is the one who activated the Guard, not Trump

Trump: "I saw one form of crime [in NYC] up 300%"
Truth: No category of crime in NYC is up 300%. It is up slightly from 2019, when it was extremely low

Trump: I fired Jim Mattis
Truth: Mattis resigned because he disagreed with Trump on many issues
And this is only a sampler. But it may also be a preview of the first debate.  https://www.electoral-vote.com/evp2020/Pres/Maps/Sep17.html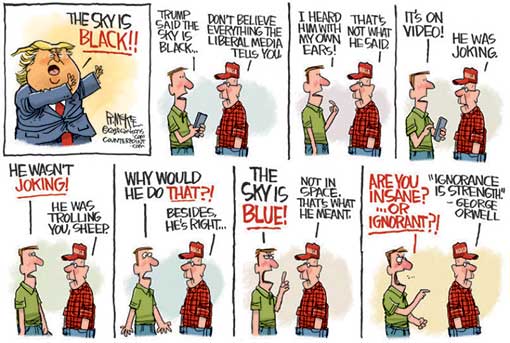 5. Richard North Patterson: Will Trump's GOP Turn the Election into a Sham? 
Despite Donald Trump's pathological unfitness for office, the central issue of the election has become this: Trump and his party mean to steal the presidency through massive voter suppression. This would be a fateful, perhaps irreparable, step toward turning our increasingly imperiled democracy into a Westernized version of Viktor Orbán's Hungary—wherein the party in power insulates itself from the parlous effects of letting the wrong people vote.
Republican attacks on democratic elections are hardly new. What's different is that they've become so comprehensive and conspicuous.
For years the GOP has largely focused on preventing minorities from voting in person. But in 2020 its machinations impact white Americans: To thwart voting by mail, Republicans are targeting likely Democratic voters regardless of race. Both will degrade our presidential election.
Here's the measure of America's decline: The only certain means of protecting our democracy is a margin for Biden so overwhelming that it will survive whatever Trump and his party contrive. Absent that, the Republican template for turning presidential elections into shams may become too embedded to reverse. https://thebulwark.com/will-trumps-gop-turn-the-election-into-a-sham/
6. Eric Levitz: It Is Not Undemocratic to Call Trump's Presidency 'Illegitimate'
Last week, the attorney general of the United States argued that mail-in ballots are inherently corrupt, that Democrats will likely produce 100,000 fake votes in Nevada on Election Night, and that liberals are "projecting" when they accuse Republicans of undermining confidence in the integrity of the upcoming presidential election.
Here is how Bill Barr phrased these arguments in an interview with Chicago Tribune columnist John Cass:
"There's no more secret vote with mail-in vote. A secret vote prevents selling and buying votes. So now we're back in the business of selling and buying votes. Capricious distribution of ballots means (ballot) harvesting, undue influence, outright coercion, paying off a postman, here's a few hundred dollars, give me some of your ballots," the attorney general said …
 
"You know liberals project," Barr said. "All this bulls— about how the president is going to stay in office and seize power? I've never heard of any of that crap. I mean, I'm the attorney general. I would think I would have heard about it. They are projecting. They are creating an incendiary situation where there will be loss of confidence in the vote.
 
"Someone will say the president just won Nevada. 'Oh, wait a minute! We just discovered 100,000 ballots! Every vote will be counted!' Yeah, but we don't know where these freaking votes came from," Barr said, promising to watch "Key Largo."
One might write off Barr's remarks as ironic bluster, but his comments are more concerning in context than they are in isolation. Public polling suggests that there is a stark partisan discrepancy in voting methods; Democrats are more likely to mail in their ballots, and Republicans are more likely to cast them in person. And since several swing states forbid election authorities from processing mail ballots before Election Day, this discrepancy means that it's quite possible Donald Trump will be in the lead on November 3, only to see his vote tally eclipsed over the ensuing days. Thus, when the head of federal law enforcement suggests that mail-in ballots are inherently suspect (and that any last-minute increase in the Democratic Party's ballot share is likely to be a product of fraud), he is priming Republican voters to reject the accuracy of any vote that Trump loses. https://nymag.com/intelligencer/2020/09/trump-electoral-college-illegitimate-bill-bar-authoritarian.html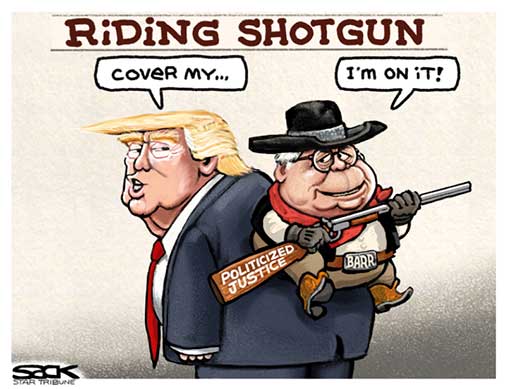 7. Neal K. Katyal and Joshua A. Geltzer: This Is How Bad It's Gotten at the Justice Department
In his time as the head of the Justice Department, Attorney General William Barr has alienated many federal prosecutors. The latest appears to be Nora Dannehy, a longtime prosecutor who has resigned from the department, where she was part of a team looking into the Russia investigation.
Her resignation looks like part of an extremely troubling pattern. Earlier this year, highly respected prosecutors in the Michael Flynn and Roger Stone cases dramatically resigned or withdrew. One of them testified to Congress that the Justice Department under Mr. Barr was treating Mr. Stone "differently from any other defendant because of his relationship to the president." The Justice Department inspector general has opened an investigation.
The resignations are a forceful public signal that something is seriously awry with the Justice Department under Mr. Barr. A hallmark of the department, where both of us worked, is its tradition of political independence, forged over decades since its creation in 1870. Neither of us ever heard of career civil servants resigning because they believed the attorney general was acting politically. Never — and that's even accounting for the department's strong conservatives and liberals in its career ranks.
A state prosecutor serving on Mr. Trump's presidential commission on law enforcement quit, too. And a senior Department of Homeland Security official filed a whistle-blower complaint accusing Chad Wolf, the acting secretary of Homeland Security, of ordering him to suppress intelligence on Russian election interference and white supremacist violence, in part because it "made the president look bad." These unusual actions have one thing in common: In every instance, they put the interests of Mr. Trump ahead of the country's. https://www.nytimes.com/2020/09/17/opinion/trump-barr-justice-department.html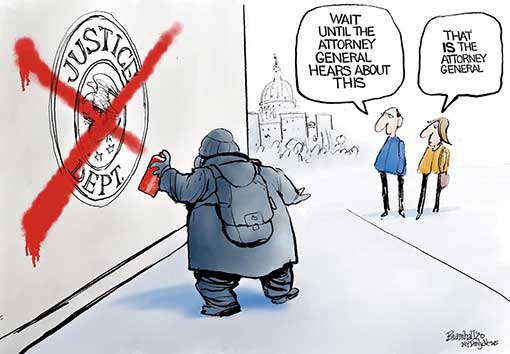 8. Jonathan Chait: A White House Aide Just Warned Us That Donald Trump Is a Sociopath
A procession of former Trump administration officials, speaking both on and off the record, have depicted the president as fundamentally unfit for office. Yesterday, the latest addition to their ranks, former Mike Pence aide Olivia Troye, put an especially fine point on the indictment. President Trump displayed "flat-out disregard for human life."
We should be precise about what exactly it means to say Trump has disregard for human life. Every president takes actions that put lives at risk (most obviously by using military force.) Many policies unavoidably involve trade-offs with that risk. Management of a pandemic is also going to involve decisions that, in one form or another, will entail some kind of trade-off.
To say Trump has disregard for human life is not to say he is willing to make cold decisions for the sake of a greater good, though. Troye is saying the president literally does not care about American deaths except insofar as it affects his own political standing. "The truth is, he doesn't actually care about anyone else other than himself," she says. https://nymag.com/intelligencer/2020/09/pence-aide-trump-disregard-human-life-coronavirus-olivia-troye.html
9. David Wasserman: Impending SCOTUS Fight Could Split the Trump Coalition
In the hours since Justice Ruth Bader Ginsburg's passing, several analysts have speculated the new, colossal Supreme Court fight will help President Trump by rallying traditional GOP voters behind him and shifting the focus of 2020 from the mismanagement of COVID-19 to a more straightforward partisan cage match. 
That's possible, but given the likelihood of the court to take a sharp right turn, a pre-election Supreme Court fight carries much bigger risks for Trump than the Brett Kavanaugh brawl in 2018.
Namely, there's potential for the Roe v. Wade/abortion issue and the Affordable Care Act to drive a wedge in Trump's coalition. In 2016, much of his support came from voters who disliked Hillary Clinton, liked Trump's rhetoric on trade and immigration, but consider themselves pro-choice — especially non-evangelical, blue-collar women. And, these voters remain up for grabs in 2020. https://cookpolitical.com/node/5836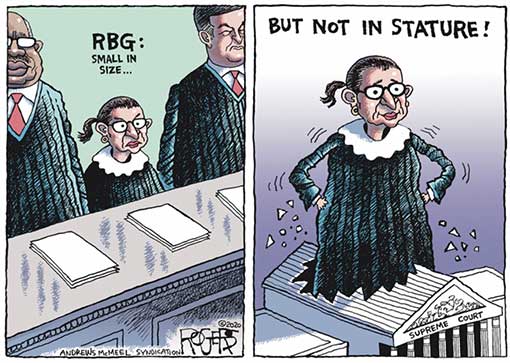 10. Nicholas Goldberg: Trump flunks American history 101 — again
According to President Trump, American history has been hijacked.
The way he tells it, a cabal of radical educators wielding Marxist ideologies such as critical race theory and brandishing dog-eared copies of Howard Zinn's "People's History of the United States" have captured our schools and universities and are indoctrinating our children to believe that the U.S. is wicked, that Americans are racist and that our country was founded on oppression rather than freedom.
The "rioting and mayhem" in the streets, he says, is the direct result of decades of brainwashing by left-wing teachers bent on making Americans "lose confidence in who we are, where we came from and what we believe."
But have no fear! Trump is going to reclaim our history from the radicals and the socialists, and fight against the "twisted web of lies" that questions the "virtue of America's heroes" and the "nobility of the American character." He's already issued an executive order to protect statues from "mobs incited by a radical fringe." Now, he said in a speech on Thursday, his administration is supporting the development of a "pro-American curriculum" designed to teach students "the magnificent truth about our country."
This is vintage Trump. He loves spewing empty patriotic rhetoric. He loves fomenting division and resentment through the culture wars. And he loves portraying the world in the simplest, most reductive terms.
But here's the thing about history: It's complicated. It's nuanced. It's a tangled web of competing interpretations, clashing facts, alternative perspectives. It is constantly being reconsidered, challenged and revised, and that's as it should be.
Trump's notion that the United States is not evil but rather magnificent — and that those are the only choices — is ludicrously simple-minded. The idea that we need to propagandize our children with a jingoistic "patriotic education" is both nonsensical and dangerous. https://www.latimes.com/opinion/story/2020-09-18/donald-trump-flunks-american-history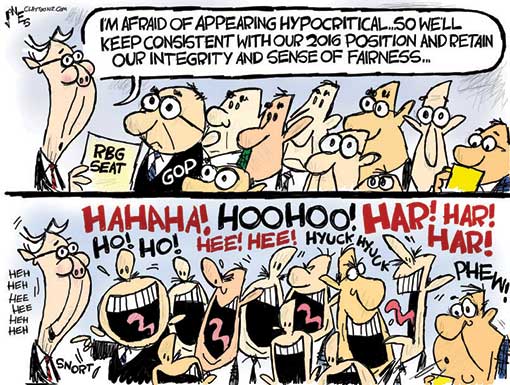 11. Gabriel Sherman: "This Nomination Is A F--K-You To The Left": Trump Campaign Is Itching For A Culture-War Fight Over Scotus Pick
RBG's death, and the opportunity to push the Supreme Court further right, is a Comey-level election game changer, Trump's allies insist. "It just changed the calculus for any conservatives who were on the fence," says one.
There is an element of magical thinking to this rosy view of the race. Biden remains solidly ahead in every credible poll, both nationally and in key battleground states, as early voting is underway in Virginia, Minnesota, and elsewhere. But some echoes of 2016 are impossible to ignore. Trump's willingness to violate social distancing rules and repeat lies on an epic scale has allowed his rallies and outrageous remarks to dominate the news cycle. Meanwhile, Biden is running a cautious campaign that seems willing to let Trump command the media's attention. As he barnstorms the country, Trump is putting little effort into readying himself for next week's debate moderated by Chris Wallace. Sources said Trump is having occasional conversations with chief strategist Jason Miller and former New Jersey governor Chris Christie. "Basically what happens is they sit around and throw questions at Trump. But Trump just kind of does his thing," the former West Wing official said. Added another Republican source: "Trump is just not taking it seriously." https://www.vanityfair.com/news/2020/09/trump-campaign-is-itching-for-a-culture-war-fight-over-scotus-pick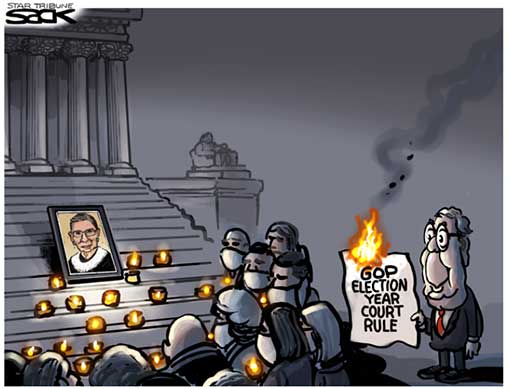 12. Jeffrey Toobin: The Legal Fight Awaiting Us After the Election
As Election Day approaches, the President has escalated his level of incitement. With the death of Supreme Court Justice Ruth Bader Ginsburg, last week, a battle with the Democrats in the Senate is almost inevitable. Trump has already moved from allegations of fraud to intimations of unlawfulness and violence. "Gotta be careful with those ballots," he said on September 8th, in a speech in North Carolina. "Watch those ballots. I don't like it." He continued, "Be poll watchers when you go there. Watch all the thieving and stealing and robbing they do." Trump has advised his supporters to vote twice—once by absentee and once at the polls, to make sure their votes count. (This would be a crime.) He has expressed sympathy for the anti-Black Lives Matter counter-protesters who fired paintballs at their adversaries in Portland, and has defended Kyle Rittenhouse, the pro-Trump vigilante who is accused of killing two protesters in Kenosha, Wisconsin. Trump also retweeted a prediction that political unrest "could lead to 'rise of citizen militias around the country.' " In light of these provocations, it seems that anything short of a landslide for either Biden or Trump could lead to chaos. It's unsurprising that, when the Transition Integrity Project, a group of a hundred bipartisan experts, ran a series of simulations, they concluded that "the potential for violent conflict is high, particularly since Trump encourages his supporters to take up arms."
One Republican, perhaps the one most knowledgeable about how elections really work, has decided that Trump has gone too far. Earlier this month, Benjamin Ginsberg, the scourge of the Gore forces in Florida, wrote an op-ed in the Washington Post, calling out Trump's baseless provocations about the election. "I spent 38 years in the GOP's legal trenches," he wrote. "I was part of the 1990s redistricting that ended 40 years of Democratic control and brought 30 years of GOP successes in Congress and state legislatures. I played a central role in the 2000 Florida recount and several dozen Senate, House and state contests." Ginsberg denounced Trump's encouragement of double voting and rejected the President's claim of widespread voter fraud: "The truth is that after decades of looking for illegal voting, there's no proof of widespread fraud. . . . Elections are not rigged." https://www.newyorker.com/magazine/2020/09/28/the-legal-fight-awaiting-us-after-the-election
13. Ron Brownstein: Fight over Ginsburg succession poses stark question: Can majority rule survive in US?
To a wide array of Democrats and other critics, the possibility of a GOP President and Senate that each has won support from less than half the country locking in a lasting Supreme Court majority crystallizes a much larger dilemma: how quirks in the constitutional system are allowing Republicans to repeatedly wield power in Washington even when more Americans vote for Democrats.
Whether majority rule survives in American politics "is the fundamental question of our time, when you layer on the fact that we are determining whether a multiracial democracy can exist," says Heather McGhee, former president of the liberal research and advocacy group Demos.
The overall tension on majority rule is growing because the Republican dominance of smaller, predominantly White and heavily Christian states has allowed the party to benefit from elements of the Constitution that amplify the influence of small states -- particularly the two-senator-per-state rule and the Electoral College.
From George Washington through Bill Clinton, only three presidents won the Electoral College while losing the presidential popular vote. But it's now happened twice in the past five elections, each time to the benefit of Republicans; Republicans have controlled the White House 12 of the past 20 years despite winning the popular vote only once in the five presidential elections since 2000. https://www.cnn.com/2020/09/20/politics/ruth-bader-ginsburg-supreme-court-successor/index.html
14. Tim Weiner The unanswered question of our time: Is Trump an agent of Russia?
At this point, only a dedicated team of FBI agents, CIA counterspies, and Treasury Department money-laundering experts can solve the mystery of Trump's relationship with Russia, even if it doesn't learn the truth for years to come.
The investigators have to follow the money, as they did with Ames and Hanssen, who between them received more than $4 million from the Kremlin. They have to look at Trump and his business empire going back to the 1980s — the casinos that teemed with Russian high rollers and failed to report suspicious transactions, the real estate deals with shady Russians, and every single one of those 500 limited liability companies.
They need to see the secret records of his conversations with Putin, just as they needed to piece together the ripped-up messages Ames wrote to his Russian handler. After his first face-to-face talk with Putin in 2017, Trump confiscated the notes of his interpreter, Marina Gross. And no American but she knows what they said at their second two-hour tete-a-tete in Helsinki two years ago. If the FBI can't get the records, it needs to talk to Gross. Her code of confidentiality, like those of lawyers and priests, can be breached if need be.
Ideally, the FBI would do what they did in the Hanssen case: recruit a Russian intelligence officer, specifically one with a case file bearing Trump's name. That person can be bought for the right price. And that file is locked away somewhere in the vast archives of the Russian spy services.
There's a classic story about an American agent of influence that predates the Cold War — and might presage the strange case of Donald Trump, if these questions about his relationship with Russia go dormant. Samuel Dickstein was a member of Congress from Manhattan, elected in 1922, and chairman of the House Immigration and Naturalization Committee in the 1930s. He walked into the Soviet Embassy in 1937 and offered the ambassador his services for $25,000 a year — three times his congressional salary. In exchange, he sold fake passports to Soviet spies. And he held headline-grabbing public hearings investigating Joseph Stalin's enemies in the United States. Dickstein served 11 terms in Congress. His file lay locked up in the KGB archives for 60 years. Today, if you go down to Manhattan's Lower East Side, to the intersection of Pitt and Grand streets, you'll be standing in Samuel Dickstein Plaza. He got away with it. https://www.washingtonpost.com/outlook/2020/09/21/russian-agent-trump-counterintelligence/
15. Christian Schneider: But No One!
It was the prospect of the new president picking this open seat that drew a lot of skeptical conservatives to unify and back Trump in 2016.
Trump, who is facing an uphill battle to earn re-election in November, has indicated he will make an appointment, and McConnell has pledged there will be a vote on a new justice before a new Senate is seated on January 3.
But if Trump does make his pick and McConnell does push the choice through the Senate, his coalition of traditional conservatives and populist nationalists will likely dissolve. Gone will be the fear that a Democratic president will appoint a justice who will swing the Court so far to the left that gay marriage will be mandatory and abortions will be performed at Costco.
In effect, by making a pick, Trump may be rendering himself obsolete in November. https://thebulwark.com/but-no-one/