February 16, 2017
ON THE RECORD. . .
"Sen. McCain should not be talking about the success or failure of a mission to the media. Only emboldens the enemy! ... He's been losing so long he doesn't know how to win anymore, just look at the mess our country is in – bogged down in conflict all over the place." -- Trump saying that Sen. McCain's concerns with a raid that resulted in the death of a Navy SEAL "emboldens the enemy."

"Absolutely. I know there were. it was "more of a paid attempt to bully and intimidate" than the feelings of my constituents. -- Rep. Jason Chaffetz (R-UT) who is sure that protestors were paid to disrupt his town hall.

"I oppose civil asset forfeiture too. Why don't you try to destroy my career you fascist, loofa-faced, shit-gibbon!" — Pennsylvania state Sen. Daylin Leach (D), after Trump joked he would "destroy" the career of a Texas state senator who wanted to curb the police practice of asset forfeiture.

"We have a president who is delusional in many respects, a pathological liar. it is very harsh, but I think that's the truth." — Sen. Bernie Sanders (I-VT)

"What you have there is you have the intersection of inexperience, incompetence and zealotry." -- Radio host Charlie Sykes about Trump policy adviser Stephen, who appeared on four of the Sunday talk shows.

Days until a president's job *disapproval* hit 55%:

George W Bush: 1,678 days
Barack Obama: 950 days
Donald Trump: 23 days -- Josh Jordan @NumbersMuncher

"At best, Conway is low-hanging spinning fruit, sugary but empty. At worst she's an apparatchik or, as Carl Bernstein puts it, 'a propaganda minister.' Neither is good for the republic. That's why I've chosen not to have her on." -- Joe Scarborough 2/14/17

"I find it hard to believe Gen. Flynn would just go rogue, seems more likely someone directed him to engage Russians." — Sen. Lindsey Graham (R-SC). 2/14/17

"We have never taken seriously from the very beginning Russia hacked our election. That was a 9/11 scale event. They attacked the core of our democracy. That was a Pearl Harbor scale event." -- Thomas Friedman 2/14/17
"Seriously, Republican congress members: you do not want to be covering for accusations of Russian penetration of U.S. government." — Former Bush speechwriter David Frum, on Twitter.
---
IN THIS ISSUE
1 Andy Borowitz: Putin Starting To Wonder If His Puppets Are Smart Enough To Pull This Off
2. The DAILY GRILL
3. From MEDIA MATTERS (They watch Fox News so you don't have to)
4. From the Late Shows
5. GOP Votes to Expand Gun Access for Mentally Impaired
6. Russian Lawmakers Defend Flynn
7. Trump's Enemies Within
8. Conway Invents Massacre to Justify Refugee Ban
9. Britons See Trump as Threat to World Stability
10. Trump impeached? You can bet on it 
11. The Terror Attacks Trump Won't Talk About
12 Voters Split on Impeaching Trump
13. Video: The White House Is Gaslighting The Media (And the Entire Country)
14. Mark Fiore Cartoon: So-called Executive Orders
15. Swift repeal of Obama rules leaves former staffers steaming
16. Children are scared they won't see their parents again, and Trump is tweeting about his border wall 
17. Late Nite Jokes
18. GOP Plans for Obamacare Repeal/Tax Reform Hit a Wall
19. GOP chairman: Oversight won't investigate Flynn
1. Ishaan Tharoor: Trump's populism is about creating division, not unity
2. Andrew Rosenthal: Donald Trump, Middle-School President
3. Andrew Sullivan: The Madness of King Donald
4. David Brooks: A Gift for Donald Trump
5. Paul Krugman: When the Fire Comes
6. Maureen Dowd: Free Melania – From Our Expectations
7. Kathleen Parker: Trump's two-year presidency 
8. Matthew W. Miller: Donald the Weak
9. Sean McElwee: Trump's supporters believe a false narrative of white victimhood — and the data proves it
10. David Frum: How to Build an Autocracy
11. Eric Levitz: Michael Flynn's Resignation Is the Best News of the Trump Presidency So Far 
12. Ari Berman: The Trump Administration's Lies About Voter Fraud Will Lead to Massive Voter Suppression
13. Howard Fineman: The White House Is Already In Flames
14. Margaret Carlson: Flynn's the First Casualty of Trump's Unsustainable Disinformation Campaign
15. Greg Sargent: Donald Trump is suddenly looking like a very weak autocrat 
1. Andy Borowitz: Putin Starting To Wonder If His Puppets Are Smart Enough To Pull This Off
Russian President Vladimir Putin is "starting to get concerned" that the puppets he installed in the executive branch of the U.S. government "might not be up to the task at hand," sources confirmed on Tuesday.

According to the sources, the flameout of the national-security adviser Michael Flynn was only the most recent event that has caused Putin to wonder if the figureheads he propelled into office are "just too dim-witted" to serve the goals of the Russian Federation.

"When you choose a puppet, you're looking for a sweet spot," one source close to Putin said. "You want to choose someone who's dumb enough to be manipulated, but not so dumb that he can't find the light switches."

"Increasingly, it looks like we missed that sweet spot," the source said.

Putin is reportedly willing to have a "wait and see" attitude with his current puppets, but, if things do not improve markedly, he will not hesitate to "make some changes," the source said.

"President Putin knew that this bunch didn't have a lot of experience in government and that there were bound to be some growing pains," the source said. "But geez." 

Trump Accuses Media Of Not Reporting Voices He Hears In Head: In a blistering attack on the media, President Trump said on Monday that the press has consistently refused to report the voices he hears in his head every day.

Trump praised the "really terrific information" he gets from the voices, which often speak to him when he is roaming the White House in his bathrobe in the middle of the night.

"They tell me that I won by the most votes ever and had the biggest Inauguration crowd ever," Trump said. "These are fantastic voices and they're doing a great job."

More recently: The Federal Bureau of Investigation is special-ordering a pair of "tiny handcuffs," an F.B.I. spokesman confirmed on Wednesday.

"If by chance we need to apprehend someone with abnormally small, mouse-sized hands, we will be ready," he said.

Read more at http://www.newyorker.com/humor/borowitz-report/trump-accuses-media-of-not-reporting-voices-he-hears-in-head
2. The DAILY GRILL
"There's no need to further probe Flynn. It's taking care of itself."  -- Rep. Jason Chaffetz (R-UT), Chair of the House Committee on Oversight and Government Reform. 2/14/16

VERSUS

"When the tragedy of Benghazi unfolded ... Jason Chaffetz was rushing to every news camera he could find to call for investigation." -- Republican operative Kurt Bardella, who was formerly a senior adviser and spokesperson for the House Oversight Committee, https://www.washingtonpost.com/blogs/plum-line/wp/2017/02/15/donald-trump-is-

 

"The murder rate in our country is the highest it's been in 47 years, right? Did you know that? 47 years." -- Donald Trump 2/7/17

VERSUS

The U.S. murder rate "isn't even close to such record highs." -- CNN's Jeremy Diamond on the murder rate, which remains at a historically low level. The murder rate was much higher 47 years ago, in the 1970's, and was also higher in the 1980s and 1990s. 2/7/17

 

In February 2016, Trump claimed the barrier would cost $10 billion to 12 billion. -- TPM

VERSUS

"President Donald Trump's "wall" along the U.S.-Mexico border would be a series of fences and walls that would cost as much as $21.6 billion, and take more than three years to construct, based on a U.S. Department of Homeland Security internal report seen on Thursday".-- Reuters 2/09/17.

 

President Trump is failing to make a good impression on the American people in his first month in office. His approval ratings (he's underwater with 45 percent approval and 49 percent disapproval, according to the latest RealClearPolitics average) are jaw-droppingly lower than those for any other president since polling began. -- Patrick J. Egan in the WA Post

VERSUS

Any negative polls are fake news, just like the CNN, ABC, NBC polls in the election. Sorry, people want border security and extreme vetting. -- Donald J. Trump ✔@realDonaldTrump

 

For the first time, US investigators say they have corroborated some of the communications detailed in a 35-page dossier compiled by a former British intelligence agent, multiple current and former US law enforcement and intelligence officials tell CNN. -- CNN

VERSUS

"We continue to be disgusted by CNN's fake news reporting." .... "This is more fake news. It is about time CNN focused on the success the President has had bringing back jobs, protecting the nation, and strengthening relationships with Japan and other nations. The President won the election because of his vision and message for the nation." -- White House Press Secretary Sean Spicer

 

While on FAKE NEWS @CNN, Bernie Sanders was cut off for using the term fake news to describe the network. They said technical difficulties! -- Donald J. Trump ✔@realDonaldTrump

VERSUS

@realDonaldTrump False. Transcript from @ErinBurnett intvu w @SenSanders. He was not cut off. Those are the facts. http://cnn.it/2lCW3kb -- CNN Communications ✔@CNNPR

 

Somebody with aptitude and conviction should buy the FAKE NEWS and failing @nytimes and either run it correctly or let it fold with dignity! -- Donald J. Trump ✔@realDonaldTrump

VERSUS

I still remember when Hitler had his friends buy all the media outlets so he couldn't be criticized anymore. https://twitter.com/realdonaldtrump/status/825690087857995776 … -- God @TheGoodGodAbove 

 

"The White House has provided enormous evidence with respect to voter fraud, with respect to people being registered in more than one state. Dead people voting, non-citizens being registered to vote.  George, it is a fact and you will not deny it that are massive numbers of non-citizens in this country who are registered to vote."-- White House policy adviser Stephen Miller

VERSUS

"You have provided zero evidence of the president's claim that he would've won the general — the popular vote if 3 [million] to 5 million illegal immigrants hadn't voted. Zero evidence for either one of those claims," -- ABC host George Stephanopoulos 

 

"Just leaving Florida. Big crowds of enthusiastic supporters lining the road that the FAKE NEWS media refuses to mention. Very dishonest!" -- Donald Trump on Twitter

VERSUS

Trump didn't offer evidence of crowds seeing "lining the roads. A couple dozen" protesters did take to the streets around Mar-a-Lago over the weekend to protest the president, according to a pool report. -- Mallory Shelbourne in The Hill
3. From MEDIA MATTERS (They watch Fox News so you don't have to)
"JUDICIAL TYRANNY": Right-Wing Media Twitter Implodes Over Court Decision Not To Reinstate Muslim Ban http://mediamatters.org/research/2017/02/09/judicial-tyranny-right-wing-media-twitter-implodes-over-court-decision-not-reinstate-muslim-ban/215292

Fox's Guilfoyle: Jeff Sessions Is "Widely Admired By His Colleagues" As A "Civil Rights Champion" http://mediamatters.org/video/2017/02/09/foxs-guilfoyle-jeff-sessions-widely-admired-his-colleagues-civil-rights-champion/215290

Limbaugh Praises Trump For Recognizing In Executive Orders That Immigration Is The "Greatest Threat" To America http://mediamatters.org/video/2017/02/09/limbaugh-praises-trump-recognizing-executive-orders-immigration-greatest-threat-america/215285

The Problem Goes Way Beyond Kellyanne Conway: Trump's Team Of TV Surrogates Constantly Lie. Here are some of the blatant falsehoods White House senior policy adviser Stephen told on the Sunday shows this week: 

- Fourteen percent of noncitizens in the United States "are registered to vote."
- Voter fraud is a "very serious" problem in New Hampshire.
- The White House has provided "enormous evidence" to confirm widespread voter fraud in the U.S.
- White House press secretary Sean Spicer, "as always, is 100 percent correct." https://www.youtube.com/watch?v=xecEV4dSAXE

 

Trump Ally Alex Jones Warns About Reince Priebus: "Sabotage," "Worst Of The Worst," Connected To George Soros http://mediamatters.org/blog/2017/02/13/trump-ally-alex-jones-warns-about-reince-priebus-sabotage-worst-worst-connected-george-soros/215324

Trump Ally Alex Jones Explains How Television Is Being Used To Implant Demons Inside People http://mediamatters.org/video/2017/02/13/trump-ally-alex-jones-explains-how-television-being-used-implant-demons-inside-people/215322
4. From the Late Shows
SNL: Kellyanne Conway tries to win back Jake Tapper's trust: https://youtu.be/2pRt4dFBkCA

SNL Cold Open: Sean Spicer Press Conference: https://youtu.be/fbhz3XcNzGU

 

SNL: Trump People's Court: https://youtu.be/dLYfwprjtog

Full Frontal with Samantha Bee : CNN Had It In Them the Whole Time: https://youtu.be/LaCJBk4892c

Full Frontal with Samantha Bee:Donald and the Terrible, Horrible, No Good, Very Bad Sanctuary Cities: https://youtu.be/vypzrtAHyXk

Daily Show with Trevor Noah: President Trump Takes On Nordstrom: http://www.cc.com/video-clips/yqjve1/the-daily-show-with-trevor-noah-president-trump-takes-on-nordstrom

Late Night with Seth Meyers: Trump Abuses His Presidential Power: A Closer Look: https://youtu.be/G01nkoEZ8UM

The Late Show with Stephen Colbert: Long Ties, Big Lies And Made Up Crowd Size: The Sean Spicer Story: https://youtu.be/XBNZu0uPp3o

Last Week Tonight with John Oliver: Trump vs. Truth: https://youtu.be/xecEV4dSAXE
5. GOP Votes to Expand Gun Access for Mentally Impaired
The House of Representatives approved its first effort of the new Congress to roll back gun regulations, voting to overturn a rule that would bar gun ownership by some who have been deemed mentally impaired by the Social Security Administration. 202/17 http://www.usatoday.com/story/news/2017/02/02/house-votes-strike-rule-banning-guns-some-deemed-mentally-impaired/97299756/
6. Russian Lawmakers Defend Flynn
Leading Russian lawmakers rushed to defend President Trump's former national security adviser on Tuesday after he resigned for misleading senior White House officials, including Vice President Pence, about his contacts with Russia..
The heads of the foreign affairs committees in both Russia's upper and lower houses of parliament chalked up Michael Flynn's resignation to a dark campaign of Russophobia in Washington, and said it would undermine relations between the White House and the Kremlin." February 14, 2017 https://www.washingtonpost.com/world/russian-lawmakers-rush-to-the-defense-of-trumps-ex-national-security-advisor/2017/02/14/547fc410-f28b-11e6-8d72-263470bf0401_story.html
7. Trump's Enemies Within
Donald Trump, a self-professed Nixon admirer, is learning this history lesson about the presidency in real time: His most dangerous enemies are people who ostensibly work for him. Modern presidents always feel hectored by the news media and harried by opposition legislators. But mortal threats to their power typically come from hostile forces inside the executive branch.
The phenomenon has rarely been on more vivid display, with Trump buffeted by an unprecedented barrage of leaks about his decision-making and direct challenges to the decisions themselves—a new example coming almost daily—from within the permanent bureaucracy of government. 2/02/17 http://www.politico.com/magazine/story/2017/02/trumps-enemies-within-214735
8. Conway Invents Massacre to Justify Refugee Ban
Kellyanne Conway defended the White House's refugee ban with an assertion that appears to be factually indefensible: She made up a "massacre," USA Today reports.
Said Conway: "I bet it's brand new information to people that President Obama had a six-month ban on the Iraqi refugee program after two Iraqis came here to this country, were radicalized and they were the masterminds behind the Bowling Green massacre. Most people don't know that because it didn't get covered."
"However, it seems likely that the incident Conway refers didn't get covered because there is an overwhelming consensus that there was no massacre at all. She appears to have come down with another case of the 'alternative facts.'" 2/3/17 http://www.usatoday.com/story/news/politics/onpolitics/2017/02/03/trump-adviser-invents-bowling-green-massacre-defense-refugee-ban/97436748/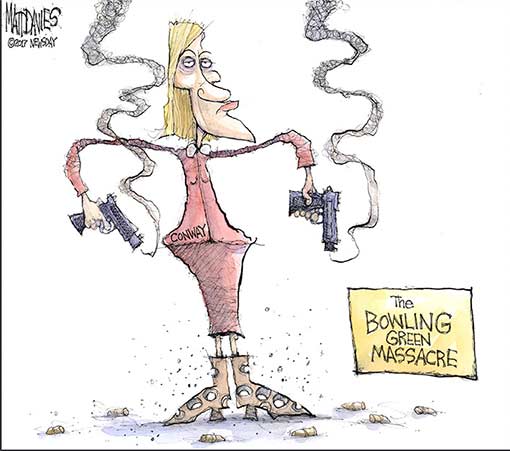 9. Britons See Trump as Threat to World Stability
A new Opinium/Observer poll finds that 64% of the British public believe Donald Trump is a threat to international stability and a clear majority believe he will be a bad president. 2/05/17 https://www.theguardian.com/us-news/2017/feb/04/two-thirds-of-britons-believe-trump-is-threat-to-international-stability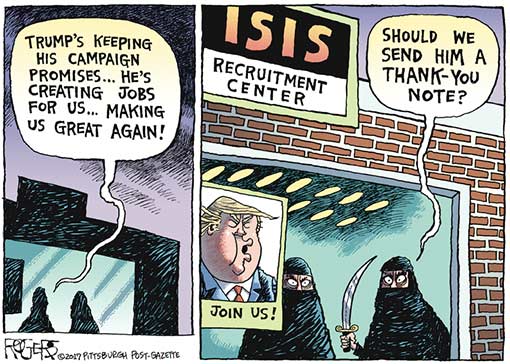 10. Trump impeached? You can bet on it
The prospect that the president won't make it through his term is big business for bookmakers.
Ladbrokes, the British oddsmaking giant, has Trump's chances of leaving office via resignation or impeachment and removal at just 11-to-10. http://www.politico.com/story/2017/02/trump-impeachment-bets-234931
11. The Terror Attacks Trump Won't Talk About
As the media picks apart the White House's absurd suggestion that attacks in Paris, San Bernardino, Orlando, and elsewhere were somehow ignored, the bigger story may be this: Trump has been almost entirely silent about terror There seems little reason to expect a list of attacks on Muslims, Jews, African Americans and others from the president anytime soon. 2/07/17 http://www.motherjones.com/politics/2017/02/terror-attacks-trump-wont-talk-about-white-supremacists
12. Voters Split on Impeaching Trump
A new Public Policy Polling survey finds that just three weeks into President Trump's administration voters are already evenly divided on the issue of impeaching Trump with 46% in favor and 46% opposed.
Support for impeaching Trump has crept up from 35% 2 weeks ago, to 40% last week, to its 46% standing this week. http://www.publicpolicypolling.com/main/2017/02/americans-now-evenly-divided-on-impeaching-trump.html
The latest Gallup daily tracking poll finds President Trump's approval at 40% to 55%, a new low since he took office just over three weeks ago. http://www.gallup.com/poll/201617/gallup-daily-trump-job-approval.aspx
13. Video: The White House Is Gaslighting The Media (And the Entire Country)
https://www.youtube.com/watch?v=IcJt-JF1BLQ&feature=youtu.be
14. Mark Fiore Cartoon: So-called Executive Orders
15. Swift repeal of Obama rules leaves former staffers steaming
Joe Pizarchik, former director of the Interior Department's Office of Surface Mining Reclamation and Enforcement, spent more than seven years working on a regulation to protect streams from mountaintop removal coal mining.
It took Congress 25 hours to kill it.
"My biggest disappointment is a majority in Congress ignored the will of the people ... They ignored the interests of the people in coal country, they ignored the law and they put corporate money ahead of all that." http://www.politico.com/story/2017/02/congress-rules-purge-trump-234922
16. Children are scared they won't see their parents again, and Trump is tweeting about his border wall
What we have feared, despite smug assurances to the contrary, has come to pass. Undocumented immigrants are being rounded up in droves by federal agents.
Children are fearful they will no longer see their mothers and fathers. Yet the President of the United States is tweeting about his stay at his Palm Beach resort.
Mothers are afraid to open their doors, and Trump is tweeting about his border wall. http://shareblue.com/children-are-scared-they-wont-see-their-parents-again-and-trump-is-tweeting-about-mar-a-lago/
17. Late Nite Jokes
"According to a report from the Brennan Center for Justice, the rate of voter fraud, the real rate in U.S. elections, is between .00004% and .00009%. In other words, about the same rate as the couples on 'The Bachelor' who get married." –Jimmy Kimmel

"It's a tiny percentage, but there will be a major investigation. He must get to the bottom of why he is stuck with this horrible job he didn't want." –Jimmy Kimmel

"Today Trump said he believes in torturing prisoners. Which is bad news for Melania." –Jimmy Kimmel

"US Weekly released their new cover story on Donald Trump's children and promised 'everything you didn't know about the Trump kids.' 'Is it their names?' asked Trump." –Seth Meyers

"Rolling Stone just did a big profile on Vice President Mike Pence, and revealed that Pence grew up with a cornfield in his backyard. I guess at times, he even heard a voice coming from it that said, 'If you build it ... Mexico won't pay for it.'" –Jimmy Fallon

"It is true, I'm not making this up, he did call his inauguration day 'A National Day of Patriotic Devotion.' So today, Trump was accused of fascism by Democrats and plagiarism by Kim Jong Un." –Conan O'Brien

"The Oscar nominations came out today and the movie 'La La Land' got 14 nominations. However, that's only because 3 to 5 million undocumented immigrants voted illegally." –Conan O'Brien

"Following President Trump's inauguration, the White House website no longer has an option for translation into Spanish. So, sorry, Mexican immigrants, if you want to live here, you'll just have to learn to speak Russian." –Seth Meyers

"President Trump today met with the leaders of Fiat, Chrysler, Ford, and General Motors. And he asked them one question, 'How many people do you think were at my inauguration?'" –Seth Meyers
18. GOP Plans for Obamacare Repeal/Tax Reform Hit a Wall
Stan Collender writes that the Republican strategy on quickly repealing the Affordable Care Act and enacting tax reform seemed to be so creative and smart when it was first revealed right after the election but "may soon become the prime source of legislative hell for House and Senate Republicans."
"The worst case scenario is that the once slam-dunk GOP grand scheme will end up preventing both ACA repeal and tax reform from happening at all." 2/12/17 http://www.forbes.com/sites/stancollender/2017/02/12/gop-grand-scheme-on-obamacare-repeal-tax-reform-quickly-going-south/#6f95b9087ec7
19. GOP chairman: Oversight won't investigate Flynn
House Oversight Committee Chairman Jason Chaffetz (R-Utah) said Tuesday that his panel won't investigate the circumstances that led to Michael Flynn stepping down Monday as President Trump's national security adviser. http://thehill.com/homenews/house/319410-gop-chairman-oversight-wont-investigate-flynn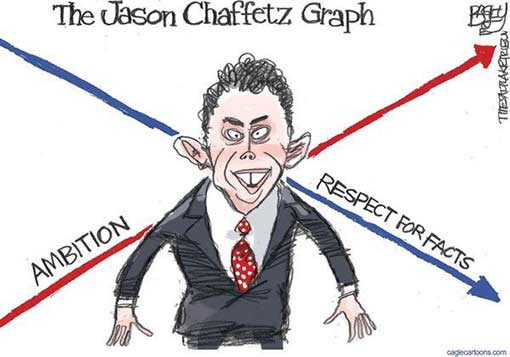 1. Ishaan Tharoor: Trump's populism is about creating division, not unity
"By now, it ought to be evident that enemies are important to this administration, whether they are foreigners, refugees, international bankers or the press," wrote conservative commentator Charles Sykes.
Trump's brand of populism thrives in this climate of hysteria and fear. It is allergic to talk of pluralism or multiculturalism, notes Jan-Werner Müller, a Princeton political scientist and author of a widely-acclaimed recent book on populism. "It is actually in Trump's interest to see clashes on America's streets," he warns.
Trump's rhetoric so far fits perfectly with this formula. It's also one we've seen all too often in other parts of the world: Turkey's President Recep Tayyip Erdogan and his ruling party style themselves as the voice of a silent majority long suppressed by the nation's secular elites; Venezuela's late Hugo Chávez cast opposition to his rule as the work of unpatriotic, spoiled cosmopolitans; Hungarian Prime Minister Viktor Orban exploited nativist sentiment to consolidate power and drift his country toward autocracy.
The bottom line result in each of these cases elsewhere has been the same: The erosion of democracy and the advance of a heated, "majoritarian" politics that only leads to further polarization. 2/06/17 https://www.washingtonpost.com/news/worldviews/wp/2017/02/06/trumps-populism-is-about-creating-division-not-unity/?utm_term=.dec436148c2d
2. Andrew Rosenthal: Donald Trump, Middle-School President
Iit may make it harder for Trump to blame other people for his own problems, as he did when he attacked the federal judiciary over his visa ban, which presumably sets the stage for blaming the judges if there is a terrorist attack in the future. In the same spirit, Trump's failure to win a majority in the national popular vote apparently was the fault of illegal immigrants and dead people.
The juvenile whining was in its glory during the one-hour argument this week in the United States Court of Appeals for the Ninth Circuit, which is considering whether to allow the visa and refugee ban to resume while legal challenges proceed.
At one point, a judge asked for evidence that the visa ban would actually make the government safer, and the government's lawyer, August Flentje, responded with the "it's too hard" dodge. He told the judges that the government had not had a chance to present evidence because "these proceedings have been moving quite fast, and we're doing the best we can."
Why hadn't the administration gathered evidence to support its claim before issuing the visa ban?
Trump was back on Twitter on Wednesday morning attacking the appellate court judges — an astonishing attempt by a president to interfere in the judicial process. "If the U.S. does not win this case as it so obviously should, we can never have the security and safety to which we are entitled," Trump said.
The logic of that eludes me. If Trump loses this case, he'll pick up his marbles and go home and not try anything else to keep America safe? He'll hold his breath until he turns blue? Or will he just pass notes around to all the other eighth graders about how mean the teachers are? 2/08/17 https://www.nytimes.com/2017/02/08/opinion/donald-trump-middle-school-president.html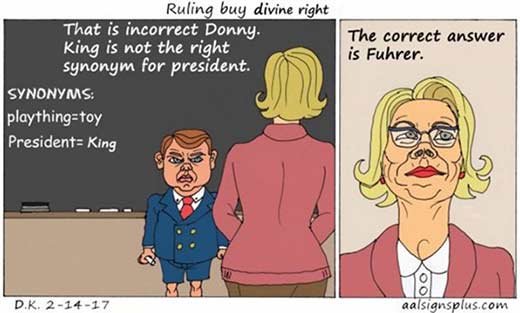 3. Andrew Sullivan: The Madness of King Donald
There is no anchor any more. At the core of the administration of the most powerful country on earth, there is, instead, madness.
With someone like this barging into your consciousness every hour of every day, you begin to get a glimpse of what it must be like to live in an autocracy of some kind. Every day in countries unfortunate enough to be ruled by a lone dictator, people are constantly subjected to the Supreme Leader's presence, in their homes, in their workplaces, as they walk down the street. Big Brother never leaves you alone. His face bears down on you on every flickering screen. He begins to permeate your psyche and soul; he dominates every news cycle and issues pronouncements — each one shocking and destabilizing — round the clock. He delights in constantly provoking and surprising you, so that his monstrous ego can be perennially fed. And because he is also mentally unstable, forever lashing out in manic spasms of pain and anger, you live each day with some measure of trepidation. What will he come out with next? Somehow, he is never in control of himself and yet he is always in control of you.
One of the great achievements of free society in a stable democracy is that many people, for much of the time, need not think about politics at all. The president of a free country may dominate the news cycle many days — but he is not omnipresent — and because we live under the rule of law, we can afford to turn the news off at times. A free society means being free of those who rule over you — to do the things you care about, your passions, your pastimes, your loves — to exult in that blessed space where politics doesn't intervene. In that sense, it seems to me, we already live in a country with markedly less freedom than we did a month ago. It's less like living in a democracy than being a child trapped in a house where there is an abusive and unpredictable father, who will brook no reason, respect no counter-argument, admit no error, and always, always up the ante until catastrophe inevitably strikes. This is what I mean by the idea that we are living through an emergency. http://nymag.com/daily/intelligencer/2017/02/andrew-sullivan-the-madness-of-king-donald.html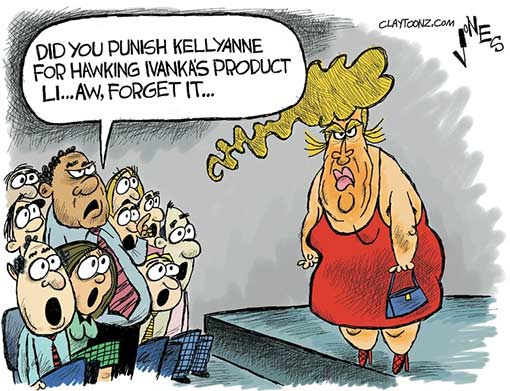 4. David Brooks: A Gift for Donald Trump
Donald Trump didn't have to have an administration that was at war with everyone but its base. He came to office with a populist mandate that cut across partisan categories. He could have created unorthodox coalitions and led unexpected alliances that would have broken the logjam of our politics.
He didn't have to have a vicious infighting administration in which everybody leaks against one another and in which backstairs life is a war of all against all.
He doesn't have to begin each day making enemies: Nordstrom, John McCain, judges. He could begin each day looking for friends, and he would actually get a lot more done.
On Inauguration Day, when Trump left his wife in the dust so he could greet the Obamas, I didn't realize how quickly having a discourteous leader would erode the conversation. But look at how many of any day's news stories are built around enmity. The war over who can speak in the Senate. Kellyanne Conway's cable TV battle du jour. Half my Facebook feed is someone linking to a video with the headline: Watch X demolish Y.
I doubt that Trump will develop a capacity for fraternity any time soon, but to be human is to hold out hope, and to believe that even a guy as old and self-destructive as Trump is still 0.001 percent open to a transformation of the heart. 2/10/17 https://www.nytimes.com/2017/02/10/opinion/a-gift-for-donald-trump.html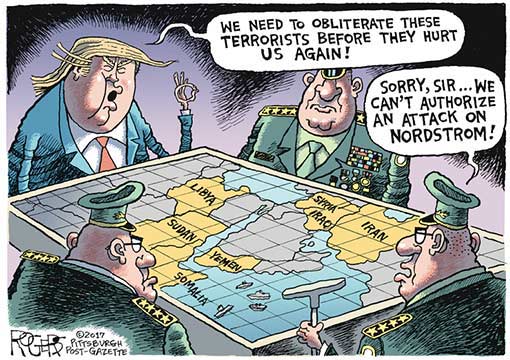 5. Paul Krugman: When the Fire Comes
We're only three weeks into the Trump administration, but it's already clear that any hopes that Mr. Trump and those around him would be even slightly ennobled by the responsibilities of office were foolish. Every day brings further evidence that this is a man who completely conflates the national interest with his personal self-interest, and who has surrounded himself with people who see it the same way. And each day also brings further evidence of his lack of respect for democratic values.
You might be tempted to say that the latest flare-up, over Nordstrom's decision to drop Ivanka Trump's clothing line, is trivial. But it isn't. For one thing, until now it would have been inconceivable that a sitting president would attack a private company for decisions that hurt his family's business interests.
But what's even worse is the way Sean Spicer, Mr. Trump's spokesman, framed the issue: Nordstrom's business decision was a "direct attack" on the president's policies. L'état, c'est moi.
Mr. Trump's attack on Judge James Robart, who put a stay on his immigration ban, was equally unprecedented. Previous presidents, including Barack Obama, have disagreed with and complained about judicial rulings. But that's very different from attacking the very right of a judge — or, as the man who controls 4,000 nuclear weapons put it, a "so-called judge" — to rule against the president.
The really striking thing about Mr. Trump's Twitter tirade, however, was his palpable eagerness to see an attack on America, which would show everyone the folly of constraining his power. 2/10/17 https://www.nytimes.com/2017/02/10/opinion/when-the-fire-comes.html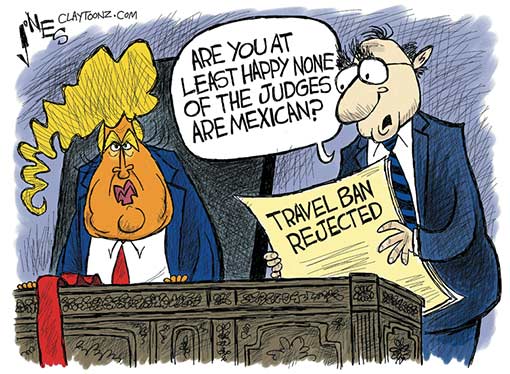 6. Maureen Dowd: Free Melania – From Our Expectations
While Melania plays Rapunzel in her Fifth Avenue tower, Steve Bannon is reveling in his role as the troll under the bridge. Beauty and the Beast.
At least Dick Cheney, another mad scientist who hated multilateral relations and preached hegemony, waited until he had started a bogus war and smashed the globe before he embraced the nickname Darth Vader. Bannon calls himself that while he stirs the pot, noting that "darkness is good" and that Darth and Satan had real power.
As the elegant Melania scorns the East Wing, the grungy Bannon reigns in the West Wing, where late into the night he plots his Manichaean schemes to blow up everything with trade wars, real wars and battles against the Islamic "caliphate." He blithely sits at the center like Jabba the Hutt as the slapdash White House sows strife, chaos and cruelty, putting out executive orders restricting immigration and rolling back financial regulations on Wall Street — a move that will hurt the very blue-collar Americans Trump pledged to protect. 2/04/17 https://www.nytimes.com/2017/02/04/opinion/sunday/free-melania-from-our-expectations.html

7. Kathleen Parker: Trump's two-year presidency
Good news: In two years, we'll have a new president. Bad news: If we make it that long.
My "good" prediction is based on the Law of the Pendulum. Enough Americans, including most independent voters, will be so ready to shed Donald Trump and his little shop of horrors that the 2018 midterm elections are all but certain to be a landslide — no, make that a mudslide — sweep of the House and Senate. If Republicans took both houses in a groundswell of the people's rejection of Obamacare, Democrats will take them back in a tsunami of protest.
Once ensconced, it would take a Democratic majority approximately 30 seconds to begin impeachment proceedings selecting from an accumulating pile of lies, overreach and just plain sloppiness. That is, assuming Trump hasn't already been shown the exit sign.
Or that he hasn't declared martial law (all those anarchists, you know) and effectively silenced dissent. We're already well on our way to the latter via Trump's incessant attacks on the media — "among the most dishonest human beings on Earth" — and press secretary Sean Spicer's rabid-chihuahua, daily press briefings. (Note to Sean: Whatever he's promised you, it's not worth becoming Melissa McCarthy's punching bag. But really, don't stop.) 2/10/17 https://www.washingtonpost.com/opinions/trumps-two-year-presidency/2017/02/10/32c2e4ce-efd9-11e6-9973-c5efb7ccfb0d_story.html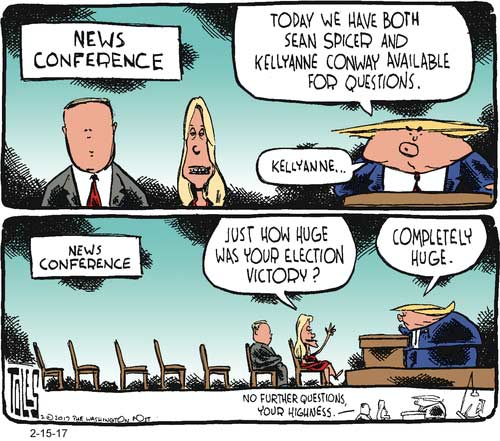 8. Matthew W. Miller: Donald the Weak
Trump may aspire to be a strongman, but he's proving to be an exceptionally ineffectual president.
Donald Trump ran for president boasting of his supposedly legendary negotiating and management skills while promising that he alone could fix the problems ailing the country. But three weeks into his presidency, a combination of inexperience, lack of attention to detail and an engaged opposition inside and outside the government have left him as the weakest new president in modern American history.
Trump's governing style to date can only loosely be called management. He makes decisions quickly, often without consulting relevant experts or even his own appointees. He reads almost nothing, at most a few bullet points—often ripped straight from cable TV—that cannot possibly capture the nuance of complicated policy issues. When his hastily considered decisions backfire in inevitable ways, he doubles down and attacks any critics who point out either the folly or impracticability of his orders.
Like the bellowing Wizard of Oz, however, those boisterous attacks merely hide the weakness of the man behind the curtain, weakness that has already been exploited by both his staff and outside interests. 2/12/16 http://www.politico.com/magazine/story/2017/02/donald-the-weak-214771
9. Sean McElwee: Trump's supporters believe a false narrative of white victimhood — and the data proves it
Trumpism is a movement built around the loss of privilege and perceived social status and a desire to re-create social hierarchy. It is one that requires its adherents to live in a state of constant fear and victimization. This mythology requires extensive ideological work and media filtering to remain true. Conservatives must create an ideological bubble in which crime is out of control (instead of hovering near historic lows), the rate of abortion is rising (instead of falling), refugees are committing terrorist attacks en masse (they aren't at all) and immigrants are taking jobs (it's the capitalists), all while the government is funneling money to undeserving black people (black people receive government support in accordance with their share of the population, despite making up a disproportionately large share of the poor). Conservatives, and many in the general public, believe that Muslims and immigrants (both legal and unauthorized) make up a dramatically larger share of the population than they actually do.
At the same time, the right has created a caricature of their opponents on the left. In this imagined caricature, the left is sensitive to being "triggered" at every corner, but also capable of unspeakable political violence. The activist left are "snowflakes" on one hand, and brutal killers on the other. In reality, political violence has long been a tactic of the right, from the labor violence that left thousands of workers dead to lynchings to brutality against peaceful protesters inflicted by corporate security and police to the harassment of women seeking abortion, the destruction of abortion clinics and the assassination of doctors who provide abortions. The rhetoric of victimization has costs — white supremacists are committing unspeakable violenceto combat the perceived threat of immigrants, Muslims and people of color. For the next four years, we are likely to have a government driven by perceptions of white Christian victimhood. 2/12/17 http://www.salon.com/2017/02/12/trumps-supporters-believe-a-false-narrative-of-white-victimhood-and-the-data-proves-it/
10. David Frum: How to Build an Autocracy
Trump and his team count on one thing above all others: public indifference. "I think people don't care," he said in September when asked whether voters wanted him to release his tax returns. "Nobody cares," he reiterated to 60 Minutes in November. Conflicts of interest with foreign investments? Trump tweeted on November 21 that he didn't believe voters cared about that either: "Prior to the election it was well known that I have interests in properties all over the world. Only the crooked media makes this a big deal!"
What happens in the next four years will depend heavily on whether Trump is right or wrong about how little Americans care about their democracy and the habits and conventions that sustain it. If they surprise him, they can restrain him.
Public opinion, public scrutiny, and public pressure still matter greatly in the U.S. political system. In January, an unexpected surge of voter outrage thwarted plans to neutralize the independent House ethics office. That kind of defense will need to be replicated many times.
Citizens who fantasize about defying tyranny from within fortified compounds have never understood how liberty is actually threatened in a modern bureaucratic state: not by diktat and violence, but by the slow, demoralizing process of corruption and deceit. And the way that liberty must be defended is not with amateur firearms, but with an unwearying insistence upon the honesty, integrity, and professionalism of American institutions and those who lead them. We are living through the most dangerous challenge to the free government of the United States that anyone alive has encountered. What happens next is up to you and me. Don't be afraid. This moment of danger can also be your finest hour as a citizen and an American. https://www.theatlantic.com/magazine/archive/2017/03/how-to-build-an-autocracy/513872/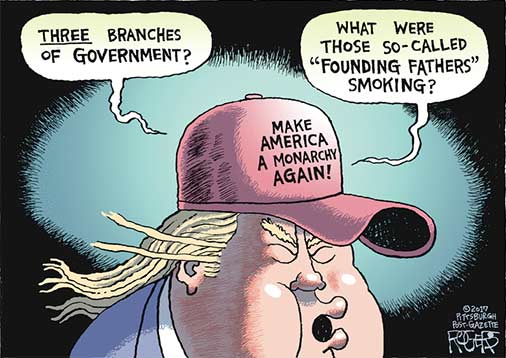 11. Eric Levitz: Michael Flynn's Resignation Is the Best News of the Trump Presidency So Far
It isn't easy to name President Trump's scariest appointment. Deciding whether it's worse to have Steve Bannon on the National Security Council — or Jeff Sessions running the Justice Department — is like deciding whether it's worse to have El Chapo as your NA sponsor or Joseph Kony as your babysitter.
But before he was ousted for lying to the vice-president about his (potentially) illegal communications with a Russian ambassador, Michael Flynn had a strong case for being the worst of the worst. In a White House full of anti-Muslim conspiracy theorists, Flynn was quite likely the most paranoid; and almost certainly, the most powerful.
We can't know precisely what bad ideas Flynn whispered into the president's ear. But here's a sampling of the ones he shouted into the public discourse:
1. Fear of Muslims is rational.

2. Democrats have imposed Sharia law in parts of Florida.

3. Barack Obama is a jihadi who laundered money for Muslim terrorists (to be fair, Flynn merely retweeted this sentiment).

4. The Mexican border is lined with Arabic-language signs that guide radical Islamists into the United States.

5. Islamic scholars who claim that violent jihadism is not an authentic expression of their religion are merely trying "to confuse in order to control."

6. North Korea, Cuba, Venezuela, Iran, Al Qaeda, the Taliban, and the Islamic State have all formed "an enemy alliance" ready to wage "global war" on the United States.
Flynn does not like having his intelligence assessments (and/or paranoid delusions) subjected to internal debate. Days after the 2012 attack on the American diplomatic compound in Benghazi, Libya, Flynn concluded that Iran was responsible — and informed his subordinates at the Defense Intelligence Agency (DIA) that their job was now to prove this hunch correct. http://nymag.com/daily/intelligencer/2017/02/flynns-resignation-is-the-best-news-of-the-trump-era-so-far.html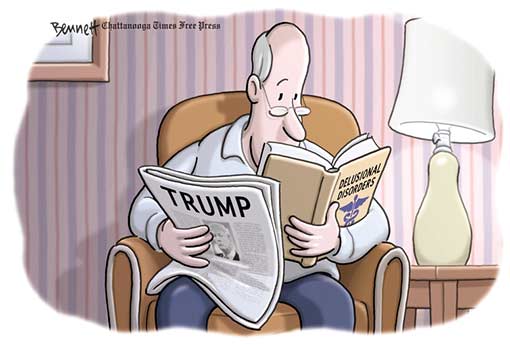 12. Ari Berman: The Trump Administration's Lies About Voter Fraud Will Lead to Massive Voter Suppression
After falsely alleging that 3 million to 5 million people voted illegally in 2016, Donald Trump debuted a new lie about voter fraud in a meeting with senators on Thursday, saying that "thousands" of people were "brought in on buses" from Massachusetts to "illegally" vote in New Hampshire, according to Politico. Trump claimed that's why he and former GOP senator Kelly Ayotte lost their races in the state.
Yet here's why Trump's lies about voter fraud are so dangerous: Republicans in New Hampshire, who now control state government, have introduced forty bills in the 2017 legislative session that would make it harder to vote.
The Trump administration's sham investigation into voter fraud will be a prelude to future suppression efforts, which could include forcing states to purge their voting rolls in inaccurate and discriminatory ways; launching bogus prosecutions that target voters of color, like Sessions did as US Attorney; switching sides in existing Justice Department cases by backing restrictive voting laws in court; and pressing Republicans in states and Congress to pass voter-ID laws and proof of citizenship requirements to register.
We're already seeing how such efforts can have a chilling effect on political participation. Last week, the state of Texas sentenced Rosa Marie Ortega, a permanent resident and mother of four, to eight years in jail and certain deportation thereafter for mistakenly voting in 2012 and 2014. (Ironically, she was a registered Republican.) The outrageous sentence is an unfortunate preview of what's to come.
We're having the entirely wrong conversation when it comes to voting in America. Seventy-eight House Democrats wrote to Trump last week and reminded him that the 2016 election was the first in fifty years without the full protections of the Voting Rights Act and fourteen states had new voting restrictions in place for the first time. Instead of perpetuating the myth of voter fraud, we should be investigating how thousands of legitimate voters were blocked from the polls. https://www.thenation.com/article/the-trump-administrations-lies-about-voter-fraud-will-lead-to-massive-voter-suppression/
13. Howard Fineman: The White House Is Already In Flames
National Security Adviser Michael Flynn is gone ― that didn't take long ― but he leaves behind a famous and fateful question: What did the president know and when did he know it?
Donald J. Trump has been president for less than a month, and already the Watergate query is all the capital is talking about, and, as a result, there is a widespread sense of a White House in deep, perhaps cataclysmic, trouble.
The list of failures and missteps of the Trump administration is as well known as it is long: a litany of patently obvious lies to the public and the press; mismanagement and vicious infighting; several malodorous Cabinet choices; mixed messages from on high, many of them coming within minutes of each other; leaks that gush like a fire hydrant; national security lapses that would be comical if they were not so risky; and a job approval rating lower at this point than that of any new president in memory.
Flynn wasn't the only Russia proponent in the administration. Others include chief strategist Steve Bannon and Secretary of State Rex Tillerson. What did they know and when did they know it? And what have been their dealings with Russia?
Flynn's departure will also inevitably draw attention back to the role of Russian hacks and leaks in the 2016 presidential campaign ― and to demands, so far turned away by Trump, that he release his tax returns. The president has said that he has no loans from Russia or Russians. Really?  
Late Monday, the list of questions continued to grow, and there was a sense in Washington that the real story of the Trump administration was just beginning to be told. 2/14/2017 http://www.huffingtonpost.com/entry/donald-trump-michael-flynn-flames_us_58a29e1ee4b0ab2d2b187775?5povn5ulgmu6jemi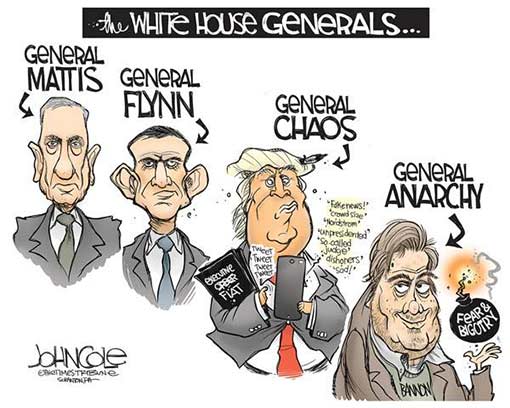 14. Margaret Carlson: Flynn's the First Casualty of Trump's Unsustainable Disinformation Campaign
General Michael Flynn didn't resign Monday night because he lied about his calls with the Russian ambassador and was vulnerable to blackmail. He resigned because the public found out about the lie and keeping him, at long last, became "unsustainable" for the Trump administration.
Just a few hours earlier, it was sustainable. White House counselor Kellyanne Conway said so. The president, she said Monday afternoon, had "full confidence" in Flynn. Another White House official confirmed this to Washington Post reporter Philip Rucker who reported, also on Monday, that Trump, knowing what he knew, wasn't going to decide about Flynn for a few more days.
What changed? Throw out the old saw it's the cover-up that gets you. The White House ceded Tuesday that it knew about the cover-up for weeks.  It's the dribbling out of the details of Flynn's mission to coddle Russia—in keeping with Trump's policy—that presented a clear and present danger that could only be staunched if Flynn were let go.
But they want us to believe it was about the lying. At his daily briefing Tuesday, Sean Spicer said it was  "plain and simple a matter of trust." But in this whole mess, lying is a lesser included offense, one which this White House is particularly unsuited to cast stones at. Honesty is not the best policy there but one to be considered among other possibilities. 02.14.17 http://www.thedailybeast.com/articles/2017/02/14/flynn-s-the-first-casualty-of-trump-s-unsustainable-disinformation-campaign.html
15. Greg Sargent: Donald Trump is suddenly looking like a very weak autocrat
President Trump once again unleashed a fearsome barrage of tweets on Wednesday morning. The target was the New York Times's new report that intelligence officials have established contacts between Russian intelligence and Trump campaign officials during the campaign.
Trump attacked the news media again, railing that "the fake news media is going crazy with their conspiracy theories and blind hatred." He also blasted the intelligence services, claimingthat they are "illegally" giving information to the media, which, he opined, is "just like Russia."
This has become a pattern, in which Trump deals with setbacks by lashing out at other institutions, including ones that can function as a check on his power. When the courts blocked his immigration ban, he blasted both the courts and the news media for making us less safe, in what seemed to be designed to lay the groundwork to blame them for a future terrorist attack, a move that even some Republicans criticized for its authoritarian tendencies. This appeared to be a test run of sorts, in which Trump was experimenting with how far he could go in delegitimizing the institutions that might act as a check on his power later.
But as a test run, for now, at least, it is failing. Trump's unchecked antics on multiple fronts are suddenly making him look like a very weak autocrat wannabe.
But right now, Trump looks weaker, less effective and even more ridiculous than anyone might have anticipated — and it happened surprisingly quickly, too. 2/15/17 https://www.washingtonpost.com/blogs/plum-line/wp/2017/02/15/donald-trump-is-suddenly-looking-like-a-very-weak-autocrat/