February 25, 2021
ON THE RECORD. . .
"America is unreservedly back as the leader of the free world and that is a fantastic thing."— U.K. Prime Minister Boris Johnson, referring to President Joe Biden's speech at the Munich Security Conference.

"It is an attack on Iowa's democracy, and it is disgusting. Last year we had a record voter turnout, and the reason is because we made it more convenient and easier for Iowans to cast an early vote. … There were no credible complaints about our election security — not one. Not one." — State Sen. Pam Jochum, D-Dubuque speaking against the Iowa GOP bills curtailing early voting.

"McConnell has many talents, there is no doubt about it, but if he is setting this thing up as a way to expunge Trump from the Republican Party, that is a failing proposition." —Sen. Ron Johnson (R-WI),

"What could @tedcruz do if he were here in Texas? I'm hard-pressed to say,. If he's in Cancun, that means he's not using up valuable resources of energy, food and water that can now be used by someone else. This is probably the best thing he could do for the state right now." — Conservative pundit Dinesh D'Souza 

"I certainly agree that we are facing a more dangerous period than we faced in Oklahoma City." — Attorney General nominee Merrick Garland on the threat domestic terrorism poses in the U.S. following January 6th.

"I will tell you that it's hard to have sympathy for Ted Cruz, because Ted was right on board making fun of me back in 2017 when I had that incident on the beach… He's taken every chance he can to take shots at people on both sides of the aisle over the course of his career. So, when you decide that's what you want to do, especially on personal matters, there's not going to be a ton of people running to your defense." — Former Gov. Chris Christie (R)

"The only reason Trump is defining this as a fishing expedition because he's petrified of drowning, he feels cornered and very, very afraid of which what this investigation entails." — Trump biographer Tim O'Brien after Donald Trump lost his bid in the United States Supreme Court this week to shield his tax records from the Manhattan District Attorney's Office, 

"Donald Trump ought to start looking into getting a custom made jumpsuit, because it does not look good for him." — Michael Cohen saying that he's not sure what exactly the tax documents Trump must hand over to prosecutors may reveal, but was confident enough to claim "it does not look good for him."

"Personally I expect zero. No effort to reach out to House Repubicans by majority or WH. Why would any Republican vote for this?" -- Senior House Republican on GOP votes for Biden Covid bill this week which, if accurate, would match the zero House Republican votes for 2009 Obama stimulus during the financial crisis.
VIDEOS

"Cancel" Voter Suppression.The Divided State of America with Heather Gardner | Meidas Touch: https://youtu.be/p0hJ4-2BhF0

Newsmax guest attacks Biden's dogs for being dirty and "unlike a presidential dog." https://twitter.com/aliciasadowski6/status/1362930155140751363

GOP & Fox Blame AOC's Green New Deal for the Texas Power Crisis | The Daily Social Distancing Show: https://youtu.be/GWghjoC59_A

Weekend Update: Ted Cruz Goes to Cancun | SNL: https://youtu.be/6gaqTdV4pqI
Book your Mexican Getaway Now! | The Lincoln Project: https://youtu.be/MOnGNSDlZJU

Who Is Tucker Carlson? | The Daily Social Distancing Show: https://youtu.be/McTQ73MC8rw
---
IN THIS ISSUE
IN THE NEWS
OPINION
Andy Borowitz: Ted Cruz Heroically Investigates Whether Mexico Stole Heat and Sun from Texas
Senator Ted Cruz made a top-secret trip on Wednesday to investigate whether Mexico illegally stole heat and sunshine from his home state of Texas.

Cruz said that he undertook the dangerous heat-finding mission because he cares deeply about the current suffering of his fellow-Texans.

"The temperature in Cancún is an unacceptable fifty degrees warmer than in Houston," Cruz said. "It's so warm here on the beach that I've had to wear a swimsuit and periodically douse myself in the ocean. It is an absolute disgrace, and it will not stand."

"I intend to stay here until I get to the bottom of how Mexico managed to steal all of this heat and sun from Texas," he said. "I don't care how long it takes."

News of Cruz's trip caused members of Mexico's Senate to call for the building of a wall along the border with the United States, because, in the words of one lawmaker, "They're not sending their best." https://www.newyorker.com/humor/borowitz-report/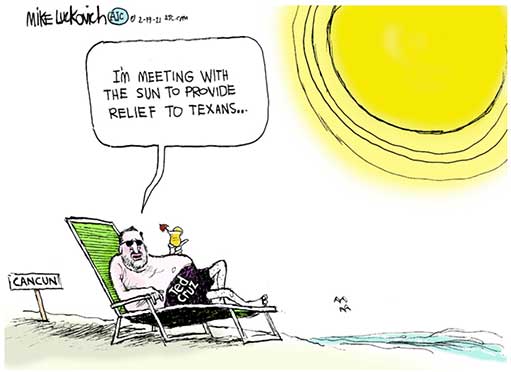 No, the Green New Deal Did Not Cause the Texas Power Outage
On Monday night, the most-watched anchor on America's most-watched cable news channel informed his audience that the reason Texas is suffering blackouts this week is because the state's Republican governor quietly implemented Alexandria Ocasio-Cortez's climate agenda.
Carlson went on to argue that only coastal elites who've never had to live near a wind power plant support the technology; that wind turbines are actually bad for the environment; and that green-energy enthusiasts like Cory Booker "couldn't fix your ice-maker, much less understand your wind farm" — after all, just look what politicians like him "have done to our cities."
The Green New Deal didn't plunge Texas into darkness. But it could prevent other states from suffering similar calamities — if Tucker Carlson doesn't stop us from seeing the light. https://nymag.com/intelligencer/2021/02/texas-power-outage-tucker-carlson-green-new-deal-wind-turbines.html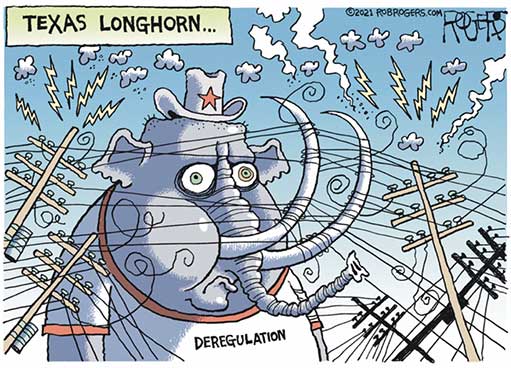 Here's What's Next in the Trump Taxes Investigation
Terabytes of data. Dozens of prosecutors, investigators and forensic accountants sifting through millions of pages of financial documents. An outside consulting firm drilling down on the arcana of commercial real estate and tax strategies.That is the monumental task that lies ahead in the Manhattan district attorney's criminal investigation into former President Donald J. Trump and his family business after a United States Supreme Court order on Monday cleared the way for prosecutors to obtain eight years worth of Mr. Trump's tax returns and other financial records. https://www.nytimes.com/2021/02/22/nyregion/trump-taxes-cyrus-vance.html
CPAC 2021 Will Be One Big Lie Fest—and Fox Nation Is Sponsoring It
In a case of potential brand-blemishing by association, the Murdoch empire's cash cow, Fox News Media, is spending $250,000 to underwrite a three-day partisan political confab featuring ousted president Donald Trump and a host of speakers on multiple panels pushing the big lie that President Joe Biden was fraudulently elected. https://www.thedailybeast.com/cpac-2021-will-be-one-big-lie-fest-and-fox-nation-is-sponsoring-it
Anthony Fauci: 'When I publicly disagreed with Trump he let terrible things happen' 
Dr. Anthony Fauci told The Telegraph that he was relentlessly attacked by Donald Trump and his allies.
Said Fauci: "When it became clear that in order to maintain my integrity and to get the right message I had to publicly disagree with Trump, he did things—or allowed things to happen—that were terrible. Like he allowed Peter Navarro to write an editorial in USA Today saying that almost everything I've ever said was wrong. He allowed the communications department of the White House to send out a list to all of the media… about all of the mistakes I've made, which was absolute nonsense because there were no mistakes."
Asked if Trump ever thanked him for his efforts before he left the White House last month, Fauci laughed: "No!" https://www.telegraph.co.uk/politics/0/dr-anthony-fauci-had-publicly-disagree-trump-allowed-terrible/
New York City tax agency subpoenaed in Trump criminal probe
The Manhattan District Attorney's Office has subpoenaed a New York City property tax agency as part of a criminal investigation into Donald Trump's company, the agency confirmed on Friday, suggesting prosecutors are examining the former president's efforts to reduce his commercial real-estate taxes for possible evidence of fraud.
The subpoena issued to the New York City Tax Commission is the latest indication that Manhattan District Attorney Cy Vance Jr. is looking at the values Trump assigned to some commercial properties in tax filings and loan documents.
Along with information already subpoenaed from creditors, the tax agency documents would help investigators determine whether Trump's business inflated the value of his properties to secure favorable terms on loans while deflating those values to lower tax bills for those same properties. https://www.reuters.com/article/us-usa-trump-investigation-subpoena-excl-idUSKBN2AK037
US Agency for Global Media reinstates employees dismissed under Trump
The agency overseeing Voice of America has reinstated five whistleblowers who were all fired on the same day last year by Trump officials.
The U.S. Agency for Global Media (USAGM) has returned the employees fired on Aug. 12 by then-CEO Michael Pack, who was dismissed by President Biden just hours after taking office on Jan. 20.
"Deputy Director for Operations [Matt] Walsh, Chief Strategy Officer Shawn Powers, Chief Financial Officer Grant Turner, General Counsel David Kligerman, and Executive Director Oanh Tran have all returned to their positions at the agency," Kelu Chao, acting CEO of the agency, wrote Wednesday night in a staff email obtained by The Hill. https://thehill.com/policy/international/539583-us-agency-for-global-media-reinstates-those-dismissed-under-trump
National Guard preps for March 4 — the day QAnon followers think Trump will still be inaugurated
Followers of the QAnon conspiracy theory, which is effectively based on the fictitious idea that Trump is secretly fighting a satanic cabal of child-trafficking Democrats, have struggled to cope with President Joe Biden's inauguration. Many of them had expected that Inauguration Day would bring "The Storm," when, according to clues left by an anonymous message board poster known as "Q," Trump would lead the National Guard in mass arrests of his political enemies. The "storm" never came, leaving many to grapple with reality as Q stopped posting shortly after the election. Some QAnon followers have since hatched their own conspiracy theory, claiming that Trump will return for the "real" inauguration on March 4.
Setting unrealistic timelines for world-changing events is nothing new in QAnon world, said Julian Feeld, co-host of the "QAnon Anonymous" podcast, which details the "best conspiracies of the post-truth era." QAnon followers previously wrongly predicted that Trump would usher in "The Storm" in October 2018, which they dubbed "Red October," and again in December 2018, and then again in March 2019, just to name a few. https://www.rawstory.com/march-madness/
State GOP lawmakers propose flurry of voting restrictions to placate Trump supporters, spurring fears of a backlash
GOP state lawmakers across the country have proposed a flurry of voting restrictions that they say are needed to restore confidence in U.S. elections, an effort intended to placate supporters of former president Donald Trump who believe his false claims that the 2020 outcome was rigged.
But the effort is dividing Republicans, some of whom are warning that it will tar the GOP as the party of voter suppression and give Democrats ammunition to mobilize their supporters ahead of the 2022 midterms.
The proposals include measures that would curtail eligibility to vote by mail and prohibit the use of ballot drop boxes. One bill in Georgia would block early voting on Sundays, which critics quickly labeled a flagrant attempt to thwart Souls to the Polls, the Democratic turnout effort that targets Black churchgoers on the final Sunday before an election.
States where such legislation is under consideration also include Arizona, Florida, Texas, Pennsylvania, Michigan and Wisconsin.
Proponents say the actions are necessary because large numbers of voters believe Trump's false assertions that President Biden won the 2020 election through widespread fraud. https://www.rawstory.com/march-madness/
'Simply laughable': How a lie about the Texas energy crisis dominated Fox's coverage
While millions of Texans were coping with freezing temperatures without heat, electricity or running water this week, right-wing media pundits repeatedly claimed that green energy was to blame. And although the lie was debunked, that didn't prevent pundits at Fox News and Fox Business from continuing to repeat it. According to analysis by Media Matters, Fox News and Fox Business, combined, promoted that lie 128 times during a two-day period. https://www.rawstory.com/fox-news-lies/
The Capitol Rioters Are Starting To Face Much More Serious Charges For The Insurrection
Of the more than 230 people charged to date, at least 70 are now facing a minimum of one felony count — the most common is obstruction of Congress, which has a maximum penalty of 20 years in prison. More than 30 are charged with assaulting or interfering with law enforcement officers, and at least 14 are charged with carrying or using a weapon that day. Weapons identified in the government's court filings so far have included knives, Tasers, a hockey stick, a large metal pipe, baseball bats, fire extinguishers, and batons. https://www.buzzfeednews.com/article/zoetillman/capitol-rioters-felony-charges-oath-keepers-proud-boys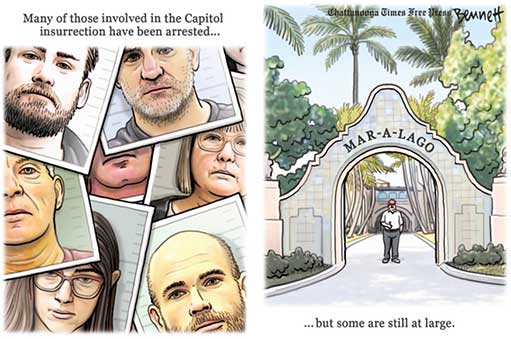 U.S. investigating possible ties between Roger Stone, Alex Jones and Capitol rioters
All three amplified and intensified Trump's incendiary claims that the 2020 election was illegitimate in the weeks leading up to the riot. But Stone and Alexander have directly credited each other with inspiring and planning the pro-Trump Stop the Steal campaign, with Alexander saying he came up with the idea and helped organize the Jan. 6 rally that drew Trump supporters to Washington. Stone and Jones also promoted the extremist groups Proud Boys and Oath Keepers and had preexisting business or personal ties with members the government has charged with coordinating and planning certain parts of the breach or with violence at an earlier Trump rally, records and documents show.
Shortly after the riot, Jones said on Infowars that he was invited by the White House on about Jan. 3 to "lead the march" to the Capitol, and that he paid nearly $500,000, mostly donated, to help organize the event on the Ellipse. https://www.washingtonpost.com/local/legal-issues/stone-jones-capitol-riot-investigation-radicalization/2021/02/19/97d6e6ee-6cad-11eb-9ead-673168d5b874_story.html
Gerrymandering is about to get even more chaotic
The next round of congressional redistricting is shaping up to be a mess, beset by even more complications and lawsuits than usual.
This process will likely help Republicans pick up seats in the House in 2022. Beyond that, though, the pandemic and the Trump administration's handling of the Census have made this round of redistricting especially fraught — and states will be locked into the results for a decade.
Huge states with diversifying and expanding populations — including Texas, Florida and North Carolina — will likely feel some of the most significant impacts. https://www.axios.com/redistricting-chaos-delay-census-data-midterm-election-bbe8cd4d-388b-4eac-aff7-b10e901dcdad.html
One night in Cancun: Ted Cruz's disastrous decision to go on vacation during Texas storm crisis
Usually, it takes at least one full day in Cancún to do something embarrassing you'll never live down.
But for Ted Cruz (R-Tex.), it took just 10 hours — from when his United plane touched down at Cancún International Airport at 7:52 p.m. Wednesday to when he booked a return flight back to Houston around 6 a.m. Thursday — for the state's junior senator to apparently realize he had made a horrible mistake. https://www.washingtonpost.com/politics/ted-cruz-cancun-storm/2021/02/19/ce1dc25e-7252-11eb-93be-c10813e358a2_story.html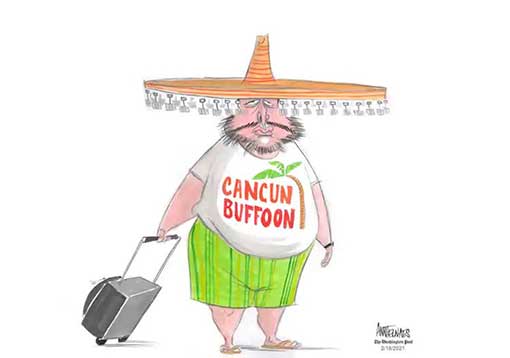 Most Trump Voters Falsely Say Antifa Led Capitol Riots
When asked by a USA Today/Suffolk poll to describe what happened during the assault on the Capitol on January 6, 58% of Trump voters call it "mostly an antifa-inspired attack that only involved a few Trump supporters."
That's more than double the 28% who call it "a rally of Trump supporters, some of whom attacked the Capitol." https://www.usatoday.com/story/news/politics/2021/02/21/exclusive-trump-party-he-still-holds-loyalty-gop-voters/6765406002/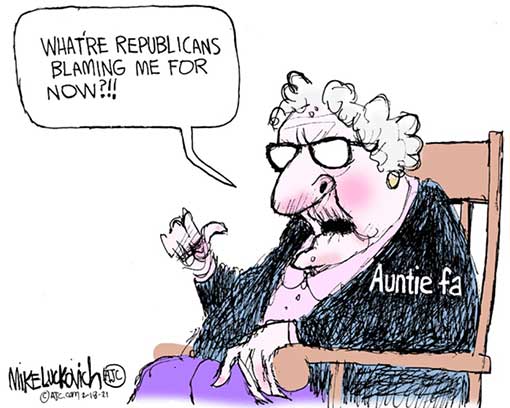 Rep. Alexandria Ocasio-Cortez raised money to help Texans after winter storm
Rep. Alexandria Ocasio-Cortez (D-NY) said her fundraiser for relief efforts in Texas doubled to $4 million on Saturday. https://twitter.com/AOC/status/1363260562822471681
Defeated and impeached, Trump still commands the loyalty of the GOP's voters
A Suffolk University-USA Today poll found that 46% of Republicans said they would abandon the GOP and join the Trump party if the former president decided to create one.
Only 27% said they would stay with the GOP, with the remainder indicating they would be undecided.  https://www.usatoday.com/story/news/politics/2021/02/21/exclusive-trump-party-he-still-holds-loyalty-gop-voters/6765406002/
Just 17 percent of Trump voters think Biden legitimately elected
Just 17 percent of Trump voters believe that Joe Biden was legitimately elected in 2020, according to new USA Today/Suffolk University polling. https://news.yahoo.com/just-17-percent-trump-voters-120321935.html
Dominion files $1.3 billion defamation lawsuit against MyPillow CEO Mike Lindell
Dominion Voting Systems on Monday sued MyPillow CEO Mike Lindell for more than $1.3 billion in damages, alleging that the Trump ally exploited the baseless conspiracy theory that Dominion's voting machines rigged the election for Joe Biden to sell more pillows.
 "Lindell's statements have exposed Dominion to the most extreme hatred and contempt. Lindell himself called it the "biggest crime ever committed in election history against our country and the world," Dominion wrote in its 115-page complaint. https://www.axios.com/dominion-mike-lindell-defamation-aed0d355-6eee-4a61-b3ca-2a5ecfeefb57.html
Manhattan D.A. Recruits Top Prosecutor for Trump Inquiry
As the Manhattan district attorney's office steps up the criminal investigation of Donald J. Trump, it has reached outside its ranks to enlist a prominent former federal prosecutor to help scrutinize financial dealings at the former president's company, according to several people with knowledge of the matter.
The former prosecutor, Mark F. Pomerantz, has deep experience investigating and defending white-collar and organized crime cases, bolstering the team under District Attorney Cyrus R. Vance Jr. that is examining Mr. Trump and his family business, the Trump Organization. https://www.nytimes.com/2021/02/18/nyregion/trump-investigation-manhattan.html
NY Prosecutors Are Looking at Don Jr. in Trump Biz Probe
For months, some of Donald Trump's top advisers have assured him that he has virtually nothing to fear from the Manhattan district attorney's tax investigation, which they view as merely "fishing" for information. But investigators with the D.A.'s office have been expanding their criminal probe into Trump's business empire, asking questions and grilling witnesses—as recently as in the past few days—not only about Trump but particularly about his eldest son, Don Jr., and Allen Weisselberg, one of the former president's most trusted officers, The Daily Beast has learned.
This latest round of interest in Trump Jr. and Weisselberg's activities, as well as other new developments, underscore the resources and the gravity that New York prosecutors are devoting to the investigation, just as Trump continues to publicly decry the probe as another example of Democrats picking on him. https://www.thedailybeast.com/donald-trump-jr-is-being-examined-by-new-york-prosecutors-in-trump-business-probe/
Trump-McConnell clash threatens to settle into a cold war as GOP eyes midterms
Were it up to former president Donald Trump, Republicans would spend the next two years purging their ranks and reshaping themselves in his own image — a process he moved to jump-start Tuesday with a searing attack on the party's most powerful elected leader, Senate Minority Leader Mitch McConnell.
McConnell (R-Ky.) has other ideas. Having held Trump responsible for both the loss of his Senate majority in the Jan. 5 Georgia runoffs and the deadly attack on the Capitol a day later, he has moved to chart a different path — one that steers clear of the former president's personal grievances and conspiratorial rhetoric to put the GOP back in power as soon as possible.
The clash between the two men stands to define the Republican Party for years to come and was sketched out in a recent series of dramatic public attacks — with McConnell labeling Trump as "practically and morally responsible" for the Capitol riot in a Saturday speech, followed by Trump lashing into McConnell in a Tuesday statement as a "dour, sullen, and unsmiling political hack" who should be stricken from GOP leadership. https://www.washingtonpost.com/powerpost/trump-mcconnell-clash-threatens-to-settle-into-a-cold-war-as-gop-eyes-midterms/2021/02/17/3c156db6-7136-11eb-b8a9-b9467510f0fe_story.html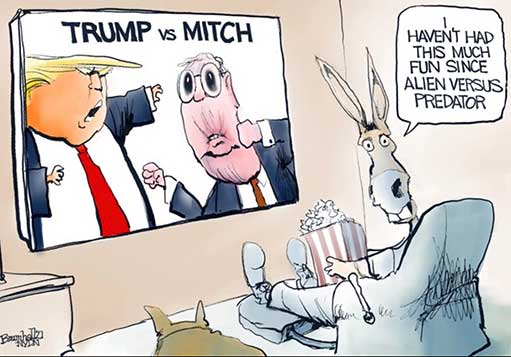 Florida flags will be at half-staff for Rush
Describing Limbaugh as a "personal friend" and a "warm and decent man," DeSantis said that he was "proud that [Limbaugh] was in the Southern Command down in Florida for so long."
Announcing the lowering of the flags came at an event flush with enthusiastic partisans. DeSantis clearly timed it to please a stacked crowd, showing that while Limbaugh may have passed on, his legacy is alive and well in the Governor's Mansion. https://floridapolitics.com/archives/405066-ron-desantis-rush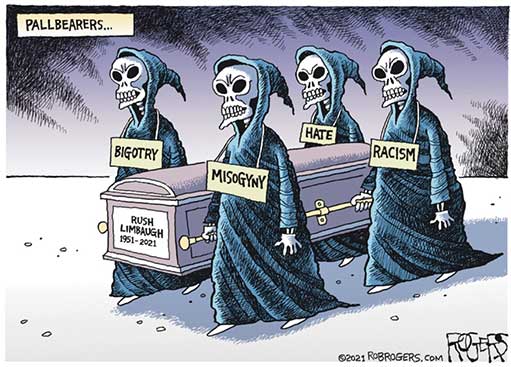 It's been a brutal two months for the GOP
● The party's biggest donor (Sheldon Adelson) passed away.

● So did its most influential communicator over the last 25 years (Rush Limbaugh).

● Its two most recognizable leaders (Donald Trump and Mitch McConnell) are in a feud.

● State parties are censuring any Republican who dared to vote to impeach Trump or find him guilty.

● And the state that's become the leading example of conservative governance (Texas) finds itself in tatters after its power crisis, and its junior U.S. senator (Ted Cruz) has been ridiculed and scorned.

● Oh, and the party just lost control of the Senate just a month ago. https://www.nbcnews.com/politics/meet-the-press/it-s-been-brutal-two-months-gop-n1258325
Trump's Popularity Among Republicans Is on the Rise
Seven Senate Republicans voted to convict Trump of high crimes and misdemeanors, and another 13 voiced criticisms while voting to acquit him. But at the grass roots, it's another story. The new Morning Consult findings show Trump's favorability rating among Republicans was at 81 percent immediately after the trial. Mitch McConnell's, by comparison, was at 33 percent. It's unclear whether Republicans now think of Mike Pence as Trump's faithful and often sycophantic sidekick of four years or as the man who refused to steal electoral votes from Joe Biden on January 6; his intraparty favorability rating is at 72 percent. https://nymag.com/intelligencer/2021/02/republican-grassroots-fertile-ground-for-trump-comeback.html
QAnon Thinks Biden Helped China Create the Texas Energy Crisis
As if Texans didn't have enough to deal with between energy blackouts, broken water pipes, food shortages, and their elected officials lying about Cancún holidays in the middle of the crisis, QAnon followers are now actively trying to claim that the winter storm was orchestrated by the Biden administration with the help of China.
The basic outline of the theory is that President Joe Biden allowed China access to the U.S. power grid when he signed the Keystone Pipeline Executive Order, and by doing so somehow allowed China to hack the U.S. power grid and cause the blackouts that Texas has suffered over the last week.  
QAnon isn't the only group spreading disinformation about the Texas winter storm. Earlier this week Republican lawmakers did their best to lay the blame for the energy blackouts on renewable energy — by using a seven-year-old picture of frozen wind turbines taken in Sweden.
Unsurprisingly, among the lawmakers spreading this disinformation were Lauren Boebert and Marjorie Taylor Greene. Both have a history of boosting QAnon. https://www.vice.com/en/article/dy89pq/qanon-thinks-biden-helped-china-create-the-texas-energy-crisis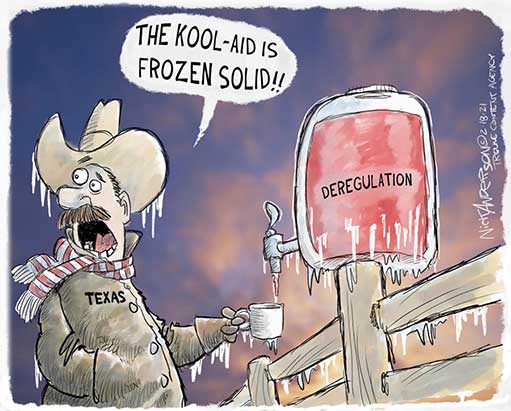 How Biden's Coronavirus Plan Will Fill the Holes in Obamacare
Democrats have spent the past 11 years beating back Republican efforts to dismantle, repeal, or sabotage the Affordable Care Act. Over time, the issue has transformed from a Democratic political liability to an advantage. And now that the Democrats control the federal government again, they are moving into a new stage of expanding the law."
Obamacare has two major flaws that have hampered its ability to cover the uninsured. One was created by Senate Democrats, and the other was created by Chief Justice John Roberts. The coronavirus-relief legislation begins to fix both these flaws. If it is signed into law, millions of Americans will gain access to health insurance and millions more who have insurance will pay less. https://nymag.com/intelligencer/article/bidens-coronavirus-relief-bill-healthcare-obamacare-congress.html
A trio of conservative groups tries to torpedo two top Biden nominees
A trio of conservative organizations are launching a multimillion dollar advertising blitz aimed at undermining two of President Joe Biden's high-profile nominees.
The campaign is being led by the advocacy groups Judicial Crisis Network, Heritage Action for America, and Americans for Public Trust. And it's being modeled after the effort the groups spearheaded to galvanize support for Donald Trump's three Supreme Court justice nominees in the weeks leading up to their respective confirmation hearings.
This time, however, the trio is going negative, hoping to torpedo the confirmations of Vanita Gupta, Biden's nominee for associate attorney general, and Xavier Becerra, the Democratic attorney general of California and nominee for secretary of Health and Human Services. https://www.politico.com/news/2021/02/18/conservative-groups-ad-blitz-biden-469714
More Alleged Oath Keepers Charged With Conspiracy in Capitol Riots
Six more people allegedly affiliated with the right-wing militia Oath Keepers were indicted on charges of planning the Jan. 6 attack on the Capitol, as prosecutors sketch out a portrait of a group preparing to disrupt the certification of President Biden's election and developing a military-style plan to do so.
An indictment returned Friday afternoon charged a retired husband and wife from Warren County, Ohio, outside of Cincinnati, a couple from Florida, and siblings from Florida and North Carolina with conspiracy and other counts. Prosecutors said they worked with three others who were among the first to be accused of conspiring to engage in the attack.
The nine people were accused of attending or scheduling paramilitary trainings in advance of Jan. 6, coordinating their travel to Washington, preparing for the operation with military gear and moving through the Capitol in military formation. https://www.wsj.com/articles/six-more-alleged-members-of-oath-keepers-militia-indicted-11613766782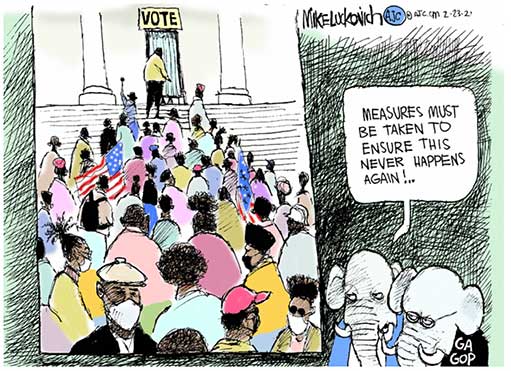 The DAILY GRILL
"This didn't seem like an armed insurrection to me, When you hear the word 'armed,' don't you think of firearms? Here's the questions I would have liked to ask: How many firearms were confiscated? How many shots were fired? "If that was a planned armed insurrection, man, you had really a bunch of idiots." — Sen. Ron Johnson (R-Wis.) on Monday argued that it's wrong to describe the group as "armed" and accused Democrats of "selectively" editing videos to exaggerate the threat posed by a mob that came within feet of Vice President Mike Pence and other elected officials.

VERSUS

Police recovered a dozen guns and thousands of rounds of ammunition from seven people who were arrested before and after the Capitol riot, according to a review of court documents. One man, Lonnie Coffman of Alabama, was found with a massive arsenal that included five guns and hundreds of rounds of ammunition,.— Federal prosecutors.

 

So it was all working great until the day it got cold outside. The windmills failed like the silly fashion accessories they are, and people in Texas died. — Tucker Carlson

VERSUS

This pro-pollution agitprop gained such currency on the right that Gov. Greg Abbott eventually began casting his own governing failure as a cautionary tale about the hazards of trusting the far left with power. — Intelligencer.
From MEDIA MATTERS (They watch Fox News so you don't have to)
As questions continue to swirl over the lack of security preceding and during the January 6 attack on the Capitol, Republicans, with the help of former President Donald Trump's allies in the media, are attempting to deflect criticisms to House Speaker Nancy Pelosi (D-CA), suggesting that she is somehow responsible for the attack and intentionally withheld the National Guard from protecting the Capitol that day. https://www.mediamatters.org/january-6-insurrection/right-wing-figures-have-decided-person-blame-january-6-nancy-pelosi

Fox News lied 128 times about cause of Texas blackouts

As a historic winter snowstorm devastated Texas, personalities and guests on Fox News and its sister network Fox Business went to bat for the fossil-fuel industry by falsely blaming frozen wind turbines and green energy policies for statewide power outages a staggering 128 times since Monday evening. Fox has continued its false narrative even after other outlets already debunked the claim that renewable energy sources and green energy policies were solely or primarily the cause of the blackouts. https://www.mediamatters.org/fox-news/fox-news-and-fox-business-falsely-blamed-renewable-energy-texas-blackouts-128-times-over
Jonathan Chait: "Donald Trump Is Extremely Mad Prosecutors Will See His Tax Returns
Donald Trump's yearslong quest to prevent the public, Congress, or law-enforcement officials from seeing his tax statements came to a resounding end with a unanimous Supreme Court ruling. He did not take the defeat in stride. Instead, the former president released a statement that, even by Trumpian standards, brims with anger.
Trump's response bears every hallmark of an authentically Trump-authored text, as opposed to the knockoff versions produced by his aides. It is meandering, filled with run-on sentences, gratuitous insults, and exclamation points. Trump's position on the tax returns rests on a series of assertions, ranging from his false claim that Robert Mueller found "No Collusion" to his insistence that he actually won the 2020 election to his extremely ironic complaint that prosecutors targeting their political opponents is "fascism, not justice." (Trump, of course, spent his presidency publicly demanding his Attorneys General investigate his political rivals.)
The statement does contain one unambiguously true point: "This is something which has never happened to a president before." That's correct, because every president for the past several decades has voluntarily released his financial information. Only Trump refused.
The most conspicuous absence from Trump's statement is any explanation as to why he has fought so hard to conceal this information, which all his predecessors willingly disclosed. He goes on at great length about the prosecutors' motives for obtaining it without even gesturing at his own for withholding it.
Journalists have pieced together enough about various Trump financial dealings to demonstrate the high likelihood that he has committed a series of financial crimes. There is probably enough to charge him even without the tax forms. Giving still more information certainly can't help Trump. https://nymag.com/intelligencer/2021/02/trump-tax-returns-court-ruling-vance-prosecutor-district-attorney.html
Joe Scarborough: No amount of disaster can shake the GOP loose from Trump
Five years ago, Donald Trump seized control of the Republican Party by attacking conservative icons, insulting former GOP presidents and disregarding Ronald Reagan's 11th commandment that warned against criticizing other party members. Pulitzer Prize-winning historian Jon Meacham told me at the time that Trump was like a hijacker taking control of an airplane while the passengers cheered him on.
Now that flying machine is disintegrating in the air, much like the United Airlines flight that scattered engine parts across Colorado this past weekend. Fortunately, that passenger plane landed safely. I suspect there will be no happy ending for the party of Trump.
The damage inflicted on Republicans since 2016 cannot be overstated. Even before his disastrous handling of the pandemic, Trump's impulsiveness, ignorance, racist screeds and gratuitous personal attacks offended enough suburban Republicans and swing voters nationwide to cause disastrous election results for the party in the 2018 midterms. In 2018 and 2019, Democrats won gubernatorial races in the bright-red states of Kansas, Louisiana and Kentucky.
Trump's subsequent loss of the White House in 2020 was made worse for Republicans by his manic promotion of numerous conspiracy theories, all pointing to widespread voter fraud as the cause for Joe Biden's victory. Trump's lawyers then spent the next two months having those conspiracy theories tossed out by more than 60 courts, many of those controlled by Trump-appointed judges. And still the failed president pushes the Big Lie, hoping to undermine more Americans' faith in democracy while keeping his cult-like followers in a constant state of delusion.
Democrats love the madness of it all. They know it was Trump who made it possible for Pelosi to become speaker of the House yet again. They know it was Trump's idiocy during the Georgia runoffs that made Schumer the Senate majority leader and put Bernie Sanders in charge of the Senate Budget Committee. It was Trump who offended enough suburban voters to elect Democrats to both Senate seats in Arizona and Georgia, and allowed Senate Democrats to begin filling federal court vacancies with liberals. https://www.washingtonpost.com/opinions/2021/02/23/joe-scarborough-gop-trump-no-happy-ending/
Paul Waldman: How Republicans are about to sabotage themselves on covid relief
One of the most important and misunderstood facts about the politics of legislation is that the public is largely indifferent to the process of governing. But like every rule, there are exceptions. Every once in a while, a fight over legislation or rule-making can produce enough real-world effects that the public can't help but notice.
Democrats are about to have an opportunity to produce just such an outcome, on what could be the one major piece of legislation they pass this year. They will likely soon pass a massive covid relief bill — and it's possible that not a single Republican will support it.
Should that occur, Democrats can and should make Republicans pay a heavy price.
It won't happen on its own. But that bill is already enormously popular, and if Democrats work at it, it could become a symbol of everything about this era in our politics. Republicans are going to allow them to frame it as a story of Democratic problem-solving and Republican betrayal.
The bill will probably get a vote in the House this week and will then be taken up by the Senate next week. That won't be the end of the story; there are some kinks to work out, including whether an increase in the minimum wage will wind up in the final version.
But this bill is going to pass — by all indications, without a single Republican vote in the House and perhaps no GOP votes in the Senate either. https://www.washingtonpost.com/opinions/2021/02/23/how-republicans-are-about-sabotage-themselves-covid-relief/
Jonathan Chait Rush Limbaugh Taught Republicans to Love an Angry, Racist Bully
Limbaugh oozed bile. He did not merely characterize his targets as misguided, or stupid, or even selfish. He rendered them for his audience as dehumanized targets of rage. He had special rage for feminist women, who were castrating harpies, and Black people, who were lazy, intellectually unqualified, and inherently criminal. The message he pounded home day after day was that minorities and women were seizing status and resources from white people and men, and that politics was a zero-sum struggle — and the victory would go to whichever side fought more viciously.
Limbaugh, like Trump, understood the party's id years before its putative leaders grasped it. They had the same feel for the conservative audience and nearly the same message to capture it. They were almost the same person. Perhaps the only only salient difference between the two men's careers is that Limbaugh found his place sooner than Trump, at a time when a bellicose misogynist could find a valued position in the party but not as its presidential candidate. That had become a possibility by the time Trump found his way to conservatism as a viable exclusive brand.
Why, then, did Trump's emergence generate open resistance from the party elite (which was then submerged, only to reopen after the January 6 insurrection), while Limbaugh remained a cherished comrade until the end? The answer is that Limbaugh spoke to their voters through channels only they heard: His rants were confined almost exclusively to his audience, with the exception of occasional, short-lived media dustups when he said something especially bigoted. Trump's rants were front and center, put on bright display every day in the mainstream media. Limbaugh could be hidden away from the mainstream. Trump could not.
It is peculiar that Limbaugh is honored and mourned in a single voice by a party elite that remains split over its descent into violent insurrection. The line from Limbaugh to Trump is about an inch long. https://nymag.com/intelligencer/2021/02/rush-limbaugh-dead-donald-trump-racist-sexist-conservative-radio.html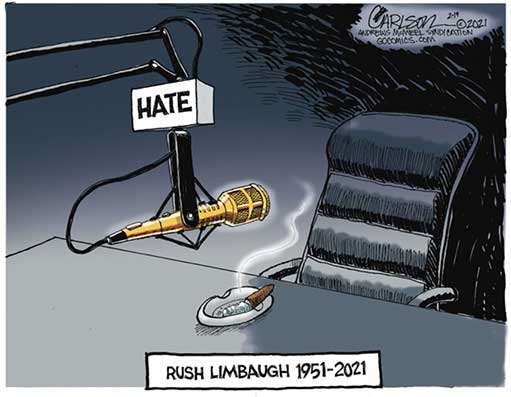 Noah Bierman: Black, female and high-profile, Kamala Harris is a top target in online fever swamps
Early last year, Democratic congresswoman Jackie Speier began warning Facebook executives: Female politicians receive the most vile online attacks, and the company was failing to stop them.
"We showed them 20 examples that were disgusting — and they were still up!" said Speier, whose meetings included one with COO Sheryl Sandberg. Facebook's response gave her little comfort. "Keep sending us these horrific examples," she said executives told her, "and we'll take them down."
Many of the attacks and disinformation lobbed at Harris echoed tropes against Barack and Michelle Obama: that she is insufficiently Black or Indian because of her mixed-race heritage, that she cannot legally serve as vice president because her parents were immigrants, that she slept her way to the top, that she has a secret plan to steal authority from Biden, and, perhaps most outlandish, that she is secretly a man.
That last lie, apparently started by the QAnon cult, involves what's known as a "cheap fake," a crudely doctored image of Harris alongside a man supposedly named Kamal Aroush.
Other posts involved more direct attacks using racist and sexist language and images.
The inability to halt abusive, over-the-line attacks has left social media companies, already under fire from both political parties, open to further criticism.
"Every major platform needs to do a whole lot more to respond to and protect against attacks on women," https://www.latimes.com/politics/story/2021-02-19/kamala-harris-is-the-top-target-of-online-harassment-as-fears-of-political-violence-grow
Emily Cochrane and Jim Tankersley: Republicans Struggle to Derail Increasingly Popular Stimulus Package
House Republican leaders on Friday urged their rank-and-file members to vote against the plan, billing it as Speaker Nancy Pelosi of California's "Payoff to Progressives Act." They detailed more than a dozen objections to the bill, including "a third round of stimulus checks costing more than $422 billion, which will include households that have experienced little or no financial loss during the pandemic." Ms. Pelosi's office issued its own rebuttal soon after, declaring "Americans need help. House Republicans don't care."
Republicans have also railed against the process Democrats have employed to advance the bill, citing dozens of legislative amendments that Republicans offered in various committees, which Democrats rejected. Last week, top Republican senators complained in a letter to Democratic committee leadership about plans to bypass Senate hearings on the House bill, describing it as "the outsourcing of their own committee gavels to the House."
The Republican pushback is complicated by the pandemic's ongoing economic pain, with millions of Americans still out of work and the recovery slowing. It is also hampered by the fact that many of the lawmakers objecting to Mr. Biden's proposals supported similar provisions, including direct checks to individuals, when Mr. Trump was president. https://www.nytimes.com/2021/02/19/us/politics/republicans-stimulus-biden.html
Joe Hagan: "He Wants Nothing To Do With Government, Or At Least Our Form Of It": Democrat Beto O'rourke Wants To Save Texas From Ted Cruz
L'affaire Ted Cruz has ruled the news this week and for good reason: Cruz, a man as unctuous in personality as he is successful in trolling the libs, donned his skinny jeans and went on vacation to Cancún while his home state of Texas was reeling from a freak snowstorm that stranded millions without power, heat, and access to food and water. The groveling interviews Cruz gave upon his swift return, blaming his daughters' need to escape their cold home for warmer climes (later refuted by now infamous group texts), hasn't helped his cause. 
He also left quite an opening for Beto O'Rourke, Cruz's one-time rival for Senate, who promptly launched a phone bank to assist the elderly and blasted Cruz in interviews, including this one for the Inside the Hive podcast. O'Rourke artfully ties the storming of the Capitol on January 6 directly to the calamity in Texas, which has become a case study in the inherent flaws of the GOP's anti-government ideology. Cruz, says O'Rourke, "tried to overturn a lawfully, legitimately, democratically decided election, conspired with seditionists, [and] was very responsible for those who were killed in the insurrection, in the coup attempt on the sixth of January. That guy wants nothing to do with government, or at least our form of it." https://www.vanityfair.com/news/2021/02/democrat-beto-orourke-wants-to-save-texas-from-ted-cruz
Jason Blazakis: Why QAnon's similarity to other cults makes it a significant national security threat
Like the cults that came before them, the followers of QAnon see great purpose in what they do — they believe they are saving God's children. When March 4 comes and goes, and President Biden remains firmly in power, the threat of violence by QAnon conspiracists will persist. They'll simply shift their narrative, hatch new plots and repurpose old ones — and endure as a potentially deadly menace.
It would be a mistake to believe that the election of Joseph R. Biden as president will silence the QAnon movement. Adherents of the conspiracy theory made former President Trump into a quasi-religious figure, and when he lost the November election it forced them to confront a reality that challenged the essence of their belief system. So they did what cults often do — and bent their narrative.
Instead of admitting defeat, some QAnon followers are promoting a new convoluted conspiracy theory with the outcome they desire: Trump will once again be sworn in as president of the United States on March 4.
The most radical QAnon believers exhibit traits that have manifested among dangerous cults and doomsday groups — a willingness to dismiss their own individuality for a perceived greater good. These disciples often shun their families and friends in favor of QAnon fantasies. They identify with a calling to participate in a movement and share a belief that they are improving society, or themselves, in a new way. Members of the QAnon movement seem to truly believe they are fighting a secret cabal of elites who are engaged in the exploitation of children. Believers often wear clothes adorned with the letter "Q" and use slogans such as "Where we go one, we go all" as mantras to illustrate their commitment to a belief system.
Despite repeated predictions associated with the QAnon movement proving to be false — such as the arrival of an apocalyptic storm that would destroy the "deep state" during Trump's presidency — the conspiracy theory continues to captivate followers by morphing its messaging to remain relevant. https://www.latimes.com/opinion/story/2021-02-21/qanon-cults-capitol-attack-trump-threat
Julia Duhn: The Christian Prophets Who Say Trump Is Coming Again
In 2015, spurred by the lengthy prophecy of a 27-year-old wunderkind named Jeremiah Johnson, many Pentecostals and charismatics embraced the idea that God had chosen Trump to restore America's Christian moorings. Trump's surprise win in 2016 offered a dramatic validation, and in 2020 dozens of prophets declared that he would win election again. This time, they were wrong. Yet, in the wake of Joe Biden's victory, instead of apologizing or backtracking, a number of prophets continue to assert that it is God's will for Trump to be in the White House and that a miraculous reversal is nigh. Enlow, who did not respond to a request for comment for this article, has said Trump's victory will be made clear by March.
With only two-thirds of voters—and one-third of Republicans—expressing confidence that Biden won a free and fair election, many observers worry that these prophets are sowing more confusion, blurring the line between misinformation and religious proclamation. They are spreading their message to wide audiences—some preachers who amplify these prophecies have followings in the millions—that increasingly exist in an echo chamber of like-minded religious YouTube channels, Instagram feeds and websites such as ElijahList, host of the YouTube channel ElijahStreams, where Enlow's video aired.
It's well known that Trump received strong support from white evangelicals in the 2020 election; estimates hover around 80 percent. But the role that prophecy plays in that support might be underexplored. In a survey conducted last year, two political scientists found that nearly half of America's church-attending white Protestants believed Trump was anointed by God to be president—a portion of the population that other scholars have dubbed "prophecy voters." The share is likely higher among charismatic Christians, who skew more politically and theologically conservative than evangelicals as a whole. And although this population is only a subset of American Christianity, it's a large one: Some estimates hold that as many as 65 million Americans could be counted as Pentecostals or charismatics.
Not all prophets have doubled down on their Trump prophecies since the election, however. And as some have backed away from Trump, a schism has emerged. At least six recognized prophets who initially predicted a Trump reelection have acknowledged those prophecies were wrong. They now say they are deeply troubled by their peers' refusal to acknowledge the same—and worry that allegiance to Trump could threaten the prophetic tradition itself. https://www.politico.com/news/magazine/2021/02/18/how-christian-prophets-give-credence-to-trumps-election-fantasies-469598
Eric Lutz: The Legal Walls Are Closing In On Donald Trump 
There has been so much understandable attention recently on Donald Trump's corrupt efforts to undermine democracy that it's easy to overlook all the corruption he engaged in before he railed against the election results and incited a violent insurrection. Manhattan District Attorney Cy Vance didn't forget, though, and has been ramping up his probe into the former president's tax and financial affairs—most notably, perhaps, through the hiring of a former prosecutor who helped bring down the head of the notorious Gambino crime family in the 1990s.
Vance earlier this month hired Mark Pomerantz, known for his successful prosecutions against John Gotti and other organized crime leaders. The addition, reported Thursday by the New York Times, may reflect the escalating case against Trump, and is perhaps a sign of trouble for the shady ex-president—particularly considering the mob-buster has already interviewed his former fixer, Michael Cohen. "I think Cohen may be more valuable than people are giving him credit for," former Vance deputy Daniel Alonso told Reuters, which reported Pomerantz's Thursday interview with the ex-Trump attorney.
"He has credibility issues," Alonso continued, referring to the Trump team's long-running efforts to discredit Cohen. "But the perjury he committed was allegedly at the behest of Donald Trump, at least tacitly."
Vance has not outwardly accused Trump, his family, or his business of wrongdoing, nor has he said if he will ultimately bring charges or not. But his probe has continuously expanded since he launched it in 2018; originally focused on hush money payments to Stormy Daniels and Karen McDougal that were coordinated by Cohen, the investigation has since grown to examine the Trump Organization, potential tax fraud, and other Trump financial matters. Trump's legal team has called the investigation a "fishing expedition" and challenged the credibility of Cohen, who said Thursday he expects to be a "star witness" in a future case against his old boss. But with a deep understanding of Trump's practices, and the main hit on his credibility stemming from his work with him, he could be a threat to the former president. "I don't think that calling Cohen a perjurer ends the story," as Alonso told Reuters, "because that opens the door to the explanation of why he perjured himself."
Trump, whose use of murky and outright fraudulent tax practices have been well-documented, has never truly been held accountable for anything in his life—and it's far from clear that Vance will be the one to finally do so. Trump's critics have eagerly followed the twists and turns of other Trump investigations—Robert Mueller's inquiry, too many congressional investigations to count, two impeachment—only to be left disappointed when his power shielded him from liability. But Trump is now a private citizen, and Vance's investigation is just one of several legal challenges looming over him, including one into his business by New York Attorney General Leticia James and another by Georgia prosecutors into his audacious pressure campaign to undermine the state's election results. (My colleague Bess Levin recently walked through several lawsuits and investigations.) The political system may have proven incapable of punishing Trump—but with the steady drumbeat of investigations, we may soon find out if the same is true of the legal system. https://www.vanityfair.com/news/2021/02/the-legal-walls-are-closing-in-on-donald-trump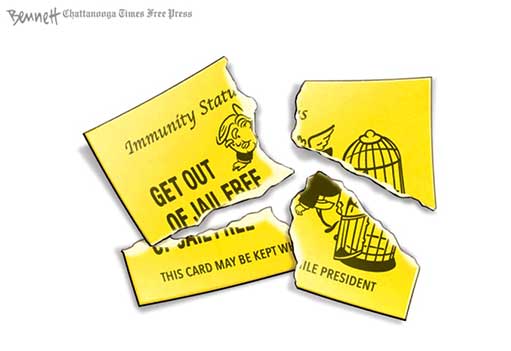 Christopher Flavelle, Brad Plumer and Hiroko Tabuchi:Texas Blackouts Point to Coast-to-Coast Crises Waiting to Happen
Even as Texas struggled to restore electricity and water over the past week, signs of the risks posed by increasingly extreme weather to America's aging infrastructure were cropping up across the country.
The week's continent-spanning winter storms triggered blackouts in Texas, Oklahoma, Mississippi and several other states. One-third of oil production in the nation was halted. Drinking-water systems in Ohio were knocked offline. Road networks nationwide were paralyzed and vaccination efforts in 20 states were disrupted.
The crisis carries a profound warning. As climate change brings more frequent and intense storms, floods, heat waves, wildfires and other extreme events, it is placing growing stress on the foundations of the country's economy: Its network of roads and railways, drinking-water systems, power plants, electrical grids, industrial waste sites and even homes. Failures in just one sector can set off a domino effect of breakdowns in hard-to-predict ways.
Much of this infrastructure was built decades ago, under the expectation that the environment around it would remain stable, or at least fluctuate within predictable bounds. Now climate change is upending that assumption. https://www.nytimes.com/2021/02/20/climate/united-states-infrastructure-storms.html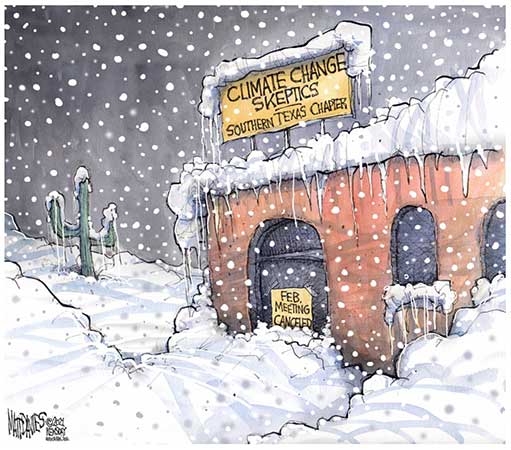 David Siders: Anti-Trumpers are done with the GOP. Where do they go now?
When Jim Hendren, a longtime Arkansas state legislator, announced on Thursday that he was leaving the GOP, it marked the latest in a flurry of recent defections from the party.
Tens of thousands of Republicans across the country have changed their registrations in the weeks since the riot at the Capitol — many of them, like Hendren, becoming independents. Other former party officials are discussing forming a third party.
But if the Republicans' reasons for leaving the GOP are obvious — primarily, disdain for former President Donald Trump and his stranglehold on the party — the sobering reality confronting them on the other side is that there's really no place to go.
The Democratic Party, which continues to move leftward, isn't a good ideological fit. Those who want to fight to recapture the GOP from within are vastly outnumbered. Building a third party from scratch requires gigantic sums of money and overcoming a thicket of daunting state laws designed in large part by the two major parties.
"Right now, everybody's just trying to figure out how to coalesce what is a small fraction of the Republican Party — what do we do with it," said former Illinois Rep. Joe Walsh, who unsuccessfully challenged Trump for the Republican presidential nomination. "And starting a third party is extremely difficult."
Walsh said he and others who have left the GOP are "kind of in the wilderness." Republicans who break with the former president are not only on their own, they are under attack from a base that remains steadfastly loyal to him.
"What I see in the Republican Party is the next four to eight years are going to be a civil war that is going to leave many people homeless," said Hendren, who is the nephew of Arkansas Gov. Asa Hutchinson. https://www.politico.com/news/2021/02/22/anti-trump-republicans-third-party-470783