September 6, 2018
ON THE RECORD. . .
"He's an idiot. It's pointless to try to convince him of anything. He's gone off the rails. We're in Crazytown. I don't even know why any of us are here. This is the worst job I've ever had." — White House chief of staff John Kelly, quoted in Fear: Trump in the White House,

Trump and Bob Woodward discuss Woodward's new book, "Fear." Listen to it HERE.

Beto song - listen to it HERE.

"I don't care about my legacy. I'll be dead." — Rudy Giuliani

I just cannot state strongly enough how totally dishonest much of the Media is. Truth doesn't matter to them, they only have their hatred & agenda. This includes fake books, which come out about me all the time, always anonymous sources, and are pure fiction. Enemy of the People!-- Trump on twitter.

"When you get good ratings, you can say anything." — Trump at a rally in Indiana.

"Today's Democrat Party is held hostage by left-wing haters, angry mobs, deep-state radicals, establishment cronies and their fake-news allies. Our biggest obstacle and their greatest ally actually is the media." — Trump at the political rally in Indiana.

Google search results for 'Trump News' shows only the viewing/reporting of Fake News Media. In other words, they have it RIGGED, for me & others, so that almost all stories & news is BAD. Fake CNN is prominent. Republican/Conservative & Fair Media is shut out. Illegal? 96% of....results on 'Trump News' are from National Left-Wing Media, very dangerous. Google & others are suppressing voices of Conservatives and hiding information and news that is good. They are controlling what we can & cannot see. This is a very serious situation-will be addressed!"-- Trump on Twitter

"So much of our politics, our public life, our public discourse, can seem small and mean and petty, trafficking in bombast and insult, in phony controversies and manufactured outrage. It's a politics that pretends to be brave, but in fact is born of fear. John called us to be bigger than that. He called us to be better than that." — Barack Obama at John McCain's (R-AZ) memorial service.

"At the memorial service he had carefully planned, John McCain managed to deliver a final and defiant rebuke to the man who wasn't there, whose name was never uttered." -- Susan Page

"Like so many heroes, you leave us draped in the flag you loved … my father is gone and my sorrow is immense but I know his life and I know it was great because it was good." – Meghan McCain

"To refuse the obligations of international leadership and our duty to remain 'the last best hope of earth' for the sake of some half-baked, spurious nationalism cooked up by people who would rather find scapegoats than solve problems is as unpatriotic as an attachment to any other tired dogma of the past that Americans consigned to the ash heap of history." -- Senator John McCain in 2017

"The definition of insanity, just listening to the president there, is how the president has been treating Canada all this time. You know, this is our best trading partner in the world." -- Former U.S. Ambassador to Canada Bruce Heyman told CNBC that President Trump risks seriously damaging the relationship between Canada and the U.S. as he pushes toward a new North American Free Trade Agreement.

"It is time for this war in Afghanistan to end." -- Gen. John W. Nicholson Jr., who spent 31 months at the helm of a quagmire of a war has dragged on so long that it is now fought by a generation of soldiers too young to remember the day when planes flown by members of Al Qaeda, which had found protection in Afghanistan under the Taliban, struck the World Trade Center and the Pentagon.

"I had a business dispute with Mueller before that. I had a real business dispute. And he's Comey's best friend. And I could give you 100 pictures of him and Comey hugging and kissing each other. You know, he's Comey's best friend." — Trump, explaining to the Daily Caller why he didn't pick Robert Mueller as FBI Director.

"I'm not going to sit there and let him look like an idiot. And you publish that transcript, because everything leaks in Washington, and the guys overseas are going to say, 'I told you he was an idiot. I told you he was a goddamn dumbbell. What are we dealing with this idiot for?'" — Trump personal lawyer John Dowd explaining to special counsel Robert Mueller that letting President Trump testify could be a national security risk.

"At Vladimir Putin's direction, Moscow launched a brazen, multi-faceted influence campaign to undermine public faith in our democratic process and to distort our presidential election. Although no actual ballots were altered by this campaign, make no mistake: This was a direct attack on our democracy." -- Homeland Security Secretary Kirstjen Nielsen calling out Russian President Vladimir Putin by name for interfering in the 2016 US election.
---
IN THIS ISSUE
FYI
OPINION
1. The Borowitz Report: White Man Hopes to Land Job Without Background Check
A fifty-three-year-old white man from Washington, D.C., is hoping to land a six-figure job for life without being subjected to a thorough background check, the man confirmed on Tuesday.
The man, Brett Kavanaugh, said that he was "pretty chill" about his upcoming job interview because he had been assured that "anything super damaging" had been removed from his H.R. file.
Kavanaugh said he was "blown away" when he learned about the benefits package that comes with his prospective job. "When my friend in H.R. told me it was $255,300 a year for life, even after you retire, and no background check, I was, like, 'You have got to be shitting me,' " he said. "I don't care who you are. That's sweet." https://www.newyorker.com/humor/borowitz-report/
2. Poll: Democrats regain clear advantage in midterms shaping up as referendum on President Trump
Two months ahead of the midterm elections, Democrats hold a clear advantage over Republicans in congressional vote support, with antipathy toward President Trump fueling Democratic enthusiasm, even among those in the party who stayed home four years ago, a new Washington Post-ABC News poll finds.
The survey also points to broad unrest and frustration with the political system generally. More than 6 in 10 Americans say Trump and the Republican Party are out of touch with most people in the country. While Democrats fare better, a narrower 51 percent majority also judged them out of touch.
Registered voters say they favor the Democratic candidate over the Republican candidate in their district by 52 percent to 38 percent. That is a marked increase from the four-point edge in an April Post-ABC poll but similar to the 12-point advantage Democrats enjoyed in January. https://www.washingtonpost.com/politics/poll-democrats-regain-clear-advantage-in-midterms-shaping-up-as-referendum-on-president-trump/2018/09/03/b47be106-aefe-11e8-a20b-5f4f84429666_story.html
3. Toobin Says Trump's Tweet May Be Impeachable Offense
Two long running, Obama era, investigations of two very popular Republican Congressmen were brought to a well publicized charge, just ahead of the Mid-Terms, by the Jeff Sessions Justice Department. Two easy wins now in doubt because there is not enough time. Good job Jeff...... Donald Trump
Donald Trump's tweet blaming Attorney General Jeff Sessions for bringing indictments against two Republican lawmakers could be grounds for removing him from office, CNN senior legal analyst Jeffrey Toobin said Tuesday.
"This tweet alone may be an impeachable offense. This is such a disgrace," Toobin said on CNN's "New Day." https://www.cnn.com/2018/09/04/politics/jeffrey-toobin-trump-sessions-tweet-cnntv/index.html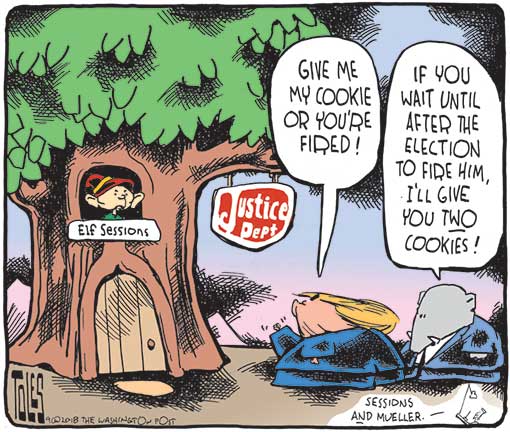 4. Trump averages eight false or misleading claims a day
In the 592 days since he took the oath of office, President Trump has made 4,713 false or misleading claims, according to The Fact Checker's database that analyzes, categorizes and tracks every suspect statement uttered by the president.
That's an average of about eight claims a day. https://www.washingtonpost.com/politics/2018/09/04/president-trump-has-made-false-or-misleading-claims-days/
5. The DAILY GRILL
A 2007 study by NYU's Brennan Center for Justice memorably found that an individual American is more likely to get struck by lightning than to commit in-person voter fraud.

VERSUS

As of last summer, 68 percent of Republicans thought millions of illegal immigrants had voted in 2016, and almost three quarters said voter fraud happens "somewhat" or "very often." The same survey found that nearly half of Republicans believed Trump had won the popular vote.

 

Among the things Robert Ohr said he learned from Steele during the breakfast was that an unnamed former n intelligence official had communicated that Russian intelligence believed "they had Trump over a barrel," according to people familiar with the meeting.

VERSUS

Trump this month proposed stripping Ohr of his security clearance and has asked "how the hell" he remains employed. He has called the Russia investigation a "witch hunt" and denied any collusion between his campaign and Moscow.
6. From MEDIA MATTERS (They watch Fox News so you don't have to)
A California man allegedly threatening to murder Boston Globe employees during numerous rants in which he echoed President Donald Trump's inflammatory rhetoric by describing journalists as the "enemy of the people." https://www.mediamatters.org/blog/2018/08/30/california-man-arrested-after-allegedly-using-trump-s-anti-press-rhetoric-threats-against-boston/221148

The Trump administration is confiscating Americans' passports and casting doubt on their citizenship. Fox & Friends doesn't care.  https://www.mediamatters.org/blog/2018/08/30/trump-administration-confiscating-americans-passports-and-casting-doubt-their-citizenship-fox/221143

Fox's Mike Huckabee: FBI staged "what is no less than a coup d'etat against the elected president." Huckabee: "We ought to see a bunch of people frog marched across federal property, under arrest for what they have done."  https://www.mediamatters.org/video/2018/08/31/foxs-mike-huckabee-fbi-staged-what-no-less-coup-detat-against-elected-president/221169

In an explicit attack on the rule of law, the president publicly criticized Attorney General Jeff Sessions for not making law enforcement decisions based on their impact on the Republican Party. The remark is a salute to Trump's fawning allies at Fox, who have spent months castigating the Justice Department for refusing to act as an appendage of the president's political will, and a reminder of the challenge for the mainstream press in contextualizing this type of day-after-day extremism.  https://www.mediamatters.org/blog/2018/09/04/trump-wants-blatantly-politicize-justice-department-and-his-fox-news-allies-are-trying-help/221181
7. Trump's approval rating drop looks real, and it could be a disaster for the GOP in 2018
A new ABC News/Washington Post poll puts President Donald Trump's approval rating at just 36%. An IBD/TIPP poll also puts the President's approval rating at 36%. Finally, a Kaiser Family Foundation poll gives Trump an approval rating of 37%. All three are declines from the last poll by each pollster, which had Trump's approval rating in the low 40s.
If there is a trend emerging of Trump's approval rating dropping into the 30s, it's very bad news for House Republicans heading into the midterm elections. https://www.cnn.com/2018/09/05/politics/trump-approval-drop-midterms/index.html
8. Woodward book prompts West Wing witch hunt, sources say
Donald Trump, showing his outrage over Bob Woodward's explosive new book, is ordering a real witch hunt in the West Wing and throughout his administration, asking loyal aides to help determine who cooperated with the book.
In Trump's eyes, what makes or breaks aides who are reported to have made disparaging comments about him is how strongly they push back on the accusations. Unlike Kelly and Mattis, former Secretary of State Rex Tillerson never denied calling Trump a "moron" and a former senior White House official said Trump "never forgave him for it." But he is also taking note of the silence from several other former administration officials. "He wants to know who talked to Woodward," one of the officials said, speaking on condition of anonymity amid the highly tense atmosphere in the West Wing in the wake of the book. https://www.cnn.com/2018/09/05/politics/trump-woodward-book-leakers/index.html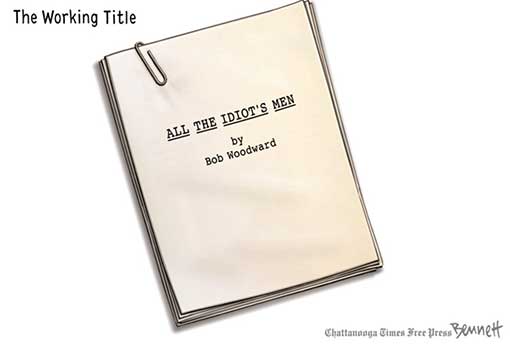 9. Anti-Obamacare Lawsuit Puts GOP on Defensive Before Elections
A Republican-led lawsuit seeking to nullify Obamacare will be spotlighted in court in the final months of congressional election campaigns, giving Democrats political fodder and sending GOP candidates in competitive races looking for cover.
The Trump administration's Justice Department has taken the unusual step of siding with Texas -- instead of defending the federal law -- in the states' bid to persuade a judge that various aspects of the Affordable Care Act should be tossed out, including protecting people with pre-existing medical conditions.
The arguments come at a difficult time for Republicans as they try to defend their control of the House and Senate in the November elections while many Democrats make health care a central issue in their campaigns. The court case will help them to put GOP candidates in competitive races on the defensive. https://www.bloomberg.com/news/articles/2018-09-05/anti-obamacare-lawsuit-puts-gop-on-defensive-before-elections
10. POLITICO race ratings: 60 GOP House seats in danger
Roughly 100 of the 240 Republican-controlled House seats are currently within Democratic reach, posing the most serious threat to the GOP majority since the party won control in 2010.
Despite the GOP's built-in advantages due to incumbency and redistricting, 60 of those seats are even more precariously positioned, with the Republican nominee either holding just a slight competitive edge, dead even against their Democratic opponent or trailing. https://www.politico.com/story/2018/09/05/midterm-race-ratings-2018-806452
11. "It Seems Like Iowa In 2007": Is Beto O'Rourke The Left's Obama-Like Answer To Trump In 2020?
The hype emerging from the Democrat's campaign points to something rather obvious: O'Rourke is good at this, way better than most of the Democrats sniffing around the next presidential race from the boring hallways of Capitol Hill. Whether he wins or loses his race—and yes, even if he loses—O'Rourke should be included in every conversation about the 2020 Democratic primary. That's because, unlike most of the paint-by-numbers politicians in his party, O'Rourke actually understands how politics should be conducted in the Donald Trump era: authentic, full of energy, stripped of consultant-driven sterility, and waged at all times with a social-media-primed video screen in mind. O'Rourke is making a bet that running on his gut and giving voters a clear choice against Cruz, rather than just a mushy alternative, offers not just a path to victory in Texas but an antidote to the entire stupid artifice of American politics in the Trump era.
"The most appealing thing about O'Rourke is both delightfully uncomplicated and extremely powerful: he talks about politics like you and your friends do. https://www.vanityfair.com/news/2018/08/could-beto-orourke-be-the-next-obama
12. 'Tough decisions have to be made': House Republicans prepare for pain
With a massive field of vulnerable House incumbents to defend and limited resources to go around, Republicans are readying for a painful round of political triage — deciding which lawmakers are worth trying to rescue, and which ones need to be cut loose to fend for themselves in November.
GOP officials say as many as 45 Republican-held seats are at serious risk, making it impossible to salvage each one in the costly scramble to protect the party's 23-seat majority – especially those members who have waged sluggish campaigns and posted lackluster fundraising totals.
Behind the scenes, senior party strategists have begun polling to determine which incumbents may be beyond saving. https://www.politico.com/story/2018/08/31/republicans-midterms-congress-vulnerable-lawmakers-gop-805496
13. John McCain's Funeral Was The Biggest Resistance Meeting Yet
McCain's grand funeral—the Obama adviser David Axelrod called it an exercise in 'civic communion' — underscored a fact that is often lost about Washington these days. The city is much more bipartisan, in some respects, than it has ever been, more united than it may currently seem, in its hatred of Donald Trump.
Some are more forthright about this than others, for understandable reasons. Others are circumspect, especially the elected Republican officials who have now publicly bowed to Trump after trying and failing to stop his ascendance in their party. But their presence at McCain's funeral suggested that the final chapter has not yet been written in the Republican drama over what to do about the crude interloper who has taken over their party. McCain certainly died hoping for something other than the current, slavish devotion to Trump that many Republicans on Capitol Hill now profess, and that is what his funeral was meant to remind us. https://www.newyorker.com/news/letter-from-trumps-washington/john-mccains-funeral-was-the-biggest-resistance-meeting-yet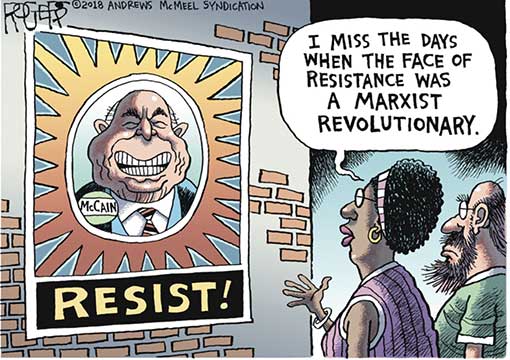 14. The 10 worst presidents: Who do scholars scorn the most?
Dead last. That's where a group of presidential scholars placed Donald Trump in the pantheon of American presidents.
Dead last is an accomplishment for a guy who's only been president for a year. Of course, it's easy to attribute that to our political polarization and the liberal bent of many presidential scholars. But those who identified themselves as Republican-leaning also rated Trump as a lousy commander in chief, though not the worst. They ranked him #40, awarding him a better spot than the crew of wretched men who led us into the Civil War. The nation, after all, isn't at war with itself. Yet. https://www.washingtonpost.com/news/retropolis/wp/2018/02/20/the-10-worst-presidents-besides-trump-who-do-scholars-scorn-the-most/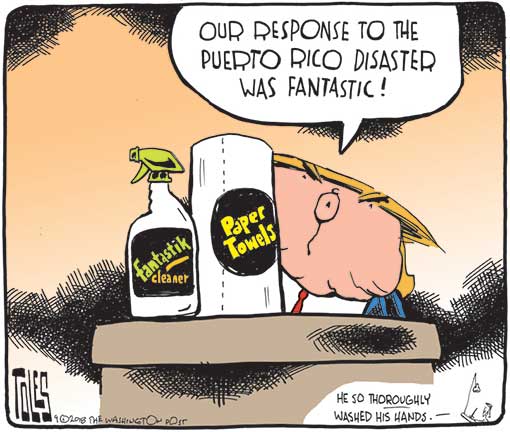 1. Eugene Robinson: Why Trump is so frantic right now
President Trump's incoherence grows to keep pace with his desperation. These days, he makes less sense than ever — a sign that this malignant presidency has entered a new, more dangerous phase.
I can't be the only one who thinks he sounds less like an elected official than like the leader of some apocalyptic cult. Look at the way he rails against the news media at his revival-style campaign rallies. In Indiana on Thursday night, he seemed obsessed with news stories that had described empty seats and a subdued crowd at a West Virginia rally several days earlier. He claimed those reports were "fake news," although they were demonstrably true.
Trump also said that "when I start screaming 'fake news,' you see those red lights go off for a little while," referring to the television news cameras. The suggestion was that the news media do not want the public to know of his "fake news" attacks, which is insanely untrue — if anything, we give far too much coverage to that dangerous nonsense. And as all at the rally could see, the little red lights stayed on.
But although Trump's rant was divorced from reality, it was also coldly calculated. He has waged a relentless campaign to persuade his staunch supporters to believe his words over the evidence of their own eyes and ears.
This is an astonishing thing to have to say about an American president, but Trump is taking a page from the playbook of totalitarian dictators: Believe only me. Reality is what I say it is. Anyone who claims otherwise is an Enemy of the People. https://www.washingtonpost.com/opinions/why-trump-is-so-frantic-right-now/2018/09/01/26c7f816-ad52-11e8-b1da-ff7faa680710_story.html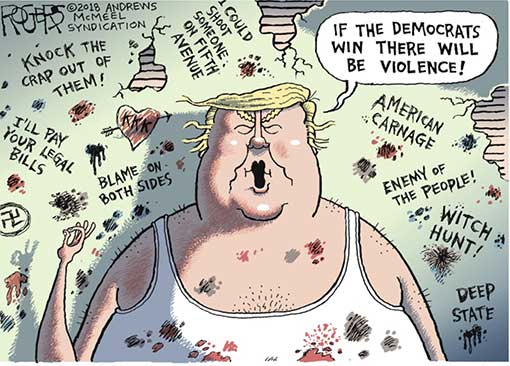 2. Anonymous: I Am Part of the Resistance Inside the Trump Administration
The root of the problem is the president's amorality. Anyone who works with him knows he is not moored to any discernible first principles that guide his decision making.
From the White House to executive branch departments and agencies, senior officials will privately admit their daily disbelief at the commander in chief's comments and actions. Most are working to insulate their operations from his whims.
Meetings with him veer off topic and off the rails, he engages in repetitive rants, and his impulsiveness results in half-baked, ill-informed and occasionally reckless decisions that have to be walked back.
Given the instability many witnessed, there were early whispers within the cabinet of invoking the 25th Amendment, which would start a complex process for removing the president. But no one wanted to precipitate a constitutional crisis. So we will do what we can to steer the administration in the right direction until — one way or another — it's over.
There is a quiet resistance within the administration of people choosing to put country first. But the real difference will be made by everyday citizens rising above politics, reaching across the aisle and resolving to shed the labels in favor of a single one: Americans. https://www.nytimes.com/2018/09/05/opinion/trump-white-house-anonymous-resistance.html
3. Gabriel Sherman: "Everybody On The Inside Knows It's True": Woodward's Reality Bomb Is Blowing Up The West Wing
The West Wing came to a virtual standstill yesterday after The Washington Postpublished the first excerpts of Bob Woodward's upcoming book, Fear. The book by the veteran White House chronicler portrays Donald Trump as an unhinged and ill-informed commander in chief surrounded by aides who doubt his intelligence and question his fitness for office. "It's pandemonium. He literally isn't talking to anyone. He's canceled meetings and is on the phone calling up his friends," one source said. Current and former staffers, meanwhile, pointed fingers in all directions as they sought to deflect blame for the damaging leaks. "I'd rather be an unapologetic defender of Donald Trump than Judas," one West Wing official told me.
Woodward's book triggered Trump's wrath on several levels. Two sources told me Trump is furious at the portions of the book that describe administration officials questioning his intelligence and emotional stability. Woodward reports that Chief of Staff John Kelly called Trump "an idiot" and the West Wing "Crazytown"; Defense Secretary Jim Mattis compared Trump to a "fifth- or sixth-grader"; and Trump's former personal lawyer called Trump a "fucking liar" who would end up in "an orange jumpsuit" if he testified to special counsel Robert Mueller.
Trump is also outraged that the book portrays aides as believing they are the grown-ups protecting the country from his dangerous impulses. Two sources said Trump is particularly angry with former economic adviser Gary Cohn, who is revealed in the book to have snatched a letter off Trump's desk to protect "national security." "He hates that people are leaking. They think they can take things off the Resolute desk because of this idea they're 'saving' the country," one senior West Wing official said. "I mean, who does that?"
Even Trump's family is concerned the president is in deep trouble. After attending John McCain's funeral, Jared Kushner and Ivanka Trump told Trump he needs to get control of himself. A person briefed on the conversation recalled, "Jared told him if they're going to last in Washington they can't be this far off the mark with the establishment." https://www.vanityfair.com/news/2018/09/bob-woodwards-reality-bomb-is-blowing-up-the-west-wing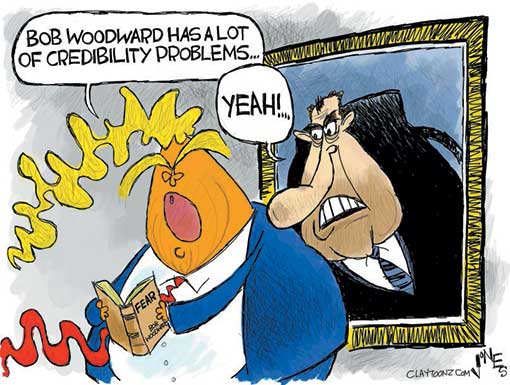 4. Jonathan Chait: Trump Is a Snob Who Secretly Despises His Own Supporters
Deep in a Politico report about President Trump's attempt to build support for firing Attorney General Jeff Sessions, whom Trump loathes for recusing himself from the investigation of a campaign he was part of, is a striking artifact of Trumpism. The president's swelling complaints against Sessions include the fact that he "doesn't have the Ivy League pedigree the president prefers" and that Trump "can't stand his Southern accent."
Conservatives have spent decades depicting liberals as coastal snobs. Entire campaigns were built from this theme, from Michael Dukakis's "Harvard Yard boutique" to various Democrats failing to display the requisite enthusiasm for Nascar. Every image of Barack Obama in the right-wing media cast him gazing downward imperiously, a pose that conservatives seemed to think captured his contempt for the good people of the heartland.
Given the attention they have lavished on such picayune details as John Kerry's failure to order cheesesteak properly, it's not even possible to imagine what they would do with direct evidence of a president disdaining his attorney general's University of Alabama law degree and regional accent. Imagine one of those scenes from a '90s action movie where the bad guys are wearing night-vision goggles in the dark, and then suddenly faced with blinding light.
But as is so often the case, the accusation that was made falsely against Democrats turns out to be true of Trump. For all his vaunted populism, he is filled with contempt for average people in general and his own supporters in particular. http://nymag.com/daily/intelligencer/2018/08/coastal-snob-trump-mocks-sessions-alabama-accent-degree.html
5. Greg Sargent: The walls are closing in. And Trump's lawyers know it.
What's going on at @CNN is happening, to different degrees, at other networks - with @NBCNews being the worst. The good news is that Andy Lack(y) is about to be fired(?) for incompetence, and much worse. When Lester Holt got caught fudging my tape on Russia, they were hurt badly! — Donald J. Trump (@realDonaldTrump) August 30, 2018
That video is right here. This sounds like the sort of claim that Trump would make to aides — remember, he privately suggested that the "Access Hollywood" tape might have been faked — but in this case, suddenly blurted out publicly. Regardless, it raises a question: Why does Trump suddenly see a need to distance himself from that interview now, more than a year after it happened?
Trump's own lawyers believe that Mueller thinks he has already got enough for a strong obstruction case. While there won't be any indictment, they believe Mueller will issue a damning report to Congress, and given their own fears about obstruction, that (in their view) will likely be what makes the report potentially so damaging — helping to supply grounds for impeachment.
Trump may sense the rising likelihood of this as well, which might be why he's suddenly distancing himself from the Holt interview. But even if so, while Trump has talked about impeachment with his advisers, they don't believe he is sufficiently mindful of the danger all of this poses.
How does this end? All of it perhaps makes it more likely that Trump will fire Sessions. If Mueller already has enough for an obstruction case, and putting in a new attorney general could perhaps limit what Mueller investigates further or what he puts into his report, then why not? Even if so, it's hard to see how that would derail the case for impeachment — it might add to it.
Provided, that is, that Democrats take back the House. But what if that does not happen? Then what? https://www.washingtonpost.com/blogs/plum-line/wp/2018/08/30/the-walls-are-closing-in-and-trumps-lawyers-know-it/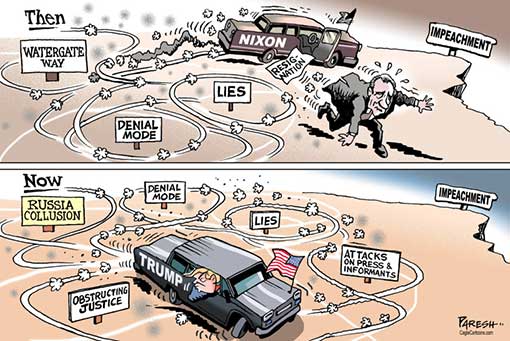 6. NY Times Editorial Board: After Trump, the Deluge?
At a private meeting on Monday, President Trump urged evangelical Christian leaders to break federal law and openly support him from the pulpit. Does it matter that he seemed to believe that he had overturned the provision of the tax code that prevents churches from endorsing or opposing political candidates? Truth, fantasy and deceit slosh together with Mr. Trump.
What mattered more was the thought that Mr. Trump planted — that a deluge of violence and anarchy would be loosed upon the world if they failed to rally the nation's Christian soldiers to his side.
If the Democrats win the midterm elections, the president warned, "they will overturn everything that we've done and they'll do it quickly and violently, and violently."
"The level of hatred, the level of anger is unbelievable," he said.
Of course, the only political leader who has been inciting and condoning violence has been Mr. Trump. At campaign rallies he fantasized about punching a foe in the face and urged his crowds to "knock the crap out of"protesters, offering to pay their legal bills if they did. Reporters at his rallies have feared for their safety as they faced the "enemy of the people" fury Mr. Trump has sought to foment among his most passionate supporters. When torch-bearing neo-Nazis marched in Virginia last year, and one even ran his car into a crowd of counter-demonstrators, killing a woman, Mr. Trump said there was "blame on both sides." https://www.nytimes.com/2018/08/29/opinion/trump-evangelicals-violence.html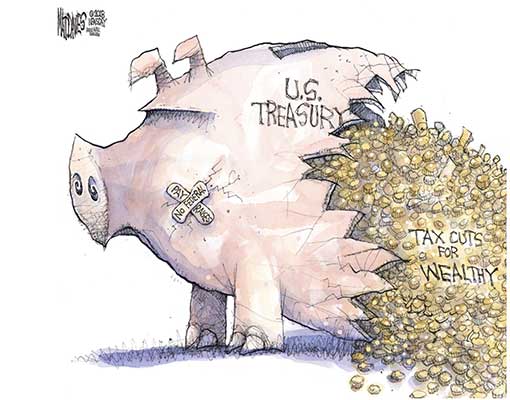 7. Max Boot: The McCain funeral offered a promise of deliverance at a dark moment in American history
When dictators took over countries such as Germany, Italy, Russia, Argentina and Venezuela, the body politic had usually already been weakened by war, depression or chronic misrule – and often all three. Today, the United States faces a threat from a would-be despot of its own: a president who incessantly undermines his own Justice Department, calls for his political opponents to be investigated and locked up, denounces the press as the "enemy of the people," and lies incessantly while telling his followers that they must trust whatever he now says over what the media report or even over what he himself was previously recorded as saying on video.
President Trump has tried with all his might to undermine what he calls a "Rigged Witch Hunt," but to judge by the evidence of the latest Washington Post-ABC News poll, he is failing: Only 36 percent of those surveyed approve of the president, while 49 percent support his impeachment and 63 percent back the Mueller investigation. Assuming the poll is not simply an outlier, it suggests that the body politic is rejecting the Trumpist infection. https://www.washingtonpost.com/news/global-opinions/wp/2018/09/02/the-mccain-funeral-offered-a-promise-of-deliverance-at-a-dark-moment-in-american-history/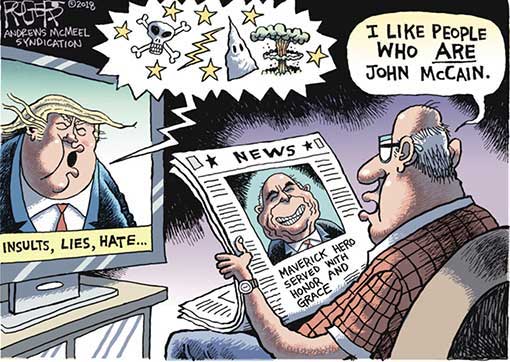 8. Bonnie Kristian: Trump's medieval sense of order
For Trump, society has a definite hierarchy that must be preserved. As president and a wealthy, white businessman, his own rank is the highest. Trump is our world's analogue to the king, and he has plenty of slithering court evangelicals feeding him assurances that his position is God-ordained. His children are, in his phrase, "high quality" too. The exact details of the rest of the hierarchy are debatable, but being female, poor, non-white, disabled, a Democrat, an immigrant, physically unattractive, a member of the media, or a Trump critic of any variety clearly lowers your marks.
So, to illustrate, Trump is very angry about NFL players protesting police brutality during the national anthem. He associates the anthem with himself as head of state and believes the players (in his mind, low honor people) have offended his high honor. He is also very angry about the murder of white Americans (high honor) by non-white immigrants (low honor). Trump believes his own enemies, like Clinton, deserve very large punishments; their honor is clearly at peasant levels. Anyone associated with or flattering of Trump, however, shares in his honor and therefore could not possibly deserve much punishment because any offenses they committed were against victims of lower status. http://theweek.com/articles/792593/trumps-medieval-sense-order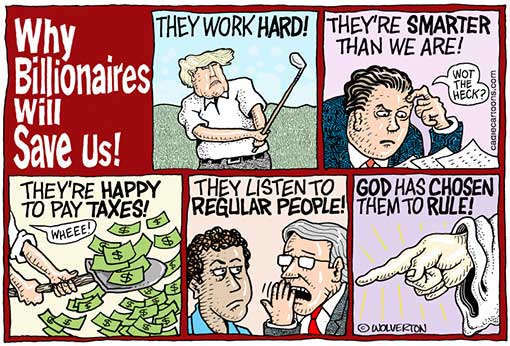 9. Bret Stephens: Straining to Keep Faith With America
On his last visit to the Munich Security Conference in 2017, shortly before his cancer diagnosis,John McCain  he spoke of his own mounting sense of alarm. Alarm, he said, at "the hardening of resentment we see toward immigrants" and "the growing inability, and even unwillingness, to separate truth from lies." Alarm that "more of our fellow citizens seem to be flirting with authoritarianism and romanticizing it as our moral equivalent." Alarm, above all, "that many of our peoples, including in my own country, are giving up on the West."
It was no mystery to anyone in his audience that day where the real source of his alarm lay: An American president who, in matters of both character and conviction, was low and vapid and mean-spirited and bottomlessly dishonorable — McCain's opposite in every respect.
But everyone in that audience would also have known that McCain had enough sense of history, and enough confidence in the future, not to mistake evidence of decay for proof of decline. In the scale of American blunders — from the Dred Scott decision to the Neutrality Acts of the 1930s to the tragedy of Vietnam — is the Trump presidency really unique? And in the long, upward arc of American history, will its consequences be so dire or decisive? https://www.nytimes.com/2018/08/31/opinion/mccain-america.html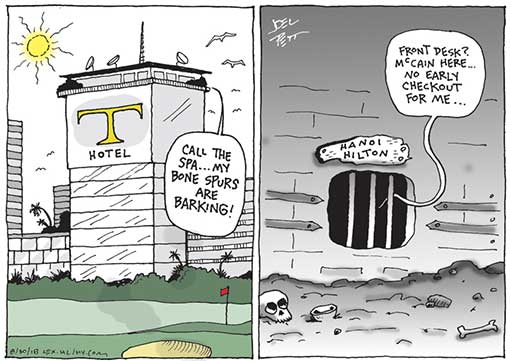 10. NY Times Editorial: A Bogus Deal on NAFTA
The North American Free Trade Agreement is a nearly 25-year-old agreement that needs to be modernized to address new technologies, update intellectual property rights and protect American industry and workers from unfair competition. Instead, President Trump has proposed replacing Nafta with something worse, a vague agreement that could hurt American workers and raise prices for American consumers while antagonizing America's neighbors.
In the Trumpian worldview, Canada isn't a friendly neighbor but a frosty enemy bent on ruining our steel, auto and dairy industries while cutting down forests in British Columbia and trucking the lumber across the border. Fiends! Likewise, as he sees it, Mexico ships tequila, produce and people north, and imports our higher-paying manufacturing jobs. Desperados! Yet his solutions would simply add complications with few benefits.
We will certainly not be better off. Nor is Congress planning to cede its authority in treaty making. The president can and should expect a bipartisan pushback against an unnecessary and abusive bad "deal."
"Canada has oil, electricity, water, all the things that the United States desperately needs," notes Jerry Dias, national president of Unifor Canada, a leading trade union. "So for him to pick a fight with us makes no sense, either philosophically or economically."
Correct, Mr. Dias. Welcome to our world. https://www.nytimes.com/2018/09/02/opinion/trump-nafta-deal.html1.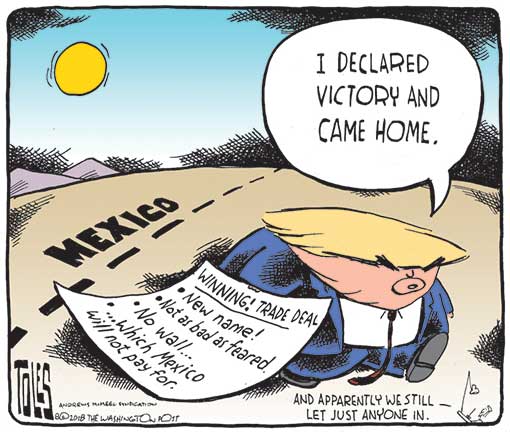 11. Juan Williams: Trump's 'majority' is fake
The lives of over 300 million Americans are being affected by policies foisted on them by a Senate "majority" that represents less than one-fifth of them and a president who was elected with three million fewer votes than his opponent.
Meanwhile, even as daily controversy, including federal convictions of his associates, surrounds Trump, the 18 percent represented by the GOP majority in the Senate protects the president from impeachment.
What is wrong with this picture?
Liberal comedian Bill Maher has long said that the Constitution is in need of a "page one rewrite."
That's funny, but the joke has a bite to it.
Trump has normalized many horrible things in our politics: racism, lying, scapegoating and corruption.
Future historians may look back and conclude one of the most corrosive things he normalized was minority-posing-as-majority tyranny that cheats the majority of the American people out of their democracy. http://thehill.com/opinion/white-house/404720-juan-williams-trumps-majority-is-fake
12. Jeffrey Toobin: How Giuliani Turned Into Trump's Clown
Since joining Trump's team, Giuliani has greeted every new development as a vindication, even when he's had to bend and warp the evidence in front of him. Like Trump, he characterizes the Mueller probe as a 'witch hunt' and the prosecutors as 'thugs.' He has, in effect, become the legal auxiliary to Trump's Twitter feed, peddling the same chaotic mixture of non sequiturs, exaggerations, half-truths, and falsehoods. Giuliani, like the President, is not seeking converts but comforting the converted.
This has come at considerable cost to his reputation. As a prosecutor, Giuliani was the sheriff of Wall Street and the bane of organized crime. As mayor, he was the law-and-order leader who kicked 'squeegee men' off the streets of New York. Now he's a talking head spouting nonsense on cable news. But this version of Giuliani isn't new; Trump has merely tapped into tendencies that have been evident all along.
Trump learned about law and politics from his mentor Roy Cohn, the notorious sidekick to Joseph McCarthy who, as a lawyer in New York, became a legendary brawler and used the media to bash adversaries. In the early months of his Presidency, as Mueller's investigation was getting under way, Trump is said to have raged, 'Where's my Roy Cohn?' In Giuliani, the President has found him. https://www.newyorker.com/magazine/2018/09/10/how-rudy-giuliani-turned-into-trumps-clown