April 5, 2018
ON THE RECORD. . .
"It's like Richard Nixon going to China, but if Nixon were a moron." — Jeffrey Lewis, writing in Foreign Policy, about the promised meeting between President Trump and Kim Jung Un.

"As I prepare to leave government, I am struck by a recurring thought: It should not be this hard to serve your country." -- David Shulkin in an op-ed in the New York Times following his ouster as Veterans Affairs secretary, railing against the "toxic" and "chaotic" environment in Washington and describing a "brutal power struggle" at the VA.

"A lot of people are lying about their contacts with the Russians, and that's criminal, so we're going to have people going to the slammer over this. The question is who and how high up this is going to reach with respect to criminal conduct. But the notion there's 'no collusion' is just ridiculous. There is collusion, and we know it by now." -- Richard Painter, a former ethics chief in the George W. Bush White House

"I was always very good at building. It was always my best thing. I think better than being President, I was maybe good at building." — Trump, quoted by CNN.

"I personally know and greatly respect Ronny Jackson....as a terrific doctor and Navy officer. However, he has neither the experience nor the credentials to run the very large and complex VA. This is a terribly misguided nomination that will hurt both a good man and our veterans".-- Former CIA Director John Brennon 

"It's hard to believe then that when Republicans lose the House in 2018, maybe by 40 or 50 seats, that House is not going to impeach him. And it's also hard to believe that a U.S. Senate that's going to be scared to death, though may still be in Republican hands, is not going to take a serious look when it has to deal with this president. So get good legal help now, because the storm is coming." — GOP strategist Alex Castellanos

Border Patrol Agents are not allowed to properly do their job at the Border because of ridiculous liberal (Democrat) laws like Catch & Release. Getting more dangerous. "Caravans" coming. Republicans must go to Nuclear Option to pass tough laws NOW. NO MORE DACA DEAL! -- President Trump on Twitter on Easter morning. -- A Happy Easter message from Donald Trump

"The print media is so left wing as to be meaningless dribble which accounts for why the industry is and will fade away. Just no credibility." -- David Smith, executive chairman of Sinclair Broadcast Group, said that he dislikes and fundamentally distrusts the print media, which he believes "serves no real purpose."

"I'm not a fan of tariffs, and I am nervous about what appears to be a growing trend in the administration to levy tariffs. This is a slippery slope, so my hope is that this will stop before it gets into a broader tit-for-tat that can't be good for our country." — Sen. Mitch McConnell.
---
IN THIS ISSUE
FYI
OPINION
1. Andy Borowitz: Scott Walker Dismayed That Wisconsin Apparently Smarter Despite Cuts in Education
Scott Walker, the governor of Wisconsin, said on Wednesday that he was "dismayed and alarmed" that people in his state had somehow become smarter despite substantial cuts in education.

"Ever since I took office, I have slashed education with the goal of making the voters of this state markedly dumber and incapable of critical thinking," he told reporters. "Instead, what I am looking at is a doomsday scenario."

Walker said that his cuts were based on a theory known as "trickle-up stupidity," in which students in Wisconsin's schools would become less informed and their ignorance would eventually infect their voting-age parents.

"Clearly, what looked like a can't-miss plan on paper has not panned out," he said.

Although Walker said that "it's not time yet to press the panic button," he warned that a so-called Smart Wave could be coming in his state.

"If Wisconsin voters continue to get smarter, that will be the end of me," he said.

ELSEWHERE: Calling it a "medical mystery of the first order," scientists are baffled by the ability of Senate Majority Leader Mitch McConnell and House Speaker Paul Ryan to stand upright without the benefit of spines.

Doctors at the University of Minnesota Medical School, who have been studying the skeletal structures of both Republicans for months, believe that their ability to stand, walk, and even break into a brisk trot when confronted by reporters' questions is "virtually inexplicable.". https://www.newyorker.com/humor/borowitz-report/
2. Donald Trump has been lying shamelessly. It hasn't worked
On the day of his inauguration, Trump lied about the weather. The next day, he lied about the size of his inauguration crowd. He has become no less brazen in the months since. The president who won't change isn't so much untruthful as anti-truthful, his words so frequently and flagrantly wrong that they amount to a comprehensive rejection of the very idea of accuracy.
The Star has counted 1400 false claims  since his inauguration, an average of 2.9 per day, about everything from media outlets to legislation to the head of the Boy Scouts calling him to pay him a compliment. (Didn't happen. He just made it up.) As Trump careens from policy to policy and outrage to outrage, lying has been the most consistent feature of his presidency. https://www.thestar.com/news/world/analysis/2017/12/22/donald-trump-has-spent-a-year-lying-shamelessly-it-hasnt-worked.html
3. From Mueller to Stormy to 'emoluments,' Trump's business is under siege
The carefully maintained secrecy around President Trump's finances is under unprecedented assault a year into his presidency, with three different legal teams with different agendas trying to pry open the Trump Organization's books.
On one side is special counsel Robert Mueller, who has subpoenaed Trump Organization documents as part of his wide-ranging investigation into the 2016 campaign. On another is Stormy Daniels, the adult-film actress seeking internal correspondence as part of her effort to be freed from a nondisclosure agreement centering on an alleged affair with Trump.
And in the most direct assault, the District and Maryland have sued Trump, alleging that he is improperly accepting gifts, or "emoluments," from foreign or state governments through his businesses, including his hotels. https://www.washingtonpost.com/politics/from-mueller-to-stormy-to-emoluments-trumps-business-is-under-siege/2018/03/30/1d128526-337b-11e8-8abc-22a366b72f2d_story.html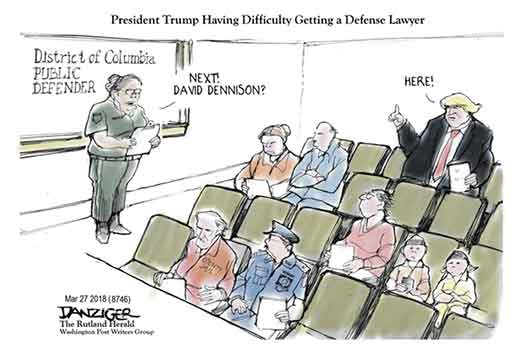 4. AP-NORC/MTV Poll: Young people run from Trump
A new Associated Press-NORC-MTV poll finds that just 33% of Americans between the ages of 15 and 34 approve of Trump's job performance. That's 9 points lower than all adults.
"The survey is the first in a series of polls designed to highlight the voices of the youngest generation of voters. The respondents, all of whom will be old enough to vote when Trump seeks re-election in 2020, represent the most diverse generation in American history. https://apnews.com/da5c9104e5c6463da83fd47f893ba072
5. The DAILY GRILL
"President Trump has freed so many children held in bondage to pimps all over this world. Hundreds each month. He has broken up trafficking rings in high places everywhere. notice that. I disagree on some things, but give him benefit of doubt-4 now." -- Roseanne Barr tweet

VERSUS

Confusing as it may be, Barr's tweet — heavy with references to Pizzagate-style global pedophile rings and Donald Trump's cover triumphs — fits in well within her previously expressed beliefs in QAnon, a kind of mega-conspiracy theory popular with fringe-minded Trump supporters like Barr. It combines recent conspiracy theories like Pizzagate and the Seth Rich murder conspiracy, as well as classic conspiracy elements like fear of the Rothschild family. -- Will Sommer in Medium

 

...does not include the Fake Washington Post, which is used as a "lobbyist" and should so REGISTER. If the P.O. "increased its parcel rates, Amazon's shipping costs would rise by $2.6 Billion." This Post Office scam must stop. Amazon must pay real costs (and taxes) now! - Trump tweet

VERSUS

Trump has repeatedly advanced this theory, even though officials have explained to him that Amazon's contracts with the Postal Service are profitable for the agency. And, the president also incorrectly conflated Amazon with The Post and made clear that his attacks on the retailer were inspired by his disdain for the newspaper's coverage. He labeled the newspaper "the Fake Washington Post" and demanded it register as a lobbyist for Amazon. The Post operates independently of Amazon, though the news organization is personally owned by Jeffrey P. Bezos, the founder and chief executive of Amazon. -- Philip Rucker in the Washington Post

 

"We started building our wall. I'm so proud of it. We have $1.6 billion," he continued. "And we've already started. You saw the pictures yesterday, and I said, 'what a thing of beauty.' And on September 28, we go further. And we're getting that sucker built."--Trump in Ohio to tout his infrastructure plan.

VERSUS

Trump seems to be referring to a misleading tweet he sent Wednesday, which showed workers replacing an existing structure on the border. The work began last month, according to the Guardian, before any new funding for fencing. Construction on Trump's border fencing hasn't started, and the $1.6 billion that goes to it in the omnibus spending bill doesn't really go to Trump's wall. -- Vox

 

EPA abandons fuel mileage goals and seeks to revoke California's ability to set its own standard.-- LA Times

VERSUS

"Watch out for this belated April Fools' Day trick. This cynical and meretricious abuse of power will poison our air and jeopardize the health of all Americans. -- Governor Jerry Brown

 

The president claimed that there are "big flows of people" who are sneaking into the United States "because they want to take advantage of DACA."-- Trump

VERSUS

In truth, to be eligible for the program created by Barack Obama, immigrants must have lived in the United States since 2007, have arrived in the country before they turned 16 and have been younger than 31 on June 15, 2012. Anyone who came after does not qualify. -- Philip Rucker and David Weigel in the Washington Post
6. From MEDIA MATTERS (They watch Fox News so you don't have to)
Trump crony Michael Savage compares March For Our Lives protesters to Hitler Youth, Khmer Rouge. Savage: "You stupid brats, you. You know nothing about history. Nothing. Zero. Because you've been brainwashed." https://www.mediamatters.org/video/2018/03/29/trump-crony-michael-savage-compares-march-our-lives-protesters-hitler-youth-khmer-rouge/219782
NRATV's Dan Bongino calls automatic voter registration an "attack" on our election system. Experts have found that automatic voter registration drastically increases voter turnout and makes elections more secure  https://www.mediamatters.org/video/2018/03/29/nratvs-dan-bongino-calls-automatic-voter-registration-attack-our-election-system/219786

NRA board member Ted Nugent calls Parkland students poor, pathetic liars with no soul: Nugent: "The evidence is irrefutable, they have no soul."https://www.mediamatters.org/video/2018/03/30/nra-board-member-ted-nugent-calls-parkland-students-poor-pathetic-liars-no-soul/219803

After officers shoot Stephon Clark 20 times, Fox News smears protesters and portrays police as the victims. https://www.mediamatters.org/blog/2018/03/29/after-officers-shoot-stephon-clark-20-times-fox-news-smears-protesters-and-portrays-police-victims/219784

Infowars' Jerome Corsi challenges Robert Mueller to a fight. Corsi: "I want to say to Mueller, let's go out in the backyard of the Justice Department. ... Let's duke it out."https://www.mediamatters.org/video/2018/03/30/infowars-jerome-corsi-challenges-robert-mueller-fight/219797

Fox News article on Stormy Daniels cites known white supremacist as a legal expert. Fox went to Kyle Bristow, formerly an attorney for the "alt-right," for his legal expertise. https://www.mediamatters.org/blog/2018/03/29/fox-news-column-stormy-daniels-cites-known-white-supremacist-legal-expert/219777

How Scott Pruitt's EPA is attacking journalists and stifling the media. EPA takes up Trump's war on the press by insulting media outlets, withholding information, and flouting public records requests. https://www.mediamatters.org/blog/2018/03/22/How-Scott-Pruitts-EPA-is-attacking-journalists-and-stifling-the-media/219699
7. Loyalty to Trump emerges as a top issue in Republican primary campaign commercials
Fealty to Trump has become more of a litmus test than ever for Republicans. Emboldened by private polling and focus groups that show the president is incredibly popular with the base, GOP candidates are stepping up attacks on their rivals over any daylight they've shown with Trump, even if it stemmed from his personal conduct toward women or apostasy on traditional conservative orthodoxy. It's another illustration of the degree to which Trumpism has come to define the Republican Party. This is no longer the party of Abraham Lincoln, Ronald Reagan or George W. Bush. It's the party of Donald J. Trump. https://www.washingtonpost.com/news/powerpost/paloma/daily-202/2018/03/29/daily-202-loyalty-to-trump-emerges-as-a-top-issue-in-republican-primary-campaign-commercials/5abc494530fb042a378a2f32/
8. Kelly Loses White House Clout as Trump Blazes Own Path
White House Chief of Staff John Kelly has lost some of his clout following recent missteps and wasn't at President Trump's side for recent crucial decisions on staffing and policy moves.
Kelly wasn't with the president last week when Trump abruptly decided to oust H.R. McMaster as national security adviser and replace him with John Bolton. Just two people were in the room for that decision: Trump and Bolton.
And Kelly is rarely on the line any more when Trump calls foreign leaders. Last week, when Trump spoke with President Vladimir Putin days before the U.S. decided to expel dozens of Russian diplomats, Kelly wasn't on the call. https://www.bloomberg.com/news/articles/2018-03-29/kelly-is-said-to-lose-white-house-clout-as-trump-blazes-own-path
9. We may know why Paul Manafort has kept quiet. But his bet is still risky
The most enduring mystery to date in special counsel Robert Mueller's inquiry has been former Trump campaign manager Paul Manafort's obdurate refusal to cooperate with the investigation. Manafort has a reputation as a swashbuckling gambler, but he has been playing odds in the biggest game of his life that are not just long but prohibitive. A new report that the president's now-former lawyer once discussed pardoning Manafort may finally explain why the latter has kept quiet — even though that bet is still incredibly risky.
Manafort's refusal to cooperate can't be driven by a rational calculation that he has any reasonable chance of escaping conviction, multimillion-dollar legal fees and a prison sentence that will result in years behind bars. https://www.washingtonpost.com/opinions/we-may-know-why-paul-manafort-has-kept-quiet-but-his-bet-is-still-risky/2018/03/28/ff1fa8a4-32cc-11e8-8bdd-cdb33a5eef83_story.html
10. Hidden Figures: How Donald Trump Is Rigging the Census
Virtually every major institution in America relies on census data, from businesses looking for new markets to the US military tracking the needs of veterans. The census lays the groundwork for the core infrastructure of our democracy, bringing a measure of transparency and fairness to how representation and resources are allocated across the country.
But with the Trump administration in charge, voting rights advocates fear the undercount could be amplified, shifting economic resources and political power toward rural, white, and Republican communities. The census is scheduled to begin on April 1, 2020, in the middle of the presidential election season. Of all the ways democracy is threatened under President Trump—a blind eye to Russian meddling in elections, a rollback of voting rights, a disregard for checks and balances—an unfair and inaccurate census could have the most dramatic long-term impact. https://www.motherjones.com/politics/2018/03/donald-trump-rigging-2020-census-undercounting-minorities-1/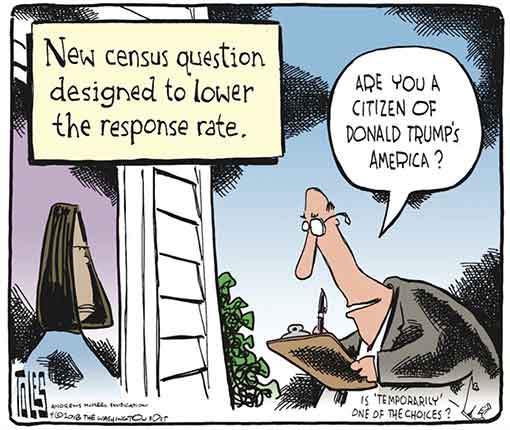 11. ICE's tyrannical campaign to silence dissent
Soon after President Trump entered the White House, the Department of Homeland Security scrapped the Obama-era policy that prioritized enforcement action against undocumented aliens who had committed serious crimes while leaving others alone. In the name of bringing undocumented "lawbreakers" to book, Trump made everyone fair game — including those who have lived and worked peacefully in this country for decades while paying taxes and building lives with American spouses and children.
Still, few foresaw that this administration would actually go after activists just for trying to raise public awareness about their plight. In the last 14 months, the American Civil Liberties Union along with various immigration groups has documented about two-dozen instances around the country where Immigration and Customs Enforcement agents have detained immigrant activists.
Undercover ICE agents recently arrested two of Migrant Justice's most prominent leaders, Zully Palacios Rodriguez and Enrique Balcazar Sanchez, as they were driving away from the group's Burlington headquarters. They are both outspoken advocates of immigrant rights, and Balcazar serves on the Vermont attorney general's immigration task force that was formed specifically in response to Trump's harsh enforcement policies. http://theweek.com/articles/761747/ices-tyrannical-campaign-silence-dissent
12. Judge Rules That The Trump Administration Cannot Block Undocumented Pregnant Teens From Getting Abortions
A US District Court judge in Washington DC ruled that the Trump administration cannot block pregnant, undocumented immigrant teenagers in US custody from obtaining access to abortions, until a lawsuit on their behalf is decided.
The decision is a big victory for the American Civil Liberties Union, who since October have represented four pregnant, undocumented teenagers in a lawsuit against the Trump administration, arguing that they were blocked from obtaining abortions, and often brought to anti-abortion clinics to persuade them to change their minds. https://www.buzzfeed.com/emaoconnor/trump-administration-cannot-block-undocumented-teens
13. How Failure of 'Dreamer' Deal May Tip Control of Congress
The failure of President Trump and Democratic lawmakers to strike a deal on young undocumented immigrants puts the divisive issue into the middle of some hotly contested campaigns for November's midterm elections — ones which could tip control of Congress.
A sizable majority of Americans, especially Democrats and independents, support giving legal status to Dreamers, opinion polls have shown. The topic resonates especially in California, Arizona, Texas, Florida and Nevada — states with large Hispanic populations where Democrats are seeking to chip away at the Republican majorities in the House and Senate. https://www.bloomberg.com/news/articles/2018-04-02/trump-invited-putin-to-white-house-for-summit-kremlin-says
14. Emerging Democratic Party united on liberal policies but divided on how to win
The new Democratic Party is emerging in congressional primaries across the country, united over the most liberal policies in decades but sharply divided over which candidates to run against President Trump and Republicans in the midterms.
The party taking shape will challenge the GOP with a distinct populist tilt, marking a departure from the centrist views that had dominated during the era of Bill Clinton and Barack Obama. This year's candidates have largely endorsed universal health care, a $15 minimum wage, easing the financial burden for college students and tougher gun control.
But there is sharp disagreement as more than 1,100 candidates have filed, with disputes over tactics — how to criticize Trump or how best to talk about issues — and sparring over who should be the standard-bearers, either first-time hopefuls or experienced politicians.
In Kentucky, for example, a female fighter pilot is lashing out at Democratic leaders after they recruited a wealthy mayor for the race against a Republican congressman who has staunchly supported Trump's agenda.
In interviews with dozens of candidates and voters in six districts — urban, suburban, predominantly rural, college town — there was one unifying factor: an intense desire to win in November. But there was real fear that party fissures could prevent Democrats from netting the 23 seats for a majority in the House. https://www.washingtonpost.com/powerpost/emerging-democratic-party-united-on-liberal-policies-but-divided-on-how-to-win/2018/03/31/757fdd0c-3386-11e8-8bdd-cdb33a5eef83_story.html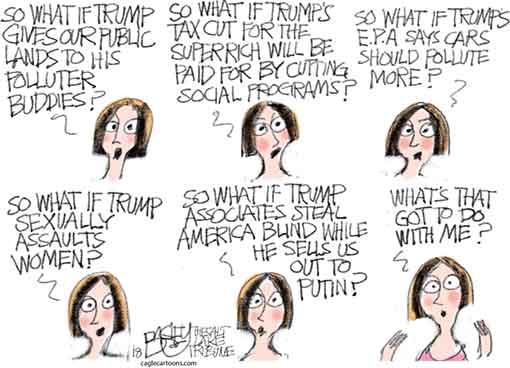 15. Reports: Russian Bots Propping Up Ingraham In Tiff With Shooting Survivor
Russian bots have reportedly latched on to Fox News host Laura Ingraham in her crusade to mock a high school student who survived the massacre at Florida's Marjory Stoneman Douglas High School last month, according to Hamilton 68, a website that tracks the unfurling of Russian disinformation on Twitter.
Over the weekend, the use of the hashtag "#IstandwithLaura" jumped 2,800 percent in 48 hours, The Washington Post was first to report Monday. The Post also cited the website botcheck.me, which tracks 1,500 different political propaganda bots, found that Ingraham's, Fox News' and the high school student David Hogg's Twitter accounts were in the top six Twitter handles being tweeted by Russian-linked accounts over the weekend. https://talkingpointsmemo.com/livewire/reports-russian-bots-propping-ingraham
16. From the Late Shows
John Oliver - Sinclair's Propaganda: https://youtu.be/kCkuuzDOKwE

Who Says Conservatives Can't Do Comedy? - The Opposition w/ Jordan Klepper: https://youtu.be/HsMIGNaAJLM
17. Late Night Jokes for Dems
President Trump said today that "Nobody's been tougher to Russia than Donald Trump." And Vladimir Putin said, "It's true, he's been a terrible employee." -- Seth Meyers

When asked about EPA leader Scott Pruitt today, President Trump said, quote, "I hope he's going to be good." You "hope he's going to be good?" He's a member of the Cabinet, not a golden retriever. What's your official position on Congress? Do you "hope they stay off the furniture?" -- Seth Meyers

Today, on the day after Easter, the White House had the 140th annual Easter Egg Roll. This has been going on since 1878 when Rutherford B. Hayes was president. This year it was different, though — Trump heard "egg roll" and promised to make the Chinese pay for it. -- Jimmy Kimmel

It was a fun day for the president. He blew the whistle, he got to eat chocolate, he even met a nice kid named Barron who he really liked. -- Jimmy Kimmel

This event is officially hosted by the first lady every year. Melania Trump joined the president on the balcony to get things going. Trump said, "I want to really thank the first lady, Melania. She worked so hard on this event." Not a chance she did one thing to set that up. She didn't dye eggs, she didn't fill baskets — the only thing she's been working on is an escape tunnel. -- Jimmy Kimmel

The president officially declared the month of April to be National Sexual Assault Awareness and Prevention Month. At this point he's just messing with us, right? He might as well declare it National Bankrupt Casino Awareness Month. -- Jimmy Kimmel

Vladimir Putin could soon be coming to America. During their phone call last month — the one where Trump wasn't supposed to congratulate Putin — not only did Trump congratulate him, he invited his KG-BFF to a summit at the White House. It's about time he invited the boss over for dinner. -- Jimmy Kimmel

This week President Trump has been sending angry tweets about Amazon for the way they run their business. Then someone handed Trump some bubble wrap from an Amazon box, and he forgot all about it. -- Jimmy Fallon

But after Trump attacked Amazon on Twitter, their stock fell by five percent. It's all part of Trump's plan to get Amazon's stock to match his approval rating. -- Jimmy Fallon

This morning, the White House hosted their annual Easter Egg Roll. When President Trump first heard there were a bunch of bunnies on the front lawn, he told his lawyer to pay them off. -- Jimmy Fallon

At the same event, Education Secretary Betsy DeVos read a book to a group of little kids. It was a sweet moment when one of the kids said, "Sound it out, Betsy. You can do it." -- Jimmy Fallon

President Trump has declared April National Sexual Assault Awareness Month. Which means April is also National Presidential Unawareness Month. -- Jimmy Fallon
18. "Trump Is Like, 'How Can I F--k With Him?'": Trump's War With Amazon (and The Washington Post) Is Personal
For the first time in Donald Trump's presidency, the West Wing soap opera appears to be in hiatus, with many of its starring characters (Gary Cohn, Hope Hicks) either permanently offstage or with much reduced roles (John Kelly, Jared Kushner). Currently, there's one star—a situation Trump is obviously enjoying—and his new freedom is used to focus ever more closely on his perceived enemies and obsessions. Amazon, whose owner, Jeff Bezos, also owns The Washington Post, is currently the main target."
Now, according to four sources close to the White House, Trump is discussing ways to escalate his Twitter attacks on Amazon to further damage the company. "He's off the hook on this. It's war," one source told me. "He gets obsessed with something, and now he's obsessed with Bezos," said another source. "Trump is like, how can I f--k with him?" https://www.vanityfair.com/news/2018/04/trump-war-with-amazon-and-the-washington-post-is-personal
19. Stormy Effect: Trump's support falls with women in new poll
President Trump's support among women plunged this month as he battled controversies surrounding alleged affairs with the adult-film actress Stormy Daniels and Playboy model Karen McDougal, according to a new poll.
Support from women fell from 41 percent to 35 percent in the new Harvard CAPS/Harris Poll, even as Trump's support among men rose 3 points to 53 percent.
Harvard CAPS/Harris Poll co-director Mark Penn said the growing gender gap in the poll is the result of the "Stormy Effect." http://thehill.com/homenews/administration/381328-stormy-effect-trumps-support-falls-with-women-rises-with-men-in-new
20. The Justice Department Thinks Collusion Is a Crime
Is collusion a crime? That is one of the central questions of the investigation into Russian efforts to interfere in the 2016 U.S. elections. Even if it could be proved that Donald Trump and his supporters worked with the Russian government, or with Russian citizens, to win the Presidential race, would that activity have violated United States law? It's long been an article of faith for Trump supporters, and for Trump himself, that collusion is not illegal. As the President told the Times in an interview last December, 'There is no collusion, and even if there was, it's not a crime.'
Now, it appears, Trump's own Justice Department may have a different view. That conclusion appears in a document released earlier this week, in the course of pre-trial litigation in the case of Paul Manafort, Trump's former campaign chairman, on charges including money laundering. https://www.newyorker.com/news/daily-comment/the-department-of-justice-thinks-that-collusion-is-a-crime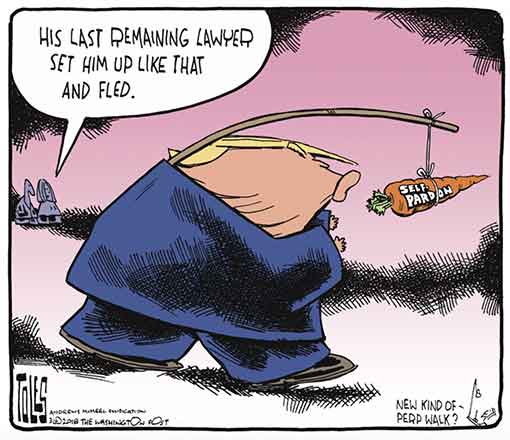 21. A resolution to denounce neo-Nazis has failed in the Tennessee legislature for 2nd time.
For the second time in recent weeks, a resolution denouncing neo-Nazis and white nationalists has died in the Tennessee General Assembly'" https://www.tennessean.com/story/news/2018/04/03/tennessee-resolution-denounce-neo-nazi-white-nationalists-failed-twice/483759002/
1. T.A. Frank: The Art Of The Dunce: 15 Months Into His Presidency, Trump Can't Negotiate His Way Out Of A Paper Bag
Trump's boldness while campaigning did make people wonder if he might have cracked some secret code. In mid-October 2016, right after Trump's Access Hollywood tape had been revealed and Republicans were trying to distance themselves from their nominee, Trump fired off a tweet calling them "Disloyal R's" and saying, "They don't know how to win - I will teach them!" When Trump indeed did win, he started to look like he might have some superhuman grasp of the dynamics of power and influence. But that looks absurd today. Trump's rebellion is minor, and the Republican Party is in charge, shouting about wonderful tax cuts as voters prepare to give them the boot.
For all that voters dream of a political neophyte who'll come into the White House or governor's mansion to save the day, successful examples in real life are few. (Ronald Reagan did reasonably well for himself as governor of California, but he'd been active in politics for many years already.) Donald Trump has made money effectively. He has branded himself effectively. He has campaigned effectively. But the idea that such talents could translate into preternatural control across three branches of government looks increasingly absurd. Trump might have promised to show Republicans how to win. As the midterms approach, however, what they're likelier to learn is how it feels to lose.
The chatter is no longer about whether Trump is a dictator, but whether he's so feckless that he'll start a war to prove he can actually make things happen. https://www.vanityfair.com/news/2018/03/trump-presidency-trump-cant-negotiate-his-way-out-of-a-paper-bag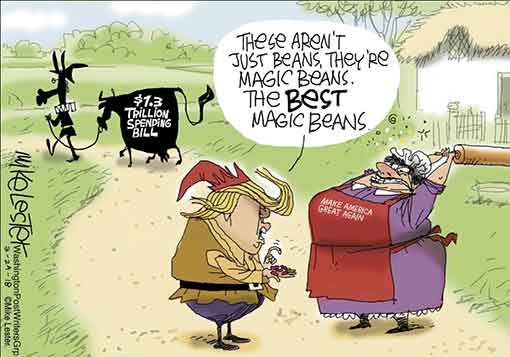 2. Jeet Heer: Smearing Parkland Students Is a Symptom of the Right's Ideological Exhaustion
There's no better proof of the impact of gun-control activism than the unrestrained vitriol directed against the students from Stoneman Douglas High School, who are now the most vocal public voices in the debate. Less than two weeks after the mass shooting in February, Charles C.W. Cooke published an article with the unfortunate title "David Hogg Is Fair Game for Critics." Cooke made the reasonable argument that Hogg, one of the most prominent student survivors, was now a public figure voicing controversial opinions, so political opponents shouldn't shy away from making sharp, if respectful, rebut. Cooke's argument, on its own terms, is perfectly reasonable. The problem is that much of the response on the right has included nasty and mendacious personal attacks on the students, not rational arguments about the wisdom of gun control. The dominance of personal attacks suggests that on the issue of guns, the right is facing a genuine conundrum: The students combine unimpeachable personal testimony (their experience surviving the shooting) with specific gun-control policies that are popular with the vast majority of Americans. 
Lacking any persuasive political arguments, the right has decided to smear the students. What's notable is that this effort extends to many different factions of conservatism, from hard-core Trumpists to supposedly more moderate Never Trump conservatives. https://newrepublic.com/article/147673/smearing-parkland-students-symptom-rights-ideological-exhaustion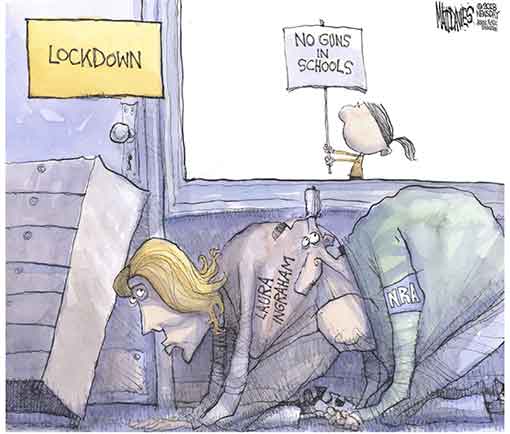 3. Charles M. Blow: Character Should Still Matter
In the throes of the campaign in September 2016, Mike Pence told a crowd at the Living Word Bible Church in Mesa, Ariz.:
"I'm old enough to remember back in the last Clinton administration where America really had a debate over whether character mattered to the presidency. We don't need to have that debate again. We don't need to have that debate again. Character matters to the presidency and Donald Trump will bring the highest level of integrity to the highest office in the land. You can count on it."
Ha.
This after a lifetime of Trump boasting about his sexual conquests, after years of him going on the Howard Stern show and saying the most debauched things, and just two weeks before the release of the "Access Hollywood" tape on which Trump boasted about kissing and groping women without their permission — in other words, sexual assault.
Pence's proclamation was a lie when he said it, and is even more of a lie now. Trump is involved in litigation over sexual encounters on three fronts, including with the porn star Stephanie Clifford, known as Stormy Daniels.
But the Daniels scandal is hardly making a dent.
Conservatives have twisted themselves into knots trying to excuse Trump's vulgarities as acceptable and somehow set them apart from the supposed productivity of the man himself, somehow cleaving the sin from the sinner.
But, in the end, this just makes a mockery of their own sense of morality. This, of all issues, simply isn't complicated.
He is a serial philanderer who treats women as disposable conquests. He is a man who cheats on his wives with mistresses and then cheats on those mistresses. He is a man who, multiple women have alleged, also sexually assaults women. And he is a man who lies about it all.
Somehow, some folks, mostly conservative ones, have found a way to look away.
They see judges, tax cuts, nationalism, a boatload of phobias and permission to be hostile to people whose lifestyles or very existence unnerve them. They count that as more value than the devaluation of American integrity that Trump represents.
But Trump's behavior is neither normal nor right.
These scandals aren't really about sex. Some of the women, like Daniels, say their sex with Trump was consensual. No, this is about cheating, lying and general boorishness.
Courage should still matter in America. We must insist upon it. https://www.nytimes.com/2018/03/29/opinion/character-should-still-matter.html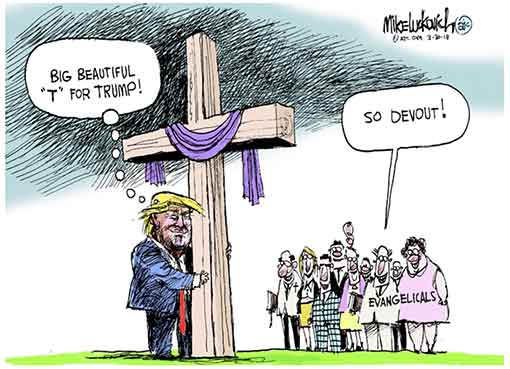 4. Randall D. Eliason: Why Robert Mueller could be considering bribery charges
President Trump's now-former attorney John Dowd allegedly told lawyers representing Paul J. Manafort and Michael Flynn last year that the president would consider pardoning the two men if they got into legal trouble. (Dowd has denied the reports.) Much of the news coverage has focused on whether offering pardons to induce a witness not to cooperate in the special counsel's investigation could constitute obstruction of justice. But there is another potential charge that could apply more directly and that prosecutors might have reason to favor: conspiracy to commit bribery.
Federal bribery requires that a public official agree to receive and accept something of value in exchange for being influenced in the performance of an official act. In this scenario, the official act would be granting a pardon. While the Supreme Court's 2016 decision in the case of former Virginia governor Robert F. McDonnell dramatically narrowed the definition of "official act," there's no question that a president granting a pardon would be an exercise of government power under the McDonnell v. United States standard.
"Thing of value" is also fairly easily met: It would be the agreement not to cooperate against the president. The thing of value in bribery law is not limited to envelopes stuffed with cash. It can include anything of subjective value to the public official, whether tangible or intangible. Such intangibles as offers of future employment and personal companionship have been found to be things of value for purposes of bribery. A promise not to cooperate in special counsel Robert S. Mueller III's probe could readily serve as the quid in this quid pro quo. https://www.washingtonpost.com/opinions/why-robert-mueller-could-be-considering-bribery-charges/2018/03/29/2e4a60cc-336a-11e8-94fa-32d48460b955_story.html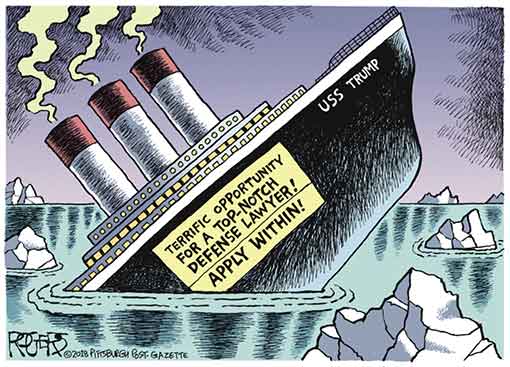 5. Federal workers spill on life in Trump's Washington
From marital strife to high anxiety, civil servants reveal how the Trump administration has changed agency life.
One Health and Human Services employee swore off online dating after potential suitors repeatedly got upset that he worked for the Trump administration. An Education Department fellow eagerly returned to teaching after listening to Betsy DeVos bash public schools. And one Environmental Protection Agency official said staffers are distraught at having to personally dismantle regulations they spent years crafting.
This is Donald Trump's government 14 months into his presidency.
And while some workers, such as Border Patrol agents, are feeling newly empowered under Trump, morale at other agencies is so low that some employees said they were suffering from increased anxiety and depression that has complicated their personal relationships and even led to heavier drinking. https://www.politico.com/story/2018/03/30/trump-washington-civil-servants-492347
6. Jonathan Chait: Corruption, Not Russia, Is Trump's Greatest Political Liability
Since Trump took office, his pledge to ignore his own interests has been almost forgotten, lost in a disorienting hurricane of endless news. It is not just a morbid joke but a legitimate problem for the opposition that all the bad news about Trump keeps getting obscured by other bad news about Trump. Perhaps the extraordinary civic unrest his presidency has provoked will be enough to give Democrats a historic win in the midterms this fall, but it is easy to be worried.
As the races pick up in earnest, some kind of narrative focus is going to be necessary to frame the case against Trump. Here, what appears to be an embarrassment of riches for Democrats may in fact be a collection of distractions. It is depressingly likely that several of Trump's most outrageous characteristics will fail to move the needle in the states and districts where the needle needs moving. His racism and misogyny motivate the Democratic base, but both were perfectly apparent in 2016 and did not dissuade enough voters to abandon him.
The Russia scandal is substantively important, but it is also convoluted and abstract and removed from any immediate impact on voters' lived experience. The reports of Trump's affair with Stormy Daniels, even the possibility of hired goons to keep her quiet, is not exactly a disillusioning experience for voters who harbored few illusions to begin with.
But they did harbor one. Trump's core proposition to the public was a business deal: If he became president, he would work to make them rich. Of course, the fact that Trump was able to reduce the presidency to such a crass exchange, forsaking such niceties as simple decency and respect for the rule of law, exposed terrifying weaknesses in the fabric of American democracy. But the shortest path to resolving this crisis is first to remove Trump's party — and it is Trump's party — from full control of the government in 2018, and then to remove Trump from the White House in 2020. The clearest way to do that is to demonstrate that Trump is failing to uphold his end of the deal. After all, the students at Trump University once constituted some of the biggest Trump fans in America. Until they realized Trump had conned them. Then they sued to get their money back. http://nymag.com/daily/intelligencer/2018/04/corruption-is-trumps-greatest-political-liability.html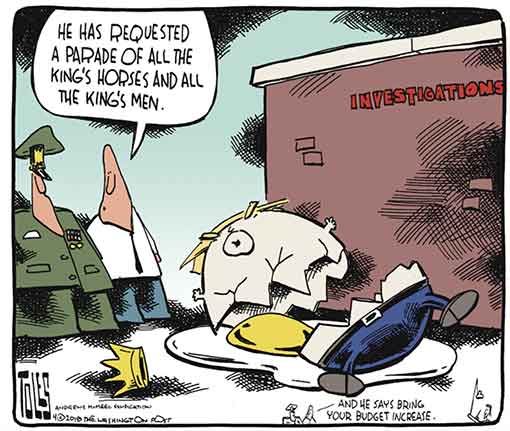 7. Joy Crane and Nick Tabor: 501 Days in Swampland
More than at any time in history, the president of the United States is actively using the power and prestige of his office to line his own pockets: landing loans for his businesses, steering wealthy buyers to his condos, securing cheap foreign labor for his resorts, preserving federal subsidies for his housing projects, easing regulations on his golf courses, licensing his name to overseas projects, even peddling coffee mugs and shot glasses bearing the presidential seal. For Trump, whose business revolves around the marketability of his name, there has proved to be no public policy too big, and no private opportunity too crass, to exploit for personal profit.
Trump's children are working hard to cash in on his time in office — especially with foreign investors. At taxpayer expense, they have flown to Uruguay, the Dominican Republic, Dubai, and India in search of licensing and real-estate deals, trading on the president's influence in exchange for investments. But the biggest complication of Trump's presidency — and the one he works hardest to keep secret — is the way his entire business operation is mired in massive debt. Rather than being independently wealthy, public records show, Trump and the business partnerships in which he is a leading investor owe big banks and foreign governments at least $2.3 billion — far more than his disclosure reports indicate. His largest single loan — for nearly $1 billion — is from a syndicate assembled by Goldman Sachs that includes the state-owned Bank of China. If either Trump or Jared Kushner, who tried to shake down Qatar's finance minister for a loan, winds up needing to negotiate new terms on his ballooning debt, America could find itself being dictated to by a foreign government — all because the White House, thanks to Trump's business model, has become a true House of Cards.
What follows is 501 days of official corruption, from small-time graft and brazen influence peddling to full-blown raids on the federal Treasury. Given how little Trump has disclosed about his finances, this timeline of self-dealing is undoubtedly only a fraction of the corruption that will eventually come to light. But as even this initial glimpse makes clear, Trump isn't draining the swamp — he's monetizing it. http://nymag.com/daily/intelligencer/2018/04/trump-and-co-are-stealing-america-blind-timeline.html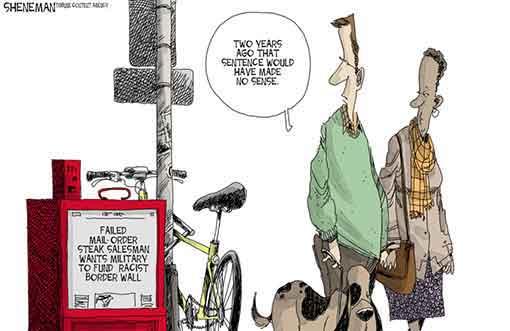 8. Frank Bruni: President Trump's Perversion of Leadership
He doesn't do what a leader should and challenge himself — and the rest of us — to be bigger. He exploits his privilege to be as small as possible. With all the world watching and potentially taking cues from him, he crassly insults just about anyone who crosses him. It's equal parts pathology and sport.
A leader tells the truth. I needn't extend that thought by so much as a syllable.
Other presidents had their fictions. Their flaws. Trump is hardly soiling some pristine tradition. To suggest so is to validate his belief that he's persecuted.
But to pretend that he's an unremarkable link in the chain is crazier, and that's not merely because of his unconventional résumé and attachment to Twitter. He lacks the flashes of valor and moments of inspiration that immediate predecessors had.
Remember Barack Obama in Charleston, S.C., singing "Amazing Grace"? His voice is still with me. Or George W. Bush telling Americans after Sept. 11 not to vilify Muslims? Those words live on.
Will there be anything like that with Trump? Some memory of dignity or grace? The question, I fear, is rhetorical. While those presidents sometimes failed to lead, he doesn't even try. https://www.nytimes.com/2018/04/03/opinion/trump-perversion-leadership.html