October 29, 2020
ON THE RECORD. . .
"My Democratic Senate colleagues and I boycotted the Supreme Court nominee committee vote today. Let's be clear: this nomination process is a sham and shows how Republicans will stop at nothing to strip health care from millions of Americans with pre-existing conditions." — Sen. Kamala Harris Tweet

"If people are not wearing masks, then maybe we should be mandating it." -- Dr. Anthony Fauci on the same day the U.S. hit its highest daily -19 case count since the pandemic began.

DONALD TRUMP: I appreciate the free publicity for Borat! I admit, I don't find you funny either. But yet the whole world laughs at you.

SACHA BARON COHEN: I'm always looking for people to play racist buffoons, and you'll need a job after Jan. 20. Let's talk!

President Trump's policies are the policies that can help people break out of the problems that they're complaining about, but he can't want them to be successful more than that they want to be successful." — Jared Kushner telling Fox & Friends that Black people must "want to be successful" in order for President Trump's policies to help them.

While Lesley Stahl waited to see if President Trump would return to finish his 60 Minutes interview, his press secretary, Kayleigh McEnany, came in with a hand delivery of what she said was Trump's health care plan. It was heavy, filled with executive orders, congressional initiatives, but no comprehensive health plan. -- 60 Minutes

"Building this country up sits squarely within the skill set of Joseph Biden. We have found Mr. Biden to be a caring, compassionate and professional public servant. He has repeatedly expressed his desire to be a president for all of America, and we take him at his word. Joe Biden may not be the president we want, but in 2020 he is the president we desperately need. He will be a president to bring people together and right the ship of state." — The conservative New Hampshire Union Leader endorsing Joe Biden for president.

"It won't be so exhausting, just having a normal president, You'll be able to go about your lives knowing that the president is not going to suggest injecting bleach, or retweet conspiracy theories about secret cabals running the world, or retweeting the claim that Navy SEALS didn't actually kill bin Laden. We're not gonna have a president that goes out of his way to insult anybody who he doesn't think is nice enough to him. We won't have a president who threatens people with jail just for criticizing him. That's not normal behavior, Florida." — Barack Obama at a rally in North Miami.

Mark Meadows just got destroyed on CNN"s SOTU by Jake Tapper. So much so that Trump had someone call into the control room and pull him. Hard to see a guy that once had integrity lie like that. — Anthony Scaramucci

"A lot of what we've done over the last four years will be undone, sooner or later, by the next election. But they won't be able to do much about this for a long time to come." — Mitch McConnell (R-KY), betting against the Democrats mustering the resolve to alter the structure of the Supreme Court.

"We have made tremendous progress with the China Virus, but the Fake News refuses to talk about it this close to the Election. COVID, COVID, COVID is being used by them, in total coordination, in order to change our great early election numbers. Should be an election law violation!" — Trump

"Systemic racism is when it's easier to vote in space than it is to vote in a Black or Latino neighborhood on Earth." — Virginia congressional candidate Qasim Rashid observing astronaut Kate Rubins casting her vote from the International Space Station this weekend.

"I thought Trump would lose! I mean, everyone thought he would lose. The idea that he won is still shocking. This is a man who is so completely alien to what this country — the best principles of what this country is about. When I think about the fact that a hundred years from now, people will look back and say, 'How the fuck did they think this was normal?,' it makes me sad for the country. He's a permanent scar on the face of our country." — Olivia Nuzzi on the "tortured self-justification of one very powerful Trump-loathing anonymous Republican.

"I think the Republicans run into a problem if it is Joe Biden and if it is maybe a Trump on the other side. Because Joe Biden, one of the things he is remarkable at is really kind of being a man of the people and resonating with middle class voters. Feeling like — coming off as human. His gaffes — as much as we make fun of them — to a certain extent they make him look human. So not, since he's likable." — Kayleigh McEnany praising then-Vice President Joe Biden in August 2015. 

"The only people truly better off than they were four years ago are the billionaires that got Trump's tax cuts. In the meantime, he has not been able to manage extending relief to millions of families who can't pay the rent right now, can't put food on the table right now. You know, I don't understand how it is that he cannot organize Republicans in Congress to do the right thing. And its not like it's his money that we're asking to pay because he doesn't pay taxes." — Barack Obama,

"You will regret this, and you may regret it a lot sooner than you think. Monday, October 26, 2020. It will go down as one of the darkest days in the 231-year history of the United States Senate." — Senator Chuck Schumer on the Republican rush to confirm Amy Coney Barrett.

"It's the pandemic, stupid." — James Carville's updated campaign slogan.

"That doesn't mean there's not still a lot of pain and there won't be pain for a while, but that basically was, we've now put out rules to get back to work. Trump's now back in charge. It's not the doctors." — Jared Kushner, in a taped interview with Bob Woodward in mid-April, during the unfolding coronavirus pandemic.

"These are the same people saying that we can't have tuition-free public colleges because there's no money when these motherfuckers are only paying $750 a year in taxes." — Rep. Alexandria Ocasio-Cortez (D-NY)

CNN'S ALISYN CAMEROTA: "Hospitals in WI are near capacity. Does that give you any pause about going there and holding a big rally?"

TRUMP'S 2020 PRESS SEC., HOGAN GIDLEY: "No, it doesn't … the VP has the best doctors in the world around him."

"It's not an accident that, every cycle, the boogeyman of the Democrats is a woman. A couple of cycles ago, it was Pelosi. Then it was Hillary, and now it's me." — Rep. Alexandria Ocasio-Cortez

------------------------------------------

Highlights of Donald Trump's Leaked Interview with '60 Minutes' | NowThis: https://www.youtube.com/watch?v=hD74Vzb_yi8

Weekend Update: The Village People on Donald Trump Using Their Music - SNL: https://youtu.be/vLk-dxZyp1Q

Weekend Update: Final Presidential 2020 Debate - SNL: https://youtu.be/UTu1DYNN4nM

Final Debate Cold Open - SNL: https://youtu.be/ozGr4IsTUng

Election Ad - SNL: https://youtu.be/bII8AH5t6zI
---
IN THIS ISSUE
FYI
OPINION
1. The Borowitz Report: Kavanaugh Supports Cutoff For Vote-Counting But Not for Drinking
In an opinion that sparked controversy in legal circles, Brett Kavanaugh wrote that there should be a cutoff for vote-counting but not for drinking.

The Supreme Court Justice wrote that, while ballots received after midnight on Election Night should not be counted, drink orders placed after closing time at a bar should always be honored.

"While the Constitution does not guarantee the right to vote, it clearly enshrines the right to drink," Kavanaugh wrote. "If a patron is seated at a bar at midnight, drinking should be allowed to continue for hours, if not days, until drinking has been completed."' https://www.newyorker.com/humor/borowitz-report/
2. Trump Supporters Now Want to Lock Biden Up
A loud chant of "LOCK HIM UP" broke out at Trump's rally in Allentown, Pennsylvania, as Trump attacked Joe Biden. VIDEO https://twitter.com/therecount/status/1320751090309222400
3. FBI Sits on Report Detailing White-Supremacist Threat
The FBI has failed to produce a legally required report detailing the scope of white supremacist and other domestic terrorism, despite mounting concerns that the upcoming election could spark far-right violence.
According to a key House committee chairman, that leaves the country in the dark about what the FBI concedes is America's most urgent terrorist threat, as well as the resources the U.S. government is devoting to fight it. https://www.thedailybeast.com/fbi-sits-on-report-detailing-white-supremacist-terror-threat
4. 'A mass exodus': HHS staffers jumping ship amid pandemic, fears of Trump loss
At least 27 political appointees have exited the embattled Health and Human Services department since the start of the Covid-19 crisis in February, according to a POLITICO review, and senior leaders are bracing for dozens more officials to depart swiftly if President Donald Trump loses re-election.
Such a wave of departures would leave only a shell staff shepherding the department through a uniquely challenging winter of coronavirus outbreaks and drug and vaccine authorizations until Inauguration Day on Jan. 20, according to interviews with 17 current and former HHS officials, some of whom requested anonymity to discuss the sensitive issue. https://www.politico.com/news/2020/10/26/employees-leaving-hhs-432115
5. Rallies Are the Core of Trump's Campaign, and a Font of Lies and Misinformation
Two minutes and 28 seconds into a campaign rally on a recent Saturday night in Janesville, Wis., President Trump delivered his first lie.
"When you look at our numbers compared to what's going on in Europe and other places," Mr. Trump said about the coronavirus raging across the United States, "we're doing well."
The truth? America has more cases and deaths per capita than any major country in Europe but Spain and Belgium. The United States has just 4 percent of the world's population but accounts for almost a quarter of the global deaths from Covid-19. On Oct. 17, the day of Mr. Trump's rally in Janesville, cases were rising to record levels across much of the country.
Over the course of the next 87 minutes, the president made another 130 false or inaccurate statements. Many were entirely made up. Others were casual misstatements of simple facts, some clearly intended to mislead. He lied about his own record and that of his opponent. He made wild exaggerations that violate even the pliable limits of standard political hyperbole. https://www.nytimes.com/2020/10/26/us/politics/trump-rallies.html
6. Ballrooms, candles and luxury cottages: During Trump's term, millions of government and GOP dollars have flowed to his properties
Since his first month in office, Trump has used his power to direct millions from U.S. taxpayers — and from his political supporters — into his own businesses. The Washington Post has sought to compile examples of this spending through open records requests and a lawsuit.
In all, he has received at least $8.1 million from these two sources since he took office, those documents and publicly available records show.
The president brought taxpayer money to his businesses simply by bringing himself. He's visited his hotels and clubs more than 280 times now, making them a familiar backdrop for his presidency. And in doing so, he has turned those properties into magnets for GOP events, including glitzy fundraisers for his own reelection campaign, where big donors go to see and be seen.
But documents show that visits by Trump, his family and his supporters have turned the government and the Republican Party into regular customers for the family business.
So the more they went, the more he got. Since 2017, Trump's company has charged taxpayers for hotel rooms, ballrooms, cottages, rental houses, golf carts, votive candles, floating candles, candelabras, furniture moving, resort fees, decorative palm trees, strip steak, chocolate cake, breakfast buffets, $88 bottles of wine and $1,000 worth of liquor for White House aides. And water.
Trump's campaign and affiliated fundraising committees paid at least $5.6 million out to his companies. The two committees spent nearly $1 million from Sept. 1 through Oct. 14, including $97,000 for lodging at Trump hotels and nearly $800,000 for catering and ballroom rentals, records show. https://www.washingtonpost.com/politics/ballrooms-candles-and-luxury-cottages-during-trumps-term-millions-of-government-and-gop-dollars-have-flowed-to-his-propertiesmar-a-lago-charged-the-government-3-apiece-for-glasses-of-water-for-trump-and-the-japanese-leader/2020/10/27/186f20a2-1469-11eb-bc10-40b25382f1be_story.html
7. Fox News Is Covering Hunter Biden More Than The 2016 WikiLeaks Emails
Fox News is giving more airtime to the unverified Hunter Biden emails than it did to the hacked emails from Mr. Podesta in 2016, according to an analysis from the Atlantic Council's Digital Forensic Research Lab, which studies disinformation. https://www.nytimes.com/2020/10/23/technology/fox-news-hunter-biden.html
8. Trump doesn't believe counting ballots after election is lawful
President Trump falsely claimed that it was against the law to count mail-in ballots after Election Day.
Said Trump: "It would be very, very proper and very nice if a winner were declared on Nov. 3, instead of counting ballots for two weeks, which is totally inappropriate, and I don't believe that's by our laws. I don't believe that." https://twitter.com/atrupar/status/1321142155721793539
9. Justice Kavanaugh Parrots Trump in Ominous Anti-Mail-In Ballot Wisconsin Ruling
We've come to expect President Donald Trump's relentless attempts to baselessly undermine the legitimacy of mail-in voting—but it's something else when it comes from a Supreme Court justice.
On Monday, the Supreme Court upheld an appeals court decision that blocked extending Wisconsin's deadline for absentee ballots by six days. In his notes explaining his decision, Justice Brett Kavanaugh delivered a very Trumpian warning that any votes that came in after Election Day could be viewed as illegitimate. He wrote: "States want to avoid the chaos and suspicions of impropriety that can ensue if thousands of absentee ballots flow in after Election Day and potentially flip the results of an election."
Justice Elena Kagan used her dissenting opinion in the case to rebuke the Trump appointee, writing: "There are no results to 'flip' until all valid votes are counted. And nothing could be more 'suspicio[us]' or 'improp[er]' than refusing to tally votes once the clock strikes 12 on Election Night." https://www.thedailybeast.com/justice-brett-kavanaugh-parrots-trump-in-ominous-anti-mail-in-ballot-ruling-in-wisconsin-decision-footnote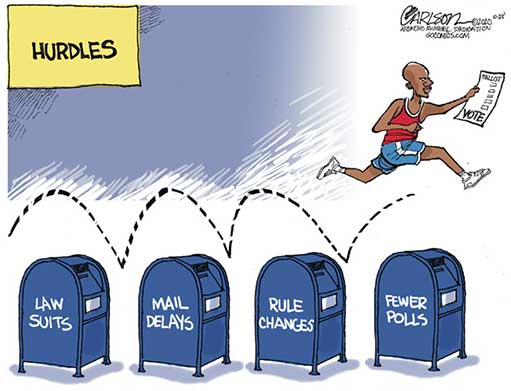 10. Voice of America Targets Its Own Journalists' Independence
A regulatory 'firewall' intended to protect Voice of America and its affiliated newsrooms from political interference in their journalism was swept aside late Monday night by the chief executive of the federal agency which oversees the government's international broadcasters.
"I am stunned," former Voice of America director Amanda Bennett told NPR early Tuesday morning. "It removes the one thing that makes Voice of America distinct from broadcasters of repressive regimes." https://www.npr.org/2020/10/27/928118147/u-s-agency-targets-its-own-journalists-independence
11. Tumult at home, ailing alliances abroad: Why Trump's America has been a 'gift' to Putin
Under President Trump, the United States has abandoned international climate and nuclear arms agreements. It has announced its withdrawal from the World Health Organization, questioned the future of the North Atlantic Treaty Organization, and antagonized stalwart allies like Germany.
America's past presidents have long promoted democracy, human rights and the rule of law abroad, yet Trump instead has waged an assault on those values at home, where he has weakened institutions, shredded norms and declared without evidence that the upcoming election will be "rigged."
America's moral authority also has been undercut by the devastatingly high death toll and wrenching economic fallout from the coronavirus pandemic, coupled with the racial reckoning that has convulsed the country. https://www.washingtonpost.com/politics/trump-russia-putin/2020/10/24/4edb462e-13bb-11eb-ba42-ec6a580836ed_story.html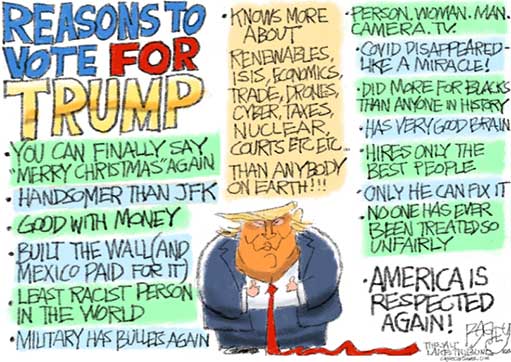 12. Trump issues sweeping order for tens of thousands of career federal employees to lose civil service protections
Trump last week fired his biggest broadside yet against the federal bureaucracy by issuing an executive order that would remove job security from an estimated tens of thousands of civil servants and dramatically remake the government.
The directive, issued late Wednesday, strips long-held civil service protections from employees whose work involves policymaking, allowing them to be dismissed with little cause or recourse, much like the political appointees who come and go with each administration.
Federal scientists, attorneys, regulators, public health experts and many others in senior roles would lose rights to due process and in some cases, union representation, at agencies across the government. The White House declined to say how many jobs would be swept into a class of employees with fewer civil service rights, but civil service experts and union leaders estimated anywhere from tens of thousands to hundreds of thousands in a workforce of 2.1 million. https://www.washingtonpost.com/politics/trump-order-federal-civil-service/2020/10/22/c73783f0-1481-11eb-bc10-40b25382f1be_story.html
13. House Republicans push inquiry into Biden's use of Amtrak on trip through Ohio and Pennsylvania
During a campaign season in which President Trump has been criticized for using federal resources for his political benefit, House Republicans on Wednesday said they are leading an inquiry into Joe Biden's use of an Amtrak train to campaign last month.
But in its disclosures to the Federal Election Commission, the Biden campaign reported spending $265,000 on the train charter. Amtrak says that the starting rate for a charter is $30,000, and that no discount was given. "We can't provide the cost, but can share that we did make money, as we aim to do for any charter," Amtrak said in a statement.
Last time we checked, no one can charter the White House South Lawn for a political convention," spokesman Matt Hill said in a statement. "Instead of wasting time on political stunts, congressional Republicans should stop ignoring Donald Trump's blatant abuses of taxpayer money and government resources to enrich himself and his businesses." https://www.washingtonpost.com/nation/2020/10/21/house-republicans-push-inquiry-into-bidens-use-amtrak-trip-through-ohio-pennsylvania/
14. Rudy Giuliani faces questions after compromising scene in new Borat film
The reputation of Rudy Giuliani could be set for a further blow with the release of highly embarrassing footage in Sacha Baron Cohen's follow-up to Borat.
In the film, released on Friday, the former New York mayor and current personal attorney to Donald Trump is seen reaching into his trousers and apparently touching his genitals while reclining on a bed in the presence of the actor playing Borat's daughter, who is posing as a TV journalist.
Following an obsequious interview for a fake conservative news program, the pair retreat at her suggestion for a drink to the bedroom of a hotel suite, which is rigged with concealed cameras.
After she removes his microphone, Giuliani, 76, can be seen lying back on the bed, fiddling with his untucked shirt and reaching into his trousers. They are then interrupted by Borat who runs in and says: "She's 15. She's too old for you."
Giuliani has subsequently claimed that he was simply tucking in his shirt during the Borat scene in question. "The Borat video is a complete fabrication. I was tucking in my shirt after taking off the recording equipment," the former New York City mayor wrote on Twitter. "At no time before, during, or after the interview was I ever inappropriate. If Sacha Baron Cohen implies otherwise he is a stone-cold liar."
Baron Cohen responded in character as Borat, saying, "What was an innocent sexy time encounter between a consenting man and my 15-year-old daughter have been turned into something disgusting by fake news media - I warn you anyone else try this and Rudolph will not hesitate to reach into his legal briefs and whip out his subpoenas." https://www.theguardian.com/film/2020/oct/21/rudy-giuliani-faces-questions-after-compromising-scene-in-new-borat-film
15. Trump's campaign made stops nationwide. Coronavirus cases surged in his wake in at least five places.
As Donald Trump jetted across the country holding campaign rallies during the past two months, he didn't just defy state orders and federal health guidelines. He left a trail of coronavirus outbreaks in his wake. 
The president has participated in nearly three dozen rallies since mid-August, all but two at airport hangars. A USA TODAY analysis shows COVID-19 cases grew at a faster rate than before after at least five of those rallies.
Together, those counties saw 1,500 more new cases in the two weeks following Trump's rallies than the two weeks before – 9,647 cases, up from 8,069.  https://www.usatoday.com/story/news/investigations/2020/10/22/trumps-campaign-made-stops-nationwide-then-coronavirus-cases-surged/3679534001/
16. Forbes Estimates China Paid Trump At Least $5.4 Million Since He Took Office
Donald Trump, who declared "I don't make money from China" in Thursday night's presidential debate, has in fact collected millions of dollars from government-owned entities in China since he took office.
Forbes estimates that at least $5.4 million has flowed into the president's business from a lease agreement involving a state-owned bank in Trump Tower. https://www.forbes.com/sites/danalexander/2020/10/23/forbes-estimates-china-paid-trump-at-least-54-million-since-he-took-office-via-mysterious-trump-tower-lease/#79d0c8d5ed11
17. Lest We Forget The Horrors: A Catalog Of Trump's Worst Cruelties, Collusions, Corruptions, And Crimes
The complete listing of 944 (so far) is at https://www.mcsweeneys.net/articles/the-complete-listing-so-far-atrocities-1-944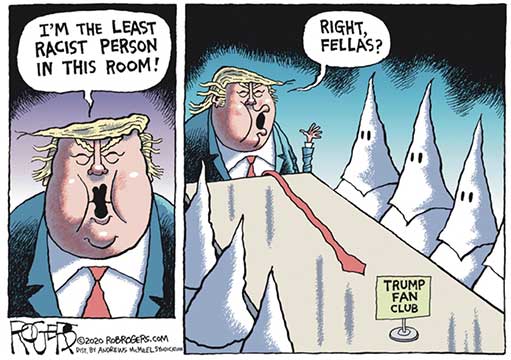 18. Trump is averaging more than 50 false or misleading claims a day
Down in the polls, the president has amped up his rhetoric and often scheduled two or three rallies, interviews with friendly TV hosts and repeated press availabilities in a single day. That has left us swamped and exhausted as we plow through tens of thousands of presidential words a day.
The Fact Checker also tracks Three- or Four-Pinocchio claims that Trump has said at least 20 times, earning him a Bottomless Pinocchio. There are now nearly 50 entries, with many of the new items either false claims about the novel coronavirus or about Joe Biden's campaign policies.
The coronavirus pandemic has spawned a whole new genre of Trump's falsehoods. The category in just six months has reached nearly 1,400 claims, more than double all of his tax claims. Trump's false or misleading claims about the impeachment investigation — and the events surrounding it — contributed almost 1,200 entries to the database.
So far during his presidency, Trump's most repeated claim — 407 times — is that the U.S. economy today is the best in history. He began making this claim in June 2018, and it quickly became one of his favorites. He's been forced to adapt for the tough economic times, and doing so has made it even more fantastic. Whereas he used to say it was the best economy in U.S. history, he now often recalls that he achieved "the best economy in the history of the world." https://www.washingtonpost.com/politics/2020/10/22/president-trump-is-averaging-more-than-50-false-or-misleading-claims-day/
19. Postal Service awards $5 million contract to Postmaster DeJoy's former company, XPO
Postmaster General Louis DeJoy's former company landed a $5 million highway-shipping contract last month with the United States Postal Service.
DeJoy continues to own a multimillion-dollar stake in XPO Logistics as of early October. The $5 million deal is the first regular contract for a postal route that XPO Logistics has signed with the USPS in more than a year. XPO's last highway contract with the USPS was in December and was temporary. The one before that was signed in July 2019. https://www.cbsnews.com/news/usps-contract-xpo-logistics-postmaster-general-louis-dejoy-former-company/
20. Pollster Frank Luntz: If Trump defies polls again in 2020, 'my profession is done'
Pollster Frank Luntz told Fox News that if poll predictions are wrong about the 2020 election between President Trump and Joe Biden, his "profession is done" in terms of faith and confidence from the public.
Said Luntz: "Well, I hate to acknowledge it, because that's my industry — at least partially. But the public will have no faith. No confidence. Right now — the biggest issue is the trust deficit. And pollsters did not do a good job in 2016. So if Donald Trump surprises people. If Joe Biden had a 5 or 6 point lead, my profession is done. https://thehill.com/homenews/media/522405-pollster-frank-luntz-if-trump-defies-polls-again-in-2020-my-profession-is-done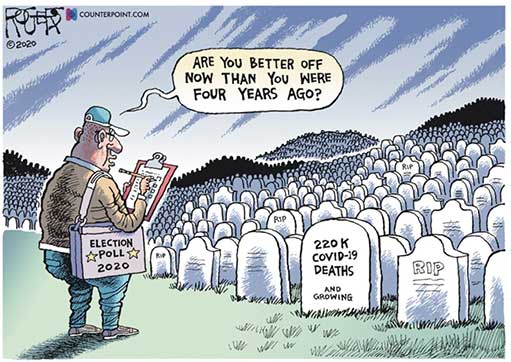 21. Senate Republicans Advance Another Trump Court Pick Rated 'Not Qualified'
The Senate Judiciary Committee voted Thursday to advance the lifetime federal judgeship nomination of Kathryn Kimball Mizelle, who earned an embarrassing "not qualified" rating from the American Bar Association. https://www.huffpost.com/entry/trump-judicial-nominee-unqualified-kathryn-kimball-mizelle_n_5f91aa90c5b61c185f48092d
22. White House science office says Trump ended the COVID-19 pandemic
The White House science office listed "ending the COVID-19 pandemic" as the top accomplishment of President Trump's first term, even as the U.S. has set records for new daily infections and numerous hospitals across the country are stretched to their breaking points.  https://thehill.com/policy/healthcare/523013-white-house-science-office-says-trump-ended-covid-pandemic-as-us-hits
23. Jared Kushner Is Already Planning To Launch A Trump-Themed News Network
In an indication that even these closest to Donald Trump aren't assured that he'll defeat Joe Biden, Jared Kushner is reportedly laying the groundwork for a Trump-branded information community.
According to Business Insider, "Jared Kushner has been talking up the idea of starting a Donald Trump-themed news outlet or some other media company, possibly as soon as after the election, five Republicans familiar with the discussions told Insider."
The report added that some Trump advisers see Kushner's transfer as an indication that he has his eyes on the exits with the election simply days away. https://pressaggregate.com/blog/2020/10/23/jared-kushner-is-already-planning-to-launch-a-trump-themed-news-network-after-the-election/
24. The US Eliminated Nearly 21,000 Election Day Polling Locations for 2020
Almost 21,000 Election Day polling places have been eliminated heading into the 2020 U.S. election, a drastic dip in voting locations driven by a heavy shift to mail voting, coronavirus-related consolidations, cost-cutting measures, and voter suppression.
Trump's frontal assault on mail voting and attacks on the U.S. Post Office also have had a big impact. It's led Republicans and some Democrats not to trust mail voting and pushing them toward in-person voting, both early and on Election Day. Republicans are voting by mail in much lower numbers than Democrats are, which could, ironically, create the kind of massive logjams in more GOP-leaning communities this year that traditionally have been more common in urban and suburban Democratic-leaning communities. https://www.vice.com/en/article/pkdenn/the-us-eliminated-nearly-21000-election-day-polling-locations-for-2020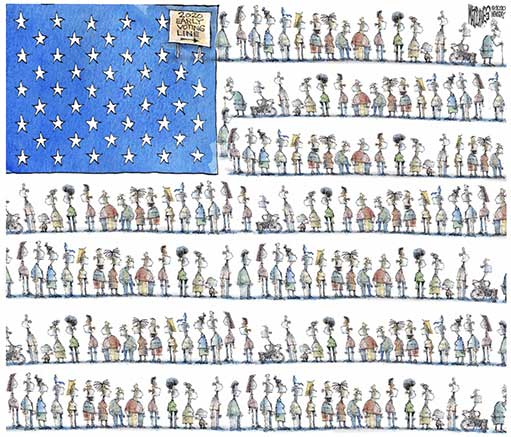 25. Loan payments loom as Trump fights for his political future – and the future of his business
As Trump fights to save his political career, another key part of his life — his business — is also under growing stress.
In the next four years, Trump faces payment deadlines for more than $400 million in loans — just as the pandemic robs his businesses of customers and income, according to a Washington Post analysis of Trump's finances. The bills coming due include loans on his Chicago hotel, his D.C. hotel and his Doral resort, all hit by a double whammy: Trump's political career slowed their business, then the pandemic ground it down much further.
If Trump is reelected, these loan-saddled properties could present a significant conflict of interest: The president will owe enormous sums to banks that his government regulates. National security experts say Trump's debts to Deutsche Bank, a German company, and foreign deals may constitute security risks if they make him vulnerable to influence by foreign governments. https://www.washingtonpost.com/politics/trump-debt-election/2020/10/23/411ab8c2-0e33-11eb-b1e8-16b59b92b36d_story.html
26. Why Can't We See All of the Government's Virus Data?
The Trump administration has declined to release critical data to outside public health experts that would enable them to devise strategies against the virus that has killed 223,000 Americans and counting.
Federal agencies have told us that since March they have been compiling basic data for each county and city on Covid-19 cases, hospitalizations and deaths, the timing of social distancing mandates, testing, and other factors. This information can provide insights into how combinations of public health mandates — masks, social distancing and school closures, for instance — can keep the virus spread in check.
But the government, inexplicably, is not sharing all of its data. Researchers have asked federal officials many times for the missing information, but have been told it won't be shared outside the government. https://www.nytimes.com/2020/10/23/opinion/coronavirus-data-secrecy.html
27. Fact-Checking the Final Presidential Debate
Here are fact checks from The New York Times, CNN, The AP, CBS News, ABC News, and NBC News.
28. Trump falsely claims Pennsylvanians 'can't go to church'
Donald Trump keeps falsely declaring that various states run by Democratic governors are "closed" or "shut down."
On Monday, when he made three speeches in Pennsylvania, Trump added an extra detail to his usual inaccurate criticism of pandemic restrictions imposed by Gov. Tom Wolf. He suggested that Wolf is preventing state residents from attending church.
Trump's claims were all part of his concerted effort to win the votes of Christians by suggesting -- while running against churchgoing Catholic Joe Biden -- that Democrats oppose religion and God. https://www.cnn.com/2020/10/27/politics/trump-false-claim-pennsylvania-cant-go-to-church-fact-check/index.html
29. Michigan judge halts ban on open carry of guns at polling places
Michigan Court of Claims Judge Christopher Murray issued a preliminary injunction Tuesday that effectively halts Secretary of State Jocelyn Benson's directive banning the open carry of guns near polling locations on Election Day. https://www.detroitnews.com/story/news/politics/2020/10/27/michigan-judge-halts-benson-ban-open-carry-guns-polling-places/3751933001/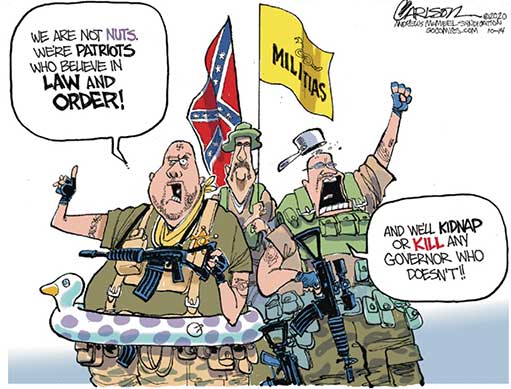 30. Trump must remain defendant in rape defamation claim case filed by E. Jean Carroll
 Donald Trump must remain a defendant in a lawsuit that accuses him of defaming the writer E. Jean Carroll after she claimed he raped her in the mid-1990s, a federal judge ruled Tuesday.
Judge Lewis Kaplan rejected the Department of Justice's last-minute effort to have the U.S. government replace Trump in the lawsuit.
The DOJ argued that the president was acting as a government employee when he said Carroll was lying and motivated by money with her allegation that he attacked her in a New York department store dressing room. https://www.cnbc.com/2020/10/27/trump-must-remain-defendant-in-e-jean-carroll-rape-defamation-suit.html
31. How Trump Maneuvered His Way Out of Trouble in Chicago
The president's federal income tax records, obtained by The New York Times, show for the first time that, since 2010, his lenders have forgiven about $287 million in debt that he failed to repay. The vast majority was related to the Chicago project.
How Mr. Trump found trouble in Chicago, and maneuvered his way out of it, is a case study in doing business the Trump way.
When the project encountered problems, he tried to walk away from his huge debts. For most individuals or businesses, that would have been a recipe for ruin. But tax-return data, other records and interviews show that rather than warring with a notoriously litigious and headline-seeking client, lenders cut Mr. Trump slack — exactly what he seemed to have been counting on. https://www.nytimes.com/2020/10/27/business/trump-chicago-taxes.html
32. All of the Trumpworld Figures Who've Been Arrested, Indicted, or Jailed
"I'm going to surround myself only with the best and most serious people," Trump told The Washington Post in August 2015. "We want top of the line professionals."
Since then, it's become clear Trump has a dubious understanding of "best." At least 18 shady figures in the president's orbit have either been arrested or gone to jail since he took office, on charges from fraud to battery to child pornography. https://www.thedailybeast.com/all-of-the-trumpworld-figures-whove-been-arrested-indicted-or-jailed
33. Trump to strip protections from Tongass National Forest, one of the biggest intact temperate rainforests
Trump will open up more than half of Alaska's Tongass National Forest to logging and other forms of development, according to a notice posted Wednesday, stripping protections that had safeguarded one of the world's largest intact temperate rainforests for nearly two decades.
As of Thursday, it will be legal for logging companies to build roads and cut and remove timber throughout more than 9.3 million acres of forest — featuring old-growth stands of red and yellow cedar, Sitka spruce and Western hemlock. The relatively-pristine expanse is also home to plentiful salmon runs and imposing fjords. The decision, which will be published in the Federal Register, reverses protections President Bill Clinton put in place in 2001 and is one of the most sweeping public lands rollbacks Trump has enacted. https://www.washingtonpost.com/climate-environment/2020/10/28/trump-tongass-national-forest-alaska/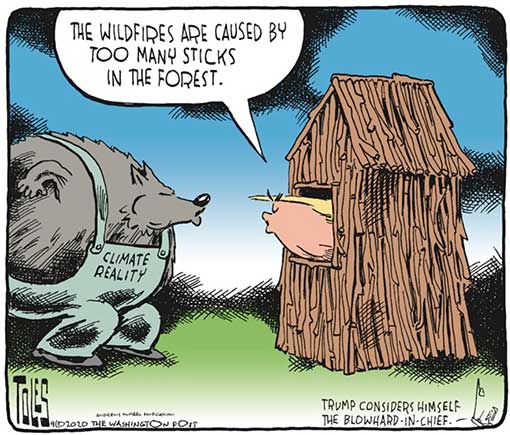 34. Trump's attacks on political adversaries are often followed by threats to their safety
The CIA's most endangered employee for much of the past year was not an operative on a mission abroad, but an analyst who faced a torrent of threats after filing a whistleblower report that led to the impeachment of President Trump.
The analyst spent months living in no-frills hotels under surveillance by CIA security, current and former U.S. officials said. He was driven to work by armed officers in an unmarked sedan. On the few occasions he was allowed to reenter his home to retrieve belongings, a security team had to sweep the apartment first to make sure it was safe.
Over the past year, public servants across the country have faced similar ordeals. The targets encompass nearly every category of government service: mayors, governors and members of Congress, as well as officials Trump has turned against within his own administration.
The dynamic appears to be without precedent: government agencies taking extraordinary measures to protect their people from strains of seething hostility stoked by a sitting president. https://www.washingtonpost.com/national-security/threats-follow-trump-poliical-attacks/2020/10/28/c6dbce02-1792-11eb-82db-60b15c874105_story.html
35. As Election Nears, Trump Makes a Final Push Against Climate Science
The Trump administration has recently removed the chief scientist at the National Oceanic and Atmospheric Administration, the nation's premier scientific agency, installed new political staff who have questioned accepted facts about climate change and imposed stricter controls on communications at the agency.
The moves threaten to stifle a major source of objective United States government information about climate change that underpins federal rules on greenhouse gas emissions and offer an indication of the direction the agency will take if President Trump wins re-election. https://www.nytimes.com/2020/10/27/climate/trump-election-climate-noaa.html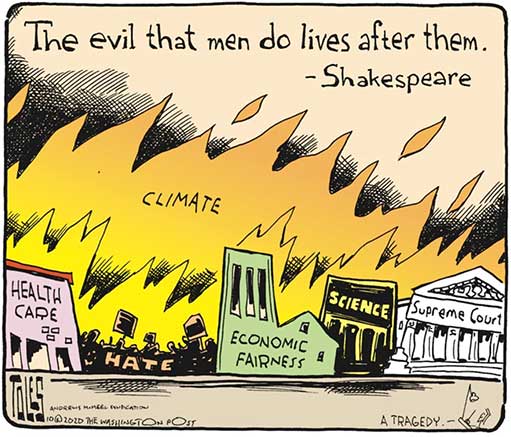 36. The GOP's monstrous math problem
Republicans, win or lose next week, face a big — and growing — math problem. They're relying almost exclusively on a shrinking demographic (white men), living in shrinking areas (small, rural towns), creating a reliance on people with shrinking incomes (white workers without college degrees) to survive.
You can't win elections without diversity, bigger population centers and sufficient money.
Republicans eyeing 2024 runs know the party's current demographic math may not work for Trump again — and certainly won't work for them. https://www.axios.com/republican-voters-rural-suburbs-future-trump-38bd5273-7584-4d69-834d-dc4d9e3c8ac8.html
37. Justice Thomas' wife boosts unsupported claims against Biden
The wife of Supreme Court Justice Clarence Thomas is using her Facebook page to amplify unsubstantiated claims of corruption by Joe Biden. https://apnews.com/article/joe-biden-clarence-thomas-media-amy-coney-barrett-social-media-d7df89f52e02c13ec0d2784a54cdc7f3
38. The DAILY GRILL
Ivanka Trump and Jared Kushner sent a cease-and-desist letter to The Lincoln Project demanding that the anti-Trump group take down billboards in Times Square criticizing the White House's response to the coronavirus pandemic. The couple threatened to sue for "enormous compensatory and punitive damages."

VERSUS

Jared & Ivanka don't understand the 1st Amendment. @ProjectLincoln said in response to the threatened lawsuit said they "fully intend on making this civics lesson as painful as possible."

 

Cases up because we TEST, TEST, TEST. A Fake News Media Conspiracy. Many young people who heal very fast. 99.9%. Corrupt Media conspiracy at all time high. On November 4th., topic will totally change. VOTE! — Trump

VERSUS

It's not true that the US is only seeing an increase in cases because the number of tests has increased. Trump also used this refrain during previous spikes in the number of cases; it was also false then. While the number of daily tests has indeed been rising, there is no doubt there has been an increase in the actual spread of the virus, not just that more cases are being captured. One telltale sign is that hospitalizations are also rising, setting records in some states. Also, the percentage of US tests coming back positive has also been rising since late September. And deaths have started to rise again, too, after the usual lag following the spike in cases. — Daniel Dale

 

Like so many Trump 2020 crowds before them, the crowd in Martinsburg brought back the rally-classic "lock her up" chant, referring to the president's opponent in 2016. Upon hearing that familiar phrase, the president said that it is now being adapted for "Biden, because that's a crime family, frankly."-- NY Magazine 

VERSUS

Last month, the Manhattan district attorney's office announced that Trump could be investigated for tax fraud based on "extensive and protracted criminal conduct at the Trump Organization" that has been reported in the press. -- NY Magazine
39. From MEDIA MATTERS (They watch Fox News so you don't have to)
Fox promoted the flimsy allegations against Hunter for 6 hours and 42 minutes in segments in the first few days after the Post published its story -- three times as much coverage as given to the coronavirus pandemic over the same time period. Since then, the network's coverage has steadily grown: The network has gleefully covered the allegations each day since the Post published -- anywhere between two and almost four hours a day. https://www.mediamatters.org/fox-news/fox-news-has-spent-over-25-hours-ny-posts-thin-hunter-biden-story-9-days

Trump's Fox News propagandists have been urging him for months to fire FBI Director Christopher Wray because they consider him insufficiently willing to pursue their conspiracy theories in order to boost Trump's political standing. In recent days, they've seized upon Wray's handling of the smear stories of Democratic presidential nominee Joe Biden's son Hunter Biden in calling for his removal. https://www.mediamatters.org/fox-news/fox-telling-trump-fire-fbi-director-not-helping-his-reelection-campaign

From the outset of the COVID-19 pandemic, Fox News has repeatedly pushed the debunked right-wing media conspiracy theory that the novel coronavirus was created in a virology lab in Wuhan, China. In September, Fox gave coverage to a dubious study by Dr. Li-Meng Yan, an exiled Hong Kong virologist who claimed on Tucker Carlson Tonight that the virus was intentionally created and released by the Chinese government as a bioweapon. CNN found "shoddy citations, questionable sourcing, and so many scientists who say it's bunk." https://www.mediamatters.org/coronavirus-covid-19/cnn-investigation-discredits-bogus-bannon-linked-covid-19-research-hyped-fox

Fox News has obsessed over dubious revelations published in the New York Post concerning a hard drive containing allegedly scandalous emails from and images of Democratic presidential nominee Joe Biden's son for nearly 25 and a half hours, which included 420 segments, since October 14, according to a Media Matters review. Fox has attempted to tie the story to its extended smear campaign of Joe Biden's handling of Ukraine during his time as vice president by connecting the elder Biden to long-debunked conspiracy theories about his son's work at Burisma, a Ukrainian energy company. The network also has re-upped long-debunked claims of anti-conservative bias from "big tech" in response to Twitter's efforts to halt initial shares of the Post story. https://www.mediamatters.org/fox-news/fox-news-has-spent-over-25-hours-ny-posts-thin-hunter-biden-story-9-days

Rudy Giuliani is trying to manipulate the press. It isn't working — yet. If you blinked, you might have missed the turn in the national spotlight of Tony Bobulinski, a disgruntled former business partner of Democratic presidential nominee Joe Biden's son, Hunter Biden. Bobulinski's claims of corruption by Joe Biden were promoted by President Donald Trump and his campaign, then debunked within hours. But the affair shows why journalists should be wary of the information control strategy that Trump's allies are using to smear the former vice president through his son's business interests. https://www.mediamatters.org/rudy-giuliani/rudy-giuliani-trying-manipulate-press-it-isnt-working-yet

Conspiracy theories emerged just over a week prior to the 2020 presidential election appear to be part of a larger disinformation campaign centered around the "pizzagate" conspiracy theory as well as an attempt to implicate Joe Biden as a pedophile. While the baseless far-right conspiracy theories are constantly evolving, the bad-faith framing of the Bidens as child abusers has stayed consistent. Media Matters has identified six hashtags on TikTok promoting this disinformation campaign targeting Hunter and sometimes Joe Biden with over 1.76 million views. https://www.mediamatters.org/tiktok/ignoring-its-own-policies-tiktok-enables-last-ditch-smears-against-hunter-biden-spread
1. The Atlantic Editorial: The Case Against Donald Trump
Donald Trump is the worst president this country has seen since Andrew Johnson, or perhaps James Buchanan, or perhaps ever. Trump has brought our country low; he has divided our people; he has pitted race against race; he has corrupted our democracy; he has shown contempt for American ideals; he has made cruelty a sacrament; he has provided comfort to propagators of hate; he has abandoned America's allies; he has aligned himself with dictators; he has encouraged terrorism and mob violence; he has undermined the agencies and departments of government; he has despoiled the environment; he has opposed free speech; he has lied frenetically and evangelized for conspiracism; he has stolen children from their parents; he has made himself an advocate of a hostile foreign power; and he has failed to protect America from a ravaging virus. Trump is not responsible for all of the 220,000 COVID-19-related deaths in America. But through his avarice and ignorance and negligence and titanic incompetence, he has allowed tens of thousands of Americans to suffer and die, many alone, all needlessly. With each passing day, his presidency reaps more death.
Donald Trump is a clear and continuing danger to the United States, and it does not seem likely that our country would be able to emerge whole from four more years of his misrule. Two men are running for president. One is a terrible man; the other is a decent man. Vote for the decent man. https://www.theatlantic.com/politics/archive/2020/10/atlantics-endorsement-against-donald-trump/616815/
2. Jonathan Chait: Trump Let the Right Make Him the Herbert Hoover of the Coronavirus
The pandemic, while a social and economic crisis, presented a political opportunity. Governors across the country and leaders across the world saw enormous approval ratings spikes as voters rallied around them much like they did George W. Bush following 9/11. Trump had squandered one of his great advantages as a candidate, his heterodox economic rhetoric, to govern as a conventional Paul Ryan Republican, but the coronavirus gave him a chance to reclaim his populist identity. Had the president embraced a combination of firm public-health measures and overwhelming fiscal response, he might have built up enough political capital to overcome the accumulated three years of political toxins.
Instead, he goes into the end of the campaign having given up on any response to either the pandemic or the economic crisis. Chief of Staff Mark Meadows's blunt retort, "We are not going to control the pandemic," was not a gaffe but an accurate depiction of the administration's line, which Trump himself expressed with characteristic crudeness. "COVID, COVID, COVID," like the refrain "Russia, Russia Russia," is Trump's shorthand for dismissing a story as a hoax by the media that his followers should ignore:
The administration's line on the coronavirus can be summarized as follows: It has been overblown by the media, we have turned the corner, there's nothing that can be done about it, and the solution is to brush it off and go on with our lives. All these lines eerily track Herbert Hoover's infamous response to the Great Depression. https://nymag.com/intelligencer/2020/10/donald-trump-lose-election-coronavirus-control-pandemic-masks-atlas.html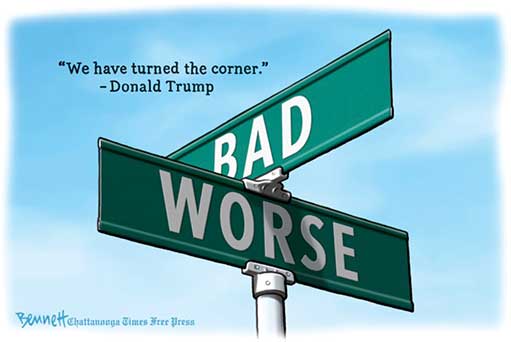 3. Eric Levitz: Republicans Put the Oil Industry Above Economic Growth
In concrete terms, Biden's "transition from the oil industry" just means discontinuing the roughly $5 billion in direct government subsidies that the sector collects each year (which would still leave the industry collecting hundreds of billions of dollars in indirect subsidies as society absorbs the externalized health, economic, and environmental costs of fossil-fuel production). Further, the economic costs of runaway climate change are now so vast and readily apparent, wide swaths of corporate America are calling for the oil industry's controlled diminution, while large holders of private capital are directing investment away from the sector. Four years ago, energy companies made up 7.5 percent of the S&P 500, according to Siblis Research; today, that figure is down to about 2 percent. Even oil companies themselves are preparing for a "transition from the oil industry": BP has pledged to slash oil and gas production by 40 percent by 2030 as it increases investment in renewables.
Put simply, climate inaction is not in the financial interest of the people who own our country.  https://nymag.com/intelligencer/2020/10/joe-biden-oil-industry-republican-hypocrisy-growth.html
4. E.J. Dionne Jr.: Enlarging the Supreme Court is the only answer to the right's judicial radicalism
It's not court enlargement that's radical. Balancing a stacked court is a necessary response to the right's radicalism and (apologies, Thomas Jefferson) to its long train of abuses. And conservatives are as hypocritical about court enlargement as they are about Garland and Barrett: In 2016, Republicans expanded the state supreme courts of Georgia and Arizona to enhance their party's philosophical sway.
Democracy itself is at stake here. If the oligarchy-enhancing Citizens United decision and the gutting of the Voting Rights Act in the Shelby County ruling don't convince you of this, reflect on a study by the pro-enlargement group Take Back the Court. In 175 election-related cases this year, it found that Republican appointees interpreted the law in ways that impeded access to the ballot 80 percent of the time, compared with 37 percent for Democratic appointees. (The group pegged the "anti-democracy" score of Trump appointees at 86 percent.)
Court enlargement will be a long battle, but those of us who support it should be encouraged, not discouraged, by Joe Biden's call for a bipartisan commission to study a court system that is, as Biden put it, "getting out of whack."
Biden is a long-standing opponent of enlargement, so his statement is an acknowledgment that this crisis can't be avoided. His commission would help the public, which usually doesn't want to worry about judges, understand the danger of a judiciary dominated by reactionaries.
Sadly, the best case for enlargement is likely to be made by the court's conservative judicial activists themselves. It would be good for democracy if they showed some restraint. But everything about this struggle so far tells us that restraint is no longer a word in their vocabulary, and that prudence is not a virtue they honor anymore. https://www.washingtonpost.com/opinions/the-high-cost-of-confirming-amy-coney-barrett/2020/10/24/8d5a236a-156f-11eb-bc10-40b25382f1be_story.html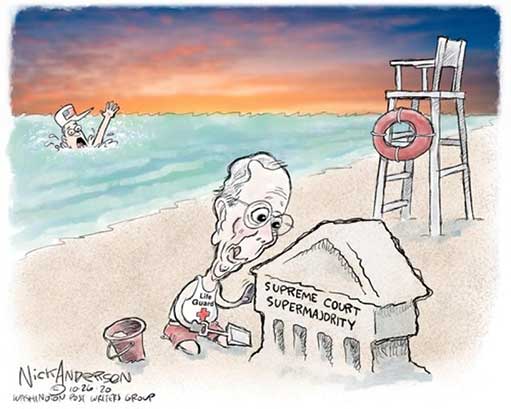 5. Michigan Gov. Gretchen Whitmer (D): The Plot to Kidnap Me
Every time the president ramps up this violent rhetoric, every time he fires up Twitter to launch another broadside against me, my family and I see a surge of vicious attacks sent our way. This is no coincidence, and the president knows it. He is sowing division and putting leaders, especially women leaders, at risk. And all because he thinks it will help his reelection.
Look no further than the president calling me a "dictator" on Fox News, Mitch McConnell laughing on the debate stage as his Democratic challenger called on him to save lives by passing a COVID-19 relief bill, or Republican legislative leaders right here in Michigan fraternizing with those who stormed the Michigan capitol, long guns in hand. From the White House all the way down to state and local governments, these leaders have shown a disdain for unity and have failed to rally fellow Americans against a common enemy: COVID-19.
Even now, as leaders from both sides of the aisle call on him to tone down his violent rhetoric, Trump just keeps going, hostile as ever. He is trying to distract Americans from his failure to protect our families and trying to divide us further to win the election. He has taken to Twitter to spread lies and launch cheap insults against those with whom he disagrees. Eight months into the pandemic, he still does not have a plan to protect our frontline workers or rebuild our economy. He has only lies, vitriol, and hate. And as we saw earlier this month, his violent rhetoric puts leaders across the country in danger.
We cannot count on President Trump to rebuild America. We cannot expect him to unite us against violence and hate. Fueling the deep divisions within our country is a tactic he has been using for years, often with the help of social-media platforms like Facebook, which domestic terrorists used to organize the plot against me.
The past four years have been the worst version of America. Ever since Donald Trump first stepped foot in the White House, we have moved away from the common ideals and values that are supposed to unify us as a country, putting leaders across the country—including me—in danger. This president has failed our country, and it is on all of us to come together to turn things around. We deserve better. https://www.msn.com/en-us/news/opinion/the-plot-to-kidnap-me/ar-BB1arcNG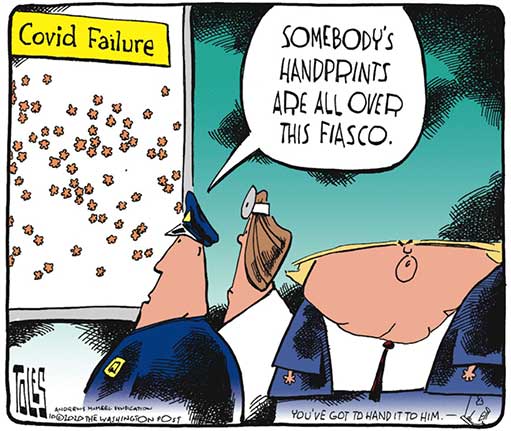 6. Amanda Carpenter: Trump's "Unfair" Closing Argument: It's a family matter.
Under President Trump, more than 223,000 Americans have died from the coronavirus. At least 545 children were forcibly orphaned at the border by Trump's Department of Homeland Security. Millions of Americans have lost their jobs, are unable to send their children to school or daycare, and are wondering when it will ever be safe to gather with friends and family again.
And, President Trump's closing message in the final presidential debate was clear: "It's not my fault." He wants everyone to know how unfairly he's been treated.
"No president should ever have to go through what I went through," he complained.
"I was put through a phony witch hunt," he lamented.
"I get treated very badly by the IRS, very unfairly," he whined.
The unfairness of his life as president was a constant refrain. In fact, over the evening, the only sympathy he bothered to express was for himself.
He didn't have a shred of concern for the migrant children his administration effectively kidnapped from their parents. In fact, he said their parents were "bad people" who "used them to get into our country."
"They are so well taken care of," he said.
He clearly never bothered to listen to their screams.
https://thebulwark.com/trumps-unfair-closing-argument/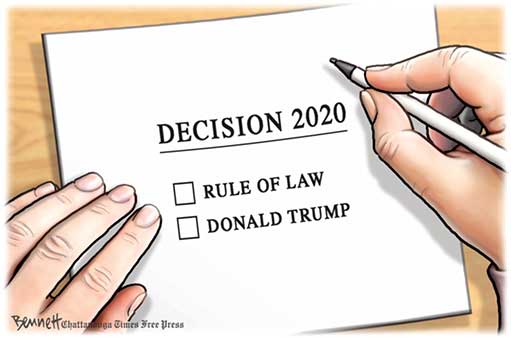 7. NY Times Editorial: R.I.P., G.O.P.
Of all the things President Trump has destroyed, the Republican Party is among the most dismaying.
Mr. Trump demands that his interests be placed above those of the nation. His presidency has been an extended exercise in defining deviancy down — and dragging the rest of his party down with him.
Having long preached "character" and "family values," Republicans have given a pass to Mr. Trump's personal degeneracy. The affairs, the hush money, the multiple accusations of assault and harassment, the gross boasts of grabbing unsuspecting women — none of it matters. White evangelicals remain especially faithful adherents, in large part because Mr. Trump has appointed around 200 judges to the federal bench.
For all their talk about revering the Constitution, Republicans have stood by, slack-jawed, in the face of the president's assault on checks and balances. Mr. Trump has spurned the concept of congressional oversight of his office. After losing a budget fight and shutting down the government in 2018-19, he declared a phony national emergency at the southern border so he could siphon money from the Pentagon for his border wall. He put a hold on nearly $400 million in Senate-approved aid to Ukraine — a move that played a central role in his impeachment.
So much for Republicans' Obama-era nattering about "executive overreach."
The scars of Mr. Trump's presidency will linger long after he leaves office. Some Republicans believe that, if those scars run only four years deep, rather than eight, their party can be nursed back to health. Others question whether there is anything left worth saving. Longtime party strategist Stuart Stevens's prescription: "Burn it to the ground, and start over." https://www.nytimes.com/2020/10/24/opinion/sunday/trump-republican-party.html
8. Luke Mogelson: In the Streets with Antifa
Throughout the nationwide upheaval set in motion by the police killing of George Floyd, in Minneapolis, on May 25th, Trump has vilified demonstrators as nefarious insurrectionists. Much as adversaries of the civil-rights movement once contended that it had been infiltrated by Communists, he invokes antifascists, or Antifa, to delegitimatize Black Lives Matter. A week after Floyd's death, as popular uprisings spread from Minneapolis to other cities, the President declared, "Our nation has been gripped by professional anarchists, violent mobs, arsonists, looters, criminals, rioters, Antifa, and others." As the election nears, he has portrayed Antifa as a grave security threat that the Democrats and their Presidential nominee, Joe Biden, will let destroy the country. During the first debate, after Biden noted that Trump's F.B.I. director, Chris Wray, had described Antifa as "more of an ideology or a movement than an organization," Trump scoffed, "You gotta be kidding me." He told Biden, "They'll overthrow you in two seconds."
Such dire warnings are wildly disconnected from reality. Most Americans who identify as antifascists don't belong to any particular group, and there is no national Antifa hierarchy or leadership. To date, one American has been killed by someone professing an antifascist agenda; right-wing extremists, by comparison, have been responsible for more than three hundred and twenty deaths in the past quarter century. The only known plot to "overthrow" the government in recent months was hatched by right-wing militia members, who, according to the F.B.I., planned to kidnap Michigan's Democratic governor, Gretchen Whitmer. In June, I stood next to the alleged ringleader, Adam Fox, during a rally at Michigan's capitol, while a speaker yelled, "We are here demanding peace as these terrorist organizations want to burn down our cities!" Fox carried an assault rifle and wore an ammo vest with a patch that said, "Si vis pacem, para bellum": "If you want peace, prepare for war." https://www.newyorker.com/magazine/2020/11/02/trump-antifa-movement-portland
9. Amy Davidson Sorkin: Trump's Bitter, Vainglorious Fantasy of America on the Stage
Whether Trump wins or loses on November 3rd, last Thursday night was almost certainly the last time that he will appear on a debate stage. He used the occasion to present a bitter, vainglorious fantasy of America, with triumphs invented and disasters ignored. As always, he added a dose of conspiracy theories—"All of the e-mails, the e-mails, the horrible e-mails!"—in an attempt to leave people perplexed about the truth. In contrast with the first Presidential debate, he more or less obeyed the time limits (enforced by microphone muting) and didn't try to shout down Biden or the moderator, Kristen Welker, which mainly showed that he can prevaricate calmly. One of his bigger lies was that many of America's greatest common problems are due to what he called "badly run, high-crime, Democrat—all run by Democrat—cities and states."
Biden's challenge, which he navigated fairly well, was that Trump lies in a manner that is so unanchored to reality that it becomes disorienting. Never mind, for example, that the Trump Administration's lawyers are heading to the Supreme Court in two weeks to argue that the entire Affordable Care Act, including its protections for people with preëxisting conditions, should be thrown out, and that Trump has articulated no plan for what would replace it. When asked what he would do, he replied, simply, that "preëxisting conditions will always stay." As for the more than five hundred children taken from their families at the border whose parents the government now can't find, he said that their plight was the fault of "coyotes," "cartels," and "gangs." On the subject of race, he repeated that he had done more for Black Americans than anybody with the "possible exception" of Abraham Lincoln. https://www.newyorker.com/magazine/2020/11/02/trumps-bitter-vainglorious-fantasy-of-america-on-the-debate-stage