November 19, 2020
Donate now to win the Jan. 5th Georgia Senate Runoffs and take back the Senate for Democrats
Democrats Jon Ossoff and Reverend Raphael Warnock are headed to runoff elections that will determine control of the U.S. Senate.  Donate to Jon Ossoff at https://electjon.com/, to Rev. Warnock at https://warnockforgeorgia.com/. Or split your contribution between Jon Ossoff's and Rev Warnock's campaigns at https://secure.actblue.com/donate/gasenatebattleground
ON THE RECORD. . .
"He's been tweeting, talking about how he won this state and that state. We have to pay attention to those tweets because he's the president. After January 20th, he just goes back to another crackpot on the Internet." — CNN chief White House correspondent Jim Acosta

"It was as if my very presence in the White House had triggered a deep-seated panic, a sense that the natural order had been disrupted. Which is exactly what Donald Trump understood when he started peddling assertions that I had not been born in the United States and was thus an illegitimate president. For millions of Americans spooked by a Black man in the White House, he promised an elixir for their racial anxiety." — Barack Obama, from his new memoir, "A Promised Land."

Biden won the popular vote by 5+ million & got 306 electoral votes.
Trump lost the popular vote by 2+ million & got 306 electoral votes. — Taniel @Taniel

306. Landslide. Blowout. Historic. — Kellyanne Conway Nov 28, 2016

"Don't cry because it's over. Smile because it happened. Live. Laugh. Love. Sometimes you own the libs; sometimes the libs own you." — A former White House official to Olivia Nuzzi.

""You know, the president doesn't want a statue erected to him. What he wants is a free and fair election and honest results. What I'd like to know is what in the hell is the Republican Party doing to defend and to, I mean — why not just say we're not going to accept the results of this election? It's outrageous," — Fox Business host Lou Dobbs

"A rapid withdrawal of U.S. forces from Afghanistan now would hurt our allies and delight the people who wish us harm." -- Senate Majority Leader Mitch McConnell

Donald Trump broke the system of fact-checking that sought to rein in his chronic lying. He figured out that if he kept flooding the zone with lies, people would not necessarily believe him; they would cease to care. — Charlie Sykes

There is no path. Rudy Giuliani can say what he wants and the President can keep declaring that he's won, but there's no plausible legal way this election gets overturned. We are not talking three Hail Marys anymore. We are talking done. — Rick Hasen

"This is idiotic. @SherrodBrown is being a complete ass. He wears a mask to speak—when nobody is remotely near him—as an ostentatious sign of fake virtue."  -- Sen. Ted Cruz (R-TX) about Sen. Sherrod Brown (D-OH) who asked that fellow lawmakers wear masks while in the Senate chamber.

Trump is more dug into his position than he was at the beginning. He thinks this is his base for 2024, and that half the country are warriors fighting for him, and that he's got to keep fighting." — Trump adviser on Trump's refusing the pleas of some advisers to commit to a peaceful transfer of power.

"The only way this stops is if people rise up. You get what you accept. #FreedomMatters #StepUp" -- Coronavirus task force member Dr. Scott Atlas tweet criticizing Michigan's new Covid-19 restrictions

"For Graham, being a United States Senator isn't about helping Americans or advancing principles. It's about swimming in the pool of power and feeding off the scraps the big fish leave behind. In short: Lindsey Graham is everything that's wrong with our political system." — Nicholas Connors, a former staffer for Sen. Lindsey Graham (R-SC),

"I have no control over what campaigns do, and if they do ill-advised actions that suppress their own vote, what can I do?" — GA Sec. of State Brad Raffensperger blaming Donald Trump's frequent and unsubstantiated accusations of mail-in voting fraud for Trump's loss in GA.

"I won the Election!" — Trump tweet.
"No, Biden won the election." -- AP Fact Check

VIDEOS

Politico Punchline: Will Trump leave the White House? https://www.politico.com/video/2020/11/13/will-trump-leave-the-white-house-099991

Tooning Out the News Blasts Biden for Not Conceding. https://www.youtube.com/watch?v=_U6lYsvLiiM&feature=emb_logo

Jimmy Fallon and Patty Smyth Dedicate Goodbye to You to President Trump: https://youtu.be/4cD1WWjcjd0

It's time for Republicans to put America first. | The Lincoln Project: https://twitter.com/ProjectLincoln/status/1327370658712608769
---
IN THIS ISSUE
FYI
OPINION
1. Andy Borowitz: National-Security Experts Support Total Withdrawal of Trump from U.S.
A broad spectrum of national-security experts support the immediate and total withdrawal of Donald J. Trump from the United States.

In an open letter signed by over three hundred members of the military and intelligence communities, the experts wrote that Trump's withdrawal is "long past due."

"After nearly four years, this conflict is over," they wrote. "It is time to reduce the troop level from one to zero."

"It is no longer in the interest of the United States for Trump to be stationed here," they added.

The experts recommended that further steps be taken to reduce Trump's footprint on U.S. soil, and called for the immediate withdrawal of Ivanka, Jared, Eric, and Don, Jr. https://www.newyorker.com/humor/borowitz-report/
2. Infighting and an attempted 'coup': Trump team erupts into chaos as Giuliani takes over legal efforts
As President Donald Trump's legal efforts challenging the election results continue to hit dead ends, his campaign and legal teams have descended into chaos behind the scenes as many brace for the end of the post-election fight, multiple sources tell ABC News.
Since launching a long-shot effort to overturn the election results through baseless claims of voter fraud, President Trump has suffered a dizzying barrage of court losses and setbacks around the country, leading him late last week to install Rudy Giuliani, his personal lawyer, to lead the legal efforts going forward.
But Giuliani's ascent has led to an explosion of infighting and disillusionment among the president's longstanding legal team and top campaign officials, resulting in dueling factions emerging from inside the president's dwindling campaign, multiple sources tell ABC News. https://abcnews.go.com/Politics/infighting-attempted-coup-trump-team-erupts-chaos-giuliani/story
3. Trump's effort to overturn the election results may be inept. But it's still a scandal.
Arguably the biggest political scandal we've ever seen in this country is playing right before our eyes: President Trump and his allies are trying to reverse the election results of a contest he lost.
It doesn't look like the scheme is going to work. The Wayne County (Detroit) Board of Canvassers last night certified its election results after its two Republican members initially withheld support. (Biden won Wayne County, 68 percent to 31 percent, and the state of Michigan by 148,000 votes.)
But being unsuccessful doesn't erase the magnitude of the scandal — or the fact that the president of the United States has cheered it on every step of the way. https://www.nbcnews.com/politics/meet-the-press/trump-s-effort-overturn-election-results-may-be-inept-it-n1248096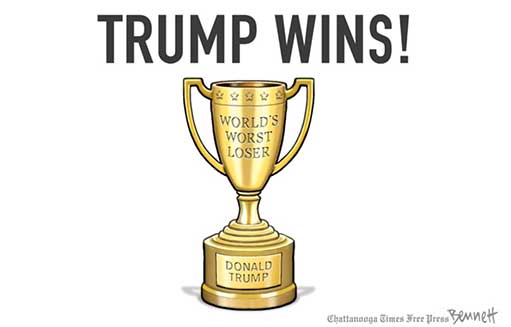 4. Americans Were Primed To Believe The Current Onslaught Of Disinformation
Dozens of false claims shared on social media have kept fact-checkers busy and partisans energized. Pro-Trump Facebook groups that dispute the election results have attracted tens of thousands of users and become a lively marketplace for exchanging disinformation (until the social media network shuts them down). And President Trump's supporters have shown up in person as well to rail against what they perceive to be election fraud.
Meanwhile, polls show a substantial percentage of the population, particularly Republicans, believe (without evidence) that voter fraud has occurred. According to a poll from YouGov and The Economist conducted Nov. 8-10 among registered voters, 82 percent of Republicans said they did not believe that Joe Biden had legitimately won the presidential election, even though he has. https://fivethirtyeight.com/features/americans-were-primed-to-believe-the-current-onslaught-of-disinformation/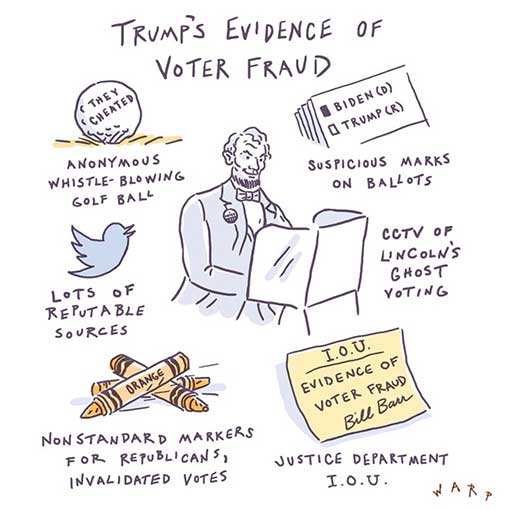 5. If Congress doesn't act, 12 million Americans could lose unemployment aid after Christmas
Deadlines set by Congress early in the pandemic will result in about 12 million Americans losing unemployment insurance by the year's end, according to a report released Wednesday — a warning about the sharp toll that inaction in Washington could exact on the economic health of both individual households and the economy at large.
According to the report from unemployment researchers Andrew Stettner and Elizabeth Pancotti, those Americans will lose their unemployment benefits the day after Christmas — more than half of the 21.1 million people currently on the benefits — due to deadlines Congress chose when it passed the Cares Act in March amid optimism the pandemic would be short-lived.
Another 4.4 million people have already exhausted their benefits this year, according to Stettner and Pancotti, who wrote the report for the Century Foundation, a public policy research group. https://www.washingtonpost.com/business/2020/11/18/unemployment-expiring-congress-inaction/
6. Trump remains bunkered in the White House as the world spins on
Donald Trump's agenda listed "no public events" on Tuesday -- the 10th time since the election that those words have appeared on his daily schedule.
He has answered no questions from reporters, invited no cameras into the Oval Office and ventured no further than his namesake golf course, 25 miles from the White House in Virginia. https://www.cnn.com/2020/11/17/politics/trump-future-white-house/index.html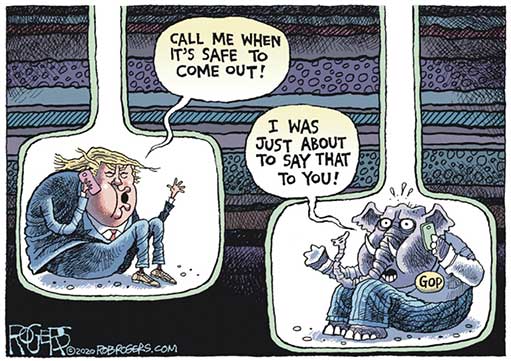 7. Trump, Trying to Cling to Power, Fans Unrest and Conspiracies
Trump's refusal to concede the election has entered a more dangerous phase as he stokes resistance and unrest among his supporters and spreads falsehoods aimed at undermining the integrity of the American voting system.
The president's attempt to cling to power played out against a backdrop of protests by Trump supporters and opponents late Saturday, with sporadic clashes near the White House. The police arrested 21 people as one protester was stabbed and four officers were injured. Rather than seek to calm tensions, Mr. Trump lashed out.
"ANTIFA SCUM ran for the hills," he posted on Twitter on Saturday as he urged the police to move in aggressively. "DC Police, get going — do your job and don't hold back!!!" https://www.nytimes.com/2020/11/15/us/politics/trump-biden-election.html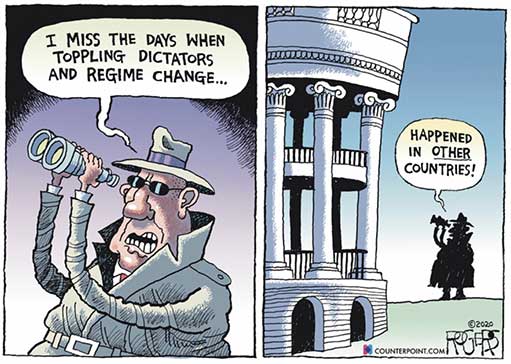 8. Republican convicted of election fraud helps lead Trump rally baselessly claiming election fraud
Another pro-President Trump rally was held at the Michigan Capitol on Saturday as the "Million MAGA March" attracted thousands, including several far-right groups like the Proud Boys, in Washington, D.C.
It was part of a national "Stop the Steal" effort, a massive disinformation campaign about voter fraud in the 2020 election linked to longtime Trump adviser Roger Stone. Stone, who was convicted of several felonies for trying to stop a U.S. House investigation into ties between the Trump campaign and Russia, had his sentence commuted this year by Trump. https://www.michiganadvance.com/2020/11/15/republican-convicted-of-election-fraud-helps-lead-trump-rally-baselessly-claiming-election-fraud/
9. GOP leaders in 4 states quash dubious Trump bid on electors
Republican leaders in four critical states won by President-elect Joe Biden say they won't participate in a legally dubious scheme to flip their state's electors to vote for President Donald Trump. Their comments effectively shut down a half-baked plot some Republicans floated as a last chance to keep Trump in the White House.
State GOP lawmakers in Arizona, Michigan, Pennsylvania and Wisconsin have all said they would not intervene in the selection of electors, who ultimately cast the votes that secure a candidate's victory. Such a move would violate state law and a vote of the people, several noted. https://apnews.com/article/election-2020-joe-biden-donald-trump-legislature-pennsylvania-b199b2debc87fbb20612a48835bc0dba
10. Trump rails against 'medical deep state' after Pfizer vaccine news comes after Election Day
Trump is lashing out at the Food and Drug Administration following a disclosure Monday that an experimental coronavirus vaccine from pharmaceutical giant Pfizer is more than 90 percent effective, convinced the timing — six days after Election Day — proves the "medical deep state" deliberately tried to sabotage his electoral prospects by delaying the results. https://www.washingtonpost.com/politics/2020/11/11/trump-angry-about-pfizer-vaccine/
11. How Biden aims to amp up the government's fight against climate change
President-elect Joe Biden is poised to embed action on climate change across the breadth of the federal government, from the departments of Agriculture to Treasury to State — expanding it beyond environmental agencies to speed U.S. efforts to mitigate global warming and to acknowledge that the problem touches many aspects of American life.
The far-reaching strategy is aimed at making significant cuts in greenhouse gas emissions even without congressional action, by maximizing executive authority. https://www.washingtonpost.com/climate-environment/2020/11/11/biden-climate-change/
12. Georgia Sen. David Perdue declines to debate opponent ahead of January 5 runoff
Perdue declined an invitation to participate in a December 6 debate with his Democratic rival, said MaryLynn Ryan, the chair of the Atlanta Press Club, which is hosting two separate debates for both Senate runoffs.
Ossoff's campaign told CNN they have accepted the Press Club's invitation, with Ossoff tweeting Sunday, "Looks like Sen. David Perdue is too much of a coward to debate me again. ... Senator, come on out and try to defend your record. I'm ready to go." https://www.cnn.com/2020/11/15/politics/david-perdue-jon-ossoff-debate-georgia-runoff-election/index.html
13
. Trump Plans Last-Minute China Crackdown
Trump will enact a series of hardline policies during his final 10 weeks to cement his legacy on China, senior administration officials with direct knowledge of the plans tells Axios.
He'll try to make it politically untenable for the Biden administration to change course as China acts aggressively from India to Hong Kong to Taiwan, and the pandemic triggers a second global wave of shutdowns. https://www.axios.com/trump-plans-last-minute-china-crackdown-fbac3d03-5901-4abd-822f-2a8956a666ad.html
14. Republican distrust of news may be helping election misinformation spread.
In looking for reasons behind the misinformation that is casting doubt about last week's election of Joe Biden, some researchers are drawing a link to the growing distrust of the news media among conservatives.
Research from Oxford University's Reuters Institute for the Study of Journalism has found a long and steady decline in trust in traditional media among more conservative Americans. In its place, they are increasingly relying on right-wing media outlets like Breitbart News and One America News and conservative pundits with a history of spreading falsehoods. https://www.nytimes.com/2020/11/12/technology/republicans-distrust-news-media.html
15. QAnon's Dominion voter fraud conspiracy theory reaches the president
For days after the election, adherents to the QAnon conspiracy movement had been trying to get President Donald Trump's attention with constant false claims about voter fraud connected to a company that makes voting machines.
On Thursday, they celebrated. Trump tweeted in all-caps about a conspiracy theory that baselessly alleges that Dominion Voting Systems, a company that makes voting machines, "deleted" millions of Trump votes, citing a report on the far-right cable news outlet One America News Network.
While the theory has already been debunked — including by Chris Krebs, director of the Cybersecurity and Infrastructure Security Agency, which is tasked with national security related to the internet and technology — Trump's tweet offered a sliver of energy at a time when the QAnon movement had stalled, waiting for its leader, "Q," to return with guidance from a hiatus that began on the morning of Election Day and lasted more than a week. https://www.nbcnews.com/news/amp/ncna1247780
16. Biden hopes to avoid divisive Trump investigations, preferring unity
President-elect Joe Biden has privately told advisers that he doesn't want his presidency to be consumed by investigations of his predecessor, according to five people familiar with the discussions, despite pressure from some Democrats who want inquiries into President Donald Trump, his policies and members of his administration.
Biden has raised concerns that investigations would further divide a country he is trying to unite and risk making every day of his presidency about Trump, said the sources, who spoke on background to offer details of private conversations.
They said he has specifically told advisers that he is wary of federal tax investigations of Trump or of challenging any orders Trump may issue granting immunity to members of his staff before he leaves office. One adviser said Biden has made it clear that he "just wants to move on." https://www.nbcnews.com/politics/justice-department/president-elect-biden-wary-trump-focused-investigations-sources-say-n1247959
17. Trump officials rush to auction off rights to Arctic National Wildlife Refuge before Biden can block it
The Trump administration has called for oil and gas firms to pick spots where they want to drill in Alaska's Arctic National Wildlife Refuge as it races to open the pristine wilderness to development and lock in drilling rights before President-elect Joe Biden takes office.
The "call for nominations" to be published Tuesday allows companies to identify tracts to bid on during an upcoming lease sale on the refuge's nearly 1.6 million acre coastal plain, a sale that the Interior Department aims to hold before Biden takes the oath of office in January. The move would be a capstone of President Trump's efforts to open up public lands to logging, mining and grazing — something Biden strongly opposes. https://www.washingtonpost.com/climate-environment/2020/11/16/arctic-refuge-drilling-trump/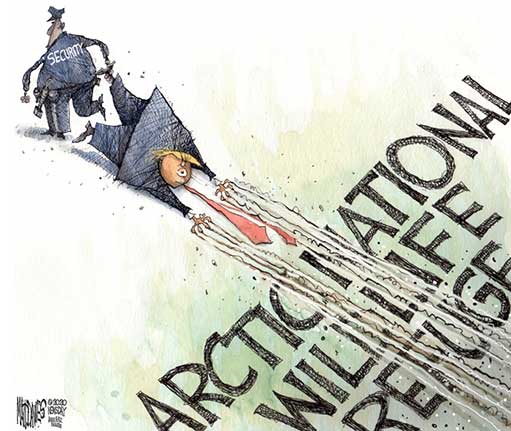 18. Trump Sought Options for Attacking Iran to Stop Its Growing Nuclear Program
Trump asked senior advisers in an Oval Office meeting on Thursday whether he had options to take action against Iran's main nuclear site in the coming weeks. The meeting occurred a day after international inspectors reported a significant increase in the country's stockpile of nuclear material, four current and former U.S. officials said on Monday.
A range of senior advisers dissuaded the president from moving ahead with a military strike. The advisers — including Vice President Mike Pence; Secretary of State Mike Pompeo; Christopher C. Miller, the acting defense secretary; and Gen. Mark A. Milley, the chairman of the Joint Chiefs of Staff — warned that a strike against Iran's facilities could easily escalate into a broader conflict in the last weeks of Mr. Trump's presidency. https://www.nytimes.com/2020/11/16/us/politics/trump-iran-nuclear.html
19. Esper memo warned conditions weren't met for withdrawal from Afghanistan
Then-Secretary of Defense Mark Esper sent a classified memo earlier this month to the White House asserting that it was the unanimous recommendation of the chain of command that the US not draw down its troop presence in Afghanistan any further until conditions were met, sources familiar with the memo tell CNN.
The memo is believed to have been one of the main reasons why outgoing President Donald Trump fired Esper last week. CNN reported on Monday that US military commanders are anticipating that Trump will give a formal order as soon as this week to begin a further withdrawal of US troops from Afghanistan and Iraq before he leaves office on January 20. https://www.cnn.com/2020/11/16/politics/esper-memo-troop-withdrawal/index.html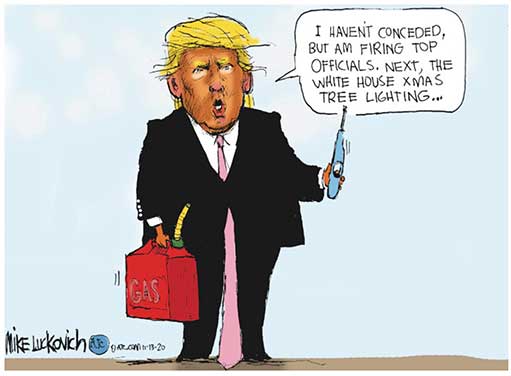 20. States aren't flipping electors for Trump
Republican leaders in four critical states won by President-elect Joe Biden say they won't participate in a legally dubious scheme to flip their state's electors to vote for President Trump. Their comments effectively shut down a half-baked plot some Republicans floated as a last chance to keep Trump in the White House.
State GOP lawmakers in Arizona, Michigan, Pennsylvania and Wisconsin have all said they would not intervene in the selection of electors, who ultimately cast the votes that secure a candidate's victory. Such a move would violate state law and a vote of the people, several noted. https://edition.pagesuite.com/popovers/dynamic_article_popover.aspx
21. The DAILY GRILL
"The Consent Decree signed by the Georgia Secretary of State, with the approval of Governor @BrianKempGA, at the urging of @staceyabrams, makes it impossible to check & match signatures on ballots and envelopes, etc. They knew they were going to cheat. Must expose real signatures!"— Trump tweet

VERSUS

There is nothing in the consent decree that prevents Georgia election clerks from scrutinizing signatures. The legal settlement signed in March addresses accusations about a lack of statewide standards for judging signatures on absentee ballot envelopes. — AP Fact Check
"It's way beyond what people think, including a very, very dangerous foreign company that did the votes in 27 states, a company that's not American, a company that's foreign, a company that has close, close ties with Venezuela and, therefore, China and uses a Venezuelan company software that's been used to steal elections in other countries."— Rudy Giuliani, on Fox News. Nov. 15.

VERSUS

Giuliani is referring to Dominion Voting Systems, which makes software that local governments use to help run their elections. Dominion is a Canadian company that effectively has its headquarters in Denver. — Washington Post Fact Checker.

 

"I don't think people have any idea of the dimension of the national security problem that Dominion creates. This Dominion company is a radical-left company. One of the people there is a big supporter of Antifa and has written horrible things about the president for the last three or four years." — Rudy Giuliani, on Fox News. Nov. 15.

VERSUS

Giuliani is referring to Internet rumors promoted on right-wing websites, which take you down through a rabbit hole of speculation. But there is no evidence that Dominion is "radical-left" or has connections to Antifa, the anti-fascist political movement. — Washington Post Fact Checker.

 

"The software that they use is done by a company called Smartmatic, a company that was founded by [Hugo] Chávez and by Chávez's two allies, who still own it. And it's been used to cheat in elections in South America. It was banned by the United States several — about a decade ago. It's come back now as a subcontractor to other companies. It sort of hides in the weeds. But Dominion sends everything to Smartmatic. Can you believe it? Our votes are sent overseas. They are sent to someplace else, some other country. Why do they leave our country?" — Rudy Giuliani, on Fox News Nov. 15

VERSUS

Smartmatic, on its own fact check page, says this is all crazy. Smartmatic, an election technology company, was founded and incorporated in the United States in 2000, inspired by the hanging-chad debate in the 2000 election. It is now headquartered in London. — Washington Post Fact Checker.

 

"And this company had — and this company has tried-and-true methods for fixing elections by calling a halt to the voting when you're running too far behind. They have done that in prior elections." — Rudy Giuliani, on Fox News. Nov. 15.

VERSUS

Giuliani has offered no evidence to back up this claim. In 2017, Smartmatic reported that the Venezuelan government reported a false turnout figure for a contested election, adding at least 1 million votes to the number. The company said the absence of election monitors from the opposition — which boycotted the election — allowed for the manipulation of turnout figures. The Venezuelan government, which needed a large turnout figure to lend legitimacy to the election, denied the numbers had been manipulated. The company stopped its work in Venezuela in 2018. — Washington Post Fact Checker.

 

"In Michigan, of course, we have a couple of extraordinary witnesses, one of whom was a Democrat who worked for 30 years for the city of Detroit, who will explain that she started getting trained in how to cheat in September of 2020." — Giuliani, on Fox Business's "Lou Dobbs Tonight." Nov. 12

VERSUS

The next day, Wayne County Circuit Judge Timothy Kenny denied a request to stop canvassing and certification of the county's election results, saying the witnesses' "interpretation of events is incorrect and not credible." These were the "extraordinary witnesses" claimed by Giuliani. — Washington Post Fact Checker.

 

"We have evidence that 100,000 ballots were brought in at 4:30 in the morning and counted."— Rudy Giuliani, on Fox News. Nov. 15.

VERSUS

This claim stems from a single affidavit that was filed by an alleged witness, Melissa Carone, a contract IT worker for Dominion. But Carone, who made a number of voter-fraud claims, does not even leap to the conclusions that Giuliani makes. — Washington Post Fact Checker.

 

"REPORT: DOMINION DELETED 2.7 MILLION TRUMP VOTES NATIONWIDE. DATA ANALYSIS FINDS 221,000 PENNSYLVANIA VOTES SWITCHED FROM PRESIDENT TRUMP TO BIDEN. 941,000 TRUMP VOTES DELETED. STATES USING DOMINION VOTING SYSTEMS SWITCHED 435,000 VOTES FROM TRUMP TO BIDEN.@ChanelRion @OANN" — Trump tweet

VERSUS

"There is no evidence that any voting system deleted or lost votes, changed votes, or was in any way compromised." -- Cybersecurity & Infrastructure Security Agency, a federal agency that oversees U.S. election security, adding that "The November 3rd election was the most secure in American history."

 

Mr. James Blalock of Covington, Georgia, a World War II veteran, voted in the election. The only problem? He passed away 14 years ago, in January 2006. Sadly, Mr. Blalock is a victim of voter fraud.

VERSUS

Newton County officials confirmed that Agnes Blalock voted using her married name. "Her voter registration was signed as Mrs. James E. Blalock, Jr. and that is exactly how she signed her name when she voted in the Nov. 3 general election," officials said. They posted a statement online saying James Blalock's widow has always voted under that name. 

 

Mrs. Linda Kesler of Nicholson, Georgia voted in the election. The only problem? She passed away 17 years ago, in 2003. Sadly, Mrs. Kesler is a victim of voter fraud. — Trump War Room.

VERSUS

"Linda Kesler of Nicholson was marked deceased in 2003 and did not vote. Lynda Kesler who has a different address, birthday, and zip who is entitled to vote—did vote."-- Board of Elections

 

No lie too big, no conspiracy too bizarre, no lines that they would not cross. This is the rawest of raw power plays. And what happens to the country? The damage that they've done over four years? They could care less. Extend early voting, extend vote counting, postmarks, no postmarks, win at any cost, muddy the waters, lie, cheat, steal, it for the greater good because they know better than we the people." -- Hannity
 
VERSUS

Here's what Hannity never mentioned: "A group of national, state and private election officials said in a joint statement Thursday that there is no evidence of any voting system being compromised in the 2020 election despite President Donald Trump's deluge of election fraud conspiracies," — CNN

 

A wedding was hosted in the same building where voting had taken place the week prior. The wedding party just found a very interesting discovery in the garbage. [A trash bag full of marked ballots, all marked for Donald Trump.] — Dinesh D'Souza tweet

VERSUS

This video is from pct 469 / subpct 457 in Tulsa County. These are clearly "spoiled ballots" where the voter mistakenly marked more than one option in a race. Spoiled ballots are returned to the precinct clerk and destroyed, then the voter is issued a new ballot. — Oklahoma State Election Board
22. From MEDIA MATTERS (They watch Fox News so you don't have to)
In the four days after Fox News declared Joe Biden the president-elect at 11:40 a.m. on November 7, the Fox network has cast doubt on or pushed conspiracy theories about the election results at least 255 times. A review by Media Matters found 111 such claims on Fox's "straight news" shows and 144 claims on the network's opinion shows. https://www.mediamatters.org/fox-news/after-calling-presidential-election-fox-cast-doubt-results-and-pushed-conspiracy-theories
Since his loss, President Donald Trump, his legal team, and his supporters have attempted to spread baseless conspiracy theories about voter fraud in the 2020 election. They've falsely claimed that dead voters have had a significant impact on voting numbers in multiple states, pushed conspiracies about voting technology, and have repeatedly complained about the press calling the election for Biden, ignoring the rigorous process that media outlets have for declaring a winner in presidential races. Fox News has repeatedly aided the Trump campaign's efforts to undermine confidence in the results of the 2020 elections, echoing debunked theories, pushing the idea that Democrats "are trying to steal this from President Trump," and arguing that Trump is justified in pursuing these claims of a rigged election. And while some Fox hosts have taken pushed back against these false claims, guests who repeat misinformation about voter fraud have repeatedly been invited back on the network, and hosts themselves often repeat the Trump administration's debunked voting fraud talking points. https://www.mediamatters.org/fox-news/after-calling-presidential-election-fox-cast-doubt-results-and-pushed-conspiracy-theories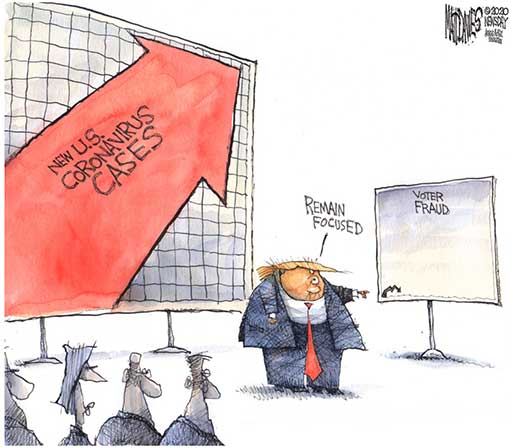 Fox News propagandists continue to push fever-swamp fantasies that voting machines switched a large number of votes from President Donald Trump to President-elect Joe Biden, even after election security officials conclusively determined that was not the case, and Trump is amplifying those wildly irresponsible claims to falsely assert that he won the election.With his reelection hopes thwarted at the ballot box, Trump is trying to steal the election if he can and delegitimize it if he can't, with the help of his sycophants at Fox and Republican leaders. https://www.mediamatters.org/fox-news/trump-fox-feedback-loop-amplifies-deranged-conspiracy-theory-about-dominion-and-vote
1. Philip Bump: Trump has achieved one of his post-election goals: Sowing doubt about the outcome with his base
One can think of the last two weeks as President Trump setting both a goal and a stretch goal. A goal is something he hopes to achieve. A stretch goal, by contrast, is something that may not be achieved but which may be within reach, given the right amount of effort.
Since Election Day, Trump's stretch goal has been a second term in office: unlikely, but, hey, who knows? The immediate and attainable goal, on the other hand, is simpler. Trump wants to be able to spend the rest of his days insisting that he didn't lose the 2020 election. He wants to march around Mar-a-Lago and have people nod as he grumps that President-elect Joe Biden committed unidentified crimes that denied him a second term in office.
That second goal has already been obtained.
Monmouth University has been tracking confidence in the 2020 election for months. In a poll released Wednesday, the pollsters asked Americans whether they were confident that the presidential race was executed fairly and accurately. Most people said it was — but three-quarters of Republicans and Trump voters said that it wasn't. https://www.washingtonpost.com/politics/2020/11/18/trump-has-achieved-one-his-post-election-goals-sowing-doubt-about-outcome-with-his-base/
2. Bess Levin: Polar Bear Genocide, Drilling Bonanzas, Letting Everyone Get COVID-19: The Many Ways Trump Plans to F--k Over the U.S. in the Next Nine Weeks
Despite hourly Twitter outbursts about how he totally won the election, numerous ridiculous lawsuits, and a pathological refusal to concede to Joe Biden and let a normal and necessary transition occur, a small part of Donald Trump appears to know that come January 20, 2021, he'll be out of power. One, because he basically admitted as much over the weekend before trying to take it back and two, because he's planning to shove through numerous policies and executive actions in the next nine weeks, seemingly aware that his window of time to do so is closing rapidly.
One of the moves, announced this week, would fuck over the planet and many living things, neither of which Trump has any regard for. On Monday, his administration said it will be begin the formal process of selling leases to oil companies for drilling in the Arctic National Wildlife Refuge in Alaska. While Trump's industry pals would obviously love nothing more than to extract as much profit as possible from the 19 million acres of land are thought to overlie billions of barrels of oil, scientists, environmentalists, and other assorted parties warn the move could be devastating.
Other messes Trump plans to make include:
• Trying to push through the nomination of Judy Shelton to the Federal Reserve board of governors so that Biden can't fill the vacancy and it can instead go to someone whose main qualification is that she thinks Trump is an economic genius, tipping the balance of the board to Trump appointees;

• Enraging foreign powers like China by preparing new sanctions that would, "infuriate the government of President Xi Jinping and bring ties between the two nations to their lowest point in decades," a toxic situation that would make it difficult for Biden as he tries to get Beijing to cooperate on, among other things, climate change.

• Drawing down U.S. troops in Afghanistan and Iraq to a level in line with what Biden has said is necessary but in a slipshod, premature way that could embolden insurgent forces.

• Meanwhile, Trump has apparently been musing about bombing Iran, according to the Times:
And of course, there's the imminent danger with regard to what Trump seemingly plans to do nothing about, i.e. the coronavirus, which is worsening by the day as the Biden administration is blocked from getting a head start on its own response. With more than 69,000 people in the hospital with the virus as of Saturday and more than 1,100 COVID-19 deaths being reported each day on average, that's kind of a lot—if one cares at all about thousands of Americans dying, which the current occupant of the White House clearly does not. https://www.vanityfair.com/news/2020/11/donald-trump-last-minute-damag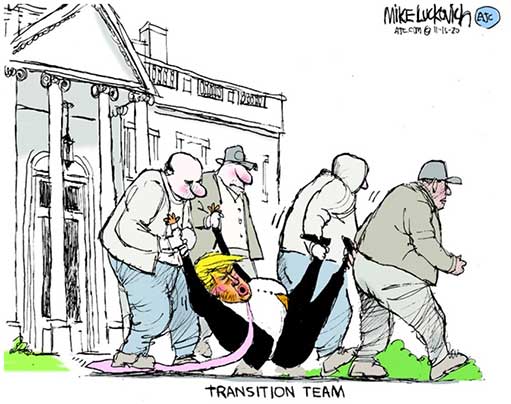 3. Maureen Dowd: Trump should be happy to get back to what he knows best: promoting himself
Many see a wannabe despot barricaded in the bunker, stubby fingers clinging to the levers of power as words that mean nothing to him – democracy, electoral integrity, peaceful transition, constitutionality – swirl above. One presidential historian sees something different in Donald Trump's swan song. Michael Beschloss has been tweeting pictures of Hollywood's most famous divas, shut-ins and head cases. Norma Desmond watching movies of herself, hour after hour, shrouded in her mansion on Sunset Boulevard as "the dream she had clung to so desperately enfolded her." Howard Hughes, descending into germaphobia, madness and seclusion. Greta Garbo, sequestered behind her hat and sunglasses. Charles Foster Kane, missing the roar of the crowd as he spirals at Xanadu, his dilapidated pleasure palace.
The president and his cronies are likely to do real damage and major grifting in the next two months. But in other ways, the picture of the president as a pathetic, unravelling diva is apt. Trump has said in interviews and at rallies that two of his favorite movies are the black-and-white classics about stars collapsing in on themselves, Citizen Kane and Sunset Boulevard. In Sunset Boulevard, Max the butler and a camera crew conspire to make the demented silent film star believe she's getting her close-up when she's actually just being lured down the staircase to answer for her sins. The Republicans enabling Trump's delusion are like the camera crew, filming a scene with the disintegrating diva that is never going to be seen. "What is the downside for humoring him for this little bit of time?" a senior Republican official told the Washington Post. "No one seriously thinks the results will change." Trump, who once wanted to be a Hollywood producer and considered attending USC film school, never made the pivot to being a politician. He got elected because he played a competent boss and wily megabillionaire on a reality TV show – pretty good acting now that we know he is neither – and he has stayed a performance artist and a ratings-obsessed showman. https://www.irishtimes.com/news/world/us/trump-should-be-happy-to-get-back-to-what-he-knows-best-promoting-himself-1.4409907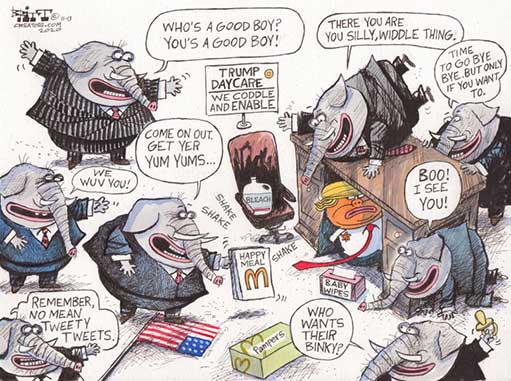 4. Jonathan Chait: Trump's New Vote Fraud Theory Is So Much Crazier Than You Realize
President Trump has been promoting wild conspiracy theories about election fraud since 2016. Like so many of his outrages, this has numbed the public and caused the absurdity to recede into the background of events. It is therefore easy to miss the fact that the conspiracy theory Trump has begun circulating over the last several days is vastly crazier than the ones he used to promote. It's as if, Spaceship Trump, last seen leaving Earth for the moon, it has now reached distant galaxies.
Trump's old election conspiracy theory centered on mail balloting, which he deemed rife with fraud, unless it was being done by Republicans. His new theory is that the election was stolen because a left-wing software firm connected to Hugo Chavez and George Soros maliciously stole hundreds of thousands of votes in the middle of the night. Trump has been spreading the claim on Twitter the last several days:
Why does the Fake News Media continuously assume that Joe Biden will ascend to the Presidency, not even allowing our side to show, which we are just getting ready to do, how badly shattered and violated our great Constitution has been in the 2020 Election. It was attacked......perhaps like never before! From large numbers of Poll Watchers that were thrown out of vote counting rooms in many of our States, to millions of ballots that have been altered by Democrats, only for Democrats, to voting after the Election was over, to using Radical Left....owned Dominion Voting Systems, turned down by Texas and many others because it was not good or secure, those responsible for the safeguarding of our Constitution cannot allow the Fake results of the 2020 Mail-In Election to stand. The World is watching! — Donald J. Trump
It's worth recalling that, just a few weeks ago, Giuliani allegations of serious misconduct by Joe Biden that large segments of the commentariat deemed substantive enough to demand reporters cover respectfully. Now he is raving about a secret communist computer program to control the U.S. government. And he has been deputized to make this claim on behalf of the man who is, for the next two months, the president of the United States. https://nymag.com/intelligencer/2020/11/trumps-dominion-vote-fraud-election-conspiracy-theory-crazy.html
5. Karen Tumulty: Lindsey Graham's claim that he wasn't interfering in the Georgia vote doesn't add up
When Georgia Secretary of State Brad Raffensperger, a Republican, received a message on Friday that Graham had called him, he told "CBS This Morning" on Tuesday, he assumed that the South Carolina senator wanted to discuss the Jan. 5 runoff races for both of Georgia's Senate seats. So he returned the call.
Raffensperger said he was surprised to discover that Graham wanted instead to talk about the ongoing audit of the presidential race and the state law that matches signatures to mail ballots to assure their legitimacy. According to what Raffensperger told my Post colleague Amy Gardner in an interview, Graham raised a conspiracy theory that suggested biased poll workers might have accepted ballots with nonmatching signatures.
The implication was stunning and impossible to miss.
Raffensperger told Gardner that Graham was urging him to find a way to toss legally cast ballots, something the secretary of state does not have the power to do, absent court intervention, even if he were so inclined. "It sure looked like he was wanting to go down that road," Raffensperger said.
He said he didn't argue with Graham. "I really just got off the call, and I said I would circle back," Raffensperger told CBS News. After speaking with his counsel, he decided "not to get back and re-engage."
For doing his job according to the law in the 2020 election, Raffensperger has been subjected to abuse and even, he says, death threats. Georgia's two Republican senators, David Perdue and Kelly Loeffler, have called on him to resign. All of this is, no doubt, spurred by claims from the president himself that the election is being stolen from him.
"As a Republican, I wish the results would go another way, but I think that at the end of the day, what you're going to see is this audit is going to verify what the machines counted and then we'll certify," he said Tuesday.
No matter what your political leanings, this should be a cause for celebration that our democracy is sound and fair. Unfortunately, the same cannot be said for some of those who are elected under that system. https://www.washingtonpost.com/opinions/2020/11/17/lindsey-graham-claim-wasnt-interfering-georgia-vote-doesnt-add-up/
6. Steve Coll: What Does Trump Get Out of Contesting Biden's Win?
Typically, the best way to understand Trump's actions is to ask what's in it for him. Four more years in the White House would extend his immunity from New York prosecutors conducting active investigations into possible criminal activity, ease pressure from bank creditors, and further enrich his family businesses: a win-win-win. Assuming that the President fails to rig a second term, he is fashioning a story about how corrupt Democrats foiled his reëlection, which might galvanize followers and donors after he leaves office. According to the Post, the President told advisers last week, "I'm just going to run in 2024. I'm just going to run again." His campaign has formed a political-action committee, called Save America, which appears designed as a means for him to raise money to influence the Republican Party after his Presidency ends. The PAC is eligible to receive funds now for Trump's "election defense," but much of that money would likely be spent on other causes and candidates. Leave it to Trump to manufacture a constitutional crisis that also incorporates a fund-raising con. https://www.newyorker.com/magazine/2020/11/23/what-does-trump-get-out-of-contesting-bidens-win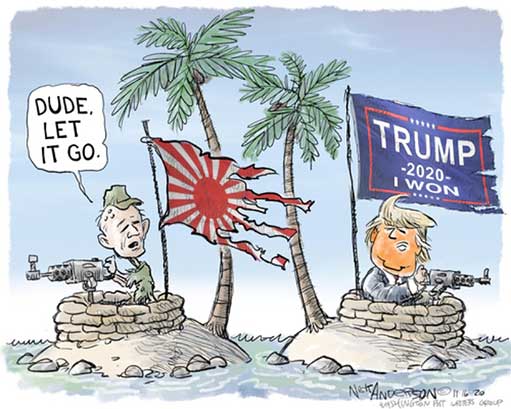 7. Jeff Wise: The People v. Donald J. Trump
The defendant looked uncomfortable as he stood to testify in the shabby courtroom. Dressed in a dark suit and somber tie, he seemed aged, dimmed, his posture noticeably stooped. The past year had been a massive comedown for the 76-year-old former world leader. For decades, the bombastic onetime showman had danced his way past scores of lawsuits and blustered through a sprawl of scandals. Then he left office and was indicted for tax fraud. As a packed courtroom looked on, he read from a curled sheaf of papers. It seemed as though the once inconceivable was on the verge of coming to pass: The country's former leader would be convicted and sent to a concrete cell.
The date was October 19, 2012. The man was Silvio Berlusconi, the longtime prime minister of Italy.
Here in the United States, we have never yet witnessed such an event. No commander-in-chief has been charged with a criminal offense, let alone faced prison time. But if Donald Trump loses the election in November, he will forfeit not only a sitting president's presumptive immunity from prosecution but also the levers of power he has aggressively co-opted for his own protection. Considering the number of crimes he has committed, the time span over which he has committed them, and the range of jurisdictions in which his crimes have taken place, his potential legal exposure is breathtaking. More than a dozen investigations are already under way against him and his associates. Even if only one or two of them result in criminal charges, the proceedings that follow will make the O. J. Simpson trial look like an afternoon in traffic court. https://nymag.com/intelligencer/article/donald-trump-criminal-case.html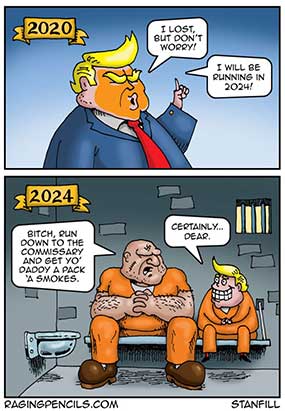 8. Susan Glasser: Is This a Coup, or Just Another Trump Con?
At times, during this unnerving week in America's capital, it has felt as though we were watching events unfold in Minsk or some other dictator stronghold where elections are not stolen the day votes are cast but in the weeks afterward, as the defeated President holes up in his palace, defying reality and increasingly urgent crowds in the streets.
Here in Minsk-on-the-Potomac, Trump has been perpetrating the Big Lie, claiming the election was stolen from him and apparently persuading millions of Americans to go along with this evidence-free fantasy.
Biden, so far, has urged calm. It's an 'embarrassment,' he told reporters Tuesday in Wilmington, Delaware, where he continued to plan his transition, took congratulatory phone calls from world leaders, and appointed a White House chief of staff. The official line from Biden has been clear and simple: concession or no concession, Trump will have to leave office at noon on January 20th, and that is that. https://www.newyorker.com/news/letter-from-trumps-washington/is-this-a-coup-or-just-another-trump-con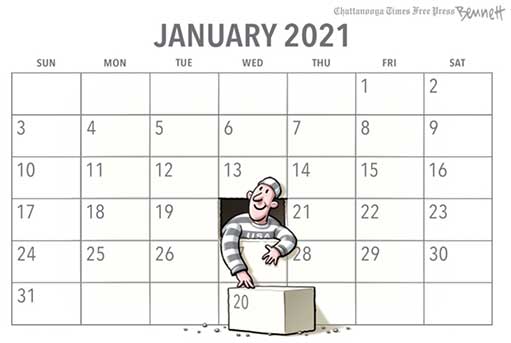 9. Philip Bump: Trump's legacy will be defined largely by his attempt to look away from the coronavirus pandemic
By the time the ball drops over an empty Times Square on Dec. 31, 2020, will have been the deadliest year in the history of the United States. Part of that is a function of population growth; more people are going to die in a more populous country. But it's primarily a function of the coronavirus pandemic, which has already taken at least 242,000 American lives. That's one death for every 12 that occurred in the United States in 2018 overall, the most recent year for which data are available.
During the Civil War, 504 people were dying every day. On 224 of the past 257 days, the country's seven-day average of coronavirus deaths has exceeded that mark. As of this writing, the current seven-day average of coronavirus deaths is more than twice that number. That's because the country is in the midst of its third surge in new coronavirus cases.
By now, it's hard to dispute that the primary cause for federal inaction is that Trump has decided to simply let the virus spread. We've seen hints of this for months, the most obvious of which was Trump's decision to pluck a neuroradiologist named Scott Atlas off Fox News and install him in the White House coronavirus task force. There, Atlas has pushed back against government epidemiologists to advance a strategy centered on slowing the spread of the virus by letting far more people contract it — and then, hopefully, become immune to it.
It's a fierce competition, but this may define Trump's legacy. He will be remembered as the president who faced a deadly crisis and decided to look away. https://www.washingtonpost.com/politics/2020/11/13/trumps-legacy-will-defined-largely-by-his-attempt-look-away-coronavirus-pandemic/
10. Greg Sargent: A war among Trump's kids shows this family won't let us move on
CNN reports that Trump's two adult sons — Donald Jr. and Eric — adamantly want Trump to refuse to concede and "drag it out until the bitter end," while clinging to the lie that the election was stolen from him.
They believe the "outcome should change," CNN reports. In other words, if possible, they want to overturn the results of a legitimate election.
By contrast, Ivanka Trump and Jared Kushner think the president should bow to the inevitable and concede after the Georgia recount is completed later this month. Here's the reasoning:
Ivanka Trump has offered a more calibrated message to her father, asking him whether it was worth damaging his legacy and potentially his businesses to continue his refusal to concede. She is privately realistic about the President's loss, a source told CNN, but she also knows that her entire future — now more than ever — is tied to her father's, and must be handled delicately.
The careful reader will note that there's no discernible deliberation over the impact that Trump's refusal to concede is having on the whole country.
The only motivating factor in how this will be handled is what is good for Trump and the family. There's disagreement on what is actually best for Trump, but Trump and Donald Jr. have already decided that not conceding is what's best for them. https://www.washingtonpost.com/opinions/2020/11/13/war-among-trumps-kids-shows-this-family-wont-let-us-move/
11. Colbert I. King: Republicans never gave Obama a chance. I fear it'll be the same with Biden
Four days prior to President Barack Obama taking the oath of office in January 2009, radio talk-show host Rush Limbaugh declared, "I hope he fails."
In August 2009, eight months after Obama became president, pastor Steven L. Anderson of Faithful Word Baptist Church in Tempe, Ariz., told his congregation that he prays for the death of Obama. Anderson said: "I'm not going to pray for his good, I'm going to pray he dies and goes to hell."
Not to put too fine a point on it, the preacher said: "I'd like him to die of natural causes. I don't want him to be a martyr; we don't need another holiday. I'd like to see him die, like Ted Kennedy, of brain cancer."
The following month, during Obama's Sept. 9, 2009, speech to a joint session of Congress, South Carolina Republican Rep. Joe Wilson shouted, "You lie!," while boorish behavior flourished in the GOP seats.
A year later, Sen. Mitch McConnell said in an Oct. 23, 2010, interview published in the National Journal: "The single most important thing we want to achieve is for President Obama to be a one-term president."
It was like that for the eight years that Obama and Vice President Joe Biden were in the White House. Make no mistake, Republican congressional leadership, and many right-wing commentators, didn't honor the Obama-Biden victories in 2008 or 2012. They never wished them well during their eight years of service. Instead, they looked for every opportunity to obstruct their leadership.
And, I fear, it's going to be like that again. Thanks to the Constitution, President Trump's stranglehold on the U.S. government will end at noon on Jan. 20. But I don't think the Trumpism horror show is going anywhere.
The sentiments underlying the behavior of Limbaugh, Wilson, Anderson and McConnell didn't disappear with Obama's departure from White House grounds. The nationalism, xenophobia, homophobia and distaste for folks of a darker hue that informed the opposition to Obama are manifested in today's Trumpism, which comes with the added ingredient of a self-centered, arrogant, merciless autocrat.
Like many others, I hail Biden's intention to unify a country so polarized under Trump's divisive leadership.
Restoring the soul of America, making America respected around the world again, as Biden has pledged, is a goal that is likely shared widely across the nation.
Many of us — though perhaps not Trump or his disciples — are proud of Sen. Kamala D. Harris's historic ascension to America's second-highest office; she is the first woman, Black, Asian American and HBCU graduate to win the vice presidency.
And Harris's description of Biden "as a president for all Americans" sets him apart from the outgoing president. If she and Biden can bridge the gap dividing this politically, socially and racially polarized country, that alone will be a gift to American democracy.
But there is reality.
Far too many of the people having fits over Trump's defeat believe to their core that he was cheated out of winning the election. They don't regard Biden, Harris and the incoming administration as political opponents, but as the enemy.
An enemy that denied the nation a free and fair election. An enemy which should not be handed power.
An enemy never to be accepted, even if it does take over the government.
An administration to be undermined at every turn because its opponents believe the country is behind Trump, and not the enemy.
Which is to say achieving the goal of a reconciled and unified America where differences are respected and addressed civilly won't be easy. Nonetheless, it needs to be a solemn Biden administration commitment.
But by all means, maintain focus, practice self-restraint, be alert and keep your guard up. Trumpism is not going anywhere. https://www.washingtonpost.com/opinions/republicans-never-gave-obama-a-chance-i-fear-itll-be-the-same-with-biden/2020/11/13/aa5d2b1e-2529-11eb-a688-5298ad5d580a_story.html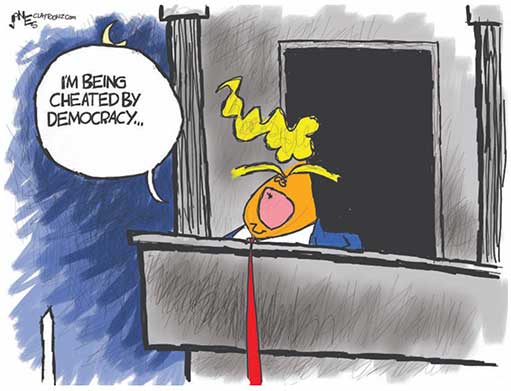 12. Michael Kruse: Trump's Crazy and Confoundingly Successful Conspiracy Theory
In fundraising emails and text messages as well as social media strafes, in the mornings and in the evenings and throughout the wee hours, President Trump is peddling a vague, vast conspiracy of "ILLEGAL VOTES" and "ILLEGAL BALLOTS" and "blatant voter fraud" in states from the Northeast to the Southwest. The tweets just keep coming. "WE WILL WIN!"
And it's … working. Seven in 10 Republicans, according to a POLITICO/Morning Consult poll earlier this week, believe the election was stolen from their candidate.
"This isn't about winning the presidency," former Trump publicist Alan Marcus told me this week. "It's his exit strategy."
"It's not about the vote-counting," said Rory Cooper, a Republican strategist and a former adviser to Eric Cantor when he was the House Majority Leader. "His entire persona is built on the idea of winning despite his decades of not winning. He's constantly creating a legend, frankly, about himself rather than a truthful narrative, so I'm not surprised that he's going to use this to convince his supporters that the election was unfair and that he remains the leader of the Republican opposition."
He added: "He's going to have to take care of financial issues once he's out of office, and he's going to make a lot of money. He's going to make a lot of money on books. He's going to make a lot of money on speeches. He's going to be able to hold rallies and charge for them. Putting everything from the Southern District of New York aside, and what could happen to him in Manhattan, just on the sheer financial side of it, the martyring of Trump—martyring himself—is good for business." https://www.politico.com/news/magazine/2020/11/13/trumps-crazy-and-confoundingly-successful-conspiracy-theory-436404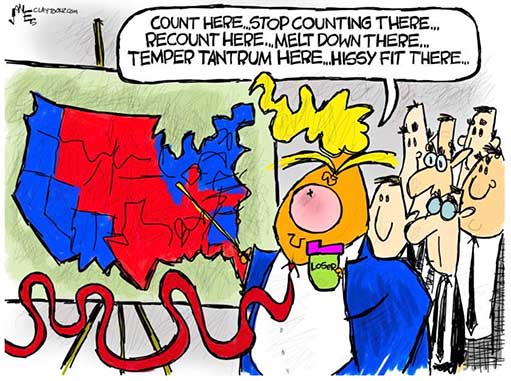 13. Bess Levin: Trump Has Repeatedly Asked If He Can "Preemptively" Pardon Himself
CNN reports that Trump has been asking aides since 2017 if he can self-pardon, which is just an amazing thing to behold given that he had just been inaugurated and apparently his first order of business as president was to be like, "Soooo....I was talking with some people and they were asking me, 'Hey, Don, you're president. You know these things, these pardons, are you allowed to do them on yourself?' And I thought, That's a great question. I had never thought of that but it's a beautiful question." According to one former White House official, Trump has also asked about pardons for his family, which makes sense given that they work together at the Trump Organization and possibly engaged in various forms of tax fraud together, among other things. Perhaps most incredibly, Trump reportedly "even asked if he could issue pardons preemptively for things people could be charged with in the future," said the former official. Y'know, like a get-out-of-jail-free card for life just in case you decide to commit a crime at any point in the future.
Not surprisingly, because Trump has the mind of a child, the former official said that "Once he learned about it, he was obsessed with the power of pardons. I always thought he also liked it because it was a way to do a favor." So taken was Trump by the idea of the ability to wave a wand and get rid of any legal consequences for a criminal conviction that senior officials would apparently bring it up out of nowhere if they needed to get him to shut up about something else.
Regarding whether or not Trump would actually pardon himself, former aides who say he wouldn't do it believe so only because "doing so would imply he's guilty of something." ("As has been stated by numerous legal scholars, I have the absolute right to PARDON myself, but why would I do that when I have done nothing wrong?" he tweeted in June 2018.) But others think it's basically a given. "Of course he will," the former White House official told CNN. And while he presumably wants to, it's not actually clear Trump can, although apparently there is an insane scenario in which he could fake sick and temporarily make Mike Pence president just so he could do the honors.
There are alternate possibilities of which Trump could avail himself: he could temporarily declare himself unable to perform his presidential duties, allowing the vice president to act as president, including by issuing him a pardon, and then the president could resume his duties as president, or resign.
Even if Trump can pardon himself or have Pence do it for him, a self-pardon would only protect him from federal crimes and not a number of ongoing investigations and civil suits currently underway, including two led by Manhattan District Attorney Cy Vance and New York Attorney General Letitia James, who are pursuing possible criminal charges related to the Trump Organization. https://www.vanityfair.com/news/2020/11/donald-trump-self-pardon