June 18, 2020
ON THE RECORD. . .
"If this election were held today, it would be Biden by double digits, easy. Things could change, but they generally don't." — Democratic strategist James Carville

"I'm a 7th generation Mississippian. I've helped elect Governors and Senators in MS, AL, GA, TX, OK, NC and FL. Trump will lose more white voters with his Confederate defense than gain. Majority very much want to move past Civil War and hatred, not relive it. NASCAR gets it. Trump doesn't."— GOP strategist Stuart Stevens, on Twitter.

"This callous disregard for the law is yet another example of this administration's continuing failure to carry out its duty to provide humane conditions and medical care for migrants in its care."— Rep. Bennie Thompson (D-MS), saying the U.S. Customs and Border Protection broke the law when it misspent money appropriated for migrant care on items like all-terrain vehicles, boats and its dog program.

"If Trump loses in November … it will mostly be because he took his presidency and needlessly drove into the ground, 280 characters at a time." — Rich Lowry

"The irony of training at bases named for those who took up arms against the United States, and for the right to enslave others, is inescapable to anyone paying attention. Now, belatedly, is the moment for us to pay such attention." — Retired Gen. David Petraeus

"Because of everything that's going on, people are finally starting to listen to us — we feel like we're finally getting a foot in the door. How long is up to us. We don't know. But we feel like we're getting some ears and some attention, and this is the time for us to finally make a difference." — NBA superstar LeBron James and a group of other prominent black athletes and entertainers are starting a new group aimed at protecting African-Americans' voting rights.

"Even the president himself -- it's not the same thing as what happened to George Floyd, but it's horrific. He was a victim of crooked cops. Now, again, not the same circumstances, I'm not making any comparison," — Sean Hannity video

"The names affixed to our military installations must honor the diverse heritage of leadership and sacrifice in our country's history. I fully support Senator Warren's bipartisan effort to form a commission to rename Defense Department facilities named after Confederate leaders in the next three years, and look forward to implementing the commission's work as president." — Joe Biden

"I think I've done more for the black community than any other president, and let's take a pass on Abraham Lincoln because he did good, although it's always questionable, you know, in other words, the end result." — Trump suggesting in a Fox News interview that the Civil War ended questionably.

"I think the concept of chokeholds sounds so innocent and so perfect." — Trump on police using chokeholds to restrain citizens.

"I am hard-pressed to identify any significant Trump decision during my tenure that wasn't driven by re-election calculations." — Former National Security Advisor John Bolton paints an unflattering picture of Donald Trump in his forthcoming memoir,

"Tulsa was the site of the worst racist violence in American history. The president's speech there on Juneteenth is a message to every Black American: more of the same." — Rep. Val Demings

"We're just going to have a catastrophe in November . We've already passed the point of catastrophic failure. It doesn't get any better if we have two to three times the number of people who are trying to vote in these polling locations." — Michael McDonald, a professor at the University of Florida who studies elections.

"President Donald Trump's hate-filled, conspiracy-laden rhetoric is inflaming the racial divides in our country, but just fixing the way the president talks won't cut it. We need to root out systemic racism across our laws and institutions, and we need to make sure black Americans have a real shot to get ahead." — Joe Biden, writing in USA Today

"These aren't my voters." — Trump dismissing protesters in discussions with aides.

"I think it's an honor for Tulsa to have a sitting president want to come and visit our community, but not during a pandemic. I'm concerned about our ability to protect anyone who attends a large, indoor event, and I'm also concerned about our ability to ensure the president stays safe as well. — Dr. Bruce Dart, the Tulsa City-County Health Department's director

"If we stop testing right now, we'd have very few cases, if any." — Trump during an event for seniors at the White House.

"The Far Left Fake News Media, which had no Covid problem with the Rioters & Looters destroying Democrat run cities, is trying to Covid Shame us on our big Rallies. Won't work!" — Trump 

"When you have to sign a medical waiver saying that you won't hold the president responsible if you contract COVID-19 is a pretty good clue that the president should not be holding a rally."— Rep. Val Demings (D-FL)

"Protesters are "ignorant thugs," "criminals," "domestic terrorists" and "vermin." If they resist and attack police, he said they should "shoot them. " … This is war,. Our people have a right to expect our leaders to be on our side, not surrender to the lawless, godless mob." …"These vermin don't care about George Floyd or any other individual, except maybe their financial sponsor, George Soros,.They are bent on destroying our country and our way of life, and they will use any tragedy, any slogan, any excuse to convince clueless people that their radical injustice is justice." — Republican Rep. Larry Pittman of Cabarrus County, NC.

"The scale of the coronavirus has made it hard to take in. In the period of four months, it has devastated the world - and it isn't over yet." — Dr. Anthony S. Fauci.

"When I joined the military, some 50 years ago, I swore an oath to support and defend the Constitution. Never did I dream that troops taking that same oath would be ordered under any circumstance to violate the Constitutional rights of their fellow citizens—much less to provide a bizarre photo op for the elected commander-in-chief, with military leadership standing alongside." — James Mattis, the retired Marine general who resigned quietly as secretary of defense in 2019 after the president abandoned key U.S. allies.

"It's an indelible moment when the president of the United States ordered the use of force against peaceful protesters using their First Amendment rights in order to walk across Lafayette Square and hoist a Bible. In 10 minutes, he totally disgraced his office and committed sacrilege. It's an indelible moment… In 10 minutes, he totally disgraced his office and committed sacrilege." — Steve Schmidt, senior adviser to John McCain's 2008 presidential campaign. "
POLITICAL ADS

Mattis | The Lincoln Project: https://youtu.be/oYa8mEr3sJA

#AmericaOrTrump | The Lincoln Project: https://twitter.com/ProjectLincoln/status/1270803432706801666

Bunker Boy | Biden for President: https://twitter.com/JoeBiden/status/1271436340127608836

Lindsey Graham Loves Joe Biden | Republican Voters Against Trump:  https://youtu.be/g5Xpwyd4aMM

#TrumpIsNotWell | The Lincoln Project: https://twitter.com/ProjectLincoln/status/1273028594432958467

Trump's rally in Tulsa | The Lincoln Project: https://twitter.com/ProjectLincoln/status/1273208998028812290

Chyna | The Lincoln Project: https://youtu.be/70683WVzlLE
---
IN THIS ISSUE
FYI
OPINION
1. Andy Borowitz: "This Is Not the Military I Avoided Serving In"
In a series of angry tweets on Thursday, Donald J. Trump lashed out at the chairman of the Joint Chiefs of Staff, General Mark Milley, declaring, "This is not the military I avoided serving in."

Calling Milley's apology for appearing in last week's controversial church photo op "a disgrace," Trump said, "The United States military of my youth was known for courage and valor, which is why I got a podiatrist's note to get out of being a part of it."

Recalling that episode from a half century ago, Trump said, "As I watched my podiatrist dictate that note, I thought about the great institution of the U.S. military, which I would be exempted from participating in. That institution is unrecognizable today."

With his apology, Trump claimed, "Mark Milley has besmirched the memories of all the Americans who fought so hard to avoid fighting."

In his most caustic broadside against Milley, Trump questioned the general's ability to lead U.S. forces and said that he might have to find "someone else" to launch the American invasion of Seattle. https://www.newyorker.com/humor/borowitz-report/
2. Black community braces for next threat: Mass evictions
A new tremor is threatening to shake minority communities as protests over racial injustice sweep the country: A wave of evictions as a federal moratorium on kicking people out of their rental units expires.
The ban on evictions — which applies to rentals that are backed by the government — expires in a matter of weeks. On top of that, the federal boost to unemployment benefits that many laid-off workers have used to pay their rent is set to end July 31.
Black and Latino people are twice as likely to rent as white people, so they would be most endangered if the protection from removal is ended. But there's no relief in sight from Congress, with Republicans and Democrats not even expected to begin negotiating a new economic relief package until after the July Fourth holiday. https://www.politico.com/news/2020/06/12/mass-evictions-314699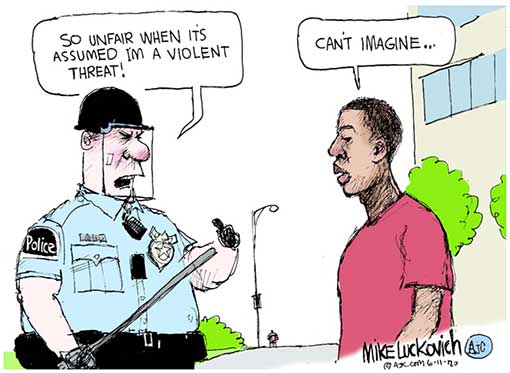 3. Intelligence bulletin warning of protest-related violence points to white supremacists, makes little mention of 'antifa'
Despite repeated Trump administration assertions that the antifa movement has hijacked the ongoing protests around the country sparked by the police killing of George Floyd, a new federal intelligence bulletin points to white supremacists and other would-be domestic terrorists as the main problem lurking behind potentially lethal violence. https://abcnews.go.com/US/intelligence-bulletin-warning-protest-related-violence-makes-mention/story
4. Harry Enten says Trump's low approval rating is unlikely to move
A new national Gallup poll finds that 39% of Americans approve of the job Donald Trump is doing as president, while 57% disapprove.
Presidential approval ratings haven't historically moved much from June of an election year to Election Day.
It seems quite likely at this point that Trump's approval rating is going to be south of 50% and his net approval rating (approval - disapproval) to be negative when people vote. That should be deeply troubling to Trump, given the strong link between approval ratings and reelection chances. https://www.cnn.com/2020/06/14/politics/trump-approval-rating-analysis/index.html
5. Bolton Says Trump Impeachment Inquiry Missed Other Troubling Actions
While other books by journalists, lower-level former aides and even an anonymous senior official have revealed much about the Trump White House, Mr. Bolton's volume is the first tell-all memoir by such a high-ranking official who participated in major foreign policy events and has a lifetime of conservative credentials. It is a withering portrait of a president ignorant of even basic facts about the world, susceptible to transparent flattery by authoritarian leaders manipulating him and prone to false statements, foul-mouthed eruptions and snap decisions that aides try to manage or reverse. https://www.nytimes.com/2020/06/17/us/politics/bolton-book-trump-impeached.html
6. Trump asked China's Xi to help him win reelection, according to Bolton book
"President Trump asked Chinese President Xi Jinping to help him win the 2020 U.S. election, telling Xi during a summit dinner last year that increased agricultural purchases by Beijing from American farmers would aid his electoral prospects, according to a damning new account of life inside the Trump administration by former national security adviser John Bolton," the Washington Post reports.
Bolton's book also portrays Trump as an "erratic" and "stunningly uninformed" commander in chief, and lays out a long series of jarring and troubling encounters between the president, his top advisers and foreign leaders.
For Trump, Bolton writes, one singular goal loomed above all: securing a second term.
"I am hard pressed to identify any significant Trump decision during my tenure that wasn't driven by reelection calculations," Bolton writes.
Bolton says Trump said he wanted out of Afghanistan during his second year instead of his third year so he could blame his predecessor for the war. Screaming about the border wall in a meeting with top advisers in 2018, Trump described why illegal immigration had to go down and the wall had to go up, according to Bolton's book.
"I got elected on this issue and now I'm going to get unelected," Trump said, startling those around him
https://www.washingtonpost.com/politics/trump-asked-chinas-xi-to-help-him-win-reelection-according-to-bolton-book/2020/06/17/d4ea601c-ad7a-11ea-868b-93d63cd833b2_story.html
7. Lafayette Square could decide Trump's legacy — and election
Charlottesville. Helsinki. The children in cages at the Mexican border.
And now Lafayette Square.
Only a few legacy-defining moments have clung to President Donald Trump, who often appears to emerge relatively unscathed from a seemingly endless stream of crises and controversies. But the forceful clearing of demonstrators from the park across from the White House has resonated like few others, prompting top military leaders and usually lockstep Republicans to distance themselves from him.
It's one of those rare images that seem unlikely to be overwritten by tomorrow's headlines, instead claiming a prominent place in Trump's entry in the history books. It also could help shape an election less than five months away. Even the president and members of his inner circle have privately expressed worry that its impact could be lasting. https://apnews.com/36c93af70fe9ad0f72a95c43c7487684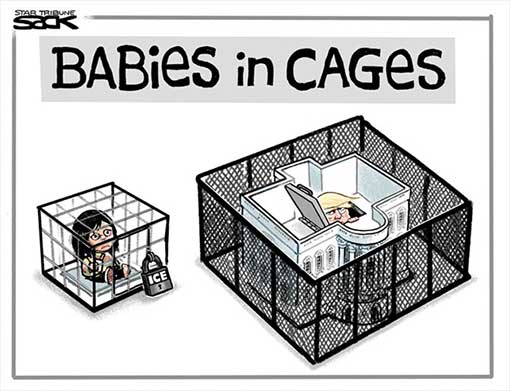 8. Trump Dismisses Criticism of Law Enforcement (Unless It's His)
Mr. Trump is the "president of law and order," as he calls himself, except when it comes to himself or his friends. He has little patience for criticism of law enforcement, unless it is his. If the police shove a 75-year-old peaceful protester to the ground, cracking his head, it must be the protester's fault. If the police prosecute one of his friends for tax fraud or perjury, it must be that the officers are corrupt. https://www.nytimes.com/2020/06/16/us/politics/trump-law-enforcement.html
9. Treasury chief refusing to disclose recipients of virus aid
Building ramparts of secrecy around a $600 billion-plus coronavirus aid program for small businesses, Treasury Secretary Steven Mnuchin has moved from delay to denial in refusing outright to disclose the recipients of taxpayer-funded loans.
Mnuchin told Congress at a hearing this week that the names of loan recipients and the amounts are "proprietary information." While he claimed the information is confidential, ethics advocates and some lawmakers see the move as an attempt to dodge accountability for how the money is spent. https://apnews.com/21f905f0922119534919a9c0effbe46f
10. A War Against Climate Science, Waged by Washington's Rank and File
Efforts to undermine climate change science in the federal government, once orchestrated largely by President Trump's political appointees, are now increasingly driven by midlevel managers trying to protect their jobs and budgets and wary of the scrutiny of senior officials, according to interviews and newly revealed reports and surveys.
An inspector general's report at the Environmental Protection Agency made public in May found that almost 400 employees surveyed in 2018 believed a manager had interfered with or suppressed the release of scientific information, but they never reported the violations. A separate Union of Concerned Scientists survey in 2018 of more than 63,000 federal employees across 16 agencies identified the E.P.A. and Department of Interior as having the least trustworthy leadership in matters of scientific integrity.
Findings published in the peer-reviewed journal PLOS ONE in April on a subset of those agencies found that 631 workers agreed or strongly agreed that they had been asked to omit the phrase "climate change" from their work. In the same paper, 703 employees said they avoided working on climate change or using the phrase.
"They're doing it because they're scared," said Maria Caffrey, a former geography specialist at the National Park Service who battled managers as they tried to delete humanity's role in climate change from a recent report on sea-level rise. "These are all people who went to the March for Science rallies, but then they got into the office on Monday and completely rolled over." https://www.nytimes.com/2020/06/15/climate/climate-science-trump.html
11. Tulsa World editorial: This is the wrong time and Tulsa is the wrong place for the Trump rally
We don't know why Trump chose Tulsa, but we can't see any way that his visit will be good for the city.
Tulsa is still dealing with the challenges created by a pandemic. The city and state have authorized reopening, but that doesn't make a mass indoor gathering of people pressed closely together and cheering a good idea. There is no treatment for COVID-19 and no vaccine. It will be our health care system that will have to deal with whatever effects follow.
The public health concern would apply whether it were Donald Trump, Joe Biden or anyone else who was planning a mass rally at the BOK.
This is the wrong time. https://www.tulsaworld.com/opinion/editorials/tulsa-world-editorial-this-is-the-wrong-time-and-tulsa-is-the-wrong-place-for/article_26388374-1747-5120-bc01-24b81c1b0c78.html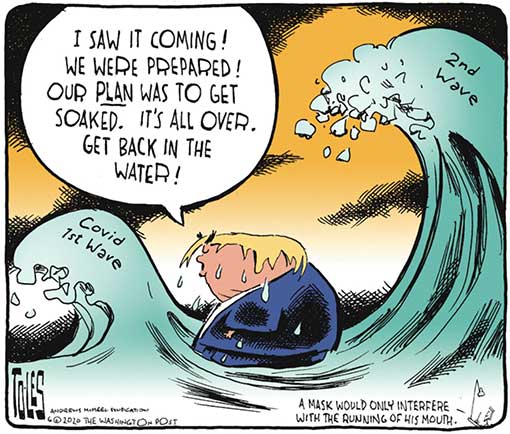 12. Republicans are Planning a Bigger, Much More Aggressive, Much Better-Funded Voter Suppression Program in 2020
Republicans are planning a "bigger," "more aggressive," and "much better-funded program," because this November will be the first presidential election since 1980 that the RNC will be unencumbered by a court monitored consent decree prohibiting gross forms of voter suppression. Though voter suppression runs deep in the Republican Party, without this consent decree, the RNC can "start playing offense" and operationalize voter suppression like we haven't seen in 40 years.. https://www.democracydocket.com/2020/06/gop-voter-suppression/
13. Trump's loyalty enforcer clashes with agency heads
Trump, in a highly unusual new effort, has begun making significant staffing changes inside top federal agencies without the consent — and, in at least one case, without even the knowledge — of the agency head, according to officials familiar with the effort.
Why it matters: This campaign — helmed by Trump's loyalty enforcer, a 30-year-old former body man who now runs hiring for the government — is part of the systematic purging or reassigning of those deemed insufficiently supportive of Trump. https://www.axios.com/john-mcentee-white-house-trump-a799d519-aa2f-4e3d-b081-601f8193d75d.html
14. Orange County health officer who mandated face masks resigns after facing threats and protests at her home
Orange County's chief health officer resigned on Monday night after facing backlash over her countywide mask order in response to the coronavirus pandemic. CBS Los Angeles reports Dr. Nichole Quick had been receiving increased security after she began facing threats and protests at her home due to her health guidelines. https://www.cbsnews.com/news/nichole-quick-orange-county-health-officer-resigns-threats-face-mask-order/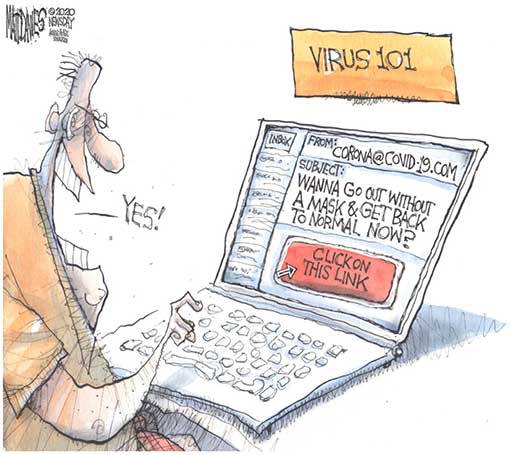 15. Fox News publishes digitally altered and misleading images of Seattle demonstrations
Fox News published digitally altered and misleading images on its website's homepage Friday that made a demonstration in Seattle, in which a group of largely peaceful Black Lives Matter protesters have occupied six city blocks, appear violent and dangerous.
Among the photos that Fox News published on its homepage was one that showed a protester running past a burning vehicle and building with the headline "CRAZY TOWN" blaring across the website. The image, which accompanied a story about the situation in Seattle, was in fact taken from the unrest last month in Minnesota.
In other photos that showed the scene in Seattle, Fox News digitally added an image of a man armed with an assault rifle. https://edition.cnn.com/2020/06/13/media/seattle-fox-news-autonomous-zone-protest/
16. Trump's 'law and order' tendencies are straight out of Nixon's 1960s
Trump, embracing his inner Nixon, threatens to unleash the military on American cities roiled in civil unrest.. VIDEO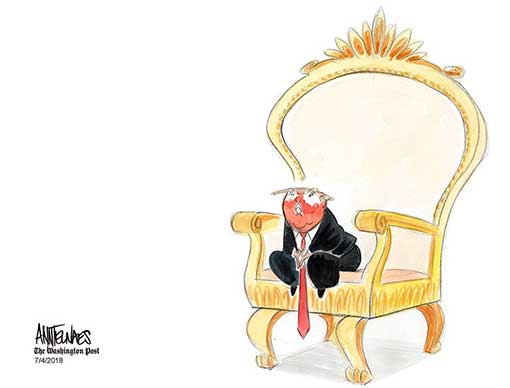 17. Golf fan dramatically turned down the opportunity to play golf with Donald Trump
With live golf returning on the PGA Tour today at the Charles Schwab Challenge at Colonial, a golfer by the name of Liam Bennett responded to a tweet about which celebrity he would most like to play with.
I'd pick @realDonaldTrump. He was great in Home Alone 2
As a result of tagging Trump in his tweet, the President not only followed Liam but then DM'd Liam telling him he that he would take him and his family up to Trump International in Scotland for a round of golf. 
 
Liam responded to Trump's message: "Wow, thanks for messaging me, but I think you're a despicable human being, and even if I could play golf I wouldn't want to play with you. How about resigning?"
 
Trump then, according to Liam, blocked him on Twitter. https://www.golfmagic.com/golf-news/donald-trump-offers-play-golf-fan-twitter-he-refuses
18. Rupert Murdoch Thinks Trump Will Lose the Election
Two sources said Rupert Murdoch has recently told people that he believes Trump is going to lose in November. "Rupert thinks Trump is going to crash and burn. It's a clear-eyed assessment, based on just looking at the news," said a person who has spoken with Murdoch about the election. https://www.vanityfair.com/news/2020/06/scoop-sean-hannity-and-ainsley-earhardt-are-the-first-couple-of-fox
19. The 2020 GOP Platform is BRUTAL
"The survival of the internet as we know it is at risk," the platform reads. "Its gravest peril originates in the White House, the current occupant of which has launched a campaign, both at home and internationally, to subjugate it to agents of government."
The warning about speech online is one of more than three dozen unflattering references to either the "current president," "current chief executive," "current administration," people "currently in control" of policy, or the "current occupant" of the White House that appear in the Republican platform. Adopted at the party's 2016 convention, it has been carried over through 2024 after the executive committee of the Republican National Committee on Wednesday chose not to adopt a new platform for 2020.
https://int.nyt.com/data/documenthelper/7019-republican-platform/cc2c15a0e1b432d6964b/optimized/full.pdf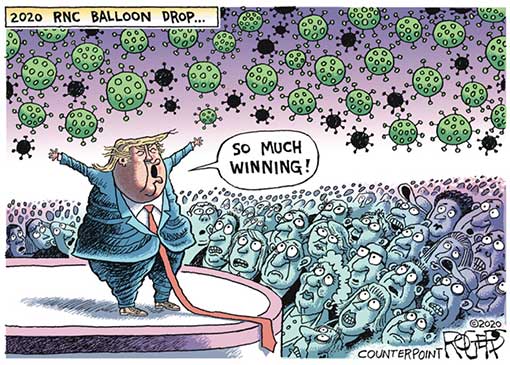 20. Pence Tells Governors to Repeat Misleading Claim on Coronavirus Outbreaks
Vice President Mike Pence encouraged governors on Monday to adopt the administration's claim that increased testing helps account for the new coronavirus outbreak reports, even though evidence has shown that the explanation is misleading.
On a call with the governors, audio of which was obtained by The New York Times, Mr. Pence urged them "to continue to explain to your citizens the magnitude of the increase in testing" in addressing the new outbreaks.
And he asked them to "encourage people with the news that we're safely reopening the country."
In fact, seven-day averages in several states with outbreaks have increased since May 31, and in at least 14 states, the positive case rate is increasing faster than the increase in the average number of tests, according to an analysis of data collected by The New York Times. https://www.nytimes.com/2020/06/15/world/coronavirus-usa-world.html
21. Trump signals a move past coronavirus with rallies, even as cases spike in many states
Trump is defying Tulsa's top public health official by pressing ahead with a massive indoor political rally there. Scores of his aides have been reporting to work in their office cubicles at his campaign headquarters. Virtually nobody around the president — neither White House staffers nor Secret Service agents — regularly wears a mask anymore. And social distancing is a thing of the past.
To observe Trump and his entourage this month as he prepares to resume normal campaign activity coast to coast could lead one to conclude that the coronavirus pandemic is over.
In reality, the virus continues to ravage the United States and is fast spreading in some midsize and small cities that avoided bad outbreaks this spring. Recent spikes in coronavirus cases have been recorded in Arizona, Florida, North Carolina, Texas and Oklahoma — all states where Trump has said he plans to soon hold campaign rallies. https://www.washingtonpost.com/politics/trump-signals-a-move-past-coronavirus-with-rallies-even-as-cases-spike-in-many-states/2020/06/15/51c05930-af23-11ea-856d-5054296735e5_story.html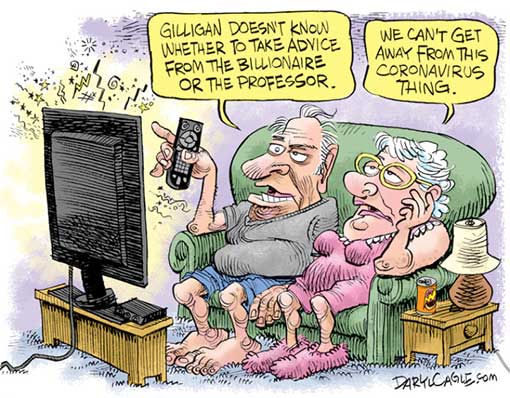 22. Trump to rally for Tuberville in Jeff Sessions' hometown in Senate GOP primary fight
President Donald Trump will travel to Mobile, Alabama, next month to rally on behalf of Tommy Tuberville, who is running against his former attorney general, Jeff Sessions, as he attempts to reclaim his old US Senate seat.
In a blow to Sessions, the rally will be held in his hometown days before the runoff election scheduled for July 14, two sources familiar with the plans tell CNN. https://www.cnn.com/2020/06/15/politics/alabama-senate-race-trump-rally-tuberville-jeff-sessions/index.html
23. Iowa's Governor confirms she will sign felon voting rights executive order
Gov. Kim Reynolds told reporters Tuesday that she will sign an executive order restoring voting rights to people with past felony convictions, a move that will address Iowa's status as the last state in the country with a lifetime ban on felon voting.
Iowa is the only state in the country that bans all felons from voting unless they apply individually to the governor's office to have their rights restored. More than 60,000 Iowans, including nearly one in 10 African American adults, are barred from voting in the state due to a prior felony conviction. https://www.desmoinesregister.com/story/news/politics/2020/06/16/iowa-governor-kim-reynolds-will-sign-felon-voting-rights-executive-order/3199033001/
24. Trump's Niece to Publish Book With 'Harrowing' Revelations
A niece of President Trump will divulge a series of damaging stories about him in an upcoming book, the first time that the president could be forced to grapple with unflattering revelations by a member of his own family.
A book by a member of the president's own family is likely to be a lightning rod. Mr. Trump is facing criticism for his handling of the pandemic and the nationwide protests against police brutality, and his niece's book is scheduled to come out just a few months before the election.
Mary Trump has largely stayed out of the spotlight during the Trump presidency, but she has criticized her uncle in the past, after she and her brother filed a lawsuit over the will of Fred Trump Sr., the president's father. In the suit, Mary and her brother claimed that Donald Trump and his siblings had exercised "undue influence" over the distribution of Fred Trump's estate, which was worth hundreds of millions of dollars. In a rare interview with The New York Daily News in 2000, Mary Trump blasted her uncle and his siblings.
"My aunt and uncles should be ashamed of themselves," she said. "I'm sure they are not." https://www.nytimes.com/2020/06/15/books/mary-trump-book.html
25. Tulsa Officials Plead for Trump to Cancel Rally as Virus Spikes in Oklahoma
Officials in Tulsa, Okla., are warning that President Trump's planned campaign rally on Saturday — his first in over three months — is likely to worsen an already troubling spike in coronavirus infections and could become a disastrous "super spreader."
They are pleading with the Trump campaign to cancel the event, slated for a 20,000-person indoor arena — or at least move it outdoors.
"It's the perfect storm of potential over-the-top disease transmission," said Bruce Dart, the executive director of the Tulsa health department. "It's a perfect storm that we can't afford to have." https://www.nytimes.com/2020/06/16/us/politics/trump-coronavirus-rally.html
26. Prosecutor in Roger Stone Case Will Testify About Barr's Intervention
A career Justice Department prosecutor who quit the case against President Trump's friend Roger J. Stone Jr. after political appointees intervened to seek a more lenient sentence has agreed to testify under subpoena next week before the House Judiciary Committee.
House Democrats issued subpoenas on Tuesday to the prosecutor, Aaron S.J. Zelinsky, along with a second Justice Department official, John W. Elias, who has also agreed to testify in public on June 24 about politicization under Attorney General William P. Barr — setting up a potential fight with the department about what they will be permitted to say. https://www.nytimes.com/2020/06/16/us/politics/roger-stone-prosecutor-hearing.html
27. Trump supporters burn Michigan absentee ballot applications
People burned letters informing them that they can vote by absentee ballot in future elections during a protest near Grand Rapids.
The applications were burned Friday during an event called Operation Incinerator outside the DeltaPlex Arena in Walker. Many people had flags, shirts and signs showing support for President Donald Trump and Republicans. https://www.wilx.com/content/news/Trump-supporters-burn-Michigan-absentee-ballot-applications-571241601.html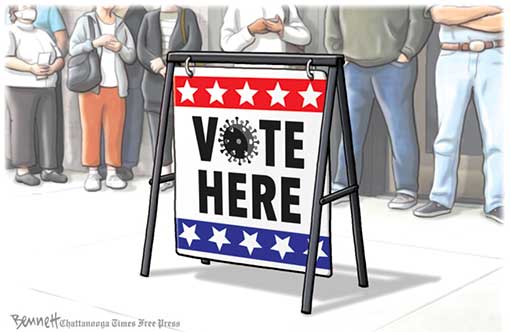 28. The DAILY GRILL
Our great National Guard Troops who took care of the area around the White House could hardly believe how easy it was. "A walk in the park," one said. The protesters, agitators, anarchists (ANTIFA), and others, were handled VERY easily by the Guard, D.C. Police, & S.S. GREAT JOB! — Trump Tweet

VERSUS

Wow. Trump just tweeted that the peaceful protestors around the White House were handled very easily by the S.S. The S.S., otherwise known as the Schutzstaffel, was Adolf Hitler's paramilitary group of the Nazi Party. It was led by Heinrich Himmler and was pure fucking evil.-- Eugene Gu, MD

 

Radical Left Governor @JayInslee and the Mayor of Seattle are being taunted and played at a level that our great Country has never seen before. Take back your city NOW. If you don't do it, I will. This is not a game. These ugly Anarchists must be stooped IMMEDIATELY. MOVE FAST! — Trump tweet

VERSUS

Make us all safe. Go back to your bunker. #BlackLivesMatter — Seattle Mayor Jenny Durkan.

AND

A man who is totally incapable of governing should stay out of Washington state's business. "Stoop" tweeting — Washington State Governor Inslee

 

"Antifa is reportedly seeking armed volunteers to take turns manning barricades and holding ground that protesters have seized within Seattle city limits."— Breitbart article relying on a post from the far-right blog The Gateway Pundit, a website known for peddling misinformation and conspiracy theories.
 

VERSUS

"Part street festival, part commune. Hundreds have gathered to hear speeches, poetry and music,""On Tuesday night, dozens of people sat in the middle of an intersection to watch '13th,' the Ava DuVernay film about the criminal justice system's impact on African-Americans. On Wednesday, children made chalk drawings in the middle of the street." — New York Times Pacific Northwest correspondent Mike Baker

 

Buffalo protester shoved by Police could be an ANTIFA provocateur. 75 year old Martin Gugino was pushed away after appearing to scan police communications in order to black out the equipment. @OANN I watched, he fell harder than was pushed. Was aiming scanner. Could be a set up? — Trump tweet.

VERSUS

Alexandra Petri: Know The Signs: How to tell if your grandparent has become an antifa agent

• She belongs to a decentralized group with no leadership structure that claims to be discussing a "book," but no one ever reads the book and all they seem to do is drink wine.
• Is always talking on the phone with an "aunt" you have never actually met in person. Aunt TIFA????
• Always walking into rooms and claiming not to know why he walked into the room. Likely.
• He "trips" over and breaks your child's Lego police station when walking through the living room in the dark.
• Total and bewildering lack of nostalgia for good old days.
• Suddenly, for no reason, will appear or pretend to be asleep.
• Insists on producing container of nuts whenever there is company. Why? Code of some kind?
• Is taking Centrum Silver. But for what reason? Surely to build up strength for the coming confrontation.
• Keeps forwarding you what appear on the surface to be emails of jokes someone has typed out from a Reader's Digest; claims to think you would "enjoy"; must be some sort of recruitment or propaganda or hidden message.
• Remembers things from the past in incredible, exhausting detail, but recent ones only sporadically? Cover of some kind.
• She claims not to know how to use her phone, yet always appears upside-down on FaceTime, which should be impossible without hacking capabilities.
• He is walking non-threateningly at a public protest.
https://www.washingtonpost.com/opinions/2020/06/10/know-signs-how-tell-if-your-grandparent-has-become-an-antifa-agent/

 

"We have evidence that Antifa and other similar extremist groups, as well as actors of a variety of different political persuasions, have been involved in instigating and participating in the violent activity."-- AG Barr

AND

"Let's see how tough these Antifa terrorists are when they're facing off with the 101st Airborne Division." -- Sen. Tom Cotton (R-Ark.).

VERSUS

Official reports issued by law enforcement and intelligence agencies have consistently pointed mainly to what is considered the opposite side of the political spectrum from antifa. Their warnings have said the real danger facing the public and even protesters comes from the fringe right, specifically white supremacists and anti-government militia-type groups. — ABC News

 

"Take back your city NOW. If you don't do it, I will. This is not a game." -- Trump tweet directed at Mayor Jenny Durkan and Gov. Jay Inslee.

VERSUS

"Make us all safe. Go back to your bunker." -- Ms. Durkan responding with a tweet of her own:

 

"Oklahoma has seen a decline in the number of coronavirus cases. In a very real sense they've flattened the curve. The number of cases in Oklahoma has declined precipitously." — Vice President Mike Pence

VERSUS

Oklahoma's number of newly reported positive cases has been increasing since late May, not steeply declining. A record 225 new cases were reported in Oklahoma on Saturday. On Sunday that number declined to 158 new cases and went back up to 186 on Monday according to Oklahoma's State Department of Health. — Holmes Lybrand

 

"President Obama and Vice President Biden never even tried to fix this during their eight-year period. The reason they didn't try is they had no idea how to do it," — Trump before signing an executive order that encourages police departments to adopt high standards, like banning choke holds unless the life of the officer is at risk and creating a database of excessive force complaints.

VERSUS

"Donald Trump says President Obama and Vice President Biden didn't do anything on policing reform, but he knows that isn't true because he has spent the past three years tearing down the very reforms the Obama-Biden administration pursued." — Biden's deputy campaign manager Kate Bedingfield 

 

"You had 8 years!" -- Lindsey Graham (R-SC) accusing Dems of failing to take up policing reforms under Obama-Biden

VERSUS

FACT: Trump rolled back Obama-era reforms on policing, including an executive order aimed at demilitarizing law enforcement. The move was condemned by civil liberties and human rights groups at the time. Roll the tape.
29. From MEDIA MATTERS (They watch Fox News so you don't have to)
Fox News has spent the last few weeks terrifying its viewers about the personal threat they face from outbreaks of civil unrest. As polls show that Americans overwhelmingly support the protests against racism and police brutality spurred by the police killings of George Floyd and Breonna Taylor, Fox's coverage has focused overwhelmingly on instances of violence and chaos. From star host Tucker Carlson's warning that "violent young men with guns" will soon "make the rules in your neighborhood" to contributor Dan Bongino's declaration that "this fight is coming to your front door, to every single person watching," the message going out to its audience is clear: You're in danger. https://www.mediamatters.org/fox-news/nine-ways-fox-has-pushed-disinformation-about-civil-unrest-terrify-its-audience
1. Eric Lutz: The White House Thinks Coronavirus Is Gone. It's Sadly Mistaken
About a month ago, Donald Trump stood in the Rose Garden of the White House and declared victory over the COVID-19 pandemic. "We have met the moment," the president said, "and we have prevailed." He'd later claim that he was referring to improvements in America's testing capacity, and not describing a triumph over the coronavirus itself, but it was clear what he meant: The crisis is over and we're done worrying about it.
But the cost of Trump's premature victory lap is beginning to come into view. COVID-19 cases and hospitalizations are on the rise across the country, with a dozen states now reportedly seeing their highest averages of new cases since the crisis took hold in March. Arizona, Texas, and Florida—all of which were criticized for reopening before meeting the criteria for doing so—are among the states seeing spikes in cases, which have grown since Memorial Day. Texas, one of the first states to ease its shelter-in-place order, is experiencing the largest increase in new cases nationwide, with a 36-percent rise since last month's holiday, according to the Washington Post. North Carolina has experienced the second-biggest spike, with its upward trajectory also corresponding with Memorial Day weekend. And, as the Post notes, the rise in cases does not appear to merely reflect ramped-up testing; several states are reporting some of their highest seven-day average increases in cases, which in states like Arizona are again threatening to overwhelm hospitals. " https://www.vanityfair.com/news/2020/06/the-white-house-thinks-coronavirus-is-gone-sadly-mistaken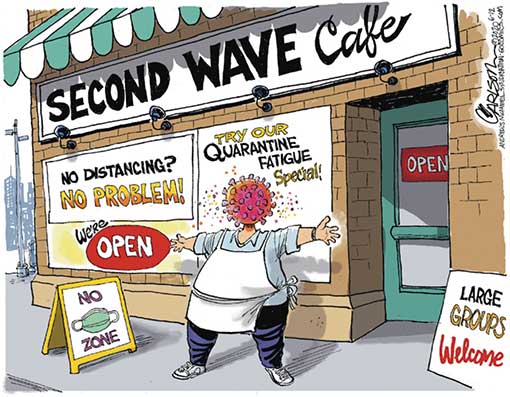 2.  Jeffrey Toobin: The Georgia Primary and the State of Voting Rights
In Shelby County, the Court's five Republican appointees declared unconstitutional the core of the Voting Rights Act of 1965, the most consequential civil-rights law in modern American history. (The four Democratic appointees dissented.) The act, and its subsequent reauthorizations, designated certain areas, mostly the states of the old Confederacy, for special scrutiny of their voting-rights practices. If these states wanted to make any changes with regard to elections—from redrawing the boundary lines for legislative districts to determining the location of polling places—they had to obtain "pre-clearance" from the Department of Justice. (The states could also go to court for pre-clearance.)
According to the Brennan Center, within twenty-four hours of the Supreme Court's Shelby County ruling, in 2013, Texas announced that it would implement a strict photo-I.D. law. Two other states, Mississippi and Alabama, also began to enforce photo-I.D. laws that had previously been barred under federal pre-clearance. As the Brennan Center further noted, these Republican efforts to disenfranchise African-Americans have intensified in recent years.
The majority in Shelby County made sure that those with the worst of intentions—that this, officials who want to manipulate the electoral system to achieve their desired outcomes—have almost unlimited power to do so. The demands of conducting elections in the wake of a pandemic seem certain to make a bad situation worse. The only hope for a fair election in November will rest with people at the local level, who will have to do their best to fight for what the Voting Rights Act once delivered. https://www.newyorker.com/news/daily-comment/the-georgia-primary-and-the-state-of-voting-rights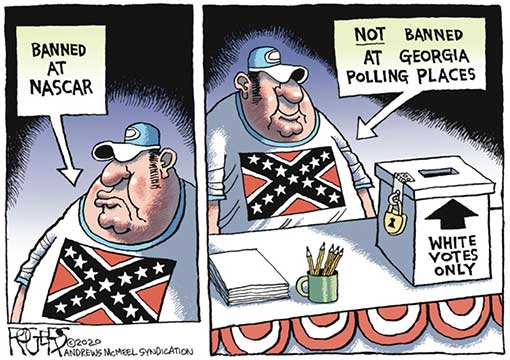 3. Charlie Sykes: Is Trump Losing the Culture War?
While Trump appears fixated on Nixon's 1968 playbook, there is more evidence that the public is moving in the opposite direction. Polls show nearly three-quarters of Americans say they support the peaceful protests that have spread throughout the country since the killing of George Floyd at the hands of Minneapolis police. As the Wapo notes: "he recent demonstrations have bipartisan appeal, with 87 percent of Democrats saying they support them, along with 76 percent of independents. Among Republicans, the majority — 53 percent — also back the protests."
The same poll found that 61 percent of Americans say they disapprove of Trump's handling of those protests, with just 35 percent saying they approve. "Much of the opposition to Trump is vehement, as 47 percent of Americans say they strongly disapprove of the way the president has responded to the protests."
Trump's instincts tell him to keep firing up his base, which is already en fuego. He's bringing back the rallies. He's going to recite the snake poem; he's going to play the hits. He won't move to the center or try to heal. Instead, he'll do what he always does: turn up the volume of chaos and hope that the Democrats will self-destruct. https://thebulwark.com/newsletter-issue/is-trump-losing-the-culture-war/
4. Tim Miller: Our Great President is crushing it.
After getting great counsel from his red-state evangelical whisperers slash former Met Gala attendees Hope, Ivanka, and Jared, Trump hatched His plan. Like a golden calf atop Mt. Sinai, President Trump would signal his deep, abiding faith with a Gold Lamé made-for-TV image of his own.
But in order to do it, he would need to emerge like Lazarus from his panic room and walk to St. John's church, the site of the disgraceful looting and violence that he had power-tweeted through the night before.
The only problem?
Between him and the church were hippies. And the media.
The Rough Rider Teddy Roosevelt might not have known what to do here. But with President Trump, it was on like Donkey Kong.
President Trump told security to strap on the riot gear and clear out these Enemies of the People exercising their "constitutional right" to "protest."
And then like any other red-blooded Christian-American, Mr. Trump found a Bible, put it in his daughter's Birkin bag, and walked to the church in the greatest parting of the waters since Moses.
With that on one image, flanked by the Seven Navy Seals and Seven Trumpers with Seven Diadems, Mr. Trump brought the wrath of the Lord down on the haters and the losers.
He has Risen! https://thebulwark.com/thank-you-mister-trump/
5. Susan B. Glasser: Trump Hates Losers, So Why Is He Refighting the Civil War—on the Losing Side?
It was a small moment in a week of craziness, but there is nothing like the rage of Donald Trump when a media outlet publishes a poll proclaiming him an almost-certain loser. There is, after all, no bigger insult in his vocabulary. The "fake news" are "sick losers," Trump said the other day. Mitt Romney is a "loser." The protesters calling for racial justice in the streets are "lowlifes and losers." Not him. When CNN released a national survey showing Trump trailing Joe Biden in the general election, by a hard-to-surmount fourteen points, Trump ordered his campaign to respond. It did, on Wednesday, with almost comical bluster: a letter in which the campaign's lawyers demanded that CNN not only retract the poll but also apologize for running it. This is petty-tyrant stuff. In response, CNN's general counsel, David Vigilante, mocked the President. "To my knowledge, this is the first time in its forty-year history that CNN had been threatened with legal action because an American politician or campaign did not like CNN's polling results," Vigilante wrote. (What a name for a lawyer guarding the First Amendment in these times.) "To the extent we have received legal threats from political leaders in the past, they have typically come from countries like Venezuela or other regimes where there is little or no respect for a free and independent media." https://www.newyorker.com/news/letter-from-trumps-washington/trump-hates-losers-so-why-is-he-refighting-the-civil-war-on-the-losing-side
6. Rebecca Traister: Racism Doesn't Blink
Both the Georgia primary and Trump's Tulsa rally are intended as open performances of white power, meant to threaten and discourage Black voters who overwhelmingly cast their ballots against Trump in 2016 (and Georgia governor Brian Kemp in 2018), and assure white voters who supported these leaders that whiteness still has the nation in a choke hold.
These political shows of force are the hallmarks of the era in which we are living, reminders of what's not so different from an American past many would like to think of as more undeniably racist than our present. But they recall something very present, very recent: the cold face of Minneapolis police officer Derek Chauvin, staring brazenly into the cell- camera held by 17-year-old Darnella Frazier as she captured the murder of George Floyd. Chauvin's drive to stare straight into Frazier's lens, to show this young Black girl that she and the camera she was pointing at him held no power over him as he took a Black life, is a particularly American performance of power.
It's part of what the nation's white political and economic systems (and the tactics used to police them) have been built around: open intimidation, the ostentatious display of cruelty and dominance, making an example of one to underscore the oppression of many. These exhibits are inherent to the country's history of lynching, its open and unapologetic suppression of the Black vote, and the unrepentant rhetoric of its most racist political leaders. Even now, Klansmen and white supremacists are unafraid to do glossy photo shoots in full garb in their own homes, broadcasting their aggression as an affirmation of their power. And while these remorseless shows surely offer thrills to the tyrants, autocrats, and murderers performing them, part of that thrill is tautological: They can be cocky about their cruelty because of their certainty that they will be protected by the system they enjoy supremacy within. Their showiness makes their impunity even more real.
Because very often, they have been right. They will face no consequence. That fact is key to what gives them the confidence to keep staring straight into that camera as they loot and maim and disenfranchise. https://www.thecut.com/2020/06/racism-doesnt-blink.html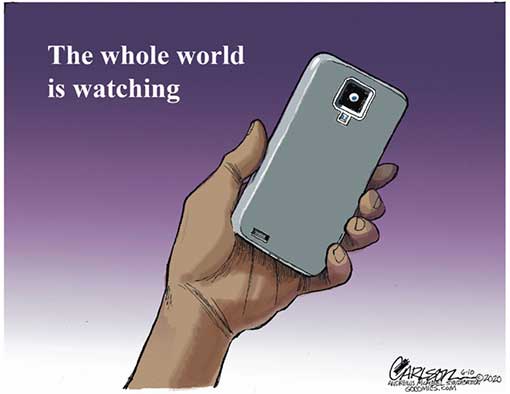 7.  Jonathan Martin, Maggie Haberman and Katie Rogers: As Americans Shift on Racism, Trump Digs In
NASCAR is demanding that its fans no longer fly Confederate flags at races. The Pentagon and some Republican senators are open to renaming military bases that bear the names of Confederate soldiers. Corporate America is taking stances against racial injustice. A majority of Americans say the police show racial bias in their use of force, and a majority of self-described conservatives acknowledge protesters' frustrations are at least somewhat justified.Yet with public opinion shifting quickly on racism in America, and even some of the most cautious leaders and institutions talking openly about discrimination and reconciliation, there is still one glaring outlier: President Trump.
Whether it is suggesting shooting protesters or siccing dogs on them, preemptively defending the Confederate names of military installations or arguing that his supporters "love the black people," Mr. Trump increasingly sounds like a cultural relic, detached from not just the left-leaning protesters in the streets but also the country's political middle and even some Republican allies and his own military leaders. https://www.nytimes.com/2020/06/11/us/politics/trump-on-race.html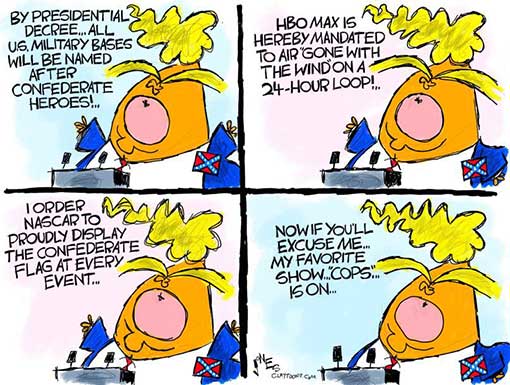 8. Jonathan Chait: Michael Flynn Writes Column Confirming He Is Definitely Insane
For several years, the national-security community has been wondering what the hell happened to Michael Flynn. Once a well-regarded director of national intelligence for the Obama administration, Flynn appeared, according to his critics, to snap. He grew paranoid and obsessed with expanding a war against radical Islam into a Manichaean civilizational conflict. The rest (his work for Donald Trump, a handful of federal crimes) is history.
Flynn has written an op-ed, headlined "Forces of Evil Want to Steal Our Freedom in the Dark of Night, But God Stands With Us," that resolves the question.
If you haven't heard of Western Journal, don't feel bad. I haven't either, and I work in opinion journalism professionally. Presumably, Flynn shopped his column to several outlets before WJ (as its readers call it, probably) agreed to run it.
How to judge this op-ed? It is difficult to evaluate without knowing whether Flynn's objective was to advance a policy agenda or to help his legal team plant an insanity defense. On the plus side, his prose is — well, distinctive. And his argument is difficult to rebut. https://nymag.com/intelligencer/2020/06/michael-flynn-op-ed-insane-national-security-adviser-trump.html
9. Adam Schiff, Jerrold Nadler, Zoe Lofgren, Hakeem Jeffries, Val Demings, Sylvia Garcia and Jason Crow: This is propaganda
Four months ago, we tried President Trump for abusing the power of his office in ways that undermined our country's national security, the integrity of U.S. elections and the constitutional structure of our republic. Trump's efforts to coerce an ally to help him cheat in the upcoming election violated the public trust, went to the heart of his unfitness for office — and revealed that he prioritizes his interests over those of the nation.
The president was not changed by impeachment. He is as lawless and corrupt as ever. But his wrongdoing has far greater consequences given the acute challenges facing the nation, the failure of those around him to curb destructive impulses, and the continued unwillingness of many members of Congress to serve as a meaningful check and balance as the Founders intended.
After the trial concluded, Trump focused on undermining institutions that could provide accountability and transparency. He fired or removed five inspectors general for simply doing their jobs: including reporting on shortages of personal protective equipment and other gear in hospitals and investigating potential misconduct by the secretary of state.
The president has made clear his interest in turning the traditionally independent Justice Department into a political arm that can punish enemies and protect allies. In Attorney General William P. Barr, Trump has an enabler of that corrupt mission. Barr allows the president to intervene in criminal cases with implications for his personal interests, and Barr carries out Trump's orders in shocking fashion.
During his trial, we observed that a man with no moral compass will never find his way. Trump never will. But it is not too late for those leaders who have enabled Trump's destruction of so much we all hold dear to find theirs. https://www.washingtonpost.com/opinions/2020/06/10/house-impeachment-managers-trump-is-lawless-corrupt-ever/
10. Frank Rich: What Trump Will Do to Win
"Trump is flailing like an overturned turtle," wrote the Times columnist Jennifer Senior last weekend, hoping against hope like many of us that maybe, just maybe, this time is different. There is no shortage of evidence. Trump has lost white eminences of the NFL like Roger Goodell and Drew Brees. He has lost the Episcopal and Catholic leaders of Washington after the photo op in which he manhandled the Bible much as he did those women he bragged about grabbing on the Access Hollywood tape. And he adds further proof daily, if any were needed, that he has lost his mind. A man who feels he gets away with lying about anything up to and including the weather thought America would disregard video showing troops under his administration's order violently attacking peaceful protesters in front of St. John's Church. Trump thought we'd look at a video of burly Buffalo cops pushing over a rail-thin 75-year-old protester in broad daylight and still buy into his theory that the victim was an "Antifa provocateur" who staged the bloody cracking of his own skull.
No wonder that yesterday the flailing, overturned turtle had his lawyer demand that CNN retract and apologize for a poll showing him with a 38 percent approval rating and 14 points behind Joe Biden. Calling bad news "Fake News" wasn't enough to curb his anxiety anymore.
But as grim as things may seem for (and to) Trump, if there's one lesson we can learn from American history — from all of it, from the birth of the nation to this very minute — is that white supremacists will fight with everything they've got to preserve their power. And they have done so successfully more often than not, Robert E. Lee's surrender notwithstanding. Though Trump is trailing in all legitimate polls — if not always by as large a margin as in CNN's — those same surveys show that one data point hasn't changed: He retains the near-total loyalty of his own party. His approval rating among the GOP rank and file in CNN's poll is 88 percent. It's nearly unanimous among Republicans on Capitol Hill, Mitt Romney and (occasionally) Lisa Murkowski excepted. https://nymag.com/intelligencer/2020/06/frank-rich-what-trump-will-do-to-win.html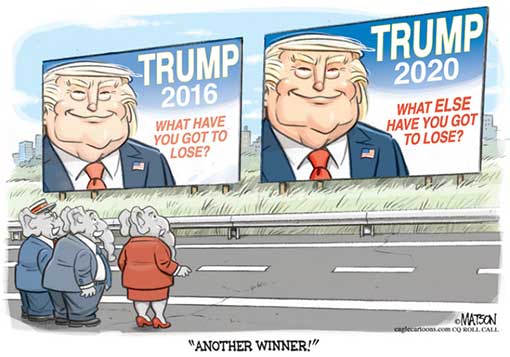 11. Washington Post Editorial: Trump is spreading a dangerous conspiracy theory about antifa
TRUMP spread a deranged and dangerous conspiracy theory this week when he accused a 75-year-old man pushed to the ground by police in Buffalo of faking the force of his fall — as well as attempting to "scan" the cops. The man, claimed the president, was "antifa," a member of a militant activist network known for violent tactics.
This allegation was entirely baseless, a shameful smear of a victim of state violence. It was also part of a pattern. The White House, with the help of Attorney General William P. Barr, is inventing a domestic terror threat from whole cloth, blaming the loose, left-wing anti-fascist, or antifa, movement for the unrest roiling the country these past weeks. The only thing that's missing is the evidence.
What Mr. Trump is doing today is even more appalling than an attempt to distract from deeply felt discontent. By inventing a violent, even terrorist, effort with not a scintilla of proof, he makes an excuse for military escalation — and for impunity when the state engages in the same brutality these protests are responding to. The real provocateur here is the president. https://www.washingtonpost.com/opinions/trump-is-spreading-a-dangerous-conspiracy-theory-about-antifa/2020/06/10/5f9fa342-ab47-11ea-94d2-d7bc43b26bf9_story.html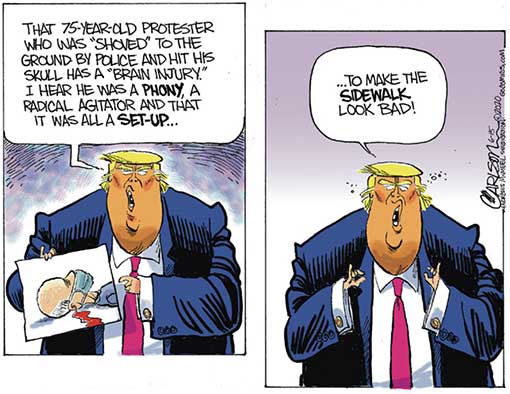 12. Washington Post Editorial: Republicans are engineering an electoral disaster this fall
AFTER A shambolic election two years ago — and several examples of poorly run primaries leading up to this week — one might have imagined that Georgia would have prepared better for its Tuesday primary vote. Instead, polling places in and around Atlanta were swamped and lines stretched for hours as poll workers struggled with new voting machines and sanitation procedures. Georgia's experience confirmed that the coronavirus pandemic, combined with the sort of Election Day incompetence that has for years been a sad fixture of American democracy, threatens the integrity of the November presidential election. There is hardly anything more important than getting voting procedures and technology right over the next five months.
Unfortunately, many Republican politicians continue to manipulate voting rules for partisan advantage, exploiting the pandemic as an opportunity to suppress voting. The latest example is in Iowa. The state held a notably successful primary last Tuesday that smashed turnout records despite the closure of many polling places, in large part because the state's Republican secretary of state sent every voter an absentee ballot application. That allowed local officials to consolidate in-person voting locations without causing the sorts of massive backups that marred primaries in Wisconsin, the District and Georgia.
Republican lawmakers in Iowa saw that success and apparently concluded that it should not be repeated. Just days after the primary, a state Senate committee advanced a bill that would bar the secretary of state from sending out absentee ballot applications to voters who have not requested them. Though voters in many states have complained that they never got the absentee ballots they requested, the Iowa legislation would make it harder for election officials to process absentee voter requests. It would also ban them from consolidating many polling places, even though the pandemic is likely to lead to a pressing shortage of poll workers and intensive pandemic precautions should be observed. The Des Moines Register points out that these moves come on top of the legislature's probably illegal efforts to force felons to pay restitution before being able to vote. https://www.washingtonpost.com/opinions/republicans-are-engineering-an-electoral-disaster-this-fall/2020/06/10/15afd038-ab3b-11ea-9063-e69bd6520940_story.html
13. Eugene Robinson: Trump might go down in history as the last president of the Confederacy
It should have happened 155 years ago, when Robert E. Lee surrendered to Ulysses S. Grant at Appomattox, but maybe — just maybe — the Civil War is finally coming to an end. And perhaps Donald Trump, not Jefferson Davis, will go down in history as the last president of the Confederacy.
The killing of Floyd has provoked a national moment of reckoning with police violence and white supremacy. But the position of the Trump administration is that systemic racism does not even exist — that our unexamined and unaddressed racial problems all come down to a few "bad apples" here and there.
Perhaps in an attempt to gain political advantage — and perhaps, as much evidence suggests, because it's what he truly believes — Trump has used this moment to side with Lost Cause white supremacy. His all-caps tweets for "LAW & ORDER" sound like George Wallace when he was governor of Alabama; his demand for a militarized response to the protests reminds me of Bull Connor, the Birmingham commissioner of public safety who attacked nonviolent civil rights protesters with water hoses and vicious dogs.
When it was reported that high-ranking Army officials are open to stripping the names of Confederate generals from military posts such as Fort Bragg, Fort Benning and Fort Hood, Trump reacted instantly. He tweeted Wednesday that he "will not even consider the renaming of these Magnificent and Fabled Military Installations."
Trump must be bewildered. Unsubtle appeals to racial animus (remember his "birther" lies) have always worked for him in the past, but now he seems to be flailing. If it turns out that the Lost Cause is finally, truly lost, then so is the president who made himself its champion. https://www.washingtonpost.com/opinions/trump-might-go-down-in-history-as-the-last-president-of-the-confederacy/2020/06/11/590194e2-ac13-11ea-94d2-d7bc43b26bf9_story.html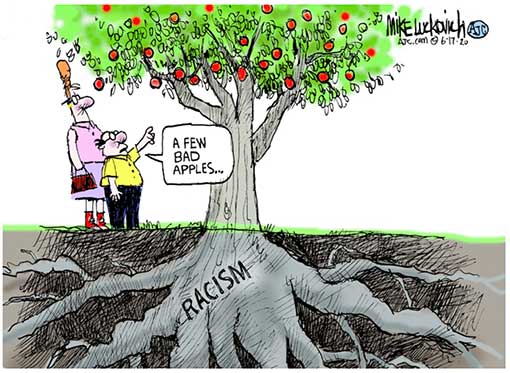 14. Michael Gerson: Twitter is our window into Trump's shriveled soul
Witnessing a new low for the Trump presidency means it is a day of the week ending in "y." But sometimes an offense is particularly symbolic of the man and the moment.
Such is the case with President Trump's cruel, conspiratorial vilification of a senior citizen named Martin Gugino, as the man lay wounded in a hospital bed.
It is another case of Trump asking Americans to prefer his dystopian fantasies to the evidence before their eyes. Gugino is a 75-year-old Catholic peace activist who fell and cracked his head after he was pushed by two policemen in full riot gear in Buffalo. The officers, as we know from video footage, kept advancing over Gugino's body in their heroic assault against the dangerous, anarchic forces of Catholic pacifism. Gugino was left with a serious head injury. The officers are facing charges of assault.
Five days after these events, the president of the United States tweeted an accusation that Gugino "could be an ANTIFA provocateur," and that, by Trump's own analysis of the tape, his fall appeared to have been a "set up." This interpretation was drawn from baseless reporting by One America News Network — a television network that is dedicated to making Fox News look like a model of journalistic integrity by comparison.
When it comes to Trump's charge against Gugino, the interpretative options are limited. If he really believed the OAN report, the president is a credulous simpleton. If he knew the report was a smear and spread it anyway, the president is a cynical weasel. In the end, there is really no need to argue between these views. I operate on the assumption that Trump is both. To him, truth and falsehood are measured only in relation to his person and needs. Anything useful — including conspiratorial insanity — is true. Anything that resists his will — such as bad polling, historic economic suffering or a massive pandemic body count — is false. And Trump measures political loyalty by the willingness of his followers to accept his redefinition of reality.
In November, Americans should remember Martin Gugino and his treatment at the president's hands. Voters will determine whether we are a nation that punishes lies and cruelty or endorses them. And Republicans in particular will be long defined by what they choose to tolerate. https://www.washingtonpost.com/opinions/twitter-is-our-window-into-trumps-shriveled-soul/2020/06/11/492c84a2-ac11-11ea-94d2-d7bc43b26bf9_story.html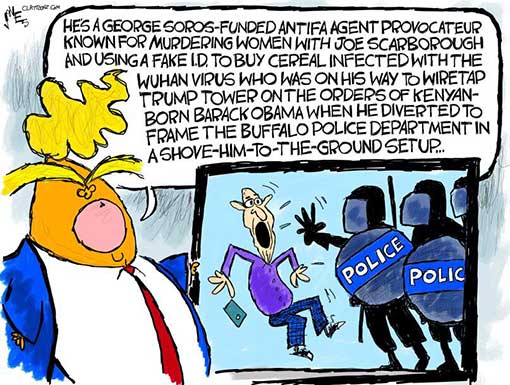 15. George T. Conway III: John Bolton made a tragic mistake. It's not the one you might think.
If Bolton was trying to preserve and enhance the commercial value of his manuscript by avoiding testifying, he likely blundered: More people may well be dissuaded from buying the book than will rush to snap it up.
The only way to make sense of Bolton's behavior is to recognize that he actually did intend and expect to testify. He wanted to testify, but wanted to appear to be forced to do it. Perhaps he thought that, as a reluctant witness, he'd be less open to being caricatured as a disgruntled, discharged adviser, and his credibility would have been enhanced. So he insisted on a court order to appear before the House.
When that didn't happen, Bolton began virtually begging to testify: He announced before the Senate trial commenced that "if the Senate issues a subpoena for my testimony, I am prepared to testify" without any court order at all. During the trial, perhaps not serendipitously, word leaked about how Bolton's book would establish a quid pro quo linking Ukraine security assistance to Ukraine helping to smear former vice president Joe Biden — and about how Bolton hoped to testify.
But Bolton made one fateful misjudgment. He overestimated the character, honor and patriotism of Senate Republicans. It would have taken just four, joining with Democrats, for the Senate to have issued a subpoena. But only two voted to hear Bolton testify. A Yale-educated lawyer, Bolton perhaps calculated that Senate Republicans would live up to their oaths of office, and to the separate impeachment-trial oath they took to do "impartial justice." He assumed they would uphold the Constitution. Sadly, he was wrong.
For that miscalculation, both he and the nation — but especially the nation — have paid a great price. https://www.washingtonpost.com/opinions/2020/06/14/john-bolton-made-tragic-mistake-its-not-one-you-might-think/
16. Michele L. Norris: The diabolical irony of Trump in Tulsa
Perhaps a better date, but still the wrong venue.
Trump has decided to push his first post-pandemic campaign rally to the day after Juneteenth. Known as Freedom Day, Juneteenth commemorates the date in 1865 when the last remaining enslaved blacks in Texas learned, two years late, that the Emancipation Proclamation had set them free. He was wise to listen to his African American friends and advisers on that score.
But he is still plowing ahead with a rally in Tulsa, the wrong city for a "Make America Great Again" event in this incendiary moment for our country. Tulsa was the site of one of the most vicious acts of racial violence in U.S. history. In 1921, an angry white mob attacked homes and businesses in a thriving community known as "Black Wall Street," killing some 300 people and leaving thousands homeless. In another time, and perhaps with a different president, a trip to Tulsa could be an occasion for absolution or remembrance, a chance to talk courageously about healing America's gaping racial wound.
But for this administration, the decision to hold a rally in that city constitutes an act of diabolical irony. A man who rode to the White House on a hot gust of racial grievance will be visiting a place where white resentment exploded into two days of epic terror, wiping one of history's most prosperous black communities off the map.
All these years later, they are still trying to find where the bodies of black victims were buried in Tulsa, still trying to calculate the loss of property and income, still trying to determine who set the fires and flew the planes that dropped burning balls of turpentine onto black-owned buildings, still trying to piece together the full history because there was a concerted effort to erase that, too, from news archives and history books.
You need to earn the right to speak on that soil. You need to step into that space with humility and grace, to honor those who were killed and to show respect for a city that has tried, finally, to confront those days of terror by examining their lingering impact. https://www.washingtonpost.com/opinions/the-diabolical-irony-of-trump-in-tulsa/2020/06/13/f262122e-ad9e-11ea-a9d9-a81c1a491c52_story.html
17. Philip Bump: Ask Trump and prime-time Fox News hosts, and rampant looting and violence continues unabated
Over the past week and through Monday, Fox News's prime-time shows have repeatedly shown clips of violence from the end of May — often the same clips, over and over — to depict chaos and terror gripping the streets of the country. As protesters in Seattle took control of a few blocks in that city, it was blended with the scenes of violence from last month to continue the same narrative. Cities are collapsing — and the left is to blame.
"Protests continuing across the country," host Sean Hannity said on "Hannity" Monday evening, describing new developments in the case of George Floyd who died after a Minneapolis police officer knelt on his neck. "Anarchy, lawlessness reign supreme in Seattle. The police precinct there has been abandoned by city officials. Another precinct in Minneapolis was burned to the ground just a few weeks ago in riots that had nothing to do with the honor or memory of George Floyd."
All of it was blended together — and not subtly. From June 8 through June 15, the three Fox prime-time shows showed video clips from violence in late May nearly two dozen times during the hosts' opening monologues alone — including as Hannity spoke about Minneapolis on Monday.
"The Democrats who tolerated and indeed fomented this violence?" host Laura Ingraham said during "The Ingraham Angle" last week. "We need to teach them a lesson so vivid that they will finally gain the courage to take back their party from the radicals who now dominate it." https://www.washingtonpost.com/politics/2020/06/16/ask-trump-fox-news-looting-violence-continues-unabated/
18. Jake Tapper: US needs to let go of celebrating 'dead, racist losers'
It has been a rough period for President Trump and the military leaders with his former defense secretary, retired Marine General James Mattis, assailing him for dividing the country -- a sentiment given an 'Amen' by Trump's former chief of staff, retired Marine Gen. John Kelly -- not to mention criticisms from Gen. Colin Powell, Adm. Bill McRaven, Gen. Martin Dempsey, Gen. John Allen, [and] Adm. Mike Mullen.
The President and his supporters have had plenty of nasty things to say about these men who have served our country, of course. No need for me to report them. You all have access to Twitter.
There is one group of generals, however, that the President is standing firm with, dead racist losers -- more specifically, the Confederate commanders after whom 10 Army bases are currently named. https://www.cnn.com/2020/06/14/politics/trump-confederate-commanders-cnntv/index.html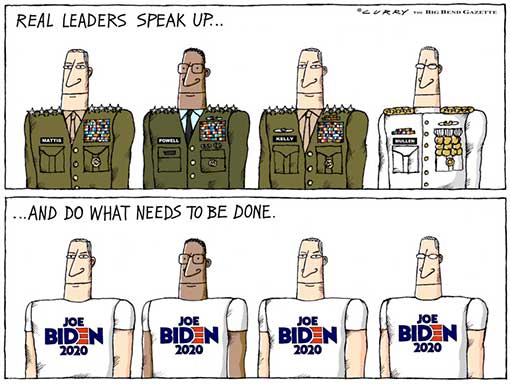 19. Joe Pompeo: "She Feels Very Determined": How Mary Trump's Coming Bombshell Was Built
Donald Trump is a president who's launched a thousand tell-alls by high-profile journalists and former administration officials alike. What, one might ask, is there left to learn? But Mary L. Trump's forthcoming memoir about her famous family, Too Much and Never Enough, nonetheless promises to be one of the sizzling must-reads of the summer 2020 election season. The book has something that all the others didn't: Its author, the 55-year-old eldest grandchild of patriarch Fred Trump Sr., is a member of the dynasty itself, privy to insight and information in a way no outsider could be. She also has a highly unsympathetic view of the moral failings of her uncle, the 45th president of the United States. The subtitle says it all: How My Family Created the World's Most Dangerous Man.
On Tuesday, following a Daily Beast article that blew the lid off the tightly held project, thereby pushing up the publication date from mid-August to July 28, Simon & Schuster rushed out the purchasing information to Amazon and Barnes & Noble. The boilerplate promises a 240-page "authoritative portrait of Donald J. Trump and the toxic family that made him," including "a nightmare of traumas, destructive relationships, and a tragic combination of neglect and abuse," as well as firsthand recollections of "countless holiday meals and family interactions."
Someone who knows Mary Trump and has read the book similarly described it to me as follows: "The punch of the book, the real symbolic thrust, is about how Donald is really an outgrowth of this complex empire that Fred Sr. built—a pretty dark, win-at-all-costs environment. If there's going to be a big takeaway, it's about that emotional DNA of the family." The narrative, this person said, also touches on Mary's deep bond with her father, Fred Trump Jr., who died of an alcoholism-related heart attack in 1981 at the age of 42. https://www.vanityfair.com/news/2020/06/how-mary-trumps-coming-bombshell-was-built
20. John Cassidy: Taxpayers Have a Right to Know Who Is Getting Their Stimulus Money
Sunlight is said to be the best of disinfectants, as Louis D. Brandeis—the future Supreme Court Justice—remarked, in his 1913 essay "What Publicity Can Do." Seldom has this dictum been more apposite than it is now, when American taxpayers are handing out gobs of money to businesses affected by the coronavirus pandemic, the vast majority of which remain anonymous. On Sunday, the Treasury Department and the Small Business Administration published an update on the Paycheck Protection Program, which was designed to keep Americans employed during the shutdowns by providing financial support to businesses with fewer than five hundred workers. As of June 12th, the S.B.A., which is administrating the P.P.P., had approved about 4.6 million loans. The average size of the loans was about a hundred and twelve thousand dollars. The total amount committed was $512.3 billion, equivalent to about 2.4 per cent of G.D.P.
That's a large sum to spend on what are effectively grants. (As long as a business participating in the P.P.P. maintains its payroll, most or all of its loan will be eligible to be forgiven.) And yet, with a few exceptions, taxpayers don't know who has received all this money. Despite pressure from Congress and the filing of a Freedom of Information lawsuit by a number of media companies, Treasury Secretary Steven Mnuchin has refused to publish a list of P.P.P.-loan recipients and the sizes of their loans. The Trump Administration has not yet provided such data to the Government Accountability Office.
The Administration's hard-line stance has inevitably generated suspicions that it is trying to hide something. Shortly after the P.P.P. was rolled out, in April, it was revealed that three firms controlled by a prominent Trump donor, the Texas hotelier Monty Bennett, had received close to sixty million dollars in loans. (In early May, Bennett's businesses said that they would return the money.) NBC News reported that at least three other businesses "with ties to the Trump administration received a total of $18.3 million under the program." None of these firms was connected to the Trump family, however. And, at a press conference on April 21st, Trump insisted that none of his businesses had received money under the P.P.P. program. "Well, I know one thing—I didn't get any, that's for sure," he said. https://www.newyorker.com/news/our-columnists/taxpayers-have-a-right-to-know-who-is-getting-their-money