August 11, 2022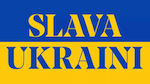 If you have a friend, family member, or neighbor who would like to subscribe to this FREE weekly newsletter they should simply email jellison@san.rr.com with "subscribe" as the subject.
THE WEEK'S BEST QUOTES. . .
"If the facts and the evidence are there, and they decide not to prosecute — how do we then call ourselves a nation of laws?" —
Rep. Liz Cheney (R-WY)
urging the Justice Department to prosecute former President Trump if it finds evidence that Trump committed crimes in connection with the January 6 attack.
https://www.cnbc.com/2022/08/05/liz-cheney-urges-doj-to-prosecute-trump-if-it-finds-evidence-of-crimes-.html
"Over 54 countries have now been taken by the machines or are getting taken by the machines. And you never get to go back. Venezuela, Australia, they're gone. You don't get to vote out the machines once they're there. Once they're there, you don't get your country back." —
MyPillow Guy Mike Lindell
warning the audience at CPAC about the rise of the machines across the globe.
https://www.mediaite.com/politics/mike-lindell-warns-cpac-over-54-countries-have-been-taken-by-the-machinesvenezuela-and-australia-are-gone/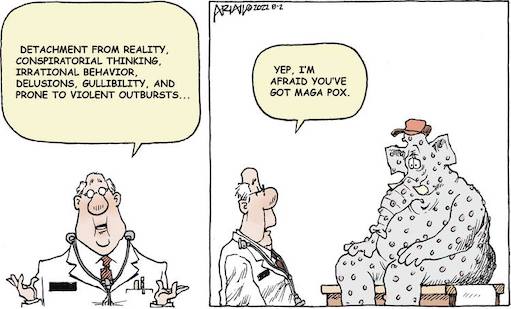 "I told the old broken crow, Mitch McConnell, that this was going to happen. It's going to happen to you, Mitch. It's going to happen to you." —
Donald Trump
arguing that Republican Senate Minority Leader Mitch McConnell was "taken for a ride" by Sen. Joe Manchin of West Virginia.
https://www.businessinsider.com/trump-slams-climate-health-tax-inflation-bill-mcconnell-manchin-republicans-2022-8
"I would much rather serve with Mikie Sherrill and Chrissy Houlahan and Elissa Slotkin than Marjorie Taylor Greene and Lauren Boebert, even though on substance certainly I have big disagreements with the Democratic women I just mentioned. But they love this country, they do their homework and they are people that are trying to do the right thing for the country." —
Rep. Liz Cheney (R-WY)
.
https://www.nytimes.com/2022/08/07/us/politics/liz-cheney-trump-republicans.html
"No one can convince me that the rioters behind the Jan. 6 attack at the U.S. Capitol were not anti-fascist protesters and I cannot wait for a real investigation" to take place. —
Rep. Marjorie Taylor Greene (R-Ga.)
.
https://www.huffpost.com/entry/marjorie-taylor-greene-antifa-capitol-attack_n_62efea08e4b00f4cf23b4ec9
"We've been fighting for this for decades. Now I can look my kids in the eye and say we're really doing something about climate." —
Sen. Brian Schatz (D-HI)
, after passage of the climate tax and health care package. leaving the Senate chambers in tears this afternoon.
https://www.nytimes.com/live/2022/08/07/us/climate-tax-deal-vote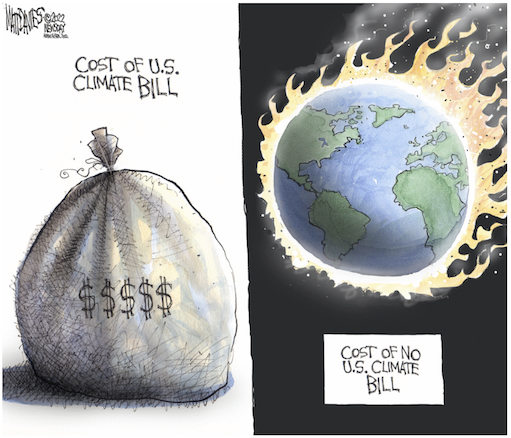 "If you do this, you're gonna have a fucking war." —
Gen. Mark Milley
, quoted by the New Yorker, after Donald Trump urged a missile strike on Iran after he lost the 2020 presidential election.
https://www.newyorker.com/news/letter-from-bidens-washington/youre-gonna-have-a-fucking-war-mark-milleys-fight-to-stop-trump-from-striking-iran
"His hands may be tiny and soft, but his grip on the party is pretty tight." —
Tim Miller
, observing that Trump's CPAC speech was a rude awakening as to both his intentions and the strength he would bring to that campaign.
https://morningshots.thebulwark.com/p/im-sorry-but-hes-running
VIDEOS
Fox News On Hillary But Make The Footage Trump | The Daily Show: https://youtu.be/82H27rlXavc

"The body inside of the mom's body is not her body. Let me repeat that: The body inside of the mom's body is not her body. Not her body, not her choice." —

Indiana state Rep. John Jacob (R)

, on the state house floor. https://twitter.com/heartlandsignal/status/1555624675442655235

"Maybe we should have some sort of legislation that requires biblical citizenship training in our schools." —

Rep. Lauren Boebert (R-CO)

https://twitter.com/telltaleatheist/status/1554605488544911360

Just hours after Blake Masters (R) won the Republican U.S. Senate nomination in Arizona,

Sen. Mark Kelly (D-AZ)

released a new ad targeting his views on abortion rights as "too dangerous for Arizona." https://host2.adimpact.com/admo/viewer/e04d0ef5-06d0-402b-863d-7cf43d005ab4

Democratic Governors' Association-affiliated group hits

Republican gubernatorial nominee Tudor Dixon

for opposing exceptions for rape and incest: No Exceptions: https://www.youtube.com/watch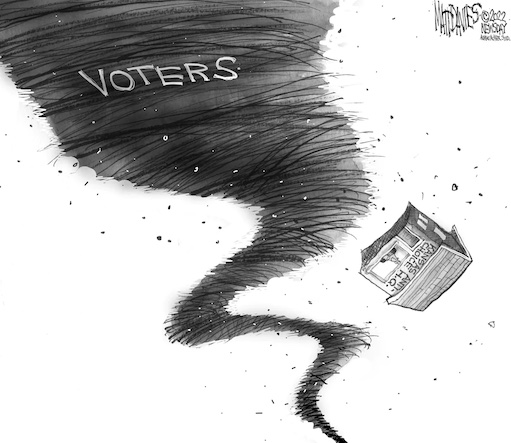 Liz Cheney ad

: "He Knows It": https://youtu.be/H6Nq9SpGzic



The Republican Accountability Project's new ad against Georgia U.S. Senate candidate Herschel Walker

: https://twitter.com/AccountableGOP/status/1556647005442789385



DSCC ads against Sen Ron Jonson

: https://www.youtube.com/shorts/6o3FDt-lCq0 and https://www.youtube.com/watch?v=MEgVBaReNl8
LITIGATION TRACKER
Pending Criminal and Civil Cases Against Donald Trump
. 
https://www.justsecurity.org/75032/litigation-tracker-pending-criminal-and-civil-cases-against-donald-trump/
---
IN THIS ISSUE
IN THE NEWS
OPINION
Andy Borowitz: Justice Department Urges Trump to Hire Alex Jones's Lawyers
As it reportedly considers a criminal prosecution of the former President, the Department of Justice has "strongly urged" Donald J. Trump to retain Alex Jones's legal team.

"We at the Justice Department can think of no one better to represent you than Alex Jones's lawyers," Attorney General Merrick Garland wrote recently, in a letter to Trump. "They are, quite simply, the Dream Team."

Garland added, "After watching these lawyers in action, my associates at the D.O.J. and I looked at each other and said, 'These guys have to represent Trump.' "

The Attorney General acknowledged that Trump might be considering hiring his longtime attorney, Rudy Giuliani, but noted, "As amazing as Rudy would be, we think that Alex Jones's lawyers would be even more amazing."

In a final inducement to Trump, Garland added, "We'll pay them." https://www.newyorker.com/humor/borowitz-report
Trump Supporters Are Calling for Civil War After FBI Searched Mar-a-Lago
After news broke that the FBI searched former President Donald Trump's Mar-a-Lago home in Florida on Monday, his supporters openly called for an armed violent response, and ultimately, civil war.
"Civil War 2.0 just kicked off," one user wrote on Twitter, with another adding, "One step closer to a kinetic civil war." Others said they were ready to take part: "I already bought my ammo."
MAGA, QAnon, and far-right message boards and Telegram channels lit up Monday night with calls for a violent response to what some extremists see as a political attack directed by the Biden administration.
"This is how you light the match to a civil war," one user on Twitter wrote in response to the news.
Similar rhetoric was shared in far-right channels on Telegram. "Civil war coming to America, there won't be any more elections," one member said.
"A total war on dissidents is about to unfold. Not behind closed doors but blatantly, in public," another member wrote in a different far-right channel. "Attacks on Alex Jones, Trump, and Patriot Day defendants are only setting the precedent for the future of us as the only opposition to the Deep State." https://www.vice.com/en/article/5d39zq/trump-supporters-civil-war-fbi-search-mar-a-lago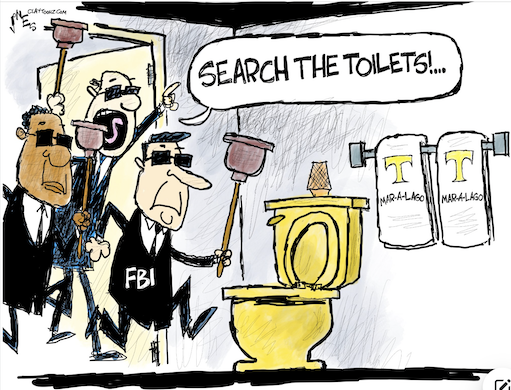 The Mar-a-Lago Raid Has Led to a Full-On GOP Meltdown
The immediate GOP response to Monday evening's FBI search for documents at Mar-a-Lago is almost as revealing as the search warrant itself.

Having witnessed the bulk of the party harden its commitment to protecting Trump at any cost after the January 6th attack on the Capitol, nobody should be shocked to learn that ranking Republicans—without any information about what was seized, or why—were willing to stake their political careers on the claim that it was a lawless, partisan 'raid.' The darkest versions of these claims called for doing away with federal law enforcement altogether. https://slate.com/news-and-politics/2022/08/mar-a-lago-fbi-raid-donald-trump-gop-rubio-mccarthy.html
'Defund the FBI'—the MAGA Right's Hypocritical New Slogan
Republican candidates accused Democrats of supporting proposals to 'defund' or 'abolish' police.

Actually, although anti-police slogans were widespread on social media and among protesters, very few Democratic officeholders supported these ideas. But Republicans didn't let those facts get in the way. They smeared the whole Democratic party as an agent of crime and chaos."

Monday's FBI search of Mar-a-Lago—reportedly in pursuit of classified documents that former President Donald Trump may have illegally kept when he left office—has turned this issue upside down. Now that law enforcement has targeted Trump, conservatives are denouncing the FBI.

Some want to defund the bureau; others are demanding its complete abolition. https://www.thebulwark.com/defund-the-fbi-the-maga-rights-hypocritical-new-slogan/
Republicans See No Contradiction In Hunter Biden Probe
As House Republicans rush to argue that the FBI search of Donald Trump's home is marred by politics, they are readying a future Hunter Biden investigation designed to ensnare Joe Biden ahead of a potential reelection bid, seeing no contradiction between their suspicion of the FBI's law enforcement activity at Mar-a-Lago and their interest in digging into the business dealings of the president's son and other family members. https://www.politico.com/news/2022/08/10/republicans-hunter-biden-investigation-00050723
Md. candidate for governor says he would use state police against Biden
Maryland Republican gubernatorial nominee Dan Cox on Tuesday called the FBI search of former president Donald Trump's residence "criminal" and said if elected he would use the full force of government — including the state police and Maryland National Guard — to oppose President Biden.

"As governor I will use the 9th and 10th Amendments, the Maryland Constitution and Declaration of Rights, the MSP and Maryland Guard to stand against all rogue actions of this out of control tyrannical Biden administration with fierce tenacity," Cox (R-Frederick) said in a fundraising email to supporters, describing the government's actions as "nothing short of communist stasi police state tactics." "Our children, families and loved ones and the freedom we cherish and is our birthright as Americans demand we oppose these criminal acts of this current administration." https://www.washingtonpost.com/dc-md-va/2022/08/09/dan-cox-trump-search-maryland-governor/
FBI warrant for search of Trump home may involve suspected violations of Espionage Act, former chief of DOJ national security says
The former chief of the Justice Department's national security division said Tuesday that the FBI warrant for the search of Donald Trump's Mar-a-Lago home in Palm Beach, Fla., suggests prosecutors believe they have probable cause that there may have been violations of the World War I-era Espionage Act.

That law has traditionally been used to target government leakers, such as former NSA contractor Edward Snowden. But Mary McCord said it also "actually has provisions that apply to essentially the mishandling of classified material through gross negligence, permitting documents to be removed from their proper place, or to be lost, stolen or destroyed." https://news.yahoo.com/trump-could-be-charged-with-violating-the-espionage-act-former-doj-national-security-chief-says-231911337.html
Facebook Gave Police Data to Prosecute Teenager
A 17-year-old girl and her mother have been charged with a series of felonies and misdemeanors after an apparent medication abortion at home in Nebraska.

The state's case relies on evidence from the teenager's private Facebook messages, obtained directly from Facebook by court order, which show the mother and daughter allegedly bought medication online to induce abortion, and then disposed of the body of the fetus.

"While the court documents allege that the abortion took place before the Supreme Court overturned Roe v. Wade in June, they show in shocking detail how abortion could and will be prosecuted in the United States, and how tech companies will be enlisted by law enforcement to help prosecute their cases. https://www.vice.com/en/article/n7zevd/this-is-the-data-facebook-gave-police-to-prosecute-a-teenager-for-abortion
Alex Jones's Texts With Some Of Trump's Closest Allies Just Got Turned Over To The Jan. 6 Committee
Last week, as conspiracy theorist Alex Jones was being questioned in court for spreading lies about the 2012 Sandy Hook elementary school shooting, the trial took a turn: attorney Mark Bankston, who is representing the victims' parents, revealed that Jones's own legal team had accidentally sent Bankston a digital copy of his entire cell phone. The disclosure—which raised questions about perjury, since Jones had claimed under oath that he didn't have Sandy Hook messages on his phone—got the attention of the January 6 committee, which has for months been trying to get its hands on Jones's phone records and other documents as part of its investigation into the Capitol riot. On Monday, days after Jones was ordered to pay nearly $50 million to the victims in both compensatory and punitive damages, Bankston turned over the InfoWars founder's text messages to the Jan. 6 committee, CNN reported.

Fox News star Tucker Carlson is "shitting himself" over the potential disclosure of messages between him and Jones, a source told the Daily Beast on Monday. The conspiracy-inclined duo reportedly "trade text messages on a daily basis," and sources told the outlet it would be "highly embarrassing" for Carlson if their texts got out. Given what both Carlson and Jones have been willing to say publicly, one can only imagine what the longtime friends talk about while off-air. https://www.vanityfair.com/news/2022/08/alex-jones-texts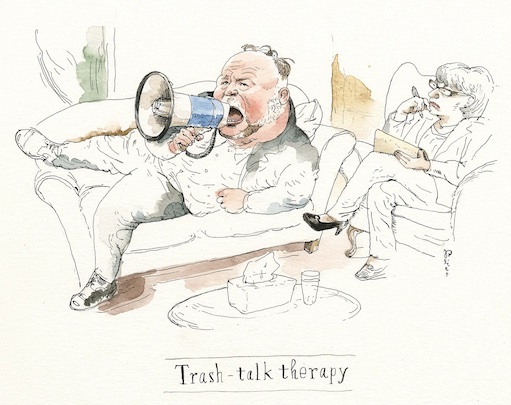 This is Biden's biggest unnoticed success
• Biden has had 75 judges confirmed, more than any president at this point in his term since John F. Kennedy.

• Seventy-six percent of Biden's confirmed judges are women, more than any president in history. Obama ended up with 42 percent women among his appointees; Trump had only 24 percent, while Bill Clinton had 28 percent.

• A full 65 percent of Biden's appointees have been non-White, compared to 40 percent for Obama and 12 percent for Trump at this stage. https://www.washingtonpost.com/opinions/2022/08/09/biden-courts-judges-appointments-his-biggest-unnoticed-success/
Maps in Four States Were Ruled Illegal Gerrymanders. They're Being Used Anyway.
Since January, judges in Alabama, Georgia, Louisiana and Ohio have found that Republican legislators illegally drew those states' congressional maps along racial or partisan lines, or that a trial very likely would conclude that they did. In years past, judges who have reached similar findings have ordered new maps, or had an expert draw them, to ensure that coming elections were fair.
But a shift in election law philosophy at the Supreme Court, combined with a new aggressiveness among Republicans who drew the maps, has upended that model for the elections in November. This time, all four states are using the rejected maps, and questions about their legality for future elections will be hashed out in court later. https://www.nytimes.com/2022/08/08/us/elections/gerrymandering-maps-elections-republicans.html
Trump Asked Aide Why His Generals Couldn't Be Like Hitler's, Book Says
Former President Donald J. Trump told his top White House aide that he wished he had generals like the ones who had reported to Adolf Hitler, saying they were "totally loyal" to the leader of the Nazi regime, according to a forthcoming book about the 45th president.
Why can't you be like the German generals?" Mr. Trump told John Kelly, his chief of staff, preceding the question with an obscenity, according to an excerpt from "The Divider: Trump in the White House," by Peter Baker and Susan Glasser, published online by The New Yorker on Monday morning. https://www.newyorker.com/magazine/2022/08/15/inside-the-war-between-trump-and-his-generals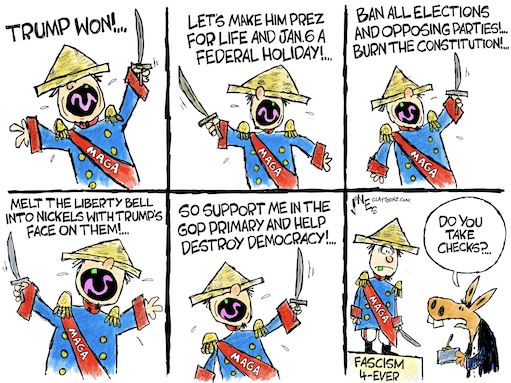 Jan. 6 Hearings Have No Impact on Opinion
The House January 6th Committee has tried to make the case that former President Donald Trump bears direct responsibility for what happened at the U.S. Capitol last year. The latest Monmouth University Poll, though, suggests it hasn't moved the needle with the American public.
Currently, 38% of the public thinks Trump is directly responsible for what happened on Jan. 6th.  In late June, right before Cassidy Hutchinson's appearance with the House committee, a similar 42% said Trump is directly responsible. Another 26% say Trump is not directly responsible but he encouraged those involved and 32% say Trump did nothing wrong regarding Jan. 6th. Those results were 25% and 30%, respectively, in June. Just 5% of Republicans say Trump is directly responsible and 23% say he encouraged those involved.
Overall, 40% of Americans have a favorable opinion Trump and 50% have an unfavorable opinion. More than 8 in 10 Republicans hold a positive view of Trump, including a majority of 57% who have a very favorable opinion of him. All these numbers are virtually unchanged from November 2020.
Four in ten Americans say they would either definitely (23%) or probably (17%) vote for Trump if he ran again in 2024. At the other end of the spectrum, 48% say they definitely would not vote for Trump and another 8% would probably not support him. Among Republicans, 62% would definitely back Trump and 23% would probably vote for him. https://www.monmouth.edu/polling-institute/reports/monmouthpoll_us_080922/
As Partisan Hostility Grows, Signs of Frustration With the Two-Party System
Pew Research

: In 2016, about half of Republicans (47%) and slightly more than a third of Democrats (35%) said those in the other party were a lot or somewhat more immoral than other Americans. Today, 72% of Republicans regard Democrats as more immoral, and 63% of Democrats say the same about Republicans.
The pattern is similar with other negative partisan stereotypes: 72% of Republicans and 64% of Democrats say people in the opposing party are more dishonest than other Americans. Fewer than half in each party said this six years ago. Large majorities in both parties also describe those in the other party as more closed-minded than other Americans (83% of Democrats and 69% of Republicans say this), and this sentiment also has increased in recent years.
Yet there is one negative trait that Republicans are far more likely than Democrats to link to their political opponents. A 62% majority of Republicans say Democrats are 'more lazy' than other Americans, up from 46% in previous studies in 2019 and 2016. Only about a quarter of Democrats (26%) say Republicans are lazier than others, and this has changed only modestly since 2016." https://www.pewresearch.org/politics/2022/08/09/as-partisan-hostility-grows-signs-of-frustration-with-the-two-party-system/
GOP discovers new standards on the mishandling of classified info
If there was one thing Republicans cared about six years ago, it was how high-ranking officials dealt with classified materials. In fact, as recently as 2016, the GOP was certain — that is, the party at least pretended to be certain — that politicians disqualify themselves from positions of authority when they put documents at risk.
And so, now that Republicans have learned that Donald Trump allegedly took highly sensitive classified materials to his golf resort, one could imagine the party expressing outrage with the former president. After all, given the GOP's recent history of passionate feelings on the subject, it stands to reason that Trump may have crossed an intolerable line.
But that would assume that the Republican Party's principles and standards are consistent. They are not. https://www.msnbc.com/rachel-maddow-show/maddowblog/gop-discovers-new-standards-mishandling-classified-info-rcna42183
Manafort Admits He Shared Polling Data with Russian Asset
Paul Manafort, who served as Donald Trump's campaign chairman said "that in 2016 he shared polling data from the Trump campaign with Konstantin Kilimnik, a longtime business associate with suspected ties to Russian intelligence."
Manafort's acknowledgment contradicts his earlier denials, during the investigation into election interference conducted by the special counsel Robert Mueller, that he had anything to do with the transfer of sensitive campaign data. It also differs from the account he gives in his forthcoming memoir, Political Prisoner, in which he concedes only that he presented Kilimnik with 'talking points' on polling data that was already public. https://www.businessinsider.com/paul-manafort-exclusive-interview-trump-campaign-polling-data-russia-kilimnik-2022-8
Russia starts stripping jetliners for parts as sanctions bite
Russian airlines, including state-controlled Aeroflot (AFLT.MM), are stripping jetliners to secure spare parts they can no longer buy abroad because of Western sanctions, four industry sources told Reuters. https://www.reuters.com/business/aerospace-defense/exclusive-russia-starts-stripping-jetliners-parts-sanctions-bite-2022-08-08/
Biden's Next Big Win?
As President Biden continues an historic stretch of legislative success, plus a successful operation that killed an al Qaeda leader, he may be homing in on another major foreign policy feather in his cap: a suddenly resurrected Iran nuclear deal. https://www.politico.com/newsletters/playbook-pm/2022/08/08/negotiators-near-a-new-nuclear-deal-00050339
Consumers expect inflation to slow down, a big win for the Fed
The consumer outlook for inflation decreased significantly in July amid a sharp drop in gas prices and a growing belief that the rapid surges in food and housing also would ebb in the future. https://www.cnbc.com/2022/08/08/consumers-expectations-of-future-inflation-decreased-significantly-in-win-for-the-federal-reserve.html
A Monmouth University poll shows Democrats gaining ground on the generic congressional ballot — another sign that the party's fortunes may have improved over the last month.
The poll finds Democrats with a 7-point lead on the generic ballot (50%-43%), up from a tie in the pollster's June survey.

More Democrats (74%) said it was "very important" for them to vote than Republicans (69%) — a sign of increased Democratic engagement in the runup to the midterms. https://www.monmouth.edu/polling-institute/reports/monmouthpoll_us_080322/
Republicans block cap on insulin costs for millions of patients
Republican lawmakers on Sunday successfully stripped a $35 price cap on the cost of insulin for many patients from the ambitious legislative package Democrats are moving through Congress this weekend, invoking arcane Senate rules to jettison the measure reports.

The insulin cap is a long-running ambition of Democrats, who want it to apply to patients on Medicare and private insurance. Republicans left untouched the portion that applies to Medicare patients but stripped the insulin cap for other patients. https://www.washingtonpost.com/nation/2022/08/07/insulin-cap-budget-congress/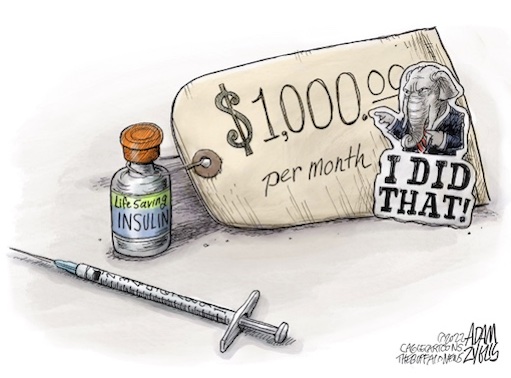 Liz Cheney Is Ready to Lose. But She's Not Ready to Quit.
The most closely-watched primary of 2022 has not become much of a race at all. Polls show Ms. Cheney losing badly to her rival, Harriet Hageman, Mr. Trump's vehicle for revenge, and the congresswoman has been all but driven out of her Trump-loving state, in part because of death threats, her office says.

Yet for Ms. Cheney, the race stopped being about political survival months ago. Instead, she's used the Aug. 16 contest as a sort of a high-profile stage for her martyrdom — and a proving ground for her new crusade. She used the only debate to tell voters to 'vote for somebody else' if they wanted a politician who would violate their oath of office. Last week, she enlisted her father, former Vice President Dick Cheney, to cut an ad calling Mr. Trump a 'coward' who represents the greatest threat to America in the history of the republic.

"In a state where Mr. Trump won 70 percent of the vote two years ago, Ms. Cheney might as well be asking ranchers to go vegan." https://www.nytimes.com/2022/08/07/us/politics/liz-cheney-trump-republicans.html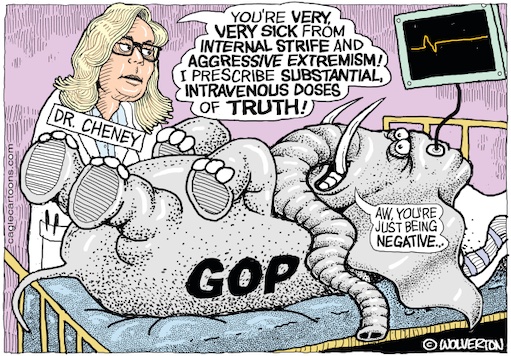 Former Attorney General Bill Barr says Jan. 6 grand jury activity suggests prosecutors "taking a hard look at the group at the top, including the president"
Former Attorney General Bill Barr called the newest federal grand jury subpoenas probing the Jan. 6, 202, Capitol riot 'a significant event,' one that suggests that government prosecutors are probing high-ranking Trump administration officials and allies, and even former President Donald Trump.

Said Barr: "This suggests to me that they're taking a hard look at the group at the top, including the president and the people immediately around him who were involved in this." https://www.cbsnews.com/news/bill-barr-jan-6-grand-jury-donald-trump/
Culture wars could be a winning issue — for Democrats
The top lines for Democrats continue to be brutal heading into the November midterm elections: Voters are furious about inflation, they overwhelmingly believe the country is heading in the wrong direction, and President Biden is not at all a popular figure.

But based on recent polling, the issue matrix has shifted enough to provide Democrats some hope that they can limit some of their potential losses and outperform expectations, especially in statewide races for the U.S. Senate and governorships. https://www.washingtonpost.com/politics/2022/08/06/midterms-inflation-abortion-gun-control-democrats/
Trump's grip on GOP activist class on display at Texas conclave
There's a power struggle underway to be the face of the Republican Party in 2024 — but you wouldn't know it from attending CPAC Texas. There was no Ron DeSantis. Mike Pence was nowhere to be found. Nikki Haley? Negative. Mike Pompeo? Nope.

It was all about Donald Trump, who didn't have to share the spotlight with a cast of potential presidential primary rivals, as he has at some other top conservative gatherings this year. https://www.politico.com/news/2022/08/06/trump-cpac-2024-00050213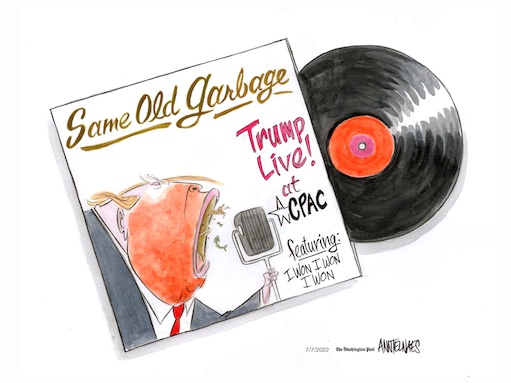 The politics of making history
Passage of the Inflation Reduction Act made Joe Biden one of the most legislatively successful presidents of the modern era,  including:
• American Recovery Act: $1.9 trillion
•

Infrastructure Investment and Jobs Act: $550 billion
•

Chips and Science Act: $280 billion
•

Inflation Reduction Act: ≈$700 billion
That's a nearly $3.5 trillion agenda. The scope of the issues addressed is notable: the pandemic and its economic fallout, highways, bridges, broadband, rail, manufacturing, science, prescription drug prices, health insurance, climate change, deficit reduction and tax equity.

He also expanded NATO, passed a new gun safety law and passed a bill to address the effects of vets exposed to toxic burn pits. Five out of seven of these laws — all but the two biggies, the ARP and IRA — received significant Republican support.

There's not much debate anymore over whether Biden has been a consequential president. In the long run, his first two years may be remembered as akin to LBJ when it comes to moving his agenda through Congress. https://www.politico.com/newsletters/playbook/2022/08/07/the-politics-of-making-history-00050228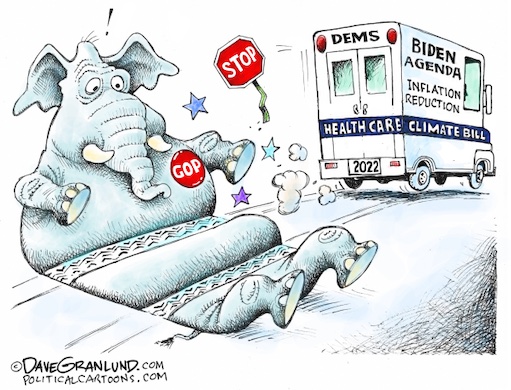 The Grifting Never Stops
Trump fundraises off of civil service purge
Within hours of FBI agents searching Donald Trump's residence at his Palm Beach, Fla. club on Monday, the Republican National Committee urged Republicans to fight back with their wallets. "In an UNPRECEDENTED move Joe Biden's Department of Justice RAIDS President Trump's home at Mar-a-Lago," the RNC's call for donations read. "Donate ANY AMOUNT RIGHT NOW to show your support for the GOP to take back Congress and STOP JOE BIDEN." https://secure.winred.com/rnc/breaking-news-sms
GOP Lawmakers Lobby Oil Industry to Denounce Tax-and-Climate Bill
Congressional Republicans

are ramping up pressure on the oil-and-gas industry to take an aggressive stance against the Democrats' tax-and-climate bill, frustrated that the industry hasn't done more to help Republicans defeat a cornerstone of President Biden's agenda. https://www.wsj.com/articles/gop-lawmakers-lobby-oil-industry-to-denounce-tax-and-climate-bill-11659778202
The DAILY GRILL
Florida Gov. Ron DeSantis (R) suspended Hillsborough County State Attorney Andrew Warren for not prosecuting certain crimes, removing him from office and naming his replacement. He said he did so because Warren refused to enforce some of the state's laws—including the recent 15-week abortion ban. https://www.tampabay.com/news/florida-politics/2022/08/04/desantis-suspends-hillsborough-county-state-attorney-andrew-warren/

VERSUS

"I'm not going down without a fight. I refuse to let this man trample on your freedoms to speak your mind, to make your own health care decisions, and to have your vote count." —  Andrew Warren. https://apnews.com/article/abortion-crime-tampa-florida-ron-desantis-7c11142121a3c726d3685bcc412b5ebb
Early reports that the F.B.I. search of former President Donald J. Trump's residence in Florida related to an investigation into whether he had unlawfully taken government files when he left the White House focused attention on an obscure criminal law barring removal of official records. The penalties for breaking that law include disqualification from holding any federal office. https://www.nytimes.com/live/2022/08/08/us/trump-fbi-raid

VERSUS
Attorney General Garland, preserve your documents and clear you calendar." — House Minority Leader Kevin McCarthy (R-CA) warning Attorney General Merrick Garland of payback for the search of Trump's property." https://www.nytimes.com/live/2022/08/08/us/trump-fbi-raid?smid=url-share#33954646-f4fb-5bf6-8397-27594109dc80
"In a statement released shortly after the questioning began on Wednesday, Trump said he would invoke his Fifth Amendment right against self-incrimination, explaining that he "declined to answer the questions under the rights and privileges afforded to every citizen under the United States Constitution." https://www.nytimes.com/live/2022/08/10/nyregion/trump-testimony-investigation-news

VERSUS

"If you're innocent, why are you taking the Fifth Amendment?" — Donald Trump, quoted by the Washington Post in 2017. https://www.washingtonpost.com/news/the-fix/wp/2017/05/23/if-youre-innocent-why-are-you-taking-the-fifth-trump-said-years-after-invoking-it-himself/



DEFUND THE FBI! Rep. Marjorie Taylor Greene. https://twitter.com/RepMTG/status/1556793230028587009

VERSUS

Trump failed to return classified docs requested by the National Archives. A federal judge issued a search warrant for probable cause of a crime.  This is not some rando move by the FBI so you shitforbrains Republicans calling for "defunding the FBI" for once try to be less stupid. -- Michael Steele https://twitter.com/MichaelSteele/status/1556816227695214595
Jonathan Chait: What Is Really Unprecedented Is Trump's Criminality
In response to the FBI raid on Mar-a-Lago, as is often the case, the revealing statements in the Republican Party come not from the fringe actors calling for civil war or defunding the FBI but the respectable statesmen in the mainstream. "No former President of the United States has ever been subject to a raid of their personal residence in American history," complains Mike Pence on Twitter.
"The idea that a law enforcement organization under a sitting president would raid the home of his predecessor, opponent in the previous election, and potential opponent in the next election, has no close parallel in American history," editorializes National Review.
While it is factually true that there is no history of a former American president being raided by the Feds, these observations implicitly treat the FBI's behavior as the source of the historic break. The reason Donald Trump is the first former president to be treated like a criminal is that he is the first former president who is a criminal. https://nymag.com/intelligencer/2022/08/fbi-raid-isnt-unprecedented-trumps-criminality-is.html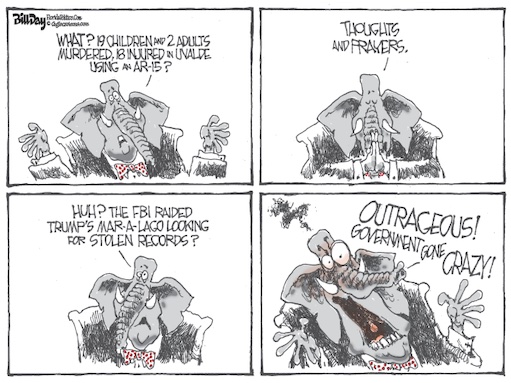 Jonathan Last: We've Finally Reached Bottom
No one is asking if this will be the thing that finally pries Republicans away from Trump. For seven years we had a series of episodes—mocking John McCain, 'grab 'em by the pussy,'

Charlottesville, the Ukraine blackmail, January 6—at which point non-believers honestly thought that the latest outrage would be a bridge too far and that some Trump supporters would turn on him.
Well, we seem to have finally touched bottom on reality. No one anywhere in America believes that the potential criminal prosecution of Donald Trump could move a single one of his followers, either at the popular or elite levels.
That's progress, of a sort. It means that supporters of democracy finally understand the realities of what they are facing. https://thetriad.thebulwark.com/p/theres-a-storm-coming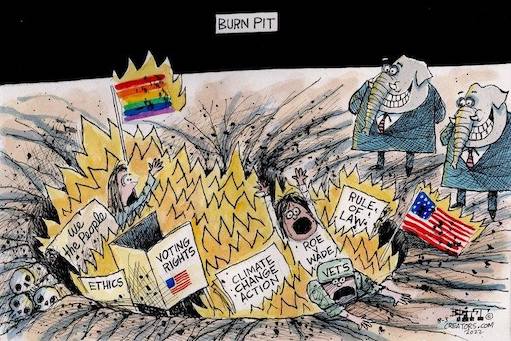 Steve Benen: GOP discovers new standards on the mishandling of classified info
If there was one thing Republicans cared about six years ago, it was how high-ranking officials dealt with classified materials. In fact, as recently as 2016, the GOP was certain — that is, the party at least pretended to be certain — that politicians disqualify themselves from positions of authority when they put documents at risk.

And so, now that Republicans have learned that Donald Trump allegedly took highly sensitive classified materials to his golf resort, one could imagine the party expressing outrage with the former president. After all, given the GOP's recent history of passionate feelings on the subject, it stands to reason that Trump may have crossed an intolerable line.

But that would assume that the Republican Party's principles and standards are consistent. They are not.

To this day, rabid Republican activists will reflexively chant, "Lock her up!" at the mere mention of Clinton's name because she allegedly failed to properly deal with classified materials.

And now many of those same Republicans say they don't much care. Indeed, the only thing many in the GOP appear to care about this morning is condemning federal law enforcement for taking the issue seriously. https://www.msnbc.com/rachel-maddow-show/maddowblog/gop-discovers-new-standards-mishandling-classified-info-rcna42183
Adam Serwer: Conservatives Believe Trump Is Above the Law
"The merits of a potential government case against Donald Trump, and of the basis for the FBI's raid on Mar-a-Lago, cannot yet be evaluated, despite the assertions of many of Trump's supporters and critics. A federal search warrant can be obtained only with probable cause and with the approval of a federal magist\\te, but that does not mean that Trump is guilty of whatever alleged crime the FBI is investigating. Nor does the fact that Trump may be guilty of criminal conduct in other contexts mean that he is guilty here."
"But at the same time, the reflexive Republican insistence that the investigation is politically motivated is itself unmoored from the available evidence." https://www.theatlantic.com/ideas/archive/2022/08/trump-mar-a-lago-fbi-raid-investigation/671087/
Dana Milbank The GOP is sick. It didn't start with Trump — and won't end with him
What we are living through today is just a continuation of the GOP's direction for the past 30 years: the appeals to white nationalism, the sabotage of the functions of government, the routine embrace of disinformation, stoking the fiction of election fraud and the "big lie," and the steady degradation of democracy.

Now, it seems, that degradation is accelerating. We see this in the determined efforts by Republican leaders to ignore, or discredit, the truths being revealed by the House Jan. 6 select committee: Trump demanding magnetometers be removed on Jan. 6 so his armed supporters could attend his rally and then march on the Capitol; Trump ignoring pleas from aides and family members to intervene on Jan. 6 to stop the bloodshed; Trump seriously entertaining the seizing of voting machines and attempting to install new leaders at the Justice Department who would support his false fraud claims; and Trump's allegedly still-active attempts to tamper with witnesses before the committee.

As they avert their gaze from the cascading horrors of the failed coup, Republicans are instead looking to a familiar guide: Gingrich. The former speaker, now a board member of the pro-Trump America First Policy Institute, announced this year that he is serving as a consultant to House GOP leader Kevin McCarthy and his team.

No sooner had this been disclosed than Gingrich, on Fox News, threatened the imprisonment of lawmakers serving on the Jan. 6 committee, saying they're "going to face a real risk of jail" after Republicans take over Congress. Throwing political opponents in jail for investigating an attack on the U.S. Capitol and a coup against the U.S. government?

Replied Wyoming Rep. Liz Cheney, one of two Republicans on the committee: "This is what it looks like when the rule of law unravels." But Gingrich knows that. He's the one who first started tugging at the threads. https://www.washingtonpost.com/opinions/2022/08/04/dana-milbank-republican-destructionists-book-excerpt/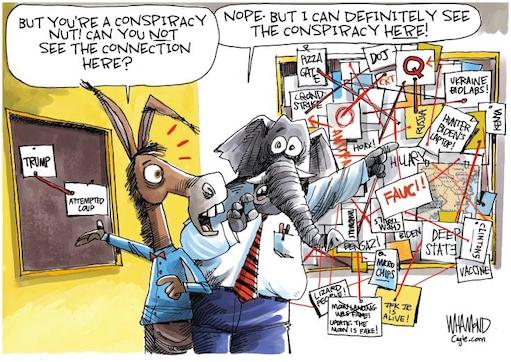 Jennifer Rubin: A stunning GOP losing streak since Dobbs could remake the midterm landscape
If Republicans' "red wave" dreams fizzle, a good deal of blame will rest with the radical right-wingers on the Supreme Court and the party's fixation on controlling women's bodies and choices.

But that's not the only Category 5 political hurricane about to hit Republicans. The Jan. 6 committee has laid bare the extent that former president Donald Trump betrayed our democracy — and Republicans' complicity in the "big lie." The Justice Department is hot on the trail of the man who thoroughly dominates the GOP. (Just look at the MAGA extremists nominated in Arizona on Tuesday to see how thoroughly Trumpized the party has become.)

That's not all. Democrats chalked up a win on the Chips Act. Republicans' fit over the Inflation Reduction Act resulted in one of the worst self-inflicted wounds in memory, leading Jon Stewart and virtually all mainstream outlets (and some conservative ones) to deplore their delay in passing the PACT Act. And if the IRA actually passes — with overwhelmingly popular provisions (taxing huge corporations, controlling prescription drugs, extending Affordable Care Act subsidies, making a historic investment in clean energy) over the unanimous objections of Republicans — Democrats will have a boatload of favorable news stories and plenty of accomplishments to show to constituents.

Finally, Republicans have used their primaries to nominate MAGA extremists, election deniers, radical and gaffe-prone candidates and poor fundraisers, especially in key Senate races in Georgia, Ohio, Pennsylvania and Arizona. They could well lose their shot to take back the Senate based solely on rotten candidate selection.

The point of this is not to predict sweeping Democratic wins in 95 days. It is to highlight the dramatic shift — with plenty of help from Republicans — in the political atmosphere in ways that uniformly benefit Democrats. If you had asked Democrats on June 23 for a list of developments they'd pray would turn around the midterms, they likely would not have had the nerve to include all the items that came to pass. They surely wouldn't have dared to put "a huge victory for pro-choice forces in Kansas" on their bingo cards. https://www.washingtonpost.com/opinions/2022/08/04/democrats-midterms-momentum/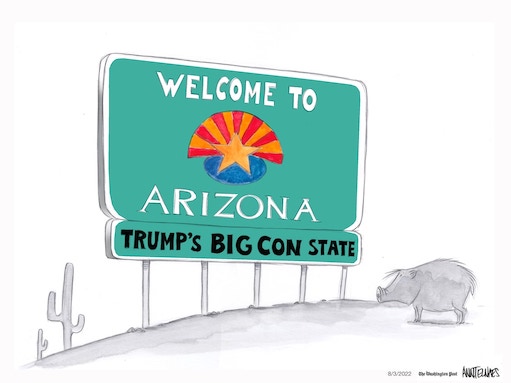 Jackie Calms: The abortion vote in Kansas shows that populism can work for Democrats too
The lopsided Kansas result also was a victory for direct democracy in these increasingly anti-democratic times. Contrast the people's choice with the rush in red state legislatures — Indiana, for instance — to ban or severely restrict abortion. These lawmakers are insulated from popular opinion by gerrymandered districts; their only fear is a far-right party challenge if they show moderation.

For that reason, between now and the 2024 election, Democrats will be trying to put more abortion rights measures before the public wherever states allow voter initiatives on the ballot.

This prospect poses an opportunity to call Alito's bluff. In his opinion, he essentially dared abortion rights supporters to use the ballot box to get their way in the states. "Women are not without electoral or political power," he wrote (without explaining why he doesn't think men have a dog in this fight).

For Democrats to keep control of the Senate, powered by the abortion rights backlash, would be especially gratifying. It would deprive Mitch McConnell of his hoped-for return as majority leader in January — apt payback for the senator who busted norms to create the Supreme Court supermajority that enabled Roe's reversal.

Alito got the big win in June with his Dobbs opinion. But voters can make sure he doesn't get the last laugh. https://www.latimes.com/opinion/story/2022-08-05/kansas-abortion-rights-constitution-amendment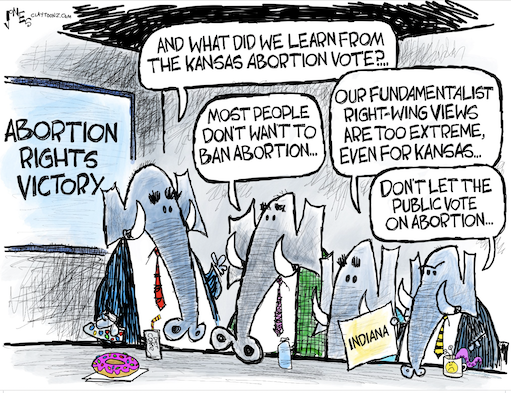 Jane Mayer: State Legislatures Are Torching Democracy
A recent study by the Institute for Research and Education on Human Rights, a nonpartisan nonprofit, documents how deeply right-wing extremism has infiltrated U.S. statehouses. Of the 7,383 people who served in state legislatures in the 2021-22 session, eight hundred and seventy-five had joined far-right Facebook groups. (All but three were Republicans.) The study describes the fringe beliefs that many of these members shared, including "the idea that Christians constitute a core of the American citizenry and/or that government and public policies should be reshaped to reflect that." A group promoting this view, the Ohio Christian Alliance, counts eleven Ohio state legislators among its Facebook members, including Gary Click. Last year, the organization helped block a bill, the Ohio Fairness Act, that would have barred housing and employment discrimination against the L.G.B.T.Q. community.

State Representative Casey Weinstein, a second-term Democrat from a suburban swing district between Akron and Cleveland, and one of the General Assembly's two Jewish members, told me that he's recently become "really concerned" about a new level of extremism. On January 23, 2022, a protest outside his house shattered a peaceful Sunday afternoon with his wife and young children. Some thirty vehicles blocked the entrance to his driveway; one had a flag bearing the message "kneel for the cross." Weinstein told me, "I thought it was a Trump group, but it turned out to be a church, Liberty Valley, near Macedonia, Ohio. Some of these churches are militant, and some are basically militias operating under the guise of religion. They're weaponizing religion into a power grab." He went on, "So, I'm the Jew, and they came to my house to try to intimidate me and my family. That's what's happening, and where this is going."  https://www.newyorker.com/magazine/2022/08/15/state-legislatures-are-torching-democracy
Bess Levin: Ron Desantis's New Civics Initiative Involves Teaching Kids Slavery In America Wasn't That Bad
Few people in politics today are more drunk with power than Ron DeSantis. The Florida governor punishes companies that disagree with him, attacks people for living their lives, and suspends democratically elected officials for failure to enforce his favorite fascist policies. Like many a conservative in 2022, DeSantis also hates the idea of kids learning that American history involves a lot of unsavory business, usually on the part of white people. Which is why he's started a new initiative that involves straight-up lying about the country's past to Florida's school children.

Multiple news outlets have reported that Florida teachers who've attended conferences held by the Florida Department of Education this summer, as part of a "civics excellence" initiative unveiled by the governor last year, have been deeply disturbed at what they've seen. According to the Tampa Bay Times, throughout the sessions, facilitators have attempted to downplay the history of slavery in the U.S., and insist that of all the slave-owing nations, the U.S. was the least into it. Tatiana Ahlbum, a 12th-grade government and economics teacher at Fort Lauderdale High, said it was stressed that the majority of enslaved people in America had been born into slavery, that the colonies bought fewer enslaved people from the transatlantic slave trade than has been previously portrayed, and that less than 4% of enslaved people worldwide lived in America, without noting that that percentage still constituted millions of people.

Ahlbum told the Times that it felt like the instructors were trying to claim America had been "less bad" when it came to enslaving people, which certainly appears to be the case! Meanwhile, another slide reportedly quoted George Washington and Thomas Jefferson as saying they wanted to get rid of slavery, while crucially leaving out the fact that both men enslaved people, with the latter owning more than 600 in his lifetime and also famously raping at least one of them. Ahlbum added that few of the facts presented included cited sources. "We were not told which documents stated this or how to find them, just that they existed," she said.https://www.vanityfair.com/news/2022/08/ron-desantis-civics-initiative-slavery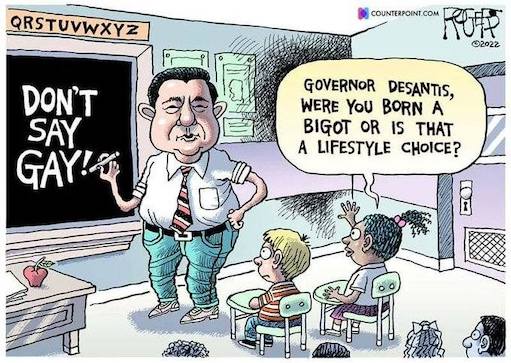 Max Boot: The GOP is Viktor Orban's party now
All you need to know about the state of the Republican Party today is what happened at the Conservative Political Action Conference in Dallas on Thursday. Hungarian Prime Minister Viktor Orban, who has been destroying his country's democracy, received a standing ovation less than two weeks after he gave a speech in Romania in which he endorsed the white supremacist "replacement theory" and denounced a "mixed-race world."

One of Orban's longtime advisers quit over what she described as a speech "worthy of Goebbels" before backtracking a bit. But Orban hasn't recanted his repugnant views, and right-wingers in Dallas thrilled to his denunciations of immigration, abortion, LGBTQ rights and "the Woke Globalist Goliath." He even excoriated Jewish financier George Soros, a Hungarian native, as someone who "hated Christianity." The racist and anti-Semitic signaling was not subtle.

You can argue that the New Right helped lead to the present imbroglio, but it's hard to imagine Goldwater or Reagan flashing Viktor Orban a thumbs-up, as Trump did.

Some other term is needed. "Christian nationalism" and "nationalist conservatism" have been bandied about, but the most apt phrase for this American authoritarianism is the New Fascism, and it is fast becoming the dominant trend on the right. If the GOP gains power in Washington, all of America will be in danger of being Orbanized. https://www.washingtonpost.com/opinions/2022/08/07/vicktor-orban-republican-party-cpac-dallas-new-fascism/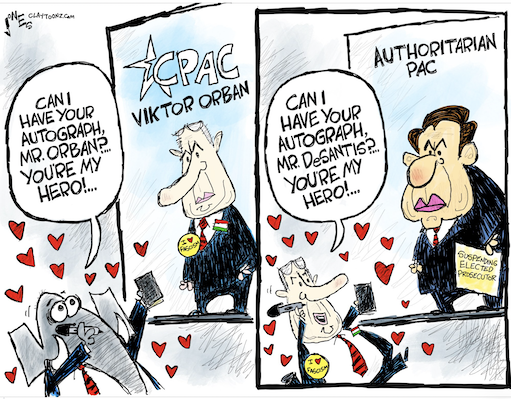 Bess Levin: The FBI Confirms Its Brett Kavanaugh Investigation Was A Total Sham
Supreme Court confirmation hearings aren't usually burned into people's minds, but there were a number of things that went down during Brett Kavanaugh's that will be difficult to ever forget. For one thing, the fact that he referenced his love of beer approximately 30 times, telling the lawmakers interviewing him for the job: "We drank beer. My friends and I. Boys and girls. Yes, we drank beer. I liked beer. Still like beer. We drank beer."

Still, the thing that probably struck people as the most memorable, because it was the most disturbing, was the fact that much of the proceedings centered around the credible accusations of sexual misconduct that had been lodged against the would-be justice, most notably by Christine Blasey Ford, who testified that Kavanaugh had sexually assaulted and tried to rape her when they were in high school. (Kavanaugh has denied this and all other allegations against him.)

Given these allegations—in addition to Kavanaugh's temperament, which, to put it in terms he can understand, could be best described as "a hothead who just did a 10 Jägerbombs"—it struck many as outrageous for him to be given a lifetime appointment on the Supreme Court. That sense of outrage only deepened last year, when we learned that the FBI had received 4,500—4,500!—tips about Kavanaugh, which were referred to the White House, i.e. the organization trying to get the guy confirmed to the Court. And now, the FBI has confirmed that, yeah, it didn't really feel the need to look into any of those tips, and when it did follow up on some, the White House was making sure it didn't dig too far.

Regardless of whether or not it's true that the FBI has a policy of taking direction "from the requesting entity," it would seem that if an individual is up for a job in which he will have the power to affect millions of people's lives, and has been accused of engaging in horrible acts, the most powerful investigative body in the country should take a more active role. Particularly when the "requesting entity" is the Donald Trump White House, which had a vested interest in not probing allegations of sexual misconduct, given who was running the joint.

Anyway, now Justice Beer Bong has helped take away the rights of half the country—and who knows what's coming next! https://www.vanityfair.com/news/2022/08/brett-kavanaugh-fbi-investigation