July 2, 2020
ON THE RECORD. . .
"[Donald Trump's] like a child who can't believe this has happened to him. All his whining and self-pity. Well, this pandemic didn't happen to him, it happened to all of us. And his job isn't to whine about it. His job is to do something about it." cbsnews.com/live — Joe Biden

Soon 'we are just gonna go out and start slaughtering them fucking ni—–. I can't wait. God, I can't wait. Society needs a civil war to "wipe 'em off the fucking map. That'll put 'em back about four or five generations.'" — Now-former Wilmington Police Department officer Michael 'Kevin' Piner telling Cpl. Moore that he feels a civil war is coming and he is 'ready.'

"The politics was in the previous administration. Bill is doing the Lord's work trying to clean it up so that it doesn't happen again." — Rep. Jim Jordan (R-OH)

"A judge has ruled that Rep. Devin Nunes (R-CA) has no right to sue Twitter over statements made by a fake Internet cow." — Fresno Bee

"Even for us, this is dysfunctional." — Sen. Kevin Cramer (R-ND) who, at the White House's request, blocked unanimous passage of the bill last week that punishes China over its encroachments in Hong— even though he's a co-sponsor of it.

"I think there is a better chance Donald Trump does not run for re-election, than he is re-elected." — James Carville

WAKE UP! Black Lives Matter wants to destroy law enforcement, end bail, empty the prisons (including drug dealers as well as users), provide themselves with reparations, AND a full-time government income without the necessity of work. — Rudy W. Giuliani

Joe Biden "is going to be president because some people don't love me maybe because all I'm doing is my job." — Trump to Fox News

"Please for the love of God do not vote for my dad." — Stephanie whose father, Robert Regan (R), a candidate for the Michigan state House, explained that his daughter publicly urged people to vote against him because she attended a liberal college and "and you know, they just kind of get sucked into this Marxist, communist ideology." -- The Hill 

"I don't have the coronavirus, turns out as of yesterday I've never had it. But if I get it, you'll never see me without a ," — Rep. Louie Gohmert (R-TX)

"I will not be muzzled like a mad dog." — A speaker during the the debate over a proposed mandate for face masks in St. Lucie County, FL.

"Today the President shared a video of people shouting 'white power' and said they were 'great.' Just like he did after Charlottesville. We're in a battle for the soul of the nation — and the President has picked a side. But make no mistake: it's a battle we will win." — Joe Biden on Twitter.

"Just as I have said to the president: With him, all roads lead to Putin. I don't know what the Russians have on the president, politically, personally, or financially. This is as bad as it gets, and yet the president will not confront the Russians on this score." — Speaker Nancy Pelosi following the NY Times report that Russia offered bounties to Taliban fighters to kill U.S. troops in Afghanistan.

"It would be a plus to have an African American woman. And I'll reiterate I have never said it is a must. The only must is to win this campaign. That's a must, not just for black people but for the country. Because I really believe if Joe Biden does not win this campaign, this country's democracy will crumble." — Rep. Jim Clyburn (D-SC)

"(President Trump) is losing and if he doesn't change course, both in terms of the substance of what he is discussing and the way that he approaches the American people, then he will lose," former New Jersey Gov. Chris Christie says on national polls. -- This Week ABC News

"Today the President shared a video of people shouting 'white power' and said they were 'great.' Just like he did after Charlottesville. We're in a battle for the soul of the nation — and the President has picked a side. But make no mistake: it's a battle we will win." — Joe Biden tweet

"Unfortunately, this simple, lifesaving practice has become part of a political debate that says: If you're for Trump, you don't wear a mask. If you're against Trump, you do," — Sen. Lamar Alexander (R-TN) bluntly calling on Trump to start wearing a mask, at least some of the time, to set a good example.

"This president is the most informed person on Planet Earth in terms of the threats that we face." — White House press secretary Kayleigh McEnany, at a press briefing on Tuesday.

Face masks, which are in some ways worse than police-enforced lockdowns because they represent a literal in-your-face exercise of statist power like Islamist head coverings for women or the Nazis' yellow star for Jews. Unnecessary public mask wearing, as opposed to reasonable usage, is no less a statement of psychological submission to higher authority than a dog collar." — Right-wing anti-LGBT crusader Scott Lively.

"Locking down doesn't work! If it did, those two states  [California and New York] would be doing better than Texas. Fauci said today that he's concerned about states like Texas that skipped over certain things. He doesn't know what he's talking about! We haven't skipped over anything. The only thing I'm skipping over is listening to him… He has been wrong every time on every issue. I don't need his advice anymore." — Texas Lt. Gov. Dan Patrick (R), a former talk show radio host.

"I think we're going to be very good with the coronavirus. I think at some point that's going to sort of just disappear, I hope… I do, I do. Yeah sure, at some point. And I think we're going to have a vaccine very soon too."— Trump

POLITICAL ADS.....

Which Side Of History | The Lincoln Project: https://youtu.be/XmFXlt1AFHA

Debt | The Lincoln Project: https://youtu.be/XOty4J1b0FU

Betrayed | The Lincoln Project: https://mobile.twitter.com/projectlincoln/status/1278028522863427584

Bounty | The Lincoln Project: https://youtu.be/kiDkTOKI7Ro

Fox & Fiends | The Lincoln Project: https://www.youtube.com/watch?v=uy7pbJ2jvMo

#TraitorTrump | VoteVets: https://twitter.com/votevets/status/1277295496105807873

Flag of Treason | The Lincoln Project: https://youtu.be/5w7kwtLJtVc

How A President Leads | The Lincoln Project: https://youtu.be/Y5TiyJ7JWRE

#TrumpGaveUp | Republican Voters Against Trump: https://twitter.com/RVAT2020/status/1276241475957915651

Does not even pretend to try | The Lincoln Project: https://twitter.com/joncoopertweets/status/1275973943250345989

The coward and the commander | The Lincoln Project:
https://twitter.com/joncoopertweets/status/1275973943250345989

In the middle of a pandemic, Donald Trump is moving to kick 20 million people off their health insurance. | Priorities USA: https://twitter.com/prioritiesUSA/status/1276550717029916672

We need a President who will put our health before politics. | Priorities USA: https://twitter.com/prioritiesUSA/status/1276527853807468546

For 8 years, Joe Biden and Barack Obama built a booming economy from the ground up. Then Donald Trump destroyed it. | Priorities USA: https://twitter.com/prioritiesUSA/status/1276243024478167041

@IvankaTrump laughably says that her father hires based on skill and competence | MeidasTouch.com: https://twitter.com/MeidasTouch/status/1276700527041052676
---
IN THIS ISSUE
FYI
OPINION
1.  Andy Borowitz: Giuliani No Longer Worst Lawyer in Country
In an unexpected turn of events for the former New York mayor, a poll of legal experts has determined that Rudolph Giuliani is no longer the worst lawyer in America.

According to the law professor who supervised the poll, Davis Logsdon, of the University of Minnesota Law School, Giuliani's dethronement from the worst-lawyer championship was all the more shocking because his claim to that title had remained unchallenged for so long.

"Giuliani had faced worthy competition from the likes of Michael D. Cohen and Michael Avenatti and dispatched them with ease," Logsdon said. "But this new challenger left Rudy in the dust."

The new titleholder as the nation's worst lawyer, who won in a nearly unanimous vote, is so egregious that he may cause some legal experts to reassess Giuliani's career as an attorney. "Compared to our country's new worst lawyer, Rudy demonstrated the utmost respect for the Constitution and the rule of law," Logsdon argued.

Reached in the makeup room at Fox News, where he was about to make an on-air appearance, Giuliani took the news of his ouster philosophically. "I had a good run," he said. https://www.newyorker.com/humor/borowitz-report/

Barr wins.
2. Public's Mood Turns Grim; Trump Trails Biden on Most Personal Traits, Major Issues
With less than five months until the 2020 elections, Americans are deeply unhappy with the state of the nation. As the United States simultaneously struggles with a pandemic, an economic recession and protests about police violence and racial justice, the share of the public saying they are satisfied with the way things are going in the country has plummeted from 31% in April, during the early weeks of the coronavirus outbreak, to just 12% today.
Just 17% of Americans – including 25% of Republicans and Republican-leaning independents and 10% of Democrats and Democratic leaners – say they feel proud when thinking about the state of the country. https://www.people-press.org/2020/06/30/publics-mood-turns-grim-trump-trails-biden-on-most-personal-traits-major-issues/
3. Senate strips provision from intelligence bill requiring campaigns to report foreign election help
The Senate will incorporate the annual intelligence policy legislation into the National Defense Authorization Act — but only after Republicans stripped language from the intelligence bill that would have required presidential campaigns to report offers of foreign election help.
Sen. Mark Warner bemoaned what he called a "back-room deal" to strip out the provision. https://edition.cnn.com/2020/06/30/politics/senate-removes-ban-foreign-election-help/Biden
4. CDC expert warns U.S. has "way too much virus" to contain outbreak
The novel coronavirus is spreading too widely and quickly to contain, CDC principal deputy director Anne Schuchat told The Journal of the American Medical Association Monday, warning that she expects "this virus to continue to circulate. This is really the beginning, and what we hope is that we can take it seriously and slow the transmission." Her comments are in contrast to those of senior members of the Trump administration — notably Vice President Mike Pence, who said on Friday "we have made truly remarkable progress." https://www.axios.com/coronavirus-lockdowns-recession-economy-9f465c36-1777-4d7a-922b-159a99aa2611.html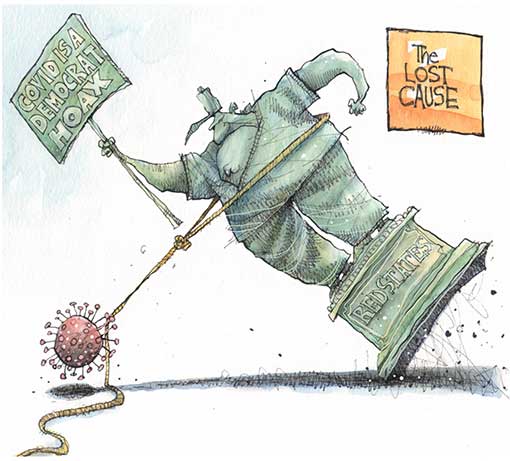 5. Trump's 'white power' retweet set off 'five-alarm fire' in White House
President Donald Trump set off a "five-alarm fire" in the White House on Sunday morning after he retweeted a video of one of his supporters saying "white power," according to two White House officials.
The video remained on the president's Twitter page, where he has 82 million followers, for more than three hours because White House officials couldn't reach him to ask him to delete it, the two officials said. The president was at his golf club in Virginia and had put his phone down, the officials said. https://www.nbcnews.com/politics/white-house/trump-s-white-power-retweet-set-five-alarm-fire-white-n1232495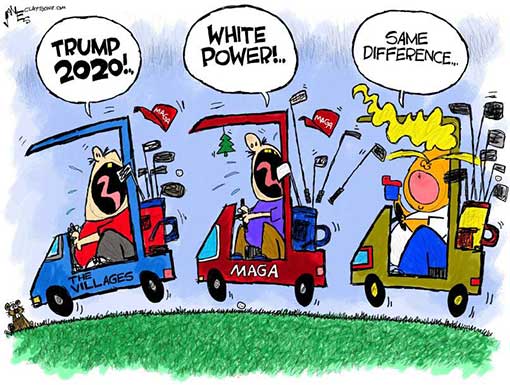 6. Biden campaign's letter to Facebook
Joe Biden's presidential campaign demanded in a letter to Facebook that the company prevent misuse of its platform by President Trump to spread "hateful content" and misleading claims about mail-in ahead of the November election. https://www.washingtonpost.com/context/biden-campaign-s-letter-to-facebook/39e38d4c-442f-4d21-b098-b35677167cb9/?itid=lk_inline_manual_2
7. Biden tells donors: I'm going to get rid of most of Trump's tax cuts
But even before the coronavirus crisis effectively froze the U.S. economy and sent unemployment skyrocketing, Trump's "irresponsible sugar-high tax cuts had already pushed us into a trillion-dollar deficit," Biden said.
"I'm going to get rid of the bulk of Trump's $2 trillion tax cut," Biden continued, "and a lot of you may not like that but I'm going to close loopholes like capital gains and stepped-up basis."
Biden also said he would raise the corporate tax rate to 28%, which he said would raise an estimated $1.3 trillion over the next decade. The Trump tax cuts had shrunk corporate taxes to 21% from 35%.
"We have to think as big as the challenge we face. But this is America, there is nothing we cannot do if we do it together," Biden said. "But I think the country is ready." https://www.cnbc.com/2020/06/29/biden-tells-donors-he-will-end-most-of-trumps-tax-cuts.html
8. 100 Reasons Trump Is Unfit to Be President
Lest anyone forget or require convincing, here's a non-exhaustive list of 100 reasons Donald Trump is unfit to be president. https://thebulwark.com/100-reasons-trump-is-unfit-to-be-president/
9. The Betting Markets Are Betting Big on Biden
As Joe Biden surges in the polls thanks to a season of political failures from President Trump, betting markets are considering, for now, the former vice-president as a solid front-runner in November. The major American market, Predictit, now prefers Biden by a 21-point margin, with the Democratic candidate favored 61 percent to Trump's 40 percent. For those who prefer less erratic investment opportunities, that means that if a bettor pays up 61 cents today and Biden wins the election, they will be paid out $1 on November 3. https://nymag.com/intelligencer/2020/06/the-betting-markets-are-betting-big-on-biden.html
10. Trump's legal argument for throwing out all of the ACA is a nightmare for Senate Republicans
Donald Trump insists on the campaign trail that he wants to protect insurance coverage for people with preexisting conditions. His legal team just told the Supreme Court otherwise.
The 82-page brief submitted late Thursday night by Trump's representatives states crisply that the president wants to get rid of every provision of the Affordable Care Act.
"Trump and the Republicans' campaign to rip away the protections and benefits of the Affordable Care Act in the middle of the coronavirus crisis is an act of unfathomable cruelty," Speaker Nancy Pelosi (D-Calif.) said in a statement responding to the new brief. "If President Trump gets his way, 130 million Americans with pre-existing conditions will lose the ACA's lifesaving protections and 23 million Americans will lose their health coverage entirely." (The 23 million figure comes from a recent analysis by the liberal Center for American Progress think tank.) https://www.washingtonpost.com/news/powerpost/paloma/daily-202/2020/06/26/daily-202-trump-s-legal-argument-for-throwing-out-all-of-the-aca-is-a-nightmare-for-senate-republicans/5ef58d74602ff1080718fc3b/
11. Trump vote-by-mail demonizing is driving down GOP participation
President Trump's extreme opposition to mail-in ballots is more likely hurting him and down-ballot Republicans than it is helping him.
Mounting evidence in voter registration data, a survey, and organizer anecdotes shows that instead of preventing the voting method from being a major factor in the November election, his stance is turning Republican voters off from using the method entirely, which could have the effect of depressing Republican votes. https://www.washingtonexaminer.com/news/republican-nightmare-trump-vote-by-mail-demonizing-driving-down-gop-participation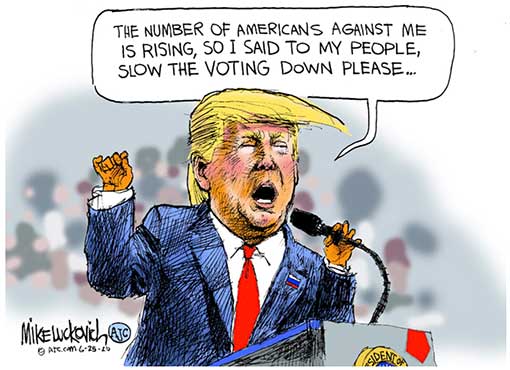 12. Trump administration wants drilling on more than two-thirds of the largest swath of U.S. public land
The nearly 23-million acre National Petroleum Reserve-Alaska provides a critical refuge to migrating caribou, waterfowl and other wildlife
The Trump administration proposed on Thursday to open more than two-thirds of the nation's largest piece of public land to oil and gas drilling, removing wildlife protections for the Alaskan tract that have been in place for more than four decades.
The Interior Department's Bureau of Land Management wants to allow fossil fuel extraction in roughly 82 percent of the National Petroleum Reserve-Alaska on the state's North Slope. Less famous than the nearby Arctic National Wildlife Refuge, it is one of the most ecologically valuable tracts of federal property — providing a critical refuge to polar bears as well as tens of thousands of migrating caribou and waterfowl.
ConocoPhillips has already been exploring the site, known as NPR-A. Alaska's largest oil producer, it holds a total of 1.1 million acres and has discovered oil in remote areas called Moose's Tooth and Bear Tooth.
But many Alaska Natives living near the reserve object to further development, on the grounds that it could harm the animals that make up a significant portion of their diet. Teshekpuk Lake serves as molting area for one-fifth of the world's Pacific black brant and calving grounds for tens of thousands of caribou each summer. https://www.washingtonpost.com/climate-environment/2020/06/25/national-petroleum-reserve-alaska-trump/
13. Biden ties COVID-19 to Trump's 'callous' Obamacare assault: 'A new pre-existing condition'
Joe Biden on Thursday warned that President Donald Trump's attempts to dismantle the Affordable Care Act will have disastrous consequences on Americans who become infected with the coronavirus, demanding in a fiery speech that the "callous" president end a lawsuit that is seeking to terminate the landmark health care law.
"He's like a child who just can't believe this has happened to him. It's all whining and self-pity," Biden said of Trump's coronavirus response during a speech in Lancaster, Pennsylvania. "This pandemic didn't happen to him. It happened to all of us."
Addressing Trump directly at another point, Biden said, "Mr. President, drop the lawsuit. Stop trying to take away people's health care and their peace of mind. I cannot comprehend the cruelty he is inflicting on the very people he is supposed to serve," he said. https://www.nbcnews.com/politics/2020-election/biden-rips-trump-s-coronavirus-response-obamacare-assault-fiery-speech-n1232137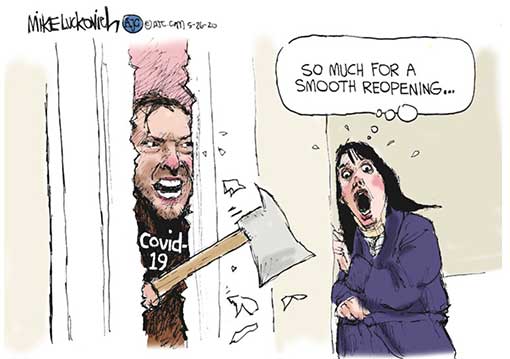 14. Florida's Idiocracy
In the 2006 movie, Idiocracy, Mike Judge imagined "a dystopian world where commercialism has run rampant, mankind has embraced anti-intellectualism, and society is devoid of such traits as intellectual curiosity, social responsibility, justice, and human rights."
Or maybe Judge was just predicting what would happen to Florida if a global pandemic ever hit.
Here's a sample: On Wednesday, Palm Beach County held a public hearing. Its purpose: with the number of coronavirus cases spiking in Florida, the county commission wanted to hold a vote on mandating the use of masks in public (as Broward and Miami-Dade counties have). The vote came after a two-hour public hearing, during which angry opponents held up Trump signs, threatened the county board with citizens' arrests, invoked the wrath of God, and held a festival of crazy. Floridians angrily claiming masks are the work of the devil because "they want to throw God's wonderful breathing system out the door." Watch the video at https://vimeo.com/432243372 and https://vimeo.com/431860079
15. New research explores how conservative media misinformation may have intensified the severity of the
In recent weeks, three studies have focused on conservative media's role in fostering confusion about the seriousness of the coronavirus. Taken together, they paint a picture of a media ecosystem that amplifies misinformation, entertains conspiracy theories and discourages audiences from taking concrete steps to protect themselves and others.
The end result, according to one of the studies, is that infection and mortality rates are higher in places where one pundit who initially downplayed the severity of the pandemic — Fox News's Sean Hannity — reaches the largest audiences.
"We are receiving an incredible number of studies and solid data showing that consuming far-right media and social media content was strongly associated with low concern about the virus at the onset of the pandemic," said Irene Pasquetto, chief editor of the Harvard Kennedy School Misinformation Review, which published one of the studies. https://www.washingtonpost.com/business/2020/06/25/fox-news-hannity-coronavirus-misinformation/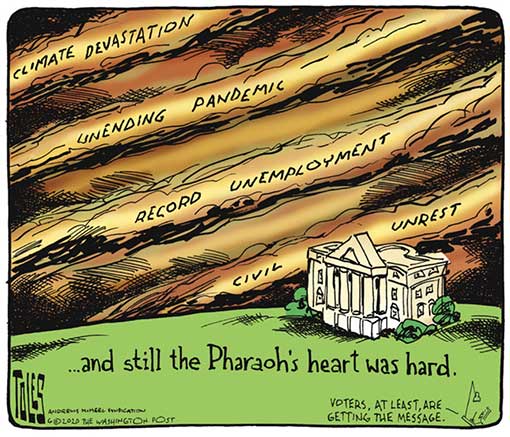 16. She Wanted to Be a Republican President. She's Voting for Biden.
Carly Fiorina was a Republican candidate for president just four years ago, and was briefly Ted Cruz's prospective running mate, but she tells The Ticket Donald Trump needs to go and that means she's voting for Joe Biden.
More importantly, Fiorina "is not going to keep quiet, write in another candidate, or vote third-party."
Said Fiorina: "I've been very clear that I can't support Donald Trump. And elections are binary choices." https://www.theatlantic.com/politics/archive/2020/06/carly-fiorina-vote-biden/613474/
17. Treasury sent more than 1 million coronavirus stimulus payments to dead people
The federal government sent coronavirus stimulus payments to almost 1.1 million dead people totaling nearly $1.4 billion, Congress's independent watchdog reported Thursday.
The U.S. Government Accountability Office, an independent investigative agency that reports to Congress, issued the finding as part of a comprehensive report on the nearly $3 trillion in coronavirus relief spending approved by Congress in March and April. It said it had received the information from the Treasury Inspector General for Tax Administration in an accounting as of April 30. https://www.washingtonpost.com/us-policy/2020/06/25/irs-stimulus-checks-dead-people-gao/
18. House Democrats push through first bill in a decade expanding Affordable Care Act
The House Monday passed the first significant expansion of the Affordable Care Act since its birth a decade ago, providing Democrats a high-wattage platform to castigate President Trump for his efforts to overturn the landmark law during a pandemic and an election year. https://www.washingtonpost.com/health/house-democrats-push-through-first-bill-in-a-decade-expanding-affordable-care-act/2020/06/29/350d3046-ba0f-11ea-8cf5-9c1b8d7f84c6_story.html
19. How the Virus Won
The NY Times analyzed travel patterns, hidden infections and genetic data to show how the epidemic spun out of control. Watch the interactive graphic at https://www.nytimes.com/interactive/2020/us/coronavirus-spread.html
20. GOP House candidate publishes 23-page report claiming George Floyd death was deepfake video
A Republican candidate running for a St. Louis-area House seat has published a 23-page document outlining a conspiracy theory that the footage of George Floyd's death in police custody, which has ignited weeks of protests, was staged to inflame racial tensions.
"We conclude that no one in the video is really one person but rather they are all digital composites of two or more real people to form completely new digital persons using deepfake technology," Winnie Heartstrong, who is running against Rep. Wm. Lacy Clay (D-Mo.), wrote.
The document, which Heartstrong claims was written with the aid of "citizen investigators," alleges Floyd died 3 years ago. It also repeats a conspiracy theory that Derek Chauvin, the former Minneapolis police officer charged with second-degree murder in Floyd's death, is in fact the Cash Cab host, stand-up comedian Ben Bailey. https://thehill.com/homenews/house/504429-gop-house-candidate-publishes-23-page-report-claiming-george-floyd-death-was
21. Trump is headlining fireworks at Mount Rushmore. Experts worry two things could spread: virus and wildfire.
Trump is planning a massive fireworks display at Mount Rushmore on July 3, despite a decade-long ban on pyrotechnics at the iconic spot because of concerns about public health, environmental and safety risks.
The National Park Service stopped staging pyrotechnics at Mount Rushmore in 2010 out of concern that it could ignite wildfires under drought conditions. The memorial is surrounded by 1,200 acres of forested lands, including ponderosa pines, and lies next to the Black Hills National Forest's Black Elk Wilderness.
NOTE: Neither federal nor state officials have imposed social distancing requirements as part of the gathering. The state tourism department, which is distributing 7,500 tickets for the event, has estimated that it has had requests for at least 125,000. https://www.washingtonpost.com/climate-environment/2020/06/24/trump-mount-rushmore-fireworks/
22. AOC's Digital Juggernaut
What a difference two years makes.
Around this time in 2018, Alexandria Ocasio-Cortez was a relatively unknown challenger to Representative Joe Crowley, the entrenched and powerful Democratic incumbent from New York's 14th Congressional District. Her upset primary victory catapulted her to political stardom and immense influence.
Since the beginning of this election cycle in 2019, she's spent $3.6 million on Facebook ads, including nearly $2.4 million since January, according to her campaign. The next biggest digital advertiser among House members in 2020 is Representative Adam Schiff of California, who spent $620,000 online, according to the tracking firm Advertising Analytics. https://www.nytimes.com/2020/06/23/us/politics/aoc-facebook-ads.html
23. Trump Asks for Toppled DC Confederate Statue To Be Put Back Up
Donald Trump personally requested that a statue of a Confederate Brigadier General Albert Pike be put back up, less than a week after cheering protesters toppled it and set it on fire in a Washington, D.C., park. https://www.nbcwashington.com/news/local/trump-requests-toppled-confederate-statue-put-back-up-in-dc/2343633/
24. Poll: Republicans, Democrats Move Even Further Apart in Coronavirus Concerns
A growing share of Republicans believe that the nation has turned a corner in its struggle with the coronavirus. A majority of Republicans and Republican-leaning independents (61%) now say that when thinking about the problems facing the country from the coronavirus, "the worst is behind us," while 38% say the "worst is still to come." This marks a reversal of opinion since early April, when a majority of Republicans (56%) said the worst was still to come.
By contrast, just 23% of Democrats and Democratic leaners say that the worst is behind us when it comes to problems from the coronavirus; more than three times as many Democrats (76%) say the worst is still to come. This is a more modest change from April, when an even larger majority of Democrats (87%) said the worst was still to come. https://www.people-press.org/2020/06/25/republicans-democrats-move-even-further-apart-in-coronavirus-concerns/
25. Trump campaigning with Department of Transportation Money
Tweets from Donald J. Trump offered Department of Transportation funds to Florida (2), Mississippi, Nevada, North Carolina, Rhode Island, Texas, Washington State, Oklahoma, South Carolina, Tennessee, West Virginia, Wisconsin, Louisiana, and Michigan
For instance:
Floridians will get $10M grant from @USDOT for @MyFDOT's I-4 to improve technology to provide travelers with better information and important messages in real time! Will make getting BACK TO WORK easier. Great work @GovRonDeSantis! -- Trump tweet

Great news for Louisiana! $135M proposed to @La_DOTD from @USDOT to build 8.3 miles of elevated highway from Leeville Bridge to Golden Meadow to protect access to the area against flooding. -- Trump tweet

$71.5M will be headed to @MississippiDOT from @USDOT to finish the Greenville Bypass in Washington County. So important for economic growth in the area and reducing travel times through Western Mississippi on US 82! -- Trump tweet
There are 12 more DOT grants of millions of dollars by touted by Donald Trump to cities and states.
26. Trump admits it: He's losing
Donald Trump knows he's losing.
The president has privately come to that grim realization in recent days, multiple people close to him told POLITICO, amid a mountain of bad polling and warnings from some of his staunchest allies that he's on course to be a one-term president.
Trump has endured what aides describe as the worst stretch of his presidency, marred by widespread criticism over his response to the coronavirus pandemic and nationwide racial unrest. His rally in Oklahoma last weekend, his first since March, turned out to be an embarrassment when he failed to fill the arena. https://www.politico.com/news/2020/06/27/trump-losing-2020-election-342326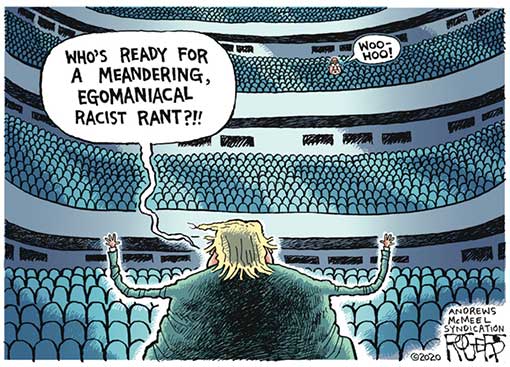 27. The data is in: Fox News may have kept millions from taking the coronavirus threat seriously
Here's the reality, now backed by numbers:
Those who relied on mainstream sources — the network evening newscasts or national newspapers that President Trump constantly blasts as "fake news" — got an accurate assessment of the pandemic's risks. Those were the news consumers who were more likely to respond accordingly, protecting themselves and others against the disease that has now killed more than 123,000 in the United States with no end in sight.
Those who relied on Fox or, say, radio personality Rush Limbaugh, came to believe that vitamin C was a possible remedy, that the Chinese government created the virus in a lab, and that government health agencies were exaggerating the dangers in the hopes of damaging Trump politically, a survey showed. https://www.washingtonpost.com/lifestyle/media/the-data-is-in-fox-news-may-have-kept-millions-from-taking-the-coronavirus-threat-seriously/2020/06/26/60d88aa2-b7c3-11ea-a8da-693df3d7674a_story.html
28. A Sun Belt time bomb threatens Trump's reelection
The explosion of Covid-19 cases in Sun Belt states is becoming another albatross for President Donald Trump's reelection hopes — and creating a new opening for Joe Biden and Democrats in November.
Republican governors in Florida, Arizona and Texas followed Trump's lead by quickly reopening their states while taking a lax approach to social distancing and mask-wearing. Now, each of them is seeing skyrocketing coronavirus caseloads and rising hospitalizations, and Republican leaders are in retreat.
It's hard to overstate the gravity of the situation for Trump: Lose any one of the three states, and his reelection is all but doomed.
Liberal outside groups and the Biden campaign have launched digital and TV ads in Florida, Arizona and Texas hitting Trump for allowing a second wave of coronavirus. The developments have buttressed Biden's main argument against Trump: that he's incapable of bringing stability or healing in a time of crisis.
https://www.politico.com/news/2020/06/29/sun-belt-coronavirus-trump-reelection-343694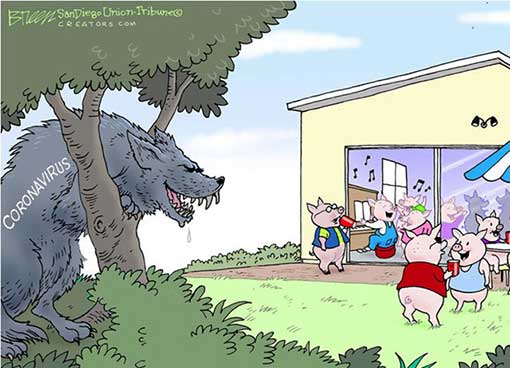 29. Iran issues arrest warrant for Trump, asks Interpol to help
Iran has issued an arrest warrant and asked Interpol for help in detaining US President Donald Trump and dozens of others it believes carried out the drone strike that killed a top Iranian general in Baghdad. https://www.aljazeera.com/news/2020/06/iran-issues-arrest-warrant-trump-asks-interpol-200629104710662.html
30. Kansas City mayor says he's receiving death threats over mask order
Kansas City Mayor Quinton Lucas (D) on Monday posted a message he received to his Facebook page using a racial slur against him and saying he should "hang from a tree" after he required the wearing of masks in public.
Lucas also noted a doctored image of him appearing to hold a T-shirt reading "F--- the police" has circulated recently, posting the original photo, in which the shirt he is holding is advertising a local radio station. https://thehill.com/homenews/state-watch/505089-kansas-city-mayor-says-hes-receiving-death-threats-over-mask-order
31. Europeans' trust in US as world leader collapses during pandemic
The coronavirus crisis has caused a dramatic deterioration in the European public perception of the US, extensive new polling reveals.
More than 60% of respondents in Germany, France, Spain, Denmark and Portugal said they had lost trust in the United States as a global leader. https://www.theguardian.com/world/2020/jun/29/europeans-trust-in-us-as-world-leader-collapses-during-pandemic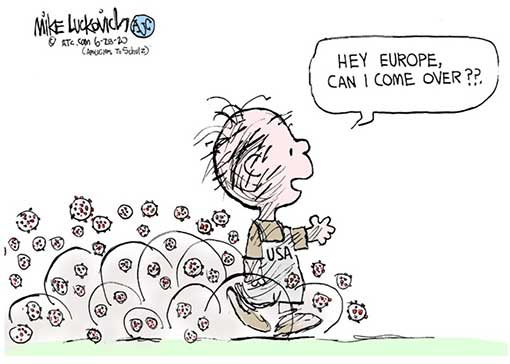 32. Did Kavanaugh lie to Susan Collins?
Brett Kavanaugh, despite assurances from @SenatorCollins that he views abortion rights as "settled law," votes to severely restrict abortion access in Lousiana. https://twitter.com/RonBrownstein/status/1277610984710922241
33. Is anything going well for Trump?
Trump is getting smoked by Joe Biden. The coronavirus is raging. Governors and local leaders are closing states and municipalities again. The president's campaign is being forced to rethink rallies after an embarrassing fiasco in Oklahoma. Republicans moved their convention to Florida, which has seen a surge in coronavirus cases.
Police reform fell flat in the Capitol. It turns out that Russia may have been paying the Taliban to kill American soldiers on Trump's watch. Republican control of the Senate is up for grabs. The GOP has but a sliver of a prayer of recapturing the House. The economy is still on life support. The United States' relationship with China is in the toilet after the spread of Covid-19. Republicans have no earthly idea what they will do if the Supreme Court strikes down Obamacare — despite having pledged to replace the health care law for a decade. https://www.politico.com/newsletters/playbook/2020/06/29/is-one-thing-going-well-for-trump-489664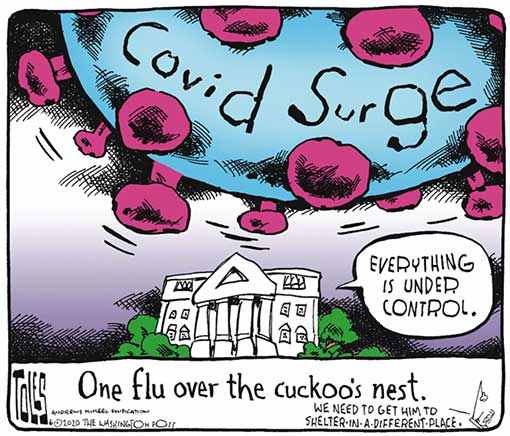 34. Fact check: Dishonest Trump video twists Democrats' quotes to make it sound like they endorsed riots
An egregiously deceptive campaign video posted on Facebook and Twitter by President Donald Trump on Saturday takes quotes from prominent Democrats out of context to wrongly make it seem as if they had encouraged or defended violence.
The video, which had more than 53,000 retweets as of Monday afternoon, juxtaposes clips of people rioting and looting with unrelated quotes from House Speaker Nancy Pelosi, presidential candidate and former Vice President Joe Biden and Rep. Alexandria Ocasio-Cortez -- effectively changing the meaning of each Democrat's remark. https://www.cnn.com/2020/06/29/politics/fact-check-dishonest-trump-video-democrats/index.html
35. Trump's Twitter feed reads like a local crime blotter as he stokes a culture war
Trump returned from his Virginia golf course Saturday afternoon and turned his Twitter feed into a crime blotter.
In less than five minutes, the president posted 15 fliers from the United States Park Police to his 82.6 million followers, complete with grainy photos of Americans suspected of vandalism at Lafayette Square. The images hearkened to the kinds of posters one would see on the wall of a local post office.
The president's messages about protesters and vandals have continued apace, often in the early hours of the morning or the late hours of the evening when he is not surrounded by aides. https://www.washingtonpost.com/politics/trumps-twitter-feed-reads-like-a-local-crime-blotter-as-he-stokes-a-culture-war/2020/06/30/2e1a48c6-baed-11ea-86d5-3b9b3863273b_story.html
36. Trump revs up for another culture war — over the military
Well, here we are again. The question hanging over Washington is whether President Trump will veto the National Defense Authorization Act — the Pentagon policy bill that has been signed into law for 59 consecutive years.
At issue is whether the United States should consider stripping military bases of their Confederate namesakes. Trump says no. Congress looks like it will say yes, America should no longer honor these men. If it ends up in the bill — which it will — the president says he'll veto it.
In other words, the president says he will side with deceased former Confederate generals over expected bipartisan majorities in the Congress. https://www.politico.com/newsletters/playbook-pm/2020/07/01/trump-revs-up-for-another-culture-war-over-the-military-489692
37 Americans Want More, Not Less, Immigration for First Time
Thirty-four percent of Americans, up from 27% a year ago, would prefer to see immigration to the U.S. increased. This is the highest support for expanding immigration Gallup has found in its trend since 1965. Meanwhile, the percentage favoring decreased immigration has fallen to a new low of 28%, while 36% think it should stay at the present level.
This marks the first time in Gallup's trend that the percentage wanting increased immigration has exceeded the percentage who want decreased immigration. https://news.gallup.com/poll/313106/americans-not-less-immigration-first-time.aspx
38. Hundreds of George W. Bush administration officials to back Biden, group says
Hundreds of officials who worked for former Republican President George W. Bush are set to endorse Democratic White House hopeful Joe Biden, people involved in the effort said, the latest Republican-led group coming out to oppose the re-election of Donald Trump.
The officials, who include Cabinet secretaries and other senior people in the Bush administration, have formed a political action committee - 43 Alumni for Biden - to support the former vice president in his Nov. 3 race. https://www.reuters.com/article/us-usa-election-biden-republicans-exclus/exclusive-hundreds-of-george-w-bush-administration-officials-to-back-biden-group-says-idUSKBN24253R
39. Trump's Re-Election Strategy: Run Like a Challenger
President Trump's case for re-election reprises his pitch for a first term in office, as he and his team try to portray presumptive Democratic nominee Joe Biden as an incumbent while accentuating his own outsider credentials. https://www.wsj.com/articles/trumps-re-election-strategy-run-like-a-challenger-11593542177
40. The DAILY GRILL
We have made a truly remarkable progress in moving our nation forward. We've all seen the encouraging news as we open up. The reality is we're in a much better place. Very encouraging news." -- Vice President Mike Pence at Friday's coronavirus task force public briefing.

VERSUS

"If we don't extinguish the outbreak, sooner or later, even ones that are doing well are going to be vulnerable to the spread. So we need to take that into account because we are all in it together. And the only way we're going to end it is by ending it together." — Dr. Anthony Fauci, the nation's top infectious disease expert, who warned of a broken testing system and said the outbreaks could engulf the country.

 

"If you don't test, you don't have any cases." — Donald Trump.

VERSUS

Trump's point flips science on its head. No one disputes the fact that testing for the virus is key to controlling it. Testing is only one measure of the pandemic. It is also measured by hospitalization and death, which continue even if authorities were to close their eyes to spreading sickness. — AP Fact Check

 

"There is tremendous evidence of fraud whenever you have mail-in ballots." — Trump's remarks Tuesday at Phoenix rally.

VERSUS

No there isn't. Some election studies have reported a higher incidence of mail-in voting fraud compared with in-person voting, but the overall risk is all but imperceptible. The Brennan Center for Justice said in 2017 the risk of voting fraud is 0.00004% to 0.0009%. — AP Fact Check

 

"They even vandalized — that's right — the Lincoln Memorial. The Lincoln Memorial." — Trump at Phoenix rally Wednesday, prompting boos from the audience.

VERSUS

"The only vandalism at the Lincoln Memorial was graffiti at the bottom of the steps at street level, far away from the statue." — National parks spokesman Mike Litterst

 

On Tuesday morning Donald Trump retweeted House Minority Leader Kevin McCarthy (R-Calif.), who was touting the expansion of test capacity in the United States — and that "positive rates are down."

VERSUS

Not only are positive rates not down, there's been a recent increase in the number of states that are seeing at least 10 percent of tests coming back positive — the upper end of what the World Health Organization originally recommended to contain the spread of the virus. — Philip Bump

 

"THE LONE WARRIOR!" — Trump tweet.

VERSUS

The president's Twitter feed feels like he's producing a crime show, while the much of the rest of the country is having a very different conversation. — Maggie Haberman tweet.

 

The Russia Bounty story is just another made up by Fake News tale that is told only to damage me and the Republican Party. The secret source probably does not even exist, just like the story itself. If the discredited has a source, reveal it. Just another HOAX! — Donald J. Trump on Wednesday morning.

VERSUS

You really are several crayons short of a box. — George Conway

AND

The White House's claim that this information was not conveyed to Trump because there wasn't a consensus on its credibility is "horses---." — Steve Hall, the CIA's former chief of Russia operations.

AND

"A real president would have said, 'These reports are highly disturbing, and we're doing everything we can to get to the bottom of them,'" — Ned Price a former National Security Council and CIA official.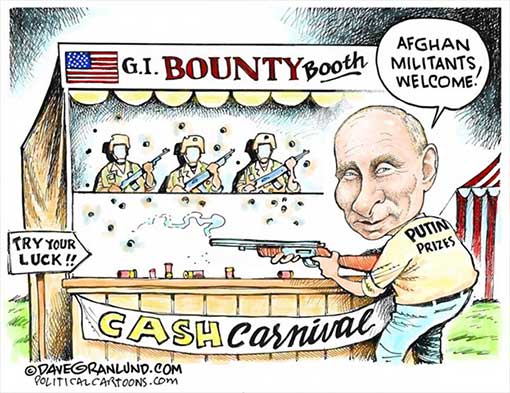 41. From MEDIA MATTERS (They watch Fox News so you don't have to)
On the June 25 edition of Bill Hemmer Reports, Fox News chief political anchor Bret Baier said that "Democrats are warming to Biden just staying in the basement." This line referenced a common Fox refrain that Biden has been hiding from the public throughout the campaign season, which was repeatedly mentioned earlier in the segment as a "bunker strategy." Only minutes before Baier said this, however, Biden delivered a speech in Lancaster, PA, in which he levelled attacks at President Donald Trump's mismanagement of the coronavirus pandemic and health care policy during the crisis. https://www.mediamatters.org/coronavirus-covid-19/fox-anchor-talked-about-biden-being-his-basement-just-minutes-after-network

Right-wing media vilify Black Lives Matter as the movement grows. In the aftermath of the police killing of George Floyd nearly one month ago, protests continue to unfold as people across the country are examining the role that systemic racism plays in society. And as the Black Lives Matter movement gains support among the public, Fox News and others in right-wing media are focused on demonizing it, fearmongering about the movement's intentions and using racist dog whistles to discredit it. The New York Times reported on June 10 that a majority of American voters now support the movement by a margin of 28 points, up from a 17-point margin before the recent protests began. Nevertheless, conservative media personalities have been focused on demonizing Black Lives Matter, describing the movement as "totalitarian" and consisting of radical "anarchists" who aim to destroy American society. Right-wing commentary has also been rife with racist dog whistles, with media figures describing protests as "cannibalistic" and a "ghetto civil war" that has been "hijacked" by "thug[s]." Turning Point USA founder Charlie Kirk called Black Lives Matter "an organization that is committed to keeping black people perpetually poor." https://www.mediamatters.org/black-lives-matter/right-wing-media-vilify-black-lives-matter-movement-grows

GREG GUTFELD: The black on black crime, or the gang violence, and the gun violence is ignored but everybody's running around tearing down statues. So I want to end the race war that we seem to be experiencing today. I am going to blow your mind with this. Okay? There are more differences and conflicts within whites then there are between whites and blacks.  https://www.mediamatters.org/fox-news/fox-host-says-america-currently-experiencing-race-war

Roger Stone uses Fox Business appearance to beg Trump for a pardon and to promise to help on the campaign if he isn't in prison. ROGER STONE: So, look, the greatest thing here that bothers me beyond the danger is that I may not be free to do everything within my power to reelect this president. I really think he is still the man to lead this country. https://www.mediamatters.org/fox-business/roger-stone-uses-fox-business-appearance-beg-trump-pardon-and-promise-help-campaign-if

DAVID MARCUS (GUEST): But, listen this is very important. This is not new in history. We saw this in Russia, we saw this in China, we saw this in Venezuela. First, they topple the statues, then they start killing people, and then they take your rights away.  https://www.mediamatters.org/fox-news/fox-guest-first-they-topple-statues-then-they-start-killing-people

Fox & Friends hosts defend Trump on Russian bounties reports: DOOCY: A guy comes in and essentially tells the president what is in it. And so, it might have been printed in it, it doesn't mean that he actually heard about it. Because you've got to figure, if the president had heard that that was going on, he would've done something about it. All right. More on this a little later on. https://www.mediamatters.org/war-afghanistan/fox-friends-hosts-defend-trump-russian-bounties-reports-all-presidents-dont-read

Right-wing media praise St. Louis couple who pointed guns at peaceful protesters:

• Conservative commentator Jesse Kelly tweeted that the couple was "trying to protect their property from the zoo animals." 
• Far-right commentator Cassandra Fairbanks tweeted: "I am absolutely in love with them. These people are the American dream." In another tweet, Fairbanks attacked the peaceful protesters for entering the gated community, calling them a "black lives matter mob."
• Breitbart television editor Jeff Poor tweeted that he's "excited for this couple's forthcoming numerous Fox News Channel appearances, and free advertising for their law firm," ending the tweet with "God Bless America."  https://www.mediamatters.org/black-lives-matter/right-wing-media-praise-st-louis-couple-who-pointed-guns-peaceful-protesters
1. Carl Bernstein: From pandering to Putin to abusing allies and ignoring his own advisers, Trump's phone calls alarm US officials
In hundreds of highly classified phone calls with foreign heads of state, President Donald Trump was so consistently unprepared for discussion of serious issues, so often outplayed in his conversations with powerful leaders like Russian President Vladimir Putin and Turkish President Recep Erdogan, and so abusive to leaders of America's principal allies, that the calls helped convince some senior US officials -- including his former secretaries of state and defense, two national security advisers and his longest-serving chief of staff -- that the President himself posed a danger to the national security of the United States, according to White House and intelligence officials intimately familiar with the contents of the conversations.
The calls caused former top Trump deputies -- including national security advisers H.R. McMaster and John Bolton, Defense Secretary James Mattis, Secretary of State Rex Tillerson, and White House chief of staff John Kelly, as well as intelligence officials -- to conclude that the President was often "delusional," as two sources put it, in his dealings with foreign leaders. The sources said there was little evidence that the President became more skillful or competent in his telephone conversations with most heads of state over time. Rather, he continued to believe that he could either charm, jawbone or bully almost any foreign leader into capitulating to his will, and often pursued goals more attuned to his own agenda than what many of his senior advisers considered the national interest. https://www.cnn.com/2020/06/29/politics/trump-phone-calls-national-security-concerns/index.html
2. Nicholas Goldberg: Trump is in full demagogue mode
Donald Trump was particularly repugnant on Tuesday, as he set forth the themes of his 2020 campaign to supporters in Phoenix. It was also a terrifying signal of how he intends to divide the country further to try to hold on to his job.
Trump sounded like many fearmongering demagogues before him, but he sounded like no one so much as Sen. Joe McCarthy — fighting, exhorting, fulminating against a monolithic, un-American enemy. Trump's words came from a playbook that has worked well in the past: They're coming for you, his words implied. For your towns, your homes and your freedom. I can protect you.
"The radical left, they hate our history, they hate our values, and they hate everything we prize as Americans," he said in Arizona. "The left-wing mob is trying to demolish our heritage so they can replace it with a new repressive regime that they alone control. They're tearing down statues, desecrating monuments and purging dissenters. It's not the behavior of a peaceful political movement; it's the behavior of totalitarians and tyrants and people that don't love our country. They don't love our country."
In Tulsa and Phoenix, Trump painted a picture of an America where people would demolish monuments and attack churches and seize city streets and set fire to buildings. The "bedlam in Seattle," he said, "will come to every city near you, every suburb and community in America, if the radical-left Democrats are put in charge."
This is Trump at his most hysterical, but it's hardly surprising. With his poll numbers dropping, the coronavirus failing to recede and the very real possibility of double-digit unemployment on election day, fear is his ally. And so he's growing increasingly desperate and his rhetoric is growing more feverish — and dangerous. https://www.latimes.com/opinion/story/2020-06-24/trump-phoenix-speech-demagogue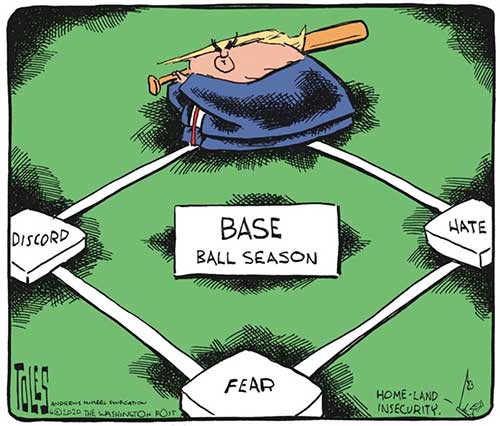 3. Shay Khatiri: The Russian Bounty Scandal Shouldn't Surprise Anyone
On Friday, the New York Times broke the story that Russian military intelligence has been making payments to terrorists in Afghanistan—the same terrorists the United States is seeking a peace deal with—in exchange for killing U.S. servicemembers. Further reports confirmed that the rewards contributed to the deaths of American servicemembers. These are, plain and simple, bounties being put on the heads of American soldiers even as the American president sucks up to Vladimir Putin.
As Putin was rewarding the killing of U.S. troops, President Trump and his Republican supporters in Congress and friendly media were repeating the Kremlin's debunked conspiracy theory about Ukrainian meddling in the U.S. elections, the administration was sending healthcare aid to Russia amidst the pandemic, and Trump himself was having secret conversations with Vladimir Putin with no notetaker or adviser present in the room—an unprecedented risk.
The Trump administration has not denied the story. Instead, the president of the United States claims to have been blindsided by it.
If that's true, then it means that he hasn't been paying attention. Because the Russian bounties should surprise no one.
It's the Russian way of war. https://thebulwark.com/the-russian-bounty-scandal-shouldnt-surprise-anyone/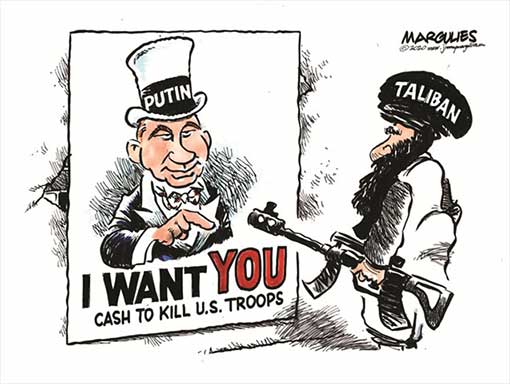 4. Maureen Dowd: Trump, Not So Statuesque
The president showed off his sociopathic flair by demanding the repeal of Obamacare — just because he can't stand that it was done by Barack Obama. Millions losing their jobs and insurance during a plague and he wants to eliminate their alternative? Willful maliciousness.
And this at the same time he has been ensuring more infections by lowballing the virus, resisting more testing because the numbers would not be flattering to him, sidelining Dr. Fauci and setting a terrible example.
Trump had a chance, with twin existential crises, to be better after his abominable performance in his first three years. But then, we've known all along that he is not interested in science, racial harmony or leading the basest elements of his base out of Dixie and into the 21st century. Yes, the kid from Queens enjoys his newfound status as a son of the Confederacy.
A Wall Street Journal editorial Thursday warned that he could be defeated because he has no message beyond personal grievances and "four more years of himself."
But Trump has always been about Trump. And the presidency was always going to distill him to his Trumpiest essence.
I asked Tim O'Brien, the Trump biographer, what to expect as the man obsessed with winning faces humiliating rejection.
"He will descend further into abuse, alienation and authoritarianism," O'Brien said. "That's what he's stewing on most of the time, the triple A's."
Good times. https://www.nytimes.com/2020/06/27/opinion/sunday/trump-statues-2020-reelection.html
5. Toluse Olorunnipa, Josh Dawsey and Yasmeen Abutaleb: With Trump leading the way, America's coronavirus failures exposed by record surge in new infections
Five months after the novel coronavirus was first detected in the United States, a record surge in new cases is the clearest sign yet of the country's historic failure to control the virus — exposing a crisis in governance extending from the Oval Office to state capitals to city councils.
President Trump — who has repeatedly downplayed the virus, sidelined experts and misled Americans about its dangers and potential cures — now finds his presidency wracked by an inability to shepherd the country through its worst public health calamity in a century. The dysfunction that has long characterized Trump's White House has been particularly ill-suited for a viral outbreak that requires precision, focus and steady leadership, according to public health experts, administration officials and lawmakers from both parties.
As case numbers began rising again, Trump has held rallies defying public health guidelines, mused about slowing down testing for the virus, criticized people wearing masks and embraced the racially offensive "kung flu" nickname for a disease that has killed at least 123,000 Americans.
A similarly garbled message for the country has also been put forward by the president's top aides and other senior administration officials, who contradict one another on a daily basis. On Friday, Vice President Pence used the first White House coronavirus task force briefing in almost two months to praise Trump's handling of the virus and cast aside concerns about a record spike in new infections.
The White House has played a central role in undermining the kind of clear and consistent messaging experts say is necessary to mount a successful public health response to a viral outbreak, current and former administration officials said. https://www.washingtonpost.com/politics/with-trump-leading-the-way-americas-coronavirus-failures-exposed-by-record-surge-in-new-infections/2020/06/27/bd15aea2-b7c4-11ea-a8da-693df3d7674a_story.html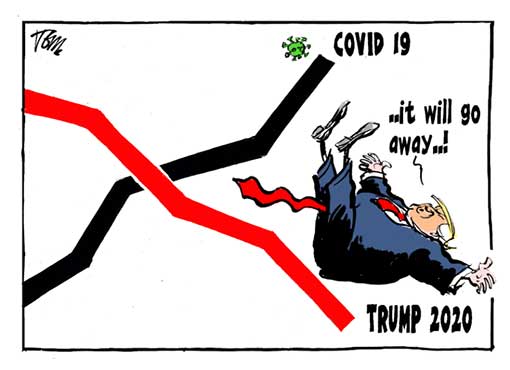 6. Ed Kilgore: Are Trump's Rallies Mostly for an Audience of One?
Quite possibly the president's manifest love for holding rallies is placing a firm thumb on the scales in favor of their continuation, whether or not they are doing his reelection campaign much good.
In normal conditions you might be able to shrug and say these rallies do no harm, provide nice visuals for the evening news, and keep the president's spirits up. But given the persistence of the pandemic, you have to ask what sort of narcissist exposes his most fervent supporters to illness and death because he enjoys the adulation of crowds?
The answer is a narcissist like Donald Trump. When you look at his passion for rallies, it's no wonder the president moved his party's national convention from its planned site because he could not tolerate the idea of making his acceptance speech without a packed hall of screaming supporters. Even if there's no evidence it will matter, and regardless of the political, health, and safety risks, the man is an energy vampire who needs to feast on cheers. https://nymag.com/intelligencer/2020/06/are-trumps-rallies-mostly-for-an-audience-of-one.html
7. Barbara McQuade and Joyce Vance: Bill Barr Is Eroding the Rule of Law. Don't Let Him Get Away With It.
How many times must we have this reaction to the latest horror story from the Trump administration: We are surprised, but not shocked, by new revelations.
This has become the norm. We live in an era where we think nothing can really stun us anymore. We've seen migrant children ripped from their parents' arms at the border with no effort made to collect information necessary to reunite them. We've seen a president withhold aid from a foreign adversary in an effort to achieve political advantage against an opponent in his reelection bid. We've watched a president ignore the threat of a pandemic until it crashed over us with a tidal wave of death, and seen him threaten on Twitter to use violence against people protesting against police violence.
On Wednesday, a federal prosecutor, a whistleblower still employed by the Justice Department, testified to the House Judiciary Committee that he resigned from a case because of political pressure applied to the conduct of a prosecution. Aaron Zelinsky, an assistant U.S. Attorney in Maryland, said in his opening statement, "What I heard — repeatedly — was that Roger Stone was being treated differently from any other defendant because of his relationship to the president."
The Principles of Federal Prosecution, the Bible for every assistant U.S. Attorney in the country, explicitly forbid this kind of consideration. Authoritarian regimes might do this, but in America, defendants don't get preferential treatment because they know the prosecutor or because they know the president. Zelinsky says political pressure was imposed to seek a lighter sentence for Stone, Trump's longtime confidant, and that prosecutors were asked to obscure the correct sentencing guidelines calculation and favorably misrepresent Stone's conduct. He testified that he had been told the acting U.S. Attorney for the District of Columbia, Timothy Shea, was afraid of the president and that he himself was told he might be fired if he didn't go along.
But we seem to live under a regime where rules no longer apply to the president and those in his orbit. Trump has even told us this, declaring last summer, "I have an Article II, where I have to the right to do whatever I want as president." Yesterday, Zelinsky testified before Congress — along with Donald Ayer, former deputy attorney general under George W. Bush and John Elias, a senior career official currently serving in the Justice Department's antitrust division — to insist that the rules should still apply. https://nymag.com/intelligencer/2020/06/whistleblower-bill-barr-justice-department-politicization.html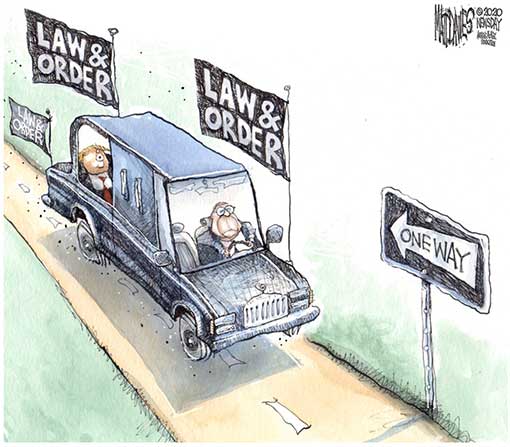 8. Mona Charen: Trump the Barbarian
In addition to respect for the law, a thriving civilization requires a certain minimum level of integrity and honor in its people, and particularly in its leaders. This president is not just the most dishonest person ever to darken 1600 Pennsylvania Avenue, he and his enablers have made war on the very concept of truth. As Peter Wehner wrote:
Many politicians are guilty of not telling the full truth of events. A significant number shade the truth from time to time. A few fall into the category of consistent, outright liars. But only very few—and only the most dangerous—are committed to destroying the very idea of truth itself.
They do this not just by lying, but by lying when there are videotapes, to demonstrate that they are above mere morals. They demand that, knowing the truth, you assent to their lies as obeisance to power.
The annihilation of truth permits the cultivation of group hatreds. Trump's followers are led to despise supposedly criminal immigrants, "disloyal" Republicans, ungrateful allies, the press, the courts, the "deep state," and at this point a large percentage of Trump's original cabinet. Election results are to be distrusted—and elections are to be thwarted where they can't be fairly won. Any unflattering portrayal is "fake news." Conspiracy theories that any competent fifth-grader can detect as bogus grace the president's Twitter feed.
One of the most admirable features of our civilization is our dedication to human dignity. While imperfectly implemented, our basic commitment to human rights around the globe has been an aspiration shared by Democrats and Republicans—and by freedom-loving people the world over. But with a barbarian in the Oval Office, we are now "falling in love" with Kim Jong-un, praising Rodrigo Duterte for extrajudicial murders, defending Vladimir Putin by suggesting that we are just as guilty of murdering our enemies as he, and giving the green light to China to build concentration camps for a million innocent Uighurs.
So a statue or two may unjustly bite the dust. But the greater threat to law and order, and yes, civilization, is the guy at the Resolute Desk. https://thebulwark.com/trump-the-barbarian/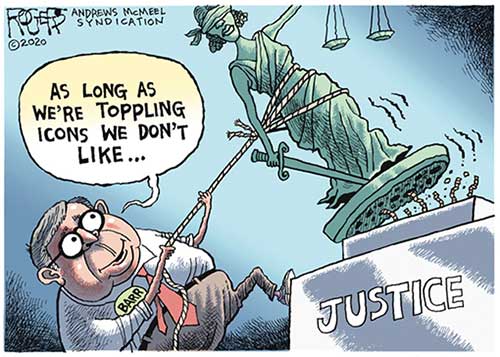 9. Paul Waldman: Here's what a second term of Trump would look like
Presidential campaigns are often characterized as an extended job interview, an imperfect analogy at best. But imagine you were interviewing a candidate for a job, you asked him what he wanted to accomplish in the position, and he answered you the way President Trump did when Sean Hannity asked him on Thursday,
"What are your top priority items for a second term?":
Well one of the things that will be really great: You know, the word "experience" is still good. I always say talent is more important than experience, I've always said that. But the word "experience" is a very important word. It's a very important meaning. I never did this before, I never slept over in Washington. I was in Washington, I think, 17 times, all of a sudden I'm president of the United States, you know the story, I'm riding down Pennsylvania Avenue with our first lady and I say, "This is great." But I didn't know very many people in Washington, it wasn't my thing. I was from Manhattan, from New York. Now I know everybody. And I have great people in the administration. You make some mistakes, like you know an idiot like Bolton, all he wanted to do is drop bombs on everybody. You don't have to drop bombs on everybody. You don't have to kill people.
"Thanks for coming," you'd say to this job applicant. "Don't call us, we'll call you."
Through this inarticulate stream of consciousness, there isn't even the slightest attempt to answer the question: What does Trump want to do with a second term? Does anyone have any idea? https://www.washingtonpost.com/opinions/2020/06/26/heres-what-second-term-trump-would-look-like/
10. Susan Glasser: Trump Retreats to His Hannity Bunker
June began poorly for President Trump, and it's ending worse. Despite Trump's optimistic pronouncements about the coronavirus, the pandemic is surging across the American South and West. His poll numbers against Joe Biden are cratering. His former national-security adviser is selling a book that calls him a corrupt fool who's unfit for office. The number of jobless Americans continues to climb. But, luckily, there are some things Trump can still count on—like the Fox News host Sean Hannity.
On Thursday night, with America deep in a crisis that shows no sign of easing, Trump appeared at a Fox News "town hall" led by Hannity. It was a reassuringly safe space for the President. There was not a single mention of the terrifying spike of covid-19 cases in Texas or Arizona or anywhere else. No one so much as alluded to the hundred and twenty-five thousand or so Americans who have already died from the disease. And Hannity—Trump's close friend and confidant, who has been called his shadow White House chief of staff—refrained from citing the recent wave of national polls, including one by Fox, that show Trump losing to Biden by double-digit percentage points. The audience of Trump superfans, many of whom wore pro-Trump "Make America Great Again" gear, obliged as well. When Hannity got around to taking questions from them, twenty-five minutes into the forty-three-minute broadcast, a woman named Linda asked Trump, "What do you think is your greatest accomplishment?" https://www.newyorker.com/news/letter-from-trumps-washington/trump-retreats-to-his-hannity-bunker
11. Ezra Klein: Trump's reality TV presidency is being crushed by reality
Trump has spent the past three years and 158 days playing president on TV and social media. But he has not spent that time doing the job of the president. A strong economy that carried over from Barack Obama's presidency hid Trump's dereliction of duties. But then a crisis came, and presidential leadership was needed, and the American people saw there was no plan, and functionally no president.
Every insider account of Trump's presidency — from Michael Wolff's Fire and Fury to Bob Woodward's Fear to Carol Leonnig and Philip Rucker's A Very Stable Genius to Anonymous's A Warning to Omarosa Manigault Newman's Unhinged to John 's The Room Where It Happened — has painted fundamentally the same picture: a chaotic, lawless administration orbiting around a reckless, distractible, corrupt, overmatched, and disinterested chief executive.
There is no secret being revealed here. These insider accounts match what is on display, daily, for the public. On Wednesday, for instance, the United States passed a new high in confirmed coronavirus cases: more than 37,000 in a single day. Thursday morning found Trump tweeting angrily at Fox News personality Ed Henry, who said Trump held a Bible upside down after gassing protesters in Lafayette Park. "It wasn't upside down," Trump insisted. Later, he took aim at former GOP presidential candidate Carly Fiorina, who "lost so badly to me, twice in one campaign, that she should be voting for Joe." After that, Trump tweeted "The Obama/Biden Administration is the most CORRUPT in HISTORY!" Later, he simply shouted into the digital ether, with no context, "LAW & ORDER!" https://www.vox.com/2020/6/26/21303547/donald-trump-2020-polls-coronavirus-biden-reelection-losing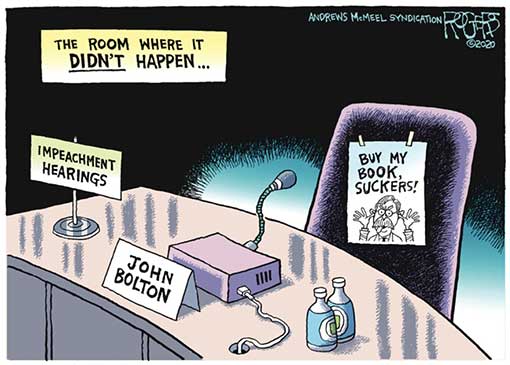 12. Maeve Reston: Trump's effort to dismantle Obamacare during the pandemic might be his riskiest move yet
President Donald Trump has made many questionable decisions in recent weeks as he looks ahead to his increasingly difficult reelection campaign. But his administration's decision to forge ahead with its effort to invalidate the Affordable Care Act through the courts may go down as the decision that carried the most risk for Republicans up and down the ballot in 2020.
The GOP has been fighting to eviscerate Obamacare since it was passed a decade ago. But the effort to strip Americans of health care has never appeared more out of touch and tone deaf than it has during a pandemic, when more than 125,000 Americans have died, more than 2.4 million have been infected and many have lost their employer-sponsored health insurance in the waves of layoffs that have decimated the economy.
The US broke its record for new daily coronavirus cases on Thursday -- the same day the Justice Department filed its brief with the Supreme Court -- and on Friday, it shattered the record again with more than 40,000 cases reported, according to Johns Hopkins data.
Just in April and May alone, nearly half a million Americans sought coverage through a special enrollment period that allowed Americans who experienced life changes or lost coverage as a result of the coronavirus crisis to apply for coverage under the ACA, according to a Department of Health and Human Services report released this week.
The political risk for Republicans in barreling ahead to abolish the 2010 health care law was clear both in the quiet way that the administration proceeded with its late-night filing -- which was accompanied by little fanfare at a time when the health of Americans has never seemed more fragile -- and in the way Democrats seized on the GOP's move as Joe Biden aimed to make protecting the law a centerpiece of his fall campaign.
https://www.cnn.com/2020/06/27/politics/donald-trump-obamacare-pandemic-2020-election/index.html
13.  David Wallace-Wells: Global Warming Is Melting Our Sense of Time
On June 20, in the small Siberian town of Verkhoyansk, north of the Arctic Circle, a heat wave baking the region peaked at 38 degrees Celsius — just over 100 degrees Fahrenheit. It was the highest temperature ever recorded in the Arctic. In a world without climate change, this anomaly, one Danish meteorologist calculated, would be a 1-in-100,000-year event. Thanks to climate change, that year is now.
Because we are doing so much damage so quickly, destabilizing the entire planet's climate in the space of a few decades, warming can seem like a phenomena of the present. But its effects will unfurl for millennia, with the climate stabilizing perhaps only millions of years from now. Climate change unwinds history, melting ice frozen for many millennia and pushing rainforests like the Amazon closer to their long-overgrown savannah states. It also makes new history, drawing new borders and new riverbeds, turning breadbaskets like the Mediterranean into deserts and opening up arctic shipping routes to be contested by a new generation of great power military rivalries. It compresses history — those Houston storms, for instance, represent more than a millennia of extreme weather, concentrated in a period of just five years. And it scrambles and scatters it, too, disrupting the cycle of seasons and relocating rain belts and monsoons, among many other distortions. At the same time temperatures in Verkhoyansk reached 100 degrees, in other parts of Siberia it was snowing. Was it winter or summer, a Russian catching the national weather forecast could have been forgiven for asking. They may have wondered, is this our hellish climate future or the return of the Little Ice Age? https://nymag.com/intelligencer/2020/06/global-warming-is-melting-our-sense-of-time.html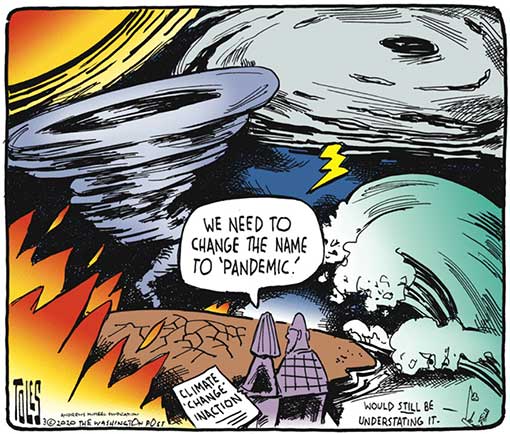 14. Charlotte Klein: Trump Only Wants To Be Reelected Because Of His Giant Ego
It appears that President Donald Trump's primary motivation to run for reelection—is to be reelected. Some of the president's allies told The Daily Beast that Trump's desire for a second term is largely driven by fears of being embarrassed. A former senior Trump administration official said that on multiple occasions, Trump said "he is determined not to be a one-termer, and says that history forever remembers them as 'losers,'" sentiments that another source says Trump expressed in late 2018. The source, paraphrasing, remembered Trump citing former President Jimmy Carter "as an example of a modern political 'loser,' and how 'you never want to be that guy,'" a legacy Trump is trying to avoid by cinching another four years. https://www.vanityfair.com/news/2020/06/trump-only-wants-to-be-reelected-because-of-his-giant-ego
15. Arit John: From birtherism to 'treason': Trump's false allegations against Obama
Donald Trump gained momentum for his political career by promoting the unfounded "birther" conspiracy theory about President Obama. Now, facing a pandemic, a shattered economy and unrest after three-plus years in the White House, Trump continues to push incendiary and unsubstantiated theories about his predecessor.
Trump said last week, without evidence, that Obama had committed "treason" by spying on his campaign, in reference to his years-old claim that the Obama administration tapped his phone lines at Trump Tower before the 2016 general election.
"It's treason," he said during an interview with the Christian Broadcast Network that aired Tuesday. "Look, when I came out a long time ago, I said they've been spying on my campaign ... turned out I was right. Let's see what happens to them now."
Trump tweeted last month that Obama committed "the biggest political crime in American history." One missive in a Mother's Day tweet storm said simply, "OBAMAGATE!"
But when asked at a news conference to explain what he was claiming Obama had done, Trump declined. "You know what the crime is," Trump told reporters. "The crime is very obvious to everybody."
In the days that followed, it became clear that "Obamagate" was a catchall term for the unsubstantiated claim that Obama led an illegal plot to undermine Trump. It's also one of the latest in a series of groundless accusations Trump has made against his predecessor.
Trump has often spread conspiracy theories about the people he sees as political enemies. He amplifies accusations of illegal or immoral behavior through tweets and comments, often with vague qualifiers such as "people are saying." https://www.latimes.com/politics/story/2020-06-23/trump-obamagate-birtherism-false-allegations