April 11, 2019
ON THE RECORD. . .
"Now that Bob Mueller is no longer in the target zone, I'm one of the favorite villains of the president. I wear that as a badge of honor, honestly." — House Intelligence Committee Chair Adam Schiff (D-CA),
"They are a bunch of sneaky, unethical leakers. And they are rabid Democrats who hate the president of United States." — Trump attorney Rudolph Giuliani about Mueller's team staffers..
Trump "will be at the border tomorrow, looking at beginning of the wall that was built under his reign." — Fox & Friends host Brian Kilmeade's Freudian slip, referring to the presidency of Donald Trump as "his reign."
"I have big returns, as you know, and I have everything all approved and very beautiful and we'll be working that over in the next period of time," — Trump in January 2016 on "Meet the Press." The "next period of time" turned out to mean "never."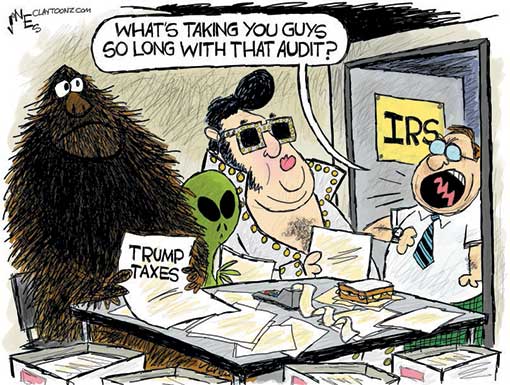 "I doubt that will be a nomination. But if it were a nomination, you can bet what the interest rates he would be pushing for. If Herman Cain were on the Fed, you'd know the interest rate would soon be 9-9-9." — Sen. Mitt Romney (R-UT)
"I would have liked to have done one more term in the Senate, that's probably all. But its been at a heavy cost to my family. The sacrifices they've been made to make, what they had to endure." — Former Sen. Jeff Flake (R-AZ) who received a number of threats from Trump supporters before he left office this year. Flake described several examples of threatening messages and behavior made against him and his family that he said were currently being investigated by law enforcement agencies in Arizona and Washington DC.
"I'm agnostic. Show me how you think you can get there. We all share the value of health care for all Americans — quality, affordable health care for all Americans. What is the path to that? I think it's the Affordable Care Act, and if that leads to Medicare-for-all, that may be the path." —Speaker Nancy Pelosi "questioning whether a health-care proposal embraced by several Democratic presidential candidates would be too expensive and fail to provide the same coverage as the Affordable Care Act. Instead, Pelosi  suggested Thursday that she would rather build on the 2010 law and is yet to be convinced the Medicare-for-all proposal pushed by many liberals would achieve its purported goals.
"One of the things I do worry about sometimes among progressives in the United States… is a certain kind of rigidity where we say, 'Uh, I'm sorry, this is how it's going to be' and then we start sometimes creating what's called a 'circular firing squad', where you start shooting at your allies because one of them has strayed from purity on the issues. And when that happens, typically the overall effort and movement weakens." — Former President Barack Obama
"Chairman Neal, powerful man, head of Ways and Means, I know he's an adult, but I don't think he's like a real adult. He says that he needs Trump's tax returns, he says it's policy not politics. I can't believe he really thinks the American people are going to fall for that. It must really suck to be that dumb." — Sen. John Kennedy (R-LA) mocking House Ways and Means Chairman Richard Neal (D-MA) on CNN for asking that the IRS hand over six years of President Trump's tax returns.
Donald Trump is a "genius" and a "deep thinker" who should not be judged on the basis of his tweets. — Roseanne Barr to the UK's Sunday Times
I hope it's not because he has windmill cancer. -- Michelle Wolf@michelleisawolf on Trump skipping White House Correspondents' Dinner for third straight year
"I can't believe that somebody who was caught writing hush money checks to adult film actresses is somebody they should be lifting up as the kind of person they want to be leading this nation." — Mayor Pete Buttigieg lambasting Trump supporters for their "hypocrisy" on morality.
"Calling human beings an infestation is something that we might've expected to hear in Nazi Germany. Describing immigrants, who have a track record of committing violent crimes at a lower rate than native-born Americans as rapists and criminals. Seeking to ban all Muslims -- all people of one religion, what other country on the face of the planet does that kind of thing? — Beto O'Rourke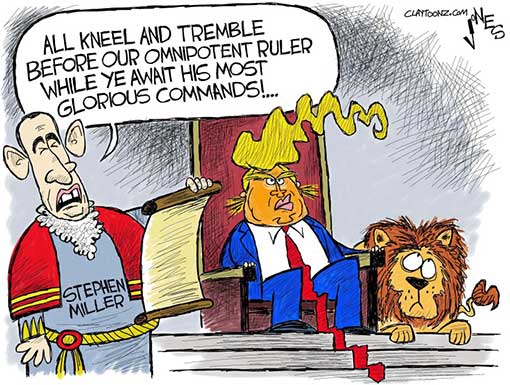 "Nor should they. That's an issue that was already litigated during the election. Voters knew the president could have given his tax returns. They knew that he didn't and they elected him anyway." — Acting White House chief of staff Mick Mulvaney predicting that Democrats will "never" see  Trump's tax returns.
Trump is the great reputation killer. Kirstjen Nielsen "was a reasonably admired bureaucrat. For the rest of her life people will look at her and think, 'Oh, that's the woman who put children in cages.'" — Jeffrey Toobin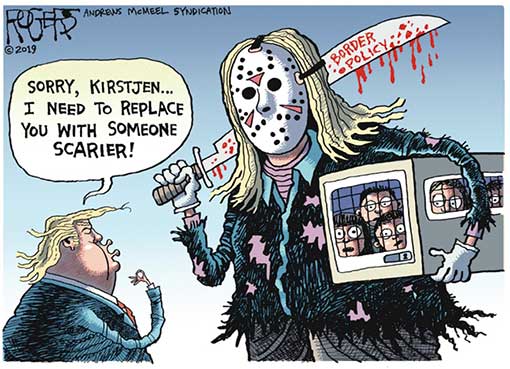 "I support the Great Lakes. Always have. They're beautiful. They're big. Very deep. Record deepness, right?"— At a rally in Michigan in March Trump touted his support for the Great Lakes even though he asked Congress to slash the EPA's Great Lakes Program by 90%
"President Trump's statement that Herman Cain is 'a truly outstanding individual' is a message that the president of the United States is willing to ignore the allegations of a number of women who alleged that Herman Cain either sexually harassed them or had an affair with them. This message is an insult to women and should be condemned by the Republican Party and all those who care about respect and dignity for women." -- Gloria Allred, a lawyer who represented two of Mr. Cain's accusers.
"Remember, I got elected last time. The same exact issue, with the same intensity, which wasn't very much. Because frankly, the people don't care." — Trump, saying he will not release his tax returns.
"Why were the first two attorney generals gotten rid of? On the first, the president was very clear: He's not protecting me from the investigation, so he's fired, day after the election. Second guy was hired for the same purpose, but was very temporary and was clearly unqualified. The third guy was hired for the same purpose: Protect the president from the investigation, and he's done his job." — Rep. Jerry Nadler (D-NY), chairman of the House Judiciary Committee.

"I think it's important to remember that if a drunk driver kills a pregnant woman, they get charged twice. If you murder a pregnant woman, you get charged twice. So I'm not specifically criminalizing women. What I'm doing is equalizing the law," — Republican Texas State Rep. Tony Tinderholt speaking in support of House Bill 896, which would criminalize abortion and classify it as a homicide. Women who have abortions could be sentenced to the death penalty.
---
IN THIS ISSUE
FYI
OPINION
1.  Andy Borowitz: Redaction of Mueller Report Halted as Barr Passes Out from Sharpie Fumes
The redaction of the Mueller report stalled on Monday after the Attorney General, William Barr, passed out from inhaling fumes from multiple Sharpie markers.

Barr, who had been working around the clock to redact the report before its release, reportedly lost consciousness while trying to black out a seventy-four-page section detailing Donald Trump, Jr.,'s contacts with more than three dozen Russian individuals.

"You cannot use that many Sharpies, for hours on end, without proper ventilation," a Justice Department staffer, speaking on condition of anonymity, said. "This was a disaster waiting to happen."

The insentient Barr was rushed to Walter Reed medical center, where a grim-faced hospital spokesperson described his condition as "Ben Carson–like."

At the White House, the press secretary, Sarah Huckabee Sanders, offered a more upbeat assessment. "We expect Attorney General Barr to make a swift and full recovery, so that he can get to work on the President's taxes," she said. https://www.newyorker.com/humor/borowitz-report/
2. Prepare yourself — the Mueller redaction wars are coming
House Democrats want to see everything related to the special counsel's nearly two-year-old investigation into Russia meddling in the 2016 presidential election. But their open-book demands stand at odds with the Justice Department's desire to black out sensitive areas throughout Mueller's 400-page submission.
The high-stakes chess match will play out on both political and legal grounds, and so far neither side has yet to show any signs of compromise.

As a result, the battle could spill into the courts, setting up a protracted legal confrontation that inevitably causes waves in the thick of the 2020 White House race. For President Donald Trump, the possibility of freshly unveiled Mueller bombshells dropping while he runs for reelection could be devastating. But Democrats are in a tough position: pursuing their legal challenge at all costs could feed the Trump-approved narrative that they're overzealous, but giving up risks angering their own Trump-hating base. https://www.politico.com/story/2019/04/03/mueller-report-update-redaction-1254861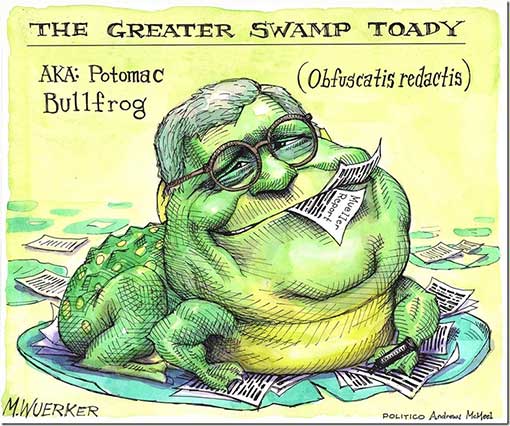 3. New Model Forecasts a Very Close Election
Alan Abromowitz explains the latest iteration of his "time for change" presidential election forecasting model.
The most plausible prediction at this point, however, is for a very close contest. Given a net approval rating of -10, approximately where Trump's approval rating has been stuck for most of the past year, and real GDP growth of between 1% to 2%, in line with most recent economic forecasts, the model predicts that Trump would receive between 263 and 283 electoral votes. Of course, it takes 270 electoral votes to win. http://crystalball.centerforpolitics.org/crystalball/articles/assessing-trumps-chances-forecasting-the-2020-presidential-election/
4. Preference for Environment Over Economy Largest Since 2000
Gallup Poll: By the widest margin since 2000, more Americans believe environmental protection should take precedence over economic growth when the two goals conflict. Sixty-five percent now choose the environment, up eight percentage points from a year ago, while 30% choose the economy.
There is some variation on this question by age. Adults aged 18 to 34 are more likely than those 35 and older to give precedence to environmental protection over economic growth. However, the sharpest differences are by party. Eight in 10 Democrats (82%) and 71% of independents prioritize environmental protection, versus 35% of Republicans. On the flip side, the majority of Republicans (60%) say economic growth should be considered first, versus 24% of independents and 13% of Democrats. https://news.gallup.com/poll/248243/preference-environment-economy-largest-2000.aspx
5. Senate Republicans block resolution to release Mueller report for 5th time
Sen. Rand Paul on Thursday blocked a resolution calling for special counsel Robert Mueller's report to be released to Congress and the public.
This is the 5th time that Republicans — led by Paul and Senate Majority Leader Mitch McConnell — have blocked the resolution, which passed unanimously in the House last month. Paul has argued in favor of an amendment calling for the release of communications between Obama-era intelligence officials that he says could shed light on potential "misuse of power" leading up to the launch of the Trump-Russia investigation. https://www.axios.com/mueller-report-republicans-rand-paul-block-release-60e8ac29-d427-40e1-b792-913b7a378d3e.html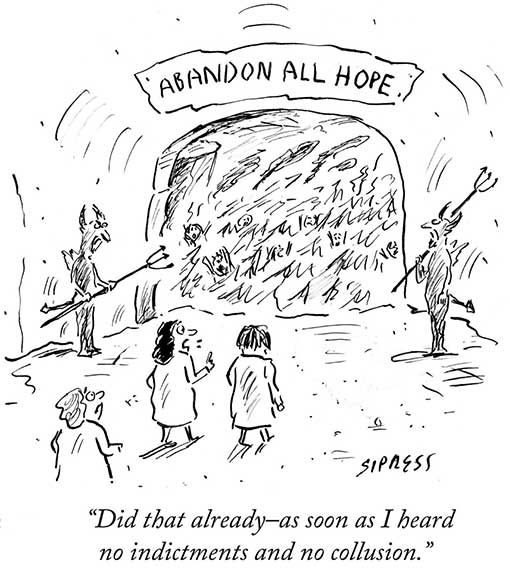 6. U.S. Says It Could Take 2 Years to Identify Up to Thousands of Separated Immigrant Families
It may take federal officials two years to identify what could be thousands of immigrant children who were separated from their families at the southern United States border, the government said in court documents filed on Friday.
A federal judge had asked for a plan to identify these children and their families after a report from government inspectors in January revealed that the Trump administration most likely separated thousands more children from their parents than was previously believed.
These families were separated before the administration unveiled its "zero-tolerance" immigration policy in the spring of 2018, when nearly all adults entering the country illegally were prosecuted and any children accompanying them were put into shelters or foster care.
To identify these families, the government said it would apply a statistical analysis to about 47,000 children who were referred to the Office of Refugee Resettlement and subsequently discharged, according to the court filing. From there, the government said it would manually review the case records of the children who appeared to have the highest probability of being part of the separated families.
Officials estimated that the process would take at least one year and potentially two. In explaining the reason for such an arduous process, the government said United States Customs and Border Protection did not collect specific data on migrant family separations before April 2018. https://www.nytimes.com/2019/04/06/us/family-separation-trump-administration.html
7. Barrage of setbacks spoils Trump's post-Mueller reset
It was just last week that President Donald Trump and his allies euphorically celebrated what they called Trump's exoneration after special counsel Robert Mueller's Russia probe. The apparent absence of proof that Trump's 2016 campaign conspired with the Kremlin produced talk of a fresh start for Trump's presidency ahead of the 2020 election.
But misfortune and mayhem almost immediately began piling up. Trump unleashed two new political crises — one on health care, one on the Mexican border — and then retreated on both of them. A brief lull in House Democratic oversight action ended abruptly when House investigators demanded his tax returns.
And news reports revealed that Mueller's soon-to-be-released findings may be far more damaging than Attorney General William Barr has publicly indicated, suggesting that the Russia scandal is hardly in the president's rear view window.
https://www.politico.com/story/2019/04/04/trump-mueller-report-update-1256271
8. 'Dozens' of Whistle-Blowers Are Secretly Cooperating With House Democrats
Tricia Newbold set an important mark when she became the first official currently serving in Donald Trump's White House to take accusations of wrongdoing to Congress—and to put her name publicly behind them.
But Democrats on Capitol Hill say that beyond Newbold, a small army of whistle-blowers from across the government has been working in secret with the House Oversight Committee to report alleged malfeasance inside the Trump administration. Lawmakers and aides are reluctant to discuss information they have gleaned from anonymous government tipsters in detail. But the list of whistle-blowers who either currently or previously worked in the Trump administration, or who worked closely with the administration, numbers in the 'dozens.'" https://www.theatlantic.com/politics/archive/2019/04/trump-administration-whistleblowers-democrats-congress/586459/
9. Since 2016, President Trump has cited an ongoing IRS audit as the primary reason that he will not release his tax returns.
Video: https://wapo.st/2OPINbq
10. The DAILY GRILL
"Mexico, as you know, as of yesterday, has been starting to apprehend a lot of people at their southern border coming in from Honduras and Guatemala and El Salvador. And they've — they're really apprehending thousands of people. And it's the first time, really, in decades that this has taken place. And it should have taken place a long time ago. You know, Mexico has the strongest immigration laws in the world. There's nobody who has stronger. I guess some have the same, but you can't get any stronger than what Mexico has." — Trump, in remarks at the Oval Office, April 2, 2019

VERSUS

Mexico has deported Guatemalans, Hondurans and Salvadorans more than 2 million times since 2001. The claim that Mexico has the toughest immigration laws in the world is just as easily debunked, considering that U.S. law treats unauthorized entry as a criminal offense, while it's only a civil violation in Mexico. — Washington Post Fact Checker

 

"We need to get rid of chain migration." — Donald Trump in remarks in the Oval Office. April 2, 2019.Trump has repeatedly and vehemently denounced what he calls "chain migration," in which adult American citizens can obtain residency for their relatives.

VERSUS

First lady Melania Trump's Slovenian-born parents were sworn in as U.S. citizens in 2017, benefiting from a path to citizenship known as family-based immigration, derisively dubbed "chain migration." — NPR

 

"I'm the one that stopped it. President Obama had child separation." — Trump blaming the Obama administration for instituting a policy in which children were separated from their parents at the Southern border.

VERSUS

"The Obama administration did not do that. No, we did not separate children from their parents. This is a new decision, a policy decision, made by the attorney general which puts us in league with the most brutal regimes in the world's history. — Former President Barack Obama's domestic policy director, Cecilia Muñoz
11. From MEDIA MATTERS (They watch Fox News so you don't have to)
Laura Ingraham accuses House Judiciary Committee of "committing a fraud" by voting to subpoena the Mueller report. Ingraham:  "Any judge considering this should sanction any lawyer who signs his name on this request for a subpoena." https://www.mediamatters.org/video/2019/04/03/laura-ingraham-accuses-house-judiciary-committee-committing-fraud-voting-subpoena-mueller-report/223329

Martha MacCallum says the #MeToo movement could be "a huge step backward" for women in the workplace. MacCallum: "Well done, America. What a huge step backward all of this could be for women in the workplace." https://www.mediamatters.org/video/2019/04/03/martha-maccallum-says-metoo-movement-could-be-huge-step-backward-women-workplace/223327 

Lou Dobbs endorses Kris Kobach's proposal to put asylum seekers in a "camp." Kobach: "So when someone comes in and falsely claims asylum, we don't release them for six months onto the streets of the United States." https://www.mediamatters.org/video/2019/04/02/lou-dobbs-endorses-kris-kobachs-proposal-put-asylum-seekers-camp/223310

Fox Business attacks Rep. Alexandria Ocasio-Cortez for shopping at Whole Foods, not yet owning furniture, and using airplanes. Host Stuart Varney claims his producer was "appalled" by Ocasio-Cortez's currently unfurnished apartment. https://www.mediamatters.org/video/2019/04/04/fox-business-attacks-rep-alexandria-ocasio-cortez-shopping-whole-foods-not-yet-owning-furniture-and/223338  

Herman Cain promoted numerous now-virtually-worthless penny stocks through his mailing list. Cain also associated with a fraudster who was later barred by the SEC "from involvement in any future penny stock offerings." https://www.mediamatters.org/blog/2019/04/05/herman-cain-promoted-numerous-now-virtually-worthless-penny-stocks-through-his-mailing-list/223354

The worst of NRATV, the NRA's extremist and bigoted media operation. Video at https://youtu.be/6BT9bT2kf88

Fox's Diamond and Silk: "Listen, you have to realize that Alexandria Ocasio-Cortez, she's reckless, she's clueless, and she have a vacuous mindset." "With the Earth rotating at 1,000 miles per hour, OK, 365 days of the year, we subject to feel climate changing a little bit. But not to the tune where we have to dismantle everything and start the Earth back over again. It's a absolutely no for us." https://www.mediamatters.org/video/2019/04/05/foxs-diamond-and-silk-earth-rotating-1000-miles-hour-ok-365-days-year-we-subject-feel-climate/223353

NRATV host: Rep. Alexandria Ocasio-Cortez "ought to go back and get a job at IKEA instead of Congress." Grant Stinchfield: "Make furniture there instead of make laws in Washington, we'd all be better off." https://www.mediamatters.org/video/2019/04/05/nratv-host-rep-alexandria-ocasio-cortez-ought-go-back-and-get-job-ikea-instead-congress/223358

Fox & Friends guest: Black families were better off as slaves. https://www.mediamatters.org/video/2019/04/09/fox-friends-guest-black-families-were-better-slaves/223381

Sean Hannity promises that "criminal indictments are coming" against "deep state actors." Hannity: "The evidence revealed will come cascading down on those guilty of corruption, bias, abuse of power, and I promise it will drown them." https://www.mediamatters.org/video/2019/04/10/sean-hannity-promises-criminal-indictments-are-coming-against-deep-state-actors/223398
12. From the Late Shows
The Late Show with Stephen Colbert: Aggressive & Mean: Two Words Most Associated With Trump: https://youtu.be/GbCHKxu5Fkk

Late Night with Seth Meyers: Trump Rambles About "Oringes" and Windmills: A Closer Look: https://youtu.be/H6Kl8kheGBg

Late Night with Seth Meyers: Mueller Team Responds to Barr Letter "Exonerating" Trump: A Closer Look: https://youtu.be/6pdfriFuFt8

Joe Biden Cold Open - SNL: https://youtu.be/JKeG1iJNxGs

Weekend Update: The Mueller Report - SNL: https://youtu.be/b2yOpGrA14k

Weekend Update: Joe Biden's Inappropriate Touching - SNL: https://youtu.be/UmO0ybqMdnc

The Late Show with Stephen Colbert: Remember Herman Cain? Stephen Does: https://youtu.be/nz-e5D3GdF8
13. Congress' new Mueller fight: Do Dems need to begin impeachment to see secret files?
Do Democrats have to begin the process of impeaching President Trump in order to access special counsel Robert Mueller's secrets? That legal debate began raging inside the House Judiciary Committee on Friday after a new federal court ruling suggested that Congress' access to some confidential evidence — like the kind obtained by Mueller — hinges on lawmakers launching a 'judicial proceeding.'
Republicans on the committee say the only 'judicial proceeding' Congress can lead is an impeachment inquiry — a claim they say is backed up by legal precedent and history. Democrats would have to launch one against Trump if they want Mueller's grand jury evidence, Republicans say. That interpretation would be problematic for Democratic leaders in Congress, who have little interest in launching a politically explosive impeachment process at the moment. https://www.politico.com/story/2019/04/06/mueller-impeachment-democrats-1259917
14. Trump says America 'is full!' A new report says 4 in 10 U.S. counties are suffering Japan-level population decline.
After pushing Homeland Security Secretary Kirstjen Nielsen out Sunday night, President Trump revived his threat to "close" the U.S.-Mexico border "and/or institute tariffs" to punish Mexico for Central American migration, adding: "Our Country is FULL!" That's hard to fact-check, since America doesn't have a fire marshal or a defined capacity, but a report released last week suggests that, in fact, much of America — especially America's rural "heartland" — is increasingly, troublingly empty.
The report, from Washington think tank the Economic Innovation Group, found that 80 percent of U.S. counties lost prime working-age adults (25-54) between 2007 and 2017, and 65 percent of counties will lose more prime workers in the next decade. Forty-one percent of U.S. counties, home to 38 million people, are "experiencing rates of demographic decline similar to Japan's," the report found. And "the demographic challenges facing large parts of the country are not benign," the authors add. "Demographic decline and population loss are not just symptoms of place-based economic decline, they are direct causes of it." https://theweek.com/speedreads/833838/trump-says-america-full-new-report-says-4-10-counties-are-suffering-japanlevel-population-decline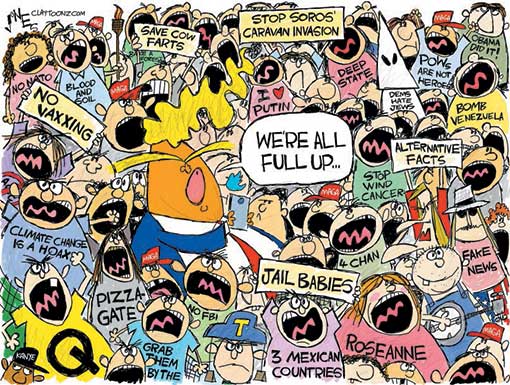 15. Pelosi outlines a path to victory for House Democrats in 2020 — and guarantees it
In the interview, Pelosi dismissed the far left's Medicare-for-all as a still emerging proposal that might provide worse health care than the landmark 2010 law she muscled through Congress. She backed up the decision of the Democratic Congressional Campaign Committee to "black list" any consulting firm that works for candidates mounting primary challenges to incumbents, a move that has drawn calls from Rep. Alexandria Ocasio-Cortez (D-N.Y.), who rose to fame defeating a 20-year Democrat, to boycott donating to the DCCC.
And Pelosi rejected the idea that today's Democrats are further to the left than a decade ago, suggesting that it was "just a few people" with high profiles and some of the "presidentials."
Instead, she has charted a course of again appealing to moderate suburbanites and some rural voters frustrated by Trump's reality-TV-style presidency. She doesn't want to focus on impeaching Trump or on far-fetched legislation that has no hope of passing in divided government. She promises not to repeat the mistakes leading up to 2010.
"You cannot let your opponents characterize — mischaracterize — what you're about. So, what was missing from that was a strong messaging piece, and that's what we had in this last election," she said. https://www.washingtonpost.com/powerpost/pelosi-outlines-a-path-to-victory-for-house-democrats-in-2020--and-guarantees-it/2019/04/05/dc7f1ca4-575f-11e9-8ef3-fbd41a2ce4d5_story.html
16. A 2016 hangover: Some Bernie Sanders supporters still upset
It was hard to miss Cheri Pichone's excitement about Bernie Sanders' second presidential run. She showed up to a recent Iowa rally decked out in Sanders gear, complete with a figurine of the Vermont senator and progressive icon.
Pichone voted for Green Party candidate Jill Stein in 2016 and said she may vote for a third party again if Sanders doesn't clinch the nomination.
She's emblematic of a persistent group of Sanders supporters who won't let go of the slights — real and perceived — from the last campaign. The frustration is notable now that Sanders is a 2020 front-runner, raking in $18.2 million in the first quarter, downplaying concerns about DNC bias and highlighting his success in bringing the party around on liberal policies it once resisted.
Some establishment-aligned Democrats worry the party could lose in 2020 if lingering concerns about the last primary aren't put to bed. https://apnews.com/cc72546e934b462ea4243cf19770516d
17. N.Y. Democratic lawmakers ready new front to obtain Trump's tax returns
As congressional Democrats begin what could be a tumultuous battle to obtain President Trump's tax returns, lawmakers in New York are trying to make it easier for them to get their hands on the president's state filings."
"Scheduled for introduction this week is a bill that would amend state law to permit the New York Department of Taxation and Finance commissioner to release any state tax return requested by leaders of either the House Ways and Means Committee, Senate Finance Committee and the Joint Committee on Taxation for any 'specific and legitimate legislative purpose.' The bill seeks to amend state laws which generally prohibit the release of such tax information. https://www.nbcnews.com/politics/donald-trump/n-y-democratic-lawmakers-ready-new-front-obtain-trump-s-n991996
18. Trump's health care brain trust says no thanks
Donald Trump promised a new plan to replace Obamacare. But the four Senate Republicans he tapped for the job aren't jumping at the opportunity.
Sen. Rick Scott (R-Fla.) says any new plan has to come from the White House — and that he had no warning Trump planned to make him part of the health policy group. Mitt Romney (R-Utah) won't say more than he and colleagues are "working on health care thoughts." John Barrasso (R-Wyo.), when asked about the Republican plan, turned the question back on the opposition, saying, "Democrats want to go to the complete government takeover of health care."
And Sen. Bill Cassidy (R-La.), the fourth member of Trump's team, hasn't committed to anything more than "conversations with colleagues" about health care affordability.
https://www.politico.com/story/2019/04/08/trump-health-care-republican-brain-trust-1259707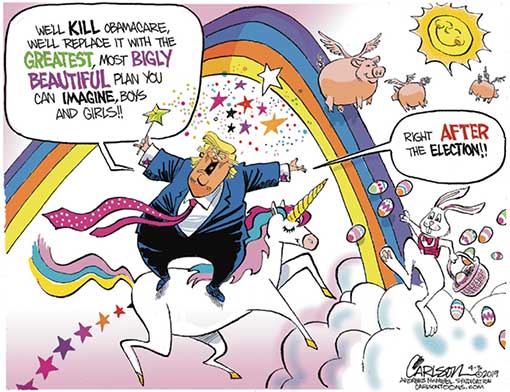 19. Devin Nunes sues a sassy cow on Twitter, and she gains a herd of followers
I get it, Devin Nunes. Your feelings are hurt.
You are a thin-skinned public figure, willing to dish out nasty criticism about your enemies — real or perceived — but unable to take the slings that are inevitable in your line of work.
In October, you printed a 40-page pamphlet attacking your local newspaper, the Fresno Bee, which, until 2018, had endorsed you every time you ran for office. You purported to reveal its "dirty little secrets." You called out its reporters by name, accusing them of "glamorizing" your opponents by covering political demonstrations at your office. Taking a page from President Trump, you vilified the paper as "fake news."
And yet, Devin, you can't bear being made fun of by a fictional cow (@DevinCow). On Twitter.
You're not just in a beef with a cow, you're snorting mad at the platform itself. You want Twitter and your tweeting tormentors to pay you at least $250 million, plus punitive damages of $350,000.
Devin, you do realize that when you filed your defamation suit, the sassy bovine had only 1,204 Twitter followers. As of late Thursday evening, it had 610,000 followers, and the number was growing by the hour. https://www.latimes.com/local/abcarian/la-me-abcarian-nunes-20190322-story.html
20. Twelve days of chaos: Inside the Trump White House's growing panic to contain the border crisis
Trump's increasingly erratic behavior over the past 12 days — since he first threatened to seal the border in a series of tweets on March 29 — has alarmed top Republicans, business officials and foreign leaders who fear that his emotional response might exacerbate problems at the border, harm the U.S. economy and degrade national security.
The stretch also has revealed that a president who has routinely blamed spiking immigration numbers on others — past presidents, congressional Democrats, Mexican authorities, federal judges, human smugglers — is now coming to the realization that the problems are closer to home. Though his aides have taken the fall, and it is unlikely that Trump will blame himself, the president is facing an existential political crisis ahead of his 2020 reelection bid over the prospect of failure on his top domestic priority.
"He was politically grandstanding for his base, for his reelection, and not thinking through a plan," said Domingo Garcia, president of the League of United Latin American Citizens, who has met with White House senior adviser Jared Kushner, the president's son-in-law, to discuss immigration reform. "He has no plan except to talk about immigration as a political piñata to score points with the far right. But illegal immigration has increased in the two years he has been president." https://www.washingtonpost.com/politics/twelve-days-of-chaos-inside-the-trump-white-houses-growing-panic-to-contain-the-border-crisis/2019/04/09/8ca5ade2-5a11-11e9-a00e-050dc7b82693_story.html
1. Charles M. Blow: Trumpism Extols Its Folk Hero
I think it is a mistake to believe that Trump's supporters don't see his lying or corruption. They do. But, to them, it is all part of the show and the lore. They have personal relationships and work relationships like the rest of us, and those relationships depend on honesty and virtue. They, like my mother did, are allowing in him something that they would not allow in themselves.
And, when you survey the constellation of folk heroes, you see that many have been criminals. Bonnie and Clyde. John Dillinger. The Sundance Kid.
I would also argue that some other recent troubled, corrupt or corrosive politicians came close to the definition without receiving the designation. The former Washington, D.C., mayor, Marion Barry. The former Toronto mayor, Rob Ford. The former Maine governor, Paul LePage.
And this elastic morality around the folk hero appears to be a global human inclination. El Chapo, who, as CNN pointed out, "Claimed in 2014 that he has killed 2,000-3,000 people," was a folk hero in Mexico.
Like Bonnie and Clyde and El Chapo, Trump's Br'er Rabbit-like ability to avert the best attempt by authorities to hold him accountable, at least for a while, only increases the chorus of applause.
Anti-Trump forces must stop operating as if they are doing battle with a liar; they are doing battle with what his supporters have fashioned into a legend. How does one fight a fiction, a fantasy? That's the question. Its answer is the path to America's salvation .https://www.nytimes.com/2019/04/07/opinion/donald-trump-trumpism.html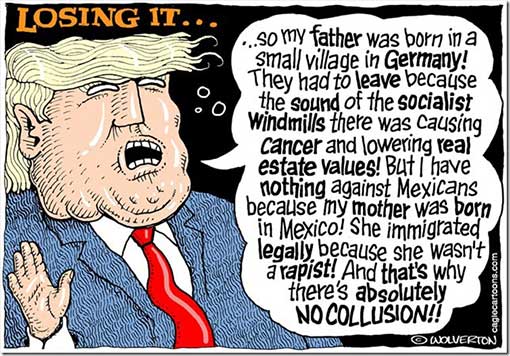 2. Paul Waldman: Trump's tax return scam has taken yet another turn
While the best con is one in which the victim never even realizes they got scammed, that can seldom be guaranteed. So the con artist needs a final argument to make to their mark if they get confronted, and the one they often use goes as follows: Sure, I conned you. But this is your fault. You were dumb enough to believe me. Now get lost, sucker.
That is what President Trump is now saying to the American public on the subject of his tax returns. He spent years saying that he would be releasing his returns as soon as a routine IRS audit of them was complete, so the American public could understand exactly where he gets his money and where he might have conflicts of interest as president.
This was and remains a pressing question, because Trump's greed is so encompassing that we can never be sure that if faced with a choice between doing what is in the best interests of the country and making money for himself, he won't choose the latter. After all, this is a man who while running for president was pursuing a hotel deal in Moscow, sucking up to Russian dictator Vladimir Putin and claiming falsely that he had no business interests in Russia.
Indeed, there has never in American history been a president for whom it was more important that the public learn the full details of their finances. But now that Democrats in Congress have made a formal demand to the IRS for six years of Trump's returns as allowed by a law passed in 1924, Trump and his allies are saying to the public: You were dumb enough to believe me when I said I'd show you the returns? That's your own fault. https://www.washingtonpost.com/opinions/2019/04/08/trumps-tax-return-scam-has-taken-yet-another-turn/
3. Jonathan Chait: William Barr Seems to Be Covering Up Something Bad for Trump
The Times reports that Mueller's famously leak-free team was moved to break its silence by Barr's slanted summary of its work. The news from the Times, as well as the follow-up report from the Washington Post, conveys very little information about the substance of the report. There's no reason to doubt Barr's conclusion that Mueller was unable to establish a criminal conspiracy between Donald Trump and the Russian government. Whether the unflattering information in the report contains evidence of noncriminal misconduct with Russia — remember, collusion is not a crime — or centers entirely around obstruction of justice remains to be seen.
It does seem clear, though, that Barr has not been dealing from the top of the deck. More evidence of his bad faith can be found in his putative reason for abridging Mueller's conclusions. The special counsel's report provided summaries of its work. The Times, apparently relying on Justice Department sources, reports that Mueller's summaries could not be published, because they "contain sensitive information, like classified material, secret grand-jury testimony and information related to current federal investigations that must remain confidential, according to two government officials."
But the special counsel flatly contradicts this in its leak to the Post. The summaries, says a special counsel source, were deliberately written "so that the front matter from each section could have been released immediately — or very quickly … It was done in a way that minimum redactions, if any, would have been necessary, and the work would have spoken for itself." http://nymag.com/intelligencer/2019/04/william-barr-cover-up-mueller-report-trump-obstruction-russia.html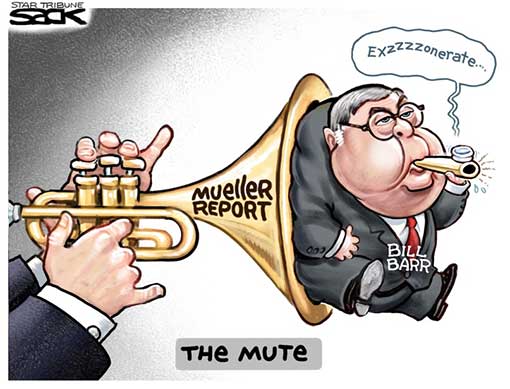 4. Eric Lutz: Mueller's Team Breaks Its Silence To Dispute The Barr Summary
Members of Robert Mueller's team are reportedly disputing the way William Barr has characterized their conclusions, telling close associates in recent days that the four-page summary the attorney general released last month "failed to adequately portray the findings of their inquiry," and suggesting that the special counsel's full report is potentially damaging to President Donald Trump. On Wednesday, The New York Times was first to report on the frustrations among investigators, who remained notoriously tight-lipped about their work for the duration of the nearly two-year probe. Shortly after, The Washington Post published a similar account, reporting that some members of the Mueller team say evidence that Trump obstructed justice is "alarming and significant."
In addition, people familiar with the matter told the Post that some people on Mueller's team were "disappointed" that Barr chose not to release summaries by their office. "There was immediate displeasure from the team when they saw how the attorney general had characterized their work instead," one official told the Post. (Two government officials told the Times that, in declining to publish the summaries, Barr was attempting to guard against the release of sensitive information.)
Both reports seem to contest Trump's giddy proclamations that Mueller's investigation resulted in his "Complete and Total EXONERATION," and have stoked demands by Democrats for Mueller's findings to be released in full. "The AG should release the FULL #MuellerReport now," Representative Eric Swalwell, a prominent critic of the president in the Russia investigation, tweeted Wednesday evening. "His credibility is at stake." https://www.vanityfair.com/news/2019/04/mueller-team-breaks-its-silence-to-dispute-barr-summary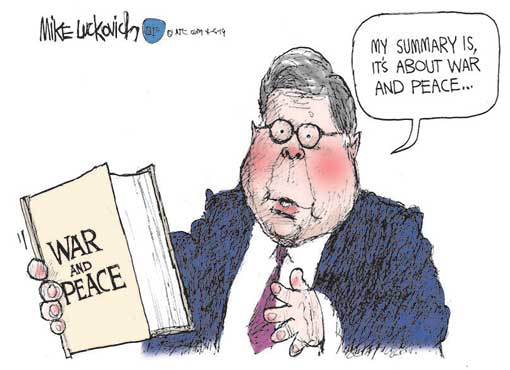 5.  Catherine Rampell: Trump's next possible Fed nominee can't understand basic policy issues
Nein, nein, nein.
That should be the Senate's response if President Trump actually nominates his friend Herman Cain, the former pizza magnate turned failed Republican presidential candidate, to the Federal Reserve Board, as Trump said he plans to do.
Cain would be Trump's second proposed addition to the Fed in as many weeks, the other being longtime partisan operative Stephen Moore. Even before this month, though, Trump had ample opportunity to reshape the Fed in his anti-institutional, anti-intellectual image. Thankfully — surprisingly, in fact — he had refrained.
Like Moore, Cain has some baggage. Way worse baggage, in fact: Cain dropped out of the 2012 Republican presidential primary after at least four women accused him of sexual misconduct.
One alleged that he put his hand up her skirt at a convention and tried to pull her head toward his crotch. When she protested, he allegedly said, "You want a job, right?"  Cain denied the allegations.
If true, such actions alone would be disqualifying for any major government position. And they may yet derail his nomination. But they're also hardly the only reasons to object to placing Cain in one of the most important economic jobs in the world.
To put it bluntly: When it comes to understanding pretty basic policy issues, Cain isn't able. https://www.washingtonpost.com/opinions/herman-cain-has-baggage-and-some-quack-tastic-views/2019/04/04/f31a8e6e-5717-11e9-814f-e2f46684196e_story.html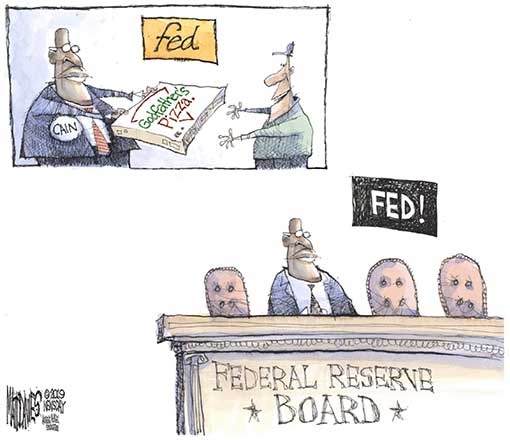 6. Paul Krugman: Donald Trump Is Trying to Kill You
Trust the pork producers; fear the wind turbines.
There's a lot we don't know about the legacy Donald Trump will leave behind. And it is, of course, hugely important what happens in the 2020 election. But one thing seems sure: Even if he's a one-term president, Trump will have caused, directly or indirectly, the premature deaths of a large number of Americans.
Some of those deaths will come at the hands of right-wing, white nationalist extremists, who are a rapidly growing threat, partly because they feel empowered by a president who calls them "very fine people."
Some will come from failures of governance, like the inadequate response to Hurricane Maria, which surely contributed to the high death toll in Puerto Rico. (Reminder: Puerto Ricans are U.S. citizens.)
Some will come from the administration's continuing efforts to sabotage Obamacare, which have failed to kill health reform but have stalled the decline in the number of uninsured, meaning that many people still aren't getting the health care they need. Of course, if Trump gets his way and eliminates Obamacare altogether, things on this front will get much, much worse.
But the biggest death toll is likely to come from Trump's agenda of deregulation — or maybe we should call it "deregulation," because his administration is curiously selective about which industries it wants to leave alone.
Consider two recent events that help capture the deadly strangeness of what's going on.
One is the administration's plan for hog plants to take over much of the federal responsibility for food safety inspections. And why not? It's not as if we've seen safety problems arise from self-regulation in, say, the aircraft industry, have we? Or as if we ever experience major outbreaks of food-borne illness? Or as if there was a reason the U.S. government stepped in to regulate meatpacking in the first place?
But when it comes to renewable energy, Trump and company are suddenly very worried about supposed negative side effects, which generally exist only in their imagination. Last year the administration floated a proposal that would have forced the operators of electricity grids to subsidize coal and nuclear energy. The supposed rationale was that new sources were threatening to destabilize those grids — but the grid operators themselves denied that this was the case.
Whatever the drivers of Trump policy, the fact, as I said, is that it will kill people. Wind turbines don't cause cancer, but coal-burning power plants do — along with many other ailments. The Trump administration's own estimates indicate that its relaxation of coal pollution rules will kill more than 1,000 Americans every year. If the administration gets to implement its full agenda — not just deregulation of many industries, but discrimination against industries it doesn't like, such as renewable energy — the toll will be much higher.
So if you eat meat — or, for that matter, drink water or breathe air — there's a real sense in which Donald Trump is trying to kill you. And even if he's turned out of office next year, for many Americans it will be too late. https://www.nytimes.com/2019/04/04/opinion/trump-deadly-deregulation.html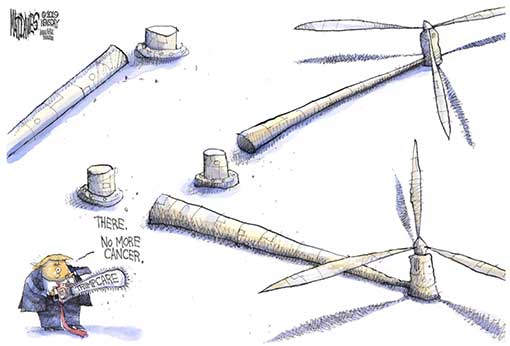 7. Ed Kilgore: Without a Plausible 'Theory of Change,' Progressive Ideas Are Just Fantasies
Political writers have understandably tried to make sense of the large 2020 Democratic field of presidential candidates by sorting them out ideologically ("left" or "center") or by indicators of policy audacity ("bold" progressives versus "cautious" or "incremantalist" moderates). And part of the reason for the general belief that the party is "moving to the left" is the clustering of presidential candidates around policy positions (e.g., single-payer health care or a Green New Deal) that were considered "radical" not that long ago.
But as Ezra Klein observes after interviewing Pete Buttigieg, the most important differences may have less to do with what the candidates want to do and more with how they plan to do it — their theory of change:
The central lesson of Obama's presidency, Buttigieg argues, is that "any decisions that are based on an assumption of good faith by Republicans in the Senate will be defeated." The hope that you can pass laws through bipartisan compromise is dead. And that means governance is consistently, reliably failing to solve people's problems, which is in turn radicalizing them against government itself.
Which is, of course, precisely the way obstructionist Republicans led by Mitch McConnell planned it.
Donald Trump should be the last U.S. president to take office with no clue about how to implement his campaign promises. Perhaps he never intended to in any event. But anyone seeking to eject him from office in order to pursue a real vision of a better America ought to promise something more than rhetorical enchantment. http://nymag.com/intelligencer/2019/04/the-2020-primaries-are-about-progressivess-theory-of-change.html
8. Robert Reich: Mitch McConnell is destroying the Senate – and American government
No person has done more in living memory to undermine the functioning of the US government than the Senate majority leader, Mitch McConnell.
The difference between winning at politics by playing according to the norms and rules of our democracy, and winning by subverting them, could not be greater. Political victories that undermine the integrity of our system are net losses for society.
Great athletes play by the rules because the rules make the game. Unprincipled athletes cheat or change the rules in order to win. Their victories ultimately destroy the game.
In terms of shaping the federal courts, McConnell has played "the long game", which, incidentally, is the title of his 2016 memoir. Decades from now, McConnell will still be shaping the nation through judges he rammed through the Senate.
But McConnell's long game is destroying what was once known as the world's greatest deliberative body.
He is longest-serving leader of Senate Republicans in history but Mitch McConnell is no leader. He is the epitome of unprincipled power. History will not treat him kindly. https://www.theguardian.com/commentisfree/2019/apr/06/mitch-mcconnell-senate-republicans-donald-trump-judges
9. Paul Waldman: William Barr just previewed Trump's spin over the Mueller report
While "coverup" might be too strong a word to describe what the administration is planning, what is clear is that they will be carefully managing the information the public gets to see in order to make sure that the narrative of President Trump's supposed innocence prevails.
It's important to keep in mind that the only reason Barr is attorney general right now is that last year he wrote an unsolicited 19-page memo to the Justice Department arguing that "Mueller's obstruction theory is fatally misconceived." Trump could not have been more clear that he pushed out his first attorney general, Jeff Sessions, because Sessions recused himself from the Russia investigation and couldn't shut it down or otherwise use his authority to protect Trump, and he wasn't going to make that mistake again.
There's been nothing yet to suggest that he did, or that when the redacted Mueller report comes out Barr will be anything less than a full partner in the Republican effort to convince the public that the Russia investigation was much ado about nothing and Trump is an exemplar of ethical and patriotic behavior. I'm willing to be proven wrong on that score, but I doubt I will be. https://www.washingtonpost.com/opinions/2019/04/09/william-barr-just-previewed-trumps-spin-over-mueller-report/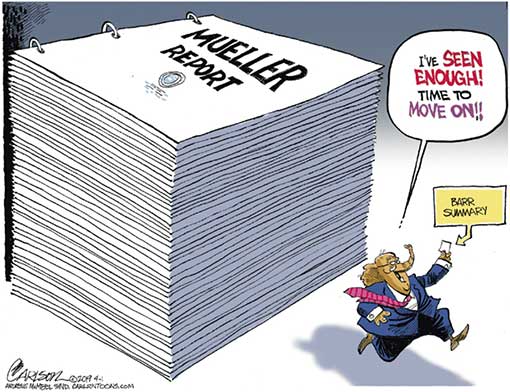 10. Ashley Parker and Toluse Olorunnipa: Trump seeks to campaign on problems he promised to fix
President Trump is ratcheting up his attacks on immigration — making and then rescinding a threat to close the nation's southern border in response to a problem that has worsened on his watch. He's reviving his assault on the Affordable Care Act — frustrated by a Democratic law that has only grown more popular since his inauguration. And he is escalating his complaints about unfair trade practices — even while presiding over a ballooning trade deficit he promised to eliminate.
These key themes from Trump's 2016 victory are emerging again as the pillars of his 2020 campaign, centered on a foreboding, populist message about the perils of lax immigration policies, socialist health-care plans and foreign economic threats. He has returned to similar subjects repeatedly throughout his presidency, helping him hold onto a strong base of Republican support.
But Trump's dark warnings pose a central conundrum for his reelection effort: Can he win the White House a second time by railing against the very problems he promised to fix?
Trump allies are betting the strategy will work again by bolstering enthusiasm among his most avid supporters, particularly older white voters in the upper Midwest who clinched his victory the last time. But the approach also risks alienating moderate suburban voters, including those who took a chance on Trump's candidacy in hopes that his dealmaker persona would overcome Washington gridlock.
"The bet that they're making is still the same one — that this is going to be a base election, not an election on persuasion, and so he's hitting his key issues," said Doug Heye, a former spokesman for the Republican House leadership and the Republican National Committee. "The challenge they face is it was, and will be, a very fine needle to thread. There's not much margin for error." https://www.washingtonpost.com/politics/trump-seeks-to-campaign-on-problems-he-promised-to-fix/2019/04/06/b873f4ce-5633-11e9-9136-f8e636f1f6df_story.html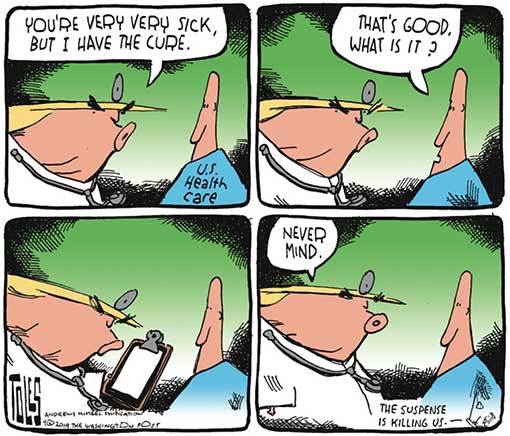 11. John Cassidy: The High-Stakes Battle Between Donald Trump and the Federal Reserve
On Friday, the editorial page of the Financial Times said that the nominations of Moore and Cain "surely qualify as sabotage." Many people who follow the Fed's deliberations agree. "It is as serious of a threat to the Fed as I have seen in my lifetime," Justin Wolfers, a professor of economics and public policy at the University of Michigan, told me. "It raises the prospect of a dysfunctional Fed, and a dysfunctional Fed would lead to a dysfunctional economy."
The consensus among economists is that the U.S. economy, despite a recent slowdown, remains on pace for modest growth this year, and that a cut in interest rates isn't necessary. On Friday, the Labor Department reported that employers created a hundred and ninety-six thousand jobs last month. For the first quarter of 2019, the monthly average was a healthy hundred and eighty thousand. "The March report should put to rest the notion that the economy is doomed to falter in 2019," Douglas Holtz-Eakin, a Republican economist and a former head of the Congressional Budget Office, wrote in a blog post.
What is going on is perfectly clear. There is another Presidential election on the horizon, the Trump-G.O.P. stimulus is running down, and economic growth is slowing. With the Democrats controlling the House of Representatives, Trump knows that he can't rely on Congress to juice the economy again going into 2020. So he is trying to bully the Fed into doing the job, regardless of the longer-term consequences. https://www.newyorker.com/news/our-columnists/the-high-stakes-battle-between-donald-trump-and-the-fed
12. Jennifer Rubin: Run government like a business? Not like Trump Inc.
In testimony last year before the House Oversight and Government Reform Committee, Max Stier, president and chief executive of Partnership for Public Service, explained, "Vacancies in key presidential appointments, including Senate-confirmed positions, often leave agencies in a holding pattern where officials serving in an 'acting' capacity are not empowered to make key decisions and new agency heads are left without a politically appointed leadership team to work with career executives and employees." This in turn slows hiring of lower-level staff and effective execution of the department or agencies mission.
Think of the substitute teacher syndrome: Are students going to behave as they would when their "real" teacher is there? Now think of a school with an impulsive principal who has a slew of substitute teachers and staff vacancies. You'd expect that school to be dysfunctional. So it is with this administration.
In sum, the president becomes more unhinged by the day, throwing out one harebrained scheme (close the border) only to reverse course (give Mexico a year!) and then reverse again (close the border!). He has no idea how government should operate and no capacity for attracting competent people — or listening to their advice.
The result is a constant churn in personnel and a government in disarray. He is still left with the same record of non-accomplishment he feared will impair his reelection prospects. If Democrats don't run in part on competency and the promise of a return to normalcy, they'll be missing a strong reason to send him and his three-ring circus on their way. https://www.washingtonpost.com/opinions/2019/04/09/run-government-like-business-not-like-trump-inc/
13. Adam Serwer: The Cruelty Is the Point
Trump's only true skill is the con; his only fundamental belief is that the United States is the birthright of straight, white, Christian men, and his only real, authentic pleasure is in cruelty. It is that cruelty, and the delight it brings them, that binds his most ardent supporters to him, in shared scorn for those they hate and fear: immigrants, black voters, feminists, and treasonous white men who empathize with any of those who would steal their birthright. The president's ability to execute that cruelty through word and deed makes them euphoric. It makes them feel good, it makes them feel proud, it makes them feel happy, it makes them feel united. And as long as he makes them feel that way, they will let him get away with anything, no matter what it costs them. https://www.theatlantic.com/ideas/archive/2018/10/the-cruelty-is-the-point/572104/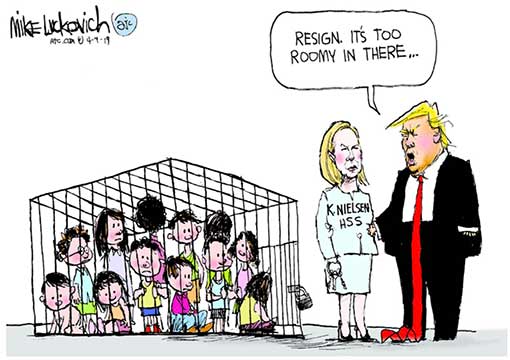 14. By Eric Levitz: If You Are Defending Stephen Miller, You Are an Ally of Anti-Semitism
Stephen Miller is personally responsible for the most xenophobic policies of the most xenophobic presidency in modern American history. The senior White House adviser authored the travel ban that denied a wide variety of American Muslims the right to be visited by their overseas relatives. He implored the president to adopt a policy of family separation at the southern border, arguing that Central American families would be less likely to seek asylum in the United States if the U.S. government gained a reputation for subjecting their children to psychological torment. The public hated this policy, and the judiciary struck it down. Meanwhile, the Trump administration proved itself incapable of competently administering the program: the U.S. government ended up losing track of thousands of migrant children and allowing others to be legally adopted by U.S. citizens without their birth parents' consent.
And yet Stephen Miller believes that the family separation policy was a success. In his view, having the U.S. government permanently break up a few hundred Central American families is an acceptable price to pay for discouraging such people from exercising their legal right to seek asylum in the United States. http://nymag.com/intelligencer/2019/04/ilhan-omar-is-right-stephen-miller-is-a-white-nationalist.html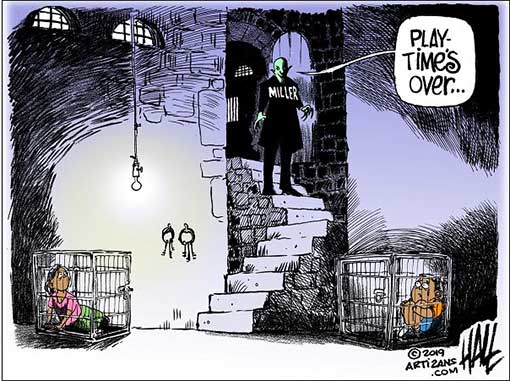 15. T.A. Frank: Trump's Incompetence Is Creating A Stephen Miller Hail Mary
Leaving the Trump White House on happy terms is like dying a peaceful death in the wild—possible but exceptional. Lingering torment is the norm. Erstwhile Department of Homeland Security Secretary Kirstjen Nielsen, who has been dismissed, was already out of favor a year ago, and Donald Trump had for months been signaling his intention to replace her. He was angry Nielsen didn't seem to be coming up with inventive work-arounds for the law (like breaking it), and last October he spent about half an hour berating her during a Cabinet meeting.
It's all very Trumpy. If a job on the farm calls for a border collie, you don't buy a dachshund. If the church needs a priest, you don't hire an atheist. But Trump does. He hires people who don't share his agenda and then gets furious at them for being what they are.
Trump likes to blame others for his incompetence. One can read claims that he was angry to discover that an omnibus spending bill he had signed included minimal wall funding, as if Trump didn't know that when he signed it. When Trump proposed impossible or impractical policies for addressing a wave of asylum-seeking migrants, like shutting down the border altogether, Nielsen had the unhappy job of explaining the law to him. To be sure, a more dynamic and hard-line leader than Nielsen might have thought of creative alternative ways to stem the flow, but it took someone as bumbling as Trump to pass the buck to D.H.S., like a team that provides no defense and then yells at the goalie when the other side scores. https://www.vanityfair.com/news/2019/04/trumps-incompetence-is-creating-a-stephen-miller-presidency