March 3, 2022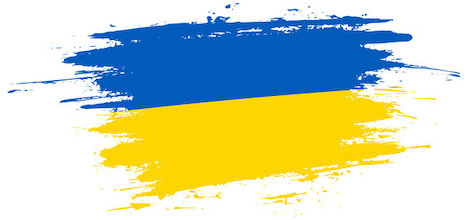 THE WEEK'S BEST QUOTES. . .
"Why do I care what's going on in the conflict between Ukraine and Russia? And I'm serious, why do I care? And why shouldn't I root for Russia? Which I am." — Tucker Carlson.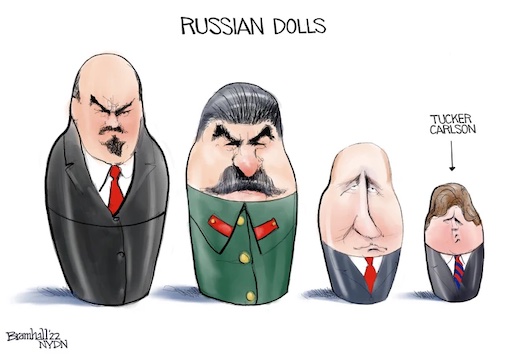 "I don't know them, but I'm reminded of that old line from the 'Butch Cassidy and the Sundance Kid' movie, where one character says: 'Morons. I have got morons on my team.'" — Sen. Mitt Romney (R-UT) referred to Reps. Marjorie Taylor Greene (R-GA) and Paul Gosar (R-AZ) after the two lawmakers attended a white nationalist conference this weekend. https://transcripts.cnn.com/show/sotu/date/2022-02-27/segment/01
"Propaganda is a part of every war, and the point of propaganda coming out of Russia right now is to undermine Ukrainian narratives and to scare Ukrainian people. Ukrainians are not scared. They understand information warfare like nobody else..."
–Jane Lytvynenko https://www.cnn.com/videos/business/2022/02/27/tips-for-navigating-social-media-during-war-in-ukraine.cnn
It appears the impact of Putin's war "is starting to set in, startling even his most ardent state TV propagandists," — Julia Davis. https://www.thedailybeast.com/sanctioned-russian-tv-host-vladimir-soloviev-cries-about-losing-his-italian-villa
"The fight is here; I need ammunition, not a ride."— Ukrainian President Volodymyr Zelensky, refusing to be evacuated.
"We're seeing a small, feral-eyed man who was trying to shape the world in the image where, once again, Russia would be an empire, and that's not going to happen." — Sen. Mitt Romney (R-UT), on Vladimir Putin.
Two nauseating, fearful pigs who hate what America stands for and whose every action is driven by their their own weakness and insecurity, rubbing their snouts together and celebrating as innocent people lose their lives.— Andrew Bates about Putin and Trump.
When Trump was president, he suspended military aid to Ukraine ― despite the Ukrainian government's ongoing fight against the separatists ― to force the country to seek incriminating information about Biden's son Hunter. He also told fellow world leaders that he recognized Russia's claim to the Ukrainian region of Crimea.
"I'm proud of what we've been able to accomplish. And she's still better than her opponent." — Arizona Gov. Doug Ducey (R), who has no regrets about spending $500,000 to elect a Republican state senator with open ties to the white nationalist movement because it's still better than having a Democrat in her seat.
"There is no purgatory for war criminals. They go straight to hell" — Ukrainian Ambassador to Russian Ambassador.
"It's because of Trump's corruption that we have a less capable, less prepared Ukraine." — Retired Lt. Col. Alexander Vindman, about how Trump's decision to withhold the badly needed military aid hurt Ukraine's ability to defend itself—and emboldened Vladimir Putin.
"Tucker Carlson's rants make a lot more sense when you read them in the original Russian."-- Jeff Tiedrich
Russia can veto this resolution, but cannot veto our voices.
Russia cannot veto the truth.
Russia cannot veto our principles.
Russia cannot veto the Ukrainian people.
Russia cannot veto the UN Charter.
And Russia will not veto accountability. — Linda Thomas-Greenfield, US Ambassador to the UN.
"I am totally rooting for Russia," he wrote the following morning. "This is the coolest thing to happen since 1/6." "UKRAINE WILL BE DESTROYED",. "I never doubted you [Putin], my Czar." — White nationalist livestreamer Nicholas Fuentes who describes himself as a "Christian nationalist," at a far-right conference in Florida.
"It would have been so easy for me to stop this travesty. As everyone understands, this horrific event would not have happened if there wasn't a rigged election and I was president." -- Trump
He barely knew where Ukraine was… It's just not accurate to say that Trump's behavior somehow deterred the Russians." — Former national security adviser John Bolton pushing back on Newsmax host who claimed that Donald Trump deterred the Russians from invading Ukraine.
"This is somebody that's clearly been caught off guard by the size of the Ukrainian resistance. He has isolated himself. He's not been in the Kremlin very much.... I do worry that he's been backed into a corner. I do worry that there is no obvious exit ramp." — Senator Mark Warner, chairman of the Senate Intelligence Committee, about Russian President Vladimir Putin.
VIDEOS
The level of idiocy here is astounding. Even from Marjorie Taylor Greene, a supporter of white nationalists and neo-Nazis. —
David Corn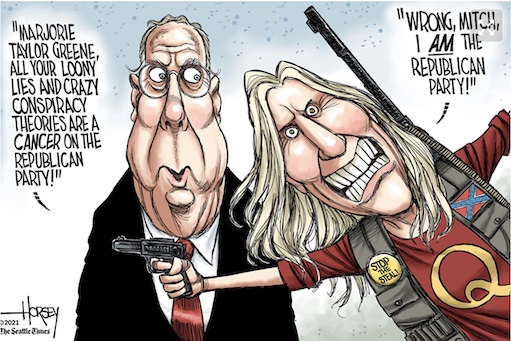 "Ukraine's not even a country. It's kind of a concept. It's not even a country .. It's just a corrupt area that the Clinton's turned into a colony where they can steal money out of." — Steve Bannon
Ukraine Cold Open - SNL: https://www.youtube.com/watch?v=IjE4_h0t7qI
Weekend Update: Russia Invades Ukraine, Biden Nominates Ketanji Brown Jackson - SNL: https://www.youtube.com/watch?v=2v7gtdf3cWk
LITIGATION TRACKER
Pending Criminal and Civil Cases Against Donald Trump.
https://www.justsecurity.org/75032/litigation-tracker-pending-criminal-and-civil-cases-against-donald-trump/
---
IN THIS ISSUE
IN THE NEWS
OPINION
Andy Borowitz: Trump Suggests Putin Just Claim He Won
As the Russian invasion of Ukraine continues to encounter difficulties, Donald J. Trump has advised Vladimir Putin "just to claim that he won."
"He needs to get on TV and say that he's the winner," Trump said. "He should say that he had a victory in Ukraine like you wouldn't believe."
Trump said that the Russian President should hold rallies across the country to tell his supporters that he won but that his victory had been stolen from him.
"I thought Putin was smart, but maybe he's not so smart after all," Trump said. "If he doesn't say he won, he's some kind of stupid dummy."
Trump said that, since his calls to the Russian leader kept going straight to voice mail, he left Putin a suggestion of what he should tell the Russian people.
"All he needs to say is, 'Frankly, we did win this invasion,' " Trump said.
https://www.newyorker.com/humor/borowitz-report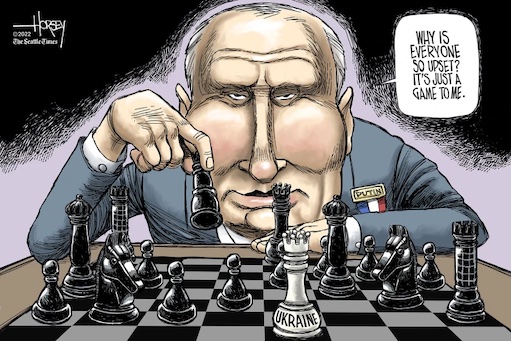 Nearly half of Trump voters say Putin is doing a better job than Biden: poll
Nearly half of the people who voted for former President Donald Trump believe that Russian President Vladimir Putin is doing a better job than U.S. President Joe Biden, according to a new poll.
While Putin's invasion of Ukraine was proceeding more slowly than predicted, a new Yahoo News/YouGov poll found that 76% of Americans hold a negative view of Putin.
But the strongman's invasion of Ukraine did little to heal political divisions in the U.S.
"Nearly half (47 percent) of Trump voters say Putin is doing a better job than Biden, even as Russia's economy threatens to collapse under the weight of crippling global sanctions," Yahoo's Andrew Romano wrote.
There were 3% of Trump voters who gave Biden credit for doing a better job.
On the topic of strength, 73% of Trump voters found Putin was stronger, while only 2% picked Biden. https://www.scribd.com/document/561708803/20220228-yahoo-tabs-abb-1#download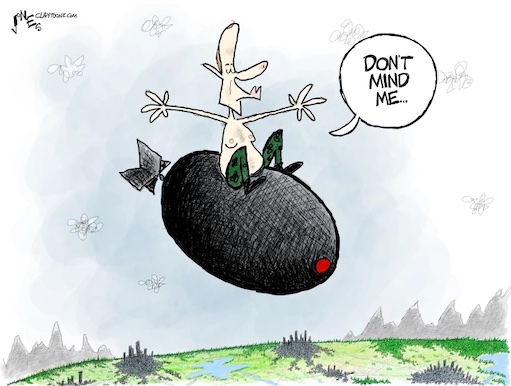 Three Republicans Voted Against Anti-Lynching Bill
Three Republicans voted against the Emmett Till Anti-Lynching Act in the House, which makes lynching a hate crime: Rep. Andrew Clyde (R-GA), Rep. Tom Massie (R-KY) and Rep. Chip Roy (R-TX). https://twitter.com/jamiedupree/status/1498480440025436167
In trans people, GOP candidates find latest 'wedge issue'
Derision and disparagement of transgender people, and even of those perceived as their allies, are proliferating on the airwaves and in statehouses across the country as 2022 election campaigns heat up. It's a classic strategy of finding a "wedge issue" that motivates a political base, political observers say. https://apnews.com/article/sports-texas-pennsylvania-campaigns-elections-5bb0f7fb8c162d9f4da5c935271bc255
Texas law gives Newsom blueprint
If the U.S. Supreme Court had heeded a gun lobby warning, Gov. Gavin Newsom wouldn't be pushing Texas copycat legislation aimed at the firearms industry.
The Texas vigilante law targeted abortions. And the court seemed to think that was OK. But the court and the Lone Star State inadvertently provided a clear shot for California to fire away at gun manufacturers and dealers.
A gun rights organization had warned the court about that, but it apparently was ignored.
"We're going to start playing by their rules now," Newsom asserted at a news conference last week as he unveiled a package of legislation allowing citizens to sue manufacturers and dealers when gun laws are broken. "The Supreme Court of the United States opened a door wide open. ... If Texas can use a law to ban a woman's right to choose and to put her health at risk, we will use that same law to save lives and improve the health and safety of the people in the state of California."
The governor added that the court's "decision was absurd. It was outrageous. ... They've set the tone, tenor, the rules."
Or as state Sen. Bob Hertzberg (D-Van Nuys), author of the main bill, put it succinctly: "What is good for the goose is good for the gander." https://edition.pagesuite.com/popovers/dynamic_article_popover.aspx
Trump Planned to Pull Out of NATO
An excerpt from "I Alone Can Fix It" by Carol Leonnig and Philip Rucker suggests what might have been:
"In fact, Trump had privately indicated that he would seek to withdraw from NATO and to blow up the U.S. alliance with South Korea, should he win reelection. When those alliances had come up in meetings with Esper and other top aides, some advisers warned Trump that shredding them before the election would be politically dangerous."
Said Trump: "Yeah, the second term. We'll do it in the second term." https://www.washingtonpost.com/politics/2021/07/13/book-excerpt-i-alone-can-fix-it/
"Truth Social" Bans Account For Mocking Devin Nunes
Despite Trump positioning the social network as a bulwark against censorship,Truth Social has reportedly banned a user for trying to make an account called @DevinNunesCow.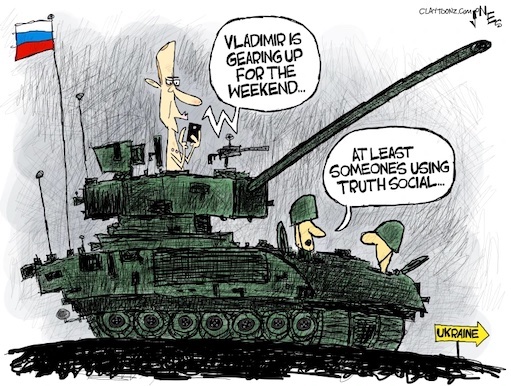 Now is the time to remember what Fox's own lawyers said about Tucker Carlson
As Russia prepared to invade Ukraine, the biggest star on Fox News was busy doing what he does best: being thoroughly and appallingly wrong.
He defended the murderous instigator Vladimir Putin while disparaging legitimate heroes like Alexander Vindman, the Ukrainian-born retired U.S. Army lieutenant colonel and former White House national security aide who was a key witness to Donald Trump's abuses of power in his first impeachment and who has warned of Putin's aggressions — but whom Carlson preferred to paint as some kind of sanctimonious warmonger.
Carlson glibly broad-brushed Vindman's criticism of the GOP's Putin apologists with his usual schoolboy sarcasm: "Your job is to take up arms in defense of Alexander Vindman's home country, or else you're evil."
Carlson insisted that Ukraine was not a democracy but a "pure client state" of the U.S. government. And, in a particularly obnoxious rant, he suggested that Putin is morally superior to "permanent Washington," some vaguely malign force that Carlson claims is manufacturing a global pandemic, teaching children to embrace racial discrimination and trying to snuff out Christianity.
Tucker Carlson, downplaying Russia-Ukraine conflict, urges Americans to ask, 'Why do I hate Putin?'
Carlson's pro-Putin act is so helpful that Russian state television has been rebroadcasting it with Russian subtitles. Carlson "urged Americans to turn against their government on the grounds that higher costs for them, in exchange for a pointless stand against Putin, is a 'terrible deal for you,'" as Will Saletan summed it up in a Bulwark story comparing him to Charles Coughlin, the WWII-era radio host who defended the Nazis and painted Jews as a conniving force pushing the United States into the European conflict.
Carlson is dangerous because he has a cultlike following who believe his nightly rants. I would love to see the Murdochs put decency above dollars and remove him from the airwaves. https://www.washingtonpost.com/media/2022/02/24/tucker-carlson-ukraine-fox-news-lawyers/
Republicans block bill banning discrimination against Black people based on how they wear their hair
Late Monday, the House tried to use fast-track procedures to pass a bill barring race-based discrimination against Black people for how they wear their hair. It prevailed 235-188, but that's short of the 2/3 margin needed to pass it. Just 15 House Republicans voted yes. That's despite the fact the bill passed by voice vote in September 2020." https://www.politico.com/minutes/congress/03-1-2022/a-stunning-house-vote/
ICC Prosecutor, Karim A.A. Khan QC's statement on the Situation in Ukraine
"In particular, I am satisfied that there is a reasonable basis to believe that both alleged war crimes and crimes against humanity have been committed in Ukraine in relation to the events already assessed during the preliminary examination by the Office. Given the expansion of the conflict in recent days, it is my intention that this investigation will also encompass any new alleged crimes falling within the jurisdiction of my Office that are committed by any party to the conflict on any part of the territory of Ukraine." https://www.icc-cpi.int/Pages/item.aspx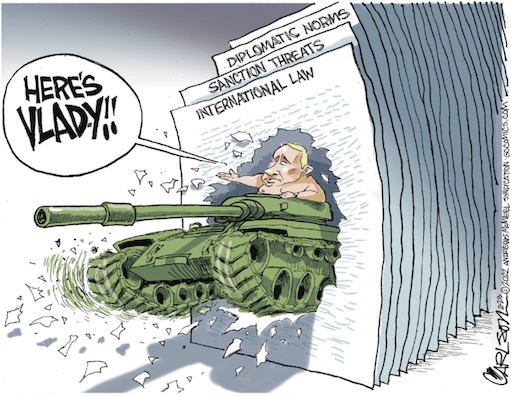 Humanity faces 'grave and mounting threat' of climate change — unless we act, IPCC report reveals
From food insecurity to our physical and mental health, the impact of climate change is affecting people around the world, and the window is rapidly closing for us to prevent catastrophic and irreversible consequences, according to a new report by the Intergovernmental Panel on Climate Change (IPCC), which evaluates climate science for the United Nations.
"Today's IPCC report is an atlas of human suffering and a damning indictment of failed climate leadership," António Manuel de Oliveira Guterres, Secretary-General of the United Nations, said at the briefing. Evidence in the report from more than 34,000 scientific sources shows how extreme storms, droughts, floods, heatwaves and wildfires — all of which have been increasing in severity and frequency due to climate change — are disrupting food production, interfering with fishing and aquaculture; causing costly damage to cities and infrastructure; and eroding human health.
What's more, that disruption will only worsen the longer we put off taking necessary steps to limit warming to 2.7 degrees Fahrenheit (1.5 degrees Celsius) and help the hardest-hit parts of the world adapt to change that has already happened, Hoesung Lee, Chair of the IPCC, said in a statement.
"This report is a dire warning about the consequences of inaction," Lee said. "It shows that climate change is a grave and mounting threat to our well-being and a healthy planet."
Limiting warming to 2.7 F, would require slashing greenhouse gas emissions globally by 40% and achieving net zero emissions by 2050; instead, the world is on track for emissions to rise an estimated 14% over the coming decade, Guterres said at the briefing.
"That spells catastrophe. It will destroy any chance of keeping 1.5 [C] alive," he said. https://www.space.com/ipcc-climate-report-we-are-not-ready
The DAILY GRILL
"She is one of our nation's brightest legal minds and will be an exceptional Justice. If confirmed, Jackson's nomination would be historic: She would be the first Black woman and sixth woman to sit on the highest bench in the country in its more than 200-year history." -- President Joe Biden https://www.texastribune.org/2022/02/25/ted-cruz-john-cornyn-ketanji-brown-jackson/
VERSUS
● Biden's nominee would not know the difference between a J.CREW catalogue and a law book.— Louisiana Sen. John Kennedy.
● Biden's pledge to nominate a Black woman IS offensive to a majority of Americans. — Texas Sen. Ted Cruz.
● "The irony is that the Supreme Court is at the very same time hearing cases about this sort of affirmative racial discrimination while adding someone who is the beneficiary of this sort of quota." — Mississippi Sen. Roger Wicker. https://www.washingtonpost.com/nation/2022/02/28/republicans-criticism-ketanji-brown-jackson-is-part-reason-black-women-like-me-left-party/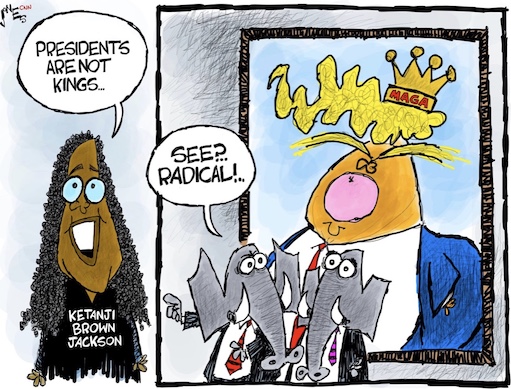 Akbar Shahid Ahmed: As Ukraine Shudders, Donald Trump Calls Vladimir Putin's Incursion 'Pretty Smart'
With millions of Ukrainians fearing for their lives Wednesday night amid reports of an imminent Russian invasion of their country, former President Donald Trump said Russian leader Vladimir Putin was "pretty smart" for sparking what could be the biggest conflict in Europe since World War II.
"He's taking over a country for $2 worth of sanctions. I'd say that's pretty smart," Trump said at his Mar-a-Lago resort in Florida, according to New York Times reporter Shane Goldmacher and video footage obtained by the pro-Democratic group American Bridge. "He's taking over a country, really a vast, vast location, a great piece of land with a lot of people, just walking right in."
The former U.S. commander in chief added, "This would have never happened, ever in a million years," and said he understands Putin, seemingly suggesting that President Joe Biden is mismanaging the situation in Ukraine, where Putin has decided to support Russian-backed separatists' bid to break up the country and has dispatched Russian troops. Biden this week imposed sanctions on Russian institutions and officials and warned far tougher action could follow.
"Now they laugh at us," Trump said of U.S. adversaries, according to Goldmacher.
When Trump was president, he suspended military aid to Ukraine ― despite the Ukrainian government's ongoing fight against the separatists ― to force the country to seek incriminating information about Biden's son Hunter. He also told fellow world leaders that he recognized Russia's claim to the Ukrainian region of Crimea, which Putin invaded in 2014 in a move that most countries view as a violation of international law, according to a BuzzFeed News report. And Trump repeatedly rejected U.S. intelligence reports that said Russia aided in his 2016 election victory, saying he believed Putin's denial of any such plan.
Trump and many of his right-wing allies have repeatedly praised Moscow in recent days, blaming the Biden administration for the uptick in tensions in Europe. https://sports.yahoo.com/ukraine-shudders-donald-trump-calls-025811370.html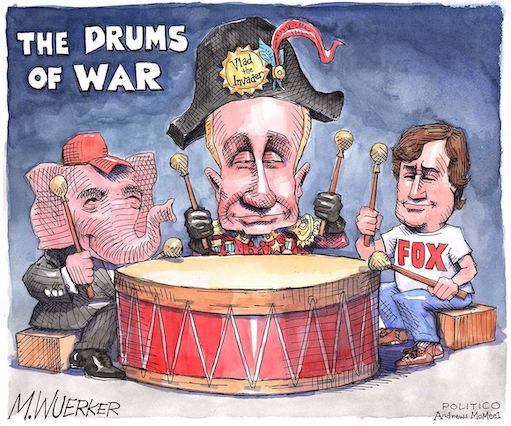 Dana Milbank: Republicans are so eager to see Biden fail that they'd let Putin succeed
After her fellow Republicans booted her from party leadership last year, Rep. Liz Cheney posed a question: "Do we hate our political adversaries more than we love our country?"
Now, with Vladimir Putin's invasion of Ukraine, we are hearing Republicans answer that question in the affirmative.
The dictator is betting that division within the United States will sap American resolve and thereby sow disunity between the United States and European democracies — allowing him to crush Ukraine's democracy and potentially others. And Republicans are giving him exactly what he wants. They are so determined to see President Biden fail that they would let President Putin succeed.
On Tuesday, hours before Biden was to deliver his State of the Union address, Rep. Michael McCaul (Tex.), the top Republican on the House Foreign Affairs Committee, likened Biden's actions toward Russia to Neville Chamberlain's appeasement of Hitler, saying, "We have a weak president, and he's creating a very dangerous world."
Also Tuesday, Rep. Elise Stefanik (N.Y.), the No. 3 House GOP leader, said Biden "failed to engage in meaningful deterrence against Russian aggression," and asserted that "the war on Ukraine represents one of the greatest foreign policy failures in modern history."
Rep. Steve Scalise (La.), the House GOP whip, blamed Biden for giving "leverage to Vladimir Putin" and "billions of dollars in his pocket to finance this war against Ukraine."
House GOP leader Kevin McCarthy (Calif.) condemned Biden for failing to deter the invasion, saying, "If Ukraine had just half of the weapons that were left in Afghanistan … I imagine Putin would not have entered."
And Sen. John Barrasso (Wyo.), head of the Senate Republican Conference, said Biden's "policies from Day One have enabled, emboldened Vladimir Putin to do what he has done," adding that it's "as if Vladimir Putin were Joe Biden's secretary of energy."
Some Republican candidates have even been fundraising off calling Biden "weak" on Ukraine.
The relentless assault no doubt undermines Biden — but it also weakens America. Biden's response — the U.S. response — can be only as strong as Republicans allow. Suppose, for example, that Biden were to follow the advice of Sen. Lindsey Graham (R-S.C.) and slap sanctions on Russia's energy sector. Would Republicans tell supporters that this necessary fight against Putin will require sacrifice in the form of higher prices — and potentially much more, if the conflict escalates? Of course not: They would blame Biden for the added inflation. https://www.washingtonpost.com/opinions/2022/03/01/republicans-biden-fail-putin-succeed/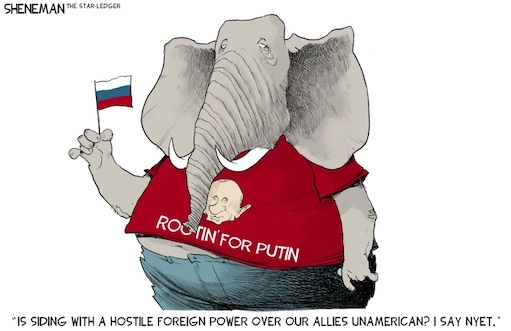 Robin Wright: Putin's Historic Miscalculation May Make Him a War Criminal
In the eyes of the world and almost certainly history, Vladimir Putin's invasion of Ukraine on Thursday was an epic miscalculation drawing comparisons to Adolf Hitler and Saddam Hussein for cold-blooded aggression that could challenge the world order and change its borders. The Russian leader appeared almost delusional in a pre-dawn speech from the Kremlin announcing a "special military operation" to "protect" Donbas, the eastern region where Russian-backed separatists have waged a war for eight years. Putin, instead, immediately ordered Russian tanks into Ukraine and air strikes on the capital and more than a dozen cities in a country of forty million people. "Peace on our continent has been shattered," the nato secretary-general Jens Stoltenberg told reporters. "We now have war in Europe on a scale and of a type we thought belonged to history." Putin's "reckless" attack risks "countless innocent lives," Stoltenberg warned.
Putin is now, at minimum, a pariah condemned by leaders across the world. "Putin is the aggressor. Putin chose this war," President Biden said in a speech to the nation announcing new sanctions on Russian financial institutions and élites. He charged that Putin "has much larger ambitions than Ukraine." "He wants to, in fact, reëstablish the former Soviet Union," Biden said. "His ambitions are completely contrary to the place where the rest of the world has arrived." In one of a flurry of statements reflecting outrage globally, the European Commission chief, Ursula von der Leyen, called Russia's act "barbaric" and dismissed its justifications as "cynical." In a tweet, the British Prime Minister, Boris Johnson, said he was appalled by Putin's "horrific" decision to pursue "a path of bloodshed and destruction." Putin's military offensive put him on the diplomatic defensive. The French President, Emmanuel Macron, called the attack "a turning point" in history that will have a profound and lasting impact across the continent.
Putin may now also qualify as a war criminal, according to the Geneva Conventions of 1949. War crimes include willful killing and extensive destruction of property "not justified by military necessity and carried out unlawfully and wantonly." The term has been inconsistently interpreted and unevenly applied to leaders or countries—including to the U.S. and its officials—who have initiated aggression for reasons considered unjustified. In Ukraine, Putin's "war of choice" has clearly violated international law through his invasion of a sovereign country and attempt to oust its government. After an emergency United Nations Security Council meeting, on Wednesday, the Secretary-General, António Guterres, warned that the Russian invasion could be the "worst war" of the century "with consequences not only devastating for Ukraine, not only tragic for the Russian Federation" but for the entire world. https://www.newyorker.com/news/daily-comment/putins-historic-miscalculation-may-make-him-a-war-criminal
LA Times Editorial: The U.S. couldn't stop Russia from attacking Ukraine — but it can make it pay
The most conspicuous victims of Russia's unprovoked invasion of Ukraine are the people who will lose their lives in defending their country against a brutal (and nuclear-armed) neighbor. But Vladimir Putin's decision to launch a many-pronged attack — an audacious operation the United States predicted but was unable to prevent — is also a devastating assault on international norms and potentially a harbinger of a wider war in Europe.
This week's attack fully justifies the significant sanctions the U.S. and its allies are moving to impose on Russia. Sadly, it's not clear whether these measures will cause Russia to relent in its aggression against Ukraine. They may, however, put Putin on notice that Russia's economy, and its "corrupt billionaires," will pay a heavy price for this act of aggression — and an even steeper cost if Russia were to menace a member state of NATO.
The sanctions were designed to "maximize the long-term impact on Russia," Biden said, noting that the measures would "strike a blow to their ability to continue to modernize their military" and "be a major hit to Putin's long-term strategic ambitions."
We can hope, as Biden surely does, that by punishing Russia economically the U.S. and its allies can pressure Putin into cutting short his war in Ukraine. But Putin knew an invasion would likely result in such sanctions, and he attacked anyway. (Indeed, in a rambling, bitter speech on Monday the Russian president described the sanctions as "blackmail" and said their only purpose was to "restrain the development of Russia.")
But Biden was thinking not only about Ukraine when he said Thursday that new sanctions would rein in "Putin's long-term strategic ambitions." He stressed that "we're also taking steps to defend our NATO allies, particularly in the east."
It would be ironic if Russian aggression against Ukraine, supposedly motivated by a fear that Kyiv might someday join NATO, resulted in greater solidarity among the countries that already are part of the alliance. https://www.latimes.com/opinion/story/2022-02-24/russia-putin-ukraine-war-u-s
Maureen Dowd: Rash Putin Razes Ukraine
Now comes the insanity of Vladimir Putin, the former K.G.B. officer who has been feeling humiliated and furious ever since the red banner of the Soviet Union came down from the Kremlin 30 years ago. This demonic little man with the puffy Botoxy face has been watching too many episodes of "The Americans" during his Covid isolation.
He decided to indulge his nostalgia for the days when American children had to practice diving under their school desks; when James Bond sparred with the Soviet assassin Rosa Klebb, sprouting a knife in her shoe. He longs for the shadowy era when Moscow was a menacing superpower, not a withering autocracy.
To feed Cold War dreams, Putin spun a nuclear nightmare. He invaded a peaceful democracy, Ukraine, vowing consequences "you have never seen in your entire history" to those who interfered.
As President Biden marshaled world opinion against Putin, Trump offered nauseating praise of this murderer. Like the thug he so admires, Trump let his fragile ego and world-class delusions distort reality. Trump politicized the Covid response in a dangerous way. And, unable to accept the designation of Loser, he helped spread the lies and misinformation that led to Jan. 6. In a breathtaking betrayal, the president of the United States tried to scuttle the democracy he was running; Trump abandoned the Constitution he was sworn to protect.
But if President Biden got no backup on helping Ukraine from the quisling Trump, he did get a boost Friday from his inspiring Supreme Court nominee, Ketanji Brown Jackson, who reminded us, "The United States of America is the greatest beacon of hope and democracy the world has ever known."
As for Putin's Napoleonic megalomania, perhaps the Russia expert Nina Khrushcheva summed him up best in a Vanity Fair podcast: "He's a small man of five-six saying he's five-seven." https://www.nytimes.com/2022/02/26/opinion/rash-putin-razes-ukraine.html
LZ Granderson: Trump's adulation for Putin has gone way too far
Until the 1990s, being "a counterweight against Soviet influence" was the hallmark of U.S. foreign policy. We even called our Russia strategy "containment."
So why is a former president of the United States rooting for Russia to be uncontained? Yes, as Russian forces surrounded Ukraine on Wednesday, preparing to invade on Thursday, Donald Trump praised the Russian president as being "pretty smart" for "taking over a country — really a vast, vast location, a great piece of land with a lot of people."
And why are Republican leaders — the same folks who like to throw the word "communist" around like a poisoned dart — remaining silent about this bizarre and stunning endorsement of the Kremlin?
Sure, I get it, they hate President Biden, they want to own the libs, all of that. But what exactly is the endgame here? Which aspect of the American dream does Trump represent when he responds to Russian forces encircling Ukraine with "this is genius"?
But no matter what happens between Ukraine and Russia, Putin will still be Putin and Trump will be Trump. They aren't hiding who they are. https://www.latimes.com/opinion/story/2022-02-26/donald-trump-praise-vladimir-putin-ukraine-invasion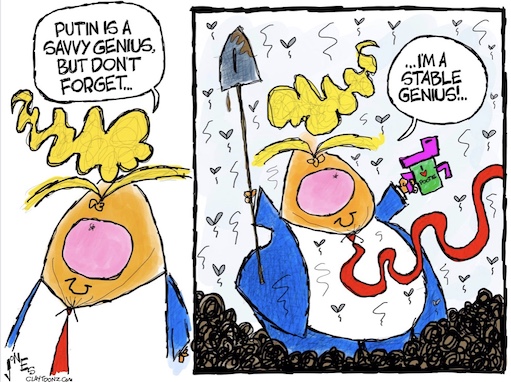 David Remnick: Putin's Bloody Folly in Ukraine
Vladimir Putin delivered a bitter and delusional speech from the Kremlin this week, arguing that Ukraine is not a nation and Ukrainians are not a people. His order to execute a "special military operation" came shortly afterward. The professed aim is to "demilitarize and de-Nazify" this supposedly phantasmal neighbor of forty million people, whose government is so pro-Nazi that it is led by a Jewish President who was elected with seventy per cent of the vote.
Like many aging autocrats, Putin has, over time, remained himself, only more so: more resentful, more isolated, more repressive, more ruthless. He operates in an airless political environment, free of contrary counsel. His stagecraft—seating foreign visitors at the opposite end of a twenty-foot-long table, humiliating security chiefs in front of television cameras—is a blend of "Triumph of the Will" and "The Great Dictator." But there is nothing comic in the performance of his office. As Putin spills blood across Ukraine and threatens to destabilize Europe, Russians themselves stand to lose immeasurably. The ruble and the Russian stock market have cratered. But Putin does not care. His eyes are fixed on matters far grander than the well-being of his people. He is in full command of the largest army in Europe, and, as he has reminded the world, of an immense arsenal of nuclear weapons. In his mind, this is his moment, his triumphal historical drama, and damn the cost. https://www.newyorker.com/magazine/2022/03/07/putins-bloody-folly-in-ukraine
Emily Tamkin: How the American Right Stopped Worrying and Learned to Love Russia
Vladimir Putin delivered a bitter and delusional speech from the Kremlin this week, arguing that Ukraine is not a nation and Ukrainians are not a people. His order to execute a "special military operation" came shortly afterward. The professed aim is to "demilitarize and de-Nazify" this supposedly phantasmal neighbor of forty million people, whose government is so pro-Nazi that it is led by a Jewish President who was elected with seventy per cent of the vote.
Supporting Mr. Putin, as well as other authoritarian leaders, is yet another way in which the political right is weaponizing culture wars to further divide Americans.
Part of this new paradigm is that foreign policy is now a partisan matter. In 2016, Prime Minister Viktor Orban of Hungary offered an endorsement of then-candidate Donald Trump, admiration that was later returned. Mr. Putin's Russia reportedly meddled in the American election in 2016, and the Russian president has admitted that he wanted Mr. Trump to win. Those amicable relationships trickled down to the Republican voting population, which shifted its views on Mr. Putin's favorability, which soared from a mere 10 percent in July 2014 to 37 percent in December 2016. A Yahoo News/YouGov poll from January of this year found that 62 percent of Republicans and Republican-leaning independents consider Vladimir Putin a stronger leader than Joe Biden.
"Strong" may be the key word here. In this construction, a strong leader is apparently one who cracks down on opposition, cultural and political, and does not concede. This idea then dovetails with right-wing ideas that liberal elites are actively corroding deeply held traditional values — including traditional gender roles. For those who spend a fair amount of airtime worrying about the emasculation of men, the kind of strength portrayed by Mr. Putin — who on Monday convened his top security officials and demanded they publicly stand and support him — is perhaps appealing. https://www.nytimes.com/2022/02/27/opinion/ukraine-putin-steve-bannon.html]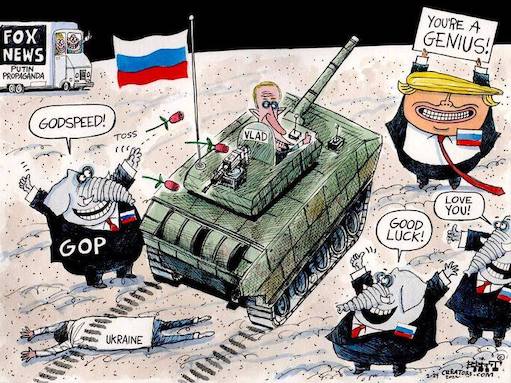 Aaron Blake: The tide has turned against the Russia apologists — and the neutrals
For the better part of five-plus years, Donald Trump attempted to inject some nuance into the GOP's posture toward Russia. It was partially a strategy of necessity — given how Russia's 2016 election interference loomed over his presidency — and partially a symptom of both Trump's penchant for provocation and admiration for authoritarians. But the result was the same: As Vladimir Putin inched toward an invasion of Ukraine, he had plenty of isolationists, conspiracy theorists, rationalizers and even apologists in prominent positions on the American right arguing for averting our eyes.
Their argument, though, has clearly run into reality and fallen badly out of favor. And many of those who downplayed or dismissed Russia's threat have been forced to reckon with the rather black-and-white view that has now registered with the American people. https://www.washingtonpost.com/politics/2022/02/28/tide-has-turned-against-russia-apologists-neutrals/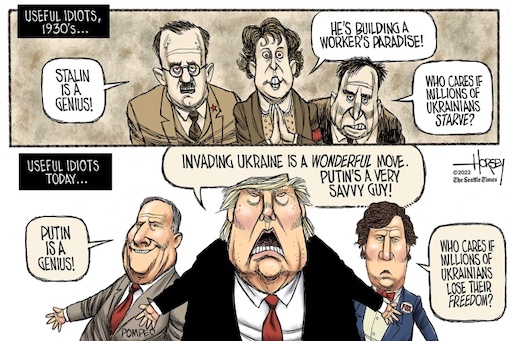 Anne Applebaum:The Impossible Suddenly Became Possible
As it turns out, nations are not pieces in a game of Risk. They do not, as some academics have long imagined, have eternal interests or permanent geopolitical orientations, fixed motivations or predictable goals. Nor do human beings always react the way they are supposed to react. Last week, nobody who was analyzing the coming war in Ukraine imagined that the personal bravery of the Ukrainian president and his emotive calls for sovereignty and democracy could alter the calculations of foreign ministers, bank directors, business executives, and thousands of ordinary people. Few imagined that the Russian president's sinister television appearances and brutal orders could alter, in just a few days, international perceptions of Russia.
And yet all of that has happened. Volodymyr Zelensky's courage has moved people, even the hard-bitten CEOs of oil companies, even dull diplomats accustomed to rote pronouncements. Vladimir Putin's paranoid ranting, meanwhile, has frightened even people who were lauding his "savvy" just a few days ago. He is not, in fact, someone you can do business with, as so many in Berlin, Paris, London, and Washington falsely believed; he is a cold-blooded dictator happy to murder hundreds of thousands of neighbors and impoverish his nation, if that's what it takes to remain in power. However the war ends—and many scenarios are still imaginable—we already live in a world with fewer illusions. https://www.theatlantic.com/ideas/archive/2022/03/putins-war-dispelled-the-worlds-illusions/623335/