July 26, 2018
ON THE RECORD. . .
So, to summarize: Trump met secretly with Vladimir Putin, endorsed his denials of having hacked Democratic emails to help elect Trump, blamed his own country rather than Russian aggression for poor relations, praised Putin's "offer" to interrogate an American diplomat he loathes for having stood up for human rights, and is announcing that American journalists rather than Russia are the true enemy. -- Jonathan Chait in NY Magazine

The first thing that struck me watching Obama's speech in South Africa on the 100th anniversary of Nelson Mandela's birth, was what was missing: There was no self-praise and no name-calling. Obama has a far better claim than Trump to being a "very stable genius," but he didn't call himself one. The sentences were complete and sonorous — and probably written by the speaker himself. (Imagine Trump writing anything longer than a tweet — and even those are full of mistakes.) The tone was sober and high-minded, even if listeners could read between the lines a withering critique of Trump's policies. -- Max Boot, who said he was moved nearly to tears by his eloquent defense of a liberal world order that President Trump appears bent on destroying.

Women in particular . . . I want you to get more involved. Because men have been getting on my nerves lately. I mean, every day I read the newspaper and I just think like, 'Brothers, what's wrong with you guys? What's wrong with us?' I mean, we're violent, we're bullying. You know, just not handling our business. So I think empowering more women on the continent — that right away is going to lead to some better policies. -- Obama responding to a women who asked him how to get more involved in poliitcs

"I never thought I'd live to see this! Neither the USSR nor Russia, who tried many times to drive the wedge between transatlantic allies, but the main player, Washington, and President Trump himself is doing everything to break down the foundations of transatlantic alliance and unity." -- A translated clip from Russian state-run television that has gone viral in progressive media circles showing a Russian commentator marveling at Trump's trashing of NATO.

"One of the most disgraceful, remarkable moments of kowtowing to a foreign leader by an American president that anyone has ever witnessed. It wasn't just that it was a kind of surrender. This is dangerous. The president stood there and did not defend our country." — Former Secretary of State John Kerry, in an interview on Face the Nation, on Trump's news conference with Vladimir Putin.

"So President Obama knew about Russia before the Election. Why didn't he do something about it? Why didn't he tell our campaign? Because it is all a big hoax, that's why, and he thought Crooked Hillary was going to win!!!--Trump back to calling the Russia investigation a Hoax he accepted the findings of U.S. intelligence agencies that Russia interfered in the 2016 presidential election.

"I'm very concerned that Russia will be fighting very hard to have an impact on the upcoming Election. Based on the fact that no President has been tougher on Russia than me, they will be pushing very hard for the Democrats. They definitely don't want Trump!" — Trump, lying on Twitter.

"We've gone from being the party of Jeb Bush Republicans who can win everywhere and over perform in Democratic areas to the party of red hat Cletus the Slack-jawed Yokel and QAnon. Who thinks this is going to end well?" — A Republican political operative, quoted by the Tampa Bay Times.

"This country is doing better than it's ever has before, economically...It's all working out. Just remember: what you're seeing and what you're reading is not what's happening."-- Trump saying to veterans: trust me, not your lying eyes
---
IN THIS ISSUE
FYI
OPINION
1. Satire from The Borowitz Report: Trump Demands That N.F.L. Players Stand During Russian National Anthem
In a series of early-morning tweets on Sunday, Donald J. Trump demanded that the Russian national anthem be played before every National Football League game and that all N.F.L. players stand during the performance.

Trump asserted that playing the Russian anthem was a "necessary gesture of good will from the USA to our No. 1 ally," and that "any player who refuses to stand for the Russian antem [sic] hates America!"

Seeming to double down on his demand, Trump tweeted that all N.F.L. players must remain standing while the color guard unfurls the flag of the Russian Federation.

Trump's insistence that football players stand for the Russian anthem appeared to come as a surprise to the director of National Intelligence, Dan Coats, who first heard about it while appearing at a security forum, in Bethesda, Maryland.

"What kind of fucking bullshit is this?" Coats said, later saying that he meant no disrespect by that remark. https://www.newyorker.com/humor/borowitz-report/
2. The DAILY GRILL
The Summit with Russia was a great success, except with the real enemy of the people, the Fake News Media. I look forward to our second meeting so that we can start implementing some of the many things discussed, including stopping terrorism, security for Israel, nuclear........ -- Donald Trump onTwitter

VERSUS

So, to summarize: Trump met secretly with Vladimir Putin, endorsed his denials of having hacked Democratic emails to help elect Trump, blamed his own country rather than Russian aggression for poor relations, praised Putin's "offer" to interrogate an American diplomat he loathes for having stood up for human rights, and is announcing that American journalists rather than Russia are the true enemy. -- Jonathan Chait

 

Congratulations to @JudicialWatch and @TomFitton on being successful in getting the Carter Page FISA documents. As usual they are ridiculously heavily redacted but confirm with little doubt that the Department of "Justice" and FBI misled the courts. Witch Hunt Rigged, a Scam! -- Donald Trump

VERSUS

"I have a different view on it. Carter Page, I'm not claiming that he's James Bond. He's not 007. But he's a guy that even before the campaign — so this is not Trump-related — even before the campaign, is a guy that went around the world, bragging about his connections in Russia. So they knew who he was before the campaign. Then you see the guy kind of gravitating around a leading campaign, and then other things came up on their screen and they said 'We've got to look at this guy.' And that's what the FISA application sort of lays out." --Sen. Marco Rubio (R-FL)

 

....In my opinion the Washington Post is nothing more than an expensive (the paper loses a fortune) lobbyist for Amazon. Is it used as protection against antitrust claims which many feel should be brought?-- Donald J. Trump

VERSUS

"The reality is he didn't present any evidence that we were lobbying for Amazon," Post Executive Editor Martin Baron has said in response to a previous Trump attack. "The reason is because there is no evidence." Contrary to Trump's assertion, Ryan has also said that The Post is positioned for "continued profitability."-- Washington Post
3. From MEDIA MATTERS (They watch Fox News so you don't have to)
 Fox Business host likens San Francisco allowing noncitizen residents to vote in school board election to Russia's election meddling for Trump. Stuart Varney: "How is that for foreign influence? Is it a form of election meddling? Think of this, a Russian could influence education policy in San Francisco just by being there."  https://www.mediamatters.org/video/2018/07/20/fox-business-host-likens-san-francisco-allowing-noncitizen-residents-vote-school-board-election/220747

Fox & Friends hosts anti-Muslim guest to misleadingly fearmonger about Canada losing track of refugees. Canada did not "lose track" of refugees, but Fox spent weeks covering for the Trump administration, which did.  https://www.mediamatters.org/video/2018/07/20/fox-friends-hosts-anti-muslim-guest-misleadingly-fearmonger-about-canada-losing-track-refugees/220742

"Over the border and into the booth": Fox & Friends misleadingly fearmongers about noncitizens voting in federal elections. Guest calls for California to be stripped of Congressional representation and electoral votes because San Francisco lets noncitizens vote in school board elections. https://www.mediamatters.org/video/2018/07/20/over-border-and-booth-fox-friends-misleadingly-fearmongers-about-undocumented-immigrants-voting/220743

On Fox, Iraq War booster Ari Fleischer says the US should destabilize Iran to initiate regime change. Fleischer: "The more unstable we can help Iran to become, the better it is to actually secure peace if we can get rid of that theological regime one day."  https://www.mediamatters.org/video/2018/07/23/fox-iraq-war-booster-ari-fleischer-says-us-should-destabilize-iran-initiate-regime-change/220755

Hannity guest theorizes that Russians were "hired, owned and paid by the DNC to hack themselves."Jonathan Gilliam: "You think that Russian state-sponsored operatives left footprints, and showed the world that they were hacking the DNC? There's no way."  https://www.mediamatters.org/video/2018/07/19/hannity-guest-theorizes-russians-were-hired-owned-and-paid-dnc-hack-themselves/22073

During unhinged rant, Sean Hannity calls on Mueller to investigate Hillary Clinton for colluding with Russia. Hannity: "These lies that were bought and paid for by Hillary, to Russia, all designed to propagandize the American people."  https://www.mediamatters.org/video/2018/07/23/during-unhinged-rant-sean-hannity-calls-mueller-investigate-hillary-clinton-colluding-russia/220762

Alex Jones pantomimes shooting Robert Mueller: "You're going to get it, or I'm going to die trying, bitch. Get ready."  https://www.mediamatters.org/video/2018/07/23/alex-jones-pantomimes-shooting-robert-mueller-youre-going-get-it-or-im-going-die-trying-bitch-get/220758
4. From the Late Shows
The Break with Michelle Wolf: ICE IS: https://youtu.be/dNF6sVurAuI

The Late Show with Stephen Colbert: Trump Walks Back His 'Would' For A 'Wouldn't': https://youtu.be/3_s3UiWl_Uc

The Late Show with Stephen Colbert: Our President Says Don't Believe What You See And Read: https://youtu.be/I562JHh8reM
5. Late Night Jokes for Dems
Vice President Mike Pence today hosted a fundraiser for a Republican representative in Philadelphia, but he left as soon as he found out it's the city of brotherly love. -- Seth Meyers

Former Trump campaign adviser Carter Page yesterday called accusations that he was a Russian agent a ridiculous smear campaign. Coincidentally, a "ridiculous smear" is what Trump asks his makeup artists for. -- Seth Meyers

A California town recently opened a drive-thru marijuana dispensary, or as they're more commonly known, a Taco Bell. -- Seth Meyers

Trump is very upset, reportedly saying, "I can't believe Michael would do this with me." No sir, that's believable. What I can't believe is that Karen McDougal would do THAT with you. -- Stephen Colbert

Seems like an all-caps note is not necessarily the way to deal with a hostile foreign leader. It's barely the way to deal with a coworker who keeps stealing your yogurt from the fridge. "To the person who keeps stealing my yogurt: NEVER, EVER TOUCH MY YOPLAIT WHIPS AGAIN OR YOU WILL SUFFER CONSEQUENCES THE LIKES OF WHICH FEW THROUGHOUT THE BREAK ROOM HAVE SUFFERED BEFORE. I AM NO LONGER A PAYROLL ASSISTANT WHO WILL STAND FOR YOUR DEMENTED THEFT OF MY HEALTHY DESSERT ALTERNATIVES. BE CAUTIOUS!" --

Meanwhile, Trump continues his strategic and targeted trade war against everyone. This is bad news for a lot of businesses, but especially the U.S. meat industry. Thanks to new tariffs from China and Mexico, there's now 2.5 billion pounds of meat piled up. Good news for McDonald's AND McDonald's Playlands. "Kids, go play in the meat pit. -- Stephen Colbert

Today we learned that federal prosecutors have 12 conversations secretly recorded by former Trump personal attorney Michael Cohen. At least one of those is a conversation with Donald Trump himself. That tape, which was recorded two months before the election, features Cohen and his orange-colored client chatting about paying off a former Playboy model named Karen McDougal. Trump's current lawyer, Rudy Giuliani, said that Trump did nothing wrong and in fact he says this tape is proof that Trump is innocent. Donald Trump could choke a horse to death on "Fox & Friends" live, Rudy Giuliani would be on MSNBC an hour later claiming he was hugging it while it died of old age. -- Jimmy Kimmel

As you may know, Iran's president has been saying some inflammatory things towards the United States, so last night around midnight President Trump downed three Red Bulls and tweeted this: "To Iranian President Rouhani: NEVER, EVER THREATEN THE UNITED STATES AGAIN OR YOU WILL SUFFER CONSEQUENCES THE LIKES OF WHICH FEW THROUGHOUT HISTORY HAVE EVER SUFFERED BEFORE. WE ARE NO LONGER A COUNTRY THAT WILL STAND FOR YOUR DEMENTED WORDS OF VIOLENCE & DEATH. BE CAUTIOUS!"  Now, it seems like the only thing still working in the Trump administration is the caps lock key. -- James Corden

This is a scary tweet. It really is. By the way, how's the first lady's online bullying campaign going? Is it good, is it going well? Any updates? I love how Trump tells him to "be cautious" at the end. Because if anyone knows about being cautious, it's the 72-year-old guy who eats two quarter pounders every night. -- James Corden

On Friday, it was revealed that when the FBI raided the office of Trump's lawyer, they found secretly recorded conversations with the president. And those tapes are now in the hands of the special prosecutor. So on Saturday, Trump downed a case of Monster Energy drinks and lashed out on Twitter, writing: "Inconceivable that the government would break into a lawyer's office early in the morning — almost unheard of." The only thing inconceivable about the whole thing is that Trump spelled inconceivable correctly. No one saw that coming! -- James Corden

He then went on to say, "The good news is that your favorite president did nothing wrong!" Now this I agree with, I do, but why even bring Obama into this? -- James Corden
6. Poll: Huge GOP majority backs Trump's Putin performance
A new Axios/Survey Monkey poll finds 79% of Republicans approve of President Trump's performance during his meeting with Russian President Vladimir Putin while just 18% disapprove.
"This poll foreshadows the coming national drama. Every piece of data, and virtually every public action of elected Republican officials, shows Trump will have overwhelming and probably unbreakable party support, regardless of what Robert Mueller finds with his Russia probe. https://www.axios.com/republicans-poll-donald-trump-press-conference-putin-5776322f-a483-4e21-b50c-028799b08367.html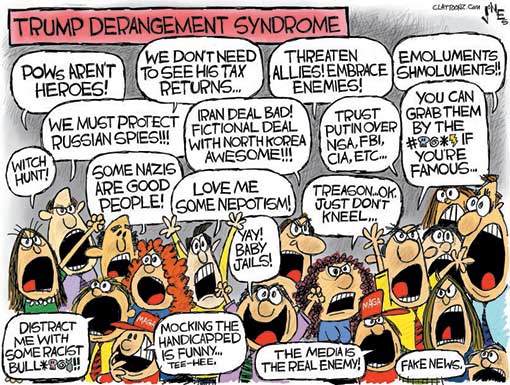 7. Don Jr. and Eric Trump racked up nearly $250,000 in Secret Service costs in one month
One month of Secret Service protection for Eric Trump and Donald Trump Jr. cost taxpayers close to a quarter of a million dollars last year, according to new spending documents obtained by a watchdog group.
The president's sons traveled overseas for Trump family business on two trips that cost the Secret Service nearly $250,000. Taxpayers footed the bill for hundreds of thousands of dollars in hotels, airfare and other costs for Secret Service protection, according to documents obtained by nonprofit Citizens for Responsibility and Ethics in Washington.
"The Secret Service documents, received through Freedom of Information Act (FOIA) requests, shed light on how much taxpayers are paying for trips taken by the heads of the president's private business empire," CREW said in a statement. https://www.politico.com/story/2018/07/18/eric-donald-trump-jr-secret-service-costs-731113
8. New York State Opens Tax Probe Into Trump Foundation
New York is opening up a new front in its legal battle against the Trump Foundation. After a nearly two-year investigation, New York State Attorney General Barbara Underwood filed a civil suit against President Trump and his three oldest children last month, accusing their charity of violating campaign finance law, of self-dealing, and of illegally coordinating with Trump's presidential campaign. Now, the state has opened an investigation into whether the Trump Foundation violated state tax laws, which could lead to a criminal referral for possible prosecution.
According to the New York Times, state officials would not say when the Department of Taxation and Finance opened its investigation, or what specific activities are being examined, though the issues will likely overlap with Underwood's suit.
The tax inquiry could reveal more information than the civil suit, like the president's tax returns. If the probe turns up potential criminal activity, it could be referred to a law enforcement agency, like the state attorney general's office or a district attorney. http://nymag.com/daily/intelligencer/2018/07/new-york-state-opens-tax-probe-into-trump-foundation.html
9. "There Is A Reason We Tried To Kill This": After Helsinki, The Deep State Fears Trump Cannot Be Saved
As the post-summit fallout continues, however, these foot soldiers of the deep state are coming to a chilling realization: nobody has any control over Trump—including Trump himself. For the legion of national-security, diplomatic, and military officials trying to smile while white-knuckling through the Trump presidency, Helsinki was a wake-up call. As a current administration official explained, Trump seems to believe that he alone can sit down with dictators and strongmen like Putin and Kim Jong Un to remake the world order—and experts and advisers will only slow him down.
Said one administration official: "I don't know anyone who thought the summit was a good idea ahead of time. There is a reason why we tried to slow-roll/kill this idea… The president might think it's us being 'deep-staters,' but the reality is we were trying to protect him. It was a bad idea from all sides: policy and politics." https://www.vanityfair.com/news/2018/07/donald-trump-john-bolton-helsinki-summit-russia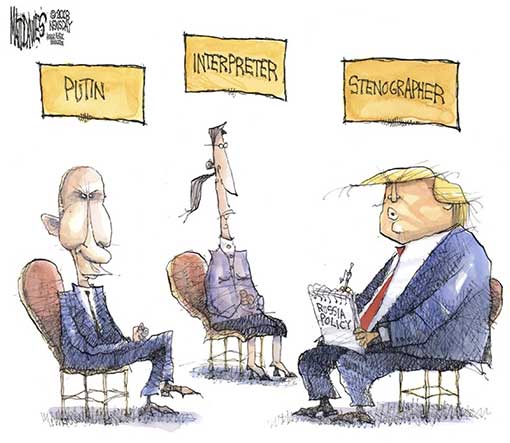 10. Interior Proposes Overhaul of Endangered Species Act
The Interior Department on Thursday proposed the most sweeping set of changes in decades to the Endangered Species Act, the law that brought the bald eagle and the Yellowstone grizzly bear back from the edge of extinction but which Republicans say is cumbersome and restricts economic development.
The proposed revisions have far-reaching implications, potentially making it easier for roads, pipelines and other construction projects to gain approvals than under current rules. One change, for instance, would eliminate longstanding language that prohibits considering economic factors when deciding whether or not a species should be protected.
The agency also intends to make it more difficult to shield species like the Atlantic sturgeon that are considered "threatened," which is the category one level beneath the most serious one, "endangered." https://www.nytimes.com/2018/07/19/climate/endangered-species-act-changes.html
11. Russian operatives blasted 18,000 tweets ahead of a huge news day during the 2016 presidential campaign. Did they know what was coming?
On the eve of one of the newsiest days of the 2016 presidential election season, a group of Russian operatives fired off tweets at a furious pace, about a dozen each minute. By the time they finished, more than 18,000 had been sent through cyberspace toward unwitting American voters, making it the busiest day by far in a disinformation operation whose aftermath is still roiling U.S. politics.
The reason for this burst of activity on Oct. 6, 2016, documented in a new trove of 3 million Russian tweets collected by Clemson University researchers, is a mystery that has generated intriguing theories but no definitive explanation.
On Oct.7, 2016, Wikileaks began releasing embarrassing emails that Russian intelligence operatives had stolen from the campaign chairman for Hillary Clinton. The Clemson researchers and others familiar with their findings think there likely is a connection between this looming release and the torrent of tweets. https://www.washingtonpost.com/technology/2018/07/20/russian-operatives-blasted-tweets-ahead-huge-news-day-during-presidential-campaign-did-they-know-what-was-coming/
12. Kavanaugh: Watergate tapes decision may have been wrong
Supreme Court nominee Brett Kavanaugh suggested several years ago that the unanimous high court ruling in 1974 that forced President Richard Nixon to turn over the Watergate tapes, leading to the end of his presidency, may have been wrongly decided.
Kavanaugh was taking part in a roundtable discussion with other lawyers when he said at three different points that the decision in U.S. v. Nixon, which marked limits on a president's ability to withhold information needed for a criminal prosecution, may have come out the wrong way. https://apnews.com/3ea406469d344dd8b2527aed92da6365/High-court-nominee-gets-started-answering-questions
13. Voter purge frenzy after federal protections lifted, new report says
Nine states with a history of racial discrimination are more aggressively removing registered voters from their rolls than other states, according to a report released Friday.
After reviewing voter purges nationally from 2012 to 2016, the nonpartisan Brennan Center for Justice found that the mostly Southern jurisdictions that had once been required to get changes to voting policies pre-approved by the Justice Department had higher rates of purging than jurisdictions that were not previously subject to pre-clearance. https://www.nbcnews.com/politics/politics-news/voter-roll-purges-surged-after-changes-voting-rights-act-new-n893056
14. Trump's new midterm threat: A trade war smacking voters
President Donald Trump's trade wars could become a major political drag for Republicans, with job losses and price increases piling up just as voters head to the polls in November.
Trump jolted markets once again early Friday when he said he's prepared to impose penalties on some $500 billion in Chinese goods regardless of the consequences that might ensue, economic or political. "Look, I'm not doing this for politics," the president said on CNBC. "I'm doing this to do the right thing for our country."
But market analysts, industry experts and economists warn that the economic fallout of the president's tariffs — those that are already in effect and those he's threatening to impose — is only going to intensify over the coming months and could reach a peak around election time. https://www.politico.com/story/2018/07/20/trump-trade-war-tariffs-midterms-2018-701466

How Trump's Trade War Went From 18 Products to 10,000: https://www.nytimes.com/interactive/2018/07/11/business/trade-war.html
15. Trump administration officials dismissed benefits of national monuments
In a quest to shrink national monuments last year, senior Interior Department officials dismissed evidence that these public lands boosted tourism and spurred archaeological discoveries, according to documents the department released this month and retracted a day later.
The thousands of pages of email correspondence chart how Interior Secretary Ryan Zinke and his aides instead tailored their survey of protected sites to emphasize the value of logging, ranching, and energy development that would be unlocked if they were not designated as national monuments. https://www.washingtonpost.com/national/health-science/trump-administration-officials-dismissed-benefits-of-national-monuments/2018/07/23/5b8b1666-8b9a-11e8-a345-a1bf7847b375_story.html
16. Trump's Tax Cut Hasn't Done Anything for Workers
Huge, immediate gains for wealthy shareholders combined with tepid increases in business investment and decreases in real wages don't paint a flattering picture of the tax cut's impact so far. There is, however, a possibility that the tax cut has acted as a Keynesian fiscal stimulus, helping to push down unemployment.
This tepid rate of growth means that the tax cut is unlikely to pay for itself. By this point, almost all economists recognize that income tax cuts no longer stimulate the economy enough to reduce deficits, as supply-siders thought they would back in the 1980s. But economists still held out some hope that lowering the corporate tax, which is believed to be more harmful than the personal income tax, would have a more salutary effect on the budget. Unfortunately, that hope appears to be fading, as fiscal deficits increase rapidly. https://www.bloomberg.com/view/articles/2018-07-18/trump-s-tax-cut-hasn-t-done-anything-for-workers
17. What The Rise Of Kamala Harris Tells Us About The Democratic Party
Sen. Kamala Harris has not officially said she is running in 2020, but she hasn't denied it, either, and she's showing many of the signs of someone who is preparing for a run, including campaigning for her Democratic colleagues in key races and signing a deal to write a book. The Californian ranks low in polls of the potential Democratic 2020 field, and she doesn't have the name recognition of other contenders. (Her first name is still widely mispronounced — it's COM-ma-la.) But betting markets have her near the top, reflecting the view among political insiders that Harris could win the Democratic nomination with a coalition of well-educated whites and blacks, the way Obama did in 2008.
Whatever happens later, the rise of Harris and her viability for 2020 tell us something about American politics right now: We are in the midst of an intense partisan and ideological battle over culture and identity; the Democrats aren't backing down or moving to the center on these issues; and politicians who want to lead in either party will probably have to take strong, clear stances on matters of gender and race. https://fivethirtyeight.com/features/what-the-rise-of-kamala-harris-tells-us-about-the-democratic-party/
18. Raising The Chances Of A Government Shutdown This Fall To 60%
The deadline for Congress and President Donald Trump to come to an agreement that will avoid a government shutdown this fall — which may be a much more frequent threat and occurrence these days than it used to be but would still be anything but routine – is approaching quickly and neither the White House, House Speaker Paul Ryan (R-WI) or Senate Majority Leader Mitch McConnell (R-KY) have done anything to make it less likely."
Because of that, because the time left to prevent it from happening is steadily dwindling and because the other must-do tasks Congress has left are still multiplying, the chances of a shutdown happening this year are greater now than they were even a few week ago. https://thebudgetguy.blog/2018/07/24/raising-the-chances-of-a-government-shutdown-this-fall-to-60/
19. How to win a Trade War.
The White House is readying a plan for $12 billion in emergency aid to farmers caught in President Trump's escalating trade war. But how does a trade war start? And how does it end? To answer these questions, we re-imagined a trade war as an 8-bit video game. Let's play: Trade Wars! https://wapo.st/2mHWtbu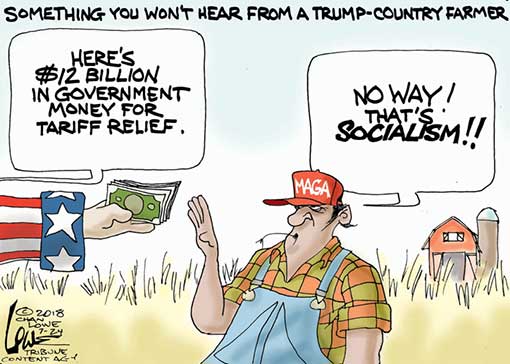 20. The House Tilts Toward the Democrats
Larry Sabato's Crystal Ball:"Democrats are now a little better than 50-50 to win the House. This is the first time this cycle we've gone beyond 50-50 odds on a House turnover.
We're making 17 House ratings changes this week, all in favor of the Democrats. http://www.centerforpolitics.org/crystalball/articles/the-house-tilts-toward-the-democrats/
21. Trump Admin: 463 Migrant Parents May Have Been Deported Without Their Kids
With a deadline to reunite separated migrant families only days away, the Trump administration admitted in a court filing Monday that 463 parents are no longer in the U.S. and have possibly been deported, leaving them ineligible for reunification with their children. That deadline will almost certainly be missed.
The government insists that all parents who've been deported were given the option of taking their children with them, but some immigration advocates are questioning whether the parents knew what they were agreeing to.
In its own filing Monday, the ACLU asked U.S. District judge Dana Sabraw to force the government to produce a list of parents who agreed to be deported without their children. "These parents urgently need consultations with lawyers, so that they do not mistakenly strand their children in the United States," the filing said.
The ACLU's skepticism follows reports that ICE officials have pressured migrant parents into signing voluntary deportation forms by telling them that it's the only way they'll ever see their kids again. On the contrary, it may prevent them from ever reuniting, former acting director of ICE John Sandweg said last month. "I think we're going to see hundreds of cases where the children are permanently separated from their parents, becoming wards of the United States," he said. http://nymag.com/daily/intelligencer/2018/07/463-migrant-parents-may-have-been-deported-without-kids.html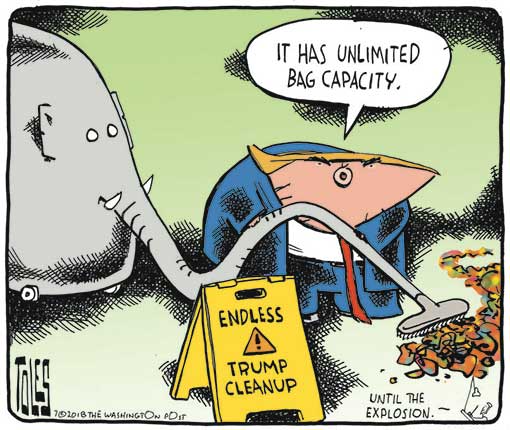 22. Like a Soviet-type economy': GOP free traders unload on Trump
Donald Trump's bailout for the ag industry is driving his many Republican trade critics to exasperation.
Pro-free trade Republicans were already furious with Trump's escalation of tariffs against U.S. allies and China — a multi-front trade war they say is hurting U.S. farmers and manufacturers. But the administration's response Tuesday — announcing plans to send $12 billion to farmers hurt by retaliatory tariffs to ease the pain — is the opposite of conservative, free-trade orthodoxy, they said.
"This is becoming more and more like a Soviet type of economy here: Commissars deciding who's going to be granted waivers, commissars in the administration figuring out how they're going to sprinkle around benefits," said Sen. Ron Johnson (R-Wis.). "I'm very exasperated. This is serious."
https://www.politico.com/story/2018/07/24/trump-farmers-bailout-reaction-republicans-congress-737517
23. Most Americans Think Russia Has Something on Trump
A new Quinnipiac poll finds that American voters believe 51% to 35% "that the Russian government has compromising information about President Trump."
However, Republicans don't believe by 70% to 18% that there is compromising information — the only listed party, gender, education, age or racial group which does not believe it. https://poll.qu.edu/national/release-detail?ReleaseID=2557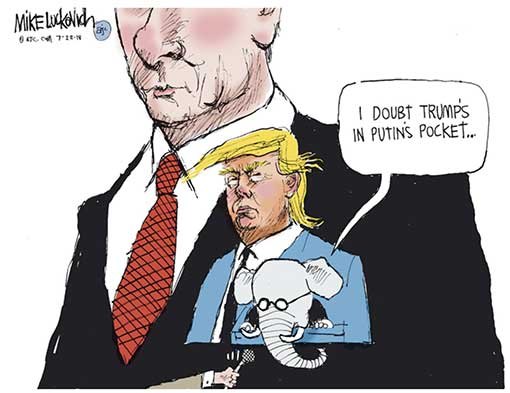 24. Trump is losing control of his trade war
The combination of the auto tariff threats and the duties on steel and aluminum Trump's already imposed is driving major trading partners away from compromise rather than towards it. A two-day meeting of the G20 ended this weekend in deadlock and grim preparation from European countries for future retaliation of their own. Few major Western countries are interested in any new one-on-one trade deals with America so long as the previous tariffs remain in effect.
This is where we are: The president is losing his already weak handle on a trade war he never should have started, and now finds himself caught in an ever-escalating spiral of tit-for-tat, leading nowhere in particular, more and more detached from any underlying policy justification, and fueled by little more than the raw fury of Trump's ego. http://theweek.com/articles/786271/trump-losing-control-trade-war
25. The terror and madness of Trump's wild threats against Iran
The president of the United States has now, twice in the span of 18 months, unsubtly threatened genocidal violence against another country.
The latest threat came late Sunday night, in an unhinged-sounding all-caps tweet that almost immediately ranks — along with Ronald Reagan's "we begin the bombing in five minutes" gaffe and JFK's Cuban Missile Crisisspeech to the nation — as among the more alarming presidential communications in history.
Trump wrote: "To Iranian President Rouhani: NEVER, EVER THREATEN THE UNITED STATES AGAIN OR YOU WILL SUFFER CONSEQUENCES THE LIKES OF WHICH FEW THROUGHOUT HISTORY HAVE EVER SUFFERED BEFORE. WE ARE NO LONGER A COUNTRY THAT WILL STAND FOR YOUR DEMENTED WORDS OF VIOLENCE & DEATH. BE CAUTIOUS!"
Rouhani's offending threat came in a speech on Sunday to Iran's diplomats, in which Rouhani warned America, essentially, not to meddle in Iran's affairs. "America should kn ow that peace with Iran is the mother of all peace, and war with Iran is the mother of all wars," Rouhani said. It wasn't a pledge of nonviolence, certainly, but it wasn't an offensive threat, either. Instead, it was a warning of the kind that nations routinely make when they perceive threats gathering against them.
Trump's response was wildly dangerous. http://theweek.com/articles/786237/terror-madness-trumps-wild-threats-against-iran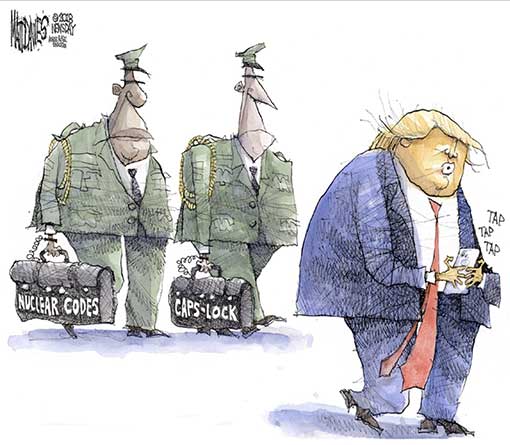 26. No, Dems Aren't Disarrayed, Riven, Imploding, Eating Their Young or Battling for the Soul of the Party
It's hard to identify a Senate or House seat that is being lost because of excessive Democratic activism. Even if a Democratic incumbent like North Dakota Sen. Heidi Heitkamp is troubled by calls to ax ICE, there is scant evidence that this makes her more vulnerable than before in a state that Donald Trump carried by better than a two-to-one margin.
For a party supposedly riven by unbridgeable chasms, the Democrats survived the primaries without major stumbles. This year, there are no Democratic challengers in winnable seats who have been forced to go on television to explain, "I am not a witch." And in California's top-two "jungle primary," the Democrats avoided squandering any potential House pickups by making sure they got a candidate onto the ballot in all contested districts.
Nor are this year's congressional races some overwrought struggle for the soul of the Democratic Party. Presidential candidates, rather than congressional contenders, define the direction of a party. The current Republican Party is a haunted-house image of Trump rather than a reflection of the economic issues that animated GOP congressional candidates in 2014 and 2016. http://www.rollcall.com/news/opinion/no-dems-arent-disarrayed-riven-imploding-eating-their-young-or-battling-for-the-soul-of-the-party
27. Trump Wants 25% Tariff on Autos
Several of President Trump's senior economic advisers believe he plans to impose a 25 percent tariff on close to $200 billion in foreign-made automobiles later this year. https://www.washingtonpost.com/business/economy/trump-pushes-25-percent-auto-tariff-as-top-advisers-scramble-to-stop-him/2018/07/25/f7b9af04-8f8a-11e8-8322-b5482bf5e0f5_story.html
28. Americans Don't Think Trump Is Tough Enough On Russia
A new NPR/PBS NewsHour/Marist poll conducted after President Trump's summit with Russian President Vladimir Putin finds 64% of Americans don't think President Trump has been tough enough on Russia, including 47% of Republicans.
As to whether Trump should view Putin as a friend or foe, Americans are nearly evenly split, with 45% saying he should be seen as an enemy and 44% saying he is an ally. That might be a surprise to those who grew up in the Cold War era, but partisanship might have something to do with it. Among GOP voters, 58% view the Russian leader as an ally. https://www.npr.org/2018/07/25/632109122/npr-pbs-newshour-marist-poll-americans-dont-think-trump-is-tough-enough-on-russi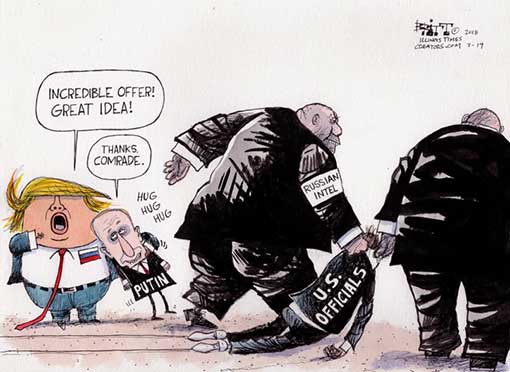 29. Blue Collar Whites Begin Abandoning Trump
A new Quinnipiac poll finds that 38% of voters approve of how President Trump is doing his job.
However, among white voters without a college degree, 49% said they approved. While that approval rate is high compared to other demographic groups, it's a significant drop from just last month when 57% approved of Trump's performance. https://poll.qu.edu/national/release-detail?ReleaseID=2557
30. White House Scrubs Video of Putin Question
Rachel Maddow notes that the official White House transcript and video of the Helsinki news conference with President Trump and Vladimir Putin has edited out the question by a reporter asking Putin if he wanted Trump to win the election. https://mobile.twitter.com/MaddowBlog/status/1021929595883405313
1. David Remnick: The Unwinding of Donald Trump
Trump's performances in Europe, and now in Washington, clarified nothing. They only raised dark suspicions and aroused the sickening feeling that we are living in the pages of the most lurid espionage novel ever written. Robert Mueller and his investigators may never get to the end of the mysteries that they are exploring. They may never get to the end of the myriad corruptions, furtive connections, and double-dealings. But the collection of guilty pleas and indictments that have resulted are not to be dismissed.
Over and over, Trump has said that it's a "good thing, not a bad thing" that the United States has a "good relationship" with Putin. And it is true that American Presidents have always met with adversaries. George Bush and Barack Obama both had the pleasure, on repeated occasions, of Putin's acquaintance. But summit meetings are not a matter of exchanging friendship rings. They are matters of asserting and arguing interests, in finding hard-fought areas of agreement and progress; they demand patient preparation (which Trump refuses) and principle (which Trump lacks). Anything less courts confusion, misunderstanding, and even disaster. That was true in Singapore, and it was true in Helsinki.
At the press conference in Helsinki, Trump proved himself, at best, a heedless amateur, blind to the bogus arguments and offers being made by a shrewd adversary. "President Putin was extremely strong and powerful in his denial today, and what he did is an incredible offer," Trump said. "He offered to have the people working on the case come and work with their investigators with respect to the twelve [Russian intelligence officers who were indicted by Mueller]. I think that's an incredible offer." Incredible is the word, and not just for the offer. Trump's incredible journey to Europe was an act contrary to the interests of his country. Now we will see who, particularly in the Republican Party, will stand up not to applaud the Great Leader but to find the capacity to say what is obvious and what is true. https://www.newyorker.com/news/daily-comment/the-unwinding-of-donald-trump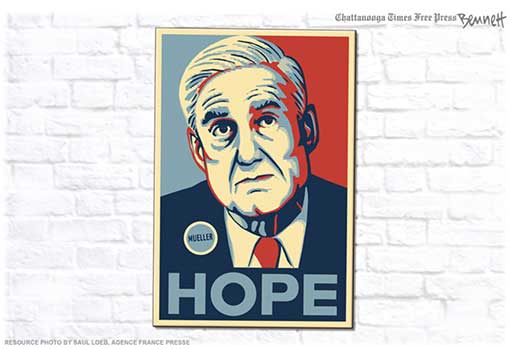 2. Jamelle Bouie: Trump's Ties
His voters expected Trump to deliver. "Our bridges are the worst," said one supporter who attended Trump's inauguration. "I think what Trump's going to do is really get this infrastructure built again. He's going to rebuild it." Ahead of his first speech to Congress, one supporter told USA Today that he expects the president to "make health care affordable."
None of this has happened. Rather than bring jobs back, Trump started a burgeoning trade war that threatens to raise prices on consumer goods, undercut business investment, and produce thousands of layoffs. And those losses may hit Trump voters hardest. "Tariff-exposed jobs are more than twice as likely to fall in counties that voted for Republican Donald Trump in 2016 than in counties won by Democrat Hillary Clinton," reports the Washington Post. "There are more than 1 million jobs exposed to China tariffs in more than 2,600 counties carried by Trump, and fewer than 564,000 exposed jobs in Clinton's counties."
Meanwhile, Trump's tax cuts have done little to stimulate economic growth or improve workers' wages. "Worker pay in the second quarter dropped nearly one percent below its first-quarter level," reports CBS News. The New York Times notes that "[h]ourly earnings have moved forward at a crawl, with higher prices giving workers less buying power than they had last summer." Corporations have largely used the windfall to repurchase their own stock, spending nearly $700 billion in "buybacks" that boost company value and produce profits for shareholders and senior executives.
Not only has Trump tilted tax policy even further toward the wealthiest Americans, he's also taken active steps to sabotage the Affordable Care Act, leading to steep premium hikes and lower insurance rates—millions of people no longer have health insurance as a result of congressional and administration actions. Oh, and there's no infrastructure bill, either. https://slate.com/news-and-politics/2018/07/democrats-can-capitalize-on-donald-trumps-failed-policies-in-the-midwest.html
3. Frank Rich: Trump's Plot Against America
Now that Trump has failed to pin his historic calamity on a misplaced "double negative" and turned the confusion of the words "would" and "wouldn't" into an international punch line, scapegoating will inevitably be his next tactic. In tweets Wednesday morning he was already back to bragging about what a triumph his Putin meeting was, and essentially disowning yesterday's "clarification" (a.k.a. "lie") about what he meant to say while standing beside the Russian thug in Helsinki. But, truly, only his base will believe that it's all Crooked Hillary's fault or Obama's or Comey's or Mueller's or Rosenstein's. Nor will history now go on holiday while he marshals whatever foolish defense he alights on next.
The question that's not going away is "Why?" Why is an American president openly colluding with an enemy dictator who's out to subvert Western democracy in general, and America in particular? As James Fallows has put it, Trump is either a "useful idiot" or "conscious tool" of Russia. Trump's Vichy defenders pick the former, arguing that the president is a case study in psychological defensiveness: He thinks that if he concedes the intelligence on Russia's continuing assault on American elections he is also conceding the legitimacy of the 2016 election that put him in the White House. In the real world beyond Trumpworld, most believe he is a conscious tool. Perhaps, he is indeed being blackmailed by Putin — not over the pee tape, which would presumably be either applauded or excused by Trump's voters and his Evangelical Christian amen chorus — but over his murky financial dealings in Moscow. It's also quite plausible, as Jonathan Chait has strongly argued, that Trump has been a Russian asset for over three decades.. http://nymag.com/daily/intelligencer/2018/07/frank-rich-trumps-plot-against-america.html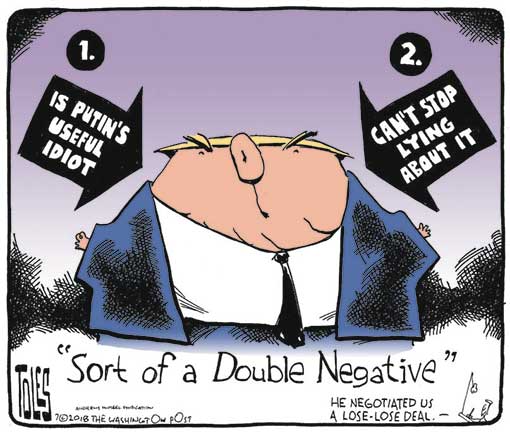 4. Max Boot: The stench from Trump's execrable performance grows ever more putrid
As with a rotting fish, the stench from President Trump's execrable performance in Helsinki only grows more putrid with the passage of time. The leader of the sole superpower was simpering and submissive in the face of a murderous dictator's "strong and powerful" lies.
It is ludicrous to pretend that changing "would" into "wouldn't" might have changed Trump's message, which included a conspiratorial rant about the FBI and not a word of specific censure of Russian crimes. Having committed a "Kinsley gaffe" (i.e., saying what he really thought), the president couldn't bring himself to convincingly read the "clarification" concocted by some over-clever spinmeister. He felt compelled to add that the election "meddling" could have been the work of lots of "other people" besides the Russians, thereby negating the point of the exercise.
And, predictably, a day later Trump walked back the walkback by braggingthat "so many people at the higher ends of intelligence" — Russian intelligence? — "loved my press conference performance in Helsinki." He then repeated, once again, Moscow's propaganda by maintaining that the only alternative to appeasement of Putin is "war." He directly contradicted Director of National Intelligence Daniel Coats, once again, by denying that Russian cyberattacks are continuing just days after Coats warned that the warning signs are "blinking red." Worst of all, he did Putin another solid by questioning whether the United States would sacrifice its sons to defend Montenegro — a tiny state whose NATO accession Russia allegedly tried to block by fomenting a coup. Far from strengthening NATO, as he disingenuously claims, Trump is continually sabotaging it. https://www.washingtonpost.com/opinions/global-opinions/the-stench-from-trumps-execrable-performance-grows-ever-more-putrid/2018/07/18/6fce82c8-8aa2-11e8-85ae-511bc1146b0b_story.html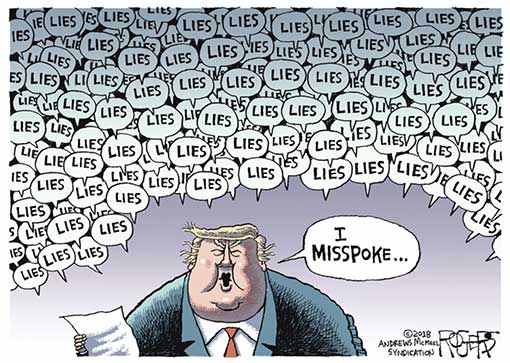 5. Susan B. Glasser: "No Way to Run a Superpower": The Trump-Putin Summit and the Death of American Foreign Policy
In the days since the Monday meeting in Helsinki, there's been an understandable frenzy over President Trump's post-summit press conference, given that he sided with the Russian President, Vladimir Putin, over his own intelligence agencies on the subject of Russia's 2016 election interference, ranted about his Electoral College victory, blamed the United States for bad relations with Russia, and called the special prosecutor investigating his alleged collusion a "disgrace to our country" as a smirking Putin looked on. But the real scandal of Helsinki may be only just emerging.
We are witnessing nothing less than the breakdown of American foreign policy. This week's extraordinary confusion over even the basic details of the Helsinki summit shows that all too clearly. We may not yet know what exactly Trump agreed to with Putin, or even if they agreed to anything at all; perhaps, it will turn out, Putin and his advisers have sprung another clever disinformation trap on Trump, misleading the world about their private meeting because a novice American President gave them an opening to do so. But, even if we don't know the full extent of what was said and done behind closed doors in Helsinki, here's what we already do know as a result of the summit: America's government is divided from its President on Russia; its process for orderly decision-making, or even basic communication, has disintegrated; and its ability to lead an alliance in Europe whose main mission in recent years has been to counter and contain renewed Russian aggression has been seriously called into question. https://www.newyorker.com/news/letter-from-trumps-washington/the-trump-putin-summit-and-the-death-of-american-foreign-policy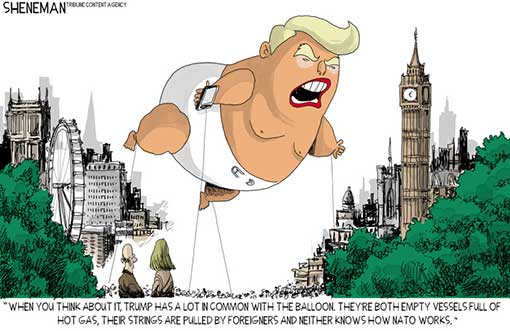 6. Adam Davidson: A Theory of Trump Kompromat
There is no need to assume that Trump was a formal agent of Russian intelligence to make sense of Trump's solicitousness toward Putin. Keith Darden, an international-relations professor at American University, has studied the Russian use of kompromat—compromising material—and told me that he thinks it is likely that the President believes the Russians have something on him. "He's never said a bad word about Putin," Darden said. "He's exercised a degree of self-control with respect to Russia that he doesn't with anything else." Darden said that this is evidence that Trump isn't uniformly reckless in his words: "He is capable of being strategic. He knows there are limits, there are bounds on what he can say and do with respect to Russia."
Because the word kompromat is new to most Americans, and has been introduced in the context of a President whose behavior confuses many of us, it is natural to assume that it must be a big, rare, scary thing, used in extraordinary circumstances to force compliance and achieve grand aims. But, Darden explained to me, kompromat is routinely used throughout the former Soviet Union to curry favor, improve negotiated outcomes, and sway opinion. Intelligence services, businesspeople, and political figures everywhere exploit gossip and damaging information. However, Darden argues, kompromat has a uniquely powerful role in the former Soviet Union, where the practice is so pervasive, he coined the term "Blackmail State" to describe their way of governance. https://www.newyorker.com/news-desk/swamp-chronicles/a-theory-of-trump-kompromat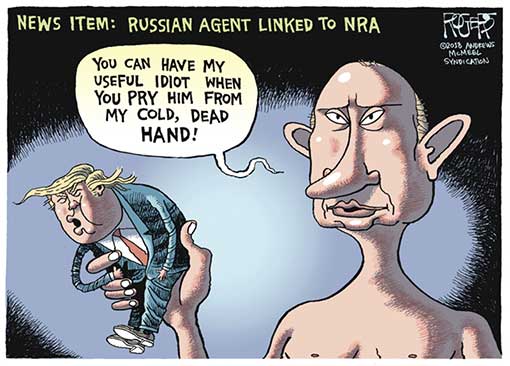 7. Blake Hounshell: Why I'm No Longer a Russiagate Skeptic
When I wrote, back in February, that I was skeptical that President Donald Trump would ever be proved to have secretly colluded with Russia to sway the 2016 election in his favor, I mistyped.
What I meant to write was that I wasn't skeptical.
Last week's events have nullified my previous skepticism. To recap: Deputy Attorney General Rod Rosenstein revealed indictments against 12 Russians for the hacks of the Democratic National Committee, and we learned that Russian hackers went after Hillary Clinton's private office for the first time on the very day Trump said, "Russia, if you're listening, I hope you're able to find the 30,000 emails that are missing." At the NATO summit in Brussels, Trump attacked a close European ally—Germany—and generally questioned the value of the alliance. Next, he visited the United Kingdom and trashed Prime Minister Theresa May. Then, in Helsinki, he met with Vladimir Putin privately for two hours, with no U.S. officials present other than a translator. After this suspicious meeting, he sang the Russian strongman's praises at a news conference at which he said he viewed Putin's denials on a par with the unanimous and unchallenged conclusions of America's intelligence agencies.
With every other world leader, the physically imposing Trump attempts to dominate—witness his alpha-male handshakes with French President Emanuel Macron or his flamboyant man-spreading next to German Chancellor Angela Merkel. Yet with the diminutive Putin—who is maybe 5 feet, 6 inches tall—he's oddly submissive. During the public portion of their encounter, Trump was slumping in his chair, as if defeated. Why? Why did he insist on a one-on-one meeting with Putin in the first place?
And why does Trump inevitably return to questioning the irrefutable evidence that Russia meddled in the 2016 election? We can dispense with the explanation, conveyed anonymously by senior administration officials, that "his brain can't process that collusion and cyberattacks are two different things." We can also forget about the widely held theory that he views the various Russia investigations as a threat to the legitimacy of his election, and therefore a devastating blow to his sense of self-worth https://www.politico.com/magazine/story/2018/07/20/confession-of-a-no-longer-russiagate-skeptic-219022
8. Andrew Sullivan: Why Trump Has Such a Soft Spot for Russia
Everything Trump did in Europe — every horrifying, sick-making, embarrassing expostulation — is, in some way, consistent, and predictable, when you consider how he sees the world. It's not a plan or a strategy as such. Trump is bereft of the attention span to sustain any of those. It is rather the reflection of a set of core beliefs and instincts that have governed him for much of his life. The lies come and go. But his deeper convictions really are in plain sight.
And they are, at root, the same as those of the strongmen he associates with and most admires. The post-1945 attempt to organize the world around collective security, free trade, open societies, non-zero-sum diplomacy, and multicultural democracies is therefore close to unintelligible to him. Why on earth, in his mind, would a victorious power after a world war be … generous to its defeated foes? When you win, you don't hold out a hand in enlightened self-interest. You gloat and stomp. In Trump's zero-sum brain — "we should have kept the oil!" — it makes no sense. It has to be a con. And so today's international order strikes Trump, and always has, as a massive, historic error on the part of the United States.
Why are we then searching for some Rosetta stone to explain his foreign policy? Some evidence of his being a Russian asset? Some bribe? Some document or email proving his fealty to Moscow? Yes, it's perfectly possible that he knowingly accepted Russian help in defeating his opponent in the last election, and is even now encouraging Russia to help him again. But that's simply the kind of unethical thing Trump has done for years, without batting an eyelid. He sees no more conflict here than he did in seeking Russian funding and German loans for his businesses.
http://nymag.com/daily/intelligencer/2018/07/andrew-sullivan-why-trump-has-such-a-soft-spot-for-russia.html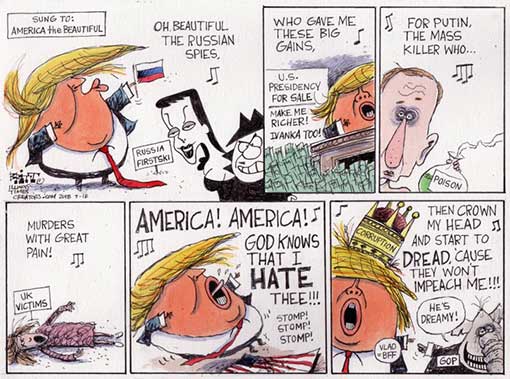 9. Charles J. Sykes: Republicans, Don't Just Tweet About It. Do Something.
Enough with the indignant press releases, strongly worded emails, disapproving tweets and mournful cable television appearances.
Republicans in Congress need to realize that they are not merely constitutional potted plants. Despite mantras of impotence, the elected members of the party need to remember that they have the power to pressure the White House. And they can do it without derailing a conservative agenda.
At that news conference in Helsinki, the world was confronted with an extraordinary stew of narcissism, appeasement, moral surrender and the chronic dishonesty that Republicans have been willing to tolerate for so long. But now the stakes are higher.
In just a few days, President Trump undermined the global world order, weakened our alliances, cast doubt on our commitments to NATO, sided with Vladimir Putin over our own intelligence agencies and suggested that the Russians be allowed to interrogate a former ambassador to their country. Despite the attempted walkbacks, clarifications and various obfuscations about dropped contractions, the damage is real. And now Mr. Trump wants Mr. Putin to come to Washington.
The danger should be obvious. That's why mere expressions of outrage simply are no longer adequate.
Perhaps most important, Congress could reaffirm that no one, including the president, is above the law.
None of this requires that anyone abandon his or her conservative principles or legislative agenda. But it would go a long way to demonstrating that Republicans have not lost their souls as well as their spines. https://www.nytimes.com/2018/07/21/opinion/sunday/republicans-trump-russia-putin.html
10. Christine Todd Whitman: Calling my fellow Republicans: Trump is clearly unfit to remain in office
President Trump's disgraceful performance in Helsinki, Finland, and in the days since is an indication that he is not fit to remain in office. Trump's 2016 "America First" platform might be more aptly named "Russia First" after the disaster that occurred last week.
Trump's turn toward Russia is indefensible. I am a lifelong Republican. I have campaigned and won as a member of the party, and I have served more than one Republican president. My Republican colleagues — once rightfully critical of President Obama's engagement strategy with Russian leader Vladimir Putin — have to end their willful ignorance of the damage Trump is doing both domestically and internationally. We must put aside the GOP label, as hard as that may be, and demonstrate the leadership our country needs by calling on the president to step down.
Trump's sycophantic relationship with Putin is unsurprising given his previous comments about Russia and its dictator. What is shocking is how long he has possessed — and disregarded — hard evidence of Putin's direct role in undermining our elections.  http://www.latimes.com/opinion/op-ed/la-oe-whitman-trump-helsinki-gop-response-20180722-story.html
11. Charlie Sykes: The GOP's Orwellian Moment
Yes I do. I hold both countries responsible.

I think that the United States has been foolish. I think we've all been foolish …

And I think we're all to blame.
It is impossible to imagine Reagan or, frankly, any other US president, giving that answer, and it is easy to imagine the outrage among conservatives if Barack Obama had uttered those words. This was not an errant tweet, or one of Trump's random insults, outrages or assaults on the truth. Trump's behavior risked undermining the global world order, alienating our friends and emboldening our enemies.
Many Republicans have rationalized their support for Trump by pointing to tax cuts, rollbacks in regulation and Trump's appointments of conservative judges. But last week reminded us how many of their values they have been willing to surrender. Moral relativism and its cousin, moral equivalency, are not bugs of the Trump presidency; they are central to its diplomatic philosophy. Unfortunately, polls suggest that many conservatives are OK with that, despite the betrayal of what were once deeply held beliefs.
For years, Republicans derided what they saw as Obama's fecklessness on the world stage, including what they called his "apology tour". Trump, we were told, would change all of that by projecting strength and standing up for American values. Instead, we got last week's parade of sycophancy and abasement.
This ought to have been a clarifying moment. Trump was supposed to be the Man on the White Horse who promised that he alone could solve all of our problems. Instead, he looked like Putin's caddy. https://amp.theguardian.com/commentisfree/2018/jul/22/conservative-despair-republicans-trump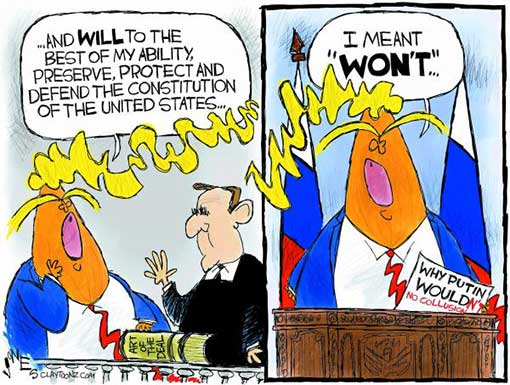 12.  Evan Osnos: The G.O.P. Stands By as Trump Upends American Security
This summer, President Donald Trump has upended the basis of American security—opening a trade war with China, chastising U.S. allies in Europe, and, at a press conference in Helsinki, following a two-hour private meeting with President Vladimir Putin, accepting his claim that Russia did not interfere in the 2016 election. The Times reported that U.S. intelligence officials had presented Trump with evidence that Putin himself had ordered cyberattacks in an attempt to affect the electoral outcome. Just days before the Helsinki meeting, Robert Mueller, the special counsel, indicted a dozen Russian intelligence officers on detailed charges of hacking Democratic e-mail accounts. In a separate case, prosecutors also accused a Russian woman in Washington, Mariia Butina, of advancing a plot to influence the National Rifle Association. (Her lawyer has denied the charges.) And still Trump praised the Russian leader.
In private Republican lawmakers offer a plainly expedient defense: they disdain the President, but, as long as he is popular with more than ninety per cent of the Party rank and file, confronting him would open the door to primary challenges from even more compliant successors. In truth, however, many Republicans are more comfortable with Trump than they care to admit. Although they recoiled from images of children in cages at the border, the G.O.P. leaders assented to Trump's immigration crackdown, as they have to his tariffs and attacks on Canada, Mexico, and our European allies. Until that changes, this is the Republican Party of 2018. https://www.newyorker.com/magazine/2018/07/30/the-gop-stands-by-as-trump-upends-american-security
13. E.J. Dionne Jr.: We knew who Trump was
The most frustrating aspect of the backlash against President Trump's servility to Russian President Vladimir Putin is that nothing that happened last week in Helsinki should have surprised us.
What has changed is that so many who insisted in 2016 that Trump was not as bad as he looked, that he was a pragmatist at heart, and that we should take him "seriously but not literally" have been forced to face the truth.
The truth is that Trump really does have what you might call a special relationship with Putin and Russia, for reasons still not fully known. He views foreign policy not as a way of protecting the nation but as an extension of his own narrow, personal interests.
He has no respect for our basic liberties, which is why he entertained turning over our country's former ambassador to Russia, Michael McFaul, and other Putin critics to the Russian dictator's mercies until widespread revulsion required Trump to back off.
The vindication of those who saw Trump for who he is (a majority of the 2016 electorate, it's worth noting) provides little satisfaction because of the peril his presidency poses.
But we can learn from this experience. Trump's long-standing Republican apologists have lost all credibility. The party needs to be rebuilt, and that task should fall to the handful of GOP dissenters who resolutely refuse. https://www.washingtonpost.com/opinions/we-knew-who-trump-was/2018/07/22/ff266924-8c67-11e8-8aea-86e88ae760d8_story.html