October 6, 2022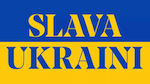 If you have a friend, family member, or neighbor who would like to subscribe to this FREE weekly newsletter they should simply email jellison@san.rr.com with "subscribe" as the subject.
THE WEEK'S BEST QUOTES. . .
"Well, you know my taxes are under audit. I always get audited," Trump said … "So what I mean is, well I could just say, 'I'll release them when I'm no longer under audit.' Cause I'll never not be under audit." — Donald Trump came up with his famous excuse for not releasing his tax returns on the fly – literally, while riding his campaign plane during the 2016 Republican primary, according to  Maggie Haberman' new book.
https://www.theguardian.com/books/2022/sep/30/trump-audit-tax-returns-plane-chris-christie-maggie-haberman-book
A helpful reminder for any confused Russians out there:
https://twitter.com/jxw8856/status/1575970762070319104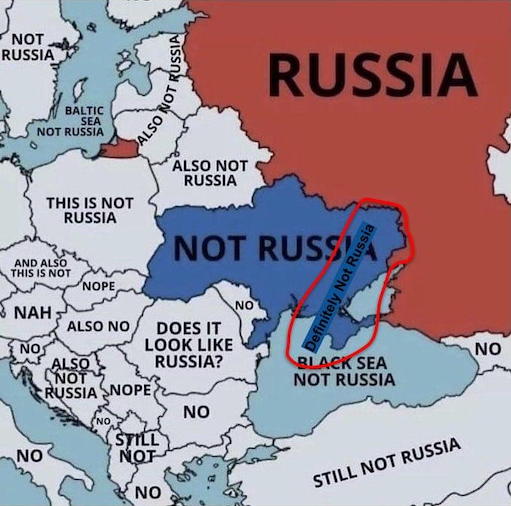 "I think at night, when the lights are turned off, Abe Lincoln and Ronald Reagan have some pretty choice words to say about the fact that they have to hang on Kevin McCarthy's wall. They did some fucking above-average things. And they've got to adorn the wall of this fucking weasel bitch named Kevin McCarthy, with his fake fucking spray-on tan, whose fucking claim to fame, at least in my eyes, is the fact that he amassed a collection of Donald Trump's favorite-flavored Starburst, put them in a Mason jar, and presented them to fucking Donald Trump. What the fuck, dude?" — Michael Fanone, the former Washington police officer who was seriously hurt at the US Capitol during the January 6 attack.
https://www.theguardian.com/books/2022/oct/02/michael-fanone-capitol-attack-officer-kevin-mccarthy-republicans-trump
"I wouldn't be surprised if a senator or House member were killed. What started with abusive phone calls is now translating into active threats of violence and real violence." — Sen. Susan Collins (R-ME)
https://www.nytimes.com/2022/10/01/us/politics/violent-threats-lawmakers.html
"My office
can barely keep
up with the astronomical level of daily threats." — Rep. Alexandria Ocasio Cortez (D-NY). 
https://news.yahoo.com/aoc-says-her-office-struggles-180722544.html
Trump just told his followers on Truth Social to go to this page.
https://twitter.com/RonFilipkowski/status/1576965587808681984
"As we talk about and think of the rigged and stolen of 2020 — presidential election, rigged and stolen — I would like to thank a great woman named Ginni Thomas. Do you know Ginni Thomas? Great woman." — Donald Trump praising Ginni Thomas at a Saturday rally for continuing to believe his "big lie" about the 2020 presidential election.
https://www.rawstory.com/ginni-thomas-trump-rally/
The founder of the far-right Oath Keepers was recorded days after the Jan. 6 attack on the U.S. Capitol saying his "only regret" about that day is that the group "should have brought rifles." 
https://www.nbcnews.com/politics/justice-department/oath-keepers-leader-regretted-not-guns-jan-6-prosecutors-say-seditious-rcna50244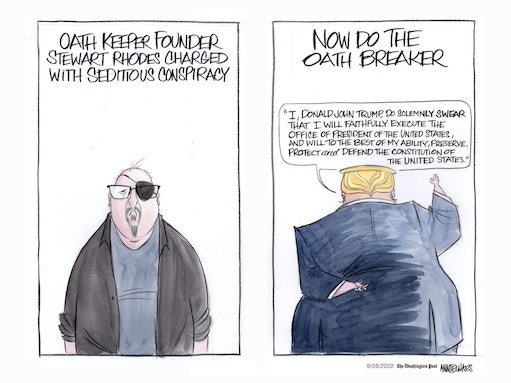 "But what about education? What are we doing to our kids? Why are we telling elementary kids that they get to choose their gender this week? Why do we have litter boxes in some of the school districts so kids can pee in them, because they identify as a furry? We've lost our minds. We've lost our minds." — Scott Jensen (R), who is running for governor of Minnesota, repeating a debunked bizarre hoax claim that children are being told they can identify as anthropomorphic cats and are being allowed to use litter boxes to urinate in schools.
https://www.cnn.com/2022/10/03/politics/scott-jennings-minnesota-schools-cat-litter-box/index.html
"I see more and more signs that Hillary's going to run… These are all signals that she is going to be the moderate candidate for president. She's going to say after the election, 'See, the left cost us the House and the Senate. If we stay with a left-wing candidate in 2024, we're going to lose the White House. I'm the only one who will tack to the center and give us a chance at victory ." — Dick Morris claiming that Hillary Clinton is "dusting off" her husband's playbook by criticizing the Biden administration's "open borders" to put herself in place to mount a 2024 presidential run, the New York Post reports.
https://nypost.com/2022/10/02/hillary-setting-up-2024-presidential-bid-with-open-borders-critique-of-biden/
"I don't believe that Trump is going to plea bargain. I think he could go to prison, but it is more likely that he will serve home confinement. In all likelihood, he will be convicted of multiple felonies." — George Conway, in an interview with Salon.
https://www.salon.com/2022/10/03/will-be-convicted-of-multiple-felonies-george-conway-on-the-bumpy-road-ahead
Describing Democrats as "cruel and vindictive left-wing tyrants" and calling them "sinister" and "venomous," the former president called on his followers to elect a slate of Republicans he has endorsed to office on Nov. 8, warning that a failure to do so could have dire results. "These are dangerous people who are willing to burn every American institution to the ground," — Donald Trump, visiting Michigan for the second time in six months to rouse his base ahead of the midterm elections, delivered a grim speech Saturday mired in grievances against Democrats, characterizing himself as persecuted by enemies and the nation as threatened by rising prices, crime and the possibility of a Third World War.
https://www.freep.com/story/news/politics/elections/2022/10/02/donald-trump-rally-warren-michigan/69530840007/
U.S. Capitol was not an "armed insurrection," adding however, that protesters "did teach us how you can use flag poles, that kind of stuff, as weapons. To call what happened on January 6 an 'armed insurrection,' I just think, is not accurate." — Sen. Ron Johnson (R-WI) https://www.cnn.com/2022/10/04/politics/ron-johnson-january-6-flag-poles/index.html

I know my mom and I would really appreciate if my father Herschel Walker stopped lying and making a mockery of us…You're not a "family man" when you left us to bang a bunch of women, threatened to kill us, and had us move over 6 times in 6 months running from your violence. ….
I don't care about someone who has a bad past and takes accountability. But how DARE YOU LIE and act as though you're some "moral, Christian, upright man." You've lived a life of DESTROYING other peoples lives.  How dare you. —  Christian Walker @ChristianWalk1r https://twitter.com/ChristianWalk1r/status/1577104266543497216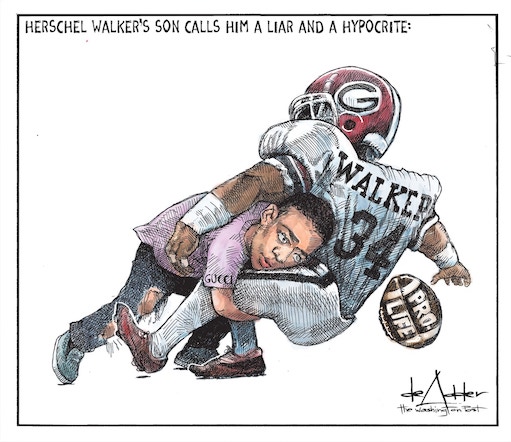 VIDEOS
Before there was Dr. Oz, there was Dr. Nick. They say the Simpsons always predict the future – and once again, they nailed it. https://twitter.com/JohnFetterman/status/1576992422332174356
Katie Darling for Louisiana: Louisiana ranks 50th in crime, 48th in education, and 46th in health care. I'm running for Congress to stop this race to the bottom because our children deserve better. Video ad at https://twitter.com/katie4louisiana/status/1576980407849046017

Asked on CNN about Trump seemingly making a death threat against Mitch McConnell, Rick Scott refuses to condemn it, saying "the president [sic] likes to give people nicknames. I'm sure he has a nickname for me." https://twitter.com/atrupar/status/1576564547313627136

Watch: MTG calls for imprisoning her political enemies in combative speech at Trump's Michigan rally. https://www.youtube.com/watch?v=fn2HN6PtGn4&t=13s

"I am not going to mince words with you all. Democrats want Republicans dead, and they have already started the killings." — Rep. Marjorie Taylor Greene (R-GA) accusing Democrats of murdering Republicans in "killings" that the lawmaker claims are underway. https://twitter.com/AccountableGOP/status/1576315800079712257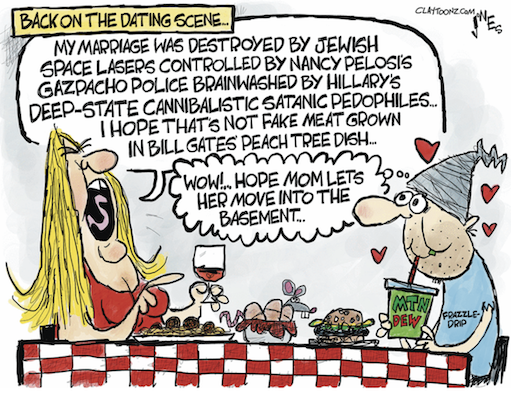 President Biden will let any illiterate gang banger, oftentimes with drugs, come right on in.— Sen. John Kennedy (R-LA). https://twitter.com/atrupar/status/1572243602012528640

States' rights. Did you know that a governor can declare war? A governor can declare war. And we're going to probably see that. — Donald Trump's first national security adviser Michael Flynn warned at an Arizona campaign event that governors may soon declare war. https://twitter.com/RonFilipkowski/status/1575449088669130753

Ginny Thomas has all but confessed to seditious conspiracy, a federal felony. Disgusting. --
Rep. Hakeem Jeffries.
https://twitter.com/tribelaw/status/1575880505266163712\
I hope you can help help and help out
Donald Trump.

The broke, disgraced, twice impeached, one term, insurrectionist, traitor is struggling to beg for money. https://twitter.com/iamgabesanchez/status/1575252262057742336
LITIGATION TRACKER
Pending Criminal and Civil Cases Against Donald Trump
. 
https://www.justsecurity.org/75032/litigation-tracker-pending-criminal-and-civil-cases-against-donald-trump/
---
IN THIS ISSUE
IN THE NEWS
OPINION
Andy Borowitz: Trump Furious at Herschel Walker: "Only a Loser Pays His Bills"
Donald J. Trump has angrily withdrawn his support from the U.S. Senate candidate Herschel Walker because, in the former President's words, "only a loser pays his bills."

Reports that Walker paid a bill in 2009 "made me very upset and, quite frankly, very mad, because it means that Herschel, who I thought was a tremendous guy and very smart, is not so smart and maybe even a big dummy," Trump posted on his social-media platform, Truth Social.

"I have never paid a bill in my life, and I can't support someone who has," Trump continued. "If Herschel, who now seems like a giant loser, paid this bill, does that mean he paid his lawyer, too? His gardener? This should never be allowed to happen in this country."

Trump said he is now demanding that all candidates he supports come forward with proof that they have never paid for anything.

"If it turns out that Dr. Oz paid the clown who whitened his teeth, he's toast," Trump warned.
https://www.newyorker.com/humor/borowitz-report/
House Rating Changes: Ten Races Shift, Mostly Towards Democrats
Cook Political Report: A pattern has begun to emerge: in surveys by both parties, House Democrats' polling numbers are holding up surprisingly well in states with contentious statewide races driving turnout, Arizona, Kansas, Michigan, Nevada, New Hampshire and Pennsylvania to name a few. Meanwhile, Republicans are encouraged by House numbers they're seeing in blue-dominated states, including New York, Oregon and even Rhode Island.

This week, seven of our ten rating changes favor Democrats… Historically, it's rare that so many race ratings shift towards the president's party in a midterm year. https://www.cookpolitical.com/analysis/house/house-overview/house-rating-changes-ten-races-shift-mostly-towards-democrats
Attorney General Ken Paxton ordered to testify in abortion lawsuit after evading subpoena
A federal judge has ordered Texas Attorney General Ken Paxton (R) to testify in an abortion rights lawsuit after he fled his home to avoid being served. https://www.texastribune.org/2022/10/04/ken-paxton-abortion-lawsuit-subpoena/
GOP Candidates Pound Democrats on the IRS
Voters in the country's most competitive House and Senate races face a deluge of Republican ads focusing on the dubious claim that Democrats have empowered the IRS to hire an army of 87,000 new agents to target the middle class.
Since Aug. 1, Republican candidates and groups have spent more than $12 million on roughly 24,000 airings of ads warning of a massive influx of IRS agents, according to an AdImpact analysis. The spots are targeting vulnerable Senate Democratic incumbents in Arizona, Nevada, Georgia and New Hampshire, as well as toss-up House races from Michigan to Kansas.
But at the heart of the attack ads is an argument the IRS itself says is inaccurate. Experts say that the IRS is mainly seeking to replenish its aging workforce and beef up its outdated tech, not hound average Americans. https://punchbowl.news/archive/1052022-punchbowl-news-am/
Russians Fleeing the Draft Find an Unlikely Haven
Rents are skyrocketing, luxury hotels and grimy hostels don't have beds to spare. And on the dusty, sunny streets of Bishkek, the capital of Kyrgyzstan, bands of young migrants, nearly all men, wander aimlessly, dazed at their world turned upside down — and their hasty, self-imposed exile to a poor, remote country that few could previously place on a map.
After leaving often well-paying jobs and families in Moscow and Vladivostok and many places in between, tens of thousands of young Russians — terrified of being dragooned into fighting in Ukraine — are pouring into Central Asia by plane, car and bus.
The influx has turned a country long scorned in Russia as a source of cheap labor and backward ways into an unlikely and, for the most part, welcoming haven for Russian men, some poor, many relatively affluent and highly educated — but all united by a desperate desire to escape being caught up in President Vladimir V. Putin's war in Ukraine. https://www.nytimes.com/2022/10/05/world/asia/russians-fleeing-draft-kyrgyzstan-putin.html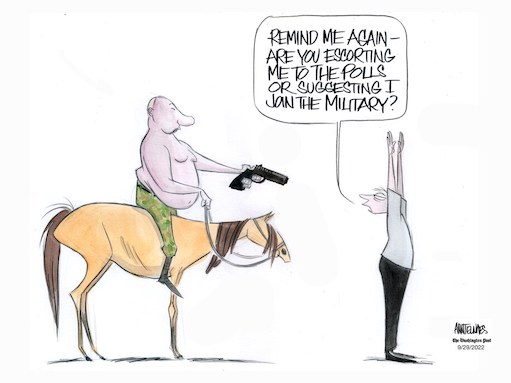 The Real Reason Donald Trump Is Suing CNN
Less than 24 hours after filing suit against CNN alleging that the cable news network has intentionally sought to defame Trump in the minds of its viewers and readers for the purpose of defeating him politically Trump put out an email to supporters asking them to donate to his cause:
I am SUING the Corrupt News Network (CNN) for DEFAMING and SLANDERING my name. Remember, when they come after ME, they are really coming after YOU.
Trump's new push to donors comes as his fundraising has slowed dramatically over the last few months. https://www.bloomberg.com/news/articles/2022-10-04/trump-seeks-supporter-donations-after-filing-suit-against-cnn
Mar-a-Lago Documents Included Pardon List
The thousands of documents seized from former President Donald Trump's Florida home included a mix of government, business and personal affairs, including analysis about who should get a pardon, call notes marked with a presidential seal, retainer agreements for lawyers and accountants, and legal bills, according to newly disclosed logs created by federal investigators.
The detailed lists of seized materials were attached to a recently unsealed Aug. 30 report from the Justice Department. A judge had ordered the logs stay under seal but they appeared to be inadvertently posted to the public court docket. They're no longer publicly visible. https://www.bloomberg.com/news/articles/2022-10-05/inside-mar-a-lago-pardons-white-house-emails-legal-bills
Arizona GOP Chair Pleaded the Fifth
Arizona Republican Party Chair Kelli Ward asserted her Fifth Amendment right against self-incrimination to avoid answering questions from the Jan. 6 select committee. https://www.politico.com/news/2022/10/04/arizona-gop-chair-pleaded-fifth-jan-6-committee-attorney-00060254
Capitol Rioters Demand Transfer to Guantanamo Bay, Think Food Will Be Better
The Jan. 6 defendants wrote a letter demanding to be transferred to Gitmo, which they said provides "nutritional meals."

Jan. 6 defendants held in the D.C. jail's so-called "Patriot Wing" are demanding to be transferred to Guantanamo Bay's military prison—which is notorious for human rights abuses—because they think it would have better amenities.

Thirty-four detainees who are either awaiting trial or serving sentences in connection with the violent riot at the Capitol signed a letter re-asserting their outrage over the conditions in the federal correctional facility in Washington, D.C.

But the Jan. 6 defendants have a sunnier perception of Guantanamo Bay, or "Gitmo," which they wrote provides "nutritional meals" and "top-notch medical care" and is "respectful of religious requirements." They also note that there are centers for exercise and entertainment there, "despite the fact that those residents are malicious terrorists."

Gitmo, they write, would be preferable to "remaining trapped within the wretched confines of cruel and unusual punishment of the D.C. jail."

"We hereby request to spend our precious and limited days, should the government continue to insist on holding us captive unconstitutionally as pre-trial detainees, to be transferred and reside at Guantanamo Bay," the letter reads. https://www.vice.com/en/article/v7vy89/jan-6-capitol-rioters-gitmo
Alabama GOP chairman made the photo ID he used to vote
Alabama Republican Party Chairman John Wahl made the photo ID he used to vote in at least two recent elections. https://www.al.com/news/2022/10/alabama-gop-chairman-made-the-photo-id-he-used-to-vote.html
It's Time to Take Democrats' Chances in the House Seriously
Nate Cohn: "I'm not saying Democrats are favored. The likeliest scenario is still that Republicans will find the five seats they need to take control. And no one should be surprised if Republicans flip a lot more than that — especially with early signs that the political winds may be starting to shift in ways that might yield some Republican gains in key races."

"But the idea that Democrats can hold the House is not as ridiculous, implausible or far-fetched as it seemed before the Dobbs ruling overturned Roe v. Wade. It is a real possibility — not some abstraction in the sense that anything can happen."

"In fact, not much would need to happen at all." https://www.nytimes.com/2022/10/03/upshot/democrats-house-midterms-polling.html
Why Biden world isn't overly worried about House GOP investigations
There is a growing confidence in the White House that the House Republicans clamoring for a hodgepodge of investigations will overreach — and that their attempts will backfire politically, with key voters recoiling at blatant partisan rancor. Officials believe they can use GOP efforts to their political advantage heading into the 2024 cycle, betting a pro-Trump Republican conference fixated on Biden will elevate 'ultra-MAGA Republicans' and provide a useful foil for Biden, allowing him to draw sharp contrasts between his governing and their obfuscating. https://www.politico.com/news/2022/10/03/biden-world-house-gop-investigations-00059888
Mississippi Unprepared For 5,000 More Babies Born Yearly After Dobbs Ruling
At least 5,000 more babies will be born in Mississippi each year than in the past now that abortion is almost completely outlawed.

But the Magnolia State is not prepared to handle it, officials say. Mississippi State Health Officer Dr. Thomas Edney shared the estimate with members of the Mississippi Senate last week. https://www.mississippifreepress.org/28031/officials-mississippi-unprepared-for-5000-more-babies-born-yearly-after-dobbs-ruling
The Great Senate Stalemate
The map of competitive Senate elections is shrinking—and not just for November.
Though Republicans began the year expecting sweeping Senate gains, the party's top-grade opportunities to capture seats now held by Democrats have dwindled to just two—Nevada and Georgia—and both are, at best, toss-ups for the GOP. And while Democrats, somewhat astoundingly, have emerged from the primaries with at least as many plausible flipping chances as Republicans, Pennsylvania is the only GOP-held seat clearly favored to go blue, and even that isn't guaranteed.

It remains entirely possible that November's results will leave the Senate divided again at 50–50, something that has not happened in consecutive elections since the Seventeenth Amendment established the direct election of senators more than a century ago. https://www.theatlantic.com/politics/archive/2022/09/senate-seats-midterm-democrats-republicans/671581/
The Neverending Story of Trump's Grift
Trump's legal troubles have inspired a relentless fundraising campaign. The appeals are grandiose, petulant, cynical—and very effective.

Within hours of learning that he, his family business, and three of his children were being prosecuted on civil charges for fraud, Donald Trump was trying to make money off of it.

"Can you believe it?" the former president exclaimed in a fundraising email sent on the afternoon of September 21. "Radical New York Attorney General Letitia James is SUING ME and MY FAMILY. This is an absolute WITCH HUNT, Friend."

Trump assured recipients of this appeal that he was "prepared to FIGHT BACK," but just needed to know "that I have your support." He asked supporters to "add your name IMMEDIATELY to publicly stand with me," something that would be accomplished by going to a page that allowed for a range of contributions, with the box for a $20 donation highlighted in sky blue and shaking back and forth like a hula dancer. https://www.thebulwark.com/the-neverending-story-of-trumps-grift/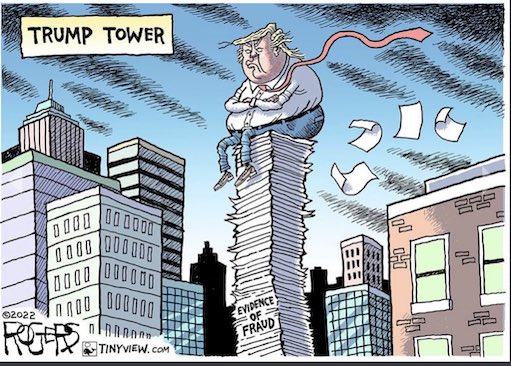 Trump rallies drift to fringe ahead of potential 2024 bid
Trump's rallies have always attracted a broad swath of supporters, from first timers taking advantage of their chance to see a president in person, to devotees who camp out for days and follow him around the country like rock band groupies.

But after spending much of the last two years obsessively peddling false claims of a stolen election, Trump is increasingly attracting those who have broken with reality, including adherents of the baseless QAnon conspiracy, which began in the dark corners of the internet and is premised on the belief that the country is run by a ring of child sex traffickers, satanic pedophiles and cannibals that only Trump can defeat.

As he eyes another White House bid, Trump is increasingly flirting with the conspiracy. He's reposted Q memes on his social media platform and amplified users who have have promoted the movement's slogans, videos and imagery. And in recent weeks, he has been closing out his rally speeches with an instrumental song that QAnon adherents have claimed as their anthem. https://apnews.com/article/biden-entertainment-music-donald-trump-michigan-05bafa7cf185da9c1fd0c9e011152c0a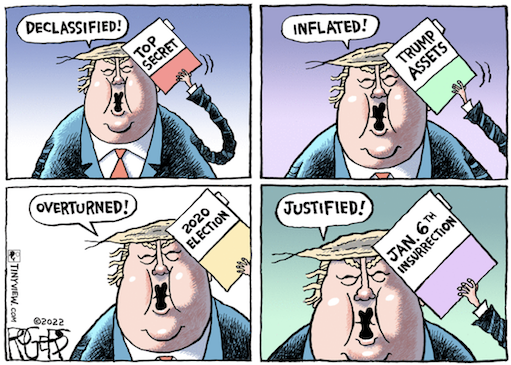 Supreme Court rejects Mike Lindell's appeal in 2020 election lawsuit
The Supreme Court on Monday rejected MyPillow CEO Mike Lindell's bid to fend off a defamation lawsuit the voting machine company Dominion Voting Systems filed over his far-fetched claims about the 2020 presidential election.

Dominion sued Lindell and MyPillow in February 2021, claiming $1.3 billion in damages and alleging that Lindell purposely pushed the "big lie" that Trump won the 2020 election. Lindell repeatedly echoed baseless claims that Dominion's machines manipulated vote counts to ensure that Joe Biden defeated Trump. The claims have been widely debunked. In the lawsuit, Dominion argues that Lindell knew his claims were false, while Lindell's lawyers say he genuinely believes them.

Dominion also sued Trump allies Sidney Powell and Rudy Giuliani for defamation. U.S. District Judge Carl Nichols of Washington, D.C. allowed those claims to move forward, as well, but Powell and Giuliani were not involved in Lindell's Supreme Court appeal.

In a separate case, Nichols in May threw out Lindell's own defamation lawsuit against Dominion and Smartmatic, another voting machine company. Dominion and Smartmatic have also filed similar defamation lawsuits against Fox News and other conservative media outlets. https://www.nbcnews.com/politics/supreme-court/supreme-court-rejects-trump-ally-mike-lindells-appeal-2020-election-la-rcna48409
Lawmakers Confront a Rise in Threats and Intimidation, and Fear Worse
Members of Congress in both parties are experiencing a surge in threats and confrontations as a rise in violent political speech has increasingly crossed over into the realm of in-person intimidation and physical altercation. In the months since the Jan. 6, 2021, attack on the Capitol, which brought lawmakers and the vice president within feet of rioters threatening their lives, Republicans and Democrats have faced stalking, armed visits to their homes, vandalism and assaults.
It is part of a chilling trend that many fear is only intensifying as lawmakers scatter to campaign and meet with voters around the country ahead of next month's midterm congressional elections.
https://www.nytimes.com/2022/10/01/us/politics/violent-threats-lawmakers.html
Teen girl denied medication refill under AZ's new abortion law
A 14-year-old Tucson girl was denied a refill of a life-saving prescription drug she had been taking for years just two days after Arizona's new abortion law had taken effect.
14 year old Emma Thompson has debilitating rheumatoid arthritis and osteoporosis which has kept her in and out of the hospital for most of her life. She relies on methotrexate to help tame the effects of the disease.
But methotrexate can also be used to end ectopic pregnancies, to induce an abortion and that's where the problem arises.
https://www.kold.com/2022/10/01/teen-girl-denied-medication-refill-under-azs-new-abortion-law/
Republicans Abandon Obamacare Repeal
Republicans are abandoning their long crusade to repeal the Affordable Care Act, making the 2022 election the first in more than a decade that won't be fought over whether to protect or undo President Barack Obama's signature achievement, NBC News reports.
The diminished appetite for repeal means the law — which has extended health care coverage to millions of people and survived numerous near-death experiences in Congress and the courts — now appears safer than ever.
With slightly more than a month before the next election, Republicans in Congress and on the campaign trail aren't making an issue of Obamacare. None of the Republican Senate nominees running in eight key battleground states have called for unwinding the ACA on their campaign websites.
https://www.nbcnews.com/politics/congress/republicans-abandon-obamacare-repeal-rcna49538
House GOP Now Hoping for Bare Majority
Cook Political Report: As the post-Dobbs surge in Democratic voter enthusiasm and flawed nominees like Majewski and Gibbs have put more GOP 'reach' targets out of reach, Republican groups are increasingly hyper-focusing their resources on the several dozen races that hold the most promise to get them to a bare majority of 218, rather than the next 20 to 30 races that would get them to the larger 'governing majority' Kevin McCarthy has hoped for. https://www.cookpolitical.com/analysis/house/house-overview/its-oppo-dump-oclock-oh-09-moves-toss-lean-democrat
DeSantis, Once a 'No' on Storm Aid, Petitions a President He's Bashed
As a freshman congressman in 2013, Ron DeSantis was unambiguous: A federal bailout for the New York region after Hurricane Sandy was an irresponsible boondoggle, a symbol of the 'put it on the credit card mentality' he had come to Washington to oppose.
https://www.nytimes.com/2022/09/29/us/politics/desantis-biden-hurricane-ian-aid.html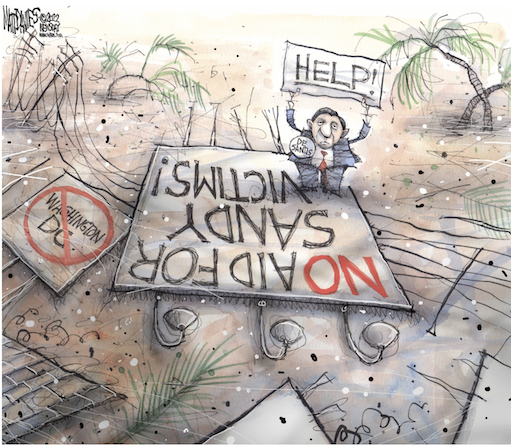 House GOP Has Already Tried to Impeach Biden
House Republicans have introduced
more than a dozen impeachment resolutions
against President Biden and his officials, far outpacing Democrats' formal impeachment efforts at this point in former President Trump's term, Axios reports.
The failed impeachment efforts provide a roadmap for the investigations that Republicans — eager to make the rest of Biden's term a living nightmare — will likely pursue if they retake the majority after the midterms.
https://www.axios.com/2022/09/30/biden-impeachment-republicans-trump-comparison
Putin's speech on annexation paints a stark picture of a face-off with the West
President Vladimir Putin on Friday asserted that Russia would take control of four Ukrainian regions and decried the United States for Satanism and neocolonial hegemony in a speech that marked a new escalation in Moscow's seven-month war against Ukraine and positioned Russia, in starkly confrontational terms, as fighting an existential battle with Western elites he deemed the enemy.
Even by Mr. Putin's increasingly antagonistic standards, the speech was extraordinary, mixing riffs against Western attitudes on gender identity with an appeal to the world to see Russia as the leader of an uprising against American power.
https://www.nytimes.com/live/2022/09/30/world/russia-ukraine-war-news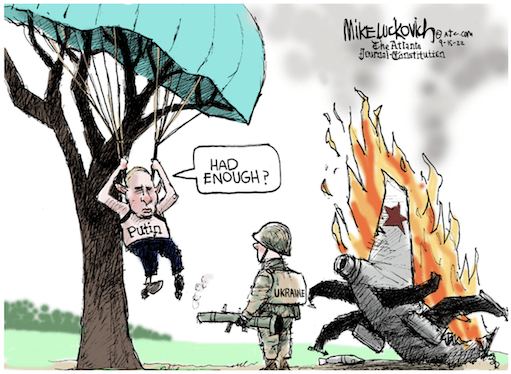 Trump allies have interviewed nearly 200 election officials to probe for weaknesses
Two of Donald Trump's most prominent allies in his fight to overturn the 2020 election are leading a coordinated, multi-state effort to probe local election officials in battlegrounds such as Michigan, Arizona, and Texas ahead of the November election.
The America Project, an organization founded by Michael Flynn, a retired three-star general and former national security adviser, and former Overstock CEO Patrick Byrne, has so far interviewed or attempted to interview officials in nearly 200 counties across eight swing states.
https://www.votebeat.org/2022/9/30/23380353/patrick-byrne-the-america-project-interviews-operation-eagles-wings
Jared Kushner Allegedly Tried to 'Inflate' 2020 Poll Numbers to Avoid Trump's Tantrums
DURING THE 2020 election, Jared Kushner tried to artificially "inflate" Donald Trump's sinking numbers in the polls against Joe Biden, according to New York Times reporter Maggie Haberman's new book. Within Team Trump, Haberman reports, the purpose of Kushner's request was clear — he just wanted to juke the survey numbers, in the hopes of keeping his father-in-law from flying into a rage.
In Confidence Man: The Making of Donald Trump and the Breaking of America, Haberman writes, "Kushner, who oversaw reelection strategy from his post as a White House senior adviser, advised a …campaign pollster, Tony Fabrizio, to inflate Trump's standing in surveys that would be shown to the candidate by adding percentage points to his position in the horse race."
According to book passages reviewed by Rolling Stone, the "ostensible reason" for this was Kushner and others' contention that polling firms "always missed Trump voters." However, to various Trump 2020 officials, it was obvious that the "real reason" for Kushner's advice to Fabrizio was to "avoid upsetting Trump."
https://www.rollingstone.com/politics/politics-news/kushner-inflate-sagging-poll-avoid-trump-tantrum-book-1234602878/
Apocalypse now: Democrats embrace a dark midterm message
With a tough midterm election about six weeks away, many Democrats have largely settled on a campaign message, and it's not one that simply emphasizes their accomplishments. Instead, it amounts to a stark warning: If Republicans take power, they will establish a dystopia that cripples democracy and eviscerates abortion rights and other freedoms.
Former Rep. Steve Israel (D-NY): When you are the in-party in the midterms — like the Democrats are now — and the wind is blowing against you, you have to ride every advantageous breeze you can find. And the Democrats have found those breezes in the Dobbs decision and in Donald Trump.
https://www.washingtonpost.com/politics/2022/10/02/democrats-dark-apocalyptic-message-midterms/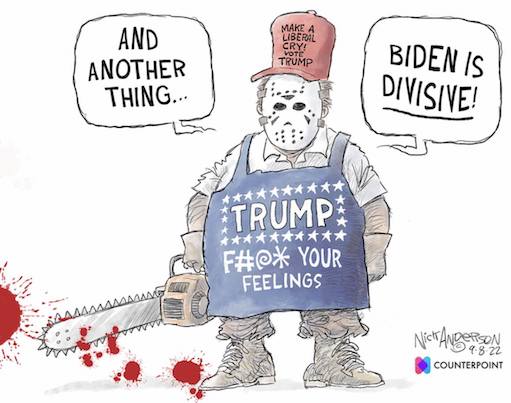 Conservative activists in Georgia wage campaign to purge voter rolls ahead of November's election
Conservative activists in Georgia have used a law passed by the Republican-controlled state legislature in 2021 to challenge thousands of fellow Georgians' voter registrations before early voting begins on October 17.
https://www.cnn.com/2022/09/29/politics/georgia-voter-challenges/
Supreme Court poised to keep marching to right in new term
With public confidence diminished and justices sparring openly over the institution's legitimacy, the Supreme Court on Monday will begin a new term that could push American law to the right on issues of race, voting and the environment.
Following June's momentous overturning of nearly 50 years of constitutional protections for abortion rights, the court is diving back in with an aggressive agenda that seems likely to split its six conservative justices from its three liberals. 
https://apnews.com/article/voting-rights-abortion-ketanji-brown-jackson-us-supreme-court-health-0c7e7f12f32f30fe97d2b9417a24cf69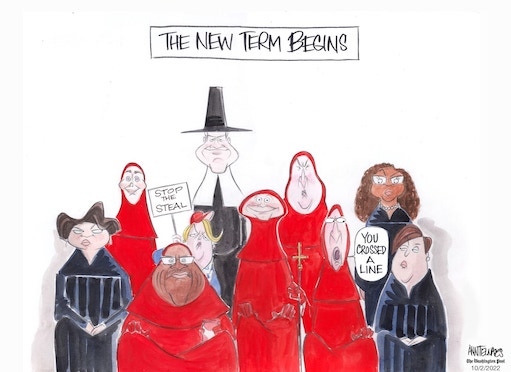 Pentagon Plans to Set Up a New Command to Arm Ukraine
The Pentagon is preparing to overhaul how the United States and its allies train and equip the Ukrainian military, reflecting what officials say is the Biden administration's long-term commitment to support Ukraine in its war with Russia.
https://www.nytimes.com/2022/09/29/us/politics/pentagon-command-ukraine.html
POLLS ...
A new Meredith College poll has finds Cheri Beasley (D) and Ted Budd (R) deadlocked in the

North Carolina

U.S. Senate race, 41% to 41%. https://c7p4g5i9.rocketcdn.me/wp-content/uploads/2022/09/MeredithPollFall2022Report.docx.pdf

A new Washington Post/University of

Maryland

poll finds Wes Moore (D) with a 32-percentage point lead over Dan Cox (R) in the Maryland governor's race, 60% to 28%. https://www.washingtonpost.com/dc-md-va/2022/10/01/maryland-poll-moore-cox/
In the race for

North Dakota's

lone seat in the U.S. House of Representatives, Incumbent Republican Kelly Armstrong leads independent challenger Cara Mund by just four points, according to a poll conducted by DFM Research. https://www.inforum.com/opinion/columns/mcfeely-poll-shows-mund-within-4-of-armstrong-in-nd-u-s-house-race

A new Spectrum News/Siena College poll of likely

Florida

voters finds Gov. Ron DeSantis (R) has an 8-point lead over Charlie Crist (D), 49% to 41%. In the race for the U.S. Senate, Sen. Marco Rubio (R-FL) leads challenger Val Demings (D) by seven points, 48% to 41%. https://scri.siena.edu/wp-content/uploads/2022/09/Spectrum-Florida-Sept-2022-PR-final.pdf

A new Nevada Independent/OH Predictive Insights poll in

Nevada

shows Adam Laxalt (R) edging Sen. Catherine Cortez Masto (D), 45% to 43%. In the governor's race, Joe Lombardo (R) edges Gov. Steve Sisolak (D), 45% to 42%. https://thenevadaindependent.com/article/indyfest-poll-races-for-governor-and-u-s-senate-close-republicans-lead-down-ticket

A new Emerson College poll in

Oregon

finds Christine Drazan (R) with a two-point lead over Tina Kotek (D) in the race for governor, 36% to 34%, with 19% supporting Betsy Johnson (I) and 9% undecided. Sen. Wyden Holds 19-Point Lead in Re-election Bid. https://emersoncollegepolling.com/oregon-2022-republican-christine-drazan-with-two-point-lead-over-democrat-tina-kotek-for-governorship-sen-wyden-holds-19-point-lead-in-re-election-bid/

A new USA Today/Suffolk poll in

Pennsylvania

shows John Fetterman (D) is hanging on to a six percentage-point lead over Mehmet Oz (R) in the nation's most closely watched Senate race, 46% to 40%. In the contest for governor, Josh Shapiro (D) is pulling away from Doug Mastriano (R), 48% to 37%. https://www.usatoday.com/story/news/politics/2022/10/04/fetterman-leads-oz-pennsylvania-senate-race/8161323001/

A new Detroit News poll in

Michigan

finds Gov. Gretchen Whitmer's (D) lead over challenger Tudor Dixon (R) has reached 17 percentage points with five weeks remaining before the Nov. 8 mid-term election, 49% to 32%. https://www.detroitnews.com/story/news/politics/michigan/2022/10/04/whitmer-leads-dixon-17-points-new-poll/69535918007/

A new Keating Research (D) poll finds Rep. Lauren Boebert (R-CO) barely leading challenger Adam Frisch (D) for

Colorado

's 3rd Congressional District shows, 47% to 45% with 7% still undecided. https://www.axios.com/2022/10/04/lauren-boebert-tied-democrat-midterm-poll

A new St. Anslem College poll in

New Hampshire

finds Sen. Maggie Hassan (D) leading challenger Don Bolduc (R), 49% to 43%. https://www.wmur.com/article/poll-new-hampshire-general-election-10422/41522379

A new Emerson College poll in

Washington

shows Sen. Patty Murray (D) leading challenger Tiffany Smiley (R), 51% to 42%. https://emersoncollegepolling.com/washington-2022-democratic-sen-patty-murray-holds-9-point-lead-in-re-election-bid-against-republican-tiffany-smiley/

A new CBS News poll in

Arizona

finds Sen. Mark Kelly (D) ahead of challenger Blake Masters (R), 51% to 48%. https://www.cbsnews.com/news/mark-kelly-opinion-poll-arizona-senate-economy-abortion-immigration-2022-10-05/
THE DAILY GRILL
CLAIM: Vice President Kamala Harris said that Hurricane Ian relief will be distributed based on race, with communities of color receiving aid first.
https://apnews.com/article/fact-check-kamala-harris-hurricane-climate-change-516043387200
VERSUS
AP'S ASSESSMENT: False. During a conversation with actress Priyanka Chopra Jonas at the Democratic National Committee's Women's Leadership Forum in Washington on Friday, Harris spoke about distributing resources equitably to help vulnerable groups, such as low income communities and communities of color, recover from disasters related to climate change. She did not describe the structure that would be used to allocate aid to victims of the recent hurricane.
https://apnews.com/article/fact-check-kamala-harris-hurricane-climate-change-51604338720
Susan B. Glasser: What if We're Already Fighting the Third World War with Russia?
Nuclear blackmail, illegal annexation of territory, hundreds of thousands of Russian men rounded up and sent to the front lines in Ukraine, undersea gas pipelines to Europe mysteriously blowing up. After endless speculation, we can now say it for sure: this is how Vladimir Putin responds when he is backed into a corner.

Throughout seven awful months of war in Ukraine, President Joe Biden has held to a steadfast line when it comes to the Russian invasion: his goal is to help Ukraine win while also insuring that victory does not trigger a Third World War. But as Russian forces have experienced U.S.-aided battlefield setbacks in recent days, Putin has reacted by ratcheting up the pressure. It's far from clear how Washington will be able to continue to pursue both goals simultaneously, given that Putin is holding Ukraine—and the rest of the world—hostage to his demands. On Friday, Putin plans to affirm the results of what the Biden Administration has sternly termed sham 'referenda'  as a pretext to declare Russian-occupied territories in Ukraine part of the Russian state. How could Biden, or the Ukrainian President Volodymyr Zelensky, or anyone else who believes in international order agree to that?

And yet Donald Trump and the growing faction of pro-Putin cheerleaders in the conservative media—Tucker Carlson, I'm thinking of you—are demanding still more concessions to Russia in response to Putin's escalating threats. The other night, Carlson, citing no evidence, blamed the United States for somehow playing a role in attacks on the Nord Stream gas pipelines. Charlie Kirk, one of the most outrageous of the junior Trumpists, speculated that it was a potential midterm election operation and that U.S. intelligence agencies should be considered guilty until proven innocent—an appalling smear gleefully parrotted on Russian state TV. The ex-President—who during his time in office did so much to weaken NATO and undermine American allies while also praising Putin—even offered himself up as a mediator. On Wednesday, in a post on Truth Social, his Orwellian-named social-media platform, he insisted, get a negotiated deal done NOW.

Which, of course, is exactly what Putin wants Trump to say. After a Ukrainian counter-offensive in the eastern Kharkiv region this month pushed Russian forces back to their own border, Putin responded with new provocations designed to force the West to the bargaining table, since his exceptionally brutal yet inept application of military force failed to do so. That, at least, is the consensus view of many of America's smartest Kremlin watchers. https://www.newyorker.com/news/letter-from-bidens-washington/what-if-were-already-fighting-the-third-world-war-with-russia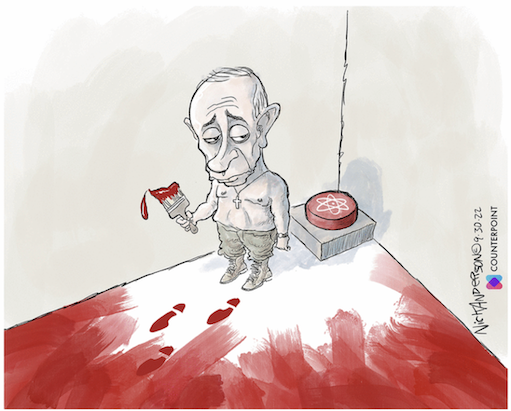 Eric Lutz: Clarence Thomas, Whose Wife Still Believes 2020 Election Was Stolen, To Hear Major Election Law Cases
Just days before Clarence Thomas considers two cases that could shape American elections for years to come, his wife, Ginni Thomas, appeared before the January 6 committee to testify about her role in trying to overturn the results of the last one — a race she still maintains, without evidence, was stolen from Donald Trump by Joe Biden. She said that, January 6 committee chair Bennie Thompson recalled to reporters after the interview.

During the closed-door sit-down, Ginni Thomas apparently acknowledged her communications with the Trump White House, in which she urged then chief of staff Mark Meadows and lawmakers in key swing states to do more to help the former president remain in office after his 2020 loss. But she maintained that her husband was unaware of her efforts: She never discussed it with him, she told congressional investigators, adding that she abided by an iron clad rule in their house to not discuss her activism. I generally do not discuss with him my day-to-day work in politics, the topics I am working on, who I am calling, emailing, texting, or meeting, Thomas said, claiming that her husband is uninterested in politics.

If it's outrageous to expect Americans to just take her word for it, then it's especially so with the high court poised to reconvene in October for a session that will include two major cases concerning elections: A North Carolina lawsuit that would give state legislatures more power over the election process, and an Alabama case that could further weaken the Voting Rights Act of 1965. Even a narrow ruling on either case could have significant implications for how district maps are drawn and elections are held. But a more far-reaching decision could constitute a challenge to the democratic process itself. You cannot look at these cases objectively without acknowledging the fact that, taken together, they could determine whether or not the United States remains as the democracy we have come to love, former Attorney General Eric Holder told Politico. I think, unfortunately, we take for granted a democracy that fulfills the promise of one person, one vote. https://www.vanityfair.com/news/2022/09/clarence-thomas-ginni-thomas-election-law-cases-january-6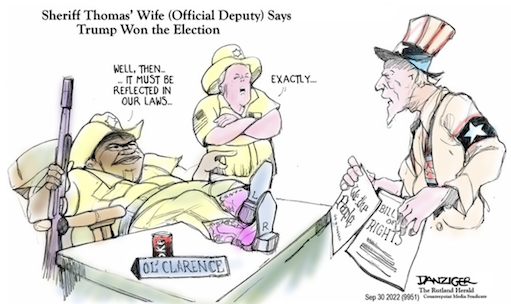 NY Times Editorial Board: The Supreme Court Has a Crisis of Trust
The Supreme Court's authority within the American political system is both immense and fragile. Somebody has to provide the last word in interpreting the Constitution, and — this is the key — to do so in a way that is seen as fair and legitimate by the people at large.

What happens when a majority of Americans don't see it that way?

A common response to this question is to say the justices shouldn't care. They aren't there to satisfy the majority or to be swayed by the shifting winds of public opinion. That is partly true: The court's most important obligations include safeguarding the constitutional rights of vulnerable minorities who can't always count on protection from the political process and acting independently of political interests.

But in the bigger picture, the court nearly always hews close to where the majority of the American people are. If it does diverge, it should take care to do so in a way that doesn't appear partisan.

That is the basis of the trust given to the court by the public.

That trust, in turn, is crucial to the court's ability to exercise the vast power Americans have granted it. The nine justices have no control over money, as Congress does, or force, as the executive branch does. All they have is their black robes and the public trust. A court that does not keep that trust cannot perform its critical role in American government. https://www.nytimes.com/2022/10/01/opinion/supreme-court-legitimacy.html
Karen Tumulty: Trump's latest attack on McConnell sets a new standard of despicable
On Friday, the former president posted on his Truth Social platform that McConnell has a "DEATH WISH" for having supported legislation to keep the government operating through mid-December — language that could easily be read by his highly combustible supporters as inviting violence against the GOP leader who seems to have taken up residence under Trump's gossamer-thin skin.

Indeed, Trump portrayed the spending legislation, which passed the Senate 72-25, as a personal affront, saying McConnell cut the deal to pass it "because he hates Donald J. Trump, and he knows I am strongly opposed to" its provisions.

Trump then went for a racial smear against McConnell's Asian American power spouse, Elaine Chao, who served as transportation secretary in his own administration, referring to her as "his China loving wife, Coco Chow!"

Outrageousness, of course, is Trump's political brand, and ignoring his rants is usually the best thing to do. His spokesman insisted that his reference to a death wish referred to a political one, rather than literal one.

When you are dealing with someone for whom there is no bottom, it's not exactly surprising to see him hit a new low. Nonetheless, Donald Trump's latest social media broadside against Senate Minority Leader Mitch McConnell (R-Ky.) stands out for its odious recklessness.

No doubt Trump will escalate his dangerous and vile attacks on McConnell, because that is simply who he is. But let's be clear that there is plenty of fault to go around. The Republican Party's refusal to denounce him for it makes them complicit. https://www.washingtonpost.com/opinions/2022/10/01/trump-mcconnell-attack/
Mona Charen: Conservatives Are the New Useful Idiots
At the moment when freedom-loving people around the world are elated (if on tenterhooks) at the progress of Ukrainian forces in pushing back the Russian invaders, Heritage Action, the political arm of the conservative Heritage Foundation, has joined with other self-styled conservative groups to oppose helping Ukraine fight for its life. I know, I know, the Trumpification of the GOP has been a fact for six years, and yet this heel turn is remarkable. It's as if People for the Ethical Treatment of Animals announced that they support puppy mills for medical research. Responding to President Biden's request that Congress appropriate another $13.7 billion to help the Ukrainians cope with energy price hikes and other security needs, Heritage Action urged a no vote, railing that "These funding requests ignore the concerns of the American people."

The pro-Putin, pro-authoritarian voices in the GOP are not yet a majority—about a quarter of House Republicans and 11 of 50 Senators voted against the $40 billion aid package for Ukraine in May—but they're not a small minority either, and the wind is at their backs. CPAC has all but canonized Hungary's strongman Viktor Orban, and in the first hours after Putin rolled into Ukraine, Trump reveled in the murderer's "savvy" and "genius." The 2022 election could bring more authoritarian-friendly Republicans to Congress, and meanwhile, hatcheries of conservative orthodoxy like Fox News and The Federalist are doing the spade work of persuading the base that Kremlin propaganda is more trustworthy—pravda, if you will—than the New York Times. https://www.thebulwark.com/conservatives-are-the-new-useful-idiots/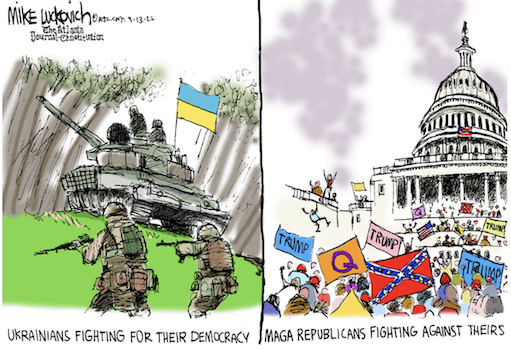 Chauncey DeVega: Trump "will be convicted of multiple felonies": George Conway on the bumpy road ahead
Today's Republican Party has effectively become an authoritarian political cult led by Donald Trump. His millions of followers — with their votes, money, menace and potential or actual violence — have become his primary means of controlling the party and progressively undermining American democracy and society.

When Trump first emerged as a serious presidential candidate in 2016, Republican leaders and other right-wing elites believed they could control him and use him as a weapon in their revolutionary and reactionary struggle. They were both right and wrong about that.

Donald Trump is a political monster. Such leaders and forces have a mind and will all their own.

As president, Trump enacted policies that the Republican Party and larger white right have long dreamed of imposing on the American people, most notably rolling back taxes on the rich and seizing full control of the Supreme Court. That was a great victory in the long-term campaign to reverse the civil rights victories of the 20th and 21st century won by Black and brown people, women, LGBTQ people, people with disabilities and other marginalized groups.

But Donald Trump quickly become more powerful than the Republican Party, and not necessarily aligned with its leaders. His followers are far more loyal to him than to the party itself. When Trump and his followers attempted a violent coup on Jan. 6, 2021, many "mainstream" Republicans struggled to adjust to this new reality. Many people in the party understood that Trump was a fascist, perhaps a traitor and in a larger sense an existential threat to the United States. Within the Trump administration, there were discussions about removing him from office through the 25th Amendment. But ultimately most Republicans chose partisanship and power over genuine patriotism and the common good. In doing so, they made themselves de facto agents of American neofascism. https://www.salon.com/2022/10/03/will-be-convicted-of-multiple-felonies-george-conway-on-the-bumpy-road-ahead/
John Cassidy: Trump's Threats of Violence Are too Dangerous to Disregard
As the various investigations around Trump continue to close in on him, his campaign to discredit and intimidate his accusers will only intensify. On Monday, he sued CNN in a Florida court, claiming that the news network had sought "to defame the Plaintiff in the minds of its viewers and readers for the purpose of defeating him politically." In a statement, Trump said he will file additional lawsuits "against a large number of other Fake News Media Companies," and may also "bring appropriate action against the Unselect Committee of January 6th." Of course, Trump is famous for issuing legal vaporware, and the general counsels of the big media companies won't be quaking in their Manolos. But for Trump, the threat of fresh lawsuits serves the dual purpose of allowing him to lash out and of further cranking up the political temperature for his followers.

We've long known that Trump has no compunction about inciting or praising violence, so long as he also gives himself a bit of legal deniability. The full list of examples is too long to go over, but here are some of them. During the 2016 Presidential campaign, he said he'd pay the legal fees of his supporters if they "knock the hell" out of protesters at his rallies. In 2017, he said there were "fine people on both sides" of the clashes in Charlottesville between white supremacists and counter-protesters, during which a neo-Nazi rammed his car into a crowd, killing a thirty-two-year-old woman. In May, 2020, during the demonstrations against the police killing of George Floyd, he offered to send the U.S. military to Minnesota and tweeted, "When the looting starts, the shooting starts." On December 19, 2020, he called on his supporters to descend on Washington on January 6th, saying, "Be there, will be wild." Last month, in an interview with Hugh Hewitt, a conservative radio host, Trump said the American people wouldn't stand for him being indicted. When Hewitt pointed out that this statement could be interpreted as an incitement to violence, Trump replied, "That's not inciting. I'm just saying what my opinion is."

Sometimes, it's tricky to separate Trump's efforts to feed his craving for attention, including negative attention, from the malevolence of his individual communications. In his mind, these are two sides of the same coin. Long ago, he grasped that talking tough and raising the spectre of violence—on the part of individuals or the state—is an attention-grabber. In her new book about Trump, the Times reporter Maggie Haberman reminds us of his odious grandstanding after a notorious 1989 rape in Central Park, which eventually led to the wrongful conviction of five Black and Latino youths. While the police investigation was ongoing, Trump placed a full-page ad in multiple New York newspapers, in which he called for the restoration of the death penalty and the unshackling of the N.Y.P.D., and declared, "I want to hate these muggers and murderers."

Thirty-three years on, Trump hasn't changed much, but, because of his altered circumstances, the objects of his hate-mongering now include political rivals who dare challenge him. During his speech in Michigan on Saturday, he accused Democrats of cheating in elections "like dogs" and of "waging a full-scale assault on the most sacred rights and liberties of the American people." He called the Biden Administration, "sick, they're sick people," and he falsely claimed that the F.B.I. "broke into my home in Florida in violation of the Fourth Amendment." In case anyone in the crowd hadn't got the message, he said all this added up to "the persecution of Donald Trump and the Republican Party." https://www.newyorker.com/news/our-columnists/trumps-threats-of-violence-are-too-dangerous-to-disregard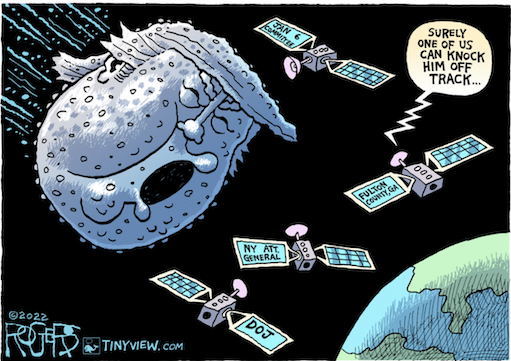 Jamelle Bouie: The Supreme Court Seems Awfully Nervous About Its Own Legitimacy
Only Kagan seems to have any awareness that the court's stature is a precious resource that can be lost if the institution runs too far away from the public or if the court begins to treat the public and its representatives as mere subjects — bound to obey its judgments — rather than partners in the construction of constitutional meaning.
The truth, as Kagan said, is that the conservative majority has gone far past where the public is and that the public is increasingly skeptical of the court's power and influence. Forty-seven percent of Americans say that they trust the judicial branch of the federal government, an all-time low according to a recent Gallup poll, and a whopping 58 percent of Americans disapprove of the way the Supreme Court is handling its job. Thirty-eight percent say that the ideological leaning of the court is "about right," but 42 percent of Americans say the court is too conservative.
If the conservative justices weren't so convinced of their own righteousness — if they weren't so high on their own supply — they might be able to see that they're playing a dangerous game. The court's power, including the influence of each individual justice, depends on the consent of the public and its representatives. And while there is not, at this moment, a broad-based movement to bring oversight and accountability to the Supreme Court, it's also not beyond the realm of possibility.
The Dobbs ruling was so unpopular that it pushed a majority of Americans to support court expansion, according to a Marquette University Law School poll. Two-thirds of Americans also want to impose term limits on justices, according to The Associated Press. One can only imagine how these numbers will look as the conservative majority continues to write Republican Party ideology into the Constitution using "originalism" or "textualism" or whatever other method the justices choose to reverse engineer their conclusions, as they are poised to do in this new term with cases on gerrymandering, voting rights, the environment and the rights of sexual minorities.
The conservative majority on the Supreme Court is more than ready to abuse its power and authority. The question is whether the American public is willing, through its representatives in Congress, to discipline the court — to remind it of the actual scope of its power and relegate it to a less central place in our constitutional order. https://www.nytimes.com/2022/10/04/opinion/roberts-alito-kagan-barrett-thomas.html
Ed Kilgore: The Supreme Court Is Back and Ready to Do More Damage
It is generally accepted that the 2021–22 term of the U.S. Supreme Court was the most consequential — and, for progressives, the most damaging — in living memory. During their summer recess, the justices heatedly raised and angrily rebutted charges that the Court's radically conservative major-decisions binge had risked its legitimacy. Now the Court is back for a new term in which it will have multiple opportunities to further the idea that it's little more than an extension of the Republican Party — or to mitigate that reputation.
It's unlikely that any pending case will produce a result as explosive as the 6-3 decision in Dobbs v. Jackson Women's Health Organization, which swept away any federal constitutional right to abortion. But there will be plenty of opportunities in the 2022–23 term for the right-wing majority that reversed Roe v. Wade to upset additional progressive precedents and carve out new areas of constitutional law that could strengthen privileges for white people, conservative Christians, private-property interests, and red-state lawmakers.
What we don't know is whether any of the six conservative justices will want to slow down the constitutional counterrevolution that's underway in order to alleviate the backlash that has been threatening their political clients since Dobbs. Even if the Court pulls a few punches, you can expect to see a lot of protesters outside the building before and after the justices hear oral arguments and release decisions (which are typically back-loaded toward the end of the term next spring).
If reproductive freedom was the major casualty of the 2021–22 term, racial justice could be the target of a radical Court in the current term. In two key areas — voting rights and affirmative action in college admissions — the Court majority could make major strides toward the long-standing conservative goal of interpreting constitutional sanctions against racial discrimination as requiring "color blindness." https://nymag.com/intelligencer/2022/10/the-supreme-court-is-back-and-ready-to-do-more-damage.html