June 1, 2023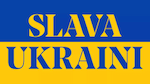 To subscribe to this FREE weekly newsletter simply email jellison@san.rr.com with "subscribe" as the subject.
THE WEEK'S BEST QUOTES. . .
"I'd like to say there was like an audible voice, but I didn't have one. But there was this impression on my heart that was really about peace." — Sen. Tim Scott (R-SC) on whether God called him to run for president.
https://cmsedit.cbn.com/cbnnews/us/2023/may/sen-tim-scott-tells-news-what-god-told-him-before-he-announced-presidential-run
"Winning a landslide in Florida is kind of like being a phenom at the triple-A level in baseball's minor leagues. It's impressive. But you still haven't proved you can hit major league pitching. That's the test facing DeSantis in the weeks and months ahead." -- Mark Z. Barabak 
https://enewspaper.latimes.com/infinity/article_share.aspx
"I think the IRS is a corrupt organization and I think it's not a friend to the average citizen or taxpayer. We need something totally different." — Gov. Ron DeSantis said he would be "welcoming" of a measure from Congress to defund the Internal Revenue Service if he's elected president next year.
https://www.foxnews.com/politics/desantis-welcome-bill-abolish-corrupt-irs-need-something-totally-different
"The U.S. potentially defaulting on its debt would be a boon for Republicans in 2024." -- Republican National Committee Chair Ronna McDaniel.
https://www.mediaite.com/politics/ronna-mcdaniel-says-possible-u-s-default-bodes-very-well-for-the-republican-field-in-2024/
"Trump has the personality of a mortician, and the energy that makes Jeb Bush look an Olympian." — Donald Trump Jr. goes on a rant that is supposed to be about Desantis, but he misreads his script.
https://twitter.com/RonFilipkowski/status/1661883521546481666
"We don't negotiate with terrorists globally. Why are we gonna negotiate with the economic terrorists here that are the Republican Party?" — Rep. Jamaal Bowman (D-NY).
https://thehill.com/homenews/house/4022097-bowman-on-debt-ceiling-talks-with-gop-why-are-we-gonna-negotiate-with-the-economic-terrorists/
"He did great for three years, but when he turned the country over to Fauci in March of 2020, that destroyed millions of people's lives." — Gov. Ron DeSantis hits Donald Trump over his handling of the pandemic.
https://www.semafor.com/article/05/26/2023/desantis-day-one-trump-turned-the-country-over-to-fauci
"I was expecting maybe 25 or 30 were white guys. Five of the 97 judges were white guys. Of those, two were gay. So, almost impossible for a white guy who's not gay, apparently, to get appointed here." — Rep. Glenn Grothman (R-WI) complaining that President Biden isn't appointing enough straight "white guys" to be judges.
https://twitter.com/atrupar/status/1661805398452568074
"They were anticipating a lot of people, but there were more people that tried to sign up than even what Twitter had anticipated. I was just in a room in Florida, so I didn't really know necessarily what was going on." — Gov. Ron DeSantis telling Newsmax that he's "not a big social media guy" following his disastrous presidential campaign launch on Twitter this week.
https://www.mediaite.com/tv/not-a-big-social-media-guy-desantis-tells-newsmax-hed-rather-watch-cable-news-than-be-on-some-app-after-disastrous-twitter-launch/
"I will wear the arrest warrant issued by Putin's corrupt and immoral government as a Badge of Honor." And says he's making this offer to Russia: "I will submit to jurisdiction of the International Criminal Court if you do. … See you in The Hague!" — Lindsey Graham responding to Russia's Interior Ministry issuing a warrant for his arrest.
https://twitter.com/mkraju/status/1663174672408510464
"After the 2020 election, and the attack of January 6, my fellow Republicans wanted me to lie. They wanted me to say that the 2020 election was stolen, that the attack of January 6 wasn't a big deal, and that Donald Trump wasn't dangerous. I had to choose between lying and losing my position in House leadership." — Former Rep. Liz Cheney (R-WY).
https://apnews.com/article/liz-cheney-commencement-colorado-trump-524dd575a29b18f8a028a533ab33a126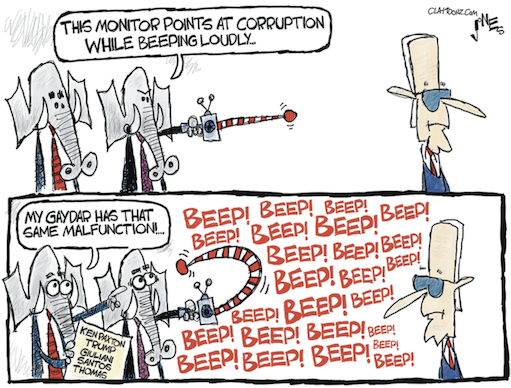 "It's very simple. You have to join the union between Belarus and Russia, and that's it: There will be nuclear weapons for everyone. I think it's possible. We need to strategically understand that we have a unique chance to unite." — Belarusian President Alexander Lukashenko, a close ally of President Vladimir Putin, promising nuclear weapons to any nation that joins Russia and Belarus.
https://www.nbcnews.com/news/world/nuclear-weapons-ukraine-belarus-lukashenko-russia-putin-rcna86640
"Happy Memorial Day... to those who are stopping the threats of the terrorists, misfits and lunatic thugs who are working feverishly from within to overturn and destroy our once great country, which has never been in greater peril than it is right now," urging his supporters to help him "stop the communists, Marxists and fascist 'pigs' at every turn and make American great again!" — Donald Trump.
https://truthsocial.com/@realDonaldTrump/posts/110451791681065864
View from the right on McCarthy's debt ceiling deal:
"Ronald Reagan said: "If you got seventy-five or eighty percent of what you were asking for, I say, you take it and fight for the rest later."
Speaker McCarthy's version: "If you can get five or six percent of what you were asking for, you take the deal and claim victory." — Rep. Ken Buck (R-CO). https://twitter.com/RepKenBuck/status/1662681344839913472

"This 'deal' is insanity. A $4T debt ceiling increase with virtually no cuts is not what we agreed to. Not gonna vote to bankrupt our country. The American people deserve better." — Rep. Ralph Norman (R-SC). https://twitter.com/repralphnorman/status/1662667729021595648

"Heard the call. RINOs congratulating McCarthy for getting almost zippo in exchange for $4T debt ceiling hike was enough to make you vomit." -- Rep. Dan Bishop (R-NC), tweeted a vomiting emoji to express his thoughts on the proposed deal. https://twitter.com/RepDanBishop/status/1662650241110224897

"We are careening toward bankruptcy." — Gov. Ron DeSantis. https://www.foxnews.com/video/6328427590112

I am hearing the "deal" is for a $4 trillion increase in the debt limit. IF that is true, I don't need to hear anything else. No one claiming to be a conservative could justify a YES vote. — Rep. Bob Good (R-VA). https://twitter.com/repbobgood/status/1662633402866999297

"Our base didn't volunteer, door knock and fight so hard to get us the majority for this kind of compromise deal with Joe Biden. Our voters deserve better than this. We work for them. You can count me as a NO on this deal. We can do better." — Rep. Lauren Boebert (R-CO). https://twitter.com/laurenboebert/status/1662651545316388871

"Fake conservatives agree to fake spending cuts. Deal will increase mandatory spending ~5%, increase military spending ~3%, and maintain current non-military discretionary spending at post-COVID levels. No real cuts to see here. Conservatives have been sold out once again!" — Senator Rand Paul (R-KY). https://twitter.com/RandPaul/status/1662837549990068225

Washington is broken.
After reading the bill, twice, I'm voting NO on the debt ceiling debacle because playing the DC game isn't worth selling out our kids and grandkids.
Republicans got outsmarted by a President who can't find his pants. — Rep. Nancy Mace (R-SC). https://twitter.com/NancyMace/status/1663512937967898626

"The concessions made by the Speaker in his negotiations with President Biden fall far short of my expectations and the expectations of my friends and neighbors in Congressional District 38….I will be voting NO on the Biden-McCarthy proposal to raise our nation's Debt Ceiling.  I urge my Republican colleagues to do the same." — Wesley Hunt (R-TX). https://www.nytimes.com/2023/05/30/us/debt-limit-bill-house-rules-committee.html

DEBT CEILING DEAL: "Washington is doing it again. While you were celebrating Memorial Day, [The Swamp] was cutting another crap deal, more debt with no real changes whatsoever."— Rep. Byron Donalds (R-FL). https://twitter.com/FreedomWorks/status/1663608145799704577
VIDEOS ...
Mark Fiore: Negotiating with the Reborglicans: 
https://markfiore.substack.com/p/negotiating-with-the-reborglicans
"On day one I will sign an Executive Order denying US citizenship to children born in the US if their parents are migrant asylum seekers." -- Donald Trump, apparently forgetting about Melania and their son, Barron.
https://twitter.com/RonFilipkowski/status/1663571683175809027
---
IN THIS ISSUE
IN THE NEWS
OPINION
Andy Borowitz: Twitter Investigation Reveals Keyboard Was Clogged with Chocolate Pudding
The attempt to live-stream Ron DeSantis's announcement of his White House bid on Twitter encountered difficulties because a computer keyboard involved in the transmission became clogged with chocolate pudding, a preliminary company investigation has determined.

Tracy Klugian, who heads up the digital-forensics team for the social-media platform, said that the broadcast had been glitchy not because of excessive traffic, as originally claimed, but because of "technical problems that appear to be chocolate-pudding related."

"We're not sure how, but chocolate pudding seems to have seeped into one of the keyboards," he said. "It's really gross."

Klugian said that, even though the company has got to the bottom of the technical problem, the manner in which chocolate pudding came into contact with the keyboard remains a mystery.

"It's almost as if someone ate chocolate pudding with his or her fingers," he continued. "Who does that?" https://www.newyorker.com/humor/borowitz-report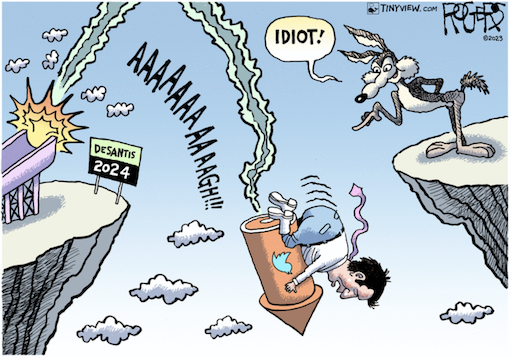 Far-right members, unhappy with debt deal, float threatening McCarthy's speakership
On a House Freedom Caucus call Monday night, Rep. Ken Buck, R-Colo., floated using the motion to vacate, a rule that would allow any member of Congress to force a vote to remove the speaker, two sources familiar with the call told NBC News.

After House Freedom Caucus Chairman Scott Perry (R-PA) suggested it might be too early for such a drastic threat, Rep. Paul Gosar (R-AZ) proposed using the threat to force McCarthy to allow members to amend the bill on the House floor, under an 'open rule' that could stall the bill's passage.

Nearly a dozen House Freedom Caucus members slammed the debt ceiling bill in a press conference Tuesday and vowed to vote no, but when asked how many of their members would support a motion to vacate, only Rep. Dan Bishop, R-N.C., raised his hand. https://www.nbcnews.com/politics/congress/far-right-members-unhappy-debt-deal-float-threatening-mccarthys-speake-rcna86797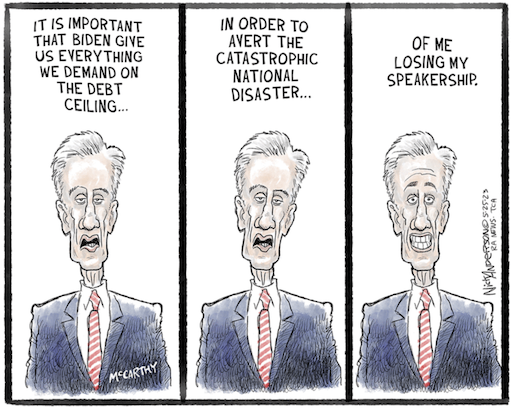 GOP Polling Memo Finds Big Swing to Democrats
A Republican polling memo obtained by Roll Call finds "the generic ballot has shifted toward Democrats, with Republicans losing ground among independents on the abortion issue."
The memo found "a 6 point swing in the last year on the Generic Senate ballot from R+3 to D+3" led overwhelmingly "by independent and new voters that identify abortion as one of their top issues."
The poll had similar findings on the House side with "a 10 point swing in the last year on the Generic House Ballot from R+6 to D+4."
https://rollcall.com/2023/05/24/left-behind-polling-memo-shows-abortion-hurting-outlook-for-gop/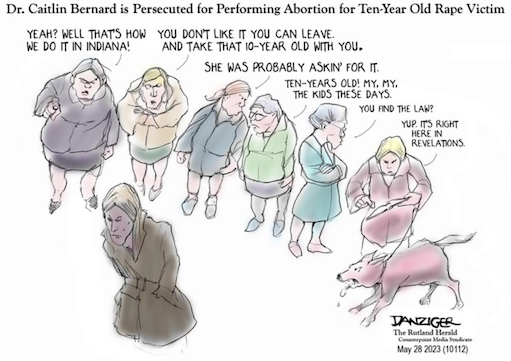 Ron DeSantis Signs Bill Shielding Elon Musk's SpaceX From Lawsuits
Twenty-four hours after appearing with Elon Musk to announce his campaign for president, Florida Gov. Ron DeSantis just signed a bill into law that will shield Musk's SpaceX and other private space companies from negligence lawsuits after an explosion or a crash.
https://twitter.com/Jason_Garcia/status/1661882018269937668
Denouncing 'Elites' in Kickoff Speech, DeSantis Vows to 'Impose Our Will'
Gov. Ron DeSantis of Florida kicked off his presidential campaign in Iowa on Tuesday with a sweeping denunciation of the "elites" that he said dominated American institutions, pitching himself as an unrepentant fighter who could reverse a tide of progressivism in boardrooms, the government and the military.
"We must choose a path that will lead to a revival of American greatness," Mr. DeSantis told supporters at an evangelical church in the suburbs of Des Moines.
In a strident speech, he painted a dark picture of America, saying he would be a salve to a "malignant ideology" that was taking hold across the nation. He described children facing "indoctrination." He mocked transgender athletes, denounced the "woke Olympics" of diversity programs and reveled in his battle with Disney.
"It is time we impose our will on Washington, D.C.," Mr. DeSantis said. "And you can't do any of this if you don't win."
https://www.nytimes.com/2023/05/30/us/politics/desantis-iowa.html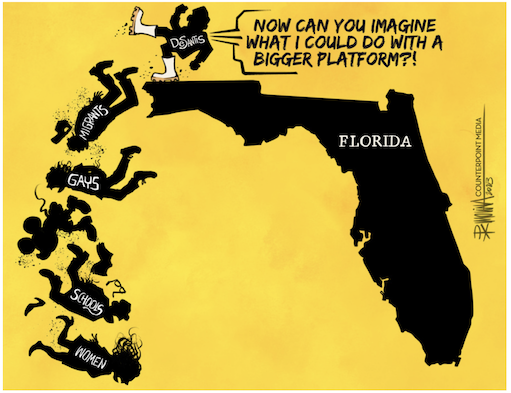 Florida elections officials quietly made it easier for Ron DeSantis to fund his 2024 bid
Gov. Ron DeSantis' administration has quietly changed state guidelines, essentially giving its blessing for a state-level political committee he previously ran to move millions of dollars to a super PAC helping his presidential campaign.
For years, elections officials said such a transfer to federal super PACs would not be allowed. But in March — just months before DeSantis formally launched his bid for president — officials at the Florida State Department, the DeSantis administration entity that regulates state elections, changed its handbook to assert that such moves are allowed.
The timing is notable because a state-level political committee DeSantis led for the past five years, known as Friends of Ron DeSantis, is widely expected to transfer $80 million to a federal super PAC called Never Back Down that is supporting his just-launched bid for president.
https://www.nbcnews.com/politics/2024-election/florida-made-easier-ron-desantis-fund-2024-bid-rcna86899
GOP Oversight chair to launch contempt proceedings against FBI director
House Oversight and Accountability Chairman James Comer (R-Ky.) said Tuesday he plans to bring contempt of Congress proceedings against FBI Director Christopher Wray after the FBI refused to comply with a subpoena from the committee.
Comer issued a subpoena earlier this month compelling Wray to produce any FD-1023 forms — records of interactions with confidential sources — from June 2020 that contain the word "Biden."
https://thehill.com/homenews/house/4026864-gop-oversight-chair-to-launch-contempt-proceedings-against-fbi-director/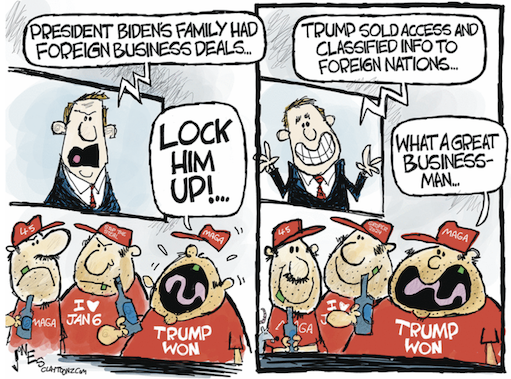 Biden Accuser Moves to Russia
Tara Reade, the woman who accused President Joe Biden of sexual assault, has moved to Russia, she announced Tuesday in a Twitter live stream.
Reade leveled the accusations against Biden in March 2020, saying the now-president assaulted her in 1993 in a Capitol Hill office when she was a staff assistant. Biden denied the allegation.
Reade made the announcement about her move from Russia, joined by Maria Butina, a Russian-born woman who pleaded guilty in the U.S. in December 2018 of spying for the Kremlin. In the Tuesday press conference, Reade thanked Russian President Vladimir Putin for giving her citizenship.
https://themessenger.com/news/tara-reade-who-accused-biden-of-sexual-assault-moves-to-russia
Ex-Trump White House official Peter Navarro to go on trial in September in Jan. 6 contempt case
Former Trump White House official Peter Navarro will stand trial in September on contempt of Congress charges filed after he refused to cooperate with a congressional investigation into the Jan. 6 attack on the U.S. Capitol.
U.S. District Judge Amit Mehta set a Sept. 5 trial date during a court appearance on Tuesday in Washington.
https://apnews.com/article/navarro-trump-white-house-contempt-jan-6-c0217332f2ed3282b0a15b94a63648d2
'Trump Bucks' promise wealth for MAGA loyalty. Some lose thousands.
In the recesses of the internet where some of Donald Trump's most fervent supporters stoke conspiracies and plot his return to the White House, suspected con artists have been mining their disappointment over the last presidential election for gold.
They've been peddling "Trump Bucks," which are emblazoned with photos of the former president, and advertising them online as a kind of golden ticket that will help propel Trump's 2024 bid and make the "real patriots" who support him rich when cashed in.
https://www.nbcnews.com/news/us-news/trump-bucks-promise-wealth-maga-loyalty-lose-thousands-rcna84965
How Republicans turned on the FBI
Former President Donald Trump wants to "defund" the FBI and Department of Justice.
Republicans, alleging the FBI and DOJ have been weaponized against them, have held hearings featuring disgruntled former agents and are also gaming out ways to restrict funding for the federal law enforcement agency.
Now Ron DeSantis, the Florida governor who is running for president, has pledged to fire the FBI director on his first day in office.
Forget for a moment that FBI Director Christopher Wray, along with most confirmed directors since J. Edgar Hoover, is a Republican.
https://www.cnn.com/2023/05/25/politics/republicans-fbi-what-matters/index.html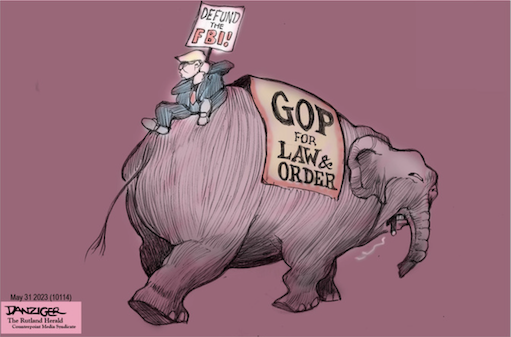 Biden circle seeks to boost Harris ahead of 2024
Anita Dunn, one of Biden's closest key political strategists, has recently focused more on Harris' schedule and public events… Dunn recently directed the White House public engagement and political teams to help schedule events with Harris, having her promote popular causes like abortion rights and infrastructure spending."
In the three-minute video announcing Biden's reelection, Harris is featured more than a dozen times, depicted as an engaged leader and Biden's indispensable partner. On Saturday, she became the first woman to serve as commencement speaker in the 221-year history of the U.S. Military Academy, putting her in a politically resonant setting.
The moves reflect the fact that Biden's fate is entwined with Harris's in a newly direct way, since his reelection may depend on persuading Americans that she is qualified to step in. Biden would be 86 at the end of a second term, a fact that has not gone unnoticed by voters, let alone Republican adversaries. Meanwhile, Harris's approval ratings have hovered below 50 percent, and consistently below Biden's, her entire tenure.
https://www.washingtonpost.com/politics/2023/05/28/biden-team-seeks-to-boost-kamala-harris-image-ahead-of-reelection-battle/
Ron DeSantis administration officials solicit campaign cash from lobbyists
Officials who work for Gov. Ron DeSantis' administration — not his campaign — have been sending text messages to Florida lobbyists soliciting political contributions for DeSantis' presidential bid, a breach of traditional norms that has raised ethical and legal questions and left many here in the state capital shocked.
NBC News reviewed text messages from four DeSantis administration officials, including those directly in the governor's office and with leadership positions in state agencies. They requested the recipient of the message contribute to the governor's campaign through a specific link that appeared to track who is giving as part of a "bundle" program.
"The bottom line is that the administration appears to be keeping tabs on who is giving, and are doing it using state staff," a longtime Florida lobbyist said. "You are in a prisoner's dilemma. They are going to remain in power. We all understand that."
https://www.nbcnews.com/politics/2024-election/ron-desantis-administration-officials-solicit-campaign-cash-lobbyists-rcna86357
Chris Christie Expected to Launch Campaign Soon
Christie is expected to announce a campaign as soon as the coming days after concluding that none of the other Republicans in the race are willing to take on Trump forcefully… He and his allies have concluded that there are no 'lanes' in the Republican primary, and that the only way to win is 'through Trump,' not around him.
https://www.washingtonpost.com/politics/2023/05/26/our-guide-nascent-republican-presidential-primary/
Twitter Staff Cuts Marred DeSantis Launch
Perhaps the most important thing to know about Spaces' technical problems: over the past several months Musk cut the Spaces team, which once numbered as many as 100 employees, down to roughly three people.
For months now, the Spaces team has been operating without most of the institutional knowledge it accumulated since Twitter added live audio conversations in 2021 to compete with then-hot Clubhouse.
https://www.platformer.news/p/inside-twitters-failed-space-launch
DeSantis Would Consider Pardoning Capitol Rioters
Gov. Ron DeSantis said Thursday that, if elected president, he would consider pardoning some of those convicted on charges related to the deadly Jan. 6, 2021, insurrection at the U.S. Capitol.
https://www.washingtonpost.com/politics/2023/05/25/desantis-jan-6-attack-trump/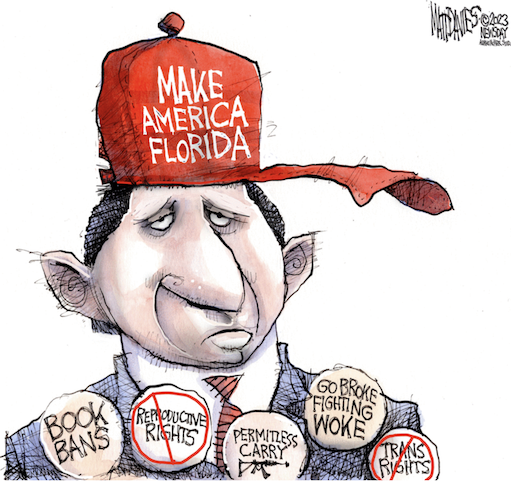 Six in 10 Republicans still think 2020 was illegitimate
In CNN's newest poll, released on Wednesday, the percentage of Republicans saying the election was illegitimate fell from 71 percent in January 2021 to … 63 percent. The percentage saying that Biden won fairly rose from 22 percent to 36 percent.
An equivalent 36 percent still thinks there's solid evidence the election wasn't legitimate.
https://www.washingtonpost.com/politics/2023/05/24/6-10-republicans-still-think-2020-was-illegitimate/
7 in 10 independents concerned about Biden's mental fitness
A new NPR/PBS News Hour/Marist poll found that 69% of registered independent voters said President Biden's mental fitness is a real concern about his ability to be president, while 27% believe questioning Biden's mental fitness is just a campaign strategy used by his opponents. 
https://thehill.com/homenews/campaign/4018939-7-in-10-independents-concerned-about-bidens-mental-fitness-survey/
Georgia GOP Chair Says the Earth Is Flat
Kandiss Taylor, a recently elected Republican district chair in Georgia, told the Jesus, Guns, and Babies podcast that Earth is flat.
Said Taylor: "All the globes, everywhere. I turn on the TV, there's globes in the background… Everywhere there's globes. You see them all the time, it's constant. My children will be like 'Mama, globe, globe, globe, globe' — they're everywhere."
She added: "That's what they do, to brainwash. For me if it's not a conspiracy. If it is real, why are you pushing so hard everywhere I go? Every store, you buy a globe, there's globes everywhere. Every movie, every TV show, news media — why? More and more I'm like, it doesn't make sense."
https://twitter.com/RightWingWatch/status/1660677910959730688
Supreme Court Limits E.P.A.'s Power to Address Water Pollution
  The Supreme Court on Thursday curtailed the Environmental Protection Agency's authority to police water pollution, ruling that the Clean Water Act does not allow the agency to regulate discharges into some wetlands near bodies of water. https://www.nytimes.com/2023/05/25/us/supreme-court-epa-water-pollution.html
The legislative text for a bill to raise the country's debt ceiling to avoid a default by early June.
https://thehill.com/wp-content/uploads/sites/2/2023/05/BILLS-118hrPIH-fiscalresponsibility.pd
THE DAILY GRILL
"One thing Hakeem told me: there's nothing in the bill for them. There's not one thing in the bill for Democrats." — Speaker Kevin McCarthy (R-CA). https://twitter.com/atrupar/status/1662833329102569474

VERSUS

"I have no idea what he's talking about, particularly because I have not been able to review the actual legislative text. … I talked to him yesterday afternoon … I haven't spoken to him since that point and time." — House Minority Leader Hakeem Jeffries (D-NY). https://twitter.com/atrupar/status/1662833329102569474



Elmer Stewart Rhodes III,  leader of the Oath Keepers told the court that his only crime was standing against those who are "destroying our country." He says he believes he is a "political prisoner" and that he hopes Trump will win the presidency in 2024. https://heathercoxrichardson.substack.com/p/may-25-2023

VERSUS

"You are not a political prisoner, Mr. Rhodes. You, sir, present an ongoing threat and a peril to this country and to the republic and to the very fabric of this democracy." — U.S. District Judge Amit Mehta today sentenced Rhodes to 18 years in prison. https://heathercoxrichardson.substack.com/p/may-25-2023 
Dan Pfeiffer: Debt Limit Update: Biden Outplays GOP on Final Deal
Well, it appears we may not default (fingers crossed, wood knocked, etc). President Biden and Speaker McCarthy struck a larger budget deal that includes a two-year extension of the debt limit. People on the Left and the Right are unhappy, but that is to be expected. No deal gets the agreement of the Democratic president and the Republican Speaker and is universally praised.

The details are still coming out, but according to Jeff Stein of the Washington Post, the deal includes:
Debt ceiling raised 2 years
Domestic programs frozen next year, up 1% '25. Inflation-adjusted cut
Boosts defense, VA $
Some tightening of work requirements on TANF, SNAP
Energy permitting (details tbd)
Claw back some new IRS $
Let's be clear, this is shitty public policy foisted on the nation by a radical Republican House willing to blow up the economy and cause millions of jobs to vanish. Efforts to deal with deficits that do not include asking the wealthy and corporations to pay what they owe are cruel and wholly unserious. The tightening of access to aid for the most vulnerable Americans serves no purpose other than performative cruelty to appease the MAGA base.
But this could have been way worse in so many ways. The devil is very much in the details, but it seems like President Biden and his team outplayed McCarthy.
https://www.messageboxnews.com/p/debt-limit-update-biden-outplays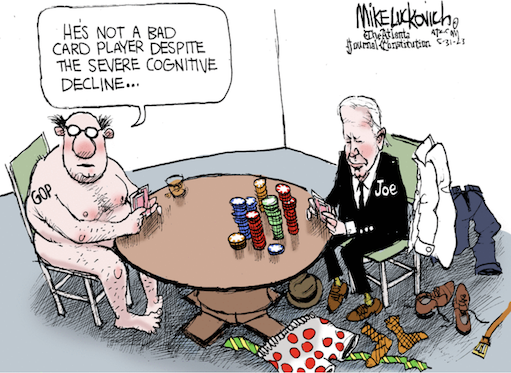 Michael Hiltzik: With debt ceiling deal, GOP reveals its only real goal was cruelty to the poor
No one should be surprised that the resolution of our most moronic fiscal policy, the federal debt ceiling, involved our stupidest social policy, work requirements for assistance programs.
But that appears to be the case. In negotiations between the Biden White House and House Speaker Kevin McCarthy's Republican caucus, one of the last sticking points was whether, and by how much, to tighten work requirements for food stamps and welfare.
In coming days, as Congress moves toward votes on the deal, political commentators will thoroughly masticate the question of whether President Biden or McCarthy (R-Bakersfield) prevailed in this deal-making and which of them will be hurt or harmed politically by the outcome.
That's not a very interesting parlor game. (Personally, I'd go with the judgment of Timothy Noah of the New Republic, who thinks Biden emerges as the political victor and McCarthy's days as speaker are numbered, thanks to the choler of his far-right wing.)
But there's really only one way to think about the exercise we've just gone through. It was a supreme waste of time.
Republicans showed they were willing to crash the U.S. economy to make some bog-standard complaints about the federal deficit, most of which they created themselves through the 2017 tax cuts they enacted for the wealthy. Their initial negotiating stance was so extreme that they must have known it could never gain Democratic votes in the House or pass the Democratic Senate.
As I've written before, if Republicans were really serious about restraining federal spending, they wouldn't have voted for the tax cuts and budget increases that contribute to the deficit.
Instead, they said the only way to control spending is to refuse to pay the bills they ran up, by refusing to increase the debt ceiling. They lied, and every thinking American knows they lied. So tell me, why did we go through this again?
https://www.latimes.com/business/story/2023-05-28/with-debt-ceiling-deal-gop-reveals-its-goal-was-to-show-cruelty-to-the-poor?consumer=googlenews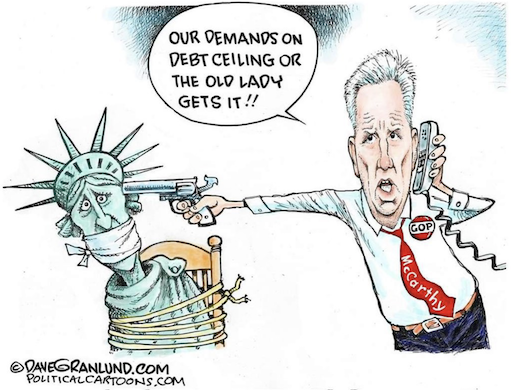 Susan Glasser: It Was More Than a #DeSaster
I've long been of the view that Donald Trump is something akin to a horror-movie monster—a Godzilla or a T. Rex, say—for the American political system. In such movies, it's often not the puny humans who take out the monster; it's another monster. And in such a scenario it would seem to make perfect sense that only a Republican specifically engineered and optimized for the bizarre cult of G.O.P. politics in 2024 would be the right candidate to do the job on Trump. But if that's the theory of the case for Ron DeSantis, the forty-four-year-old governor of Florida, the events of Wednesday evening showed it's still very much an unproven theory.
Was DeSantis's Presidential-campaign launch best described as a debacle? A farce? A nightmare? The Times called it a meltdown. Politico went with horrendous. Perhaps the best summation of Wednesday's epic fail was #DeSaster, an actual trending hashtag on Twitter. Whatever one chose to call it, it's a pretty bad sign for a campaign when the biggest controversy inspired by its début is what synonym for terrible to give it. And the problem wasn't just the technical glitches. The start of the Twitter Spaces event featuring DeSantis and Twitter's billionaire owner, Elon Musk, was delayed by more than twenty-five minutes while Musk audibly struggled to get his new platform to work. But just as wretched was what DeSantis had to say once he started talking, both on Twitter and in a subsequent interview on Fox News, which boiled down to a lot of complaints about the legacy media and little rationale for his candidacy.
After listening to it all, I could not tell you why Ron DeSantis is running for President, except maybe because it would piss off the good folks at The Atlantic and Vanity Fair. If he was imitating Trump, it was a poor imitation indeed. DeSantis did not seem like a Godzilla or a T. Rex. He seemed like an out-of-his-depth forty-four-year-old who was going to get eaten alive. He may have many millions of dollars to spend, but the takeaway from his campaign launch was that he does not yet seem to have what it takes. Time may prove me wrong, but I suspect we already know how this movie ends.  https://www.newyorker.com/news/letter-from-bidens-washington/it-was-more-than-a-desaster\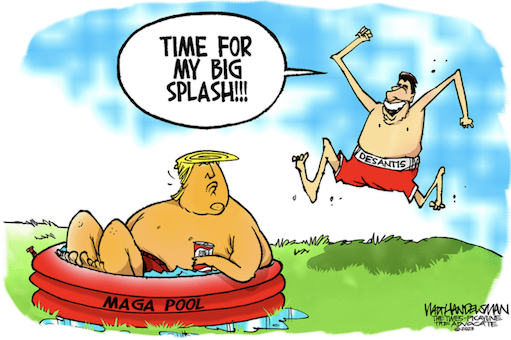 Benjamin Wallace-Wells: What Can Ron DeSantis Do Now?
As a challenger, DeSantis has some impressive attributes, most tangibly an outside spending group with a two-hundred-million-dollar budget, run by the conservative super-strategist Jeff Roe, which plans to hire enough people to knock on every Iowa voter's door five times. One way to view the G.O.P. primary contest is as a man—Trump—versus DeSantis's machine. And, crucially, DeSantis's project has been popular: he has attained hero status on Fox News and, not coincidentally, he raised record-breaking sums for his reëlection bid last fall, which he won by almost twenty points. Florida is also undergoing a population-driven economic boom, gaining about a thousand new residents each day, who typically move there for the weather and the low taxes, and apparently feel that living in DeSantis's anti-woke citadel is worth the occasional python in the swimming pool.
For several years, conservative operatives and donors who had grown sick of Trump studied the political situation relentlessly, scrutinizing poll cross tabs and focus-group transcripts, quizzing younger friends and acquaintances, searching their own souls. Some may have had second thoughts when Tim Scott, the Black Republican senator from South Carolina—a sincere conservative without the authoritarian baggage—launched his campaign with a happier, if hokier, message. (If Scott's Presidential bid doesn't pan out, he might be a formidable V.P. pick.) But for most of the conservative élites lining up against Trump the consulting contracts have already been drawn up. DeSantis is their man. https://www.newyorker.com/magazine/2023/06/05/what-can-ron-desantis-do-now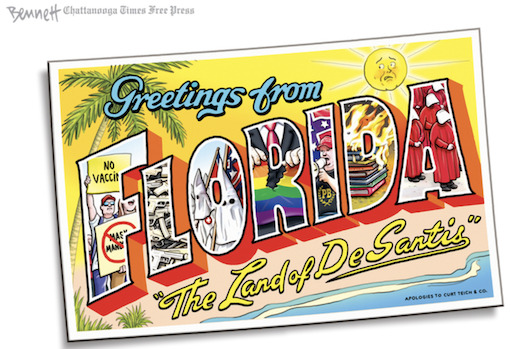 Erika D. Smith: DeSantis is waging a 'battle for reality' with his anti-trans, anti-Black book bans
Amanda Gorman's book, "The Hill We Climb," which essentially is the poem she read to an audience of millions at President Biden's inauguration, was taken away from elementary students in Miami-Dade County after a single parent complained that it was written to "cause confusion and indoctrinate students" and contained "indirect hate messages."
Brace yourself for "hate" and "indoctrination." This is what Gorman wrote:
We've braved the belly of the
beast
We've learned that quiet
isn't always peace.
And the norms and notions
of what just is
Isn't always justice.
And yet the dawn is ours
before we knew it.
Somehow, we do it.
Somehow, we've weathered
and witnessed
A nation that isn't broken,
but simply unfinished.
Unsurprisingly, the parent who complained about "The Hill We Climb," Daily Salinas of Miami Lakes, has a history of social media posts that praise white supremacists and antisemitism. She also listed Oprah Winfrey as the author instead of Gorman.

I mean, all Black women look alike, right?

"I don't believe the woman read the book she was able to get banned," Burton quipped.

DeSantis, meanwhile, has repeatedly dismissed the controversy over "The Hill We Climb" as a "hoax."

"There's not been a single book banned in the state of Florida; you can go buy or use whatever book you want," he insisted on Twitter Spaces, garnering murmurs of agreement from Elon Musk and a cadre of other right-wing tech bros.

"What we have done is empowered parents with the ability to review the curriculum to know what books are being used in school, and then to ensure that those books match state standards and are age and developmentally appropriate."

But this very political targeting of books in schools is about much more than that. It's about making sure another generation subscribes to a white supremacist worldview by perpetuating ignorance about the lives and experiences of people from long-marginalized communities. https://www.latimes.com/california/story/2023-05-28/ron-desantis-cost-anti-transgender-black-banned-books-levar-burton-amanda-gorman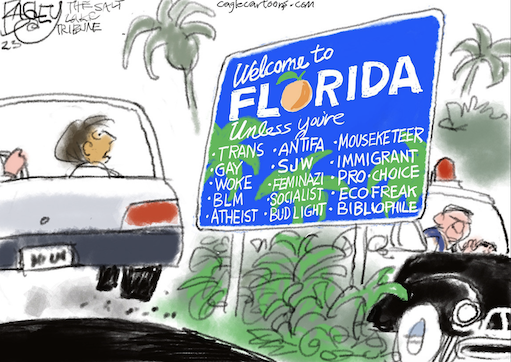 Jonathan Chait: What happens the next time Republicans take a hostage?
The simplest way to understand the debt-ceiling agreement is that the two parties were focused on different, orthogonal objectives. Democrats wished to minimize the direct harm of the terms of the deal itself to vital government programs, and especially assistance for the poor. Republicans wanted to establish the principle that holding the debt ceiling hostage is a normal, accepted way to govern.
Both parties got what they wanted. President Biden negotiated the ransom for freeing the debt ceiling down to about the lowest possible level he could have. (As a side benefit, Biden refuted doubts about his capacity, leaving his opponents fuming that they had somehow been "outsmarted by a president who can't find his pants," as Representative Nancy Mace paradoxically complained.)
Republicans obtained spending cuts only slightly deeper than what they likely would have won in a normal budget process absent the threat of default, but were able to avoid giving even a token offer to Democrats, preserving their core objective of demonstrating that the only thing Democrats would "win" was freeing the hostage.

In the short run, Democrats have won Biden and the economy a stay of execution. Only in retrospect will we know how dear the long-term cost of the reprieve will be. https://nymag.com/intelligencer/2023/05/debt-ceiling-deal-who-won-biden-mccarthy-republicans-hostage-extortion.html