October 3, 2019
ON THE RECORD. . .
"In fact, Trump has been acting like a bank robber who beat one rap because of a technicality, and so decides to rob every bank in sight." — James Risen on Trump, who barely avoided prosecution earlier this year when special counsel Robert Mueller pulled his punches and refused to indict the president for either obstruction of justice or campaign finance violations in connection with the Trump-Russia investigation.

"It is impossible that the whistle-blower is a hero and I'm not. And I will be the hero! These morons—when this is over, I will be the hero. I'm not acting as a lawyer. I'm acting as someone who has devoted most of his life to straightening out government. Anything I did should be praised." — Rudy Giuliani

"Democrats on this very committee colluded to get what they thought was nude pictures of Trump." — Rep. Devin Nunes (D-CA) at the House Intelligence Committee hearing with the acting DNI.

The transcript of Trump's Ukraine call reads like a classic mob shakedown:

– We do a lot for Ukraine
– There's not much reciprocity
– I have a favor to ask
– Investigate my opponent
– My people will be in touch

Nice country you got there.
It would be a shame if something happened to her. — Adam Schiff @RepAdamSchiff

"'Uh, hey pal, you know, you need to like, go after the Bidens or I ain't gonna give you any money.' He'd be really, like, thuggish about it." — Sen. Lindsey Graham (R-SC) on what he thinks would be "an inappropriate quid pro quo scenario" in relation to President Trump's phone call with Ukraine's president.

I'm getting these three responses from GOP senators today:
1) 'I haven't seen the whistle-blower report so I can't comment'
2) 'I'm a potential juror if there's a Senate trial so I shouldn't comment'
3) Radio silence, pursed lips, rapid escape. -- Laura Litvan@LauraLitvan

"This is gonna be what the impeachment is all about, maybe one or two little other things fall in. So it's going to be the president of the United States in a conversation that was intercepted by a rotten snitch, I'd love to wap him, but that's another story. Imagine this poor president, his whole tenure in office has been marked by snitches, and rats, and backstabbers, and it's amazing how he functions at all." — Fox News correspondent Geraldo Rivera on Fox & Friends

"Basically, that person never saw the report, never saw the call, he never saw the call -- heard something and decided that he or she, or whoever the hell they saw — they're almost a spy. You know what we used to do in the old days when we were smart, right? The spies and treason, we used to handle it a little differently than we do now." — Trump at a private event before the staff of U.N. ambassador Kelly Craft

"We've crossed a new rubicon here with Trump, and [Republicans] know it and they are just so nervous that if they had a lump of coal between their butt cheeks a diamond would pop out." — GOP strategist Rick Wilson

 "At this point, Trump could be caught walking out of a Federal Reserve bank with two giant sacks of money in his hands and no Republican would vote to impeach him for grand larceny. Our voters want two things from their congressmen: pissing on the media and blindly defending the president. That's what being a Republican has come to." — A Senior Senate GOP aide

Trump's defenders are doing more than spinning, they're making stuff up. — Susan Glasser

This craziness of this Twitter thread alone should alarm every American. -- Preet Bharara@PreetBharara

A central challenge is that Trump and his allies in the right-wing media have proved extraordinarily skilled at distorting the narrative, casting his opponents as "crooked" and "corrupt." In this narrative, impeachment is not a measure to defend the Republic but a plot to thwart the will of the people and overthrow a democratically elected President. Trump's lies and obfuscation, coupled with the level of polarization in the country today, give him the ability to inflict long-term damage on American democracy as impeachment unfolds. -- Michael Luo

"We won the Mueller probe. We're going to win this one. Here we go! I tell you what. If Mueller was a war this is a skirmish." — Trump lawyer Jay Sekulow.

"I don't think Trump has any morals or shame. He will do anything to get re-elected before… It's just the way Trump thinks. He doesn't care. He will destroy anybody. I find him a deeply troubling character. When he first went in, I worried that his ignorance would get us in trouble. Now it's his disposition that I find most troubling of all." — Former Nixon White House counsel John Dean

"Democrats in Congress are deeply worried about President Trump using Twitter to incite violence and to direct it at specific lawmakers." — Sources close to House Intelligence Committee Chairman Adam Schiff (D-CA)

Here's Trump's trade adviser, Peter Navarro, saying on Fox Business this morning that the impeachment inquiry is an "attempted coup d'etat," comparing House Dems to Stalin's secret police, and saying House Democrats could be "more dangerous" than China, Russia, or Iran. — Aaron Rupar@atrupar

"I probably will be bringing a lot of litigation against a lot of people having to do with the corruption investigation having to do with the 2016 election." —Trump at a joint news conference with Finnish President Sauli Niinistö.

As I learn more and more each day, I am coming to the conclusion that what is taking place is not an impeachment, it is a COUP … — Trump escalating his criticism of the Democrats' impeachment inquiry

The president wants to make this all about the whistleblower, and suggests people that come forward with evidence of his wrongdoing are somehow treasonous and should be treated as traitors and spies. This is a blatant effort to intimidate a witness. It's an incitement of violence. " — House Intelligence Chairman Adam Schiff (D-CA) at a press conference with Speaker Nancy Pelosi.
---
IN THIS ISSUE
FYI
OPINION
1. Andy Borowitz: Eric Trump Accuses Don, Jr., of Being Whistle-Blower in Bid to Get Him Cut Out of Will
In what insiders are calling an audacious move to get his older brother cut out of their father's will, Eric Trump has accused Donald Trump, Jr., of being the whistle-blower.

According to White House sources, Eric marched into the Oval Office on Wednesday morning and announced to his father, "You can stop wondering who this quote-unquote whistle-blower is. It's Don."

Reportedly, no sooner had the young Trump made the startling accusation than Don, Jr., himself burst into the room, turning the tables on his sibling by claiming that Eric, and not he, was the actual whistle-blower.

Within seconds, the Trump brothers were viciously wrestling on the Oval Office carpet, while their father looked on, seemingly pleased by the spectacle.

Later in the day, the White House press secretary, Stephanie Grisham, issued a statement in the hopes of defusing this latest controversy. "A forensic analysis of the whistle-blower's complaint reveals that it was written entirely in complete sentences, thus eliminating both Trump boys as its author," she said. https://www.newyorker.com/humor/borowitz-report/mitch-mcconnell-announces-senate-will-close-until-2021-for-repainting
2. False 'Coup' Claims by Trump Echo as Unifying Theme Against Impeachment
President Trump and his supporters now have at least one unifying, if inaccurate, message against the impeachment inquiry. It is, they say, an unconstitutional coup.
Mr. Trump posted that conspiratorial message on Twitter on Tuesday night, saying, "As I learn more and more each day, I am coming to the conclusion that what is taking place is not an impeachment, it is a COUP, intended to take away the Power of the People." Early Wednesday, the president tweeted out a ready-for-TV video made by his re-election campaign, repeating the "coup" claim against a backdrop of grainy shots of House Democrats and Joseph R. Biden Jr.
His use of the phrase follows repeated assertions on conservative media, including by high-profile right-wing personalities and outlets such as Tucker Carlson, Breitbart, Rush Limbaugh and "Fox & Friends." Beginning with Sean Hannity at 9:30 p.m. on Tuesday, talk of a "coup" was discussed nearly every hour on Fox News, by hosts and surrogates. Often, the president's tweet was shown onscreen and read verbatim.
"To call an impeachment process an attempted coup is dangerous because it aligns with those who believe in 'deep state' conspiracies," said Joan Donovan, director of the Technology and Social Change Research Project at Harvard. "Across different platforms, these deep state conspiracy theories are functioning as disinformation that bring the country into further turmoil about the legitimacy of the presidency."and communities to his advantage." https://www.nytimes.com/2019/10/02/us/politics/coup-trump.html
3. Trump told Russian officials in 2017 he wasn't concerned about Moscow's interference in U.S. election
Trump told two senior Russian officials in a 2017 Oval Office meeting that he was unconcerned about Moscow's interference in the 2016 U.S. presidential election because the United States did the same in other countries, an assertion that prompted alarmed White House officials to limit access to the remarks to an unusually small number of people, according to three former officials with knowledge of the matter. https://www.washingtonpost.com/national-security/trump-told-russian-officials-in-2017-he-wasnt-concerned-about-moscows-interference-in-us-election/2019/09/27/b20a8bc8-e159-11e9-b199-f638bf2c340f_story.html
4. The Whistle-Blower Report
https://intelligence.house.gov/uploadedfiles/20190812_-_whistleblower_complaint_unclass.pdf
5. Whistleblower Says White House Took Unusual Steps to Limit Access to Ukraine Call Record
According to a person familiar with the content of the complaint who spoke to Just Security, when the call was over, senior White House officials pulled the verbatim transcript out of the system that it is traditionally stored on and moved it into a separate system reserved for extremely sensitive/highly compartmented programs.
This person said that the call between the two leaders had nothing to do with highly classified programs. But, by moving it into this separate system, the White House could control who could see the transcript: only a very small group of people. https://www.justsecurity.org/66308/whistleblower-says-white-house-took-unusual-steps-to-limit-access-to-ukraine-call-record/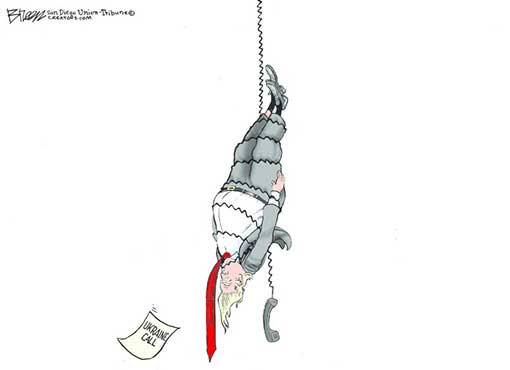 6. Trump's plan to make Biden into Clinton
President Trump is reviving his 2016 playbook, trying to sully or smear the Biden family reputation, like he did with the Clintons during his last campaign.
The big picture: When Trump was running against Hillary Clinton, he seized on her email servers and past scandals. He hammered her on the issue, and used it to define her with many voters. Clinton couldn't put it to rest early, and it dragged her down through the end.
Now, Trump wants to use questions about Hunter Biden's work in Ukraine, and any alleged involvement by his father, Joe Biden, as the 2020 sequel to the email servers. In both cases, he twists reality to make it seem like everyone's dirty.
Once again, Trump is trying to paint his opponent as shady, hoping it will be an early, definitional wound. 
Here's Trump's six-part playbook to make Ukraine 2016's sequel:
1. Argue that your opponent is guilty of something as bad or worse than the accusations against you. 

2. Create constant fog, amplified by Twitter. Allege the media is guilty, too.

3. Convince party leaders and Fox News to fall instantly in line, focused solely on your opponent's supposed transgressions.

4. Demand documents and testimony, fostering an "everyone's dirty and hiding something" atmosphere.

5. Stymie anyone on your side who's thinking of dissenting by torching them on Twitter, like he did to Sen. Mitt Romney (R-Utah).

6. Bet that your own standing, while getting no better, gets no worse.
https://www.axios.com/donald-trump-joe-biden-hillary-clinton-2020-election-d63eedce-de7d-4f15-a15c-2b9af2c57f9a.html
7. Donald Trump impeachment: President called Boris Johnson for help to discredit Mueller inquiry
President Trump personally contacted Boris Johnson to ask for help as he tried to discredit the Mueller investigation into possible connections between Russia and his 2016 election campaign, the Times of London reports.
Mr Trump also contacted the leaders of countries including Australia and Ukraine to ask them to help William Barr, his attorney-general, to gather evidence to undermine the investigation into his campaign's links to Russia.
Robert Mueller, the special counsel, refused to exonerate Mr Trump of wrongdoing when he released his findings in April, prompting the president to set up his own investigation in an effort to prove that the inquiry was politically motivated. https://www.thetimes.co.uk/article/donald-trump-impeachment-president-called-boris-johnson-for-help-to-discredit-mueller-inquiry-jlkztnfpx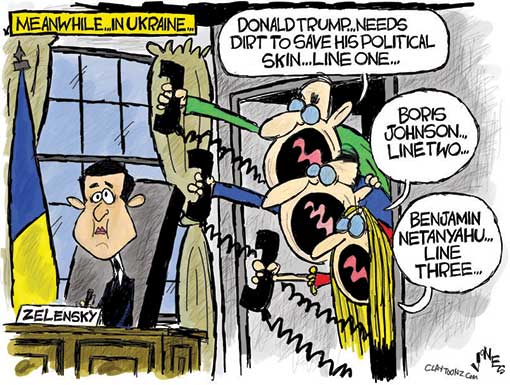 8. Shoot Them in the Legs, Trump Suggested: Inside His Border War
The Oval Office meeting this past March began, as so many had, with President Trump fuming about migrants. But this time he had a solution. As White House advisers listened astonished, he ordered them to shut down the entire 2,000-mile border with Mexico — by noon the next day.
The advisers feared the president's edict would trap American tourists in Mexico, strand children at schools on both sides of the border and create an economic meltdown in two countries. Yet they also knew how much the president's zeal to stop immigration had sent him lurching for solutions, one more extreme than the next.
Privately, the president had often talked about fortifying a border wall with a water-filled trench, stocked with snakes or alligators, prompting aides to seek a cost estimate. He wanted the wall electrified, with spikes on top that could pierce human flesh. After publicly suggesting that soldiers shoot migrants if they threw rocks, the president backed off when his staff told him that was illegal. But later in a meeting, aides recalled, he suggested that they shoot migrants in the legs to slow them down. That's not allowed either, they told him. https://www.nytimes.com/2019/10/01/us/politics/trump-border-wars.html
9. Income inequality in America is the highest it's been since census started tracking it, data shows
Income inequality in the United States has hit its highest level since the Census Bureau started tracking it more than five decades ago, according to data released Thursday, even as the nation's poverty and unemployment rates are at historic lows.
The gulf is starkest in wealthy regions along both coasts such as New York, Connecticut, California and Washington, D.C., as well as in areas with widespread poverty, such as Puerto Rico and Louisiana. Equality was highest in Utah, Alaska and Iowa.
The federal minimum wage has stood at $7.25 for more than a decade. That's one of the biggest reasons the gap between the rich and poor is widening, said Brielle Bryan, an assistant professor of sociology at Rice University.
"Inequality will go up as long as the people at the top of the tail are seeing their wealth increase," Bryan said. "A booming economy means that people who have higher income and own capital are able to see continued higher returns on that." https://www.washingtonpost.com/business/2019/09/26/income-inequality-america-highest-its-been-since-census-started-tracking-it-data-show/
10. Trump campaign doubles down on Biden-Ukraine allegations in new TV ad
Trump's reelection campaign launched an evidence free television and digital ad Friday accusing former Vice President Joe Biden of misconduct over his dealings with Ukraine. https://thehill.com/homenews/campaign/463442-trump-campaign-doubles-down-on-biden-ukraine-allegations-in-new-tv-ad
11. The DAILY GRILL
Sounding more and more like the so-called Whistleblower isn't a Whistleblower at all. In addition, all second hand information that proved to be so inaccurate that there may not have even been somebody else, a leaker or spy, feeding it to him or her? A partisan operative? — Donald J. Trump @realDonaldTrump

VERSUS

What was inaccurate in the whistle blower complaint? The only official White House statement so far called it "nothing more than a collection of third-hand accounts of events and cobbled-together press clippings—all of which shows nothing improper." — Karen Travers @karentravers

 


"We've been very good to your country. Very good. No other country has done as much as we have. But you know what, I don't see much reciprocity here. I hear what you want. I have a favor I want from you though. And I'm going to say this only seven times, so you better listen good. I want you to make up dirt on my political opponent, understand? Lots of dirt, on this and on that. I'm going to put you in touch with people, and not just any people. I'm going to put you in touch with the attorney general of the United States — my attorney general, Bill Barr — he's got the whole weight of the American law enforcement behind him. And I'm going to put you in touch with [Trump's personal lawyer, Rudy Giuliani], you're going to love him. Trust me. You know what I'm asking, so I'm only going to say this a few more times, in a few more ways. And by the way, don't call me again. I'll call you when you've done what I asked." - Rep. Adam Shiff, parodying Trump's call.

VERSUS

Rep. Adam Schiff illegally made up a FAKE & terrible statement, pretended it to be mine as the most important part of my call to the Ukrainian President, and read it aloud to Congress and the American people. It bore NO relationship to what I said on the call. Arrest for Treason? — Donald J. Trump @realDonaldTrump

 

BREAKING --> Chairman Adam Schiff just got caught orchestrating with the whistleblower before the complaint was ever filed. Democrats have rigged this process from the start. —Kevin McCarthy@GOPLeader

VERSUS

That is a lie McCarthy.

"I can unequivocally state that neither any member of the legal team nor the whistleblower has ever met or spoken with Congressman Schiff," @MarkSZaidEsq, one of the attorneys representing the whistleblower. — RiotWomenn @riotwomennn
12. From MEDIA MATTERS (They watch Fox News so you don't have to)
Fox's Geraldo Rivera suggests whistleblower complaint can be traced to "a group like Media Matters"
Rivera: "I bet it can be traced ultimately, and I'm not accusing them, but a group like Media Matters is in here, with their dirty hands" https://www.mediamatters.org/five/foxs-geraldo-rivera-suggests-whistleblower-complaint-can-be-traced-group-media-matters

Tucker Carlson attacks Fox colleague Shep Smith, says Smith's program is partisan opinion, "not news." https://www.mediamatters.org/tucker-carlson/tucker-carlson-attacks-fox-colleague-shep-smith-says-smiths-program-partisan-opinion

Fox News runs with debunked talking point about requirements for filing a whistleblower complaint. A debunked conspiracy theory surrounding the whistleblower complaint regarding Ukraine, pushed over the weekend by The Federalist and promoted by President Donald Trump, is continuing to make the rounds on Fox News. The debunked claim has been pushed on Fox News at least five times since September 27.  https://www.mediamatters.org/fox-news/fox-news-runs-debunked-talking-point-about-requirements-filing-whistleblower-complaint

"You know, if it wasn't for your show, Sean, they would destroy him absolutely. You are the difference between Donald J. Trump and Richard Nixon." — Geraldo Rivera, speaking to Sean Hannity. https://www.mediamatters.org/sean-hannity/geraldo-rivera-tells-hannity-you-are-difference-between-donald-j-trump-and-richard

Sean Hannity says Trump had "a sworn duty, a constitutional duty" to ask Ukraine for a favor. https://www.mediamatters.org/sean-hannity/sean-hannity-says-trump-had-sworn-duty-constitutional-duty-ask-ukraine-favor

Trump's false and dangerous "coup" claim comes from Fox News and conservative talk radio. NEWT GINGRICH: I think everybody who is concerned about what's going on should drop the word "impeach," or "impeachment." This is not an impeachment process. This is a coup d'etat. This is a deliberate -- this goes back to election night 2016, their first trial run was the Russian conspiracy, where it was the FBI who were breaking the law. https://www.mediamatters.org/fox-news/trumps-false-and-dangerous-coup-claim-comes-fox-news-and-conservative-talk-radio
13. Trump hotel mystery: Giant reservations followed by empty rooms
House investigators are looking into an allegation that groups — including at least one foreign government — tried to ingratiate themselves to President Donald Trump by booking rooms at his hotels but never staying in them.
It's a previously unreported part of a broad examination by the House Oversight Committee, included in Democrats' impeachment inquiry, into whether Trump broke the law by accepting money from U.S. or foreign governments at his properties.
"Now we're looking at near raw bribery," said Rep. Gerry Connolly (D-Va.), a House Oversight Committee member who chairs the subcommittee with jurisdiction over Trump's hotel in Washington. "That was the risk from Day One: foreign governments and others trying to seek favor because we know Trump pays attention to this. ... It's an obvious attempt to curry favor with him." https://www.politico.com/news/2019/10/02/trump-hotel-empty-rooms-016763
14. Trump Meets With LaPierre to Discuss How N.R.A. Could Support Political Defense
President Trump met on Friday with Wayne LaPierre, the chief executive of the National Rifle Association, to discuss how the N.R.A. could provide financial support for the president's defense as he faces political headwinds, including impeachment, according to two people familiar with the meeting.
In return for the support, Mr. LaPierre asked that the White House "stop the games" over gun control legislation, people familiar with the meeting said. https://www.nytimes.com/2019/09/27/us/politics/trump-apierre-nra-impeachment.html
15. From the Late Shows
Impeachment Cold Open - SNL: https://youtu.be/xR25izGfrmQ

DNC Town Hall - SNL: https://youtu.be/lgA0fjztqaQ

The Late Show with Stephen Colbert: Rudy Giuliani Is At The Center Of Trump's Whirling Corrupt-Nado: https://youtu.be/OEsfbBHdqAc

The Late Show with Stephen Colbert: Trump's Political Allies Shamble To His Defense After Whistleblower Report: https://youtu.be/nHQ6LurUlp8

The Late Show with Stephen Colbert: Innocent People Don't Do Things Like This: Trump's Ukraine Cover-Up Spills Into View: https://youtu.be/Plbllx8aD8A

The Late Late Show with James Corden: This Whistleblower Complaint Is Becoming Deafening: https://youtu.be/iH2-67XykJk

Jimmy Kimmel Live: When It Ukraines It Pours: https://youtu.be/P8axlqSOCGY
16. White House admits lawyers hid transcript of damning Trump call in top-secret server
The White House admitted Friday that lawyers ordered the transcript of a damning call between President Trump and Ukraine President Volodymyr Zelensky moved to a top-secret server — but didn't explain why.
Confirming another key revelation of a blockbuster whistleblower complaint, a senior administration official said the rough transcript of the now infamous July 25 phone conversation was moved to a highly classified system maintained by the National Security Council.
The official, who was not identified, would not explain when the transcript was moved and did not offer any explanation for the action, which critics say proves that the White House was seeking to cover up evidence of Trump's abuse of power. https://www.nydailynews.com/news/politics/ny-trump-transcript-server-white-house-20190927-ngc5j2khcvf75m73k4kcaha534-story.html
17. Judge Blocks Trump Administration Plan to Detain Migrant Children
A federal judge on Friday rejected new regulations that would allow the government to hold children and their parents in detention for indefinite periods, one of the Trump administration's signature efforts to curtail the large number of families arriving from Central America.
Describing the government's defense of its proposed new policy as "Kafkaesque" in some of its reasoning, Judge Dolly Gee of Federal District Court for the Central District of California said it was up to Congress, not the administration, to supplant a 20-year-old consent decree that requires children to be held in state-licensed facilities and released in most cases within 20 days. https://www.nytimes.com/2019/09/27/us/migrant-children-flores-court.html
18. The Cybersecurity 202: Trump's CrowdStrike conspiracy theory shows he still doubts Russian election interference
President Trump's apparent embrace of bizarre conspiracy theories involving the cybersecurity company CrowdStrike in his phone call with Ukraine's president is a striking illustration of his doubts about the U.S. intelligence agencies' unanimous conclusion that Russia hacked Democratic servers in the 2016 presidential election.
While it is Trump's efforts on that call to enlist a foreign government to dig up dirt on his political rival Joe Biden that have Democratic lawmakers launching impeachment proceedings, the fact that Trump is still suggesting there's some sort of frame job in election interference has officials and cybersecurity experts just as irate. https://www.washingtonpost.com/news/powerpost/paloma/the-cybersecurity-202/2019/09/26/the-cybersecurity-202-trump-s-crowdstrike-conspiracy-theory-shows-he-still-doubts-russian-election-interference/5d8ba0d088e0fa4b0ec245b7/
19. Scandal-ridden NRA is declared a "foreign asset" for Russia
After the National Rifle Association remained almost entirely silent during nearly two years of investigations into their ties to Russia and that country's interference in the 2016 presidential election, a new bombshell Senate report labels the gun rights group a "foreign asset" of Russia.
On September 27, the Senate Finance Committee's Democratic staff, led by Sen. Ron Wyden (D-OR), released a 77-page report claiming that the NRA "underwrote political access for Russian nationals Maria Butina and Alexander Torshin more than previously known," according to NPR, and detailing that "the gun rights group was involved with organizing a 2015 visit by some of its leaders to Moscow." NPR also said that "the report indicates that top NRA officials were aware of Butina's and Torshin's links with the Kremlin even as they sought to work more closely together under the banner of gun rights": https://apps.npr.org/documents/document.html?id=6432520-The-NRA-Russia-How-a-Tax-Exempt-Organization
20. Staring down impeachment, Trump sees himself as a victim of historic proportions
Donald Trump is not the first American president staring down impeachment to nurse a deep sense of persecution and self-pity. But he is the first to broadcast that mentality to the world.
In the five days since House Speaker Nancy Pelosi (D-Calif.) opened an impeachment inquiry following revelations about President Trump's conduct with his Ukrainian counterpart, Trump has been determined to cast himself as a singular victim in a warped reality — a portrayal that seems part political survival strategy, part virtual therapy session.
As Trump tells it, he is a hard-working and honorable president whose conduct has been "perfect" but who is being harassed and tormented by "Do Nothing Democrat Savages" and a corrupt intelligence community resolved to perpetuate a hoax, defraud the public and, ultimately, undo the 2016 election. https://www.washingtonpost.com/politics/staring-down-impeachment-trump-sees-himself-as-a-victim-of-historic-proportions/2019/09/28/815fbbea-e14c-11e9-b199-f638bf2c340f_story.html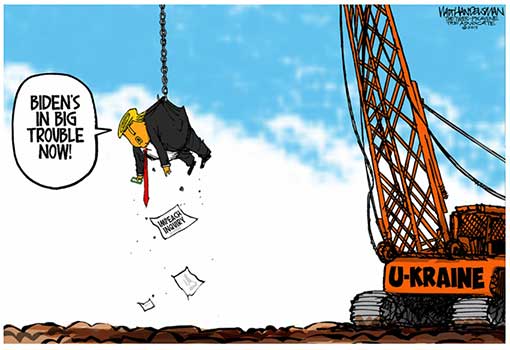 21. State Dept. intensifies email probe of Hillary Clinton's former aides
The Trump administration is investigating the email records of dozens of current and former senior State Department officials who sent messages to then-Secretary of State Hillary Clinton's private email, reviving a politically toxic matter that overshadowed the 2016 election, current and former officials said.
As many as 130 officials have been contacted in recent weeks by State Department investigators — a list that includes senior officials who reported directly to Clinton as well as others in lower-level jobs whose emails were at some point relayed to her inbox… Those targeted were notified that emails they sent years ago have been retroactively classified and now constitute potential security violations.
Former Obama administration officials described the probe as a remarkably aggressive crackdown by an administration with its own troubled record of handling classified material. Trump has improperly disclosed classified information to foreign officials and used phones that national security officials warned were vulnerable to foreign surveillance, according to current and former officials. https://www.washingtonpost.com/national-security/state-dept-intensifies-email-probe-of-hillary-clintons-former-aides/2019/09/28/9f15497e-e1f2-11e9-8dc8-498eabc129a0_story.html
22. Barr personally asked foreign officials to aid inquiry into CIA, FBI activities in 2016
Attorney General William P. Barr has held private meetings overseas with foreign intelligence officials seeking their help in a Justice Department inquiry that President Trump hopes will discredit U.S. intelligence agencies' examination of possible connections between Russia and members of the Trump campaign during the 2016 election, according to people familiar with the matter.
Barr's personal involvement is likely to stoke further criticism from Democrats pursuing impeachment that he is helping the Trump administration use executive branch powers to augment investigations aimed primarily at the president's adversaries. https://www.washingtonpost.com/national-security/attorney-general-barr-personally-asked-foreign-officials-to-aid-inquiry-into-cia-fbi-activities-in-2016/2019/09/30/d50cd5c4-e3a5-11e9-b403-f738899982d2_story.html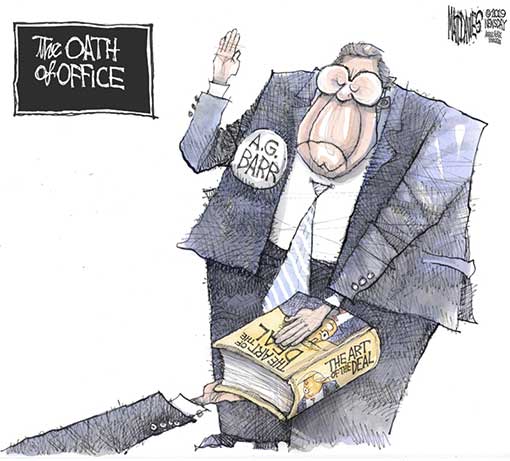 23. Stalled Ukraine military aid concerned members of Congress for months
Lawmakers on Capitol Hill couldn't figure out over this past summer why nearly $400 million in aid they'd voted to go to Ukraine still wasn't in the country's coffers.
There was growing speculation by the end of August. Congressional leaders, their aides and members of key committees -- including the Appropriations, Armed Services and Foreign Relations committees -- were scrambling to figure out why money that had been appropriated by Congress months before still hadn't been disbursed. Outreach by lawmakers to key agencies left few clues other than the delay was coming from the White House and no one could pinpoint exactly what the reason was. https://www.cnn.com/2019/09/30/politics/ukraine-military-aid-congress/index.html
24. Trump Pressed Australian Leader to Help Barr Investigate Mueller Inquiry's Origins
President Trump pushed the Australian prime minister during a recent telephone call to help Attorney General William P. Barr gather information for a Justice Department inquiry that Mr. Trump hopes will discredit the Mueller investigation, according to two American officials with knowledge of the call.
The White House curbed access to a transcript of the call — which the president made at Mr. Barr's request — to a small group of aides, one of the officials said. The restriction was unusual and similar to the handling of a July call with the Ukrainian president that is at the heart of House Democrats' impeachment inquiry.
Like that call, Mr. Trump's discussion with Prime Minister Scott Morrison of Australia shows the president using high-level diplomacy to advance his personal political interests. https://www.nytimes.com/2019/09/30/us/politics/trump-australia-barr-mueller.html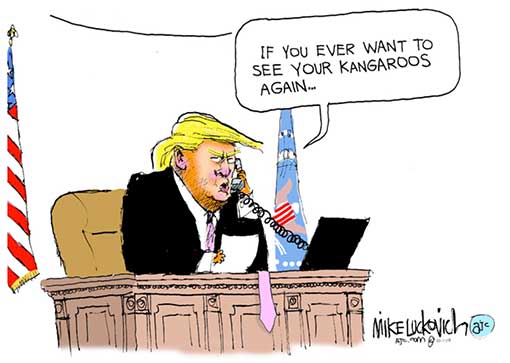 25. Democrat Weighs Releasing Complaint About IRS Trump Tax Audit
A key House Democrat said he's consulting lawyers about whether to make public a complaint by a federal employee about possible misconduct in the Internal Revenue Service's auditing of Donald Trump.
The complaint raises allegations about 'inappropriate efforts to influence' the audit process, House Ways and Means Chairman Richard Neal said in a letter to Treasury Secretary Steven Mnuchin in August. Neal told reporters on Friday that a decision on releasing the complaint depends on advice he receives from lawyers for the House of Representatives.
The release of such a complaint could bolster Neal's lawsuit seeking to obtain six years of Trump's tax returns, which he filed in July after the Treasury Department rejected the committee's request. Neal has said he needs the returns to ensure the IRS is following its policy of annually examining the president's returns.
Neal has cited his committee's oversight of the presidential audit process to support his lawsuit. Republicans have criticized this rationale, saying Democrats only want the documents as a way to target a political enemy. https://www.bloomberg.com/amp/news/articles/2019-09-27/democrat-weighs-releasing-complaint-about-irs-trump-tax-audit
1. Tim Miller: Truth, Lies, and the Nonsense Trump-Biden-Ukraine False Equivalency
Watching the media cycle around President Trump's apparent abuse of power—and the underlying Biden nontroversy in Ukraine—gives me a frustrating, helpless feeling. It's like when you're watching a horror movie and the psychopath with a chainsaw is creeping up on some clueless dupe  and you scream, "HE'S. RIGHT. BEHIND. YOU." You know it's going to turn out badly and Leatherface is going to wind up doing his happy dance—but AGGH you want to try to help anyway.
Part of the reason it's so frustrating is that we all know the script by now. Trump uses his perch for corrupt ends in the most ham-handed, farcical way imaginable. Then he denies it happened. As the seeps out through blind leaks, the position changes from denial to self-aggrandizement: Hell yeah I did it. What of it? Then comes the misdirection where the Trumpists pivot from defending the president's actions to exaggerating some alleged misdoing by a Democrat and claiming it's way worse than whatever crime Trump admitted to. Because while it wasn't a crime and Trump is proud of doing it, the Democrat who maybe might have done something vaguely similar is totally corrupt and Lock her up, baby!
It is maddening. And most of the mainstream media has turned out to be ill-equipped to handle Trump's gaslighting, eagerly repeating his false accusations without the requisite context. And meanwhile, the Trump-friendly conservative outlets are his comrades-in-alternative-facts, giving legions of MAGA warriors the ammo they need to flood their Facebook feeds with the latest misinformation.
He also realized that the media's imperative to run down every story meant that he could always distract them from one scandal by creating another. It's the political version of chaff: One scandal can end your presidency. A hundred of them is just white noise.
But we don't have to continue living this cycle. We can stop playing along with it. What happened in  Ukraine, after-all, is not a game. Sometimes things are cut and dry. Sometimes one man is fighting corruption and the other guy is corrupting all of us, on purpose.
This is one of those times. https://thebulwark.com/truth-lies-and-the-nonsense-trump-biden-ukraine-false-equivalency/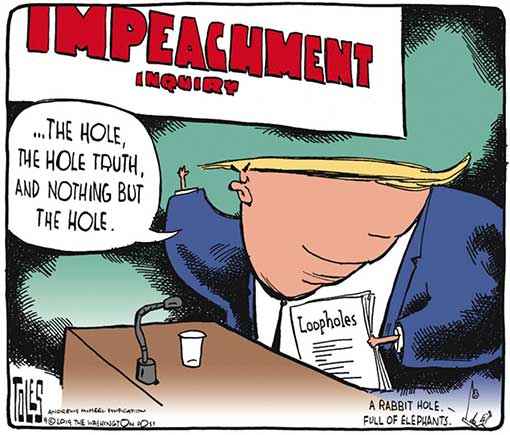 2. Will Wilkinson: Trump Has Disqualified Himself From Running in 2020
Deciding the election at the ballot box in November 2020 is no longer a tenable position. The president's bungled bid to coerce Ukraine's leader into helping the Trump 2020 re-election campaign smear a rival struck "decide it at the ballot box" off the menu of reasonable opinion forever. Mr. Trump's brazen attempt to cheat his way into a second term stands so scandalously exposed that there can be no assurance of a fair election if he's allowed to stay in office. Resolving the question of the president's fitness at the ballot box isn't really an option, much less the best option, when the question boils down to whether the ballot box will be stuffed.
Impeachment is therefore imperative, not only to protect the integrity of next year's elections but to secure America's continued democratic existence. If the House does its job, it will fall to Senate Republicans to reveal, in their decision to convict (or not), their preferred flavor of republic: constitutional or banana. https://www.nytimes.com/2019/10/01/opinion/trump-impeachment-2020.html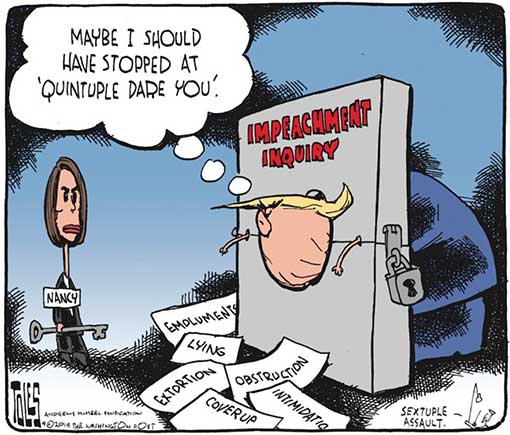 3. John Cassidy: The Whistle-Blower's Complaint Is Devastating for Donald Trump
After months of looking for something specific to pin on Trump, the Democrats have a detailed road map for their previously announced impeachment hearings. Their investigators will certainly follow up on the suggestion that there was a , but they will be even more focussed on the issue of whether Trump used the threat of withholding U.S. military aid to extort the Ukrainian government. "On 18 July, an Office of Management and Budget (OMB) official informed Departments and Agencies that the President 'earlier this month' had issued instructions to suspend all U.S. security assistance to Ukraine," the final paragraph of the complaint says. "Neither OMB nor NSC staff knew why this instruction had been issued. During interagency meetings on 23 July and 26 July, OMB officials again stated explicitly that the instruction to suspend this assistance had come directly from the President, but they still were unaware of a policy rationale."
In retrospect, it seems perfectly clear what that rationale was: Trump was using taxpayer money, which Congress had appropriated, to put the squeeze on Zelensky and gain an advantage in the 2020 election. The whistle-blower's complaint doesn't prove that this happened, but what other explanation can there be? Both in its contents and in what it has unleashed, the complaint is devastating for Donald Trump. Or, at least, it should be. https://www.newyorker.com/news/our-columnists/the-whistle-blowers-complaint-is-devastating-for-donald-trump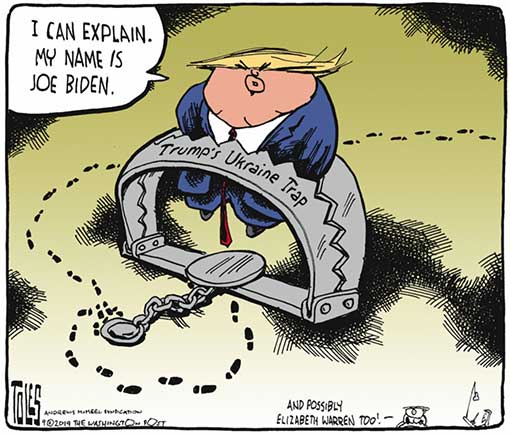 4. Susan B. Glasser: A Damning Whistle-Blower Report of a White House Coverup on Ukraine
President Trump is a bit panicky. At about the same time that the House Intelligence Committee released the unclassified complaint that has triggered impeachment proceedings against him, the President delivered this message to his followers on Twitter: "THE DEMOCRATS ARE TRYING TO DESTROY THE REPUBLICAN PARTY AND ALL THAT IT STANDS FOR. STICK TOGETHER, PLAY THEIR GAME, AND FIGHT HARD REPUBLICANS. OUR COUNTRY IS AT STAKE!"
This is not, needless to say, the writing of someone who is confident of his position. Reading the whistle-blower complaint, it's clear why Trump is so worried: the allegations about his heavy-handed efforts to coerce Ukraine to investigate Joe Biden are specific, clear, and damning, and have their origins in the worries of his White House advisers. The complaint also alleges that, instead of coming forward, White House officials became part of Trump's coverup, even removing the notes of the call from the normal system in an effort to keep Trump's inappropriate demands of Ukraine from becoming public. There are many witnesses to call, many people who know about this. It will be hard, if not impossible, to keep the truth from coming out.
The Ukraine scandal is, among many other things, a portrait of American foreign policy gone terribly wrong, hijacked by a President who has shredded the vast U.S. national-security apparatus in favor of a rogue operation looking out for his own interests and overseen by his personal agent, Rudy Giuliani. To anyone who has been paying attention, this has been the President's approach to foreign policy from the start: it has been all Trump, all the time. He is on his fourth national-security adviser, his second Secretary of State, and his second Secretary of Defense. All of them know well that this is not the way American foreign policy is supposed to work. Ukraine, I fear, is not the exception to how Trump has been doing business, but the rule. https://www.newyorker.com/news/current/watch-live-joseph-maguire-testifies-to-the-house-on-the-whistle-blowers-complaint-about-president-trump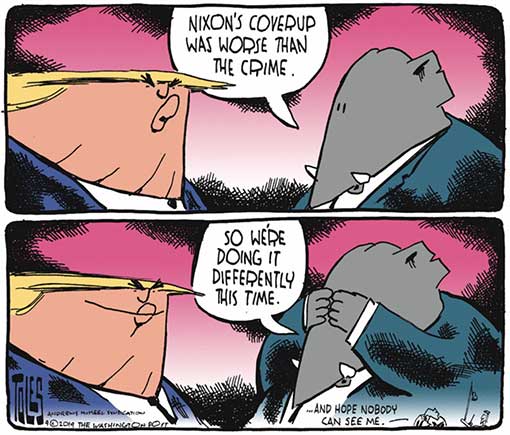 5. Jonathan Chait: The Ukraine Scandal Is a Fitting Symbol of Trump's Presidency. It May Finally Be His Downfall.
History books will record Donald Trump as the first president of the United States to assume office without any previous experience in government. This is not a mere biographical detail but a skeleton key for understanding his methods of wielding power. Trump has never recognized any distinction between his public and private life. Extraordinarily, he didn't divest from his businesses even while serving as president. Even worse, he treated the government as if it were his property. The Ukraine scandal is another case of Trump treating the executive branch as though it were acquired by the Trump Organization. It may or may not be the worst of his many offenses, but it would be perfectly fitting if, as now seems possible, it is ultimately the instrument of his demise.
The scandal revolves around Trump turning American foreign policy toward Ukraine into an extortion scheme for his political benefit. The plot began as early as this spring and, in the beginning, was mostly conducted in broad daylight. Trump deputized his lawyer, Rudy Giuliani, to undertake this mission.
Giuliani's original goal was to prod Ukraine to turn over evidence that would exonerate Paul Manafort, the former Trump campaign manager. Manafort had worked in Ukraine for a pro-Russian party, then gone on to manage Trump's campaign while maintaining secret contacts with a Russian intelligence officer, and he was helping Trump in 2018 by withholding cooperation from special counsel Robert Mueller. Giuliani was attempting to prove that Manafort had been set up by Ukrainians working with the Clinton campaign and that — even more bizarrely — Ukrainians had stolen Clinton's emails. http://nymag.com/intelligencer/2019/09/ukraine-scandal-trump-downfall-impeachment.html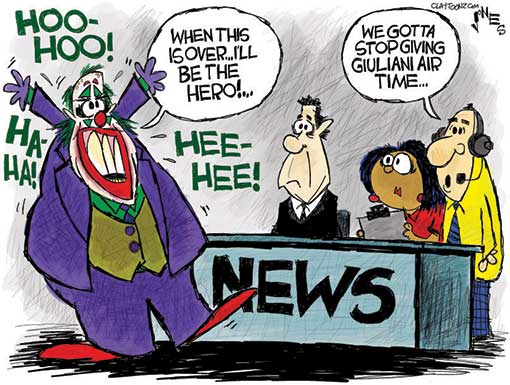 6. Frank Rich: The Case for a Fast, Focused Trump Impeachment
An argument for speed is that it's a smart play to strike when the White House is on the mat. It's an indicator of the overall disarray that Trump released the incriminating phone readout without even recognizing how incriminating it is. The ranks of the presidential bubble/bunker have dwindled down to heel-clicking sycophants who didn't even think to put an impeachment war room in place. The fact that Corey Lewandowski's name is being floated as its potential general indicates the bargain-basement caliber of talent available for such an assignment. It's indicative of the shortfall that Trump and his GOP defenders have been reduced to recycling nearly half-century-old lines from Watergate. The Nixon White House spokesman Ken Clawson — to take one representative example — decried that investigation as a "witch hunt" ginned up by "people who were completely rejected at the polls" and were "trying to bring down this presidency."
As the wheels are falling off at the White House, so they are spinning out of control in Trump's already addled brain. It's hard to see how his threatening whistle-blowers with death or calling Adam Schiff "sick" accomplishes anything beyond making the case that he is incapacitated and should be removed by the 25th Amendment — a solution also considered by some Republican senators as an impeachment alternative for Nixon. A Washington Post article this week quoted a former presidential aide as worrying that Trump's fury "may lead to less structured output from the White House." Given that there's already no structure in the White House "output," it beggars the imagination to wonder what's in store. http://nymag.com/intelligencer/2019/09/frank-rich-fast-focused-trump-impeachment.html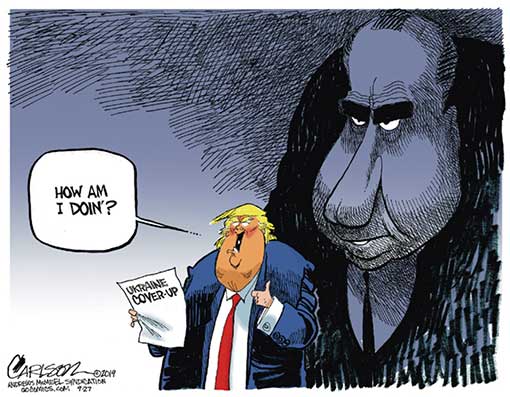 7. Gabriel Sherman: "It's Management Bedlam": Madness At Fox News As Trump Faces Impeachment
Inside Fox News, tensions over Trump are becoming harder to contain as a long-running cold war between the network's news and opinion sides turns hot. Fox has often taken a nothing-to-see-here approach to Trump scandals, but impeachment is a different animal. "It's management bedlam," a Fox staffer told me. "This massive thing happened, and no one knows how to cover it." The schism was evident this week as a feud erupted between afternoon anchor Shepard Smith and prime-time host Tucker Carlson. It started Tuesday when Fox legal analyst Judge Andrew Napolitano told Smith on-air that Trump committed a "crime" by pressuring Ukraine's president to get dirt on Biden. That night, Carlson brought on former Trump lawyer Joe diGenova, who called Napolitano a "fool" for claiming Trump broke the law. Yesterday, Smith lashed back, calling Carlson "repugnant" for not defending Napolitano on air. (Trump himself is said to turn off Fox at 3 p.m., when Shep Smith airs.) Seeking to quell the internecine strife before it carried into a third day, Fox News CEO Suzanne Scott and president Jay Wallace communicated to Smith this morning to stop attacking Carlson, a person briefed on the conversation said. "They said if he does it again, he's off the air," the source said. (Fox News spokesperson Irena Briganti denied that management had any direct conversation with Smith). https://www.vanityfair.com/news/2019/09/madness-at-fox-news-as-trump-faces-impeachment-lachlan-murdoch
8. Garry Kasparov: The dam is breaking: Trump's true character is revealed, more fully than ever
In the classic Mafia movie "Goodfellas," Ray Liotta's character muses about how he always wanted to grow up to be in the mob. "To me, being a gangster was better than being president of the United States." What a failure of imagination. He didn't even consider you could be both!
Like any crook returning to the scene of the crime, President Trump got nabbed asking for foreign help to attack an election rival, and this time he was caught orange-handed. The first time he did it, pleading for Russia to find Hillary Clinton's emails in July 2016, Trump was only a candidate. This time, when he pressured Ukrainian president Volodymyr Zelensky to dig up dirt on Joe Biden's son in exchange for U.S. aid money, it was as the president of the United States.
Trump and his proxies have barely attempted to deny the obvious this time, moving directly to the "so what?" phase. Instead of "no collusion!" it's now "no quid pro quo!" But as anyone who actually read the Mueller report knows, there was collusion. And no one who read the released log of Trump's call with Zelensky could miss the quid or the quo. Trump believes that if he doesn't think something is wrong, then it's not wrong, the law be damned.
Trying to barter American taxpayer money and U.S. national security interests for campaign dirt — which seems to be fictitious — was an abuse of power so blatant and so grave that Nancy Pelosi was finally moved to announce a formal impeachment inquiry. https://www.nydailynews.com/opinion/ny-oped-the-dam-is-breaking-20190927-zrq5seb7rbfnpoocekkii2nmba-story.html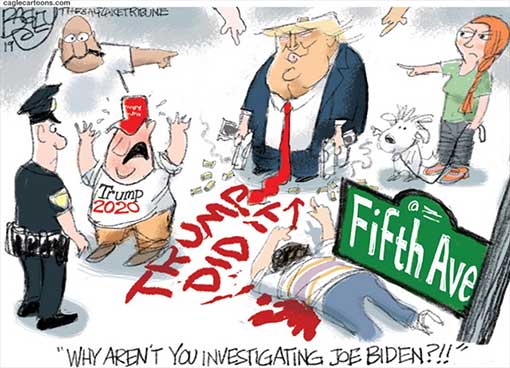 9. Charlie Warzel: How the Climate Kids Are Short-Circuiting Right-Wing Media
Last Friday, millions of people, many of them children and teenagers, took to the streets during the Global Climate Strike, a protest inspired by Fridays for Future, the international youth effort started by the 16-year-old Swedish activist Greta Thunberg. The protesters' call for broad action to combat global warming was powerful, as was the message sent by their numbers: Dynamic, frustrated young people are instilling in the climate movement a new urgency.
Online, the climate kids' impact can be measured in a different way — by how they're short-circuiting the right-wing media ecosystem that's partly responsible for the spread of climate skepticism. Since Friday's strike, pro-Trump media and conservative cable news pundits have devoted significant resources to turning the children of the climate movement into Public Enemy No. 1. https://www.nytimes.com/2019/09/26/opinion/climate-change-greta-thunberg.html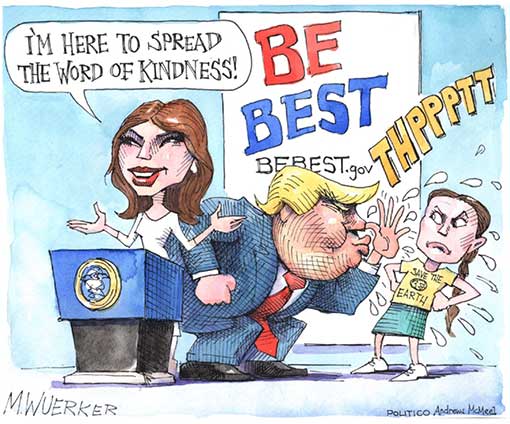 10. Bess Levin: Trump: It's "Very Legal And Very Good" To Court Election Meddling
Most people don't need a law degree to know that it's a gross abuse of power for the president of the United States to get on the phone with the leader of another country and ask the guy to investigate a political rival, and to imply that if the probe doesn't happen, military aid will be withheld. (According to the whistle-blower complaint, White House lawyers knew this too, which is why they allegedly "directed" officials to "remove the electronic transcript from the computer system in which such transcripts are typically stored" and load the transcript "into a separate electronic system that is otherwise used to store and handle classified information of an especially sensitive nature.") Then you have legal scholar Donald Trump. For the past week, he's insisted that his conversation with Ukraine president Volodymyr Zelensky was "perfectly fine and respectful." And on Friday, in the midst of yet another full-fledged meltdown, he claimed that asking a foreign power to dig up dirt on a political rival such that it could affect the presidential election is perfectly legal, too. https://www.vanityfair.com/news/2019/09/trump-ukraine-phone-call
11. Washington Post Editorial: The Ukraine facts are clear. But does truth still matter?
MORE THAN ever before in Donald Trump's presidency, the U.S. political system faces a fundamental question: Does truth still matter? Our democracy depends on a positive answer. But the evidence of the past few days offers reason for worry.
In the matter of Ukraine, Congress and the public now have before them an indisputable set of facts. A rough transcript prepared and issued by the White House reveals repeated demands by Mr. Trump that Ukrainian President Volodymyr Zelensky launch politicized investigations, including of Joe Biden, who currently leads Mr. Trump by a wide margin in polling for next year's presidential election. The transcript shows Mr. Trump first raising his request for "a favor" in response to Mr. Zelensky's appeal to buy antitank weapons his army desperately needs. After Mr. Zelensky pledges to carry out the probes, Mr. Trump promises a prize he has been withholding for months: a White House visit.
Against this clear record of suborning support for his reelection campaign, Mr. Trump has thrown up a smokescreen of denials, insults — and blatant lies. Over and over, he and his personal lawyer, Rudolph W. Giuliani, have repeated the easily disproved claim that Mr. Biden sought to have a Ukrainian prosecutor fired to protect his son. Senior Ukrainian officials, including one of Mr. Giuliani's own sources, have publicly stated that the story is false; multiple media investigations have definitively debunked it. Yet the president just goes on peddling it. https://www.washingtonpost.com/opinions/global-opinions/the-ukraine-facts-are-clear-but-does-truth-still-matter/2019/09/27/6bcaa38e-e134-11e9-8dc8-498eabc129a0_story.html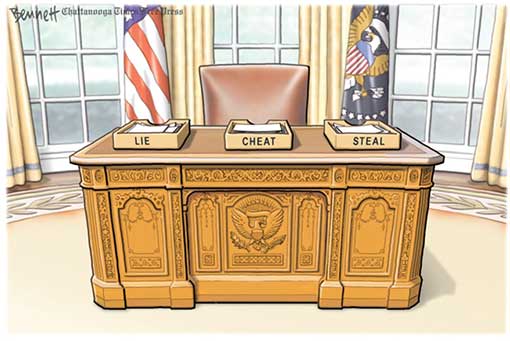 12. Paul Waldman: How right-wing media will shape the impeachment battle
"I would like you to find out what happened with this whole situation with Ukraine, they say Crowdstrike," Trump said. "I guess you have one of your wealthy people … the server, they say Ukraine has it."
I won't waste your time detailing the bonkers conspiracy theory the president was referring to, except to say that it holds that Russia never actually hacked into Democratic Party email systems in 2016, it was all some kind of false flag operation, and DNC computer hardware was spirited away to Ukraine. The reason I bring this up is that it offers us a reminder that this entire scandal has roots in some of the most bizarre corners of our information ecosystem, places from which the president imbibes fantastical stories, arguments he then passes to the broader public, and instruction in what decisions he should make.
We're now entering what will surely be one of the most intense and consequential episodes in American political history. And everything that happens will be shaped by the calliope of craziness that is the right-wing media.
The president of the United States spends hours every day watching Fox News — the most important, but by no means only, conservative news outlet that has a direct line to his brain. He treats what he sees in those outlets as the indicator of his success, his best source for information about the world and his most trusted source of advice. His relationship to the conservative media has always been disturbing, but it has never been more important than it is right now. https://www.washingtonpost.com/opinions/2019/09/27/how-right-wing-media-will-shape-impeachment-battle/
13. Kenneth P. Vogel, Andrew E. Kramer and David E. Sanger:How a Shadow Foreign Policy in Ukraine Prompted an Impeachment Inquiry
Along with documents and interviews with a wide variety of people in Ukraine and the United States, the latest revelations show that Mr. Trump and Mr. Giuliani ran what amounted to a shadow foreign policy in Ukraine that unfolded against the backdrop of three elections — this year's vote in Ukraine and the 2016 and 2020 presidential races in the United States.
Despite the findings of United States intelligence agencies and the Justice Department that Russia was responsible for interfering in the 2016 election, Mr. Trump was driven to seek proof that the meddling was linked to Ukraine and forces hostile to him, even fixating on a fringe conspiracy theory suggesting that Hillary Clinton's missing emails might be found there.
Backed by Mr. Trump, Mr. Giuliani, who once aspired to be secretary of state, sought to tar Mr. Biden with unsubstantiated accusations of impropriety, while he and associates working with him in Ukraine on the president's agenda pursued their own personal business interests. https://www.nytimes.com/2019/09/28/us/politics/how-a-shadow-foreign-policy-in-ukraine-prompted-impeachment-inquiry.html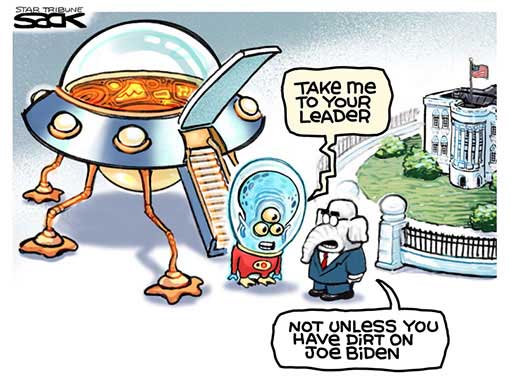 14. David Von Drehle: Trump's fate is in the hands of Fox News
Fox News viewers punch far above their weight in one regard: They are the core of any hard-right primary challenge that might be waged against an incumbent Republican senator. I believe based on conversations with knowledgeable Republicans that Trump is neither popular nor admired among the Senate majority, but he is feared, therefore tolerated. The fear stems from his firm grip on that Fox News-viewing core and the belief that he could turn the core into an incumbent-crushing machine.
To the extent that Trump's grip begins to loosen, the fear will begin to lift and the president's Senate firewall will begin to crumble. That's how I figure it, and I think Trump might be making a similar calculation, because his Twitter feed has been peppered lately with his annoyance at Fox News over various perceived acts of hostility. He might believe that he can maintain his standing solely through his unmediated tweets, regardless of Fox News. But I don't think he really wants to find out. https://www.washingtonpost.com/opinions/trumps-fate-is-in-the-hands-of-fox-news/2019/09/27/05587756-e144-11e9-8dc8-498eabc129a0_story.html
15. Will Bunch: History will be cruel to many who saw Trump treachery and DIDN'T become whistle-blowers
Barely a year ago, although it feels now like six or seven, a ranking member of the Trump administration published a remarkable, anonymous op-ed in the New York Times in which the author meant to assure the rest of America that — despite the downward-spiraling lunacy that we witness every day on our TV screen or in our Twitter feed — we should fear not because "many of the senior officials in his own administration are working diligently from within to frustrate parts of his agenda and his worst inclinations."
Some 389 endless days later, we still don't know who the writer is, but there's one thing we can say with utter confidence. He or she is a coward. So, too, are literally dozens of other so-called public servants — many obscure, but some with the nation's highest medals of valor pinned near their feckless, quivering hearts — who went to work each morning and watched an American president shred the Constitution and betray our fundamental values and yet chose to say nothing.
It took the great courage of one person — and two-thirds of an out-of-control president's disastrous term in office — to show us how deeply the stench of fear otherwise permeated 1600 Pennsylvania Avenue. That one whistle-blower — maybe a CIA agent, but definitely an individual who did not check his or her moral compass at the White House front gate — has revealed Trump's abuse of power, potential lawbreaking and casual willingness to solicit, and arguably extort, foreign election interference in his dealings with Ukraine. These revelations have brought Trump to the brink of impeachment and could topple the tottering Jenga of corruption that has been his administration. https://www.inquirer.com/opinion/commentary/trump-impeachment-whistle-blower-mattis-maguire-kelly-20190929.html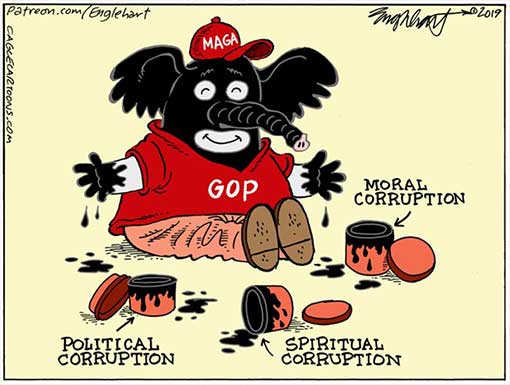 16. Connecticut Post Editorial: President Trump needs to step down
Even given the incredibly fast pace of news in the Trump era, the speed with which the Ukraine scandal has moved from vague complaint to impeachable offense has been stunning. Though we're still at the beginning of the process, there is already a mountain of evidence implicating President Donald Trump with conduct far outside the accepted norms of a democratic leader.
The most damning evidence came from the president himself. It centers around a phone call with the president of Ukraine in which Trump raises the issue of investigating the son of presidential hopeful Joe Biden, and the implication of Trump's words is clear as day. He asks for an investigation that would benefit him politically and has nothing to do with legitimate U.S. interests, and he brings it up repeatedly, including immediately upon the Ukrainian president mentioning the need for U.S. security aid.
This is an impeachable offense. Republicans spent Wednesday arguing there was no explicit quid pro quo, but there is seemingly no line the president can cross that would inspire them to put the public good ahead of politics. House Speaker Nancy Pelosi, joined by the entirety of Connecticut's congressional delegation, has called for impeachment proceedings, and that process must now begin in earnest.
The proper next step for the president is clear. He should resign. He has repeatedly proven himself unfit for office and appears to view the presidency as a position meant to benefit himself personally, not as one that must represent the interests of an entire nation. https://www.ctpost.com/opinion/article/Editorial-President-Trump-needs-to-step-down-14467704.php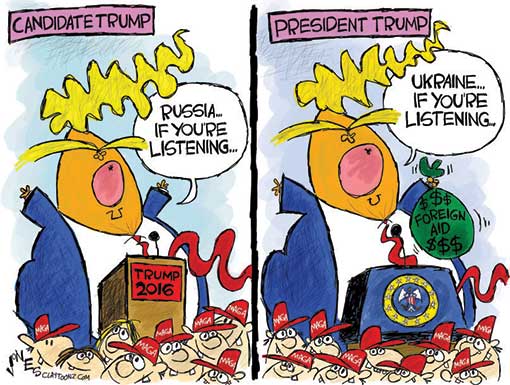 17. Jeff Flake: Fellow Republicans, there's still time to save your souls
Two years ago I stood in the Senate chamber and said: "There are times when we must risk our careers in favor of our principles."
In my case, I had not supported the president's election. One year into his presidency, I knew that I could not support his reelection. Though I had hoped that I could still run for reelection to the Senate in 2018 as someone who would help to provide a check on the president's worst impulses, it soon became apparent that this was not what Republican primary voters in my state were looking for. Whatever reservations they might have had when they voted for Donald Trump, one year into his presidency they wanted a senator who was all in.
But I already had seen too much. Traveling overseas, I witnessed the damage being done to our standing in the world as a result of President Trump's fondness for authoritarians and his scorn for allies. His hostility toward security alliances and trade agreements had placed our long-term security and our economy at risk. His adoption of the tyrant's phrase "enemy of the people" put journalists in even greater peril, all over the world. His resentment toward refugees and profane description of certain countries were destroying generations of goodwill.
Trust me when I say that you can go elsewhere for a job. But you cannot go elsewhere for a soul. https://www.washingtonpost.com/opinions/jeff-flake-fellow-republicans-theres-still-time-to-save-your-souls/2019/09/30/ade876f6-e2d3-11e9-b403-f738899982d2_story.html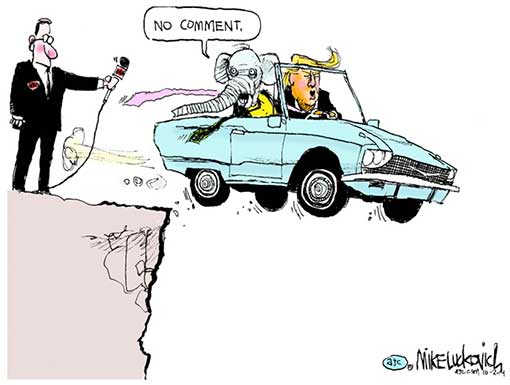 18. James Hohmann: Warning flares from Tom Bossert and Adam Kinzinger show the risks of Trump's hyperbolic defense
While key Republicans have rallied to the president's defense since House Democrats opened an impeachment inquiry last week, the bookends to the day underscore the riskiness of a scorched-earth defense strategy that is predicated on an insistence that Trump did absolutely nothing wrong.
The president is running the smashmouth playbook he learned from Roy Cohn, his mentor and Joe McCarthy's hatchet man. It's worked repeatedly for Trump, from fighting the Justice Department's investigation of racial discrimination at his family's rental properties in the 1970s to overcoming Bob 's investigation the past two years. Among other things, this strategy involves denying everything and counterattacking critics by accusing them of whatever you've been accused of.
The don't-give-an-inch mentality is what prompts someone like White House policy adviser Stephen Miller to declare on "Fox News Sunday" that "the president of the United States is the whistleblower, and this individual is a saboteur trying to undermine a democratically elected government." And it is why Trump allows Rudy Giuliani, his ferocious personal attorney, to keep defending him on television despite the messes he seems to make each time he goes on the air. https://www.washingtonpost.com/news/powerpost/paloma/daily-202/2019/09/30/daily-202-warning-flares-from-tom-bossert-and-adam-kinzinger-show-the-risks-of-trump-s-hyperbolic-defense/5d91864e602ff14beb3daa53/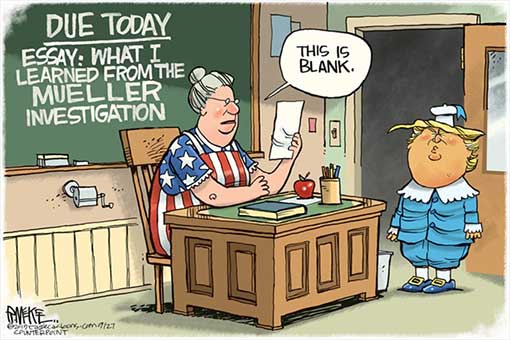 19. Jonathan Chait: Lindsey Graham Rests Entire Trump Defense on Word He Doesn't Understand
Lindsey Graham's appearance on Face the Nation to defend President Trump's conduct in the Ukraine scandal managed to satisfy the criteria of the genre, though perhaps just barely.
Graham's major talking point was the the accusations against Trump amount to "hearsay." He repeated the phrase 11 times, as though it were an incantation that, by magic, would cause the pile of evidence against Trump to disappear. For instance, he declared: "It's all hearsay. You can't get a parking ticket conviction based on hearsay. The whistle-blower didn't hear the phone call."
But of course the evidence against Trump is not hearsay. All the basic facts of the plot have been confessed openly by the principles. The main charge is that Trump sent his personal lawyer to convince another country to investigate his political rival. Both the lawyer, Rudy Giuliani, and Trump have openly boasted about this for months. Trump has also admitted publicly that he ordered a halt to aid for Ukraine to increase leverage for his demand, and that he did so in order to force Ukraine to investigate "corruption," a word he helpfully translated as code for "Biden." http://nymag.com/intelligencer/2019/09/lindsey-graham-trump-ukraine-impeachment-hearsay-cbs.html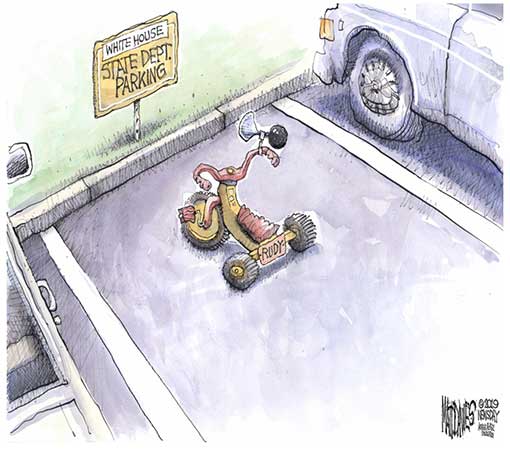 20. David Remnick: The Floodgates Open on Trump
Shortly after eight on Monday morning, the President of the United States, making maximal use of his "executive time," wielded his smartphone to issue a legal threat against the chairman of the House Intelligence Committee. It is worth reading the missive from @realDonaldTrump in full:
"Rep. Adam Schiff illegally made up a FAKE & terrible statement, pretended it to be mine as the most important part of my call to the Ukrainian President, and read it aloud to Congress and the American people. It bore NO relationship to what I said on the call. Arrest for Treason?"
The threat to Schiff via Twitter came just a few days after the President, speaking at the United States Mission to the United Nations, said that whoever provided information to the whistle-blower about his July 25th telephone call with the President of Ukraine was "close to a spy." Trump went on to wax nostalgic about how spies were dealt with "in the old days"—with the death penalty, in other words. "As soon as I heard that, I thought, He has the soul and the mind of an authoritarian," Nicholas Burns, a former high-ranking diplomat who has served in Republican and Democratic Administrations, told me. "What other President in American history would say that?"
The offhanded encouragement of vengeance, even violence, is hardly new or unusual for Trump. https://www.newyorker.com/news/daily-comment/the-floodgates-open-on-trump
21. Steve Coll:The Integrity of the Trump Impeachment Inquiry
Two bombshell documents made public this week—a record of a telephone conversation between Trump and Volodymyr Zelensky, Ukraine's President, and a whistle-blower's complaint about that call—fully justify House Speaker Nancy Pelosi's decision, announced on Tuesday, to open an official impeachment inquiry. The documents describe a breach of Trump's constitutional duties that is exceptional even in light of his record to date. During the telephone call, made on July 25th, he leveraged the vast disparity of wealth and power in the alliance between the United States and Ukraine to ask Zelensky to, in effect, aid his reëlection bid. The complaint, filed on August 12th, by a person whom the Times has described as an intelligence officer, further recounts how U.S. national-security and foreign-policy officials who worked on issues concerning Ukraine became entangled in Trump's scheme, and how this distorted and undermined their work on behalf of American interests. According to the complaint, once it became clear how damaging the record of the call might be, Administration officials participated in a coverup, moving the memorandum of conversation—the contemporaneous documentation of the call—to a highly restricted computer system not intended for such materials.
The whistle-blower's complaint is one of the great artifacts to enter Washington's sizable archive of political malfeasance. In the second paragraph, its author distills Trump's offense with bracing clarity: "I have received information from multiple U.S. Government officials that the President of the United States is using the power of his office to solicit interference from a foreign country in the 2020 U.S. election." The author goes on to provide a revelatory narrative about the underlying facts of the case, one that complements investigative reporting previously published by the Washington Post, the Times, the Wall Street Journal, Bloomberg, and other outlets. https://www.newyorker.com/magazine/2019/10/07/the-integrity-of-the-trump-impeachment-inquiry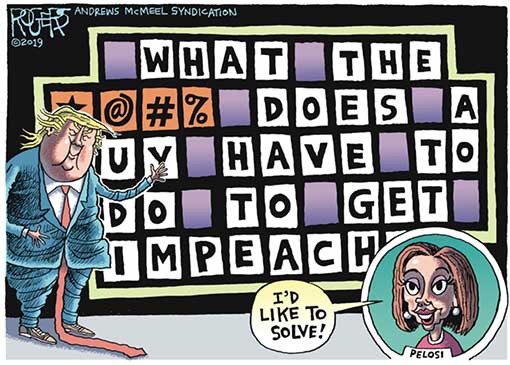 22. Bess Levin: Trump: Of Course I'm Trying To Unmask The Whistleblower!
The Whistleblower Protection Act of 1989 is pretty self-explanatory: It protects federal whistle-blowers who work for the government from, among other things, having their identity revealed and retaliatory action taken against them as a result of their complaint. Most people understand that violating this law is a big, flaming no-no. And then you have the president of the United States, who doesn't understand anything and whose brain contents—loose teeth and Hamburger Helper—lead him to say things like this:
"We're trying to find out [who the whistle-blower is]...when you have a whistle-blower that reports things that were incorrect, as you know, and you've probably now have figured it out, the statement I made to the president of the Ukraine—a good man, a nice man, new—was perfect, it was perfect, but the whistle-blower reported a totally different statement, like a statement that was not even made.... The call was perfect. When the whistle-blower reported it, he made it sound terrible. And then you have Adam Schiff, who, even worse, made up my words...which, I've never even seen a thing like that...he actually took words and made it up. The reason is that when he saw my call to the president of Ukraine it was so good that he couldn't quote from it because there was nothing done wrong...so Adam Schiff decided, I can't let this happen, so let me make up...[he] made up a phony call and read it to Congress...and it's a disgrace. This whole thing is a disgrace. There's been tremendous corruption, and we're seeking it. It's called drain the swamp. There's been corruption on the other side, there's been corruption like you've never seen. Now the new president of Ukraine ran on the basis of no corruption...and I believe that he really means it. But there was a lot of corruption having to do with the 2016 election against us, and we want to get to the bottom of it, and it's very important that we do." https://www.vanityfair.com/news/2019/09/donald-trump-whistleblower-identity
23. Charlie Warzel: Why Trump Tweeted About Civil War
As outlandish and extreme as it is, warning of a looming civil war is a familiar talking point across the pro-Trump media. It's part of a growing tradition of right-wing fearmongering — what Vox's Dylan Matthews referred to last year as "apocalypse punditry" — that moves easily from the online fever swamps to the Oval Office and back again.
So it wasn't surprising — though it was deeply troubling — to see President Trump tweet a warning from a pastor on Sunday night of "a Civil War like fracture in this Nation" should he be removed from office.
Invoking civil war — even indirectly — was once a third rail of modern American presidential rhetoric. Though Mr. Trump in the past has openly toyed with illiberal notions (ignoring term limits, not accepting election results should he lose), his casual suggestion that his ouster might lead to bloodshed felt like uncharted territory.
It doesn't matter that we're not on the brink of a civil war; the threat as outlined by right-wing media is intended to inspire fear in liberals and conservatives alike. For conservatives, it's the notion that Democrats will stop at nothing to get rid of Mr. Trump and will marshal the forces of the "deep state" to right the wrongs of the 2016 election. For liberals, it is a warning: Don't push churchgoing, gun-loving conservatives too far, or there'll be dangerous consequences. https://www.nytimes.com/2019/09/30/opinion/trump-civil-war.html
24. Max Boot: The rough transcript is devastating. How could Trump not know that?
At least Richard Nixon had the good sense to resist releasing the "smoking gun" tape until finally forced to do so by the Supreme Court. That is because Nixon, the worst criminal to occupy the Oval Office until now, at least had a modicum of moral sense and self-awareness. He knew what he had said was wrong — he was heard plotting to use the CIA to shut down the FBI investigation of Watergate — and he realized that the tape's release would be devastating to him.
President Trump, by contrast, is so clueless — so lacking in even the most basic sense of right and wrong — that he could actually tweet this morning: "Will the Democrats apologize after seeing what was said on the call with the Ukrainian President? They should, a perfect call — got them by surprise!" Suffice it to say, there were no apologies after the release of the Memorandum of Telephone Conversation (TelCon) between Trump and Ukrainian President Volodymyr Zelensky on July 25. This isn't a verbatim transcript, and it's always possible that it was doctored in some way, but what is revealed in its five pages is deeply damaging to Trump.
"The United States has been very very good to Ukraine," Trump tells Zelensky with an undertone of menace. "I wouldn't say that it's reciprocal necessarily because things are happening that are not good but the United States has been very very.good to Ukraine." Eager to placate Trump, Zelensky thanks him "for your great support in the areaaof defense." "We are ready to continue to cooperate for the next steps specifically we are almost ready to buy more Javelins from the United States for defense purposes." (The Javelin is an antitank missile.)
The very next words out of Trump's mouth are: "I would like you to do us a though because our country has been through a lot and Ukraine knows a lot about it." Quid, meet quo. Trump is explicitly tying U.S. military aid to Ukraine to Ukraine's willingness "to do us a favor." He then makes clear that the "us" he is referring to is not the United States of America. It is the Trump campaign. https://www.washingtonpost.com/opinions/2019/09/25/rough-transcript-is-devastating-how-could-trump-not-know-that/