July 15, 2021
ON THE RECORD. . .
Trump was surrounded by all sorts of odious characters who manipulated him into saying and doing things that ran against the national interest. One of those characters was Putin. In the end, their influence ran up against the limits that the character over whom they had gained influence was a weak, failed president. — Jonathan Chait

Sen. Marsha Blackburn (R-TN) continued her feud with Taylor Swift in a Breitbart interview, warning her that if we have a "socialistic government," the state would have to "approve her music," and won't "allow women to dress, or sing, to be on stage, or entertain."

"We're fucking idiots."— A Democratic lawmaker in Colorado, lamenting his party surrendering its redistricting power to an independent committee.

"While demand for cryptocurrencies and the use of cryptocurrency exchanges have skyrocketed, the lack of common-sense regulations has left ordinary investors at the mercy of manipulators and fraudsters." — Sen. Elizabeth Warren (D-Mass.) is asking the Securities and Exchange Commission (SEC) to assess the effect of cryptocurrency exchanges on U.S. financial markets and the risks they could pose to consumers.

"It's a 20-year war that has not been won militarily. We're not having a moment of celebration." — White House press secretary Jen Psaki, ahead of President Biden's address on Afghanistan troops withdrawal.

"Now they're talking about going door-to-door to bring vaccines to the people. Think of the mechanisms they would have to build to be able to actually execute that massive of a thing. Think about what those mechanisms could be used for. They could then go door-to-door to take your guns, to take your Bibles." — Rep. Madison Cawthorn (R-NC).

"If it's bad, I say it's fake. If it's good, I say that's the most accurate poll ever." — Donald Trump at CPAC.

In Jessica Taylor's (R) campaign for the Alabama senate, launch video, she refers to "Kamala Harris's America" and says that she'd be "Kamala's worst nightmare," while mispronouncing Harris's name both times. She closes with a "Sleepy Joe" joke.

The Lincoln Project unveiled a TV ad attacking Toyota over its donations. Toyota responded, announcing it will stop contributing to members of Congress who opposed the election certification.

Sean Hannity: infamous hypocrite and Trump's pillow talk buddy. Here's the absolute worst of Sean Hannity. — The Daily Show with Trevor Noah https://youtu.be/1XIvEkKrWQY

"In America, if you lose, you accept the results. You don't call facts 'fake' and then try to bring down the American experiment just because you're unhappy. That's not statesmanship. ... That's selfishness. That's not democracy; it's the denial of the right to vote. Peddlers of lies are threatening the very foundation of our country." — President Joe Biden trying to reinvigorate the stalled Democratic effort to pass federal voting rights legislation in an impassioned speech in Philadelphia.

"After all, President Trump and his supporters take credit for developing the vaccine. Why the heck won't they take advantage of taking the vaccine they received plaudits for having developed?" —Sen. Mitt Romney (R-UT) saying the politicization of the coronavirus vaccines is "moronic."

"The simple truth is this. Secretary Clinton was right about a 'vast right wing conspiracy.' There was and is. It is filled awful people, louses and hypocrites. It has done horrible damage to the country and out of it came the foundation for the fascist movement that imperils us all." —Steve Schmidt

-------------------------------------
VIDEOS
-------------------------------------

MeidasTouch: Case Closed #IndictTrump: https://www.youtube.com/watch?v=0XfpofhauEs

 

A chilling new video puts Donald Trump's description of the Capitol riots on January 6 over images of what actually happened.

Maria Bartiromo interviews Trump on Fox's "Sunday Morning Futures."

TRUMP: And, by the way, while you're at it, who shot Ashli Babbitt? Why are they keeping that secret? Who is the person that shot...

BARTIROMO: Well...

TRUMP: ... an innocent, wonderful, incredible woman, a military woman, right in the head? And there's no repercussions. If that were on the other side, it would be the biggest story in this country. Who shot Ashli Babbitt? People want to know, and why.

BARTIROMO:… Well, that's right. And I want to talk about that, because Ashli Babbitt, a wonderful woman, fatally shot on January 6 as she tried to climb out of a broken window. Her family has spoken out. Her family has been on "Tucker Carlson." And they want answers as far as why this wonderful woman, young woman who went to peaceful protests was shot. https://www.foxnews.com/transcript/sunday-morning-futures-on-trumps-big-tech-lawsuit-us-and-china-relations

VERSUS

Here's Ashli Babbitt, in real life… https://twitter.com/realscapper/status/1414233193503408134

Dancing on more than 600,000 covid deaths: https://www.washingtonpost.com/opinions/2021/07/12/dancing-more-than-600000-covid-deaths/
Just Security is continuing to track every pending criminal and civil case against Donald Trump.
---
IN THIS ISSUE
IN THE NEWS
OPINION
Andy Borowitz: Democrats Agree to Return to Texas if Greg Abbott Leaves
AUSTIN, Texas: Runaway Democratic legislators from Texas offered today to return to the state on the condition that Governor Greg Abbott leave it forever.

The Democrats, speaking from an undisclosed location, issued an official statement detailing the terms of the legislators-for-governor trade.

"At noon on Friday, we will arrive at the state capitol in Austin in an unmarked bus," the statement read. "Once we disembark, Governor Abbott will board the bus, which will then relocate him to a mutually-agreed-upon destination."

According to the statement, the Democrats have been reaching out to a number of potential countries who might be amenable to giving Abbott asylum. https://www.newyorker.com/humor/borowitz-report/
GOP and Fox News rush to turn vaccine door-knockers into terrifying straw men
"It has been three days since President Biden announced an initiative to send people door-to-door trying to get more people vaccinated, and Republicans and their conservative media allies have wasted no time turning those door-knockers into terrifying straw men.
Republican members of Congress and conservative talkers have wrongly pitched the effort as forced vaccination — even repeatedly invoking the Nazis — and lodged baseless suggestions that it would be done using illegally obtained medical information. Others have suggested it's something akin to government coercion or even a precursor to gun confiscation. https://www.washingtonpost.com/politics/2021/07/09/gop-fox-news-rush-turn-vaccine-door-knockers-into-terrifying-straw-men/
Trump's still waging a war on truth — and it's still bad for democracy
Eight months after he lost convincingly to President Biden, Trump and his followers are studiously maintaining an alternative reality — and having remarkable success keeping the fiction alive.
Almost two-thirds of GOP voters told pollsters in one recent survey that they're still convinced the election was stolen — a number that hasn't changed much since November.
The fantasy hasn't stayed alive on its own; Trump has spent much of his time since leaving office stoking his claims and warning Republican politicians that he will torpedo their careers if they don't back him up.
"If they don't, I have little doubt that they will be primaried and quickly run out of office," he said in a written statement last month. https://www.latimes.com/politics/story/2021-07-11/trumps-still-waging-a-war-on-truth-and-its-still-bad-for-democracy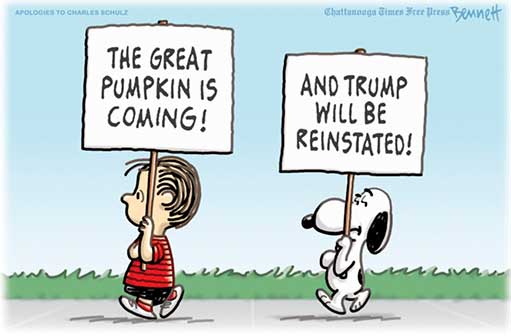 The Republican Party's top lawyer called election fraud arguments by Trump's lawyers a 'joke' that could mislead millions
The Republican Party's top lawyer warned in November against continuing to push false claims that the presidential election was stolen, calling efforts by some of the former president's lawyers a "joke" that could mislead millions of people, according to an email obtained by The Washington Post.
Justin Riemer, the Republican National Committee's chief counsel, sought to discourage a Republican Party staffer from posting claims about ballot fraud on RNC accounts, the email shows, as attempts by Trump and his associates to challenge results in a number of states, such as Arizona and Pennsylvania, intensified.
"What Rudy and Jenna are doing is a joke and they are getting laughed out of court," Riemer, a longtime Republican lawyer, wrote to Liz Harrington, a former party spokeswoman on Nov. 28, referring to Trump attorneys Rudolph W. Giuliani and Jenna Ellis. "They are misleading millions of people who have wishful thinking that the president is going to somehow win this thing." https://www.washingtonpost.com/politics/rnc-trump-stop-the-steal/2021/07/12/79e58a02-e320-11eb-934f-7e6c1927f261_story.html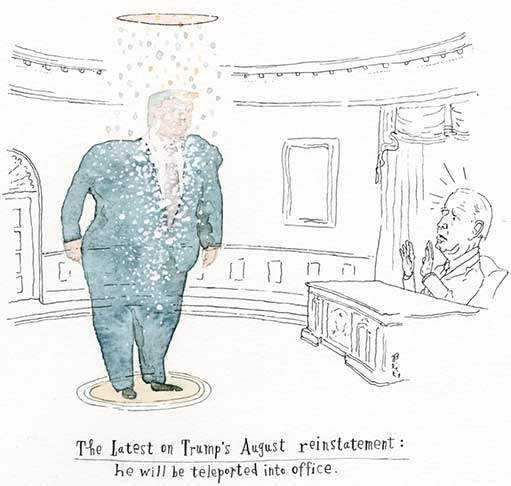 A messy, drawn-out battle over a Mexican American studies program in Tucson could offer a preview of what's to come.
When Arizona lawmakers turned their eyes toward their own "critical race theory" ban this past spring, few seemed to remember how the previous attempt to prohibit race-related studies in schools had turned out here. In 2010, Gov. Jan Brewer signed a law banning Tucson's Mexican American studies program. But today, 15 years after the curriculum first caught the attention of Republican lawmakers and a decade after they outlawed it, the courses — or at least a version of them — live on, thanks to a court-appointed monitor overseeing TUSD'S longstanding federal desegregation order, a dark reminder of the district's own discriminatory past. A federal court later ruled that the 2010 ban violated students' constitutional rights. Today, the program is larger than it's ever been. https://www.politico.com/news/magazine/2021/07/11/tucson-unified-school-districts-mexican-american-studies-program-498926
Trump unloads on Kavanaugh in new Michael Wolff book
Former President Donald Trump, in a book out Tuesday by Michael Wolff, says he is "very disappointed" in votes by Supreme Court Justice Brett Kavanaugh, his own hard-won nominee, and that he "hasn't had the courage you need to be a great justice."
"There were so many others I could have appointed, and everyone wanted me to," Trump told Wolff in an interview for the cheekily titled "Landslide." "Where would he be without me? I saved his life. He wouldn't even be in a law firm. Who would have had him? Nobody. Totally disgraced. Only I saved him."
Wolff writes that Trump feels betrayed by all three justices he put on the court, including Neil Gorsuch and Amy Coney Barrett, but "reserved particular bile for Kavanaugh." https://www.axios.com/trump-kavanaugh-supreme-court-michael-wolff-fd429590-57ab-4a7f-a648-9a3fd50d25f3.html
Trump said whoever 'leaked' info on his White House bunker stay should be 'executed,' new book claims
Then-President Donald Trump told a number of his advisers in 2020 that whoever leaked information about his stay in the White House bunker had committed treason and should be executed for sharing details about the episode with members of the press, according to excerpts of a new book by Wall Street Journal reporter Michael Bender.
Trump, along with then-first lady Melania Trump and their son, Barron, were all taken to the underground bunker for a period of time during the protests spurred by the police killing of George Floyd as protesters gathered outside the building. Bender writes in the book, titled "Frankly, We Did Win This Election: The Inside Story of How Trump Lost," that Trump, in the days following his time in the bunker, held a tense meeting with top military, law enforcement and West Wing advisers, in which he aired grievances over the leak.
"Trump boiled over about the bunker story as soon as they arrived and shouted at them to smoke out whoever had leaked it. It was the most upset some aides had ever seen the president," Bender writes.
'Whoever did that, they should be charged with treason!' Trump yelled. 'They should be executed!'" the book reads. https://www.cnn.com/2021/07/13/politics/trump-white-house-bunker-leak-executed-treason-book-claims/index.html
Trump Organization May Spell Trouble for Trump's Children
The indictment filed last week against the Trump Organization and its long-time chief financial officer Allen Weisselberg isn't heavy on names, but there's one major exception: a list of seven Trump Organization companies—including one where Ivanka Trump held an executive role for eight years.
Prosecutors say the seven companies, along with unnamed Trump entities, exhibited a pattern of paying "a substantial portion" of year-end bonuses to Weisselberg and "other executives" as if they weren't employees, but independent contractors. Prosecutors also claim the companies and executives knew the practice was wrong, and the amounts appear to be substantial. For instance, Weisselberg allegedly broke the law by putting hundreds of thousands of dollars in bonus money in a tax-free pension plan.
But experts say the arrangement also implicates the companies—and possibly the executives who ran them.https://www.thedailybeast.com/trump-organization-indictment-may-spell-trouble-for-ivanka-don-jr-and-eric-trump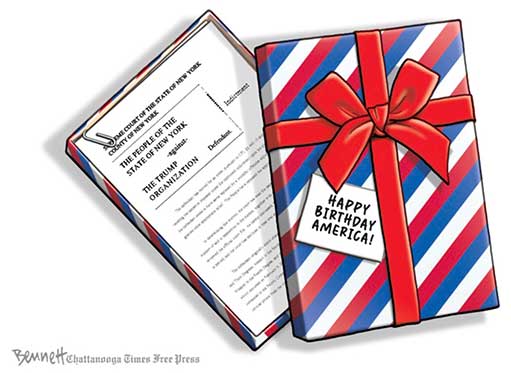 GOP lawmakers caught on video telling activists to thank Manchin and Sinema for not blowing up the filibuster: 'Without that, we would be dead meat'
Several Republican lawmakers were secretly filmed imploring conservative activists to flood a pair of centrist Democrats with messages of gratitude for holding firm on the filibuster, a 60-vote threshold that most bills need to clear the Senate.

"But thank goodness for Sinema and Joe Manchin," he said, referring to Sens. Joe Manchin of West Virginia and Kyrsten Sinema of Arizona, both of whom have resisted a mounting chorus of Democratic calls to abolish the filibuster.
Rep. Byron Donalds of Florida could then be heard urging activists to call the pair of centrist Democrats and thank them for refusing to blow up the filibuster. https://www.businessinsider.com/video-gop-lawmakers-tell-activists-thank-manchin-sinema-filibuster-2021-7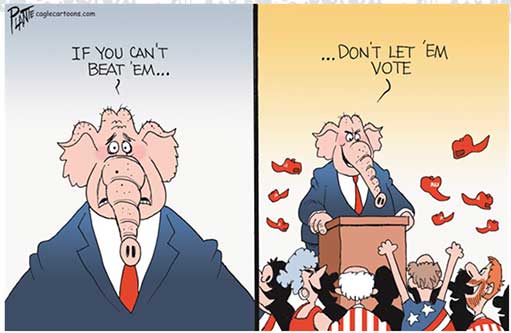 "The Tax Cuts and Jobs Act" was supposed to stop corporate dodgers. It didn't
A key selling point of the 2017 Tax Cuts and Jobs Act was that it would discourage multinational corporations from funneling billions in profits to offshore tax havens, bringing that money back to the U.S. where it could create jobs and boost economic growth. But a recent analysis concludes that the tax overhaul failed to stem the flow of corporate earnings overseas.
The study, by Javier Garcia-Bernardo and Petr Janský of Charles University in Prague and Gabriel Zucman of the University of California, Berkeley, found that the TCJA had little impact on the share of foreign income booked by U.S. companies in tax havens like Bermuda and Ireland. From 2015 to 2020 — the years before and after the law took effect — that share held steady at about 50%. 
"For decades, Congress has been playing catch-up as business owners and a handful of tax havens have driven international tax policy," Zucman, a noted expert on inequality, wrote this week in a New York Times op-ed that summarized the findings.
He added, "The result has been a nation where working-class Americans are left with underfunded public schools and hospitals as the wealthy board rocketships to outer space." https://www.cbsnews.com/news/tax-cuts-jobs-act-corporate-tax-dodgers-study/
Kamala Harris Harris announces $25 million DNC investment to aid voting access
VP Kamala Harris on Thursday announced a $25 million investment by the DNC to support efforts to protect voting access ahead of the 2022 midterm elections.
"With this $25 million, the Democrats are investing in the tools and technology to register voters, to educate voters, to turn out voters, to protect voters," Harris said in a speech at Howard University.
"People say, 'What's the strategy?' Well, I just outlined it," she said.
The $25 million will expand the DNC's "I Will Vote" campaign and will be used to help register and educate voters and will establish the DNC's largest voter protection team. Some of those functions, like voter registration, are routine for a political party.
The money will also be used to create the largest tech team in the DNC's history, which will use data and other tools to reach people who might be affected by restrictive voting laws or who might have been purged from voting rolls. https://www.nbcnews.com/politics/white-house/harris-announce-25-million-dnc-investment-aid-voting-access-n1273387
Did Trump and his allies interfere with the Maricopa County election? Secretary of State Katie Hobbs wants an inquiry
Arizona Secretary of State Katie Hobbs on Wednesday asked Attorney General Mark Brnovich to open a criminal investigation into possible efforts by former President Donald Trump and his allies to influence Maricopa County supervisors as the ballots were still being tallied.
Hobbs said some of the communications "involve clear efforts to induce supervisors to refuse to comply with their duties," which could violate Arizona law. She cited The Arizona Republic's reporting last week on text messages and voicemails from the White House, Trump's personal attorney, Rudy Giuliani, and Arizona Republican Party Chair Kelli Ward to the Republican members of the Board of Supervisors.
"The reporting also includes firsthand statements from the victims of this potential crime," Hobbs said. She cited at least one potential felony charge under Arizona law. https://www.azcentral.com/story/news/politics/elections/2021/07/07/hobbs-asks-brnovich-investigate-possible-election-interference-by-trump-arizona/7894501002/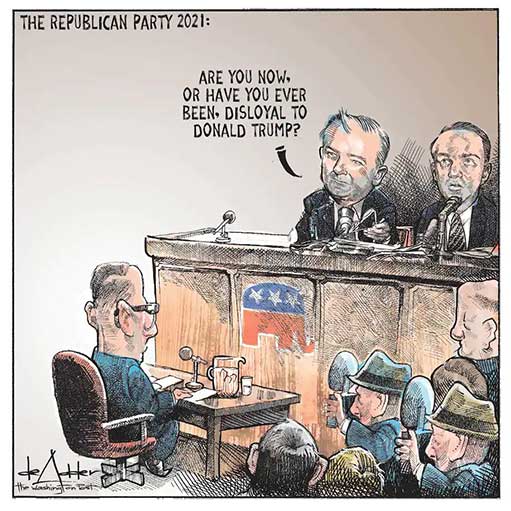 State Policy Trends at Midyear 2021: Already the Worst Legislative Year Ever for U.S. Abortion Rights
In the first six months of the year, many state legislatures engaged in an assault on many civil rights, including abortion, voting and transgender rights. More abortion restrictions—90—have already been enacted in 2021 than in any year since the Roe v. Wade decision was handed down in 1973. Many of these actions took place in the beginning of the year, despite the need for state legislatures to address critical issues ranging from racial equity to the -19 response and pandemic-related health care. https://www.guttmacher.org/article/2021/07/state-policy-trends-midyear-2021-already-worst-legislative-year-ever-us-abortion
Kamala emerges as main GOP foil on campaign trail
The Republican onslaught against Harris is due, in part, to the fact that the GOP has struggled to land attacks against Biden. While Republican voters see the president in an overwhelmingly negative light, "it's difficult to make him look like the main villain," one Republican strategist said.
"People just don't really have very intense feelings about Biden," the strategist said. "He's been around forever, and he still has kind of the 'Uncle Joe' persona to a lot of people. It's not that everyone loves him, but people see him as more of a regular guy, a union guy, more as a centrist."
"It's easier to go after Harris and make it look like Biden's just a bumbling old guy who's not in control," the strategist added. https://thehill.com/homenews/campaign/562877-harris-emerges-as-main-gop-foil-on-campaign-trail
Russia's most aggressive ransomware group disappeared. It's unclear who made that happen.
During a meeting in Geneva on June 16, President Biden pressured Russia's president, Vladimir V. Putin, to take action against cybercriminals who are attacking American targets. In starker terms, Mr. Biden demanded that Mr. Putin take action in a call last week.
Just days after President Biden demanded that President Vladimir V. Putin of Russia shut down ransomware groups attacking American targets, the most aggressive of the groups, REvil suddenly went off-line early Tuesday. https://www.nytimes.com/2021/07/13/us/politics/russia-hacking-ransomware-revil.html
Judge throws out Roy Moore's $95 million suit against Sacha Baron Cohen
A federal court on Tuesday threw out the defamation lawsuit filed by Roy Moore, Alabama's former chief justice, against comedian Sacha Baron Cohen.
Moore, who served twice in his role on the Alabama Supreme Court and was twice removed from the position, sued Baron Cohen after Moore was interviewed under the pretense that he would receive an award for his support of Israel. Baron Cohen pretended to be an Israeli anti-terrorism expert and claimed he had technology that would show whether Moore was a pedophile — a reference to sexual misconduct allegations against Moore — for the series "Who Is America?" https://www.politico.com/news/2021/07/13/roy-moore-lawsuit-baron-cohen-499505
Florida Dems to Biden: Don't blow 'golden opportunity' on Cuba
Donald Trump and the GOP dominated Florida's elections last November in part due to the former president's hardline Latin America policy and rhetoric.
Now, in Cuba's historic uprisings, Florida Democrats see what many are calling a "golden opportunity": a chance for President Joe Biden to help bring democracy to the island and, as a result, attract the Hispanic voters that he hemorrhaged eight months ago.
"This is a 'Mr. Gorbachev, tear down this wall!' opportunity," said state Sen. Annette Taddeo, a Democrat from Miami who represents a district that Trump won. "We need to be the beacon of hope. There are people in Cuba protesting waving the American flag. That has never happened. We need to understand the moment we're living in." https://www.politico.com/news/2021/07/14/cuba-protests-biden-499621
Biden aims for Canadian prescription imports in new drug price executive order
President Joe Biden will direct the Food and Drug Administration to work with states on developing a plan to import cheaper versions of prescription drugs from Canada, a controversial move that fizzled under the Trump administration.
Biden's sweeping executive order on "Promoting Competition in the American Economy," which will be signed on Friday afternoon, includes several regulatory efforts to lower drug prices and "directs the Food and Drug Administration to work with states and tribes to safely import prescription drugs from Canada, pursuant to the Medicare Modernization Act of 2003." https://www.washingtonexaminer.com/news/biden-canadian-prescription-imports-drug-price-executive-order
Conservative groups mount opposition to increase in IRS budget
Conservative political groups are mobilizing against a key element of a bipartisan infrastructure deal, and their opposition could make it harder for the U.S. government to collect unpaid taxes.
The early contours of the infrastructure blueprint have won the White House's support, but the IRS provision in particular is drawing opposition from well-funded conservative groups, which are strongly opposed to expanding the reach of a tax-collection agency that they long have alleged is politically motivated.
Among the conservative groups spearheading the opposition are the Committee to Unleash Prosperity, FreedomWorks, the Conservative Action Project, and the Leadership Institute. They are preparing a letter that warns Republicans should not negotiate with the White House unless they agree to "no additional funding for the Internal Revenue Service." https://www.washingtonpost.com/business/2021/07/07/irs-taxes-budget-conservatives/
The DAILY GRILL
"These were peaceful people, these were great people," Trump said in an interview with Fox News host Maria Bartiromo. Recalling the events of Jan. 6, Trump claimed "there was love in the air" at his rally earlier that day at the White House, and falsely said there was a "lovefest between the Capitol and the people that walked down to the Capitol. They are military people, and police officers and construction workers," he added. They are tremendous. In many cases, tremendous people."

VERSUS

Video released by the Justice Department

The Virginia Republican Party demanded an ethics investigation into the University of Virginia election forecaster Larry Sabato over his tweets that they say display "bitter partisanship" in favor of Democrats. —  Mica Soellner reports in The Washington Times 

VERSUS

"Thanks to the Republicans for the hearty laugh you've given me. There goes my reserved seat at your next insurrection. Oh well." — Larry Sabato responding on Twitter

 

In 2016, J.D. Vance, author of the book "Hillbilly Elegy." expressly singled out Trump's treatment of immigration for harsh condemnation. Vance ripped Trump as "reprehensible" because Trump was making "people I care about afraid," in particular "immigrants" and "Muslims." Vance said at the time, Trump was exploiting the vulnerability of struggling rural and small-town Americans to demagoguery about immigrants (and globalization). https://www.washingtonpost.com/opinions/2021/07/06/jd-vance-realizes-trump-was-right-about-trump-voters-after-all/

VERSUS

"I ask folks not to judge me based on what I said in 2016, because I've been very open that I did say those critical things and I regret them, and I regret being wrong about the guy. I think he was a good president, I think he made a lot of good decisions for people, and I think he took a lot of flak." — J.D. Vance, now a Senate candidate, has seen the light.
From MEDIA MATTERS (They watch Fox News so you don't have to)
"So, because this disease -- the median age in Ohio of death is 80, your 15-year-old needs to have Joe Biden's health authority show up at your house with a needle. I mean, I don't — this is the — I think — I honestly think it's the greatest scandal in my lifetime by far. I thought the Iraq War was, it seems much bigger than that." — Tucker Carlson

"I feel like a vaccination in a weird way is just generally kind of going against nature. Like, I mean, if there is some disease out there — maybe there's just an ebb and flow to life where something's supposed to wipe out a certain amount of people, and that's just kind of the way evolution goes. it's kind of stand in the way of that." — Newsmax host Rob Schmitt

So why is official Washington so angry at the people who won't get vaccinated? How precisely do they pose a threat? It makes you think, once you think about it, that maybe none of this is really about COVID. Maybe it's about social control. — Tucker Carlson

Pennsylvania state Sen. Doug Mastriano, is leading an effort in to conduct a supposed "forensic investigation" of the Pennsylvania's election. Mastriano, a likely candidate for governor and one of the state's most visible 2020 election conspiracy theorists, has sent more than 50 tweets with the QAnon hashtag.  
Eugene Robinson: The GOP death cult attitude toward coronavirus vaccines isn't just lethal. It's stupid
What used to be the conservative movement in this country is becoming a death cult. The measure of its power is less in ballots cast than in how many people die needlessly in service of this twisted worldview.
This reality was on view over the weekend in Dallas at the Conservative Political Action Conference, where attendees cheered when Alex Berenson, who has made himself a Fox News folk hero for spreading misinformation about covid-19 vaccines, crowed about the fact that fewer Americans were getting their shots than public health officials had hoped.
"It's horrifying," Anthony S. Fauci, director of the National Institute of Allergy and Infectious Diseases, said on CNN's "State of the Union" Sunday. "I mean, they are cheering about someone saying that it's a good thing for people not to try and save their lives. … Everybody starts screaming and clapping. I just don't get that. I mean, and I don't think that anybody who is thinking clearly can get that. What is that all about?"
I'll tell you, even if the good doctor won't. The cheers are all about "owning" Fauci, President Biden, liberals in general, scientists in particular, mask-wearers, fancy-pants "elites" and everyone else urging people to get vaccinated. The inevitable result will be that we end up mourning people who didn't need to die. And the worst-case possibility is that covid-19 roars back — along with the restrictions and isolations Americans thought we'd left behind. https://www.washingtonpost.com/opinions/2021/07/12/gop-death-cult-attitude-toward-coronavirus-vaccines-isnt-just-lethal-its-stupid/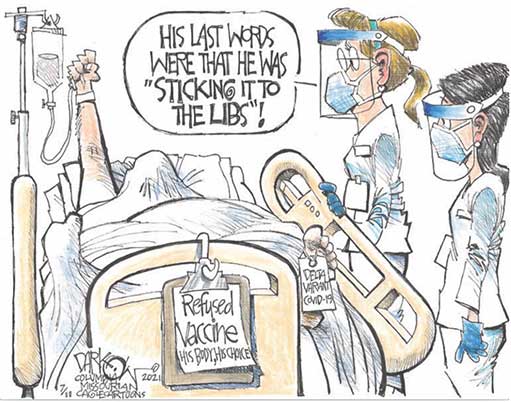 Amanda Carpenter: The Real Point of the Arizona Audit
It's all a big show.
If you're waiting to read the Cyber Ninjas' report about Maricopa County's election counts to find out what happens next in Donald Trump's rigged election narrative, don't bother.
The sham audit itself is the endgame. The audit, which began on April 23, was supposed to end by May 14. Now, nearly two months after blowing past that deadline, a spokesman says people shouldn't expect anything until August. But, really, who knows when, or if, it all will ever end.
It's not like anyone in MAGA land is in any hurry to call curtains on the big show. That's because the performance, as incompetent as it is, is the point. It's what's keeping Trump's election delusions alive and well; not what will prove or disprove whether the fantasy has merit. The play's the thing.
Besides, haven't they already won, on some level? It's not every day a couple of partisans are able to seize millions of ballots and a bunch of expensive election equipment to put on a big, months-long show at the Veterans Memorial Coliseum. Everybody came, too. Politicos, reporters, elected officials. MAGA propagandists are still capitalizing on all the free content. And donations keep pouring into the coffers of Trump-adjacent grifters all around. Why end it now? https://thebulwark.com/the-real-point-of-the-arizona-audit/
Jackie Kucinich: Trump Pick in Ohio Slammed as 'Swampiest Swamp Creature'
He's the Trump-annointed candidate running to make the Columbus suburbs MAGA again. But while former energy lobbyist Mike Carey is happy to tout the former president's endorsement in the GOP primary, he's not quite as eager to talk about his proximity to one of Ohio's most expensive corruption scandals.
Carey's campaign website touts him as an "outsider" who "spent his career holding politicians accountable and fighting for working class families." But it only vaguely mentions his "20+ year career as an executive in the American energy industry."
For eight years, Carey worked as the vice president of government affairs at Murray Energy Corporation, once one of the largest coal companies and most notorious violators of environmental laws.
From his perch as an "outsider" at Murray Energy, Carey joined his boss, Bob Murray, and Andrew Wheeler, then a lobbyist for Murray who later became the head of the Environmental Protection Agency, to push their company's agenda in a meeting with then-Energy Secretary Rick Perry. His presence in three meetings with Trump officials are detailed in documents from Wheeler's confirmation hearing.
It was at that meeting where Murray, who donated $300,000 to the Trump inaugural, delivered a wish list of environmental regulatory rollbacks that eventually, according to the New York Times, became a "to-do" list for the Trump administration.
"I'm so sick of these corrupt, jack-booted thug assholes, who think they are above the law and think they can get away with threats," Mike Harley, a longtime Ohio Republican political operative, said. "Somebody like Mike Carey is absolutely the last person that should be a member of Congress—literally he's the swampiest swamp creature around." https://www.thedailybeast.com/donald-trump-pick-mike-carey-in-ohio-slammed-as-swampiest-swamp-creature
Bess Levin: Trump's Criminally Charged CFO Steps Down As Director Of Trump Organization Golf Club
One week after being hit with more than a dozen criminal charges, and the prospect of more than a decade in prison, Allen Weisselberg, the Trump Organization's longtime CFO, has stepped down as a director of Donald Trump's Scottish golf club. In a Thursday filing, the company said that Weisselberg was no longer "a person with significant control" of the Trump International Golf Club Scotland, which Bloomberg notes is "the first sign of Trump's longtime finance chief relinquishing duties after he was charged alongside the Trump Organization," both of which pleaded not guilty to the 15-count indictment from the office of Manhattan district attorney Cyrus Vance Jr., which detailed how Weisselberg and his employer allegedly avoided taxes on $1.76 million worth of perks, including an apartment, cars, and private school tuition.
At this time, it's not clear what Weisselberg's stepping down means with regard to Trump's chances of staying out of prison. Is the company trying to distance itself from Weisselberg, and laying the groundwork to claim he acted alone? Given Trump's long history of pretending not to know people who could get him in serious trouble, it's entirely possible! Is Weisselberg preparing to step aside from the company, and inform on his old boss? That obviously could also be the case. The news could also have nothing whatsoever to do with the recent charges against Weisselberg and the company, though that seems somewhat unlikely.
Regardless, if Trump isn't generally concerned at the moment, he definitely should be. Prosecutors have for months been working to get Weisselberg to flip, and while he has reportedly thus far remained to the ex-president, there's nothing like the chance of numerous years in prison to get a person to rethink their situation. As former federal prosecutor Cynthia Alksne told MSNBC earlier week, "The jury will hate [Weisselberg]. He's not going to have a jury of people who go to MAGA rallies, he's going to have a cross section of people who live in Manhattan, who do pay Manhattan taxes, who don't get free Mercedes, who don't have somebody else paying for their children's education and not have tax ramifications for that. So I think he will be a very hated defendant, Mr. Weisselberg, and I'm sure his defense attorneys have told him so." Also weighing in on the CFO's situation was former U.S. Attorney Preet Bharara, who tweeted, "I am optimistic he'll be convicted. The law is fairly clear on what is income & what is taxable. He's a sophisticated executive; mistake is implausible. The company booked much of it as income. And juries hate rich tax cheats." https://www.vanityfair.com/news/2021/07/allen-weisselberg-trump-organization-golf-club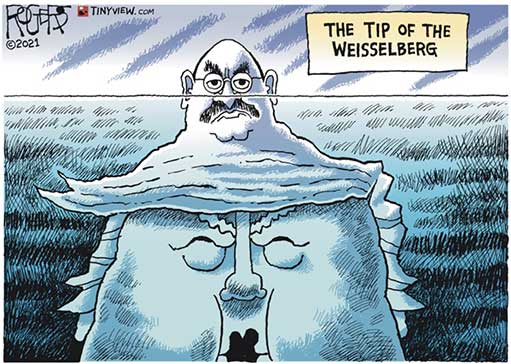 Jonathan Chait: The Chilling Message of Trump's Embrace of Ashli Babbitt Martyrdom January 6 is now a heroic uprising for the movement.
Last Thursday, Donald Trump announced a new theme, with all his customary blunt-force subtlety. "Who shot Ashli Babbitt?," he wrote on his official pseudo-presidential stationery. Those four words were the entirety of the message.
Two days later, at his rally in Florida, he said more. "Who shot Ashli Babbitt? We all saw the hand. We saw the gun … You know, if that were on the other side, the person that did the shooting would be strung up and hung. Okay? Now, they don't want to give the name … It's a terrible thing, right? Shot. Boom. And it's a terrible thing."
And then, speaking Wednesday about his lawsuit challenging his social-media ban, Trump returned to the subject again. Asked about the insurrection, he changed the subject to the terrible people on the other side who were not being charged, and brought up Babbitt once again: "The person that shot Ashli Babbitt. Boom. Right through the head. Just, boom. There was no reason for that. And why isn't that person being opened up, and why isn't that being studied?"
Martyrs are the most potent symbols for a radical movement. The John Birch Society commemorated an American missionary killed by Chinese communists in 1945 (the first death of the Cold War, the society's followers believed). Horst Wessel, a German storm trooper killed by communists in 1930, inspired an eponymous song that became a Nazi anthem.
The anti-anti-Trump right has dismissed the insurrection as overblown, a protest march gone bad, perhaps ill-considered but never posing any serious threat to the republic. The far right's highlighting of Babbitt's death sends a different message: The insurrection was good. Babbitt's effort to penetrate the defensive barrier was brave, and the stopping of her charge a crime.
By throwing himself behind this message, Trump is endorsing the most radical interpretation of his presidency. January 6 was not a minor misstep after a successful era, as fans like Mike Pence and Lindsey Graham now say. It was the heroic culmination of a righteous uprising. https://nymag.com/intelligencer/2021/07/trump-who-shot-ashli-babbitt-january-6-insurrection-riot.html
Rick Hasen: The Supreme Court's Latest Voting Rights Opinion Is Even Worse Than It Seems
It's been almost a week since the Supreme Court issued its most significant ruling on voting rights in nearly a decade, and each time I read Justice Samuel Alito's majority opinion in Brnovich v. Democratic National Committe, the angrier I become. I'm angry not only about what the court did but also about how much of the public does not realize what a hit American democracy has taken.
In an opinion thick with irony, Justice Alito turned back the clock on voting rights to 1982. His decision for a six-justice conservative court majority reopens the door to a United States in which states can put up roadblocks to minority voting and engage in voter suppression with few legal consequences once a state has raised tenuous and unsupported concerns about the risk of voter fraud. It's exactly the opposite of what Congress intended when it strengthened Section 2 of the Voting Rights Act in 1982, and it turns on its head the "non-retrogression" principle that Congress wrote in Section 5 of the act and that the court essentially killed off eight years ago in Shelby County v. Holder.
Justice Alito and the other conservative justices are leading the United States back to a time when racial discrimination in voting was easy, voting lawsuits hard, and political activity conducted behind a veil of secrecy. That probably fills Justice Alito, who has long shown hostility to voting rights, with nostalgia. Those may have been the good old days for him, but they were days of continued discrimination against minority voters for much of the country. https://slate.com/news-and-politics/2021/07/supreme-court-sam-alito-brnovich-angry.html
Dana Milbank: Mitch McConnell, naked and afraid
On rare occasions, Mitch McConnell can summon the ability to mimic human emotions.
Ten days ago, for example, the Senate Republican leader was asked, at a Chamber of Commerce event, to imagine: "You're stranded on a desert island and you can only have one companion. Your choices are Joe Biden, Barack Obama, Bill Clinton or Jimmy Carter. Who do you choose?
McConnell had little hesitation. "Biden and I did four bipartisan deals during the Obama administration. I consider him a personal friend," he said. "I was the only Republican who went to his son Beau's funeral. So that would be an easy choice. I think Biden is a first-rate person."
McConnell takes every opportunity to undermine this "first-rate person" and "personal friend" — both politically and personally.
McConnell waited more than five weeks before acknowledging Biden's victory, allowing Donald Trump and his allies to delegitimize Biden — and the election — in the eyes of tens of millions of Trump supporters. McConnell didn't speak up because he wanted Republicans to win Senate runoffs in Georgia. "Look, we need the president in Georgia and so we cannot be frontally attacking him right now," McConnell told the attorney general, according to Jonathan Karl of ABC News.
McConnell withheld support for the new Senate's organizing resolution for weeks, delaying consideration of his friend Biden's nominees.
Asked about Trump's election lies, McConnell instead attacked his friend. "One hundred percent of my focus is on stopping this new administration," he said, also tagging friend Biden with the "socialist" moniker.
McConnell vowed to fight the relief legislation "in every way that we can." He filibustered bipartisan legislation to create a commission to examine the Jan. 6 insurrection. He filibustered equal-pay legislation requiring employers to show that they don't discriminate against women. He filibustered voting rights legislation and upended bipartisan talks on legislation to address police brutality.
He has so far failed to endorse bipartisan infrastructure legislation, while saying he would wage a "hell of a fight" if Democrats go it alone.
And he stands by as his staff portrays Biden as senile. McConnell aides "have taken to describing the White House chief of staff as 'Prime Minister Klain,'" the Hill reported, attempting "to undercut public perception of Biden as a leader who is totally with it."
With friends like these …
McConnell is not a man you'd want in your foxhole — or on your desert island. But his treachery would make for good television. https://www.washingtonpost.com/opinions/2021/07/09/mcconnell-biden-desert-island/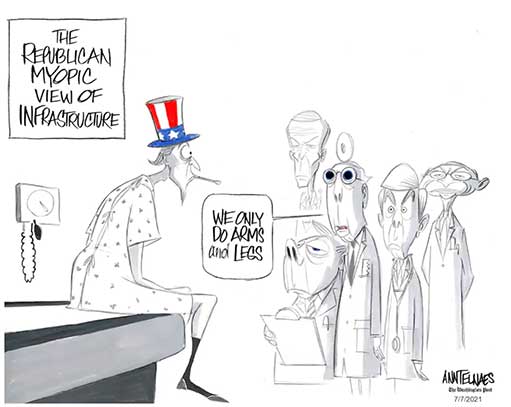 Greg Sargent: Tom Cotton's slimy attack on a 'critical race theory' professor is full of holes
Sen. Tom Cotton is calling for the firing of a U.S. Air Force Academy professor after she admitted to discussing critical race theory with cadets. But even a cursory look at the Arkansas Republican's slimy argument shows how full of holes it really is.
Cotton and other Republicans are unloading over this op-ed piece in The Post by Lynne Chandler García, an associate professor of political science at the Air Force Academy.
In it, García says she teaches critical race theory as an "academic framework" to analyze the fact that the founding and its documents harbored a "duality" between ideals of equality and realities of inequality and slavery. She also uses it to better understand "structural racism" that "has been endemic in American society," and employs it for "deconstructing oppressive beliefs."
Yet Cotton sees it as a firing offense, saying this:
We should not be teaching and indoctrinating our cadets to believe that our military is a fundamentally racist institution. Who exactly is going to want to raise their hand and take an oath to defend our Constitution if you believe what Professor Garcia is teaching about it?
García in no way says the military is a fundamentally racist institution. She cites the original segregation of the armed forces and the fact that George Washington may have initially opposed recruiting Black soldiers, and says:
Racism was ingrained in the system from the beginning, and the military still struggles with these issues. As a recent inspector general's report on disparities in the Air Force and Space Force pointed out, Black service members lag behind their White peers in promotion rates but are overrepresented in disciplinary actions. Further, a recent Defense Department report documented the threat of white supremacy within the ranks.
Indeed, García herself notes that the ultimate desegregation of the armed forces was something to celebrate — again, pointing to a dramatic historical moment of institutional improvement. Talking about this will make people less inclined to serve in that institution?
But come on, this latest controversy is an utter joke. Cotton can't possibly believe our cadets are such snowflakes that this op-ed will cause them and their morale to melt into puddles of shame. Can he? https://www.washingtonpost.com/opinions/2021/07/08/tom-cotton-critical-race-theory-professor-attack-holes/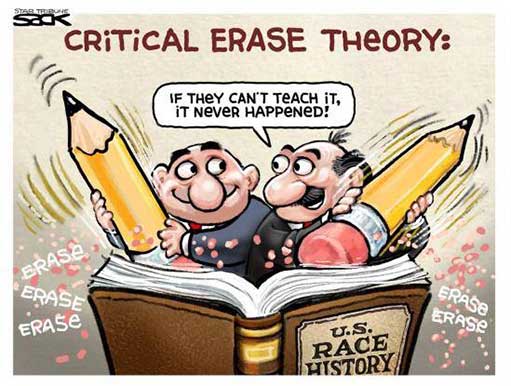 Steve Schmidt: Stop Appeasing Autocrats
40% of the population has $400 cash in savings. Huge swaths of the country lack broadband, and our national infrastructure is decrepit. Billionaires who fund their own space programs pay no es, while the country's senior political leaders, who incited an insurrection, remain protected by their own coverup.
The concept of truth has been obliterated by a toxic combination of algorithms, misinformation and greed. There is an autocratic movement that is large, rich, powerful and on the march. It is maneuvering, yet somehow it remains invisible to the people who are nearest to it and have the power to do something about it.
The Senate is a small club, and maybe that's the problem. Maybe it's hard to look at someone and comprehend their bad faith. We are in for a long season of fighting over some really big and important things in this country. Orienting toward the ugly truth of what it is we are fighting is profoundly important.
We are fighting an autocratic movement that includes an eclectic multitude of extremist groups, among them fascists, theocrats, white supremacists and conspiracy loons. They are dangerous and they want political power again. This movement teems with menace and violence.
It has killed and it will kill again. The pro-democracy coalition must win the 2024, 2028 and 2032 elections to break this. It will not be easy. https://www.maxnewstoday.com/post/stop-appeasing-autocrats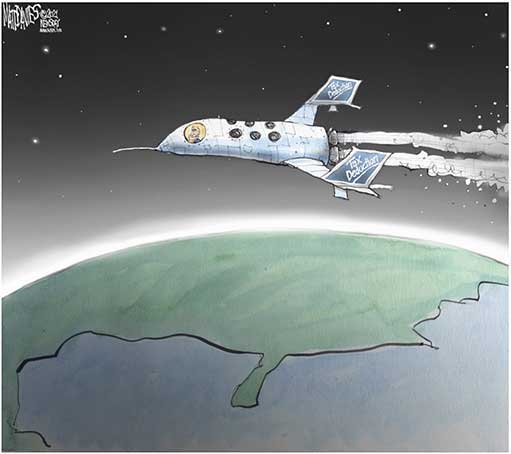 Bess Levin: Trump All But Dares His Supporters To Attack The U.S.
In a reasonable society, the insurrection that took place on January 6, 2021, would have (1) resulted in Donald Trump being convicted at his second impeachment trial and barred from ever holding public office again, and (2) been a dark stain on the Republican Party that no one would dare play down or even mention for fear of being associated with a violent, failed coup. Instead, thanks to the GOP's embrace of fascism, lies, and an aspiring dictator who continues to perpetuate the delusion that he won a second term, it's become de rigueur for conservatives to whitewash the attack on democracy. Senator Ron Johnson claimed in March that he never feared for his life because the mob was comprised of "people that loved this country." Rep. Andrew Clyde declared out loud, in public, that the scene that unfolded that day looked like "a normal tourist visit." And on Sunday, Trump took the gaslighting and bullshit to the next level, rebranding an attempt to overturn the election, which left five people dead and more than 100 officers injured, as a peaceful gathering of "patriots" who were justified in their actions.
[Trump] has slowly turned January 6 from a black mark that threatened to expunge him from Republican politics, to a regrettable episode that his allies preferred to leave behind, to a glorious uprising behind which he could rally his adherents.
The anti-anti-Trump right has dismissed the insurrection as overblown, a protest march gone bad, perhaps ill-considered but never posing any serious threat to the republic. The far right's highlighting of Babbitt's death sends a different message: The insurrection was good. Babbitt's effort to penetrate the defensive barrier was brave, and the stopping of her charge a crime.
By throwing himself behind this message, Trump is endorsing the most radical interpretation of his presidency. January 6 was not a minor misstep after a successful era, as fans like Mike Pence and Lindsey Graham now say. It was the heroic culmination of a righteous uprising. https://www.vanityfair.com/news/2021/07/donald-trump-capitol-attack-patriots