July 8, 2021
ON THE RECORD. . .
With all due respect to those who think the DA charges this week were all there is, I disagree. This was a shot across the bow. More to come. DA message to Trump Org employees cooperate now or face charges and jail. That's how this works. — Andrew Weissmann, the lead prosecutor in Robert S. Mueller's Special Counsel's Office.

"You didn't pay tax on the car or a company apartment...you didn't pay tax, or education for your grandchildren — I don't even know what do you have to put? Does anybody know the answer to that stuff?" -- Trump's statement at his Saratoga rally. Prosecutors call this an admission… — Andrew Feinberg

"Crime is rampant, people are leaving the city in record numbers, it's dirty, it's disgusting, New York is no longer what it is. And they have an entire district attorney's office and attorney general's office that's focused on $3.5 million to take down a political opponent? I mean this is what they do, this is New York state for you, this is worse than a banana republic, it's truly horrible. And Raymond, you know this better than anybody, they're afraid that my father is going to run in 2024 and they are afraid that he is going to win." As he, his brother, and all conservatives are contractually obligated to do. They don't look at corrupt Hunter Biden. No they don't care about any of that. They care about going after innocent, great human beings." — Eric Trump on Fox, channeling his father, who spent the last year of his presidency claiming New York and other states that didn't vote for him are crime-infested hellholes.

"They're alleging $100,000 a year in perks over 15 years. This is a $2 billion company, the Trump Organization, so we're talking about pennies on the dollar, okay? Pennies on the dollar. So this is all they can find? This is all they can find? After promising, what, illegal loans from Moscow? Illegal tax shelters? They promised us the world. So if this is all they can find, a Mercedes that wasn't properly filed in a tax return? This is usually dealt with from my understanding, maybe a fine, maybe you just refile the tax. Never have they ever charged anybody criminally like this before." To which Don Jr. responded, "Correct." — Fox host Jesse Watters.

"You know, we have a lottery that basically says, if you're vaccinated we're going to give you stuff. Well, you've got another lottery going on, and it's the death lottery." — West Virginia's Reppublican Governor Jim Justice

"Our job is to do everything we can to slow all of that down to get to December of 2022 and then get in here and lead… 18 more months of chaos and the inability to get stuff done. That's what we want." — Rep. Chip Roy (R-TX) caught on a hidden video dismissing any chance of bipartisanship.

"The haters never take a day off from hating, that is clear. And they never take a day off from getting the facts wrong. We know most of our forefathers, all of our main Founding Fathers were against slavery, recognized the evils of it." — Former White House press secretary Kayleigh McEnany on Fox News. (NOTE: The majority of signers of the Declaration of Independence owned slaves.)

"Like a lot of people, I criticized Trump back in 2016. And I ask folks not to judge me based on what I said in 2016, because I've been very open that I did say those critical things and I regret them, and I regret being wrong about the guy. I think he was a good president, I think he made a lot of good decisions for people, and I think he took a lot of flak." — J.D. Vance, the "Hillbilly Elegy" author who is now running for Congress saying he regrets his since-deleted tweets criticizing Trump.

"I made the decision early in my career that I would be willing to take a potentially career-ending vote. But I thought that vote would be for something like a Social Security reform bill. I never thought it would be for defending democracy." — Representative Adam Kinzinger, one of 10 House Republicans who voted to impeach Trump for inciting the Jan. 6 Capitol riot.

"'We are the news now." — Jeffrey Pedersen, known in the Q world as In The Matrixx, announced on his Telegram channel on Friday that he and his podcast co-host, known as Shady Grooove, had been approved by the Trump Organization for media credentials.

"If we teach that the founding of the United States of America was somehow flawed. It was corrupt. It was racist. That's really dangerous. It strikes at the very foundations of our country."
— Former Secretary of State Mike Pompeo about teaching critical race theory.

"A quick glance confirms what we expected: The justification for these tariffs was so entirely unfounded that even the authors were too embarrassed to let it see the light of day." — Sen.Pat Toomey (R-PA) about the U.S. Commerce Department's report released this week on proposed auto tariffs that the Trump administration refused to make public." 
VIDEOS
How Trump maintains his power over the Republican Party: In a two-part video series, the Washington Post used hours of archival footage and interviews with Post reporters to analyze how Trump took control of the Republican Party, tracing his rise to the 2008 financial crisis and the elections that followed, and breaking down what Trump's rise means for the future of conservatism..
Part https://wapo.st/3pQRK6W
Part 2. https://wapo.st/3wrAUxX
Just Security is continuing to track every pending criminal and civil case against Donald Trump.
---
IN THIS ISSUE
IN THE NEWS
OPINION
Andy Borowitz: Marjorie Taylor Greene Reports Sightings of Jewish Space Lasers Across U.S.
Representative Marjorie Taylor Greene reported that there had been numerous sightings of Jewish space lasers across the United States today.

Greene said that the "increased Jewish-space-laser activity" was a matter of deep concern, although she was not certain of the lasers' purpose.

"You'll have to ask the Rothschilds that," she said. "But it can't be anything good."

Complaining that the use of the Hebraic lasers had gone unchecked, she blasted the Biden Administration for its inaction on what she called "the No. 1 threat to our national security."

"I don't expect Sleepy Joe to do anything about it," she said. "I guess we'll have to wait until August when Donald Trump's President again." https://www.newyorker.com/humor/borowitz-report/
In ramp-up to 2022 midterms, Republican candidates center pitches on Trump's false election claims
A candidate to be Arizona's top elections official said recently he hopes a review of 2020 ballots underway in his state will lead to the reversal of former president Donald Trump's defeat there.
In Georgia, a member of Congress who used to focus primarily on culturally conservative causes such as opposing same-sex marriage has made Trump's false claim that the election was stolen a central element of his bid to try to unseat the current secretary of state.
And in Virginia last month, a political novice who joined Trump's legal team to try to overturn his 2020 loss in court mounted a fierce primary challenge — and won — after attacking a Republican state House member who said he had seen no evidence of widespread fraud in the election.
"He wasn't doing anything — squat, diddly," Wren Williams said in an interview about his primary opponent. "He wasn't taking election integrity seriously. I'm sitting here fighting for election integrity in the courts, and he's my elected representative who can legislate and he's not." https://www.washingtonpost.com/politics/republican-trump-2022-midterms-election-falsehoods/2021/07/04/3a43438c-d36f-11eb-ae54-515e2f63d37d_story.html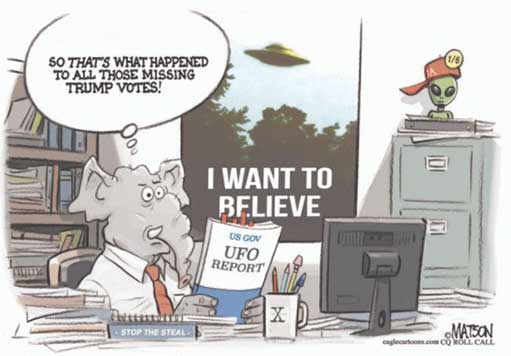 Trump appears to acknowledge tax schemes while questioning whether alleged violations are crimes
Donald Trump lashed out at Manhattan prosecutors Saturday night for indicting his organization and its chief financial officer for tax fraud, calling it "prosecutorial misconduct" in his most extensive comments on the charges since they were unsealed Thursday.
As Trump criticized the investigation, he appeared to acknowledge the tax schemes while questioning whether the alleged violations were in fact crimes.
"They go after good, hard-working people for not paying taxes on a company car," he said at a rally in Sarasota, Fla. "You didn't pay tax on the car or a company apartment. You used an apartment because you need an apartment because you have to travel too far where your house is. You didn't pay tax. Or education for your grandchildren. I don't even know. Do you have to? Does anybody know the answer to that stuff?" https://www.washingtonpost.com/politics/trump-rally-sarasota/2021/07/03/6965b6b2-dc71-11eb-ae62-2d07d7df83bd_story.html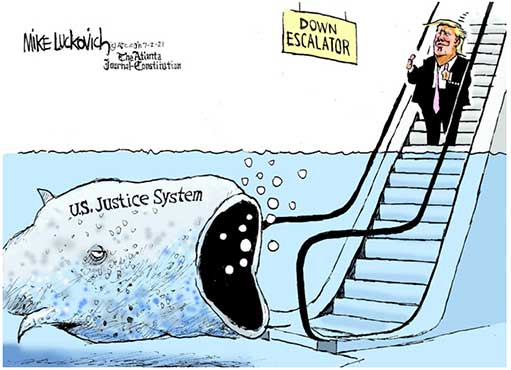 Republican Senators Urge Biden to End Trump-Initiated Trade War
Seven Republican senators sent a letter to the White House asking Biden to repeal tariffs and other trade barriers that Trump implemented during his time in office affecting a wide range of industries, including agriculture, carmakers and manufacturers.
"An important first step would be to reduce barriers to trade with our allies," the letter said. "By doing so, we can stop damaging actions and retaliation and mend relationships while listening to businesses across the country that have suffered from the negative economic consequences." https://gcaptain.com/republican-senators-urge-biden-to-end-trump-initiated-trade-war/
Trump is still bragging about passing his cognitive test from 2018
Donald Trump again boasted of passing a cognitive test from 2018 as he visited the US-Mexico border Wednesday.
The former president relived his success at the test in a roundtable event with Texas Gov. Gregg Abbott where he brought up the test to criticize President Joe Biden.
Although Trump has touted the three-year-old result as proof of his brilliance, it is in fact a basic screening process for evidence of cognitive problems. The vast majority of people would be expected to easily pass.
At the event, Trump said: "Did I ace it? I aced it. And I'd like to see Biden ace it. He won't ace it."
"He will get the first two. There are 35 questions and the first two or three are pretty easy. They are the animals. This is a lion, a giraffe. When he gets to around 20, he's gonna have a little hard time. I think he's gonna have a hard time with the first few, actually," Trump said.
The test in question is a basic screening process for evidence of cognitive problems. The vast majority of people would be expected to easily pass.
Trump later again spoke of his success in the test in an appearance on Fox News host Sean Hannity's show, and had raised the issue Tuesday in an appearance on the Clay Travis and Buck Sexton radio show.  https://www.businessinsider.com/trump-still-bragging-about-passing-cognitive-test-in-2018-2021-7
Report finds extremist right-wing rhetoric in the US is going down a darker path
Newsmax TV and OAN are cable news competitors of Fox News, and both of them have been jumping through hoops to show that they are even more right-wing and more pro-Trump than Fox. For example, OAN's Pearson Sharp called for mass executions during a late June broadcast. Making the false and debunked claim that thousands of election officials helped now-President Joe Biden steal the 2020 election, Sharp told OAN viewers, "In the past, America had a very good solution for dealing with such traitors: execution." https://www.rawstory.com/right-wing-extremism-2653647160/
Biden administration formally launches effort to return deported veterans to U.S.
The Biden administration unveiled plans Friday to bring hundreds, possibly thousands, of deported veterans and their immediate family members back to the United States, saying their removal "failed to live up to our highest values."
Homeland Security Secretary Alejandro Mayorkas ordered his department's immigration agencies to "immediately" take steps to ensure that military families may return to the United States. He said the department would also halt pending deportation proceedings against veterans or their immediate relatives who are in the United States, and clear the way for those who are eligible to apply for U.S. citizenship.
"The Department of Homeland Security recognizes the profound commitment and sacrifice that service members and their families have made to the United States of America," Mayorkas said in a statement Friday. "We are committed to bringing back military service members, veterans, and their immediate family members who were unjustly removed and ensuring they receive the benefits to which they may be entitled." https://www.washingtonpost.com/immigration/biden-deported-veterans-return/2021/07/02/a557285e-db63-11eb-9bbb-37c30dcf9363_story.html
 Generation Lab poll: College students skeptical of GOP crackdown on critical race theory
Nearly half of college Republicans support public schools teaching about institutional racism — and six in 10 don't think state legislatures should be able to stop it —according to a new Generation Lab/Axios poll.
The findings suggest that younger, educated Republicans think much differently about racism and academic freedom than GOP-led state legislatures seeking to censor the teaching of critical race theory.
93% of college students overall — including 73% of college Republicans — say their high school's curriculum was flawed for focusing insufficiently, rather than too much, on the impact of racism on U.S. history. https://www.axios.com/critical-race-theory-polling-college-students-d8b5a7fa-38ac-47b1-b49d-bc3dd1c811e0.html
Day of Rage: An In-Depth Look at How a Mob Stormed the Capitol
A six-month NY Times investigation has synchronized and mapped out thousands of videos and police radio communications from the Jan. 6 Capitol riot, providing the most complete picture to date of what happened — and why. https://www.nytimes.com/video/us/politics/100000007606996/capitol-riot-trump-supporters.html?smid=url-share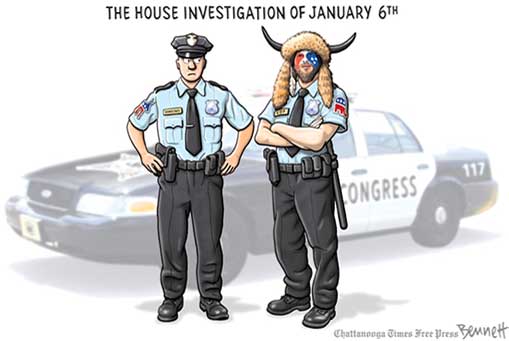 Republicans go all-in on immigration as a political weapon
Five years after Trump rallied Republican primary voters with his chants of "Build that wall!" the election of a Democratic president coupled with the recent increase of migrants from Latin America has afforded Republicans a new opening on border security. It's gaining traction in advertising in Republican campaigns across the country, and it has turned the southern border into a destination for candidates seeking to burnish their conservative bona fides at home.
"It's off the Richter scale in terms of importance for the Republican electorate," said John Thomas, a Republican strategist who works on House campaigns across the country. "It transcends jurisdictions. So, it goes from the suburbs of Orange County to statewide in Nevada … It's even going to be included in a judicial race I'm doing in Fort Worth." https://www.politico.com/news/2021/06/30/republicans-immigration-political-weapon-497227
Trump aide: Ex-prez emboldened by indictment news
 The former president was on a conference call with his advisers Monday discussing his favorite topic — revenge — when he was interrupted with an update on the Manhattan D.A.'s investigation. He would not be personally indicted, Trump was told — only Weisselberg and the Trump Organization would be. Trump was thrilled by what he saw as light charges, and according to one of the advisers on the call, his mind raced to 2024.
"Just wait until 2024, you'll see," Trump implying that the legal case would be seen as a political witch hunt that would backfire on Democrats. "This is going to hurt Sleepy Joe."
But aides said that Trump's interest in the Manhattan D.A.'s case pales in comparison to his obsession with the idea that he could still prove to be the winner of the 2020 election.
"His world is seriously consumed by that," said another Trump adviser. "In comparison to election fraud, [the D.A.'s investigation] is not even close."
According to this adviser, Trump is holding out hope that if the Arizona "audit"/fishing expedition ends up in his favor, a few other states will follow suit, triggering some sort of legal process that would make him president.
He's even questioned the merits of the Constitution, if it can't be used to investigate election fraud. https://www.politico.com/newsletters/playbook/2021/07/01/trump-aide-ex-prez-emboldened-by-indictment-news-493442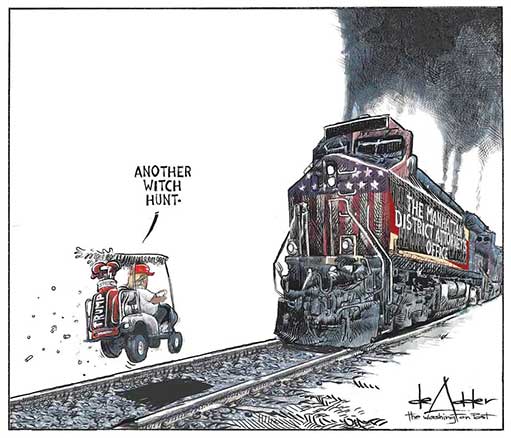 Trump audit excitement meets with fear from election officials
A months long examination of all the ballots from the 2020 election in Arizona's most populous county may be winding down soon. But now the state is spreading the "audit" playbook across the country.
Supporters of former President Donald Trump — fueled by Trump's false claim that he did not lose the 2020 election — are behind a new push to review the results in states including Michigan, Georgia, Pennsylvania and Wisconsin. The new drive is worrying state election administrators, who say the efforts will further inflame conspiracy theories and erode faith in the American democratic system.
The burden of these reviews could fall on the shoulders of state and local election officials, further complicating a field where many are worried about a brain drain due to exhaustion and threats workers faced in the aftermath of the 2020 election.
"We're wasting a lot of taxpayer money. We're wasting a lot of people's time," said Jennifer Morrell, a former elections administrator and consultant who served as a nonpartisan observer for the Arizona secretary of state during the Arizona review. "We're sucking a lot of energy from the folks that need to be preparing and working on the next election."
Former Kentucky Republican Secretary of State Trey Grayson said fixation on 2020 will hurt Republicans in the long run. "I want to be involved in this [report] because I'm worried," he said, noting he is an active party member and just recently attended a fundraiser for a Republican senator. "I want Republicans to see, 'Here's one of us who's telling you don't waste your time, don't waste your money. You're undermining confidence. It's backfiring.'" https://www.politico.com/news/2021/06/30/2020-election-audit-arizona-497049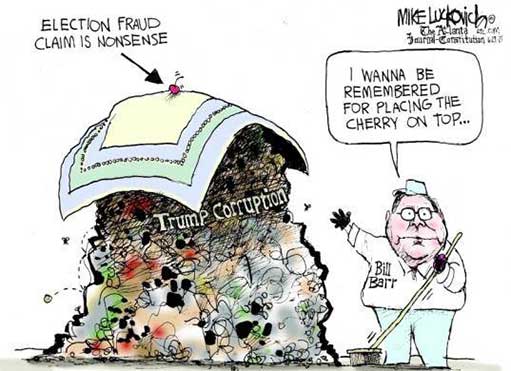 The DAILY GRILL
Carlson, a frequent critic of President Joe Biden, alleged on his show Monday night that "a whistleblower within the U.S. government" informed him that the NSA was "monitoring our electronic communications and is planning to leak them in an attempt to take this show off the air. The Biden administration is spying on us. https://www.yahoo.com/news/nsa-denies-spying-tucker-carlson-130113954.html

VERSUS

"Tucker Carlson has never been an intelligence target of the Agency and the NSA has never had any plans to try to take his program off the air. NSA has a foreign intelligence mission. We target foreign powers to generate insights on foreign activities that could harm the United States." https://twitter.com/NSAGov/status/1410025399032193027
Karen Tumulty: Trump is making Republican leaders look downright pathetic
The telltale characteristics of an abuser are well known: volatility, extreme jealousy, cruelty, controlling behavior.
So when are Republican leaders going to quit rationalizing and acknowledge the truth about their toxic relationship with Donald Trump?
They have managed to convince themselves that they need to appease the former president because he alone can stoke the conservative base enough to accomplish their return to power in 2022.
But the fragility of that premise becomes more apparent every day, as Trump increasingly turns his wrath on them, undermining their legitimacy and questioning their fitness to govern.
On Tuesday, Trump even went so far as to call for the ouster of Mitch McConnell (R-Ky.) as Senate minority leader. "Should have never lost the Senate in the first place, thanks Mitch!" Trump wrote in an email blast. "New leadership is needed, and fast!"
At some point, you would think it would dawn on Republicans that where Trump is concerned, fealty earns nothing in return. https://www.washingtonpost.com/opinions/2021/06/30/trump-is-making-republican-leaders-look-downright-pathetic/
Dana Milbank: As prosecutors indict the Trump Organization, Trump indicts himself
As the world waited for the indictment of the Trump Organization to be unsealed Thursday afternoon, the disgraced former president released a statement  just minutes before the arraignment of his chief financial officer.
Statement by Donald J. Trump, 45th President of the United States of America
Who shot Ashli Babbitt?
How terribly fitting. Just as his company and his top finance guy were about to be charged with 15 counts of fraud, grand larceny, conspiracy and falsifying records, Trump detonated one more weapon of mass distraction.
In doing so, he also abandoned all pretense about the events of Jan. 6. He was with the insurrectionists then, and he is with them now. Ashli Babbitt was the rioter who was shot dead by Capitol Police as she broke through the final barrier protecting huddled lawmakers from the violent mob attacking the House of Representatives. Now, Trump has joined those extremists who cast Babbitt as the victim and the Capitol Police as the villains of that day. Now we know the disgraced former president still stands, remorselessly and unapologetically, with those who attempted the violent overthrow of Congress and of a democratic election.
That's why Trump's attempt at distraction Thursday — "Who shot Ashli Babbitt?" — is more of an indictment than the indictment. He's joining the likes of Rep. Paul A. Gosar (R-Ariz.), consort of white nationalists, who claimed Babbitt was "executed" by Capitol Police "lying in wait." Rep. Liz Cheney (R-Wyo.), recalling that she helped Gosar open his gas mask "as the violent mob advanced on the House chamber," called it "disgusting and despicable to see Gosar lie about that day and smear the men and women who defended us."
Now Trump has embraced that disgusting and despicable lie, after his "big lie" about the election caused the insurrection in the first place. And congressional Republicans are busily protecting both lies from scrutiny. House Republican Leader Kevin McCarthy, reportedly threatening to strip committee assignments from any Republican who cooperates with the select committee investigating the Jan. 6 insurrection, declared himself "shocked" on Thursday that Liz Cheney had accepted membership on the committee.
It's not shocking that a lone Republican is taking a stand of conscience. What's shocking is that, even on the day Trump's business activities were revealed to be as fraudulent as the rest of his activities, the vast majority of Republicans lined up to help him perpetrate yet another . https://www.washingtonpost.com/opinions/2021/07/01/prosecutors-indict-trump-organization-trump-indicts-himself/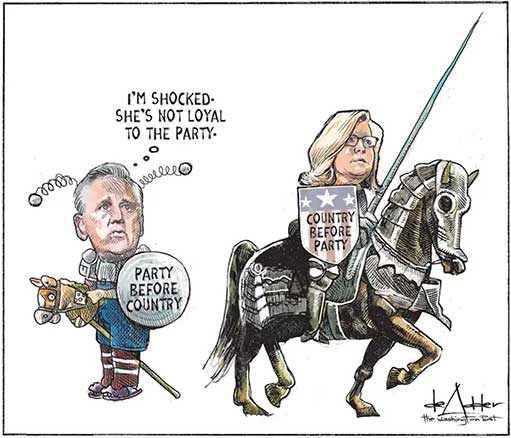 Eugene Robinson: Climate scientists warned us. When will we listen?
Climate change is slow, gradual, almost imperceptible — until suddenly it's not. One day, it seems like a normal summer. The next, the temperature soars to an unbearable 121 degrees. In Canada.
That record for the entire country was set last Tuesday in Lytton, British Columbia, as the Pacific Northwest suffered through its most punishing heat wave in recorded history. The same week, it was 108 in Seattle and 116 in Portland, Ore. — both all-time records.
In a region where many homes are not air-conditioned, it is not yet clear how many people died from the extreme heat; in British Columbia alone, officials said there were more than 700 "sudden and unexplained" deaths during the week, three times the normal average. At least 95 deaths in Oregon are suspected of being heat-related. Dozens of deaths are being investigated in Washington state as well.
The cause of all this was a massive, stubborn "heat dome" that parked itself on top of the region and refused to move. As you know, it is not possible to definitively attribute any specific weird, unprecedented weather event to climate change. But a pattern of increasingly frequent, weird, unprecedented weather events is precisely what climate scientists warned us about.
The climate change and weather instability we are experiencing will be with us for centuries. But it will all get much worse unless humanity reduces carbon emissions by shifting to clean, renewable energy. One simple question for climate-change skeptics: What is it about 121 degrees in Canada that you don't understand? https://www.washingtonpost.com/opinions/2021/07/05/climate-scientists-warned-us-when-will-we-listen/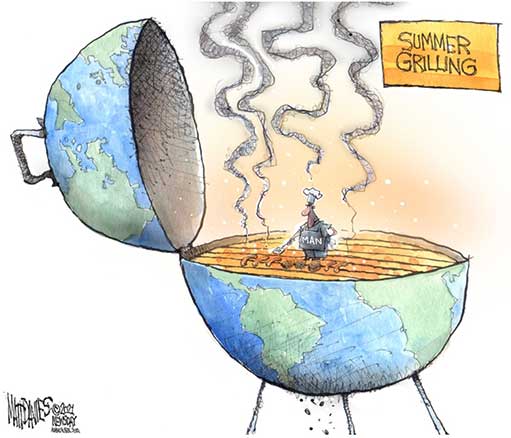 Dana Milbank: Lauren Boebert, lost in a cacophony of crazy
The QAnon-admiring first-term Republican congresswoman from Colorado has tried everything to get noticed. Since she burst on the scene by tweeting House Speaker Nancy Pelosi's (D-Calif.) whereabouts during the Jan. 6 insurrection, she has attempted one stunt after another.
To protest President Biden's immigration policy, she noisily unfurled a foil blanket and covered herself in it during Biden's address to Congress. She announced at a town hall that she had "very good information" that a secret scandal would oust Democrats from power before 2022, a popular QAnon claim. Two hours after the Boulder shooter killed 10 people in her home state, she sent a fundraising email asking donors to tell "radical liberals" Pelosi and Biden "'HELL NO' to taking our guns."
But she has languished as a poor man's Sarah Palin and a third-rate Josh Hawley, as others seize the spotlight with superior antics. Rep. Marjorie Taylor Greene (R-Ga.), another QAnon aficionado, inflamed the House with her antisemitic talk of Jewish "space lasers" and likening public health guidelines to the Holocaust. Rep. Louie Gohmert (R-Tex.) spoke at a confab of QAnon types where the violent overthrow of the U.S. government was contemplated. Rep. Andrew Clyde (R-GA) compared the Jan. 6 insurrection to a "normal tourist visit."
Boebert had to raise her game. And on Wednesday, she gave it her best shot. She assembled 10 colleagues in the House TV studio to announce her new resolution to censure Biden — a reprimand that a chamber of Congress has delivered only once in U.S. history, to Andrew Jackson — over Biden's border policy. "The Biden regime has punched our Border Patrol agents in the face!" she shouted, after calling Vice President Harris "Cackling Kamala."
Not bad. But Boebert was immediately overshadowed by her colleagues, who put on a clinic in crazy talk.
Rep. Madison Cawthorn (R-N.C.) called Biden "a reckless lawbreaker" who "spits on the laws," "prioritizes napping" and wants "to lead America to ruin."
Gohmert proposed that Biden "had no clue what was going on" with the border and "has some real mental issues that need to be evaluated."
And then there was Greene, who endorsed the "censor" resolution.
With such a cacophony of conspiracy theories, it's understandably hard for Boebert to break through.
In the past couple of weeks alone, she falsely claimed that liberals "legalized knowingly spreading HIV," asserted that her election "is certainly a sign and a wonder, just like God promised," attacked a trans woman weightlifter with the message "Welcome to the Woke Olympics" and declared that "Critical Race Theory is now mainstream." The former proprietor of Shooter's Grill in Rifle, Colo., also claimed she could carry her gun in the Capitol and refused to allow the U.S. Capitol Police to search her purse after setting off a metal detector. She even compared Biden's German shepherds to violent illegal immigrants. But she has failed to rise above the din of crazy coming from her colleagues. https://www.washingtonpost.com/opinions/2021/06/23/lauren-boebert-lost-cacophony-crazy/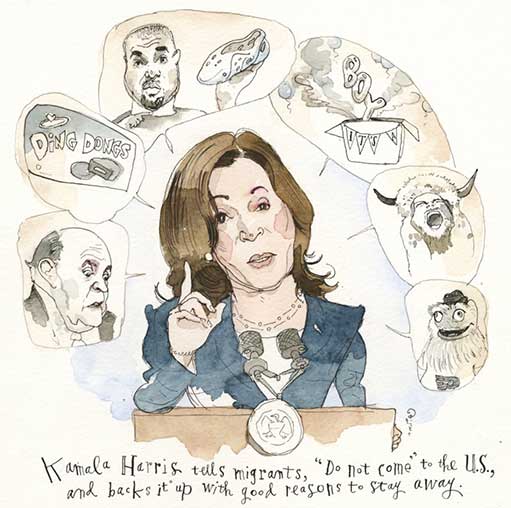 Sarah Jones: The Hell Donald Rumsfeld Built
Donald Rumsfeld didn't lack belief, or conviction. In the words of the oft-quoted Yeats poem, the worst are full of passionate intensity. He believed in an exceptional America, he believed in the might and power of our armed forces, and he believed, too, that might and power are a kind of permission. A nation should do what it pleases if it can, as long as it's right — and Rumsfeld's America was always right. What kind of world did Rumsfeld's belief help build? On the occasion of his death, this is a question worth asking.
Before the hagiographies commence, before the scolds complain that the left is being too harsh, examine the world as it stands today because of Rumsfeld. Iraq remains a war zone almost 20 years after the then-defense secretary shrugged off widespread looting in Iraq with a flippant "stuff happens." The war on terror has endured for so long that it has embedded itself in our national functionality like a worm in a rotten piece of fruit. It is impossible to fathom what and where we would be without the wars that Rumsfeld orchestrated, and equally impossible to tell what we've gained. The answer, seemingly, is nothing but death. Destruction and war, decades of it. https://nymag.com/intelligencer/2021/06/the-hell-donald-rumsfeld-built.html
Jonathan Chait: The Rule of Law Means Prosecuting Trump's Crimes The criminal-in-chief has his own right-wing version of critical race theory.
If Trump has one actual ethical principle that guides him, it is that ratting is wrong and subordinates should not be allowed to strike deals with prosecutors by flipping on the boss. (He has called John Dean a "sleazebag" and a "rat" for betraying Nixon; "I know all about flipping — for 30, 40 years, I've been watching flippers," he has raged.) It is a moral worldview he shares with the mobsters he worked with in New York. The law is a joke, the officials who carry it out are corrupt hypocrites, and loyalty is the one true value.
When he ran for office, Trump boasted of his ability to buy off politicians. Once there, he believed throughout his term that the government's prosecutors worked for the president personally, and should defer to him on who to prosecute and who to allow to operate with impunity.
It is ironic that the Republican Party has become obsessed with critical race theory at a moment when its leader appears committed to vindicating its precepts. At its best, CRT can serve as a valuable critique of the inequality hidden beneath race-neutral institutions and principles; taken to extremes, it can devolve into a nihilistic battering ram, dismissing the very ideal of the rule of law as nothing but a contrivance to allow the strong to dominate the weak.
That cynical interpretation is one Trump has hewed to all along. The law is for the little people, the suckers. Society's winners make their own rules. His belief in this ethos has taken him this far. We will see if, in the end, he was right. https://nymag.com/intelligencer/article/the-rule-of-law-means-prosecuting-trumps-crimes.html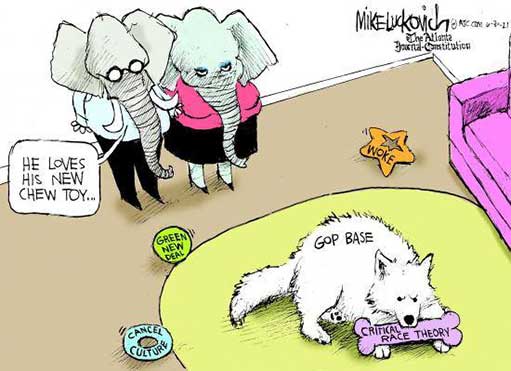 Susan B. Glasser The Persistent Fantasy of a Trump Knockout Punch
The fantasy will not entirely die.
There is still the chance, no matter how slim, that this will all end with Trump in an orange jumpsuit being carted off to prison. The flickering dream of a final Trump purge from public life took slightly more tangible shape on Thursday, in a New York City courtroom, when Trump's tightly controlled personal company, the Trump Organization, and his longtime financial chief, Allen Weisselberg, were indicted on criminal tax charges stemming from an alleged fifteen-year-long scheme, "orchestrated by the most senior executives" of the Trump Organization, as the prosecutor put it, to evade taxes. The theory of the case appears to be to pressure the seventy-three-year-old Weisselberg to turn on Trump, his boss of decades, by threatening him with the prospect of prison time. The multiple felonies with which Weisselberg is charged, including evading some nine hundred thousand dollars in taxes on $1.76 million in unreported, "off the books" income, carry the possibility of extensive incarceration. The broader criminal investigation into the company, a joint venture by New York State Attorney General Letitia James and Manhattan District Attorney Cyrus Vance, Jr., is said to be ongoing.
Trump was not charged in the twenty-four-page indictment, but the case amounts to a direct assault on the company he built and ran as an extension of himself. The firm that bears his name mattered so much to Trump that he refused to surrender his family's hold over it and place it in a blind trust even when he became President, snubbing ethics rules, Presidential tradition, and common sense—instead embracing the many conflicts of interest that came from being simultaneously the leader of the U.S. government and of a private business. Even if Weisselberg does not flip—and few seem to believe that he will—the case could result in years of litigation and millions of dollars in legal fees. Another bankruptcy or even shutting down the Trump Organization entirely is possible. ("Absolutely," it will be shut down, Jennifer Weisselberg, the estranged former daughter-in-law of the charged financial chief, told CNN; she has emerged as an important witness in the case, handing over documents and information to prosecutors.) "They are on the precipice. They are on the brink of a much larger case against Trump and his businesses," Norman Eisen, a former Obama White House counsel who issued an extensive Brookings Institution report this week on the New York State investigation, told me after reading the indictment. Whatever else it turns out to be, the case is already an example of hitting Trump where it hurts. Needless to say, no previous President of the United States, including the disgraced Richard Nixon, has seen his family business charged with criminal wrongdoing on such a scale. https://www.newyorker.com/news/letter-from-bidens-washington/the-persistent-fantasy-of-a-trump-knockout-punch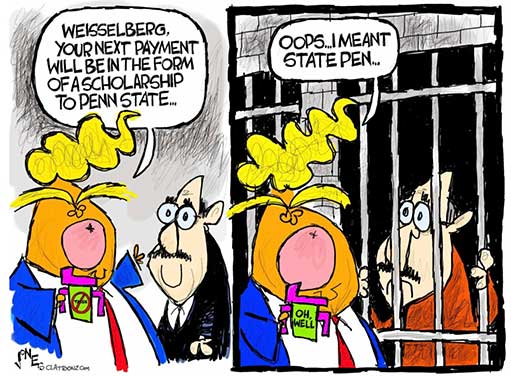 Ruth Marcus: The Trump case may be unusual. But if true, it's brazen tax fraud.
 Previous reporting about the Trump family's tax returns portrays a multigenerational family enterprise devoted to tax avoidance, if not outright evasion. Thursday's 15-count indictment lays out a separate, sprawling, 15-year conspiracy to funnel millions in unreported compensation — in the form of rent-free Manhattan apartments, leased Mercedes, private-school tuition payments, and the like — to senior Trump Organization executives, including CFO Allen Weisselberg, who allegedly received $1.76 million on which he paid no taxes. Both Weisselberg and lawyers for the Trump Organization pleaded not guilty.
Granted, it's unusual to bring a criminal tax case involving the failure to pay taxes on fringe benefits. To take one relevant example, the Internal Revenue Service dunned Ronald and Nancy Reagan for back taxes plus interest for failing to report the value of $3 million free clothes, jewelry, furs and designer dresses she received; that was a civil penalty, not a criminal prosecution.
But it's also unusual for prosecutors to amass the kind of damning evidence of intent laid out in the indictment. Nancy Reagan probably didn't give a second thought to the tax consequences of her designer freebies; the Trump Organization and Weisselberg appear to have thought about nothing but tax consequences. Normal businesses don't keep two sets of books, one for the tax authorities and the other for internal use. No self-respecting prosecutor would look at this kind of evidence and take a pass.
Two things stand out in the indictment: the seemingly boundless intensity of Weisselberg's greed and, more legally significant, the degree to which the Trump Organization was aware of, and benefited from, the tax scheme.
The most astonishing — and damning — part is that the Trump Organization kept careful records of it all. It maintained two sets of books, one that showed Weisselberg's compensation as reported to tax authorities, the second that recorded in detail how much he was actually receiving — as the indictment explains, "ensuring that he was not paid more than his pre-authorized, fixed amount of gross compensation." Underreporting the compensation didn't just help Weisselberg — it benefited the Trump Organization, which avoided having to ante up for payroll taxes on the unreported income.
Trump and his lawyers loudly proclaim that his company is being unfairly singled out. "In our view, this case was brought because the company's name is Trump," his lawyers said in a statement. Trump, typically, went higher-decibel, assailing the indictment as a continuation of "the political Witch Hunt by the Radical Left Democrats."
And having uncovered the benefits scheme, were prosecutors supposed to look the other way, or simply refer the matter to civil tax authorities? Hardly. If true, this amounts to brazen, knowing tax fraud. That's a crime, no matter who does it, or what their political connections. https://www.washingtonpost.com/opinions/2021/07/02/trump-case-may-be-unusual-if-true-its-brazen-tax-fraud/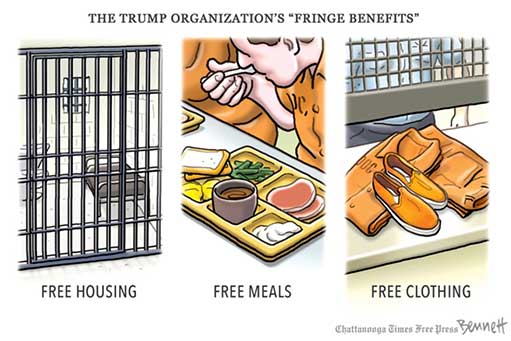 Jelani Cobb: What Black History Should Already Have Taught Us About the Fragility of American Democracy
The parameters of American democracy correlate neatly with the parameters of the nation's racial hypocrisy. This is not a secret; it helps explain why, for instance, a large part of Russian disinformation during the 2016 election sought to exacerbate racial divisions within the country. From the time of the abolitionists, the attempt to point out the fault lines in our democracy—for all our good—has been greeted with violent hostility. But our commitment to democracy was never as unblemished as our national vanity supposed, and our institutions were always more vulnerable to the kinds of corruption that Trump has enacted with astonishing speed. And America's margins have often been the best vantage point from which to survey the weaknesses.
To be Black in the first week of November, 2020, is to yet again have the feeling of being called off the bench and being told that the whole game is riding on you. Trump is a dangerous man, but he is not nearly as dangerous as the history that animates him. He has retained the allegiance of more than sixty million voters, despite a shattered economy and the deaths of nearly a quarter million American victims of covid-19. He still has a chance to be reëlected, and Biden's proposition about how much of him democracy can withstand might yet be put to the test. "Either the United States will destroy ignorance or ignorance will destroy the United States," W. E. B. Du Bois said, in a speech to the Niagara Movement. The enduring value of the history that Black people have amassed is to facilitate the former proposition. But it is particularly hard, this week, to not look around and suspect that ignorance still has more than a puncher's chance at the title. https://www.newyorker.com/news/daily-comment/what-black-history-should-already-have-taught-us-about-the-fragility-of-american-democracy