November 3, 2016
ON THE RECORD. . .
"Nah. They don't get out and vote. They don't vote." — Former Arizona Gov. Jan Brewer (R) dismissing the notion that Democratic-leaning Hispanics will become a significant enough force to tip the balance to Clinton in Arizona. 10/211/6
"So when you hear folks talking about a global conspiracy and saying that this election is rigged, understand that they are trying to get you to stay home. They are trying to convince you that your vote doesn't matter, that the outcome has already been determined and you shouldn't even bother making your voice heard. They are trying to take away your hope." -- First lady Michelle Obama reducing Donald Trump's strategy to winning the presidential election to a single ploy: voter suppression.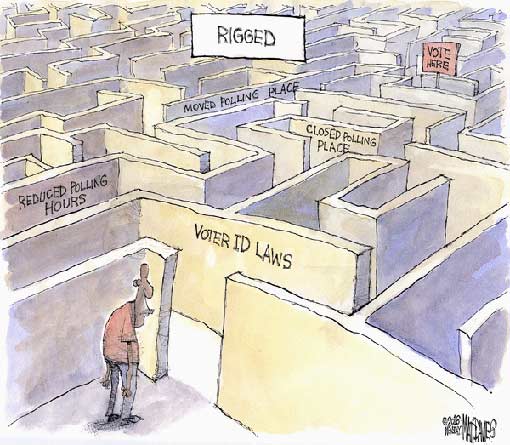 "People are going to march on the capitols. They're going to do whatever needs to be done to get her out of office, because she does not belong there. If push comes to shove, Mrs. Clinton 'has to go by any means necessary, it will be done.'" -- Jared Halbrook on what would happen if Mr. Trump lost to Hillary Clinton.
"And just thinking to myself right now, we should just cancel the election and just give it to Trump, right? What are we even having it for? What are we having it for?" — Donald Trump
"I wasn't planning on doing it twice, it was spur of the moment. The polls are rigged." -- 55-year-old Terri Rote with first-degree election misconduct on Thursday after being notified by elections officials that she had submitted two absentee ballots. 10/291/6
NEW NON-DEBATE RECORD: Donald Trump said 37 false things yesterday (October 24th). List at #TrumpCheckDaniel Dale@ddale8
"I have real problems with ballots being sen. People say, oh, here's a ballot, bing. Here's another ballot, throw it away. Oh, here's one I like, we'll keep that one." -- Donald Trump suggesting in a speech at a Colorado rally that election officials will throw away mail-in ballots if they don't "like" them.
"As it stands, we now have real-time, raw-take transparency taken to its illogical limit, a kind of reality TV of federal criminal investigation. Perhaps worst of all, it is happening on the eve of a presidential election. It is antithetical to the interests of justice, putting a thumb on the scale of this election and damaging our democracy." -- Jamie Gorelick and Larry Thompson in the Wash. Post 10/29/16
What on earth was the FBI director thinking when he dropped his letter on Friday making it crystal clear that he knew nothing? As a rule, law enforcement agencies generally don't publicize the fact that they are clueless." -- Richard Wolffe 10/30/16
"Nothing made me feel better" than seeing a magazine about rifles "with a picture of Hillary Clinton on the front of it." -- Sen. Richard Burr (R-NC). 10/31/16
"This line of communication (a secret hotline) may help explain Trump's bizarre adoration of Vladimir and endorsement of so many pro-Kremlin positions throughout this campaign. It raises even more troubling questions in light of Russia's masterminding of hacking efforts that are clearly intended to hurt Hillary Clinton's campaign. We can only assume that federal authorities will now explore this direct connection between Trump and Russia as part of their existing probe into Russia's meddling in our elections." -- Hillary for America Senior Policy Adviser Jake Sullivan suggesting that Trump's secret hotline may be the key to unlocking the mystery of Trump's ties to Russia and his steps to conceal the link when it was discovered by journalists. 12/01/16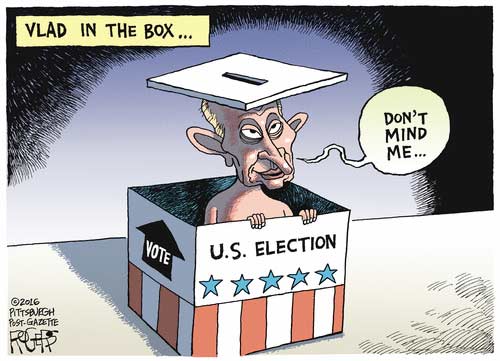 "Comey pulled out a dirty trick in his October surprise. But in the end it will be a sideshow, doing more to discredit him and the FBI than to impact the results of the election." -- Katrina vanden Heuvel, 12/01/16
"Were you yourself upset with the timing at all? There is a norm that when we are investigating, we don't operate on innuendo. We don't operate on incomplete information. We don't operate on leaks." -- President Obama, in an interview with NowThis News. 11/02/16
"I'm here vouching for Mrs. Clinton, and I think it's high time somebody did. And, I am doing that based on my personal experience with her." -- Libertarian vice-presidential nominee Bill Weld. 11/01/16
"Podesta kept thousands of sensitive emails in his Gmail account. This is like leaving your wallet on the sidewalk each night with a note on it saying, "Going to bed now, please take what you want.'"-- Roger SImon in Politico11/02/16
"I'm not in the game anymore. I'm not much of a political analyst," Stewart told the crowd. But if I could ask you a question that I've been saying to my television, it's 'What the f---?' What the f--- is going on? What is happening? I thought when a guy got off a bus and says, 'I'm going to grab her on the p----,' then OK, we're done. The election is over. Usually this is a signifier that we don't have to pay attention anymore. Then the FBI jumps in, and all of a sudden there's a whole new thing the FBI's investigating again. Why would they even jump in there? And then it goes back to Anthony Weiner?" This is insane. … As a writer, honestly, the first woman president, and she's taken down by Bush and Weiner — like, that's just bad writing." -- Jon Stewart at a Stand Up for Heroes benefit in New York. 11/02/16
'I thought your job as FBI Director was to protect me. I thought if I cooperated with your investigation, my identity as a minor would be kept secret. That is no longer the case. My family and I are barraged by reporters' phone calls and emails. I have been even been blamed in a newspaper for causing Donald Trump to now be leading in some polls and costing Hillary the election." -- The teenage girl who Anthony Weiner allegedly sent sexual messages to, in an open letter to FBI Director James Comey. 11/02/16 
---
IN THIS ISSUE
1. Andy Borowitz: Queen Offers To Restore British Rule Over United States
2. The DAILY GRILL
3. From MEDIA MATTERS (They watch Fox News so you don't have to)
4. From the Late Shows
5. Political Ads/Statements
6. California poll: Trump's numbers dropping into 'uncharted territory'
7. Even Trump's Kids Haven't Donated to His Campaign
8. Trump expands the list of conspirators plotting against him
9. Does Donald Trump have a narcissistic personality disorder?
10. Here Are Some Insane Things You've Probably Forgotten About Trump's Campaign
11. Trump boasts about his philanthropy. But his giving falls short of his words.
12. Donald Trump lies. All the time.
13. Final Fact-check totals for the three presidential debates 
14. Donald Trump's Companies Destroyed Emails In Defiance Of Court 
15. Donald Trump Used Legally Dubious Method to Avoid Paying Taxes
16. How the Hillary Clinton Outrage Cycle Took Over the Media
17. Late Nite Political Jokes
18. Comey Cited Election Timing for Not Naming Russians
1. Josh Israel: How one Congressman punked the media on the FBI letter about Clinton's emails
2. Catherine Rampell: Want to save the Republican Party? Drain the right-wing media swamp
3. Dana Milbank: Mr. Comey's dangerous October surprise
4. Michael Tomasky: James Comey Puts Thumb on Scale, Brings Third-World-Style Election To America 
5. Eugene Robinson: Rudy Giuliani is 2016's Mr. Deplorable
6. Jason Zengerle: Donald Trump Being a Clown Is Bad for Hillary
7. Harold Meyerson: Democrats Get Out the Vote. Republicans Suppress It.
8. Washington Post Editorial: Trump and Putin share a frightening worldview
9. Mort Zuckerman: The intolerable Donald Trump
10. The State Editorial: Why conservatives have no option but to support Clinton
11. Frank Rich: Trump's Appeasers
12. Robin Lakoff: Hillary Clinton's Emailgate Is an Attack on Women
14. Dean Obeidallah: Donald Trump Can't Merely Be Defeated—He and His Deplorables Must Be Crushed
1. Andy Borowitz: Queen Offers To Restore British Rule Over United States
In an unexpected televised address on Saturday, Queen Elizabeth II offered to restore British rule over the United States of America.

Addressing the American people from her office in Buckingham Palace, the Queen said that she was making the offer "in recognition of the desperate situation you now find yourselves in."

"This two-hundred-and-forty-year experiment in self-rule began with the best of intentions, but I think we can all agree that it didn't end well," she said.

The Queen urged Americans to write in her name on Election Day, after which the transition to British rule could begin "with a minimum of bother."

Using the closing moments of her speech to tout her credentials, the Queen made it clear that she has never used e-mail and has only had sex with one person "very occasionally."

Elsewhere: Dropping a bombshell less than a week before the Presidential election, F.B.I. Director James Comey revealed on Wednesday that the Bureau was investigating Hillary Clinton's ties to Bill Clinton.

"We have reason to believe that the ties between these two individuals go back to the nineteen-seventies," he said. "This is going to take some time."

On the campaign trail, Donald Trump praised Comey, whom he called "my favorite person in the world right now." Read more at http://www.newyorker.com/humor/borowitz-report/
2. The DAILY GRILL
Trump: called FBI announcement "bigger than Watergate" during rally in NH. — Hallie Jackson (@HallieJackson) October 28, 2016

VERSUS

FBI Director James Comey may have scored a few political points with his Republican colleagues, but his investigation will likely yield zero fresh controversies. This is the maddening world we live in. A sham built on a sham built on a sham. It's shams all the way down." -- Jamison Parker 10/28/16

 

"The Affordable Care Act, known as Obamacare, it is not affordable. Premiums have gone up. Deductibles have gone up. Co-pays have gone up. Prescriptions have gone up." -- Questioner in the second presidential debatehighlighting that premiums in the both federal and state ACA exchanges will increase an average of 22 percent for 2017.

VERSUS

There is good news. While health-care costs and premiums are rising — the recent announcement notwithstanding — they are rising much more slowly than they did during the George W. Bush administration and, indeed, over the past 50 years. For instance, from 2001 to 2005, per-person health-care spending rose an average of more than 7 percent per year. More important, for ordinary Americans, employer-based health insurance premiums for a family increased by 54 percent between 2001 and 2005. Conversely, from 2011 to 2015, per-person costs rose an average of just 3.4 percent per year; family insurance premiums rose only 16 percent in that same time. -- Ezekiel Emanuel and Bob Kocher in the Washington Post 10/271/6

 

"When you're working for Hillary, she wants to let people just pour in. You could have 650 million people pour in and we do nothing about it. Think of it. That's what could happen. You triple the size of our country in a week." -- Donald Trump on 10/30/16

VERSUS

"Where would those people come from? If literally every person in South America suddenly decided that Reno was a more appealing place to live than Rio, we could see 422 million people slowly make their way up to the United States. Add in everyone from Central America and we're at nearly 600 million. If every Canadian decided to move south, we hit 633 million, still a bit short." -- Philip Bump in the Washington Post. 10/31/16

 

If you like the past 8 years, vote @HillaryClinton. -- Scott Walker ✔@ScottWalker

VERSUS

@ScottWalker Or if you're a principled conservative vote for the racist molester who clowned you in the primaries. -- James @Tesseraction
3. From MEDIA MATTERS (They watch Fox News so you don't have to)
Fox Renews Calls For A Special Prosecutor To Investigate Hillary Clinton Despite No Evidence Of Impropriety http://mediamatters.org/video/2016/10/28/renews-calls-special-prosecutor-investigate-hillary-clinton-despite-no-evidence-impropriety/214196

CNN's Jeffrey Lord: "There Will Be A Move To Impeach [Clinton] The Moment Her Hand Comes Down From That Bible" -- Lord: "This Isn't Going To Stop" http://mediamatters.org/video/2016/10/28/cnns-jeffrey-lord-there-will-be-move-impeach-clinton-moment-her-hand-comes-down-bible/214195

On Fox Business, Lou Dobbs Claimed Trump Is Victim Of "Globalist" "Mormon Mafia" http://mediamatters.org/blog/2016/10/27/fox-business-bigoted-lou-dobbs-claimed-trump-victim-globalist-mormon-mafia/214156

Why Is Meet The Press Asking The Clinton Campaign To Release Emails In FBI's Custody? -- NBC's Chuck Todd and his guests on Meet the Press suggested that Democratic presidential nominee Hillary Clinton's campaign could end the media freakout by simply releasing the discovered emails on the device belonging to Clinton aide Huma Abedin's estranged husband, ignoring the fact that the computer is in the FBI's custody, and not Abedin's. http://mediamatters.org/blog/2016/10/30/why-meet-press-asking-clinton-campaign-release-emails-fbi-s-custody/214204

Bill O'Reilly: President Obama Pressured Attorney General Not To Prosecute Or Investigate Hillary Clinton - "The President Has Made It Quite Clear ... He Does Not Want Any Prosecution Of Hillary Clinton, Or Any Investigation Into The Clinton Foundation" http://mediamatters.org/video/2016/10/31/bill-oreilly-president-obama-pressured-attorney-general-not-prosecute-or-investigate-hillary-clinton/214216

Sean Hannity promotes conspiracy theory Clinton was drunk at rally, then claims he didn't mean to do so. http://www.businessinsider.com/sean-hannity-hillary-clinton-conspiracy-drunk-2016-10?op=1

Media Figures Praise Trump's Health Care "Policy" Speech, Ignoring His Total Lack Of Specifics Or Viable Policy Proposals http://mediamatters.org/research/2016/11/02/media-figures-praise-trump-s-health-care-policy-speech-ignoring-his-total-lack-specifics-or-viable/214255

Trump Ally Alex Jones: Hillary Clinton's "Maoist-Era Outfits" Are Sending A Message To China That "I'm Your Bitch" http://mediamatters.org/video/2016/11/02/trump-ally-alex-jones-hillary-clintons-maoist-era-outfits-are-sending-message-china-im-your-bitch/214254
4. From the Late Shows
Conan: Louis C.K. Is All In For Hillary

Full Frontal with Samantha Bee: A Totally Real, 100% Valid Theory

Full Frontal with Samantha Bee: Feelin' Alt-Right

Part 1: https://youtu.be/XQ8swY06eRU

Part 2: https://youtu.be/QGn-C0G6xcw

Late Night with Seth Meyers: Donald Trump's Obamacare Fail

Late Night with Seth Meyers: Trump and the GOP Crack-Up

The Late Show with Stephen Colbert: Potential Groper-In-Chief
5. Political Ads/Statements
Bryce | Hillary Clinton

The facts about Hillary Clinton's emails? | The Briefing

Daisy | The Briefing
6. California poll: Trump's numbers dropping into 'uncharted territory'
According to a new poll from the Public Policy Institute of California, in just one month Democrat Hillary Clinton's lead over Trump in California has soared from 16 to 26 points as the brash billionaire's campaign has imploded amid allegations that he's a serial groper. He now has the support of only 28 percent of likely California voters. Read more at http://www.mercurynews.com/2016/10/26/california-poll-trumps-numbers-dropping-into-uncharted-territory/
7. Even Trump's Kids Haven't Donated to His Campaign
With less than two weeks until the election, Donald Trump has amassed an impressive army of small donors, fueling his bid with individual contributions of $200 or less. But noticeably absent from the list of contributors is basically anyone with the last name Trump, many of the surrogates who represent The Donald on national television, and members of his own campaign staff. 10.27.16 Read more at http://www.thedailybeast.com/articles/2016/10/27/even-trump-s-kids-haven-t-donated-to-his-campaign.html
8. Trump expands the list of conspirators plotting against him
Donald Trump's claim that the 2016 presidential election is 'rigged' against him has become a central part of his closing argument to voters in the final days of the campaign, as the GOP nominee insists that a growing range of 'corrupt' public institutions are to blame for his sharply narrowing path the White House.
As he heads into a potential loss on Nov. 8, Trump has expanded the scale and scope of his accusations to include Democratic rival Hillary Clinton, the media, establishment leaders from both parties and unidentified 'global financial powers.'" 10/17/16 Read more at https://www.washingtonpost.com/politics/facing-potential-loss-trump-expands-the-list-of-conspirators-plotting-against-him/2016/10/27/7177c1ba-9ba8-11e6-9980-50913d68eacb_story.html
9. Does Donald Trump have a narcissistic personality disorder?
https://www.youtube.com/watch?v=LS4Lw2yMmuA
10. Here Are Some Insane Things You've Probably Forgotten About Trump's Campaign
Seven Conspiracies Trump Helped Expose While Running for President

1. The IRS Subjects Christians to Greater Scrutiny

2. Antonin Scalia Was Probably Murdered

3. Vaccines Cause Autism

4. Ted Cruz's Father Was Involved in the Kennedy Assassination

5. There Is No Drought in California

6. Obama Wasn't Born in the United States — Or So Hillary Clinton Would Have You Believe

7. The Democratic Nominee — Working in Collaboration With a Cabal of International Bankers, Mexican Billionaire Carlos Slim, Over a Dozen Women Pretending to Be Victims of Sexual Harassment, and African-American Voters in Philadelphia — Will Rig the 2016 Election, As Part of an Elaborate Plot to End U.S. Sovereignty and Establish Open Borders

Seven Foolproof Sexual-Harassment Defenses

1. "Believe me, she would not be my first choice, that I can tell you."

2. "Nothing more than a distraction from the important issues we're facing today."

3. "Because it did not happen!"

4. "Look at her. Look at her words. You tell me what you think. I don't think so."

5. "Oh, I'm sure she's never been grabbed before."

6. "This is locker-room talk. You know, when we have a world where you have ISIS chopping off heads …"

7. "Nobody has more respect for women than I do!"
10/301/6 Eric Levitz and James D. Walsh. Much more at http://nymag.com/daily/intelligencer/2016/10/the-insane-things-youveforgotten-about-trumps-campaign.html
11. Trump boasts about his philanthropy. But his giving falls short of his words.
The charity that Trump has given the most money to over his lifetime appears to be his own: the Donald J. Trump Foundation.
But that charity, too, was not what it seemed.
The Trump Foundation appeared outwardly to be a typical, if small, philanthropic foundation — set up by a rich man to give his riches away.
In reality, it has been funded largely by other people. Tax records show the Trump Foundation has received $5.5 million from Trump over its life, and nothing since 2008. It received $9.3 million from other people.
Another unusual feature: One of the foundation's most consistent causes was Trump himself.
New findings, for instance, show that the Trump Foundation's largest-ever gift — $264,631 — was used to renovate a fountain outside the windows of Trump's Plaza Hotel.
Its smallest-ever gift, for $7, was paid to the Boy Scouts in 1989, at a time when it cost $7 to register a new Scout. Trump's oldest son was 11 at the time. Trump did not respond to a question about whether the money was paid to register him.
At other times, Trump used his foundation's funds to settle legal disputes involving Trump's for-profit companies and to buy two large portraits of himself, including one that wound up hanging on the wall of the sports bar at a Trump-owned golf resort. Those purchases raised questions about whether Trump had violated laws against "self-dealing" by charity leaders. Read more at https://www.washingtonpost.com/politics/trump-boasts-of-his-philanthropy-but-his-giving-falls-short-of-his-words/2016/10/29/b3c03106-9ac7-11e6-a0ed-ab0774c1eaa5_story.html
12. Donald Trump lies. All the time.
It takes a certain kind of stubbornness to lie about things that are easy to verify.
Donald Trump does it all the time.
He doesn't just stretch the truth in the way most politicians do: selectively citing facts that make them look good, deliberately omitting ones that make them look bad, overstating or understating the probable impact of the campaign promises they make.
No, he just says things that aren't true. And he knows it. Sometimes it's something big — routinely, on the campaign trail, he tells voters that he's going to lower everyone's taxes while Hillary Clinton will raise them. Sometimes, it's something so minor — like repeatedly saying he was endorsed "last week" by the union representing immigration enforcement agents, even a month after the endorsement actually happened — that his insistence on lying is all the more infuriating. -- Dara Lind Read more at http://www.vox.com/policy-and-politics/2016/9/26/13016146/donald-trump-liar-media
13. Final Fact-check totals for the three presidential debates
DONALD TRUMP: 104 false claims

HILLARY CLINTON: 13 false claims
https://twitter.com/ddale8/status/789064293358592000
14. Donald Trump's Companies Destroyed Emails In Defiance Of Court
Over the course of decades, Donald Trump's companies have systematically destroyed or hidden thousands of emails, digital records and paper documents demanded in official proceedings, often in defiance of court orders. These tactics—exposed by a Newsweek review of thousands of pages of court filings, judicial orders and affidavits from an array of court cases—have enraged judges, prosecutors, opposing lawyers and the many ordinary citizens entangled in litigation with Trump. In each instance, Trump and entities he controlled also erected numerous hurdles that made lawsuits drag on for years, forcing courtroom opponents to spend huge sums of money in legal fees as they struggled—sometimes in vain—to obtain records.
Trump's use of deception and untruthful affidavits, as well as the hiding or improper destruction of documents, dates back to at least 1973, when the Republican nominee, his father and their real estate company battled the federal government over civil charges that they refused to rent apartments to African-Americans. The Trump strategy was simple: deny, impede and delay, while destroying documents the court had ordered them to hand over. -- Kurt Eichenwald Read more at http://www.newsweek.com/2016/11/11/donald-trump-companies-destroyed-emails-documents-515120.html
15. Donald Trump Used Legally Dubious Method to Avoid Paying Taxes
Newly obtained documents show that in the early 1990s, as he scrambled to stave off financial ruin, Mr. Trump avoided reporting hundreds of millions of dollars in taxable income by using a tax avoidance maneuver so legally dubious his own lawyers advised him that the Internal Revenue Service would most likely declare it improper if he were audited.
Tax experts said the maneuver conferred enormous tax benefits on Mr. Trump for losing vast amounts of other people's money — in this case, money investors and banks had entrusted to him to build a casino empire in Atlantic City.
Among the members of Congress who voted to finally close this egregious loophole: Senator Hillary Clinton of New York. 11/01/16 Read more at http://www.nytimes.com/2016/11/01/us/politics/donald-trump-tax.html?action=Click&contentCollection=BreakingNews&contentID=64497720&pgtype=article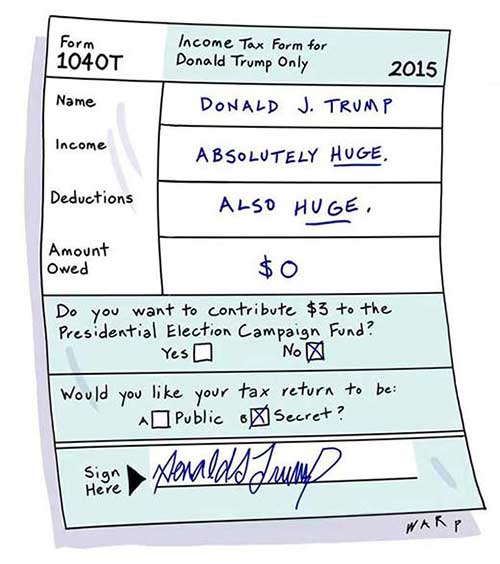 16. How the Hillary Clinton Outrage Cycle Took Over the Media
You start with the assumption that Hillary Clinton is corrupt.
After all, there have been whispers and accusations and investigations and allegations and scandals with ominous names like WHITEWATER and BENGHAZI for years. Even if you can't describe exactly what she's done wrong, there must be something to all these stories, right?
And if she's corrupt, then we definitely need to investigate her. Virtually everything she does is suspect. Any mistake she makes can't simply be an accident or a lapse in judgment; there must be some criminal intent behind it. It doesn't matter how many millions of taxpayer dollars or thousands of man-hours it takes in FBI investigations and congressional hearings. No price is too high.
And when you investigate endlessly, you find evidence. Emails and documents and memos and call logs and testimony. It adds up to thousands of pages, millions of words, piles of binders that make the perfect dramatic prop in a hearing room.
And we know all those documents must be suspicious. After all, they appeared because there was an investigation into corruption, so they must be evidence of something. Plus, there are just so darn many of them. -- Jesse Berney in Rolling Stone 10/31/16 Read more at http://www.rollingstone.com/politics/features/how-the-hillary-clinton-outrage-cycle-took-over-the-media-w447574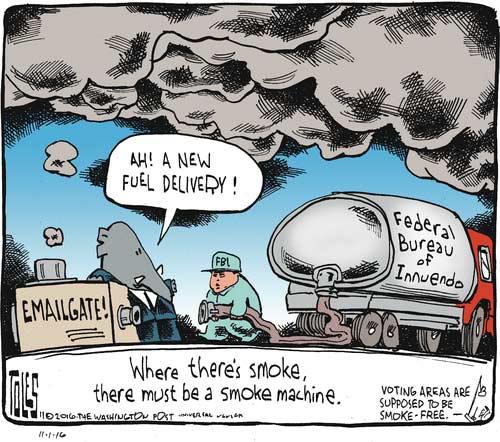 17. Late Nite Political Jokes
"Donald Trump spoke at a rally yesterday and told supporters that Hillary Clinton's campaign is the most unserious campaign in American history. Unserious? This is the person you're calling unserious? [shows photo of frowning Hillary] She always looks like you just told her you wrecked her car." –Seth Meyers

"America Online founder Steve Case endorsed Hillary Clinton for president. Although the last thing Hillary wants to hear is 'You've got mail.'" –Seth Meyers

"Secretary Clinton is still struggling with millennials. By the way, if you're not sure who millennials are, they're the ones who never use the term 'millennials.'" –Stephen Colbert

"SpaceX CEO Elon Musk announced plans yesterday to colonize Mars, saying the main requirement for early settlers would be that they are, quote 'ready to die.' Said Hillary, 'I'll let you know November 9th.'" –Seth Meyers

"Hillary Clinton posted an article on Twitter pointing out that no living president has endorsed Donald Trump. Nice try, Hillary, but it just so happens that Vladimir Putin is living." –Seth Meyers

"I saw that on Monday Donald Trump met with the Egyptian president in New York City while he's in town for the U.N. General assembly. Trump said he's always felt connected to Egypt, mostly because Trump University was a huge pyramid scheme." –Jimmy Fallon

"Fox News has forbidden Sean Hannity from appearing in any more campaign ads for Donald Trump. Fox said, 'We want to appear neutral while covering the race between Mr. Trump and that Sickly Lying Witch.'" –Conan O'Brien
18. Comey Cited Election Timing for Not Naming Russians
FBI Director James Comey argued privately that it was too close to Election Day for the United States government to name Russia as meddling in the U.S. election and ultimately ensured that the FBI's name was not on the document that the U.S. government put out, according to a former FBI official.
The official said some government insiders are perplexed as to why Comey would have election timing concerns with the Russian disclosure but not with the Huma Abedin email discovery disclosure he made Friday. 10/31/16 Read more at http://www.cnbc.com/2016/10/31/fbis-comey-opposed-naming-russians-citing-election-timing-source.html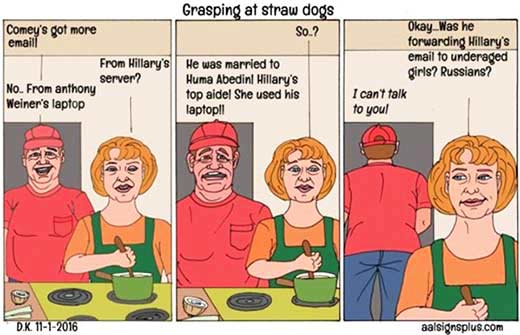 1. Josh Israel: How one Congressman punked the media on the FBI letter about Clinton's emails
No, the FBI did not say it would 'reopen' its investigation.
FBI Director James Comey alerted Republican members of Congress on Friday that bureau investigators would review some additional emails that might relate to Hillary Clinton's email server. Rep. Jason Chaffetz (R-UT), the chairman of the House Oversight Committee who has already vowed to spend the next several years investigating Clinton should she be elected president, quickly rushed to announce the news, falsely claiming that the case had been "reopened."
Though nothing in Comey's letter said the case was being reopened, an array of news outlets repeated Chaffetz's incorrect characterization. NBC News initially posted a story with this framing, later changing the headline and lede to drop the claim. USA Today tweeted, falsely, that the FBI director had said the probe was being reopened. The Hill and Bloomberg also got the facts wrong.
Despite the initial overreaction to the news, NBC's Pete Williams has already reported that the newly found e-mails were not originally withheld by Clinton nor her campaign, the emails are not from Clinton, and the letter was sent to the Congressional leaders "out of an abundance of caution." The AP reported that the emails did not come from Hillary Clinton's private server. NBC's sources called the story less than a game-changer.
But that did not stop Clinton's critics from trying to turn it into one. 10/28/16 Read more at https://thinkprogress.org/trump-chaffetz-fbi-investigation-lies-e9fff5359102#.v27bktonc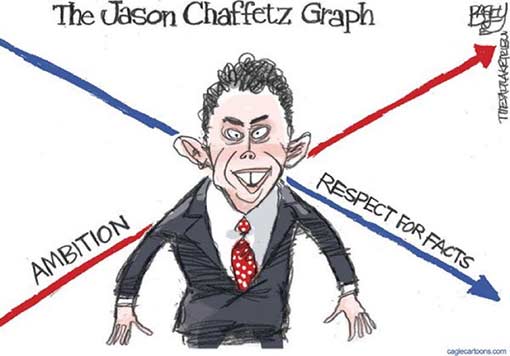 2. Catherine Rampell: Want to save the Republican Party? Drain the right-wing media swamp.
The sickness in today's Republican Party is not confined to its current standard-bearer. It is therefore not curable by merely disavowing, however belatedly, the soon-to-be-defeated nominee. The sickness has taken over the Republican base, and there's only one antidote.
If Republicans truly want to save the Republican Party, they need to go to war with right-wing media. That is, they need to dismantle the media machine persuading their base to believe completely bonkers, bigoted garbage.
It is, after all, the right-wing radio, TV and Internet fever swamps that have gotten them into this mess, that have led to massive misinformation, disinformation and cynicism among Republican voters. And draining those fever swamps is the only way to get them out of it.
For a sense of just how misinformed Republican voters have become, consider a few of the provably wrong things many believe.
Seven in 10 Republicans either doubt or completely disbelieve that President Obama was born in the United States. Six in 10 think he's a secret Muslim. Half believe global warming is possibly or definitely a myth concocted by scientists.

Among just Trump voters, 7 in 10 believe government economic data are fabricated. Half don't trust that votes will be counted accurately in the November election.
Republicans and Trump backers didn't come to these conclusions independently. They learned them from the influential TV, radio and Web outfits whose imprimaturs Republican politicians desperately seek, and whose more troubling content these politicians have been reluctant to criticize.
When it comes to the paranoid, destructive excesses of right-wing media — not just Fox News's headliners such as Sean Hannity, but also Breitbart, Rush Limbaugh, Alex Jones — Republican leaders have been somewhat more reluctant to condemn or even gently critique.
That's presumably because many of the crazy conspiracy theories circulated by these outlets served the party's political interests. At least in the short term.
And unless the party establishment grapples with its own complicity in misinforming, misleading and frightening the masses, it's doomed to field more Donald Trumps in the future. 10/24/16 Read more at https://www.washingtonpost.com/opinions/want-to-save-the-republican-party-drain-the-right-wing-media-swamp/2016/10/24/f4a4e0f6-9a25-11e6-9980-50913d68eacb_story.html
3. Dana Milbank: Mr. Comey's dangerous October surprise
When FBI Director James B. Comey testified before Congress in July about his recommendation not to prosecute Hillary Clinton, he mentioned at least 10 times how important it was that he be transparent.
Now Comey has decided opacity is better for him, sending a vague letter to Congress while leaving it to anonymous officials to attempt to explain his reasoning to the public, via the press. Does he suppose that the American people no longer "deserve those details in a case of intense public interest"? In his brief words written to FBI employees Friday, Comey acknowledged there was a "significant risk of being misunderstood." But the way to avoid being misunderstood is to explain himself publicly and fully, the way he did in July.
By falling short of his own standards of transparency, Comey is harming both election integrity and his well-deserved personal integrity. He needs to explain himself if he hopes to salvage either. 10/29/16 Read more at https://www.washingtonpost.com/opinions/mr-comeys-dangerous-october-surprise/2016/10/29/ee60d4c0-9e08-11e6-b3c9-f662adaa0048_story.html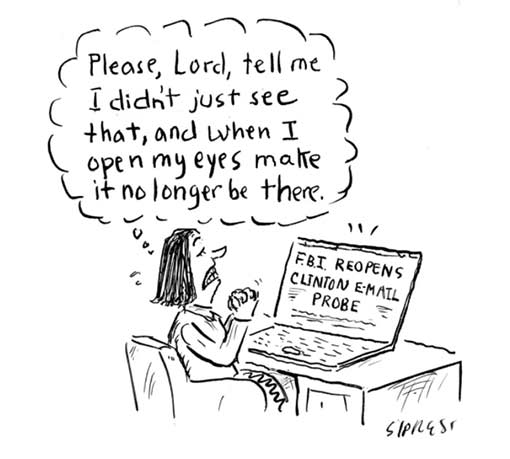 4. Michael Tomasky: James Comey Puts Thumb on Scale, Brings Third-World-Style Election To America
Now that the FBI has its warrant, agents will presumably move fast to scour the Abedin-Weiner laptop for the relevant emails, with the Times reporting the Bureau is likely to "again publicly discuss a continuing investigation involving a presidential candidate in the final days of the campaign."
Consider this worst-case (from a Clinton point of view) hypothetical. Comey announces later this week that the emails merit further looking into. That's potentially enough to sink Clinton and give us President Trump.
But then, in December or January or whenever, he announces that the bureau's review is complete and nothing classified was found in the new material. Then, Clinton would have lost an election she was clearly poised to win solely because he made an irresponsible and baseless announcement.
But it doesn't end there. Here's a hypothetical for Trump partisans to stew on. Comey announces later this week that Clinton is in the clear. She wins. Then, next month or whenever, some of the anti-Clinton forces within the FBI—and they are numerous and presumably furious and right now leaking like a sieve to The Wall Street Journal and others—put out material suggesting that some of these new emails should have been classified at the time. Then, it's Trump who was screwed, at least in the eyes of his voters. And how do we think Trump would react to that?
That's what Comey has unleashed here. He has potentially delegitimized the outcome regardless of who wins. But especially if Clinton hangs on to win. The legitimacy fire about her was already at five alarms. They're now handcuffing people in Hillary costume at Trump rallies. A quarter or so of America utterly despises her. Comey has just backed up a fuel tanker over the fire and pulled the cord.
I said this is shaping up to be a Third-World election above. Let me spell that out in a little more detail, because it's staggering—or used to be—to think of the United States of America in these terms. The FBI is our chief domestic police and surveillance agency. It is our equivalent, in other words, of an interior ministry domestic police force in a developing-world nation. 10.31.16 Read more at http://www.thedailybeast.com/articles/2016/10/31/james-comey-puts-thumb-on-scale-brings-third-world-style-election-to-america.html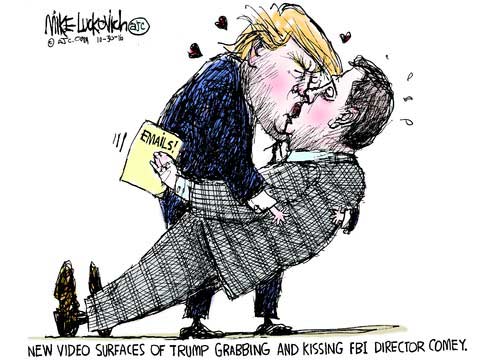 5. Eugene Robinson: Rudy Giuliani is 2016's Mr. Deplorable
On Tuesday, Gingrich haughtily berated Fox News host Megyn Kelly for supposedly giving too much coverage to Trump's alleged sexual predations — and not enough to Hillary Clinton's email problems. Kelly patiently explained that the accusers' stories are clearly newsworthy. "You want to go back through the tapes of your show recently?" Gingrich demanded. "You are fascinated with sex, and you don't care about public policy."
Yes, the Gingrich oeuvre of deplorability is rich and deep. But for sheer mean-spirited lunacy, it is Giuliani who deserves to wear the Mr. Deplorable tiara.
He all but sewed up the title at the Republican convention with a speechthat was neither spoken nor shouted, but shrieked. The former New York mayor, who showed such inspiring steadiness and resolve after the 9/11 attacks, described a nation cowering in fear of jihadist terrorism and rapidly sinking into utter ruin.
"There is no next election," he screamed. "This is it. There's no more time for us left to revive our great country!"
When FBI Director James B. Comey decided that "no reasonable prosecutor" would file charges against Clinton over her use of a personal email system, Giuliani — a former federal prosecutor himself — went ballistic. On Wednesday, he had a verbal brawl with CNN's Chris Cuomoabout that subject. Giuliani insisted on a conspiratorial theory about Clinton's exoneration that is hard to briefly summarize; suffice it to say that his scenario requires either clairvoyance or time travel.
Giuliani called one rambling Trump address "the best speech that any Republican, at the least, has ever given," which I guess includes Lincoln. He has repeatedly claimed, with zero evidence, that Clinton suffers from some serious undisclosed illness. He has even devoted time and energy to feuding with Beyoncé.
You win, Mr. Mayor. Congratulations are not in order. 10/27/16 Read more at https://www.washingtonpost.com/opinions/rudy-giuliani-is-2016s-mr-deplorable/2016/10/27/b6378e2a-9c7a-11e6-b3c9-f662adaa0048_story.html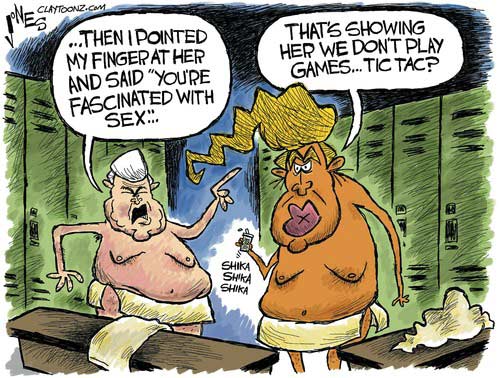 6. Jason Zengerle: Donald Trump Being a Clown Is Bad for Hillary
As Donald Trump hurtles towards self-immolation and almost certain defeat, he's been tireless in trying to taint a possible Hillary Clinton win by claiming that it could be the result of a "rigged" election. Trump's efforts to delegitimize Clinton have gotten so shameless that even some fellow Republicans, have joined the likes of Barack Obamain rebuking him. When asked by a reporter whether he agreed with Trump's assertion that the election is rigged, Senate Majority Leader Mitch McConnell "laughed and walked away."
So three cheers for the Grand Old Party! Despite nominating the most unpopular presidential candidate in modern history, it'd seem that the party has retained enough principles to support free and fair elections—and hopefully stave off riots in the streets!
If only that was the whole story, because at the same time Republicans are condemning Trump's frontal assault on a bedrock of American democracy, they're also laying the groundwork to delegitimize a potential President Clinton in more subtle, insidious ways—ways that could more severely hobble her than anything Trump does on election night.
Consider how Republicans are already thinking about their expected loss: many feel that, were it not for Trump, they'd have certainly taken back the White House. According to a Politico survey of battleground-state political professionals, 66 percent of GOP insiders believe Mike Pence would have beaten Clinton. On Twitter and in private conversations, you see and hear the same sentiments about John Kasich, Marco Rubio, Jeb Bush—even Scott Walker, a guy who dropped out of the GOP presidential race before a single caucus or primary vote was cast. As a North Carolina Republican in the Politico survey put it, "Right now, Donald Trump is the only Republican in the United States whom Hillary Clinton can defeat."
Much of this, of course, is the typical (and rueful) sort of wishful thinking any political party, saddled with a terrible candidate, would engage in. But it's more than just idle ruminating. This sentiment is the precursor of an argument that Republicans—even, and especially, those who were deadest against Trump—will be making at the top of their lungs on November 9: That the election of Hillary Clinton (herself a wildly unpopular candidate) was a fluke and, therefore, that they don't need to treat her as a legitimate president. Read more at http://www.gq.com/story/donald-trump-being-clown-is-bad-for-hillary-clinton
7. Harold Meyerson: Democrats Get Out the Vote. Republicans Suppress It.
It's during the homestretch of campaigns that political parties often reveal their deepest identities, and that's never been truer than it is this year. What really distinguishes the Democrats from the Republicans this fall isn't their ideologies, their platforms, or even their candidates, though there's contrast aplenty in each of those. What really distinguishes the two parties is what they're actually doing in the campaign's final weeks.
The Democrats are trying to get out the vote.
The Republicans are trying to suppress it.
Nationwide, the Republican Party now subscribes to the same public policies that used to be confined to the Jim Crow South, and inflames the same hatred and fears that Dixiecrats once stoked to ensure their hold on power.  
Thus the final two weeks of this epochal election: Democrats are doing their damnedest to turn voters out. Republicans are doing their damnedest to keep young and minority voters from voting at all. This—never mind Clinton and Trump—is the essence of American politics in 2016. Read more at http://prospect.org/article/democrats-get-out-vote-republicans-suppress-it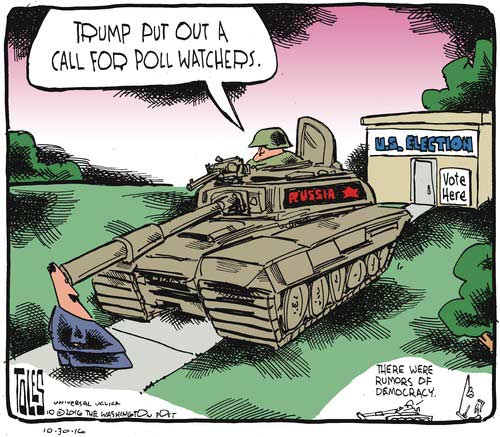 8. Washington Post Editorial: Trump and Putin share a frightening worldview
ONE OF Vladimir Putin's fondest conceits is that the U.S. political system is every bit as corrupt, authoritarian and bent on external aggression as his regime. At a meeting with Western academics and ex-statesmen last week in his favorite resort, Sochi, Mr. Putin was at it again: For every crime committed by his Kremlin, Mr. Putin was ready with a comparison to a supposedly identical outrage by the American "ruling class," as he likes to call it.
The invasions of Crimea and eastern Ukraine? Exactly like NATO's interventions in Bosnia and Kosovo during the 1990s, says Mr. Putin. The Obama administration's charge that Russia has attempted to intervene in the U.S. presidential campaign? Mr. Putin responded with the same language used by the White House to answer Moscow's allegations that Hillary Clinton was behind popular demonstrations against Mr. Putin's reelection four years ago.
"The majority of citizens," sighed Mr. Putin, "have no real influence on the political process and no direct and real influence on power." As for the notion that he supported Donald Trump, Mr. Putin called this orchestrated propaganda of the Clinton camp before observing that Mr. Trump "represents the interests of the sizable part of American society that is tired of the elites that have been in power for decades now . . . and does not like to see power handed down by inheritance." Maybe that wasn't an endorsement, but Mr. Putin and Mr. Trump have an uncanny way of echoing each other's words.
If Mr. Trump is elected, the United States will have a president who sees no essential difference between the U.S. and Russian military offensives in the Middle East. Mr. Putin will be vindicated: The moral gap between his regime and the White House will be difficult to detect. Read more at https://www.washingtonpost.com/opinions/trump-and-putin-share-a-frightening-worldview/2016/10/31/a6f756da-9f9e-11e6-a44d-cc2898cfab06_story.html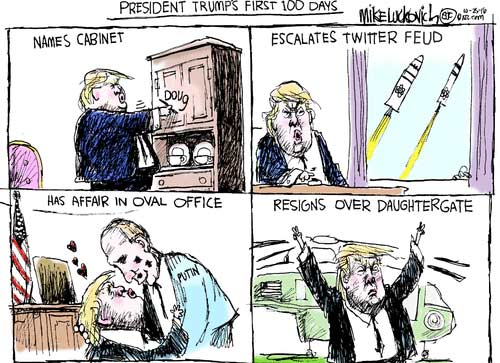 9. Mort Zuckerman: The intolerable Donald Trump
What a Trump presidency would look like is neatly captured in another big city newspaper. Here are headlines on a mock front page of the Boston Globe for April 9, 2017:
"Deportations to Begin!"

"ICE Force Riots Continue!"

"Curfews Extended in Multiple Cities"

"US Soldiers Refuse Order to kill ISIS families!"

"Markets Sink as Trade War Looms"

"New Libel Law Targets 'Absolute Scum' in Press"
We could think of more worrying headlines that might erupt from a Trump presidency, but the immediate anxiety threatens to come from the disappointed and demoralized party. A Democratic Senate seems within reach, even possibly containment of the tea party gerrymandered into capricious power in the House. Even that is achievable if voters want change, as they say they do after the polarized years that helped to produce the Trump phenomenon.
There are surely pragmatic bipartisan measures a President Hillary Clinton could pursue with sensible leaders like House Speaker Paul Ryan: Mend but not attempt to replace the Affordable Care Act; agree to the start of her great infrastructure program; legislate a whole new program of retraining.
But if the House Freedom Caucus has its way and we enter gridlock yet again, the opposition will deserve the contempt of the mass of fair-minded people for betraying America's best hopes for a new beginning. 10/301/6 Read more at http://www.nydailynews.com/opinion/mort-zuckerman-intolerable-donald-trump-article-1.2849562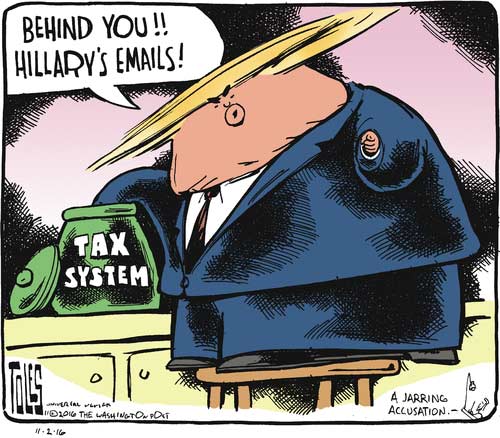 10. The State Editorial: Why conservatives have no option but to support Clinton
This is the first time our editorial board has endorsed a Democratic presidential nominee since Jimmy Carter in 1976. Through the years, we evaluated nominees based on our support for reducing the national debt, strengthening national security and other conservative values. Those values compel us to endorse Mrs. Clinton this year.
An independent analysis released in September determined that Mr. Trump would add significantly more to the national debt than Mrs. Clinton: $5.3 trillion compared to $200 billion.
On national security, we'll take Mrs. Clinton's experience on the Armed Services Committee and as secretary of state over Mr. Trump's hollow claims to know more about ISIS than America's generals. We also doubt his ability to think rationally in a crisis.
If elected, Mrs. Clinton must hear the voters' call for change. She and Congress — whether it's controlled by Democrats or Republicans — must commit to compromise. While both sides bear responsibility for this, presidents are uniquely positioned to lead the effort.
In this era of voter discontent, Americans want change. But we must consider carefully what will change and who will lead it. Of the two candidates, the choice is clear. Mrs. Clinton's experience, stability and knowledge make her more likely than Mr. Trump to effectively tackle the nation's problems. 10/30/16 Read more at http://www.thestate.com/opinion/editorials/article111181492.html#storylink=cpy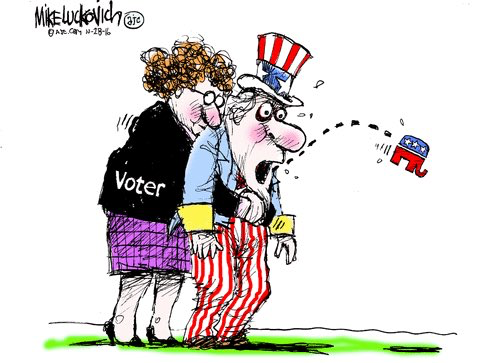 11. Frank Rich: Trump's Appeasers
Trump, I'll argue not for the first time, is no Hitler. As Fran Lebowitz has said, there are 6 million reasons why not. And some other reasons as well: He has neither the attention span, organizational discipline, nor ideological zeal it takes to be a genocidal dictator. He doesn't even have the skill set to avoid serial bankruptcies. Yet if Trump is no Hitler, he's proved himself a stalking horse for a movement with Hitlerian ambitions, psychoses, and allies, the foremost of whom is a strongman with credible Hitler potential, Vladimir Putin. Trump has made himself the supreme leader of an enraged swath of Americans, perhaps some 40 percent of the electorate, as eager to blow up our republic as the Nazis were Weimar. A subset of that Trumpentariat adheres to neo-Nazi values (and in some cases neo-Nazi organizations) defined by a hatred of immigrants, Muslims, Jews, and most other racial and ethnic minorities. That group may not add up to the 50 percent excoriated as "deplorables" by Hillary Clinton, but it's still sizable. After a parade of women accused Trump of sexual assault in the aftermath of "Grab them by the pussy," a Politico/Morning Consult poll found that 74 percent of Republicans believed their party should continue to support him.
Whether Trump heads directly to political oblivion after Election Day or makes a soft landing at a new Trump TV channel, the Trumpist cause will outlive him. The Trumpists themselves, nurtured within the GOP in embryo for a half-­century before Trump's candidacy rallied them and rebranded them in his own image, will march on. Having already been emboldened by their easy conquest of a major political party, they will be more inflamed than ever by a crushing defeat in an election they are certain is rigged. They may yet rally around a new demagogue who is a more effective Hitler surrogate than Trump could ever be. 11/01/16 http://nymag.com/daily/intelligencer/2016/11/charles-lindbergh-is-a-cautionary-tale-for-republicans.html
13. Robin Lakoff: Hillary Clinton's Emailgate Is an Attack on Women
The only reason the whole email flap has legs is because the candidate is female. Can you imagine this happening to a man? Clinton is guilty of SWF (Speaking While Female), and emailgate is just a reminder to us all that she has no business doing what she's doing and must be punished, for the sake of all decent women everywhere. There is so much of that going around.
It's not about emails; it's about public communication by a woman in general. Of course, in the year 2016, no one (probably not even The Donald) could make this argument explicitly. After all, he and his fellow Republicans are not waging a war on women. How do we know that? They have said so. And they're men, so they must be telling the truth.
But here's Hillary Rodham Clinton, the very public stand-in for all bossy, uppity and ambitious women. Here are her emails. And since it's a woman, doing what decent women should never do—engaging in high-level public communication—well, there must be something wrong with that, even if we can't quite find that something. We will invoke the terminology of criminal law to account for our feelings. She's getting away with treason! Put her in jail! We can't quite put our fingers on it, but the words sure do make a lot of people feel better, so they must be right.
Clinton has repeatedly apologized, but apparently not enough for her accusers. In fact, her apologies were her only mistake. By apologizing she acknowledged guilt. But that's what women are supposed to do (because women are always guilty of something). Several members of her own staff sent emails grumbling that she was a recalcitrant apologizer. But her instinct was right: apologizing has only made her weaker. Her opponent never apologizes, not really. So accusations slide off his back like water off a duck's.
Imagine the emails the Trump campaign must be exchanging … Now those would be legitimately interesting! 10/31/16 Read more at http://time.com/4551711/hillary-clinton-emailgate/?xid=fbshare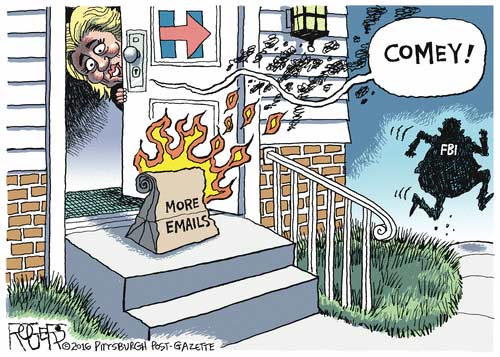 14. Dean Obeidallah: Donald Trump Can't Merely Be Defeated—He and His Deplorables Must Be Crushed
It's not enough for Donald Trump to just lose this election. He must get crushed. Why? Simple, we need to send a message to Trump—as well as to the rest of our nation—that his sexism, bigotry, and racism have no place in America. And perhaps more importantly this would send a powerful message to Trump's white supremacist and anti-Semitic fans that we will not sit by as Trump mainstreams their hate.
Those are the stakes. Yet stunningly a Washington Post poll released Tuesday finds that enthusiasm among Hillary Clinton supporters is dropping given FBI director's James Comey's irresponsibly timed letter about emails found on Huma Abedin's computer. 
Trump and the hate mongers of his base want you to lose enthusiasm. They hope good people sit home and let hate triumph. We can't allow that.
Let's be blunt: Trump has served up the most vile, despicable garbage we have seen from a major party presidential nominee ever. And that's not just my view but also people who have been active in politics for decades, such as Ralph Nader and Barney Frank, who shared that exact sentiment while guests on my SiriusXM radio show.
Despite what some want you to believe, in the race between Trump and Clinton, Hillary is not the lesser of two evils. There's only one evil in this race and his name is Donald Trump. And we must unite to crush him come Election Day. Anything else will make Trump and his deplorables believe that their hateful views have a place in mainstream America. And we cannot let that happen. 11.01.16 Read more at http://www.thedailybeast.com/articles/2016/11/02/donald-trump-can-t-merely-be-defeated-he-and-his-deplorables-must-be-crushed.html