April 2, 2020
ON THE RECORD. . .
"Listen to the science. Do your part and take care of each other." — Barack Obama, in an Instagram chat with basketball star Steph Curry and Dr. Anthony Fauci.

"I think the first order of business will be to get the spread of the virus under control and then resume economic activity… We're not experts in pandemics over here. We don't get to make that decision. I would say though that we would tend to listen to the experts. Dr. Fauci said something like the virus is going to set the timetable and that sounds right to me." — Fed Chairman Jerome Powell

Ever since the Democrats took back the House in the 2018 midterm elections, Nancy Pelosi has led the opposition with strategic mastery and inimitable elan. It's a remarkable comeback for the veteran politician who for years was demonized by the right and taken for granted by many in her own party—even though, as speaker under President Barack Obama, she deserves much of the credit for epochal liberal accomplishments from universal access to health care to saving the US economy from collapse, from reforming Wall Street to allowing gay people to serve openly in the military. How did an Italian grandmother in four-inch heels become the greatest legislator since LBJ? — From Pelosi by Molly Ball.

"The Lame Stream Media is the dominant force in trying to get me to keep our country closed as long as possible in the hope that it will be detrimental to my election success. The real people want to get back to work ASAP. We will be stronger than ever before!" — Trump who, in addition to questioning the advice of public health experts, is now blaming the media for the country's economic slowdown.

Sean Hannity tells Gov. Andrew Cuomo to stop "whining bitching and complaining" about not having enough ventilators and supplies.

 "When they're not appreciative to me, they're not appreciative to the Army Corps, they're not appreciative to FEMA, it's not right." — Trump criticizing the governors of Michigan and Washington State for not being properly appreciative.

"We don't need Donald Trump in Virginia doing a photo op. We need respirators and we need masks, like every other state in the country. He ought to be staying in Washington, in his job. It's a total waste of time." — Former Gov. Terry McAuliffe about Mr. Trump's decision to turn the deployment of the USNS Comfort to NY into a high-profile photo opportunity.

Because the "Ratings" of my News Conferences etc. are so high, "Bachelor finale, Monday Night Football type numbers" according to the @nytimes, the Lamestream Media is going CRAZY. "Trump is reaching too many people, we must stop him." said one lunatic. See you at 5:00 P.M.! — Donald J. Trump @realDonaldTrump

 "Maybe worse than hoarding" -- Trump implies hospital staff stealing masks – video

If voting were made easier — as Democrats pushed for in the $2.2 trillion relief bill — Republicans wouldn't win elections. — Trump openly admitting if we made voting easier in America, Republicans wouldn't win elections.

"People are so on edge. I mean, it really panicked people. They were going to leave the city last night. So, you need to manage that fear and panic." — NY Gov. Andrew Cuomo saying Trump's floating of a possible quarantine of New York "panicked people" with many likely fleeing the New York area — possibly spreading the virus further..

"If you're willing to wait for the cops to get there in 15 to 30 minutes, then fine,. Just sit by the phone and tell them, not only where to pick up your body but also the next of kin. But I think a lot of people recognize that this is a time, no matter who you are or where you live, this is a time to be prepared to protect yourself, your property, and your family in case nobody else can." — Mike Huckabee during an appearance on Todd Starnes' radio show.

Trump, Thursday: "I don't believe you need 40,000 or 30,000 ventilators."

Reporter, today: "You've said repeatedly that you think some of the equipment that governors are requesting they don't actually need."

Trump: "I didn't say that. I didn't say that. I didn't say that." —
Peter Baker @peterbakernyt

"All I want them to do, very simple, I want them to be appreciative. I don't want them to say things that aren't true. I want them to be appreciative. We've done a great job." — Trump on what he wants from the governors.

I love Michigan, one of the reasons we are doing such a GREAT job for them during this horrible Pandemic. Yet your Governor, Gretchen "Half" Whitmer is way in over her head, she doesn't have a clue. Likes blaming everyone for her own ineptitude! #MAGA. — Donald Trump @realDonaldTrump

"The virus is here, we're going to have to confront it. Confront it like a man, not a boy! We're all going to die one day." — Brazilian President Jair Bolsonaro continuing to defy calls from health officials looking to prevent gatherings that might spread the new coronavirus, posting videos of himself gathering small crowds in several neighborhoods in the capital of Brasilia.

Economists at the Fed's St. Louis district project total employment reductions of 47 million, which would translate to a 32.1% unemployment rate, according to a recent analysis of how bad things could get.

"We've seen all too terribly the consequences of those who denied warnings of a pandemic. We can't afford any more consequences of climate denial. All of us, especially young people, have to demand better of our government at every level and vote this fall." — Barack Obama, on Twitter.

"There is no force in politics more powerful than the Trump administration's desire to increase air pollution." — Matt Yglesias about the Trump administration plans to roll back its fuel-economy standards even further, effectively "undoing" all the progress made by the Obama administration.

"Anyone could've told you a lot of these things… Did you really have to learn that 50 states shouldn't compete against 50 states, and then FEMA shouldn't come in late and compete with 50 states? It's not like you had to go to the Harvard Kennedy School to learn this." — New York Gov. Andrew Cuomo at his daily press briefing on preparing for the coronavirus pandemic.

"I'm afraid many have been misled into thinking that some of his earlier statements about using the word hoax — and he used it in a specialized way — but saying it was going to disappear, those kinds of things, I feel badly for those who believe that stuff and have not been protecting themselves." — Al Gore, on CNN.

"Some in our media can't contain their glee & delight in reporting that the U.S. has more #CoronaVirus cases than #China" — Sen. Marco Rubio (R-FL), on Twitter.

"How is that a good job in our country? Not if another 198,000 people die. So now 200,000 people are disposable?" — Sports radio personality Mike Francesa, a longtime defender of President Trump, tore into him  for saying he'll have done "a very good job" if between 100,000 to 200,000 Americans die from the coronavirus pandemic infections.
---
IN THIS ISSUE
FYI
OPINION
1.  Andy Borowitz: America's Teachers Urge Trump to Use Time at Home to Repeat First Grade
On Monday, the Trump administration announced plans to roll back its fuel-economy standards even further, effectively "undoing" all the progress made by the Obama administration. As Matt Yglesias put it on Twitter, "There is no force in politics more powerful than the Trump administration's desire to increase air pollution." Donald J. Trump should use this time when he is staying at home to repeat first grade, the nation's teachers are urging.

Carol Foyler, the executive director of the National Alliance of Elementary Educators, said that the homebound Trump has a "golden opportunity" to use remote learning to repeat the first-grade curriculum.

"At a time when many of our nation's children are being homeschooled, this seems like the perfect time for President Trump to learn the basics of reading, writing, and math," she said. "By June, he could be reading 'Hop on Pop' and 'Go, Dog, Go!' "

She added that anyone at the White House would be qualified to homeschool Trump, "except Jared."

Foyler acknowledged that the plan for Trump to repeat first grade had faced dissent from some of the nation's teachers, who felt strongly that he should first repeat kindergarten.

"From an educational standpoint, the kindergarten curriculum is mainly devoted to socialization and getting along with others," she said. "I think the ship has sailed on that."

That disagreement aside, Foyler said that the nation's elementary educators were prepared to offer Trump a broad array of online learning resources. "He will have everything he needs to repeat first grade while Dr. Fauci runs the country," she said. https://www.newyorker.com/humor/borowitz-report/
2. COVID-19 Projections for Each State
A new tool from the University of Washington projects when the coronavirus outbreak will peak in each of the 50 states and how bad it'll get.
Of course, these are all projections and things could change dramatically, such as when modifications to social distancing measures are made. https://covid19.healthdata.org/projections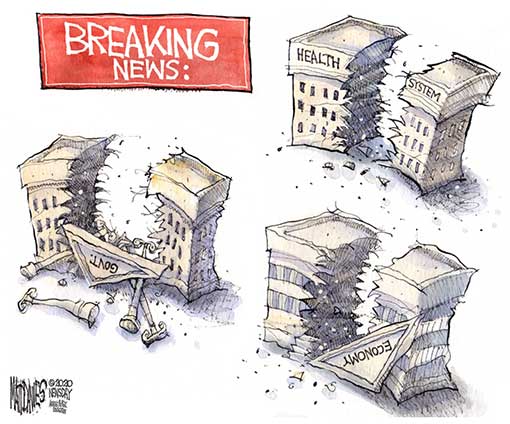 3. Trump Wants His Signature on Coronavirus Stimulus Checks
Even though Trump thanked "Democrats and Republicans for coming together and putting America first," it seems he wants Americans to thank him for any checks they receive. Trump has told people he wants his signature to appear on the direct payment checks, an administration official told the Wall Street Journal. A civil servant would normally sign the checks. https://slate.com/news-and-politics/2020/03/trump-wants-signature-coronavirus-stimulus-checks.html
4. GOP Plows Forward on Plans to Kill Obamacare, Pandemic Be Damned
The worsening coronavirus outbreak may be stretching the limits of the U.S. health care system and overwhelming state governments, but that isn't deterring a group of 18 state attorneys general from plowing ahead with a lawsuit that could overturn the Affordable Care Act within a year—a move that could disrupt the health care system at a time of deep crisis.
This fall, Texas Attorney General Ken Paxton is slated to argue in the U.S. Supreme Court on behalf of 17 Republican attorneys general—and against 21 Democratic attorneys general—that Obamacare is unconstitutional and must be struck down immediately. https://www.thedailybeast.com/gop-plows-forward-on-plans-to-kill-obamacare-coronavirus-pandemic-be-damned
5. In Exchange for Aid, Trump Wants Praise From Governors He Can Use in Campaign Ads
AS HE INCREASINGLY tries to shovel blame for the shortage of medical supplies onto the governors of states with densely populated areas that are suffering the most from the coronavirus pandemic, President Donald Trump was asked on Friday what more he wants them to do. It was, he said, "very simple: I want them to be appreciative."
While Trump maintained that he was not expecting the governors to be appreciative of just his efforts, but those of the federal government he leads — which, he claimed, "has done a hell of a job" — his monologue eventually returned to his discontent with their lack of personal gratitude to him. "We have done a job the likes of which nobody's seen," Trump said. "I think they should be appreciative, because you know what, when they're not appreciative to me, they're not appreciative to the Army Corps, they're not appreciative to FEMA, it's not right." https://theintercept.com/2020/03/28/exchange-aid-trump-wants-praise-governors-can-use-campaign-ads/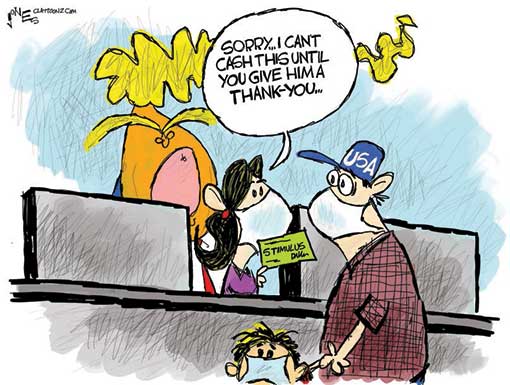 6. Trump's campaign threatens TV stations that the FCC could pull their licenses over anti-Trump ad
Lawyers for President Donald Trump's official Super PAC, America First Action, tried to get TV stations to stop airing an anti-Trump ad that focuses on his horrific mismanagement of the coronavirus crisis. The TV stations refused to pull the ad, placed by the pro-Biden Super PAC Priorities USA (PUSA), which rightly noted that the pro-Trump Super PAC did not even have standing to make the demand.
Attorneys for the Donald J. Trump for President campaign then sent a Cease and Desist letter to the TV stations reading in part: "your station has a responsibility to 'protect the public from false, misleading or deceptive advertising,'" and threatens that "your failure to remove this deceptive ad … could put your station's license in jeopardy." https://www.rawstory.com/2020/03/read-the-letter-trumps-campaign-sent-to-tv-stations-threatening-the-fcc-could-pull-their-licenses-over-anti-trump-ad/
7. U.S. to Announce Rollback of Auto Pollution Rules, a Key Effort to Fight Climate Change
The Trump administration is expected on Tuesday to announce its final rule to rollback Obama-era automobile fuel efficiency standards, relaxing efforts to limit climate-warming tailpipe pollution and virtually undoing the government's biggest effort to combat climate change.
The new rule, written by the Environmental Protection Agency and the Department of Transportation, would allow cars on American roads to emit nearly a billion tons more carbon dioxide over the lifetime of the vehicles than they would have under the Obama standards and hundreds of millions of tons more than will be emitted under standards being implemented in Europe and Asia. https://www.nytimes.com/2020/03/30/climate/trump-fuel-economy.html
8. Trump's Coronavirus Approval Has Fallen Underwater
Trump is now under water — this week, Trump saw a 13-point swing in his net approval on his handling of the pandemic, from 52–42% (+10) to 47–50% (-3). https://medium.com/@NavigateCorona/navigating-corona-march-28-2a9765d4a020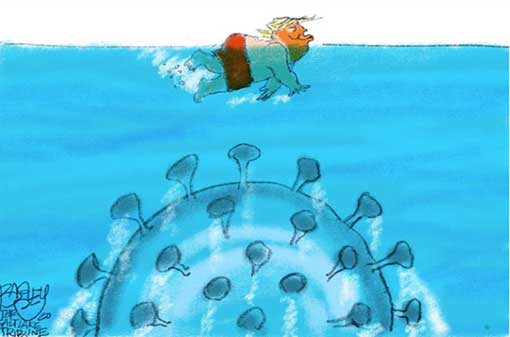 9. Trump Suggests He Can Gag Inspector General for Stimulus Bailout Program
When President Trump signed the $2 trillion economic stabilization package on Friday to respond to the coronavirus pandemic, he undercut a crucial safeguard that Democrats insisted upon as a condition of agreeing to include a $500 billion bailout fund.
In a signing statement released hours after Mr. Trump signed the bill in a televised ceremony which the White House made public about two hours after the president signed the bill, Mr. Trump suggested that under his own understanding of his constitutional powers as president, he can gag the special inspector general for pandemic recovery, known by the acronym S.I.G.P.R., and keep information from Congress. https://www.nytimes.com/2020/03/27/us/trump-signing-statement-coronavirus.html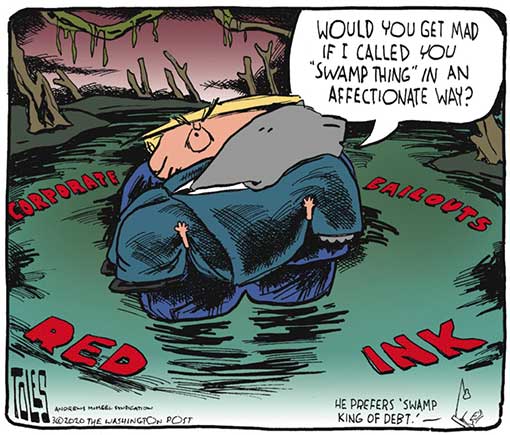 10. Fact check: From coronavirus to Kim Jong Un, Trump makes at least 14 false claims in Fox News town hall
Donald Trump made a rapid-fire series of false claims at a televised town hall event hosted by Fox News on Thursday in Scranton, Pennsylvania.
CNN counted at least 14 false claims in our first dive into the transcript, plus four claims that were lacking some important context.
For the list go to https://www.cnn.com/2020/03/06/politics/fact-check-trump-fox-news-town-hall-scranton/index.html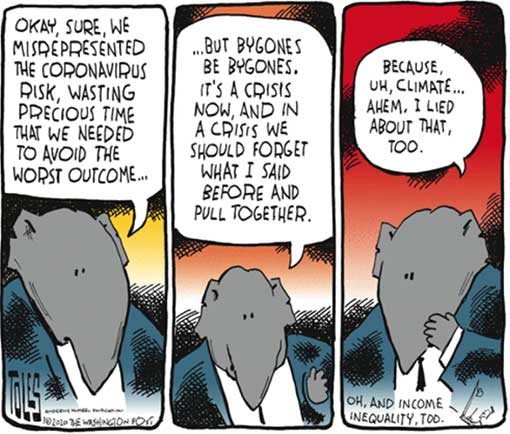 11. U.S. slashed CDC staff inside China prior to coronavirus outbreak
The Trump administration cut staff by more than two-thirds at a key U.S. public health agency operating inside China, as part of a larger rollback of U.S.-funded health and science experts on the ground there leading up to the coronavirus outbreak.
Most of the reductions were made at the Beijing office of the U.S. Centers for Disease Control and Prevention (CDC) and occurred over the past two years, according to public CDC documents viewed by Reuters and interviews with four people familiar with the drawdown.
The Atlanta-based CDC, America's preeminent disease fighting agency, provides public health assistance to nations around the world and works with them to help stop outbreaks of contagious diseases from spreading globally. It has worked in China for 30 years. https://www.reuters.com/article/us-health-coronavirus-china-cdc-exclusiv/exclusive-u-s-slashed-cdc-staff-inside-china-prior-to-coronavirus-outbreak-idUSKBN21C3N5
12. Joe Biden's excellent ad
https://twitter.com/AdamJSmithGA/status/1242980698249707520
13. Pelosi and Trump haven't spoken in five months
House Speaker Nancy Pelosi and President Donald Trump have not spoken in more than five months, according to a Pelosi aide, something that's even more remarkable given the crisis facing the country and the massive rescue packages moving through Congress.
The two have not spoken since Pelosi stood up and left at an October 16 meeting after Trump railed at her and insulted her as a "third-grade politician." Pelosi later said Trump had a "meltdown."
Since then, the House impeached Trump, the President declined to shake her hand at the State of the Union, the speaker tore up his speech — and the President has leveled a litany of insults and even suggested she should be prosecuted. https://www.cnn.com/2020/03/24/politics/nancy-pelosi-trump-talks/index.html
14. NRA sues California officials for designating gun stores non-essential
The National Rifle Association and other pro-gun groups filed a lawsuit against California Gov. Gavin Newsom and state officials on Friday after gun stores were deemed non-essential and required to close for the state's stay-at-home order amid the novel coronavirus outbreak. https://www.axios.com/nra-sue-california-gun-stores-coronavirus-918fe6b3-e9e5-48ee-b1d4-5fc086cbeb37.html
15. Flatter or fight? Governors seeking help must navigate Trump
Facing an unprecedented public health crisis, governors are trying to get what they need from Washington, and fast. But that means navigating the disorienting politics of dealing with Trump, an unpredictable president with a love for cable news and a penchant for retribution.
Republicans and Democrats alike are testing whether to fight or flatter, whether to back channel requests or go public, all in an attempt to get Trump's attention and his assurances.
At stake may be access to masks, ventilators and other personal protective gear critically needed by health care workers, as well as field hospitals and federal cash. As Gov. Gretchen Whitmer, D-Mich., put it, "I can't afford to have a fight with the White House." https://apnews.com/f9fb8c41b7f8acc215e3ec78ca32210a
16. White House abruptly transfers DHS official amid loyalty purge
The White House removed a top public affairs official at the Department of Homeland Security in a move that shocked many in the department as it takes a lead role in handling the coronavirus pandemic, according to two former senior DHS officials familiar with the matter.
Heather Swift, who was DHS' deputy assistant secretary of public affairs, was abruptly pushed out of her position on Friday after the Presidential Personnel Office raised questions about her loyalty to President Donald Trump, said one of the former DHS officials."The personnel office may have discovered some old social media posts that officials there did not like." https://www.politico.com/news/2020/03/25/white-house-dhs-heather-swift-loyalty-148856
17. Tampa megachurch pastor arrested after leading packed services despite 'safer-at-home' orders
The pastor of a Tampa megachurch is facing charges after refusing to close its doors despite a "safer at home" order in effect in Hillsborough County, meant to stop the spread of COVID-19. The sheriff says up to 500 people were in attendance at Pastor Rodney Howard-Browne's Sunday services.
On Sunday, Howard-Browne defended his decision to keep the church open in a video posted to his YouTube channel, claiming the building had the technology to eradicate any virus.
"We brought in 13 machines that basically kill every virus in the place," Howard-Browne said. "If they sneeze it shoots it down like at 100 miles per hour and it will neutralize it in a split second." https://www.fox13news.com/news/tampa-megachurch-pastor-arrested-after-leading-packed-services-despite-safer-at-home-orders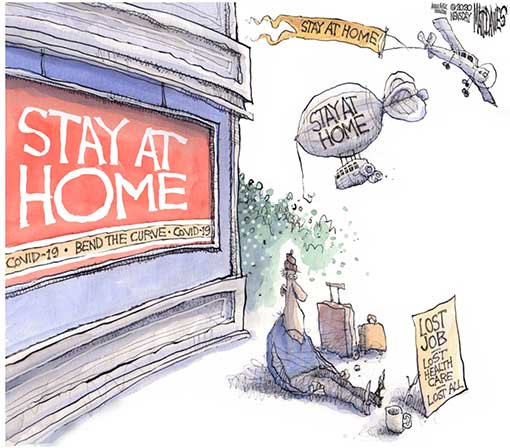 18. As U.S. struggles to stem coronavirus, China asserts itself as global leader
With Italy in dire need of medical equipment, an economic superpower stepped in to help.
No, not the United States.
It was China.
Beijing last week promised Rome a thousand ventilators and 2 million masks, part of a global outreach effort that includes massive donations across Africa and a $20 million gift to the World Health Organization earmarked to fight the coronavirus pandemic.
The Trump administration, meanwhile, proposed slashing the U.S. contribution to the WHO last month and has said very little about international cooperation to stop the spread. Instead of providing aid abroad, Trump has been soliciting it. According to a readout by the South Korean government, Trump on Tuesday asked that country's president if he could provide medical equipment to the U.S.
It was an extraordinary request from a U.S. president and a jarring contrast to the role America usually plays in a global crisis. Meanwhile, international observers have watched as American governors have squabbled with the president over whether he is properly managing the response in his own country.
As those scenes play out daily, China senses a moment of opportunity to portray itself as a powerful and competent player on the world stage, former officials and experts told NBC News.
"We're bungling this in a fairly open and transparent manner," said Jude Blanchette, who holds the Freeman Chair in China Studies at the Center for Strategic and International Studies. "Beijing's push for global leadership is able to get so much tailwind by virtue of the relative absence of any U.S. leadership." https://www.nbcnews.com/news/us-news/u-s-struggles-stem-coronavirus-china-asserts-itself-global-leader-n1169491
19. Alex Jones Loses Sandy Hook Court Appeal, Must Now Pay Nearly $150,000 In Legal Fees
Alex Jones, a conspiracy theorist and repeated loser of court battles, was ordered Wednesday to pay more than $20,000 in attorney fees after losing another appeal in a defamation case related to the 2012 mass shooting at Sandy Hook Elementary School. He now owes nearly $150,000 in legal fees before he even faces a jury.
"It is rare to see a legal defense so incompetent and disrespectful to the rule of law that it causes a defendant to rack up $150,000 in fines during preliminary motions before even reaching trial," Attorney Mark Bankston, who is representing Heslin and other families suing Jones, said. "These fines are only the beginning. A far greater reckoning awaits Mr. Jones." https://www.huffpost.com/entry/alex-jones-loses-another-sandy-hook-court-battle-must-now-pay-150000-in-court-costs_n_5e7cf82dc5b6cb9dc19cadf0
20. Trump rejects Obamacare special enrollment period amid pandemic
The Trump administration has decided against reopening Obamacare enrollment to uninsured Americans during the coronavirus pandemic, defying calls from health insurers and Democrats to create a special sign-up window amid the health crisis.
Trump also doubled down on his support of a lawsuit by Republican states  that could destroy the entire Affordable Care Act, along with coverage for the 20 million people insured through the law. https://www.politico.com/news/2020/03/31/trump-obamacare-coronavirus-157788
21. USPS warns it might have to shutter by June as $2 trillion coronavirus stimulus package provides no funding
Yet once again, the US Postal Service is in crisis mode.
With a negative net worth of $65 billion and an additional $140 billion in unfunded liabilities, the USPS originally expected to run out of liquidity by 2021 without intervention. That has accelerated rapidly because of COVID-19. Fewer people and businesses are sending mail because of the outbreak, which could hasten the decline of the Postal Service and close its doors as early as June, officials warned.  https://fortune.com/2020/03/30/usps-postal-service-stimulus-package-no-funding-post-office-mail-delivery-could-shutter-june-coronavirus-relief-bill/
22. The DAILY GRILL
Speaker Pelosi says the President downplaying the severity of #coronavirus is "deadly." "As the President fiddles, people are dying. We just have to take every precaution."-- #CNNSotu

VERSUS

"Well, she's a sick puppy in my opinion. She really is. She's got a lot of problems. And that's a horrible thing to say. You know, I've gotten from fair people a lot of accolades, and I don't want the accolades." — Trump lashing out at Speaker Nancy Pelosi (D-CA) on Fox & Friends.

 

Anyone praising China's "leadership" in responding that the virus should be scorned for being the authoritarian/communist propagandist that they are. — Trump Jr. tweet.

VERSUS

After a phone call with him that Chinese leaders had "developed a strong understanding of the Virus. We are working closely together … Much respect!" — Trump, just 12 hours later, tweeting praise for Chinese President Xi Jinping.

 

Gov. Cuomo rejected buying recommended 16,000 ventilators in 2015 for the pandemic -- for a pandemic -- established death panels and lotteries instead. So he had a chance to buy in 2015, 16,000 ventilators at a very low price, and he turned it down. I'm not blaming him or anything else, but he shouldn't be talking about us. He's supposed to be buying his own ventilators. -- Trump

VERSUS

Judging by the phrasing of Trump's claim, it appears that he was grabbing this claim directly from the perennially inaccurate right-wing website, The Gateway Pundit, which put up a post two days ago with the same headline that Trump read on Fox. The Gateway Pundit's post was in turn based on a recent syndicated column by Betsy McCaughey, the former Republican lieutenant governor of New York in the 1990s who also recently appeared in a Fox Nation documentary to declare that "political venom" over Trump's coronavirus response is "more worrisome" than mass panic. (She was previously a frequent right-wing media source for the health care reform debate during the Obama administration and one of the primary pushers of the "death panel" lie.) -- Media Matters
23. From MEDIA MATTERS (They watch Fox News so you don't have to)
Fox's Ed Henry questions why Howard University is receiving federal coronavirus funding. On March 26, Fox News anchor Ed Henry asked Rep. Michael McCaul (R-TX) how congressional Democrats could suggest it was a pro-worker approach to delay a $2 trillion coronavirus relief package in order to secure, among other things, $13 million in funding for Howard University. Henry and his guest both failed to mention that Howard University Hospital is a coronavirus treatment center, an important research hospital, and a significant part of the capital's health care infrastructure.  https://www.mediamatters.org/coronavirus-covid-19/foxs-ed-henry-questions-why-howard-university-receiving-federal-coronavirus

As the coronavirus pandemic became a global health crisis, Fox News spent weeks endangering the health and well-being of millions of its viewers and -- thanks to the symbiotic relationship between Fox and the White House -- putting the country as a whole increasingly at risk. The network's coverage has had devastating consequences for the public, with polls showing that Fox viewers are far less likely than others to believe the situation is serious. President Donald Trump also appears to be taking cues from Fox -- whether dragging his feet in addressing the outbreak, downplaying its impacts, promoting harmful or unproven "cures," or even pivoting to deploy racist and xenophobic attacks. https://www.mediamatters.org/coronavirus-covid-19/fox-news-coverage-covid-19-pandemic-medically-inaccurate-malevolently-racist

Rush Limbaugh: Health experts are part of the "Deep State" and shouldn't be trusted. After dismissing COVID-19 as "the common cold," Limbaugh says that, "We didn't elect a president to defer to a bunch of health experts that we don't know" https://www.mediamatters.org/coronavirus-covid-19/rush-limbaugh-health-experts-are-part-deep-state-and-shouldnt-be-trusted

Fox News' coverage of the COVID-19 pandemic: medically inaccurate, malevolently racist, motivated by politics. The network's coverage has had devastating consequences for the public, with polls showing that Fox viewers are far less likely than others to believe the situation is serious. President Donald Trump also appears to be taking cues from Fox -- whether dragging his feet in addressing the outbreak, downplaying its impacts, promoting harmful or unproven "cures," or even pivoting to deploy racist and xenophobic attacks. https://www.mediamatters.org/coronavirus-covid-19/fox-news-coverage-covid-19-pandemic-medically-inaccurate-malevolently-racist

Over three days this week, Fox News promoted an antimalarial drug treatment for coronavirus over 100 times. By contrast, Fox hardly discussed the lack of evidence for the medications' efficacy in treating COVID-19. https://www.mediamatters.org/fox-news/over-three-days-week-fox-news-promoted-antimalarial-drug-treatment-coronavirus-over-100

75% of cable news appearances by members of Trump's coronavirus task force have been on Fox News with 82 on Fox News, 22 on CNN, and just five on MSNBC. https://www.mediamatters.org/coronavirus-covid-19/75-cable-news-appearances-members-trumps-coronavirus-task-force-have-been-fox
24. From the Late Shows
Jordan Klepper vs. Trump Supporters | The Daily Show: https://youtu.be/NzDhm808oU4

Dr. Fauci Answers Trevor's Questions About Coronavirus | The Daily Social Distancing Show: https://youtu.be/8A3jiM2FNR8
1. Frank Figliuzzi: Hostage Survival Tips for Drs. Fauci and Birx
Dear Dr. Deborah Birx and Dr. Anthony Fauci,
In order for all of us to survive the next month and beyond, you'll both need to understand how similar your predicament is to a hostage standoff, and how you can employ kidnap and ransom negotiation techniques to overcome the challenges of your figurative captivity. Since you just bought us all another month of smart social distancing, there are already signs that you are applying some of these proven methods even if you don't fully grasp them as such. But this can go south quickly, and we're counting on you to get it right.
These techniques won't work as well if the hostage-taker becomes aware of them, but based on available intelligence about your captor, he won't likely read this. First, successful hostage negotiators must understand the kidnapper's motivation. In most kidnappings, the captor wants money, but publicity, political demands, and yes, even ego, can drive ransom demands. This means that you both retain your value if you can remain alive; in your case that means not being kicked off the task force. Since the president has kept you in place thus far, he seems to understand that he needs you around, even if he's growing weary of your incessant talk of science and epidemiological modeling. This mutually dependent dynamic gives you the leverage and influence needed to shape outcomes. You control what the president wants: public adulation, credit for mitigating a deadly virus, and the appearance that he understands complex medical concepts. You must delicately and subtly message the president that if he harms the hostages (you and us), he won't get what he wants. This can be fraught with peril. https://www.vanityfair.com/news/2020/03/survival-tips-for-drs-fauci-and-birx-from-a-former-fbi-hostage-negotiator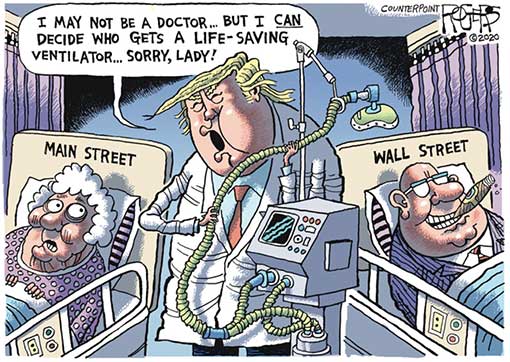 2. David Leonhardt: Not Winning This Fight
This chart shows why.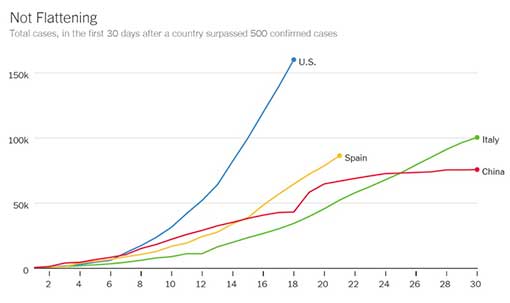 China and South Korea have flattened their curves. Italy, Spain, Germany and the Netherlands have begun to flatten their curves.
The United States still has not.
More than half of all confirmed coronavirus cases in the United States have been diagnosed in the past five days. Depending on what data source you use, yesterday was either the worst day for new cases or one of the worst. And more than 3,000 Americans with the virus have died, meaning the death toll has now exceeded that of the 9/11 terrorist attacks.
As you can see in the chart above, the other three countries with the world's largest number of confirmed cases — Italy, China and Spain — were all making significant progress at a similar point in their outbreaks. But the response in the United States has been slow and uneven. https://www.nytimes.com/2020/03/31/opinion/coronavirus-cases-united-states.html
3. Boston Globe Editorial: A president unfit for a pandemic
It's not too much for Americans to ask of their leaders that they be competent and informed when responding to a crisis of historic proportions. Instead, they have a White House marred by corruption and incompetence, whose mixed messages roil the markets and rock their sense of security. Instead of compassion and clarity, the president, in his near-daily addresses to the nation, embodies callousness, self-concern, and a lack of compass. Dangling unverified cures and possible quarantines in front of the public like reality TV cliffhangers, he unsettles rather than reassures. The pandemic reveals that the worst features of this presidency are not merely late-night comedy fodder; they come at the cost of lives, livelihoods, and our collective psyche.
Many pivotal decision points in this crisis are past us, but more are still to come. For our own sake, every American should be hoping for a miraculous turnaround — and that the too-little, too-late strategy of the White House task force will henceforth at least prevent contagion and economic ruin of the grandest scale. But come November, there must be a reckoning for the lives lost, and for the vast, avoidable suffering about to ensue under the president's watch. https://www.bostonglobe.com/2020/03/30/opinion/president-unfit-pandemic/
4. Mitch Albom: Hey, President Trump: Her name is Gretchen Whitmer
First of all, she has a name. Gretchen Whitmer. She is not "the woman" or "all she does is sit there" or "you know who I'm talking about" — all phrases President Donald Trump has used besides saying the actual name of the person Michigan voters elected to govern us.
It's "Gretchen Whitmer." Show some respect. At a time when Americans must adjust to a world without hugs, kisses or handshakes, the least a president of the United States can do is call our governor by her name.
And stop complaining about her "complaining." Gretchen Whitmer hasn't done anything that every Michigander doesn't want her to do — ask the federal government for masks, ventilators, test kits and other aid to fight the COVID-19 virus that is infecting and killing us.
She's not speaking for herself. She's speaking for the people.
Trump's response? Don't call her back.
So let's get this straight. The leader of our great country, when he feels that he hasn't been treated "right," doesn't return the call of a governor begging for help to save the lives of her constituents?
Trump to Michigan: Leave a Message. https://www.freep.com/story/sports/columnists/mitch-albom/2020/03/29/mitch-albom-president-donald-trump-gretchen-whitmer/2933518001/
5. Jennifer Rubin: Joe Biden's podcasts are a welcome reminder that Trump is the irrational one
On Monday, former vice president Joe Biden kicked off the first in what he promises will be a series of podcasts. Aptly entitled "Here's the Deal," it is one way to overcome the void in campaign activity necessitated by the coronavirus pandemic and bans on public gatherings.
As a preliminary matter, Here's the Deal, was a refreshing reminder that not all presidents or presidential candidates require bowing and scraping from aides, insult questioners, operate data-free on their "gut" and lack an appreciation for what ordinary people experience during a crisis. The overwhelming impression one came away with is that Biden would be a calm, rational and normal president.
In short, Biden is a welcome reminder that Trump is the abnormal, irrational one — not the leaders with data, not the governors who are building mobile hospitals and not the Americans who take seriously the stay-at-home directives from their governors. Biden does not present himself as the most informed on every subject (as does the perpetually under-informed Trump), but rather as a leader who knows how to source the best information from the best people. That would be a radical change from what we must all suffer through until January 2021. https://www.washingtonpost.com/opinions/2020/03/31/biden-podcasts-talking-rationally-americans/
6. Sean Sullivan, Michael Scherer and David Weigel:  Bernie Sanders says he's staying in the presidential race. Many Democrats fear a reprise of their 2016 defeat.
Behind the growing fear among many Democrats that Sen. Bernie Sanders's continued presence in the presidential race could spell doom in November is the belief that they've seen it happen before — in the last campaign.
The 2016 Democratic convention was just about to get started when Sanders (I-Vt.) addressed his delegates. It was time to support her, he told his backers. They disagreed, booing loudly. Some stuck their thumbs down as TV cameras captured the extraordinary show of dissent, which would continue on the convention floor.
To some Democrats in that campaign, it was a lesson learned the hard way about the limitations of Sanders's promises of support and the ferocity of his unbridled backers. Four years later, with the senator from Vermont still running against former vice president Joe Biden despite almost impossible odds of victory, some party leaders are increasingly worried about a reprise of the bitter divisions that many Democrats blame for Hillary Clinton's loss.
"It's the equivalent of a World War II kamikaze pilot," said Philippe Reines, a longtime adviser to Clinton. "They have no better option than to plow into USS Biden."
The judgment Sanders makes about his fate and the direction taken by his supporters could be among the most consequential decisions of the race, determining whether Democrats speak with one voice against a president who is already aimed at November, or squabble for months more. https://www.washingtonpost.com/politics/bernie-sanders-says-hes-staying-in-the-presidential-race-many-democrats-fear-a-reprise-of-their-2016-defeat/2020/03/28/a6b8a8dc-7032-11ea-a3ec-70d7479d83f0_story.html
7. Jonathan Chait: The Coronavirus and Conservatism's War on Science
Trump's extreme, almost comic myopia has driven Washington's laggard response. Having a television-addled president with the memory and long-term planning capabilities of a fruit fly is deeply unhelpful. But there is more behind Trump's intermittent disregard for the virus's danger than simple Trumpiness. As is often the case when analyzing any of the horrors of the Trump era, Trump's coronavirus response combines his idiosyncratic personality disorders with ingrained pathologies of the conservative movement.
Conservatism has built an alternative-fact universe, in which pseudo-experts can confidently explain why tax cuts will increase revenue, Obamacare will fail to increase health-insurance coverage, greenhouse-gas emissions will not warm the planet, and on and on.
It is not surprising that the movement generated an alternative reality in which the conclusions of epidemiologists across the world could be confidently discarded. Nor is it surprising that Trump has clung tightly to such thinking at junctures in the crisis. It is almost impressive that Trump has managed to heed the advice of real scientists at all. https://www.theatlantic.com/politics/archive/2020/03/social-distancing-culture/609019/
8. Molly Jong-Fast: Don't Worry, America, Jared Is Going to Save You From COVID-19
As the pandemic fills New York City's morgues, the president has decided to bring in the very best and smartest people. For Donald Trump, that's his son-in-law, Jared Kushner. And it just makes sense, since Jared has already brought peace to the Middle East and innovated America within an inch of its life with his office of American innovation. Now it's time for the young slumlord to once again fail upwards. This time, hundreds of thousands of American lives are at stake, but I mean, Jared did go to Harvard (via a $2.5 million donation), so…
One might find the fact that one in 1,000 people in the New York City metro area are infected with COVID-19 terrifying. But not me. No, I have confidence that the president's son-in-law will handle this with his usual competence. I mean, we have peace in the Middle East now so... Wait, we don't? Oh well then. I would say we're all in a lot of trouble. But if we survive, just think about how good this will be for the Trump brand and for Ivanka's 2024 run. If we don't die, that is.  
https://www.thedailybeast.com/dont-worry-america-jared-kushner-is-going-to-save-you-from-covid-19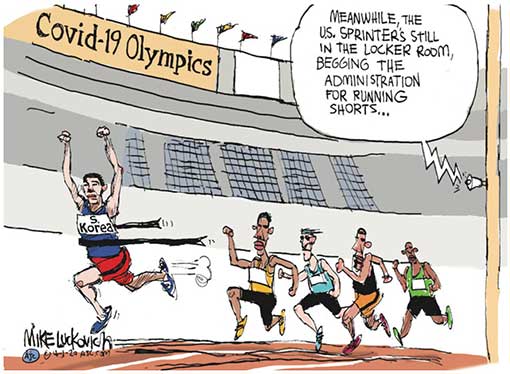 9. Susan B. Glasser: The Trump O'Clock Follies
The President's mendacious nightly press briefings on the coronavirus will go down in history for their monumental flimflammery.
During the Vietnam War, the United States had the Five O'Clock Follies, nightly briefings at which American military leaders claimed, citing a variety of bogus statistics, half-truths, and misleading reports from the front, to be winning a war that they were, in fact, losing. Richard Pyle, the Associated Press's Saigon bureau chief, called the press conferences "the longest-playing tragicomedy in Southeast Asia's theater of the absurd," which, minus the "Southeast Asia" part, is not a bad description of the scene currently playing out each evening in the James S. Brady Press Briefing Room, in the White House. We now have the Trump Follies, the nightly briefings at which President Trump has lied and bragged, lamented and equivocated, about the global pandemic that poses an existential threat to his Presidency. Just as the Vietnam briefings became a standard by which the erosion of government credibility could be measured then, historians of the future will consult the record of Trump's mendacious, misleading press conferences as an example of a tragic failure of leadership at such a critical moment. There will be much material for them; the transcripts from just the first three days of this week run to more than forty thousand words.
Since Trump began making the press conferences a daily ritual, a couple of weeks ago—an eternity in the pandemic era—his more memorable lines are already featuring in political attacks against him. "I don't take responsibility at all," Trump insisted, two weeks ago. When asked to assess his own performance, he said, "I'd rate it a ten." This Wednesday, with members of his coronavirus task force joining him onstage, he added, "We've done one hell of a job. Nobody has done the job that we've done. And it's lucky that you have this group here right now for this problem or you wouldn't even have a country left."
The disconnect between Trumpian reality and actual reality has never been on starker display than in the past few days, as the true face of the horror we are facing in the United States has shown itself, in New York City, with overwhelmed morgues and emergency rooms, a governor pleading for ventilators and face masks from the federal government, and heartbreaking first-person accounts reminiscent of the open letters sent from Italy a few weeks back, which warned Americans: this is what is coming for you—don't make our mistakes. On Tuesday, the World Health Organization said that the United States was emerging as the "epicenter" of the global pandemic, which makes the James S. Brady Press Briefing Room the emerging epicenter of the failure to respond to it. https://www.newyorker.com/news/letter-from-trumps-washington/the-trump-oclock-follies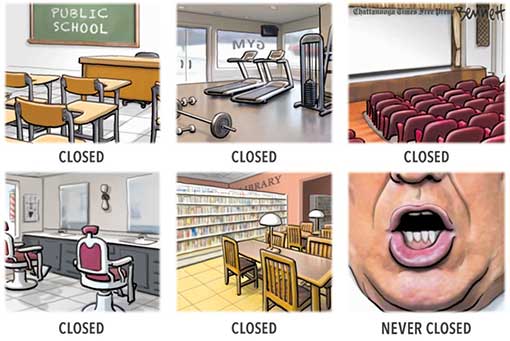 10. Micah Zenko: The Coronavirus Is the Worst Intelligence Failure in U.S. History
Suffice it to say, the Trump administration has cumulatively failed, both in taking seriously the specific, repeated intelligence community warnings about a coronavirus outbreak and in vigorously pursuing the nationwide response initiatives commensurate with the predicted threat. The federal government alone has the resources and authorities to lead the relevant public and private stakeholders to confront the foreseeable harms posed by the virus. Unfortunately, Trump officials made a series of judgments (minimizing the hazards of COVID-19) and decisions (refusing to act with the urgency required) that have needlessly made Americans far less safe.
In short, the Trump administration forced a catastrophic strategic surprise onto the American people. But unlike past strategic surprises—Pearl Harbor, the Iranian revolution of 1979, or especially 9/11—the current one was brought about by unprecedented indifference, even willful negligence. Whereas, for example, the 9/11 Commission Report assigned blame for the al Qaeda attacks on the administrations of presidents Ronald Reagan through George W. Bush, the unfolding coronavirus crisis is overwhelmingly the sole responsibility of the current White House. https://foreignpolicy.com/2020/03/25/coronavirus-worst-intelligence-failure-us-history-covid-19/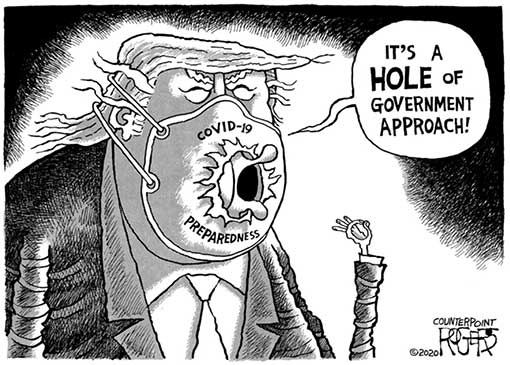 11. Frank Rich: What a Plague Reveals
A society reveals a lot about itself, heroic and not, when confronting a plague. But we didn't need a plague to tell us that Trump places zero value on any life except his own, and it's no surprise that many of his zealots are willing to blindly follow his example. Witness that so-called man of God, Jerry Falwell Jr., who decided to end social distancing and summon the previously dispersed student body back to Liberty University in Virginia, at whatever cost to themselves. Or Larry Kudlow, the White House economic adviser who had previously assured Americans that the virus was "contained" and advised them to buy stocks just before the bottom dropped out of the markets. Not content to speed the destruction of Americans' 401(k)s, he has led the cheerleading for Trump's kamikaze goal of getting the country back to work by . Perhaps Trump can kick off this return to normalcy by holding the biggest and best MAGA rally ever on Easter Sunday at Liberty U.
As the virus spreads from its current epicenters throughout the country, the grotesque discrepancy between the elites and the have-nots is going to make Parasite look as benign as an episode of Modern Family. The anger and despair that have fueled populism in America, even to the point of inducing voters to hand power to a charlatan like Trump, may metastasize at least as fast as the plague. https://nymag.com/intelligencer/2020/03/frank-rich-what-a-plague-reveals.html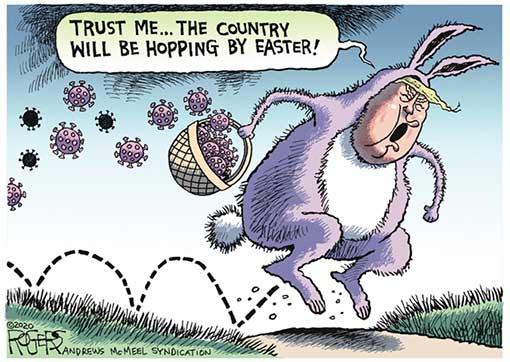 12. Bess Levin: If New York Wants Ventilators Cuomo Better Start Kissing The Ring
On the off chance it was previously unclear or existed in a gray area for some people, the coronavirus crisis has confirmed, beyond a shadow of a doubt, that Donald Trump is a complete and total sociopath. Last week, in response to a softball question about what he would say to the millions of Americans who are scared of the deadly virus sweeping the nation, Trump told a reporter, "I say that you're a terrible reporter." On Sunday, after taking the pandemic semi-seriously for about a week, he started pushing to "open" the country by Easter, arguing that the economy is more important that actual lives. And during a virtual town hall with Fox News on Tuesday, he appeared to suggest he's willing to let thousands of New Yorkers die because Governor Andrew Cuomo hasn't sufficiently sucked up to him.
Seemingly referring to Cuomo's plea this week for the federal government to send more ventilators to the epicenter of the crisis, where 192 people have died—"Four hundred ventilators? I need 30,000 ventilators," Cuomo said—Trump told Fox: "It's a two-way street, they have to treat us well also. They can't say, Oh gee we should get this, we should get that. We're doing a great job. Like in New York where we're building as I said, four hospitals…we're literally building hospitals and medical centers, and then I hear there's a problem with ventilators, well we sent them ventilators and they could have had 15 or 16,000, all they had to do was order them two years ago but they decided not to do it, they can't blame us for that." https://www.vanityfair.com/news/2020/03/donald-trump-andrew-cuomo-ventilators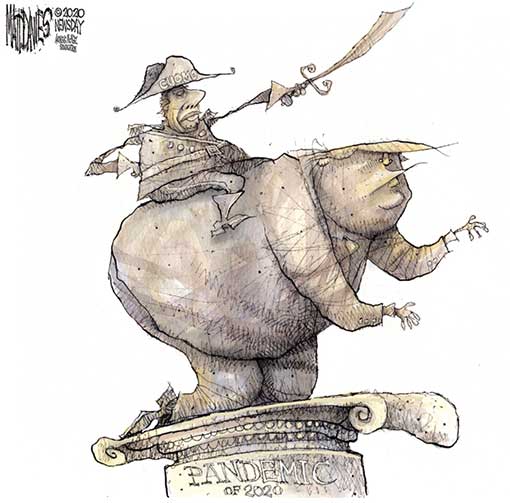 13. John Stoehr: Amid a Viral Pandemic, the Republicans Reveal Their Contempt for Working Americans
It's still unclear to me what Lindsey Graham was complaining about last night. He and three other GOP senators made a stink over a provision in the $2 trillion stimulus bill regarding jobless insurance. It's unclear because their complaint was incoherent.
They claimed that workers would lose incentive to work if they received too much in unemployment benefits. They'd quit—and go on the dole. But unemployment benefits don't apply to people who resign. They apply to people furloughed or laid off. Since "incentive" is about choice, and since choice is moot, their mewling was meaningless.
The rich can be trusted with billions. Working Americans can't be trusted with $600.
Unless they were trying to save face. Conservatism under Donald Trump is not the conservatism of my youth (think Ronald Reagan), but these people have reputations to protect even if their reputations are political fictions. They understand well what it looks like for "conservatives" who for years sabotaged the economy to wound a black president to all of a sudden support the biggest economic relief package in US history.
The Senate passed the bill last night, but at least Lindsey Graham, Rick Scott, Tom Scott and Ben Sasse had a chance to make-believe they are dutiful limited-government conservatives forced into compromising their principles by circumstance beyond their control. Never mind that they voted yes. Never mind that they could have voted no without jeopardizing the bill's passage. Never mind, because the play's the thing. https://stoehr.substack.com/p/amid-a-viral-pandemic-the-republicans
14. Aaron Blake: Trump ties coronavirus decisions to personal grievances
Trump is a commander in chief dealing with a coronavirus outbreak in which many difficult decisions have to be made. And on Friday, he seemed to suggest some of those decisions could be made according to who has run afoul of him personally.
Appearing at the daily White House briefing, Trump disclosed that he has told Vice President Pence, who is leading the coronavirus task force, not to call the governors of Michigan and Washington state because those governors had been critical of Trump and the federal response.
"When they're not appreciative to me, they're not appreciative to the Army Corps, they're not appreciative to FEMA, it's not right," Trump said.
He then added: "I say, 'Mike, don't call the governor of Washington; you're wasting your time with him. Don't call the woman in Michigan. It doesn't make any difference what happens.' You know what I say: 'If they don't treat you right, I don't call.' He's a different type of person; he'll call quietly anyway."
Those states are particularly important. Washington state was the first real hot spot in the United States for the coronavirus outbreak. Michigan, which has among the nation's highest rates of the virus, is also a key swing state in the 2020 election. You wonder if Trump's comments about not wanting to communicate with Gov. Gretchen Whitmer (D) during a crisis might be used against him in his reelection campaign.
Asked what more he wants from Washington Gov. Jay Inslee (D), in particular, Trump said he just wants more gratitude.
"All I want them to do — very simple: I want them to be appreciative," he said. "I don't want them to say things that aren't true. I want them to be appreciative." https://www.washingtonpost.com/politics/2020/03/27/trump-suggests-personal-grievances-factor-into-his-coronavirus-decisions/
15. Andrew Sullivan: America Is Trapped in Trump's Blind Spot
Trump will improvise and reverse himself again before this is over; he will turn vital government information into performative propaganda; he will undermine his own appointees; he will use the epidemic to punish enemies and reward friends; and he will be focused at all times on himself. As tens of thousands of Americans will literally gasp for air, their lungs sustained only by ventilators, he will grasp at petty slights. As social distancing becomes ever more vital, this man will want Easter churches packed with congregants. And as he lies and distorts and emotes, the casualties will mount.
Given the crisis, we have only one option. We need to listen to the experts, rely on governors, trust in Drs. and Birx, and do our bit. But we also have a more urgent patriotic task: to ignore this president until we can eventually rid ourselves of him. This is too grave a crisis to give him the respect he doesn't deserve. https://nymag.com/intelligencer/2020/03/andrew-sullivan-america-is-trapped-in-trumps-blind-spot.html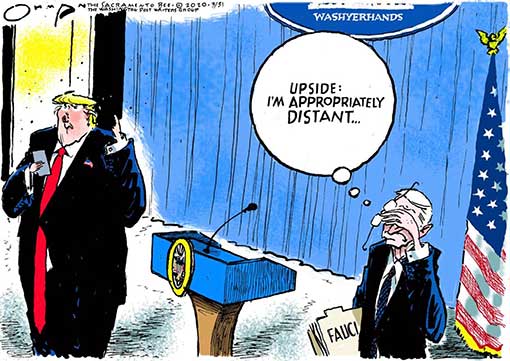 16. George T. Conway III: Blaming Trump's virus failures on impeachment is gaslighting of the highest order
The problem wasn't impeachment — it was the president. There was never any chance that the government was going to take sufficient action on the virus when the president himself wasn't taking the virus seriously. It was Trump, after all, who claimed — at the very end of February, weeks after the impeachment trial had ended — that criticisms such as Murphy's were a "hoax" and that "within a couple days," the number of coronavirus cases "is going to be down to close to zero."
And the problem with the president stemmed from the very same impulses that got him impeached. Just as his focus on himself, and his reelection, led him to extort Ukraine and lie about it, so, too, it led him to deceive the public about the coronavirus as well. Eager to keep the number of coronavirus cases from going up, he didn't want to let a cruise ship full of Americans dock. He didn't want virus warnings to spook the stock markets, lest he not be able to brag about the markets during the campaign. Even as late as March 8, a month after the impeachment trial, he told Republican donors at Mar-a-Lago that his political opponents were "trying to scare everybody, from meetings, cancel the meetings, close the schools — you know, destroy the country. And that's ok, as long as we can win the election."
For Trump, it's always about Trump and only Trump. If anything, it was McConnell and his fellow Senate Republicans' refusal to remove him, not the impeachment itself, that helped bring us to where we are today. https://www.washingtonpost.com/opinions/2020/03/31/impeachment-didnt-distract-coronavirus-preparations-trump-did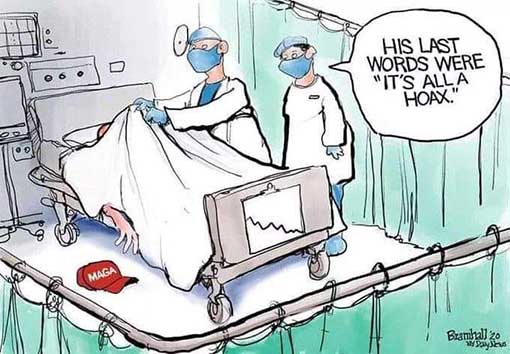 17. Eric Boehlert: Trump's pandemic propaganda comes straight from Putin playbook
Trump's commitment to creating confusion with lies and contradictions continues unabated during the national health crisis. Recently he has:
• Claimed one hundred thousand coronavirus in the United States should be deemed a success.

•  Accused hospital workers of stealing much-needed surgical masks.

• Lied about recorded statements he had made days earlier about the pandemic.

• Mistreated reporters who asked factual questions about the government's criminally inadequate response to the coronavirus.

• Told governors on a conference call that he hadn't heard complaints about a lack of coronavirus tests.

• Offered false hope about an unproven covid-19 cure.
It's all part of White House's pattern of sending mixed and conflicting pandemic messages, often from multiple sources. It's exactly what the federal government should not be doing at a time of a national health crisis, according to guidelines established by the Center for Disease Prevention, which urges leaders to be consistent, transparent, and accurate. Trump has effectively ordered a stand down for the virus invasion, dangerously downplayed the public health risk ("I think it's going to work out fine"), and relentlessly praised his own performance. ("We've done a phenomenal job on this.")
In response, lots of journalists ask with genuine astonishment, 'Why is he undermining scientists? Why is he knowingly misleading the public during the pandemic?' Because the plan is to create a nonstop loop of puzzlement to the point where it's not possible to understand what Trump's policy is and what direction the federal government is going. All the while attacking the news media in order to create confusion about the facts. (Today, nearly eight-in-ten Republicans think the press is exaggerating the covid-19 risks.) https://pressrun.media/p/trumps-pandemic-propaganda-comes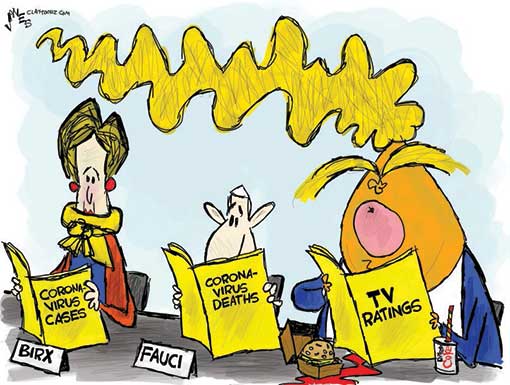 18. Margaret Carlson: The Only Curve That's Flattening Is Trump's Learning Curve
It's hard to believe that every day during a pandemic Trump puts on a show that pulls a supporting cast to the White House for hours of kumbaya. Traditionally, even lackluster presidents raise their game in a crisis and the great ones like Lincoln and FDR saw us through the darkest days. Instead, Trump is concentrating on being his own press secretary, completing a transition begun months ago in the White House driveway. With rehearsal and performance, it consumes much of his day. He boasts that his rating beat the finale of The Bachelor, the only metric that matters to him. He didn't retreat on his promise of an Easter Day resurrection to save lives. He retreated to keep his numbers up.  
Trump's turn as his own spokesperson and TV producer is not victimless. He relegates experts to bit players. Trump can barely do one job, much less two. He pulls Dr. Anthony Fauci away from his work for hours a day while giving him just enough crumbs to convince the sleepless doctor that it's worth it to keep trying to convince Trump to do his job. Right after dropping the Easter fantasy, Trump threw out another date a month hence, moments after Fauci cautioned that only the virus sets the timeline.
To bolster his claim that his response has been a 10 on a scale of 10 while also stressing that he's not responsible for anything that's gone wrong, Trump took credit for pushing through limited FDA approval for drugs Fauci is cautious about but that Dr. Trump believes will cure COVID-19. All he's done is create a run on those drugs so that people with the life-threatening diseases they're intended for can't get them. 
Trump squandered a good six weeks while experts tiptoed around his fragile ego and cajoled him into taking the slightest measures. Meanwhile he descended from depraved indifference to reckless endangerment, jeopardizing lives in states with unappreciative governors he accused of hoarding, whining, and exaggerating the need for ventilators as an excuse for not providing them. He's still surprised when he sees a picture of a truck as long as the Rose Garden serving as a makeshift morgue outside a hospital in Queens, where he was raised. No one else is. https://www.thedailybeast.com/the-only-coronavirus-curve-thats-flattening-is-trumps-learning-curve