February 4, 2021
ON THE RECORD. . .
"No matter what Kevin McCarthy does it would never be enough for the hate America Democrats. They are only set out to destroy Republicans, your jobs, our economy, your children's education and lives, steal our freedoms, and erase God's creation. And the bloodthirsty media are their henchmen who help them by relentlessly attacking anyone in their path." — Rep. Marjorie Taylor Greene (R-GA)lashing out over a reported proposal to remove her from one of her committees because of her past controversial comments.

We're in it. We just haven't started shooting at each other yet." — Rep. Paul Gosar (R-AZ), when asked about if the United States was headed for a civil war.

"The enemy is within the House of Representatives." — Speaker Nancy Pelosi, referring to members of Congress "who want to bring guns on the floor and have threatened violence on other members of Congress.

"Her very presence in office represents a direct threat against the elected officials and staff who serve our government, and it is with their safety in mind, as well as the security of institutions and public servants across our country, that I call on my House colleagues to support my resolution to immediately remove Congresswoman Marjorie Taylor Greene from this legislative body." — Jimmy Gomez (D-CA) will introduce his resolution to expel Georgia Republican Marjorie Taylor Greene from the House of Representatives as early as next Tuesday.   

"It's a measure of the Republican Party's current depravity that I think of the period when Marco Rubio was besmirching Donald Trump's genitalia as the good old days." — Frank Bruni

"Republicans must say enough is enough. It's time to unplug the outrage machine, reject the politics of personality, and cast aside the conspiracy theories and the rage," — Rep. Adam Kinzinger (R-Ill.), one of 10 Republicans to vote to impeach Donald Trump has launched a new leadership political action committee to challenge the former president.

Marjorie Taylor Greene was "exactly the kind of fighter needed in Washington to stand with me against the radical left." -- Rep. Jim Jordan (R-OH).

"We can't hold back. Trying to be per se fiscally responsible at this point in time with what we've got going on in this country. If we actually throw away some money right now, so what?"
— West Virginia Gov. Jim Justice (R), calling for a big stimulus package.

"Loony lies and conspiracy theories are cancer for the Republican Party and our country. Somebody who's suggested that perhaps no airplane hit the Pentagon on 9/11, that horrifying school shootings were pre-staged, and that the Clintons crashed JFK Jr.'s airplane is not living in reality. This has nothing to do with the challenges facing American families or the robust debates on substance that can strengthen our party."— Senate Republican leader Mitch McConnell. In a separate statement McConnell expressed support Republican Rep. Liz Cheney's vote to impeach Donald Trump as some Trump loyalists seek to remove her from leadership.

"He is very trained. He's like a dog. He's completely trained." — Rep. Marjorie Taylor Greene (R-GA) mocked Parkland shooting survivor David Hogg as an "idiot" who "only talks when he is scripted" in a 2019 interview with a Georgia gun group, according to a previously unreported video.

"When we had a Republican president and House and Senate, we kept on spending massively and adding almost a trillion dollars a year to the national debt. Now we say this is outrageous adding so much to the debt? They say we did the same thing when we were in charge. It does show that you have to be consistent in your arguments." — Sen. Mitt Romney (R-UT).

"I haven't even looked at what all she's done. I'd have to hold back a statement on that. Travel in this weather it's been a little rough looking at any news or whatever." — Sen. Tommy Tuberville (R-AL) said that he can't comment on allegations against Rep. Marjorie Taylor Greene (R-GA) because bad weather has prevented him from reading the news.
VIDEOS

Only 18 days before the January 6 insurrection at the United States Capitol, "Stop the Steal" Co-Founder Ali Alexander spoke in Phoenix, Arizona at a rally also attended by AZ GOP Chairwoman Kelli Ward and Rep. Paul Gosar. Stop the Steal" Co-Founder Ali Alexander's full speeches in Phoenix, AZ on Dec 19, 2020: https://youtu.be/lPV2CS3Hu9Y

January 6th: Let's have trial by combat. January 29th: It was the Lincoln Project's fault. — Steve Bannon interviews Rudy Giuliani https://twitter.com/ProjectLincoln/status/1355194196781654018

Rep. Marjory Green's talks about QAnon, the disproven and discredited far-right conspiracy theory alleging that a secret cabal of Satan-worshipping, cannibalistic pedophiles is running a global child sex-trafficking ring and plotting against former U.S. president Donald Trump, who has been fighting the cabal. https://www.youtube.com/watch?v=2rtYok4fdbQ

Trump's legacy | The Lincoln Project: https://youtu.be/PHBplurKkiI

NE-02: Stood With Q | DCCC Video, part of a $500,000 advertising campaign:
https://youtu.be/Gh-TKcnJeB0
---
IN THIS ISSUE
FYI
OPINION
IN THE NEWS....
Andy Borowitz: QAnon Fears That Greene's Obsession with Jewish Space Lasers Is Distracting Her from Battling Baby-Eating Cannibals
QAnon leaders are increasingly concerned that Representative Marjorie Taylor Greene's obsession with Jewish space lasers is distracting her from her core mission of battling baby-eating cannibals.

"We sent you to Washington as an anti-cannibal candidate for a reason," the communiqué read. "Your focus on Jewish space lasers, while totally valid, may impair your effectiveness in defeating the international baby-eating cabal."

"The great thing about QAnon is we can always discuss things rationally, despite Bernie Sanders's attempts to control our minds with his Jewish magic mittens," she said. https://www.newyorker.com/humor/borowitz-report/
House Democrats building elaborate, emotionally charged case against Trump
House Democrats have sought out new cellphone footage of the Capitol siege as well as updated details about injured police officers as they seek to build an emotionally compelling impeachment case against former president Donald Trump.
The goal is to present the Senate with fresh evidence that reveals what Trump knew in advance of the Jan. 6 rampage at the Capitol, as well as how his words and actions influenced those who participated. The rioting left five dead, including one member of the U.S. Capitol Police. In addition, two officers, one with the D.C. Police Department, have since died by suicide.
The effort to present new video evidence and witness testimony appears designed to make Republican senators as uncomfortable as possible as they prepare to vote to acquit Trump, as most have indicated they will do. The prospect of injured police officers describing the brutality of pro-Trump rioters to Republicans who regularly present themselves as advocates of law enforcement could make for an extraordinary, nationally televised scene. https://www.washingtonpost.com/politics/house-democrats-building-elaborate-emotionally-charged-case-against-trump/2021/01/29/d35170fe-626c-11eb-9061-07abcc1f9229_story.html
Dueling filings provide the clearest preview yet of a politically fraught impeachment trial — the second in just a year
Nine House Democrats preparing to prosecute the case argued in their own 80-page pretrial brief  (or here) that Mr. Trump was directly to blame for the violent attack on Jan. 6 and a broader attack on democracy that showed he would do anything to "reassert his grip on power" if he were allowed to seek election again.
"It is denied that President Trump incited the crowd to engage in destructive behavior," Trump's defense lawyers, Bruce L. Castor Jr. and David Schoen, wrote in the 14-page filing.  https://www.nytimes.com/2021/02/02/us/politics/trump-impeachment-defense.html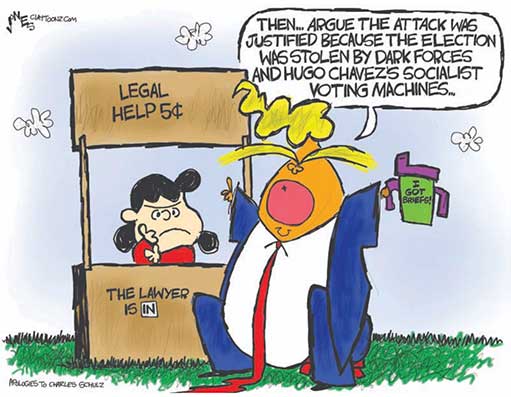 Center-right Republicans fear party headed for disaster
The Republican Party is riven by internal tensions, and moderate voices fear it is headed for disaster at the hands of the far right.
The centrists' worry is that the party is branding itself as the party of insurrectionists and conspiracy theorists. This spells catastrophe for the GOP's ability to appeal beyond a hardcore base, they say. https://thehill.com/homenews/administration/536410-the-memo-center-right-republicans-fear-party-headed-for-disaster
Trump may poison the party, but Republicans have decided they need him
Three weeks ago, Donald Trump was radioactive, even in the top quarters of his own party. Now, those same Republicans are convinced they can't live without the energy he gives off, even if it proves toxic.
Now, the GOP is engaged in a delicate dance to keep Trump and his base of voters in the fold while not seeming too beholden to him. Without Trump's cooperation, the party fears losing a fundraising giant just as it pivots to a midterm cycle in which it hopes to regain majorities in each chamber of Congress. https://www.politico.com/news/2021/01/28/republicans-need-trump-463684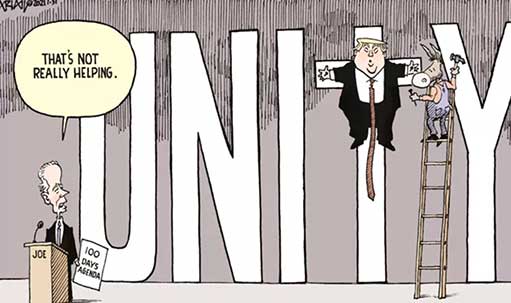 Truth set ablaze by conspiracy theories
In the meandering November 2018 Facebook post, Rep. Marjorie Taylor (R-Ga.)Greene theorized that a space-based solar generator, used in a clean-energy experiment with the goal of replacing coal and oil, could have beamed the sun's energy back to Earth and started the Camp fire, which killed 85 people and destroyed more than 13,900 homes.
Greene's post also speculated that former Gov. Jerry Brown, Pacific Gas & Electric, and Rothschild Inc. — an investment firm that has long been the target of anti-Semitic conspiracy theories accusing Jewish people of controlling global affairs — were involved. It also falsely claims that the blaze followed the path of California's planned high-speed rail line. https://enewspaper.latimes.com/infinity/article_share.aspx?guid=fcd7229b-4091-4fef-9306-be3aa7ed5fa9
Republicans face a choice between Donald Trump and reality
This is an awkward moment for the QAnon conspiracists who put their considerable faith in Donald Trump. Inauguration Day came and went with no mass execution of Satanist Democratic paedophiles. "The Storm," as a million-odd QAnon followers called that wished-for event, was a shower. So there was no Great Awakening—a post-slaughter celebration of Mr Trump—either. "No plan, no q, nothing," grumbled one follower, referring to the conspiracy's shadowy prophet, an imagined Trump aide, on the Telegram messaging platform to which the group has flocked. https://www.economist.com/united-states/2021/01/28/republicans-face-a-choice-between-donald-trump-and-reality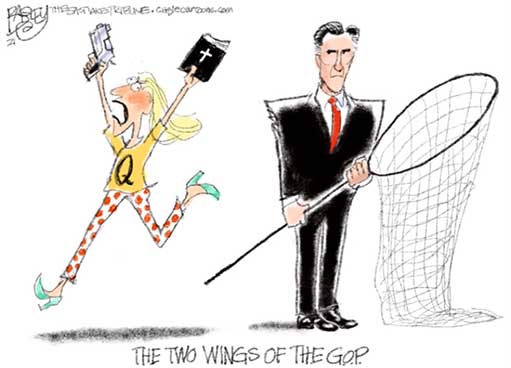 Larry Sabato's Crystal Ball: An Early Look at the 2022 Senate Races
● Republicans will be defending more Senate seats than Democrats in 2022, but both sides have some potential pickup opportunities — though a large gain for either party seems unlikely.

● Sen. Rob Portman (R-OH) would have been an overwhelming favorite to win a third term, but even with his retirement, Ohio's rightward lean makes it an uphill climb for Democrats.

● Democrats' clearest path to gaining seats runs primarily though the Rust Belt, as Pennsylvania and Wisconsin seem to be their top offensive races, though they may finally get lucky in North Carolina.

● We rate four states — Arizona, Georgia, Nevada, and New Hampshire — as Leans Democratic, and these seem to be the most obvious GOP targets.

● There will likely be more retirements this cycle, but they probably won't change the fundamental picture. https://centerforpolitics.org/crystalball/articles/2022-senate-races-initial-ratings/
Right-wing extremists stage 'meme war' to compete for Trump supporters
Far-right leaders across the nation — disillusioned by former President Trump's defeat and banished from mainstream social media — have launched recruitment drives in new radicalization efforts that have turned into a "meme war" among groups such as the Boogaloo Bois, the Proud Boys and the Three Percenters.
At a gun rights protest in Richmond, Va., days before the inauguration of President Biden, local Boogaloo Bois leader Mike Dunn marched with an AR-15-style rifle in defiance of a local ordinance. He would later use a photo of himself at the protest to create a meme on TikTok, where he has more than 74,000 followers. Mingling with fellow members in the group's signature Hawaiian shirts, Dunn said he hoped the online meme war spreading across channels and forums would energize prospective followers on the right and left.
"We want people who walk away from Trump and authoritarianism to join us," Dunn said in an interview later. "Memes play a role on the younger generation and we are winning."
Trump's impeachment and the prosecution of rioters who attacked the Capitol have left the far right emboldened and potentially more dangerous. A terrorism bulletin issued Wednesday by the Department of Homeland Security warned of a "heightened threat environment across the United States" over possible violence by anti-government groups. Some still rally around the former president. Others, like the militant Proud Boys, have distanced themselves from Trump, blaming him for disavowing the Capitol insurrection and accusing him of betraying them by leaving office. https://www.latimes.com/world-nation/story/2021-01-27/capitol-attack-meme-war-right-wing-extremists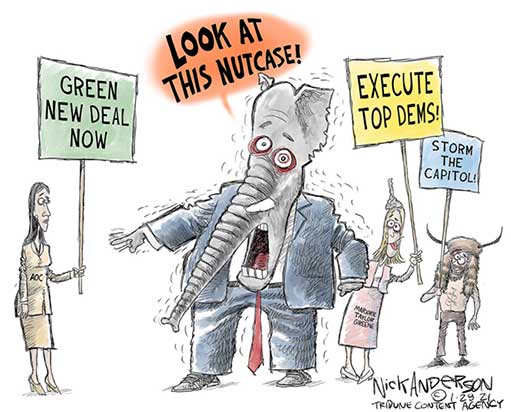 Biden Re-Examining U.S. Arms Sales to Saudi Arabia, U.A.E.
The Biden administration has imposed a temporary freeze on U.S. arms sales to Saudi Arabia and is scrutinizing purchases by the United Arab Emirates as it reviews billions of dollars in weapons transactions approved by former President Donald Trump, according to U.S. officials.
The review, the officials said, includes the sale of precision-guided munitions to Riyadh, as well as top-line F-35 fighters to Abu Dhabi, a deal that Washington approved as part of the Abraham Accords, in which the Emirates established diplomatic relations with Israel.
U.S. officials said it isn't unusual for a new administration to review arms sales approved by a predecessor, and that despite the pause, many of the transactions are likely to ultimately go forward.
But in line with campaign pledges made by President Biden, Washington is seeking to ensure that American weapons aren't used to further the Saudi-led military campaign in Yemen, where its conflict with the Iranian-aligned Houthis has resulted in thousands of civilian deaths and widespread hunger. https://www.wsj.com/articles/biden-freezes-u-s-arms-sales-to-saudi-arabia-uae-11611773191
Blinken turns away from Trump-era approaches, starting with media relations
Secretary of State Antony Blinken tried to reset the U.S. government's relationship with the news media on his first full day in office, calling an independent press essential to the country's global image and a "cornerstone of our democracy."
"You keep the American people and the world informed about what we do here. That's key to our mission," he said to reporters in the State Department briefing room Wednesday.
Blinken's attempt to overhaul the combative relationship between State Department officials and the media is among the decisions he is facing about what to keep or discard from the Trump era as President pledges to bring unity and transparency in U.S. governance.
In an early change, Blinken said he would resume the department's daily news briefing starting next week — a practice that ended during the Trump administration as spokespeople feared contradicting the president's rapidly shifting positions. https://www.washingtonpost.com/national-security/blinken-state-department-media/2021/01/27/1c195286-60db-11eb-ac8f-4ae05557196e_story.html
Biden takes first step toward bolstering Obamacare
President Joe Biden is taking the first step toward rebuilding Obamacare, ushering in a new era for the health care law after a decade of Republican attacks.
The Biden administration on Thursday announced it's throwing open the doors to the law's enrollment site, HealthCare.gov, making it easier for the uninsured to get coverage during the pandemic. It is also planning to restore some Obamacare marketing funds that the Trump administration had gutted, and it will soon begin reviewing whether to revoke the previous administration's changes seen as undermining the health law and Medicaid.
The actions are the first in a series of moves Biden is planning to shore up a law he campaigned on expanding. Though former President Donald Trump failed to repeal Obamacare, his administration weakened the law through executive action and advanced policies that would shrink enrollment in its expansion of Medicaid to poor adults. https://www.politico.com/news/2021/01/28/joe-biden-bolstering-obamacare-health-care-463287
Bill seeks two copies of photo ID to vote absentee in Georgia
Georgia voters would be required to make copies of their photo ID and mail them to election officials twice before being allowed to cast an absentee ballot, according to a bill introduced Wednesday.
The legislation, Senate Bill 29, would create a photo ID requirement for voting outside of polling places in Georgia. Voters would need to submit ID both when applying for absentee ballots and when returning them. https://www.ajc.com/politics/bill-seeks-two-copies-of-photo-id-to-vote-absentee-in-georgia/2IC372BV2NC3VFNAYIWA4OPQKQ/
Biden to sign ambitious executive orders on climate change
On Wednesday afternoon, President Biden signed a package of executive orders that aim to deliver on his campaign promise to be the most aggressive president ever on climate change.
"In my view, we've already waited too long to deal with this climate crisis. We can't wait any longer," Biden said during a signing ceremony at the White House. "We see it with our own eyes. We feel it. We know it in our bones. And it's time to act."
The executive actions make climate change a national security priority, set the goal of conserving 30 percent of all federal land and water by 2030, and cancel new oil and natural gas leases on public lands and offshore waters "to the extent possible," according to a White House summary. Addressing racial and economic disparities is a central part of Biden's climate actions. https://nymag.com/intelligencer/article/biden-inauguration-and-transition-from-trump-live-updates.html
The Fyre Festival of Vaccine Rollouts
Since the beginning of the pandemic, there have been scams to separate Americans from their stimulus checks, fraudulent operations to sell useless personal protective equipment, and fake COVID-19 testing sites and labs set up to siphon off government funding. Now, the city of Philadelphia has exposed the nation — and some of its most vulnerable elderly residents — to the first alleged vaccine grift of the coronavirus era.
The city of Philadelphia choosing to vaccinate residents under the guidance of a disruption-minded college student rather than an Ivy-league medical school is a scandal in its own right. But across the United States over the last two months, the vaccination effort has been hampered by total federal incompetence, as hospitals report shortages of vaccines and states await the ramp-up promised by the Biden administration. Ten months into the pandemic, navigating a public-health system that was gutted decades ago, a major American city was duped by a young man whose résumé points include making videos of his friends doing parkour. We still have no idea what we are doing. https://nymag.com/intelligencer/2021/01/philly-fighting-covid-the-fyre-festival-of-vaccine-rollouts.html
Marjorie Taylor Greene penned conspiracy theory that a laser beam from space started deadly 2018 California wildfire
The Camp Fire was a horrific California wildfire that started on November 8, 2018, and, according to the California Department of Forestry and Fire Protection, "burned a total of 153,336 acres, destroying 18,804 structures and resulting in 85 civilian fatalities and several firefighter injuries. The Camp Fire is the deadliest and most destructive fire in California history." After an investigation, the department "determined that the Camp Fire was caused by electrical transmission lines owned and operated by Pacific Gas and Electricity (PG&E) located in the Pulga area." Scientists have noted that climate change has worsened wildfires in places like California. 
Conspiracy theorists have pushed other explanations for the Camp Fire, especially on social media. One theory, which has been promoted by QAnon followers, falsely posits that a nefarious entity used laser beams or a similar instrument to start the fire for financial profit or to clear space for California's high-speed rail system.
Rep. Greene is a proponent of the Camp Fire laser beam conspiracy theory. She wrote a November 17, 2018, Facebook post -- which is no longer available online -- in which she said that she was speculating "because there are too many coincidences to ignore" regarding the fire, including that then-California Gov. Jerry Brown (D) wanted to build the high-speed rail project and "oddly there are all these people who have said they saw what looked like lasers or blue beams of light causing the fires." She also speculated that a vice chairman at "Rothschild Inc, international investment banking firm" was somehow involved, and suggested the fire was caused by a beam from "space solar generators."  https://www.mediamatters.org/facebook/marjorie-taylor-greene-penned-conspiracy-theory-laser-beam-space-started-deadly-2018
Most Land Management Staff Quit After Trump Order
The Trump administration's decision to relocate most Bureau of Land Management headquarters staffers out West — a move designed to shift power away from the nation's capital — prompted more than 87 percent of the affected employees either to resign or retire rather than move, according to new data obtained by The Washington Post.
The exit of longtime career staffers from the agency responsible for managing more than 10 percent of the nation's land shows the extent to which the Trump administration reshaped the federal government. The reorganization plan reestablished the bureau's headquarters in Grand Junction, Colo., moved 328 positions out of the main D.C. office of the Department of the Interior — BLM's parent agency — and left 60 jobs in place.
A total of 287 BLM employees either retired or found other jobs, according to Interior communications director Melissa Schwartz, while 41 people moved to the new office in Colorado. https://www.washingtonpost.com/climate-environment/2021/01/28/trump-blm-reorganization/
Biden Elevates Science in Week One Actions
Since taking office on January 20, President Joe Biden and Vice President Kamala Harris have signaled a clear commitment to science and pledged sweeping initiatives to reestablish and elevate its role in the federal government. President Biden immediately nominated scientists to some key positions and began implementing an ambitious agenda to revitalize the nation's climate-change-mitigation efforts and get the coronavirus pandemic under control.
"This is such a hopeful moment," says Rachel Cleetus, policy director of the Climate and Energy program at the Union of Concerned Scientists. "We've seen this administration hit the ground running from day one. They have signaled very clearly a return to science-based policy making and a commitment to center equity and justice in their policy missions." https://www.scientificamerican.com/article/biden-elevates-science-in-week-one-actions/
Russian Intelligence Cultivated Donald Trump For Decades, Says Former KGB Agent
The KGB Soviet spy agency and later Russian intelligence cultivated Donald Trump as an "asset" for 40 years, a former spy told The Guardian in a bombshell interview. And the Kremlin was delighted with the results, said former KGB major Yuri Shvets.
The strategy was typical: Focus on reasonably good prospects and hope one of the wooed Americans rises to a position of power or access that can be beneficial, said Shvets, who now lives in Virginia.
"For the KGB, it was a charm offensive," he explained. "They had collected a lot of information on his personality so they knew who he was personally. The feeling was that he was extremely vulnerable intellectually, and psychologically — and he was prone to flattery. This is what they exploited."
Trump's links to Russia continued to strengthen when he held his Miss Universe beauty pageant in Moscow in 2013, sought a deal to build Trump Tower Moscow even as he was running for president in 2016, and developed other business links.
Trump's 2016 campaign and presidential transition team had more than 100 contacts with Russian-linked operatives between September 2015 and January 2017, according to a report by the Center for American Progress' Moscow Project. https://www.huffpost.com/entry/kgb-cultivate-trump-asset-putin-russia_n_601621dbc5b6aa4bad34a5d3
Bill Would Allow Arizona Lawmakers to Override Vote
Arizona state Rep Shawnna Bolick (R) introduced legislation which would give the legislators the power to toss out the Secretary of State's certification of electors in a presidential election "at any time before inauguration. https://azcapitoltimes.com/news/2021/01/28/gop-bill-would-allow-lawmakers-to-override-electoral-votes/
State GOP lawmakers seek mail ballot limits, stronger ID rules, voter purges
Republican lawmakers in statehouses across the country are moving swiftly to attack some of the voting methods that fueled the highest turnout for a presidential election in 50 years.
Although most legislative sessions are just getting underway, the Brennan Center for Justice, a public policy institute, has already tallied more than 100 bills in 28 states meant to restrict voting access. More than a third of those proposals are aimed at limiting mail voting, while other bills seek to strengthen voter ID requirements and registration processes, as well as allow for more aggressive means to remove people from voter rolls.
"Unfortunately, we are seeing some politicians who want to manipulate the rules of the game so that some people can participate and some can't," said Myrna Pérez, director of the voting rights and elections program at the Brennan Center. https://www.tampabay.com/news/florida-politics/elections/2021/01/31/state-gop-lawmakers-seek-mail-ballot-limits-stronger-id-rules-voter-purges/
Call in Kamala: Biden turns to the veep to sell Covid vax to communities of color
One of Vice President Kamala Harris' first tasks in office could very well be her most important: getting skeptical communities — mainly people of color — to put the Covid-19 vaccine in their arms.
As the Biden administration's efforts to combat Covid-19 pick up speed, Harris' role is expected to expand, including possible virtual events and town halls pushing vaccinations in the coming weeks, according to a senior Harris aide. https://www.politico.com/news/2021/02/01/kamala-harris-vp-coronavirus-vaccine-464165
Dozens of former Bush officials leave Republican Party, calling it 'Trump cult'
Dozens of Republicans in former President George W. Bush's administration are leaving the party, dismayed by a failure of many elected Republicans to disown Donald Trump after his false claims of election fraud sparked a deadly storming of the U.S. Capitol last month.
These officials, some who served in the highest echelons of the Bush administration, said they had hoped that a Trump defeat would lead party leaders to move on from the former president and denounce his baseless claims that the November presidential election was stolen.
But with most Republican lawmakers sticking to Trump, these officials say they no longer recognize the party they served. Some have ended their membership, others are letting it lapse while a few are newly registered as independents, according to a dozen former Bush officials who spoke with Reuters. https://www.reuters.com/article/us-usa-trump-republicans-exclusive/exclusive-dozens-of-former-bush-officials-leave-republican-party-calling-it-trump-cult-idUSKBN2A1275
The Race to Dismantle Trump's Immigration Policies
On Joe Biden's first day as President, he began an effort to dismantle Trump's most notorious anti-immigrant policies, calling them "a stain on our national conscience." Just hours after entering the Oval Office, Biden proposed legislation granting an eight-year path to citizenship for nearly eleven million undocumented immigrants, and restoring and expanding refugee resettlement. He also released executive actions ending the travel ban, halting the construction of the border wall, and strengthening daca.
But for every Trump-era policy that Biden has reversed, hundreds of lesser-known measures remain. A month after Trump's Inauguration, Steve Bannon, his chief strategist, promised to pursue "the deconstruction of the Administrative state." But Trump made aggressive use of executive power in the realm of immigration.
Stephen Miller, a senior policy adviser to the President, convened a weekly meeting to devise creative methods of restricting immigration. "Stephen knew how to control immigration policy by getting his people into key positions and using whatever levers of executive authority he could," one of his White House colleagues told me. https://www.newyorker.com/magazine/2021/02/08/the-race-to-dismantle-trumps-immigration-policies
An Emboldened Extremist Wing Flexes Its Power in a Leaderless G.O.P.
With no dominant leader other than the deplatformed one-term president, a radical right movement that became emboldened under President Donald J. Trump has been maneuvering for more power, and ascending in different states and congressional districts. More moderate Republicans feel increasingly under attack, but so far have made little progress in galvanizing voters, donors or new recruits for office to push back against extremism. https://www.nytimes.com/2021/02/01/us/politics/republicans-trump-ronna-mcdaniel.html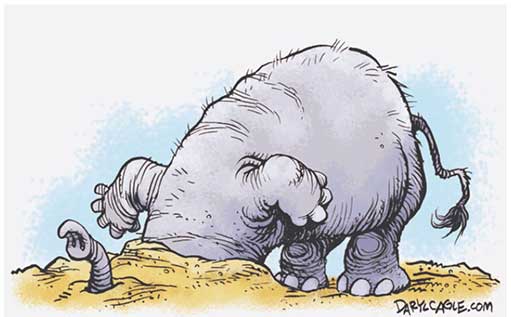 Biden reverses Trump last-minute attempt to freeze $27.4 billion in programs
President Biden on Sunday sent a letter to congressional leaders reversing former President Trump's last-minute attempt to freeze $27.4 billion in government programs.
Trump had moved, with less than a week left in his term, to freeze the billions in federal funding using a budget maneuver called rescission.
"I am withdrawing 73 proposed rescissions previously transmitted to the Congress," Biden said in the letter.
The 73 budget reductions that Trump had called for were spread across almost every Cabinet-level agency and mostly lined up with his proposed cuts to domestic program spending in the 2021 federal budget that were rejected by Congress. https://thehill.com/homenews/administration/536704-biden-reverses-trump-last-minute-attempt-to-freeze-274-billion-of
Trump stocks new PAC with tens of millions as he bids to retain control of GOP
Donald Trump amassed $31.2 million in his new political operation by the end of 2020, giving him a powerful tool to keep the Republican Party in his grip as he left office.
Save America, a leadership PAC created in the aftermath of the 2020 election, is set to play a key role in Trump's plans to keep a strong hand in party politics — both to boost loyalists and also to seek retribution against Republicans he believes have wronged him, such as the 10 House Republicans who voted to impeach Trump in mid-January. Trump cannot spend the PAC funds directly on any future campaign of his own, but he can use it to wield influence in campaigns in the midterm elections, pay his political advisers and travel the country.
"The more money [Trump] stacks up in his committee, the greater his grip will remain on many elected Republicans who will fear those resources could be turned against them," said Rob Stutzman, a California-based Republican consultant. Stutzman said that it "should be no surprise" that Trump "has continued to fundraise well during this period." https://www.politico.com/news/2021/01/31/donald-trump-pac-millions-gop-464250
Trump officials actively lobbied to deny states money for vaccine rollout last fall
Top Trump officials actively lobbied Congress to deny state governments any extra funding for the Covid-19 vaccine rollout last fall — despite frantic warnings from state officials that they didn't have the money they needed to ramp up a massive vaccination operation. https://www.statnews.com/2021/01/31/trump-officials-lobbied-to-deny-states-money-for-vaccine-rollout/
How Rep. Marjorie Taylor Greene, promoter of QAnon's baseless theories, rose with support from key Republicans
While some Republicans have tried to portray Greene as a political anomaly, her ascent demonstrates the extent to which key party leaders embraced her and propelled her to victory despite her well-documented history of spreading false claims and violent rhetoric. Critical to Greene's success was the early intervention on her behalf by some of the party's most staunchly pro-Trump figures and Greene's ability to tap into the far-right online world where baseless claims thrive.
"She really got ingratiated with the House Freedom Caucus, and they're the ones who really spring-boarded her," Cowan told The Washington Post. "They were clearly picking their favorite from very early on." https://www.washingtonpost.com/politics/greene-qanon-house-trump-republicans/2021/01/30/321b4258-623c-11eb-ac8f-4ae05557196e_story.html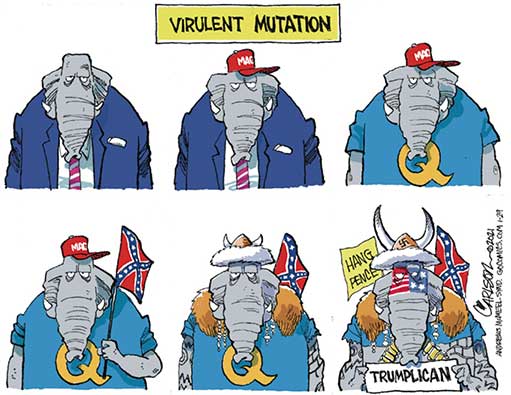 Trump officials actively lobbied to deny states money for vaccine rollout last fall
Top Trump officials actively lobbied Congress to deny state governments any extra funding for the Covid-19 vaccine rollout last fall — despite frantic warnings from state officials that they didn't have the money they needed to ramp up a massive vaccination operation. https://www.statnews.com/2021/01/31/trump-officials-lobbied-to-deny-states-money-for-vaccine-rollout/
Jan. 6 rally organizer planning 'MAGA Sellout' tour targeting Republicans who 'betrayed' Trump
Some of the organizers of the Jan. 6 Trump rally that led to the deadly storming of the Capitol are planning another series of events across the country, along with a recruiting effort to attract 2022 primary challengers against Republicans who they say "betrayed" former President Donald Trump.
The "MAGA Sellout" tour is the latest pro-Trump effort to seek retribution against Republicans bucking the former president amid widespread condemnation over the deadly Capitol attack. Five people died when rioters stormed the U.S. Capitol building in an effort to halt the certification of the 2020 election, following a rally in which Trump exhorted the crowd to "take back our country." https://abcnews.go.com/US/jan-rally-organizer-planning-maga-sellout-tour-targeting/story?id=75620438
YouGov poll: More than two-thirds of Americans side with Biden on COVID relief — and most support the rest of his agenda
When asked about the 20 policies that define President Biden's agenda, more Americans support than oppose all 20 of them, according to a new Yahoo News/YouGov poll.
The margins are decisive. The majority of Biden's proposals garner at least twice as much support as opposition. Nearly half are favored by more than 60 percent of Americans. https://www.yahoo.com/entertainment/yahoo-news-you-gov-poll-more-than-twothirds-of-americans-side-with-biden-on-covid-relief-and-most-support-the-rest-of-his-agenda-203645597.html
Biden signs immigration orders as Congress awaits more
President Joe Biden on Tuesday signed a second spate of orders to undo his predecessor's immigration policies, demonstrating the powers of the White House and its limitations without support from Congress.
His orders on family separation, border security and legal immigration bring to nine the number of executive actions on immigration during his first two weeks in office. With proposed legislation to give legal status and a path to citizenship to all of the estimated 11 million people in the country who don't have it, Biden has quickly taken aim at many of former President Donald Trump's sweeping changes to deter immigration, both legal and illegal, and established a vision that is likely to far outlast his tenure if he's able to muster enough support in a deeply divided Congress.
Biden rescinded some Trump actions and laid a foundation for more far-reaching repeals depending on the outcome of policy reviews over the next few months. https://apnews.com/article/joe-biden-donald-trump-politics-biden-cabinet-mexico-a751ae09bccbb836918613c7f7b7ac09
Spurred By The Capitol Riot, Thousands Of Republicans Drop Out Of GOP
In the week from Jan. 6 through Jan. 12, about 4,600 Republicans changed their party status in Colorado, according to a CPR News analysis. There was no comparable effect with any other party. CPR News was able to contact dozens of them by tracking changes in the state's voter file.
The number of people changing parties spiked immediately after the Capitol breach. The same phenomenon is playing out nationwide. News outlets documented about 6,000 defections from the party in North Carolina, 10,000 in Pennsylvania and 5,000 in Arizona. https://www.npr.org/2021/02/01/962246187/spurred-by-the-capitol-riot-thousands-of-republicans-drop-their-party
Schiff lobbying Newsom to be California's next AG
Rep. Adam Schiff is quietly lobbying Gov. Gavin Newsom and his allies to appoint him California's next attorney general, according to people familiar with the matter.
If Newsom selects Schiff, chair of the House Intelligence Committee and a confidant of Speaker Nancy Pelosi, House Democrats would lose a powerful party voice in the U.S. House and temporarily give up a seat in their slim 221-211 majority.
Nonetheless, Pelosi has given her approval to Schiff's bid, a clear sign she thinks she can manage without him. according to people familiar with the matter. Spokespersons for Schiff and Pelosi declined comment. https://www.axios.com/adam-schiff-gavin-newsom-ca-attorney-general-4618478f-5fb6-4676-be65-53095b05065c.html
Manhattan DA considering prosecuting Stephen Bannon following his pardon by Trump in federal fraud case
The Manhattan District Attorney's Office is weighing whether to bring a state court case against Stephen K. Bannon, who was indicted on federal fraud charges for his role in a fundraising scheme to build a border wall but received a last-minute pardon from President Donald Trump, according to people familiar with the matter. https://www.washingtonpost.com/national-security/steven-bannon-fraud-state-case-pardon-trump/2021/02/02/329cea4e-6596-11eb-8c64-9595888caa15_story.html
The DAILY GRILL
"The race is over. And we lost, fair and square." — Some leading Republicans in Georgia, Arizona and other states won by President Biden stood up in November to make what, in any other year, would be an unremarkable statement. https://www.nytimes.com/2021/01/30/us/republicans-voting-georgia-arizona.html\

VERSUS

"But that was then. Now, in statehouses nationwide, Republicans who echoed former Donald Trump's baseless claims of rampant fraud are proposing to make it harder to vote next time, ostensibly to convince the very voters who believed them that elections can be trusted again. And even some colleagues who defended the legitimacy of the November vote are joining them." https://www.nytimes.com/2021/01/30/us/republicans-voting-georgia-arizona.html\
In Rare Public Statement, Congressional Aides Call for Trump's Conviction
More than 370 Democratic congressional aides issued an unusual public appeal on Wednesday, imploring senators — in some cases their own bosses — to convict former President Donald J. Trump for inciting a violent "attack on our workplace" that threatened the peaceful transition of power.
In a starkly personal letter, the staff members describe ducking under office desks, barricading themselves in offices or watching as they witnessed marauding bands of rioters who "smashed" their way through the Capitol on Jan. 6. Responsibility, they argue, lies squarely with Mr. Trump and his "baseless, months long effort to reject votes lawfully cast by the American people." https://www.nytimes.com/2021/02/03/us/politics/congress-trump-impeachment.html
Global democracy has a very bad year
The Economist's Global Democracy Index for 2020 downgrades the U.S. to a flawed democracy. https://www.economist.com/graphic-detail/2021/02/02/global-democracy-has-a-very-bad-year
Trump Supporters' Own Explanations For Assaulting The Capitol Are Undercutting His Impeachment Defense
Former president Donald Trump formally responded Tuesday to the charges filed by House Democrats in his second impeachment, denying that he incited a mob to violently descend on the Capitol building to stop Congress from certifying President Joe Biden's win.
But court records in the 175-plus criminal cases filed so far in connection with the Jan. 6 insurrection reveal that's exactly what at least some of Trump's supporters thought he was directing them to do.
"[T]oday President Trump told Us to 'fight like hell,'" Troy Smocks, a Texas man charged with making threats, posted on Jan. 6 on Parler, quoting Trump's speech to supporters before the insurrection, according to the government's court filings. Smocks appeared to admit to participating in the attack on the Capitol in his posts, although he isn't charged with that; he urged his followers to get weapons and prepare to "hunt" Democrats, tech executives, and others he considered "enemies of Our constitution," writing, "We now have the green light."
"[Trump] said that Our cause was a matter of national security, and that these people behind the massive fraud must be arrested and brought to justice. And that task, falls on the shoulders of We The People.... the American Patriots," Smocks wrote, court documents say. A judge ordered him to be held in jail pending trial, citing his posts on Parler. https://www.buzzfeednews.com/article/zoetillman/trump-impeachment-capitol-rioters-fight-like-hell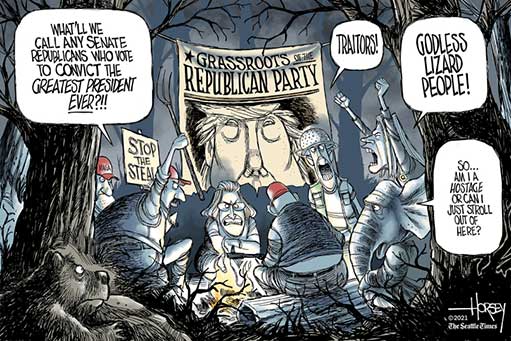 Jennifer Rubin: The Republican Party is about doing nothing
For years, the Republican Party has not been about policy or governance. It is certainly not about encouraging voting or expanding its party to reach new demographics. Instead, it has become a select club of malcontents. It has created a self-perpetuating grievance machine designed to further inflame their base.
Why do Republicans even want to hold power? Aside from appointing judges, the Senate has accomplished virtually nothing of significance since the 2017 tax cut. While running for reelection, the former president was continually stumped when asked what he would do in his second term.
The party's antagonism toward the federal government has now morphed into hostility toward truth and governing at all. Its agenda is a list of buzzwords and lies to justify why it should do nothing (Climate hoax! Socialism!), culminating in the mother of all incendiary messages: the Big Lie that the election was stolen. The GOP seems to exist solely to promote resentment and to engage in performance art for intellectually dishonest and vapid right-wing media.
Maybe Republicans should give up running for office altogether because they have no interest in policy or governing. They can cut out the time-consuming task of showing up for their day jobs and devote all their time to what really drives them — raising money, stoking anger, tweeting and appearing on right-wing media. They at least demonstrate some interest and talent for those activities.
https://www.washingtonpost.com/opinions/2021/01/28/republican-party-is-not-about-governing-or-policy/
NY Times Editorial: If Marjorie Taylor Greene Isn't Beyond the Pale, Who Is?
The editorial board is a group of opinion journalists whose views are informed by expertise, research, debate and certain longstanding values. It is separate from the newsroom.
How far is too far? This is the question Republican leaders are being forced to grapple with as the public outcry grows over one of their newest House members, Marjorie Taylor Greene.
The Georgia freshman is best known for endorsing QAnon, the right-wing movement convinced of the fiction that Donald Trump is a messiah sent to defeat a cabal of Satan-worshiping, child-abusing, deep-state villains. But this is just one of the bizarre lies she has peddled. Her greatest hits include promoting the conspiracy theory that blames the 2018 Camp Fire wildfire in California on a space laser controlled by a prominent Jewish banking family, suggesting the Obama administration used its MS-13 "henchmen" to murder a Democratic National Committee staff member and floating the idea that the Clintons had John F. Kennedy Jr. killed. She has dabbled in 9/11 Trutherism and contended that various school shootings were false-flag operations. She also traffics in racist, anti-Semitic and anti-Muslim talk.
Ms. Greene does not draw the line at promoting bigotry and disinformation. Videos and social media posts from before she ran for Congress show her endorsing violence against those she sees as enemy combatants in an ongoing civil war. She has expressed support of social media calls to execute high-profile Democrats, including the House speaker, Nancy Pelosi, and F.B.I. agents. When asked about such activities, Ms. Greene has dodged, asserting that her pages have been run by "teams" of people over the years, some promoting views with which she does not agree. Many of the posts in question have since been scrubbed.
Ms. Greene's behavior since her election has been troubling as well. She has peddled false claims that the presidential election was stolen and rife with fraud. She was among the 139 House Republicans who voted to overturn the results of the Electoral College on Jan. 6, even after a pro-Trump mob sacked the Capitol. On Jan. 17, Twitter briefly suspended her account for repeatedly violating its "civic integrity policy."
The silence from Republican leaders has been deafening. That can't continue if the party has any hope of reclaiming conservatism from nihilistic rot — something every American should be rooting for to maintain a healthy two-party system. Ms. Greene is now a member of the House of Representatives, with a prominent platform and real power to have impact on people's lives. She has a responsibility to act — and speak — in the best interests of the American public and of the Constitution she has sworn to serve and defend. Peddling grotesque lies, cheering talk of political violence (which she claims to oppose) and fomenting sedition run counter to her oath of office. https://www.nytimes.com/2021/01/31/opinion/marjorie-taylor-greene-gop.html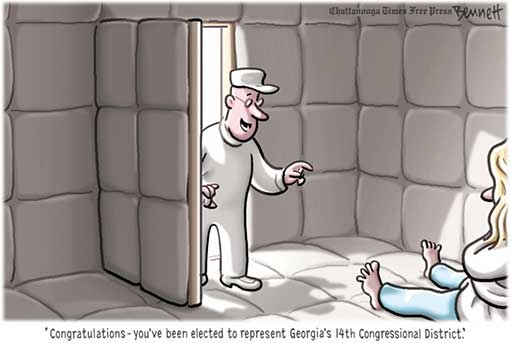 Marc A. Thiessen: The Republican leader who deserves removal in the wake of the Capitol riot is ... Liz Cheney?
So let's get this straight: After a pro-Trump mob stormed the U.S. Capitol waving Confederate flags and chanting, "Hang Mike Pence!" the person some House Republicans want to vote to remove from office is … Liz Cheney?
Trump loyalists want to oust Cheney (Wyo.) as chair of the House Republican Conference to punish her after her vote to impeach President Donald Trump for inciting the Jan. 6 Capitol riot. On Thursday, Rep. Matt Gaetz (R-Fla.) is speaking at an anti-Cheney rally at the Wyoming Capitol. Reps. Andy Biggs (R-Ariz.) and Matthew M. Rosendale (R-Mont.) are circulating a petition calling for a vote on Cheney's removal from the GOP leadership. The matter may come to a head when the House Republican Conference meets next week.
The irony is that many of those leading the charge against Cheney helped Trump spread the Big Lie — that the election was stolen and that Congress could overturn the result. Rep. Paul A. Gosar (R-Ariz.) tweeted a photo of the crowd at the Jan. 6 rally with the message: "Biden should concede. I want his concession on my desk tomorrow morning. Don't make me come over there." Rep. Mo Brooks (R-Ala.) told rally attendants, "Today is the day that American patriots start taking down names and kicking ass!" Yet they have the audacity to allege that it is Cheney who brought the Republican conference "into disrepute"? https://www.washingtonpost.com/opinions/2021/01/28/liz-cheney-republicans-capitol-riot/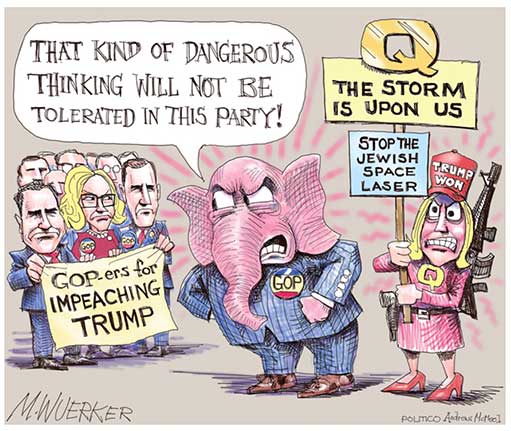 Paul Waldman: Joe Biden, liberal crusader?
We won't know for some time; he's only been in office for a week. But Biden's early moves on both policy and personnel should give liberal Democrats, many of whom were deeply skeptical of him, reason to hope that he could be one of the most liberal presidents of modern times.
Consider a sampling of early steps:
● On Wednesday, he announced the most sweeping effort to address climate change ever undertaken, with plans to restrict new fossil fuel drilling, purchase a clean auto fleet for the federal government and invest in green infrastructure. Every part of government will be involved in the effort, which also prioritizes environmental justice. And as Politico notes, "Biden has already stocked his administration with a flock of committed climate hawks" who will push these policies forward.

● In a round of executive orders, he extended moratoriums on evictions and student loan payments, revoked the permit for the Keystone XL pipeline, rejoined the World Health Organization and the Paris climate agreement, and expanded food assistance.

● He proposed a massive overhaul of immigration laws, including a path to citizenship for undocumented immigrants.

● His team has aggressively moved to fill federal vacancies and push out remaining Trump appointees, staffing 1,000 positions, around a quarter of all those a president is able to appoint. "If there has been a single defining feature of the first week of the Biden administration," the New York Times reported, "it has been the blistering pace at which the new president has put his mark on what President Donald J. Trump dismissed as the hostile 'Deep State' and tried so hard to dismantle."

● Once confirmed, Biden's Cabinet will be the most racially and ethnically diverse in history. https://www.washingtonpost.com/opinions/2021/01/28/joe-biden-liberal-crusader/
Susan B. Glasser: Did Biden Just Make Everything Normal Again?
Eight days into his tenure, President Joe Biden has not occupied my every waking thought—nor, I suspect, yours. He has not insulted anyone, as far as I'm aware. He has not played golf instead of working, or held late-night counseling sessions with cable-television anchors, or caused a rupture in our relationship with Australia. He had a friendly call with Angela Merkel, and a stern one with Vladimir Putin. He went to church on Sunday, and stopped for bagels in Georgetown. His tweets have been sparse and so anodyne that a writer for the Washington Post compared them to the sayings that come inside fortune cookies. He has returned policy wonks and message discipline to the White House. Technocrats are in; Rudy Giuliani is out."
"In some ways, Biden has already fulfilled his first, and arguably most compelling, campaign promise: being the un-Trump."
At the moment, however, Trump—and the thorough Trumpification of the Republican Party—remains the major obstacle to Biden achieving any kind of genuine return to the status quo ante-Donald. That, at least, is the current theory of the case in Washington, where—notwithstanding his defeat in November, his Party's loss of the House and Senate, and his becoming the only President in American history twice impeached—Trump is still considered to have something of a chokehold over the G.O.P. https://www.newyorker.com/news/letter-from-bidens-washington/did-biden-just-make-everything-normal-again
Christopher Ketcham and Jeff Gibbs: Collapseologists are warning humanity that business-as-usual will make the Earth uninhabitable
Hundreds of scientists, writers and academics from 30 countries sounded a warning to humanity in an open letter published in the Guardian in December: Policymakers and the rest of us must "engage openly with the risk of disruption and even collapse of our societies." "Damage to the climate and environment" will be the overarching cause, and "researchers in many areas" have projected widespread social collapse as "a credible scenario this century."
It's not hard to find the "collapseology" studies they are talking about. In a report for the sustainability group Future Earth, a survey of scientists found that extreme weather events, food insecurity, freshwater shortages and the broad degradation of life-sustaining ecosystems "have the potential to impact and amplify one another in ways that might cascade to create global systemic collapse." A 2019 report from the Breakthrough National Center for Climate Restoration, a think tank in Australia, projected that a warming world of depleted resources and mounting pollution would lead to "a largely uninhabitable Earth" and a "breakdown of nations and the international order." Analysts in the U.S. and British military over the past two years have issued similar warnings of climate- and environment-driven chaos.
Of course, if you are a nonhuman species, collapse is well underway. Ninety-nine percent of the tall grass prairie in North America is gone, by one estimate; 96% of the biomass of mammals — biomass is their weight on Earth — now consists of humans, our pets and our farm animals; nearly 90% of the fish stocks the U.N. monitors are either fully exploited, over exploited or depleted; a multiyear study in Germany showed a 76% decline in insect biomass.
The most pressing proximate cause of biophysical collapse is what William Rees, a population ecologist at the University of British Columbia, calls overshoot: humans exploiting natural systems faster than the systems can regenerate. The human enterprise is financing its growth and development by liquidating biophysical "capital" essential to its own existence. We are dumping waste at rates beyond nature's assimilative capacity. Warming temperatures, plunging biodiversity, worldwide deforestation and ocean pollution, among other problems, are all important in their own right. But each is a mere symptom of overshoot, says Rees. https://www.latimes.com/opinion/story/2021-01-31/societal-collapse-collapseology-climate-change
Jeannie Suk Gersen: Did Trump and His Supporters Commit Treason?
The past month has required both affirmation of the strength of our democracy and recognition of its fragility. Laws against treason, sedition, rebellion, and insurrection may seem obscure or arcane, but they are on the books for those real instances in which the expression of strong beliefs, which is constitutionally protected, crosses into actions that fundamentally betray and threaten our government. In times of intense division, such actions pose more danger even as their meaning becomes more contestable. The deep split that cracked open during one of the most consequential transfers of power in history—which, as it turned out, was militarized and not exactly "peaceful"—is apparent in the fact that one side's patriot is the other side's traitor.
Punishments for disloyal acts are a means of insisting on who has legitimate power in our constitutional democracy, and of deterring those who are shown to be trying to destroy it. The legal terms may seem archaic, and sometimes have been misused or abused, but that should not blunt their precise relevance to our unfortunate contemporary situation. https://www.newyorker.com/news/our-columnists/did-donald-trump-and-his-supporters-commit-treason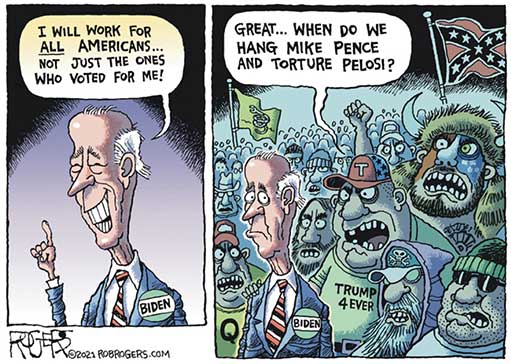 Frank Bruni: Marco Rubio Deserves Ivanka Trump
"Little Marco" may have big trouble. It's blond, it's relentless, it has a new address in Florida and it's spelled I-V-A-N-K-A. The shiniest Trump and her smug husband, pariahs now in New York City, have moved on, and there's some speculation that their relocation presages a Senate candidacy for her in 2022, when Rubio is up for re-election.
She'd potentially challenge him in the Florida Republican primary. Now there's a reason to sweat. Rubio confronts what Republican lawmakers all over the country do, the prospect of being ousted, en route to their general elections, by rivals who are even Trumpier than they are. Only there's no out-Trumping an actual Trump. And athere's no defaming this Trump progeny without inflaming the Trump patriarch.
Ivanka would be Rubio's worst nightmare. She'd also be his perfect comeuppance. He would have done all that shape-shifting, summoned all that sycophancy and sold out for naught. https://www.nytimes.com/2021/01/29/opinion/sunday/marco-rubio-ivanka-trump.html
Karen Tumulty: The GOP struck a bad bargain. That's how it got stuck with Marjorie Taylor Greene.
Before Marjorie Taylor Greene was elected last year, QAnon devotee Greene made a name for herself by spreading bonkers conspiracy theories, including that the school shooting tragedies in Newtown, Conn., and Parkland, Fla., were staged.
She has also embraced another one claiming that former secretary of state Hillary Clinton murdered a child during a satanic ritual and drank her blood.
And they just keep coming. Newly unearthed are social media postings in which Greene appeared to endorse, through likes and shares and comments, the idea of executing Democratic leaders. One of the posts she "liked" suggested getting rid of House Speaker Nancy Pelosi (D-Calif.) with "a bullet to the head." CNN's KFile also found a 2019 video in which Greene harassed David Hogg, a survivor of the Parkland shooting who was making the rounds on Capitol Hill to advocate for gun control. The congresswoman-to-be shouted lies at the teen and called him "a coward" for not responding to her.
But the predictable outcome, given the general mind-set of Republicans these days, is that such a drive would only elevate her as a martyr and bring wails of "cancel culture" from the prime-time pundits on Fox News.
Marjorie Taylor Greene already is styling herself as a fever-swamp version of Joan of Arc. During the House debate on Trump's impeachment — a proceeding that was nationally televised — Greene delivered her remarks while wearing a mask emblazoned with the word "CENSORED," in protest of Twitter's decision to suspend her for 12 hours for posting incendiary and false material about the election.
A big part of the job of Republican leadersisis selecting and recruiting candidates for open and competitive seats. Greene's history of racist, anti-Semitic and incendiary comments was well known when she decided to run. But senior GOP officials — afraid of alienating the most extreme elements of the Trump base — did nothing to block her path when she entered a nine-candidate primary that was so fragmented she made it into a runoff with 40 percent of the vote.
In 2019, McCarthy and his fellow Republicans did strip Rep. Steve King (R-Iowa) of his committee assignments, after King made indulgent comments about white nationalism and white supremacy. But that came as King was serving his ninth term and had compiled a long history of using racist language.
But barely three weeks after being sworn in for her first term, Greene was rewarded by McCarthy with a seat on the House Education and Labor Committee. Her assignment to a panel that gives her a role in shaping federal policy with regard to schools is "appalling, really beyond the pale," Pelosi said Thursday.
Except the sad thing is, the Republican embrace of people like Greene and its tolerance of what she represents show the party no longer recognizes a line between what is and isn't acceptable. They have made their bargain, and now they are stuck with it. https:// www.washingtonpost.com/opinions/2021/01/28/gop-struck-bad-bargain-thats-how-it-got-stuck-with-marjorie-taylor-greene/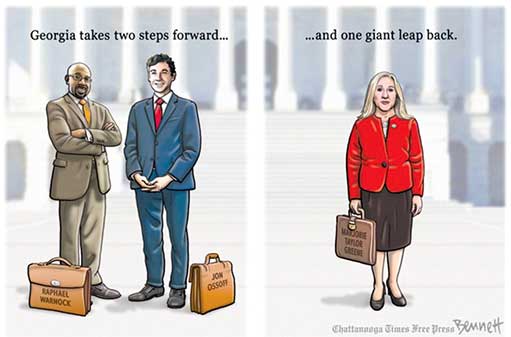 Michael Kruse: The Antipope of Mar-a-Lago
"History never repeats itself; man always does," said Voltaire, and Trump last Wednesday departed a rattled, armored Washington, pledging to "be back in some form." Unwilling to acknowledge the legitimacy of his loss, he left town before the inauguration of Joe Biden—without having invited him to the White House, or congratulated him publicly, or even so much as mentioned his name. No longer roundly welcome in his native New York and all but chased from D.C., Trump jetted toward Florida, his habitual winter weekend getaway turned paramount political stomping grounds—the site of some of his biggest, most important wins; the bastion of a governor he helped get elected, two Republican senators and the House member who's maybe his most fervent minion, plus a roster of media accessories and grassroots boosters; and America's notoriously fact-flouting fantasy land, a hundred-year haven for hucksters and hustlers, outsiders, refugees and retirees, a sandy, sweaty Shangri-La of second chances, where Trump is now intent on concocting a papal-like court, a coterie of officeholders and wannabes, hangers-on and aides-de-camp, ring-kissers and the wholly beholden.
A little over a week ago, after Air Force One dutifully deposited the still-45th president on the tarmac at Palm Beach International Airport, Trump milked his last hour of presidential pomp. His final, full-on, lights-flashing motorcade snaked across the intracoastal waterway, past a BMW with a license plate that blared "LUV DJT," past one sign wrongly saying he "WON!" and another asserting that "On the 8th Day God Created Donald Trump," slowing to a crawl to let him bask in the clamor of shrieking, flag-flying, mostly maskless crowds at whom he pumped his fist. He pulled up to the front of his private, oceanfront club, greeted by a cluster of chanting fans. "Welcome home! Welcome home! Welcome home!"
The antipope of Mar-a-Lago, whose adherents have embraced him and his crusade with a religious, even cultlike ardor, got out of his shiny, fortified black Suburban, clapped, pointed and waved from the other side of a line of velvet ropes, and walked through the doors of his strange and very American sort of Holy See. https://www.politico.com/news/magazine/2021/01/29/trump-antipope-president-mar-a-lago-463238
LA Times Editorial: Biden is off to a good start fighting climate change, but the nation must do more, faster
The president's actions on global warming are a needed shift, but we need to do more. And do it fast.
The Earth is, beyond reasonable doubt, careening toward climate catastrophe in a man-made crisis propelled by the technological advancements that enabled us to power homes, businesses and cities with fossil fuels, and then exacerbated by a dangerous level of political and economic myopia. Now the world is watching the results of global warming, and the impacts are undeniable — as is the hard reality that we have waited too long and done too little to fix it.
The advent of the Biden administration, while not some sudden flick of a switch to a better future, is nevertheless welcome. His announcement Wednesday of additional climate-focused policies — aimed at, among other things, ending carbon pollution from power plants by 2035, reaching a national net-zero economy by 2050 and bolstering communities that have been disproportionately affected by emissions — followed first-day executive actions that sought to undo many of the dangerous and ill-advised policies of the Trump administration.
This is by no means an exhaustive list, but so far Biden has ordered that climate change be part of policy decisions across the federal government, rescinded a presidential permit for the Keystone XL pipeline from Canada to Nebraska, halted new oil and gas developments in the Arctic National Wildlife Refuge, ordered a freeze and review of Trump regulations promoting fossil fuels and rolling back vehicle emissions standards, and announced that the U.S. would rejoin the 2015 Paris agreement.
He also pledged Monday to replace the federal government's fleet of about 650,000 motor vehicles with electric models, which would be a significant boon to the fledgling market for clean cars and trucks.
Good. Keep going, Mr. President. One of the many lessons reinforced by the Trump administration, however, is that executive actions can be fleeting. Good policies by one administration can be undone by the next and then reversed again by a third. Combating climate change is too vital to our existence for such fickleness. https://www.latimes.com/opinion/story/2021-01-27/biden-climate-congress-trump-carbon-motor-vehicles