February 16, 2023


To subscribe to this FREE weekly newsletter simply email jellison@san.rr.com with "subscribe" as the subject.
THE WEEK'S BEST QUOTES. . .
"Clearly, having the House Republican caucus behaving the way they are, and are signaling strongly they will continue to behave, is going to give the president an easy contrast. What the House Republican caucus is doing for him is giving him a way to draw a contrast between what he is for — what he's trying to get done, and who he's trying to get it done for — with the House Republicans." — White House adviser Anita Dunn. https://www.nytimes.com/2023/02/09/us/politics/biden-florida-medicare-social-security.html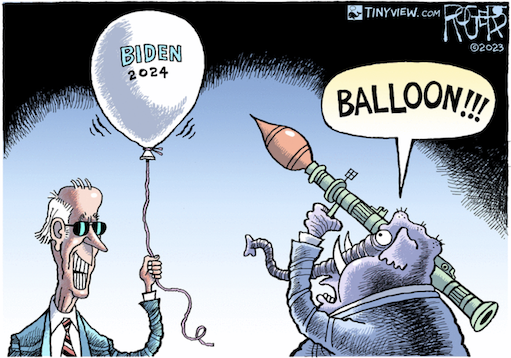 This is a bad idea. I think it will be a challenge for him to deal with this in his own reelection in Florida, a state with more elderly people than any other state in America. — Sen. Mitch McConnell (R-KY), slamming Sen. Rick Scott's (R-FL) plan to sunset all laws, including Social Security and Medicare. https://twitter.com/seungminkim/status/1623842177750118400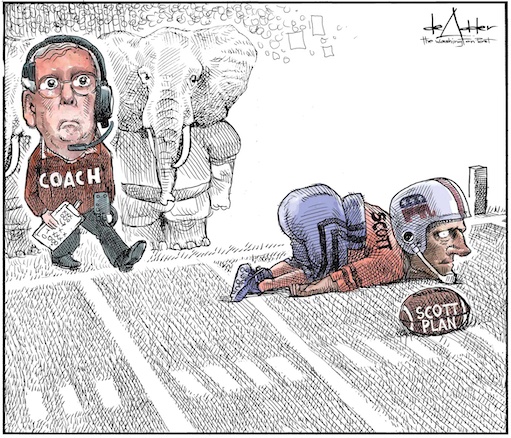 "I tell people I have the equivalent of a PhD in white trashology, and we saw real white trash on display. The level of white trashdom in the Republican Party is staggering. I mean, for somebody that has observed it for a long time like I have, I've never seen it manifest itself on a level that it's manifesting itself. — Democratic political consultant James Carville on the Republican lawmakers who heckled President Biden during his State of the Union speech. https://www.huffpost.com/entry/james-carville-gop-attack_n_63e4a997e4b0255caae96628

Grassley uses his opening statement to accuse Hillary Clinton of colluding with the Russians in 2016 (to defeat herself). Completely absurd. — House Republican hearing on "weaponization" of the government. https://twitter.com/atrupar/status/1623742219185278977

If you lose, lose with dignity. You shake the other person's hand and walk away. I didn't lose, so I'm not doing that. — As Kari Lake traveled across Iowa she baselessly insisted that votes were rigged against her in her run for Arizona governor last year warning, without evidence, that future races will be compromised. https://www.washingtonpost.com/politics/2023/02/12/kari-lake-iowa-election-deniers/

Russia is now a global pariah and the world remains inspired by Ukrainian bravery and resilience. In short, Russia has lost — they've lost strategically, operationally, and tactically. — Joint Chiefs Chairman Gen. Mark Milley Insider reports. https://www.businessinsider.com/top-us-general-says-russia-has-lost-the-ukraine-war-2023-2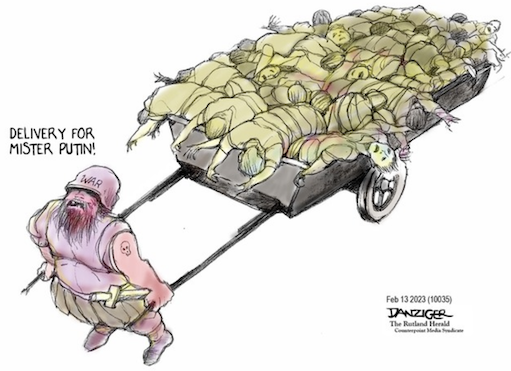 LITIGATION TRACKER
Pending Criminal and Civil Cases Against Donald Trump

. https://www.justsecurity.org/75032/litigation-tracker-pending-criminal-and-civil-cases-against-donald-trump/
---
IN THIS ISSUE
IN THE NEWS
OPINION
Andy Borowitz: Pence Says Mother Will Not Give Him Permission to Testify
The special counsel investigating January 6th has received a letter from Mike Pence indicating that a person named Mother will not permit him to testify.

Mother, who is believed to be Pence's wife, Karen, was hopping mad when he received a subpoena from the special counsel's office, the letter revealed.
When I told her I better go testify, Mother said, 'Mike, are you some kind of idiot?' the letter read. 'What if you're interrogated by a woman lawyer, and you're alone in a room with her? Women are lawyers nowadays.'
Pence recognized that refusing to testify could result in his being imprisoned, but added, Mother said that as long as there are no women in the prison, she's fine with that. https://www.newyorker.com/humor/borowitz-report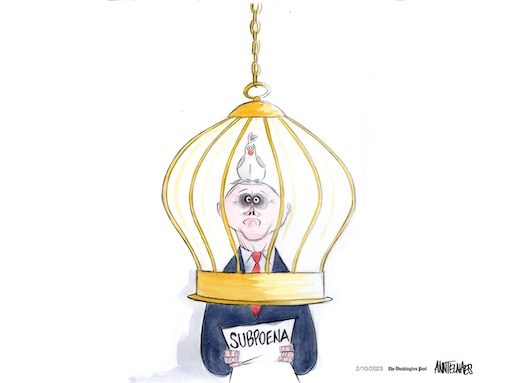 The GOP Is Starting to Plot Against Donald Trump 
It is a comment echoed in interviews with dozens of Republican party members, donors, strategists and grassroots leaders, many of whom say it is the conversation they are all having privately among themselves too — how to make sure that Trump doesn't once again take advantage of a split field and walk away with the Republican nomination, costing the party not just the presidency but a chance to retake the Senate and hold on to the House.
It is also a conversation reminiscent of one many had before. Back in 2016, senior Republicans fretted that putting Trump on top of the ticket would spell certain doom. https://www.politico.com/news/magazine/2023/02/09/gop-trump-2024-election-00081944
Biden-GOP exchanges at State of the Union forecast 2024 battle
Biden, with no presumptive Republican opponent likely to emerge for months, appears happy to run against the outspoken House Republican conference, which he portrays as controlled by extremist figures. And the newly powerful Republican lawmakers seem to relish depicting Biden as an elderly president who is out of his depth.
Biden and a set of vocal House Republicans seemed satisfied with the verbal brawling. White House officials let it be known that the exchanges prompted applause and high-fives among Biden aides, some of whom had gathered around televisions in the office of White House press secretary Karine Jean-Pierre. And Rep. Marjorie Taylor Greene (R-Ga.) — who during the speech cupped her hands around her mouth and screamed 'Liar!' — recorded a video just minutes after leaving the chamber bragging about her outburst. https://www.washingtonpost.com/politics/2023/02/08/biden-republicans-state-of-the-union/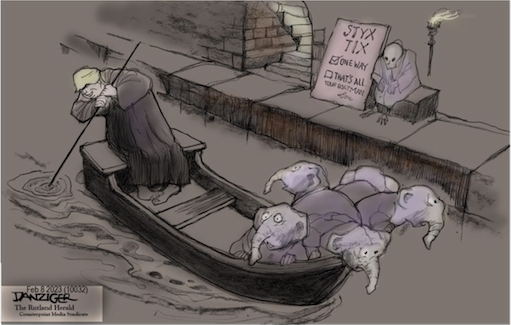 Majority of House Republicans Backed Social Security Cuts
Last year the Republican Study Committee – a House caucus which includes about 75% of all House Republicans – released a proposed 2023 budget which included basically every kind of Social Security cut on offer.
The Blueprint to Save America proposed raising the eligibility age at first to 70 and then higher if and when life expectancy goes up; it proposed cutting (or in their words 'modernizing') the benefit formula for everyone currently 54 and under; means-testing Social Security benefits; including work requirements for some Social Security beneficiaries; and allowing people to divert payroll taxes into private investment accounts – aka retirement freedom. https://talkingpointsmemo.com/edblog/three-quarters-of-house-gops-endorsed-social-security-cuts-last-year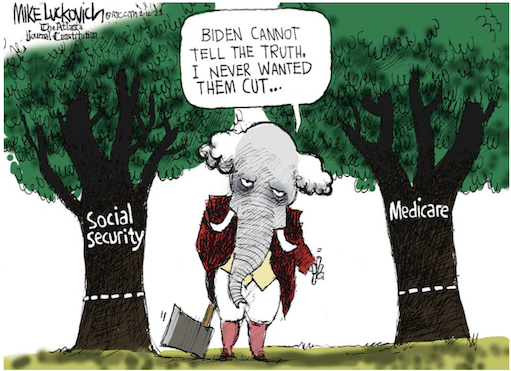 New Jersey Will Expand AP Black History Classes
Gov. Phil Murphy said Tuesday that his administration is expanding Advanced Placement African American Studies courses next year from one school to 26 in New Jersey after Republican Gov. Ron DeSantis blocked the course from being taught in public schools in Florida.
Murphy's move comes about a month after the administration of DeSantis, a potential presidential candidate, declared without citing any evidence that the course violates state law and isn't historically accurate.
https://www.nbcnews.com/news/nbcblk/gov-murphy-says-new-jersey-will-expand-ap-black-history-classes-rcna70642
Trump Plans to Bring Back Firing Squads
It's not an idle inquiry: The former president, if re-elected, is still committed to expanding the use of the federal death penalty and bringing back banned methods of execution, the sources say. He has even, one of the sources recounts, mused about televising footage of executions, including showing condemned prisoners in the final moments of their lives.
Specifically, Trump has talked about bringing back death by firing squad, by hanging, and, according to two of the sources, possibly even by guillotine. He has also, sources say, discussed group executions. Trump has floated these ideas while discussing planned campaign rhetoric and policy desires, as well as his disdain for President Biden's approach to crime.

In at least one instance late last year, according to the third source who has direct knowledge of the matter, Trump privately mused about the possibility of creating a flashy, government-backed video ad campaign that would accompany a federal revival of these execution methods. In Trump's vision, these videos would include footage from these new executions, if not from the exact moments of death. https://www.rollingstone.com/politics/politics-news/trump-death-penalty-firing-squad-executions-1234679447/
Twitter Kept 'Database' of GOP Requests to Censor Posts
The Trump administration and its allied Republicans in Congress routinely asked Twitter to take down posts they objected to — the exact behavior that they're claiming makes President Biden, the Democrats, and Twitter complicit in an anti-free speech conspiracy to muzzle conservatives online.
https://www.rollingstone.com/politics/politics-news/elon-trump-twitter-files-collusion-biden-censorship-1234675969/
Gov. Greg Abbott tells state agencies to stop considering diversity in hiring
Texas Gov. Greg Abbott (R) is warning state agency and public university leaders this week that the use of diversity, equity and inclusion initiatives — policies that support groups who have been historically underrepresented or discriminated against — is illegal in hiring.
https://www.texastribune.org/2023/02/07/greg-abbott-diversity-equity-inclusion-illegal/
Mississippi House OKs new court system — to be appointed by white state officials — for second-Blackest U.S. city, stoking tension
The Mississippi House has approved the creation of a new court system in which judges and prosecutors would be appointed by state officials — who all happen to be white — for the capital of Jackson, which has the second-highest percentage of Black residents among U.S. cities, CNBC reports.
Local residents elect judges and prosecutors in every other county court system in the state.
https://www.cnbc.com/2023/02/08/mississippi-house-oks-new-court-system-to-be-appointed-by-white-state-officials.html
Bill would ban the teaching of scientific theories in Montana schools
A bill in the state Legislature seeking to regulate science curriculum in public schools got its first hearing Monday. The legislation's sponsor says by banning scientific theories, the policy aims to prevent kids from being taught things that aren't true.

More than 20 people testified against Senate Bill 235, concerned that it could keep teachers from including gravitational theory, evolution and cell theory in curriculum. https://www.mtpr.org/montana-news/2023-02-07/bill-would-ban-the-teaching-of-scientific-theories-in-montana-schools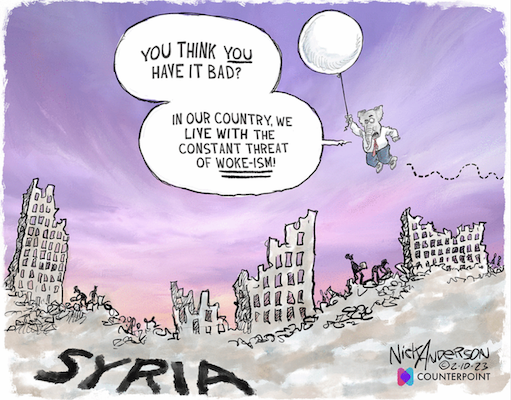 GOP leaders defend members calling Biden a 'liar' during State of the Union
Top House Republicans, including Speaker Kevin McCarthy (R-CA), defended their members for heckling President Biden and calling him a liar during Tuesday night's State of the Union address
.
Said McCarthy on Fox News: Well, the president was trying to goad the members, and the members are passionate about it — but the one thing that the president was saying was something that he knew was not true.
https://abcnews.go.com/Politics/gop-leaders-defend-members-calling-biden-liar-state/story
Bannon podcast top spreader of misinformation, researchers say
A new report finds that Stephen Bannon's War Room podcast has been the top spreader of misinformation in the conservative media ecosystem.
In citing the unsubstantiated claims about voter fraud that helped ignite the Jan. 6, 2021, attack on the U.S. Capitol, a
study
published by the Brookings Institution this week noted Bannon's show before and after the incident offers a chilling example of the types of unsubstantiated and false claims spread by prominent political podcasters after the 2020 election.
https://thehill.com/homenews/media/3850965-bannon-podcast-top-spreader-of-misinformation-researchers-say/
.
Trump Put Nearly $1 Million Of Donor Money Into His Own Pockets Since Leaving Office
Since he left office, Donald Trump's various political committees have spent $905,570 at his own properties.
https://www.huffpost.com/entry/trump-campaign-self-dealing_n_63e42fd1e4b07f036b9a5944
Democrats think 2024 Republicans have a Tea Party weak spot on entitlements
Joe Biden wants to keep roughing up his opponents over Social Security and Medicare.

The president earned a memorable shower of boos from Republican lawmakers during this week's State of the Union, after he accused them of using the debt ceiling as leverage to wrangle cuts from the programs. On Thursday, he's headed to Tampa, Fla. for a speech the White House says will double down on the issue. https://www.semafor.com/article/02/09/2023/democrats-think-2024-republicans-have-a-tea-party-weak-spot-on-entitlements
Pence to fight special counsel subpoena on Trump's 2020 election denial
Former vice president Mike Pence will fight a subpoena from special counsel Jack Smith in his investigation of former president Donald Trump's push to overturn the 2020 election, a person familiar with the matter said, escalating an unprecedented judicial battle.
https://www.washingtonpost.com/national-security/2023/02/14/mike-pence-fight-subpoena-jack-smith/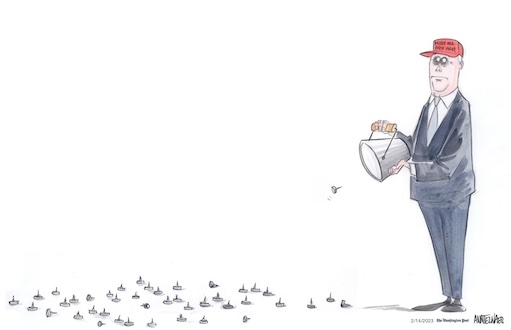 He Paid $1 Million For Destroying Wetlands. Now He's Fighting Clean Water Rules In Congress.
Rep. John Duarte (R-CA) paid a hefty fine for plowing federally protected streams and wetlands on his farm but now sits on the House subcommittee with jurisdiction over water resources.
https://www.huffpost.com/entry/john-duarte-clean-water-rules-wotus-wetlands_n_63e3e3cfe4b01a436398d66d
Biden-GOP exchanges at State of the Union forecast 2024 battle
Washington Post: Many Republican leaders, disappointed with the results of the November midterms, have bemoaned their party's nomination of fiery candidates who played to the GOP base but in the end attracted little support beyond it. Some within the party fear a similar effect in the 2024 presidential primary if their candidates are overly focused on appeasing the anger and emotions of Republican loyalists…
It is not the first time a Democratic president has used an outspoken, newly powerful group of House Republicans as a foil. Both Bill Clinton and Obama saw their party lose the House two years after they took office, as Biden now has. Both then ran against the GOP-led House as part of their reelection effort.
https://www.washingtonpost.com/politics/2023/02/08/biden-republicans-state-of-the-union/
Biden Aims to Win Back White Working-Class Voters Through Their Wallets
With his call for a 'blue-collar blueprint to rebuild America,' President Biden on Tuesday night acknowledged rhetorically what Democrats have been preparing for two years: a fierce campaign to win back white working-class voters through the creation of hundreds of thousands of well-paid jobs that do not require a college degree.

Mr. Biden's economically focused State of the Union address may have avoided the cultural appeals to the white working class that former President Donald Trump harnessed so effectively, the grievances encapsulated by fears of immigration, racial and gender diversity, and the sloganeering of the intellectual left. https://www.nytimes.com/2023/02/08/us/politics/biden-blue-collar-white-voters.html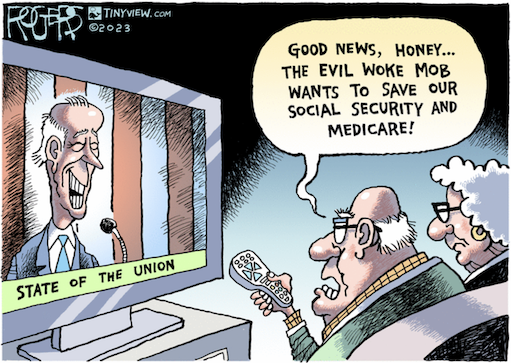 Elon Musk fires a top Twitter engineer over his declining view count
Elon Musk fired a top Twitter engineer because he was upset over the declining number of users that were apparently able to see his tweets. Said Musk: This is ridiculous. I have more than 100 million followers, and I'm only getting tens of thousands of impressions.
Employees showed Musk internal data regarding engagement with his account, along with a Google Trends chart. Last April, they told him, Musk was at 'peak' popularity in search rankings, indicated by a score of '100.' Today, he's at a score of nine. Engineers had previously investigated whether Musk's reach had somehow been artificially restricted, but found no evidence that the algorithm was biased against him.
Musk did not take the news well.
https://www.platformer.news/p/elon-musk-fires-a-top-twitter-engineer
Florida legislature expands Ron DeSantis' program to fly migrants to blue states
Florida legislature expands Ron DeSantis' program to fly migrants to blue states

Florida lawmakers passed a bill Friday expanding a program used to fly migrants to Democratic-led cities and states.

Republican Gov. Ron DeSantis' administration will now be able to relocate migrants elsewhere from any state in the country, not just from Florida. https://www.nbcnews.com/politics/politics-news/florida-legislature-expands-ron-desantis-program-fly-migrants-blue-sta-rcna69747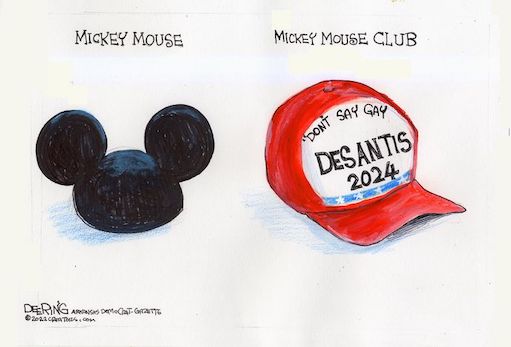 Biden prepares largest Pentagon budget in history as spending cuts loom
The Biden administration is preparing to ask Congress for the largest Pentagon budget in history, according to the Defense Department's chief financial officer, as partisan squabbling over the debt ceiling raises the specter of deep cuts to the military's funding plans.
https://www.politico.com/news/2023/02/10/biden-pentagon-budget-debt-ceiling-00082302
Another GOP Lawmaker Made Up Her Biography
Several aspects of freshman Rep. Anna Paulina Luna's (R-FL) life story, from her religious and ethnic identity to her impoverished upbringing are questionable.
Specifically, Luna's claim that she grew up poor and isolated, with her father in and out of prison, was not supported by prison records or by relatives interviewed. And her story of enduring a traumatizing home invasion was also undercut by police records.
https://www.washingtonpost.com/politics/2023/02/10/anna-paulina-luna-republican-biography/
Kansas GOP Picks Conspiracy Theorist as New Leader
Republicans on Saturday narrowly picked an activist who has promoted unfounded election conspiracies and promised a shakeup to lead the Kansas GOP for the next two years, following weeks of infighting that mirrors the acrimony in the party across the U.S..
Within 30 minutes of the change in the Kansas Republican Party's leadership, its state committee reviewed a resolution demanding that the U.S. House impeach President Joe Biden for 'tyranny' over comments he and his aides made in the summer of 2021 decrying misinformation about coronavirus vaccines spreading within the GOP.
https://apnews.com/article/politics-kansas-state-government-ba265d04c9ac03870352ce4399b99755
Republicans Clash with Prosecutors Over Abortion Bans
GOP lawmakers see a major flaw in their states' near-total abortion bans: Some local prosecutors won't enforce them.
Republicans in Georgia, Indiana, South Carolina and Texas — frustrated by progressive district attorneys who have publicly pledged not to bring charges under their state's abortion laws — have introduced bills that would allow state officials to either bypass the local prosecutors or kick them out of office if their abortion-related enforcement is deemed too lenient.
https://www.politico.com/news/2023/02/12/republicans-target-abortion-local-prosecutors-00082386
Spy Balloon Has GOP Saying No Cuts to Defense
A growing number of Senate Republicans are saying that President Biden and Speaker Kevin McCarthy (R-Calif.) should take defense spending cuts off the table in their negotiation over the debt ceiling.

The Republicans are digging in their heels after receiving a classified briefing on a Chinese spy balloon that floated over sensitive military installations. https://thehill.com/homenews/senate/3853482-chinese-spy-balloon-has-gop-saying-no-cuts-to-defense/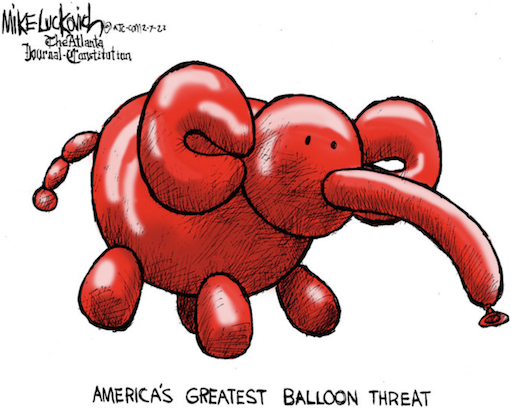 Amish country farmers say George Santos took puppies, left bad checks
It was after dark when George A. Santos approached the farmer in Pennsylvania's Amish country looking to buy at least eight puppies.
He promised a wire transfer of more than $5,000, the farmer said, but it never appeared. He said Santos ended up writing a smaller check — and driving off with four golden retrievers.
Something inside me said I just cannot trust him, the farmer told The Washington Post, speaking on the condition of anonymity to protect his privacy.
The check bounced.
https://www.washingtonpost.com/investigations/2023/02/10/george-santos-amish-puppies/
Dissatisfaction With U.S. Abortion Policy Hits Another High
Americans are more dissatisfied with U.S. abortion policies now than they have been at any point in Gallup's 23-year trend, and those who are dissatisfied are three times as likely to prefer less strict rather than more strict abortion laws.
The record-high 69% of U.S. adults dissatisfied with abortion laws includes 46% who prefer that these laws be made less strict, marking a 16-percentage-point jump in this sentiment since January 2022.
https://news.gallup.com/poll/470279/dissatisfaction-abortion-policy-hits-high.aspx
Steve Bannon Ran Up Huge Legal Bills and Stiffed His Lawyers
Steve Bannon hasn't paid the lawyers who spent years defending him against an onslaught of criminal charges, the Daily Beast reports.
With massive legal bills still outstanding, Bannon is now scrambling to find new attorneys, as he faces a looming trial over the way he scammed the MAGA crowd with a dubious plan to build a privately funded U.S.-Mexico border wall.
Bannon's refusal to fully pay his bills has stunned some of his close advisers who've stuck around for years.
https://www.thedailybeast.com/steve-bannon-ran-up-huge-legal-bills-and-stiffed-his-lawyers
Biden escalates fight over Social Security and Medicare, frustrating Republicans
After President Joe Biden pummeled Republicans on Social Security and Medicare during his State of the Union address, drawing shouts of outrage from the party, Republican leaders urged him to stop telling Americans that the GOP wants to slash those retirement programs, NBC News reports.
Then Biden paid a visit to Florida and did it again, exasperating the party and escalating a fight that is poised to play out on Capitol Hill and in the 2024 presidential election.
https://www.nbcnews.com/politics/2024-election/biden-escalates-fight-social-security-medicare-frustrating-republicans-rcna70104
Most Democrats Now Want Biden to Run Again
For the first time since Economist/YouGov polls began asking — in July 2022 — if Americans want Biden to run again in 2024, more than half of Democrats say yes.
https://today.yougov.com/topics/politics/articles-reports/2023/02/10/democrats-biden-campaign-equals-trump
Moldovan leader outlines Russian 'plan' to topple government
Moldova's President outlined Monday what she described as a plot by Moscow to use external saboteurs to overthrow her country's government, put the nation 'at the disposal of Russia' and derail its aspirations to one day join the European Union. https://apnews.com/article/russia-ukraine-zelenskyy-politics-government-maia-sandu-152d2353f4c18bb84348f5d1656edb98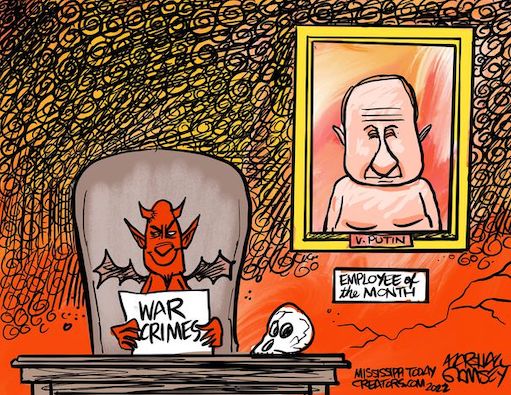 After helping prince's rise, Trump and Kushner benefit from Saudi funds
Donald Trump and Jared Kushner cultivated close ties with Saudi Crown Prince Mohammed bin Salman while Trump was in office. They helped his standing by scheduling Trump's first foreign visit to Saudi Arabia and by meeting with him repeatedly. They backed him in several international crises during Trump's term.
And they both profited handsomely from the relationship once leaving office. The day after leaving the White House, created a company that he transformed months later into a private equity firm with $2 billion from a sovereign wealth fund chaired by Saudi Crown Prince Mohammed bin Salman. Kushner's firm structured those funds in such a way that it did not have to disclose the source…
A year after his presidency, Trump's golf courses began hosting tournaments for the Saudi fund-backed LIV Golf. Separately, the former president's family company, the Trump Organization, secured an agreement with a Saudi real estate company that plans to build a Trump hotel as part of a $4 billion golf resort in Oman. https://www.washingtonpost.com/politics/2023/02/12/after-helping-princes-rise-trump-kushner-benefit-saudi-funds/
George Santos and the Missing $365,000
Rep. George Santos (R-NY) has spent his campaign money in plenty of conspicuous ways, from lavish hotel stays in Las Vegas and Palm Beach, Fla., to an unusual slew of payments for exactly $199.99 — two cents below the threshold where receipts would be required.
But deep within Mr. Santos's campaign filings, The New York Times found another eye-catching number: $365,399.08 in unexplained spending, with no record of where it went or for what purpose.
The mysterious expenditures, which list no recipient and offer no receipts, account for nearly 12 percent of the Santos campaign's total reported expenses — many times exceeding what is typical for congressional candidates.
https://apnews.com/article/russia-ukraine-zelenskyy-politics-government-maia-sandu-152d2353f4c18bb84348f5d1656edb98
Wyoming Limiting Child Marriage Sparks Republican Outrage
The Wyoming Republican Party is seeking to kill a bill working its way through the state Legislature proposing to raise the state's legal marriage age to 16, arguing that putting 'arbitrary' limits on child marriage interferes with parental rights and religious liberty.
https://www.newsweek.com/wyoming-ending-child-marriage-sparks-republican-outrage-1780501
Republicans Can't Quit Pelosi
Republicans are trying to portray House Minority Leader Hakeem Jeffries (D-NY) as inexperienced by highlighting former Speaker Nancy Pelosi's (D-CA) decision to remain in Congress as a backbencher.
Said a GOP spokesman: Hakeem Jeffries begins his stint in leadership with his former boss Nancy Pelosi looking over his shoulder on every decision.
https://www.axios.com/2023/02/13/gop-targets-2024-messaging-strategy-pelosi
Jack Smith, Special Counsel for Trump Inquiries, Steps Up the Pace
The intensified pace of activity speaks to his goal of finishing up before the 2024 campaign gets going in earnest, probably by summer. At the same time, the sheer scale and complexity and the topics he is focused on — and the potential for the legal process to drag on, for example in a likely battle over whether any testimony by Mr. Pence would be subject to executive privilege — suggest that coming to firm conclusions within a matter of months could be a stretch.
Said Harvard law professor Jack Goldsmith: The impulse to thoroughly investigate Trump's possibly illegal actions and the impulse to complete the investigation as soon as possible, because of presidential election season, are at war with one another. One impulse will likely have to yield to the other.
https://www.nytimes.com/2023/02/12/us/politics/jack-smith-special-counsel-trump-investigations.html
Hopeful freshman lawmakers run up against the reality of a divided House
These new members are now bracing for the possibility that hopes of fulfilling their campaign promises could be dashed if the GOP's fractured ranks thwart the party's desire to govern. The freshman Democrats and Republicans who spoke to The Washington Post see an opportunity to bridge the divide, given that they all believe voters gave Republicans a narrow majority in hopes that the parties will work together.
https://www.washingtonpost.com/politics/2023/02/13/freshman-lawmakers-bipartisan-compromise/
Republican Plans for Oversight Are Plainly Underdone
In almost four hours of testimony Thursday by witnesses and questioning from committee members, Republicans on the newly formed panel offered practically nothing designed to appeal to a broader spectrum of voters. Indeed, a good deal of what was discussed would be difficult to understand for those who don't regularly watch Fox News's Tucker Carlson or listen to radio host Mark Levin's talk show.
https://www.bloomberg.com/opinion/articles/2023-02-13/house-republicans-weaponization-committee-isn-t-doing-real-oversight
THE DAILY GRILL
Following @ENERGY @SecGranholm, he praised the science lesson she gave and asked her did you actually understand this science or did you just memorize that? — Nevada Gov. Joe Lombardo ® speaking at an event announcing a massive $2B loan for battery recycling. 
https://twitter.com/TSnyderDC/status/1623750093072396293
VERSUS
Big words can be intimidating, I understand. All the Governor needs to know is that $2 BILLION and thousands of good-paying jobs are coming to Nevada thanks to @POTUS. Secretary Jennifer Granholm, a Harvard Law graduate.
https://twitter.com/SecGranholm/status/1623761733285294082
Yair Rosenberg: Republicans Keep Underestimating Joe Biden
Joe Biden knows how to handle a tough crowd. This was evident last night at the State of the Union, and it was apparent to me seven years ago, on March 20, 2016. On that day, President Barack Obama sent Biden to sell the recently struck Iran nuclear deal to the national conference of the American Israel Public Affairs Committee (AIPAC). This was the political equivalent of asking the vice president to push New York Times subscriptions at a Donald Trump rally. Over the previous year, AIPAC had spent every ounce of its political capital to oppose Obama's accord with Iran, which it cast as an existential threat to Israel. Obama, for his part, had implied that opponents of the deal were effectively pro-war. As 18,000 AIPAC delegates converged on Washington, Biden was dispatched to defend the administration to a crowd whose feelings ranged from skeptical to hostile. To call this a thankless task would be to woefully understate the animosity in the arena.
What happened next was remarkable: Biden somehow won over the room. He turned on his well-honed political charm, flattered the audience, and spoke passionately about his personal attachment to Israel, and by the time he got to the unpopular nuclear deal, he had the crowd applauding for it. He exited to a standing ovation.
That same Biden was on full display last night. Not known for the eloquence of his oratory, the president instead spoke conversationally to Congress and the cameras. Folksy rather than formal, and straightforward rather than stentorian, the president exceeded expectations, as even some critics acknowledged. It was quite effective as a rhetorical ploy, the conservative Jeffrey Blehar wrote in National Review. Biden played a losing economic and electoral-polling hand with the public as deftly as possible … by leaning into his retail political skills, 50 years of memorized blue-collar schtick, and the laughter and encouragement of the friendly half of the room.
https://www.theatlantic.com/ideas/archive/2023/02/republicans-keep-underestimating-joe-biden/672997/
David Frum: How Biden successfully baited Congressional Republicans
Nowhere was Biden's skill more apparent than in his interactions with those who sought to derail him. At several points during his address, he was confronted by a chorus of hecklers led by Representative Marjorie Taylor Greene. Observing this spectacle, some pundits tut-tutted at the incivility. But Biden seemed to enjoy it. Far from being flustered by the interruptions, he was energized by them. When the hecklers called Biden a liar for stating that some Republicans wanted to sunset Social Security and Medicare, he quipped, I enjoy conversion, and proceeded to get the entire chamber to applaud for preserving the programs, turning his critics into props in his performance. We got unanimity! he crowed. As the chamber clapped, Biden looked presidential at his podium. Greene, shouting ineffectually from the back while draped in an ostentatious white fur coat, looked like she'd just lost her last Dalmatian.
Anyone who'd witnessed Biden at AIPAC, or in similar situations over his long career, would not have been surprised by his ability to roll with the rhetorical punches. But Biden's Republican critics clearly did not anticipate his nimble response, for a very simple reason: They continue to underestimate the man they seek to replace.
Since the 2020 Democratic primary, Biden's secret weapon has been the low expectations set for him by his opponents. Rather than approach him as the flawed but formidable politician that he is, Biden's critics on the left and right have consistently presented him as a befuddled individual who is unable to finish his sentences. They have cocooned themselves in clips of his gaffes, both real and fabricated, and convinced themselves that the Biden they see in their social-media bubble is the Biden that exists in actuality.
The only problem with this caricature is that it does not survive contact with reality. It's true that at 80 years old, Biden is no longer as adept an operator as he once was. He speaks slower and struggles more to control his stutter. And of course, he has been prone to comical verbal stumbles his entire career. But Biden's experience working a crowd, his empathetic human touch, and his sense of humor remain intact. His ability to unite disparate factions of a fractured party remains undiminished. It's no wonder that a handful of unruly political neophytes at the State of the Union failed to knock him off his game. He's been playing it for longer than they've been alive.
The refusal to acknowledge and contend with Biden's strengths, not just his weaknesses, continues to hobble his opponents. By consistently lowering the bar for the president's performance, they have repeatedly enabled him to easily vault over it. As much as anything Biden himself has done, this persistent misapprehension of his capacity has fueled his surprisingly productive presidency.
Consider this history: During the 2020 primary, Biden was dogged by left-wing critiques of his competency. Some supporters of Senator Bernie Sanders pointedly pushed talking points arguing that the former vice president was mentally unfit for office. One candidate, Julián Castro, even wrongly claimed on the debate stage that Biden had forgotten what he'd said several minutes ago. Biden proceeded to sweep the Super Tuesday primaries and claim the Democratic nomination.
And yet, rather than learn from this experience, Biden's Republican opponents have replicated it, casting the president as a walking vegetable unaware of his surroundings, only to have him upstage them. Maybe Biden isn't the one who's forgetting things after all?
https://www.theatlantic.com/ideas/archive/2023/02/republicans-keep-underestimating-joe-biden/672997/
Megan Garber: George Santos, the GOP's Useful Liar
After President Joe Biden delivered his State of the Union address last night, George Santos offered his appraisal of the proceedings. SOTU category is: GASLIGHTING! the representative pronounced in a tweet.
The review was curious, coming as it did from a man who has fabricated much of his own biography. And the tweet, Trumpian in both look and tone, provoked precisely the replies you might expect under the circumstances: sarcastically invented references to Santos's experience as the host of Jeopardy, to his own State of the Union speech, to his status as a gaslight incarnate. The replies were tidy reflections of the attitude that many Americans have adopted toward Santos, as journalists have reported on the lies he has told about his past and as polls have been conducted about those revelations. One of the few things we can agree on in these divided times, it seems, is that George Santos is a national embarrassment.
Because of all that, Santos is typically discussed as a problem for the Republican party. He is, in fact, the opposite. His lies make convenient distractions from the more dangerous and insidious fabrications that flow with impunity from the mouths and keyboards of his colleagues. Santos has found himself on the receiving end of that time-honored strain of American political discourse: mockery. Late-night shows and Saturday Night Live and the amateur comedians of social media have steadily converted him from an object of shame to one of ridicule. The jokes might seem to be a sign that Americans, understanding that democracy cannot exist without common facts, have no tolerance for leaders who would try to mislead their constituents. But their censure offers false catharsis. Santos is instead a figure fit for our post-fact political environment: a useful liar.

While Santos navigates his infamy, Americans' lives are being shaped by ever more insidious—and, at the same time, ever more blatant—attempts to upend the shared facts of our lives. Florida's governor has been hard at work ensuring that the state's students will not have access to the full truths of American history—or, for that matter, the full truths of the American present. Books are being banned from schools and libraries; hate speech and its bigoted fictions are spreading on social-media platforms; Trump, the biggest liar of them all, is embarking on his campaign for another presidency. He has a chance of winning. You don't belong here, Mitt Romney reportedly told Santos last night. The senator is correct: Santos should not remain in Congress. But Santos is neither the beginning nor the end of the matter. He is merely a symptom of our chronic disorder. https://www.theatlantic.com/culture/archive/2023/02/state-of-the-union-george-santos-republican-useful-liar/672992/
Eugene Robinson: The Republican clown-car caucus is undermining itself
On Wednesday, Republicans' first made-for-television, MAGA-themed public hearing fizzled and then backfired. The House Oversight Committee, chaired by Rep. James Comer (R-Ky.), set out to prove the conspiracy theory that Big Tech social media companies have colluded with Democrats and the deep state to censor conservative views. But the former Twitter executives they hauled in to testify told a different story.
As the company acknowledged at the time, Twitter was wrong to briefly squelch an October 2020 story from the New York Post involving a laptop belonging to Joe Biden's son Hunter. But the suppression lasted only one day, witnesses said, and was both imposed — and lifted — in an internal attempt to follow company policy. There were no orders from the FBI, as Republicans have claimed.
But one of the former Twitter executives, Anika Collier Navaroli, said she knew of a government attempt to censor content: In 2019, she testified, a White House official leaned on the company — unsuccessfully — to take down a tweet by model Chrissy Teigen that insulted then-President Donald Trump in vulgar terms. Navaroli also testified that when Trump posted a tweet that clearly violated a policy against demonizing immigrants, Twitter relaxed the rule to avoid having to paste a warning label on the offending missive.

A former Twitter employee testified on Feb. 8 to the House Oversight committee that the company changed its policy to allow President Trump's offensive tweets. 
Meanwhile, MAGA loudmouths on the committee made sure that no one could confuse the hearing with an actual search for truth. Rep. Clay Higgins (R-La.) threatened the former Twitter execs with arrest. Reps. Lauren Boebert (R-Colo.) and Marjorie Taylor Greene (R-Ga.) complained endlessly about their own accounts being shadow-banned.

I try to keep track of polls that show what issues U.S. voters care most about. The alleged shadow-banning of Boebert and Greene doesn't show up on any of those lists, I'm afraid.

Oh, I forgot to mention that there was a brief power outage in the committee room during the hearing, and that Twitter had some system issues later in the day. Coincidence? tweeted Rep. Troy E. Nehls (R-Tex.) Uh, yes. Except maybe in the MAGA twilight zone.

You might think that all of this amounts to enough Republican self-sabotage for one week. But you would be wrong. https://www.washingtonpost.com/opinions/2023/02/09/republican-antics-congress-self-sabotage/
Dana Milbank: The Republican clown-car caucus is undermining itself
On Thursday, the House Judiciary select subcommittee on the weaponization of the federal government, chaired by Rep. Jim Jordan (R-Ohio), held its first hearing, with the aim of proving that the FBI and the Justice Department have somehow become … well, I don't know exactly what, but Sen. Ron Johnson (R-Wis.) planned to testify at the hearing, and this is what he wrote in his prepared opening remarks:
They operate as vital partners of the left wing political movement that includes most members of the mainstream media, Big Tech social media giants, global institutions and foundations, Democratic Party operatives and elected officials.
I will posit that every day Republicans spend trying to convince voters that the FBI is part of some global, hydra-headed, Bond-villain leftist cabal is a good day for the Democratic Party.
I can think of ways House Republicans could more profitably go about trying to highlight mistakes or shortcomings of the Biden administration. I suspect that House Speaker Kevin McCarthy (R-Calif.) can, too. But McCarthy owes his job to the MAGA extremists in his caucus, so the GOP majority's one chance to make a first impression is being squandered on conspiracy theories and personal grievances.
McCarthy can't afford to alienate any of his members, so he can't even rid his caucus of a confessed impostor, Rep. George Santos (R-N.Y.), despite calls by GOP leaders in Santos's own district for his ouster. Offended by Santos's presence at the State of the Union, Sen. Mitt Romney (R-Utah) confronted him publicly and then later described Santos as a sick puppy.
We need a strong Republican Party, former House speaker Nancy Pelosi (D-Calif.) told me Wednesday. She was serious — and she was right.
I did not share the GOP's philosophy, back when it had one. But I've always believed that progressive ideas are sharper, and progressive policies more effective, when they are challenged by thoughtful conservative ideas and policies.
Right now, we have one center-left political party — the Democrats — and one flaming hot mess of ego, resentment and paranoia. It's going to be a long two years.
https://www.washingtonpost.com/opinions/2023/02/09/republican-antics-congress-self-sabotage/
Andrew Sullivan: William Jefferson Biden Triangulates
I used to hate Bill Clinton's State of the Union speeches. He'd usually arrive inexcusably late; proceed to hug everyone within touching distance; then blather on for well over an hour about every policy minutia the DC wonk class obsesses over. One year, he was still talking an hour and a half in. Then he'd stay forever afterwards, incapable of saying goodbye, absorbing every milliliter of love he could drain from the crowd, and generally looking like he was having the time of his life.
I was bored silly. But you know what? People loved those speeches. They loved the laundry list of post-big-government specifics, and they loved the way Clinton effortlessly stole most of the right's policies, while appearing to be far saner and happier than any of them. And as I absorbed Biden's SOTU this week, it was Bill Clinton who came to mind, the last Democrat who merrily triangulated his way to a landslide re-election.
https://andrewsullivan.substack.com/p/william-jefferson-biden-triangulates-d3a
Karoun Demirjian: Heckling of Biden Reflects a New, Coarser Normal for House G.O.P.
The House floor has been no stranger to rowdy spectacle in 2023, but the eruptions of Republican vitriol against President Biden during his State of the Union address on Tuesday night underscored a new and notably coarse normal in Congress, where members of the G.O.P. majority tossed aside rules of decorum and turned the annual speech into a showcase for partisan hostility.

The raucous peals of liar, that's not true and at least one expletive lobbed at Mr. Biden during his 73-minute address dwarfed outbursts during previous such speeches, most of which have been interrupted by a single disturbance, if at all.

The display — captured in images of Representative Marjorie Taylor Greene, her mouth wide open as she booed and gave a thumbs down to the president — reflected the ethos that has come to define the Republican-led House, where an emboldened right wing that styles itself after former President Donald J. Trump is unapologetic about its antipathy for Mr. Biden and eager to show it in attention-grabbing ways. https://www.nytimes.com/2023/02/08/us/politics/biden-heckling-house-republicans.html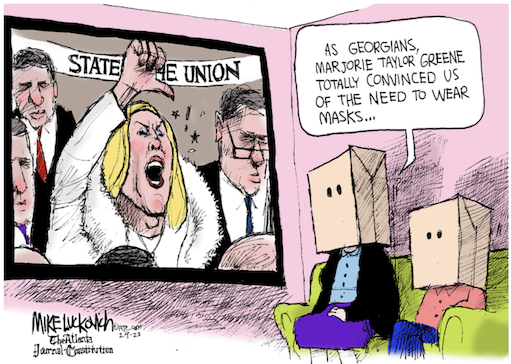 Kurt Bardella: House Republicans launched their big investigations this week. Guess how that went
The House's new GOP majority is ignoring a key principle I learned during my five years working for Republicans on the House Oversight Committee: Manage expectations. Its "make accusations first, get the facts never" approach to oversight is doomed to over-promise, under-deliver and fall flat with the vast majority of voters.

Knowing all that, you would think congressional Republicans would do their best to ensure that the first hearings would deliver the goods. No such luck.

Republicans used the inaugural hearing of the "Weaponization" committee it to advance baseless conspiracy theories about everyone from Hillary Clinton to Dr. Anthony Fauci. Their star witnesses were Republican Sens. Ron Johnson of Wisconsin and Charles E. Grassley of Iowa and Fox News personalities Tulsi Gabbard and Jonathan Turley — who, as you might expect, offered no evidence to substantiate GOP claims of bias within the Justice Department. When challenged by Democrats to produce witnesses, documents, notes and transcripts from whistleblowers that would substantiate the accusations, committee Chairman Jim Jordan (R-Ohio) refused.

Their strained efforts to prove there is a there there are backfiring spectacularly and raising serious questions about the basic competence of Jordan and Comer.

The American people have no appetite for such taxpayer-financed witch hunts. Most of the voters who pulled the lever for Republicans in the midterm elections couldn't care less about a member of the first family who doesn't even serve in the government. They're far more concerned about the economy and inflation.

House Republicans have overplayed their hand. Turning congressional hearing rooms into a Fox News set will only expose the new majority as thoroughly out of touch with the American people. https://www.latimes.com/opinion/story/2023-02-10/house-republicans-investigations-congress-biden-mccarthy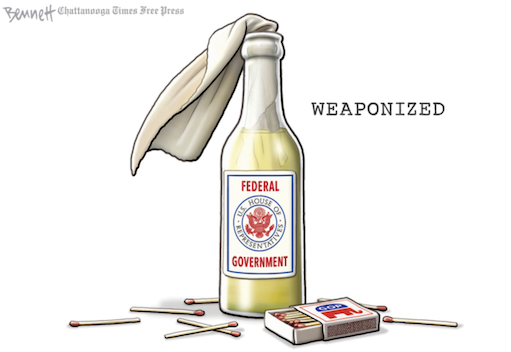 Stuart Stevens: Nikki Haley Threw It All Away
No political figure better illustrates the tragic collapse of the modern Republican Party than Nikki Haley. There was a time not very long ago when she was everything the party thought it needed to win. She was a woman when the party needed more women, a daughter of immigrants when the party needed more immigrants, a young change maker when the party needed younger voters and a symbol of tolerance who took down the Confederate flag when the party needed more people of color and educated suburbanites.
When Donald Trump ran in the 2016 Republican primary, Ms. Haley stood next to Senator Marco Rubio, the candidate she had endorsed, and eviscerated Mr. Trump as a racist the party must reject: "I will not stop until we fight a man that chooses not to disavow the K.K.K. That is not a part of our party. That is not who we want as president." She was courageous, fighting on principle, a warrior who would never back down. Until she did.
The politician who saw herself as a role model for women and immigrants transformed herself into everything she claimed to oppose: By 2021, Ms. Haley was openly embracing her inner MAGA with comments like, "Thank goodness for Donald Trump or we never would have gotten Kamala Harris to the border." In one sentence, she managed to attack women and immigrants while praising the man she had vowed never to stop fighting. She had gone from saying "I have to tell you, Donald Trump is everything I taught my children not to do in kindergarten" to "I don't want us to go back to the days before Trump."
https://www.nytimes.com/2023/02/13/opinion/nikki-haley-republican-party.html
Jonathan Last: The Trouble with Nikki
A Nikki Haley candidacy is premised on the idea that she is Not Trump. The theory behind this is that the Republican electorate's preferences in 2024 can be divided into 'Trump' and 'Not Trump' lanes and that if Haley can win the Not Trump primary and then consolidate those voters, then she can win a head-to-head matchup against Big Orange.
But I want to put this in bold: There is no 'Not Trump' lane.
Let me explain. The DeSantis challenge to Trump isn't that Meatball Ron is 'Not Trump'—it's that he's 'Trump Plus.' The DeSantis electoral proposition is that he will give you everything Trump does—all of the fighting, the illiberalism, the culture war, the lib owning, the news cycle domination, the mean tweets.
The only difference is that DeSantis is more electorally viable. In other words, Trump and DeSantis are fighting over the same 85 percent of the Republican electorate.
Nikki Haley and anyone else who jumps in trying to be Not Trump is fighting over the remaining 15 percent.
https://thetriad.thebulwark.com/p/the-trouble-with-nikki
Paul Krugman: The G.O.P.'s Long War Against Medicare and Social Security
First of all, if Republicans had absolutely no desire to make major cuts to America's main social insurance programs, why would they sunset them — and thus create the risk that they wouldn't be renewed? As Biden might say, c'mon, man.
And then there's that historical record. Two things have been true ever since 1980. First, Republicans have tried to make deep cuts to Social Security and Medicare every time they thought there might be a political window of opportunity. Second, on each occasion they've done exactly what they're doing now: claiming that Democrats are engaged in smear tactics when they describe G.O.P. plans using exactly the same words Republicans themselves used.
https://www.nytimes.com/2023/02/13/opinion/columnists/republicans-medicare-social-security.html