September 13, 2018
ON THE RECORD. . .
"It's like the horror movies when everyone realizes the call is coming from inside the house."-- A former White House official after the publication of the Times op-ed, penned anonymously by a senior official.
"We're supposed to stand up to discrimination. And we're sure as heck supposed to stand up clearly and unequivocally to Nazi sympathizers. How hard can that be, saying that Nazis are bad?" -- Barak Obama in Urbana, Ill.
"Trump pursues no deep or subtle strategies. He does not even consistently seek his own interests. He responds like a child or a narcissist — but I repeat myself — to positive or negative stimulation. It is the reason that Trump's lawyers, in the end, can't allow him to be interviewed by Robert Mueller. It would be like a 9-year-old defending a PhD dissertation. Or maybe a rabbit jumping into a buzz saw." -- Michael Gerson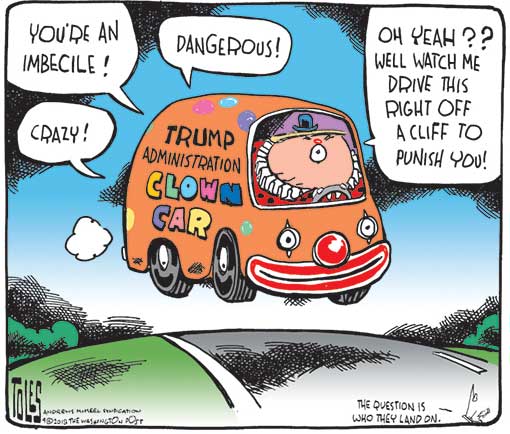 "Meetings with him veer off topic and off the rails, he engages in repetitive rants, and his impulsiveness results in half-baked, ill-informed and occasionally reckless decisions that have to be walked back. It will be like this next week, through the midterms, and to the end. -- John Cassidy
"Hey Mike and John, could you do me a favor? Create some libel laws that when people say stuff bad about you, you could sue them." — Trump, quoted by the Sioux Falls Argus Leader, to Sens. Mike Rounds (R-SD) and John Thune (R-SD).
 "Nixon's playbook for dirty tricks and abuse of power and political espionage is a useful source of questions for any investigation of an impulsive, erratic and potentially criminal presidency. We'll be watching. The Nixon presidency makes us smarter as we try to make sure that our presidents don't do what Nixon did." -- Timothy Naftali, a New York University historian who directed the Richard Nixon Presidential Library and Museum.
"We're in a challenging moment because, when you look at the arc of American history, there's always been a push and pull between those who want to go forward and those who want to look back, between those who want to divide and those are seeking to bring people together, between those who promote the politics of hope and those who exploit the politics of fear." -- Former President Barack Obama  in Anaheim on Saturday.
"As long as he's here, I'm here." — House Minority Leader Nancy Pelosi (D-CA), saying that she won't retire until Donald Trump is no longer president.
"I've never seen an instance when the President is so detached from the reality of what's going on. This has not been treated seriously enough. Some of the things Trump did and does jeopardize the real national security." — Bob Woodward, to Savannah Guthrie on NBC News,
"Arizona, Nevada, Tennessee, Montana, North Dakota, Missouri, Indiana, West Virginia and Florida. All of them too close to call and every one of them like a knife fight in an alley; I mean, just a brawl in every one of those places. I hope when the smoke clears, that we'll still have a majority in the Senate." — Senate Majority Leader Mitch McConnell (R-KY)
"The instability of the commander in chief is frightening. The circus that is the Trump White House is constantly titillating. But Democrats would be wiser to focus not just on Trump's inanities but also on the real damage that he and his Republican allies are doing to our country." --Katrina vanden Heuvel
---
IN THIS ISSUE
FYI
OPINION
1.  Andy Borowitz: Nation Stunned That There Is Someone in White House Capable of Writing an Editorial
Millions of Americans were startled by the revelation on Wednesday afternoon that there was someone working in the Trump White House capable of writing an entire editorial, reports indicate.

In a nation already rocked by a series of bombshells since Labor Day, the news that an anonymous senior White House official had the command of the English language necessary to compose a seemingly coherent Op-Ed piece suitable for publication in a major newspaper was perhaps the most improbable development of all.

Davis Logsdon, a professor of linguistics at the University of Minnesota, said that a team of language experts under his supervision has studied the Op-Ed word by word and is "in a state of disbelief" that someone currently working for Donald J. Trump could have written it.

"There are complete sentences, there are well-structured paragraphs, there is subject-verb agreement," he said. "This does not appear to be the work of any White House staffer we're familiar with."

Stressing that he and his team of linguists are "not even close" to determining the author, Logsdon said that they were currently using the process of elimination to whittle down the list of possible scribes.

"Based on the mastery of language that we see here, it's not Sarah Huckabee Sanders, John Kelly, Stephen Miller, or Kellyanne Conway, and it's definitely not Jared," he said. https://www.newyorker.com/humor/borowitz-report/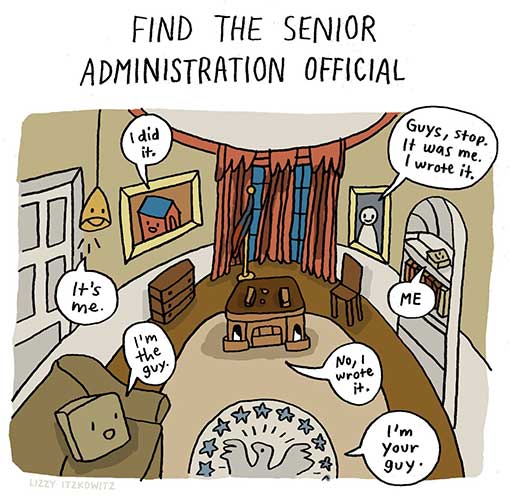 2. Trump admin rejected report showing refugees did not pose major security threat
"The Trump administration has consistently sought to exaggerate the potential security threat posed by refugees and dismissed an intelligence assessment last year that showed refugees did not present a significant threat to the U.S.," three former senior officials told NBC News.
"Hardliners in the administration then issued their own report this year that several former officials and rights groups say misstates the evidence and inflates the threat posed by people born outside the U.S." https://www.nbcnews.com/politics/immigration/trump-admin-rejected-report-showing-refugees-did-not-pose-major-n906681
3. CNN Poll: Trump approval down 6 points in a month, hits low among independents
A new CNN/SSRS poll finds President Trump's approval rating has dropped six percentage points in the last month, 36% to 58%.
Among independents, the drop has been sharper, from 47% approval last month to 31% now. That's 4 points below his previous 2018 low of 35% approval among political independents in CNN polling, and 1 point below his previous all-time low among independents in CNN polling, reached in November 2017.
Trump's numbers have slipped amid the release of an op-ed in The New York Times and reports about the Bob Woodward book that will be released Tuesday. Both paint a picture of a White House in chaos, with staffers actively thwarting the President's agenda. https://www.cnn.com/2018/09/10/politics/cnn-poll-trump-approval-independents/index.html
4. Trump admin wants ability to hold immigrant kids indefinitely, upending decades-old ban
The Trump administration announced a new rule Thursday that would allow immigrant children with their parents to be held in detention indefinitely, upending a ban on indefinite detention that has been in place for 20 years.
The rule, proposed by the departments of Homeland Security and Health and Human Services, goes into effect in 60 days and will allow Immigration and Customs Enforcement (ICE) to keep children with their mothers in detention facilities while their cases for asylum play out in court. https://www.nbcnews.com/politics/immigration/trump-admin-plans-hold-migrant-kids-indefinitely-defying-decades-old-n907006
5. Kavanaugh's Problem Isn't What He Said in His Hearings. It's Trump.
While I don't share the accusations of perjury against his Senate testimony, there's no question in my mind that there is a long con going on in which a jurist dedicated to a constitutional counterrevolution is being elevated to the Supreme Court under a false flag of moderation. But I doubt the general public has figured out the games he and his supporters are playing, beyond a healthy suspicion of what a president like Donald Trump might do to the Constitution if given too much power to shape SCOTUS. Kavanaugh is mostly unpopular because his presidential benefactor is unpopular, and the GOP is apparently willing to take a lot of risks to support both of them. --Ed Kilgore http://nymag.com/daily/intelligencer/2018/09/kavanaughs-polling-position-weighed-down-by-trump.html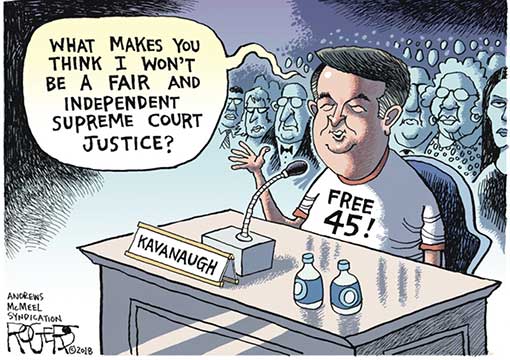 6. Watergate memories spring to life with Trump's troubles
The White House seethes with intrigue and backstabbing as aides hunt for the anonymous Deep (state) Throat among them. A president feels besieged by tormentors — Bob Woodward is driving him crazy — so he tends his version of an enemies list, wondering aloud if he should rid himself of his attorney general or the special prosecutor or both.
For months, the Trump administration and its scandals have carried whiffs of Watergate and drawn comparisons to the characters and crimes of the Nixon era. But this week, history did not just repeat itself, it climbed out of the dustbin and returned in the flesh. https://apnews.com/b527b31348644e07b9439abab36c1309/Echoes-of-Watergate-in-Trump-tumult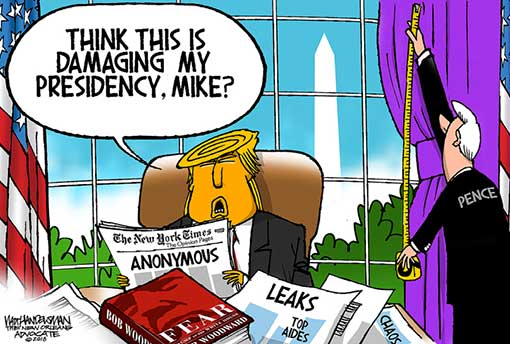 7. Their new mission? Foil Trump. Ex-intelligence officials run for Congress as Democrats.
Fed up with what they see as Trump's disdain and distrust of the intelligence community — and his refusal to embrace fully the conclusion that Russia interfered in the 2016 election — an unusually large number of former intelligence officers and operatives are campaigning for office as emocrats in this fall's midterm elections, according to experts."
All agree that their decision to run began with the current commander-in-chief. https://www.nbcnews.com/politics/congress/their-new-mission-foil-trump-ex-intelligence-officials-run-congress-n907291
8. Obama vs. Trump: The clash everyone has waited for arrives
Friday was the day Republicans and Democrats and pretty much every reporter and political obsessive has been dreaming of — the two presidents who couldn't be more different, who are both the throbbing hearts of their own bases and the nightmare of the others' — going head to head.
Six weeks before the midterms that are existential for both of their visions of the future, Obama unleashed for the first time with an indictment of Trump and Republicans that stopped just short of calling them traitors to the American ideal. Trump, who's been swiping at Obama on Twitter and other appearances almost every chance he gets and months ago said Democrats who didn't clap for his state of the union address had committed treason, made a joke about sleeping through it. A few hours later, he congratulated himself for the joke. https://www.politico.com/story/2018/09/07/obama-trump-speech-2018-811257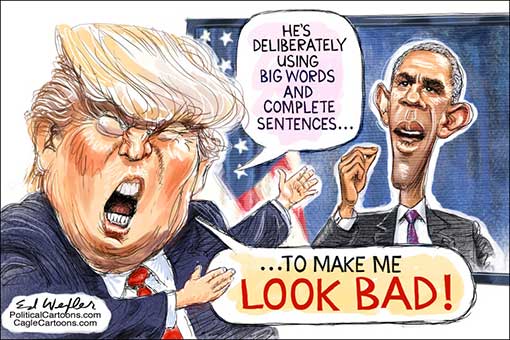 9. The DAILY GRILL
Just like the NFL, whose ratings have gone WAY DOWN, Nike is getting absolutely killed with anger and boycotts. I wonder if they had any idea that it would be this way? As far as the NFL is concerned, I just find it hard to watch, and always will, until they stand for the FLAG! — Donald J. Trump (@realDonaldTrump) September 5, 2018

VERSUS

Nike is currently the 52nd most-popular stock on the brokerage, and has seen its holdings skyrocket thanks to the campaign. Twenty-two thousand investors currently hold the stock on the app, Robinhood's website shows, up 18% from less than a week ago, according to Business Insider's tracking of the data. -- Business Insider

 

Mr. Trump has denied that he called Attorney General Jeff Sessions 'mentally retarded' or a 'dumb Southerner,' as the book reports. 'I said neither, never used those terms on anyone, including Jeff, and being a southerner is a great thing." -- New York Times

VERSUS

"Mr. Trump has used the phrase 'mentally retarded' on recorded radio shows that have been unearthed this week. And in a previously unreported incident, a journalist who used to interact with Mr. Trump during his days as a real estate developer in New York said this week that he even used the phrase 'dumb southerner' to describe his own in-laws." -- New York Times

 

"President Trump would need a magic wand to get to 4% GDP," stated President Obama. I guess I have a magic wand, 4.2%, and we will do MUCH better than this! We have just begun.— Donald J. Trump (@realDonaldTrump)

VERSUS

There's just one problem — Obama never actually uttered the quote attributed to him by Trump.-- Think Progress
10. From MEDIA MATTERS (They watch Fox News so you don't have to)
Fox's Brian Kilmeade agrees with Trump that the anonymous NY Times op-ed constitutes "treason."  Kilmeade: The president "tweeted out one word, 'Treason.' And it is."  https://www.mediamatters.org/video/2018/09/06/foxs-brian-kilmeade-agrees-trump-anonymous-ny-times-op-ed-constitutes-treason/221211

Hannity guest says "science and real data and true psychological theory" shows Trump "is the most sound-minded person to ever occupy the White House" https://www.mediamatters.org/video/2018/09/05/hannity-guest-says-science-and-real-data-and-true-psychological-theory-shows-trump-most-sound-minded/221206

Sean Hannity: "Secret Service now must do everything within their power" to find anonymous op-ed author. Hannity: "One way or another? What is one way or another? Voted out? Impeached? Die in office? Is that a veiled threat? Where's the Secret Service?"  https://www.mediamatters.org/video/2018/09/07/sean-hannity-secret-service-now-must-do-everything-within-their-power-find-anonymous-op-ed-author/221249

Sean Hannity falsely claims George Papadopolous wasn't part of Trump campaign following his sentencing. Hannity: "Seriously, this guy wasn't even a part of the campaign for crying out loud." https://www.mediamatters.org/video/2018/09/07/sean-hannity-falsely-claims-george-papadopolous-wasnt-part-trump-campaign-following-his-sentencing/221246

What Trump's Fox News cabinet is urging him to do right now. Trump's on-air advisers: Release DOJ docs, attack social media "bias," shut down the government. https://www.mediamatters.org/blog/2018/09/10/what-trumps-fox-news-cabinet-urging-him-do-right-now/221257

Rush Limbaugh on Hurricane Florence: "The forecast and the destruction potential doom and gloom is all to heighten the belief in climate change." Limbaugh: "Hurricanes and hurricane forecasting is like much else that the left has gotten its hands on, and they politicize these things."  https://www.mediamatters.org/video/2018/09/11/rush-limbaugh-hurricane-florence-forecast-and-destruction-potential-doom-and-gloom-all-heighten/221278

NRA spokesperson: Dallas shooting in which a cop killed a man in his own home "could have been very different" if the victim "was a law abiding gun owner."  https://www.mediamatters.org/video/2018/09/11/nra-spokesperson-dallas-shooting-which-cop-killed-man-his-own-home-could-have-been-very-different-if/221269

Infowars uses 9/11 anniversary to promote conspiracy theories about the attacks, sell products on Facebook. https://www.mediamatters.org/blog/2018/09/11/infowars-uses-911-anniversary-promote-conspiracy-theories-about-attacks-sell-products-facebook/221272
11. From the Late Shows
The Late Show with Stephen Colbert: A Damning Op Ed Distracts Trump From A Damning Book https://www.youtube.com/watch?v=KwA1vUVodPc&feature=youtu.be

The Daily Show with Trevor Noah: The New York Times Drops Shocking Anonymous Op-Ed https://youtu.be/whQE6JnNoqM

The Daily Show with Trevor Noah: Obama Lights Up Donald Trump: https://youtu.be/mW-C7WE1xOs

Late Night with Seth Meyers: Trump Attacks Woodward, Demands Op-Ed Investigation: A Closer Look: https://youtu.be/OxwOsHHsv8I
12. Late Night Jokes for Dems
Jimmy Fallon

Bob Woodward's book, "Fear: Trump in the White House," hit stores today. It's expected to be a No. 1 best-seller, until another tell-all book about Trump comes out tomorrow.

At one store in Washington, people were lined up to buy the book at midnight. It was awkward when Trump drove by, looked out the window, and was like, "Melania?"

Everyone is preparing for Hurricane Florence as it heads toward the East Coast. Today in the Oval Office, Trump spoke about the storm. He really knows what he's talking about. He said "They haven't seen anything like what's coming at us in 25, 30 years. Maybe ever. It's tremendously big and tremendously wet. But don't worry, I'm building an ark. And Mexico is going to pay for it."

Seth Meyers

After former President Obama delivered a speech on Friday criticizing President Trump, Trump said that he tried to watch the speech but fell asleep, adding, "I found he's very good, very good for sleeping." I know, right? When he was president, we all slept so soundly.

White House Press Secretary Sarah Huckabee Sanders held her first press briefing today in almost three weeks. And you could tell she was a little rusty — because she almost answered a question.

Press Secretary Sarah Huckabee Sanders said yesterday that the White House is not considering conducting lie detector tests to uncover the author of the mous op-ed published in The New York Times. Because putting a lie detector in the White House would be like putting a smoke detector in Willie Nelson's dressing room.

According to journalist Bob Woodward's new book, Sen. Lindsey Graham once urged President Trump to encourage the Chinese government to assassinate North Korean leader Kim Jong Un and replace him with someone they control. Said Trump, "You mean Kung Fu Panda?"

Jimmy Kimmel

Today President Trump gave a briefing about the government's plan for Hurricane Florence. Sensing the seriousness of the occasion, Trump respectfully didn't make the whole thing about himself — for almost a minute. Then he reminded everybody what a great job he did with the last hurricane. I think that Puerto Rico was an incredible, unsung success." He's right. It was definitely unsung. Maybe because no one could plug in their mics because it took 11 months to restore power.

James Corden

During an interview yesterday, Bob Woodward, the veteran journalist and author of a new book detailing the chaos and insanity inside the Trump administration, concluded by saying that people need to "wake up" to what's going on in the White House. Wake up? We're awake, Bob! We're awake! I haven't had a full night's sleep in two years!
13. Democrats Vow They'll Get Trump's Tax Returns
Democrats are vowing to get their hands on President Trump's tax returns if they are able to win back the House majority in November.
Said Rep. Bill Pascrell (D-NJ): "I'm definitely going to bring it up if we don't have them by then — that's a definite."
The Democrats contend existing law empowers the tax-writing committees to access a president's tax history. If the House flips, they say they'll use their gavels to move swiftly to do just that. http://thehill.com/policy/finance/405463-dems-vow-to-grab-trump-tax-returns-upon-taking-majority
14. Obama won't hold 'punches' as he kicks off midterm campaign push
Former President Barack Obama is set to launch a political offensive designed to focus his party's energies in the midterm elections, breaking from his self-imposed political exile with a message that will draw a sharp contrast with President Donald Trump.
Since leaving the White House, Obama has taken pains to remain above the political fray — sometimes to the disappointment of his fellow Democrats who've lacked a national voice to rally behind in opposing the new administration. But even as he may not target Trump by name, "no one will come away thinking he held back or held his punches," a source close to the former president told NBC News. https://www.nbcnews.com/politics/elections/obama-won-t-hold-punches-he-kicks-midterm-campaign-push-n907241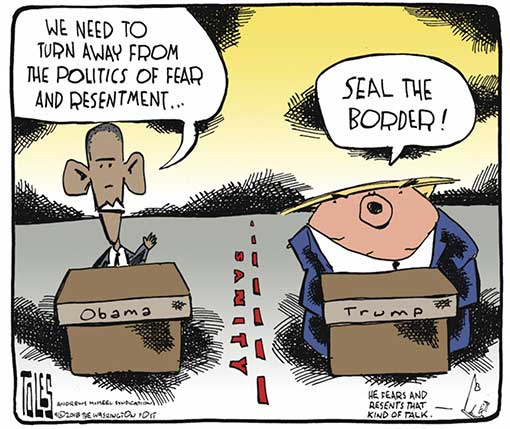 15. Trump inauguration crowd photos were edited after Trump intervened
A government photographer edited official pictures of Donald Trump's inauguration to make the crowd appear bigger following a personal intervention from the president. 
The photographer cropped out empty space 'where the crowd ended' for a new set of pictures requested by Trump on the first morning of his presidency, after he was angered by images showing his audience was smaller than Barack Obama's in 2009." https://www.theguardian.com/world/2018/sep/06/donald-trump-inauguration-crowd-size-photos-edited
16. U.S. expects to hit $1 trillion deficit earlier than planned
The U.S. deficit grew by $222 billion from this time last year — reaching a total of $895 billion, according to the nonpartisan Congressional Budget Office.
This increase was due mostly to the new Republican tax law and Congress' routine decision to increase spending, which grew by 7% compared to revenue growth of only 1%. The CBO now says the deficit will approach $1 trillion by the end of this fiscal year, but in April the agency didn't expect the deficit to reach $1 trillion until 2020. https://www.axios.com/deficit-grows-222-billion-tax-laws-debt-us-trump-de9f61f5-5d8e-437b-ad36-bd7640349059.html
17. House GOP is pushing a new round of tax cuts that could cost $2 trillion over 10 years
House Republicans bracing for November's midterm elections unveiled a second round of tax cuts on Monday that could add more than $2 trillion to the federal deficit over a decade, aiming to cement the steep cuts they passed last fall despite criticisms of fiscal profligacy and tailoring their policies to help the rich.
The GOP's "tax reform 2.0" aims to make permanent the tax cuts for individuals that President Trump signed into law in December 2017, including the law's temporary reductions in individual filers' rates, a doubling of the Child Tax Credit, and cuts to the estate tax paid by a small fraction of the wealthiest families.
the price tag for extending them will be high. Brady's plan would add about $630 billion to the federal deficit by 2029, on top of the $1.9 trillion the law is already expected to cost when factoring for higher interest payments, Congress' Joint Committee on Taxation said on Tuesday. https://www.washingtonpost.com/business/2018/09/11/house-gop-is-pushing-new-round-tax-cuts-that-could-cost-trillion-over-years/
18. At-Risk Republicans Say No to New Tax Bill
The White House and top congressional Republicans want to push for a House vote on a second round of tax cuts ahead of the midterms in hopes of bolstering their economic pitch to voters – but they're running into opposition within their own party.
GOP leaders conceived of the second tax bill as a messaging win that would put Democrats on their heels ahead of the midterms, forcing them to vote against tax relief for the middle class. But the concerns over the bill are largely flowing from the Republican side, mainly from members fighting to keep hold of seats in suburban districts where President Trump is most unpopular – and that are key to the GOP's hopes of keeping their majority." https://www.politico.com/story/2018/09/09/house-republicans-tax-bill-trump-midterms-811255
19. Rudy Giuliani's ex to pen tell-all book about him and his career
Rudy Giuliani's feisty soon-to-be ex-wife Judith Nathan Giuliani is writing an explosive book about her estranged husband and his inner circle of powerful allies," the New York Post reports.
"A source close to Judith said she has been in talks with at least three publishing houses about her book, which promises to lift the lid on the private side of President Trump's prevaricating personal lawyer and the wealthy circles he operates in. https://pagesix.com/2018/09/04/rudy-giulianis-ex-to-pen-tell-all-book-about-him-and-his-career/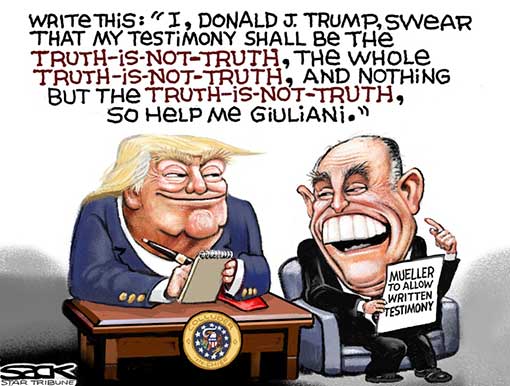 20. Trump Administration Wants to Make It Easier to Release Methane Into Air
The Trump administration, taking its third major step this year to roll back federal efforts to fight climate change, is preparing to make it significantly easier for energy companies to release methane into the atmosphere.
Methane, which is among the most powerful greenhouse gases, routinely leaks from oil and gas wells, and energy companies have long said that the rules requiring them to test for emissions were costly and burdensome.
The Environmental Protection Agency, perhaps as soon as this week, plans to make public a proposal to weaken an Obama-era requirement that companies monitor and repair methane leaks, according to documents reviewed by The New York Times. In a related move, the Interior Department is also expected in coming days to release its final version of a draft rule, proposed in February, that essentially repeals a restriction on the intentional venting and "flaring," or burning, of methane from drilling operations. https://www.nytimes.com/2018/09/10/climate/methane-emissions-epa.html
21. John Bolton threatens war crimes court with sanctions in virulent attack
John Bolton, the hawkish US national security adviser, has threatened the international criminal court (ICC) with sanctions and made an excoriating attack on the institution in a speech in Washington.
Bolton pushed for sanctions over an ICC investigation into alleged American war crimes in Afghanistan. He also announced on Monday the closure of the Palestine Liberation Organization (PLO) office in Washington because of its calls for an ICC inquiry into Israel.
"The United States will use any means necessary to protect our citizens and those of our allies from unjust prosecution by this illegitimate court," Bolton said. https://www.theguardian.com/us-news/2018/sep/10/john-bolton-castigate-icc-washington-speech
22. 'You didn't get our message': key Trump aide Stephen Miller condemned by childhood rabbi
The childhood rabbi to Stephen Miller, special adviser to Donald Trump and a key architect of his "zero-tolerance" immigration policies, criticized his former charge on Monday as a purveyor of "negativity, violence, malice and brutality" who had learned nothing from his Jewish spiritual education. https://www.theguardian.com/us-news/2018/sep/10/stephen-miller-trump-rabbi-neil-comess-daniels
23 12,800 migrant children are currently in government custody
HHS spokesman Kenneth Wolfe said 12,800 children are currently in the custody of the Office of Refugee Resettlement, a number that is higher than at any point during the family separation crisis earlier this year. Most of the children are held in permanent shelter facilities scattered across the country, but some are held in temporary tent shelters in Tornillo and in Homestead, Florida. The Obama administration also opened temporary shelters when the numbers of unaccompanied minors surged, including a 1,800-bed facility at Fort Bliss near El Paso in 2016. The average stay in ORR custody before release to a sponsor is now 59 days, Wolfe said, which is almost double the length of stay at the end of the Obama administration. https://www.texasmonthly.com/news/tornillo-tent-city-will-expand-to-hold-even-more-migrant-kids/
24. Trump administration took nearly $10 million from FEMA's budget to support ICE
The Trump administration took nearly $10 million from the Federal Emergency Management Agency's budget this summer to help boost U.S. Immigration and Customs Enforcement, according to budget documents shared with USA Today. https://www.usatoday.com/story/news/politics/2018/09/11/femas-budget-cut-10-million-support-ice-documents-show/1274723002/
1. Andrew Sullivan: We Are Trump's Hostages
Is there anything we know now that we didn't know, say, a month ago? Or a year ago? Or two years ago?
The Bob Woodward book has some astounding details — including evidenceof outright subordination by senior officials — but in its essence, it's just a much more reliable confirmation of the basic thrust of Michael Wolff's picture of complete chaos and near-insanity in the cockpit of the world's most powerful nation. The New York Times' anonymous op-ed falls into the same camp. From the moment very early on when we learned about the content of the deranged conversation between the president and Malcolm Turnbull, then prime minister of Australia, we knew that people in the White House had leaked it, in both an astonishing betrayal of confidence, and a clear attempt to warn the country of the unique danger this unfit president poses. Almost all the excellent reporting of the last year and a half has also been fed by constant distress signals from within the White House, where grown-ups have had to contend with a psychologically disturbed, delusional, and hugely ignorant president, who has no capacity or willingness to learn.
We also know that the president is unfocused, inarticulate, prone to tantrums like a 5-year-old, incapable of reading a memo that doesn't have big pictures or graphics on it, that he insults everyone, often explosively, as his mood fits, spends hours watching cable news, tweets like a distracted animal, and has lied and lied so much fact-checkers are close to exhaustion. And we know he is incapable of admitting a lie, issuing a correction, or adjusting to reality. We know he just makes things up all the time. We know all this because we have eyes and ears. You could see he was mentally unwell from his first day in office, when he made those surreal assertions about the size of his Inaugural crowd. (We now find out he actually had the photographs doctored subsequently to fit his own reality — that's how deranged he is.) This emperor has had absolutely no clothes from the very beginning. The only thing in doubt all along has been the Republican Party's complicity. http://nymag.com/daily/intelligencer/2018/09/andrew-sullivan-we-are-trumps-hostages.html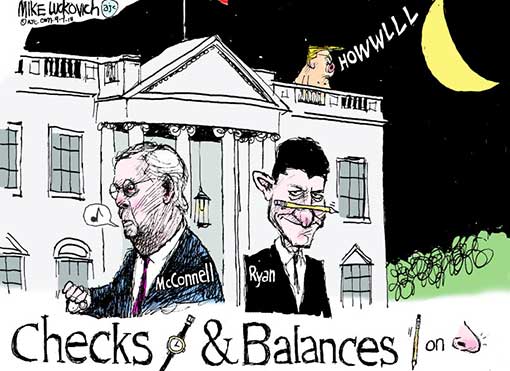 2. Dana Milbank: How many Benedict Arnolds can one administration hold?
"I'll write the real book!" says President Trump, vowing to counter the "scam" Bob Woodward has just published.
This is no idle threat. By the time his presidency is over, he may be the only one left to write a book. The rest of us will have gone to the gallows.
Trump has, by now, declared that virtually all those who have criticized him are guilty of the capital crime of treason. The group has just been expanded to include not just all Democrats, all journalists and several Republicans, but also some members of his own administration.
"This is treason," Trump informed his then-economic adviser, Gary Cohn, when Cohn attempted to resign after Trump's nice words for neo-Nazis in Charlottesville, according to Woodward's book.
Attorney General Jeff Sessions, likewise, was pronounced a "traitor" by Trump for recusing himself from the Russia investigation.
Two Benedict Arnolds in one young administration? Make that three. "TREASON?" Trump asked via Twitterafter an unnamed administration official criticized him in a New York Times op-ed last week. "Is it subversion? Is it treason?" he asked the next day. He answered his own question on Fox News: "Virtually, you know, it's treason." Trump regarded a personal embarrassment as a national security threat.
Woodward has left us with so many troubling images of Trump — incompetence, erratic behavior, ignoring advice — that it is a close competition to determine the most worrisome. I nominate Trump's Louis XIV-style belief that he is the state, that his self-interest and the national interest are the same.
News he doesn't like is "fake."
Actions he doesn't like are "illegal."
People he doesn't like are "traitors."
Trump says the famed journalist and author should be disbelieved because "I don't talk the way I am quoted." But Woodward's Trump sounds exactly like the Trump we hear daily. https://www.washingtonpost.com/opinions/how-many-benedict-arnolds-can-one-administration-hold/2018/09/11/780dd49e-b5fd-11e8-94eb-3bd52dfe917b_story.html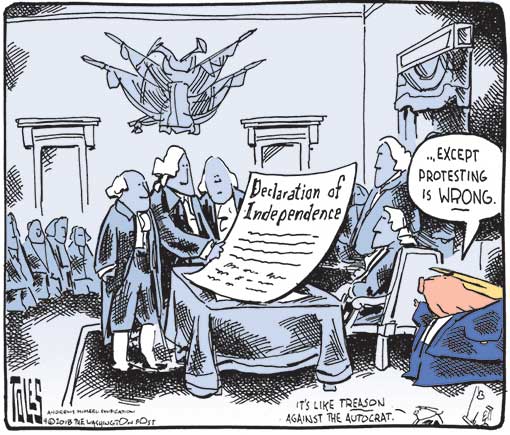 3.  Glenn Kessler: Anatomy of a Trump rally: 68 percent of claims are false, misleading or lacking evidence
More than two-thirds of every factual claim made by President Trump at two of his rallies turns out to be false, misleading or unsupported by evidence.
In July, The Fact Checker examined every factual claim made by the president at a rally in Montana. He returned to Montana on Sept. 6, and we decided once again to put every statement of material fact to the truth test to see whether the July rally was an outlier.
In July, 76 percent of his 98 statements were false, misleading or unsupported by the evidence. Last week the tally, out of 88 statements, was 68 percent. The average percentage for the two rallies was 72 percent.
Trump may have done slightly better, fact-wise, at the more recent rally because he spoke more about bills he had signed and actions he had taken. But he veered off course with his tendency to unnecessarily hype good economic data with assertions that it was the best in U.S. history.
We didn't double-count statements when the president repeated himself, or else the number of false claims would be higher. We avoided trivialities or opinions. (Two comments he made on Sept. 6 about Democratic candidates in other states might be fairly viewed as opinions, so they were not included.)
Here's a breakdown for the Sept. 6 rally: 36 false statements, 22 misleading statements and two unsupported claims. We also counted 28 accurate or mostly accurate statements.
All told, on Sept. 6, only 32 percent of his statements could be considered accurate or mostly accurate. At both events, at least 40 percent of his claims were false or mostly false.
Small wonder then that the president is on the cusp of surpassing 5,000 false or misleading claims since the start of his presidency, according to The Fact Checker's database. https://www.washingtonpost.com/politics/2018/09/12/anatomy-trump-rally-percent-claims-are-false-misleading-or-lacking-evidence/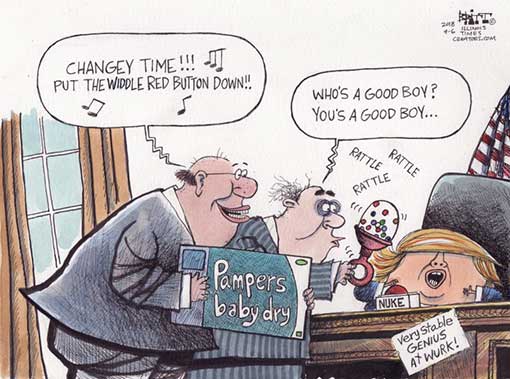 4. David Drucker: "The House Is Already Lost": As The Midterms Approach, G.O.P. Insiders Prepare For An Electoral D-Day
At this stage of the game, losing the House is the most likely proposition. It's just a matter of how bad it gets," said a disconsolate Republican strategist with clients on the ballot, describing the final, desperate scramble to rescue the G.O.P.'s 23-seat majority from an impeachment-happy opposition. In Washington, a familiar sort of fatalism has taken hold. Just weeks until early voting kicks off, a spate of fresh public-opinion polls show Democrats on the precipice of a resounding victory. Time is short; resources are dwindling, and the singular figure with the power to make or break the party—Donald Trump—seems pathologically incapable of standing down and letting a booming job market do the talking. "You have people imploring the president not to put them in a position that will harm them—and therefore harm him," a veteran G.O.P. operative said of Republican congressional leaders.
The pendulum of political power, which historically swings against the White House during the midterms, could be especially savage this year, given the sharp dissatisfaction with Trump in America's usually Republican-leaning suburbs. Washington's high-powered consulting class is betting on it. The lobby shops and advocacy organizations that play both sides and thrive on proximity to power are preparing for a changing of the gavel and moving to forge connections with Democratic committee chairmen in the House beginning in January of 2019, when the 116th Congress is seated. "Downtown, there is a sense that the House is already lost for Republicans," a G.O.P. lobbyist and former senior House aide told me. "There is a hiring spree for plugged-in House Democrats who want to lobby. So, downtown is already planning on the Democratic takeover; the bets are on how big the flip will be." https://www.vanityfair.com/news/2018/09/as-the-midterms-approach-gop-insiders-prepare-for-d-day
5. Joe Scarborough: Woodward's 'Fear' is damning, depressing — and heartening
Every damning and depressing detail in Bob Woodward's new book "Fear: Trump in the White House" is made more damning and depressing by the fact that the abhorrent behavior chronicled in crisp detail will come as no surprise to anyone who has served President Trump in the West Wing, or carried his political water on Capitol Hill.
Liar? Check. Ignorant and uninterested in issues? Check. Unconcerned with the consequences of his destructive actions on the country he serves? Check. Obsessed with his media image? Check. Crude, crass, undignified, vindictive, impulsive, juvenile and racially inflammatory? Check, check, check, check, check, check and check. https://www.washingtonpost.com/opinions/woodwards-fear-is-damning-depressing--and-heartening/2018/09/05/0a7ee502-b149-11e8-aed9-001309990777_story.html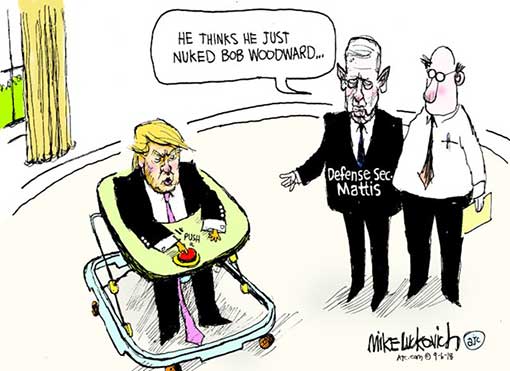 6. Greg Sargent: Trump's paranoid rage is getting worse. But the White House 'resistance' is a sham.
The New York Times piece, which is being widely treated as an internal resistance blueprint and marker of an important historical moment, is by an official who claims to be one of many "working diligently from within to frustrate parts of his agenda and his worst inclinations." But which agenda items, and which inclinations, exactly?
The faceless adviser's most specific complaints are about Trump's conciliatory approach to Russia and his trade policies. Beyond this, the lament is mostly that Trump is temperamentally unstable and fundamentally anti-democratic. He is "erratic" and prone to "repetitive rants." His attacks on the press are destructive to democracy, and he is badly damaging our "discourse."
Perhaps the most pointed charge is directed at Trump's "amorality." As the piece says: "Anyone who works with him knows he is not moored to any discernible first principles that guide his decision making."
Except in a sense, Trump absolutely does have "first principles," and these are precisely the problem. Among them are racism and white nationalism; the prioritization of self-enrichment over all else, even extending to a total lack of concern about foreign sabotage of our democracy, simply because he was its beneficiary; and the corrupt, intertwined convictions that law enforcement is merely an instrument of his political will and that he and his cronies should be protected from institutional accountability at all costs, no matter what damage is done along the way. https://www.washingtonpost.com/blogs/plum-line/wp/2018/09/06/trumps-paranoid-rage-is-getting-worse-but-the-white-house-resistance-is-a-sham/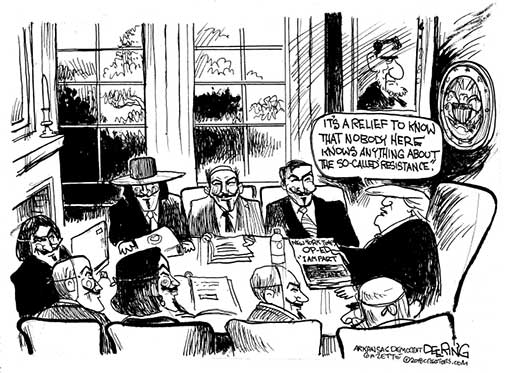 7. Brian Rosenwald: Our petulant president
With each new juicy and jaw-dropping anecdote from Bob Woodward's bombshell book Fear: Trump in the White House, which will be released next week, the truth about President Trump becomes ever more clear: He is the most unprepared and unworthy president in American history.
This is a man who reportedly called his own attorney general "mentally retarded," with the accent of a "dumb Southerner"; who felt condemning white supremacists was his "biggest f---ing mistake"; and who rather casually mused about want to "f---ing kill" Syria's Bashar al-Assad. (Trump, of course, says the whole book is full of "made up frauds, a con on the public.")
This much is clear: Almost every day President Trump violates a different norm or governing procedure. Whether it's contemplating a pardon that hasn't gone through the normal process or weighing in on policy because he saw something on Fox News, Trump routinely ignores decades or even centuries of precedents shaped by presidents of both parties.
Each time this happens, the left, and some on the right, react with alarm. They correctly observe that most of the safeguards in our democracy owe to norms and traditions, not legal barriers. They also point to ominous parallels from the past when democracy collapsed, replaced by dangerous authoritarians or fascists.
But these warnings miss something crucial: More evidence points to Trump being a petty, woefully unprepared person than a budding authoritarian with a master plan. Rather than trying to crush democracy, he is just trying to run the country as he ran his family company.
Trump's disregard for norms and protocols has unquestionably weakened our democracy, fractured relations with allies, and led to a series of poor, even cruel actions that have morally stained the country while harming millions. http://theweek.com/articles/793500/petulant-president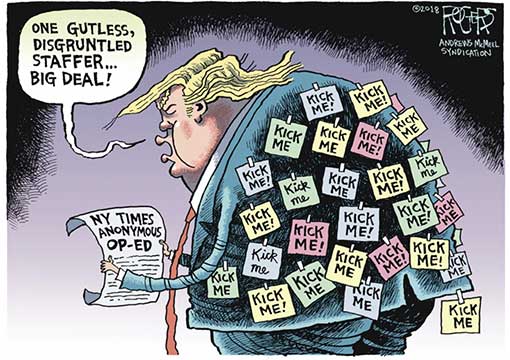 8. Susan B. Glasser: Crazytown: A Bob Woodward Book, an Anonymous New York Times Op-Ed, and a Growing Crisis for the Trump Presidency
I was about halfway through Bob Woodward's new account of the Trump Administration, "Fear: Trump in the White House," on Wednesday afternoon when the news cycle interrupted my reading: an anonymous Op-Ed by a "senior official in the Trump administration" had just been published by the Times, praising the "unsung heroes" inside the White House who have secretly been members of the same clandestine "resistance" chronicled in the Woodward book. "It may be cold comfort in this chaotic era," Anonymous wrote, "but Americans should know that there are adults in the room. We fully recognize what is happening. And we are trying to do what's right even when Donald Trump won't."
It was as if one of Woodward's sources had chosen to publish a real-time epilogue in the pages of the Times. Reading the Op-Ed, I immediately thought of an amazing passage in the book, which quoted a summary of a national-security meeting written by a White House official (and which never even made it into the news accounts about the book). It said, "The president proceeded to lecture and insult the entire group about how they didn't know anything when it came to defense or national security. It seems clear that many of the president's senior advisers, especially those in the national security realm, are extremely concerned with his erratic nature, his relative ignorance, his inability to learn, as well as what they consider his dangerous views."
Both the Op-Ed and the book convey the laments of conservatives who, in many respects, are fine with the Trump agenda but not with the man. That is, for now, what passes for the Republican wing of the resistance. So far, it is mostly underground, or perhaps still largely nonexistent; we don't really know. The Republicans who control Capitol Hill have not joined, or even made token moves toward addressing these significant concerns raised by members of their own party. Instead, the silence from the congressional G.O.P., awaiting its fate in the November midterm elections and still wary of crossing the President who remains popular with the Republican base, has been deafening. https://www.newyorker.com/news/letter-from-trumps-washington/crazytown-a-bob-woodward-book-an-anonymous-new-york-times-op-ed-and-a-growing-crisis-for-the-trump-presidency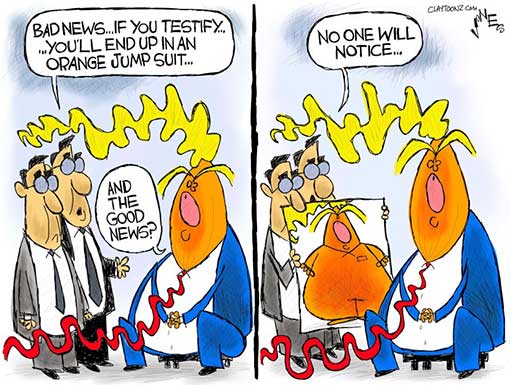 9. Michael Gerson: 'We Are a Superpower Run by a Simpleton'
Here is the increasingly evident reality of the Trump era: We are a superpower run by a simpleton. From a foreign policy perspective, this is far worse than being run by a skilled liar. It is an invitation to manipulation and contempt.
What we are finding from books, from insider leaks and from investigative journalism is that the rational actors who are closest to the president are frightened by his chaotic leadership style. They describe a total lack of intellectual curiosity, mental discipline and impulse control. Should the views of these establishment insiders really carry more weight than those of Uncle Clem in Scranton, Pa.? Why yes, in this case, they should. We should listen to the voices of American populism in determining public needs and in setting policy agendas — but not in determining political reality.
We should pay attention to the economic trends that have marginalized whole sections of the country. We should be alert to the failures and indifference of American elites. But we also need to understand that these trends — which might have produced a responsible populism — have, through a cruel trick of history, elevated a dangerous, prejudiced fool. Trump cannot claim the legitimacy of the genuine anxiety that helped produce him. The political and social wave is real, but it is ridden by an unworthy leader. The right reasons have produced the wrong man. https://www.washingtonpost.com/opinions/we-are-a-superpower-run-by-a-simpleton/2018/09/06/a39c8980-b205-11e8-9a6a-565d92a3585d_story.html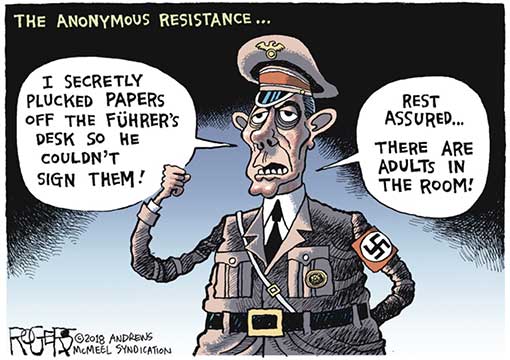 10. Gracy Olmstead: Trump is the navel-gazing president for our navel-gazing society
When a population becomes distracted by trivia, when cultural life is redefined as a perpetual round of entertainments, when serious public conversation becomes a form of baby-talk, when, in short, a people become an audience, and their public business a vaudeville act, then a nation finds itself at risk; culture-death is a clear possibility," Postman wrote.
Trump is both the progeny and propagator of this culture. Long before his political career, Trump dealt with constant tabloid attention. He was a reality television star, a New York City celebrity, and a bestselling author. He knows what audiences want; he knows how to offer a nonstop cycle of baby-talk and vaudeville, swagger and self-promotion. Trump loves attention, even when it's outraged attention, because he can sell the latter to his base and garner even more accolades and (you guessed it) attention. He's the navel-gazing president for a navel-gazing society.
It would be nice to have a president who drew out our virtues; who called us to be more than this, to turn away from our devices and the incessant cycle of internet outrage, and instead to strive to be good neighbors and citizens. It would be nice to have a president, perhaps, who asked us to consider what we might do for our country — or a president who appealed to the "better angels of our nature."
Maybe, just maybe, if we learn to respond to frenzy with calm, and to bombast with articulate thoughtfulness, we can starve the outrage machine a bit — and perhaps even reform it. http://theweek.com/articles/794163/trump-navelgazing-president-navelgazing-society