November 26, 2020
Donate now to help win the Jan. 5th Georgia Senate Runoffs
The voting rights group founded by Stacey Abrams is boosting the work of a network of grassroots organizations ahead of Georgia's Jan. 5 runoffs – not to finance more TV ads but to strengthen their get-out-the-vote apparatus. Contribute to "Fair Fight" at https://secure.actblue.com/donate/fair-fight-1
ON THE RECORD. . .
"Judging by his actions, Trump appears to have a motive other than overturning the election. He is determined to cripple Biden's presidency even before it becomes official. No defeated president has ever undertaken such an audacious and anti-democratic act." — Dan Balz

Mr. Trump is not playing out legitimate legal options. He is maneuvering to undo his defeat through lies and chicanery. Let us all remember who abetted this disgrace and who stood up to it. — Washington Post Editorial Board.

"He will eat his own children, I'm sure, if he found it prudent." — Atlanta Mayor Keisha Lance Bottoms on Trump turning on members of the GOP that don't support his agenda.

"Having failed to make even a plausible case of widespread fraud or conspiracy, the president has now resorted to overt pressure on state and local officials to subvert the will of the people and overturn the election. It is difficult to imagine a worse, more undemocratic action by a sitting American president." — Sen. Mitt Romney (R-UT) tweet

"We have never seen anything like this before. This is a president abusing his very great powers to try to stay in office, even though it is obvious to everyone that he has been defeated in the polls. That is a prospect that terrified most of the founders." — Presidential historian Michael Beschloss.

Trump is a "psychopathic nut." — Speaker Nancy Pelosi during a House Democratic leadership call.

He lost on Election Day & he is losing in the courts so DonaldTrump has returned to his roots & is now looking to coerce state & local officials in an effort to overturn the results. He is applying pressure & offering favors to the election. That is who he is. — Alexander S. Vindman, former NSC/ WH Staffer.

Giuliani's press conference was the most dangerous 1hr 45 minutes of television in American history. And possibly the craziest. If you don't know what I'm talking about, you're lucky. — Chris Krebs, the recently fired Director of the Cybersecurity and Infrastructure Security Agency in the DHS.

Trump's lawyers seem to have confused Michigan and Minnesota. In their filing alleging campaign fraud in Michigan, they listed townships in Minnesota. — Powerline

"The Party told you to reject the evidence of your eyes and ears. It was their final, most essential command." ― George Orwell, 1984

"Stop golfing and concede." — Maryland Gov. Larry Hogan (R), on Twitter.

When members of the House and Senate take office, they swear an oath to defend the Constitution against all enemies, foreign and domestic. At this moment, one of the greatest of those enemies can be found at the other end of Pennsylvania Avenue. It is time for Republican leaders to make that short drive. — Karen Tumulty

"The truth is that even if Trump's would-be coup looks like a con, even if it seems to be a clown show that's surely doomed to fail, it must still be taken seriously as long as it is happening," — Susan Glasser

"State election officials and judges throughout the country are serving as protectors of our democracy at a time when, frankly, Republican leaders in Washington, D.C., are failing miserably at the job, as are administration officials who have proven willing to degrade themselves, to serve the president's brittle spirit instead of the Constitution and the American people." — CNN's Jake Tapper

"We believe the ambitious electrification goals of the President-elect, California, and General Motors are aligned to address climate change by drastically reducing automobile emissions. We are confident that the Biden Administration, California, and the U.S. auto industry, which supports 10.3 million jobs, can collaboratively find the pathway that will deliver an all-electric future." — GM CEO Mary Barra in a letter to leaders of some of the nation's largest environmental groups.

"I know crimes, I can smell them. You don't have to smell this one, I can prove it to you."-- Giuliani to reporters as hair dye streaks ran down his face.

"At the end of the day, it's great for news. The news cycle is red-hot, and Newsmax is getting one million people per minute, according to Nielsen, tuning into Newsmax TV. I think it's good… Well, I believe that Donald Trump's been great for the news business. And I think there's nothing wrong in saying that." — Newsmax CEO Christopher Ruddy admitting that broadcasting speculative voter fraud claims is great for business.

"I don't get it… All these other Republicans, all over the country, they all win their races. And I'm the only guy that loses?" — Trump quoted by Politico.

VIDEOS:

Laurence Tribe On President Trump's Efforts To Undermine The Election.

A caller who is near tears and distraught over the presidential election results tells Rush Limbaugh that he's willing to die for Donald Trump.

Fifty Ways To Leave The White House - a Parody | Don Caron

Jordan Klepper Takes On the Million MAGA March

Before and After on "the very people" Trump hired. — ًً@someknew

This week's episode of, "Old Men Gone Wild" has been particularly creepy. — Ana Navarro-Cárdenas @ananavarro
Lest We Forget The Horrors: A Catalog Of Trump's Worst Cruelties, Collusions, Corruptions, And Crimes: The Complete Listing (So Far): Atrocities 1- 995
Early in President Trump's term, McSweeney's editors began to catalog the head-spinning number of misdeeds coming from his administration. We called this list a collection of Trump's cruelties, collusions, and crimes, and it felt urgent then to track them, to ensure these horrors — happening almost daily — would not be forgotten. This election year, amid a harrowing global health, civil rights, humanitarian, and economic crisis, we know it's never been more critical to note these horrors, to remember them, and to do all in our power to reverse them. https://www.mcsweeneys.net/articles/the-complete-listing-so-far-atrocities-1-995#update
---
IN THIS ISSUE
FYI
OPINION
1. Andy Borowitz: Trump Blasts Biden Cabinet's Lack of Reality-Show Experience
In a series of blistering tweets, Donald J. Trump ripped President-elect Joe Biden for choosing Cabinet members woefully lacking in reality-show experience.

Calling the Cabinet picks a "bunch of losers who have spent their lives working at desks," Trump questioned the team's preparedness to take on the challenges presented by today's complex reality-show landscape.

"These people have never earned an immunity idol, presided over a rose ceremony, or danced with a star," Trump said. "This is the best Sleepy Joe could do?"

He saved his most withering criticism for Janet Yellen, Biden's pick for Treasury Secretary. "If Joe really wanted a woman for this position, why didn't he choose one of the Real Housewives of Beverly Hills?" Trump asked. "They know a lot more about money than this clown."

Leaving aside Biden's failure to pack his Cabinet with experienced reality-show participants, Trump was baffled by his successor's decision to bypass other highly talented candidates. "Ivanka, Jared, Eric, and Don, Jr., are all looking for jobs," he said. https://www.newyorker.com/humor/borowitz-report/
2. Who needs Russia? Loudest attacks on US vote are from Trump
Russia didn't have to lift a finger.
In the weeks before the U.S. presidential election, federal authorities warned that Russia or other foreign countries might spread false information about the results to discredit the legitimacy of the outcome.
Turns out, the loudest megaphone for that message belonged not to Russia but to President Donald Trump, who has trumpeted a blizzard of thoroughly debunked claims to proclaim that he, not President-elect Joe Biden, was the rightful winner.
The resulting chaos is consistent with longstanding Russian interests to sow discord in the United States and to chip away at the country's democratic foundations and standing on the world stage. If the 2016 election raised concerns about foreign interference in U.S. politics, the 2020 contest shows how Americans themselves, and their leaders, can be a powerful source of disinformation without other governments even needing to do the work. https://apnews.com/article/donald-trump-loudest-attack-us-vote-bc653f799233e76dd60c27c37859d67b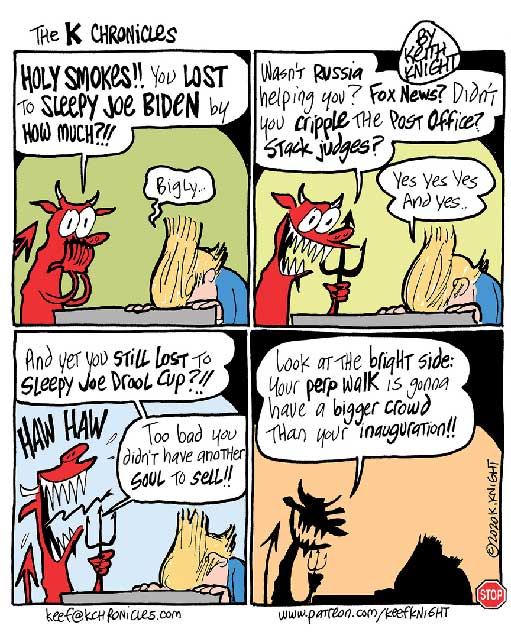 3. Biden transition names first Cabinet nominees
President-elect Joe Biden on Monday unveiled his nominations for top national security positions in his administration:
• Secretary of State: Tony Blinken (Mr. Blinken is a former aide to Mr. Biden, serving as deputy chief counsel to the Senate Foreign Relations Committee while Mr. Biden was chairman.)

• National Security adviser: Jake Sullivan (Mr. Sullivan was Biden's top national security aide and was also a senior aide to Secretary of State Hillary Clinton. He also played a key role in the negotiations leading to the 2015 Iran nuclear deal.)

• Department of Homeland Security Secretary: Alejandro Mayorkas (He would be the first Latino to run the department charged with managing the nation's immigration policies.)

• U.S. Ambassador to the United Nations: Linda Thomas-Greenfield (This will restore the job to cabinet-level status, giving Ms. Thomas-Greenfield, who is African-American, a seat on his National Security Council.)

• Special presidential envoy on climate: John Kerry (Kerry was a chief negotiator for the United States on the Paris climate change accord.)

• Janet L. Yellen as Treasury secretary, (This nomination would put a woman in charge of the Treasury for the first time in its 231-year history.) https://www.axios.com/biden-cabinet-john-kerry-national-security-eec142cf-7496-4d66-9b91-91ae3dbbe031.html
4. Trump Tax Write-Offs Are Ensnared in 2 New York Fraud Investigations
Two separate New York State fraud investigations into President Trump and his businesses, one criminal and one civil, have expanded to include tax write-offs on millions of dollars in consulting fees, some of which appear to have gone to Ivanka Trump, according to people with knowledge of the matter.
The inquiries — a criminal investigation by the Manhattan district attorney, Cyrus R. Vance Jr., and a civil one by the state attorney general, Letitia James — are being conducted independently. But both offices issued subpoenas to the Trump Organization in recent weeks for records related to the fees, the people said.
The subpoenas were the latest steps in the two investigations of the Trump Organization, and underscore the legal challenges awaiting the president when he leaves office in January. There is no indication that his daughter is a focus of either inquiry, which the Trump Organization has derided as politically motivated. https://www.nytimes.com/2020/11/19/nyregion/trump-fraud-investigations-taxes.html
5. Almost no Trump voters consider Biden the legitimate 2020 election winner
Joe Biden won the 2020 presidential election. Nearly every supporter of President Donald Trump thinks otherwise, according to a new CNBC/Change Research poll.
As the president makes unsubstantiated claims about electoral malfeasance and sows doubts about vote tallies, only 3% of Trump voters surveyed said they accept Biden's victory as legitimate, the survey released Monday found. A staggering 73% of respondents consider Trump the legitimate winner. Another 24% said they are not sure.
A mere 3% of Trump voters believe he should concede to Biden and start the peaceful transfer of power. Another 31% want the president to fight in court until states certify results. Two-thirds, or 66%, think Trump should never concede. https://www.cnbc.com/2020/11/23/2020-election-results-almost-no-trump-voters-consider-biden-the-winner.html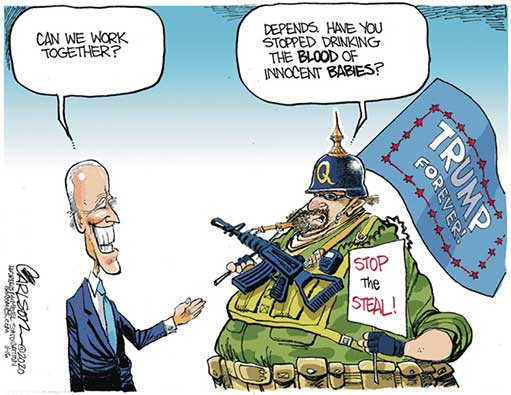 6. Trump Races to Weaken Environmental and Worker Protections, and Implement Other Last-Minute Policies, Before Jan. 20
Even as Trump and his allies officially refuse to concede the Nov. 3 election, the White House and federal agencies are hurrying to finish dozens of regulatory changes before Joe Biden is inaugurated on Jan. 20.
The rules range from long-simmering administration priorities to last-minute scrambles and affect everything from creature comforts like showerheads and clothes washers to life-or-death issues like federal executions and international refugees. They impact everyone from the most powerful, such as oil drillers, drugmakers and tech startups, to the most vulnerable, such as families on food stamps, transgender people in homeless shelters, migrant workers and endangered species. https://www.propublica.org/article/trump-races-to-weaken-environmental-and-worker-protections-and-implement-other-last-minute-policies-before-jan-20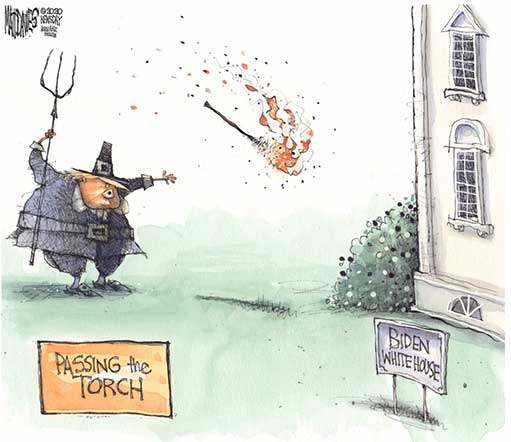 7. Since Election Day, a Lot of Tweeting and Not Much Else for Trump
In the three weeks since Election Day, President Trump's most visible presence has been on Twitter. Since Nov. 3, he has posted some 550 tweets — about three-quarters of which attempted to undermine the integrity of the 2020 election results.In total, the president attacked the legitimacy of the election more than 400 times since Election Day, though his claims of fraud have been widely debunked.
As Mr. Trump's attacks continue, the coronavirus pandemic rages on, worse than ever. More than 25,000 people in the United States have died from Covid in the past three weeks. https://www.nytimes.com/interactive/2020/11/24/us/politics/trump-twitter-tweets-election-results.html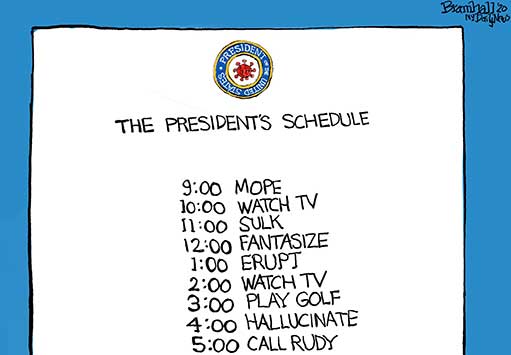 8. Roger Stone-Tied Group Claims Dems Are Framing Them as Republican Party Turncoats
Conservative operatives and a super PAC with ties to infamous GOP dirty trickster Roger Stone are calling for Trump supporters to punish Republicans by sitting out Georgia's crucial Senate runoffs or writing in Trump's name instead."
And though their efforts remains on the party's fringes, the trajectory of the movement has Republicans fearful that it could cost the GOP control of the Senate. https://www.thedailybeast.com/roger-stone-tied-group-threatens-gop-if-trump-goes-down-so-does-your-senate-majority
9. City of El Paso hires legal counsel to help collect Trump campaign's outstanding debt
The City of El Paso is taking further steps in attempts of collecting more than $500,000 that's owed by the Trump campaign from a rally that took place almost two years ago.
It's almost the end of November and with obstacles throughout the year due to COVID-19, the City has been waiting since February 2019 on money that's been owed from the Trump campaign. https://www.ktsm.com/news/city-of-el-paso-hires-legal-counsel-to-help-collect-trump-campaigns-outstanding-debt/
10. Biden is first candidate in US history to cross 80M votes
The nonpartisan Cook Political Report on Tuesday indicated that the Biden/Harris ticket had gained roughly 51% of the popular vote with 80,070,466 ballots, while Trump/Pence received 47.1 percent with 73,890,413.
The record-breaking numbers are an attestation to how many more Americans participated in the election compared to previous elections. Additionally, the number of voting-eligible Americans has grown, as did voter enthusiasm. https://www.usatoday.com/story/news/politics/elections/2020/11/24/election-updates-all-eyes-white-house-turkey-pardon-trump-day-after-gsa-ascertains-biden-election-wi/6403253002/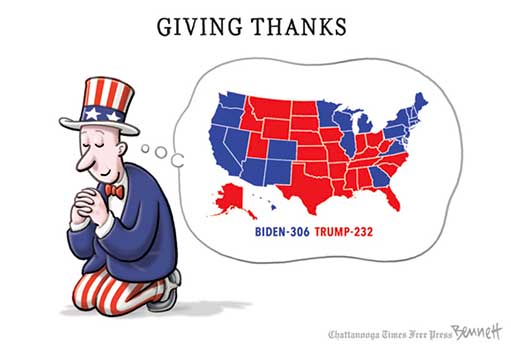 11. Congressman seeks to have Rudolph Giuliani disbarred over attempts to overturn election
Rep. Bill Pascrell Jr. (D-N.J.) filed complaints on Friday in five states against Giuliani and 22 other lawyers working with the Trump campaign, calling for them to be stripped of their law licenses for filing "frivolous" lawsuits and allegedly engaging in "conduct involving dishonesty, fraud, deceit, or misrepresentation."
"Donald Trump has done great damage to this nation — but he has always had helpers. These lawyers are enabling his treachery and harming our democracy," Pascrell told The Post through a spokesperson Monday. He called the campaign legal team's effort to overturn election results with frivolous lawsuits "misconduct and an affront to the rule of law." https://www.washingtonpost.com/politics/2020/11/24/rudy-giuliani-disbar/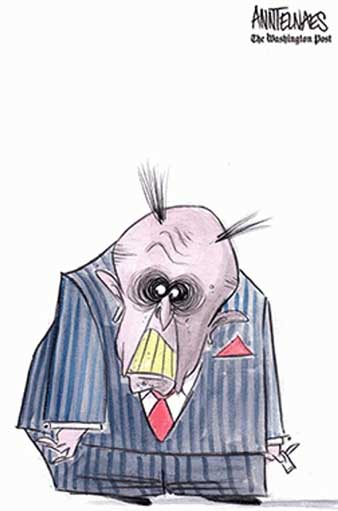 12. GA secretary of state: My family voted for Trump. He threw us under the bus anyway.
"By all accounts, Georgia had a wildly successful and smooth election. We finally defeated voting lines and put behind us Fulton County's now notorious reputation for disastrous elections. This should be something for Georgians to celebrate, whether their favored presidential candidate won or lost. For those wondering, mine lost — my family voted for him, donated to him and are now being thrown under the bus by him." — Brad Raffensperger (R) https://www.usatoday.com/story/opinion/voices/2020/11/25/georgia-secretary-of-state-election-integrity-2020-column/6407586002/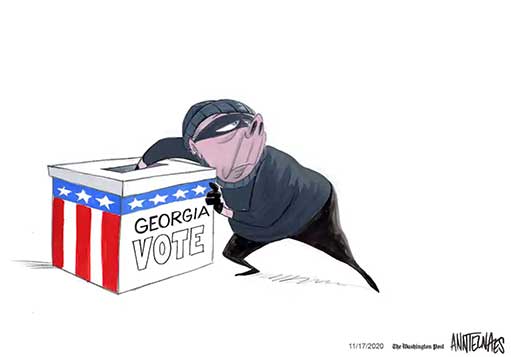 13. G.M. Drops Its Support for Trump Climate Rollbacks and Aligns With Biden
General Motors turned its back Monday on the Trump administration's legal fight to nullify California's strict fuel economy rules, signaling that it was ready to work with President-elect Joseph R. Biden Jr. to reduce climate-warming emissions from cars and trucks.
The decision by Mary Barra, the General Motors chief executive, to withdraw her company's support for Trump administration efforts to strip California of its ability to set its own fuel efficiency standards was a striking reversal. It was also a signal that corporate America is moving on from President Trump.
More specifically, it was a sign that Mr. Biden may find the auto industry amenable as he tries to reinstitute and rebuild Obama-era climate change regulations that Mr. Trump systematically dismantled, at times with the help of industry. https://www.nytimes.com/2020/11/23/climate/general-motors-trump.html
14. White House killed deal to pay for mental health care for migrant families separated at border
The Trump White House blocked the Justice Department from making a deal in October 2019 to pay for mental health services for migrant families who had been separated by the Trump administration, two current and two former senior administration officials told NBC News.
Three sources involved in the discussions who requested anonymity said the Office of White House Counsel made the decision to reject the settlement of a federal lawsuit after consultation with senior adviser Stephen Miller, the driving force behind many of President Donald Trump's immigration policies, including family separations. https://www.nbcnews.com/politics/immigration/white-house-killed-deal-pay-mental-health-care-migrant-families-n1248158
15. Trump team looks to box in Biden on foreign policy by lighting too many fires to put out
President Donald Trump's order of a further withdrawal of US troops from Afghanistan and Iraq is the latest foreign policy move on a growing list in his final weeks in office that are meant to limit President-elect Joe Biden's options before he takes office in January.
The White House has directed newly installed acting Defense Secretary Christopher Miller to focus his attention in the remaining weeks on cyber and irregular warfare, with a focus on China in particular, an administration official tells CNN. It is contemplating new terrorist designations in Yemen that could complicate efforts to broker peace. And it has rushed through authorization of a massive arms sale that could alter the balance of power in the Middle East.
The Trump team has prepared legally required transition memos describing policy challenges, but there are no discussions about actions they could take or pause. Instead, the White House is barreling ahead. A second official tells CNN their goal is to set so many fires that it will be hard for the Biden administration to put them all out. https://www.cnn.com/2020/11/17/politics/trump-biden-natsec-transition-fires/index.html
16. Trump's Attempts to Overturn the Election Are Unparalleled in U.S. History
Trump's attempts to overturn the 2020 election are unprecedented in American history and an even more audacious use of brute political force to gain the White House than when Congress gave Rutherford B. Hayes the presidency during Reconstruction.
In many ways it is even more of an attempted power grab than the one in 1876. At the time, Hayes was governor of Ohio, not president of the United States. Ulysses S. Grant was, and when Hayes won — also by wrenching the vote around in three states — he became known as "His Fraudulency."
"But this is far worse," said Michael Beschloss, the presidential historian and author of "Presidents of War." "In the case of Hayes, both sides agreed that the outcome in at least three states was in dispute. In this case, no serious person thinks enough votes are in dispute that Donald Trump could have been elected on Election Day."
"This is a manufactured crisis. It is a president abusing his huge powers in order to stay in office after the voters clearly rejected him for re-election."
He added: "This is what many of the founders dreaded." https://www.nytimes.com/2020/11/19/us/politics/trump-election.html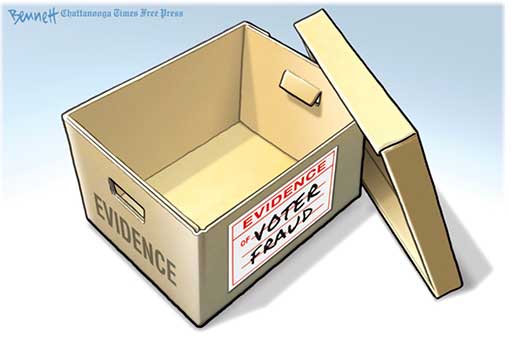 17. Why Republican voters say there's 'no way in hell' Trump lost
SUNDOWN, Texas (Reuters) - Brett Fryar is a middle-class Republican. A 50-year-old chiropractor in this west Texas town, he owns a small business. He has two undergraduate degrees and a master's degree, in organic chemistry. He attends Southcrest Baptist Church in nearby Lubbock.
Fryar didn't much like Donald Trump at first, during the U.S. president's 2016 campaign. He voted for Texas Senator Ted Cruz in the Republican primaries.
Now, Fryar says he would go to war for Trump. He has joined the newly formed South Plains Patriots, a group of a few hundred members that includes a "reactionary" force of about three dozen - including Fryar and his son, Caleb - who conduct firearms training.
Nothing will convince Fryar and many others here in Sundown - including the town's mayor, another Patriots member - that Democrat Joe Biden won the Nov. 3 presidential election fairly. They believe Trump's stream of election-fraud allegations and say they're preparing for the possibility of a "civil war" with the American political left. https://www.reuters.com/article/us-usa-election-trump-fraud-insight-idUSKBN2801D4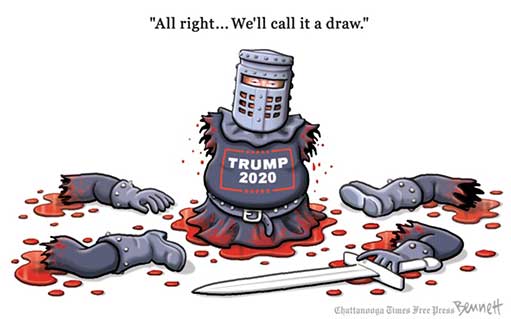 18. How Steve Bannon and a Chinese Billionaire Created a Right-Wing Coronavirus Media Sensation
Dr. Li-Meng Yan wanted to remain anonymous. It was mid-January, and Dr. Yan, a researcher in Hong Kong, had been hearing rumors about a dangerous new virus in mainland China that the government was playing down. Terrified for her personal safety and career, she reached out to her favorite Chinese YouTube host, known for criticizing the Chinese government.
Within days, the host was telling his 100,000 followers that the coronavirus had been deliberately released by the Chinese Communist Party. He wouldn't name the whistle-blower, he said, because officials could make the person "disappear."
By September, Dr. Yan had abandoned caution. She appeared in the United States on Fox News making the unsubstantiated claim to millions that the coronavirus was a bio-weapon manufactured by China.
Overnight, Dr. Yan became a right-wing media sensation, with top advisers to President Trump and conservative pundits hailing her as a hero. Nearly as quickly, her interview was labeled on social media  as containing "false information," while scientists rejected her research as a polemic dressed up in jargon.
Her evolution was the product of a collaboration between two separate but increasingly allied groups that peddle misinformation: a small but active corner of the Chinese diaspora and the highly influential far right in the United States. https://www.nytimes.com/2020/11/20/business/media/steve-bannon-china.html
19. Trump set on veto of defense bill over renaming bases honoring Confederates
Donald Trump is threatening to veto legislation to fund the military as one of his final acts in office unless a widely supported, bipartisan provision to rename military bases honoring Confederate military leaders is removed, according to White House, defense and congressional sources. https://www.nbcnews.com/news/amp/ncna1248467
20. The DAILY GRILL
While Trump still refuses to concede the election, the Senate GOP is moving quickly to ensure that the president's stamp sticks to the Federal Elections Commission, Federal Reserve Board, the federal judiciary and beyond. — POLITICO

VERSUS

"It is a mockery of the norms and the democratic process. And certainly defies the will of the American people who just voted out of office the president who is selecting these nominees. It will leave in place some totally unqualified nominees with views antithetical to the will of the American people." — Sen. Richard Blumenthal (D-Conn.)
Another thing to give thanks for this Thanksgiving: Our democracy survived!
1. Jonathan Mahler: Individual 1
Looking back on the entire Trump presidency one sees his possibly criminal conduct not as a byproduct of the pursuit of a political agenda but as a central, self-perpetuating feature of his tenure. In this light, Trump's potential criminality becomes a kind of throughline, the dots that connect his life as a businessman to his entry into politics and then onward across his four years as president. One potentially illegal act led Trump to the next: from his law-bending moves as a businessman, to his questionable campaign-finance practices, to his willingness to interfere with investigations into his conduct, to his acts of public corruption and, finally, to the seemingly illegal abuse of the powers of his office in order to remain in office.
The stakes of prosecuting Donald Trump may be high; but so are the costs of not prosecuting him, which would send a dangerous message, one that transcends even the presidency, about the country's commitment to the rule of law. Trump has presented Biden — and America, really — with a very difficult dilemma. "This whole presidency has been about someone who thought he was above the law," Anne Milgram, the former attorney general of New Jersey, told me. "If he isn't held accountable for possible crimes, then he literally was above the law." https://www.nytimes.com/2020/11/17/magazine/trump-investigations-criminal-prosecutions.html
2. Ed Kilgore: Rudy Melts Down Over Trump and 'Voter Fraud' During Insane Press Conference
In an interminable press conference, Trump's legal team upped the ante by about a million percent, alleging a massive national conspiracy personally directed by Joe Biden, but bankrolled by "communist money," to steal an election that "the president clearly won by a landslide," as Trump attorney Sidney Powell said at one point. Chief lawyer Rudy Giuliani became more and more agitated as the strange event went on, spending most of his time attacking reporters from the "fake media" in the room and symbolizing the heat of his words when his hair-dye melted, leaving brown streaks down each side of his face.
I've been watching political developments closely for a half-century, and have witnessed all sorts of craziness.
But the spectacle of the president's lawyers menacing reporters ("You're lying! You're lying! You're lying!" Giuliani screamed at one reporter trying to ask a question, after asking her "What fake media do you work for?") trying to unravel their wild claims was something out of a bad alternative history where the bad guys won World War II. https://nymag.com/intelligencer/2020/11/giuliani-trump-legal-team-melt-down-in-insane-presser.html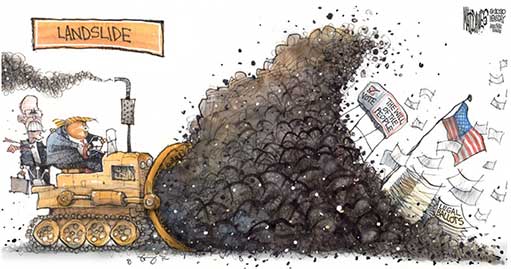 3. William J Barber and Jonathan Wilson-Hartgrove: This election showed how the Republicans' racist 'Southern Strategy' is falling apart
Since Kamala Harris and Joe Biden gave their victory speeches in Wilmington, Delaware, Donald Trump has largely disappeared from public view, dispatching lawyers to file frivolous suits that will not impact the outcome of the election as he fumes about "massive fraud" and tweets without irony about an election that ended almost two weeks ago: "WE WILL WIN!"
Like parents of a child who has suffered a sudden and unexpected loss, Senate Republicans have suggested they are willing to give the president time to come to terms with reality, asserting with straight faces that he is "within his rights" to challenge election results that disappoint him. All the while, these same senators have been asking Democratic colleagues to convey their congratulations to the president-elect, their former colleague, who they assume will understand the awkward position they find themselves in.
But Trump is not a child, and we cannot pretend that he is the only one who is not willing to move on. Make America Great Again was always a thinly veiled promise that white supremacy could mount a resistance to movements that challenge systemic racism with the prospect of a genuine, multi-ethnic . Trump's refusal to accept the election results is not simply about his own psychological needs. It is a performance in keeping with the Southern Strategy that has animated the Republican party for half a century. https://www.theguardian.com/commentisfree/2020/nov/19/us-election-showed-republican-racist-southern-strategy-falling-apart
3. Brian Karem: Can We Get Along Together After Trump?
I had an opportunity to ask the president of the United States a question only once in the six weeks prior to the November general election—when, on September 23, I asked him if he would support a peaceful transfer of power following the election "win, lose or draw."
His answer was explosively controversial at the time: "We'll see what happens."
Well, we have seen.
We have seen the president lose the election—by more than 5 million popular votes and by 306-232 in the Electoral College. In 2016, when Trump won the Electoral College by that same margin but lost the popular vote, he called it a landslide. Now he calls Biden's victory a hoax.
We have seen the president disparage and dispute the orderly and secure conduct of American democracy.
We have seen the president take to Twitter to blast inflammatory accusations—"tens of thousands of votes were stolen from us";
"VOTER FRAUD ALL OVER THE COUNTRY"; "this was a rigged election"; "an open and shut case of voter fraud"—with no evidence, and in fact, despite evidence to the contrary.
We have seen the president's minions fly to talk radio, Fox News, conservative websites, and social media to lie and to share one another's lies and laugh at the truth. https://thebulwark.com/can-we-get-along-together-after-trump/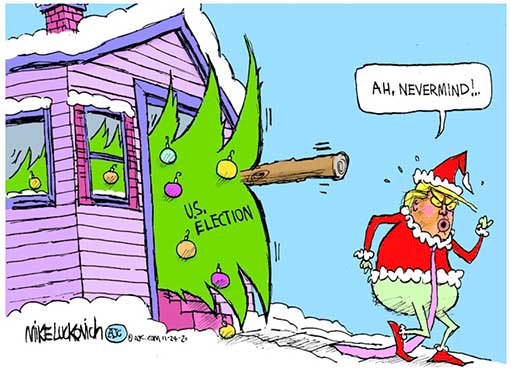 4. Susan B. Glasser: Trump's Clown Coup Crisis
In a way, we are ending the week where we began it: Donald Trump still did not win the 2020 Presidential election, and he is still, on Friday as he was on Monday, holed up in the White House, challenging Joe Biden's victory. The coronavirus pandemic is still spreading at an alarming rate across all fifty states, and Congress and the White House are still doing nothing new about it. This is, in a horrible, stressful way, what passes for our current normal.
Except, of course, there's nothing routine about any of this. We've been getting used to painful truths for so long that the awful enormity of the situation doesn't hit us in the way it should when the predicted bad things happen, which is the story of the entire Trump Presidency. But history will not remember this as a slow news week, not at all. In fact, it has been a week of crisis—grave if slow-motion crisis—in which Trump's effort to subvert the election results has been made explicit and unmistakably clear. He is no longer merely pursuing spurious lawsuits in state courts; in recent days, he and his lawyers have confirmed publicly that Trump now is trying to directly overturn the election results and the will of the American people by pressuring Republican state legislators to appoint electors who will vote for Trump in the Electoral College instead of Biden. The fact that Trump is almost certain not to succeed in actually remaining in office past January 20th does not in any way make this less alarming. There is simply no precedent for a President doing anything like what Trump is doing right now. https://www.newyorker.com/news/letter-from-trumps-washington/trumps-clown-coup-crisis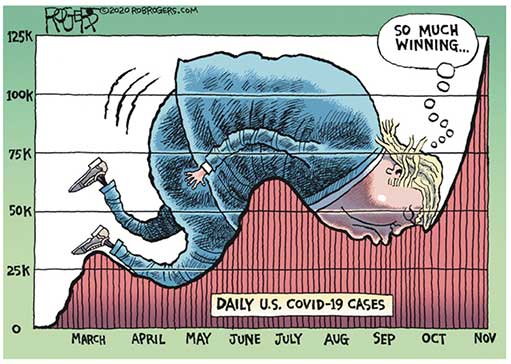 5. Jill Lepore: Will Trump Burn the Evidence
How the President could endanger the official records of one of the most consequential periods in American history.
Hardly a day passes that Trump does not attempt to suppress evidence, as if all the world were in violation of an N.D.A. never to speak ill of him. He has sought to discredit publications and broadcasts that question him, investigations that expose him, crowds that protest him, polls that fail to favor him, and, down to the bitter end, ballots cast against him. None of this bodes well for the historical record and for the scheduled transfer of materials from the White House to the National Archives, on January 20, 2021.
Custody of the records of the Trump White House will be formally transferred to the National Archives at noon on January 20, 2021, the minute that Biden takes his oath of office on the steps of the Capitol. Trump, defying tradition, is unlikely to attend that ceremony. It's difficult, even, to picture him there. Maybe he'll be in the Oval Office, yanking at the drawers of Resolute, the Presidential desk, barking out orders, cornered, frantic, panicked. Maybe he'll tweet the whole thing. The obligation, the sober duty, to save the record of this Administration will fall to the people who work under him. It may well require many small acts of defiance. https://www.newyorker.com/magazine/2020/11/23/will-trump-burn-the-evidence
6. Zak Cheney-Rice: The Trump Era Is Just Getting Started
All evidence points to Trump being more in his element in the future — whining publicly about having been cheated, riling up his similarly aggrieved followers, and generally drawing more attention to himself — than he ever was governing the country. Even if a full-fledged Trump media venture doesn't come to fruition, he will remain a media entity unto himself. Even if he never runs for president again, he is laying the groundwork to become a political martyr for the right, which is the next best thing.  That status is formidable. Ridding the White House of Trump, if the American people are successful in doing so, is unlikely to mean ridding our national politics of his influence, let alone the man himself. One can only begin to imagine the legions of primary candidates cast in his mold seeking out his approval in the coming years, or who must pay tribute to him before he blesses their endeavors and the accompanying votes of his disciples, clogging our airwaves and degrading our ballot options. The role is there, waiting for Trump to play it should he so desire.
And more to his liking, it holds the promise of substantial political influence without any of the downsides, like actually working and being accountable to other people. Americans rejoicing in his defeat should prepare accordingly. https://nymag.com/intelligencer/2020/11/the-donald-trump-era-is-just-getting-started.html