July 22, 2021
ON THE RECORD. . .
Nobody had ever heard of some of these people that worked for me in D.C. All of a sudden, the Fake News starts calling them. Some of them—by no means all—feel emboldened, brave, and for the first time in their lives, they feel like "something special," not the losers that they are—and they talk, talk, talk!  Many say I am the greatest star-maker of all time. But some of the stars I produced are actually made of garbage. — D.J. Trump

"That fucking guy Jim Jordan. That son of a bitch.… While these maniacs are going through the place, I'm standing in the aisle and he said, 'We need to get the ladies away from the aisle. Let me help you.' I smacked his hand away and told him, 'Get away from me. You fucking did this.'" — Rep. Liz Cheney (R-WY) told Rep. Jim Jordan (R-OH) that he was responsible for the Capitol riot while the scene was evolving on Jan. 6, according to a new book by Carol Leonnig and Philip Rucker.

"We weren't there to steal things. We weren't there to do damage. We were just there to overthrow the government." — Capitol rioter Saundra Kiczenski.

"I think it would be hard if George Washington came back from the dead and he chose Abraham Lincoln as his vice-president, I think it would have been very hard for them to beat me." — Former President Donald Trump, quoted in the new book, "I Alone Can Fix It."

"Senator Paul, you do not know what you are talking about, and I want to say that officially." — Dr. Anthony Fauci after being accused by Sen. Rand Paul (R-KY) of lying about research done in China on coronaviruses.  The complete exchange between Sen.Paul and Dr. Fauci is HERE.


"Any person who would be third in line to the presidency must demonstrate a commitment to the Constitution and a commitment to the rule of law, and Minority Leader McCarthy has not done that." — Rep. Liz Cheney (R-WY), arguing that Rep. Kevin McCarthy (R-CA) should never be Speaker of the House.

An Oval Office confrontation between Donald Trump and Joint Chiefs Chairman Mark Milley over the general's public apology for appearing in a photo op with Trump at St. John's Church.

TRUMP: Why did you apologize? That's weak.

MILLEY: Not where I come from. It had nothing to do with you. It had to do with me and the uniform and the apolitical tradition of the United States military.

TRUMP: I don't understand that. It sounds like you're ashamed of your president.

MILLEY: I don't expect you to understand.

"Do we have a house n—-r in here? Do we? Do we? Will she please stand up." —Tarrant, Alabama councilman Tommy Bryant (R), who apparently made the remark in reference to fellow city council member Veronica Freeman, who is Black. VIDEO
Just Security is continuing to track every pending criminal and civil case against Donald Trump.
---
IN THIS ISSUE
IN THE NEWS
OPINION
Andy Borowitz: Nation Shocked by Existence of Trump Adviser Not Already Arrested
Millions of Americans were shocked to learn of the existence of a Trump adviser who had not already been arrested.

In interviews across the country, Americans who had been certain that there were no unindicted Trump advisers left said that the arrest of Tom Barrack had caused them to rethink things.

"After Manafort, Stone, Flynn, Bannon, Cohen, Papadopoulos, and the rest, I really thought they'd gotten them all," Tracy Klugian, who lives in Phoenix, said. "I guess I spoke too soon."

"Trump sure had a lot of advisers charged with crimes," Harland Dorrinson, who lives in Chattanooga, said. "Whoever hired advisers for him did a terrible job."

Carol Foyler, who lives in Akron, saw a silver lining in the Trump adviser being arrested so late. "Since Giuliani already lost his law license, Barrack doesn't have to worry about being represented by him," she said.

Davis Logsdon, who lives in Minneapolis, had previously thought that there were no more Trump advisers remaining to be arrested but is no longer sure. "Jared and Don, Jr., haven't been arrested yet," he said. "Or have they? It's so hard to keep track." https://www.newyorker.com/humor/borowitz-report/
Kremlin papers appear to show Putin's plot to put Trump in White House
Vladimir Putin personally authorized a secret spy agency operation to support a "mentally unstable" Donald Trump in the 2016 US presidential election during a closed session of Russia's national security council, according to what are assessed to be leaked Kremlin documents.
The key meeting took place on 22 January 2016, the papers suggest, with the Russian president, his spy chiefs and senior ministers all present.
They agreed a Trump White House would help secure Moscow's strategic objectives, among them "social turmoil" in the US and a weakening of the American president's negotiating position.
Russia's three spy agencies were ordered to find practical ways to support Trump, in a decree appearing to bear Putin's signature. https://www.theguardian.com/world/2021/jul/15/kremlin-papers-appear-to-show-putins-plot-to-put-trump-in-white-house
'A Blaring Siren' for Democrats After Ruling Halts DACA
Immigrants and advocates are urging Democrats and President Biden to quickly act on legislation to protect young immigrants after a federal judge in Texas on Friday ruled illegal an Obama-era program that prevents the deportation of thousands of them brought into the U.S. as children.
Plaintiffs have vowed to appeal the decision by U.S. District Judge Andrew S. Hanen, who declared the Deferred Action for Childhood Arrivals, or DACA, program illegal, barring the government from approving any new applications but leaving the program intact for existing recipients. https://news.wttw.com/2021/07/17/blaring-siren-democrats-after-ruling-halts-daca
Liz Cheney's opponents to meet with Trump pre-endorsement
Donald Trump will meet with Republicans running against Rep. Liz Cheney next week, and endorse one in the next few months, the former president said in a statement Tuesday.
So far, at least seven Republicans have said they're running against Cheney following her vote to impeach Trump for his role in the Jan. 6 riot at the U.S. Capitol. https://apnews.com/article/government-and-politics-election-2020-house-elections-campaign-2016-liz-cheney-bdfbd39ec1d0dcbc084f3ac6dfd684de
Mitch McConnell: No GOP Votes to Raise Debt Limit
Senate Minority Leader Mitch McConnell is taking a very hard line on the debt ceiling. His message -- if Senate Democrats want to raise the debt ceiling, they're going to have to do it themselves because no Republicans will vote for it in the current "environment" on Capitol Hill. 
"I can't imagine there will be a single Republican voting to raise the debt ceiling after what we've been experiencing," McConnell told Bres on Tuesday night in the Capitol. https://email.punchbowl.news/t/ViewEmail/t/EFD6D3A57472AD6B2540EF23F30FEDED
/F0FBF4A26141BC72E89F0E32AAFB68BF
Sen. Sinema's position on filibuster alienating voter
Among likely Democratic primary voters, 66 percent have said that they would vote for another candidate who will champion filibuster reform compared to only 22 percent who would re-elect Senator Sinema should she continue to preserve it. As previously noted, her voting record up to this point would already place her in a relatively weakened position in a hypothetical primary challenge. If she remains steadfast in her resolve to protect the filibuster, regardless of reason, it seems quite likely that she will further push her base towards another candidate entirely. https://www.dataforprogress.org/blog/2021/7/20/who-is-kyrsten-sinema-really-representing
Explosive Interview Directly Implicates Trump in Tax Scheme
 Jennifer Weisselberg, the ex-wife of a longtime company employee, has told prosecutors that Donald Trump personally guaranteed he would cover school costs for the family members of two employees in lieu of a raise—directly implicating the former president in an ongoing criminal tax fraud case.
Investigators with the Manhattan district attorney and New York state attorney general asked Jennifer Weisselberg whether Trump himself was involved in the company's alleged tax-dodging scheme of making corporate gifts instead of increasing salary that would be taxed.
He was, she answered.
Weisselberg then provided key details for investigators. In January 2012, inside Trump's office at Trump Tower on Fifth Avenue, Jennifer Weisselberg watched as Trump discussed compensation with her husband and her father-in-law, both company employees. Her husband wouldn't be getting a raise, but their children would get their tuition paid for at a top-rated private academy instead. https://www.thedailybeast.com/explosive-interview-directly-implicates-donald-trump-in-tax-scheme
GOP Fuels Decline In Confidence in Science
A new Gallup poll finds 64% of U.S. adults say they have "a great deal" or "quite a lot" of confidence in science, compared with 70% when Gallup last measured it more than four decades ago.
Digging deeper, there's a big difference between the two political parties. Confidence in science among Democrats has risen from 67% in 1975 to 79% today. Among Republicans, confidence in science has fallen from 72% in 1975 to just 45% today. https://news.gallup.com/poll/352397/democratic-republican-confidence-science-diverges.aspx
Porsches, Gucci rings and billions of robocalls: Inside the PAC operation that raised millions by impersonating Donald Trump
Founded in 2018 and 2019, Tunstall's two PACs, Support American Leaders and Campaign to Support the President, have together raised a total of $3.4 million to date, according to federal filings. While much of that money pays for the billions of robocalls the two groups make, almost all of which feature recorded soundbites of public statements from Trump, a CNN KFile analysis shows that the PACs paid Tunstall at least $738,000 of that money to date.
Tunstall's two Trump PACs have placed an estimated 3.48 billion robocalls since October 2019, according to NoMoRobo. That averages out to about 184 million robocalls every month to Americans' phones across the country.
Experts who spoke to CNN said that Tunstall's filings demonstrate the hallmarks of a scam PAC, which comes down to self-enrichment. His PACs appear to follow a simple, cyclical pattern: they raise money to pay for robocalls so they can raise more money to pay for more robocalls. Nearly all of the money not used to sustain the PACs goes toward paying Tunstall. Even the paperwork the PACs are supposed to file regularly with the FEC raises serious concerns, according to experts, and the PACs frequently miss reporting deadlines. https://www.cnn.com/2021/07/15/politics/kfile-pac-trump-robocall-operation/index.html
More than 150 companies back update to Voting Rights Act
More than 150 companies, including PepsiCo, Amazon and Target, threw their support behind updating the Voting Rights Act in a letter released Wednesday, saying "Despite decades of progress, impediments to exercising the right to vote persist in many states, especially for communities of color. We need federal protections to safeguard this fundamental right for all Americans."https://www.nbcnews.com/politics/elections/more-150-companies-back-update-voting-rights-act-n1273919
Kevin McCarthy's trip shows House Republicans see the path back to power is with Donald Trump
The House GOP's plan to win back power is becoming increasingly centered on one man: Donald J. Trump.
On Thursday, House Minority Leader Kevin McCarthy became the latest in a parade of Republicans to make the pilgrimage to a Trump-owned property seeking the former President's support, while scores of GOP candidates have been invoking Trump's name and image to boost their campaign coffers, which are filling up at record rates.
The steady stream of schmoozing by top Republicans and the groundswell of grassroots support suggest that, six months after the deadly insurrection at the Capitol, Trump still maintains an iron-like grip on the GOP and there are zero signs of that loosening anytime soon -- even amid a damning drip of revelations about his conduct during his final months in office. https://www.cnn.com/2021/07/16/politics/mccarthy-fundraising-trump/index.html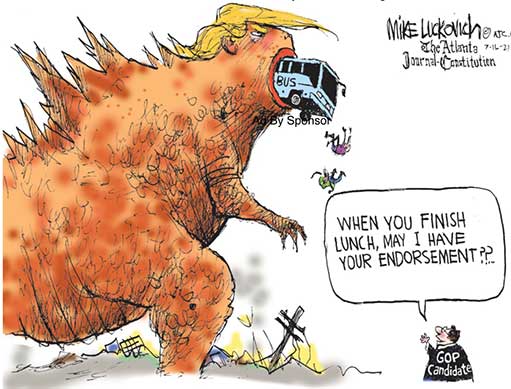 Biden administration proposes sweeping protections for Alaska's Tongass National Forest
The Biden administration announced sweeping protections for Alaska's Tongass National Forest on Thursday, including an end to large-scale old-growth logging and a proposal to bar road development on more than 9 million acres.
The changes mark a major shift for a region that has relied on felling massive trees for more than a century, reversing one of former president Donald Trump's biggest public land decisions and halting a significant source of future carbon emissions. The Tongass, part of one of the world's last relatively intact temperate rainforests, is the only national forest where old-growth logging still takes place on an industrial scale. https://www.washingtonpost.com/climate-environment/2021/07/15/biden-alaska-tongass-logging-roadless/
Trump Wishes He'd Lowered the Flag for Slain Insurrectionist
Former President Donald Trump has spent the last few weeks full of regret about Jan. 6—but not because of the riot he inspired.
Instead, Trump has complained that he should have ordered the White House flag flown at half-staff for Ashli Babbitt, the U.S. Capitol rioter and QAnon believer who was fatally shot while attempting to break into a refuge for lawmakers fleeing a pro-Trump mob, according to a person with direct knowledge and another source familiar with the matter. As recently as in the past two weeks, Trump had mentioned that one reason Babbitt, an Air Force veteran, deserved such an honor was because of her nearly decade-and-a-half service in the military, the source with direct knowledge recalled. https://www.thedailybeast.com/former-president-donaldtrump-wishes-hed-lowered-the-flag-for-slain-rioter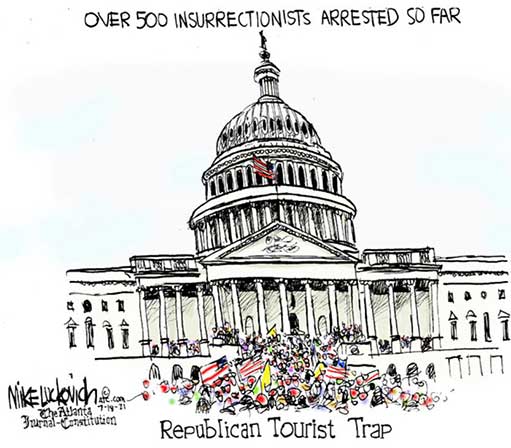 Texas Land Commissioner George P. Bush has filed a lawsuit against the Biden administration, claiming the president is illegally preventing the construction of a wall on the Texas-Mexico border.
Bush announced the lawsuit Wednesday, saying his office is suing Biden and Department of Homeland Security Secretary Alejandro Mayorkas "on grounds that (the Biden administration) is illegally preventing the border wall from being constructed."
"The issue here is simple — no man is above the law. And that includes President Biden," Bush said. https://www.texastribune.org/2021/07/14/texas-mexico-border-wall-lawsuit-biden/
Vaccine hesitancy morphs into hostility, as opposition to shots hardens
What began as "vaccine hesitancy" has morphed into outright vaccine hostility, as conservatives increasingly attack the White House's coronavirus message, mischaracterize its vaccination campaign and, more and more, vow to skip the shots altogether.
The notion that the vaccine drive is pointless or harmful — or perhaps even a government plot — is increasingly an article of faith among supporters of former president Donald Trump, on a par with assertions that the last election was stolen and the assault on the U.S. Capitol was overblown.
Appearing at CPAC, Republican lawmakers such as Reps. Madison Cawthorn (N.C.) and Lauren Boebert (Colo.) took aim at Biden's push for "door-to-door" vaccine outreach, framing efforts to boost inoculations as a creeping menace from big government.
"We're here to tell government: We don't want your benefits, we don't want your welfare, don't come knocking on my door with your Fauci ouchie," Boebert said, referring to Biden's top medical adviser, Anthony S. Fauci, her voice rising as she paced the stage and shook her finger. "You leave us the hell alone!" https://www.washingtonpost.com/politics/covid-vaccines-biden-trump/2021/07/15/adaf6c7e-e4bd-11eb-a41e-c8442c213fa8_story.html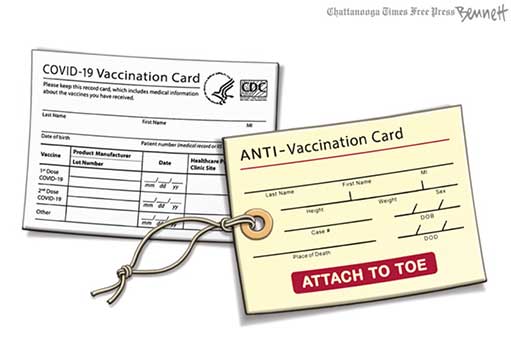 As IRS audits waned, big businesses racked up unapproved tax breaks
Some of the same conservative groups that waged war on the IRS years ago are mobilizing against added funding. Expanded tax collection, they argue, would give the agency too much power to pry into the finances of small businesses and wealthy Americans.
The reduction in the IRS budget — largely the result of GOP hostility toward the agency — sapped the federal government of corporate tax revenue, researchers have found. With fewer audits, some tax breaks are never reviewed before the statute of limitations expires and businesses claim the savings on their earnings statements.
President Biden has proposed boosting IRS funding as part of an effort to increase U.S. tax revenue, an idea now at the heart of bipartisan efforts to raise money for federal infrastructure spending. Tax policy experts think more aggressive IRS enforcement — including new staff, training, increased reporting requirements and modern technology — could help the agency close the gap between what people pay and what they owe. https://www.washingtonpost.com/business/2021/07/14/corporate-tax-break-irs/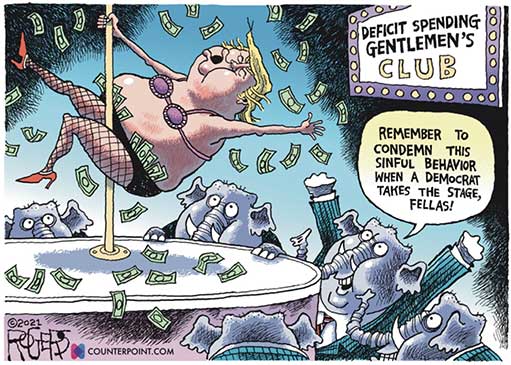 In reconciliation, Democrats eye border tax for carbon
Senate Democrats are taking initial steps toward a major policy shift of enacting fees on imported goods from countries with weaker limits on carbon emissions than the U.S.
A summary released Wednesday of the coming budget resolution said it will include "methane reduction and polluter import fees." Such import fees could help pay for some of the trillions of dollars worth of spending expected in the Democratic budget reconciliation package, which could be forced through without Republican support.
But it also represents a long-discussed policy approach to reducing global greenhouse gas emissions.
Sen. Brian Schatz, D-Hawaii, said the most important elements of the resolution are its topline number and robust climate provisions, which the summary indicates also include a clean energy standard and clean energy tax incentives.
But the biggest — and arguably most challenging — climate policy change could be the imposition of emissions-based import fees commonly referred to as a carbon-based border adjustment tax. The summary had no details on how it would be implemented, and lawmakers said they still have to flesh those out. https://www.rollcall.com/2021/07/15/in-reconciliation-democrats-eye-border-tax-for-carbon/
Democrats optimistic about passing a budget resolution and bipartisan infrastructure bill 
For a number of Senate Democrats, this represents their first opportunity to get something big done. The last spate of one-party Democratic control was 2009, and half the current Senate Democratic Caucus wasn't even in the chamber then. Passing the American Rescue Plan was a high point for many Senate Democrats, and it left them wanting more -- they talked about this with President Joe Biden yesterday in the party lunch. They are jazzed about Child Tax Credit checks going out. Moments like this don't come too often: a president, House and Senate controlled by one party, all wanting to notch big achievements. 
No one -- not one Democrat -- has drawn a red line thus far, and that's terrific for Schumer. Everyone has bought into this multi-step process; voting first on a bipartisan "hard" infrastructure bill, and then reconciliation. 
Democrats feel as if the GOP criticisms are lame, and aren't sticking politically. Democrats have penned a budget bill that increases Medicare coverage without raising taxes on families making $400,000 or less and small businesses. And it's fully paid for. https://email.punchbowl.news/t/ViewEmail/t/3EDB3098C6B75CF52540EF23F30FEDED/F0FBF4A26141BC72E89F0E32AAFB68BF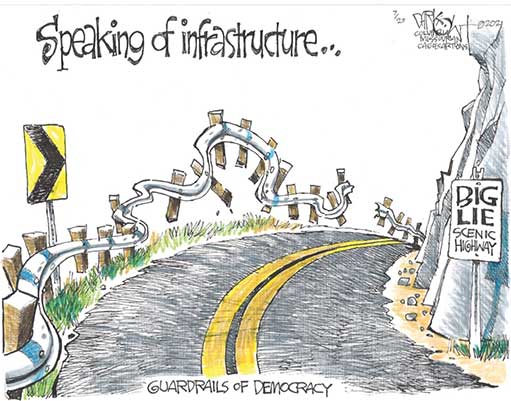 Maricopa County will spend millions to replace voting machines turned over to the Arizona Senate for audit
"Maricopa County will spend nearly $3 million to replace voting equipment that officials say was permanently tainted by the Arizona Senate's election review," the Arizona Republic reports.
"The frustrating thing is, those were perfectly good machines which passed all of our accuracy tests from the time we first got them in 2019. The taxpayer paid good money for them, but now this equipment will have to be decommissioned because the Senate didn't take our warnings about chain-of-custody seriously," said Board of Supervisors Chairman Jack Sellers in a released statement after the meeting.
"When Senate leadership chose novices to conduct their audit rather than reputable, certified companies, they wasted an expensive investment that had served Maricopa County voters well in 2019 and 2020." https://www.azcentral.com/story/news/politics/arizona/2021/07/14/arizona-audit-maricopa-county-spend-2-8-m-replace-voting-machines/7965882002/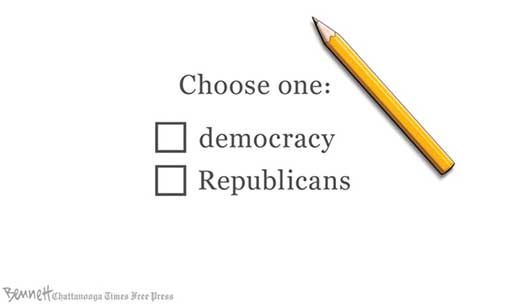 European Floods Are Latest Sign of a Global Warming Crisis
Days before roiling waters tore through western Germany, a European weather agency issued an "extreme" flood warning after detailed models showed storms that threatened to send rivers surging to levels that a German meteorologist said on Friday had not been seen in 500 or even 1,000 years.
But even as extreme weather events become increasingly common around the globe — whether wildfires in the American West, or more intense hurricanes in the Caribbean — the floods that cut a wide path of destruction through Germany, Belgium, Switzerland and the Netherlands this week were virtually unheard-of, according to meteorologists and German officials. https://www.nytimes.com/2021/07/16/world/europe/germany-floods-climate-change.html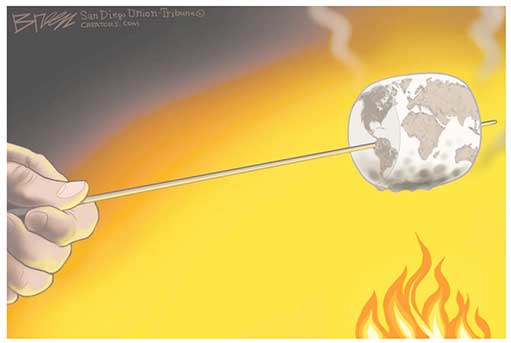 MAGA World's 'Freedom Phone' Actually Budget Chinese Phone
The pro-Trump internet went wild on Wednesday for the Freedom Phone, a $500 smartphone that comes stocked with conservative apps and promises to liberate anyone else who buys it from Silicon Valley censorship. The American flag-branded phone was immediately promoted by a wide range of right-wing figures, including former Trump adviser Roger Stone, Jan. 6 rally organizer Ali Alexander, and pundit Dinesh D'Souza.
"I'm holding a freaking phone that is not controlled by Apple or Google," conservative personality Candace Owens told her fans in an Instagram video. "We made the switch immediately."
Despite being lauded by some of the right-wing media's leading figures the Freedom Phone appears to be merely a more expensive rebranding of a budget Chinese phone available elsewhere for a fraction of the Freedom Phone's price. https://www.thedailybeast.com/maga-worlds-freedom-phone-actually-budget-chinese-phone
Sen. Joe Manchin, key Democratic holdout on federal voting protections, coming to Texas for fundraiser hosted by several GOP donors
Sen. Joe Manchin (D-WV) is expected to head to Texas on Friday for a fundraiser with a host committee that includes several wealthy Republican donors," the Texas Tribune reports.
"The host committee includes titans of the Texas oil and gas industry — many of whom donate almost exclusively to Republicans."
Manchin is also one of two Democratic senators, along with Kyrsten Sinema of Arizona, who have proven to be obstacles to moving voting rights legislation through the U.S. Senate. At the center of the impasse is their opposition to eliminating or changing the filibuster, which requires 60 senators to put a bill on the floor. https://www.texastribune.org/2021/07/15/joe-manchin-texas-fundraiser-republicans/
Majority of Covid misinformation came from 12 people, report finds
The vast majority of Covid-19 anti-vaccine misinformation and conspiracy theories originated from just 12 people, a report by the Center for Countering Digital Hate (CCDH) cited by the White House this week found.
CCDH, a UK/US non-profit and non-governmental organization, found in March that these 12 online personalities they dubbed the "disinformation dozen" have a combined following of 59 million people across multiple social media platforms, with Facebook having the largest impact. CCDH analyzed 812,000 Facebook posts and tweets and found 65% came from the disinformation dozen. 
Among the dozen are physicians that have embraced pseudoscience, a bodybuilder, a wellness blogger, a religious zealot, and, most notably Robert F Kennedy Jr, the nephew of John F Kennedy who has also linked vaccines to autism and 5G broadband cellular networks to the coronavirus pandemic. https://www.theguardian.com/world/2021/jul/17/covid-misinformation-conspiracy-theories-ccdh-report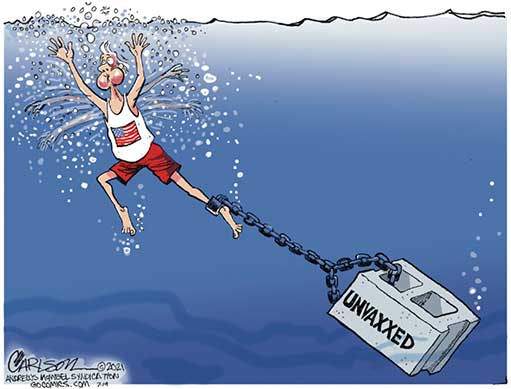 Why won't Americans get vaccinated?
In the latest Economist/YouGov poll, 29% of Republicans say they will not get vaccinated, while only 4% of Democrats say this. Among those who say they will not be vaccinated, 85% believe the threat of the coronavirus was exaggerated for political reasons, 49% believe vaccines have been shown to cause autism, and 51% believe the US government is using COVID-19 vacine to microchip the population. https://today.yougov.com/topics/politics/articles-reports/2021/07/15/why-wont-americans-get-vaccinated-poll-data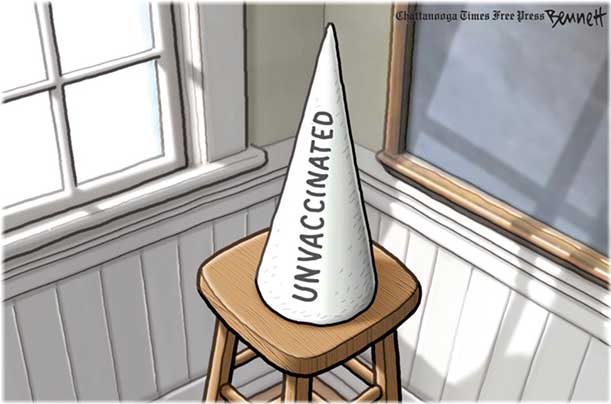 Texas Is Offering A $10,000 'Bounty' On Abortions. Here's Everything You Need To Know.
All over the country, restrictive abortion bans continue to be introduced at the state level. In Texas, a new bill goes one step further by incentivizing individuals to enforce the law with a $10,000 (or more) award to anyone who successfully sues someone providing or assisting a woman seeking an abortion after six weeks of pregnancy. Even religious leaders who provide emotional and spiritual counseling to patients considering abortion could be liable under the law.
"The state has put a bounty on the head of any person or entity who so much as gives a patient money for an abortion after six weeks of pregnancy, before most people know they are pregnant," Nancy Northup, president and CEO of the Center for Reproductive Rights, said in a statement to ELLE. "Worse, it will intimidate loved ones from providing support for fear of being sued." https://www.elle.com/culture/career-politics/a37012924/texas-abortion-law-bounty-hunters-what-to-know/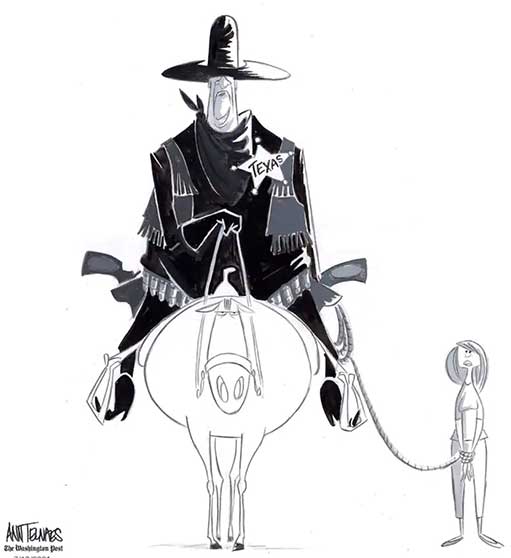 A Surprising Potential Swing Vote: Pro-Democracy Republicans
Political pundits seem united in their belief that Democrats will struggle to hold the House of Representatives in 2022.
The historical precedent that the party out of power in the White House always gains in the midterms and the likely impact of partisan and racial gerrymandering has fostered a consensus that Democrats will lose seats.
They're wrong. Democrats have the opportunity to widen the playing field in 2022 with the right candidates, a message focused on economic growth and—a surprise to some—a clear pro-democracy appeal designed to woo the one-quarter to one-third of Trump voters who are Liz Cheney Republicans.
The path to opportunity lies where I least expected it. Growing up, my father would always tell me that most people voted their pocketbooks—his own version of "it's the economy, stupid." And I had been in too many campaigns (including my own race for City Council in Brooklyn) where efforts focused on issues like corruption and campaign finance reform simply failed to get traction.
But to measure intensity, we asked voters a battery of questions to see if there were any disqualifying issues. For example, 15 percent of voters said that there was no chance that they would consider a candidate who supported mandatory background checks, and 40 percent said that there was no chance they would support a candidate who would allow refugees to come to the United States to escape violence—though 53 percent said that they would consider a pro-refugee candidate.
But the most surprising result was that 45 percent of poll respondents said that there was no chance that they would consider a candidate who voted to block the certification of the presidential election after the January 6 attack on the U.S. Capitol. Another 36 percent of voters said that they would consider such a candidate and another 19 percent said they did not know.
One-third of Trump voters, one-third of conservatives, 34 percent of Republicans, and 39 percent of Independents said that there was no chance that they would consider a candidate who voted to block certification. https://newrepublic.com/article/162996/democrats-2022-house-liz-cheney-republicans
Texas Senate Bill Drops Teaching Requirement That Ku Klux Klan Is 'Morally Wrong'
In a new political low in Texas, the Republican-dominated state Senate has passed a bill to eliminate a requirement that public schools teach that the Ku Klux Klan and its white supremacist campaign of terror are "morally wrong."
The cut is among some two dozen curriculum requirements dropped from the new measure, along with studying Martin Luther King Jr.'s "I Have a Dream" speech, the works of United Farm Workers leader Cesar Chavez, Susan B. Anthony's writings about the women's suffragist movement, and Native American history. https://m.huffpost.com/us/entry/us_60f50cf6e4b01f11895b2dc3/amp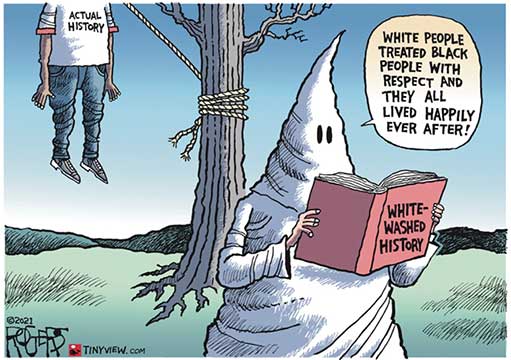 The DAILY GRILL
"This is a Reichstag moment," — General Milley told aides he feared it "could be the modern American equivalent of 'brownshirts in the streets.'" It doesn't get much more serious than this.

VERSUS

Milley is just a better politician than a general, trying to curry favor with the Radical Left and the absolute crazy people espousing a philosophy which will destroy our Country! -- Donald J. Trump
Eric Lutz: Republicans Are Already Turning The January 6 Investigation Into A Clown Show
Although Kevin McCarthy couldn't stop Nancy Pelosi from creating a select committee on January 6, he's working to turn that inquiry into a total circus.
After meeting last week with Trump at his New Jersey club, McCarthy on Monday announced his appointments to the committee: Jim Jordan, Jim Banks, Troy Nehls, Rodney Davis, and Kelly Armstrong. "You've got a mix from the entire conference," McCarthy told reporters. "You've got a microcosm of the conference." Indeed, the group runs the gamut from those who actively participated in Trump's attempt to destroy democracy to those who passively enabled it. Jordan, Banks, and Nehls were among the 139 House Republicans who voted against certifying Joe Biden's victory in the 2020 election, even after armed, pro-Trump insurgents stormed the Capitol. Davis and Armstrong voted to certify the results, and Davis was actually among the handful of Republicans who supported a 9/11-style commission to investigate the January 6 attack. But Armstrong also helped lend legitimacy to Trump's bogus election fraud lies, nodding at "significant abuses" of the voting system and expressing support for his efforts to "make sure every vote that was cast was legally cast and counted." Each of the five tried to protect Trump from being impeached. The goal is to "make sure you get the best people on the committee," McCarthy explained.
With his picks, McCarthy is waving a middle finger at calls for accountability. "This is impeachment round three," an amped-up Jordan said on Newsmax Monday, making clear that he sees his job not as an investigator, but as a defender of the former president. "What are they going to do? The same old thing: Go after President Trump." (In an interview with CNN's Maju Raju Tuesday, he also suggested Pelosi might somehow be culpable.) https://www.vanityfair.com/news/2021/07/republicans-already-turning-january-6-investigation-into-a-clown-show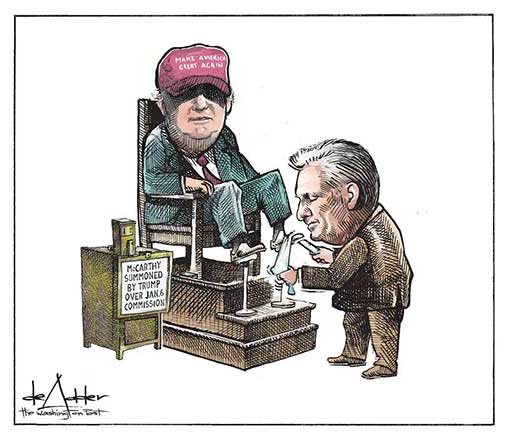 Jamie Gangel, Jeremy Herb, Marshall Cohen, Elizabeth Stuart and Barbara Starr: 'They're not going to f**king succeed': Top generals feared Trump would attempt a coup after election, according to new book
The top US military officer, Chairman of the Joint Chiefs Gen. Mark Milley, was so shaken that then-President Donald Trump and his allies might attempt a coup or take other dangerous or illegal measures after the November election that Milley and other top officials informally planned for different ways to stop Trump, according to excerpts of an upcoming book obtained by CNN.
The book, from Pulitzer Prize-winning Washington Post reporters Carol Leonnig and Philip Rucker, describes how Milley and the other Joint Chiefs discussed a plan to resign, one-by-one, rather than carry out orders from Trump that they considered to be illegal, dangerous or ill-advised.
"It was a kind of Saturday Night Massacre in reverse," Leonnig and Rucker write.
The top US military officer, Chairman of the Joint Chiefs Gen. Mark Milley spoke to friends, lawmakers and colleagues about the threat of a coup, feeling he had to be "on guard" for what might come.

"They may try, but they're not going to f**king succeed," Milley told his deputies, according to the authors. "You can't do this without the military. You can't do this without the CIA and the FBI. We're the guys with the guns."
In the days leading up to January 6, Leonnig and Rucker write, Milley was worried about Trump's call to action. "Milley told his staff that he believed Trump was stoking unrest, possibly in hopes of an excuse to invoke the Insurrection Act and call out the military."
Milley viewed Trump as "the classic authoritarian leader with nothing to lose," the authors write, and he saw parallels between Adolf Hitler's rhetoric as a victim and savior and Trump's false claims of election fraud.
"This is a Reichstag moment," Milley told aides, according to the book. "The gospel of the Führer."
https://www.cnn.com/2021/07/14/politics/donald-trump-election-coup-new-book-excerpt/index.html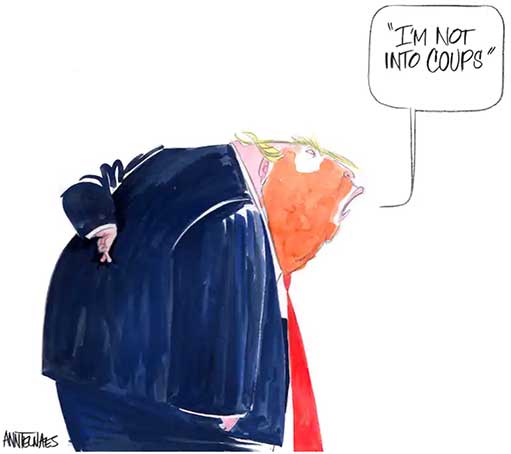 Calvin Woodward, Colleen Longand David Klepper: In Trump's Jan. 6 recast, attackers become martyrs and heroes
A cocktail of propaganda, conspiracy theory and disinformation — of the kind intoxicating to the masses in the darkest turns of history — is fueling straight-up delusion over the agonies of Jan. 6.
Hate is "love." Violence is "peace." The pro-Donald Trump attackers are patriots.
Months after the then-president's supporters stormed the Capitol that winter day, Trump and his acolytes are taking this revisionism to a new and dangerous place — one of martyrs and warlike heroes, and of revenge. It's a place where cries of "blue lives matter" have transformed into shouts of "f— the blue."
The fact inversion about the siege is the latest in Trump's contorted oeuvre of the "big lie" compendium, the most specious of which is that the election was stolen from him. It was not.
It is rooted in the basic formula of potent propaganda through the ages: Say it loud, say it often, say it with the heft of political power behind you, and people will believe. Once spread by pamphlets, posters and word of mouth, now spread by the swipe of a finger, the result is the same: a passionate, unquestioning following.
Techniques of glorifying your side and demonizing the other with skewed information, if not outright lies, have been in play at least since World War I, when the U.S. government roused sentiment for the cause with posters depicting the German soldier as an ape-human with an American maiden in his clutches. That paled next to Nazi Germany's terrifying use of propaganda for the slaughter and subjugation of millions.
Whether the deception feeds warmongering or merely a defeated president's ego, some of the methods are the same, like telling the same fabrication over and over until it sticks.
Once people buy into the lies, there can be no convincing them they aren't true, said Dolores Albarracín, a psychology professor at the University of Pennsylvania and coauthor of a coming book, "Creating Conspiracy Beliefs: How Our Thoughts Are Shaped."
Believers often dismiss anyone who tries to set them straight by claiming they are either duped or part of the conspiracy, Albarracín said. https://www.latimes.com/world-nation/story/2021-07-18/trump-recasts-rioters-as-martyrs-heroes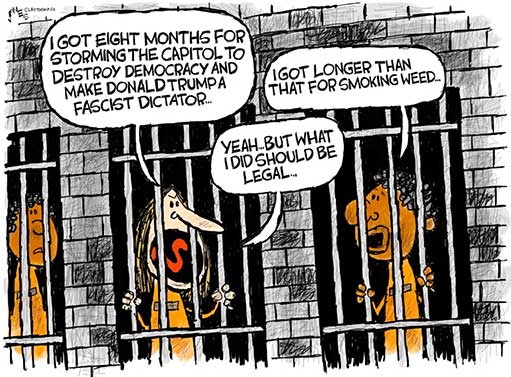 Dana Milbank: American democracy survived its Reichstag fire on Jan. 6. But the threat has not subsided.
American democracy survived that coup attempt on Jan. 6. But the danger has not subsided. I called the eminent Yale historian Timothy Snyder, who accurately predicted the insurrection, to ask how the history of European authoritarianism informs our current state.
"We're looking almost certainly at an attempt in 2024 to take power without winning election," he told me Thursday. Recent moves in Republican-controlled state legislatures to suppress the votes of people of color and to give the legislatures control over casting electoral votes "are all working toward the scenario in 2024 where they lose by 10 million votes but they still appoint their guy."
The extinguishing of our Reichstag fire on Jan. 6 made Trump's failed coup less like 1933 Germany than 1923 Germany, when Hitler's clownish Beer Hall Putsch failed. Historically, most coup attempts fail. "But a failed coup is practice for a successful coup," Snyder said. This is what's ominous about the Republicans' determination to sabotage investigations that could help us learn from the Jan. 6 insurrection. Also ominous is the move in many Republican-controlled states to ban schools from teaching about systemic racism — "memory laws," Snyder calls them — which "feeds into this authoritarian turn" by providing cover for the new attempts to disenfranchise more non-White voters. "They're trying to ban the discussion of things like voter suppression, and it's precisely the history of voter suppression which allows us to see it for what it is," Snyder said.
A survey of 327 political scientists released this week by Bright Line Watch, a project by scholars at Dartmouth College, the University of Chicago and the University of Rochester, found widespread concern: The experts collectively estimated a 55 percent likelihood that at least some local officials will refuse to certify vote counts in 2024, a 46 percent likelihood that one or more state legislatures will pick electors contrary to the popular vote, and a 39 percent likelihood that Congress will refuse to certify the election.
At the moment, Republicans are "digging themselves ever deeper into becoming a party which only wins by keeping other people from voting, and that's a downward spiral," he argued. The way to extinguish the next Reichstag fire is to demand — and require — that Republicans honor the right of all Americans to vote. https://www.washingtonpost.com/opinions/2021/07/15/american-democracy-survived-its-reichstag-fire-jan-6-threat-has-not-subsided/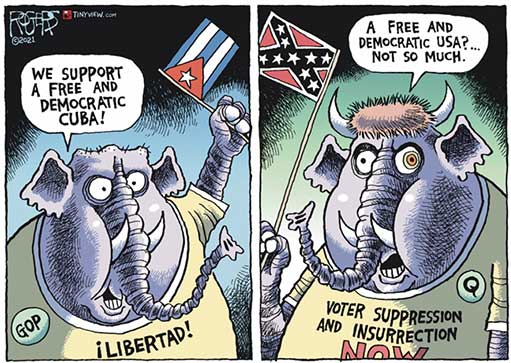 Greg Sargent: A vile new Trump-GOP claim about vaccines suggests trouble ahead
It was only a matter of time until Donald Trump converted the debate over covid-19 vaccines into an occasion for his supporters to show their loyalty to him — and even worse, to the "big lie" that his 2020 loss was illegitimate.
"People are refusing to take the Vaccine because they don't trust his Administration," the former president said in a statement Sunday, referring to President Biden. "They don't trust the Election results, and they certainly don't trust the Fake News."
There you have it: Trump is telling his supporters that they are correct not to trust the federal government on vaccines, because this sentiment should flow naturally from their suspicion that the election was stolen from him. Expressing the former has been magically transformed into a way to show fealty to the latter.
This suggests the anti-vaccine mania on the right may only get worse, at exactly the moment that we need it to get better. This vile new Trump claim hints at how this is likely to happen, with the complicity of even relatively responsible Republicans.
We're seeing a new surge in coronavirus cases due to the delta variant and the lag in vaccinations, with new cases overwhelmingly concentrated among the unvaccinated. Both trends — surging cases and lagging vaccinations — are unfolding primarily in red states.
It's bad enough that Trump has now recast the question of whether to trust the federal government on vaccines as a proxy for whether the election was stolen from him. What makes this worse is that other Republicans are playing a version of this game.
Consider Sen. Bill Cassidy's appearance on "Fox News Sunday." Asked about his state's woeful vaccination rate, the Louisiana Republican declared that Americans "don't trust government" on vaccines because of the "partisan comments coming out of the White House regarding the next Jim Crow laws."
"He's depicting himself as an uber partisan," Cassidy continued of Biden, as if this is supposed to explain red-state distrust of the administration on vaccines. https://www.washingtonpost.com/opinions/2021/07/19/vile-new-trump-gop-claim-about-vaccines-suggests-trouble-ahead/
Susan B. Glasser "You're Gonna Have a Fucking War": Mark Milley's Fight to Stop Trump from Striking Iran
The last time that General Mark Milley, the chairman of the Joint Chiefs of Staff, spoke with President Donald Trump was on January 3, 2021. The subject of the Sunday-afternoon meeting, at the White House, was Iran's nuclear program. For the past several months, Milley had been engaged in an alarmed effort to insure that Trump did not embark on a military conflict with Iran as part of his quixotic campaign to overturn the results of the 2020 election and remain in power. The chairman secretly feared that Trump would insist on launching a strike on Iranian interests that could set off a full-blown war.
There were two "nightmare scenarios," Milley told associates, for the period after the November 3rd election, which resulted in Trump's defeat but not his concession: one was that Trump would try "to use the military on the streets of America to prevent the legitimate, peaceful transfer of power." The other was an external crisis involving Iran. It was not public at the time, but Milley believed that the nation had come close—"very close"—to conflict with the Islamic Republic. This dangerous post-election period, Milley said, was all because of Trump's "Hitler"-like embrace of the "Big Lie" that the election had been stolen from him; Milley feared it was Trump's "Reichstag moment," in which, like Adolf Hitler in 1933, he would manufacture a crisis in order to swoop in and rescue the nation from it.
Just three days later, on January 6th, a version of Milley's nightmare scenario played out anyway: an attack on the U.S. Capitol by a pro-Trump mob seeking to stop Congress from ratifying Biden's victory. Milley had not envisioned it, not exactly—his fears had been largely about street violence, involving running battles between pro-Trump thugs and left-wing opponents that Trump might use as a pretext for demanding martial law. This was the analogy to Germany in the nineteen-thirties that Milley had in mind. When January 6th happened, it wasn't quite like that, of course. But Milley told others on that awful day that what they had dreaded had come to pass: Trump had his "Reichstag moment" after all. https://www.newyorker.com/news/letter-from-bidens-washington/youre-gonna-have-a-fucking-war-mark-milleys-fight-to-stop-trump-from-striking-iran?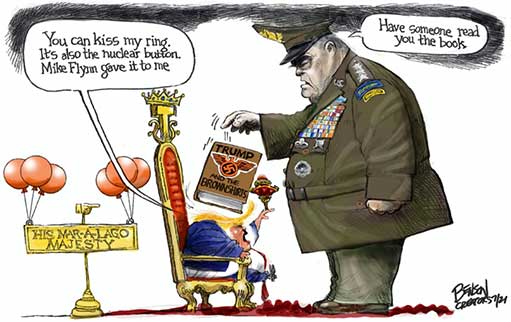 Tom Steyer:  Fossil fuel lobbyists keep stoking the West's wildfires
The Western United States is burning. Last month Oregon and Washington lived through an unbearable 117 degrees — an all-time high for the region, which averages around 62 degrees this time of year. California is seeing the worst fires on record.
This isn't a fluke. This is a data point in our new normal: Hot days and short rainy seasons turn our lush greenery and vibrant woods into kindling.
This also isn't a mystery. We are still powering our country with the fuels that brought us to the brink of disaster. And when we are way past due for investment in a reliable, clean energy grid, Republicans are instead sitting around trying to define the word "infrastructure." Why? Because fossil fuel apologists such as the American Petroleum Institute and the American Gas Assn. are actively campaigning against clean energy proposals. They're lobbying against cheaper energy for consumers, lobbying against the changes that will make our grid more reliable, more equitable and sustainable for the clean energy future that we know must come.
Hoping for the U.S. to continue its dependency on oil, natural gas and coal, fossil fuel lobbyists are drawing from the same playbook Big Tobacco used to push cigarettes to kids, and that playbook of deception was recently revealed by Exxon Mobil's top lobbyist. For more than a decade, oil companies have spent tens of millions of dollars each year spreading misleading slogans, adapting their message to fit the political and cultural moment — from "Thanks to Natural Gas, the Air Up Here Is Cleaner" to "We can produce the energy America needs and protect the environment." We can see through their greenwashing.
Here's the truth. Over the last decade, the industry drilled 85,000 wells, doing irreparable harm to our air and water and driving climate change. State officials sued the Biden administration over recent efforts to limit oil and natural gas leasing on public lands, even though gas and oil companies are sitting on millions of acres of leased unused land. This lawsuit was bought and paid for by fossil fuel companies: Louisiana Atty. Gen. Jeff Landry, who led the lawsuit, has taken $739,182 in campaign contributions from the oil and gas industry. Meanwhile, gas and oil companies happily took billions in stimulus-related tax breaks and laid off 16% of their combined workforce. https://www.latimes.com/opinion/story/2021-07-16/tom-steyer-fossil-fuel-lobbyists-keep-stoking-the-wests-wildfires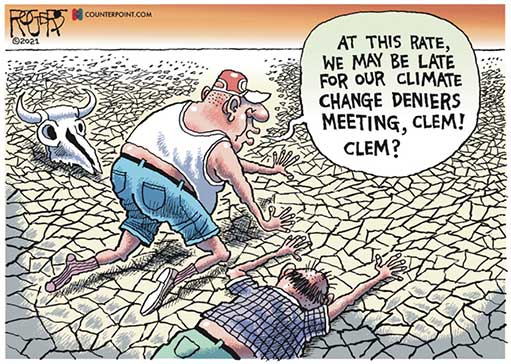 Jamelle Bouie: Republicans Now Have Two Ways to Threaten Elections
The story of voting rights in the United States looks less like a graph of exponential growth and more like a sine wave; there are highs and lows, peaks and plateaus.
President Biden captured this reality in his address on Tuesday at the National Constitution Center in Philadelphia, where he spoke on the gathering threat to our democracy from the Republican Party's twin efforts to suppress rival constituencies and seize control of state voting apparatuses.
"There is an unfolding assault taking place in America today," Biden said. "An attempt to suppress and subvert the right to vote in fair and free elections, an assault on democracy, an assault on liberty, an assault on who we are — who we are as Americans."
Biden is right. Americans today are witnesses to a ferocious attack on voting rights and majority rule. And as he pointed out, it is as focused on "who gets to count the vote" as it is on "who gets to vote."
Biden is also right to say, as he did throughout the speech, that these attacks are "not unprecedented." He pointed to Jim Crow and the "poll taxes and literacy tests and the Ku Klux Klan campaigns of violence and terror that lasted into the '50s and '60s."
For obvious reasons, Jim Crow takes center stage in these discussions. But we should remember that it was part of a wave of suffrage restrictions aimed at working-class groups across the country: Black people in the South, Chinese Americans in the West and European immigrants in the North.
There was an urgency in what the president said in defense of voting rights, a sense that now is the only time left to act. "Look how close it came," he said in reference to the attack on Congress on Jan. 6 and the effort to overturn the election. "We're going to face another test in 2022: a new wave of unprecedented voter suppression, and raw and sustained election subversion. We have to prepare now."
Right now, of course, there is no path to passage for a voting bill that could address the challenges ahead. Not every Democrat feels the same sense of urgency as the president, and key Democrats aren't willing to change the rules of the Senate in order to send a bill to Biden's desk.
It is possible that this is the right call, that there are other ways to block this assault on the franchise and that the attack on free and fair elections will stay confined to Republican-controlled states — meaning Democrats would need only a strategy of containment and not a plan to roll back the assault. But as we've seen, there is a certain momentum to political life and no guarantee of a stable equilibrium. The assault on voting might stay behind a partisan border, or it might not.
In other words, to borrow a turn of phrase from Abraham Lincoln on the question of democracy, this government will either become all of one thing or all of the other. https://www.nytimes.com/2021/07/16/opinion/republicans-democrats-voter-suppression.html