February 10, 2022
THE WEEK'S BEST QUOTES. . .
"The GOP I believe in is the party of freedom and truth. It's a sad day for my party — and the country — when you're punished just for expressing your beliefs, standing on principle, and refusing to tell blatant lies."  —
Maryland Gov. Larry Hogan
, decrying the RNC's push to punish Trump's critics.
"If you are digesting Russian misinformation and parroting Russian talking points you are not aligned with longstanding bipartisan American values, which is to stand up for the sovereignty of countries like Ukraine, but others." —
White House press secretary Jen Psaki
accusing Sen. Josh Hawley (R-MO) and other conservatives of "parroting Russian talking points" amid the looming threat of conflict between Russia and Ukraine, The Hill reports. 
"If we win in November, if I'm chairman of a committee, if I have subpoena power, we'll go after every one of his records. We'll have an investigator go through this piece-by-piece because we don't need this to happen again." —
Sen. Rand Paul (R-KY)
saying he plans to subpoena Dr. Anthony Fauci's records if Republicans retake the Senate in November's midterm elections and he becomes chairman of a committee.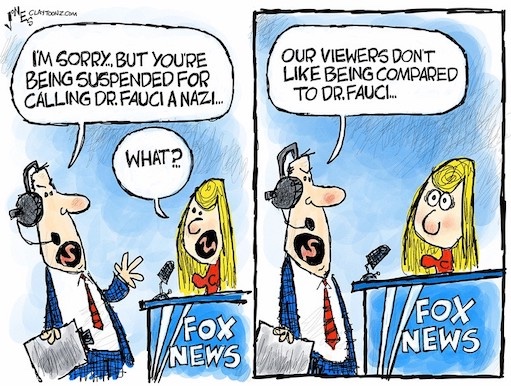 "Failure to shift the GOP away from Trump's influence could lead to a "failed state. People need to wake up to that real possibility. We have to be able to have uneasy alliances, as uneasy as they may be in this moment."  -- 
Rep. Adam Kinzinger (R-Il)
calling on non-GOP members to create an "uneasy alliance" with anti-Trump Republicans who are facing off in primaries against candidates who have been endorsed by the former U.S. president.
"Btw, Pence simply said he couldn't overturn the election. That's it. Pence did NOT say Biden won fair & square. He did NOT say the 2020 election was NOT rigged. He did NOT say stop all this crazy, dangerous, anti-democratic "big lie" talk. Don't go patting Pence on the back." — 
Joe Walsh
  ... "Wait, there's more! Mike Pence was surrounded by a conspiracy to end democracy in America. He didn't call the FBI. He didn't alert the public. He waited to see if it would succeed. When it was clear it would fail, at the last minute he threw in with the winning side." —
Stuart Stevens
"You're gonna carry this thing eventually to your grave, because it is a mark of shame and you are a stone-cold coward." —
Steve Bannon
, slamming Mike Pence on his podcast for not overturning the 2020 election.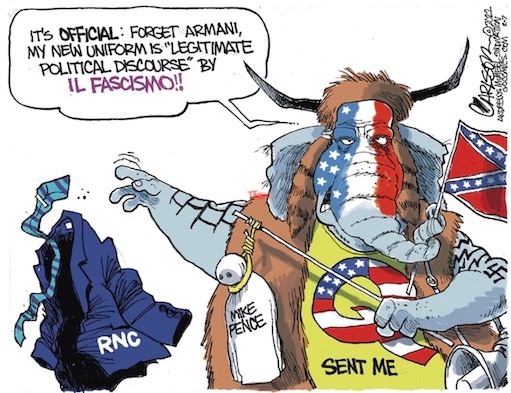 "We thought Hawley should've resigned his Senate seat for his role in the Capitol insurrection, but the idea that the United States should kneel down to Russia over Ukraine underscores how grossly unfit Hawley is to continue in office." —
St. Louis Post-Dispatch editorial
slamming Sen. Josh Hawley (R-MO).
"This is a warning for what's coming. It's not going to be peaceful much longer. It's going to be real … I've been in combat and I never wanted to go back again, but I'm telling you what – I will to stay in this country. If it has to be against our own citizens, it will happen. And there's a million people like me, and you won't stop us," —
Carlos Zapata
, a local militia member who helped organize the successful Shasta County recall effort, in 2020 told the the Shasta county board of supervisors there could be blood in the streets if the supervisors didn't reject state health rules such as mask requirements.
"We saw it happen. It was a violent insurrection for the purpose of trying to prevent the peaceful transfer of power after a legitimately certified election, from one administration to the next. That's what it was." —
Senator Mitch McConnell,
saying it was "not the job" of the RNC to censure Reps Cheney and Kinzinger.
"Anything that my party does that comes across as being stupid is not going to help us." —
Sen. Mitt Romney (R-UT)
on the impact of the RNC censures of Reps. Cheney and Kinzinger. 
"This is a criminal investigation. We're not here playing a game. I plan to use the power of the law. We are all citizens." Mr. Trump, just as every other American citizen, is entitled to dignity. He's entitled to be treated fairly. He will be treated fairly in this jurisdiction. But I plan to do my job and my job is to make sure that we get the evidence that gives us the truth. I'm not concerned at all about games to delay this." —
Fani Willis
, the Atlanta-area district attorney investigating Donald Trump's efforts to overturn the 2020 election results in Georgia. 
"Joe Rogan is an interesting and popular guy, but he's got to stop apologizing to the Fake News and Radical Left maniacs and lunatics. How many ways can you say you're sorry? Joe, just go about what you do so well and don't let them make you look weak and frightened." —
Trump's
advice to Joe Rogan.  
VIDEOS
Jonathan Pie reports in a hilarious new video what many of us suspected all along: Boris Johnson is a liar. https://www.nytimes.com/2022/02/04/opinion/boris-johnson-party-scandal.html
Litigation Tracker: Pending Criminal and Civil Cases Against Donald Trump.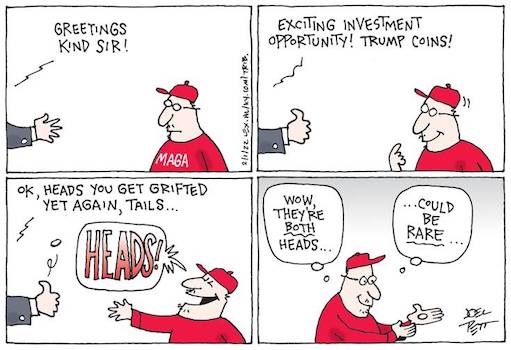 ---
IN THIS ISSUE
IN THE NEWS
OPINION
Andy Borowitz: DeSantis Betting That Republicans Want a Stupider Version of Trump
As he explores a bid for the 2024 Republican Presidential nomination, Governor Ron DeSantis is betting that G.O.P. voters are looking for a stupider version of Donald J. Trump.

According to a source close to DeSantis, the Florida Governor has decided to "run to the stupid of Trump" to pick up the support of voters who now consider the former President too intellectual.

"When Trump recently said that he got the booster, that was the last straw," the source said. "In the eyes of a lot of Republicans, Trump is basically Fauci now.

"Trump's surrender to science is a slippery slope," the source added. "It's only a matter of time before he starts flirting with geography and grammar." As DeSantis stakes his claim to the dumber-than-Trump lane, he spoke at a fund-raising event over the weekend.

"Donald Trump believes that one plus one equals two," the Governor told his audience. "I think the American people should be free to decide for themselves what one plus one equals."https://www.newyorker.com/humor/borowitz-report/
Conspiracy charges possible for filing bogus Trump election slates, experts say
The Justice Department could pursue criminal charges related to the filing of Electoral College votes for Donald Trump from states that actually voted for Joe Biden in 2020, according to several experts on election law.
Certificates purporting to be from Trump electors were sent to Washington by Republicans in seven political battleground states — Arizona, Georgia, Michigan, New Mexico, Nevada, Pennsylvania and Wisconsin. But because Biden won the popular vote in those winner-take-all states, only electoral votes for him could officially be submitted and counted.
https://www.nbcnews.com/politics/conspiracy-charges-possible-filing-bogus-election-slates-legal-experts-rcna14286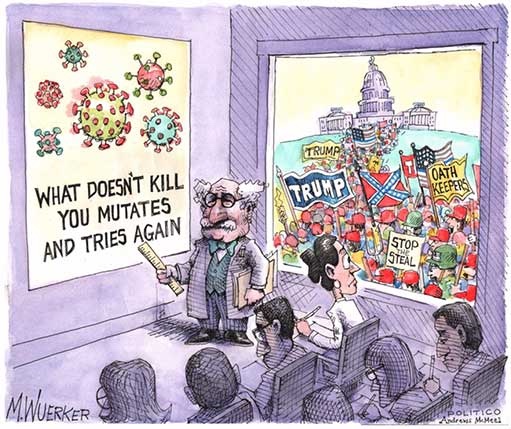 G.O.P. Declares Jan. 6 Attack 'Legitimate Political Discourse'
The Republican Party on Friday officially declared the Jan. 6, 2021, attack on the Capitol and events that led to it "legitimate political discourse," and rebuked two lawmakers in the party who have been most outspoken in condemning the deadly riot and the role of Donald J. Trump in spreading the election lies that fueled it. https://www.nytimes.com/2022/02/04/us/politics/republicans-jan-6-cheney-censure.html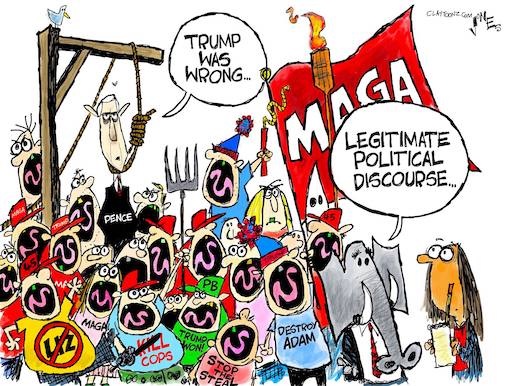 G.O.P. to Tucker Carlson: We're the decision-makers on Ukraine, not you
Republican senators are unmoved by Tucker Carlson's relentless warpath against support for Ukraine — even as it widens an existing rift in their party.
The disconnect between the GOP foreign policy establishment and the pro-Donald Trump base of the party on the value of intervening in foreign quagmires isn't new. But the crisis in Ukraine is exposing the widening gulf between the two camps when it comes to committing U.S. resources in support of fledgling democracies under siege by authoritarian regimes. https://www.politico.com/news/2022/02/01/gop-tucker-carlson-ukraine-00004370
Arctic Sinkholes
Colossal explosions shake a remote corner of the Siberian tundra, leaving behind massive craters. In Alaska, a huge lake erupts with bubbles of inflammable gas. Scientists are discovering that these mystifying phenomena add up to a ticking time bomb, as long-frozen permafrost melts and releases vast amounts of methane, a potent greenhouse gas. https://www.pbs.org/video/arctic-sinkholes-preview-lamink/
Alexander Vindman sues Trump Jr. and Giuliani, alleging retaliation over first Trump impeachment proceedings
Alexander Vindman, a retired U.S. Army lieutenant colonel and former White House national security aide, is suing several allies of former president Donald Trump, alleging that they intimidated and retaliated against him while he was a key witness during Trump's first impeachment.
According to the 73-page complaint, Vindman's lawsuit "seeks long-overdue accountability for unlawful actions knowingly undertaken by close associates and allies" of Trump, alleging that they "engaged in an intentional, concerted campaign of unlawful intimidation and retaliation against [Vindman] to prevent him from and then punish him for testifying truthfully before Congress during impeachment proceedings against President Trump."
https://www.washingtonpost.com/politics/2022/02/02/alexander-vindman-sues-trump-jr-giuliani-retaliation-over-first-trump-impeachment-trial/
Jan. 6 select committee subpoenas phone records of Arizona GOP chair
The Jan. 6 select committee has subpoenaed the phone records of Arizona GOP Chair Kelli Ward and her husband, Michael Ward, who both signed documents falsely claiming to be among their state's presidential electors in 2020.
https://www.politico.com/news/2022/02/02/jan-6-committee-subpoenas-arizona-gop-chair-00004903
Trump considered blanket pardons for Jan. 6 rioters before he left office
In the final days of his presidency, Donald Trump seriously considered issuing a blanket pardon for all participants in the Jan. 6 riot, according to two people with direct knowledge of the matter.
Between Jan. 6 and Joe Biden's inauguration on Jan. 20, Trump made three calls to one adviser to discuss the idea. "Do you think I should pardon them? Do you think it's a good idea? Do you think I have the power to do it?" Trump told the person, who summarized their conversations.
Previously unreported conversations show that Trump wasn't simply musing when he told supporters at a Texas rally last weekend that he would consider pardoning people prosecuted for their role in the Jan. 6 attack if he runs for president again in 2024 and wins. Even in the immediate aftermath of the riot, Trump was expressing sympathy for those involved and weighing how he could shield them from legal consequences.
https://www.politico.com/news/2022/02/02/trump-considered-blanket-pardons-for-jan-6-rioters-before-he-left-office-00004738
Elderly Florida Democrats Say GOP Canvassers Duped Them Into Changing Party Affiliation
Residents of a public housing building in Miami say their voter registrations were unknowingly changed from Democrat to Republican after being visited by GOP canvassers on Wednesday. The vice chair of the state Senate's Ethics and Elections Committee is requesting an investigation.
https://www.rollingstone.com/politics/politics-news/florida-democrats-party-affiliation-changed-republican-canvassers-1294703/
'I am doing the devils work' — Staff at Dem firm revolt over work for Sinema
Since the beginning of 2020, Arizona Sen. Kyrsten Sinema's reelection campaign has paid the Democratic consulting firm Authentic nearly a half million dollars for digital work and list acquisition.
Inside the firm, staffers have revolted over the contract, expressing shock and agitation that a company that professes fidelity to a set of progressive values has worked alongside a lawmaker many believe are standing in the way of progress on those values.
"I am doing the devils work," said one employee at Authentic of the work done for Sinema, according to internal union messages reviewed by POLITICO. "I feel sick about it tbh," chimed another.
https://www.politico.com/news/2022/02/03/kyrsten-sinema-staff-revolt-00005270
The extreme ideas floating around Trump on how to overturn the election
As Donald Trump tried to hang onto power after his election loss, he surrounded himself with advisers, lawyers and seemingly random people who were willing to give him ideas.
We keep learning just how drastic some of those ideas were. The president appeared to take some more seriously than others, but it seems clear that Trump and/or his top aides at least entertained the thought of seizing voting machines. The Washington Post reported Thursday morning that a memo was circulated among Trump allies suggesting that the National Security Agency could be used to try to prove a baseless claim about fraud.
And that's just what's been revealed in reporting and from the congressional Jan. 6 investigation.
For the extreme ideas that circulated around Trump about how to overturn the election and what we know about how he acted on them go to
https://www.washingtonpost.com/politics/2022/02/03/extreme-ideas-floating-around-trump-how-steal-election/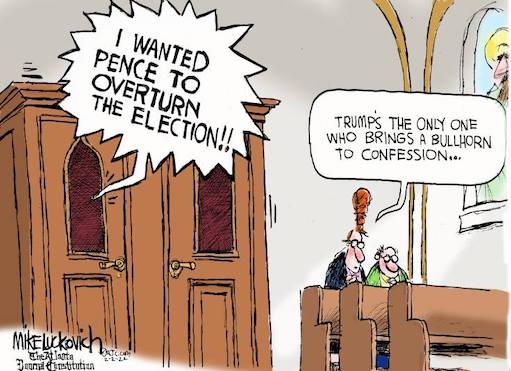 Gov. DeSantis won't condemn Nazi rally in Orlando
Florida Gov. Ron DeSantis has refused to condemn a Nazi rally that took place in Orlando over the weekend, claiming that those asking him to condemn the Nazi rally are trying to "smear" him.

A video of the Orlando rally that spread on social media Monday showed protesters standing on a highway overpass in front of banners of swastikas. The Orlando Sentinel reported that the group shouted antisemitic slurs, and an array of bipartisan Florida politicians, including Republican Sen. Rick Scott and Democratic House Rep. Val Demings, condemned the gathering.

But DeSantis claimed those asking him to condemn the Nazis tried to "use this as some type of political issue," according to CNN. "We're not playing their game," he added.

But DeSantis claimed those asking him to condemn the Nazis tried to "use this as some type of political issue," according to CNN. "We're not playing their game," he added. https://www.jpost.com/diaspora/antisemitism/article-695348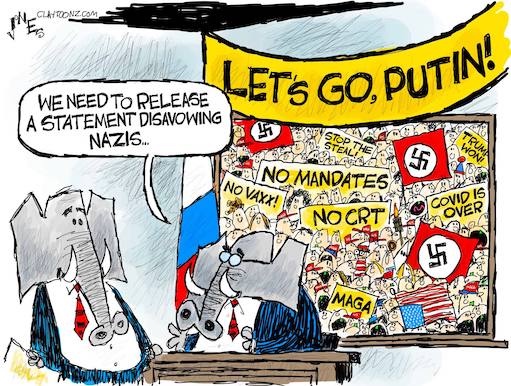 Trump's 'circular firing squad' threatens GOP midterm gains
In a year in which even many Democrats acknowledge the GOP will likely win the House — and despite Republican lawmakers and strategists pleading with Republicans to keep their focus on pocketbook issues and on Biden — the RNC is still recasting the events of Jan. 6 and chasing down enemies of the defeated former president, Donald Trump.
For all the energy he creates at the party's grassroots, his stranglehold on the party is emerging as one of the biggest threats to the GOP's otherwise bright prospects in November.
He has already singled out 10 House Republicans for extinction. He is attacking GOP governors and backing their primary challengers, while meddling in Senate races where it may lead to the nomination of flawed candidates who are ill-suited for a general election. He is fomenting a rebellion against the party's Senate leader, Mitch McConnell. And this week, in Salt Lake City, it was David Bossie, the former Trump deputy campaign manager, who was leading the effort to kick Cheney and Kinzinger to the curb.
https://www.politico.com/news/2022/02/05/trump-midterms-republicans-salt-lake-00005867
Jan. 6 Panel Adopts Prosecution Tactics
The House select committee scrutinizing the Jan. 6 assault on the Capitol is borrowing techniques from federal prosecutions, employing aggressive tactics typically used against mobsters and terrorists as it seeks to break through stonewalling from former President Donald J. Trump and his allies and develop evidence that could prompt a criminal case.
In what its members see as the best opportunity to hold Mr. Trump and his team accountable, the committee — which has no authority to pursue criminal charges — is using what powers it has in expansive ways in hopes of pressuring Attorney General Merrick B. Garland to use the Justice Department to investigate and prosecute them.
https://www.nytimes.com/2022/02/05/us/politics/january-6-committee.html
GOP takes mail voting to court in swing states Biden won
A pair of looming state court cases could significantly curtail mail voting ahead of the midterms — one of Republicans' major goals since former President Donald Trump went to war against the practice in 2020.
The state Supreme Courts in Pennsylvania and Wisconsin are both hearing major voting cases after conservative victories in lower courts. In Wisconsin, a judge in January ruled in favor of banning drop boxes for the return of absentee ballots. In Pennsylvania, the legal challenge went bigger, throwing out the state's relatively new law allowing anyone to vote by mail without an excuse.
Both lower court rulings were put on hold during the state Supreme Court appeals. But a final ruling overturning Pennsylvania's new voting law would arguably be the biggest change in election law since the presidential election: More than 2.6 million people there — nearly two-thirds of them registered Democrats, according to the U.S. Elections Project — cast ballots by mail in 2020.
https://www.politico.com/news/2022/02/05/mail-voting-on-trial-battleground-states-00005794
How Manchin used politics to protect his family coal company
As governor, Joe Manchin supported an unusual detail in a clean energy bill that was moving through the West Virginia Legislature in 2009.
The provision classified waste coal as an alternative energy.
The muddy mix of discarded coal and rocks is one of the most carbon-intensive fuels in America. And Manchin's family business stood to benefit financially when it was reclassified as something akin to solar, wind and hydropower.
Selling the scrap coal has earned Manchin millions of dollars over three decades, and he has used his political positions to protect the fuel — and a single power plant in West Virginia that burns it — from laws and regulations that also threatened his family business.
https://www.politico.com/news/2022/02/08/manchin-family-coal-company-00003218
Supreme Court stops lower court order requiring Alabama to draw a new district voting map favorable to Black residents
A divided Supreme Court on Monday restored an Alabama congressional map that creates only one district favorable to a Black candidate, and put on hold a lower court's order that said a second district was necessary to comply with the Voting Rights Act.
Over the objections of Chief Justice John G. Roberts Jr. and the court's three liberals, its five most consistently conservative justices halted a decision last month by three federal judges. The panel threw out Alabama's new congressional map, which included only one congressional district with a majority of Black voters even though they make up more than a quarter of the state's population.
https://www.washingtonpost.com/politics/2022/02/07/supreme-court-alabama-racial-gerrymandering/
Trump's incendiary Texas speech may have deepened his legal troubles, experts say
Donald Trump's incendiary call at a Texas rally for his backers to ready massive protests against "radical, vicious, racist prosecutors" could constitute obstruction of justice or other crimes and backfire legally on Trump, say former federal prosecutors.
Dennis Aftergut, a former federal prosecutor who is of counsel to Lawyers Defending American Democracy, told the Guardian that Trump "may have shot himself in the foot" with the comments. "Criminal intent can be hard to prove, but when a potential defendant says something easily seen as intimidating or threatening to those investigating the case it becomes easier," Aftergut said.
Aftergut added that having proclaimed "his support for the insurrectionists, Trump added evidence of his corrupt intent on January 6 should the DOJ prosecute him for aiding the seditious conspiracy, or for impeding an official proceeding of Congress."
https://www.theguardian.com/us-news/2022/feb/07/donald-trump-incendiary-speech-texas-legal-troubles-experts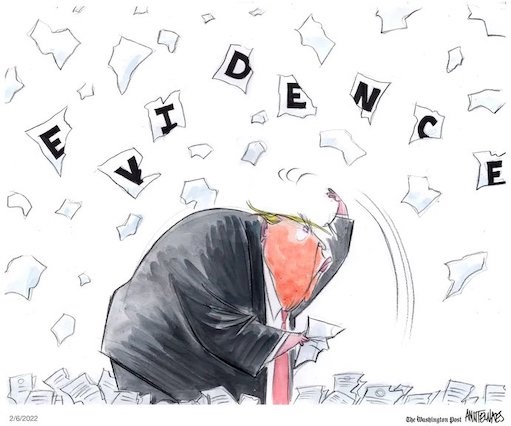 The DAILY GRILL

JUST IN: Sen. Josh Hawley (R-MO) urging Biden administration to drop support for Ukraine's eventual membership in NATO.



VERSUS



I hate to be so personal, but Hawley is one of the worst human beings, and a self aggrandizing con artist.  When Trump goes down I certainly hope this evil will be laid in the open for all to see, and be ashamed of. — Rep. Adam Kinzinger (R-Ill.)



The Republican National Committee on Friday voted Friday to condemn Reps. Liz Cheney (R-Wyo.) and Adam Kinzinger (R-Ill.), the two Republican members of a House committee investigating the Jan. 6, 2021, attack on the U.S. Capitol by a pro-Trump mob, saying the behavior of Cheney and Kinzinger "has been destructive to the institution of the U.S. House of Representatives, the Republican Party and our republic." 



VERSUS



"The leaders of the Republican Party have made themselves willing hostages to a man who admits he tried to overturn a presidential election and suggests he would pardon Jan. 6 defendants, some of whom have been charged with seditious conspiracy. I'm a constitutional conservative and I do not recognize those in my party who have abandoned the Constitution to embrace Donald Trump. History will be their judge. I will never stop fighting for our constitutional republic. No matter what," — Rep. Liz Cheney (R-WY)

 
Washington Post Editorial: The Republican Party formally declares that truth is fiction and patriots are traitors
The Republican Party on Friday took an official stand — against truth and democracy. At the Republican National Committee's winter meeting in Salt Lake City, party leaders censured Rep. Liz Cheney (R-Wyo.) and moved to aid her primary opponent, Harriet Hageman, who is former president Donald Trump's preferred candidate for Wyoming's lone congressional seat.
The Orwellian censure resolution accuses Ms. Cheney and fellow GOP dissident Rep. Adam Kinzinger (R-Ill.) of engaging in behavior "destructive to the institution of the U.S. House of Representatives, the Republican Party and our republic." Her transgression? Co-leading the House committee investigating the Capitol invasion, an act of political violence Mr. Trump inspired when he was a sitting president charged with protecting the nation from enemies foreign and domestic. The investigation, the censure resolution claimed, is "a Democrat-led persecution of ordinary citizens engaged in legitimate political discourse."
When in recent memory has the House been more threatened as when members had to barricade the doors to the chamber against a dangerous mob screaming for their blood? By insisting on a full probe and accountability for one of the country's lowest moments since the Civil War, Ms. Cheney is waging what, within her party, is an increasingly lonely battle against those seeking to pervert the U.S. system of government for personal gain.
Republicans have started their election year by revealing what they really stand for. Voters must remember this moment in November.
https://www.washingtonpost.com/opinions/2022/02/04/liz-cheney-republicans-censure-orwellian/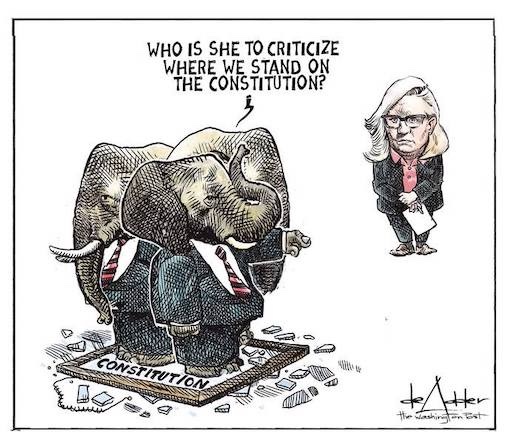 Dana Milbank: There's a name for someone who calls violence 'legitimate.' It isn't 'Republican.'
Trump aides had a euphemism for Trump's laziness: "Executive time" was the item listed on his official schedule when he wanted to sit on the couch and watch Fox News. They had a euphemism for his misogyny: "locker room talk." His fabrications were alternative facts, or "truth impressions" in the phrase of Mark Meadows, Trump's last chief of staff. They even had a euphemism for his racism: He refused to be "politically correct."

Now, the insurrectionists have become peaceful tourists or "political prisoners," the Capitol Police murderers, the would-be assassins martyrs. Newt Gingrich, the former House speaker now advising House Republicans, proposes jailing the members of the Jan. 6 committee. A week ago, Trump himself called for uprisings against "radical, vicious, racists prosecutors" investigating him, "because our country and our elections are corrupt." He dangled pardons for the insurrectionists if he's returned to power.

And this was before the Republican National Committee decided it would officially decree that violence is "legitimate political discourse." Among the Jan. 6 activities so justified:
Blinding police officers with bear spray.

Throwing rocks, bottles, furniture and incendiary devices at them.

Gouging their eyes.

Beating them with flagpoles, sticks and bullhorns.

Punching, kicking and dragging them down stairs.

Tasing them and hurling a fire extinguisher at them.

Smashing windows and doors.

Carrying zip ties onto the Senate floor.

Ransacking desks and offices.
And all this with murder on their lips.
Now, the Republican National Committee, the official leadership of the GOP, has embraced this unspeakable violence as legitimate discourse. It's an absurd euphemism — and it points to another one.
To call a person who endorses violence against the duly elected government a "Republican" is itself Orwellian. More accurate words exist for such a person. One of them is "fascist."
https://www.washingtonpost.com/opinions/2022/02/07/rnc-legitimate-political-discourse-insurrection/
William Saletan: Lies Are the Building Blocks of Trumpian Authoritarianism
Americans like to think our country is immune to authoritarianism. We have a culture of freedom, a tradition of elected government, and a Bill of Rights. We're not like those European countries that fell into fascism. We'd never willingly abandon democracy, liberty, or the rule of law.
But that's not how authoritarianism would come to America. In fact, it's not how authoritarianism has come to America. The movement to dismantle our democracy is thriving and growing, even after the failure of the Jan. 6th coup attempt, because it isn't spreading through overt rejection of our system of government. It's spreading through lies.
It turns out that you don't have to renounce any of our nation's founding principles to betray them. All you have to do is believe lies: that real ballots are fake, that prosecutors are criminals, and that insurrectionists are political prisoners. Once you believe these things, you're ready to disenfranchise your fellow citizens in the name of democracy. You're ready to cover up crimes in the name of fighting corruption. You're ready to liberate coup plotters in the name of justice.
And that's where we are. Donald Trump and his party have sold these lies to more than 100 million Americans. He has built an army of authoritarian followers who think they're saving the republic.
https://www.thebulwark.com/lies-are-the-building-blocks-of-trumpian-authoritarianism/
Eugene Robinson: Republicans' animus toward Biden's Supreme Court pledge shows how they're no longer veiling their racism
If the Republican Party has any sort of platform these days, it appears to involve stoking White grievance and opposing even modest steps to foster diversity.
That's not a partisan argument; I'm just noting what Sen. Ted Cruz (R-Tex.) and a few of his colleagues are saying about President Biden's promise to nominate a Black woman to the Supreme Court. On his podcast, "Verdict With Ted Cruz," the senator recently called Biden's pledge "offensive."
"The fact that he's willing to make a promise at the outset, that it must be a Black woman, I got to say that's offensive," Cruz said. "You know, Black women are, what, 6 percent of the U.S. population? He's saying to 94 percent of Americans, 'I don't give a damn about you. You are ineligible.'"
Cruz went on to argue that promising to nominate a Black woman was, somehow, "actually an insult to Black women." I'd like to see what data he's relying on to support that claim. I happen to know quite a few Black women — my wife, my sister, lots of other family members, many friends, co-workers and acquaintances — and not a single one has expressed to me the slightest sense of being insulted. I've heard reactions of joy and pride but not a scintilla of outrage.
Eventually, Cruz got to his real point: He claimed Biden is saying that "if you're a White guy, tough luck. If you're a White woman, tough luck. You don't qualify."
And there you have it. Republicans no longer accidentally say the quiet part out loud; they shout it from the rooftops — or at least preach it on their podcasts.
I used to think the GOP had left Jesse Helms behind. Today, however, he would be proud.
https://www.washingtonpost.com/opinions/2022/02/03/republican-opposition-biden-court-pick-stoking-white-grievance/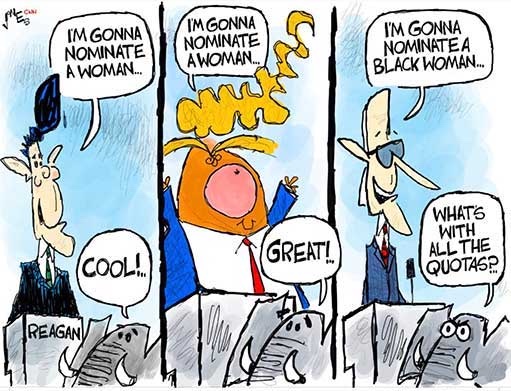 Bess Levin: Lindsey Graham Spent Six Years With His Head Up Trump's Ass For Nothing
Graham has more than proved his servility to Trump over the last six years, and should probably be inducted into some kind of Hall of Fame for bootlicking hacks, or given a key to Mar-a-Lago. Unfortunately, Graham forgot the cardinal rule of serving at the pleasure of Trump, which is that one must vigorously and without fail agree with every single thing the guy does and says, at all times, forever and always. Instead, God help him, the Republican lawmaker expressed an independent thought, and this happened:
Yet Trump dubbed Graham, a lifelong Republican, a Republican in Name Only, in an interview with Newsmax that aired Tuesday night. That may not sound so bad to some people, but as Trump made clear in 2020, it's among the worst things he can think to accuse someone of. ("Do you know what RINO is?" he asked a crowd in Arizona. "A RINO may be the lowest form of human life.") Why is Graham, in Trump's eyes, a RINO? Because Graham had claimed it was "inappropriate" for Trump to say over the weekend that he might pardon some of the January 6 rioters if reelected in 2024, a move that effectively would allow Trump supporters to get away with waging a violent insurrection.
"Lindsey Graham doesn't know what the hell he's talking about if he says that," Trump added to Newsmax's Rob Schmitt.
Which is not a very nice thing to say about someone who's basically had his head lodged inside your ass for over half a decade now! Though if we know Lindsey, and we think we do, it'll all be water under the bridge by the end of the month. Last week, the South Carolina senator said in an interview with Fox's Brian Kilmeade that he'd spent the "whole weekend" with Trump and suggested that the ex-president apparently has total control over the Republican Party. "He will be the nominee in 2024 if he wants it. Stay tuned," Graham said, adding: "From my point of view, there's nobody that's going to beat Donald Trump if he wants to run.
https://www.vanityfair.com/news/2022/02/lindsey-graham-donald-trump-rino
 Elisabeth Anker: The Exploitation of 'Freedom' in America
Within hours of becoming governor of Virginia, Glenn Youngkin signed an executive order to ban the teaching of critical race theory, explaining that the state must promote "freedom of thought." He then moved to lift mask mandates in public schools, citing "individual liberty." In mid-January, Florida lawmakers debated an "individual freedom" bill that would limit discussions about race and discrimination in schools and businesses.
Around the same time, conservative politicians in Georgia created a Freedom Caucus that seeks to, among other things, keep "dangerous ideology" out of schools. And, in Iowa, a Parental Freedom in Education Act would have allowed parents to prevent children from learning anything they find objectionable, inspect teachers' curriculum and lesson plans at any time and challenge mask mandates. (The bill was rejected in the Iowa Senate.)
Each of these actions used the language of freedom to justify anti-democratic politics. These, then, are what I call "ugly freedoms": used to block the teaching of certain ideas, diminish employees' ability to have power in the workplace and undermine public health.
These are not merely misunderstood freedoms, or even just a cynical use of the language of freedom to frame bigoted policies. They manifest, instead, a particular interpretation of freedom that is not expansive, but exclusionary and coercive.
https://www.nytimes.com/2022/02/04/opinion/ugly-freedom-discrimination-racism-sexism.html
Erwin Chemerinsky: So much for nonpartisan. Republican Supreme Court justices are helping elect Republicans
It is hard to understand the Supreme Court's ruling on Monday to reinstate a congressional district map drawn by the Alabama Legislature as anything other than an effort by the conservative justices to help Republicans in the midterms.
In a 5-4 decision, with Chief Justice John G. Roberts Jr. joining the three liberal justices in dissent, the court ignored basic principles of law and essentially gave the Republicans another House seat.
Alabama's population is 27% Black, but under the map drawn in November, Black voters have the power to elect their preferred candidates in only one of the state's seven congressional districts. The district court found that the Republican-controlled Legislature could have and should have created a second district with a majority of Black voters. The court then ordered the Legislature to submit new maps by this week or it would appoint an independent expert to do so.
Not one of the nine justices denied the discriminatory effect of the Alabama Legislature's redistricting. Nor did any of the justices claim that the district court misapplied the law in finding a violation of the Voting Rights Act. As Roberts explained in his dissent, the district court's ruling contained no errors for correction. In such cases, there is no reason to stay the district court's ruling because there's no likelihood that the ruling would be reversed.
Monday's ruling means that a map, clearly violating the Voting Rights Act, will be used in this year's congressional primary and general election.
Now it appears that the conservatives are ready to limit the use of the Voting Rights Act to prohibit discrimination in redistricting. It is surely not coincidental that all of these rulings by Republican-appointed justices help Republicans in elections and hurt Democrats. As Justice Elena Kagan wrote in her dissent, this ruling allows to stand a "violation of a law this Court once knew to buttress all of American democracy." Time and again, the court's conservatives have shown that they are perfectly willing to ignore this principle.
https://www.latimes.com/opinion/story/2022-02-08/supreme-court-alabama-voting-map
Philip Bump: Almost half of Republicans say Trump bears no blame for Jan. 6 — and that he likely won in 2020
On Tuesday, the
Pew Research Center released new polling
 that shows how the false belief that Trump actually won in 2020 overlaps with skepticism about both Trump's role in the day's violence and the efforts to understand fully how it occurred.
Pew found that only about 1 in 3 Republicans think Joe Biden won the 2020 election, and only about 14 percent of them say he definitely won, which he did. In other words, six out of every seven Republicans are unwilling to say that Biden definitely won. Instead, a third say Trump probably won — somehow — and almost another third say Trump definitely won. By now, this position is simply an act of faith, a rejection of all available evidence in deference to a feeling. It's still remarkable in scale.
The polling also found that people whose views were furthest from reality on the results of the 2020 election were also those most eager to downplay what occurred at the Capitol. For example, 7 in 10 Republicans who say Trump probably won in 2020 think that too much attention has been paid to Jan. 6. That position was held by 9 in 10 of those who say Trump definitely won. (On the graphs below, the widths of the columns are scaled to the percentage of Republicans who belong to each of the groups indicated along the horizontal axis.)
https://www.washingtonpost.com/politics/2022/02/09/poll-trump-riot-election/