February 27, 2020
ON THE RECORD. . .
The president pardoned Tuesday a man still serving time in a federal prison for literally selling a US Senate seat to the highest bidder. If that's what Trump can do, the next Democratic president can do one better: pardon 11 million immigrants. -- John Stoehr
"I keep wondering how one survives jail with a Nixon tattoo on your back." — Former Ambassador Patrick Gaspard on Twitter.
"This is a screaming red siren, but in the daily barrage of crazy, can we hear it? Trump is not only trying to rewrite history of Russia's intervention in 2016, he is now using the power of the presidency to conceal their 2020 scheme to re-elect him. Dangerous!" — Former acting Attorney General Sally Yates on Trump's anger over intelligence officials briefing lawmakers on Russian election interference.
"We're going to try and block the publication of the book. We can do this. But not in the White House. I give the guy a break. I give him a job. And then he turns on me He's just making things up." — Trump on John Bolton's book, which promises to unveil key first-person moments between Bolton and Trump that were at the heart of the president's handling of Ukraine, a saga that led to his impeachment by the House.
"I think I might find it harder to vote for Bernie than for Trump. There's a long time between now and then. The Democrats would be working very hard to find someone who is as divisive as Trump. But with Bernie they would have succeeded." — Former Goldman Sachs CEO Lloyd Blankfein.
"The notion that the Democratic Party is going to have party insiders overturn the will of the voters — I just don't think it's gonna happen. So the clock is ticking." — David Plouffe, Barack Obama's campaign manager in 2008, on denying Bernie Sanders the Democratic nomination if he receives a plurality of the delegates at a contested convention.
"Those of us who are horrified at the dismantling of our democracy fear him because he may very well be destroying more than we can ever rebuild. We run the risk, it seems to me, of forgetting what the presidency is supposed to be. We are so bombarded with the crudeness of Donald Trump, his cruelty and wanton disregard for the tenets of our Constitution, that the image of a president who has a moral compass, reveres our democracy and follows its laws is fading from our collective psyche." — Patti Davis, a daughter of the late President Reagan.
"The best thing we could do is just get Mike Bloomberg in there."— Longtime Republican Clint Eastwood switching his support from Donald Trump
.
"I've got news for the Republican establishment. I've got news for the Democratic establishment. They can't stop us." — Bernie Sanders taking his long-running fight with the Democratic Party establishment very public, hours after news broke that Russia is working to help his 2020 primary bid.
"The entire theory that by expanding the electorate, increasing turnout, you can win an election is the equivalent of climate denier. People say that, they're as stupid to a political scientist as a climate denier is to an atmospheric scientist.That's just a fact, there's no denying it, — James Carville
"Somebody please tell incompetent (thanks for my high poll numbers) and corrupt politician Adam 'Shifty' Schiff to stop leaking Classified information or, even worse, made up information, to the Fake News Media. Someday he will be caught, and that will be a very unpleasant experience!" — Trump tweeting a veiled threat toward House Intelligence Committee Chairman Adam Schiff, claiming without evidence that the California Democrat had leaked information from a classified briefing in which a senior U.S. intelligence official told lawmakers that Russia wants to see Trump reelected.
Lots of Democrats are in full panic that Bernie Sanders will win the nomination and get clobbered in the general election — and bring the party down, too. But the evidence, particularly the polling, doesn't back those doomsday warnings. Virtually every national and swing state poll shows Sanders tied with or beating President Trump.  And, unlike every rival, he has a huge base of fervent, unshakable supporters he can only grow. — Jim VandeHei
"I don't see a whole lot of 2016 in this election. I see a whole lot of 1972." — Rep. Jim Clyburn (D-SC) comparing Bernie Sanders to George McGovern.
"The other candidates, and party leaders who are worried about Sanders' ability to lead the Democratic ticket, have precious little time to make Democratic voters as uncomfortable with Sanders as some of them seem to be. Otherwise, he's going to be the nominee, and Republicans will work to turn Democratic fears about Sanders' far-left politics into realities." — Sabato's Crystal Ball 
"We're very opposed to the authoritarian nature of Cuba but you know, it's unfair to simply say everything is bad. You know? When Fidel Castro came into office, you know what he did? He had a massive literacy program. Is that a bad thing? Even though Fidel Castro did it?" — Bernie Sanders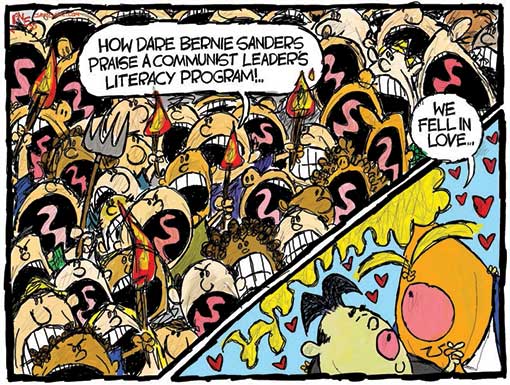 Socialist Schmocialist. Sanders has a set of political assets—celebrity, fundraising power, committed foot soldiers, media sophistication, relentless consistency—possessed by no one else in the race. — Peter Hamby
"In 30-plus years of politics, I've never seen this level of doom. I've never had a day with so many people texting, emailing, calling me with so much doom and gloom. It's this incredible sense that we're hurtling to the abyss. I also think we could lose the House. And if we do, there would be absolutely no way to stop [Trump]. Today is the most depressed I've ever been in politics." — Matt Bennett of the center-left group Third Way after Sanders' win in Nevada.
"Having hollowed out the senior leadership of so many departments of the government — especially in the scientific community — Trump is now in desperate need of professional guidance among people he has abused for three years. If the markets continue to drop and the medical news gets very bad, then this president is singularly ill-prepared to deal with it in a rational manner." — Russell Riley, a presidential historian at the University of Virginia's Miller Center.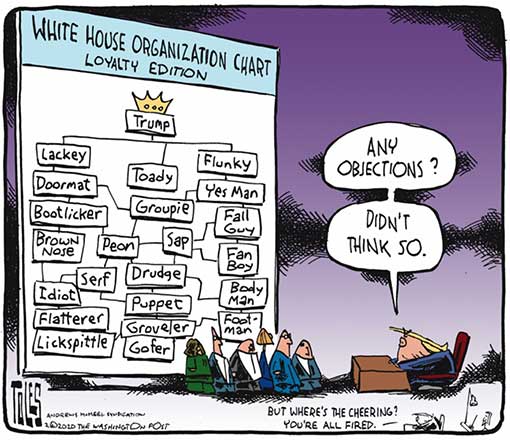 If you want to vote for Bernie Sanders because you feel good about his program, you don't like the banks on Wall Street or you don't like pharmaceuticals, that's legitimate, I understand that. If you're voting for him because you think he'll win the election, politically, you're a fool. And that's just a fact. It's no denying it, there's so much political science, so much research on this that it is not even a debatable question. — James Carville
"We have contained this, I won't say airtight but pretty close to airtight." -- White House National Economic Council Director Larry Kudlow saying that the U.S. has "contained" the threat posed a domestic coronavirus outbreak, breaking with the warnings of officials from the Centers for Disease Control.
President Trump acknowledged the existence of assembled lists of government officials that his administration plans to oust and replace with trusted pro-Trump people. —  Axios
"It's a hard no. Bernie has said he's going to fund his presidential campaign with small-dollar contributions, and I think we can do that. I think we can raise over a billion dollars in small-dollar contributions." — Sanders campaign manager Jeff Weaver, refusing financial support from Michael Bloomberg in the general election.
"Elizabeth Warren hates Michael Bloomberg more than she wants to win." — James Carville on MSNBC.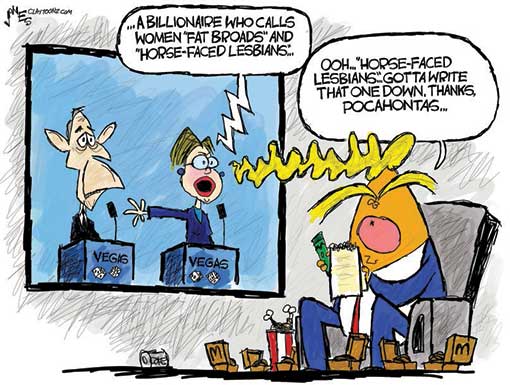 "I think whoever our nominee is, we will enthusiastically embrace and we will win the White House, the Senate and the House." — Nancy Pelosi
"Low Ratings Fake News MSDNC (Comcast) & CNN are doing everything possible to make the Caronavirus (sic) look as bad as possible, including panicking markets, if possible. Likewise their incompetent Do Nothing Democrat comrades are all talk, no action. USA in great shape!" — Trump tweet.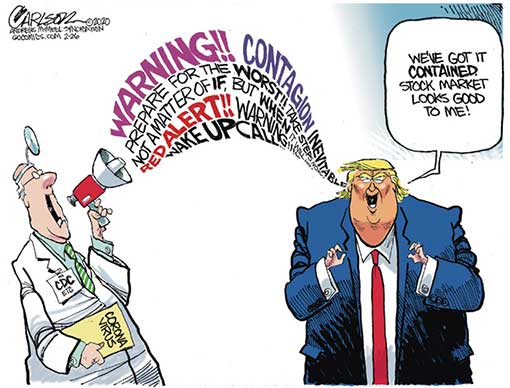 ---
IN THIS ISSUE
FYI
OPINION
1. Andy Borowitz: Ruth Bader Ginsburg Says Trump Should Recuse Himself From All Decisions Involving The Future Of The Country
Asserting that his personal interests put him in direct conflict with the interests of the United States of America, Supreme Court Justice Ruth Bader Ginsburg has demanded that Donald Trump recuse himself from all decisions involving the future of the U.S.

Speaking from her office at the Supreme Court, Ginsburg said that Trump's oft-stated allegiance to himself makes it impossible for him to render unbiased decisions on issues affecting people other than himself.

"Since the United States is populated by three hundred and thirty-one million people who are not him, any decision regarding their fates would, by definition, ensnare Trump in an insoluble conflict of interest," she said.

Ginsburg enumerated a list of issues about which Trump should immediately recuse himself, including immigration, trade, taxes, the social safety net, women's reproductive rights, health care, the economy, the military, the environment, "and any other issues related to domestic or foreign policy not listed above."

Ginsburg stressed, however, that, even after recusing himself from those matters, Trump would still be allowed to weigh in on other important decisions, like "what to eat and which channel to watch." https://www.newyorker.com/humor/borowitz-report/
2. Trump's Fury at Intel Briefing Shows Putin's Bet Keeps Paying Off
Intelligence officials warned House lawmakers last week that Russia is interfering in the 2020 campaign to try to get President Donald Trump re-elected, The New York Times and The Daily Beast report. During the briefing to the House Intelligence Committee, Trump's Republican allies reportedly challenged the conclusions of the intelligence community, arguing that under Trump the U.S. has been tough on Russia and strengthened European security.
But Russia's state media—tightly controlled by the Kremlin—contradicts that assertion all the time. It has consistently conveyed the message that Trump's election has proven exceedingly beneficial for the Kremlin.
Indeed, Trump's presidency is so valuable for Vladimir Putin that even "tough" sanctions are minor by comparison. The Chekist in the Kremlin is willing to make temporary sacrifices in order to keep such a disruptive figure in charge of the mightiest country in the world, and Russian state media repeatedly makes the point that Russia's gamble will continue to pay off, since the Kremlin is holding, as it were, the trump card. 
Russian experts and pundits on state television frequently express their desire to see President Trump re-elected. Appearing on Russia's popular state television news talk show 60 Minutes last October, political analyst Mikhail Sinelnikov-Orishak gushed: "I look at Trump and think: 'May God grant him good health—and another term.' This is a great situation for Russia... may he flourish and get re-elected... Trump is a great candidate. I applaud him... For America, this isn't a very good president." https://www.thedailybeast.com/donald-trumps-fury-at-intel-briefing-shows-vladimir-putins-bet-keeps-paying-off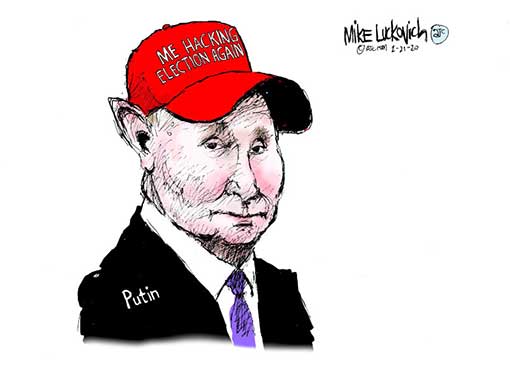 3. Florida can't bar felons from vote over fines and fees, court rules
Florida cannot, for now, bar felons who served their time from registering to vote simply because they have failed to pay all fines and fees stemming from their cases, a federal appeals court ruled Wednesday.
A three-judge panel of the 11th U.S. Circuit Court of Appeals upheld a Tallahassee federal judge's preliminary injunction that a state law implementing Amendment 4 amounted to an unfair poll tax that would disenfranchise many of the released felons.
The state constitutional amendment was approved overwhelmingly by voters in 2018 to allow most felons who served their time to regain the right to vote. But the Republican-led Legislature soon after passed a law stipulating that they had to first pay any fines and fees before their sentences could be deemed complete under the law. https://www.nbcnews.com/politics/elections/florida-can-t-bar-felons-vote-over-fines-fees-court-n1138736
4. Lawmakers Are Warned That Russia Is Meddling to Re-elect Trump
Intelligence officials warned House lawmakers last week that Russia was interfering in the 2020 campaign to try to get President Trump re-elected, five people familiar with the matter said, a disclosure to Congress that angered Mr. Trump, who complained that Democrats would use it against him.
The Russians have been preparing for the 2020 election, undeterred by American efforts to thwart them but aware that they needed a new playbook of as-yet-undetectable methods, United States officials said.
They have made more creative use of Facebook and other social media. Rather than impersonating Americans as they did in 2016, Russian operatives are working to get Americans to repeat disinformation, the officials said. That strategy gets around social media companies' rules that prohibit "inauthentic speech."
While Republicans have long been critical of the Obama administration for not doing enough to track and deter Russian interference in 2016, current and former intelligence officials said the party is at risk of making a similar mistake now. Mr. Trump has been reluctant to even hear about election interference, and Republicans dislike discussing it publicly. https://www.nytimes.com/2020/02/20/us/politics/russian-interference-trump-democrats.html
5. As Bernie Sanders's momentum builds, down-ballot Democrats move to distance themselves
As Sanders builds what could eventually be an insurmountable delegate lead, many Democratic House and Senate candidates are approaching a dramatic shift in their campaigns, as they recalibrate to include praise of capitalism and distance themselves from the national party. Top campaign strategists from both parties view Sanders's success as a potentially tectonic event, which could narrow the party's already slim hopes of retaking the Senate majority and fuel GOP dreams of reclaiming the House, which it lost amid a Democratic romp in 2018. https://www.washingtonpost.com/politics/as-bernie-sanderss-momentum-builds-down-ballot-democrats-move-to-distance-themselves/2020/02/22/3364ddd8-5516-11ea-9e47-59804be1dcfb_story.html
6. Trump's "Deep State" hit list
The Trump White House and its allies, over the past 18 months, assembled detailed lists of disloyal government officials to oust — and trusted pro-Trump people to replace them — according to more than a dozen sources familiar with the effort who spoke to Axios.
By the time President Trump instructed his 29-year-old former body man and new head of presidential personnel to rid his government of anti-Trump officials, he'd gathered reams of material to support his suspicions. https://www.axios.com/trump-memos-deep-state-white-house-ce5be95f-2418-433d-b036-2bf41c9700c3.html
7. Trump's New Spy Chief Used to Work for a Foreign Politician the U.S. Accused of Corruption
Trump's new acting intelligence director, Richard Grenell, used to do consulting work on behalf of an Eastern European oligarch who is now a fugitive and was recently barred from entering the U.S. under anti-corruption sanctions imposed last month by the State Department.
In 2016, Grenell wrote several articles defending the oligarch, a Moldovan politician named Vladimir Plahotniuc, but did not disclose that he was being paid, according to records and interviews. Grenell also did not register under the Foreign Agents Registration Act, which generally requires people to disclose work in the U.S. on behalf of foreign politicians. https://www.propublica.org/article/trumps-new-spy-chief-used-to-work-for-a-foreign-politician-the-us-accused-of-corruption
8. Senior intelligence official told lawmakers that Russia wants to see Trump reelected
A senior U.S. intelligence official told lawmakers last week that Russia wants to see President Trump reelected, viewing his administration as more favorable to the Kremlin's interests, according to people who were briefed on the comments.
After learning of that analysis, which was provided to House lawmakers in a classified hearing, Trump grew angry at his acting director of national intelligence, Joseph Maguire, in the Oval Office, seeing Maguire and his staff as disloyal for speaking to Congress about Russia's perceived preference. The intelligence official's analysis and Trump's furious response ­ruined Maguire's chances of becoming the permanent intelligence chief, according to people familiar with the matter who, like others, spoke on the condition of anonymity to discuss a sensitive matter.
Trump announced Wednesday that he was replacing Maguire with a vocal loyalist, Richard Grenell, who is the U.S. ambassador to Germany. The shake-up at the top of the intelligence community is the latest move in a post-impeachment purge. Trump has instructed aides to identify and remove officials across the government who aren't defending his interests, and he wants them replaced with loyalists.
Maguire, a career official who is respected by the intelligence rank and file, was considered a leading candidate to be nominated to the post of DNI, White House aides had said. But Trump's opinion shifted last week when he heard from a Republican ally about the official's remarks https://www.washingtonpost.com/national-security/after-a-congressional-briefing-on-election-threats-trump-soured-on-acting-spy-chief/2020/02/20/1ed2b4ec-53f1-11ea-b119-4faabac6674f_story.html.
9. Mulvaney says U.S. is 'desperate' for more legal immigrants
Acting White House chief of staff Mick Mulvaney told a crowd at a private gathering in England on Wednesday night that the Trump administration "needs more immigrants" for the U.S. economy to continue growing, according to an audio recording of his remarks obtained by The Washington Post.
"We are desperate — desperate — for more people," Mulvaney said. "We are running out of people to fuel the economic growth that we've had in our nation over the last four years. We need more immigrants."
Mulvaney's remarks appear in contrast to the public position of several top figures in Trump's White House — especially that of senior policy adviser Stephen Miller — who have been working to slash legal and illegal immigration through a slew of policies that aim to close off the U.S. border to foreigners. They have insisted that the steady arrival of newcomers depresses wages for the blue-collar U.S. workers whose votes helped lift Trump to the presidency in 2016.
During a visit to the border last year amid a record surge of Central American families and children crossing into the United States, the president said the country could not absorb more newcomers.
"Our country is full," Trump said. "Can't take you anymore . . . so turn around." https://www.washingtonpost.com/politics/mulvaney-says-us-is-desperate-for-more-legal-immigrants/2020/02/20/946292b2-5401-11ea-87b2-101dc5477dd7_story.html
10. Dem megadonors stand pat as Bernie soars
Many think Sanders would make a poor general election candidate — but there is no big, burgeoning "stop Sanders" movement building in the wings, more than a dozen major Democratic donors and operatives said in interviews with POLITICO. Most donors don't want to risk damaging a candidate suddenly looking more and more likely to be the Democratic nominee against President Donald Trump.
What's more, big Democratic donors realize that launching a well-funded super PAC attacking Sanders could just motivate his devoted base even further, boosting Sanders and alienating those voters from the rest of the Democratic Party. It's even possible that Sanders would raise more money off attacks against him than anti-Sanders donors were willing to spend in the first place. https://www.politico.com/news/2020/02/21/democrat-megadonors-bernie-sanders-116556
11. Health Care Among Top Issues for Voters, But Trump Looms Large
More than eight months before the 2020 general presidential election, health care (26%) and the economy (23%) are the top issues that registered voters say will be most important in deciding their vote for president. This is followed by climate change (14%), foreign policy (13%), immigration (9%), taxes (7%), and international trade and tariffs (2%).
A new KFF Health Tracking Poll finds that more than one-third (36%) of registered voters who identify as Democrats say health care is the most important issue in deciding who they will vote for in 2020 while 29% say climate change is the most important issue, which is consistent with how N.H. Democratic primary voters prioritized these issues. Health care (30%) and the economy (24%) rank as the top issues for independent voters, while the economy (34%) is the top issue for Republican voters.
While health care and the economy are the top issues, President Trump and partisanship are also weighing heavily on the minds of voters. When voters are asked to say in their own words "the one thing that will motivate you to vote in the presidential election in 2020," a larger share mention President Trump than any single issue including the economy and health care. Swing voters are more divided in their top motivation for voting in 2020 with similar shares offering responses related to defeating President Trump (8%), health care (8%), and the economy (7%). https://www.kff.org/health-reform/poll-finding/kff-health-tracking-poll-february-2020/
12. Trump dumped Chris Stewart for spy chief after learning he once called the president 'Our Mussolini'
Trump was close to nominating Representative Chris Stewart, a Utah Republican, as director of national intelligence, according to two people familiar with the deliberations," the story says. "But that idea was scrapped when Trump learned of a 2016 video clip  in which Stewart said 'Donald Trump does not represent Republican ideals, he is our Mussolini.'" https://www.sltrib.com/news/politics/2020/02/21/report-trump-dumped-chris/
13. The DAILY GRILL
Democrats in the Great State of Nevada (Which, because of the Economy, Jobs, the Military & Vets, I will win in November), be careful of Russia, Russia, Russia. According to Corrupt politician Adam "Shifty" Schiff, they are pushing for Crazy Bernie Sanders to win. Vote! —Donald Trump tweet.

VERSUS

Mr. President, I didn't say that. But if you wish to quote me, quote this: "The only thing Americans despise more than foreign actors trying to affect the vote is a president unwilling to do anything to stop it." Americans decide American elections. — Adam Schiff's response to Trump's tweet.

 

"What the hell was that all about? We've got enough problems with South Korea, with trade. On top of it they give them best movie of the year. Was it good? I don't know." — Trump on Parasite and its Oscar win.

VERSUS

"Understandable. He can't read." — Neon, the distributors of Parasite, trying to explain why Trump might not like their subtitled movie.

DHS Secretary Chad Wolf claims the mortality rate for coronavirus is similar to the flu, both at about 2%. Senator Kennedy says "are you sure of that?" and the secretary doubles down.

VERSUS

The mortality rate for seasonal flu is closer to 0.1%:— Matt Novak on Twitter
14. New White House personnel chief tells Cabinet liaisons to target Never Trumpers
Johnny McEntee called in White House liaisons from cabinet agencies for an introductory meeting Thursday, in which he asked them to identify political appointees across the U.S. government who are believed to be anti-Trump.
McEntee, a 29-year-old former body man to Trump who was fired in 2018 by then-Chief of Staff John Kelly but recently rehired — and promoted to head the presidential personnel office — foreshadowed sweeping personnel changes across government.
Trump has empowered McEntee — whom he considers an absolute loyalist — to purge the "bad people" and "Deep State." McEntee told staff that those identified as anti-Trump will no longer get promotions by shifting them around agencies. https://www.axios.com/scoop-white-house-personnel-chief-targets-never-trumpers-2ee51bfd-03f9-4971-8308-863c81ace5f0.html
15. From MEDIA MATTERS (They watch Fox News so you don't have to)
The Foxification of the intelligence community follows the DOJ script. President Donald Trump has spent months trying to remake the Justice Department in Fox News' image. Now he's trying to do the same thing to the U.S. intelligence community. https://www.mediamatters.org/richard-grenell/foxification-intelligence-community-follows-doj-script

Tucker Carlson guest suggests banning foreign films from the Oscars. Michael Loftus: "Let's bring the Oscars back home, that's not racist that's pro-America." https://www.mediamatters.org/tucker-carlson/tucker-carlson-guest-suggests-banning-foreign-films-oscars

Sean Hannity and his billionaire guest discuss how difficult it is to be rich. David Rubenstein: "The most unhappy people I've ever met are really wealthy people." https://www.mediamatters.org/sean-hannity/sean-hannity-and-his-billionaire-guest-discuss-how-difficult-it-be-rich

Fox New's Pastor Robert Jeffress says liberal churches "deserve to die." Jeffress: "There are some churches that deserve to die. Liberal churches that are changing God's message to fit the culture." https://www.mediamatters.org/robert-jeffress/fox-news-pastor-robert-jeffress-says-liberal-churches-deserve-die

Tucker Carlson: Roger Stone's arrest means anyone can be arrested just for supporting Donald Trump.... Trump voters know that at some point they could be where Roger Stone is right now." https://www.mediamatters.org/tucker-carlson/tucker-carlson-roger-stones-arrest-means-anyone-can-be-arrested-just-supporting

Rush Limbaugh says the deep state faked evidence about WMDs in Iraq to embarrass George W. Bush. Limbaugh also alleges a widespread conspiracy regarding reports about Russian meddling in the 2020 election. https://www.mediamatters.org/rush-limbaugh/rush-limbaugh-says-deep-state-faked-evidence-about-wmds-iraq-embarrass-george-w-bush

Tucker Carlson: If I said to my children, you know, the kid (illegal alien) down the street, the one who's always breaking into houses and never goes to school and gives us the finger when we drive to church, he's every bit as much my child as you are. In fact, maybe even a little more. The message to the kids would be clear, I hate you. Wouldn't it be?" https://www.mediamatters.org/tucker-carlson/tucker-carlson-calling-undocumented-immigrants-american-telling-your-children-i-hate

Rush Limbaugh: "The coronavirus is an effort to get Trump" … "It came from a country that Bernie Sanders wants to turn the United States into a mirror image of: Communist China." https://www.mediamatters.org/rush-limbaugh/rush-limbaugh-coronavirus-effort-get-trump

Fox News decries "two-tiered" criminal justice system in which Trump's white-collar allies are the supposed victims. According to Fox, the real victims aren't Black or poor people who suffer police brutality and disproportionate sentencing, but white-collar financial criminals associated with Trump. https://www.mediamatters.org/fox-news/fox-news-decries-two-tiered-criminal-justice-system-which-trumps-white-collar-allies-are
16. Bloomberg quietly plotting brokered convention strategy
Mike Bloomberg is privately lobbying Democratic Party officials and donors allied with his moderate opponents to flip their allegiance to him — and block Bernie Sanders — in the event of a brokered national convention.
The effort, largely executed by Bloomberg's senior state-level advisers in recent weeks, attempts to prime Bloomberg for a second-ballot contest at the Democratic National Convention in July by poaching supporters of Joe Biden and other moderate Democrats, according to two Democratic strategists familiar with the talks and unaffiliated with Bloomberg.
The outreach has involved meetings and telephone calls with supporters of Biden and Pete Buttigieg — as well as uncommitted DNC members — in Virginia, Texas, Florida, Oklahoma and North Carolina, according to one of the strategists who participated in meetings and calls.
With Sanders' emergence as the frontrunner in the presidential primary, Democrats in those states have recently raised the prospect that the democratic socialist could be a top-of-the-ticket liability.
"There's a whole operation going on, which is genius," said one of the strategists, who is unaffiliated with any campaign. "And it's going to help them win on the second ballot … They're telling them that's their strategy."
It's a presumptuous play for a candidate who hasn't yet won a delegate or even appeared on a ballot. And it could also bring havoc to the convention, raising the prospect of party insiders delivering the nomination to a billionaire over a progressive populist. https://www.politico.com/news/2020/02/20/bloomberg-brokered-convention-strategy-116407
17. Down-ballot Republicans watch with glee as Sanders gains steam
Bernie Sanders hasn't won the Democratic nomination — but down-ballot Republicans are having a field day acting like he has.
Republicans up and down the ballot are already casting their Democratic rivals as socialist puppets who would remake the economy in Sanders' collectivist vision. The play is straightforward: President Donald Trump has repelled college-educated suburban voters since he took office; Republicans want to win them back by arguing the alternative is worse. https://www.politico.com/news/2020/02/21/congress-sanders-republicans-trump-116523
18. Temperatures at a Florida-Size Glacier in Antarctica Alarm Scientists
Scientists in Antarctica have recorded, for the first time, unusually warm water beneath a glacier the size of Florida that is already melting and contributing to a rise in sea levels.
The researchers, working on the Thwaites Glacier, recorded water temperatures at the base of the ice of more than 2 degrees Celsius above the normal freezing point.
It is unclear how fast the glacier is deteriorating: Studies have forecast its total collapse in a century and also in a few decades. The presence of warm water in the grounding line may support estimates at the faster range.
That is significant because the Thwaites, along with the Pine Island Glacier and a number of smaller glaciers, acts as a brake on part of the much larger West Antarctic Ice Sheet. Together, the two bigger glaciers are currently holding back ice that, if melted, would raise the world's oceans by more than a meter, or about four feet, over centuries, an amount that would put many coastal cities underwater. https://www.nytimes.com/2020/01/29/climate/thwaites-glacier-melting-antarctica.html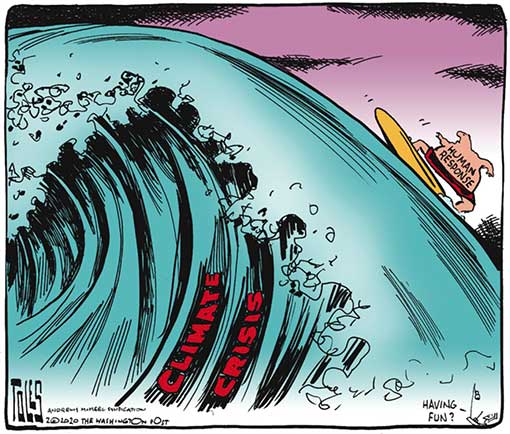 19. Even With New Pay-Fors, Bernie's Agenda Still Has A $25 Trillion Hole
In January, the Progressive Policy Institute published comprehensive cost estimates  of the proposals offered by each of the leading candidates for president before the Iowa Caucus. After incorporating new proposals that Sanders has released since the publication of our analysis and minor methodological updates, PPI concludes that Sanders has now proposed over $53 trillion of new spending over the next 10 years – an amount that would roughly double the size of the federal government. Our estimate is, if anything, overly charitable to Sanders, as it accepts most of the Sanders campaign's cost estimates outside of Medicare for All and assumes significant overlap in the costs of his proposed federal jobs guarantee and other spending proposals. Other analysts have estimated the total costs of Sanders' proposals could be anywhere between $60 trillion and $100 trillion over 10 years. https://www.forbes.com/sites/benritz/2020/02/25/even-with-new-pay-fors-bernies-agenda-still-has-a-25-trillion-hole/#779b8df666c
20. Trump Tightens Grip on Intelligence
President Donald Trump is tightening his grip on the intelligence community as part of a post-acquittal purge of career officials and political appointees deemed insufficiently loyal, and the abrupt firing of his last intel chief is only the tip of the iceberg, current and former intelligence officials say.
Trump's decision to replace acting Director of National Intelligence Joseph Maguire with a loyalist with no intelligence experience, Ric Grenell, shocked the national security world and has raised questions about who the president will nominate to serve in the post after Grenell's "acting" status expires next month. In India, Trump hinted that his decision would come soon.
But it also revealed a deeper trend: namely, the steps Trump has taken to shield the public from intelligence that could be politically damaging for him, and keep the flow of information coming out of the agencies firmly under his control. https://www.politico.com/news/2020/02/26/trump-tightens-his-grip-on-intelligence-117451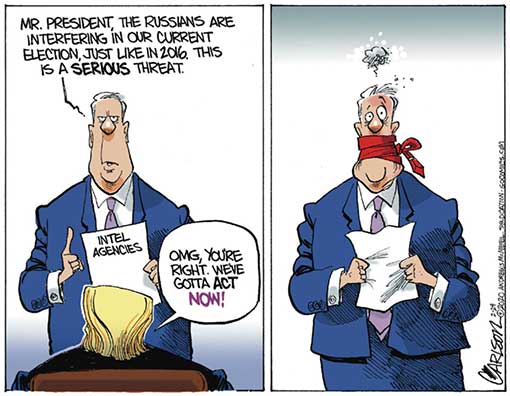 21. The pandemic could throw a spotlight on the Trump administration's criminal negligence
Thanks to the economic tailwinds he inherited (and the marginalization of Puerto Rico in American public life), Donald Trump has paid little political price for his slothful ignorance or commitment to purging the executive branch of all experts save for those who specialize in sycophancy.
But the coronavirus could change that. In fact, a COVID-19 pandemic seems almost tailor-made to expose the abject irresponsibility of the sitting president, and rendering his negligence politically salient.
Since taking office, Trump has:
• Tried to slash national health spending by $15 billion.

• Cut the disease-fighting budgets of DHS, NSC, HHS, and CDC — paring back the global health section of the latter so profoundly, it went from operating in 49 nations to just 10.

• Allowed the ranks of the U.S. Public Health Service Commissioned Corps to steadily erode (after trying and failing to shrink its budget by 40 percent).

• Eliminated the federal government's $30 million Complex Crises Fund.

• Shut down the National Security Council's entire global health security unit.
But what the Trump administration has lacked in general health-crisis preparedness, it has absolutely not made up for in acute crisis management. As already mentioned, since the onset of the outbreak, the president has baselessly assured the public that the virus was contained, undermining his administration's ability to credibly counter potential conspiracy theories or misinformation about the public health crisis. Meanwhile, the administration overruled CDC scientists (and the president's unknown preference) by evacuating 14 Americans on a cruise ship plagued by coronavirus — and then bringing them back to the U.S. aboard a plane filled with other noninfected Americans, who therefore spent hours sharing recycled air with the contagious. https://nymag.com/intelligencer/2020/02/how-a-coronavirus-pandemic-could-impact-the-2020-election-economy.html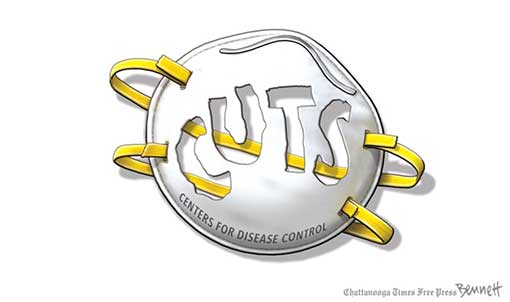 22. Ugly pro-Trump ad weaponizes audio of Obama, showing what's coming
Former president Barack Obama is calling on South Carolina television stations to stop running an ad from a super PAC supporting Trump that uses Obama's words out of context in a misleading attack on former vice president Joe Biden, the Washington Post reports.
As it turns out the audio is actually of Obama reading a passage from his 1995 memoir, "Dreams From My Father," which features a character in the book talking about what Chicago politics was like for African Americans long ago.
This comes after the same pro-Trump super PAC aired another horribly misleading ad in the run-up to the Nevada caucuses.
That ad features a Spanish-speaking narrator claiming Obama and Biden walked away from immigration reform and separated families. In reality, during the Obama years, comprehensive immigration reform passed the Senate by a wide bipartisan margin, and died only because the GOP-controlled House refused to act on it.
On top of that, while Obama was criticized for his handling of influxes of migrant children, he did not separate families in the way that Trump has. https://www.washingtonpost.com/opinions/2020/02/26/ugly-pro-trump-ad-weaponizes-audio-obama-showing-whats-coming/
23. Bloomberg Slams Trump Over Coronavirus
Mike Bloomberg slams Trump in a new ad over his handling of coronavirus.
1. George Conway: Trump's 'King Kong' nickname has come into full fruition
Not for nothing did President Trump's first White House counsel give him the nickname "King Kong."
Former White House counsel Donald McGahn, who resisted Trump when he sought to violate the law and sometimes engaged in "epic" "shouting matches" with him, reportedly selected the sobriquet to connote Trump's "volcanic anger" and "emotional decision-making."
But as Trump's behavior this week demonstrates, the moniker fits for another reason as well. It reflects Trump's desire to escape constraints — in particular, legal constraints. That Kong-like urge was illustrated by two developments: the president's latest executive clemency spree and his continued attacks against the federal judiciary.
Trump revels in issuing pardons, because that power is essentially absolute. The Constitution sets out no standards for granting pardons. They require no consent from Congress, and courts can't second-guess them.
They also offer instant gratification to a president who desperately craves it. As one source close to Trump told Axios last year: "What he enjoys most about this job is finding things he has absolute power over," which is why he gets "a kick out of pardons," and the fact that "he could pardon anybody he wants and people would come to him to court him and beg him."
Trump's specific invocations of the pardon power, moreover, appear unwedded to any notion of mercy or public good; they are not guided by the ordinary process of careful review. Rather, they are impulsive expressions of Trumpian spite and self-interest. https://www.washingtonpost.com/opinions/george-conway-trumps-pardons-are-impulsive-expressions-of-his-spite/2020/02/19/399485a0-5363-11ea-929a-64efa7482a77_story.html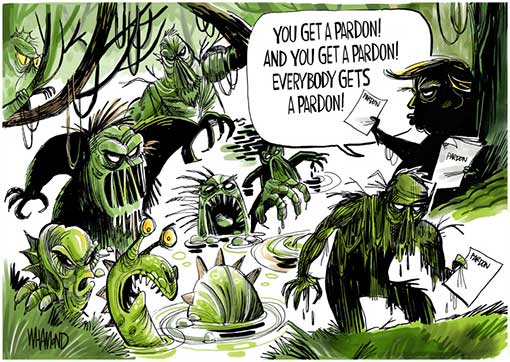 2. Joel Stein: Trump honestly thinks Blagojevich did nothing wrong. That's terrifying
People assume Donald Trump commuted Rod Blagojevich's sentence and pardoned former San Francisco 49ers owner Edward DeBartolo, ex-NYPD Commissioner Bernard Kerik, junk bond king Michael Milken and lobbyist David Safavian because they granted him political favors. Or because they were his friends. Or because he loves white men. Or because he fears jail is unsafe for people with funny last names.
But Trump was simply doing what he thought was right.
Blagojevich is not even a member of Trump's party. He's a Democrat, and members of both parties hate him, so there's not much political gain in freeing him. There was also no advantage for Trump to tweet on Feb. 8 that Pete Rose, who was thrown out of baseball for gambling, should be in the Hall of Fame. But Trump's overriding belief is that cheating is irrelevant. What matters is winning. This is the ethos of New York real estate, multilevel marketing, reality television and all of his marriages.
Trump believes these men did what everyone else does. They just got caught. Sure, they broke the law, but everyone speeds. Everyone leaves the cash they were paid off their tax forms. Everyone tells a children's hospital that funding will be cut off if their CEO doesn't contribute $50,000 to his campaign, which is what Blagojevich did. Everyone would try to get some cash if they got to appoint a senator after Barack Obama left his seat to become president, which is what Blagojevich tried to do.
Selling political appointments, Trump is certain, happens all the time. He first floated the idea of commuting Blagojevich's prison term in 2018, when he told reporters "plenty of other politicians have said a lot worse." He was speaking of FBI recordings in which Blagojevich said Obama's Senate seat was "a f— valuable thing. You just don't give it away for nothing."
Trump believes that the only reason people are prosecuted for corruption is that corrupt politicians on the opposing side are picking on them for their own gain. As Blagojevich wrote in a 2018 Wall Street Journal column, "I'm in prison for practicing politics. When they can't prove a crime, they create one." After Trump commuted his sentence, Fox News host Jeanine Pirro tweeted her approval, writing, "Political persecutions have no place in this country."
But selling political offices for money is not something American officials do all the time, not even in Chicago.
The first step the next president should take in ending our culture of corruption is to ask for a constitutional amendment to get rid of the presidential pardon. Releasing people from prison for no reason is the flip side of putting people in prison for no reason. It's an undemocratic power that came from kings. Plus it would mean ending that stupid animal rights charade we put up with every Thanksgiving. Those turkeys clearly knew somebody high up somewhere. https://www.latimes.com/opinion/story/2020-02-19/trump-pardons-blagojevich-this-is-why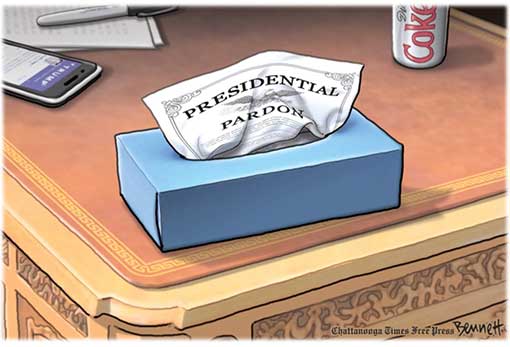 3. Garrett Graff: How Trump Hollowed Out U.S. National Security
While vacancies and acting officials have become commonplace in this administration, the moves by President Donald Trump this week represent a troubling and potentially profound new danger to the country. There will soon be no Senate-confirmed director of the National Counterterrorism Center, director of national intelligence, principal deputy director of national intelligence, homeland security secretary, deputy homeland security secretary, nor leaders of any of the three main border security and immigration agencies.
Across the government, nearly 100,000 federal law enforcement agents, officers, and personnel are working today without permanent agency leaders, from Customs and Border Protection and Immigrations and Customs Enforcement to the Drug Enforcement Administration and the Bureau of Alcohol, Tobacco, Firearms, and Explosives.
All the posts, and many more top security jobs, are unfilled or staffed with leaders who have not been confirmed by the Senate. Trump has done an end-around, installing loyalists without subjecting them to legally mandated vetting and approval by Congress. https://www.wired.com/story/trump-hollowed-out-us-national-security-vacancies-acting/ 
4. Brian Barrett: Russia Doesn't Want Bernie Sanders. It Wants Chaos
The point of Kremlin interference has always been to find democracy's loose seams, and pull.
In 2016, Russian misinformation agents and hackers worked to boost Trump's electoral chances, but also threw some of their support behind Sanders as he ran against Hillary Clinton in the Democratic primary. Special counsel Robert Mueller's indictment of the Internet Research Agency troll farm detailed how IRA operatives were instructed to "use any opportunity to criticize Hillary and the rest (except Sanders and Trump—we support them)." In the summer of 2016, pro-Sanders IRA Facebook accounts spread rumors that Clinton had stolen the Iowa caucus from Sanders and that her campaign had gotten illegal mail-in votes in Broward County, Florida.
Sanders did vote against the Magnitsky Act in 2012, a notorious Putin bugaboo, which could arguably make him a more palatable candidate to the Kremlin. But the distinction between Russia's support for Trump and Sanders then, as now, is that Russia wanted only Trump to win. Promoting Sanders was simply another means to that end, driving a wedge between two already fraught factions of the Democratic Party.
"The IRA's left-leaning accounts focused their efforts on denigrating Clinton," concluded the Senate Select Committee on Intelligence's definitive look at Russian interference, "and supporting the candidacy of either fellow Democrat candidate Bernie Sanders or Green Party candidate Jill Stein, at the expense of Hillary Clinton."
The 2020 playbook remains the same, say Clint Watts, a senior fellow at the Foreign Policy Research Institute who studies Russian interference efforts: Elevate Trump, play up that Sanders got a raw deal, and tear down the leading institutional Democrat—then Clinton, now Biden and Bloomberg. Instead of Jill Stein, 2020 has Tulsi Gabbard, who has not left the race and whom Russian media, Watts says, regularly praises.
"The Kremlin's strategy for a year has been very straightforward," Watts says. "They would like to see Trump reelected." https://www.wired.com/story/bernie-sanders-russia-chaos-2020-election/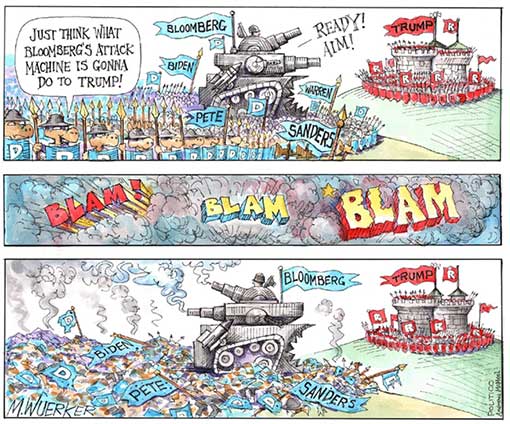 5. Jonathan Blitzer: How Stephen Miller Manipulates Donald Trump To Further His Immigration Obsession
Inside the White House, Stephen Miller was known as a "walking encyclopedia" on immigration, and the President's political advisers, who acknowledged that campaigning on the issue had been the key to Trump's victory in 2016, deferred to him as an expert. Those with reservations—like Rex Tillerson, the Secretary of State, and H. R. McMaster, the national-security adviser—had other responsibilities. Miller could outmaneuver them if he used the right interagency channels. He sent e-mail sparingly and avoided calling officials directly to issue orders, relaying his messages through intermediaries.
Since Trump could rarely comprehend the full substance of his own Administration's agenda on immigration, it fell to Miller to define what victory looked like. One of the President's favorite routines, according to someone close to both of them, is to play the good cop to Miller's bad cop: "He'll smile and say, 'Well, that sounds O.K. to me but, Stephen, I know you'd never go for it.' "
Miller invoked the President constantly, especially when he encountered resistance from other officials. One of them told me, "Someone would say to him, 'Stephen, what you're trying to do is not possible.' And his response would be 'It is possible. I spoke to the President an hour ago, and he said it had to be done.' " (Hogan Gidley, a White House spokesperson, told me, "The policies Stephen works on are not his own but, instead, a faithful and vigilant implementation of the agenda Donald Trump brilliantly laid out.")
Asylum seekers stuck in Mexico have given up on reaching the U.S. America's legal and moral standing may not survive the Administration's immigration policies, but Trump has succeeded in realizing one of his most infamous tweets: "Our country is full."
With the border virtually sealed, Miller is turning his attention inward. D.H.S. has begun sending armed agents from Border Patrol swat teams to New York, Chicago, and other so-called sanctuary cities, where local law enforcement has limited its coöperation with ice. "There's no one left at D.H.S. to say 'No' to Miller anymore," a senior department official told me. Another official was present at a meeting in which Miller advocated allowing ice officers to pull children out of school.
This summer, months before the election, the Supreme Court is expected to rule on whether the Administration can cancel DACA. "Everything—everything!—hinges on that decision," a former senior D.H.S. official told me. If the Supreme Court ends daca, then "Miller will be in ecstasy. He'll finally have the leverage over the Democratic Congress that he's been dying to have this entire time. He'll say, 'Well, you're all worried we're going to deport them. What will you agree to?' " The official continued, "It'll be the summer of a huge campaign, and Miller will be in his glory."  https://www.newyorker.com/magazine/2020/03/02/how-stephen-miller-manipulates-donald-trump-to-further-his-immigration-obsession
6. Andrew Sullivan: Trump's Presidency Isn't a Dark Comedy — It's an Absurd Tragedy
After all the shocks and scandals, and all the violations of key norms and practices, the cult of Trump is as strong as ever. One chilling fact: In New Hampshire, in the Republican primary, basically uncontested, almost 130,000 people showed up to vote for their president. At a similar point in their reelection bids, Bush and Obama only mustered about half that number in the state.
This is a cult. It's sustained by constant fanatical rallies, buoyed by a campaign of deliberate falsehoods, and thriving in an alternate reality created by a media company's propaganda. This is more dangerous than a monarchy, because it is based on charismatic authority, not tradition. And Trump's demagogic and Twitter skills remain underrated by too many who can't see the menace behind the circus. The economy, meanwhile, is strong — thanks in part to adding a trillion more dollars each year to the debt — and people at the bottom of the ladder are actually seeing real wage gains for the first time in a long while. It is therefore more likely than not that this president will be reelected.
If that happens, every authoritarian precedent being set now will be given deeper democratic legitimacy. Yes, this is exactly how republics die. As in Rome, the forms remain, but the essence has shifted — away from democratic discourse, separation of powers, compromise and coalition and toward cultish, one-man strongman presidencies, buoyed by the tribal loyalties of half the country.
And that, of course, is not the worst option. Competing cult leaders is bad enough; but our current president is also threatening the integrity of our elections by his indifference toward foreign influence, his refusal to commit to obeying an election result in advance, his grotesque past claims of voter fraud, and his toying with a third or fourth term. Last year, Trump tweeted a GIF that showed him winning elections in 2024, 2028, and on and on. And it was one thing to swallow all this gamesmanship and trolling from a rogue candidate in 2016 — but from a sitting president heading into an election year? And then we have a genuine potential nightmare: If the election is close, can we be sure that the president will accept the result, and act in the interests of the country, rather than himself?
With Trump, for the first time in the history of the presidency, the answer is no. If you have followed this man's business career, or witnessed the last three and a half years, you will notice that Trump never concedes anything. So why do we assume he would concede an election? And who would make him? And when you examine the nature of the party he has now remade in his image, and observe its evolution in recent decades, you see that the GOP's core belief seems to have become that the other party is inherently illegitimate, and must be crushed by any means to hand. Which means to say that the GOP is a party now dedicated to the maintenance of its own power before any other principle. That was the core meaning of Trump's nomination. It means that we have no idea if we'll see a normal transfer of power this fall if the president loses.
I'm sorry not sorry to be a Cassandra about this — and I sure hope I'm wrong. But confronted with this reality, it is staggering to me that anyone can say we should chill. The nature of Trump's instinctual tyranny is that it never stops by itself. And, like any psychological disorder, it never rests. It has an energy all its own. Each new beachhead of power is simply a means to acquire more of it in an ever-more ambitious and dynamic form. This is not a comedy; it's a tragedy we want to believe is a comedy. Because the alternative is too nightmarish. A Kierkegaard quote, of all things, popped on Twitter this week that seemed to capture the dynamic beautifully: "A fire broke out behind stage at a theater. The clown walked out to warn the public and they thought it was a joke and they applauded. He repeated it; the acclaim was even greater. I think that's exactly how the world will end: to generous applause from wits who think it's a joke."
Haha, as the kids say. Haha. Now that's a black comedy. https://nymag.com/intelligencer/2020/02/andrew-sullivan-trumps-presidency-as-absurd-tragedy.html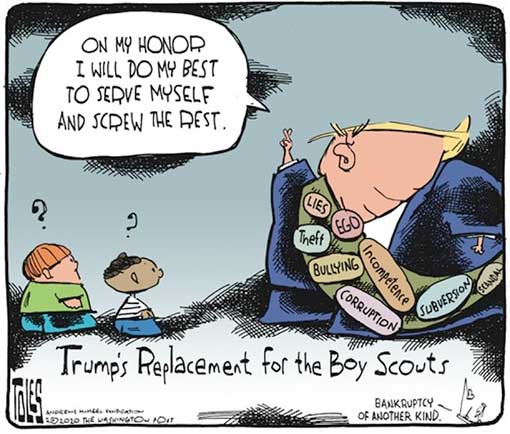 7. Admiral William McRaven: If good men like Joe Maguire can't speak the truth, we should be deeply afraid
Edmund Burke, the Irish statesman and philosopher, once said: "The only thing necessary for the triumph of evil is for good men to do nothing." Over the course of the past three years, I have watched good men and women, friends of mine, come and go in the Trump administration — all trying to do something — all trying to do their best. Jim Mattis, John Kelly, H.R. McMaster, Sue Gordon, Dan Coats and, now, Joe Maguire, who until this week was the acting director of national intelligence.
In 2018, Joe was asked to be the director of the National Counterterrorism Center, a job he knew well from his last assignment as a vice admiral. He accepted, but within months of his arrival came the announcement of Coats's departure as director of national intelligence.
Maguire didn't seek to fill the job as director of national intelligence, but like most of these good men and women, he came in with the intent to do his very best, to follow the rules, to follow the law and to follow what was morally right. Within a few weeks of taking the assignment, he found himself embroiled in the Ukraine whistleblower case. Joe told the White House that, if asked, he would testify, and he would tell the truth. He did. In short order, he earned the respect of the entire intelligence community. They knew a good man was at the helm. A man they could count on, a man who would back them, a man whose integrity was more important than his future employment.
But, of course, in this administration, good men and women don't last long. Joe was dismissed for doing his job: overseeing the dissemination of intelligence to elected officials who needed that information to do their jobs.
As Americans, we should be frightened — deeply afraid for the future of the nation. When good men and women can't speak the truth, when facts are inconvenient, when integrity and character no longer matter, when presidential ego and self-preservation are more important than national security — then there is nothing left to stop the triumph of evil. https://www.washingtonpost.com/opinions/william-mcraven-if-good-men-like-joe-maguire-cant-speak-the-truth-we-should-be-deeply-afraid/2020/02/21/2068874c-5503-11ea-b119-4faabac6674f_story.html
8. Max Boot: Why the Russians still prefer Trump
Joseph Maguire, the acting director of national intelligence, was ousted by President Trump after one of his aides told members of Congress that Russia is intervening in the U.S. elections again in an effort to reelect the president. This finding was met with skepticism from Republican House members who are credulous enough to believe Trump's boasts that he has been "FAR tougher on Russia than Obama, Bush or Clinton. Maybe tougher than any other President."
Trump's claims of being tough on Russia are belied by the fact that he has a fit whenever any U.S. officials confirm that Russia attacked the 2016 election or try to safeguard future elections. It's no coincidence that the previous director of national intelligence, Daniel Coats, left office in August 2019, shortly after appointing a senior intelligence officer, Shelby Pierson, to take charge of election security. Now Coats's successor has been fired because Pierson was doing her job. Maguire's replacement by Trump propagandist Richard Grenell sends a loud and clear signal that Trump does not want to do anything to impede Russian attacks on the U.S. political system — which he sees as beneficial to his own campaign. In case there was any doubt, Trump on Friday dismissed the findings of the U.S. intelligence community about Russia's desire to aid his reelection campaign as a "hoax" and "misinformation campaign." https://www.washingtonpost.com/opinions/2020/02/21/why-russians-still-prefer-trump/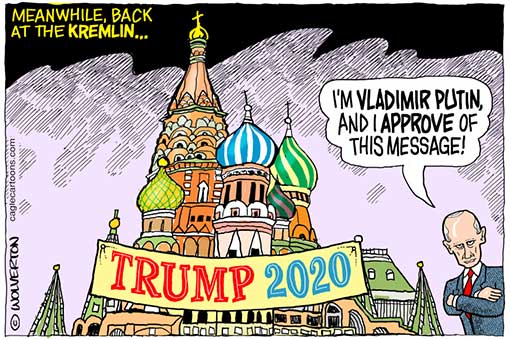 9. Joe Lockhart: Bloomberg needs to take down Sanders -- immediately
As it stands, Sanders has a chance to run the table as the rest of the field fights each other for the honor of coming in second. Sanders has emerged as the Democratic front-runner, and his support stands at 25% among Democrats and independents who lean Democratic, according to the most recent Quinnipiac poll.
But that's not enough to win the general election. I don't believe the country is prepared to support a Democratic socialist, and I agree with the theory that Sanders would lose in a matchup against Trump. In a general election battle between two divisive figures who both preach the politics of grievance, I believe Trump will win the battle to the bottom and remain the last man standing.
Given that the primary calendar dictates that 60% of delegates will be determined by St. Patrick's Day, the primary race could be effectively over in less than a month. Of all the other Democratic candidates, Bloomberg may be the only one who can stop the Sanders freight train and still have a shot at winning the White House.
But let's not forget -- Bloomberg is already skipping the first four voting states in favor of concentrating on Super Tuesday. With his disastrous performance in the Las Vegas debate, it appears he won't be building any organic momentum in this race. He has to buy it.
If Bloomberg has any chance of winning the nomination, he has to redirect his resources during the primary and run ads against Sanders -- not Trump.
Continuing to focus only on Trump does nothing to stop the Sanders campaign, nor does it do anything to sort out the rest of the field until after Super Tuesday. By then, it'll be too late. If Bloomberg entered the race to become President and to stop Trump, he has no choice now but to try to stop Sanders.
Doing so without taking himself down is the strategic test for Mike Bloomberg. Either way, he has to face it now instead of waiting until Super Tuesday. Winning the White House ultimately means beating Donald Trump.
But to get to Trump, and to deny him a second term, Bloomberg will have to defeat Sanders first, even if that might mean ruining his own chances at the nomination. https://www.cnn.com/2020/02/22/opinions/bloomberg-needs-to-take-down-sanders-lockhart/
10. Jennifer Rubin: Here is Democrats' last chance to get this right
Sen. Bernie Sanders (I-Vt.) racked up an impressive win in the Nevada caucuses, crushing his opponents and expanding his support to older voters and Hispanics. Unless Democrats manage to alter the race swiftly and dramatically, a 78-year-old socialist with a history of praising left-wing dictatorships will be the Democratic presidential nominee. While no one should exclude the possibility that Sanders might beat President Trump, his manifest weaknesses and extreme ideology make such a victory unlikely, thereby subjecting the country to the horror of another four years of an unhinged, authoritarian president. We should shudder at the prospect of what the country might look like after another Trump term — especially if, as is likely with Sanders at the top of the ticket, the Republicans retain their Senate majority.
Do not get me wrong: Many NeverTrump voters (including this one) will vote for anyone with a "D" to defeat Trump, who is a threat to constitutional government, mentally unfit and unabashed now in his use of the instruments of power to punish enemies and protect his cronies. However, expecting independent voters in places such as Wisconsin and Michigan to line up behind Sanders seems wholly unrealistic at this point. The candidate who wants to ban fracking, outlaw private health care and spend trillions of dollars is going to be a tough sell, to put it mildly. Suburban moderates who helped lift Democrats to victory in 2018 might choose to stay home. (In the seemingly unlikely event of a Sanders victory, one need not fear that President Sanders would actually enact measures that most of his party opposes, not to mention all Republicans. But for those who dread more conflict and gridlock, a Sanders presidency would be a painful period.)
The grown-ups in the party and the 2020 contenders who fail to act will be haunted by the possibility that they could have prevented a party crackup and a national disaster but chose not to act. That would be a terrible burden to shoulder and a black mark on their records of public service. https://www.washingtonpost.com/opinions/2020/02/23/here-is-democrats-last-chance-get-this-right/
11. Philip Bump: Who would win a Trump-Sanders election?
It's trite to say that the result of a Trump-Sanders election is nearly impossible to predict, but that doesn't make it incorrect.
We only need to look back four years to see how things can get wonky quickly. Clinton led Trump nearly every day of 2016 and had a wide lead in late October. At the very end of the contest, outside factors — the letter from then-FBI Director James B. Comey, for one — and other shifts — such as skeptical independents deciding on Trump — combined to give Trump an edge in places where he needed one. Trump's election was not really predictable in February 2016, but it happened anyway.
One can't unilaterally reject Sanders's chances any more than you might reject those of Trump. It's safe to say that the only views of the outcome of the November election that should be rejected are those that are offered with certainty. https://www.washingtonpost.com/politics/2020/02/24/who-would-win-trump-sanders-election/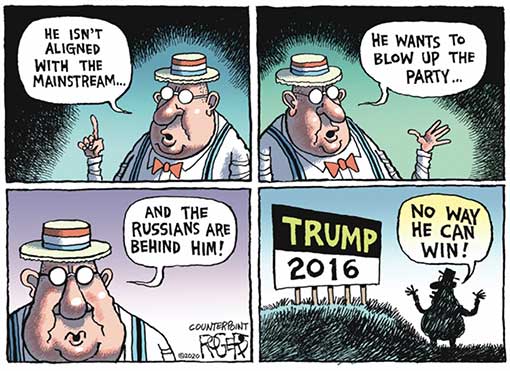 12. Eric Levitz: President Trump Has Never Been More Dangerous Than He Is Now
Taken together, Trump's escalating authoritarianism and rising popularity make the present moment the most harrowing of his presidency thus far. With the anticlimactic end of the Mueller investigation, Trump learned that federal law enforcement cannot (or will not) hold him accountable for abuses of power. With his Senate acquittal, he secured confirmation that Congress won't either. Now, the small but electorally decisive fragment of the American electorate that isn't tightly wedded to either party is signaling to Trump that it won't necessarily penalize his lawlessness either.
For much of the past five months, indisputable evidence of Trump's illicit efforts to coerce a foreign power into aiding his reelection campaign have dominated the headlines. That Trump is willing to abuse the powers of his office to persecute his political rivals has been publicly affirmed by a wide variety of his own administration's officials, and his own party's members of Congress. And yet, his odds for reelection have steadily risen all the same. For America's (largely) socially atomized and civically disengaged swing voters, Trump's authoritarian power grabs and the criticism they inspire ostensibly register as little more than unusually heated partisan squabbles. Not entirely without reason, many have come to see cable news' serial dramas as tales told by idiots, full of sound and fury, signifying nothing terribly relevant to their own lives. They may have gathered that Trump is a bit of a crook, but then aren't all politicians? And anyhow, why should they care more about sketchy schemes in Ukraine than all the "Help Wanted" signs out on Main Street — or Trump's firing of Colonel Vindman more than the recent hiring of a friend or relative who'd been suffering from long-term unemployment?
Meanwhile, Trump's post-impeachment polling bounce has cowed his congressional opposition into more accommodative posture. And, thanks to the onset of primary season, the president's most engaged and ardent critics in civil society have been consumed with our own internal disagreements. These developments have further expanded Trump's latitude for lawlessness. He has been taking full advantage. https://nymag.com/intelligencer/2020/02/president-trump-dangerous-authoritarian-russia-intelligence.html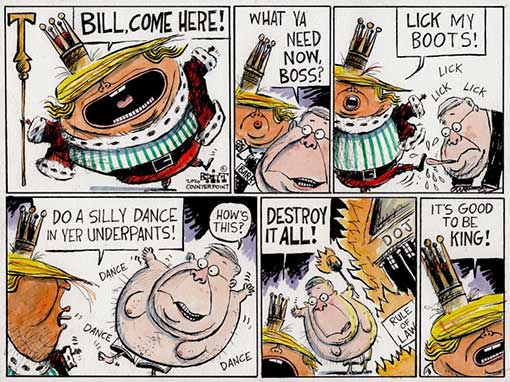 13. Peter Hamby: Get A Grip, Bernie Bed-Wetters: His Message And Media Machine Could Be Potent Against Trump
Socialist Schmocialist. Sanders has a set of political assets—celebrity, fundraising power, committed foot soldiers, media sophistication, relentless consistency—possessed by no one else in the race.
Everything about Sanders—his ideas, his stubborn dogma, his sometimes-kooky supporters, his contempt for greenroom culture and the party circuit—is completely foreign to the intellectual and cultural fabric of Washington. In that universe, the claim that Sanders is unelectable is more or less gospel. The same Democrats who were assured of Hillary Clinton's victory are now starting to worry about a Goldwater or McGovern-style Electoral College wipeout with Sanders atop the ticket. If they were so inclined, the bed-wetters could easily Google a year of polls showing Sanders beating Trump in hypothetical head-to-head matchups. A Texas Lyceum poll just this week showed Sanders performing better against Trump in Texas than any Democrat, losing by just three points. That's on top of a raft of polls showing Sanders beating Trump back those precious Upper Midwest states of Wisconsin, Michigan, and Pennsylvania. These polls aren't totally hypothetical, either: Sanders boasts near universal Name ID. Most voters know who Sanders is and what he stands for—and they're still choosing him, whether they actually like him or just because his name isn't Donald Trump. The president and his advisers are starting to notice, according to recent stories in the New York Times and Daily Beast. Both outlets reported in recent weeks that some Trump advisers are worried about Sanders's strengths—his populist appeal, perceived authenticity, and his durable popularity with the same white non-college voters who voted for Trump. "I think he's tough in places where people are making $12 an hour," Trump campaign manager Brad Parscale recently told CBS News, who said the media is underestimating his appeal. Trump himself has started asking his team about Sanders's polling performance in key battleground states, specifically Pennsylvania, the Daily Beast reported. https://www.vanityfair.com/news/2020/01/bernie-sanders-message-media-machine-could-be-potent-against-trump
14. Jonathan Chait: If Democrats Aren't Terrified of Bernie, They're Not Paying Attention
Watching the Brexit debacle from afar, it seemed impossible to understand how the Labour Party could know full well it needed to win a national election in order to prevent an irreversible setback, yet harness itself to Jeremy Corbyn, whose toxic leadership made victory nearly impossible. The rise of Bernie Sanders, at a moment when Donald Trump is accelerating his war on the rule of law, is retroactively illuminating. A liberal party drifting helplessly along as a small radical cabal steers it toward likely catastrophe? I didn't think it could happen here.
The Democratic primary can be seen as a series of candidates goading each other to jump into the lion's den. All the candidates have exposed themselves by taking at least a few unpopular positions, but none have gone quite as far as Sanders. What makes Bernie's profile uniquely toxic is the way his liabilities all reinforce each other. He combines discrete, deeply unpopular policy positions with an unpopular socialist label, which in turn reinforce the fact that his campaign is premised on radically changing the economy, the one thing most voters believe Trump has done well. His historic statements praising various leftist dictators reinforce the impression of kookery.
One of the things Democrats have been telling each other is that it doesn't matter what attacks Trump uses, because he's going to make hyperbolic charges against them no matter what. And yes, Trump would call any Democrat an open-borders socialist who will throw everybody off their private insurance and drastically change the economy. But accusations work better when the target agrees with them. In 2016, Trump drew a lot of blood calling his opponent corrupt, but if Hillary Clinton had openly promised to use her office as a platform for lawbreaking and self-enrichment, it's fair to say she would have done worse.
For Bernie's most fanatical adherents, none of this matters. Sanders is a completely unique asset for the left — a proud socialist who holds national office — who will be too old to run again by the next election (if he isn't too old already), and who has no short-term successor. They have every incentive to imagine away his many flaws and seize on the real but unlikely possibility he can defy the odds and win. What is shocking is observing how many other progressives have joined in this fantasy with them. https://nymag.com/intelligencer/2020/02/bernie-sanders-nomination-electable-democrats-socialist-unpopular.html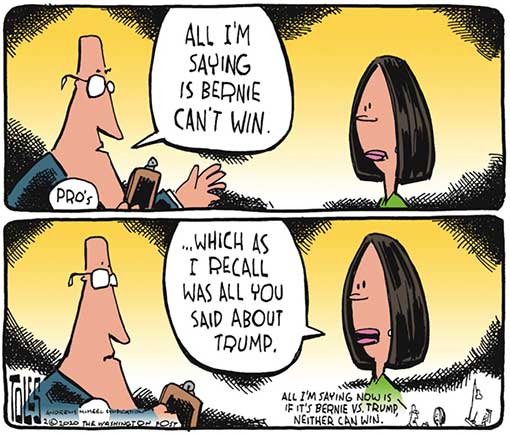 15. Mike DeBonis and Michael Scherer: As Bernie Sanders's momentum builds, down-ballot Democrats move to distance themselves
As Sanders builds what could eventually be an insurmountable delegate lead, many Democratic House and Senate candidates are approaching a dramatic shift in their campaigns, as they recalibrate to include praise of capitalism and distance themselves from the national party. Top campaign strategists from both parties view Sanders's success as a potentially tectonic event, which could narrow the party's already slim hopes of retaking the Senate majority and fuel GOP dreams of reclaiming the House, which it lost amid a Democratic romp in 2018.
"I can tell you that there are a lot of down-ballot jitters based on my conversations with my former colleagues," said former Rep. Steve Israel (D-N.Y.), a longtime confidant of House Speaker Nancy Pelosi who led congressional election efforts from 2011 to 2015.
"Donald Trump is going to offer the American people this choice: Do you want to continue building the economy or do you want to lurch toward socialism? And that is a real powerful argument in the Democratic districts that Trump won in 2016."
With an emphatic victory in Saturday's Nevada caucuses, Sanders has won two of the first three contests, and lost the third — the Iowa caucuses — in a squeaker. He also holds leads in polls in many of the Super Tuesday states that vote March 3 — a point by which nearly 4 in 10 delegates nationally will have been chosen.
Internal polling and analytics completed last week by former New York mayor Mike Bloomberg's campaign projected that Sanders may be the only presidential candidate to win delegates in every state and district on March 3, delivering him a lead of 350 to 400 out of 1,357 delegates set to be awarded unless race dynamics change, according to a person familiar with the data who spoke on the condition of anonymity because the person was not authorized to speak publicly. https://www.washingtonpost.com/politics/as-bernie-sanderss-momentum-builds-down-ballot-democrats-move-to-distance-themselves/2020/02/22/3364ddd8-5516-11ea-9e47-59804be1dcfb_story.html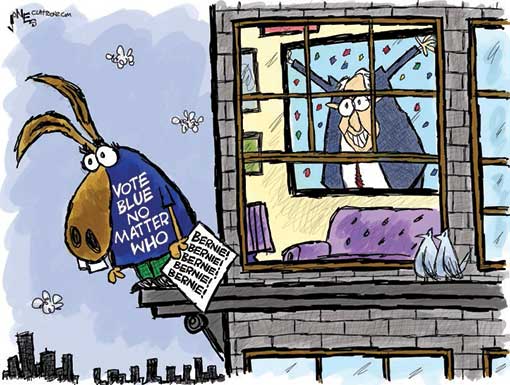 16. Catherine Rampell: A socialist is likely to win the 2020 election. No, not Bernie Sanders.
It once seemed unimaginable, but a proven socialist looks quite likely to win the 2020 presidential election.
No, I'm not talking about that socialist. I'm referring to the one who already occupies the White House.
Conservatives complain that Sanders and his socialist allies wish to bloat budget deficits. Under Trump, of course, this has already happened. The deficit in fiscal 2019 was a whopping 48 percent higher than it was in fiscal 2017, thanks to GOP policies. And while "Crazy Bernie" does intend to jack up tax rates to (partly) offset his spending, Trump has raised some taxes on Americans, too — he's just done it more regressively, through taxes on imports rather than income.
Trump's version of socialism soaks the poor, not the rich.
If conservatives are genuinely frightened by Sanders's proposed downward redistribution of wealth, they might consider the sort of redistribution practiced by Trump — in particular, the many ways Trump has used his office to redistribute taxpayer dollars into his own pocket. Just last week, during a tour of western states, Trump elected to fly his entourage back to his hotel in Las Vegas each night rather than stay in the other cities he was visiting. Whatever Sanders's flaws, at least he doesn't try to steal everything that's not nailed down.
If you're a Never Trumper worried that Sanders will take this country down the road to serfdom, beware: President Trump has already paved the path. https://www.washingtonpost.com/opinions/a-socialist-is-likely-to-win-the-2020-election-no-not-bernie-sanders/2020/02/24/d5053fba-5747-11ea-ab68-101ecfec2532_story.html
17.  Jelani Cobb: How Did The Democrats End Up Here?
Last month, the Washington Post reported that eighty-three per cent of African-Americans believe that Trump is a racist, and sixty-five per cent think that this is "a bad time" to be black in America. His strategy, though, seems designed to persuade black voters not so much that he is better than they thought but that the Democratic nominee will be worse. (Given the latest news reports, we can expect this reasoning to feature in Russian social-media disinformation campaigns, as it did in 2016.) The no-difference argument will still be false, regardless of who the Democrats' eventual nominee is, on every issue—criminal justice, health care, education, gun control, immigration, climate change—that disproportionately affects people of color. And no Democrat will ask Hollywood to bring back movies like the racist classic "Gone with the Wind," as Trump did at a rally last week.
It is undeniable that Trump stokes the fury of voters who support him; less recognized is his clear hope to induce despair in those who do not. The imperative for Democrats is to defeat not only Trump but also the cynicism that abides him. One calculation for his reëlection isn't how many African-Americans will vote for him. It's how many will be dissuaded from voting at all. https://www.newyorker.com/magazine/2020/03/02/how-did-the-democrats-end-up-here