February 21, 2019
ON THE RECORD. . .
"Without Facebook we wouldn't have won".— Theresa Hong, a member of the Trump digital election campaign described 'Project Alamo', which involved staff working for the then presidential candidate Donald Trump, Cambridge Analytica staff and Facebook staff all working together with the Cambridge Analytica data sets, targeting specific states and specific voters.
Repubs must not allow Pres Obama to subvert the Constitution of the US for his own benefit & because he is unable to negotiate w/ Congress. -- Donald J. Trump@realDonaldTrump 20 Nov 2014
No, the goal of a national emergency is for Trump to scam the stupidest people in his base for 2 more years. — Ann Coulter@AnnCoulter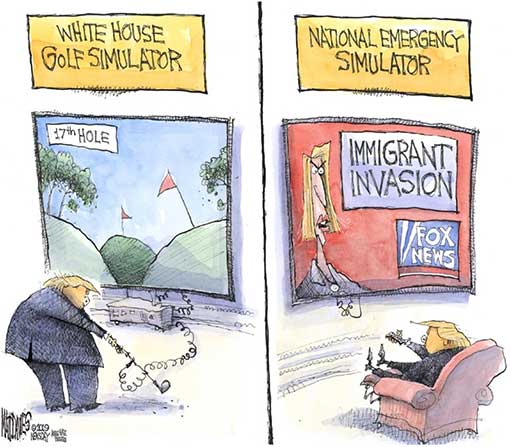 "The greatest man who ever lived died via the death penalty for you and for me… If it wasn't for Jesus dying via the death penalty, we would all have no hope." —Wyoming state Sen. Lynn Hutchings (R), arguing that without the death penalty Jesus Christ would not have been able to die to resolve the sins of mankind.
"This is plainly a power grab by a disappointed president, who has gone outside the bounds of the law to try to get what he failed to achieve in the constitutional legislative process. The president is not above the law. The Congress cannot let the president shred the Constitution. --"Speaker Nancy Pelosi and Minority Leader Chuck Schumer in a joint statement.
"In pursuit of a wall, President Trump ran into one." — Peter Baker and Maggie Haberman in the New York Times
People do not appreciate how far we have fallen from normal standards of presidential accountability. Today we have a president who is willing not only to comment prejudicially on criminal prosecutions but to comment on ones that potentially affect him. He does both of these things almost daily. He is not just sounding a dog whistle. He is lobbying for a result. The president has stepped over bright ethical and moral lines wherever he has encountered them. Every day brings a new low, with the president exposing himself as a deliberate liar who will say whatever he pleases to get whatever he wants. If he were "on the box" at Quantico, he would break the machine. — Andrew McCabe, former deputy director of the FBI.
"The president admitted that there's not a basis for the declaration, he admitted there's no crisis at the border, he's now trying to rob funds that were allocated by Congress legally to the various states and people of our states. The separation of powers is being violated, we're going to go out there and make sure that Donald Trump cannot steal money from the states and people who need them, since we paid the taxpayer dollars to Washington, D.C. to get those services." — CA Attorney General Xavier Becerra, who with least 12 other states are suing over Trump's national emergency.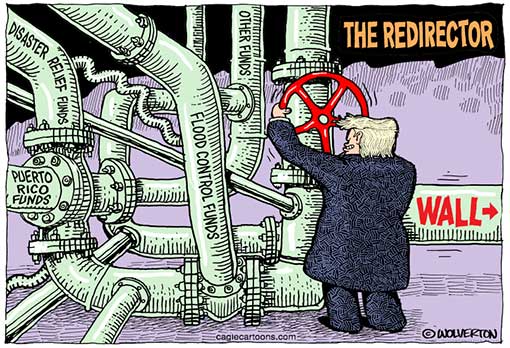 Trump's Evolving Rhetoric on the Wall - VIDEO
"We live in a climate where everything will be used against us, whether by the fake news or by Democrats who are only interested in presidential harassment and wasting everyone's time, barraging us with nonsense letters,"  — Eric Trump in a statement announcing the company's decision to  scrap plans for two new hotel chains. https://www.vanityfair.com/news/2019/02/eric-trump-blames-democrats-for-ruining-his-plans
The FBI was better off when "you all only hired Irishmen,. They were drunks but they could be trusted. Not like all those new people with nose rings and tattoos — who knows what they're doing?" — Attorney General Jeff Sessions.
"The good news out of this unconstitutional power grab is it will split off some Republicans from this wannabe Franco." — GOP strategist John Weaver on how President Trump's emergency declaration on the border threatens to split Republicans.
"The only national emergency is that our president is an idiot." — Ann Coulter
"It's going to be a real test for my GOP colleagues in Congress and their devotion to this institution… It will not be a separation of powers any more, just a separation of parties. So this is going to be a moment of truth for my GOP colleagues."— Rep. Adam Schiff (D-CA) on whether Republicans will oppose Trump's declaration of a national emergency to bypass Congress to build a border wall.
"I would say it's better for the middle school kids in Kentucky to have a secure border...right now we've got a national emergency on our hands." — Sen. Lindsey Graham (R-SC) who thinks using funds to build a middle school in Kentucky is less important than using the money to build Trump's wall.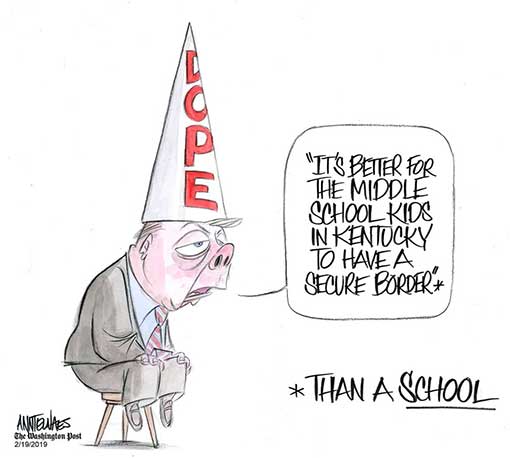 "The America I see values basic human decency, not snatching children from their parents or turning our back on refugees at our border. Americans know that's not right. The American people understand plainly that this makes us an embarrassment. The American people know, overwhelmingly, that it is not right. That it is not who we are." — Joe Biden to the Munich Security Conference."
"Japanese Prime Minister Shinzo Abe nominated U.S. President Donald Trump for the Nobel Peace Prize last autumn after receiving a request from the U.S. government to do so." — Asahi newspaper reported on Sunday.
"We have a thoroughly rotten leader in the country, an accident of history that hopefully will be over soon... Hopefully, in two years, to paraphrase Gerald Ford, this national nightmare will be over." — IAC and Expedia Group chairman Barry Diller
"Trump Has Publicly Attacked the Russia Investigation More Than 1,100 Times." — NY Times
In explaining his rationale for the Executive Actions, the President candidly admitted that the emergency declaration reflected his personal preference to construct the wall more quickly, rather than an actual urgent need for it to be built immediately: "I could do the wall over a longer period of time. I didn't need to do this. But I'd rather do it much faster." — From the lawsuit filed by 16 states opposing President Trump's declaration of a national emergency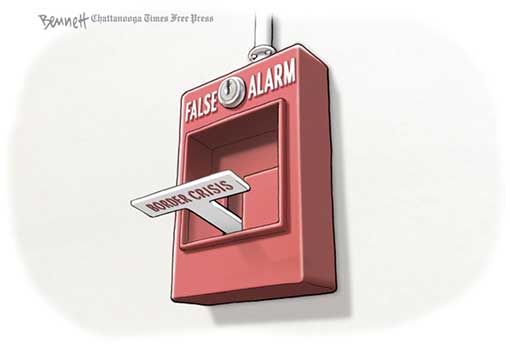 "That's the important part here, no one objected. Not on legal grounds, not on constitutional grounds and not based on fact." — Former FBI Deputy Director Andrew McCabe saying that the "Gang of Eight," the congressional leaders regularly briefed by the executive branch on classified issues, did not object to the counterintelligence investigation into President Trump and his possible ties to Russia.
The editor of a small-town Alabama newspaper published an editorial calling for "the Ku Klux Klan to night ride again" against "Democrats in the Republican Party and Democrats who are plotting to raise taxes in Alabama. If we could get the Klan to go up there and clean out D.C., we'd all been better off".--Montgomery Advertisers editor Goodloe Sutton
---
IN THIS ISSUE
FYI
OPINION
1. 'Sustained and ongoing' disinformation assault targets Dem presidential candidates
A wide-ranging disinformation campaign aimed at Democratic 2020 candidates is already underway on social media, with signs that foreign state actors are driving at least some of the activity.
The main targets appear to be Sens. Kamala Harris (D-Calif.), Elizabeth Warren (D-Mass.) and Bernie Sanders (I-Vt.), and former Rep. Beto O'Rourke (D-Texas), four of the most prominent announced or prospective candidates for president.
A POLITICO review of recent data extracted from Twitter and from other platforms, as well as interviews with data scientists and digital campaign strategists, suggests that the goal of the coordinated barrage appears to be undermining the nascent candidacies through the dissemination of memes, hashtags, misinformation and distortions of their positions. But the divisive nature of many of the posts also hints at a broader effort to sow discord and chaos within the Democratic presidential primary.
The cyber propaganda — which frequently picks at the rawest, most sensitive issues in public discourse — is being pushed across a variety of platforms and with a more insidious approach than in the 2016 presidential election, when online attacks designed to polarize and mislead voters first surfaced on a massive scale. https://www.politico.com/story/2019/02/20/2020-candidates-social-media-attack-1176018
2. Manafort Sentence May Be Opportunity for Mueller
On Feb. 15, Mueller's office filed its sentencing memorandum on Paul Manafort, Trump's former campaign manager, who is scheduled to be sentenced next month in federal district court in the District of Columbia. In the memo, Mueller's prosecutors agreed with the probation department's sentencing guideline's calculation that Manafort should be sentenced to a term of imprisonment ranging from 19 to 24 years. For Manafort, who is 69 years old, a 20-year sentence is essentially a life sentence.
So what, if anything, can Manafort do to avoid spending the rest of his life behind bars? Importantly, he may go back and actually cooperate with the Mueller investigation. There can be little doubt that Manafort still has solid information to add to Mueller's Russian investigation. Judge Amy Berman Jackson's findings earlier in February that Manafort lied to the FBI, prosecutors and the Mueller grand jury show that Manafort does indeed have important firsthand knowledge regarding two separate conspiracy indictments involving 25 Russian intelligence operatives. https://www.nbcnews.com/think/opinion/paul-manafort-s-potential-life-sentence-opportunity-mueller-ncna973386
3. Trump Keeps Doubling Down On The Same Failed Strategy
The act of declaring a national emergency to build a wall is even more unpopular than the wall itself — and the wall isn't popular. Polls as tracked by PollingReport.com show an average of 32 percent of Americans in favor of the declaration and 65 percent opposed. Even in an era where many of Trump's top priorities poll only in the low-to-mid-40s, that's an especially large split, with roughly twice as many voters opposed as in favor.
And the strategy suggests that Trump didn't learn any lessons from the shutdown. His approval rating, which was 42.2 percent on the day the shutdown began, bottomed out at 39.3 just as the shutdown was ending. It has since mostly recovered to 41.5 percent, however. Despite Trump's having capitulated to House Speaker Nancy Pelosi in agreeing to reopen the government for three weeks, the sky didn't fall and the base stuck with Trump. https://fivethirtyeight.com/features/trump-border-wall-national-emergency/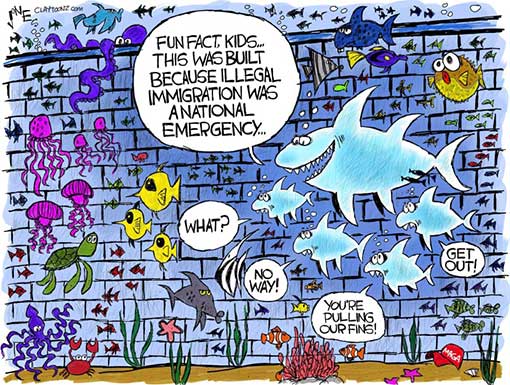 4. Rift Between Trump and Europe Now Open and Angry
"European leaders have long been alarmed that President Trump's words and Twitter messages could undo a trans-Atlantic alliance that had grown stronger over seven decades. They had clung to the hope that those ties would bear up under the strain," the New York Times reports.
But in the last few days of a prestigious annual security conference in Munich, the rift between Europe and the Trump administration became open, angry and concrete, diplomats and analysts say. https://www.nytimes.com/2019/02/17/world/europe/trump-international-relations-munich.html
5. Video: Lindsey Graham's ever-changing tone toward Trump
Back in October, the Washington Post put together a video showing a "best of" of sorts showing Graham's shifting positions on Trump. That should have, at the very least, halted most rational media from covering anything he has to say regarding Trump. It's clear Graham is, and likely has always been, all about his own political expediency, whether it was when he was trying to reach the highest office in the land, or now while attempting to make sure he holds his senate seat—even, seemingly, at the expense of middle school kids. https://youtu.be/k4O2Ob1gVRU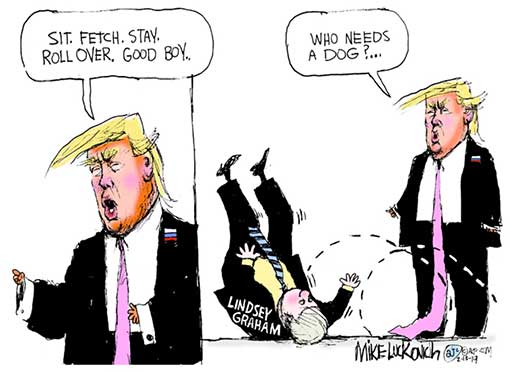 6. Trump Bets on North Korea to Break His Losing Streak
"Stung by domestic defeat after a losing battle with Democrats in Washington, D.C., this winter, President Trump hopes his negotiating skills can achieve better results some 8,000 miles away when he meets with North Korea's leader in Vietnam later this month," Politico reports.
Trump will travel for his second session with the North Korean dictator Kim Jong Un to discuss whether the strongman might relinquish his nuclear weapons in return for an end to economic isolation. https://www.politico.com/story/2019/02/17/trump-north-korea-summit-1173297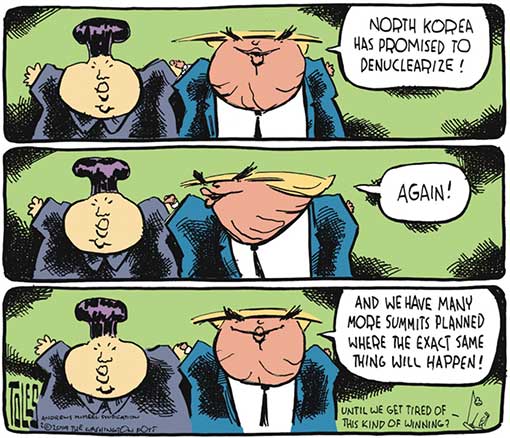 7. Democrats Push Plan to Increase Social Security Benefits and Solvency
After years of Republican-led debate over how to pare back Social Security's rising costs, Democrats are flipping the script with an ambitious plan to expand the New Deal-era social insurance program while making gradual changes to keep it solvent for the rest of the century.
The Social Security 2100 Act, which was introduced this past week in the House and the Senate, represents a sea change after decades dominated by concern that aging baby boomers would bankrupt the government as they begin drawing benefits from Social Security and other entitlement programs. It would be the first major expansion of Social Security since 1972 and the most significant change in the program since 1983, when Congress stepped in to avert a financial crisis by raising taxes and the eligibility age for Social Security.
The bill would provide an across-the-board benefit increase equivalent to about 2 percent of the average Social Security benefit. It would raise the annual cost-of-living adjustment to reflect the fact that older Americans tend to use more of some services like health care. And it would increase the minimum benefit to ensure that workers with many years of low earnings do not retire into poverty. https://www.nytimes.com/2019/02/03/us/politics/social-security-2100-act.html
8. The DAILY GRILL
"You know what I love? I love seeing some young conservatives because I know it's not easy. (Crowd applauds and shouts.) Keep up that fight. Bring it to your schools. You don't have to be indoctrinated by these loser teachers that are trying to sell you on socialism from birth. You don't have to do it. Because you can think for yourselves. They can't." (Crowd applauds and shouts again.) – Donald Trump Jr. in Texas on Feb. 11, 2019

VERSUS

Proud to be one of the #LoserTeachers "indoctrinating" my students with lessons that teach critical thinking, communication, mindfulness, & empathy. I teach my students to write, to question, to imagine, to visualize the words in the books we read & the future they wish to lead. -- Danielle Rose@danirose07

 

 "Through legal trickery Deep State hitman Robert Mueller has guaranteed that my upcoming show trial is before Judge Amy Berman Jackson, an Obama appointed Judge who dismissed the Benghazi charges against Hillary Clinton and incarcerated Paul Manafort prior to his conviction for any crime." — Roger Stone

VERSUS

Stone's gripe is nonsense. Jackson caught Stone's case because she was previously assigned a related case, an utterly routine practice in federal court. She revoked Paul Manafort's bond and jailed him before trial because he tampered with witnesses, which will get you detained by any judge no matter who appointed her. Jackson didn't "dismiss the Benghazi charges against Hillary Clinton," because Clinton was never charged with a crime. Rather, she dismissed a civil lawsuit against Clinton on the rather mundane grounds that it was barred by the Federal Employees Liability Reform and Tort Compensation Act of 1988, which makes suing federal employees for things they did in the course of their job very difficult. Stone's post was more of his customary legal fabulism. — Ken White in The Atlantic

 

"We're going to try to halt the president from violating the Constitution, the separation of powers, from stealing money from Americans and states that has been allocated by Congress, lawfully," -- Attorney General Xavier Becerra.

VERSUS

As I predicted, 16 states, led mostly by Open Border Democrats and the Radical Left, have filed a lawsuit in, of course, the 9th Circuit! California, the state that has wasted billions of dollars on their out of control Fast Train, with no hope of completion, seems in charge! — Donald J. Trump@realDonaldTrump
 
9. From MEDIA MATTERS (They watch Fox News so you don't have to)
Hannity: If AG Bill Barr doesn't investigate Hillary Clinton, "it will be a shredding of the Constitution and the end of the rule of law as we know it." Hannity: "If he does his job, Sara, he has to go back to Hillary. He has to go back to a rigged investigation ... I hope the new Attorney General understands how significant and serious this all is." https://www.mediamatters.org/video/2019/02/19/hannity-if-ag-bill-barr-doesnt-investigate-hillary-clinton-it-will-be-shredding-constitution-and-end/222919

Fox's Andrew Napolitano: Paul Manafort is old and facing "so much jail time, he might very well be a candidate for a pardon." Napolitano: "And the public might accept the pardon." https://www.mediamatters.org/video/2019/02/14/foxs-andrew-napolitano-paul-manafort-old-and-facing-so-much-jail-time-he-might-very-well-be/222870

Fox guest says the Green New Deal is a plot to transform America into "some kind of totalitarian government-run, government-monitored state." https://www.mediamatters.org/video/2019/02/14/fox-guest-says-green-new-deal-plot-transform-america-some-kind-totalitarian-government-run/222880

Fox host rails against raising taxes on the super wealthy because it means people can't get rich anymore. Charles Payne: "No one else can duplicate what Bill Gates has done or Howard Schultz has done if they put in these onerous taxes that stop someone who just finally made a million dollars. Not a billion, but a million. You want to crush that person." https://www.mediamatters.org/video/2019/02/14/fox-host-rails-against-raising-taxes-super-wealthy-because-it-means-people-cant-get-rich-anymore/222878

Sean Hannity wants new Attorney General William Barr to prioritize investigating Trump's enemies. Hannity's enemies list features a slew of Obama-era officials, including Hillary Clinton. https://www.mediamatters.org/blog/2019/02/15/sean-hannity-wants-new-attorney-general-william-barr-prioritize-investigating-trumps-enemies/222897

During national emergency declaration, Trump praises Sean Hannity, Laura Ingraham, and Tucker Carlson for supporting him. https://www.mediamatters.org/video/2019/02/15/during-national-emergency-declaration-trump-praises-sean-hannity-laura-ingraham-and-tucker-carlson/222899

Trump is taking his Fox cabinet's advice and declaring a national emergency. We warned you this would happen. https://www.mediamatters.org/blog/2019/02/14/trump-taking-his-fox-cabinets-advice-and-declaring-national-emergency/222885

Fox figures continue to smear Kamala Harris for The Breakfast Club interview after hosts debunk claim. On February 13, hosts of the New York radio show The Breakfast Club dismissed overblown conservative outrage attempting to smear presidential candidate Sen. Kamala Harris (D-CA) over her responses to questions about marijuana and music during their show. Despite the host criticizing and debunking Fox's version of events, some Fox figures have continued to use the incident to smear Harris' character. https://www.mediamatters.org/blog/2019/02/15/Fox-figures-continue-to-smear-Kamala-Harris-for-The-Breakfast-Club-interview-after-hosts-d/222901

On Presidents Day, Sinclair's Boris Epshteyn said the "presidents on Mount Rushmore may have to make room" for Trump. For the first time, Epshteyn's segment was paired with a progressive segment from commentator Ameshia Cross -- further highlighting the absurdity of his hot takes. https://www.mediamatters.org/blog/2019/02/19/presidents-day-sinclairs-boris-epshteyn-said-presidents-mount-rushmore-may-have-make-room-trump/222915 

Trump keeps channeling Fox's "coup" nonsense. This could end badly. Amid declaring a national emergency on the U.S. southern border and playing many rounds of golf at his private club in Florida, President Donald Trump has found time over the past week to repeatedly gorge himself on Fox News programming and then regurgitate the network's false ravings that senior Justice Department and FBI officials attempted a coup against him in the spring of 2017. https://www.mediamatters.org/blog/2019/02/19/trump-keeps-channeling-fox-s-coup-nonsense-could-end-badly/222909
10. From the Late Shows
Trump Press Conference Cold Open - SNL: https://youtu.be/8vQlhWBvAwY

Weekend Update: President Trump Declares a National Emergency - SNL: https://youtu.be/sNqJkeWBqJw

Late Night with Seth Meyers: Trump Says He's Not Happy with Deal to Avoid Shutdown: A Closer Look: https://youtu.be/Rvju6Q5eZ6c

The Late Show with Stephen Colbert: Trump's Friends At Fox Don't Like The Bipartisan Deal: https://youtu.be/n7UE4h1pSjo

Trump's Call to Finish the Wall That Hasn't Been Started | The Daily Show: https://youtu.be/81TNHop1hyE

Weekend Update: Blackface and Blackmail Scandals - SNL: https://www.youtube.com/watch?v=xKU068rZQ50

The comics take a close look at Trump's speech in the border town of El Paso in Best of Late Night. https://www.usatoday.com/videos/opinion/2019/02/13/colbert-trump-stole-clintons-motto-border/2860014002/

Bernie Sanders Announces His 2020 Presidential Run (Jimmy Fallon): https://youtu.be/DcbovZMgsx8
11. Ex-Massachusetts Gov. Weld to challenge Trump for GOP nod
Former Massachusetts Gov. William Weld, little-known on the national stage but well-respected among veterans in the GOP establishment, announced an exploratory committee for president on Friday, becoming the first Republican to move toward a serious primary challenge against President Donald Trump.
There are new signs he won't be the last.
In the immediate aftermath of the 73-year-old Weld's announcement at a breakfast event in New Hampshire, a senior aide for former Ohio Gov. John Kasich indicated Kasich is likely to launch a primary challenge as well. https://abcnews.go.com/Politics/wireStory/massachusetts-governor-challenge-trump-gop-nod-61098171
12. Klobuchar bets on competence
Adhering to the adage that voters will always spot a phony, Sen. Amy Klobuchar (D-Minn.) is not trying to be someone else. She isn't pretending to be the farthest left candidate, nor does she aim to win crowds over with soaring eloquence. She's not going to out-fire-and-brimstone some of the other contenders. What she is doing is betting voters are sick of strife, dysfunction and hyper-partisanship. https://www.washingtonpost.com/opinions/2019/02/19/klobuchar-bets-competence/
13. Top US general disagrees with Trump over Syria troop pullout
The U.S. commander who has been leading the war against ISIS told CNN that he disagreed with Donald Trump's decision to pull troops out of Syria and warned that the terror group was far from defeated, in a stark public break with the President.
Said Gen. Joseph Votel: "It would not have been my military advice at that particular time… I would not have made that suggestion, frankly."
Votel said that he "was not consulted" before Trump's controversial announcement late last year that the U.S. would rapidly withdraw its troops from the war-torn country. https://www.cnn.com/2019/02/15/politics/joseph-votel-troops-syria-intl/index.html
14. Nearly half of Republicans think God wanted Trump to be president
White House press secretary Sarah Sanders kicked up a bit of dust recently when she told the Christian television network CBN that she believed that God wanted Donald Trump to be president.
"I think God calls all of us to fill different roles at different times," she said, "and I think that he wanted Donald Trump to become president, and that's why he's there. And I think he has done a tremendous job in supporting a lot of the things that people of faith really care about."
We can say that because Fox News included a question echoing Sanders's sentiment in its most recent poll. The pollsters asked Americans whether they believed that God wanted Trump to be president. Most said they didn't — but a quarter of the country agreed with Sanders.
Nearly half of Republicans, 45 percent, believe that God wanted Trump to be president, with another 18 percent indicating that they weren't sure. More than half of white evangelical Protestants — 55 percent — said that God endorsed Trump. Only 3 in 10 evangelicals said categorically that they didn't think Trump had God's explicit support in the election.
The Fox poll suggests something else about Trump's presidency, as noted on Twitter by Bloomberg News's Steven Dennis: It's hard to see how Trump could ever lose the support of the quarter of Americans who believe he was chosen by God to serve in his position. Trump's political base is larger than 25 percent, but that 25 percent — those 45 percent of Republicans — seem unlikely to withdraw their support. https://www.washingtonpost.com/politics/2019/02/14/nearly-half-republicans-think-god-wanted-trump-be-president/
15. POV Shorts Video: A Night At The Garden
In 1939, 20,000 Americans rallied in New York's Madison Square Garden to celebrate the rise of Nazism – an event largely forgotten from American history. A Night At the Garden uses striking archival fragments recorded that night to transport modern audiences into this gathering and shine a light on the disturbing fallibility of seemingly decent people. http://www.pbs.org/pov/nightatthegarden/video-nightatthegarden/
16. Trump's DHS Guts Task Forces Protecting Elections From Foreign Meddling
Two teams of federal officials assembled to fight foreign election interference are being dramatically downsized, according to three current and former Department of Homeland Security officials. And now, those sources say they fear the department won't prepare adequately for election threats in 2020.
One of the task forces is now half the size it was a few months ago… and there's no indication that DHS senior political leadership will staff it up or sustain it. Instead, there are concerns it will completely wither away. The other task force also shrunk significantly shortly after the midterms… and before its members produced a thorough assessment of what happened during the 2018 elections. https://www.thedailybeast.com/trumps-dhs-guts-task-forces-protecting-elections-from-foreign-meddling
17. Warren: If officials believe Trump cannot fulfill duties, they must invoke 25th Amendment
Massachusetts Sen. Elizabeth Warren said Sunday in Las Vegas that Trump administration officials have an obligation to invoke the 25th Amendment if they believe the president cannot fulfill his duties.
The comment came in response to former acting FBI Director Andrew McCabe telling CBS's "60 Minutes" that then-acting Attorney General Rod Rosenstein had considered the idea out of concern for Trump's "capacity and about his intent at that point in time," referring to the days after Trump fired James B. Comey as FBI director.
My point here is that if they believe that Donald Trump cannot fulfill the obligations of his office, then they have a constitutional responsibility to invoke the 25th amendment. Their loyalty under law is not to him personally. It is to the Constitution of the United States and to the people of United States. https://thenevadaindependent.com/article/warren-if-officials-believe-trump-cannot-fulfill-duties-they-must-invoke-25th-amendment
18. In one news conference, Trump created several new minefields
Just how many problems did President Trump create for himself — and others — in Friday's 50-minute disjointed and flat-out bizarre statement and news conference, when he announced his national emergency to build his border wall?
Let us count the ways:

1. He arguably undermined the legal basis for declaring a national emergency.

2. He said it was a "lie" that the preponderance of illegal drugs crossing the border do so at ports of entry — when the DEA reported in 2018 that it was the most common method for transnational criminal organizations.

3. He said Japanese Prime Minister Abe recommended him for the Nobel Peace Prize for his work on North Korea, which has created an uproar in Japan.

4. He claimed Obama was "close to starting a big war with North Korea," which former Obama White House aides deny.

5. After signing criminal-justice reform into law, he appeared to endorse China's policy of giving the death penalty to drug dealers. https://www.nbcnews.com/politics/meet-the-press/one-news-conference-trump-created-several-new-minefields-n972716?cid=public-rss_20190218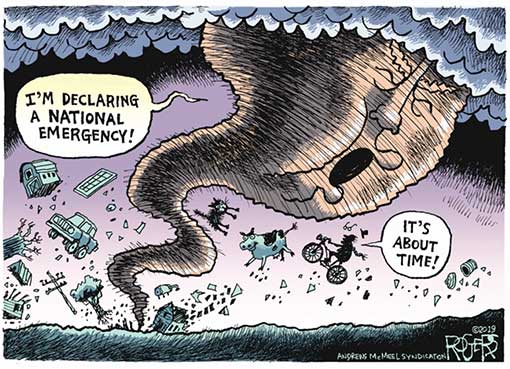 19. Trump Has Lost His War on the War on Coal
Last week, President Trump used his Twitter account to make what was, especially for him, a curiously specific plea for the Tennessee Valley Authority to keep open a coal-fired power plant it was proposing to close.
Coal is an important part of our electricity generation mix and @TVAnews should give serious consideration to all factors before voting to close viable power plants, like Paradise #3 in Kentucky! -- Donald J. Trump@realDonaldTrump
The tweet was in vain. Thursday, the TVA announced it is closing Paradise No. 3, along with another aging coal plant. It was another manifestation of Trump's impotence at achieving what was, to some of his most important constituents, a key campaign promise. http://nymag.com/intelligencer/2019/02/trump-tva-climate-change-coal.html
20. Trump can't run the Mueller playbook on New York feds
Even as speculation mounts that special counsel Robert Mueller might be winding down his investigation, a parallel threat to President Trump only seems to be growing within his own Justice Department: the Southern District of New York.
Manhattan-based federal prosecutors can challenge Trump in ways Mueller can't. They have jurisdiction over the president's political operation and businesses — subjects that aren't protected by executive privilege, a tool Trump is considering invoking to block portions of Mueller's report.
Legal circles are also buzzing over whether SDNY might buck DOJ guidance and seek to indict a sitting president. https://www.politico.com/story/2019/02/18/trump-new-york-mueller-investigation-1173346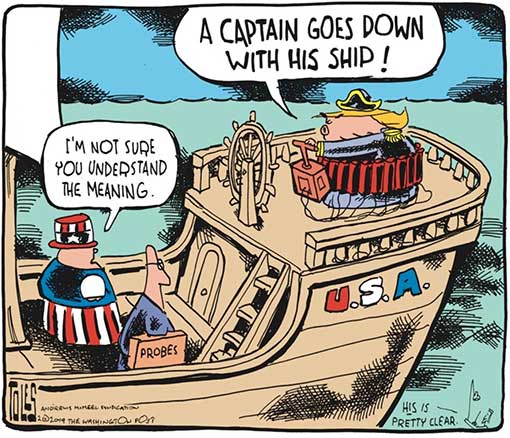 21. In Trump's World, He Never Loses
To that end, the White House released a document on Friday titled "President Donald Trump's Border Security Victory" a day after Congress passed a spending bill that didn't fund the border wall Trump demanded. The memo described the bill as a "legislative win" for Trump and outlined his intention to take executive action (and end-run Congress and the Constitution) by raising funds for the wall unilaterally.
It was inevitable that Trump would refuse to be stymied by Congress, and that he would take a victory lap regardless of what happened in the real world. In that context, his border-wall machinations are only partially about appeasing conservative pundits or his political base; for the most part, they're about appeasing his sense of himself. He's been doing this sort of thing his entire life: Spinning victory yarns from incontrovertible losses was a hallmark of his troubled business career.
Back in the early 2000s, his casino company, Trump Hotels & Casino Resorts, was in familiar territory: mismanaged, saddled with debt it had trouble repaying, and ultimately forced into bankruptcy. The enterprise had to be restructured, and Trump saw his stake in the company reduced. "I don't think it's a failure; it's a success," he told the Associated Press after his casinos filed for bankruptcy protection in late 2004. "It's really just a technical thing." https://www.bloomberg.com/opinion/articles/2019-02-17/national-emergency-trump-has-no-intention-of-losing-on-the-wall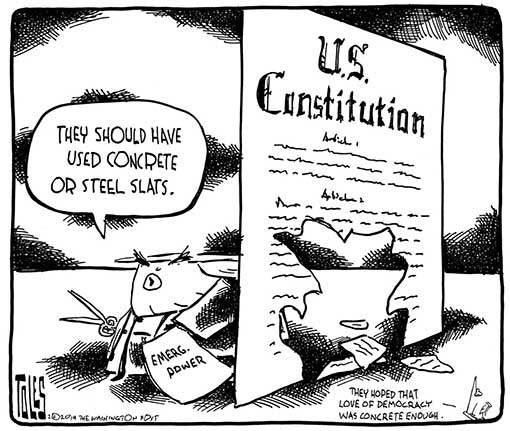 22. Trump's Presidents' Day tweets showed why he is unfit to be president
BIG: Strzok/Page Docs Show More Collusion to Protect Hillary Clinton; Voter Fraud Crisis--Thousands of Aliens Illegally Voting, PLUS @RealDonaldTrump is first president in 70 years to take border security seriously. Major @JudicialWatch Update: https://youtu.be/bxGlWmF8Icw  — Trump Retweet

"These guys, the investigators, ought to be in jail. What they have done, working with the Obama intelligence agencies, is simply unprecedented. This is one of the greatest political hoaxes ever perpetrated on the people of this Country, and is a coverup." -- Trump retweets Rush Limbaugh

The Mueller investigation is totally conflicted, illegal and rigged! Should never have been allowed to begin, except for the Collusion and many crimes committed by the Democrats. Witch Hunt! --Trump@RealDonaldTrump

Nothing funny about tired Saturday Night Live on Fake News NBC! Question is, how do the Networks get away with these total Republican hit jobs without retribution? Likewise for many other shows? Very unfair and should be looked into. This is the real Collusion! --Trump@RealDonaldTrump

Disgraced FBI Acting Director Andrew McCabe pretends to be a "poor little Angel" when in fact he was a big part of the Crooked Hillary Scandal & the Russia Hoax - a puppet for Leakin' James Comey. I.G. report on McCabe was devastating. Part of "insurance policy" in case I won…. -- Trump@RealDonaldTrump

....There is a lot of explaining to do to the millions of people who had just elected a president who they really like and who has done a great job for them with the Military, Vets, Economy and so much more. This was the illegal and treasonous "insurance policy" in full action! --Trump@RealDonaldTrump

THE RIGGED AND CORRUPT MEDIA IS THE ENEMY OF THE PEOPLE! --Trump@RealDonaldTrump
If someone were ranting and raving like this on the street, you would walk quickly away. Yet somehow we have become inured to this ranting and raving from the most powerful man in the world. We shouldn't be. Over Presidents' Day weekend, Trump again demonstrated why he remains as unfit as ever to follow in the footsteps of Washington and Lincoln — or even of Millard Fillmore and Warren Harding. The fact that we tolerate his disgraceful conduct makes all of us complicit in this ongoing diminution of our democracy. https://www.washingtonpost.com/opinions/2019/02/19/his-presidents-day-tweets-showed-why-trump-is-unfit-be-president/
23. Trump Has Publicly Attacked the Russia Investigation More Than 1200 Times
President Trump has publicly criticized dozens of people and groups related to federal inquiries into contacts between his campaign and Russia, according to a New York Times analysis of nearly every public statement or Twitter post that he has made while in office.
The attacks, which number nearly 1,200, are part of a strategy to beat back the investigations. They have also opened him to possible obstruction of justice charges. They include statements made on Twitter, in official speeches, at rallies and during news media interviews and other press events.
While it is highly unusual for anyone — let alone the president of the United States — to comment on continuing criminal investigations, Mr. Trump has done so at least once on 330 days, or more than 43 percent of his time in office as of Feb. 14. https://www.nytimes.com/interactive/2019/02/19/us/politics/trump-attacks-obstruction-investigation.html
24 . Democrats Tested by Charges of 'Socialism'
The increasingly large 2020 Democratic presidential field is fighting two simultaneous battles: a chaotic intraparty primary struggle over how far left to push their policies and a broader question of how to confront the challenge posed by President Trump, who has already begun casting the Democrats as socialists.
The dynamic has put a squeeze on the Democratic as they begin to lay out their messages. They are being pressed from one side by core Democratic voters hungry for leftist policies favored by the most energized activists and, from the other, by the need to court centrist voters who could be alienated by the party's turn to the left.
Trump's opportunity to define the Democratic field could be long-lasting: The president will have more than a year to portray the opposing party as radical before a Democratic nominee is selected. https://www.washingtonpost.com/politics/caught-between-trump-and-the-left-democratic-candidates-seek-to-avoid-the-socialism-squeeze/2019/02/19/6234dbfc-3386-11e9-af5b-b51b7ff322e9_story.html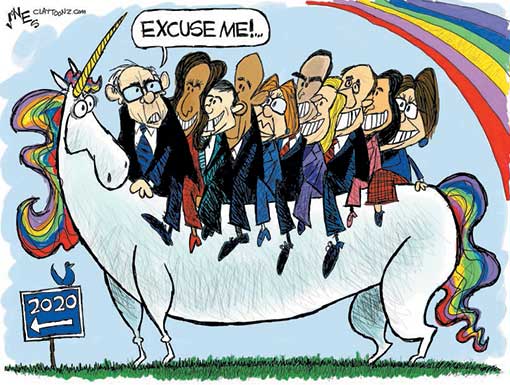 25. California GOP Looks Into the Abyss
California's establishment Republicans are making their final stand.
After decades of decline and a devastating 2018 election cycle that gutted an already decimated state party, the GOP's more moderate wing is gearing up for a state convention this weekend that some argue is its last opportunity to avert collapse.
A battle over the state party chairmanship offers two competing visions for the future. One embraces President Donald Trump; the other focuses on the nuts and bolts of party building and organizing.
The two approaches aren't complementary. Trump, who lost California by 30 percentage points in 2016, is highly unpopular there: Nearly two-thirds of California's voters disapprove of his performance as president.
https://www.politico.com/story/2019/02/19/california-republican-party-1176013
1. Mark Mazzetti, Maggie Haberman, Nicholas Fandos and Michael S. Schmidt: Intimidation, Pressure and Humiliation: Inside Trump's Two-Year War on the Investigations Encircling Him
Mr. Trump's public war on the inquiry has gone on long enough that it is no longer shocking. Mr. Trump rages almost daily to his 58 million Twitter followers that Mr. Mueller is on a "witch hunt" and has adopted the language of Mafia bosses by calling those who cooperate with the special counsel "rats." His lawyer talks openly about a strategy to smear and discredit the special counsel investigation. The president's allies in Congress and the conservative news media warn of an insidious plot inside the Justice Department and the F.B.I. to subvert a democratically elected president.
An examination by The New York Times reveals the extent of an even more sustained, more secretive assault by Mr. Trump on the machinery of federal law enforcement. Interviews with dozens of current and former government officials and others close to Mr. Trump, as well as a review of confidential White House documents, reveal numerous unreported episodes in a two-year drama.
The story of Mr. Trump's attempts to defang the investigations has been voluminously covered in the news media, to such a degree that many Americans have lost track of how unusual his behavior is. But fusing the strands reveals an extraordinary story of a president who has attacked the law enforcement apparatus of his own government like no other president in history, and who has turned the effort into an obsession. Mr. Trump has done it with the same tactics he once used in his business empire: demanding fierce loyalty from employees, applying pressure tactics to keep people in line and protecting the brand — himself — at all costs. https://www.nytimes.com/2019/02/19/us/politics/trump-investigations.html
2.  Brian Klaas: Why Trump — and other authoritarians — can't take a joke
Since Friday, President Trump has declared a national emergency to bypass Congress in response to an manufactured "crisis;" endorsed the view that people who investigate his alleged crimes should themselves be tossed in jail; and, yet again, channeled the language of Joseph Stalin and Mao Zedong to once again label the media as "the enemy of the people." What shouldn't escape our notice in this authoritarian outburst, though, is that he also called for "retribution" against NBC's "Saturday Night Live" after it aired a sketch ridiculing his national emergency news conference. The president implied that the show's satirical skits should be investigated because they were the ones behind the "real collusion."
Thin-skinned authoritarians and aspiring autocrats can't stand being the butt of a joke. They despise comedy. They lash out against it. For them, nothing can be worse than having people laugh at you. Trump is no different.
He has tweeted more than 50 times  about the world laughing at former president Barack Obama, or laughing at the United States, or laughing at U.S. trade and immigration policies. For Trump, being reduced to a punchline is the ultimate humiliation. https://www.washingtonpost.com/opinions/2019/02/19/why-trump-other-authoritarians-cant-take-joke/
3. Jedediah Britton-Purdy: The Green New Deal Is What Realistic Environmental Policy Looks Like
Everyone is lining up to endorse the Green New Deal — or to mock it. Kamala Harris, Cory Booker, Bernie Sanders, Elizabeth Warren and Kirsten Gillibrand have all endorsed the resolution sponsored by Representative Alexandria Ocasio-Cortez of New York and Senator Edward Markey of Massachusetts.
Conservative critics predictably call it "a shocking document" and "a call for enviro-socialism in America," but liberal condescension has cut deeper. The House speaker, Nancy Pelosi, essentially dismissed it as branding, saying, "The green dream, or whatever they call it, nobody knows what it is, but they're for it, right?" Others have criticized it for leaving out any mention of a carbon tax, a cornerstone of mainstream climate-policy proposals, while embracing a left-populist agenda that includes universal health care, stronger labor rights and a jobs guarantee.
But this everything-and-the-carbon-sink strategy is actually a feature of the approach, not a bug, and not only for reasons of ideological branding. In the 21st century, environmental policy is economic policy. Keeping the two separate isn't a feat of intellectual discipline. It's an anachronism. https://www.nytimes.com/2019/02/14/opinion/green-new-deal-ocasio-cortez-.html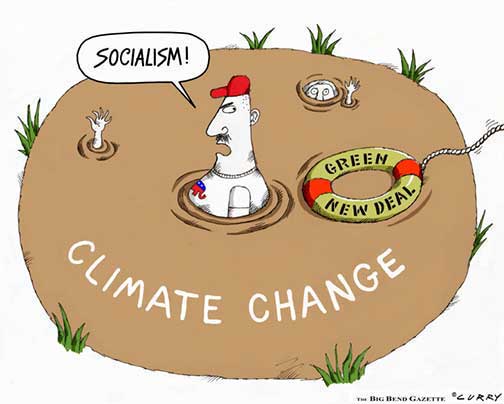 4. Jamelle Bouie: Trump Is Making 'Socialism' Sound Pretty Good
But in 2019, the Cold War is long over. The Soviet Union is a memory. And there is no comparable global ideological struggle over economic systems that might give weight to Trump's rhetoric. There's not much fear to monger. Instead, the president's decision to make "socialism" his opponent might have the opposite effect, potentially bolstering the movement and its ideals.At this moment, the proposed policies of the Democratic Party — from modest initiatives to incentivize savings to expansive programs for guaranteed employment — aren't socialism. Even if they were, Americans are less afraid of the label than one might think: 37 percent say they have a positive image of socialism, a two-point increase from 2016. Given the continued popularity of Bernie Sanders and the rise of politicians like Representative Alexandria Ocasio-Cortez, these numbers have room to grow. And those who hope to see them grow almost certainly got an assist from Trump when he elevated the term in his State of the Union address.
The mechanism is simple: Trump is unpopular and drives Americans away from his positions. According to a Gallup survey last summer, after almost a year and a half of anti-immigration rhetoric from the president, 75 percent of Americans said immigration was a "good thing" and 29 percent said immigration levels should "decrease." Most wanted either stasis or an increase in the number of immigrants. Just this January, in a poll taken during the partial government shutdown, 58 percent of Americans said they opposed "substantial expansion" of a border wall between the United States and Mexico, a direct rebuke to the president.
If anything can put socialism in a more positive light, it is Trump raging against it. Which means conservatives and Republicans may want to think a little harder before they embrace a campaign strategy that relies on him for messaging. If "socialism" is like every other idea Trump has attacked and disdained, then the Republican Party should prepare for even more Americans embracing the term — and the ideas that come with it. https://www.nytimes.com/2019/02/14/opinion/trump-socialism-ocasio-cortez-sanders.html
5. Jonathan Chait: Trump's Emergency Declaration Shows He Is Unfit for Office
If Trump were to succeed, he would distort the effective meaning of the Constitution beyond recognition. That is precisely why his ploy is unlikely to survive the legal challenges. The Supreme Court's five Republican justices may stretch the Constitution to defeat liberal policies they abhor, like universal health insurance, but they probably don't care about the wall and have no reason to spend their reputational capital on a decision upholding it.
The anticipation that courts will smack down Trump's attempted power grab has created some complacency about the brazenness of his attempt. The clever take in Washington is that Trump is claiming emergency powers knowing full well he will probably lose.
But it hardly vindicates the president. Trump impulsively engineered a government shutdown out of the mistaken belief that somehow it would give him leverage over Democrats, and without any understanding of the humanitarian fallout. After he quickly realized it wouldn't, he made almost no effort to negotiate in good faith, even though it certainly would be possible to imagine immigration policies most Democrats and some Republicans would want enough to authorize more border-security funding.
Having deliberately inflicted pain on his own country on a whim, he is defying democratic norms in order to extricate himself from the humiliation of a retreat. That he is likely to lose may mitigate the offense, but doesn't excuse it. Trump has at minimum proven that he lacks the temperament or basic competence to serve as president of the United States. http://nymag.com/intelligencer/2019/02/trumps-emergency-declaration-border-unfit-for-office-impeachment.html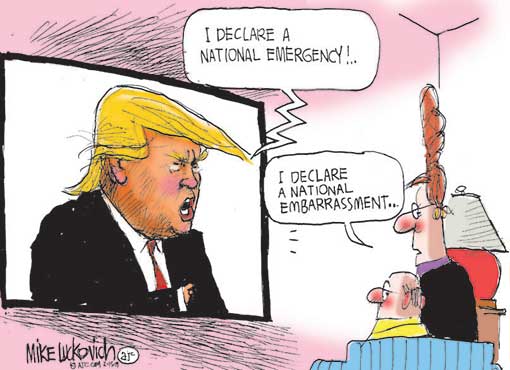 6.  Andrew Desiderio: Dems prepare to force Trump to reveal private talks with Putin
House Democrats are taking their first real steps to force President Donald Trump to divulge information about his private conversations with Russian President Vladimir Putin, setting up an extraordinary clash with the White House over Congress' oversight authority.
"I had a meeting with the general counsel to discuss this and determine the best way to find out what took place in those private meetings — whether it's by seeking the interpreter's testimony, the interpreter's notes, or other means," Schiff (D-Calif.) said in a brief interview.
The move also underscores the seriousness with which Democrats view Trump's conciliatory statements and actions toward Moscow and its place as a top House priority as the party pursues wide-ranging investigations into the president and his administration.
In particular, Democrats say they want to find out what Trump and Putin discussed during their private meeting in Helsinki last July, where Trump put himself at odds with the U.S. intelligence community and declared — while standing next to the Russian president — that the Kremlin did not interfere in the 2016 elections.
https://www.politico.com/story/2019/02/16/dems-trump-putin-private-talks-1173275
7. Eugene Robinson: We have a national emergency, all right. Its name is Donald Trump.
We have a national emergency, all right. Its name is Donald Trump, and it is a force of mindless, pointless disruption.
The president's decision to officially declare an emergency — to pretend to build an unbuildable border wall — is not only an act of constitutional vandalism. It is also an act of cowardice, a way to avoid the wrath of Ann Coulter, Rush Limbaugh and the rest of the far-right commentariat.
It is an end run around Congress and, as such, constitutes a violation of his oath to "preserve, protect and defend the Constitution of the United States" — which gives Congress, not the president, the authority to decide how public money is spent. It does not give Trump the right to fund projects that Congress will not approve. Authoritarian leaders do that sort of thing. The puffed-up wannabe strongman now living in the White House is giving it a try.
Let's be clear: There is no emergency. Arrests for illegally crossing the U.S.-Mexico border peaked in 2000, nearly two decades ago, at more than 1.5 million a year. They declined sharply under Presidents George W. Bush and Barack Obama and, in 2017, were at their lowest point since 1971. In 2018, apprehensions ticked up slightly — but still barely climbed above 400,000.
One of the most strident Republican criticisms of Obama was that he took executive actions that should have been the purview of Congress. But this action by Trump goes much further and sets a dangerous precedent.
Trump cares only that his base is mollified. And that nobody remembers how Mexico was supposed to foot the bill. https://www.washingtonpost.com/opinions/we-have-a-national-emergency-all-right-its-name-is-donald-trump/2019/02/14/dffc5298-30a9-11e9-8ad3-9a5b113ecd3c_story.html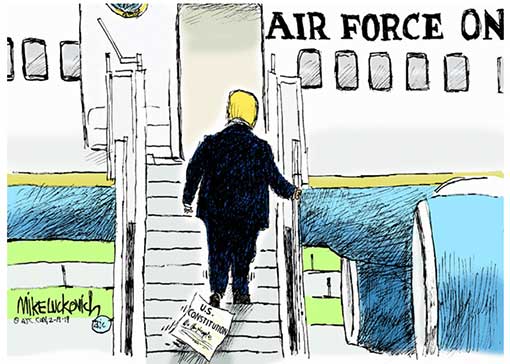 8. Eric Levitz: Trump's Emergency Declaration Proves He Isn't a Political Savant — He's Just Addicted to Fox News
There are some conservative voters who trust Hannity and Limbaugh more than they love Trump. But such true believers are much louder than they are numerous. As Nate Silver demonstrates, Trump's approval rating among Republicans remained (essentially) steady throughout the entire shutdown affair. When it looked like the president was going to acquiesce to a wall-less continuing resolution in December — and the right-wing media was throwing daily tantrums — roughly 88 percent of GOP voters approved of his job performance. When he did what the television told him to, and shut down the government, roughly 88 percent of GOP voters approved of his job performance. When he blinked before Nancy Pelosi did, reopened the government, and broke Ann Coulter's heart, roughly 88 percent of GOP voters approved of his job performance.
Which is to say: One of the defining characteristics of Donald Trump's base is that it is strongly disinclined to revise its views of Donald Trump, in response to new information. His concern with losing his base's affections, on the basis of a critical monologue from Sean Hannity, is utterly irrational. Not only does he stand to lose little from the cable host's critiques, but he is sure to have Hannity's support when he actually needs it. In 2019, right-wing infotainers need to mine intra-Republican divisions for drama. In 2020, their guns will all be pointed squarely at whatever communistic, cop-hating, flag-disrespecting, reverse racist the Democratic Party chooses to nominate. http://nymag.com/intelligencer/2019/02/trump-national-emergency-sean-hannity-fox-news-2020-polls.html
9. Margaret Sullivan: How sexist will the media's treatment of female candidates be? Rule out 'not at all.'
"There is a narrow universe of acceptable behavior for women," explained Heidi Moore, a media consultant who is a former Wall Street Journal reporter and former business editor of the Guardian U.S.
In politics — as in so many other spheres — women get bashed far more than their male counterparts for personality quirks, vulnerabilities and actions of all sorts.
Not to mention their appearance and speaking voices. Think of how far a female candidate would get if she came off like the rumpled and ranting Bernie Sanders.
"We see in coverage of women lawmakers that even minor flaws are treated as disqualifying," Moore told me, "while men's flaws get brief attention but are glossed over as a case of 'nobody's perfect.' "
After 2016, there is certainly more awareness of society's bias and of the media's role in amplifying it.
New York Times politics editor Patrick Healy wrote this month that he regrets once describing Clinton's laugh as a "cackle," and The Times published an enlightening story by Maggie Astor about how female candidates start off at a disadvantage.
It explored the all-important quality of "likability," which research shows is a necessity for the success of women candidates, though not so for men.
Here's the catch-22. One of the qualities that makes women unlikable? Ambition. Which is, after all, hard to avoid in a candidate for president of the United States. https://www.washingtonpost.com/lifestyle/style/how-sexist-will-the-medias-treatment-of-female-candidates-be-rule-out-not-at-all/2019/02/15/117158e4-2fcb-11e9-8ad3-9a5b113ecd3c_story.html
10. NY Times Editorial: Time to Panic
The age of climate panic is here. Last summer, a heat wave baked the entire Northern Hemisphere, killing dozens from Quebec to Japan. Some of the most destructive wildfires in California history turned more than a million acres to ash, along the way melting the tires and the sneakers of those trying to escape the flames. Pacific hurricanes forced three million people in China to flee and wiped away almost all of Hawaii's East Island.
We are living today in a world that has warmed by just one degree Celsius (1.8 degrees Fahrenheit) since the late 1800s, when records began on a global scale. We are adding planet-warming carbon dioxide to the atmosphere at a rate faster than at any point in human history since the beginning of industrialization.
In October, the United Nations Intergovernmental Panel on Climate Change released what has become known as its "Doomsday" report — "a deafening, piercing smoke alarm going off in the kitchen," as one United Nations official described it — detailing climate effects at 1.5 and two degrees Celsius of warming (2.7 and 3.6 degrees Fahrenheit). At the opening of a major United Nations conference two months later, David Attenborough, the mellifluous voice of the BBC's "Planet Earth" and now an environmental conscience for the English-speaking world, put it even more bleakly: "If we don't take action," he said, "the collapse of our civilizations and the extinction of much of the natural world is on the horizon." https://www.nytimes.com/2019/02/16/opinion/sunday/fear-panic-climate-change-warming.html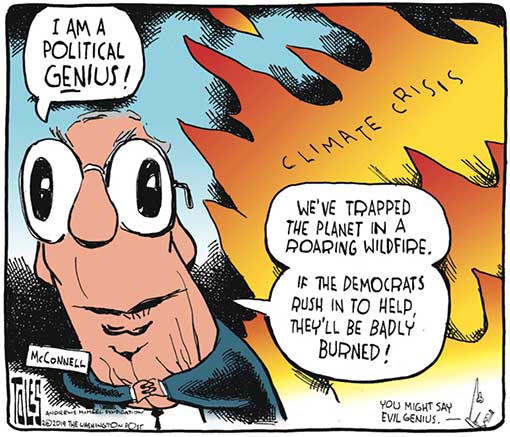 11. Sarah Jones: Trump Doesn't Care About Facts — But That Isn't Really the Problem With His Presidency
It's a journalist's job to confront the powerful about the myths they invent to justify their actions. But it seems futile to grill Trump on where he gets his facts when there's no evidence that truth is important to him at all. Trump's speech from the Rose Garden might have looked like a normal policy rollout, but it was about propaganda. The president has demonstrated repeatedly that his hostility to immigrants doesn't stem from a real crisis that can be quantified with facts and figures, but from his own prejudices. The administration can direct officials to hunt around for evidence that supports his elaborate fantasies about bound women and fentanyl flowing freely across the border, but they can't hide one small, grimy fact: The president is a bigot, and all bigots are consumed with thoughts of power. Trump's base fears losing it, and so does he.
Trump's emergency declaration was about self-preservation, in both a racial and governmental sense. Declaring a national emergency doesn't just help Trump move his anti-immigration platform forward, it allows him to reassert his authority. He bid for that authority today in political terms, by bypassing Congress, and in moral terms, by inventing an evil to fight. "Just to finish," he said as he wound down his speech, "we have removed thousands of MS-13 gang monsters, thousands. They are out of this country. We take them out by the thousands. And they are monsters." http://nymag.com/intelligencer/2019/02/trumps-lies-arent-the-biggest-problem-with-his-presidency.html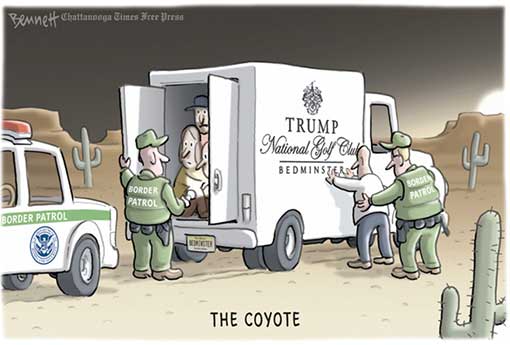 12. Philip Bump: Why allegations of a 'coup' against Trump are unfounded
President Trump woke up at his private club in Florida on Monday and watched just enough Fox News to lift up a quote making an unfounded allegation that someone had attempted a coup against him.
"This was an illegal coup attempt on the President of the United States." Dan Bongino on @foxandfriends True! —Donald J. Trump@realDonaldTrump
Then he went to play golf for the third day in a row.
As with the national emergency Trump announced Friday, his actions in response to the "coup" don't really convey the sense of urgency that you might expect from his declarations. Were there are actual, active coup attempt against a president, one might expect a serious effort to address the situation. As Trump probably realizes, though, there is now and never was any such effort. https://www.washingtonpost.com/politics/2019/02/18/why-allegations-coup-against-trump-are-unfounded/