March 18, 2021
ON THE RECORD. . .
"We're about to have a boom. And if we do have a boom, it will have absolutely nothing to do with this $1.9 trillion." — McConnell pre-denying credit to Democrats for a still-to-fully-materialize economic recovery.

The majority of Republicans — 56 percent — said their party should not be accepting of GOP elected officials who openly criticize former President Trump.

And even more Republicans — 64 percent — say the party shouldn't be accepting of GOP elected officials who voted to impeach or convict Trump.

We're reminded of how Ronald Reagan popularized the so-called "11th commandment," urging the GOP that "Thou shalt not speak ill of any fellow Republican."

That seems to have been superseded by a new commandment for Republicans: "Thou shalt not speak ill of Trump." — First Read

"Send it back."— Sen. Rick Scott's (R-FL) message for states and cities poised to receive a collective $360 billion from the American Act stimulus package.

We had our chance to elect a woman as president in 2016 — and we blew it. Not electing Hillary Clinton, a moderate, competent candidate, was one of the worst blunders in U.S. history. Odds are that, if Clinton had won, a lot of victims of covid-19 would still be alive. (The British medical journal the Lancet attributed 40 percent of U.S. coronavirus deaths to Trump's "inept" response, while other studies suggest that female leaders did better at dealing with covid-19 than male counterparts.) — Max Boot

"His (Allen Weisselberg's) whole worth is, 'Does Donald like me today? It's his whole life, his core being. He's obsessed. He has more feelings and adoration for Donald than for his wife." — Jennifer Weisselberg, the former daughter-in-law of Trump accountant Allen Weisselberg, who prosecutors are trying to "flip" against his longtime boss, Asked if Allen Weisselberg would flip under pressure, she said, "I don't know. For Donald, it's a business. But for Allen it's a love affair."

"Would anybody have marched on the Capitol, and tried to overrun the Capitol, without the president's speech? I think it's pretty much definitive that wouldn't have happened." — Former Acting Secretary of Defense Chris Miller believes that Donald Trump's speech caused the violent mob to attack the U.S. Capitol on Jan. 6.

"What say you, Fox? You come to the aid of convicted war criminals but denigrate honorable female service members?" — CNN's Brianna Keilar about Fox's Tucker Carlson's comments about women in the military.

Does Joe Biden want us to continue living in a state of fear? This pandemic could have been defeated months ago & tens of thousands of lives saved if courageous frontline doctors and early treatment had not been censored and silenced as we awaited a vaccine. -- Senator Ron Johnson who then linked to video of Dr. Peter McCullough testifying before the Texas Senate about the benefits of hydroxychloroquine in treating the novel coronavirus.

Sen. Ron Johnson (VIDEO) says he wasn't worried on 1/6 because the majority-white insurrectionists who stormed the Capitol "love this country," but says if they were Black Lives Matter protestors he would've been concerned for his safety. — Ron Johnson, a white Republican Senator, said that if it had been BLACK people who had stormed the Capitol on January 6th, he would have been concerned. And not one Republican will condemn him. Not one!

"Not everybody wants to vote, and if somebody is uninterested in voting, that probably means that they're totally uninformed on the issues, Quantity is important, but we have to look at the quality of votes, as well. Democrats value as many people as possible voting, and they're willing to risk fraud. Republicans are more concerned about fraud, so we don't mind putting security measures in that won't let everybody vote — but everybody shouldn't be voting," — Arizona State Rep. John Kavanagh's statement comes on the heels of former president Donald Trump promoting baseless claims of voter fraud without evidence for months.

"Let's call it what it is: it's a partisan, Republican recall — backed by the RNC, anti-mask and anti-vax extremists, and pro-Trump forces who want to overturn the last election and have opposed much of what we have done to fight the pandemic. If they are successful, it would mean risking the progress we are making to end the pandemic. We can't let that happen." — Governor Gavin Newsom in an email to supporters,

VIDEOS

Unite The Country | Pro-Biden super PAC ad: https://youtu.be/pNHBmj5xdgI

Trump wants credit for the vaccine after denying Covid threat — Brian Williams https://fb.watch/4c0X3V10gs/

Former Presidents and First Ladies 'It's Up To You' :60 | Ad Council and COVID Collaborative. https://youtu.be/eCza6UGmRTk and, https://youtu.be/Li-oxKhvZy0

Californian Gov. Gavin Newsom (D) and his allies released an online ad tying the recall effort of the governor to Donald Trump, QAnon and the national Republican party. Stop the Republican Recall 30s Launch
REMINDER: Just Security is continuing to track every pending criminal and civil case against Donald Trump.
---
IN THIS ISSUE
IN THE NEWS
OPINION
Andy Borowitz: Ted Cruz Accuses Democrats of Trying to Cancel Poverty
Calling the $1.9 trillion American Rescue Plan "a fever dream of the cancel-culture crew," Senator Ted Cruz accused Democrats of a "politically correct plot to cancel poverty."

"Poverty has been a part of American life since this country was founded, in 1776, but that apparently means nothing to the Democrat Cancel Culture Gang," Cruz said. "In their intolerant view, poverty is somehow no longer appropriate."

He warned that, far from being Democrats' ultimate goal, "cancelling poverty is just the beginning."

"If you read the fine print, they also want to cancel hunger and homelessness," he said. "And, if you're used to living without health insurance, sorry—that's yet another American tradition they want to cancel."

"We should have seen this coming," he added. "First they came for Mr. Potato Head." https://www.newyorker.com/humor/borowitz-report/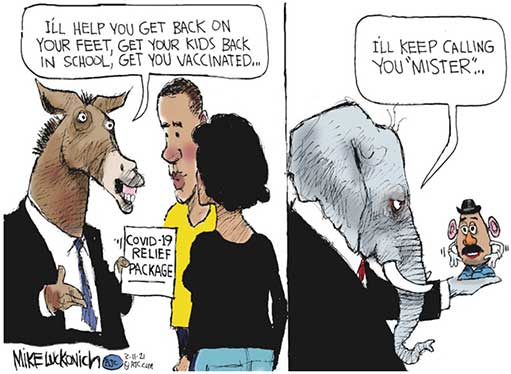 McConnell Warns of 'Scorched-Earth' Senate
Senate Minority Leader Mitch McConnell said Republicans would grind the Senate to a standstill if Democrats proceed with the "nuclear option" of removing the filibuster.
"Nobody serving in this chamber can even begin to imagine what a completely scorched-earth Senate would look like," he said. "Even the most basic aspects of our colleagues' agenda, the most mundane tasks of the Biden presidency would actually be harder, not easier for Democrats in a post-nuclear Senate. … We will use every other rule to make tens of millions of Americans voices heard."
"It would not open up an express line for the Biden presidency to speed into the history books," he added. "The Senate would be more like 100-car pileup — nothing moving." https://www.washingtonpost.com/politics/2021/03/16/joe-biden-live-updates/
Earlier McConnell threat: "The single most important thing we want to achieve is for President Obama to be a one-term president."— McConnell on 10-26-2010 https://www.tevitroy.org/8245/mcconnell-under-fire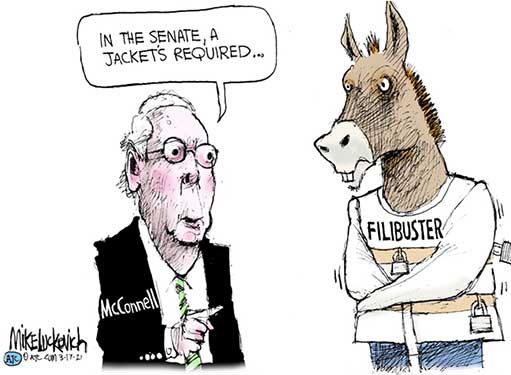 DOJ seeks to build large conspiracy case against Oath Keepers for Jan. 6 riot
The Oath Keepers group is a major target of the sprawling FBI investigation into the riot at the U.S. Capitol, along with another militant group, the Proud Boys, according to the people familiar with the matter, who spoke on the condition of anonymity to discuss an ongoing investigation. How aggressively the Justice Department pursues such extremists will be a major test not only of the Biden administration's pledge to combat domestic terrorism, but also the law and the courts.
Twelve alleged Oath Keepers members or associates have already been arrested on charges related to the Jan. 6 riot. In court documents, the group's founder, Stewart Rhodes, is usually referred to not by name but as "Person One." The people familiar with the case said agents are working to see if a conspiracy case can be made against Rhodes and other senior members of the group. https://www.washingtonpost.com/national-security/oattkeepers-capitol-riots-conspiracy/2021/03/11/03c26114-8291-11eb-9ca6-54e187ee4939_story.html
With Relief Plan, Biden Takes on a New Role: Crusader for the Poor
On Friday, "Scranton Joe" Biden, whose five-decade political identity has been largely shaped by his appeal to union workers and blue-collar tradesmen like those from his Pennsylvania hometown, will sign into law a $1.9 trillion spending plan that includes the biggest antipoverty effort in a generation.
The new role as a crusader for the poor represents an evolution for Mr. Biden, who spent much of his 36 years in Congress concentrating on foreign policy, judicial fights, gun control and criminal justice issues by virtue of his committee chairmanships in the Senate. For the most part, he ceded domestic economic policy to others.
But aides say he has embraced his new role. Mr. Biden has done so in part by following progressives in his party to the left and accepting the encouragement of his inner circle to use Democratic power to make sweeping rather than incremental change. He has also been moved by the inequities in pain and suffering that the pandemic has inflicted on the poorest Americans, aides say. https://www.nytimes.com/2021/03/11/us/politics/biden-stimulus.html
Judge rips Arizona GOP for 'groundless' lawsuit challenging Biden's win, orders it to pay legal fees
Calling its lawsuit challenging 2020 election procedures "groundless" and "disingenuous," a judge has ordered the Arizona Republican Party – and its lawyers – to pay the state thousands of dollars in legal fees.  
Instead of living up to the "privileged position in the electoral process" afforded to it by state law, Hannah said, the party sought to undermine Arizonans' confidence in election results. https://www.usatoday.com/story/news/politics/2021/03/16/arizona-republican-party-ordered-pay-legal-fees-election-lawsuit/4714062001/
Get ready for California recall to break the bank in 2021
California politicians are bracing for an enormous, all-consuming campaign for several reasons. Newsom's supporters are highly motivated to defend him against what they see as an opportunistic partisan attack. Republicans see a national rallying point that can reinvigorate the base after a disappointing 2020. A scant 2021 elections calendar will focus everyone's attention, as the only other statewide contests are in Virginia and New Jersey.
"It's getting a lot of national interest, and it's going to be the only political game in town in the country, so it's going to attract a lot of money," said Dave Gilliard, a Republican strategist who has been working for the recall campaign. https://www.politico.com/states/california/story/2021/03/16/get-ready-for-california-recall-to-break-the-bank-in-2021-1368304
Trump's Wealth Test for Immigrants Is Dead
In February, President Joe Biden signed an executive order directing the Department of Homeland Security, which oversees USCIS, to review the implementation of the public charge rule. As part of that review, DHS decided to stop defending the rule in court. "The 2019 public charge rule was not in keeping with our nation's values," DHS Secretary Alejandro Mayorkas said in a statement on Tuesday. "It penalized those who access health benefits and other government services available to them."
The public charge rule never generated anywhere near as much outrage as the Muslim ban or family separation. That was understandable. It was a 217-page piece of federal rulemaking whose true purpose was obscured by bureaucratic jargon. But it was Miller's best chance for preventing people from the kinds of countries that his boss liked to refer to as shitholes from eventually voting in US elections. By some estimates, the rule would have blocked hundreds of thousands of people from getting green cards each year. No other Trump regulation had the potential to so fundamentally alter how many people became Americans or what the country's new immigrants looked like. https://www.motherjones.com/politics/2021/03/trumps-wealth-test-for-immigrants-is-dead/
Migrants are not overrunning U.S. border towns, despite the political rhetoric
The way many Republicans describe it, President Biden has thrown open the border between Mexico and the United States so that anyone who wants to come into the country can do so, illegally or legally.
Former president Donald Trump accused Biden of "recklessly eliminating our border, security measures, controls, all of the things." Texas Gov. Greg Abbott (R) says Biden has rushed to implement "open border policies." Rep. Steve Scalise (R-La.) says the new president "sent a message around South and Central America that our border is open."
But many of those who live along the border in Texas say that while there has been a dramatic increase in the number of migrants caught crossing illegally, the border itself has been heavily restricted for nearly a year because of the coronavirus pandemic. https://www.washingtonpost.com/immigration/migrants-are-not-overrunning-us-border-towns-despite-the-political-rhetoric/2021/03/15/b193f3f2-8345-11eb-ac37-4383f7709abe_story.html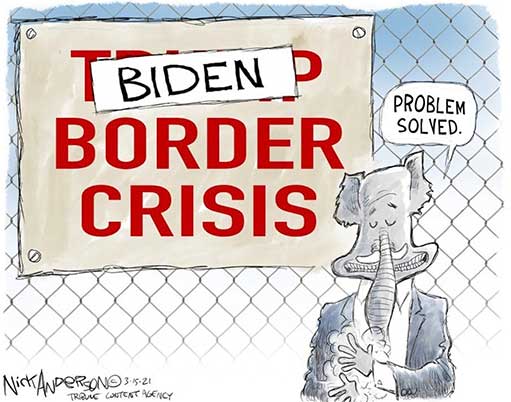 Pro-Sanders forces finally get their revenge
Five years ago, Bernie Sanders' supporters were steamrolled by the Democratic establishment in Nevada's presidential caucus.
This weekend a slate of uber-progressive Sanders allies, endorsed by the tightly organized Democratic Socialists of America's local chapter, won control of the Nevada Democratic Party in leadership elections. On the losing side was one of the most powerful forces in Democratic politics: the well-oiled operation run by former Senate Majority Leader Harry Reid.
The takeover of the state party, aka the Reid machine, represents a dramatic turnaround from the 2016 presidential race, when Sanders fans were accused of throwing chairs and making violent threats at a wild convention in Nevada — charges they vehemently deny to this day.
It's a development that could have effects that stretch well beyond state borders — and a sign that Sanders himself is playing a long game in the battle for control of the Democratic Party. https://www.politico.com/news/2021/03/10/bernie-sanders-nevada-harry-reid-474971
Dog Rescue Charity Linked To Lara Trump Funneling Money Into Donald Trump's Pocket
A dog rescue charity with links to Lara Trump has spent as much as $1.9 million at former President Donald Trump's properties over the last seven years and will drop an additional quarter-million at his Mar-a-Lago country club this weekend.
According to a permit filed with the town of Palm Beach, Florida, Big Dog Ranch Rescue estimates it will spend $225,000 at the club where Donald Trump has taken up full-time residence since leaving the White House. All the profit from that spending winds up in his pocket. https://www.huffpost.com/entry/lara-trump-mar-a-lago-dog-rescue-charity_n_604becaac5b636ed337a6886
As GOP lawmakers look to pass new voting restrictions, some conservatives are pushing back
There is rising unease among some conservatives about the increasing aggressiveness of Republicans in state legislatures to tighten election laws and erect obstacles to voting.
Many GOP lawmakers have doubled down on the lie that the 2020 election was stolen and are using that false narrative as a pretext for restricting or eliminating early voting and vote-by-mail in the name of preventing future cheating. In Georgia, for example, the Republican-controlled Legislature is looking to eliminate early voting on Sundays, which critics say is a clear effort to stymie the ability of Black churches to get congregants to the polls after services.
But some Republicans believe making it harder to vote will actually backfire at a time when the GOP base is becoming more diverse and dependent on working-class voters. Although Donald Trump lost the presidential election by some 7 million votes, Republicans note that he overperformed among people of color — including immigrants and their immediate descendants. He also did surprisingly well among Black men, in addition to the working-class white voters who powered him to victory in 2016. https://news.yahoo.com/as-gop-lawmakers-look-to-pass-new-voting-restrictions-some-conservatives-are-pushing-back-100049525.html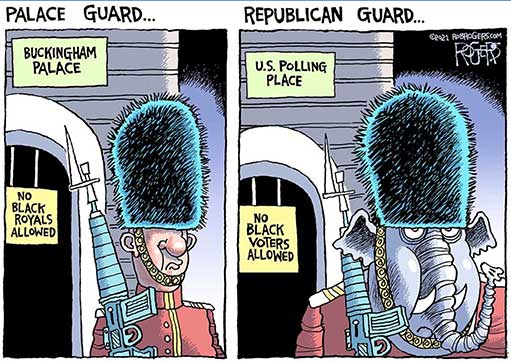 Democrats tucked in a trio of little-noticed tax hikes on the wealthy and big corporations.
Democrats' coronavirus plan stops short of undoing last year's provisions, though it does extend the $500,000 limit — which, like much of the Tax Cuts and Jobs Act, is currently scheduled to expire at the end of 2025 — by an additional year. The Senate Finance Committee says that will raise $31 billion.
Another provision generates $6 billion by going after executive compensation.
Businesses are normally allowed to deduct employees' pay on their tax bills, though there are rules limiting those deductions when a CEO and a handful of a company's other top employees earn more than $1 million. Democrats are doubling the number of officials, to 10, that would be subject to that restriction, which would hit businesses such as investment banks.
A third provision, which budget forecasters say will produce $22 billion, repeals an arcane provision giving multinational companies more flexibility in deciding how to account for their interest expenses when they do their taxes. https://www.politico.com/news/2021/03/10/covid-relief-bill-tax-hikes-475051
Ted Cruz, who did not write Green Eggs and Ham, is signing copies for people who donate $60
Senator Ted Cruz is trying to raise money by asking his supporters to pay $60 for a signed copy of Green Eggs and Ham. They are currently going for less than five dollars on Amazon.
The donation page reads, "Stand with Ted & Dr Seuss against cancel culture mob to claim your signed copy of Green Eggs and Ham!" https://www.indy100.com/news/ted-cruz-fundraise-dr-seuss-signing-b1816472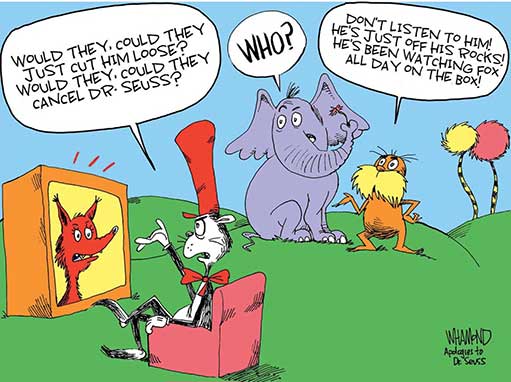 Nearly half of Republican men say they won't get vaccinated: PBS poll
Of all the subgroups surveyed in the latest NPR/PBS/Marist poll asking whether they would get the vaccine when it becomes available to them, Republican men were the least likely, with 49% of them saying they wouldn't.
By contrast, only 6% of Democratic men said they wouldn't get vaccinated. http://maristpoll.marist.edu/wp-content/uploads/2021/03/NPR_PBS-NewsHour_Marist-Poll_USA-NOS-and-Tables_202103091124.pdf
First They Guarded Roger Stone. Then They Joined the Capitol Attack.
At least six people who had provided security for Roger Stone entered the Capitol during the Jan. 6 attack, according to a New York Times investigation.
Videos show the group guarding Mr. Stone, a longtime friend of former President Donald J. Trump, on the day of the attack or the day before. All six of them are associated with the Oath Keepers, a far-right anti-government militia that is known to provide security for right-wing personalities and protesters at public events.
Videos then show all six of the security guards inside the Capitol building during the attack. Some meet up with fellow Oath Keepers, including two who have been charged with conspiracy. Others are seen in the hallways. https://www.nytimes.com/interactive/2021/02/14/us/roger-stone-capitol-riot.html
New stimulus package saves 13,000 jobs at American Airlines, company says
American Airlines said Wednesday the $1.9 trillion stimulus package, passed on a party line vote by Democrats this week, will save the company from needing to furlough some 13,000 workers.
In total, the package will prevent 27,000 airline workers from being furloughed, thanks to some $8 billion in direct support. https://www.businessinsider.com/new-stimulus-saves-13000-jobs-at-american-airlines-company-says-2021-3
House Democrats draw the line: No bipartisan cooperation with Republicans who questioned the election
The Jan. 6 riot at the Capitol set off an impeachment proceeding and hundreds of criminal cases, but it's also having a lasting impact on Congress to get even some of the most basic and mundane tasks completed.
Democrats say, for the time being, it's about Republicans not sharing a fundamental belief in democracy and elections.
Rep. Brad Schneider, D-Ill., has a basic requirement before he can work with a Republican: "At the fundamental level, I need an affirmative statement that Joe Biden is the legitimate president of the United States and the 2020 election was an honest and fair election." https://www.nbcnews.com/politics/congress/house-democrats-draw-line-no-bipartisan-cooperation-republicans-who-questioned-n1261015
A survey of Republicans shows 5 factions have emerged after Trump's presidency.
The Republican Party in the era following Donald J. Trump's presidency is comprised of five "tribes" that have ranging affinity for the former president and different desires when it comes to seeing him continue to lead the party, according to a new survey by Mr. Trump's former pollster.
According to the survey, those "tribes" and their percentage of the party are:
• Trump Boosters: 28%
• Die-hard Trumpers: 27%
• Post-Trump GOP: 20%
• Never Trumpers: 15%
• InfoWars GOP: 10%
https://www.nytimes.com/2021/03/12/us/politics/republican-factions-.html
How Biden Transformed the Republican Debate Over Poverty
The American Plan, which President Joe Biden signed into law, contains a provision that represents a qualitative break from the welfare-to-work policies that have been in place since the 1990s. The change is also scrambling party politics — especially on the Republican side — in a way that could have lasting implications.
Right now, Democrats are largely united in their support for the temporary program in the American Rescue Plan. Republicans, while far from unified, are increasingly interested in broad-based government support for families. If Biden's short-term experiment goes well, it could create a fundamental shift in ideology. https://www.bloombergquint.com/gadfly/how-biden-transformed-the-republican-debate-over-poverty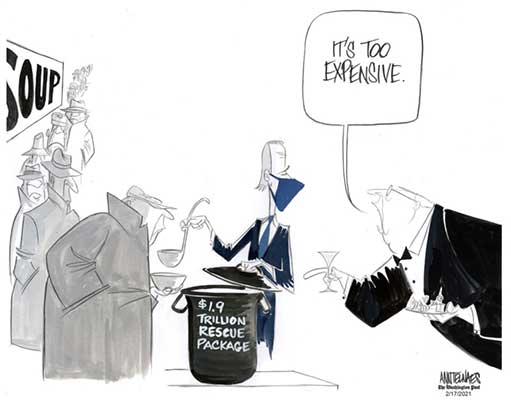 The oldest president ever just handed a landmark triumph to the youngest Americans
Sure, President Biden may be the oldest president in U.S. history. But in signing his $1.9 trillion American Rescue Plan into law, he just delivered the biggest legislative victory for the young in generations.
For decades, the general trend in federal fiscal policy, with some limited exceptions, has been to transfer wealth away from the young and toward the old. The federal government spends about six times as much per capita on older Americans (primarily in the form of Social Security and Medicare) as it does on children, according to the Urban Institute's annual "Kids' Share" report; if you include state and local governments, which are responsible for most educational spending on kids, the per capita old vs. young ratio shrinks to "only" about double.
Thanks to Biden's legislation, though, the United States will see a (partial) reversal of decades of de-prioritizing kids. The covid-19 package is expected to cut overall poverty by about one-third — and child poverty roughly in half, according to an analysis from the Center on Poverty and Social Policy at Columbia University. Among the biggest beneficiaries of this law will be young children of color. https://www.washingtonpost.com/opinions/2021/03/11/oldest-president-ever-just-handed-landmark-triumph-youngest-americans/
GOP leader to try to force Swalwell off panel
House Minority Leader Kevin McCarthy (R-CA) said he is planning on introducing a resolution to remove Rep. Eric Swalwell (D-CA) from the House Intelligence Committee, arguing he is a national security threat due to his former ties with an alleged Chinese spy. https://thehill.com/homenews/house/542948-gop-leader-to-try-to-force-swalwell-off-panel
The Capitol Riot Pissed Off These People So Much They're Running for Office
The riot and its aftermath have sparked a prodigious boom of would-be candidates for office, from Congress to state legislatures and city councils, largely consisting of liberals channeling their anger and angst over a near-death experience for American democracy into action to try to help it.
Seasoned political operatives say they've never seen anything like it. Amanda Litman, a top fundraising aide to Hillary Clinton's 2016 campaign, founded the nonprofit group Run For Something in 2017 to give first-time candidates for local office the tools they need to launch a campaign.
In the last two months, said Litman, roughly 11,000 people have registered with Run For Something to express an interest in a campaign for public office. "We saw January 2021 turn into our best candidate recruitment month yet since launching on inauguration day in 2017," she said. Their registration total for the first two months of 2021 matched their total for the entirety of 2018—a midterm election year that saw a surge in participation nationwide. https://www.thedailybeast.com/the-capitol-riot-pissed-off-these-people-so-much-theyre-running-for-office
Most New Yorkers Don't Want Cuomo to Step Down
Voters say 50-35 percent that Governor Andrew Cuomo should not immediately resign. By 48-34 percent, they say he can continue to effectively do his job as governor. One-third of voters say that Cuomo has committed sexual harassment, one-quarter say he has not, and a plurality are unsure. Voters are satisfied with the way Cuomo has addressed the allegations, 57-32 percent, according to a new Siena College Poll of New York State voters, released on March 15th. https://scri.siena.edu/wp-content/uploads/2021/03/SNY-March-2021-Poll-Release-3-15-21-FINAL.pdf
Amid Republican civil war, Trump holds court – and his grip on GOP – at Mar-a-Lago
The lobby of the Trump Hotel in Washington – loyalists' favorite schmoozing ground during Donald Trump's presidency – has been replaced by the former president's invite-only gilded private club, Mar-a-Lago.
From GOP leaders to congressional lawmakers to donors to prospective political heir apparents, a steady stream of callers and wooers has descended on the Palm Beach club in the past few weeks. All seek Trump's blessing and support – and money.
The question of how much clout Trump would retain after leaving office, and how he would wield it, has been answered. In less than two months, Trump has established himself as the GOP's king- and queenmaker – drawing some of the Republican Party's top influencers. https://www.usatoday.com/story/news/politics/2021/03/15/donald-trump-holds-court-and-his-grip-gop-mar-lago/4698811001/
U.S. Congress launches probe into multibillion-dollar 'clean coal' tax credit
The U.S. Congress is investigating a multibillion-dollar subsidy for chemically treated coal that is meant to reduce smokestack pollution, after evidence emerged that power plants using the fuel produced more smog not less.
Over the past decade, a who's who of American companies have reaped at least several billion dollars in benefits from investing in refined coal operations.
Just last year, some 150 million tons of refined coal was burned in the United States, according to the U.S. Energy Information Administration. Producers get a tax credit of $7.30 for each ton burned. https://www.reuters.com/article/idUSKBN2B7194
President Joe Biden's next big spending push is already on the horizon
Biden and his fellow Democrats hope to expand the definition of infrastructure beyond existing transportation architecture to include items aimed at tackling climate change and its effects, echoing the $2 trillion, 10-year "Build Back Better" proposal floated during his campaign.
That includes investments in electric vehicle charging stations, zero-emission buses and zero-carbon electricity generation by 2035, and directing dollars to minority neighborhoods and contractors, part of a pledge to increase racial equity.
Democrats have signaled they want to invest billions in creating and refurbishing affordable housing in any package and expand broadband internet access to all Americans, particularly in rural communities. https://www.reuters.com/article/us-usa-biden-infrastructure-idUSKBN2B718Y
South emerges as flashpoint of brewing redistricting battle
The partisan showdown over redistricting has hardly begun, but already both sides agree on one thing: It largely comes down to the South.
The states from North Carolina to Texas are set to be premier battlegrounds for the once-a-decade fight over redrawing political boundaries. That's thanks to a population boom, mostly one-party rule and a new legal landscape that removes federal oversight and delays civil rights challenges.
It's a collision of factors likely to tilt the scales in the GOP's favor with dramatic impact: Experts note the new maps in the South alone could knock Democrats out of power in the U.S. House next year -- and perhaps well beyond. https://apnews.com/article/redistricting-voting-rights-texas-537f74c17884059881cb6e4076bfb504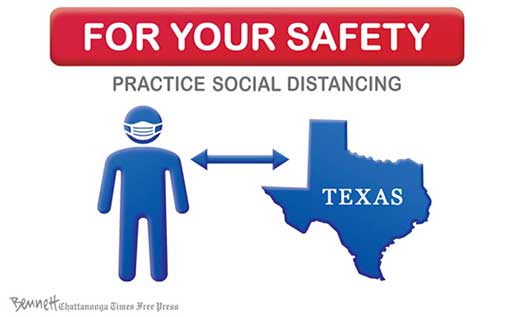 Biden Appoints Three to Postal Service Board
Biden sends his three nominations for the USPS Board of Governors to the Senate which theoretically could give the board a majority of votes to remove current Postmaster General Louis DeJoy. https://twitter.com/AndrewSolender/status/1371548312722112520
The Covid misinformation pandemic is in your inbox, too
But of the Latinos we surveyed, 24 percent said they will not get vaccinated and 23 percent are unsure. That's nearly half, and all because of disinformation specifically targeting their communities.
So, who's behind it? For answers, I looked to Russia — and social media.
Since last summer, Russia has used government Twitter accounts and its own propaganda platforms from the Middle East to Latin and South America to sow distrust of Western vaccine makers while praising the domestic effort. Then, much as right-wing operators used British tabloids and the Drudge Report to launder conspiracy theories against Bill and Hillary Clinton in the 1990s, Russia's disinformation corps floods anti-vaccine Facebook groups and closed WhatsApp chats with these stories, other lethal lies and millions of dollars in advertising revenue — much of it accruing to Facebook itself. https://www.msnbc.com/opinion/covid-misinformation-pandemic-your-inbox-too-n1261094
Warnock win unleashes flood of Black candidates
Raphael Warnock's Senate victory in Georgia has opened the floodgates to a surge of African American Senate candidates, raising the prospect that the 2022 midterm elections could dramatically alter the face of a chamber that is currently 89 percent white.
While it's too early in the election cycle to know exactly how many Black candidates will run for the Senate, a growing number have either launched formal bids or are seriously considering running in at least a half-dozen states. Many are state legislators or local elected officials who might have been dissuaded from running in the past, or viewed a statewide victory as implausible.
Fueling the burst is an unusually fluid Senate map that already features five open seat races. But prospective candidates and political strategists point to other catalytic factors — foremost among them, Warnock's upset victory in January in a red, Deep South state that had never elected an African American to the Senate. https://www.politico.com/news/2021/03/16/raphael-warnock-2022-black-candidates-476306
The DAILY GRILL
Independent restaurant operators have won $28.6 billion worth of targeted relief. This funding will ensure small businesses can survive the pandemic by helping to adapt their operations and keep their employees on the payroll. -- Senator Roger Wicker (R-Miss).

YOU VOTED AGAINST IT. You sure as hell DIDN'T vote for independent restaurants & you DIDN'T vote to help small businesses. You didn't vote to help struggling families, or to get vaccine into arms. YOU HELPED ZERO. Fact. — Bimmerella

 

Kansas Republican lawmakers are eyeing the relief dollars to fund $500 million in tax cuts, heavily targeted to multinational corporations and wealthy and retired Kansans."

VERSUS

The new Covid law contains $350 billion for state and local governments — but there's a very important restriction on that money: It can't be used to cut taxes. The statute has teeth: It forces states to give a full accounting. If they break the rule? They pay the money back. — Sahil Kapur 

 

H.R. 1, the sweeping election-reform bill recently passed by the House of Representatives, could eventually result in Democrats "using cocaine to buy votes. It is a way to commit fraud and it cannot be allowed." — Texas Gov. Greg Abbott ®

VERSUS

"Despite all of this, I am more hopeful today than I have been in a long time that Senate Democrats will eliminate the filibuster, pass H.R. 1, and save democracy. It's very far from a done deal. There is a lot of work to do, but if you squint hard enough and read between the lines, you can see real reasons for optimism." — Dan Pfeiffer, a former Senior Advisor to President Obama
From MEDIA MATTERS (They watch Fox News so you don't have to)
BEN DOMENECH (FOX PODCAST HOST): This is another garbage speech full of lies from a senile person who thinks that they're in charge of America but actually isn't running anything, and I'm not going to pretend otherwise. https://www.mediamatters.org/fox-business/fox-news-host-biden-gave-garbage-speech-full-lies
Gabby Orr and Meridith Mcgraw: Trump was supposed to be a political Godzilla in exile. Instead, he's adrift.
He backed away from creating a third party and has soured on the costly prospect of launching his own TV empire or social media startup.
His vow to target disloyal Republicans with personally-recruited primary challengers has taken a backseat to conventional endorsements of senators who refused to indulge his quest to overturn the 2020 election.
And though he was supposed to build a massive political apparatus to keep his MAGA movement afloat, it's unclear to Republicans what his PAC is actually doing, beyond entangling itself in disputes with Republican icons and the party's fundraising arms.
Ex-president Donald Trump finds himself adrift while in political exile. And Republicans, and even some allies, say he is disorganized, torn between playing the role of antagonist and party leader.
"There is no apparatus, no structure and part of that is due to a lack of political understanding on Trump's behalf," said a person close to the former president, noting that Trump has struggled to learn the ropes of post-presidential politicking.
It's like political phantom limbs. He doesn't have the same political infrastructure he did three months ago as president," added GOP strategist Matt Gorman, who previously served as communications director for the National Republican Congressional Committee. https://www.politico.com/news/2021/03/14/trump-post-presidency-475733
Garrett Epps: Why Democrats Can't Wait on Voting Rights
Only one thing can block another rollback of the ballot—action by Congress. Currently pending before the House are the For the People Act of 2021 and the John Lewis Voting Rights Advancement Act. The first would require states to expand voter registration and early voting, stop "purging" state voter rolls, and inhibit gerrymandering by requiring states to set up independent redistricting commissions. The second would revive the Voting Rights Act requirement of "preclearance" of election practices by communities (like, say, Georgia) with a history of racist discrimination in voting.
Passing them will be near impossible; the GOP is unlikely to provide support for such sweeping measures. A filibuster in the Senate may be a roadblock.
Democrats are hearing warnings that doing away with the filibuster will make Republicans and their voters feel bad. They can soothe those feelings by letting these voting-rights bills die. But they should consider the fate of the Southern Republican Party after the Black voting purge of "redemption": It disappeared.
It disappeared because Northern Republicans stopped protecting it. It took a century for Republicans to win again in the South.
History suggests that a political party that cannot or will not protect its own voters will not hold power again for many years. https://washingtonmonthly.com/2021/03/10/why-democrats-cant-wait-on-voting-rights/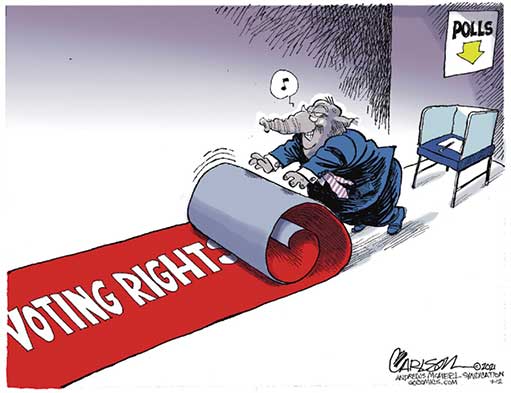 Jane Mayer: Can Cyrus Vance, Jr., Nail Trump?
Insiders say that the Manhattan District Attorney's investigation has dramatically intensified since the former President left office. "It's like night and day," says one. According to another, "They mean business."
On February 22nd, in an office in White Plains, two lawyers handed over a hard drive to a Manhattan Assistant District Attorney, who, along with two investigators, had driven up from New York City in a heavy snowstorm. Although the exchange didn't look momentous, it set in motion the next phase of one of the most significant legal showdowns in American history. Hours earlier, the Supreme Court had ordered former President Donald Trump to comply with a subpoena for nearly a decade's worth of private financial records, including his tax returns. The subpoena had been issued by Cyrus Vance, Jr., the Manhattan District Attorney, who is leading the first, and larger, of two known probes into potential criminal misconduct by Trump. The second was opened, last month, by a county prosecutor in Georgia, who is investigating Trump's efforts to undermine that state's election results.
Vance is a famously low-key prosecutor, but he has been waging a ferocious battle. His subpoena required Trump's accounting firm, Mazars U.S.A., to turn over millions of pages of personal and corporate records, dating from 2011 to 2019, that Trump had withheld from prosecutors and the public. Before Trump was elected, in 2016, he promised to release his tax records, as every other modern President has done, and he repeated that promise after taking office. Instead, he went to extraordinary lengths to hide the documents. The subpoena will finally give legal authorities a clear look at the former President's opaque business empire, helping them to determine whether he committed any financial crimes. After Vance's victory at the Supreme Court, he released a typically buttoned-up statement: "The work continues." https://www.newyorker.com/magazine/2021/03/22/can-cyrus-vance-jr-nail-trump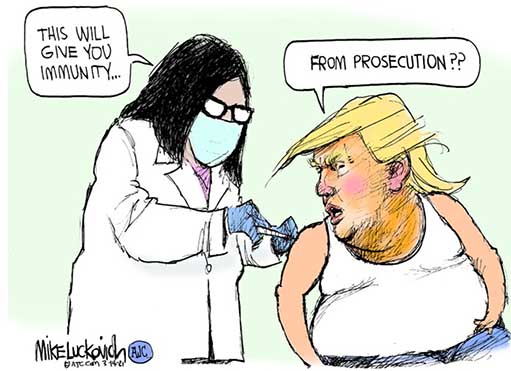 Aaron Blake: Roy Blunt's Senate exit highlights big opportunity for GOP's Trump wing in 2022
With Democrats set to propose more government expenditures — such as on infrastructure — moderate and centrist Democrats will also raise deficit alarms. This offers a partial answer.
The case for IRS reform is spelled out in a good piece by New York University tax expert Chye-Ching Huang. A decade's worth of IRS budget cuts have cost taxpayers trillions of dollars:
The agency is increasingly unable to detect or address blatant tax cheating by high-income filers and the largest businesses. In February, the I.R.S. commissioner, Charles P. Rettig, told Congress that about $570 billion in taxes owed in 2019 were not paid. That tax gap is projected to total about $7.5 trillion over this decade.
As Huang reports, the agency is so depleted that it often doesn't follow up on tax-dodging by high-income people that it knows about, and big corporations and the wealthy are extremely skilled at using legal complexities to frustrate audits and evade taxes.
This creates a big opening, Huang argues:
Mr. Biden and the treasury secretary, Janet Yellen, have pledged to rebalance tax enforcement, and this spring presents a chance to deliver. Any responsible recovery package would include a multiyear stream for rebuilding the I.R.S. Fully funding the agency would defeat tax cheats while raising revenue for critical investments. It would help the overwhelming majority of Americans who want to pay whatever they owe. It would help honest businesses better thrive and compete. And restaffing the I.R.S. through restored funding would help fight corruption and strengthen the rule of law.
But this also would provide a weapon against deficit-scolding going forward. Republicans are betting on voters getting checks and vaccines and enjoying the recovery — and over time forgetting how that all happened, after which Republicans will point to deficits and scream that Democratic profligacy is destroying the country.
"If Republicans are truly concerned about rising deficits, it should be a no-brainer to collect taxes that are owed from people and companies that are cheating the system," Seth Hanlon, a tax expert at the Center for American Progress, tells me. "You can do this without raising rates." https://www.washingtonpost.com/opinions/2021/03/11/gop-attack-biden-stimulus-irs-reform/
Eugene Robinson: Biden needs to do the right thing for migrants, so the GOP can't lie about them
Both for humanitarian and political reasons, the Biden administration needs to get ahead of the developing situation at the southern border. The surge of would-be migrants is predictable, and the solution is clear: Just do the right things, and get children out of detention as soon as possible. And do it right now.
It should surprise no one that asylum seekers and others clamoring for entry into the United States would think they have a better chance of success now that racism, xenophobia and deliberate cruelty are no longer official U.S. policy. It is only logical that increased numbers would present themselves at the border or try to make their way into the country without permission.
It also should surprise no one that Republicans would react not with understanding but with political calculation. They know that immigration is an issue that riles up the GOP base and that also gets the attention of many independents — it was, after all, the most consistent theme of former president Donald Trump's winning 2016 campaign. Republicans have already begun trying to paint the significant but hardly overwhelming border surge as a full-blown "crisis" that they hope will help them win House and Senate seats in 2022.
President Biden and his team need to neutralize this political ploy before it gains traction. That means the administration must act swiftly and decisively to get these children to people who love them — while remaining true to its stated values of compassion and respect for all who seek to come to the United States in search of safety and opportunity.
Just as Biden and his aides decided to err on the side of doing too much rather than too little on covid-19 relief, they should go big on the border. When the pandemic does end, existing shelter space should be enough to handle the kind of surge we're seeing now — but that day could be many months away. The system is overloaded this minute.
And as a matter of policy, Biden must keep his eye on one guiding star: We are talking about the lives and well-being of children. It is nothing less than our duty to love and care for them as if they were our own. https://www.washingtonpost.com/opinions/biden-migrant-surge-stop-child-detention/2021/03/11/99d9a7e4-8295-11eb-9ca6-54e187ee4939_story.html
Walter Shapiro: Joe Biden's Confident, Unconventional Politics
Biden's speech, delivered on the day he signed into law his $1.9 trillion stimulus package, differed from what almost any other Democrat would have said at a similar moment. Instead of trumpeting his achievement—instead of basking in passing what may be the most ambitious anti-poverty program since the 1960s—Biden devoted almost the entire speech to the pandemic.
This choice captured something close to the essence of the Biden presidency. Despite a lifetime in government, he will not take the easy road, mimicking standard political oratory. Listening to his internal drummer is a risk for any president, even one who, at age 78, may be beyond the raging pressures of ambition. But even though his words are often soft, and there is little obvious straining for eloquence, the self-confidence that undergirds Biden's rhetoric is impressive.
Even when it came to talking about a virus that has upended America, Biden reversed the normal flow of political rhetoric by offering empathy to those who mourn before he even hinted at the encouraging news about the pace of vaccination and the trajectory of the virus. Instead of immediately reciting talking points, Biden used an Ernest Hemingway quote about "being strong in all of the broken places," which was a line he also invoked in 2016, after the death of his son Beau.
In Biden's telling, America is poised for a summer of miracles. Not only are we surpassing every major nation in the world in the pace at which we are giving citizens full vaccination protection, but Biden has also expressed the conviction that every adult will be able to get an injection before spring is over. https://newrepublic.com/article/161687/joe-biden-coronavirus-speech
Jonathan Chait: Conservatives Are Furious Biden Delivered a Non-Insane Presidential Speech
The American presidency offers numerous opportunities for a chief executive to make use of his symbolic role as head of state in a way that advances the national interest while simultaneously benefiting his own political standing. Donald Trump usually forfeited these opportunities, either because he was unable to pretend to care about people who didn't vote for him or because he couldn't adapt his free-form insult-comic rants to a teleprompter format.
Joe Biden has reaped the normal rewards that come from behaving like a normal president — perhaps benefitting more than most due to the contrast with his unhinged predecessor. This has naturally infuriated Republicans, who see Biden's strategy of reaping positive coverage by acting normal as a form of cheating.
The party's agony in responding to this was best exemplified by Tucker Carlson, who covered Biden's speech by adding a small box of his scowling face in the corner of the screen so that Fox News viewers could share his disdain and sit through the speech with the promise of a scalding rebuttal.
Carlson turned out to be angry that Biden promoted vaccines. "The military will give you that shot, and if you take that shot, things potentially could get back to normal," he sneered. "No mention at all of the people who might not want to take the shot." That is true! Likewise, Ronald Reagan's Berlin Wall speech made no mention of people who support Soviet communism, and George W. Bush's Ground Zero speech snubbed Americans who support plane hijacking. Presidents take positions in speeches, and the current president no longer caters to the dangerous ignorance of vaccine skeptics.
Carlson likewise interpreted Biden's goal that the virus will be largely sidelined by Independence Day as some kind of threat: "This is a free people. This is a free country. How dare you tell us who we can spend the Fourth of July with?" Of course, public-health restrictions are set by governors, not the president. And in any case, Biden was suggesting people who are currently afraid to gather with friends will be able to do so without risk, not actually threatening to withhold legal permission to do so. https://nymag.com/intelligencer/2021/03/biden-speech-coronavirus-what-did-republicans-say-tucker-carlson.html
E.J. Dionne Jr.: Biden is leading a quiet revolution
"Our economic package is a closely knit, carefully constructed plan to restore America's economic strength and put our nation back on the road to prosperity," the president declared in a speech from the Oval Office. "Each part of this package is vital."
While President Biden could have said that about the $1.9 trillion economic package the House sent to his desk on Wednesday, the words were President Ronald Reagan's in support of his 25 percent across-the-board tax cut in July 1981.
Forty years ago, the victory of Reagan's tax cut plan inaugurated a new ideological era, its core conviction summarized by a line in Reagan's inaugural address that conservatives of a certain age can recite in their sleep: "In this present crisis, government is not the solution to our problem. Government is the problem."
Passage of the Biden plan reflects the triumph of precisely the opposite view: that only active and competent government can get us out of the mess we're in now. The willingness of Democrats to speed through a program of this size reflects the final shrugging off of Reagan-era constraints that made even liberal politicians gun-shy about government activism.
The shift away from top-down supply-side economics could not be more dramatic. The Reagan theory, reduced to its essence, was: Help the rich, and their investments will produce jobs and prosperity for everyone else. The Biden theory is bottom-up: Help middle-class and low-income Americans, and their purchasing power will drive an unprecedented era of growth. https://www.washingtonpost.com/opinions/biden-is-leading-a-quiet-revolution/2021/03/10/bd31e9f4-81e6-11eb-9ca6-54e187ee4939_story.html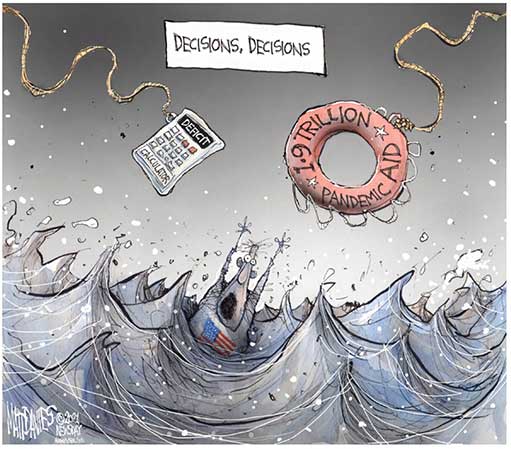 Max Boot: Tom Cotton finally finds some tweets he objects to. Surprise: They're from a Biden nominee.
I am really delighted to hear that Sen. Tom Cotton (R-Ark) is fed up with "intemperate and unbalanced remarks" made in the course of disagreements about public policy. So fed up, in fact, that he thinks such "harsh criticism" should be a disqualifier for holding high office. I assume that means that Cotton is rethinking his servile loyalty to former president Donald Trump.
After all, Trump's entire presidency was characterized by his poisonous personal insults against people he disagreed with. Trump routinely characterized his critics, including members of Congress, as "losers," "VERY LOW I.Q. individuals," "Wack Jobs," "dumb as a rock," "stupid," "crazy" and a "total disaster." Even many of Cotton's Republican colleagues have been on the receiving end of these juvenile taunts. Trump recently called Senate Minority Leader Mitch McConnell (R-Ky.) a "dour, sullen, and unsmiling political hack." Cotton himself was targeted by a Trump tweet after he urged Trump to recognize that he lost the election.
But, of course, Cotton is not rethinking his loyalty to Trump. He is likely to run for president as a Trump mini-me — unless Trump runs again himself. Cotton's faux concern for comity was merely an excuse to oppose Colin Kahl's nomination as undersecretary of defense for policy. https://www.washingtonpost.com/opinions/2021/03/11/tom-cotton-colin-kahl-twitter-trump/
Jonathan Chait: Republicans: End the Filibuster, and We'll Punish America by Enacting Our Agenda
A specter is haunting the Republican Party. And that specter, oddly enough, is a future world in which Republicans control government and pass bills that they campaigned on.
Mitch McConnell's latest defense of what remains of the filibuster yesterday veered wildly between two irreconcilable claims. On the one hand, he warned a majority-rules Senate would be a "scorched earth," "disaster," "hundred-car pileup" in which nothing happens. On the other hand, he warned that once Republicans gained control of government, the chamber would become a smooth-running machine in which conservative priorities are quickly enacted.
Here is McConnell's complete account of the horrors that await the country were the legislative filibuster to perish:
"As soon as Republicans wound up back in the saddle, we wouldn't just erase every liberal change that hurt the country. We'd strengthen America with all kinds of conservative policies with zero input from the other side. Nationwide right-to-work for working Americans. Defunding Planned Parenthood and sanctuary cities on day one."
A whole new era of domestic energy production. Sweeping new protections for conscience and the right to life of the unborn.
Concealed-carry reciprocity in all 50 states and the District of Columbia. Massive hardening of security on our southern border."
The Wall Street Journal editorial page, echoing McConnell (as it usually does) chimes in: "Republicans would be in position to rule the Senate without a filibuster. Imagine what they might pass? Mr. McConnell gave a few examples — defunding Planned Parenthood — but for political flavor think GOP Senators Josh Hawley and Rand Paul unbound." This, as we'll see later, is telling. https://nymag.com/intelligencer/article/republican-filibuster-reform-senate-mcconnell-biden-majority.html