July 7, 2022
THE WEEK'S BEST QUOTES. . .
"We are confronting a domestic threat that we have never faced before — and that is a former President who is attempting to unravel the foundations of our constitutional Republic. And he is aided by Republican leaders and elected officials who have made themselves willing hostages to this dangerous and irrational man." —  Rep. Liz Cheney's (R-WY) searing rebuke of former President Donald Trump and GOP leaders at the Ronald Reagan Presidential Library. https://www.cnn.com/2022/06/29/politics/liz-cheney-donald-trump-reagan-library/index.html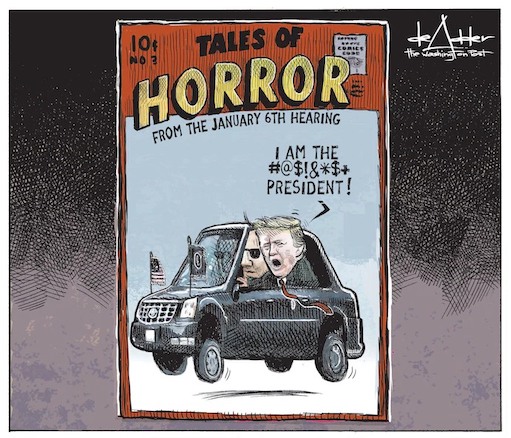 REPORTER: So that 12-year-old child molested by her father and uncle should carry that pregnancy to term?
PHILIP GUNN: That is my personal belief. I believe life begins at conception. —
Mississippi House Speaker Philip Gunn (R)
.
https://twitter.com/ashtonpittman/status/1542238148729651201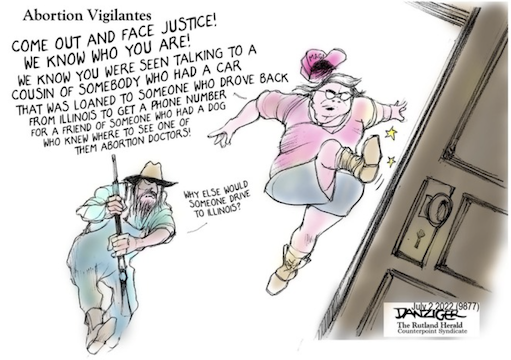 They would look 'disgusting' if they tried to emulate my bare-torso appearances," — Vladimir Putin responding to Western leaders who were joking about him at the G7 summit.
https://apnews.com/article/g-7-summit-russia-ukraine-putin-boris-johnson-justin-trudeau-6f900bb1c186cb69974b7d04f2e76c83
"Listen, I think that we need to focus on keeping a democracy for anybody to be president in the next couple of years." —
Rep. Alexandria Ocasio-Cortez (D-NY)
when asked if she's going to run for president.
https://www.huffpost.com/entry/alexandria-ocasio-cortez-president-late-show_n_62bc3bb6e4b0adb8aa4ee8e7
"Cassidy Hutchinson's testimony before the House select committee this week increased the criminal exposure former President Donald Trump faces in the Justice Department's ongoing January 6, 2021, investigation. Here there are many damning facts… If that isn't insurrection, I don't know what is." — Ty Cobb, who represented Trump during Robert Mueller's Russia investigation.
https://www.cnn.com/2022/06/29/politics/trump-justice-department-investigation-possibility-january-6-former-prosecutors/index.html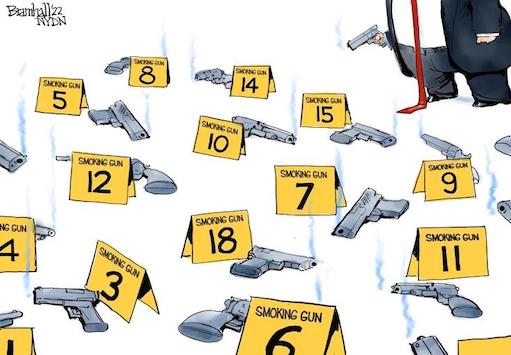 "The president intends to run and
if
he does, I will be his ticket mate. We will run together." —
Vice President Kamala Harris
creating new uncertainty Wednesday about President Biden's intentions to run for reelection in 2024, pulling back from a definitive statement she had made earlier in the week.
https://www.latimes.com/politics/story/2022-06-29/vice-president-harris-creates-new-doubt-about-bidens-plans-for-reelection
"Republicans want to win badly in 2022, and it is dawning on many of them that relitigating the 2020 election with Trump's daily conspiracy diatribes are sure losers." —
GOP strategist Dick Washams
.
https://www.nytimes.com/2022/07/01/us/politics/trump-republicans-campaign-2024.html
"For as long as he (
Mark Meadows
) has been a public self-servant, the towel boy who served as Donald Trump's fourth and last chief of staff has been a professional sleazebag." —
Matt Labash
https://mattlabash.substack.com/p/american-judas
"As I sit here in a Russian prison, alone with my thoughts and without the protection of my wife, family, friends, Olympic jersey, or any accomplishments, I'm terrified I might be here forever." —
WNBA star Brittney Griner
,
in a handwritten letter to President Biden.
https://www.espn.com/wnba/story/_/id/34193867/wnba-star-brittney-griner-makes-direct-appeal-president-biden-freedom-asks-letter-please-forget-me
"To be sure, recycling the bottles, don't throw the plastic away [and] compost your compostable things … Start there. But if you want to do one thing about climate change: Vote." —
Bill Nye, "The Science Guy,"
at the Aspen Ideas Festival.
https://wwnews.cryptomatters.net/the-best-way-to-fight-climate-change-is-by-voting/
Republicans should be paying attention to the January 6 Committee. That is because, despite all of the flaws in the structure of the heavily Democrat committee, almost all of the evidence presented so far is coming from eminently credible sources: Republicans." —
Former Trump White House chief of staff Mick Mulvaney
.
https://www.charlotteobserver.com/opinion/article263174168.html
Here is the letter. Addressed to my wife, sent to my home, threatening the life of my family. The Darkness is spreading courtesy of cowardly leaders fearful of truth. Is the what you want @GOP? Pastors? --
Adam Kinzinger
https://twitter.com/AdamKinzinger/status/1538647426348859393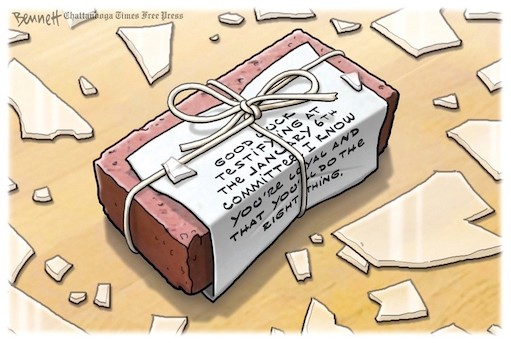 "I can tell you that on the street, what you hear is a bubbling, seething cauldron of anger at the Republican Party for putting in these antediluvian judges who think they can take us back to the 18th century. My spidey sense and the polling indicate it's going to help people decide not to vote for the red team." —
Washington State Gov. Jay Inslee (D).
https://www.nbcnews.com/politics/2022-election/pressures-mounting-biden-thinks-gop-will-make-midterm-case-rcna36514
"If you are angry today, I'm here to tell you to be angry. I'm furious. I'm furious that yet more innocent lives were taken by gun violence. While we celebrate the Fourth of July just once a year, mass shootings have become our weekly — yes, weekly — American tradition." —
Illinois Gov. JB Pritzker
who was supposed to be marching in a parade on Chicago's South Side yesterday but instead found himself on the national stage in the middle of another gun tragedy.
https://www.politico.com/newsletters/politico-nightly/2022/07/05/2024-whispers-jb-pritzker-seizes-the-national-stage-00044129
"He has always loved embarrassing and humiliating people. I'm speaking for others — he was the biggest dick we knew." —
A college baseball teammate of Florida Gov. Ron DeSantis
https://www.washingtonpost.com/opinions/2022/07/06/desantis-starter-disciplined-trump-nixon-danger-democracy/
"A raped and pregnant 10-year-old crossing state lines for an abortion. A coup against our government led by a president eager to send a mob he knew was armed to threaten the vice president and members of Congress. A Supreme Court that rules against the majority of the country on guns, abortion, and climate change and may side with Republicans next year who want partisans to decide our elections. The attorney general of Texas admitting he would welcome the return of anti-sodomy laws." —
A.B. Stoddard
, wondering if Democrats can find their fear and rage.
https://www.thebulwark.com/can-democrats-find-their-fear-and-rage/
VIDEOS
Putin just wanted to be our friend and ally, but we blew the opportunity by supporting Ukraine. — Marjorie Taylor Greene. https://twitter.com/RonFilipkowski/status/1543043783536828417
"There's indication—certainly from the searches and seizures of both John Eastman and of others—strong evidence that the Justice Department is not stopping with the foot soldiers, it's going to the Generals. And the biggest General of all, of course, is Donald Trump. I do think the odds are he will be indicted." — Harvard Law School professor Laurence Tribe. https://twitter.com/Acyn/status/1543025969073618944
This debate really was filled with a bunch of arm-pit farters and then there was Liz Cheney, the only serious person up there. —

Rep. Adam Kinzinger

about Liz Cheney's debate with her multiple Aug.16 primary opponents. https://twitter.com/AdamKinzinger/status/1542869181716201472
The highlights from Friday's debate featuring the
Republican candidates for the Governor of Arizona
.
https://twitter.com/endajodowd/status/1542915789845561346
Reporter Taylor Vance
: So that 12-year-old child molested by her father and uncle should carry that pregnancy to term?
Mississippi House Speaker Philip Gunn
: That is my personal belief. I believe life begins at conception.
https://twitter.com/ashtonpittman/status/1542238148729651201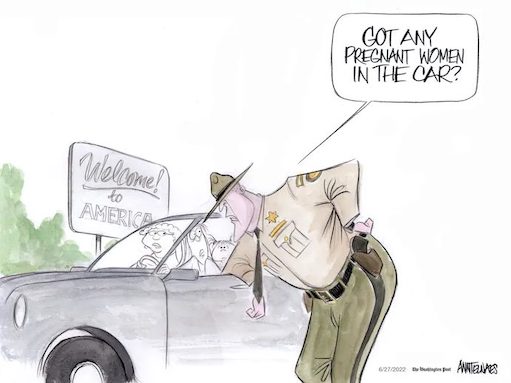 Unlike a seditious conspiracy charge, a rebellion or insurrection charge would see the convicted offender (ie Donald Trump) barred from "ever holding federal office again." --
Former Watergate prosecutor Jill Wine-Banks
.
https://www.youtube.com/watch?v=xWhPgPUtCfg&t=96s
The two-minute-plus trailer for Alex Holder's "
Unprecedented
," the British filmmaker's upcoming Discovery+ docuseries about the Trump family, is at
https://www.politico.com/news/2022/07/05/trailer-trump-documentary-january-6-committee-holder-00043960
"Russia is weighing whether to "reinstall" Donald Trump "again" as the U.S. president in 2024. We haven't decided yet." —
Russia state TV host Olga Skabeeva
who was annoyed by Trump reportedly promising to destroy the Russian Federation and Putin's hegemony.
https://twitter.com/JuliaDavisNews/status/1544322674905812993?s=20&t=8Q2wCXzCHS1R3mpmL5OFng
LITIGATION TRACKER
Pending Criminal and Civil Cases Against Donald Trump
.
https://www.justsecurity.org/75032/litigation-tracker-pending-criminal-and-civil-cases-against-donald-trump/
---
IN THIS ISSUE
IN THE NEWS
OPINION
Andy Borowitz: Boris Johnson Freaks Out After Giuliani Arrives in London to Help Him
Boris Johnson reportedly "freaked out" when he learned that an uninvited Rudy Giuliani had turned up in London to offer him advice, U.K. government insiders report.
Giuliani announced his mission at an impromptu press conference on the outskirts of the city, at an establishment called Claridge's Total Hedgerows.
"I'm sure Boris will be excited to see me," Giuliani said. "Who wouldn't want a little of that Rudy magic?"
Contrary to the former New York mayor's prediction, the embattled British Prime Minister ordered security personnel at 10 Downing Street to post a photo of Giuliani at the building's entrance, and to be on alert for any man with black inky liquid dripping down his face.
Giuliani, however, seemed oblivious to Johnson's state of alarm. "Before I see Boris, I think I'll hit a few pubs and go on TV," he said. "Do any of you fellas know how to get to the BBC?"
https://www.newyorker.com/humor/borowitz-report
Fulton grand jury subpoenas Giuliani, Graham, Trump campaign lawyers
The Fulton County special grand jury investigating potential criminal interference in Georgia's 2020 elections has subpoenaed key members of former President Donald Trump's legal team, including his personal lawyer Rudy Giuliani, according to copies obtained by The Atlanta Journal-Constitution.
In addition to Giuliani, those being summoned include John Eastman, Cleta Mitchell, Kenneth Chesebro and Jenna Ellis, all of whom advised the Trump campaign on strategies for overturning Democrat Joe Biden's wins in Georgia and other swing states.
The grand jury also subpoenaed U.S. Sen. Lindsey Graham (R-S.C.), one of Trump's top allies, along with attorney and podcast host Jacki Pick Deason.
https://www.ajc.com/politics/fulton-grand-jury-subpoenas-giuliani-graham-trump-confidantes/POUNSTTUXZDGDB3D5LKA7TIQQM/
Antiabortion lawmakers want to block patients from crossing state lines
Several national antiabortion groups and their allies in Republican-led state legislatures are advancing plans to stop people in states where abortion is banned from seeking the procedure elsewhere, according to people involved in the discussions.

The idea has gained momentum in some corners of the antiabortion movement in the days since the Supreme Court struck down its 49-year-old precedent protecting abortion rights nationwide, triggering abortion bans across much of the Southeast and Midwest." https://www.washingtonpost.com/politics/2022/06/29/abortion-state-lines/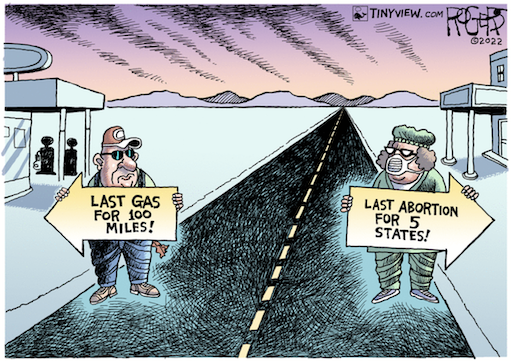 About half say Trump should be charged for 1/6
About half of Americans believe former President Donald Trump should be charged with a crime for his role in the U.S. Capitol attack on Jan. 6, 2021, a new poll shows.

The survey from The Associated Press-NORC Center for Public Affairs Research finds that 48% of U.S. adults say the Republican former president should be charged with a crime for his role, while 31% say he should not be charged. An additional 20% say they don't know enough to have an opinion. Fifty-eight percent say Trump bears a great deal or quite a bit of responsibility for what happened that day. https://apnews.com/article/capitol-siege-crime-donald-trump-congress-government-and-politics-bb9efcbca309c3acb66e9c6d8a13657d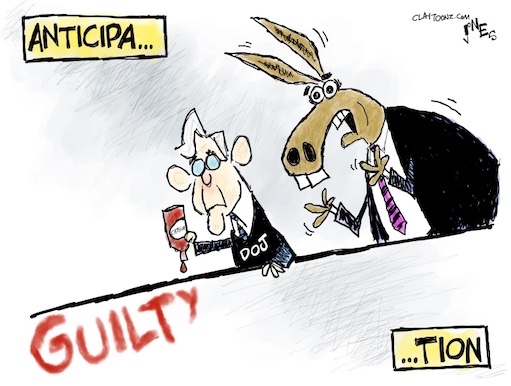 GOP megadonors turn on Trump after Jan. 6 hearings, set sights on DeSantis, Pence and other 2024 hopefuls
Support from some of the Republican Party's biggest donors for a 2024 White House run by former President Donald Trump is dwindling, especially after damaging new details of his actions on Jan. 6, 2021 were revealed at a hearing Tuesday by the House Select Committee investigating the attack on the U.S. Capitol.
"Republican financiers and their advisors have been privately meeting since the committee started to release the initial findings of its ongoing probe in a series of public hearings earlier this month, according to interviews with top GOP fundraisers who have helped the party raise millions of dollars.
https://www.cnbc.com/2022/06/30/gop-megadonors-turn-on-trump-look-for-2024-alternatives-after-jan-6-hearings.html
Newsom runs a TV ad — in Florida
Gov. Gavin Newsom is launching his first television ad of the general election on Monday, but not in California. The ad will air thousands of miles away, in Florida, further fueling speculation that he wants to run for president. In the ad, Newsom contrasts the policies in California and Florida while images flash of former President Trump and Gov. Ron DeSantis, potential 2024 presidential candidates.

"Freedom, it's under attack in your state. Republican leaders, they're banning books, making it harder to vote, restricting speech in classrooms, even criminalizing women and doctors," Newsom says in the 30-second spot. "I urge all of you living in Florida to join the fight, or join us in California, where we still believe in freedom — freedom of speech, freedom to choose, freedom from hate and the freedom to love." https://twitter.com/GavinNewsom/status/1543610674873438208
Whopping 68% of Fox News Viewers Blame Jan. 6 on 'Left-Wing Protesters Trying To Make Trump Look Bad'
Among all respondents to, the least-popular response was "Left wing protesters trying to make Trump look bad" with 43 percent saying they were to blame either "a great deal" or "some" for the Jan. 6 attack on the Capitol.

But in extended crosstabs for a new Yahoo! News/YouGov poll, 68% of Fox News viewers said that "Left wing protesters trying to make Trump look bad" were to blame either "a great deal" or "some" for the Jan. 6 attack on the Capitol.

That's more than double the 32% of CNN viewers and 25% of MSNBC viewers who say left-wing protesters were to blame either "a great deal" or "some" for the Jan. 6 attack on the Capitol. 37% of respondents who "don't watch" any of the networks said the same. https://www.mediaite.com/news/new-poll-whopping-68-of-fox-news-viewers-blame-jan-6-on-left-wing-protesters-trying-to-make-trump-look-bad/
As Ohio restricts abortions, 10-year-old girl travels to Indiana for procedure
"On Monday three days after the Supreme Court issued its groundbreaking decision to overturn Roe v. Wade, Dr. Caitlin Bernard, an Indianapolis obstetrician-gynecologist, took a call from a colleague, a child abuse doctor in Ohio," the Columbus Dispatch reports.

"Hours after the Supreme Court action, the Buckeye state had outlawed any abortion after six weeks. Now this doctor had a 10-year-old patient in the office who was six weeks and three days pregnant."

For now, the procedure still is legal in Indiana. And so the girl soon was on her way to Indiana to Bernard's care. https://www.dispatch.com/story/news/2022/07/01/ohio-girl-10-among-patients-going-indiana-abortion/7788415001/
Big Majorities Don't Want Biden or Trump In 2024
A new Harvard CAPS/Harris poll finds that 64% of registered voters "think Joe Biden is showing he is too old to be President, 71% think he should not run for a second term.

The same poll reports that 61% of registered voters say Trump should not run for president again. https://harvardharrispoll.com/key-results-june/
Mark Meadows' associate threatened ex-White House aide before her testimony
The former Trump White House aide Cassidy Hutchinson received at least one message tacitly warning her not to cooperate with the House January 6 select committee from an associate of former chief of staff Mark Meadows, according to two sources familiar with the matter.

The message in question was the second of two warnings the committee disclosed at the end of its explosive special hearing on Tuesday, when Hutchinson testified about matters including how Donald Trump directed a crowd he knew was armed to march on the Capitol, the sources said.
"[A person] let me know you have your deposition tomorrow. He wants me to let you know that he's thinking about you. He knows you're loyal, and you're going to do the right thing when you go in for your deposition," the message read. The redaction was "Meadows," the sources said. https://www.theguardian.com/us-news/2022/jun/30/jan-6-hearings-trump-mark-meadows-cassidy-hutchinson-threatened
How Trump World pressures witnesses to deny his possible wrongdoing
Evidence across multiple state, federal and congressional investigations points to a similar pattern: Trump and his close allies privately shower potential witnesses with flattery and attention, extending vague assurances that staying loyal to Trump would be better than crossing him.

Meanwhile, Trump publicly blasts those who offer testimony against him in bluntly personal terms, offering a clear example to others of the consequences of stepping out of line.

"Donald Trump never changes his playbook," Cohen said in an interview. "He behaves like a mob boss, and these messages are fashioned in that style. Giving an order without giving the order. No fingerprints attached." https://www.washingtonpost.com/national-security/2022/06/30/how-trump-world-pressures-witnesses-deny-his-possible-wrongdoing/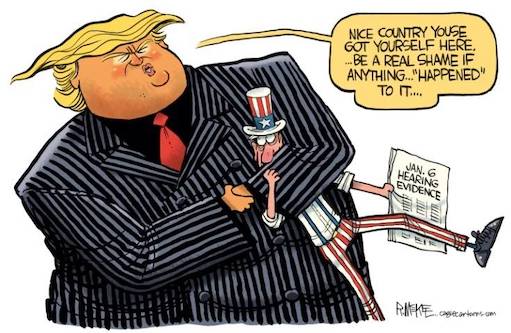 Younger Voters are disillusioned with politics. That Doesn't Mean They'll Bail on Democrats in the Midterms
According to the Harvard Institute of Politics youth poll, <
https://iop.harvard.edu/youth-poll/spring-2022-harvard-youth-poll
> released in April, roughly 36% of Americans under 30 believe politics "rarely has tangible results," up from 22% in 2018. More than 40% believe their "vote doesn't make a difference," up from 31%. And more than half of young voters (56%) believe the political system is "no longer able to face the challenges" facing the country, up from 45% just before the last midterm. Only 41% of these voters approve of Biden's job performance, down 18 points from last year, according to the Harvard poll.
It's It's not clear, however, that this disillusionment will necessarily hurt Democrats in November. The Harvard poll found that number of young people who say they will "definitely" vote in the midterms is roughly equivalent to what it was ahead of the record-breaking 2018 youth turnout.
"What makes this generation different is that those negative attitudes about the efficacy of government are not correlated to turnout or likelihood to vote as they have been in the past," says John Della Volpe, the director of polling for Harvard's IOP, who worked as a pollster for Biden in 2020. "They have a pragmatism because of the urgency of these issues."
https://time.com/6191899/joe-biden-midterms-young-voters/
Why Republicans Are Favored To Win The House, But Not The Senate
Nate Silver: Republicans are substantial favorites to take over the U.S. House of Representatives following this November's midterm elections, but the U.S. Senate is much more competitive, according to FiveThirtyEight's 2022 midterm election forecast, which launched today. Democrats are also favored to hang on to the governorships in a trio of swing states in the Rust Belt — Pennsylvania, Wisconsin and Michigan — although they are significant underdogs to win high-profile gubernatorial races in Georgia and Texas against Republican incumbents.

The Supreme Court's decision last week to overturn Roe v. Wade is too recent to be fully reflected in polls, but there are reasons to think it will help Democrats. Roe, which granted the constitutional right to abortion, was a popular precedent, and Democratic voters are more likely than Republican ones to say the decision will encourage them to vote at the midterms.

Moreover, in striking down Roe and other popular laws like restrictions against the concealed carry of firearms, the Supreme Court has in some ways undermined one of the traditional reasons that the president's party tends to lose seats at the midterms. Typically, voters like some degree of balance: They do not want one party to have unfettered control of all levers of government. But the Supreme Court, with its 6-3 conservative majority, is a reminder of how much power Republicans have even if they don't control the White House. https://fivethirtyeight.com/features/why-republicans-are-favored-to-win-the-house-but-not-the-senate/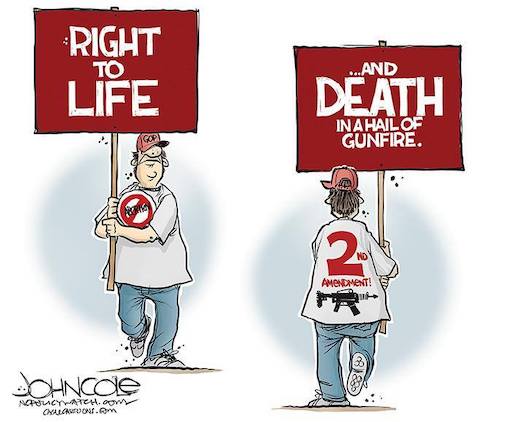 'Certainly possible': Illinois governor says Biden could face primary challenge
Democratic Gov. J.B. Pritzker told NBC News on Wednesday "it's certainly possible" that President Joe Biden could face a primary challenge should he run for re-election in 2024.
Pritzker, who fueled speculation about White House ambitions this month with a speech in the first presidential primary state, New Hampshire, and has raised eyebrows with generous donations to battleground state governors, added that he's not pushing for a challenger to step forward. https://www.nbcnews.com/politics/elections/certainly-possible-illinois-governor-says-biden-face-primary-challenge-rcna35577
More than 220 shot and killed in U.S. gun violence over July 4 holiday weekend
Gun violence spiked over Fourth of July weekend, with shootings reported in nearly every U.S. state that killed a total of at least 220 people and wounded close to 570 others, according to the Gun Violence Archive.
There were only five states where one or more shootings were not reported.
https://www.cbsnews.com/news/us-gun-violence-shootings-220-killed-july-4-weekend/
The DAILY GRILL
Supreme Court Justice Clarence Thomas
in a dissenting opinion suggested that Covid-19 vaccines were developed using the cells of "aborted children."
https://www.politico.com/news/2022/06/30/clarence-thomas-covid-vaccines-dissent-00043483
VERSUS
"Pfizer and Moderna used fetal cell lines early in their Covid vaccine development to test the efficacy of their formulas, as other vaccines have in the past. The fetal tissue used in these processes came from elective abortions that happened decades ago. But the cells have since replicated many times, so none of the original tissue is involved in the making of modern vaccines." --
NBC News
https://www.nbcnews.com/politics/supreme-court/justice-thomas-cites-debunked-claim-covid-vaccines-are-made-cells-abor-rcna36156
Colby Itkowitz and Isaac Stanley-Becker: Democracy advocates raise alarm after Supreme Court takes election case
Voting rights advocates expressed alarm Friday, a day after the U.S. Supreme Court said it will consider a conservative legal theory giving state legislatures virtually unchecked power over federal elections, warning that it could erode basic tenets of American democracy.
The idea, known as the "
independent legislature theory
," represents to some theorists a literal reading of the Constitution.
But in its most far-reaching interpretation, it could cut governors and state courts out of the decision-making process on election laws while giving state lawmakers free rein to change rules to favor their own party. The impact could extend to presidential elections in 2024 and beyond, experts say, making it easier for a legislature to disregard the will of its state's citizens.
This immense power would go to legislative bodies that are themselves undemocratic, many advocates say, because they have been gerrymandered to create partisan districts, virtually ensuring the party-in-power's candidates cannot be beaten. Republicans control both legislative chambers in 30 states and have been at the forefront of pushing the theory.
https://www.washingtonpost.com/politics/2022/07/01/democracy-advocates-raise-alarm-after-supreme-court-takes-election-case/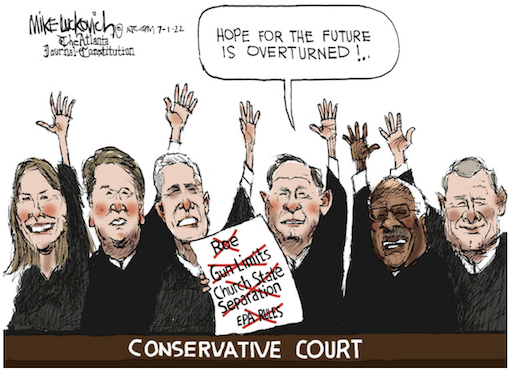 Eugene Robinson: Lincoln's political party is recklessly testing his wisdom
The history of the United States has been a long, hard struggle to make the stirring words of the Declaration of Independence and the Constitution apply to all of us — Black people, women, the LGBTQ community, Latinos and others who have been marginalized. Freedoms that originally applied only to White men who owned property have been made universal, at least in theory. Laws and rulings that attempt to claw back some of those freedoms are ahistorical attempts to un-ring a still-resounding bell.
Americans who want to live in a nation where women have autonomy over their own bodies, where appalling levels of gun violence are not seen as the price of freedom, where science is valued over superstition and where faith is a matter of personal belief rather than public imposition are no less passionate in our views than those who disagree. And we have numbers and history on our side. A minority that wants to take the nation backward cannot, in the end, prevail. But the coming months and years of struggle over the soul of this nation will be arduous and angst-ridden. One thing Lincoln never said was that the American experiment would be easy.
https://www.washingtonpost.com/opinions/2022/07/04/america-house-divided-guns-abortion-lincoln/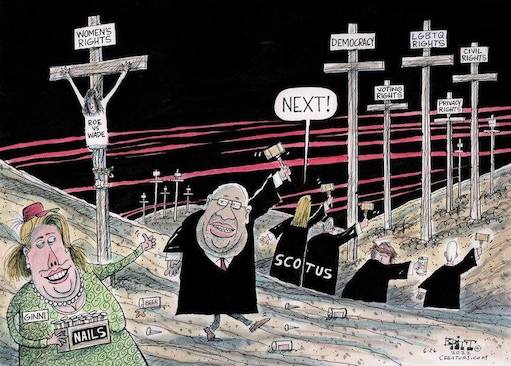 Washington Examiner Editorial: Trump proven unfit for power again
Hutchinson's testimony confirmed a damning portrayal of Trump as unstable, unmoored, and absolutely heedless of his sworn duty to effectuate a peaceful transition of presidential power. Considering the entirety of her testimony, it is unsurprising that Hutchinson said she heard serious discussions of Cabinet members invoking the 25th Amendment that would have at least temporarily evicted Trump from office.

Trump is a disgrace. Republicans have far better options to lead the party in 2024. No one should think otherwise, much less support him, ever again. https://www.washingtonexaminer.com/opinion/editorials/trump-proven-unfit-for-power-again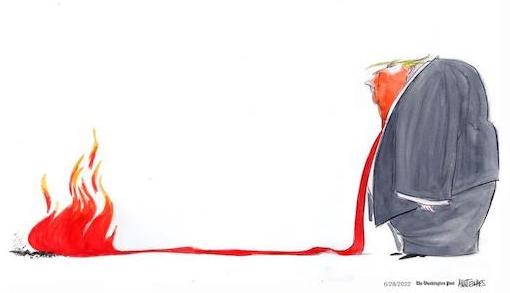 Bret Stephens: Will the Jan. 6 Committee Finally Bring Down the Cult of Trump?
Americans may someday come to understand Donald Trump as the most successful cult leader of our times. The question is whether the House select committee investigating the Jan. 6, 2021, attack on the Capitol can begin to steer some of the Trump faithful toward the kind of cult deprogramming they so desperately need.
I'm starting to think it might, if not with his most fervent loyalists, then at least with a critical mass of his voters.
Tuesday's dramatic testimony to the committee by Cassidy Hutchinson, an aide to Trump's chief of staff, Mark Meadows, changes the game. If what she says is true, no longer are we dealing with a committee that is putting a fluorescent light to a set of facts with which we were already broadly familiar.
This is something else: testimony that the president didn't care that the mob that stormed Congress was armed and that he even tried to lead it by grabbing for the steering wheel of his armored limousine.
"You know, I don't f-ing care that they have weapons," Hutchinson testified she overheard the president saying during his rally on Jan. 6. "Let my people in. They can march to the Capitol from here."
Until now, Trump's supporters have told themselves an exculpatory story about Jan. 6 that goes like this: The president sincerely believed he had been robbed of the election. His efforts to reverse the outcome were the result of honest indignation. His "Be there, will be wild!" tweet inviting people to the Jan. 6 rally was just his usual hyperbole, not a threat.
https://www.nytimes.com/2022/06/28/opinion/trump-jan-6-hearing.html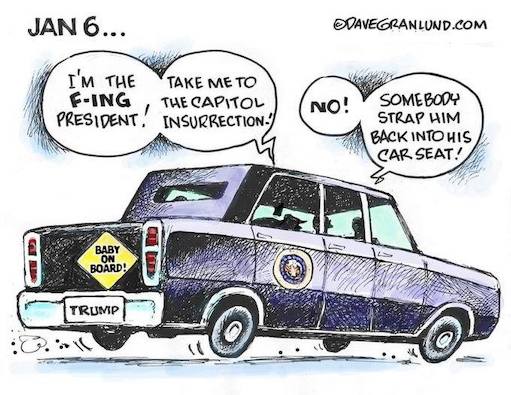 Eugene Robinson: The planet is baking. But what's reality to this Supreme Court?
Another day, another utterly catastrophic ruling from the activist hard-right majority on the Supreme Court. This new decision does even wider damage than taking away the reproductive rights of women in this country. It potentially imperils the future of every human being on Earth.

What the court did Thursday, essentially, puts a stranglehold on the Environmental Protection Agency's ability to fight climate change. You might think an existential threat to the planet, already manifest in soaring temperatures and rising seas, would lead even this benighted cadre of conservative justices to step back from the brink. You would be wrong.

The punishing impacts of climate change are all around us, evident for all to see, including a certain nine individuals who wear black robes in their grand workplace on Capitol Hill. With the original passage of the Clean Air Act in 1963, Congress gave the executive branch — the EPA had not been established yet — a broad mandate to regulate pollution. Justice Antonin Scalia once claimed in a dissent — wrongly — that there was "profound" scientific uncertainty about whether greenhouse gases caused global warming. There was exceedingly little uncertainty then, and there is no uncertainty now.

China, India, Brazil, and other wealthy countries in Europe and Asia must cut their emissions if we are to avert the most apocalyptic warming scenarios. But the United States, as the world's leading economic and military power — and as a major producer of fossil fuels — needs to lead boldly if it expects the rest of the world to follow.

Someday, I hope, our political system will once again be functional enough for a future Congress and a future president to agree on wide-ranging measures to bring about a rapid shift to clean energy sources. By then, however, it may be too late.

Nothing forced the Supreme Court to rule against a set of climate change regulations that had already become moot. Nothing except the self-righteous impatience of the ultraconservative majority to flex its muscles. Responsible political leaders need to assert themselves before this runaway court does irreparable harm. For the planet, there is no Plan B. https://www.washingtonpost.com/opinions/2022/06/30/supreme-court-epa-ruling-further-imperils-planet/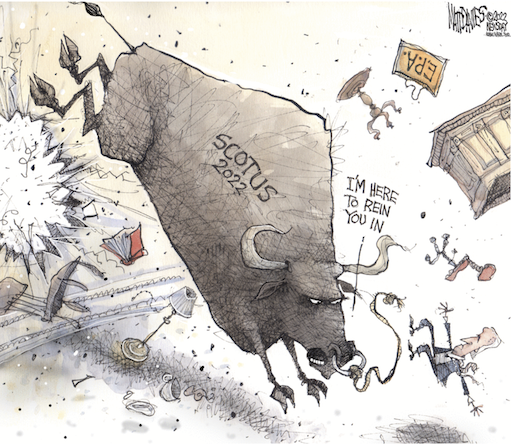 Peter Wehner: A Withering Indictment of the Entire GOP
The portrait painted yesterday at the January 6 hearing by Cassidy Hutchinson, a top aide to former White House Chief of Staff Mark Meadows, wasn't simply of a criminal president, but of a seditious madman.

This new account of what Trump did leading up to, on, and after January 6 was shocking, yet not surprising. His behavior did not amount to an abrupt about-face by an otherwise honorable man, but was the last link in an almost unfathomably long chain of events—vicious, merciless words and unscrupulous, unethical acts that were said and done, many in public view, in ways that were impossible to deny. All of the signs of Trump's corruption and disordered personality were obvious for years.

Perhaps the case against Trump presented by the January 6 committee and previous Trump loyalists—by now so overwhelming as to be unquestionable—will cause some members of Congress, academics, and "public intellectuals" in the right-wing infrastructure to distance themselves from Trump. Of course, until now Trump has crossed no ethical line, has shattered no norm that caused them to say "Enough!" Instead we've heard whataboutism and strained-to-the-breaking-point excuses.

The events of January 6 were, in their own twisted way, a fitting denouement for the Trump presidency. It was so obvious, for so long, that this wouldn't end well. Trump was the primary architect of the attack on the citadel of American democracy. But he had a lot of help along the way.

Hutchinson's testimony was a withering indictment of America's 45th president. But it was also, if less directly, an indictment of his party, his supporters, his acolytes, those who went silent and those who spoke up on his behalf. He and they are ever twinned. https://vigourtimes.com/hutchinson-testimony-a-deranged-seditious-president/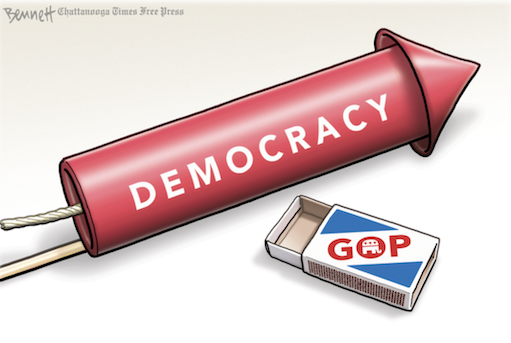 Katherine Stewart: Christian Nationalists Are Excited About What Comes Next
The shape of the Christian nationalist movement in the post-Roe future is coming into view, and it should terrify anyone concerned for the future of constitutional democracy.

The Supreme Court's decision to rescind the reproductive rights that American women have enjoyed over the past half-century will not lead America's homegrown religious authoritarians to retire from the culture wars and enjoy a sweet moment of triumph. On the contrary, movement leaders are already preparing for a new and more brutal phase of their assault on individual rights and democratic self-governance. Breaking American democracy isn't an unintended side effect of Christian nationalism. It is the point of the project. https://www.nytimes.com/2022/07/05/opinion/dobbs-christian-nationalism.html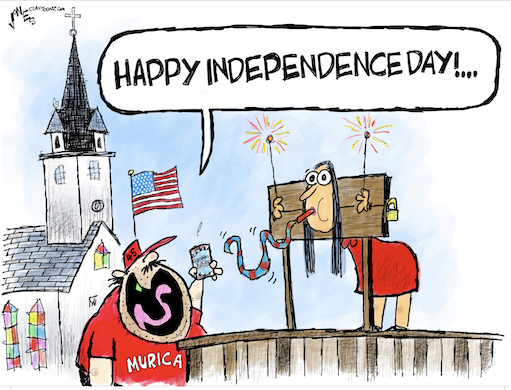 Jeremy B. White and Gary Fineout: Shadow 2024 race: Newsom vs. DeSantis
Forget Donald Trump versus Joe Biden. The biggest prelude to 2024 might just be the escalating back-and-forth between Gavin Newsom and Ron DeSantis.

The governors for California and Florida have hurled insults about each other's leadership and policies during most of the Covid-19 pandemic. But now Newsom has ratcheted up the conflict by taking almost daily pot-shots at his Republican foils such as DeSantis and Texas Attorney General Ken Paxton. Most recently, Newsom dropped more than $100,000 on a new ad airing on Fox News that tweaked DeSantis in his home state. On Tuesday, he started fundraising off the ad and conflict with DeSantis.

Fox-watching Floridians won't likely switch their voter registration or move to California after seeing a TV spot in which Newsom warned them "freedom is under attack in your state." But the ad is producing a frenzy of national coverage that boosts Newsom's profile while allowing DeSantis to sharpen his attacks on Democrats ahead of a possible 2024 White House bid. https://www.politico.com/news/2022/07/06/newsom-desantis-election-2024-00044128